Adventure High – Sea Kayaking on Grand Manan
After wanting to get to Grand Manan island, the largest of New Brunswick's Fundy Isles for decades, Alison and I finally got here in mid-July of 2021. My intentions were to explore the island by auto, on foot, by boat and most of all, by sea kayak. As it turned out the owners of place where we were staying, Compass Rose Heritage Inn also own Adventure High Sea Kayaking which is next door to the inn overlooking North Head harbour. I immediately arranged to go out on their morning tour the day after our arrival. The next morning I awakened to a thick fog and thought about cancelling, but figured, "What the hell" and decided to go. I'm glad I did. Join me and find out why sea kayaking in the fog is exhilarating and a bit eerie.
I walked the short distance to the Adventure High office and met our guide Brady Stackhouse who is a born and bred Grand Mananer. But he is no local yokel, having climbed Mount Kilimanjaro with only himself and his guide and toured South Africa with a friend on their own. I selected a PFD and a paddle and walked the short distance down to the beach across from the Old Well House Cafe where we were joined by one other person – a lady from Ontario who summers on Grand Manan and paddles as often as she can. I always expect to get  my feet thoroughly soaked on these sea kayaking tours, but Brady did such a good job of shoving us off that I was able to get in well above the waterline. After a short safety lecture, we were off.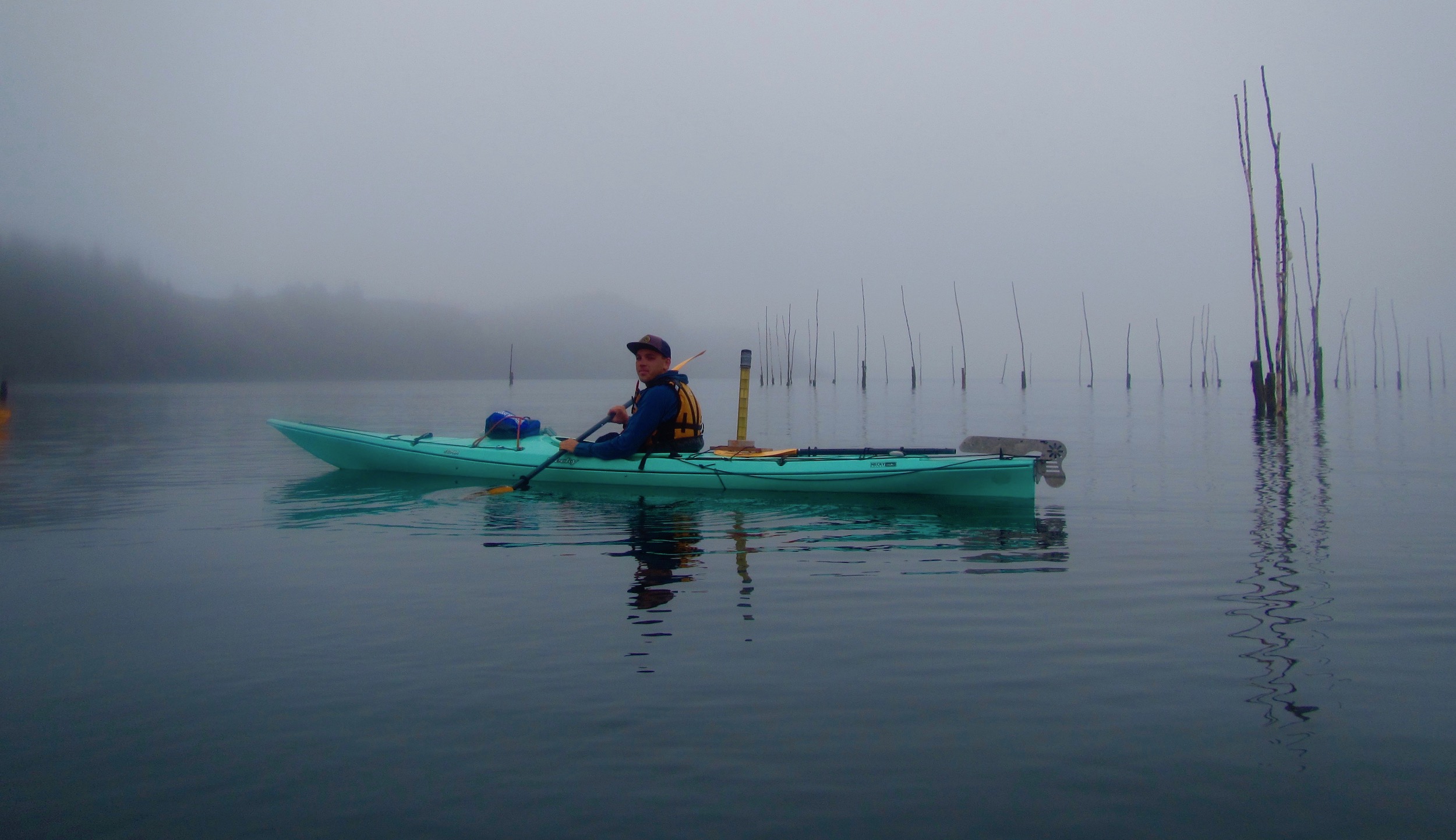 Although I didn't know it at the time we shoved off. the goal was to paddle from North Head to Whale Cove and be picked up there. That way we did not have to retrace our route and could paddle more of the Grand Manan coast than if we did an out and back tour. Good planning by Adventure High.
The first thing I noticed paddling in the fog that was still thick, was just how calm the water was and how still and quiet the air seemed. I could make out the fishing boats moored at North Head wharf as we rounded it heading for our first stop.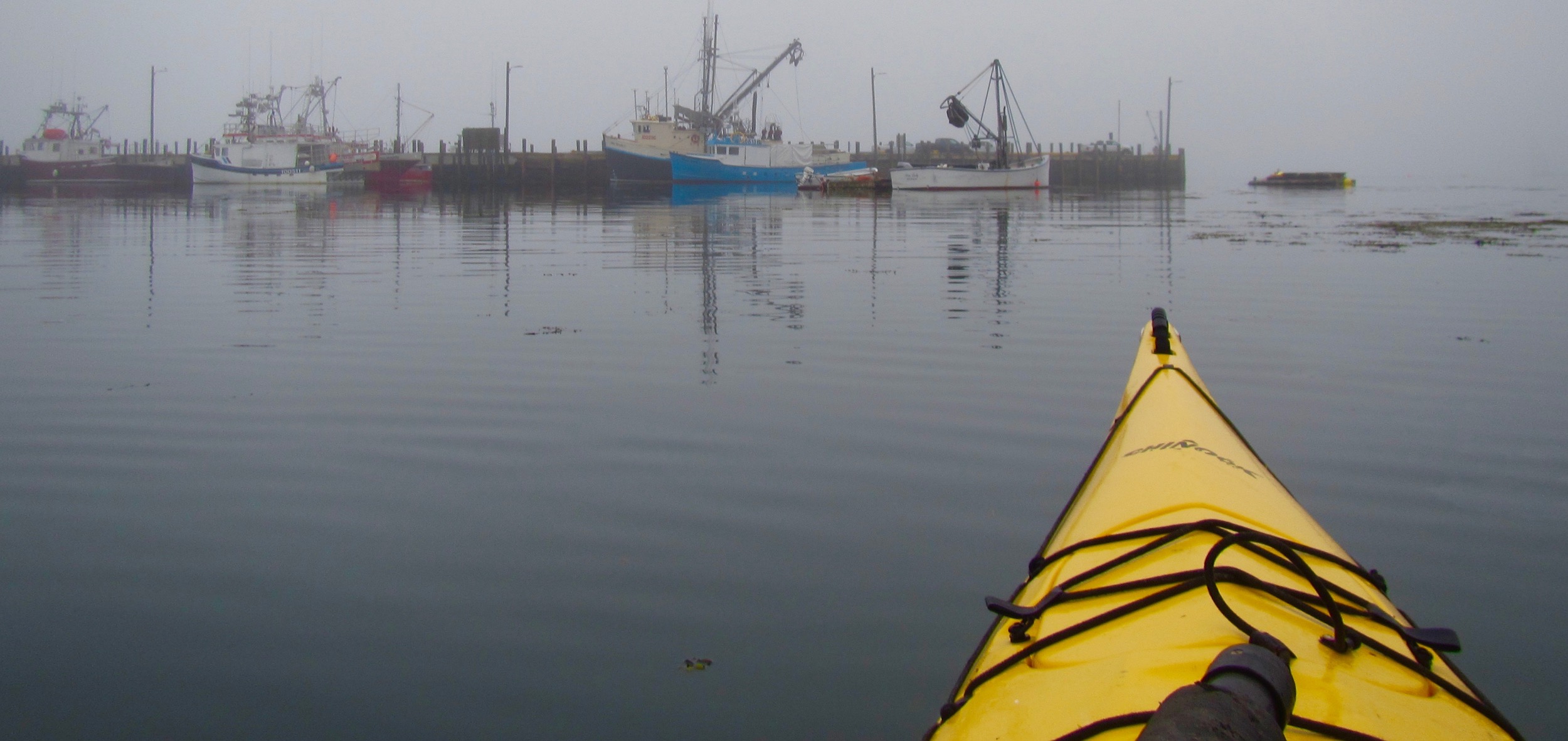 When we arrived at Grand Manan the previous afternoon aboard the Grand Manan V, I was pleasantly surprised to see that there were a great number of fishing weirs still in existence. At one time this method of fishing which is ancient and prevalent on every continent but Antarctica, was very common in the Bay of Fundy. However, over the years all of the weirs on the Nova Scotia side of the bay and most of those on the New Brunswick side were allowed to deteriorate to the point of becoming useless. The reasons were twofold mainly – first it was easier to catch the herring using purse seine nets from boats and secondly the ease of the first reason to catch fish led to a drastic decline in the number of herring in the Bay of Fundy. However, they never fell completely out of use on Grand Manan and are now making a comeback. They even have their own Facebook page.
Here is a photo I took of an active and inactive weir from near the Swallowtail Lighthouse the next day. The active weirs have netting and the inactive ones don't.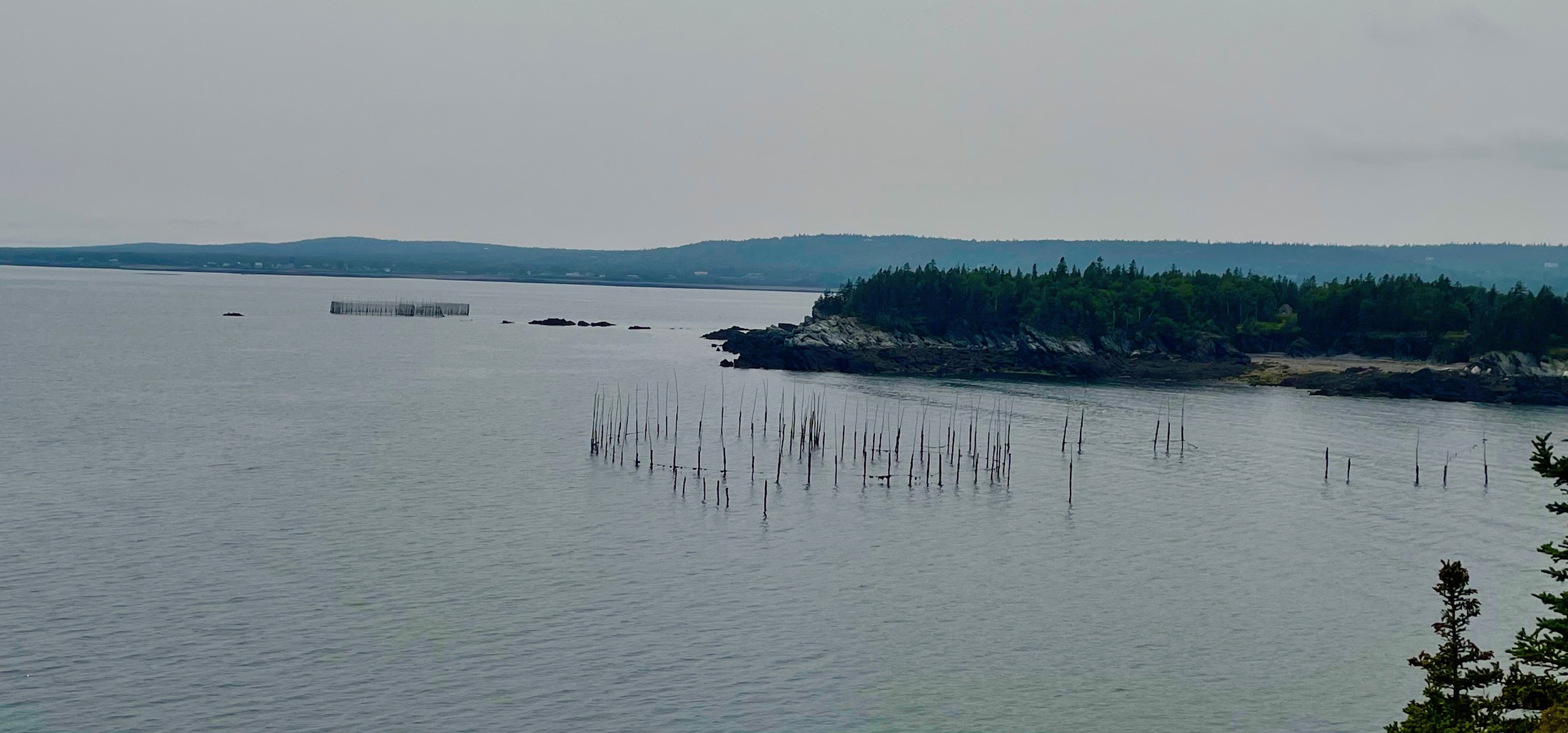 I had also noticed a number of strange looking contraptions in North Head harbour and asked Brady what they were. Turns out the herring are back in big numbers and there is a weir building boom going on in Grand Manan and these are pile drivers used to drive the posts into ocean floor for the framework of the weir.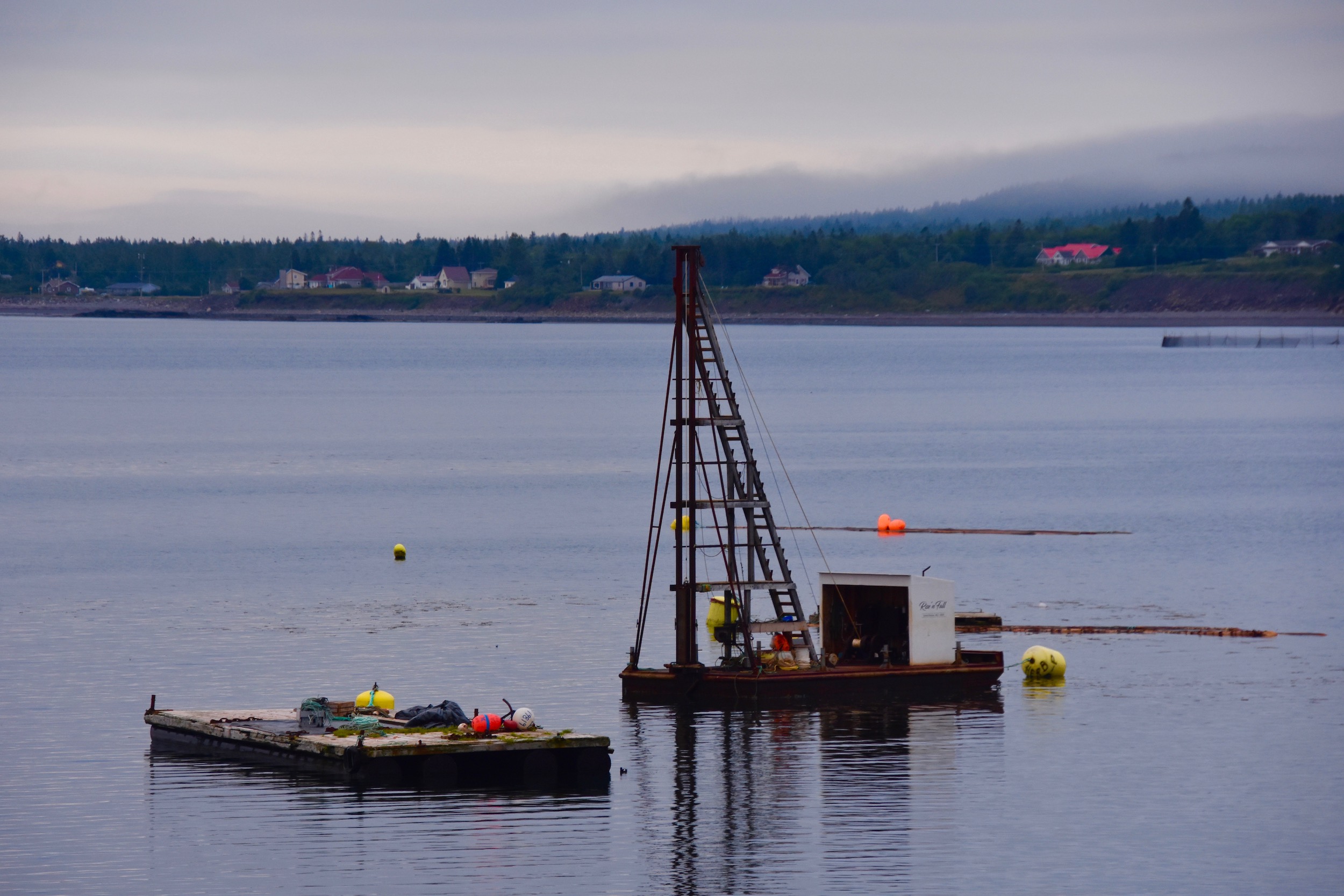 With that background we paddled out the the closest active weir to North Head. You can see just how calm the water is.

The way a fishing weir works is simplicity itself. Here is a photo of one similar to the one above. The actual weir is heart shaped with a fence leading our from it. The herring, which swim in schools of massive numbers, hit the net and are directed to the weir mouth from whence they commence to swim around in circles unable to figure out how to escape. Then at low tide they are easily dip netted or pulled out with a net pulled closed by a number of fisherman.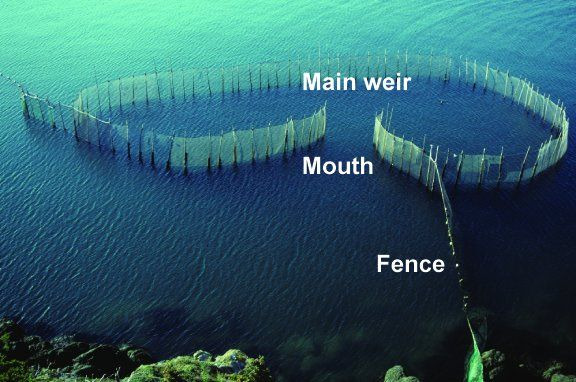 Another interesting fact about fishing weirs – they don't just catch herring and other fish species, they also catch bigger things. In 1930 the largest great white shark ever recorded was trapped in a Grand Manan fishing weir, or so the legend goes. What is indisputable is that another great white shark did get caught in a New Brunswick fishing weir in 2019 as recorded in this CBC story. This one had a happier ending than the first one as the shark was rescued instead of being killed. The great white feed on the gray seals that are plentiful in the Bay of Fundy. Considering that some of these seals are almost as long as my kayak, I try not to think of the size of a shark that could eat them. Back to the weir.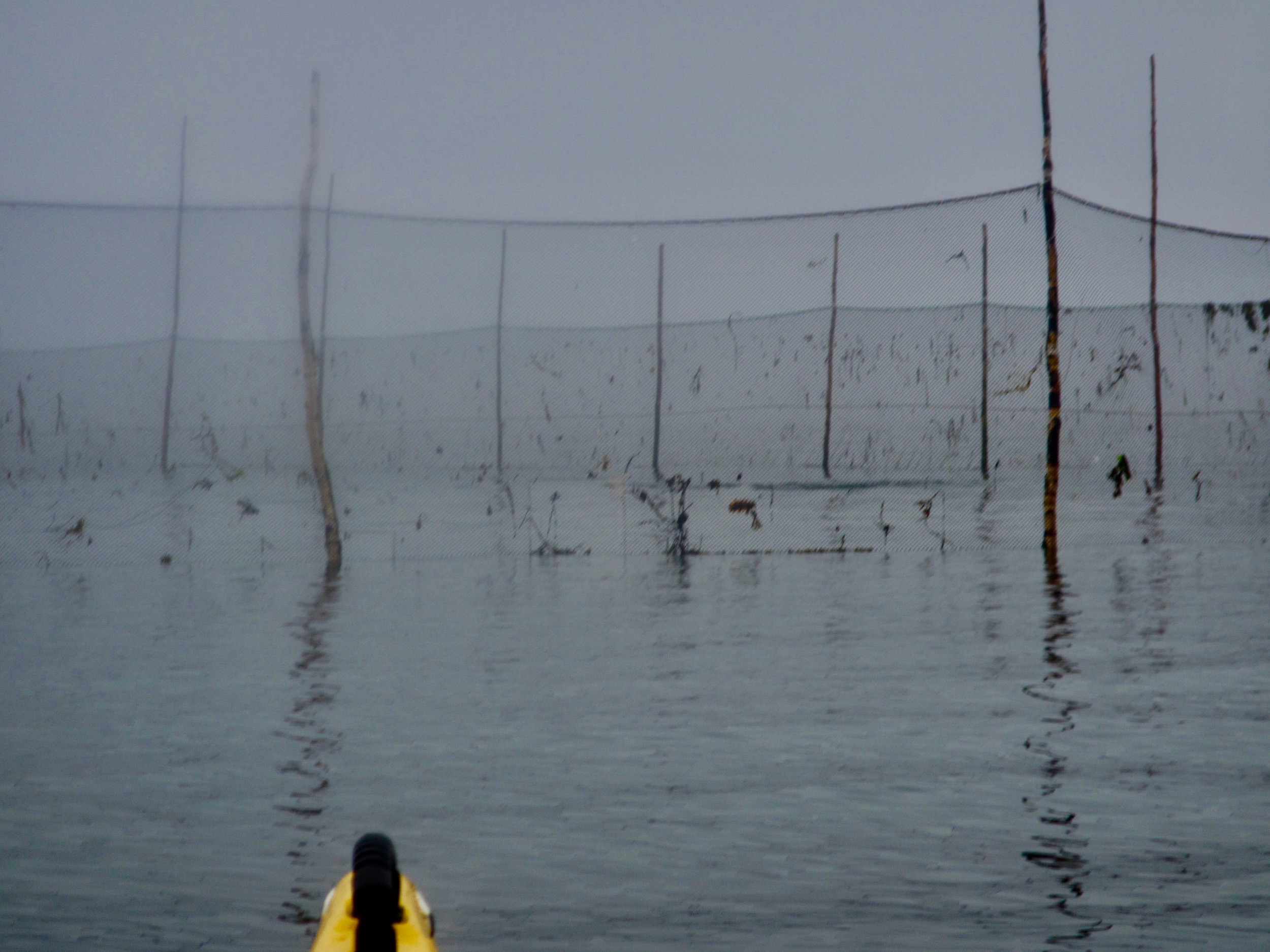 As we approach the weir on this Adventure High tour it is apparent that there is a commotion going on inside it. It is a lot of gray seals having a feeding frenzy and making a lot of noise doing so. Brady says he's never seen so many in a weir all at once. We sit there entranced by this spectacle. It doesn't take long for the herring rustlers to eat their fill and they leave the weir and begin staring at us. Through the fog it's not hard to understand why they were mistaken for mermen or mermaids in ancient folklore.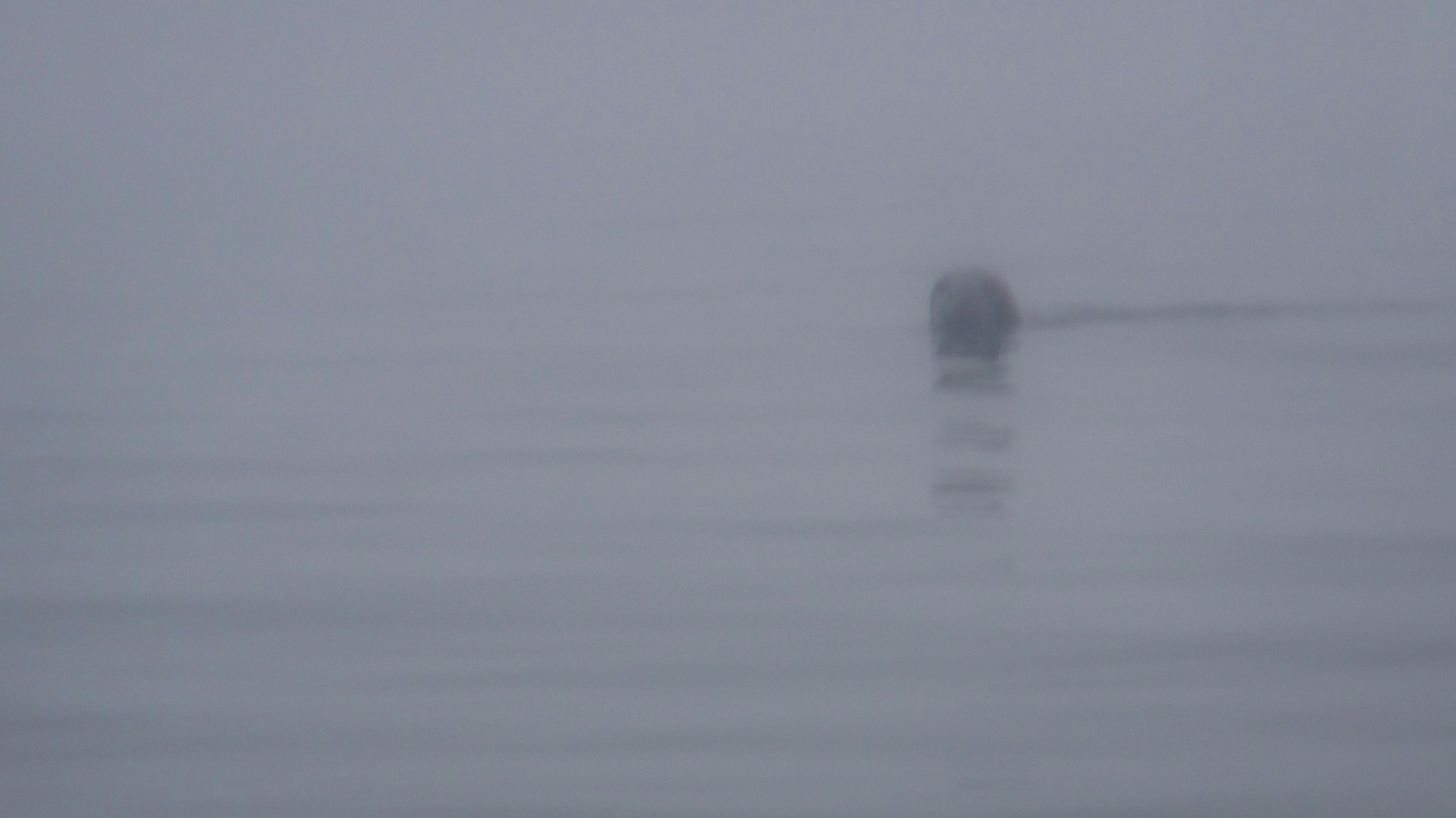 The next part of the Adventure High tour takes us past the Swallowtail Lighthouse which was built in 1859 and remains in service today. I know that because in the dense fog which a light beam couldn't penetrate, the lighthouse's fog horn blew about every thirty seconds making a boom that could be heard for miles. As we got closer it actually made the kayaks tremble. This is all we could see of the lighthouse from the water below. Passing it I couldn't help but think of the 2019 movie The Lighthouse which was filmed in Yarmouth, Nova Scotia and starred Willem Defoe and Robert Pattinson. Shot in black and white, it tells the story of two lighthouse keepers who gradually go insane with the constant fog that surrounds the lighthouse. I won't spoil the ending if you haven't seen it. It's definitely worth a watch.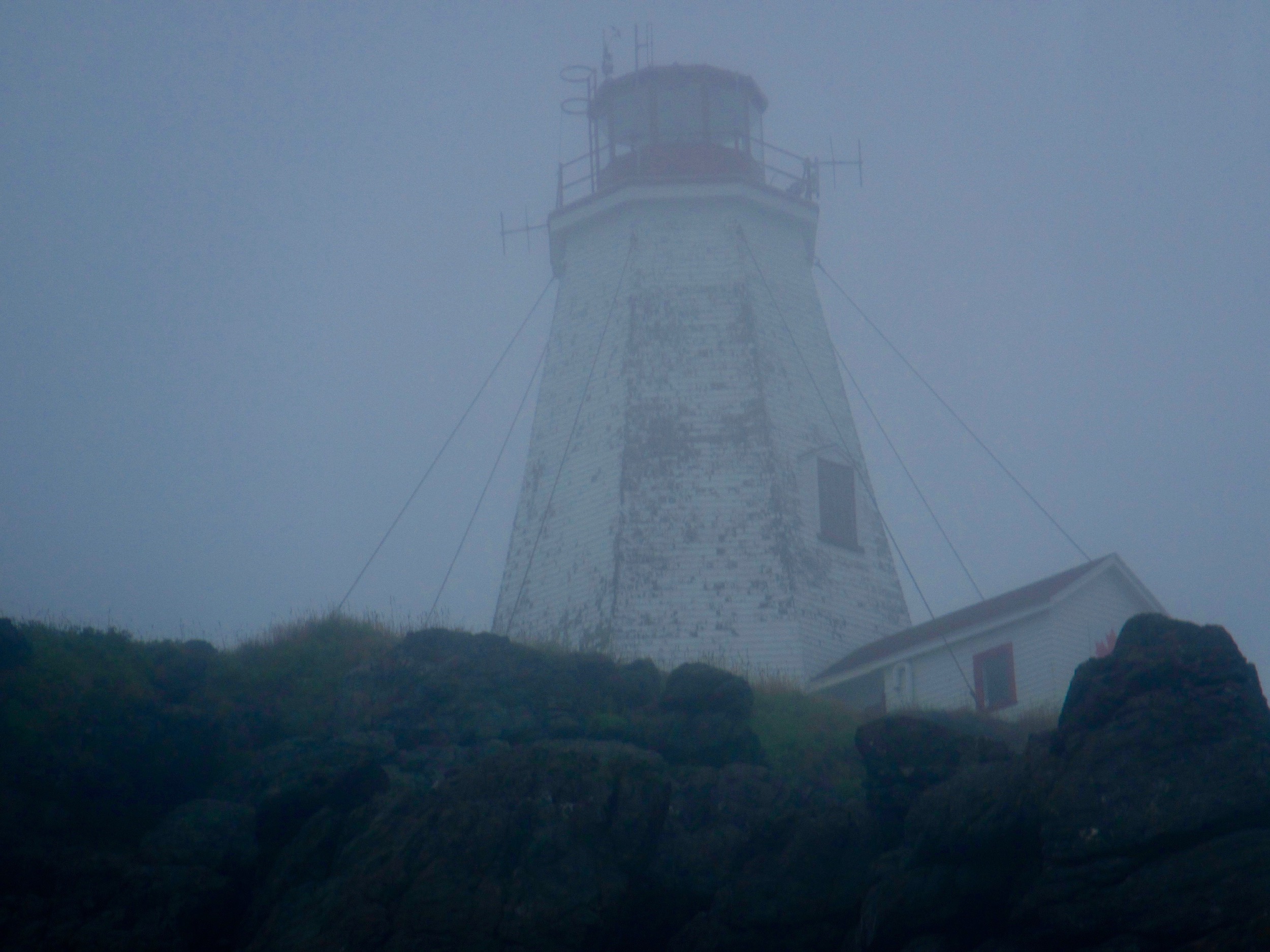 Continuing on the Adventure High tour our next stop was at a small beach which has a sea cave big enough to enter. Brady said it was once known as Grand Manan's nude beach, but given the frigidity of the Bay of Fundy waters and the foggy chilly air today, I found that hard to believe.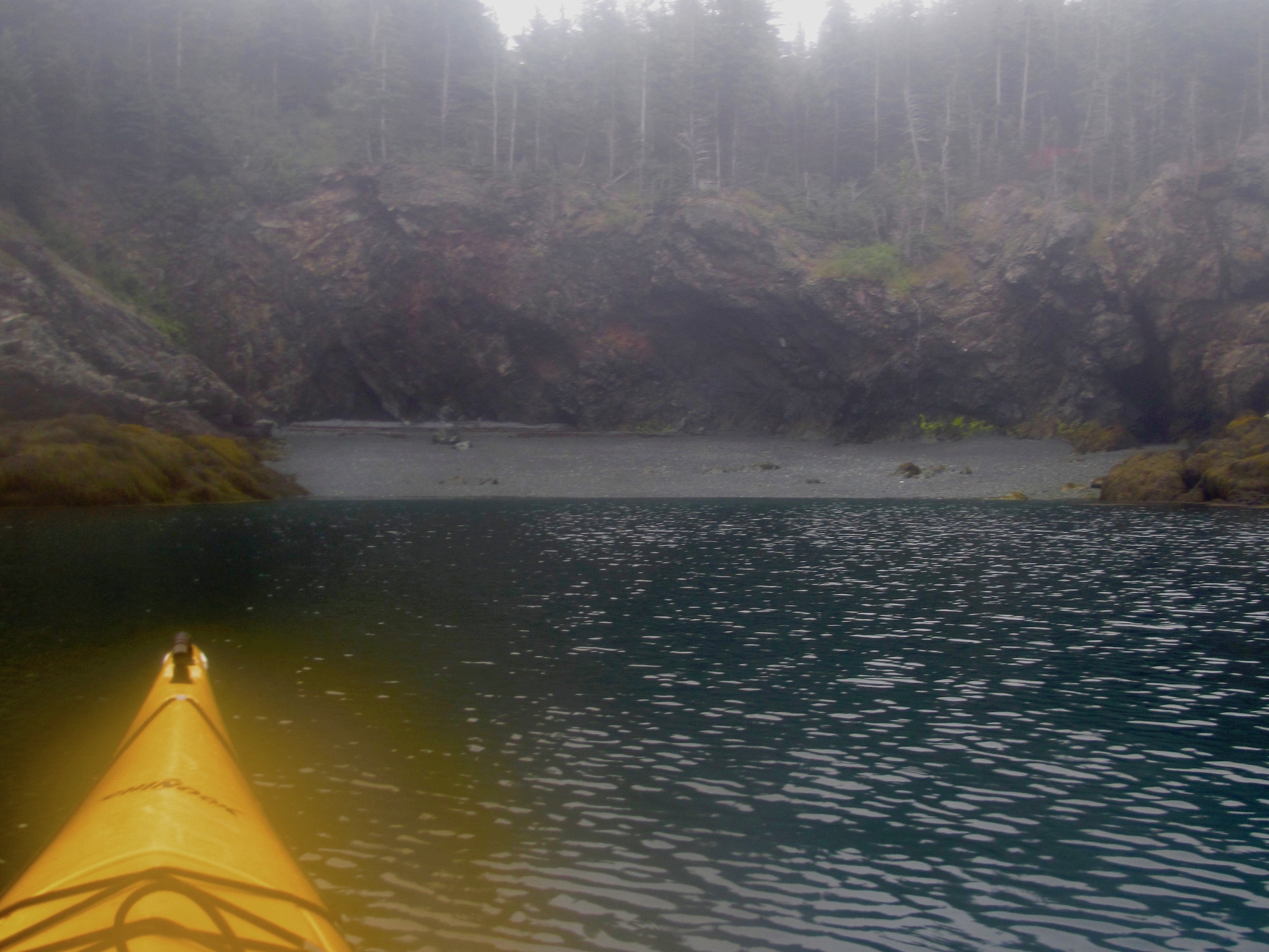 We beached the kayaks and I had a chance to check out the cave.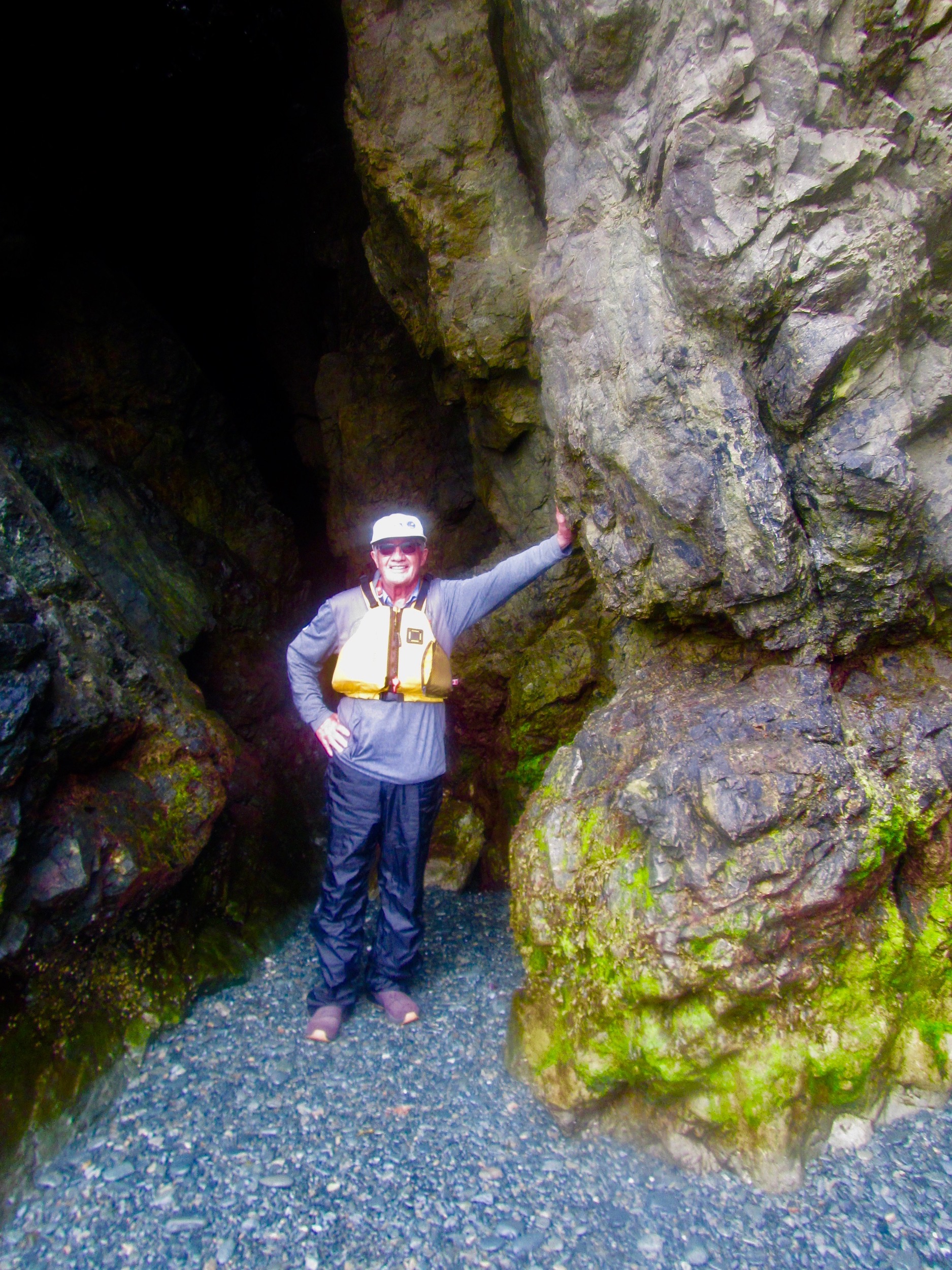 The final stop on our Adventure High sea kayaking tour was the most interesting, although the seals in the weir was pretty damn good. This was the natural formation known as hole-in-the-wall which is actually a small natural bridge. It can be reached via a hiking trail or as we did today, by kayak. Brady advised that at the highest of tides you can kayak right through. How cool would that be, but today I just got to look at this natural wonder from below.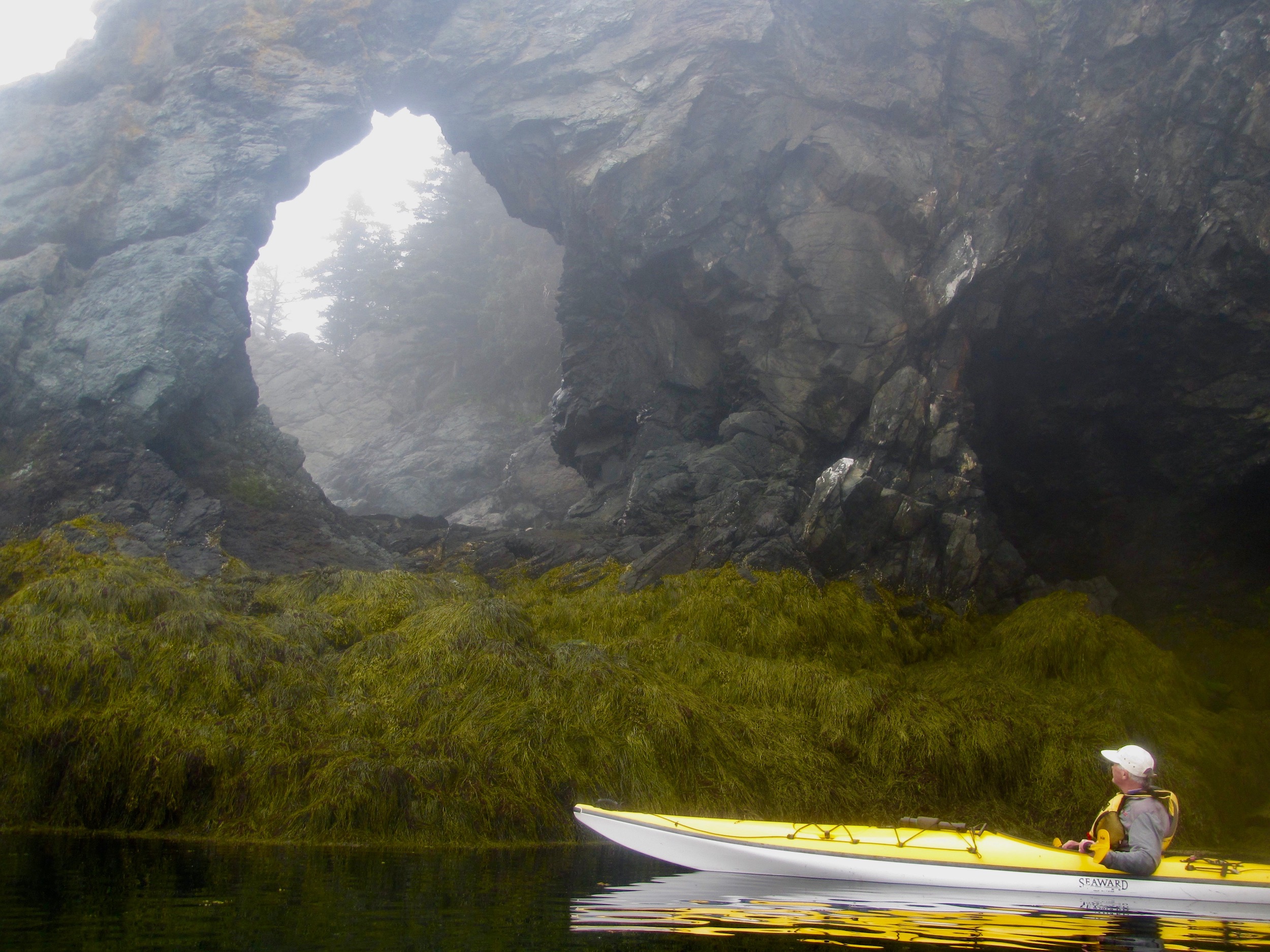 After this we paddled around one more weir and Brady guided us into Whale Cove which was hidden by the densest fog of the Adventure High tour. After beaching I was driven back to the Compass Rose where I contemplated what a wonderful thing it is to kayak in the fog on the shores of Grand Manan.
For two more great New Brunswick adventures check out these posts on the Fundy Trail Parkway and Kings Landing.
Next Alison and I are going to go whale watching with Sea Watch Tours. They've seen whales on every tour since 2019 and we get our money back if we don't see any. Please join us on board.