Hiva Oa – Visiting with Paul Gauguin
In the last post from this Adventures Abroad tour of French Polynesia we visited the island of Ua Huka where we visited a number of museums, an arboretum and enjoyed a nice walk back to the Aranui 5, the passenger/freighter that has taken us to the Marquesas Islands. After departing our mooring spot near three motus (islets)  off Ua Huka we motored to the island of Hiva Oa which is the second largest in the Marquesas and the first to be visited in the southern part of the archipelago. Here we will make two stops, the first being at the village of Atuona where we will visit the graves of two famous Europeans. I hope you can join us.
This is a map of Hiva Oa which, unlike many of the Marquesas Islands, has a number of bays suitable for mooring with the largest being Taaoa where the town of Atuona is located.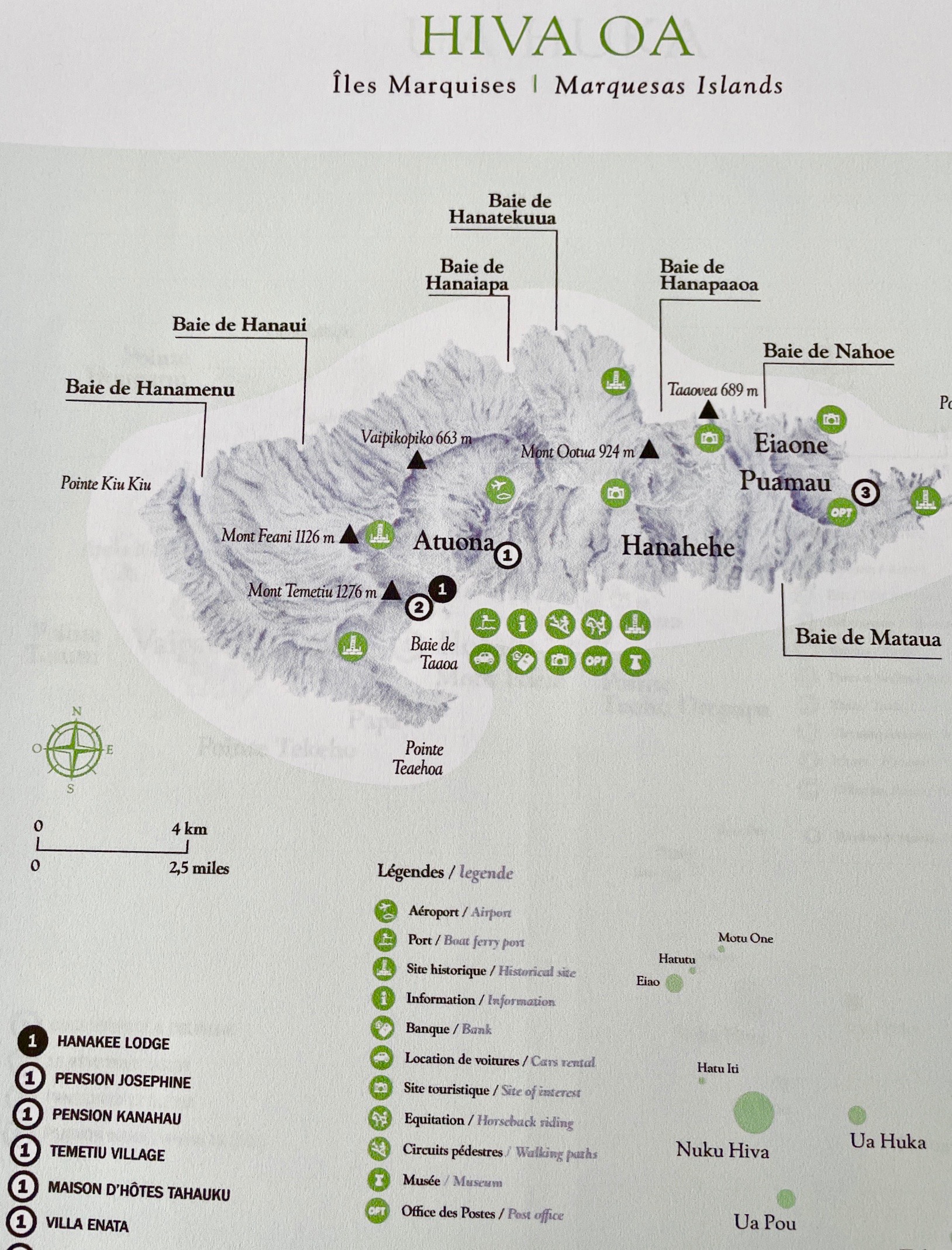 The Aranui 5 managed to dock on Hiva Oa in an area where many sailboats where moored. Maneuvering around them and the breakwater was no mean feat. This is the view from the ship before we disembarked.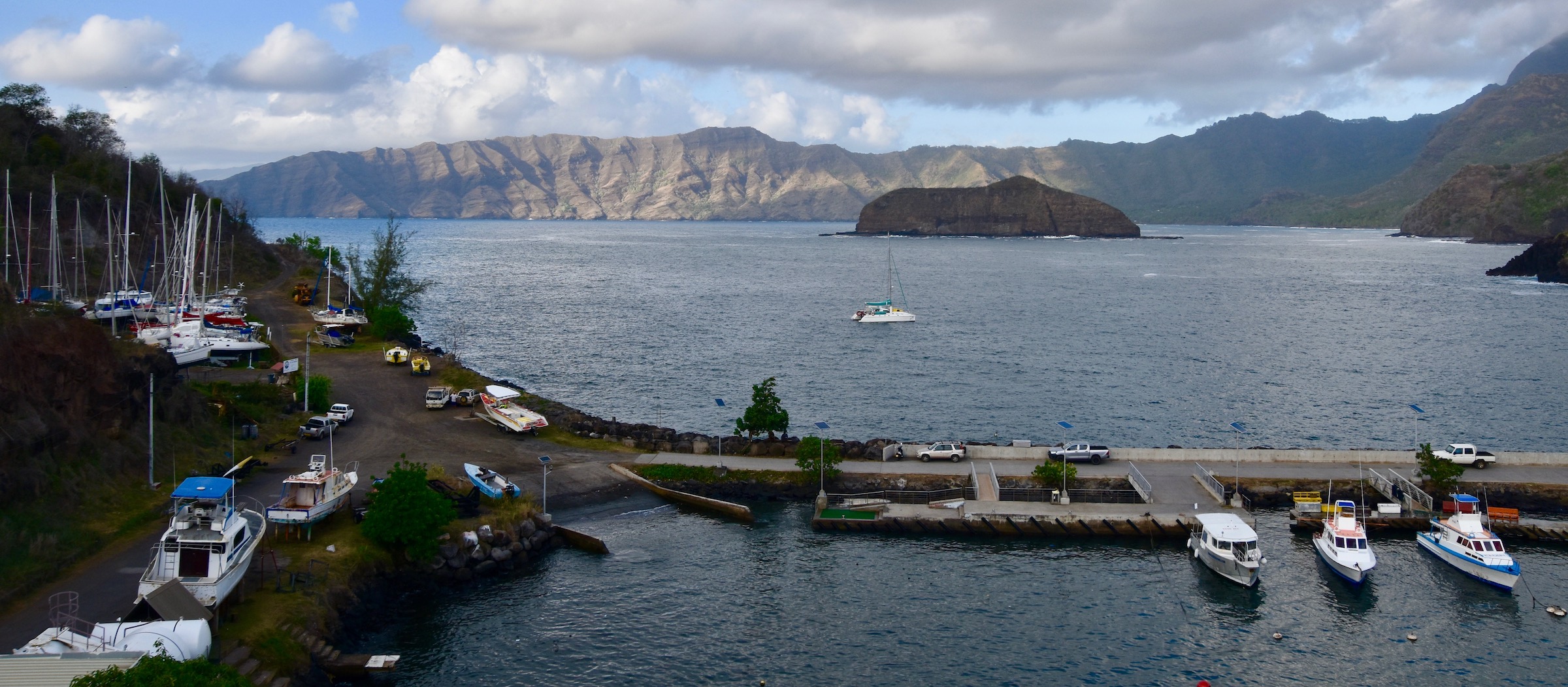 As usual the arrival of the Aranui 5 sparked a beehive of almost instantaneous activity.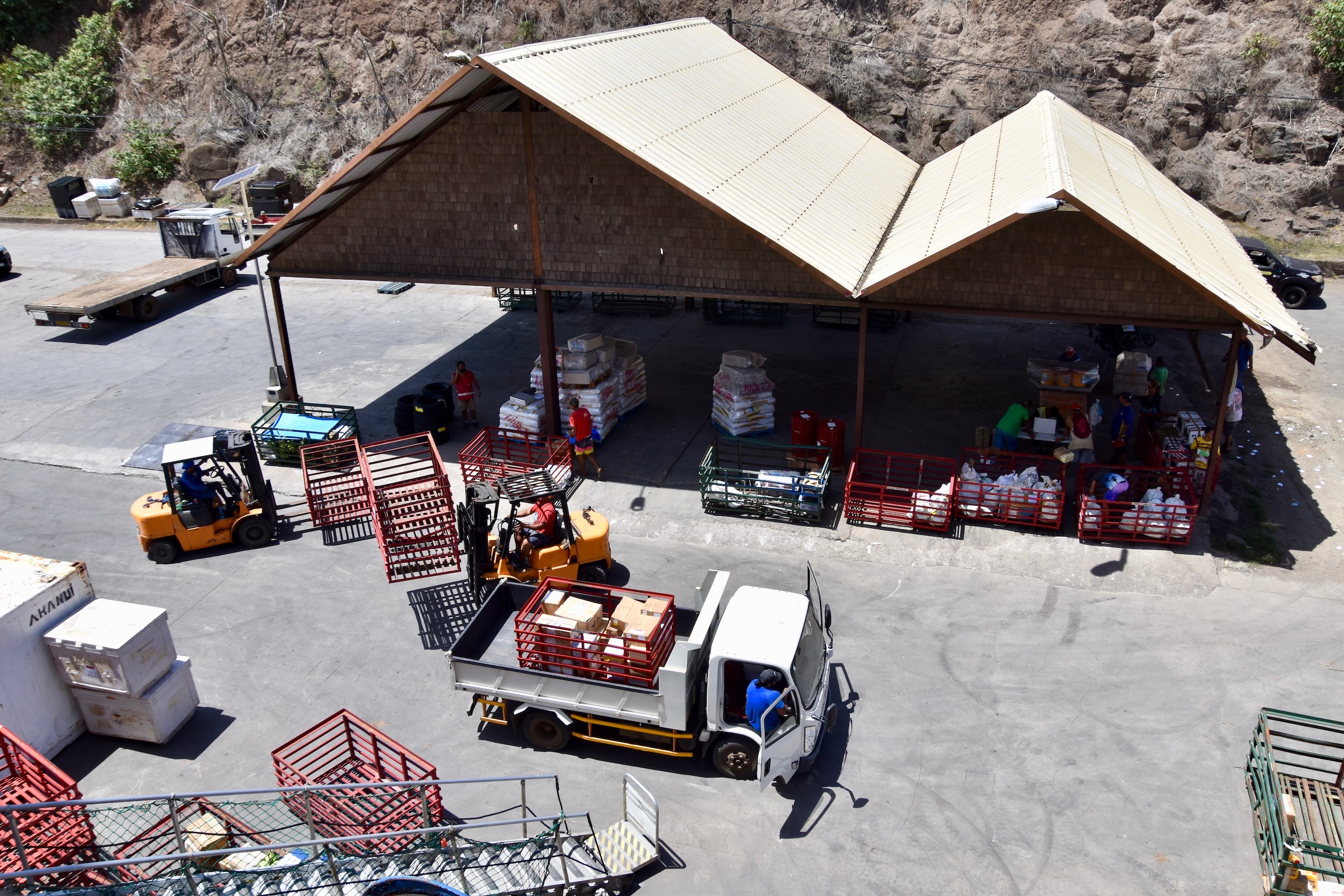 Just after taking this photo we took the steps shown in the foreground down to the pier to begin our exploration of Atuona, the principal village of Hiva Oa.
But first a little background.
Hiva Oa is a tremendously rugged island with a number of high collapsed volcanos of which Mount Temetiu at 1276 metres (3937 feet) is the highest. While the terrain is not suitable for much agriculture, it does have enough precipitation to be tropically lush and the combination of the two make Hiva Oa almost your stereotypical 'South Pacific paradise'. That's what the first people who arrived here thought and believed it must be the home of the Gods.  In the next post we will visit the most significant archaeological site in the Marquesas and perhaps all of French Polynesia. It was also this beauty that inspired Paul Gauguin and Jacques Brel to settle here, but more of that later.
The first European to visit Hiva Oa was Spaniard Alvaro de Mendaña in 1595 who gave the Marquesas Islands their name and little else. After that it was apparently centuries before any more Europeans arrived and started a small trade in sandalwood in the 19th century after which it became part of the French colony of Polynesia. Today it has only 2, 200 people of which almost all live in Atuona. The islanders survive on subsistence agriculture and fishing along with copra production. Tourism is really just an afterthought although I suspect it will grow in significance once more people learn of its almost idyllic existence.
We left the ship as a group headed by foot up the fairly steep concrete roadway leading to the Calvary Cemetery high above the town. This is a look back at the Aranui 5 on our way up which shows the many sailboats at anchor in the harbour.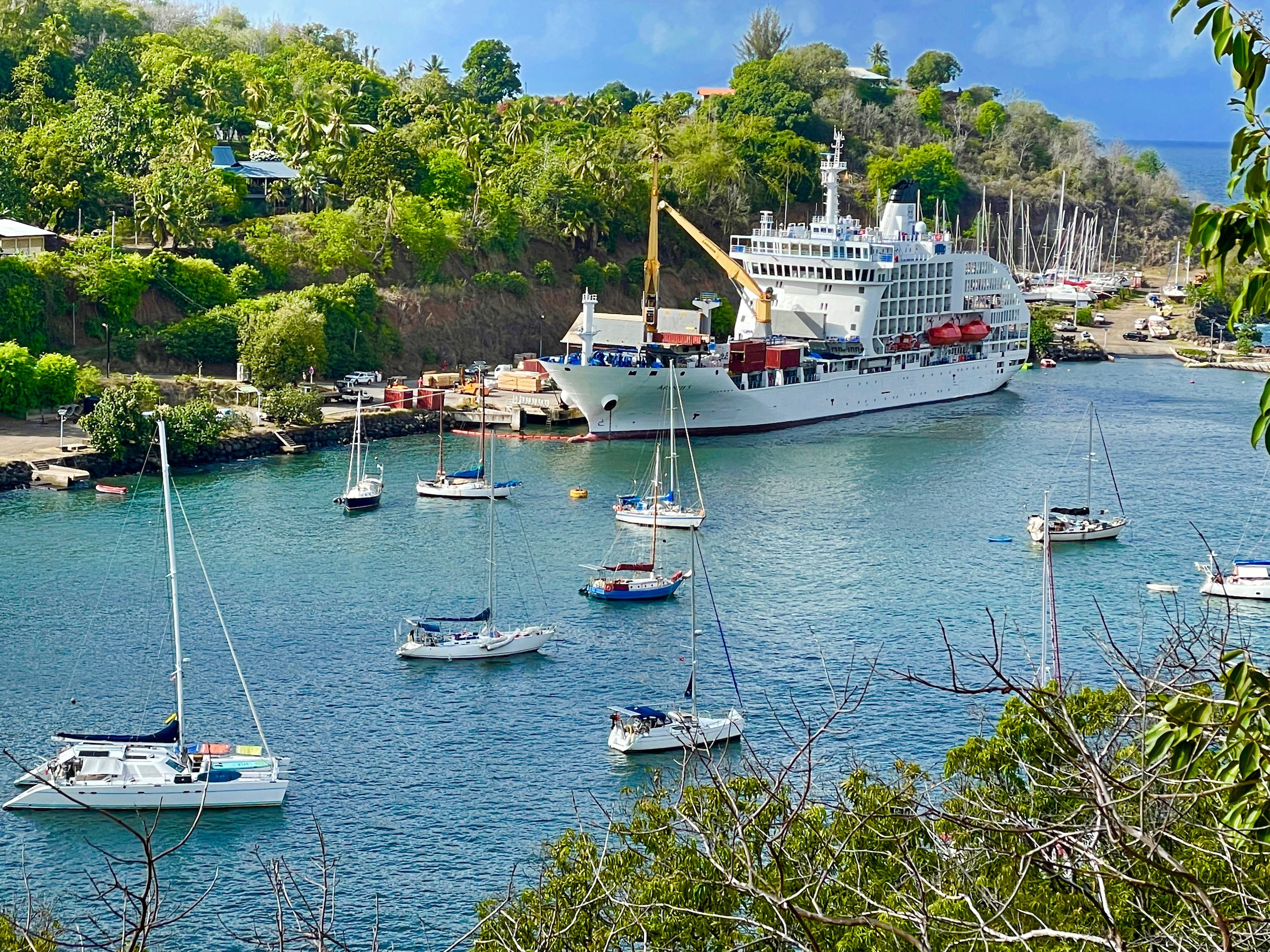 That's our tour leader Martin Charlton on the right.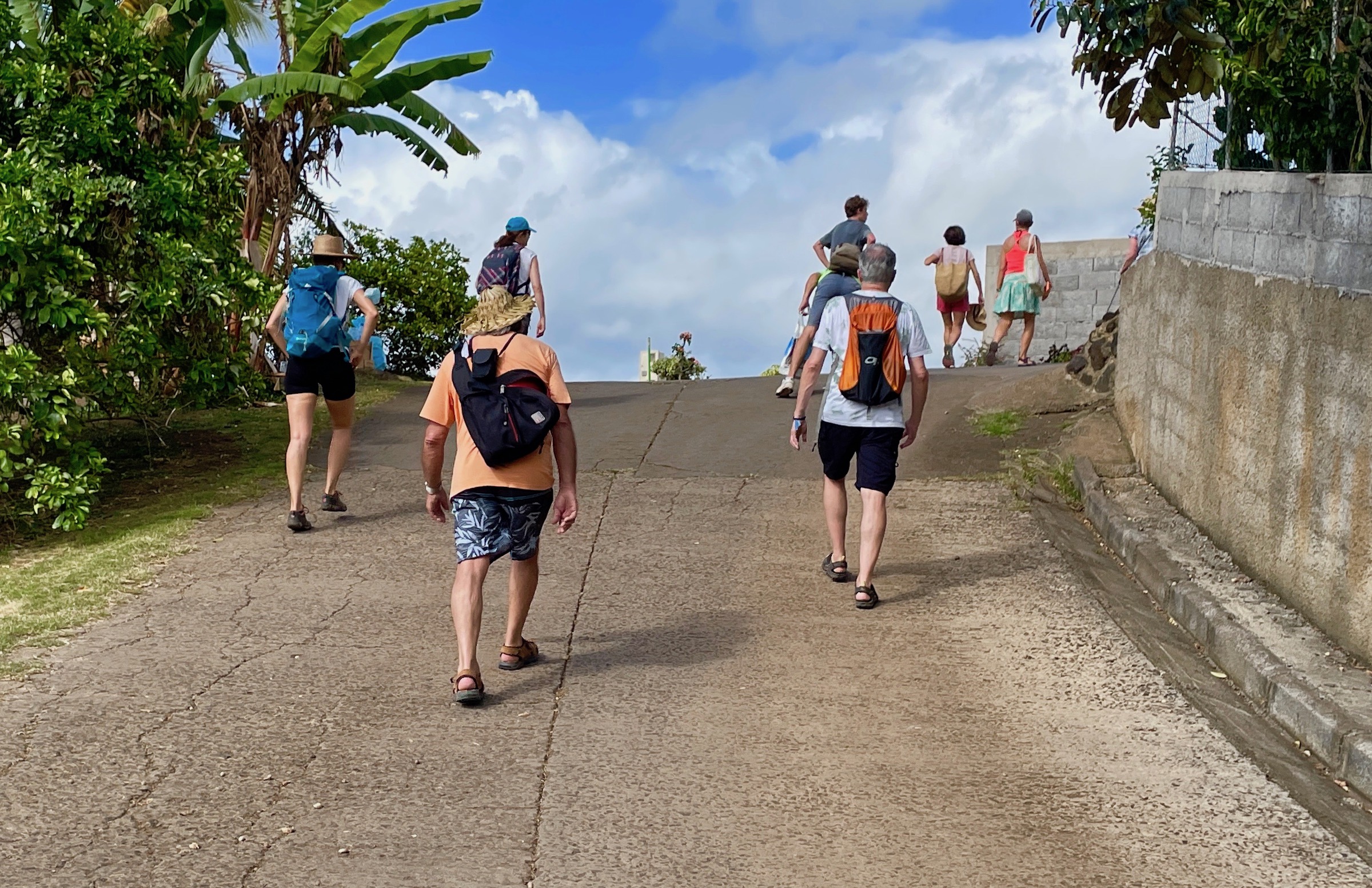 It was sweaty work, but we did arrive at the crest of the hill and were rewarded with great views from there.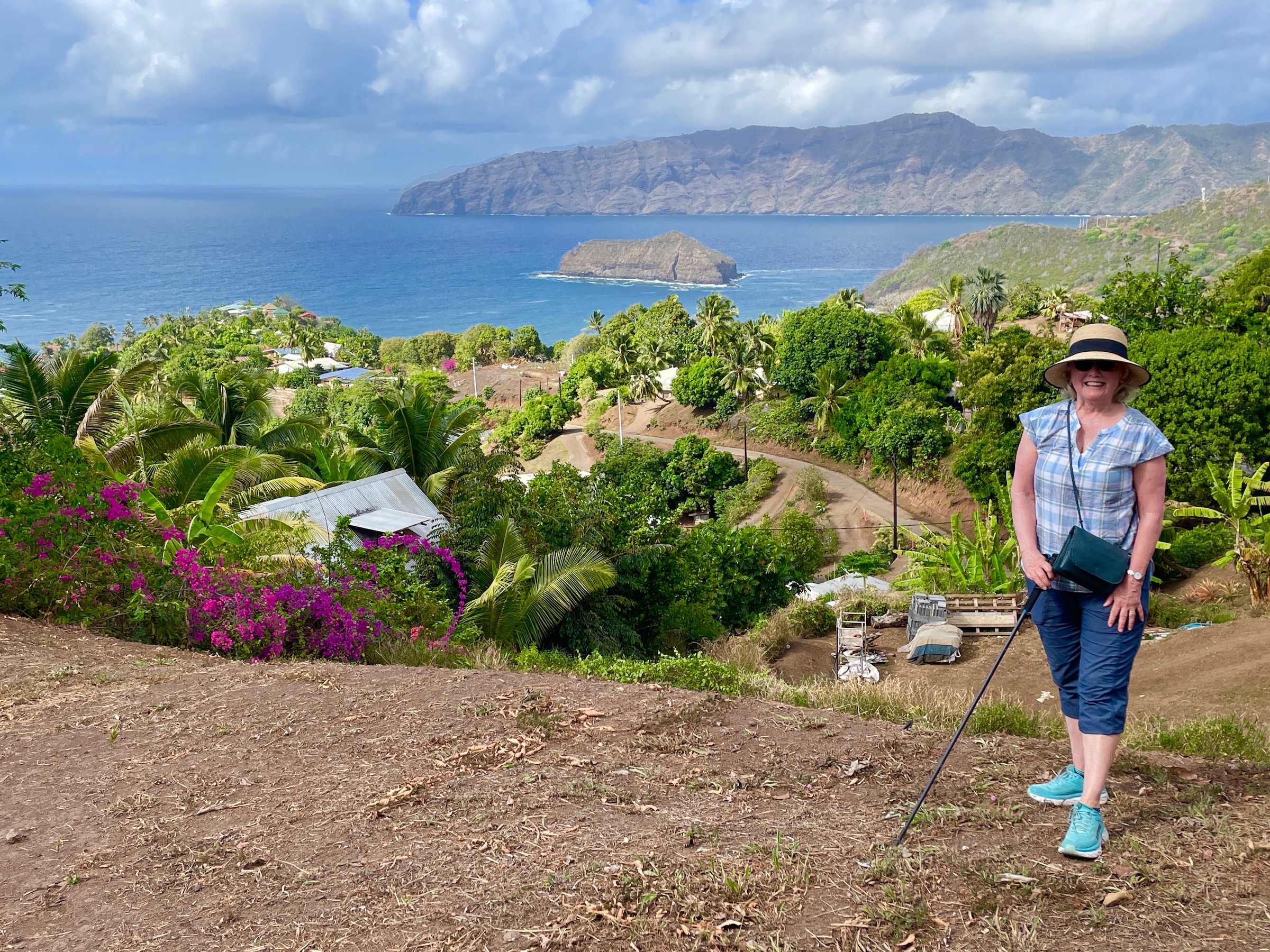 At length we arrived above the cemetery which has this view down to Atuona.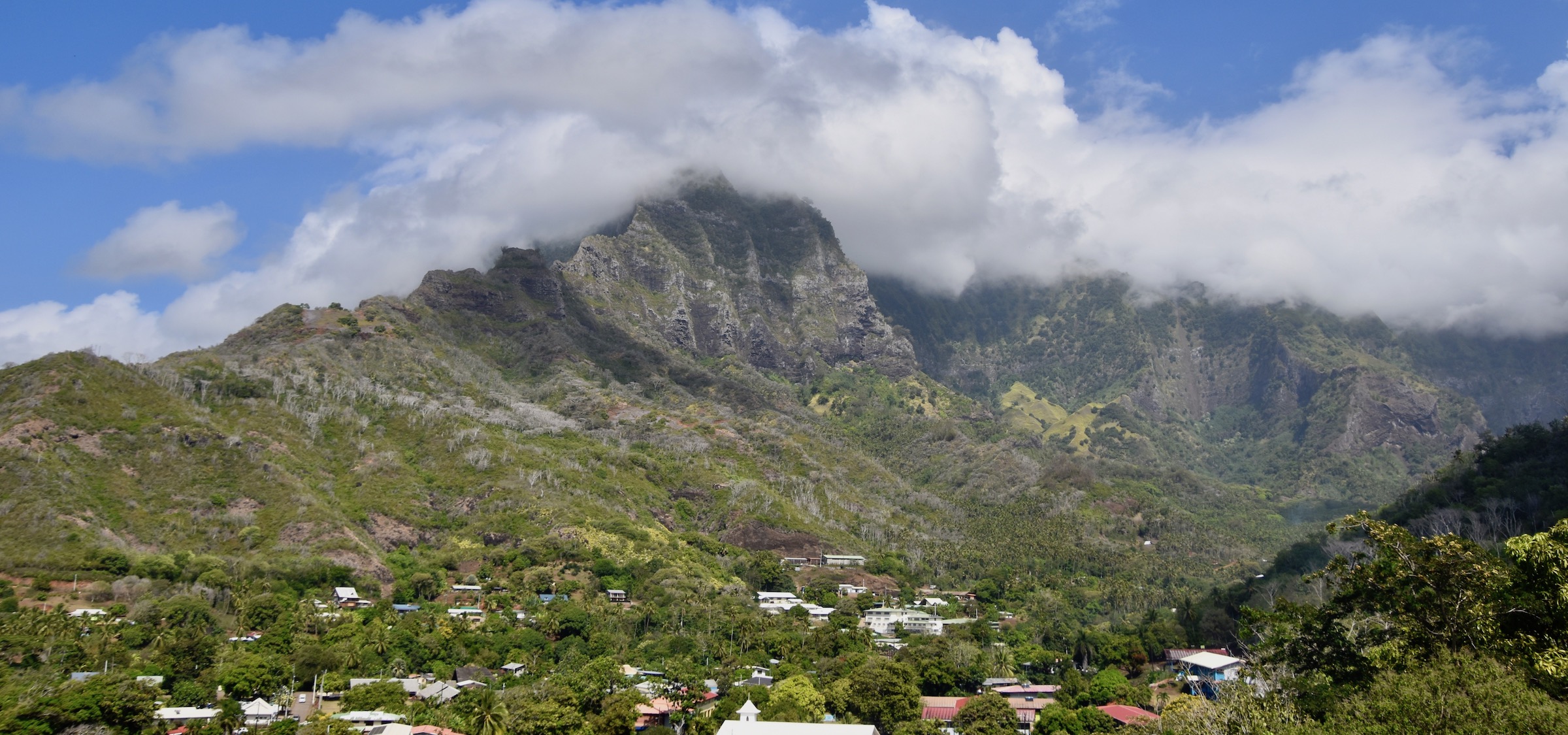 Paul Gauguin the great and controversial post-Impressionism painter first came to French Polynesia in 1891 and was fascinated with the beauty of the landscape and even more so the women, especially the young ones. During that visit he confined himself to Tahiti, but returned in 1895 after the paintings executed on his first visit failed to arouse any excitement in the Paris art scene. He lived in Papeete for six years during which he had to take a number of jobs to stay afloat and his work suffered as a result. It was during this stay that he commenced an affair with a fourteen year old girl who fathered two children by him. Descendants of the boy who survived can be found on Tahiti today. For many people who judge artists by their personal lives this was a bridge too far.
In 1901 Gauguin left his mistress Pahura a Tai and headed for Hiva Oa where he believed he would find the Edenic paradise he first sought in Tahiti. He arrived to find the island ravaged by European diseases and anything but what he was seeking. Still, he stayed, built a two-story studio and residence that he brazenly called 'The House of Pleasure' and produced some of his best known works over the next two years before dying at age 54 in 1903.  He is buried in Calvary Cemetery above Atuona and this is his unconventional grave.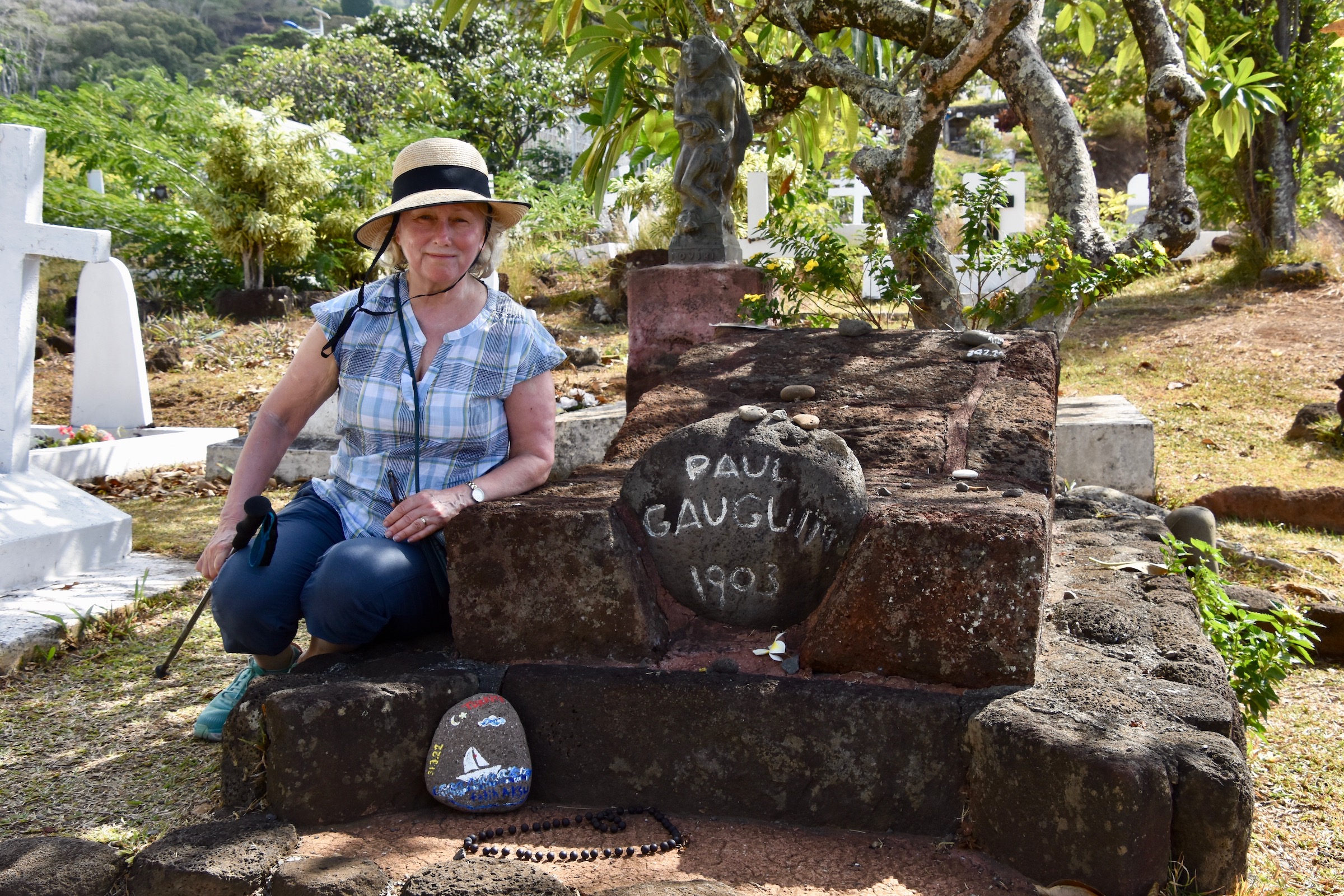 On the grave is this figure which is Oviri, Tahitian goddess of mourning and at the same time savagery. Gauguin first made a ceramic copy in 1895 and then several others of which this is one. He asked that it be put on his grave and given the fact that some of his sculptures have fetched as much as $11.5 million USD, it is a wonder that it is still here.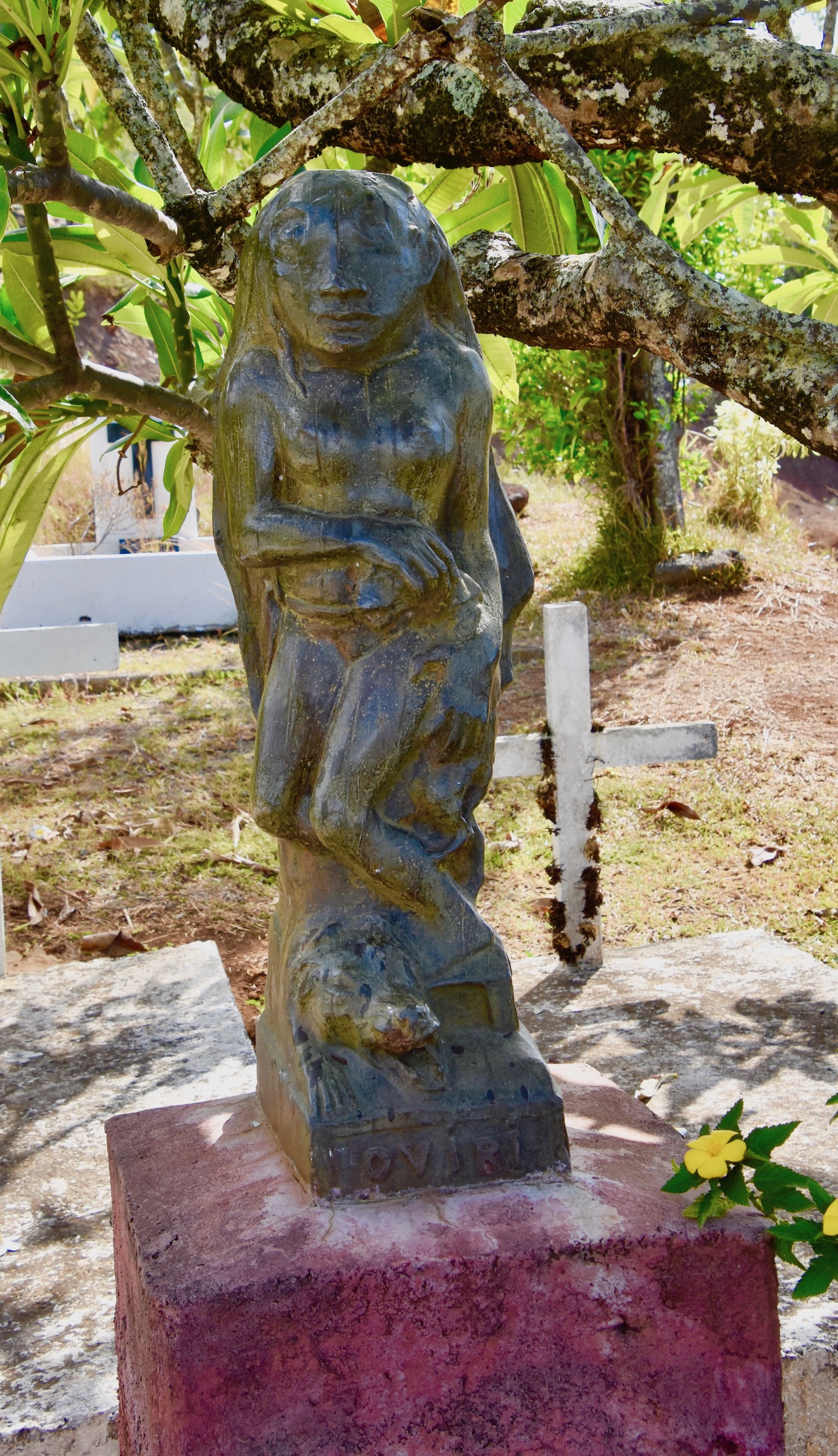 Also in the same cemetery is the grave of Belgian singer/actor Jacques Brel.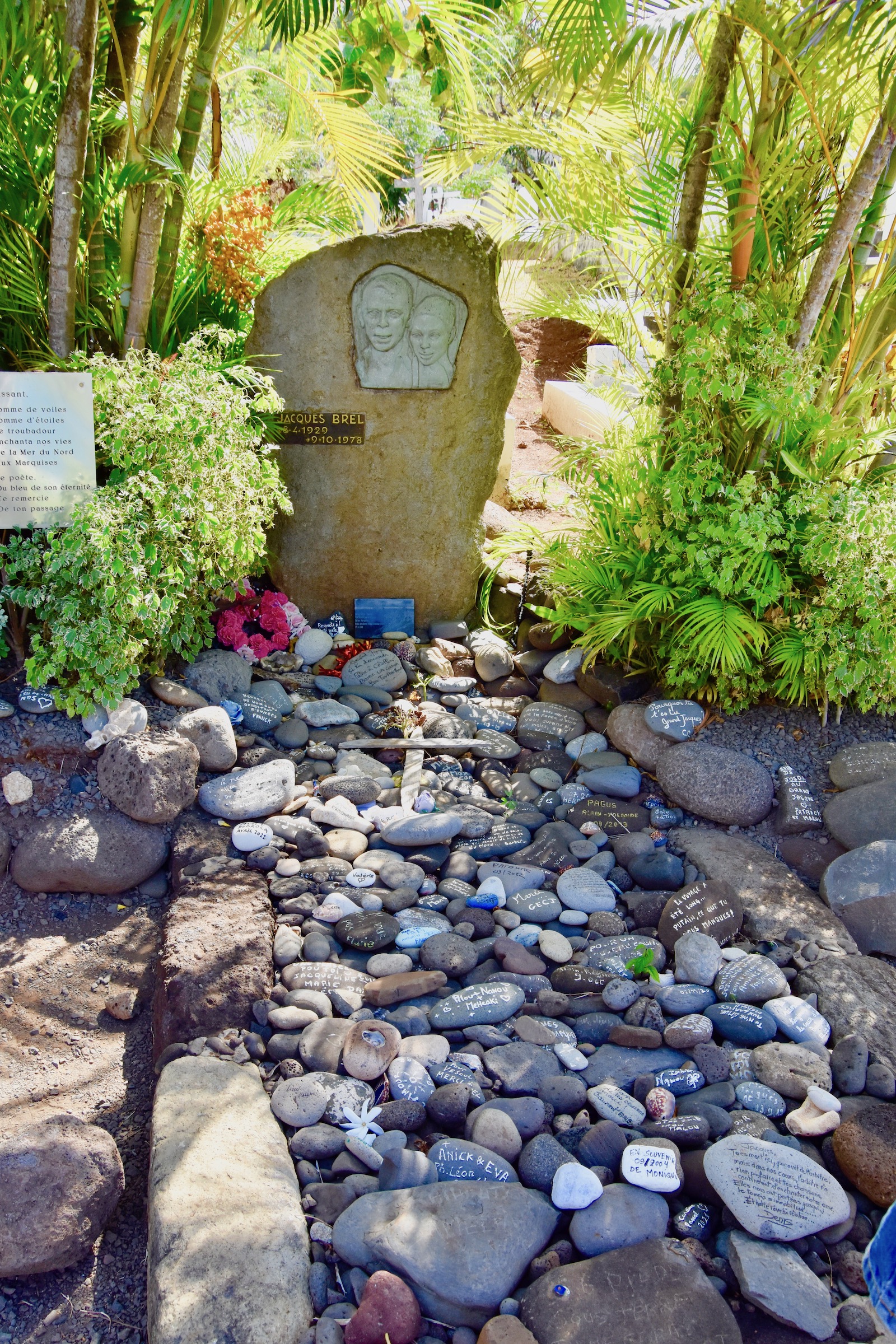 Brel first came to Hiva Oa in 1975 after making a 59 day crossing of the Pacific Ocean in his sailboat. He knew he was seriously ill and wanted to try to circumnavigate the globe before he died. Against doctor's orders he eventually settled here in 1977, returning to Europe occasionally to record and seek medical treatment for what was clearly lung cancer. While he died in France during one of these visits he was returned to Hiva Oa and this is his grave.
I had only a vague idea of who Jacques Brel was and was certainly not aware of his cult like status in France. There were far more people from the boat interested in Brel's grave than that of Gauguin. Many visitors leave inscriptions on pebbles to mark their homage to his grave site.
From the cemetery we made our way down to Atuona where the Paul Gauguin Cultural Centre is found. It was opened on the 100th anniversary of his death and features a replica of the House of Pleasure and copies of many of his most famous works.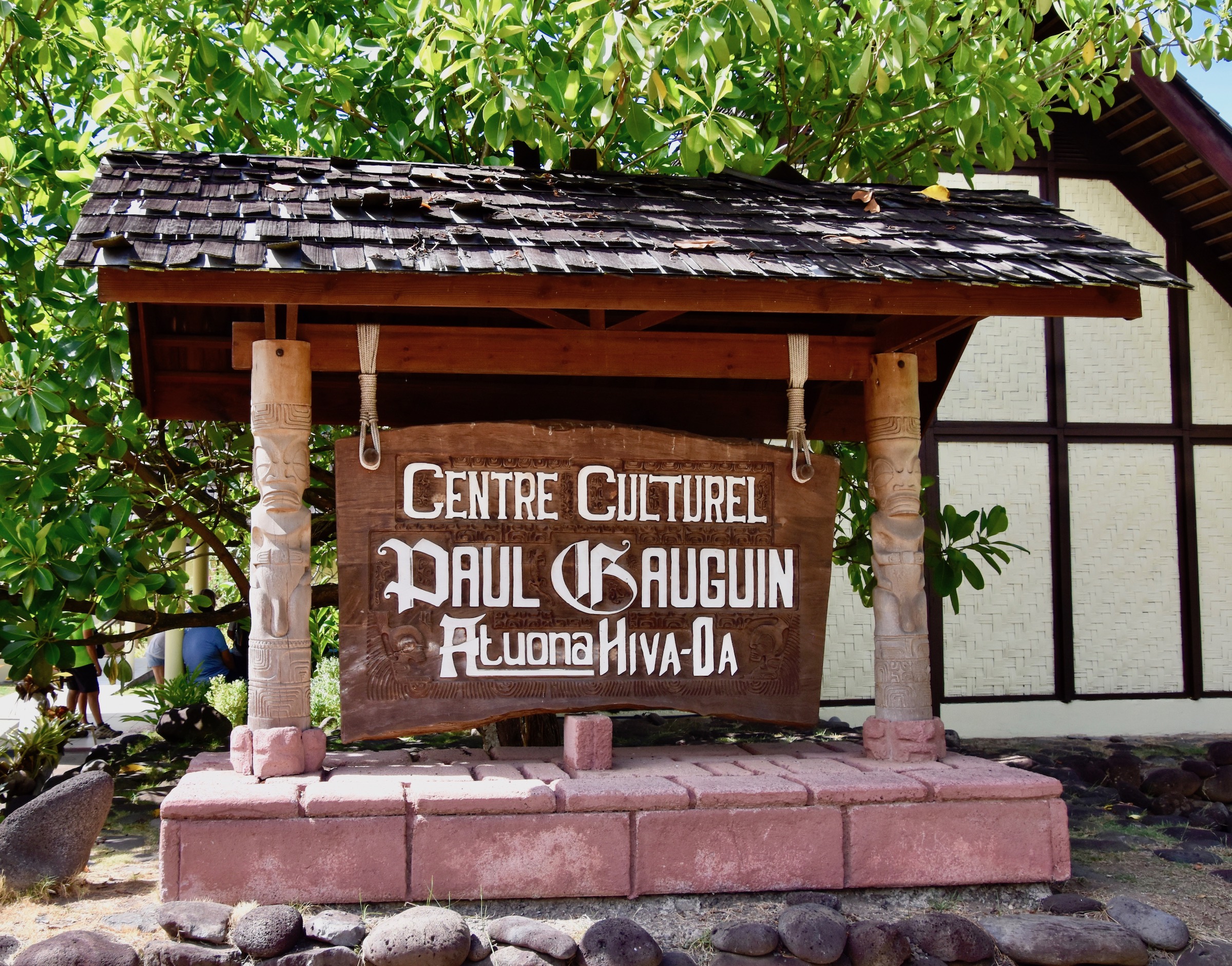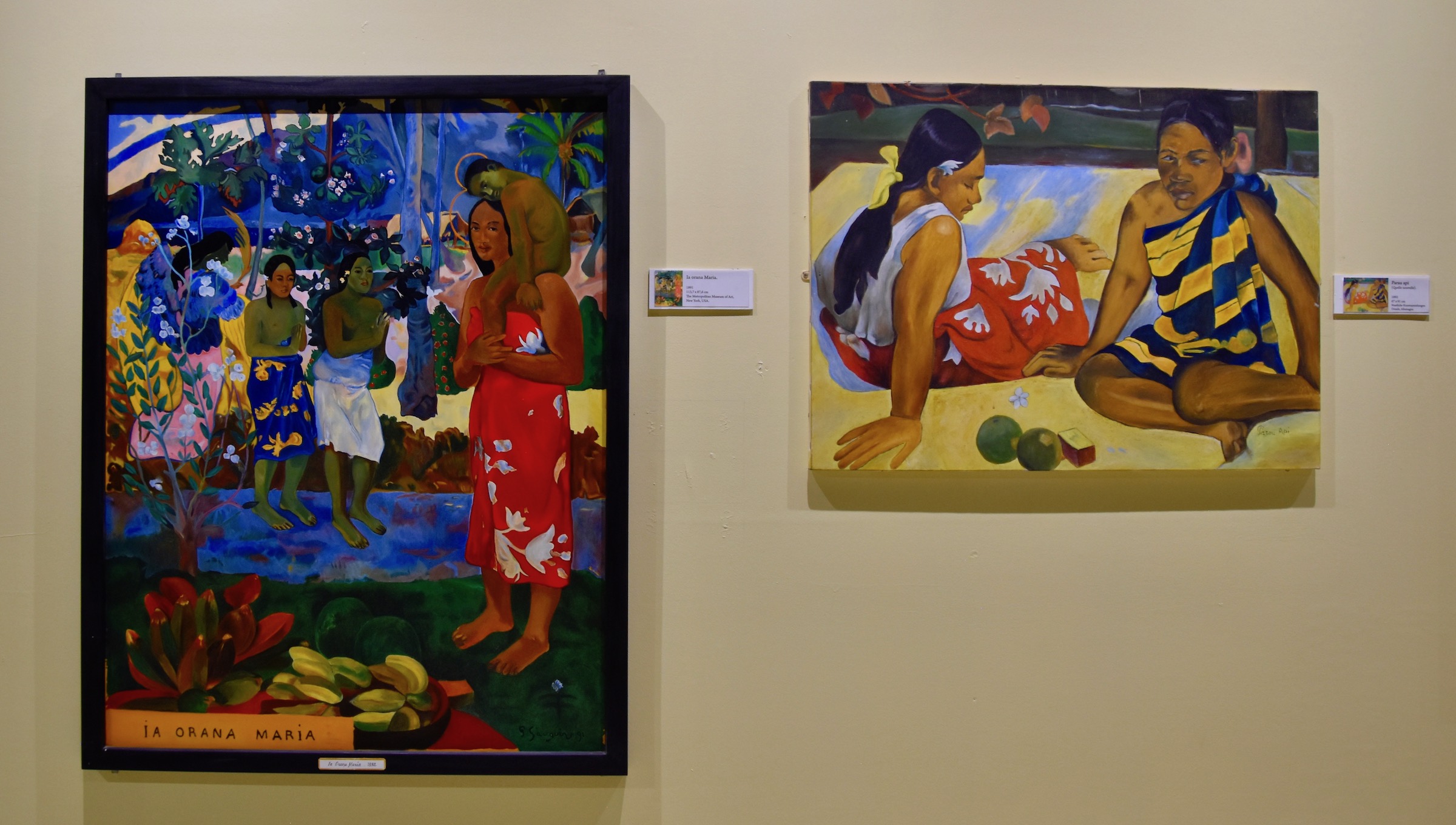 This is the replica of his studio.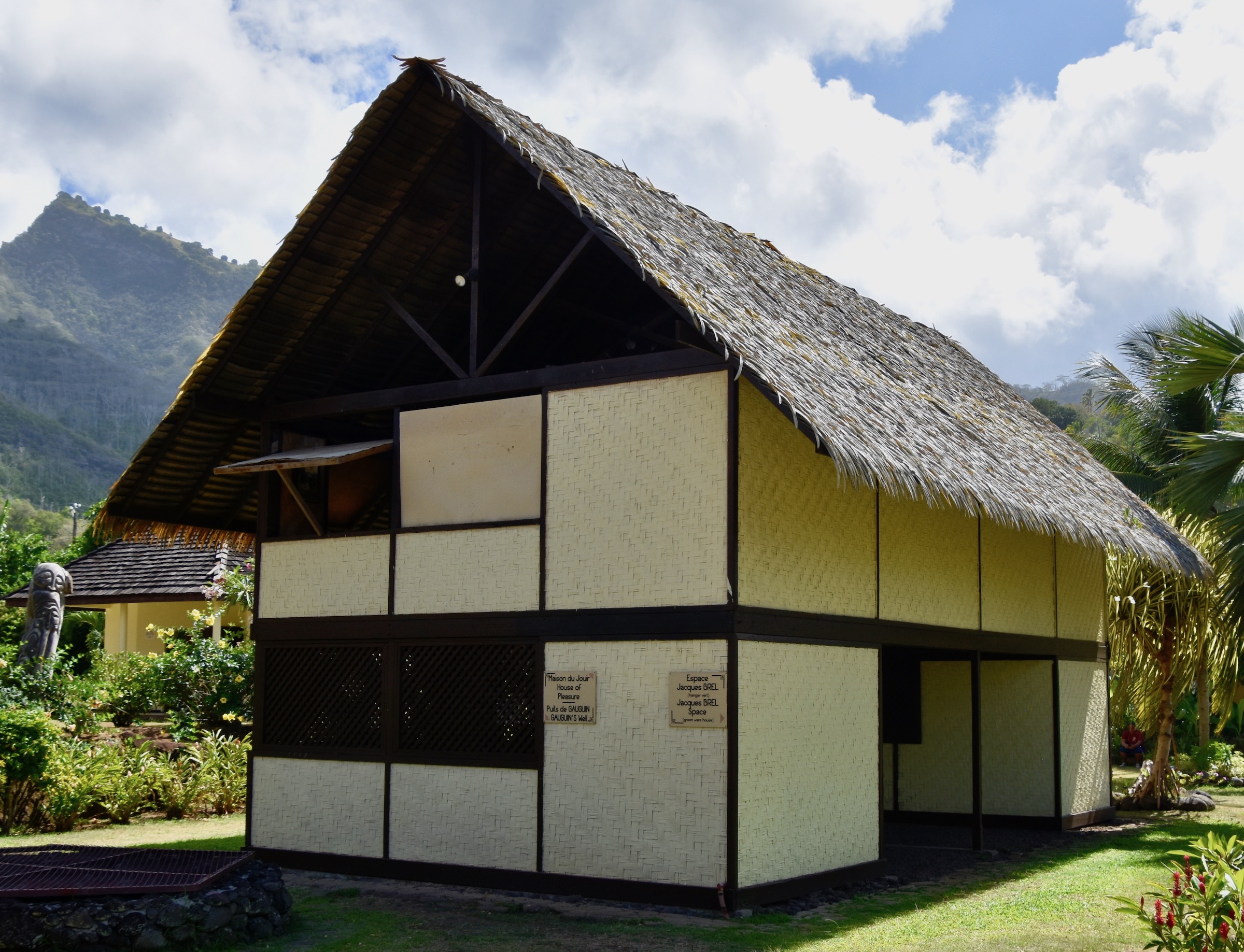 The grounds of the Gauguin Cultural Centre are quite well landscaped with a number of tikis and moias scattered about including this one. Why there's an Easter Island moia in the background I'm not quite sure.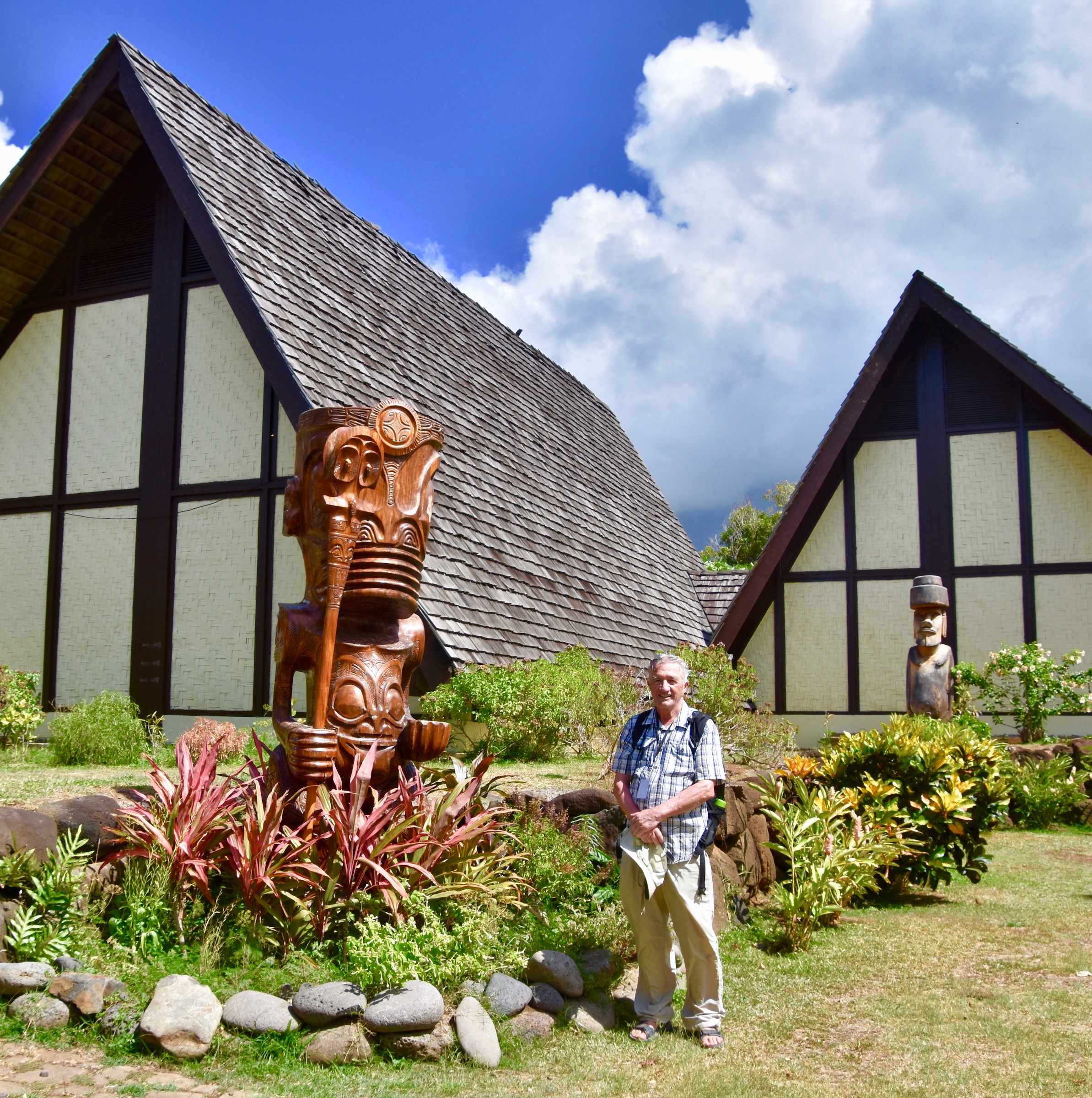 There was also this very large double hulled canoe of the type used by the islanders to explore for new places to settle. Supplies were kept on a net or planking between the two hulls which were equipped with sails. Believe it or not journeys in excess of 1,000 miles on the open ocean could be made in these type of vessels.
After finishing our visit to the Gauguin Cultural Centre we headed back to the Aranui 5. This was the view of the beach at Atuona.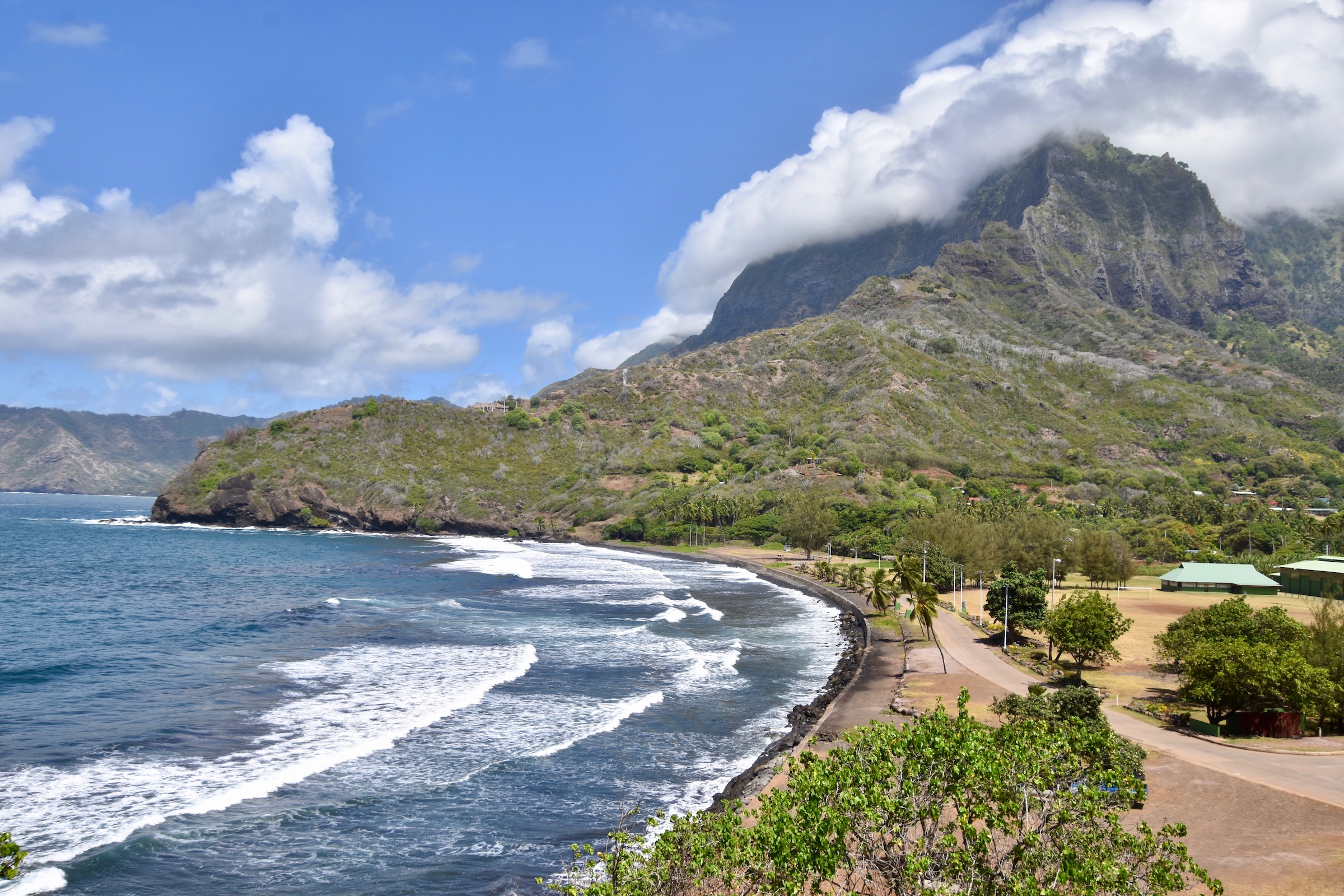 Back on board, the ship departed for our next stop Puamau on the other side of Hiva Oa where we will visit one of the most important archaeological sites in French Polynesia. I'll see you there.