Royal Aberdeen Balgownie Hole by Hole
This is the sixth and final hole by hole post from a fall 2022 golf trip to northeast Scotland arranged by Platinum Golf Scotland. This will feature the revered Balgownie course at Royal Aberdeen. Previously during our stay in the Granite City we played Cruden Bay and Trump Scotland, both of which were exceptional and challenging golf courses well deserving of their reputations. I'll be very surprised if the Balgownie course doesn't prove to be a great finale to what has been a great string of links courses in the Home of Golf. So first off let's find out why this club is one of less than a dozen that have attained 'Royal' status in Scotland. BTW did you know that 'Royal' designations are still being handed out and are not just relics of the past? Troon only received its designation in 1978 while in Canada Regina and the Mayfair club in Edmonton received their designation in 1999 and 2005 respectively.
History of Royal Aberdeen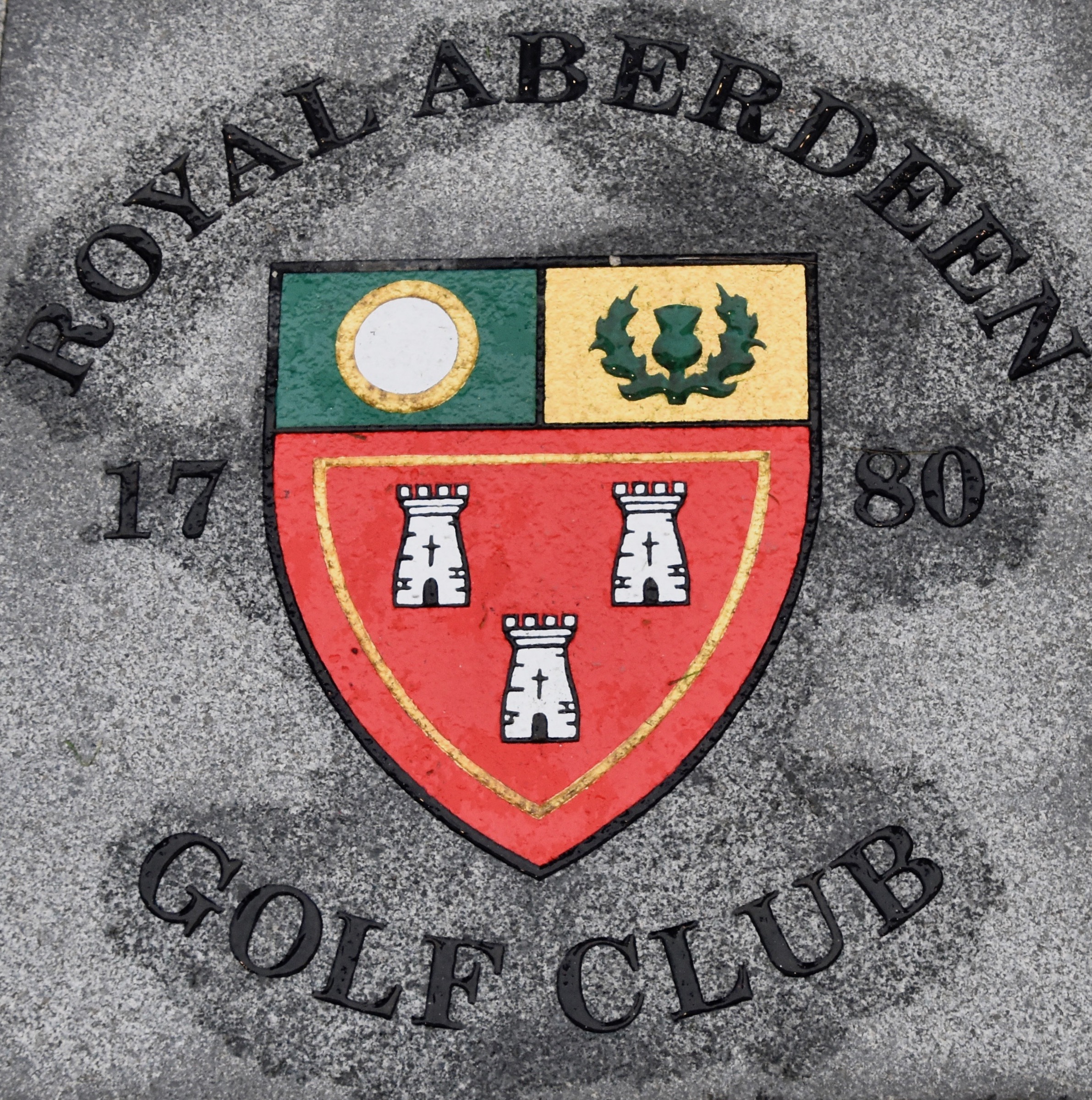 Although St. Andrew's claims to be the place where golf began as an organized sport, the actual first record of a golf hole per se is from Aberdeen in 1625. Certainly golf has been played here for many centuries. With the formation of the The Society of Golfers at Aberdeen in 1780 which morphed into the Aberdeen Golf Club in 1815 and finally the Royal Aberdeen in 1903 the club has a legitimate claim to being the sixth oldest on earth.
As with most of the oldest formal golf organizations or clubs, the actual course upon which the game is played today is quite different than the one played when the club was founded. In the case of Royal Aberdeen the original Queen's course was much closer to the city before being abandoned in favour of the links at Balgownie in 1888 on a beautiful patch of linksland north of the Don River. The course was designed by Archie Simpson with help from his brother Robert. We previously experienced Archie's work at Nairn and Cruden Bay. As at Cruden Bay the great James Braid was later brought in to lengthen the course and recreate the bunkers. There has been some tinkering since then, most notably by Martin Hawtree who is responsible for the creation of Trump International  just down the road from Royal Aberdeen, but essentially the Balgownie course maintains its classic links look that it has had for over 130 years.
In terms of notable tournaments Royal Aberdeen has hosted the Senior Open in 2005 won by Tom Watson at only -4, the Scottish Open in 2014 won by Justin Rose at -16 as well as The Walker Cup in 2011 with Great Britain & Ireland besting the United States team 14-12. It currently is rated #59 in the world by Golf Digest of courses outside the United States. In doing my research for this post I found many articles that rate the front nine on the Balgownie course at Royal Aberdeen among the very best in the world. So let's go find out if that's true.
We arrived at Royal Aberdeen after a short drive north from the city with plenty of time to warm up. The clubhouse is an interesting combination of black and white that contains a separate guests and members area. Guests can go into the members lounge, but you need a jacket and tie to do so. The guest's area and lounge was more than adequate.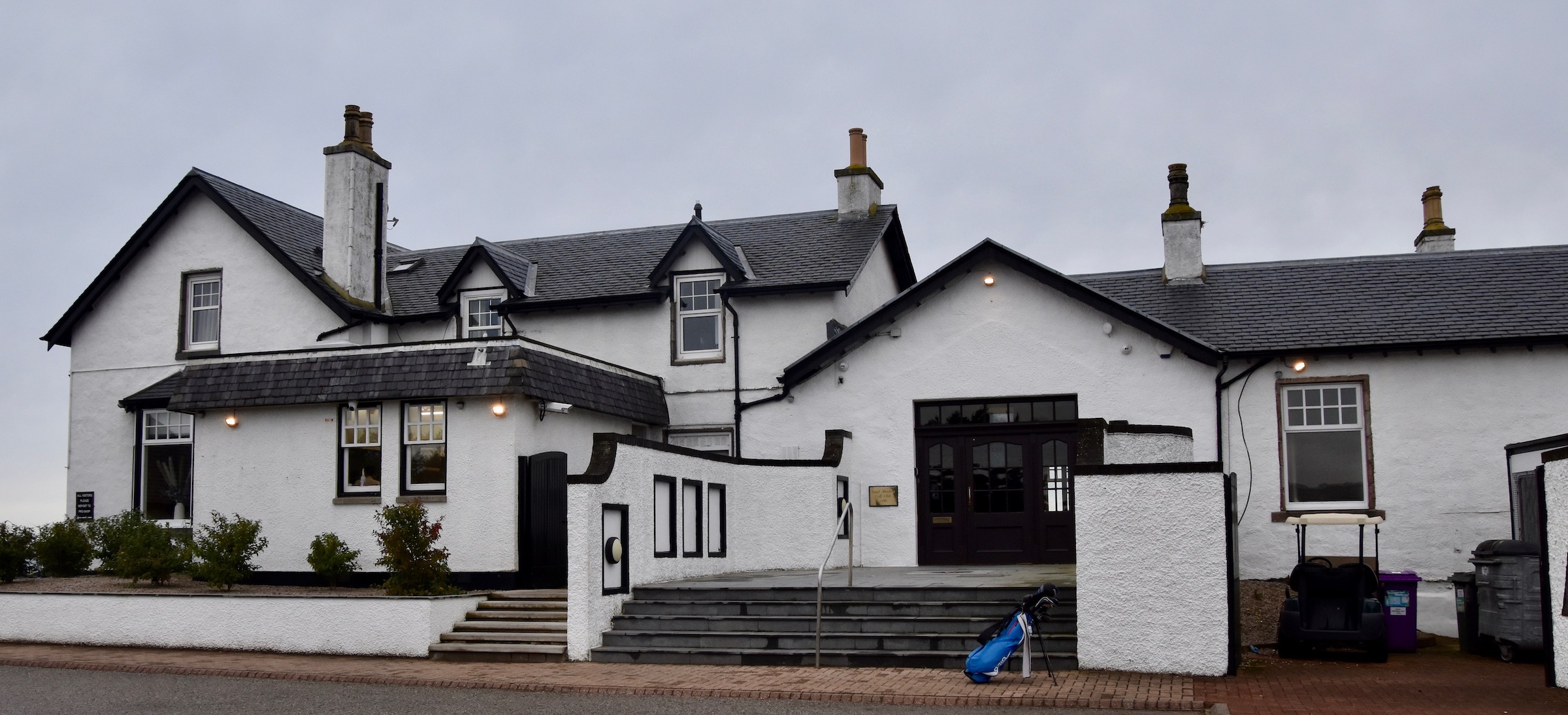 As with all these very old courses there is a lot of memorabilia on display. I did take note of the photos of Tom Watson and Justin Rose that you pass under on the way to the locker room.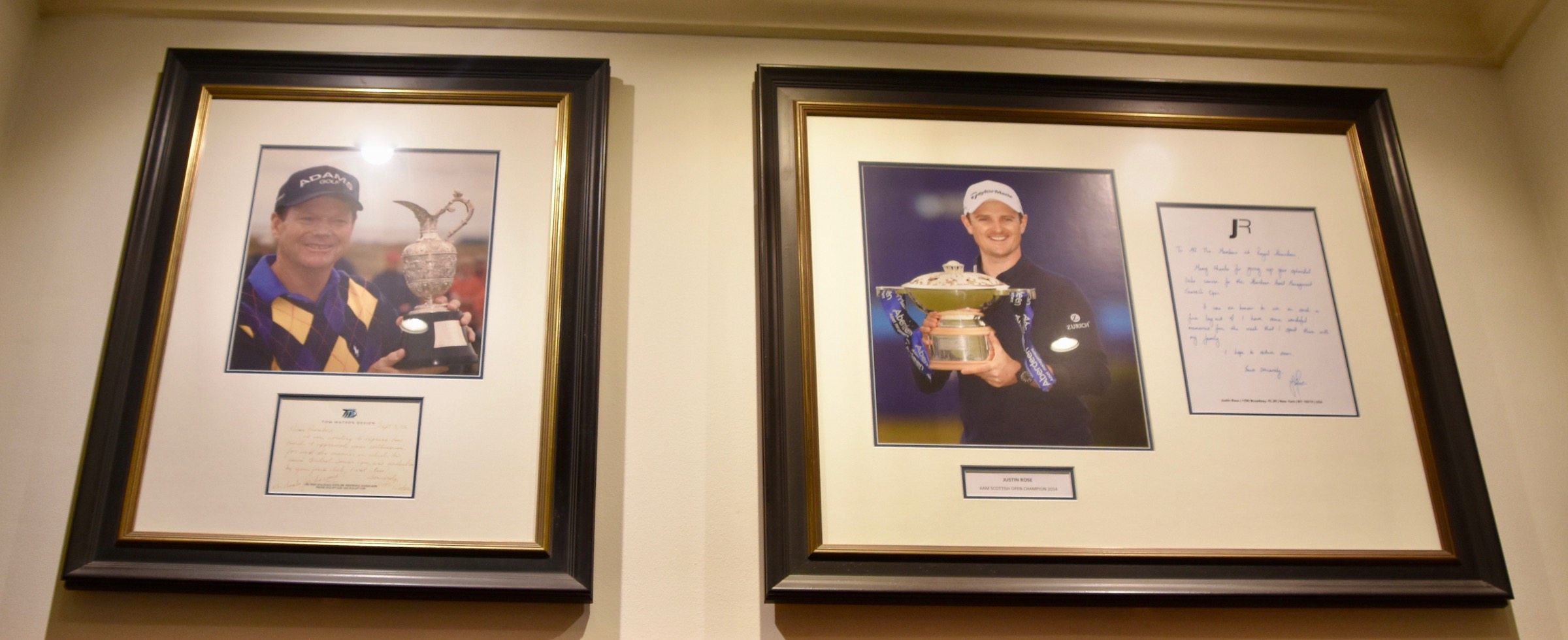 The pro shop is in a completely separate building.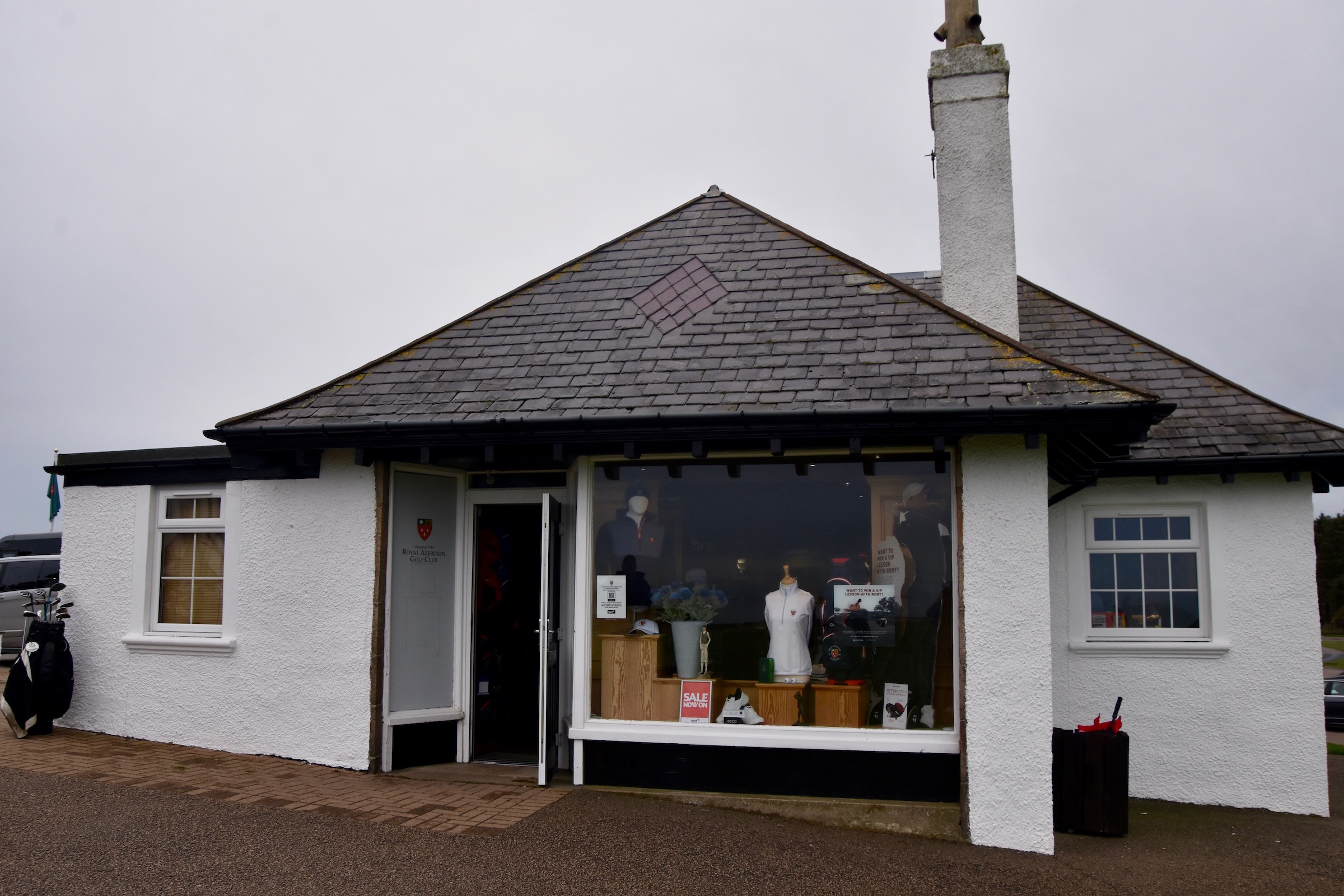 Although it is not large, I found the interior of this pro shop the most interesting of the links courses that we played; it has oak everywhere. The quality of the items offered for sale at the prices asked was as good as any pro shop I've ever been in. I was not really planning to buy anything other than a logo ball, but I could not resist a gorgeous navy blue Under Armour windbreaker with the Royal Aberdeen coat of arms on the sleeve. I believe everybody in the group bought something similar. We couldn't afford not to.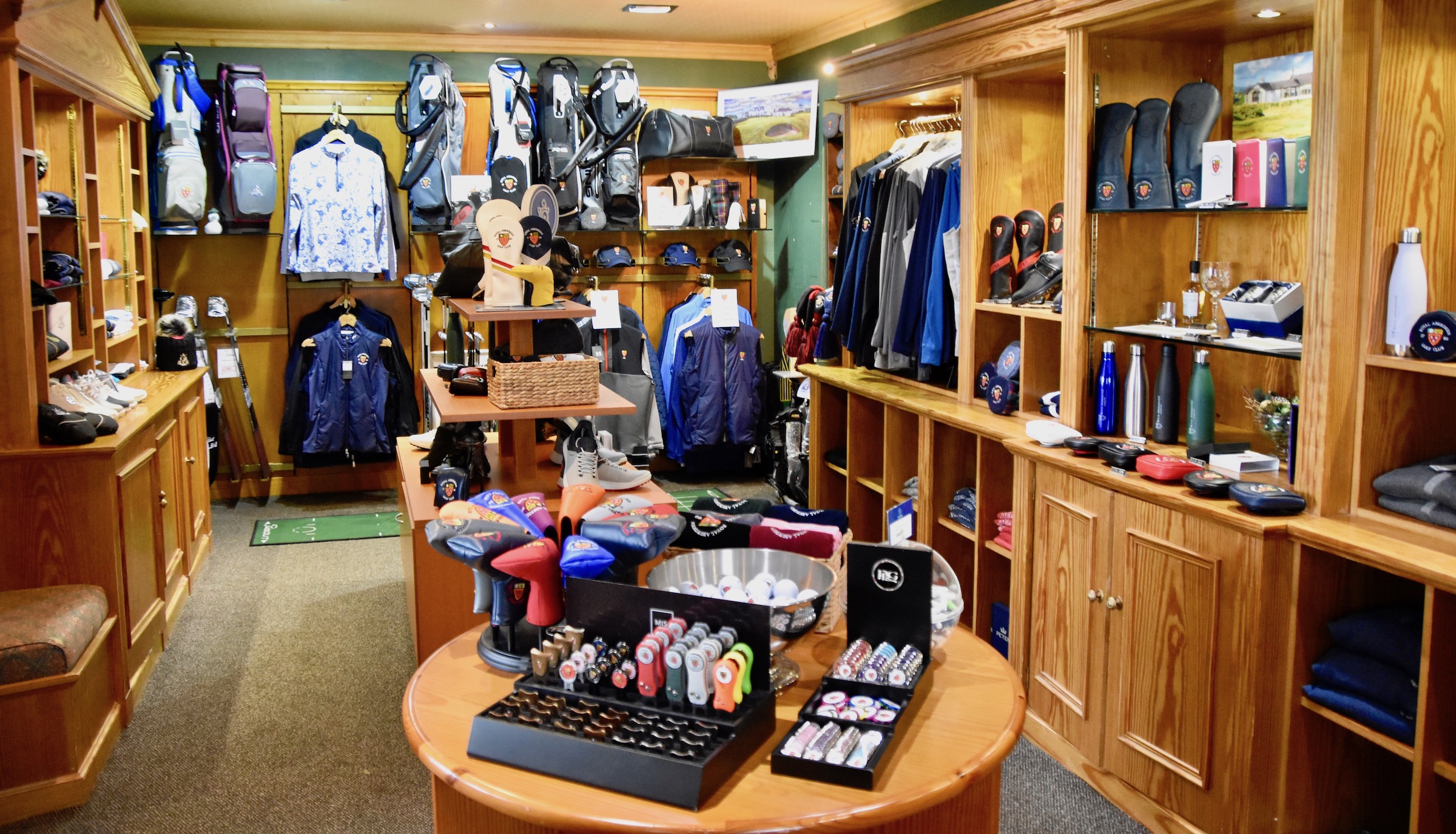 This is the practice green from where you can get a look at offshore oil service vessels tied up as the pace of extraction gradually slows and the demand for these type of services diminishes, although there is still enough oil and gas left to last at least another twenty years. You can also see the offshore wind farm that Donald Trump tried without success to have stopped.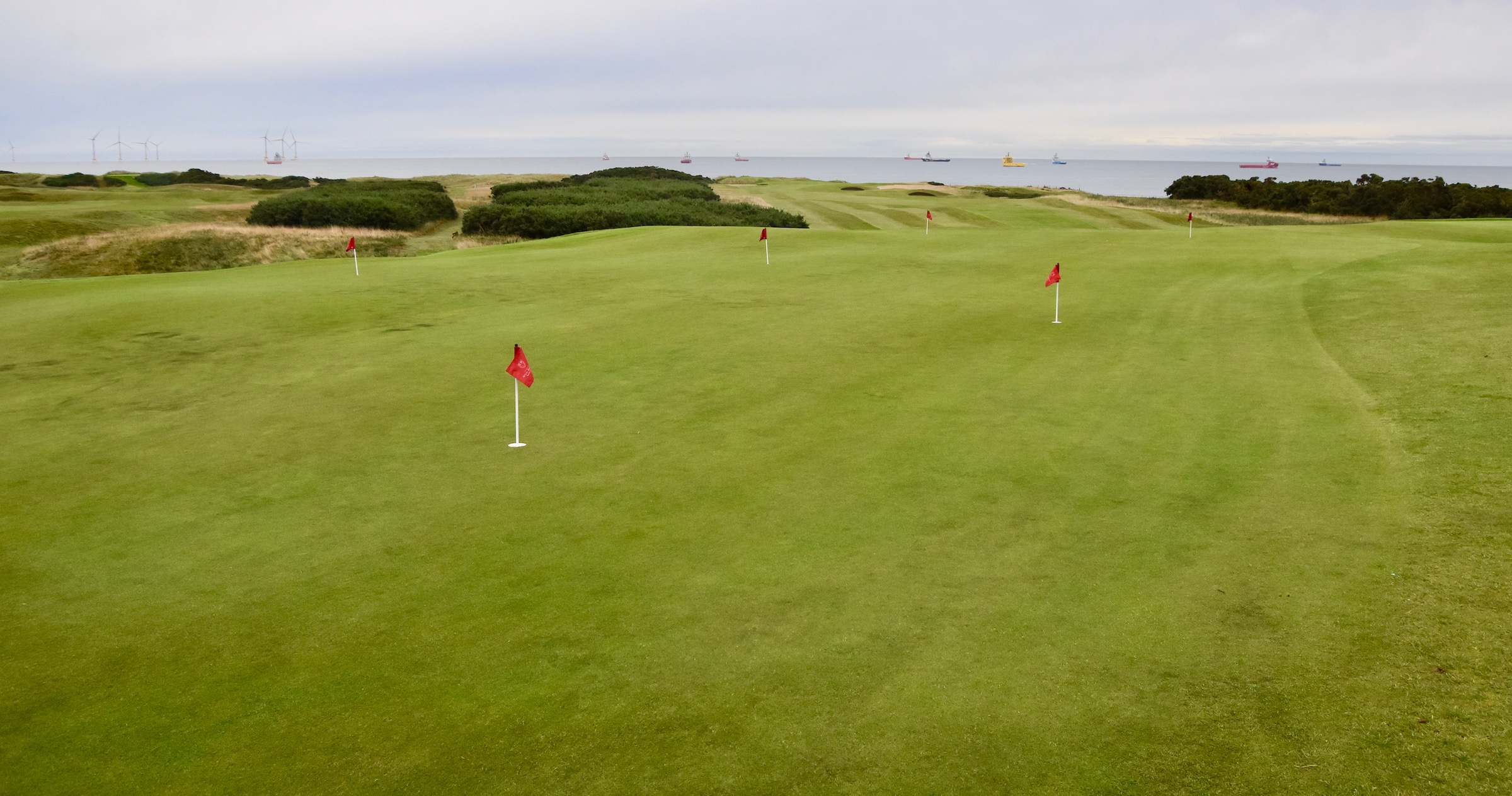 Standing in front of the clubhouse this is the view back across the Don River towards Aberdeen with the iconic Girdle Ness lighthouse as the most prominent feature. It has been protecting mariners for almost two hundred years.

So essentially before you hit your first drive at Royal Aberdeen you get a glimpse of the old and the new economy of this area.
Time to tee off.
Royal Aberdeen Balgownie #1 – 386 Yard Par Four

Although the Balgownie course at Royal Aberdeen can play as long as 6,800 yards we are playing the red tees that top out at 6,015 yards, one of the longer distances we have played on this tour. Here's the deal though – if there is little wind you can get a lot of roll on this course both going out and coming back so the distance shouldn't be an issue. Today that is the case as the windmills are barely moving. God help you if there is a headwind on the front nine as every hole plays into it. This is a truly out and back course with no breaks to be had in  between such as you get at Portmarnock where a couple of holes on each nine play back. I have read posts that describe golfers brought to tears and even quitting the game after playing the front nine into a gale.
For some reason I forgot to take a picture from the tee on this hole which has an elevated tee box and a profusion of small mounds that cause the ball to runoff in all directions. On the second shot you need to clear an area where the fairway narrows almost to nothing. This is my second shot and I still need to pull off a delicate bump and run to have any shot at par. I didn't.
The greens at Royal Aberdeen Balgownie are not large, but not as punitive as some we have played, Royal Dornoch in particular. You definitely need a caddie on this course not just to read the putts, but to give the line on almost every shot. They know the bounces, you don't.
The Scots are known for being somewhat terse with their language and nowhere is that more reflected than in their naming of the golf holes. The one we just played is called First.
#2 Pool – 544 Yard Par Five

Other than the fact that there are no pot bunkers until you are almost to the green, this is as prototypical a links golf hole as you can get. It plays in a hollow between dunes with the sea on one side, but out of sight. There is gorse and fescue ready to swallow up any wayward drive. Fortunately there is a ton of room to the right for your drive, but then things get real tricky as the fairway simply rocks and rolls all the way to the green. Chances are good that your approach shot will involve anything but a flat lie and even if it does you need to stick it on a green that runs off in multiple directions, including feeding into two pot bunkers guarding both sides of the green. This is a very difficult par five, but a majestic golf hole by anyone's definition.
BTW I saw no sign of a pool on this hole.
Royal Aberdeen Balgownie #3 Cottage – 188 Yard Par Three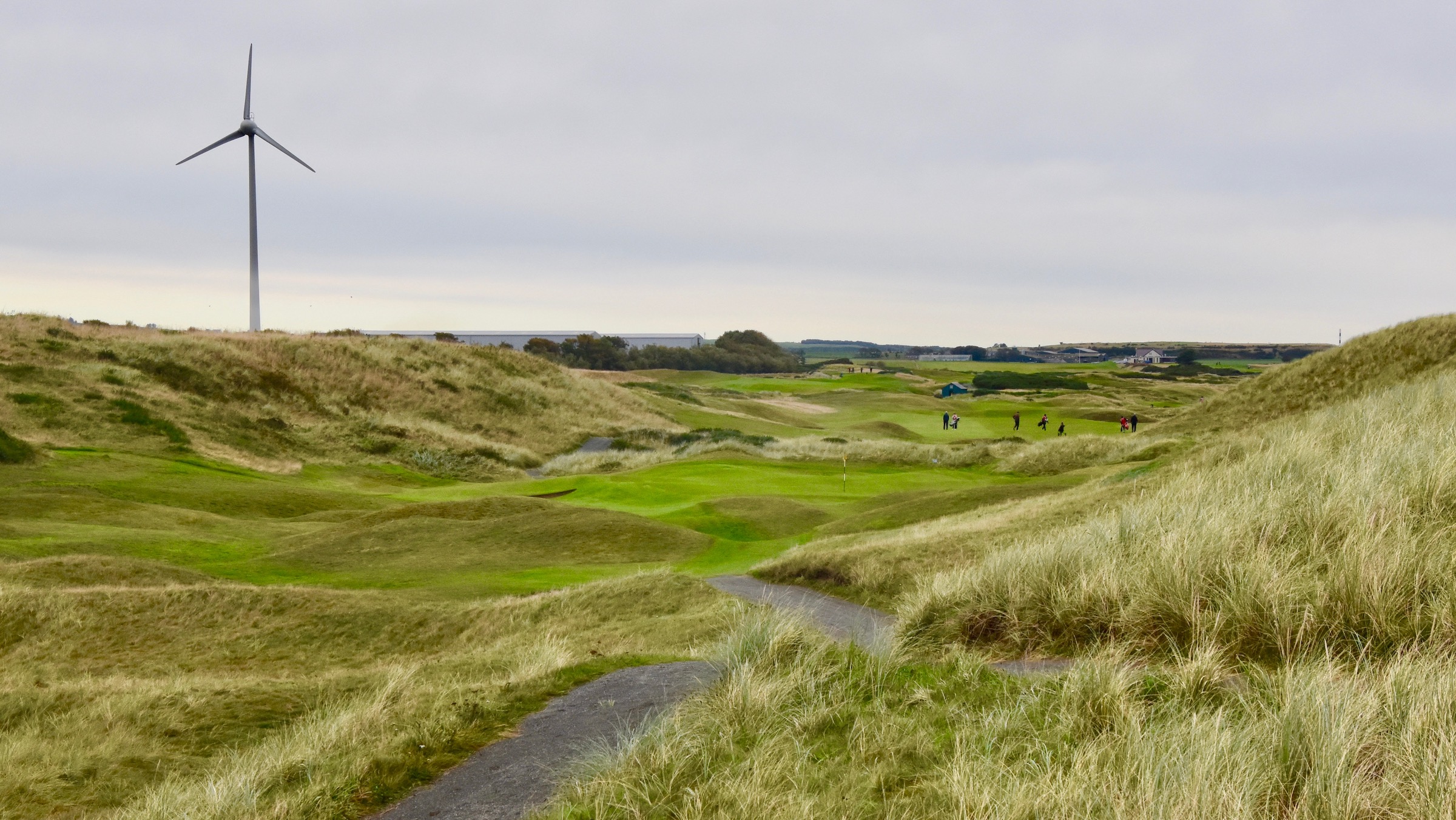 This is one hole where you will be glad that there is no tailwind as hitting this green on the fly would almost guarantee being in the fescue at the back. On the other hand, wind or no wind, if you come up short and hit one of those mounds God knows where your ball will end up. The elevated tee allows for less club than the distance would indicate, but it will still take an almost perfect shot to get anywhere near that front pin position. The right club with the right swing is the only solution on this hole and how often does that happen?
#4 Valleys – 375 Yard Par Four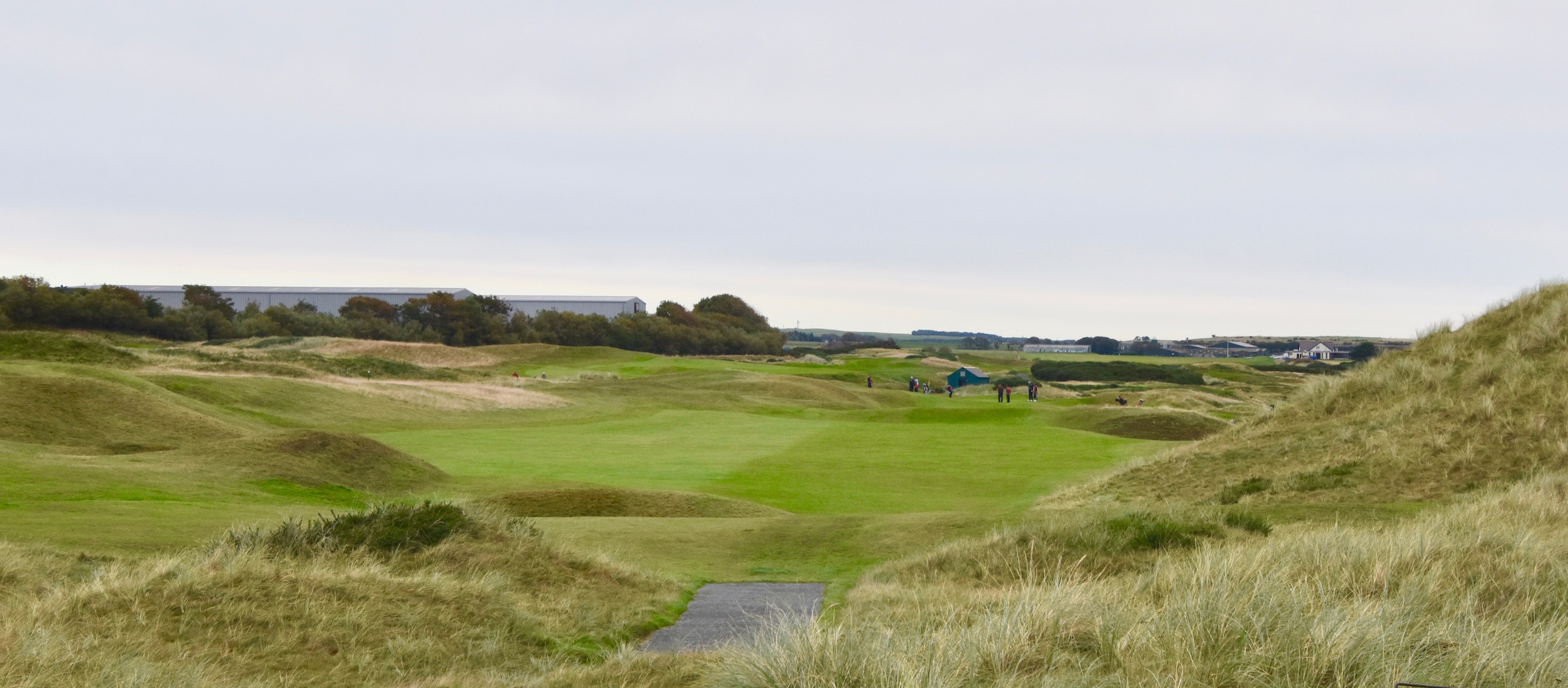 The #1 stroke hole doesn't look that bad from the tee box and the drive should not be the problem here although you will need as much length as you can get because the second shot is a bastard. There is virtually no fairway from a gully that starts just over 230 yards out until all the way to a very long and narrow green with a huge (for Royal Aberdeen) gaping bunker on the right that is positioned in the most likely place to land to stay on the green. Although Royal Aberdeen is not infested with bunkers like some links courses, there are still a lot of them and they are, to my recollection, all pot bunkers so getting out is often no easy task. By now all of us have been in enough of them that we should know when to try to advance the ball and when to take our lumps and go sideways or even backwards.
After four holes at Royal Aberdeen Balgownie you know you are playing a tough course and by now praying for a let up. Luckily some relief is in store.
Royal Aberdeen Balgownie #5 Road – 285 Yard Par Four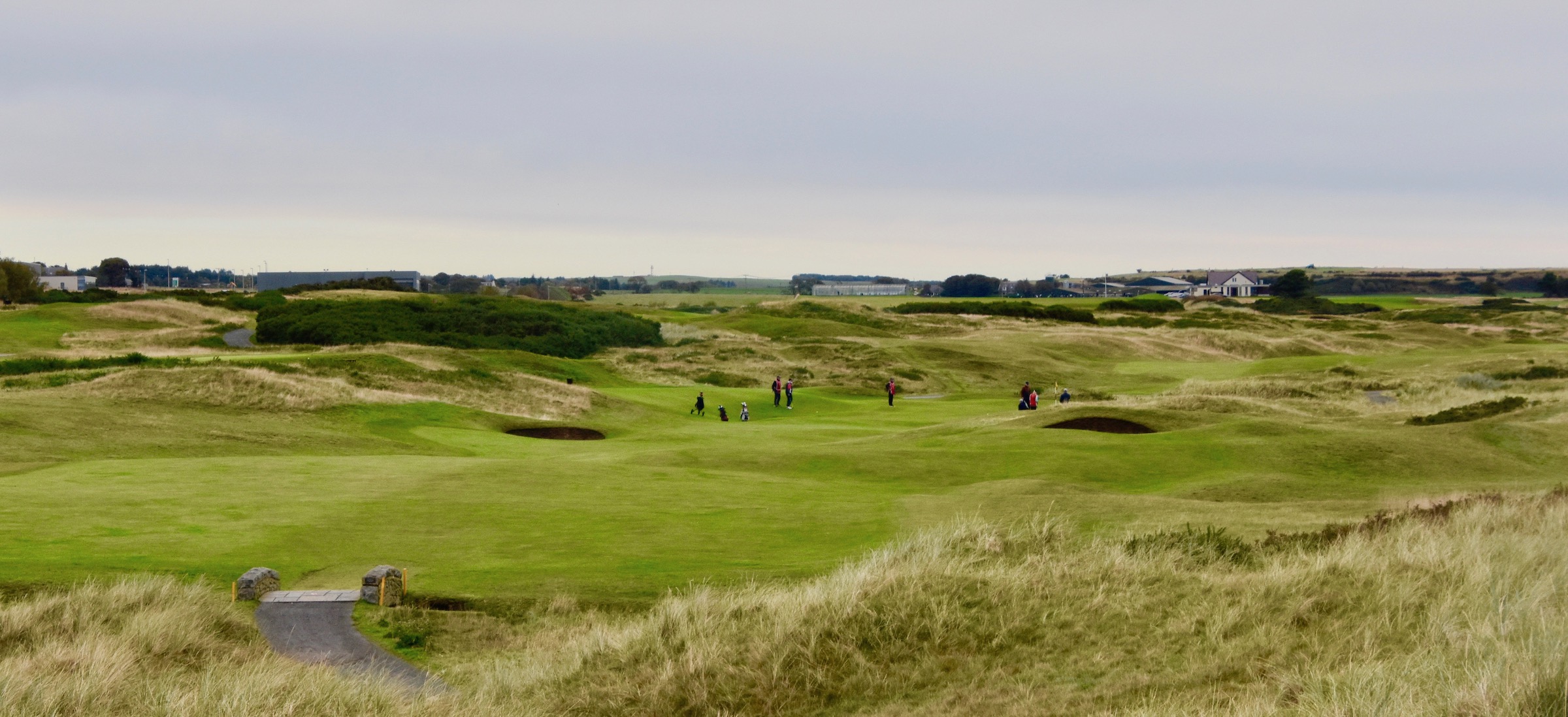 This is by far the best birdie opportunity at Royal Aberdeen Balgownie. You certainly don't need a driver and only need to avoid the two fairway bunkers. The bunker on the left is almost 230 yards out so a five wood or hybrid just short of it will give the best approach to a small green that is guarded by four more bunkers. A wedge to the centre of the green should yield a birdie putt. This hole definitely will bring the spring back into your step after the tough start.
#6 Scotston – 455 Yard Par Five

This is another classic links hole that looks very tricky from the tee, but is not as tough as it looks. Those bunkers are actually 300 yards out so there is plenty of room to let it rip off the tee. The real problem is the second shot as the fairway narrows considerably. Even if you've hit a titanic drive it's probably wiser to choose less club for safety rather than try to reach the green in two. The photo below shows the most likely landing spot for a decent drive and you can take the fairway bunker in the distance out of play by hitting a hybrid which will leave a short pitch to the green.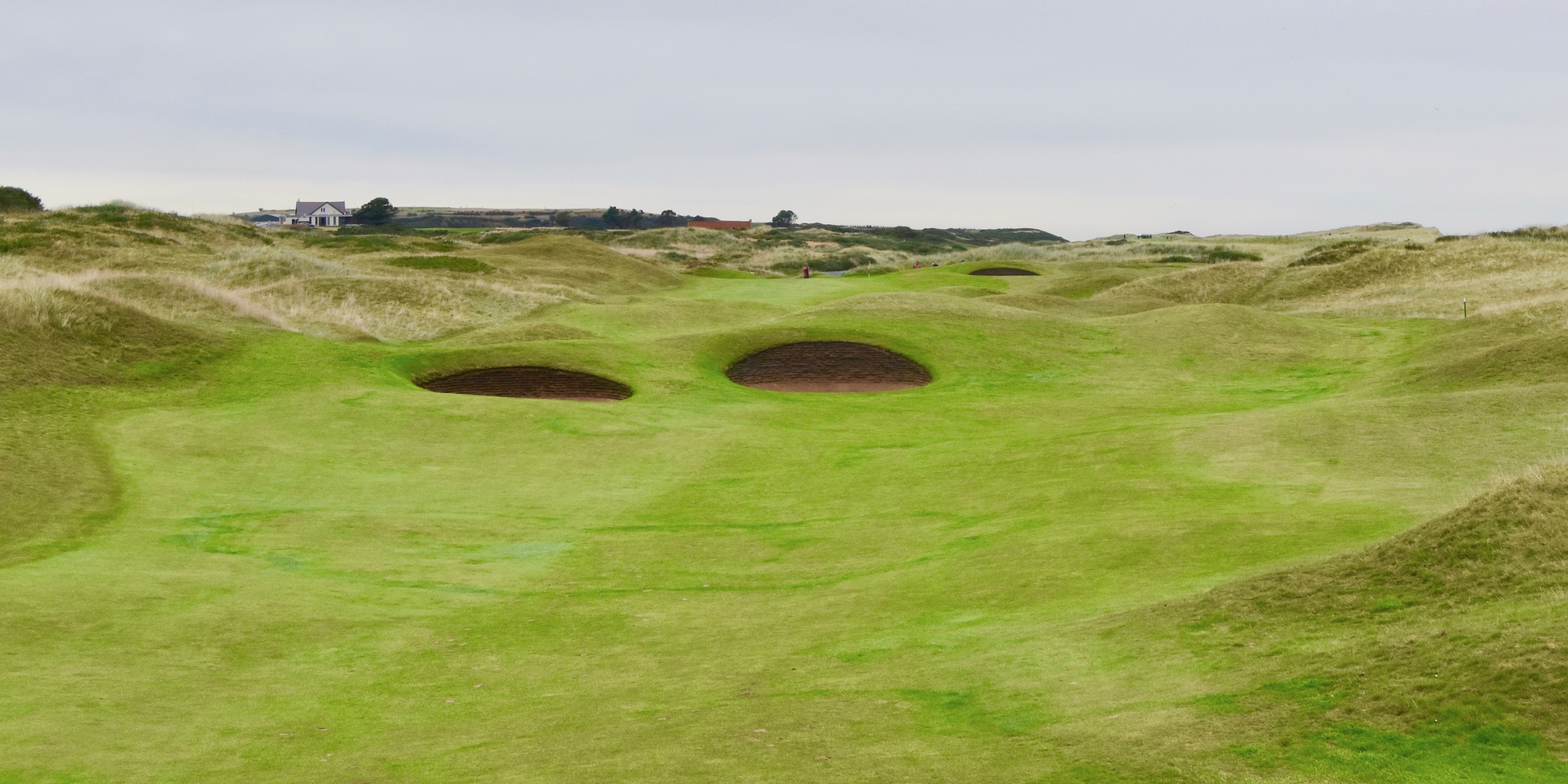 Play this hole for a par and there's still a decent chance you'll have a birdie putt.
Royal Aberdeen Balgownie #7 Blackdog – 355 Yard Par Four

A black dog has two symbolic meanings, neither of them good. One is a metaphor for depression, the other a portent of death. I'm not sure how this hole got its name, but it can't be because it's going to put a smile on your face after playing it. In reality it's a medium difficult par four that will require a pretty decent second shot to two-tiered green. The fairway bunker on the left is 260 yards out and the best line off the tee is straight at it. From there you should gave a mid iron or less to avoid the black dog brought on by a double-bogey if you find one of the four bunkers guarding the green.
All I can say by this time on Royal Aberdeen is thank God the wind is not up. We are really getting to play this course at its gentlest.
#8 Ridge – 133 Yard Par Three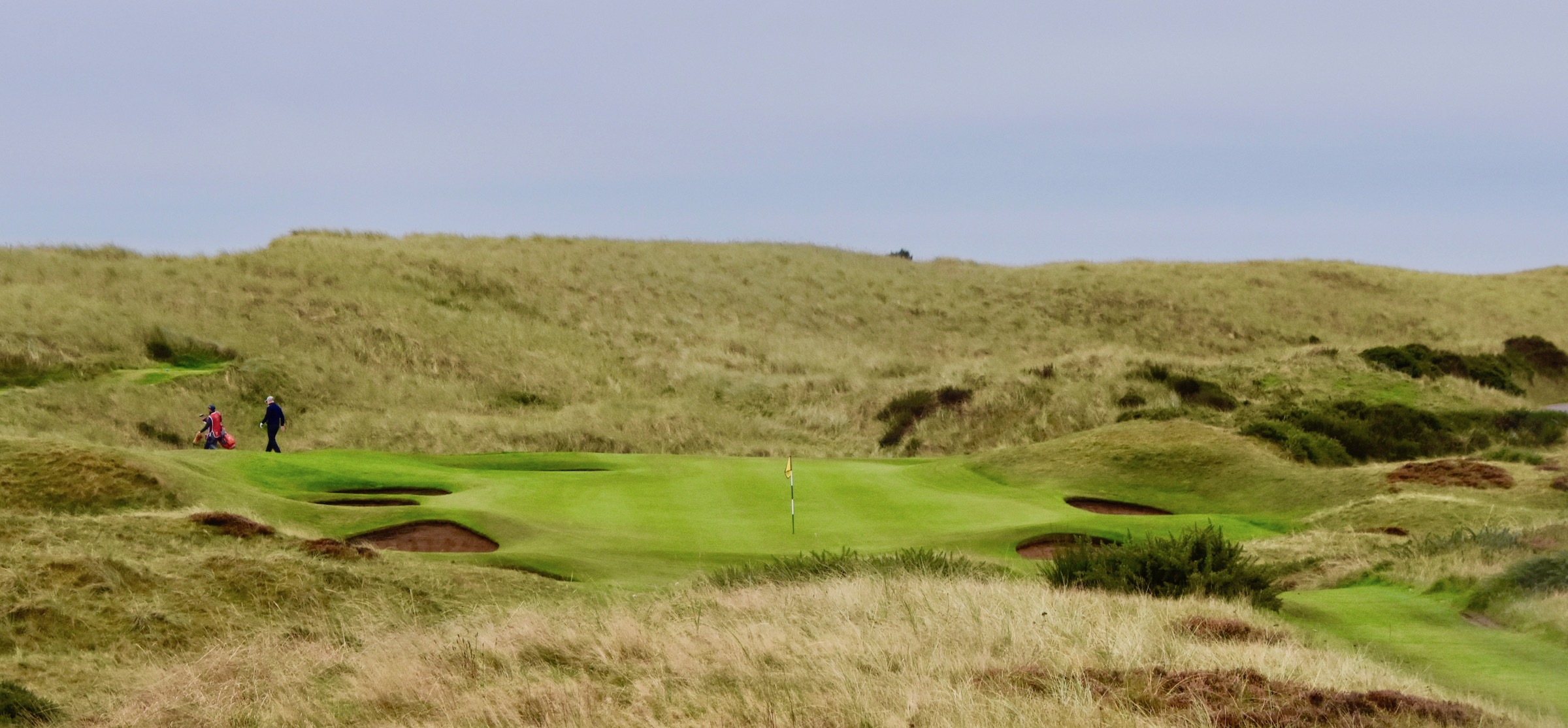 Earlier in this post I wrote that Royal Aberdeen does not have an insane amount of traps. I take that back. There are no less than ten on this really nice looking par three that backs onto a huge fescued dune. Again, thanks to no real wind this is quite doable with a short iron or even wedge. You will either be putting for birdie, hoping for a decent lie in one of the bunkers or praying you can find it in the fescue.
#9 Royal Aberdeen End – 431 Yard Par Four

The final outward hole is one of the few doglegs at Royal Aberdeen and given its length not reachable in two by most of us. A drive aimed at the bunker visible on the right, which is actually on the left hand side of the fairway should leave you about where the group in front is standing. From there it's not only a long way to the green, but uphill as well. Taking a club that you feel comfortable controlling is a lot more important than trying to get as much distance as possible as there is nothing but trouble on both sides of the narrow fairway. Play this as a three shotter and you just might get a decent par putt. Play it like a hero and you'll almost certainly find trouble somewhere along the way.
#10 Shelter – 300 Yard Par Four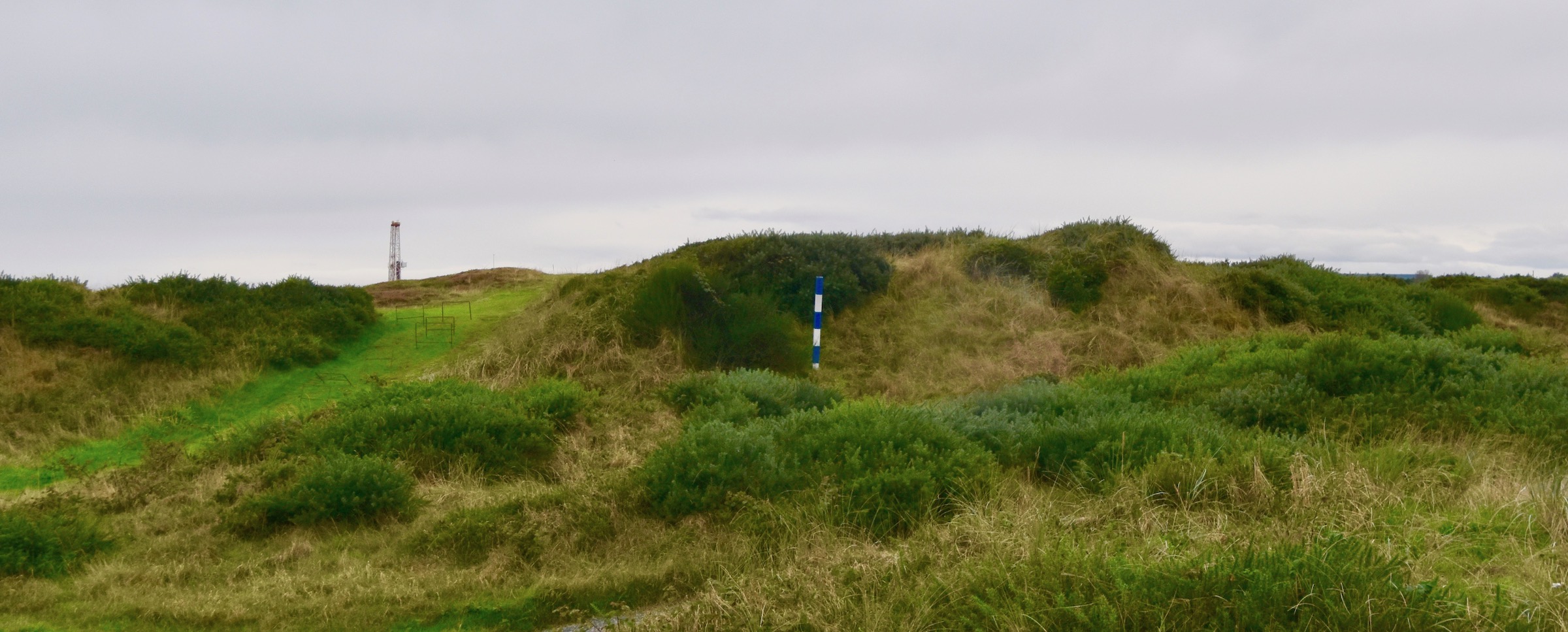 If not for the blue marker and the caddies, you would not have a clue where to aim on this hole. I generally detest blind tee shots and this is no exception. However, the good news is that you should get good distance on your drive as it rolls down the other side of the mound leaving a wedge into probably the most receptive green on the course. The bad news is out of bounds all down the right hand side of the fairway. It's not an issue off the tee, but certainly is on the approach shot.
Although the incoming nine at Royal Aberdeen Balgownie plays farther away from the North Sea than the front nine, there are actually better views on the back. Once you crest the mound on #10 you get a great view of the entire course. That thing you see sticking up in the photo is a training derrick for offshore oil workers.
Royal Aberdeen #11 Short – 153 Yard Par Three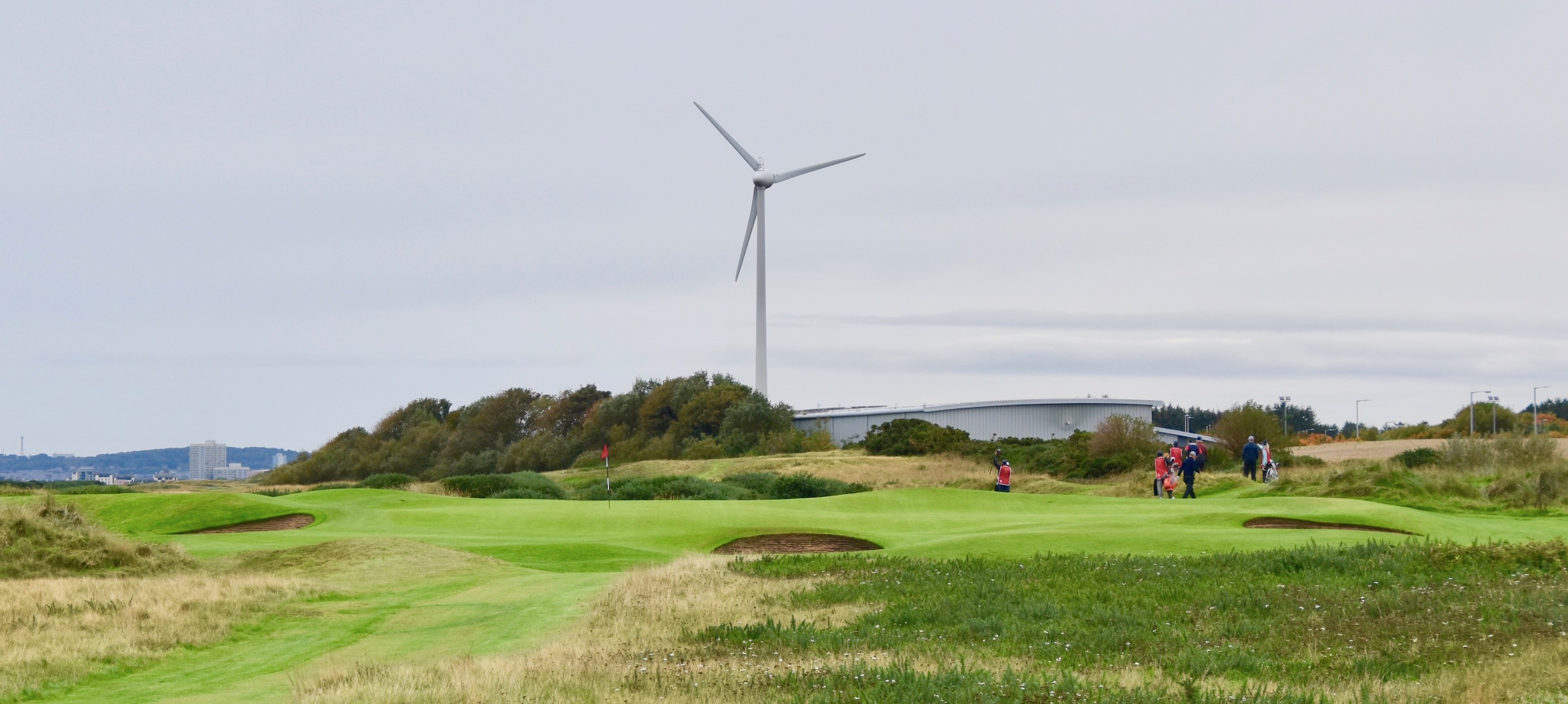 The difficulty with this hole lies almost entirely with the green which has multiple undulations. Getting to it shouldn't be a problem as long as you take enough club to take the three bunkers out of play.
On the front nine it seemed that you were playing away from civilization with few man made objects in sight. The offshore windfarm and moored ships were blocked by the dunes and generally the holes were in hollows between two sets of dunes. The back is completely different and although there are good views of the course there are also sights like this ugly building behind #11 that somewhat mar the experience, but really that's just quibbling.
#12 Plateau – 468 Yard Par Five

This is the most links like hole on the back nine at the Balgownie course at Royal Aberdeen and in my opinion a really good par five. The bunker on the right is reachable, but there's a ton of room to the left so there's no need to bring it into play. As with the two par fives on the front the difficulty comes on the second shot. The fairways narrows considerably and not only are there bunkers and fescue to contend with but gorse as well. Only an idiot would attempt to reach this green in two. A second shot that comes up to within comfortable wedge range is the right formula for parring this hole or maybe even having a birdie putt.
Royal Aberdeen #13 Blind – 360 Yard Par Four

I don't have the same issue with blind shots where you can at least see the fairway if not the landing spot, as I do with ones like #10 where you can't see a damn thing. Once our caddies lined us up, our drives got a terrific roll down the other side of the hill with this look for the approach shot.
This is probably the nicest looking approach shot at Royal Aberdeen to a rather severe sloping green. You can see two drives well ahead of mine that are close to 300 yards. If there's a gip and rip it hole on the course it must be this one.
Standing on the top of the ridge on #13 you get this view of the offshore supply vessels.

#14 Dyke – 381 Yard Par Four

You can't see it in this photo but there's a dry ditch that runs diagonally across the fairway. Fortunately it's out of range for most who play from the red tees. The second shot brings in a more problematic raised dyke that crosses right in front of the green making a layup a smarter play than trying to clear it.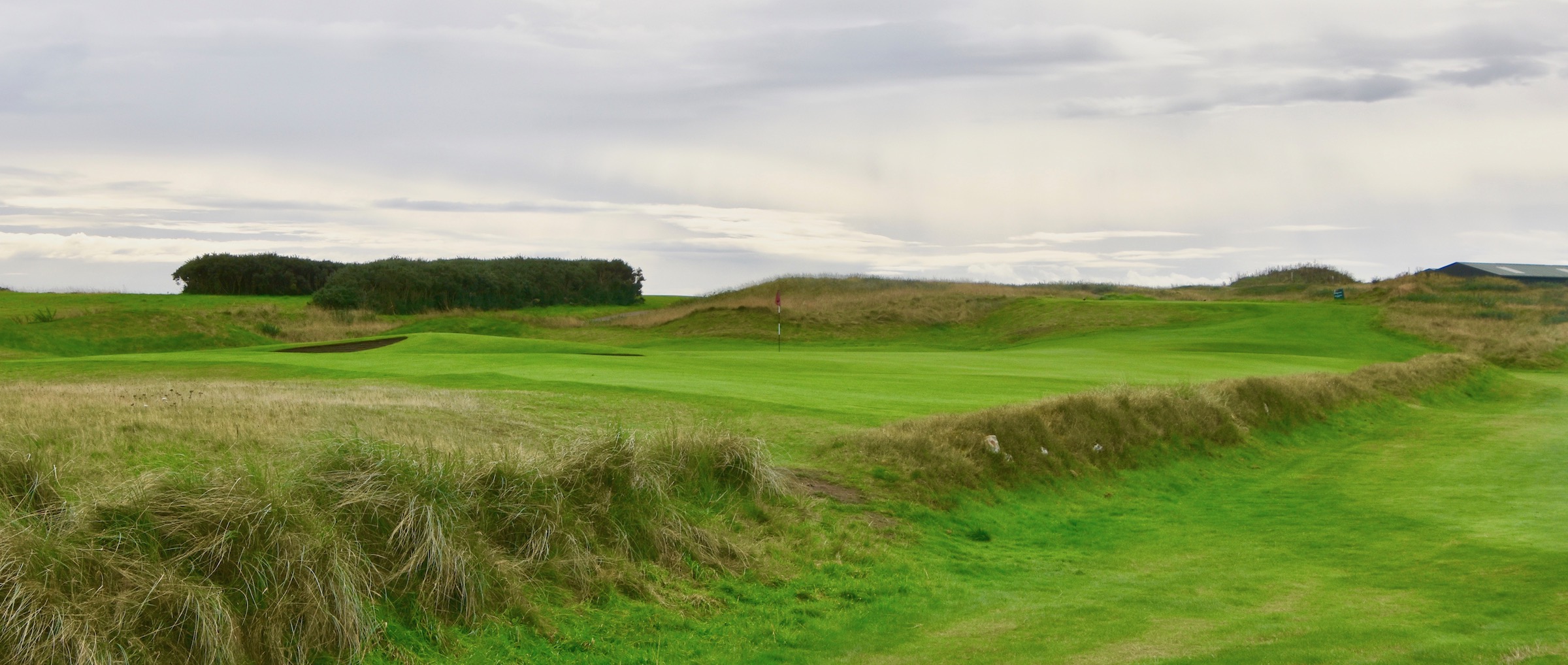 From this position it is an easy chip over the dyke and with the right speed you'll have a par saving putt. If you tried to go for it in two and ended up in the fescue that covers the dyke, well good luck with trying to get down in two.
Royal Aberdeen #15 Well – 282 Yard Par Four

Another blind  tee shot, but not as severe as #10. Again without the caddies we'd be clueless. However, given the short yardage a driver or even a wood is not necessary to avoid bunkers you cannot see from the tee. On the other hand you can try to bomb it and hope for the best which is what I did and got lucky with only this approach shot left. This is probably the best photo to illustrate just how excellent the conditioning is at Royal Aberdeen. Both fairway and green are flawless. I'll leave out the part where I tried to get cute and go for the pin, instead failing to clear the middle bunker by a foot.
Although the front nine at Royal Aberdeen gets most of the plaudits, I have to say that the 13-15 stretch was as nice a trio of par fours as we played in Scotland.
#16 Hill – 362 Yard Par Four

This is the one hole at Royal Aberdeen that plays more like a parkland hole than a links one. It is a semi-blind tee shot that plays a lot longer than the yardage as you really need to thump it off the tee and won't get much roll. Unless you get to the top of the ridge you will not be able to see the green on your second shot. That is seriously shitty, but once again the caddies provide advice on where to aim. Despite that, one member of our group hit what appeared to be an outstanding hybrid that looked to be heading exactly to where we thought the green should be and the ball was never seen again. We looked and looked and looked and then I remembered an interesting fact about Royal Aberdeen. This was the first course in the world to implement the five minute rule on searching for a lost ball that until recently was universal. Now I know the hole that brought it about.
Royal Aberdeen #17 Pots – 135 Yard Par Three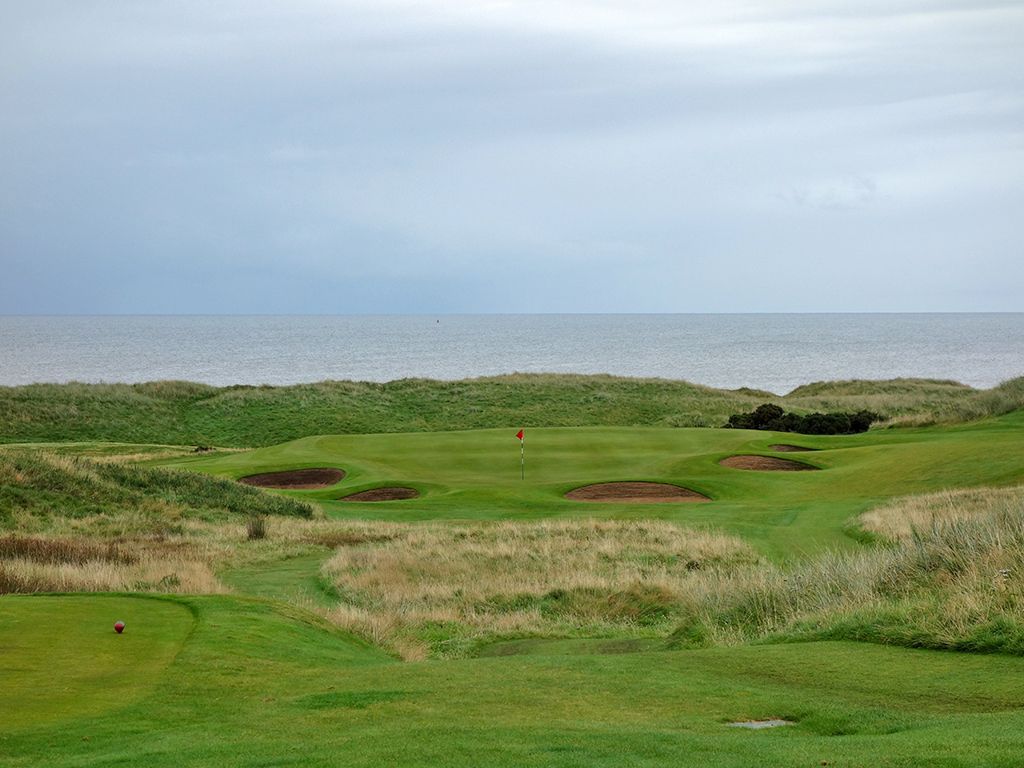 Usually once a round I forget to take a photo from the tee and it was #17 at Royal Aberdeen today. However, the hole is just too nice not to include a photo so I got this one off the internet. You can see why it's called pots although there's only half as many as on #8. It is a three tiered green that widens out toward the back so taking an extra club to make sure you get by the pots is not a bad idea.
#18 Home – 422 Yard Par Four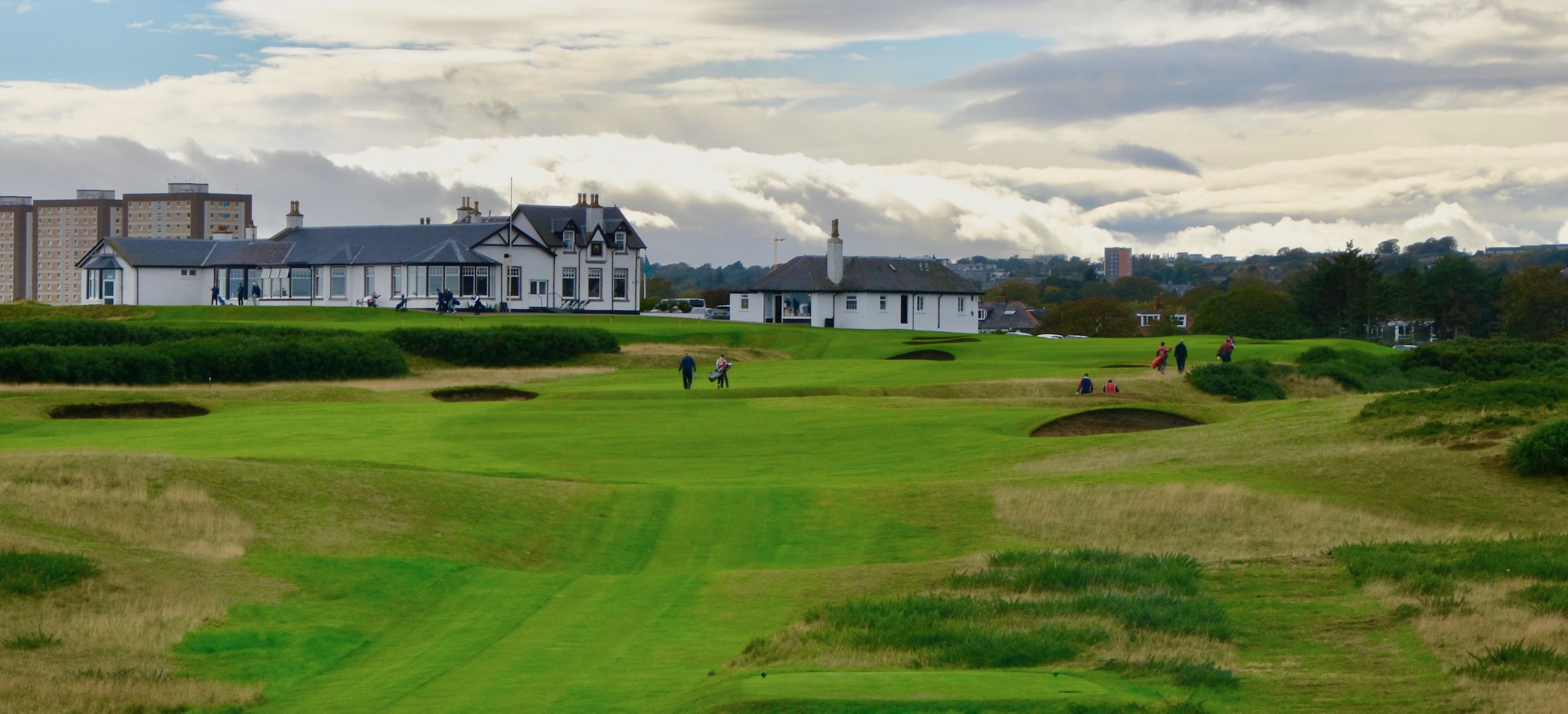 This is a great finishing hole with three gullies crossing it and gorse very much in play in the right side. According to our caddies the members usually play this as a par five and they suggest we do too. That way you can come up short of the first gully and then clear it and the second gully on the second shot coming up short of the third gully. From there it's an easy wedge into a large elevated green and you still might get that par four. Trying to reach it in two brings the first gully and the five bunkers around the green into play. Five is a very acceptable score on which to end your round at the Balgownie course at Royal Aberdeen.
I thank the golfing gods for keeping the wind down and letting us enjoy one of the great links courses in Scotland. And I thank Stuart French and Lynda Robinson of Platinum Golf Scotland for helping us put together this fantastic string of links courses. We are already planning our next trip with them.