Cruden Bay Hole by Hole
This is the fourth of six posts from our fall 2022 trip to Scotland arranged by Platinum Golf Scotland. For our first three rounds we were based out of Inverness and played Nairn, Royal Dornoch and Castle Stuart in that order. We have now relocated to the city of Aberdeen and will be playing Cruden Bay, Trump International and Royal Aberdeen before concluding at Gleneagles. On the way we stopped at Culloden Battlefield which is just outside Inverness. The group got to tour the impressive visitor centre while I walked the perimeter of the battlefield. I had been here before and put my thoughts down about Culloden in this post in case you are interested.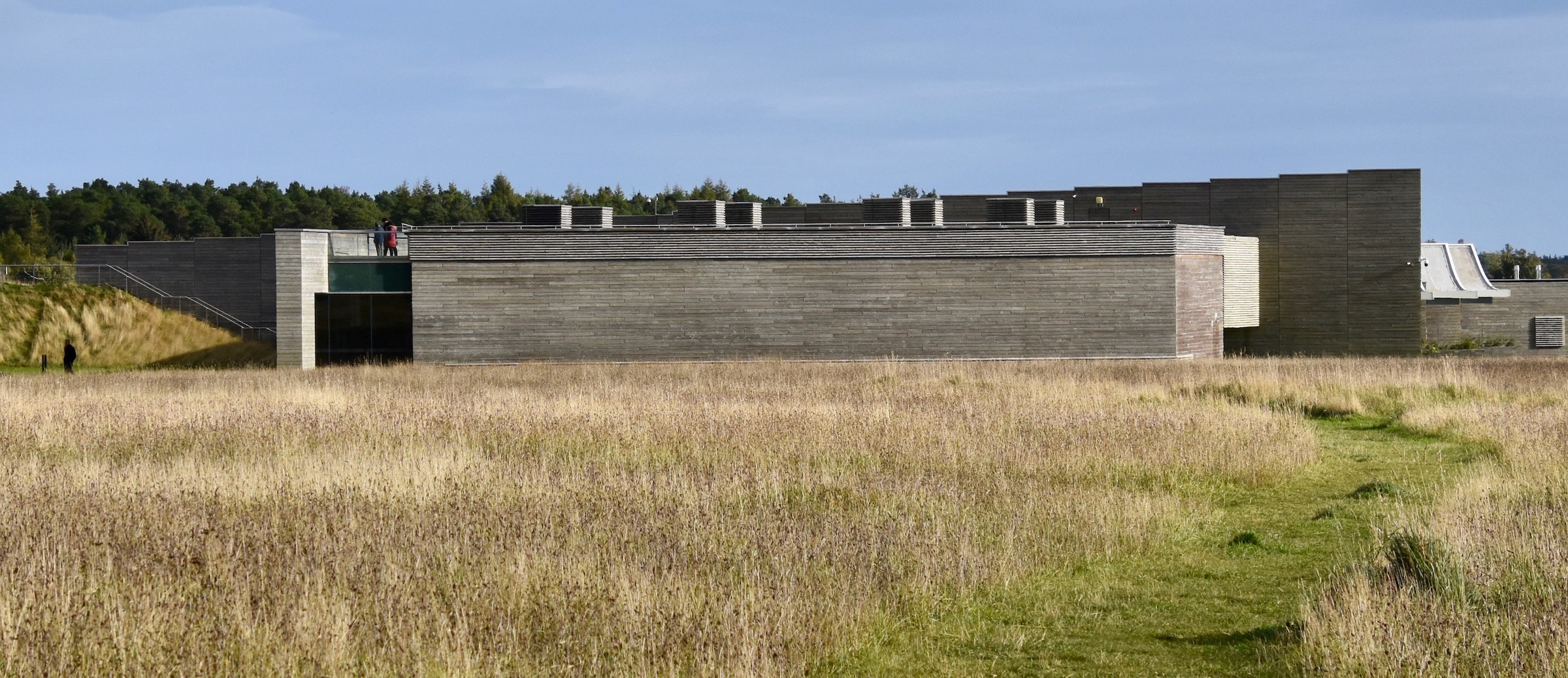 Aberdeen is the North Sea oil capital of Britain and it is apparent in the prosperity of the place, even if the oil fields are operating at a much lower capacity than they once were. Our hotel, The Chester was located in the west end on a street of Georgian stone houses, most of which had been converted into professional offices or in the case of The Chester and the Malmaison next door, boutique hotels. The place had an intimate feel to it with large rooms, some pretty neat artwork and a great bar and restaurant. It was a good contrast to many of the larger impersonal chain hotels that I saw in Aberdeen during our three days there.
History of Cruden Bay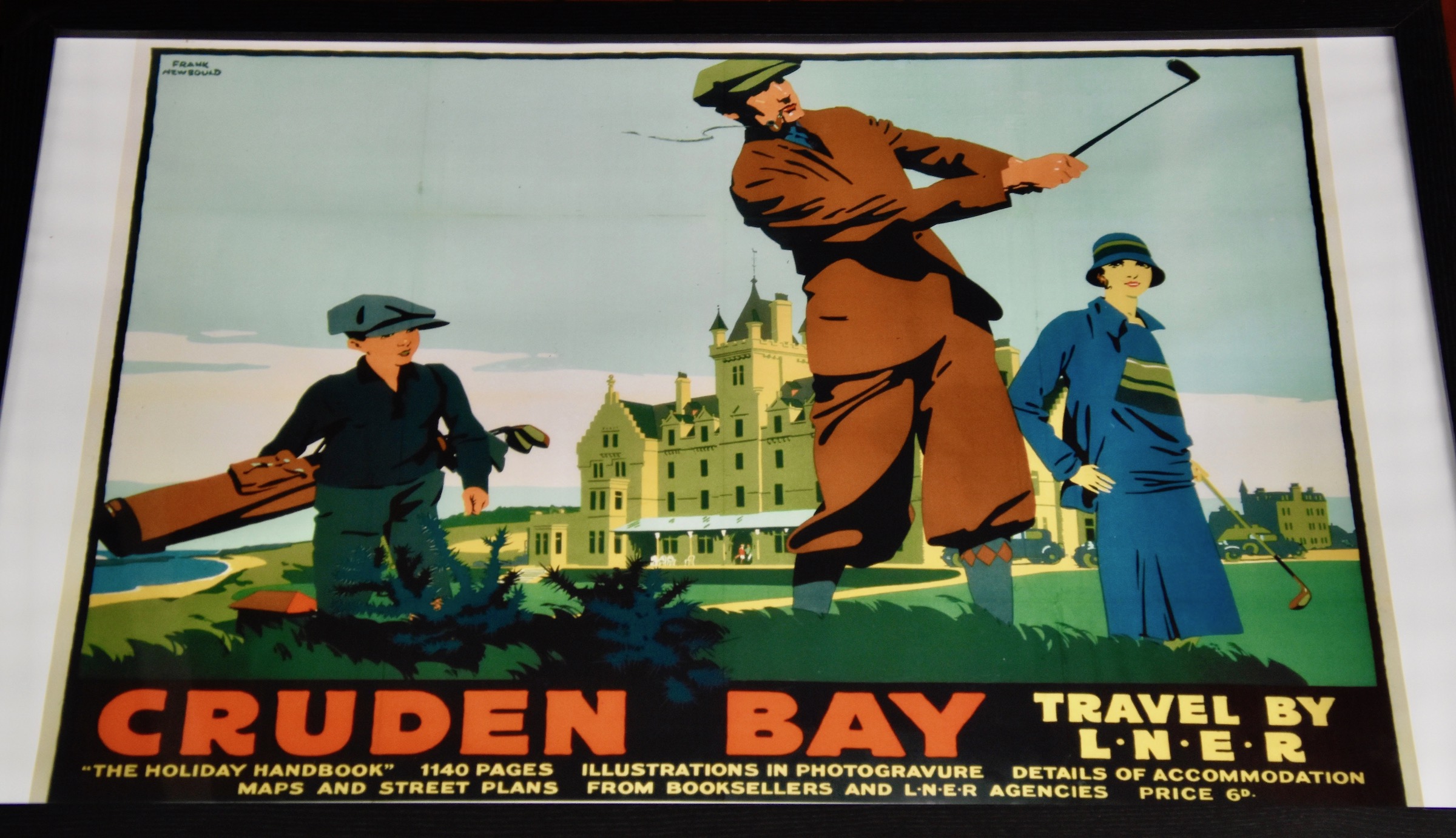 The small village of Cruden Bay is some 25 miles (40 kms.) north of Aberdeen on the North Sea. It has a lengthy strand or beach that gives the place its name, a corruption of the Celtic Croch Dain which means 'slaughter of the Danes'. On this beach in 1012 King Malcom II won a huge victory over invading Vikings and the place ran red with blood. Just over a 1,000 years later Norwegian aviation pioneer Tryggve Gran took off from here to complete the first successful flight across the North Sea.
The most notable feature of the landscape here is the ruin of New Slains Castle visible on the horizon and about which more later.
In terms of the golf course it has a history quite distinct from any that we will play on this tour. Although there was some type of nine hole course here as early as 1791, the course we will play today has a definitive start date and a definitive designer. Once again we run into the work of Old Tom Morris who was specifically commissioned to build a course from scratch by the Great North of Scotland Railway Company in 1894. Working with frequent collaborator Archie Simpson whose work we saw at Nairn, the course opened on April 14th, 1899 with a professional match that was won by the legendary Harry Vardon, winner of The Open a record six times and the U.S.Open in 1900. Another legend, James Braid, was also in that first tournament. In 1926 the course was redesigned and lengthened by Tom Simpson and Herbert Fowler, but it still maintains most of the original Morris layout and greens. Cruden Bay is currently rated as #68 in the Top 100 Golf Courses in the World,one behind St. George's in Toronto and much higher in a number of other ranking systems.
Although the course held a number of tournaments early on, it was never long enough to host The Open and the primary goal was to attract people to the massive Cruden Bay hotel pictured in the poster above. It opened in 1899 and had a heyday that lasted through the 1920's, but the Depression did it in and it closed in 1932. After serving as a barracks in WWII it was demolished after the war.
After a long period of decline, today Cruden Bay is undergoing a bit of a revival as both a resort town and a bedroom community for Peterhead to the north and Aberdeen to the south.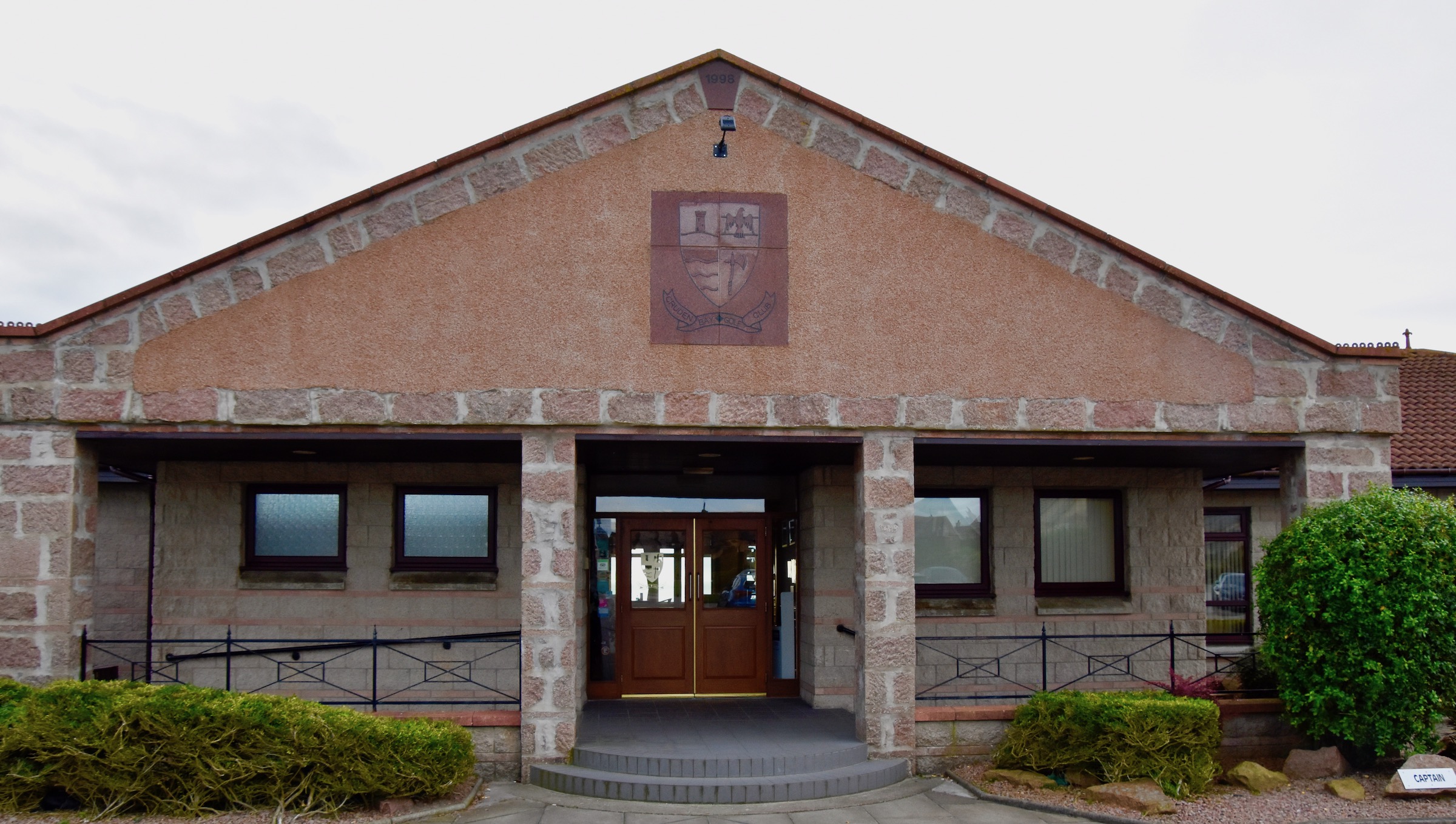 This is the attractive pink granite entrance to Cruden Bay clubhouse which from this angle doesn't seem to be that large. However, the reality is quite different as it is built into the side of the hill overlooking the entire course and is actually huge as you can from this photo.

The pro shop was among the best equipped we came across in this Scotland trip and most of us bought something with the distinctive Cruden Bay coat of arms on it.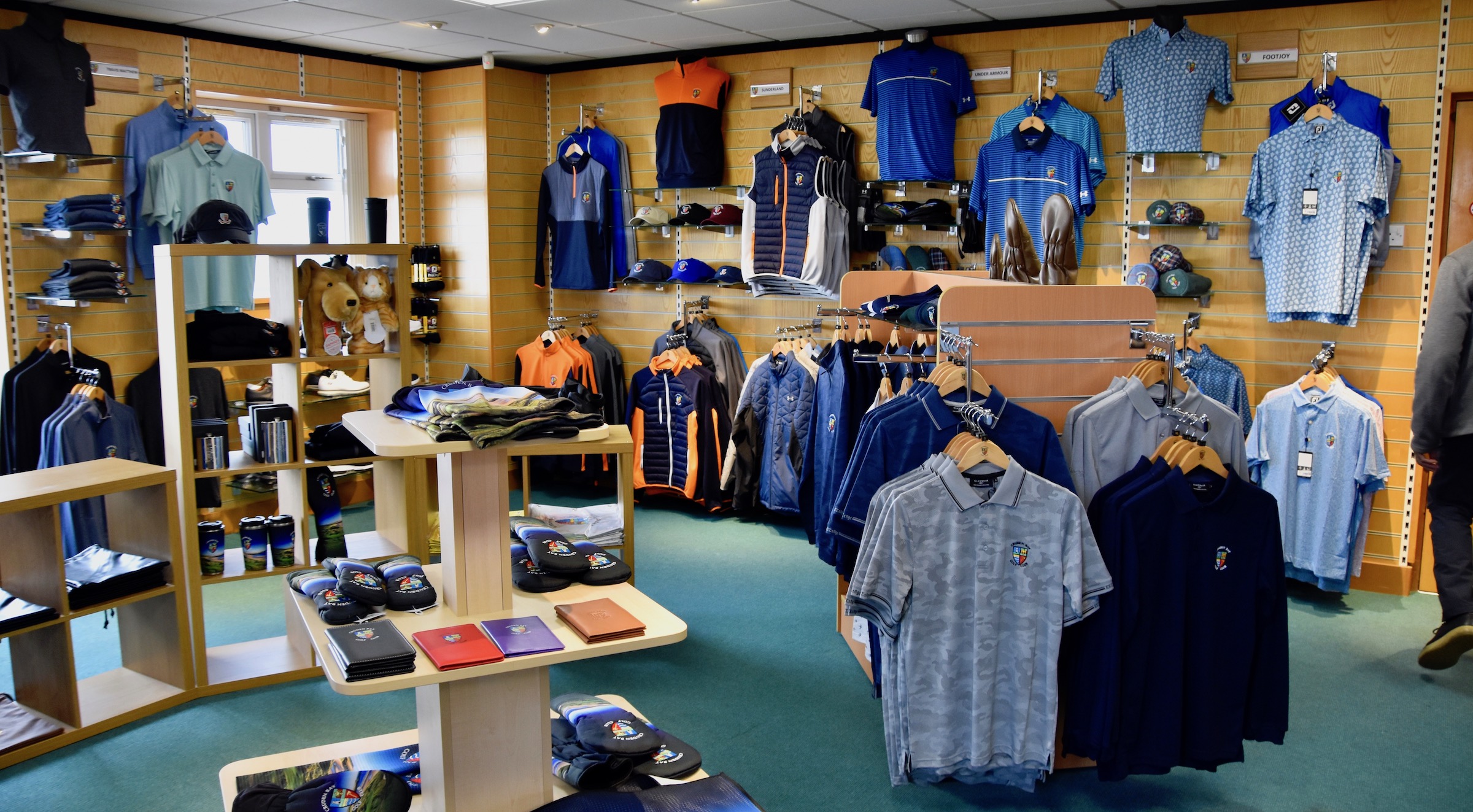 Despite its ranking as a Top 100 course, there were very few other golfers around this late morning and it almost felt like we had the place to ourselves. As at our previous three outings we received a genuine warm greeting from all the staff we met, who always are interested in talking to golfers from 'New Scotland'. It seems everybody in Scotland is well aware of the success of the Cabot courses in Nova Scotia and hopes to play them one day. We do our best to encourage them to come over.
After warming up on the driving range and what seems like the world's largest practice green, we headed to the starter's hut.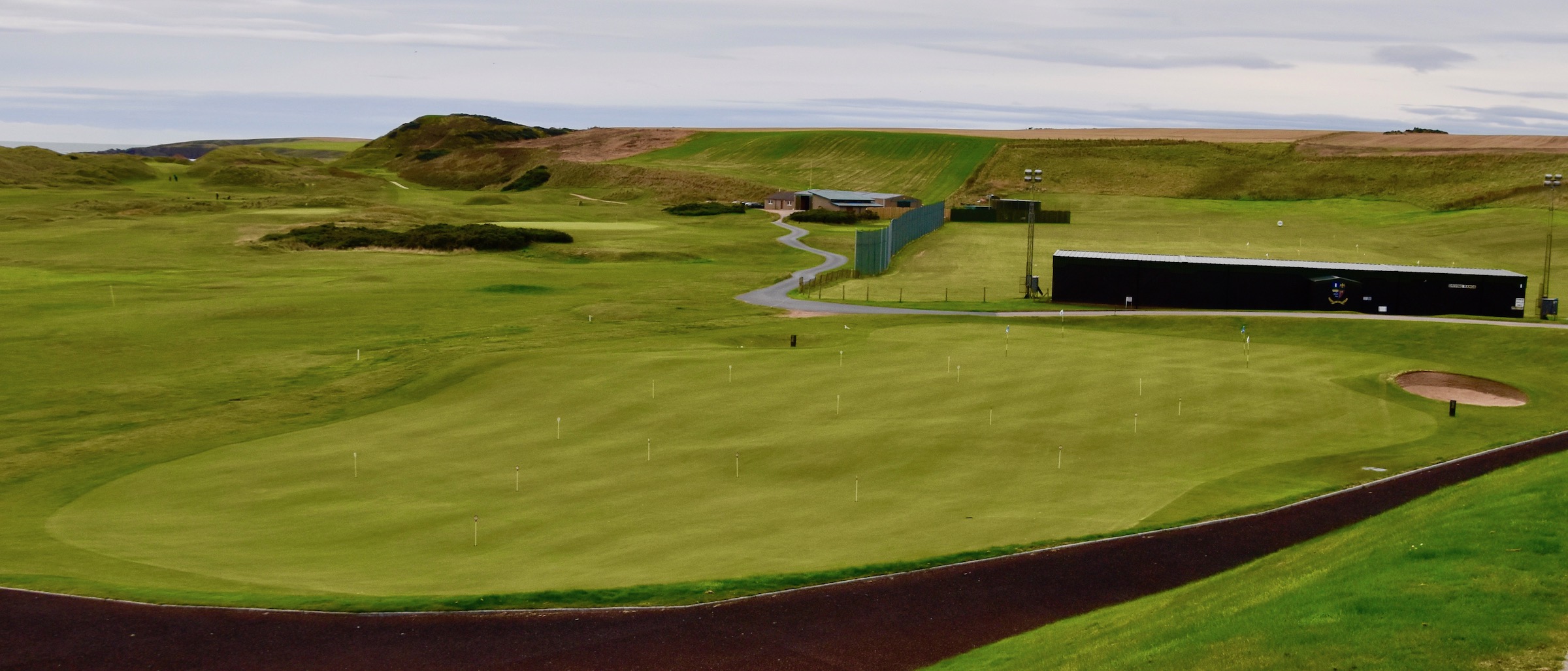 In reality the starter's hut is actually a cottage that is packed with Cruden Bay memorabilia and well worth spending some time in before starting your round.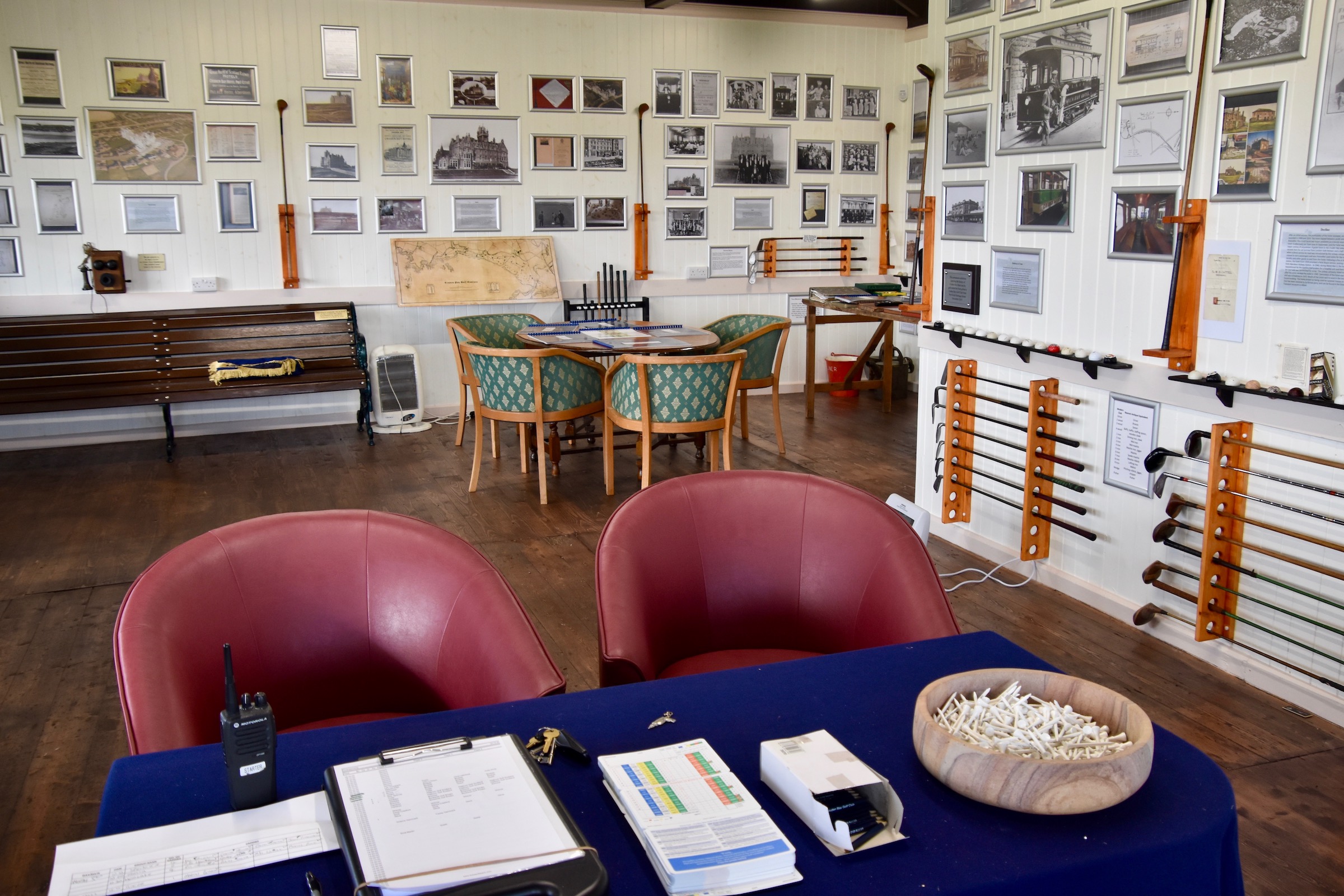 This is the Cruden Bay starter Joe Metcalf. He is an octogenarian who has been doing this job for decades. He introduced us to his wife Roz who strangely enough was dressed in a caddy's uniform.  She proudly told us that they were great grandparents.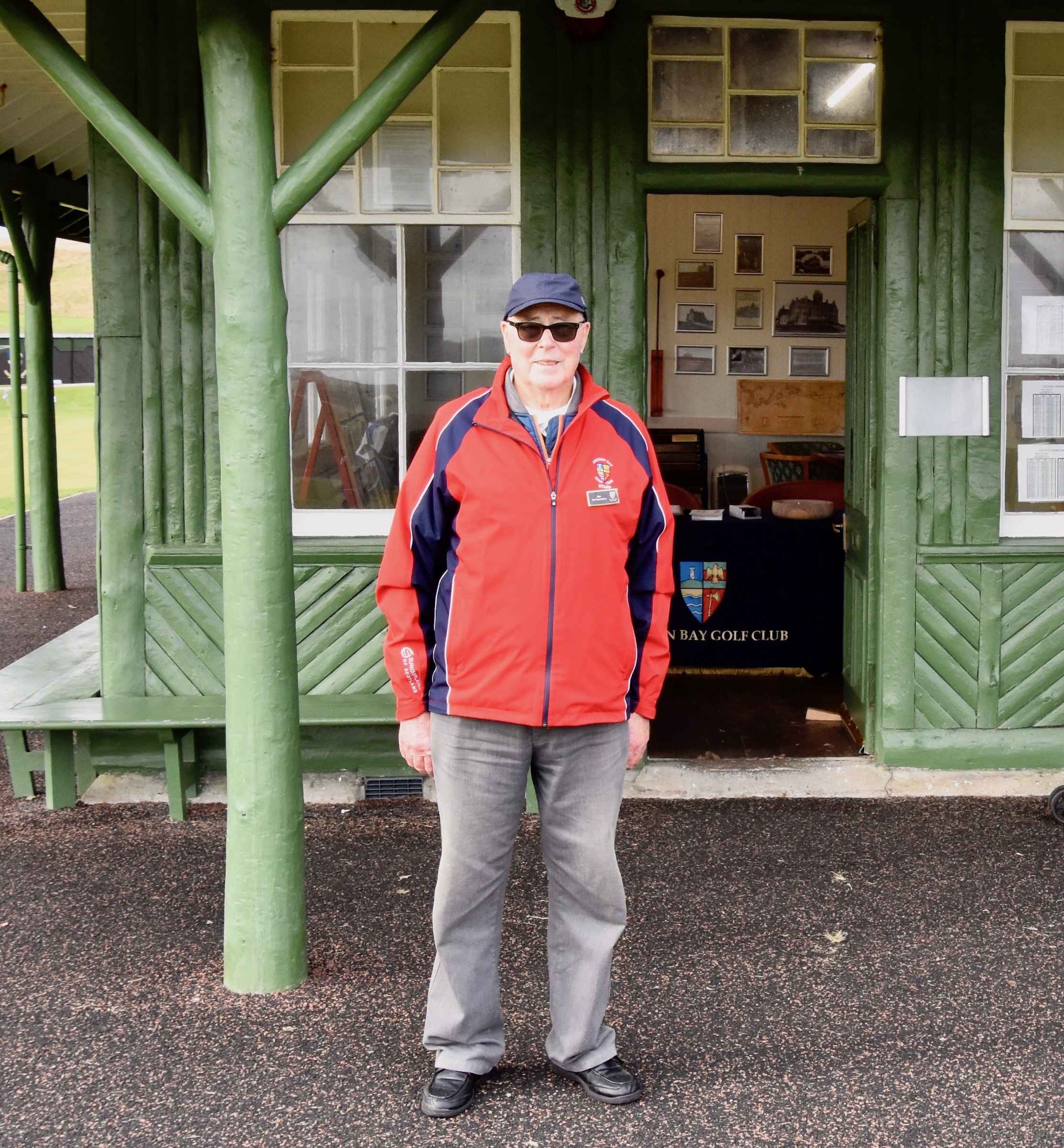 We had arranged for two caddies per foursome and three younger fellows were on the first tee, but not a fourth. Then it dawned on me that Roz was going to be the fourth. Amazing! At first we were sceptical, but Mitch to whom she assigned had no complaints and the two of them developed a real rapport over the course of the round.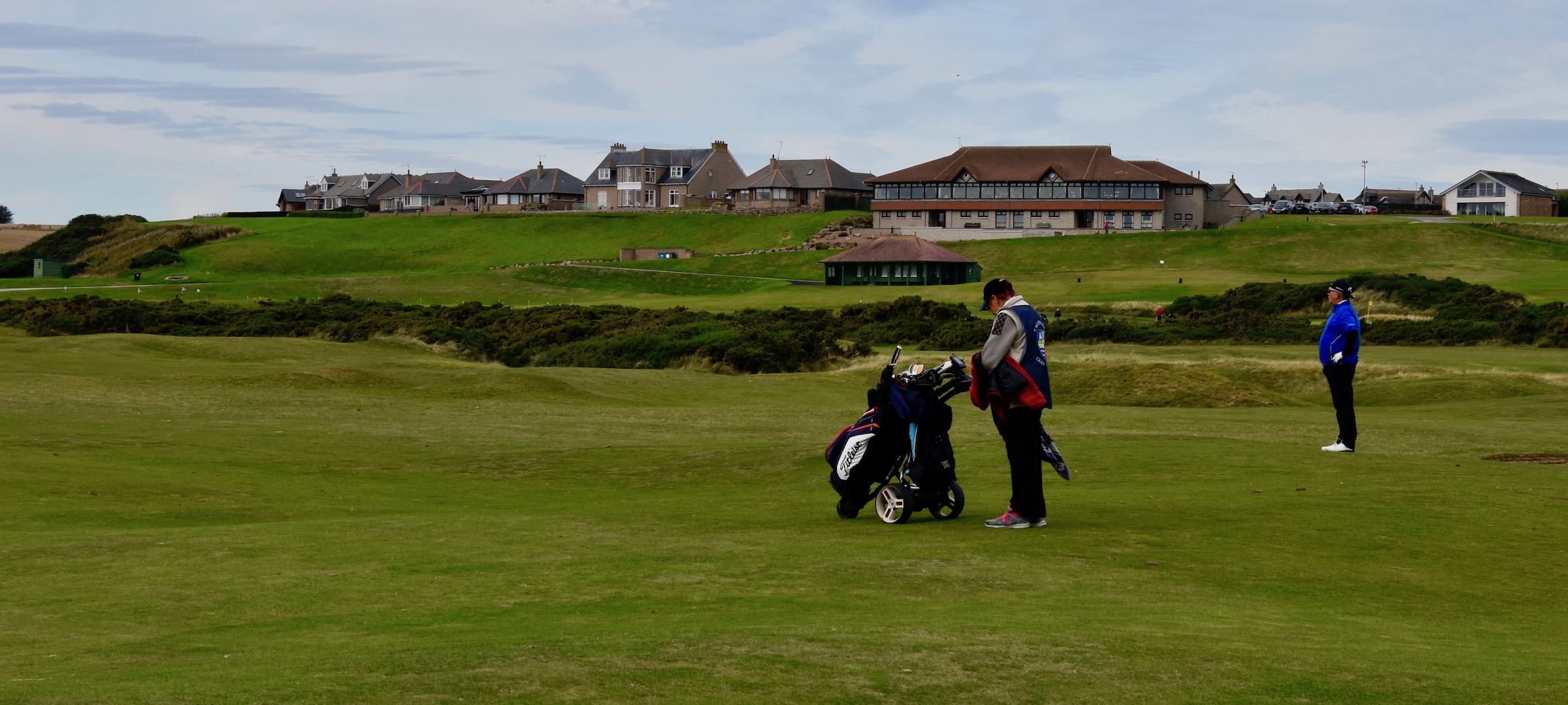 OK, enough talk, let's play Cruden Bay.
Cruden Bay #1 Slains- 403 Yard Par Four

We've opted to play the yellow tees that make for a sensible 5,877 yard round, but the first hole challenges us right off the bat. Not only is it long (for us oldsters), but there's trouble all down the right side. That is compensated for by the fact that it's a great looking starting hole with the stone houses of Cruden Bay to the left. Far in the distance is New Slains Castle for which the hole is named. You know you couldn't be anywhere but Scotland when you tee off.
Also apparent is the excellent condition of the fairways, tee boxes and when you get there, probably in three shots, the green. There are a number of really tiny pot hole bunkers on both sides of the fairways and you have be rather unlucky to find one. The real difficulty here is the second shot as the fairway narrows considerably and the front of the green is guarded by traps on both sides. For most of us, even with a good drive it will take a well struck five wood or hybrid to reach in two. Bogey is very acceptable on this starting hole.
#2 Crochdane – 309 Yard Par Four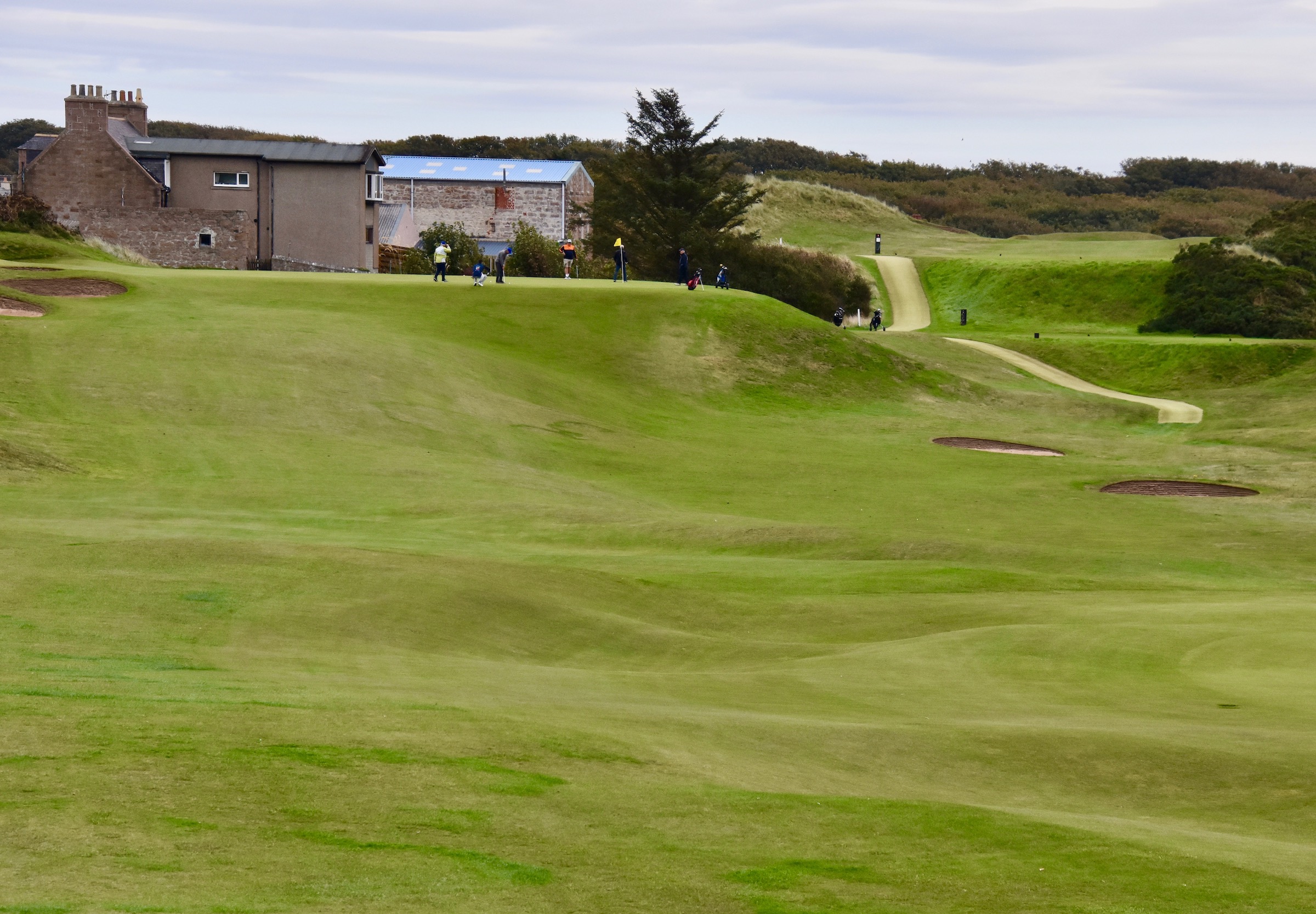 This next stretch of three holes was among my favourite on the entire Scottish golf trip. To say the holes are quirky would be an understatement. The second hole, named for the original Celtic spelling of Cruden Bay, looks pretty interesting from the tee. While it's quite short, nobody is going to get near that green off the tee. The fairway slants severely left to right and those two bunkers are exactly where a lot of drives are going to end up, no matter how far left you aimed. A wood or hybrid is all you need here to make sure you avoid the traps and get ready for a hell of a second shot.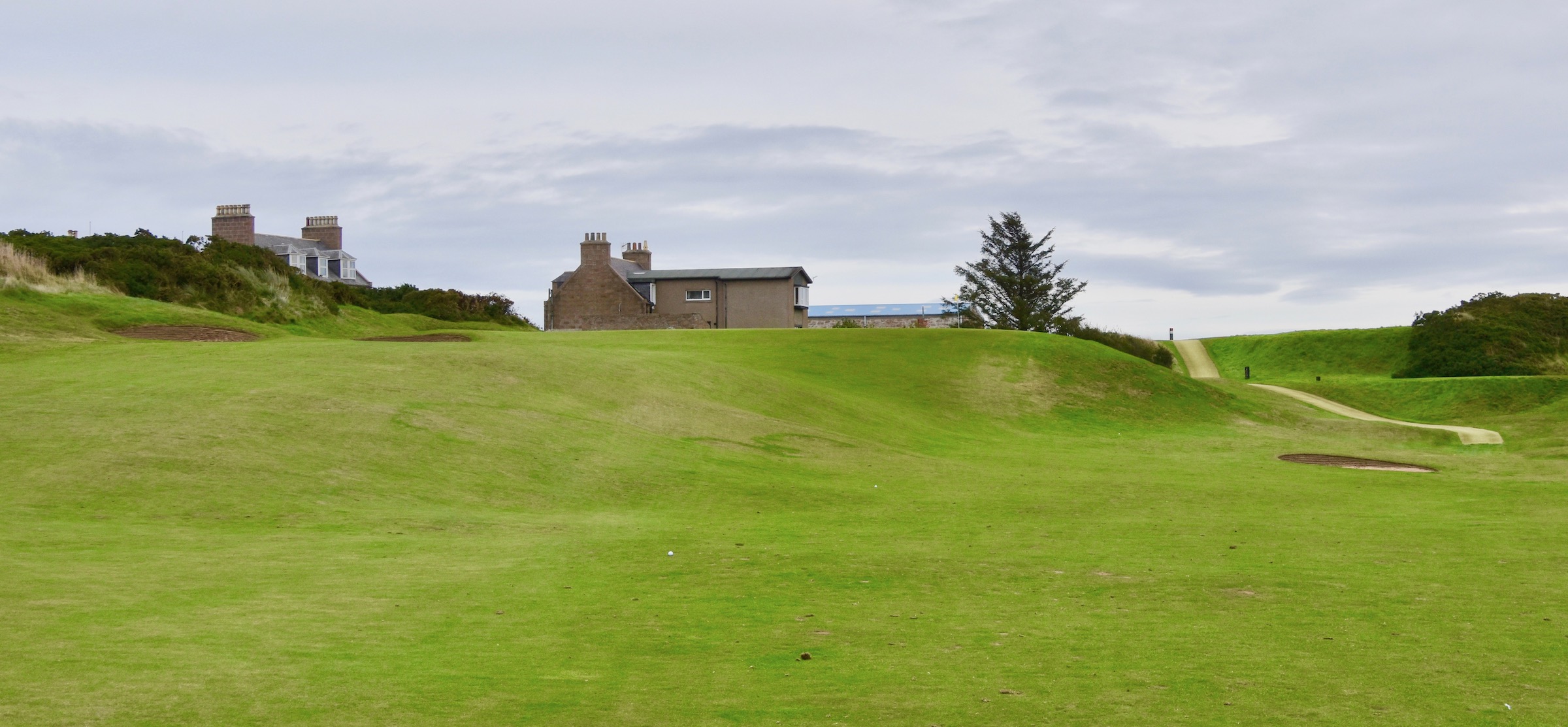 OK, I've avoided the bunkers and have a short iron in hand. The problem is that I don't want to go anywhere near that pin placement on the far right side of the green. Anything short, long or worse, right, is certain bogey territory at best. So I want to stay well left, but that brings the two upper bunkers into play. This shot definitely requires commitment and then some.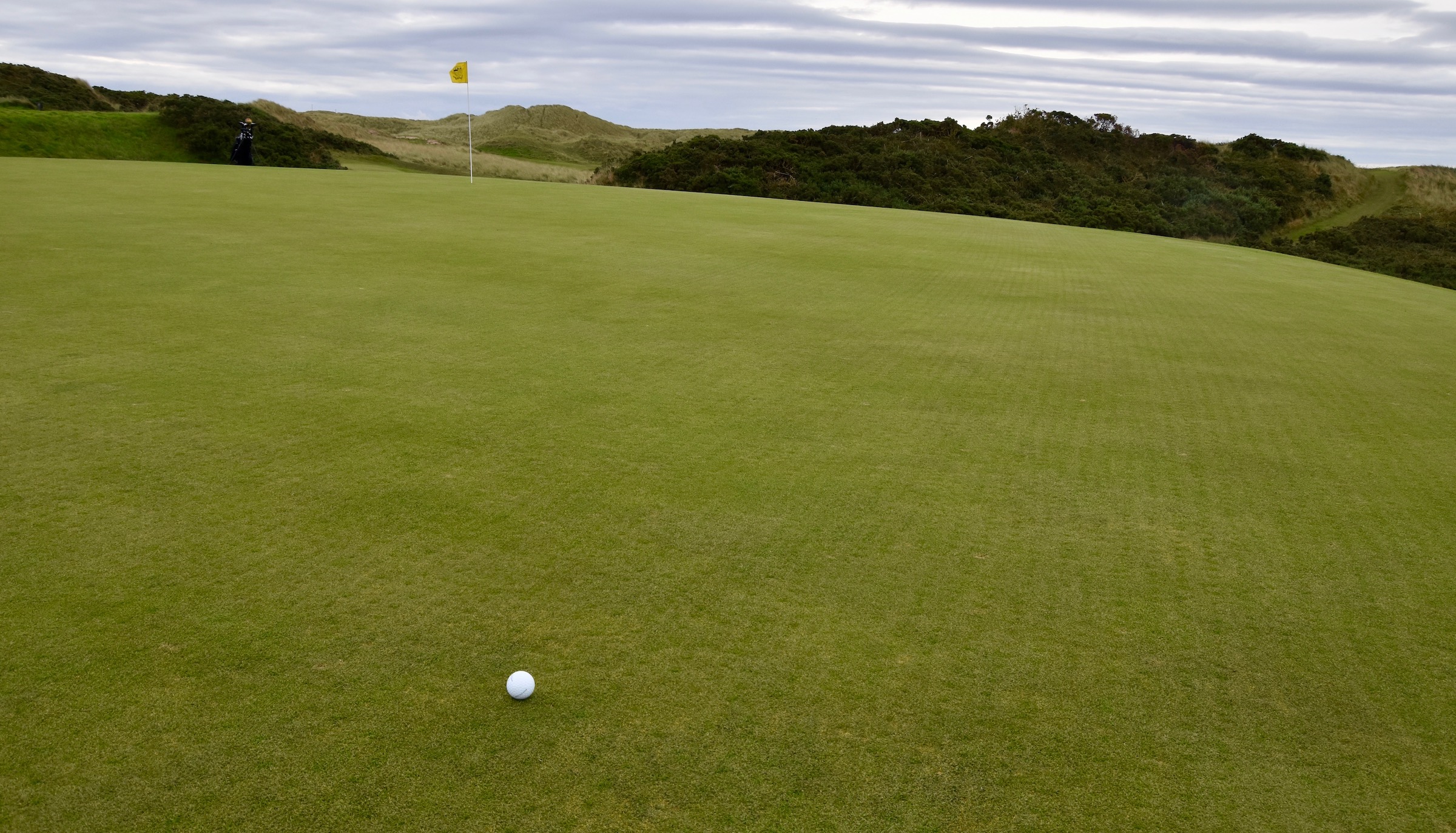 By some miracle I have struck it well and avoided the bunkers, but when I get there I have one of most terrifying putts I have ever seen. It becomes even more terrifying when Mitch, who has landed just behind my ball, putts it off the green and is now fifty yards away for his fourth shot.
I wish I could say I manned up and made par, but I was so afraid of following Mitch into the gully I came up twenty feet short. Even with a three putt, I really liked the way this hole plays.
Before teeing off on #3 the caddies pointed out the venerable Kilmarnock Arms Hotel where author Bram Stoker spent many summers and wrote a good portion of the most famous horror novel of all time, Dracula.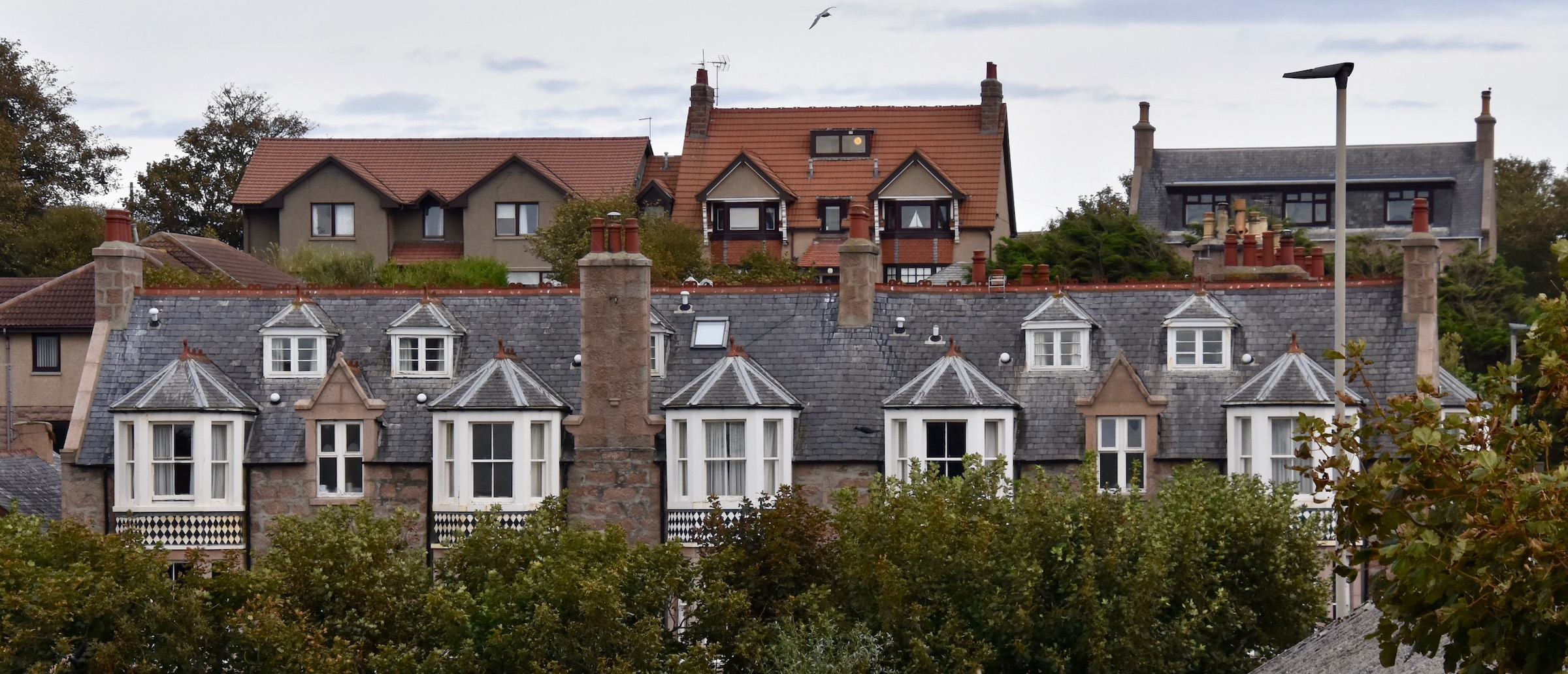 Cruden Bay # 3 Claypits – 268 Yard Par Four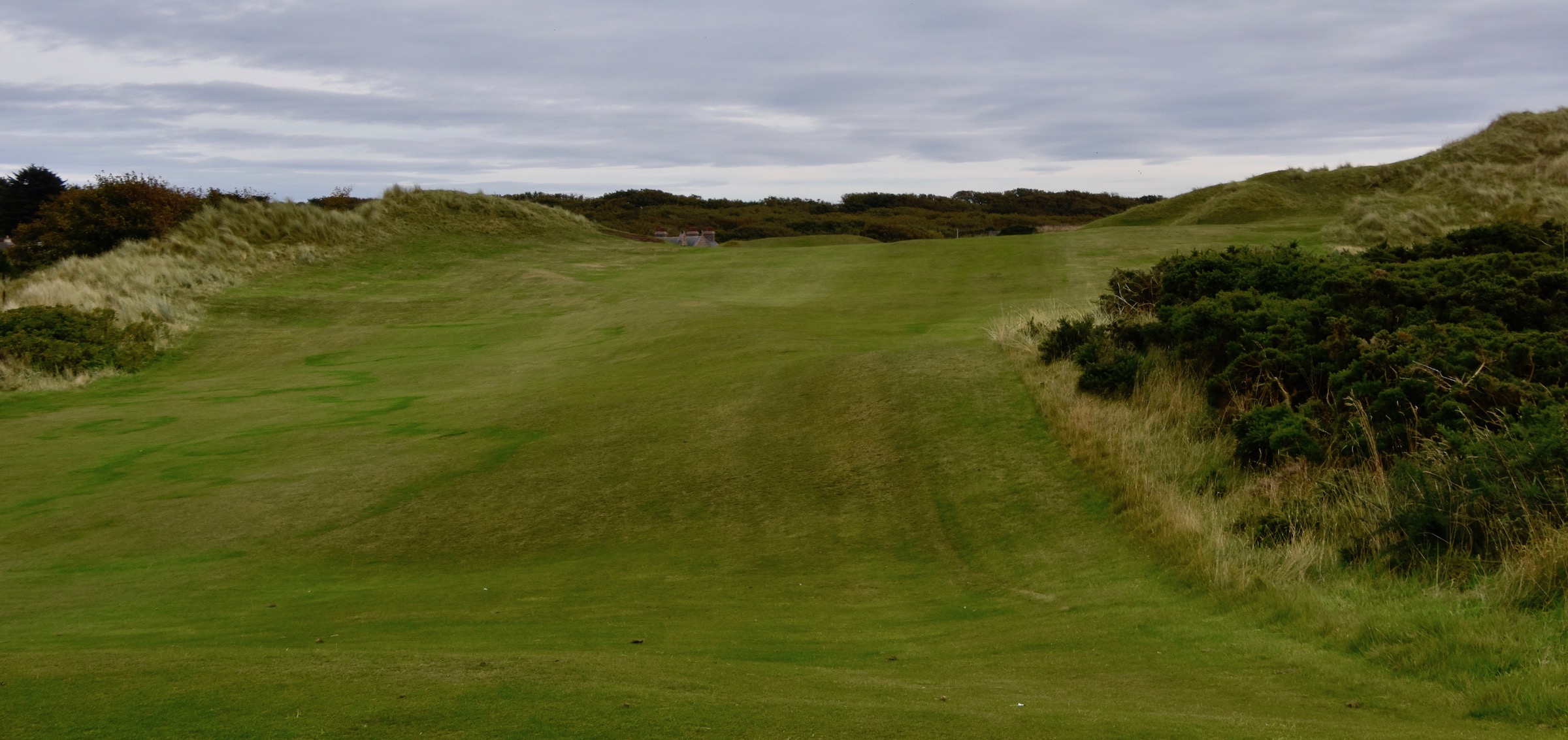 Without a caddy we would have no f***n idea where to aim this drive. It is a blind tee shot and then some. The advice is not to try to kill it and just try to land on the top of hill from where there will be a good view of the green below. It's good advice as all but one found the very undulating kidney shaped green on our second shot. Putting uphill to this pin placement was the perfect antidote to #2 green and the first par was on the scorecard.
BTW the name of this hole comes from nearby clay deposits that were used in the production of tiles for which Cruden Bay was also noted.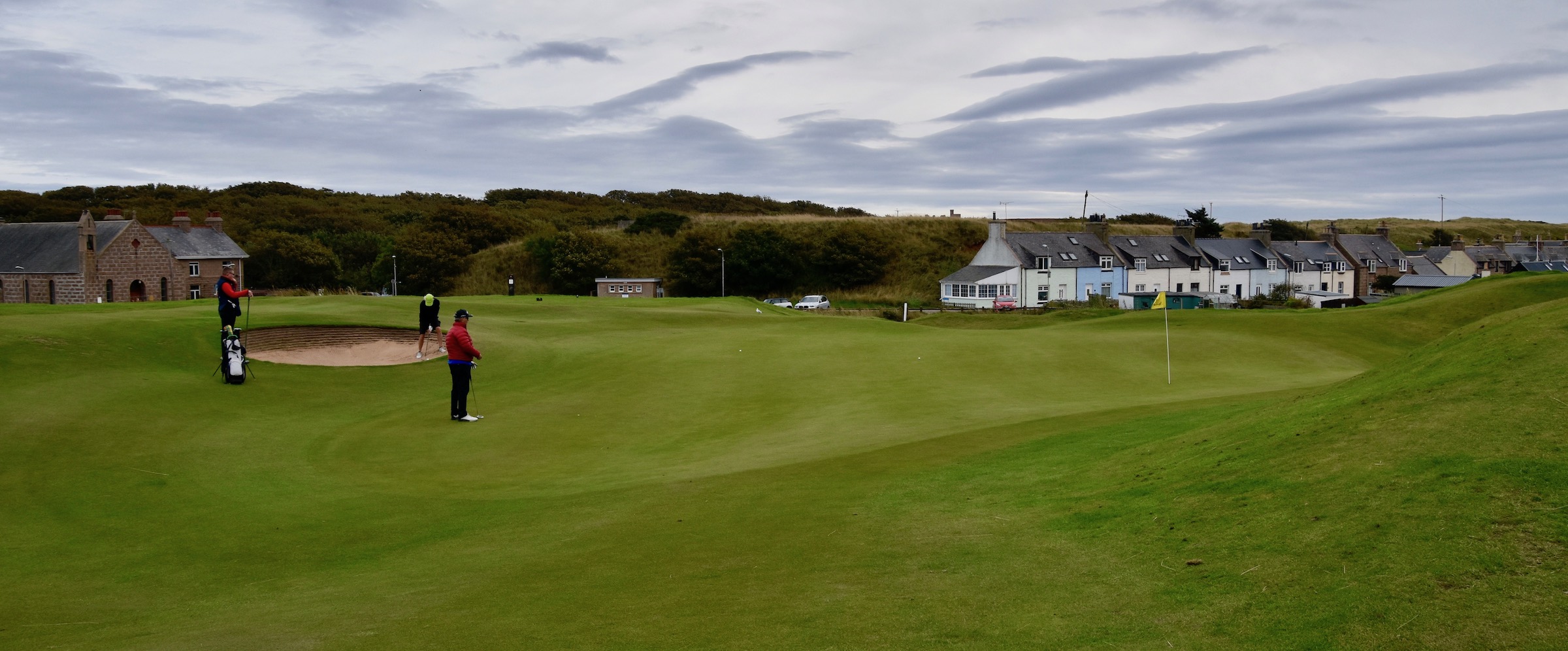 #4 Port Erroll – 142 Yard Par Three
This is the view of the fishing village of Port Erroll from the fourth tee. Pretty darn scenic.

Turn just a bit to the right and you have this exceptional par three. The valley below the green is much deeper and steeper than it looks in this photo. Anything short will end up a long way from the green with an uphill blind shot to follow. Fortunately the wind was quite mild or else this would have played much tougher than it did. Even so the fescue did grab a couple of balls that were wayward right.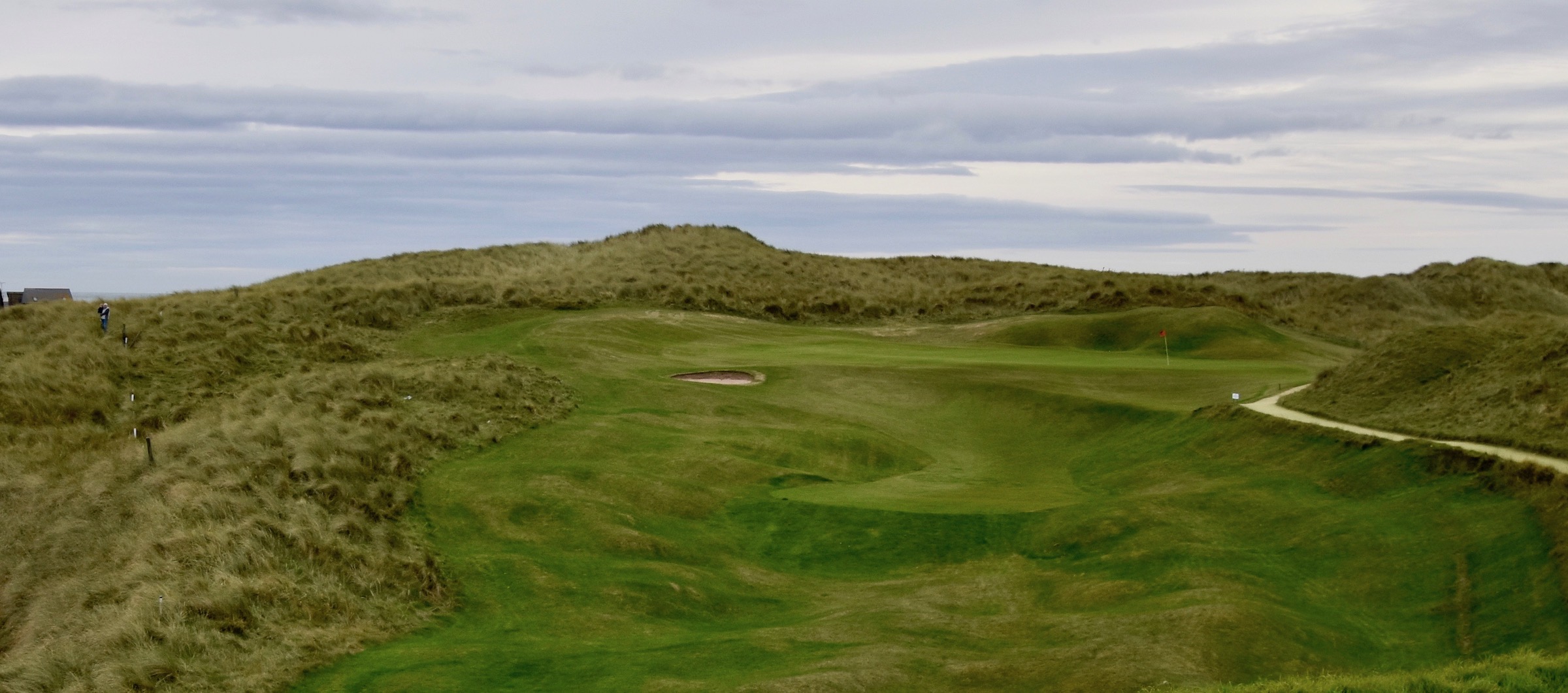 If there is a more natural looking par three anywhere I have yet to see it.
Walking between the fourth and fifth tees you get the best view of the ruins of New Slains Castle in the distance. This photo is from much closer up. The reason it is so famous is because it was the inspiration for Castle Dracula. Bram Stoker visited it when it still had a roof and a number of rooms in the fictional castle are very similar to real ones in this castle. Who knew you could learn so much just by playing a round of golf.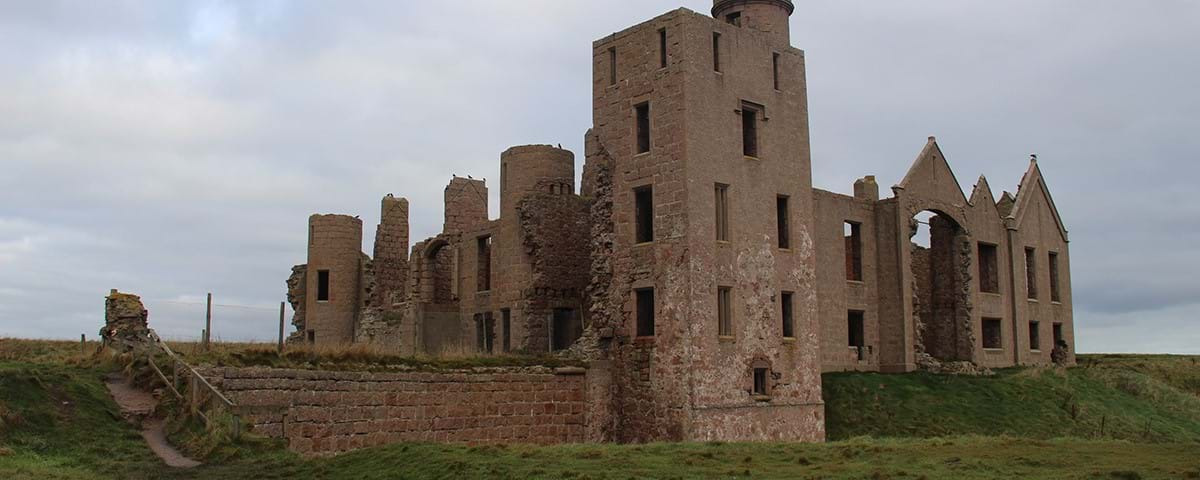 Cruden Bay #5 The Buck – 463 Yard Par Four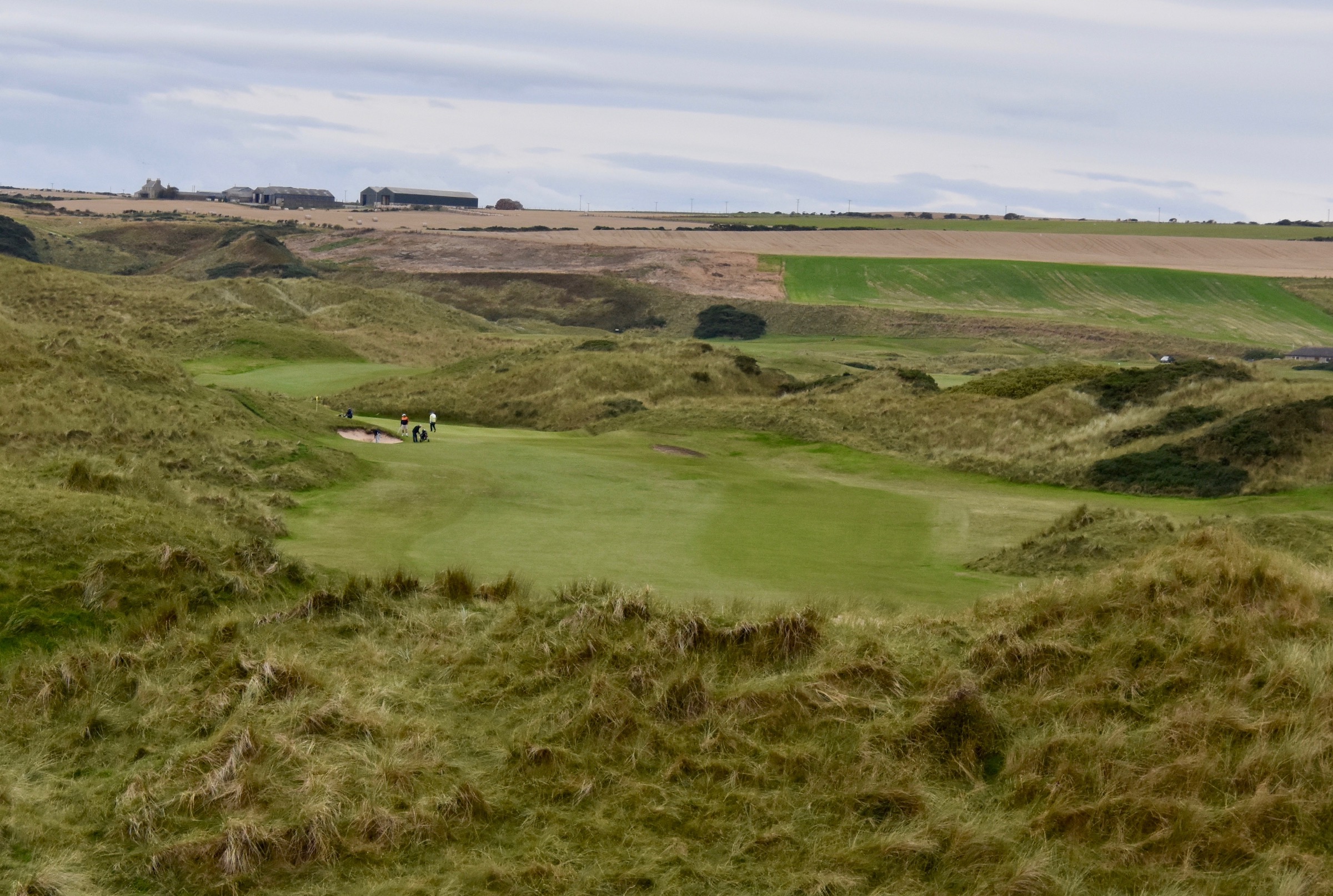 Ok, we had some great fun over the last three holes, now it's time to get serious, real serious – a friggin' 463 yard par four. Are you kidding me? Unfortunately not.
This #1 stroke hole is just brutal. It's narrow, it's twisty and there's fescue everywhere. This was probably the toughest hole we played in Scotland. Enough said.
#6 Bluidy Burn – 498 Yard Par Five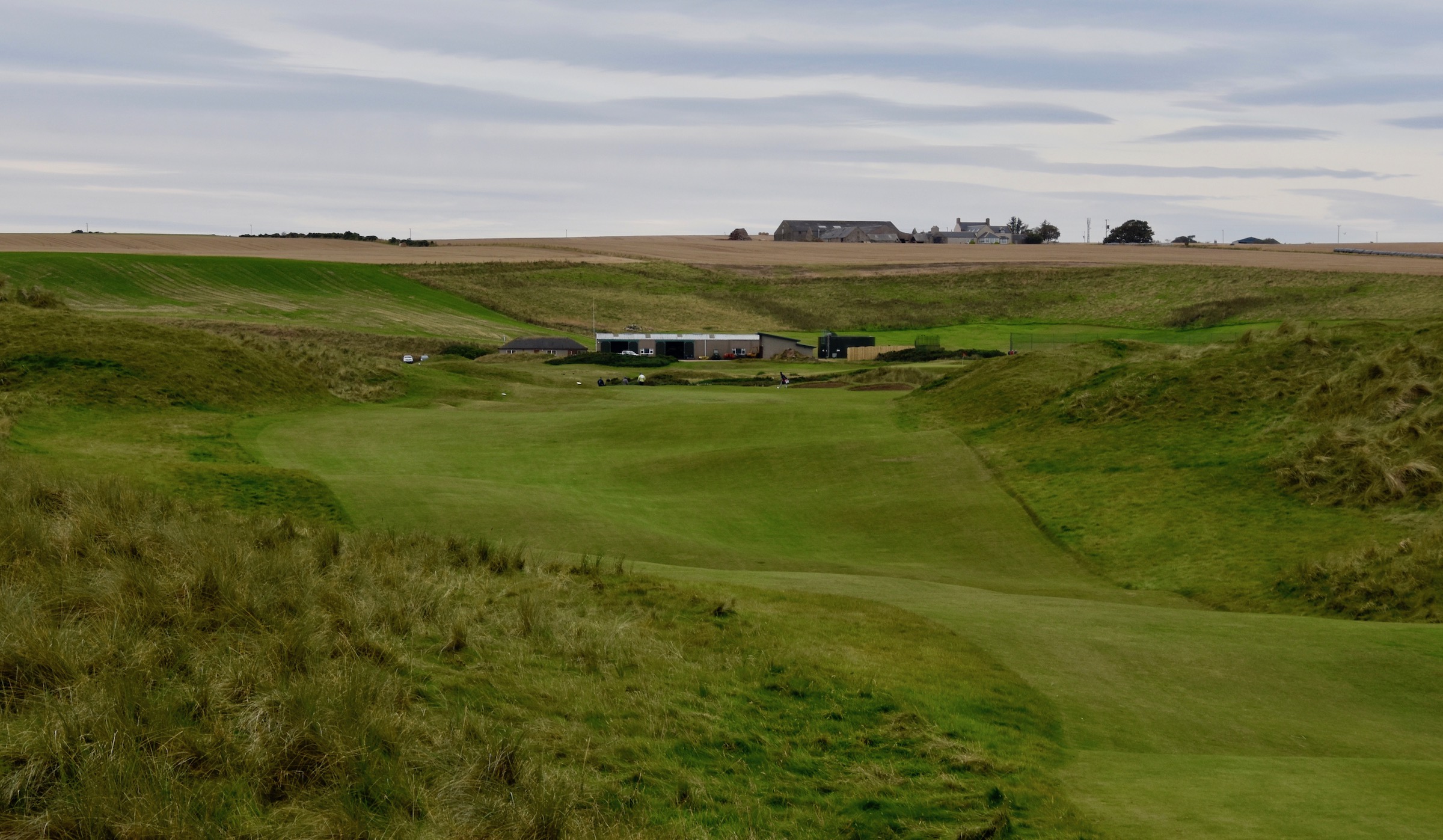 Holes with a burn running through them are always a challenge the first time around and #6 at Cruden Bay is no exception. While the fairway is much more generous than #5 you do have to make a decision on your second shot. In my experience if you decide to go for it and try to clear the burn on the second shot it seldom works as the ball comes up woefully short and rolls in. On the other hand if you decide to lay up the ball gets a mind of its own and goes forever and rolls in. Bluidy burn!
What you can't see from the tee is that the green is located almost 90° left of the fairway on the other side of the burn so there's really nothing to be gained by challenging it. Yes you will have a much shorter approach shot if you pull it off, but this approach from a layup is not too bad either and it's a far less risky way to play the hole.
Either way, this is a great par five. And who ever gets tired of those nice stone bridges?
Cruden Bay # 7 Whaupshank – 369 Yard Par Four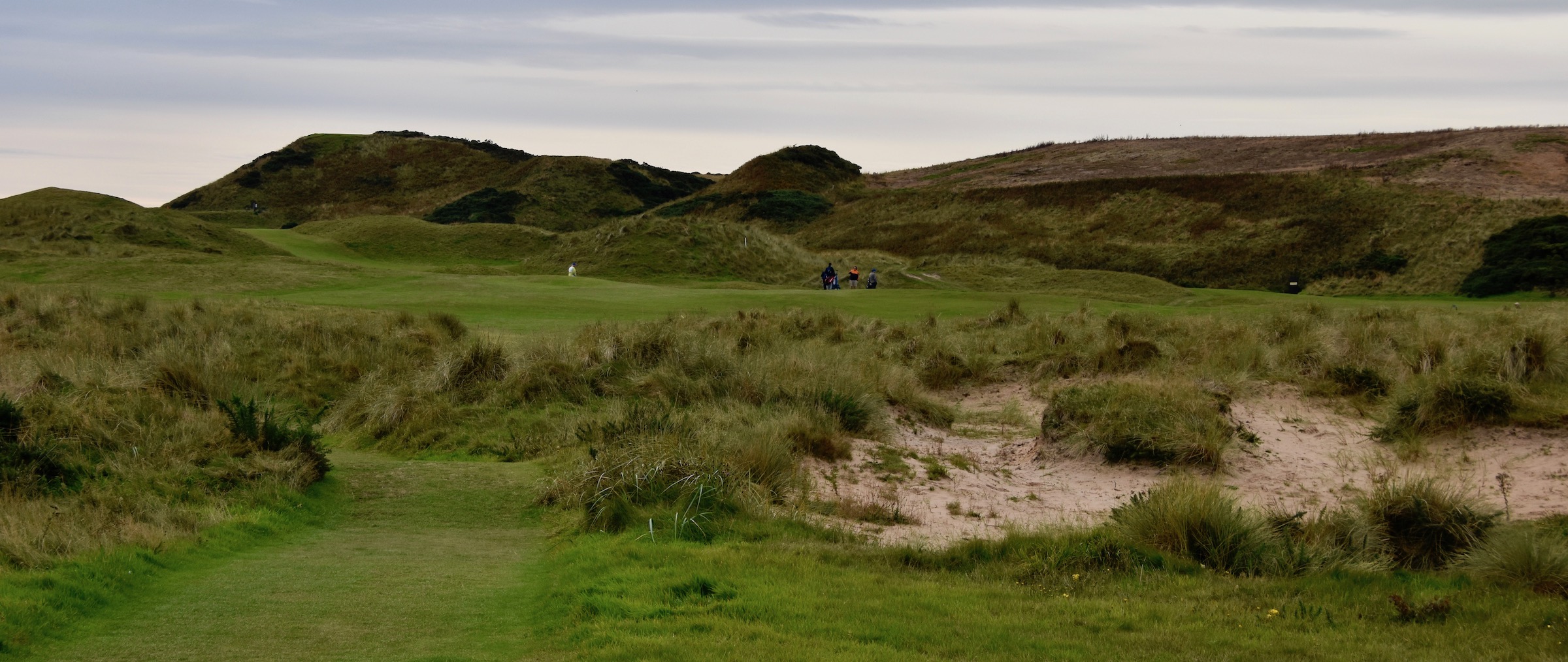 I have no idea what a whaupshank is, but I'm sure I've hit a few in my time. This is a very difficult par four. The drive shouldn't be a problem, but the second shot definitely is. The green is tucked away high up on the side of the dune that separates the course from Cruden Bay. It is almost impossible to take enough club as everyone in our foursome came up short, despite thinking we had taken at least one more than necessary.
#8 Ardendraught – 220 Yard Par Four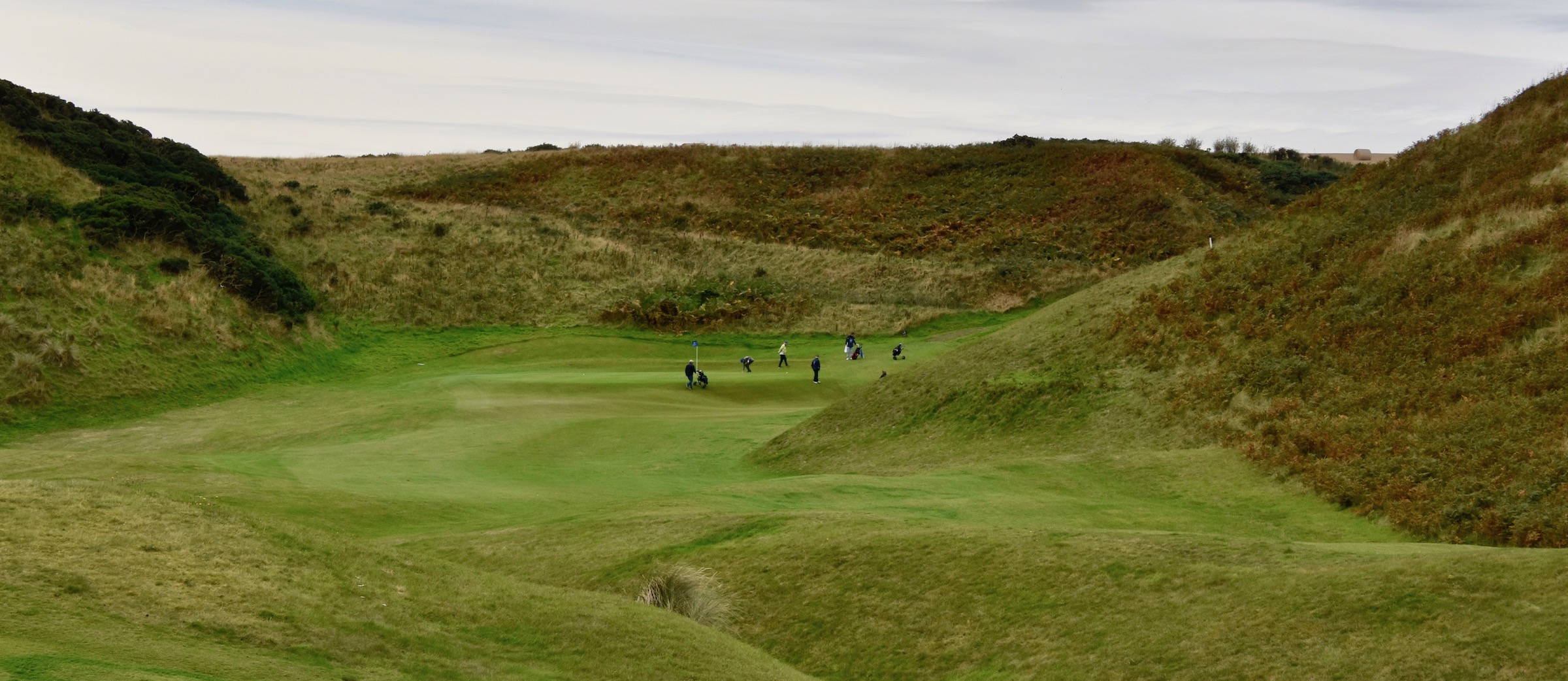 If #5 was a ridiculously long par four then #8 is the opposite. By far the best chance for a birdie at Cruden Bay, but not by any means a gimme. The green is severely sloped and if you get over it then making par is not easy. This is a great example of just letting the hole design itself and to hell with the yardage.
Ardendraught was the actual name of the battle in which the Danes were routed by King Malcom II. There's a good chance that parts of it were fought right on this spot.
You now ascend to the top of the dunes and get these amazing views of Cruden Bay from the 9th tee. This is looking north with Port Erroll and New Slains Castle in the distance.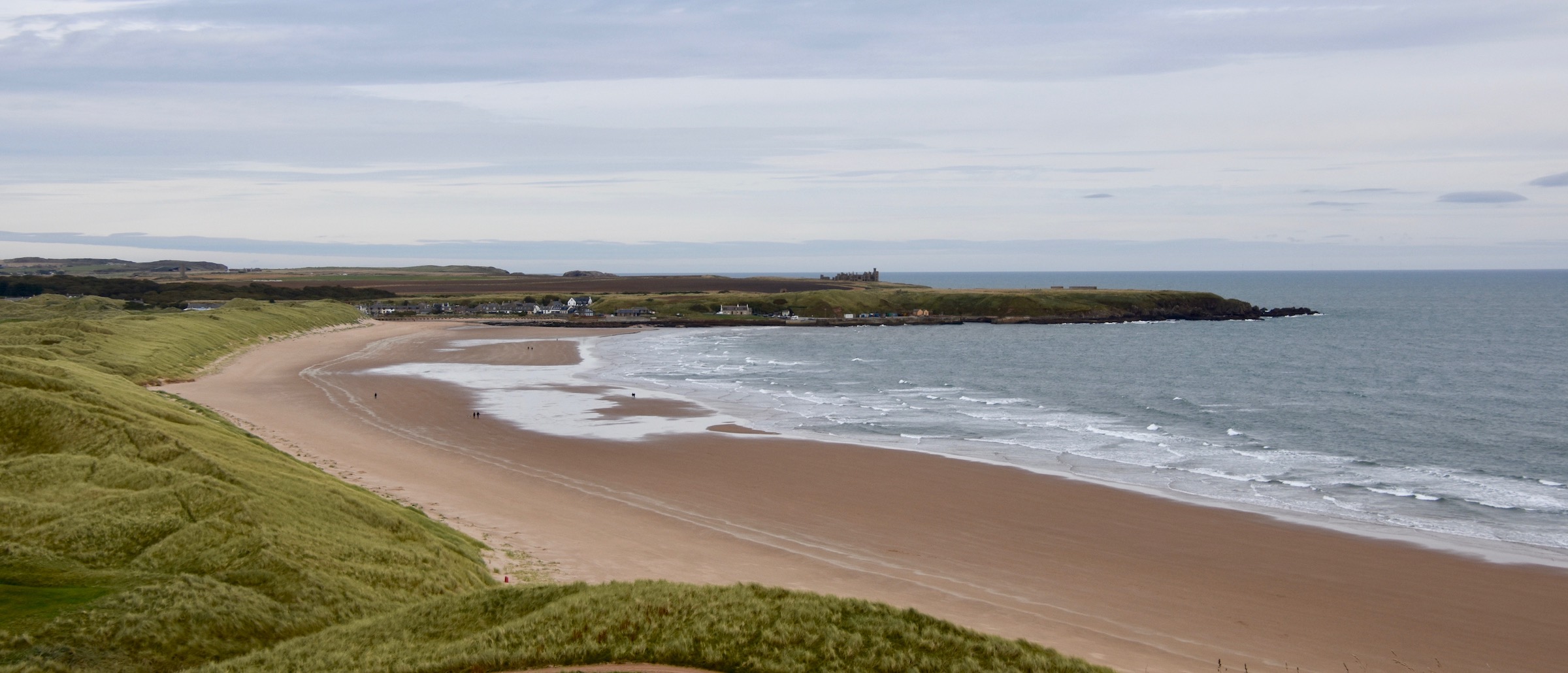 This is the view looking south.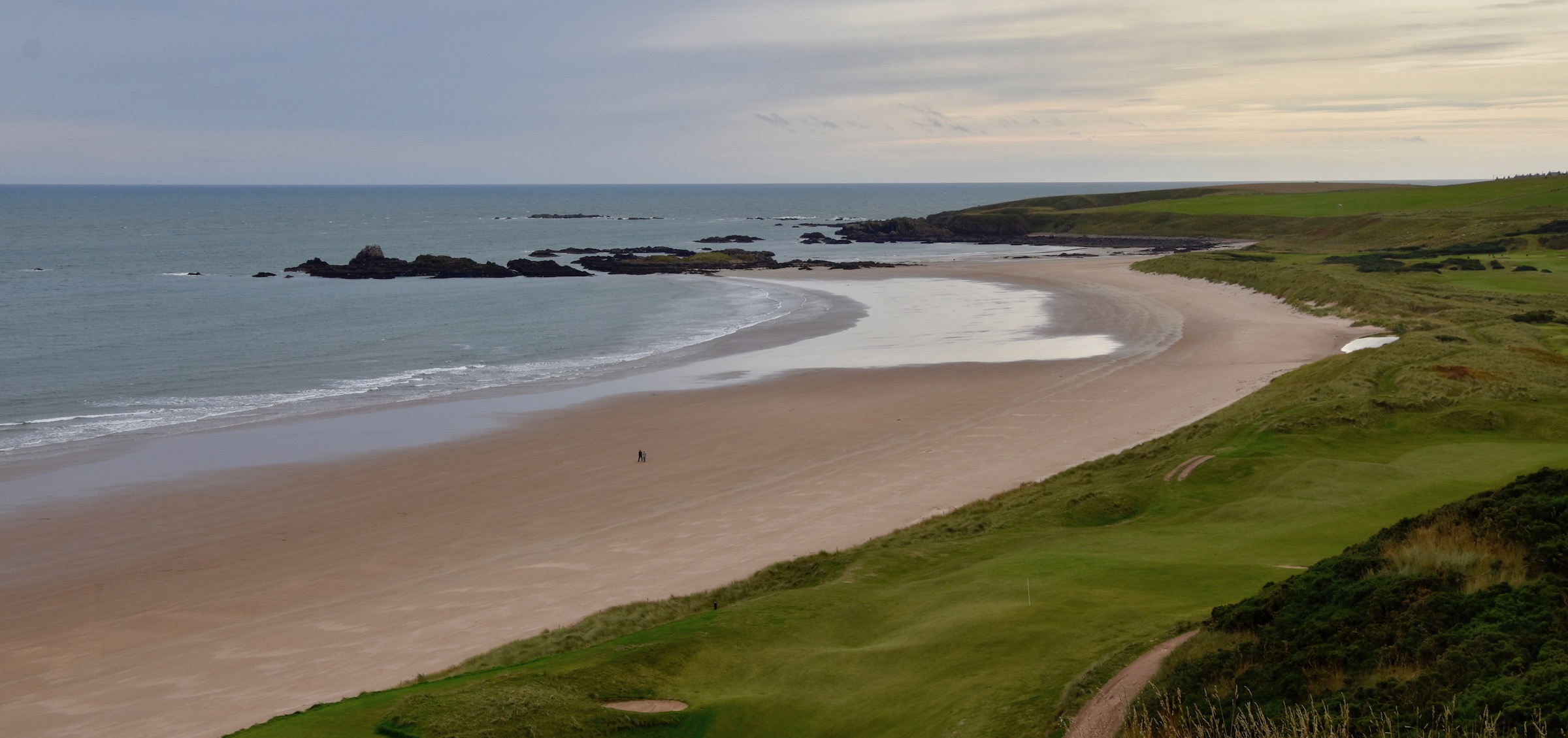 We've had some magnificent views so far on this trip and I'll put up the view of Cruden Bay from #9 tee with any of them.
Cruden Bay #9 Hawklaw – 398 Yard Par Four

This hole does require a well struck drive to position yourself well down the fairway for the approach shot which is quite downhill. It does play shorter than its yardage and despite its #3 handicap rating, I found it quite playable. The biggest distraction is the amazing scenery from this highest point on the course.
#10 Scaurs – 339 Yard Par Four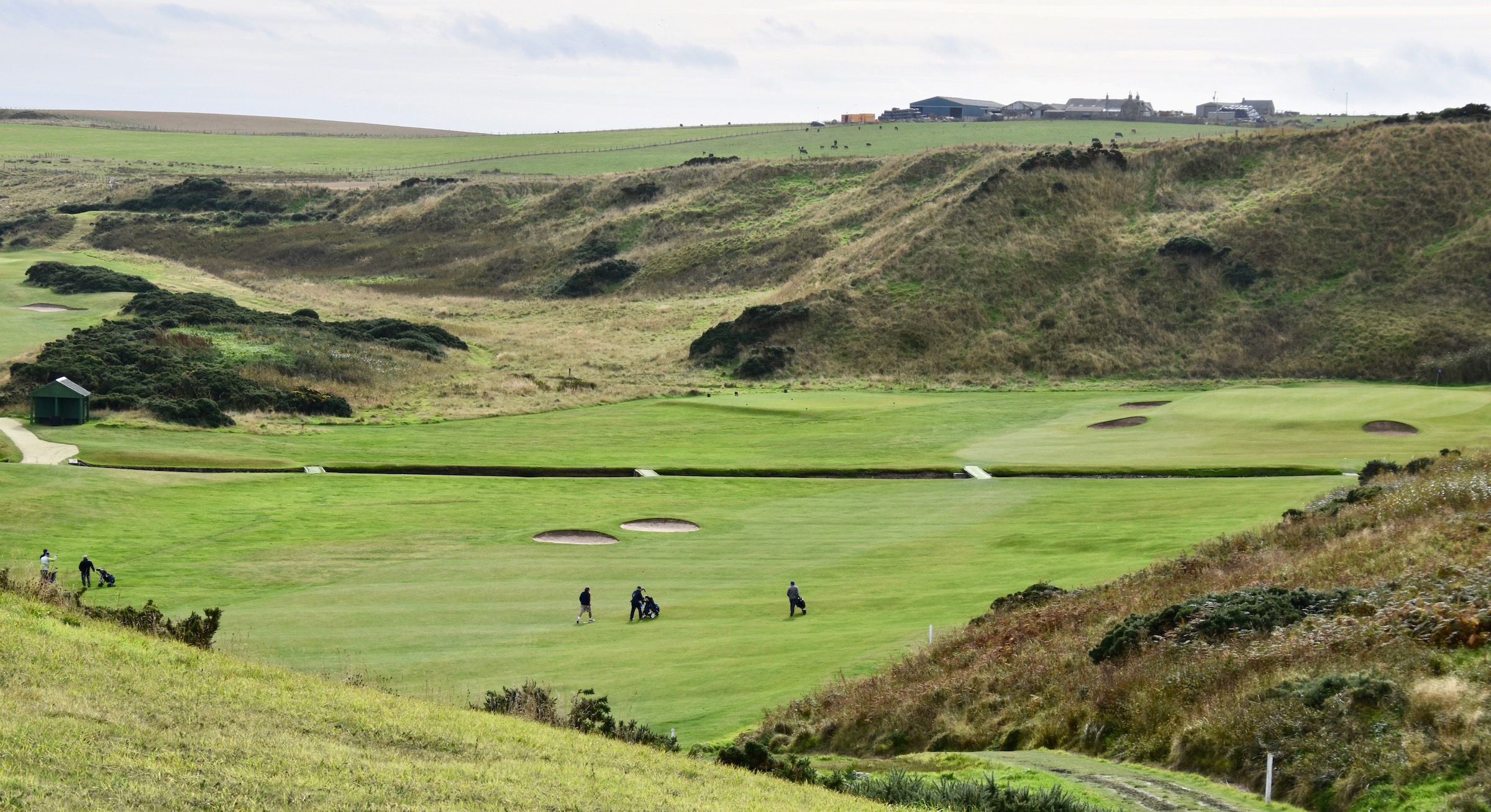 From # 10 tee you get this wonderful look as the course heads back down to sea level. This looks like a wide open fairway, but actually there is zero room to miss on the right which is out of bounds. The burn should not be in play as you don't need a particularly long drive on this hole. A wood should leave something like this for the approach shot to a small slightly elevated green with traps on both sides. This is another completely natural looking hole that has a green tucked under the lee of the dunes.
Scaurs means exactly what it sounds like and I presume refers to the burn cutting through the fairway.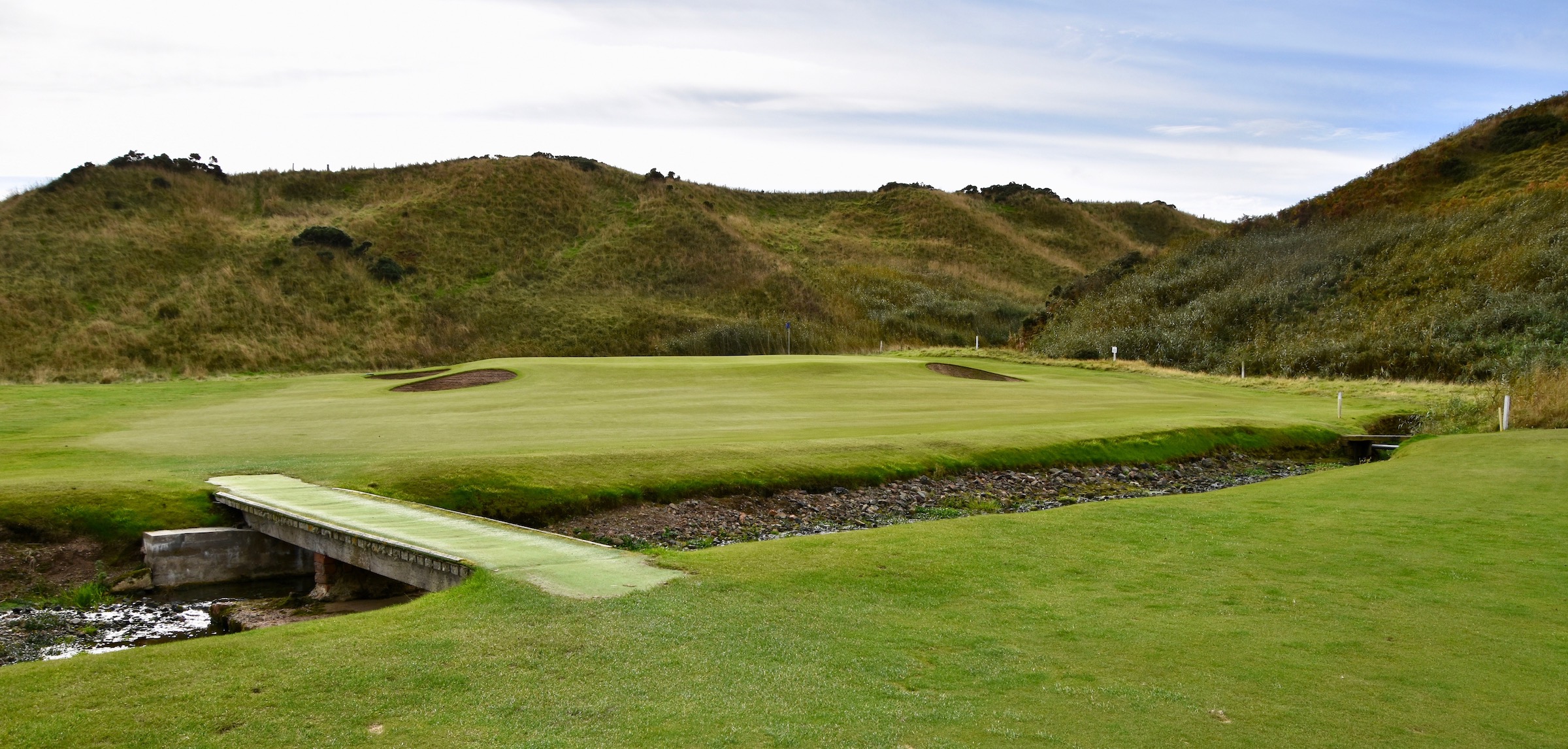 Cruden Bay #11 Mishanter – 142 Yard Par Three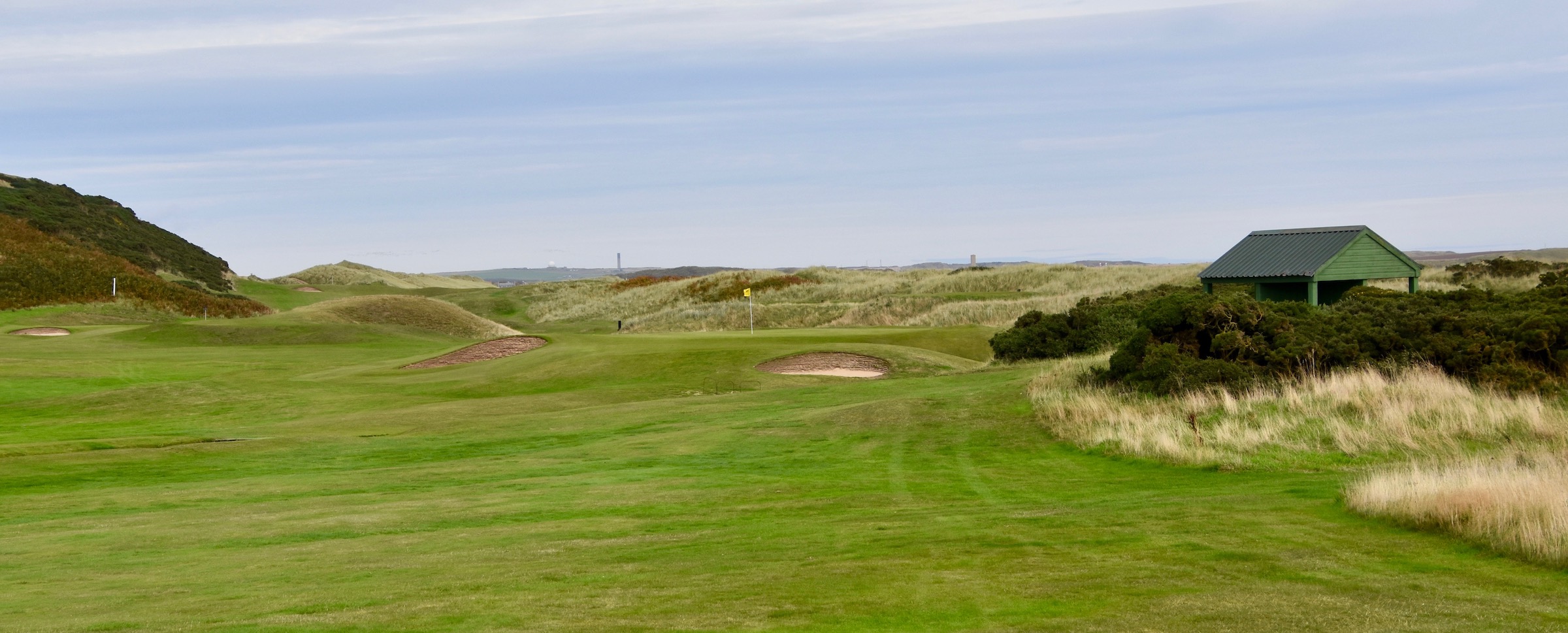 At first glance this looks like a bit of a throw away hole without much to it, but looks are deceiving. The green is tiny, slightly crowned and very difficult to hold. Anything right is dead and the burn crosses in front of the green. In our two foursomes we had balls in the gorse, the burn, the traps and everywhere but the green, all mishanters as this aptly named hole predicted.
#12 Finnyfal – 295 Yard Par Four
This is the best birdie opportunity on the back, but it's tighter than it looks from this photo. The gorse is very much in play, but a hybrid off the tee will leave a wedge to one of the more forgiving greens at Cruden Bay. Enjoy this hole because things are about to get rough and definitely weird.
Finnyfal was a small fishing hamlet on top of a cliff located I presume not too far from here. It also appeared in a number of Bram Stoker's horror stories which is apropos because you get this view of New Slains Castle as you walk from tee to green on this hole.

Cruden Bay #13 Bents – 534 Yard Par Five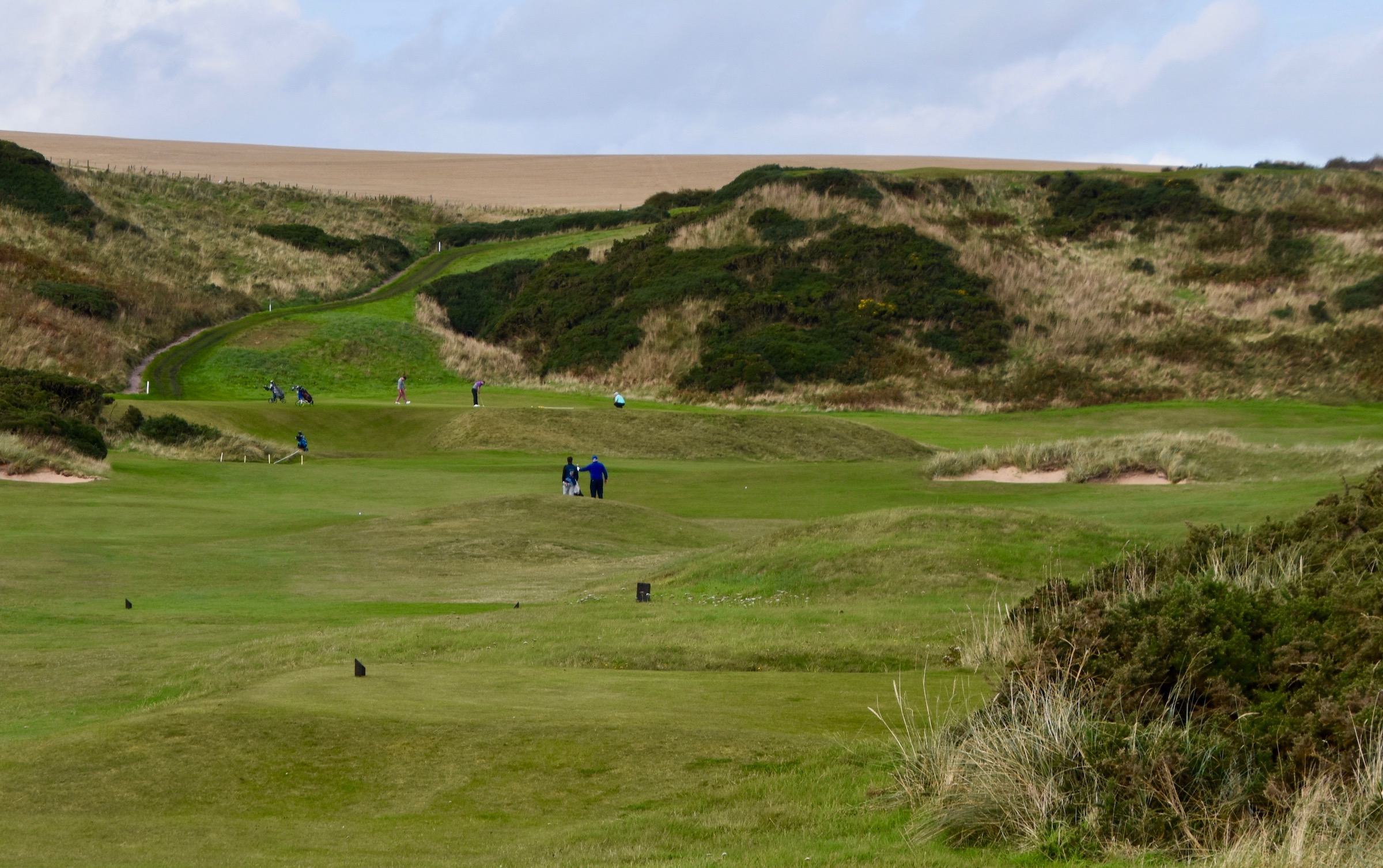 Unfortunately this photo does not do justice to this very difficult par five that appropriately 'bents' along the dunes that separate the hole from the North Sea. About midway the burn breaches the dunes and cuts its way through the beach to the open water. It is just one of the obstacles that must be traversed on this hole. The third shot is actually blind to a green that is concealed behind a knoll. In fact without a caddy I would have had no idea where the green was. However, in retrospect the blind aspect of this hole was nothing compared to what was to come.
#14 Whins – 371 Yard Par Four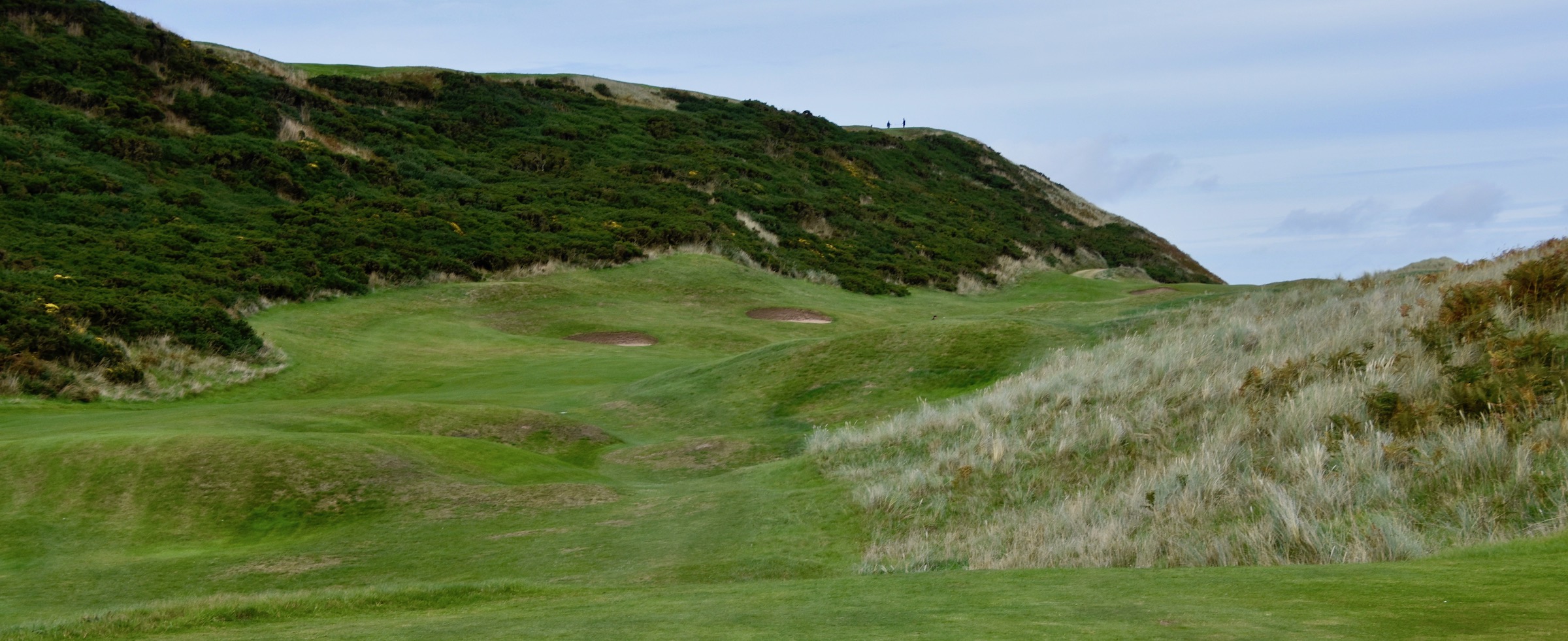 Take a look at the two golfers standing on top of the ridge in this photo and you'll get an idea of just how much elevation change there is at Cruden Bay. Good thing Mitch has a great grandmother to handle his clubs.
This is is one of the most famous blind holes in all of golf and the signature hole at Cruden Bay. Technically the tee shot is not blind as you can see exactly where you need to hit your drive – as bloody far up that hill as you can manage because the next shot is a magical mystery tour.
Ok, I've walloped it and this is what I see  when I get to my ball. Don't ask me why, but I forgot about the yardage and assumed the green was just on the other side of the ridge. I hit a nice seven iron and got to the top only to see the green 100 yards away. That's what you get when you don't wait for your caddy.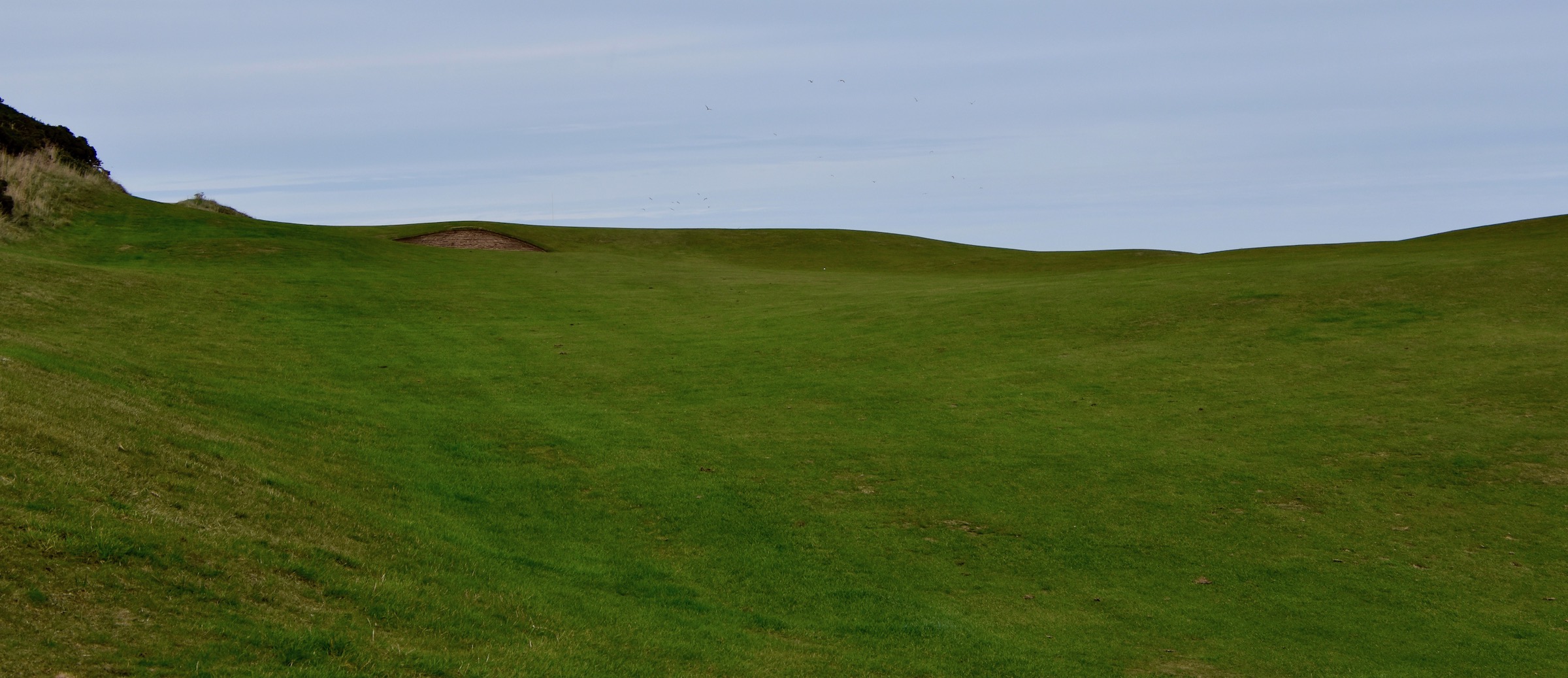 This is the #14 green at Cruden Bay which is aptly named 'The Bathtub' and it's one of the truly amazing sights in all of golf. Old Tom nestled it between dunes on all sides with the beach in the background. If there was ever a hole that epitomizes links golf, this is it.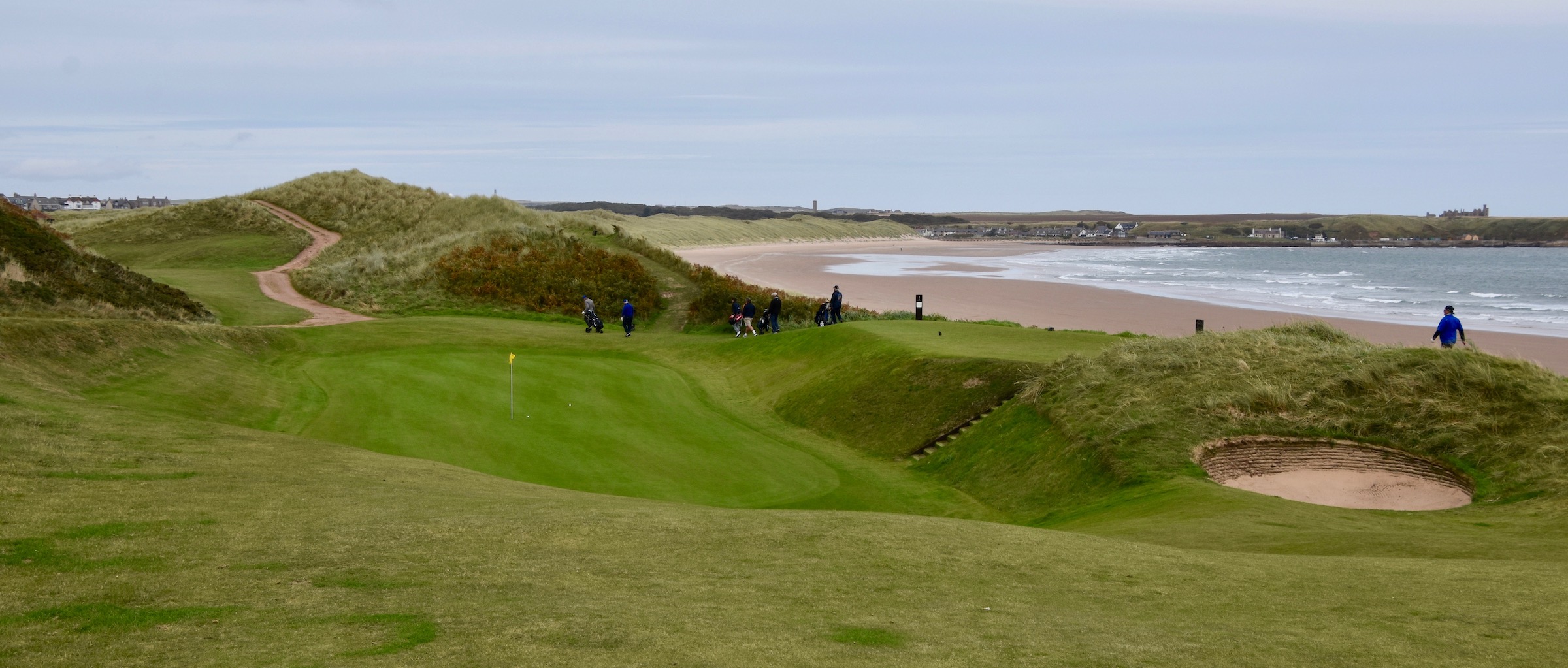 Knowing what I know now after playing this hole once, I would gladly go back and play it 18 more times, although at the time I was not too happy with my pathetic second shot.
BTW, you might recall from Royal Dornoch that whins is another word for gorse.
The 15th tee is another spot from where you get magnificent close up views of Cruden Bay. That really is one hell of a beach.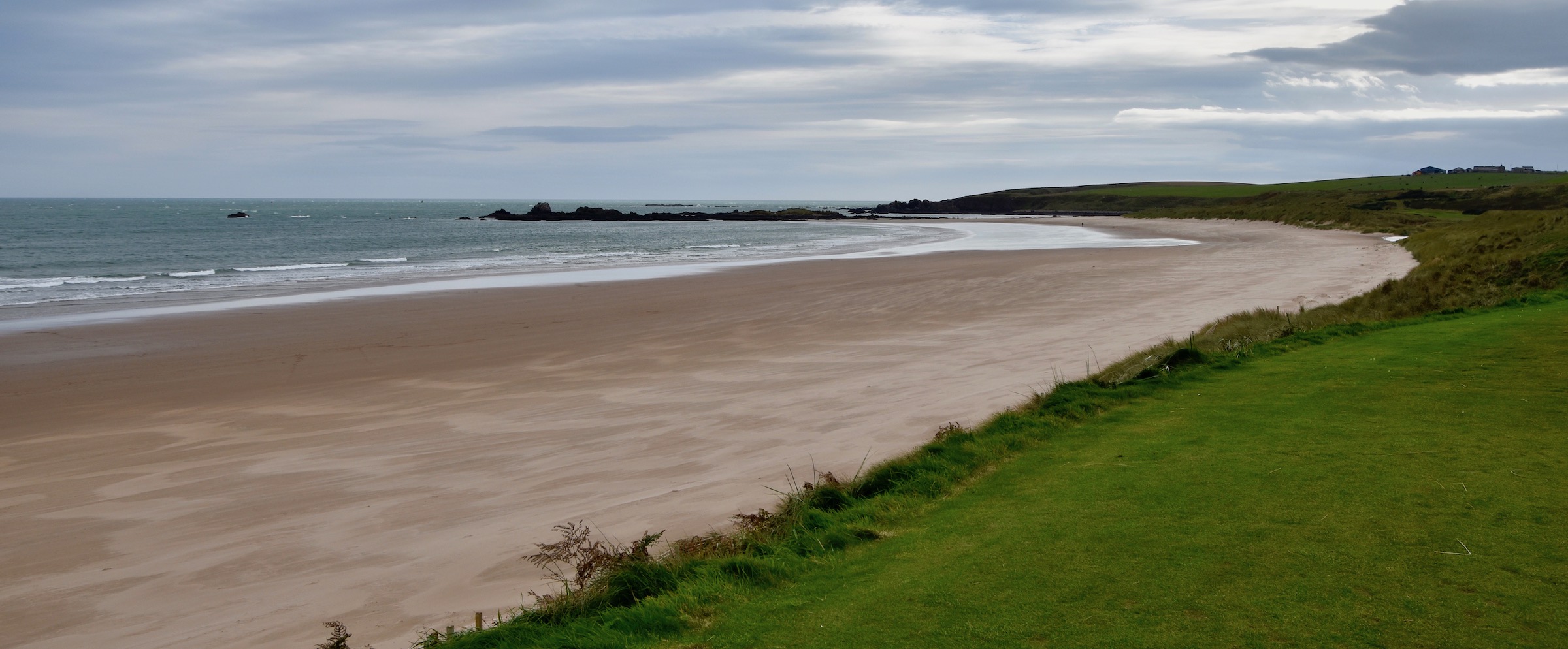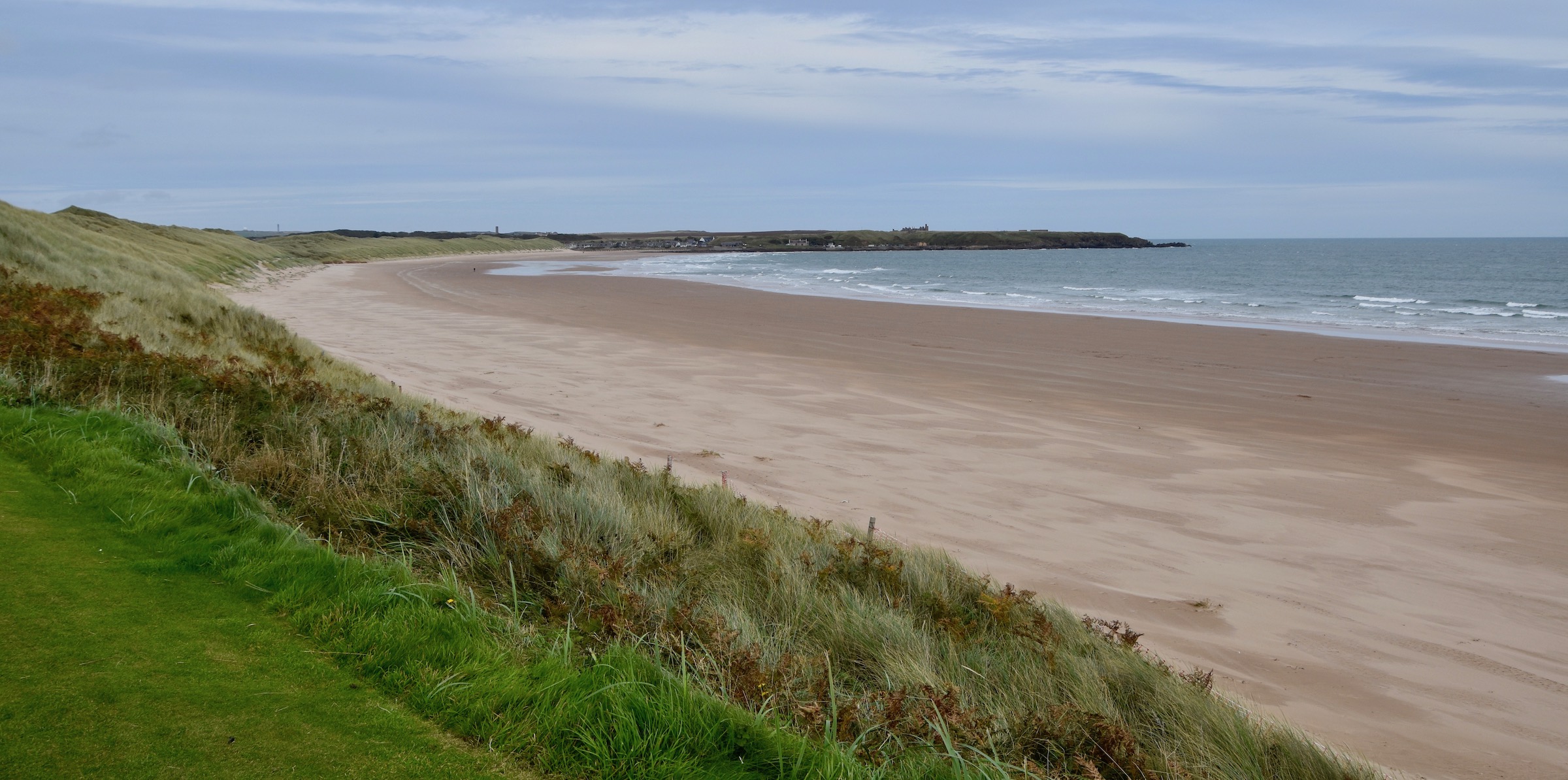 Cruden Bay #15 Blin' Dunt – 195 Yard Par Three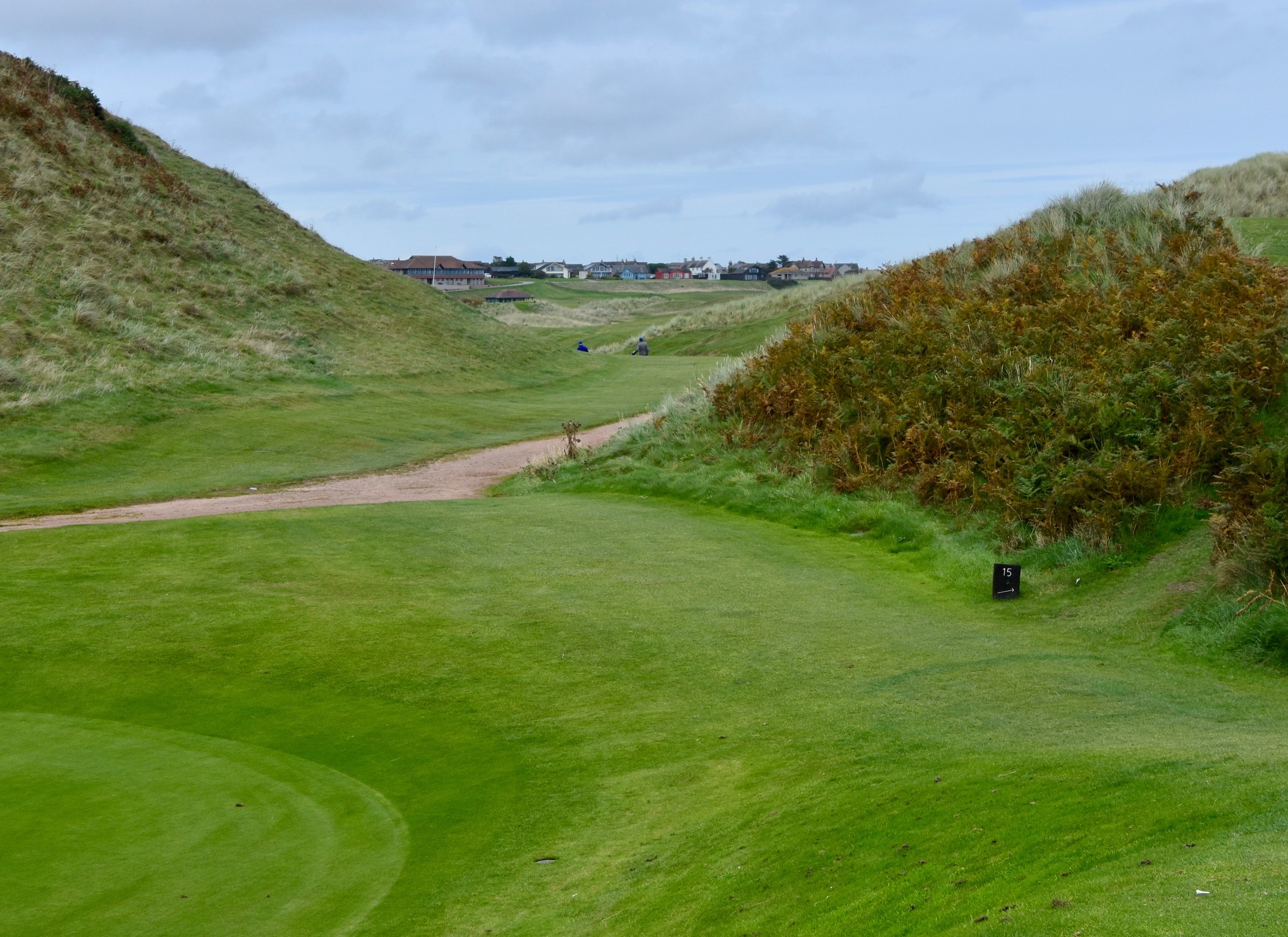 No need to wonder about the name of this hole. I thought #5 at Lahinch was the craziest par three I have ever played, but #15 at Cruden Bay certainly gives it a run for its money. Our caddies assure us that all we need to do is hit it straight over the left hand mound about half way up and we'll find a green at the end. By God, that turns out to be true as the hole plays shorter than its yardage and three out four land on the green. I was so excited about parring this hole that I forgot to take a photo of the green.
#16 Coffins – 172 Yard Par Three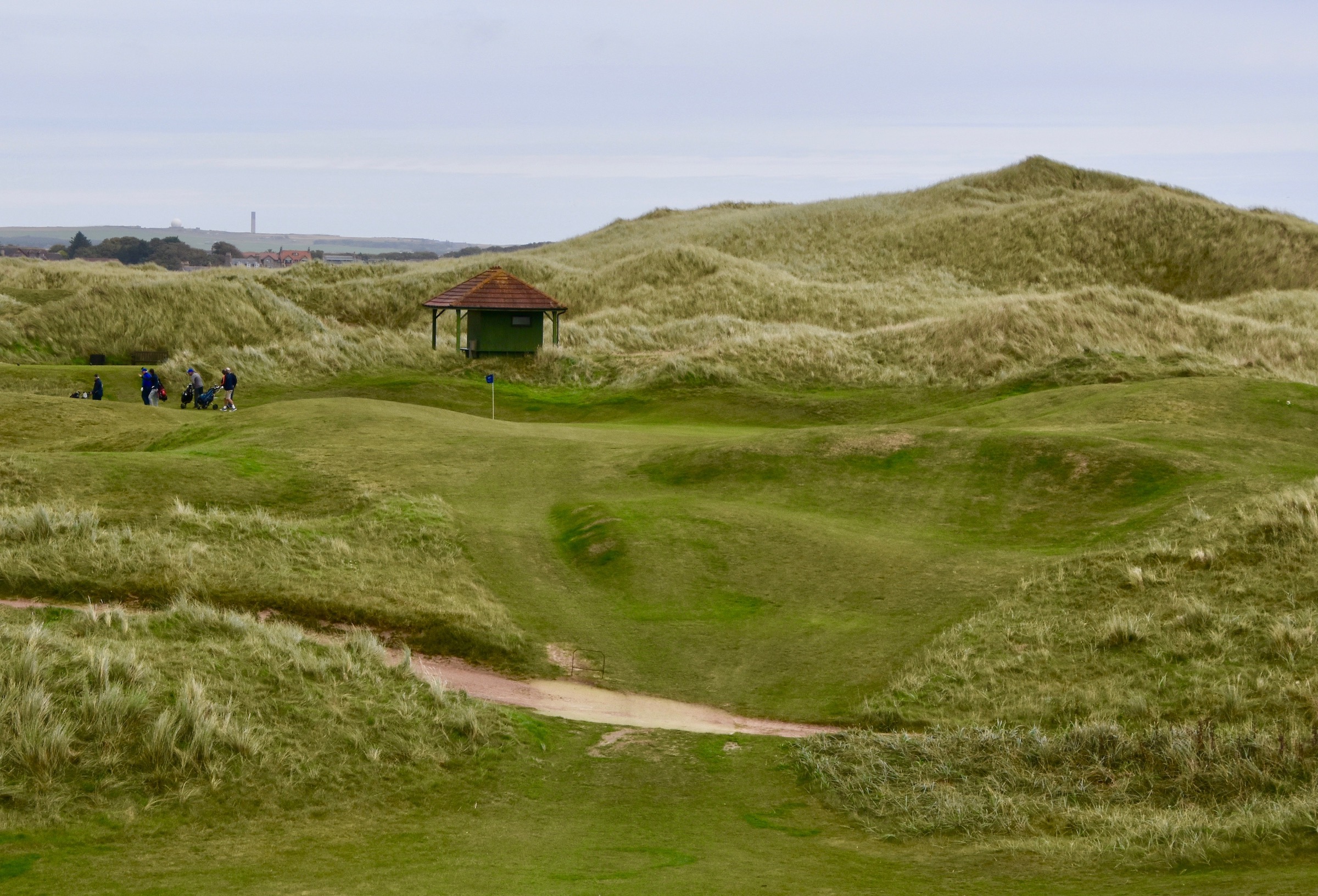 This ominously named hole does not have any coffin bunkers a la Oakmont, so I'm not sure from where it gets its name. There are a lot of wild undulations to be sure, but after what we've just come through this hole is a breeze. With a decent backstop behind the green you can afford to take more club than you might think in order to make sure you get there.
Take a minute to really look at this hole with the fescued dunes rising in the background and appreciate again how the holes at Cruden Bay just fit in perfectly with the terrain. Old Tom didn't have bulldozers and he wouldn't have used them if he had.
Cruden Bay #17 Bilin' Wallie – 383 Yard Par Four
After the roller coaster ride between the dunes the last two holes do seem a bit anticlimactic, but they are both strong par fours in their own right. #17 features some very disturbing mounds straight away that definitely should be avoided, but doing so will lengthen the hole. The approach shot to one of the most elevated greens on the course is not easy and bogey is very acceptable on this penultimate hole.
I have no idea what a Bilin' Wallie is. Sounds like you'd be more likely to encounter one in the Australian outback than here.
#18 Hame – 376 Yard Par Four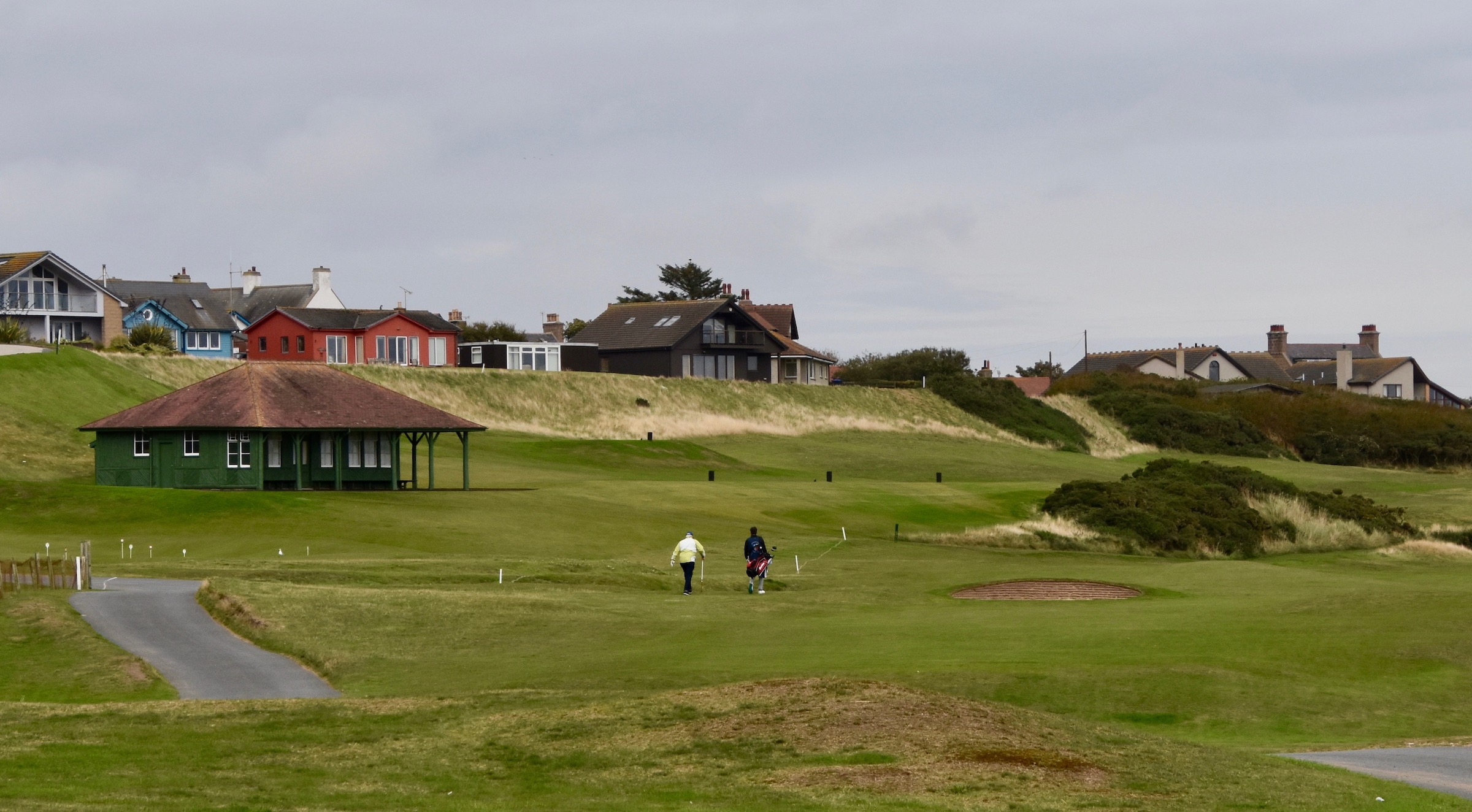 This is a nice if not overwhelming finishing hole. With tons of room off the tee it's a good opportunity to finish with a par.
Looking back after writing this post, it is really hard to imagine what a phenomenal course Cruden Bay is. It just may be the most natural looking course I have ever played.
Next we'll visit Trump International and find out what all the fuss is about with The Donald's controversial course on the North Sea coast.