The Royal Hawaiian – Royal Treatment at Waikiki's Pink Palace
This is the first of twenty-five posts on a visit to the four main islands of Hawaii a few years ago. All posts have been updated and the information in them is correct as of 2021. So let's get started in Honolulu and our first stop at the Royal Hawaiian on Waikiki.
We left a snow bound Halifax early on February 28 and arrived in Honolulu early in the evening of the same day. I travelled in steerage on UA taking an eleven hour flight from Newark which actually wasn't too bad. At least I got a chance to watch the Bond flick Skyfall. The young guy beside me seemed to have a tapeworm as he ordered at least four complete meals to go with his six or seven double Dewar's and coke.
Alison travelled in business class on points on AC and was waiting for me at the UA baggage carousel. For the first time in a while on one of these month long getaways all our luggage arrived as scheduled. We hopped in a cab for our first destination, the Royal Hawaiian or as it is more commonly called, the Pink Palace. It was 30 years since I was last in Honolulu but some things hadn't changed – the highway from the airport was just as busy as I recall it being half a lifetime ago, however, once we got into Waikiki and the main drag Kalakua Street I could see that things had changed dramatically. What had once been a pretty run down and tacky strip had now been transformed into an ultra modern upscale shopping district with all the top end stores found in places like Palm Beach, Boca Raton and Rodeo Drive.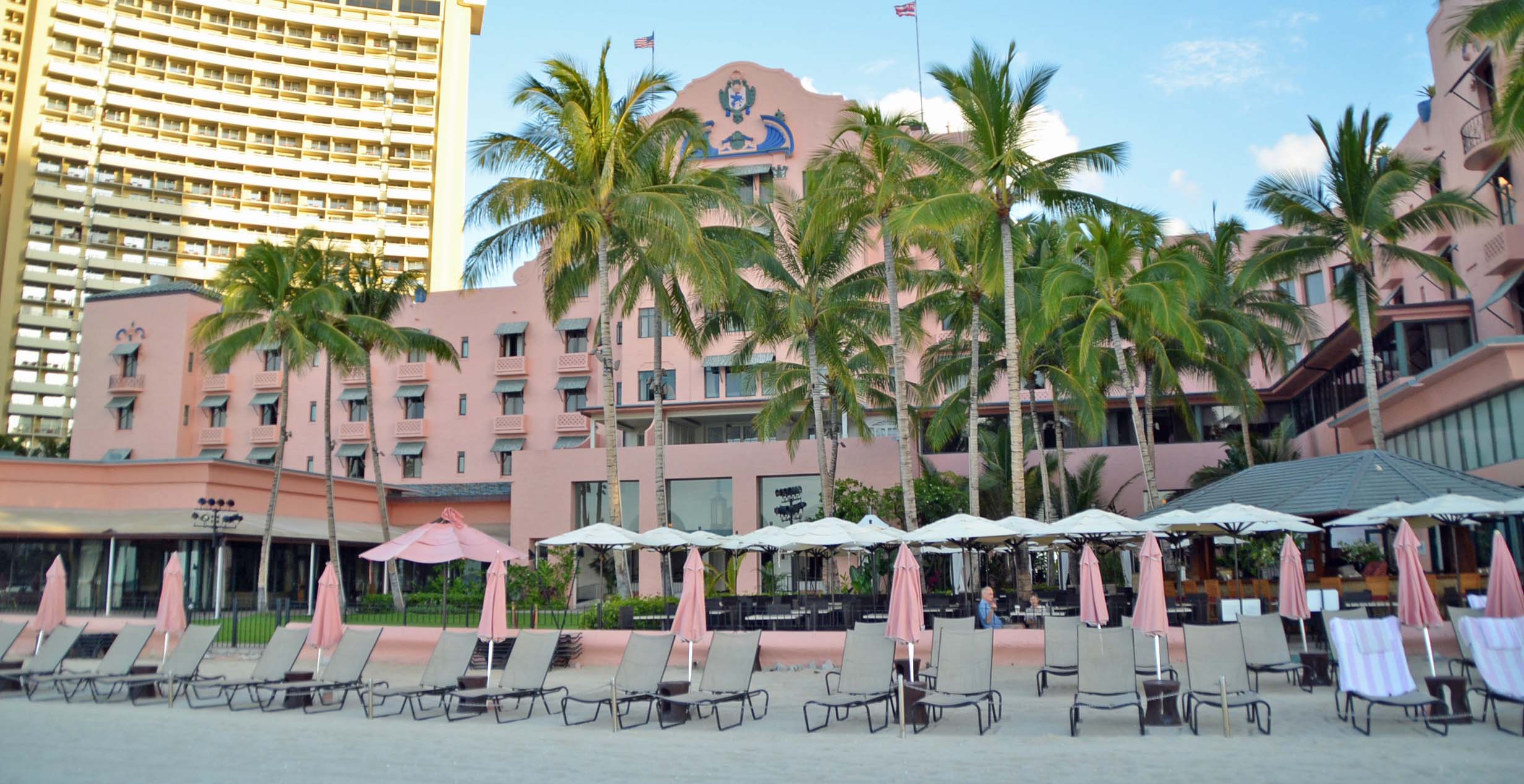 The Royal Hawaiian shares an entrance with the massive Sheraton Waikiki complex, but once you get to the front lobby things start to change. The Royal Hawaiian was built in 1927 primarily as a hotel for visitors who would arrive by cruise ship and no expense was spared to make this into one of Hawaii's grand hotels. Today only the RH and the nearby Surfrider survive from the golden age of Waikiki. One is hard pressed to distinguish between the high rise hotels that now comprise the majority of choices on the beach – they all seem to have been designed by the same architect and there is nothing that makes them stand out. This becomes readily apparent if you take a stroll up the beach toward Diamond Head and look back. The Royal Hawaiian stands out like a pink princess in the midst of a bunch of drably dressed dowagers.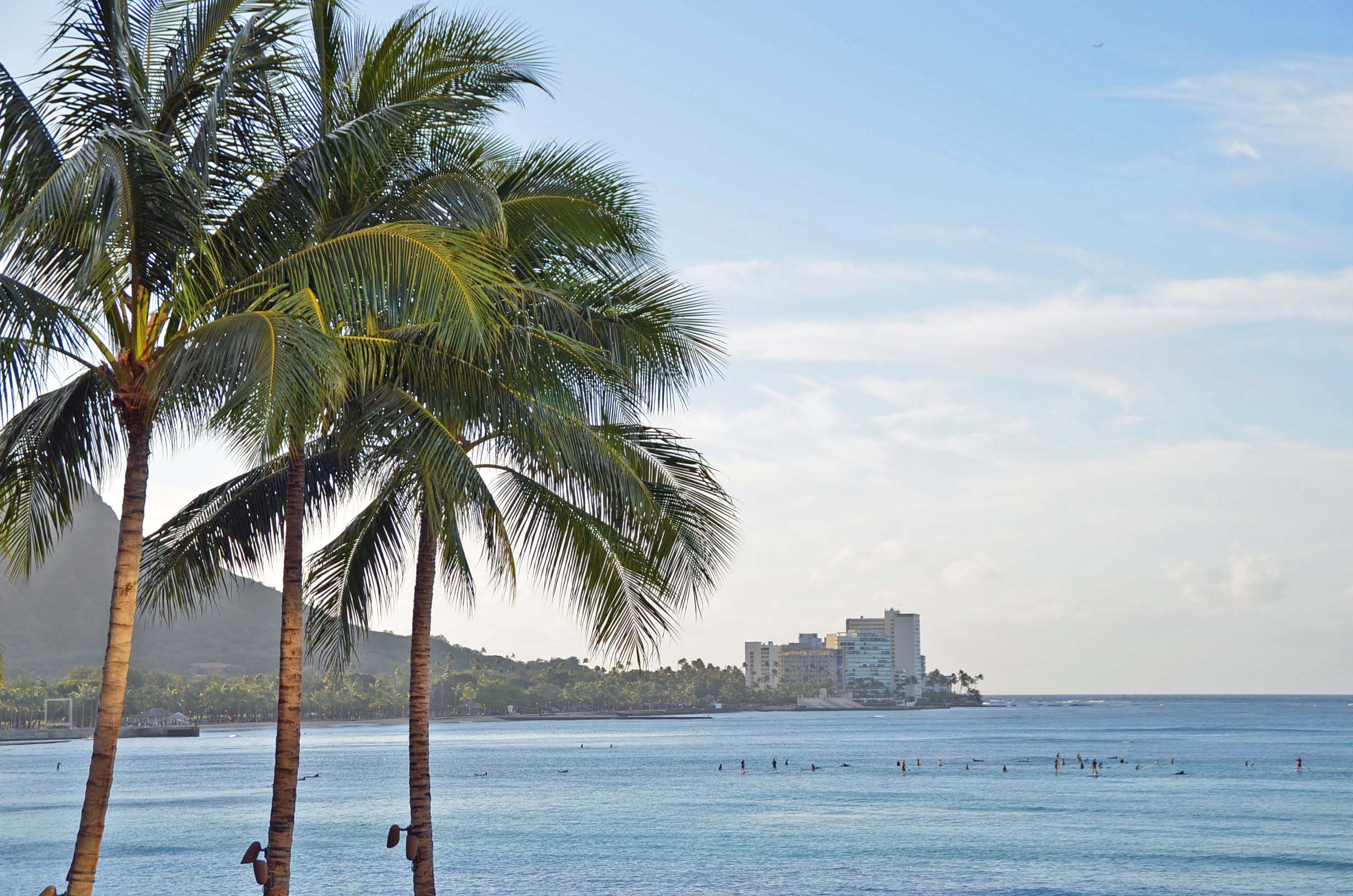 There is a high rise tower associated with the Royal Hawaiian, but we specifically wanted to experience the hotel the way that arriving cruisers would in the first forty years or so of the hotel's existence. The Royal Hawaiian is part of Marriott's Luxury Collection Resorts and as you can imagine it is not inexpensive, however, we received a media rate which softened the blow, but it was still substantial. Since we were going to be staying in condos for most of the rest of the trip we didn't mind splurging the first few nights. At time of booking we were assigned a Garden View room, but were told to request an update at check-in in case there was space available. This did indeed happen and we were upgraded to Room 286 with the view as seen above. In fairness I have cropped out an obstruction, but we had a clear view of the beach and Diamond Head.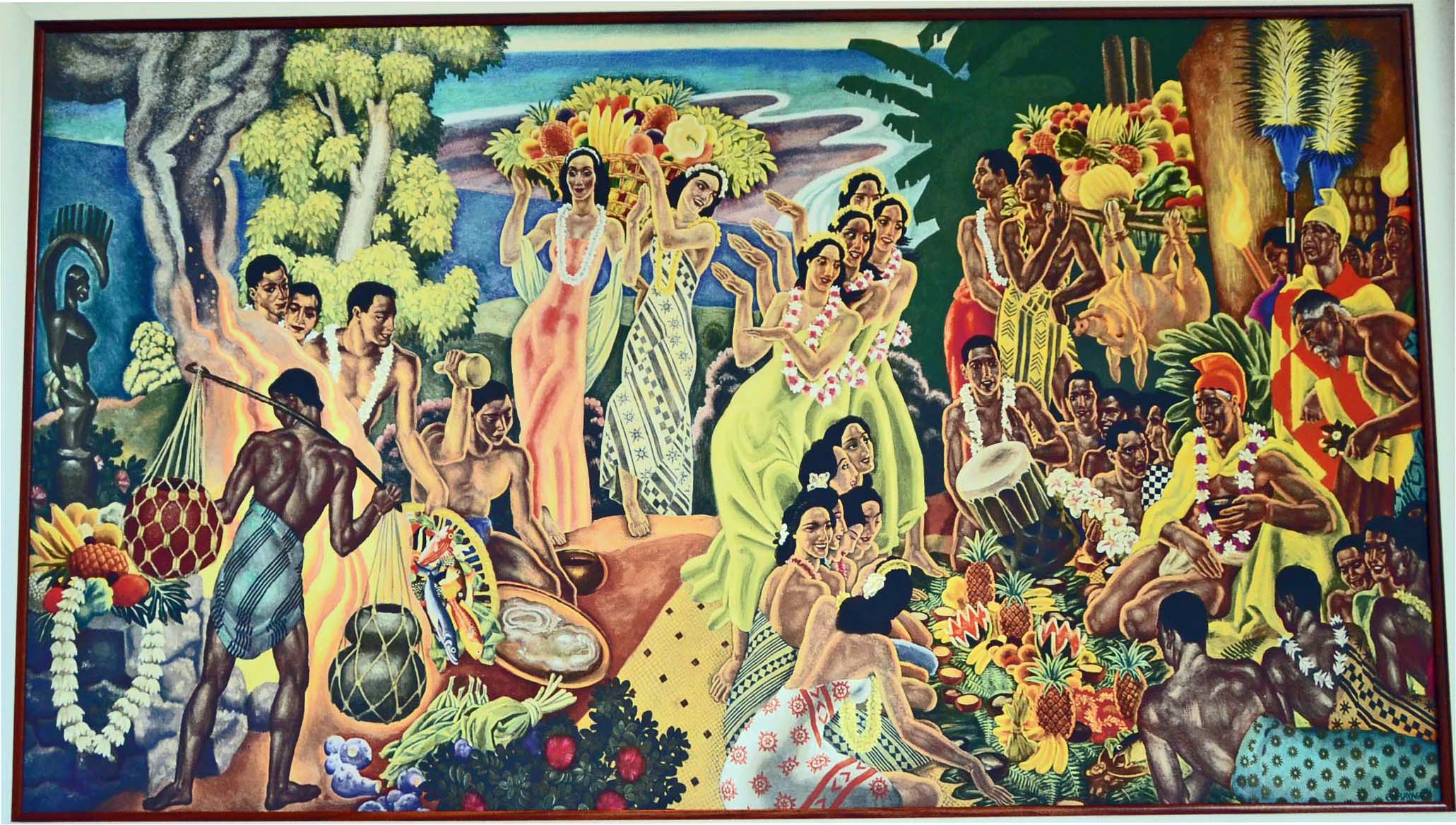 Everything about or stay at the Royal Hawaiian was just exactly as I had imagined our trip would begin, from stepping out of the cab and getting lei'd, to the wide open foyer through which a gentle breeze seems to constantly blow, to the wonderful Hawaiian historical paintings that are very reminiscent of those of Paul Gauguin and Henri Rousseau with their bright colours and striking figures, to the upscale shops, that make window shopping a pleasure (especially the Montecristo Panama Hats and the Hawaiian quilts) and the gigantic historical map of the Hawaiian islands across from the elevator. Our room was standard sized with a king bed and a fridge, not a mini bar,  which I find a real necessity to hold the water, wine and beer that are daily indulgences. The only thing in the fridge were two bottles of ice cold Hawaiian Springs water which we both agreed was the best tasting bottled water we have ever tried. It was to become a staple for the next month. The toiletries provided were so super sized that I used them for over a week.
After doing some unpacking we heard the unmistakeable sounds of Hawaiian music wafting up from just below our room and we were drawn irresistibly down to the famous Mai Tai bar from whence it was originating. This is an outdoor bar that has all the elements associated with a tiki bar – grass covered huts, flaming torches and exotic drinks. The reason is pretty simple – it is one of the great original Hawaiian tiki bars that has been copied over and over again on the islands and elsewhere. After settling into a table right beside the beach we ordered our first Hawaiian libations, a glass of wine and I'm almost ashamed to admit, a dry martini – not Hawaiian I know, but still my favourite.
There were three musicians playing slack guitar, ukulele and regular guitar, all with great voices and a dancer. Utterly soothing music and rhythms combined with the swaying of the dancer made for the perfect atmosphere. We ordered the island poke trio and chicken satay. The latter was excellent, but the poke trio of octopus, ahi and shrimp started us on a love affair with Hawaiian food that will continue for as long as there is fresh seafood.
The music ended around ten and we took a short stroll along the beach to the statue of Duke Kahanamoku on Kalakaua where a lot of young people were hanging out along with a few of the homeless types who always seem to migrate to warmer climes. Walking back along Kalakaua I noticed some things in Waikiki never change – the throngs of Asian tourists who far outnumber North American or European tourists, the sleazy time-share salesmen and the pretty brazen streetwalkers. We started to feel a bit jet-lagged so headed back to our room. We immediately noticed how quiet it had become. We opened the windows wide, which you can do at the Royal Hawaiian and fell asleep with the shadows of dancing palm fronds silhouetted on the wall. What a great reintroduction to Hawaii!
Tomorrow we'll make the obligatory trek up to Diamond Head for one of the world's greatest views. Please join us.
To check out the prices at the Royal Hawaiian click here.