New Orleans Post Katrina – Why We Must Not Forsake NOLA Again
This article came about as a result of a visit to New Orleans in late January 2008 some two and a half years after Hurricane Katrina. Although the trip was ostensibly for depositions of experts on a large commercial litigation file I was engaged on, I was most anxious to see how far the city had come from that devastating week in August, 2005. In two previous visits before Katrina I found a city that was completely off the charts as far as American 'normalcy' goes, both in terms of culture and tolerance of strange behavior. The Big Easy was a truly fitting nickname for this ultra laid back city where manana was the watchword and party 'til you puke was the preferred lifestyle. No wonder I loved it!
It was Alison's first visit to NOLA and what we saw was profoundly shocking – a city that was literally abandoned by the country that professed to love it – square miles of utter devastation that had not and would not be rebuilt. You could almost hear the cry from those sanctimonious prigs who despised and decried New Orleans' wanton ways, "rot in the hell you created and don't ask me for a helping hand". The reality was that the modern hell that parts of New Orleans had become were far more the responsibility the failings of the U.S. Army Corps of Engineers than anything the locals could have caused or done.
At the same time that our eyes were opened to an act of callousness I did not think the American people were capable of, we saw another side of NOLA that was resilient, irreverent and a hell of a lot of fun – the Krewe du Vieux parade which kicked off the Mardi Gras parade season. Here's the story.
New Orleans – January 2008
The first thing that the post Katrina visitor will notice is that there is nothing to notice. Leaving the airport on the I-10 to downtown New Orleans and the French Quarter there is nary a sign of destruction and it is easy to believe that the situation has been over hyped. This is an illusion. The reality is that there is a narrow strip of high ground called the River Sliver, that runs along the river's edge from the airport to the Central Business District and the French Quarter. While it is a blessing that these areas were spared, the fact is the over 80% of the city was virtually destroyed. The only way to really appreciate the fact that one of the oldest and most revered of American cities is virtually destroyed is to take a Katrina tour which goes into areas that a frankly not safe to visit by oneself for a variety of reasons.
Our tour guide Barbara Robichaux began with a passionate and heartfelt thank you to all of the Gray Line tourists assembled on our bus, stating very simply that we were doing more to rebuild her city of New Orleans by being here than any of us would ever know. It was the first inkling of just how unsettling what we were about to see might be. After all, we had been in the French Quarter and business district for a day now and, while not the most prosperous looking city we have been to, it looked pretty "whole." We had been on the "sliver by the river," and the rare piece of higher ground that it is, we would come to understand more fully as the tour and time progressed.
Barbara continued, "We (New Orleans) were not destroyed by a storm, we were destroyed by construction and our government." That in a nutshell is what she proceeded to demonstrate throughout our tour.
So what is left of this city that had a population of over a million in August 2005? No one we spoke to is prepared to be definitive, but most thought there are now about 500,000 souls remaining. Barbara made frequent reference to her compatriots evacuated to Houston and Tennessee, many of whom have never been able to return home. While the evacuees were provided the means to get out of the city, unless they had independent means to get home, Houston and Tennessee is where they remain.
And what of the city's infrastructure? While roads and hospitals in the city centre appear to be up and functional, 80 per cent of the New Orleans area was flooded. Entire communities were wiped out  – schools, shopping malls, parks, golf courses – abandoned or destroyed. I mention golf courses only because at one point we drove past what had been a modern high end community where many of the New Orleans Saints players had lived. I had played the golf course that was the centre of the development a few years earlier – now it was an overgrown field and the huge homes were concrete and brick shells.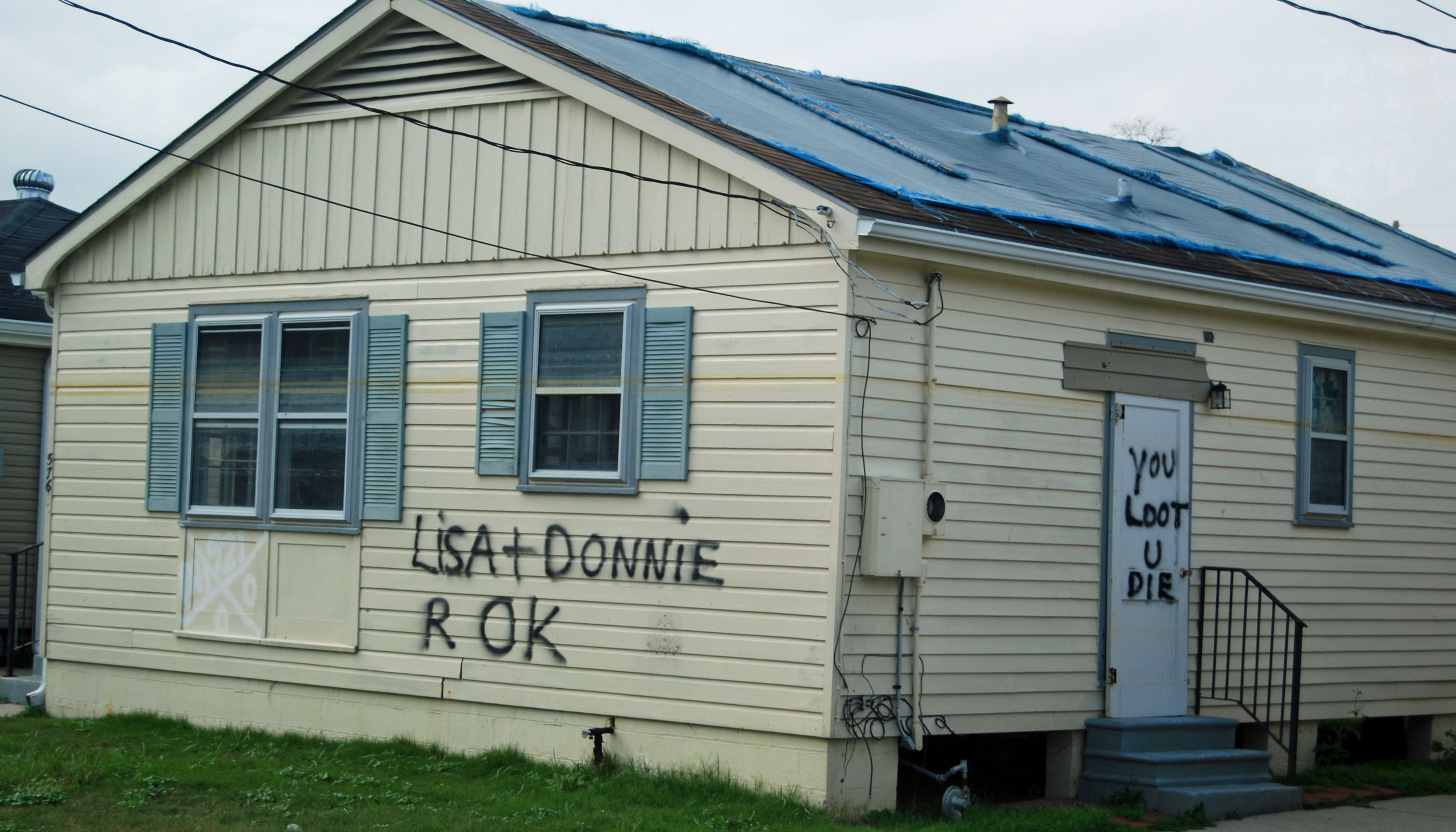 Without doubt the most unsettling part of the New Orleans post Katrina tour was seeing and being able to decipher the markings that were spray painted on most of the abandoned homes. These had been placed on the homes by early responders who were looking for survivors, but finding more dead than alive by the time they finally got there. Also disquieting were the many holes chopped through the roofs of houses by rescuers trying to get to people who were trapped in their attics with no way out. A number of homes had graffiti announcing that looters would be shot on sight. All in all it added up to something between an urban holocaust and Armageddon descending on an American city in the 21st century. It was a sight that was profoundly moving for the chaos that sheer stupidity and heedless engineering hubris could wrought in combination with what would have been a devastating storm even without the Army Corps of Engineers.
Lest the reader think this trip to NOLA was entirely a bummer, I am glad to report it was not. After seeing the devastation we wanted to see how those who remained were coping and the answer seemed to be – quite well, thank you. We took an afternoon creole cooking class in a beautiful private home with slow food guru Poppy Tooker  and followed it up with really fantastic meal at Emeril's , chef Emeril Lagasse's hometown restaurant. In my experience celebrity chef restaurants are often if not usually overrated, but not in this case. The open kitchen concept works very well in the old brick building where many of the creole and cajun classics are prepared with a modern twist. In the morning Jackson Square was bathed in a beautiful mellow winter sunlight that created shadows so sharp and dark that Old Hickory looked to have a double.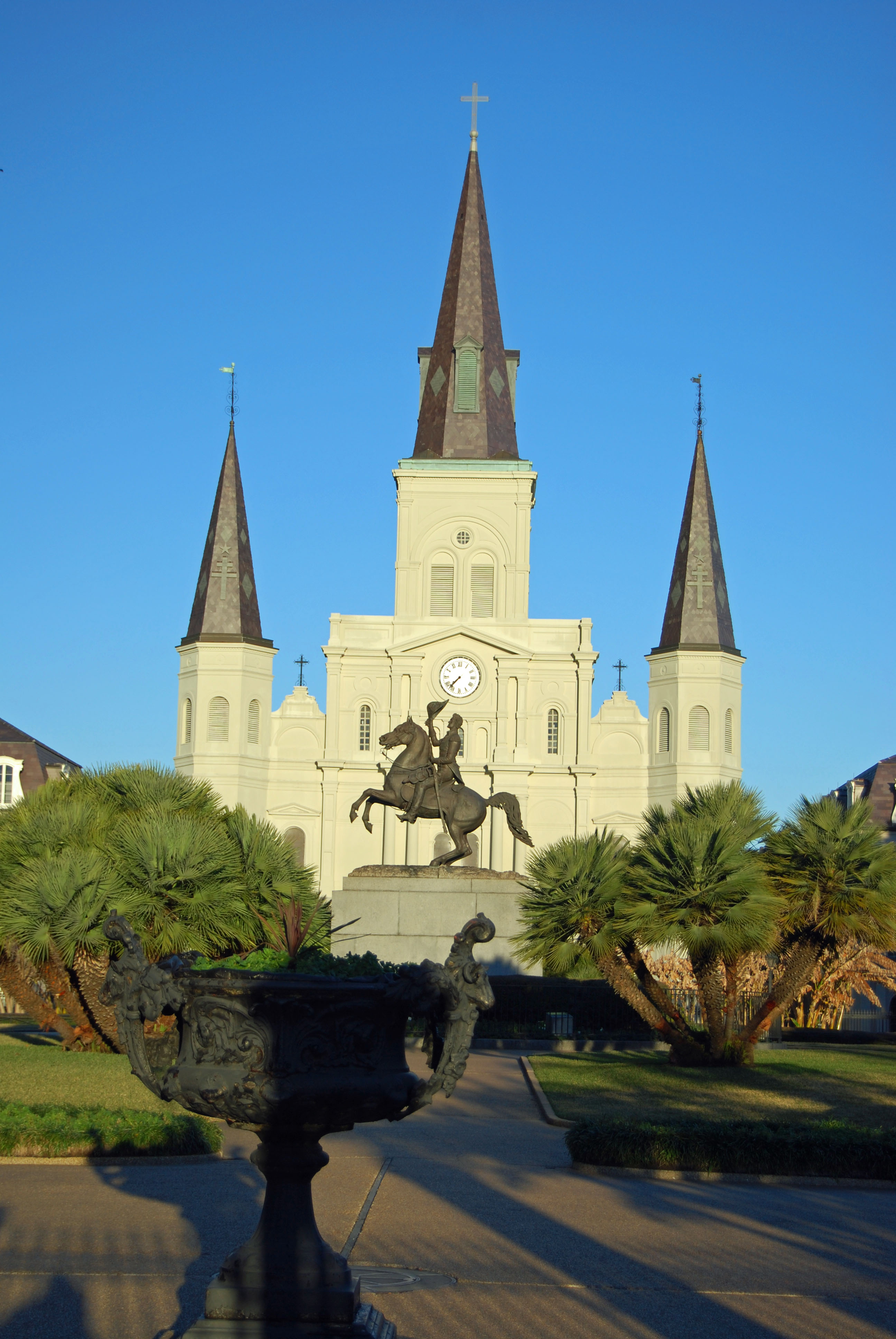 We also enjoyed the Audubon Aquarium, right on the banks of the mighty Mississippi and The World War II museum. The best was saved for last, although not intentionally. I had always assumed that the famous Mardi Gras parade was a one-off event that took place on Fat Tuesday when hundreds of thousands of people jammed into the French Quarter in a final frenzy of bacchanalia before the beginning of Lent. While I would love to see the Mardi Gras parade, the sheer numbers of people in such tight confines was enough to make me reconsider and besides this was late January. However, when we got to NOLA I started seeing plugs for a series of parades including the leadoff one by an outfit called Krewe du Vieux  that was to take place on the second last Saturday in January, our last night in town.
A little bit of online research soon turned up that this was considered by many locals to be the most authentic and satirical of all the Madri Gras parades – yes I figured out by now that there were all kinds of parades spread over three weeks. Best of all, the Krewe du Vieux was the only large parade that actually went through the French Quarter. The reason for this was that the floats were all pulled by either people or mules – no tractors, semis or other exhaust spewing engines. Also, all the music was supplied by marching bands and not pre-recorded. The parade was to start at 6:30, but the admonition "Please start your drinking early", was front and centre on the website.
One thing about New Orleans – you don't need to worry about carrying around a case of beer or jug of wine – no one cares, but if you don't want, to just duck into any of the umpteen bars and get a beer, glass of wine or even a jello shot to go. That's what we did as we chose our spot on Decatur street and waited for the parade to arrive. All I can say is that this was the best parade I've ever seen, bar none. Why? Just look at the pictures. If you like raunchy, satirical, non-commercial parades with great music that are about as far from geriatric Shriner's riding mini-motorcycles as you can get then you'll love the Krewe du Vieux parade. It was a wonderful upbeat way to end our trip to this still great city. We'll be back.
Random Musings
Cafe du Monde – Decatur Street
Yes it's in every guide book ever written about New Orleans, but for a good reason. The beignets and coffee are really that good. Every time I go here I expect to see Dave Robicheaux sitting at a table reading the Times-Picayune.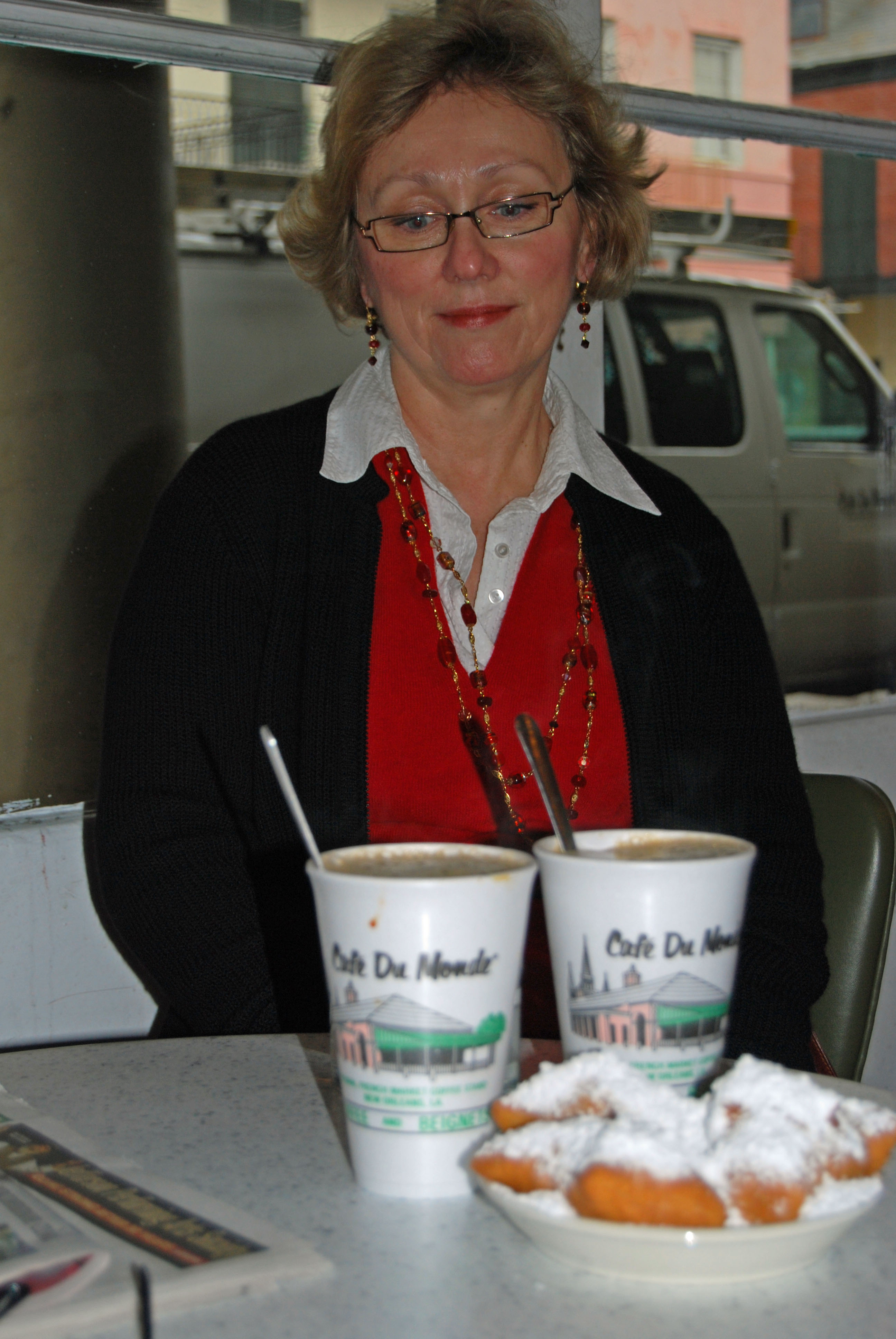 Johnny's Po-Boys – St. Louis St.
One of New Orleans most revered food institutions is a tiny place on St. Louis Street that looks like it hasn't changed in fifty years. Johnny's Po-Boys serves up no less than thirty varieties of this NOLA specialty. Nominally a sub sandwich in appearance, Johnny's poor boys are much much more. The fresh French bread makes all the difference. It doesn't matter what you like – eggs, oysters, crawfish, hot sausage, whatever, Johnny's will have a poor boy for you. Don't leave the Big Easy without trying one – chances are that if you do, it won't be the only one. 

Housed in a hotel originally built in 1835, the Omni is the largest, most convenient and arguably the best hotel in the French Quarter. Centrally located to all the sights and attractions, but far enough away from Bourbon street to be quiet, this is a much better choice than the giant somewhat sterile convention hotels that sit just outside the quarter.
If you love New Orleans then you will love Key West even more. Just like New Orleans it has a really weird cemetery and a super laid back atmosphere that attracted Ernest Hemingway to live here for many years.