The Plantation Course at Kapalua – You Must Play it at Least Once
This is one of a continuing series of posts from a trip Alison and I took to the four main Hawaiian islands a few years ago. It has been updated for accuracy as of 2021. Yesterday we played the Royal Kaanapali Golf Course where the Legends of Golf tournament was held which was a great experience. Hawaii is the perfect place to experience the opposite of that old saying" Just when you thought it couldn't get any worse…" Here it seems that each new day and experience tops what came the day before and our third day in Maui was no exception. After the mandatory morning beach walk we were off to play probably the most famous course in Hawaii, the Plantation Course at Kapalua.
The Plantation Course at Kapalua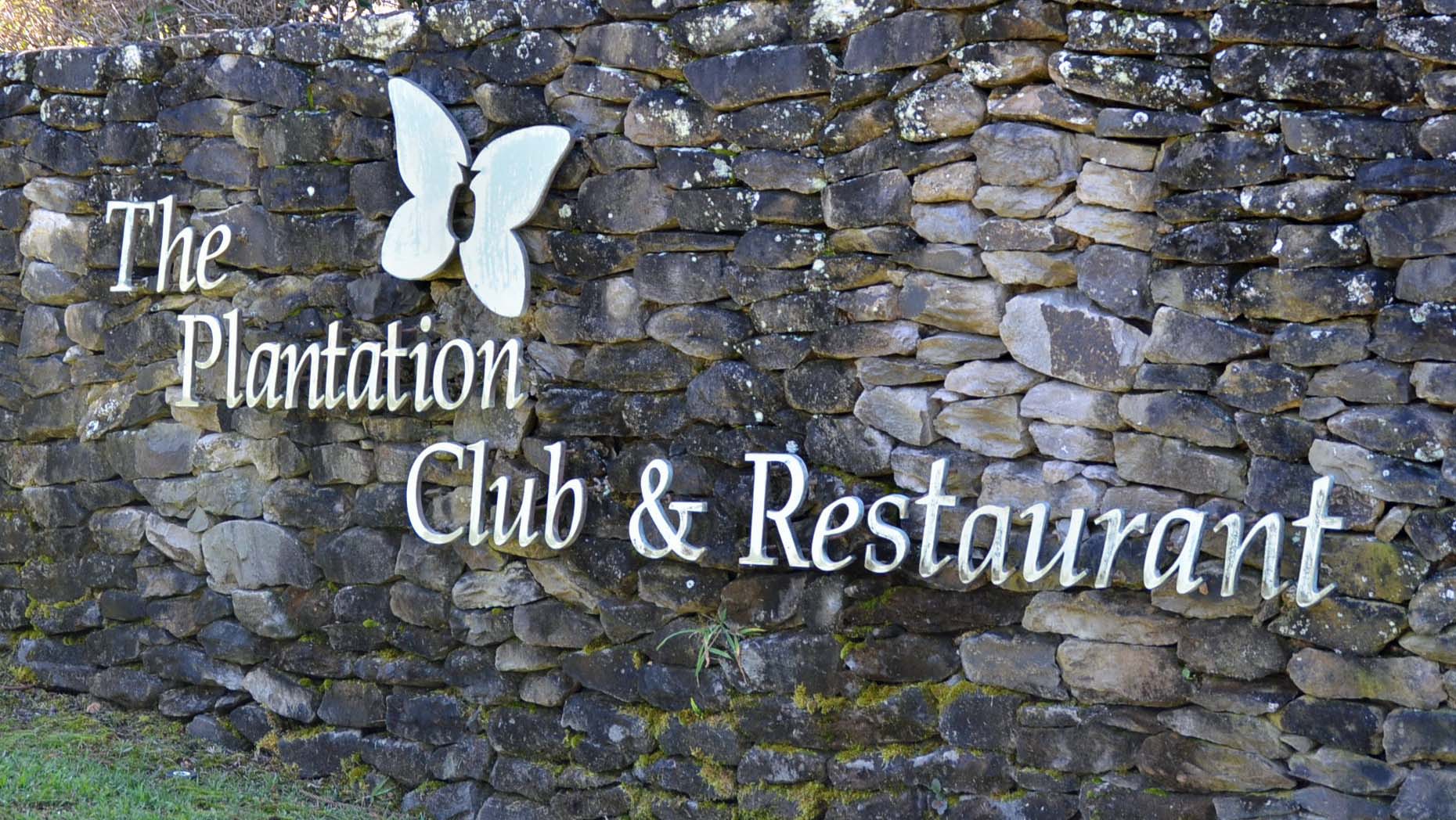 Ordinarily I would not schedule two days of golf in a row, but I had asked Maui tourism rep Shelley Kekuna to help me get a tee time and I was not about to quibble about what day it was on. It had been a long time since I was this amped up about playing a course. This was a course I knew almost hole by hole from the many years of watching the Tournament of Champions that takes place here every January. I had also played an endless number of virtual rounds on Links LS, one of the earliest and best golf simulation games that came out in the late 1990's.
Kapalua is not far from Kaanapali distance wise, but in terms of clientele the two areas are aiming at a completely different market. The resort hotel at Kapalua is a Ritz-Carlton and that tells you everything you need to know – Kapalua is about luxury, pure and simple. If you have the money then honey this is the place. Luckily for me I had friends i.e. Shelley,  so money or not we had a good tee time and a great preferred rate.
I've played many great North American courses including at least a dozen where PGA tour events are regularly held and I would rate the Plantation Course as the equal or better than any of them. From the moment we drove up to the clubhouse and the very tiny bag drop area, we realized that this place was not trying to impress by having the biggest clubhouse, the most staff or the most flashy entrance. It didn't need to – just looking around it was apparent that this was one very special piece of golf terrain. Designers Ben Crenshaw and Bill Coore must have been blown away at being asked to put a world championship course on top of the ridges that run down from the mountains to the sea with Molokai just offshore. We received a warm greeting in the pro shop and after a short warm up were ready to go. The tee times here are not jammed together so that we were never held up or had anyone pushing from behind.
On playing the Plantation Course is was readily apparent that it was built with pros in mind. The carries over the ravines are monumental and the greens are designed so that if you are above the hole it is next to impossible to stop a downhill putt anywhere near the holes – however, if you can spin the ball as the pros do, the likelihood of ending up above the hole is lessened.
There are so many unique holes on this course, starting from No. 1 and ending at the iconic 18th, that it would be easier to list the two or three holes that would not be considered classics. Strangely enough the tremendous length of some holes – e.g. 464 yard par 4 17th, is not a factor as these play downhill and downwind. The chance to rip a true 300 yard drive is possible, especially on 18. There are also a lot of very short par 4s that require precision off the tee and not length. Unfortunately for first time players, many of these are blind tee shots which can be frustrating.
For many years as an annual viewer of the Tournament of Champions I have heard the commentators talk about the difference between down grain putts and putts into the grain and never really appreciated the significance of it. However, once you play here and the starter explains the direction the grain consistently grows and how important that is to factor into the speed of the putt, you will understand what the commentators are on about. I three putted the first two greens because I promptly forgot the advice I had just been given just a few minutes before. The first putt was downhill and I left it 10 feet short because it was into the grain – the next one was down grain, but uphill. That one I blew 15 feet by. Once you get the hang of it you realize not to trust your eyes, but rely on the direction of the grain.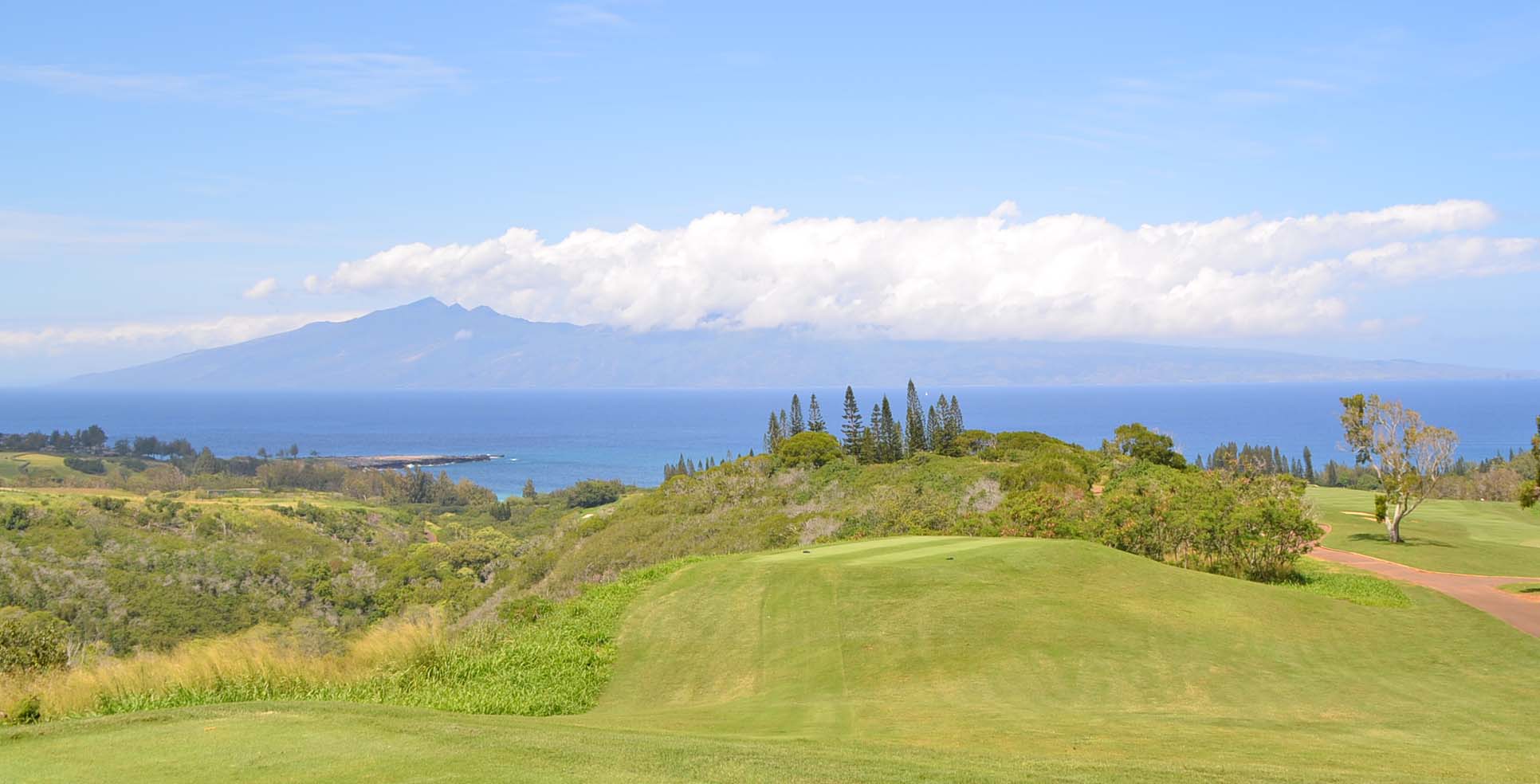 Below are examples of some of the huge carries that are required on the Plantation Course.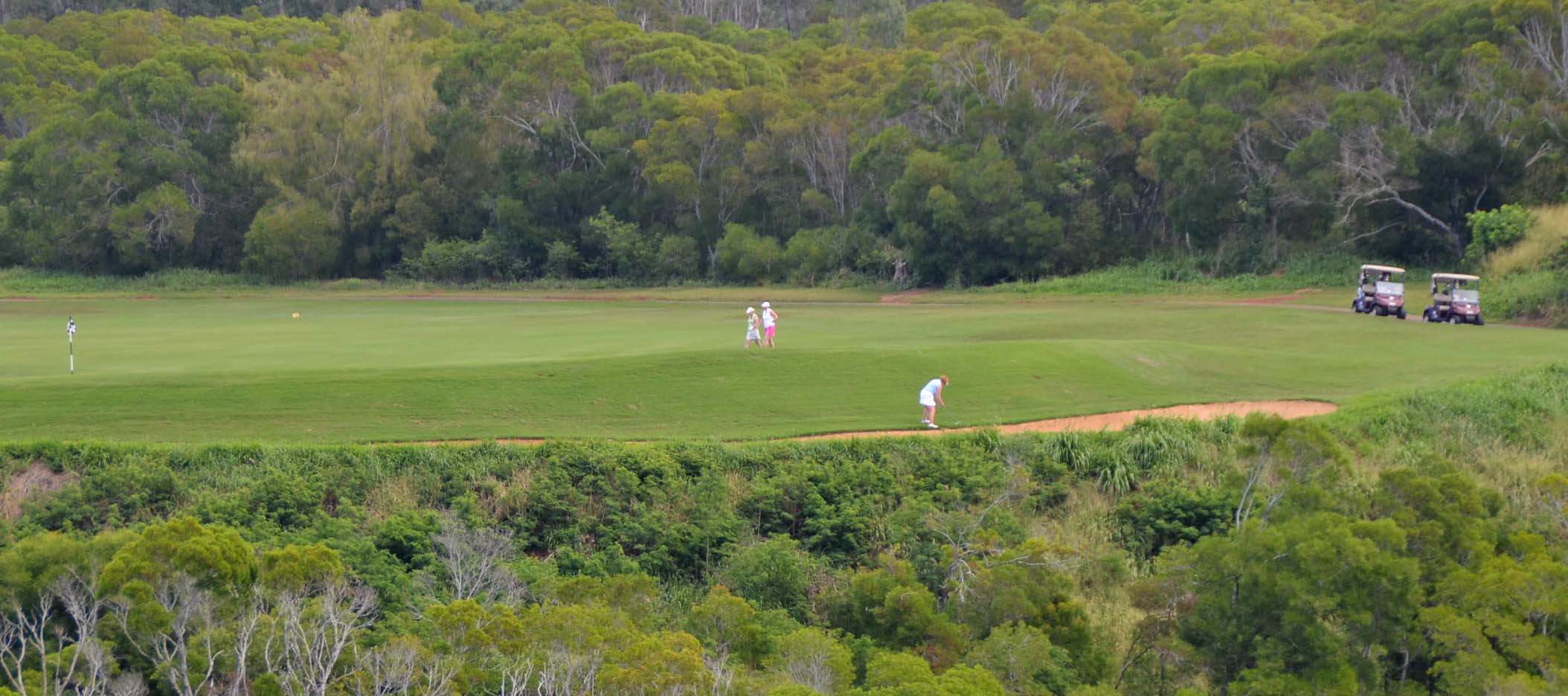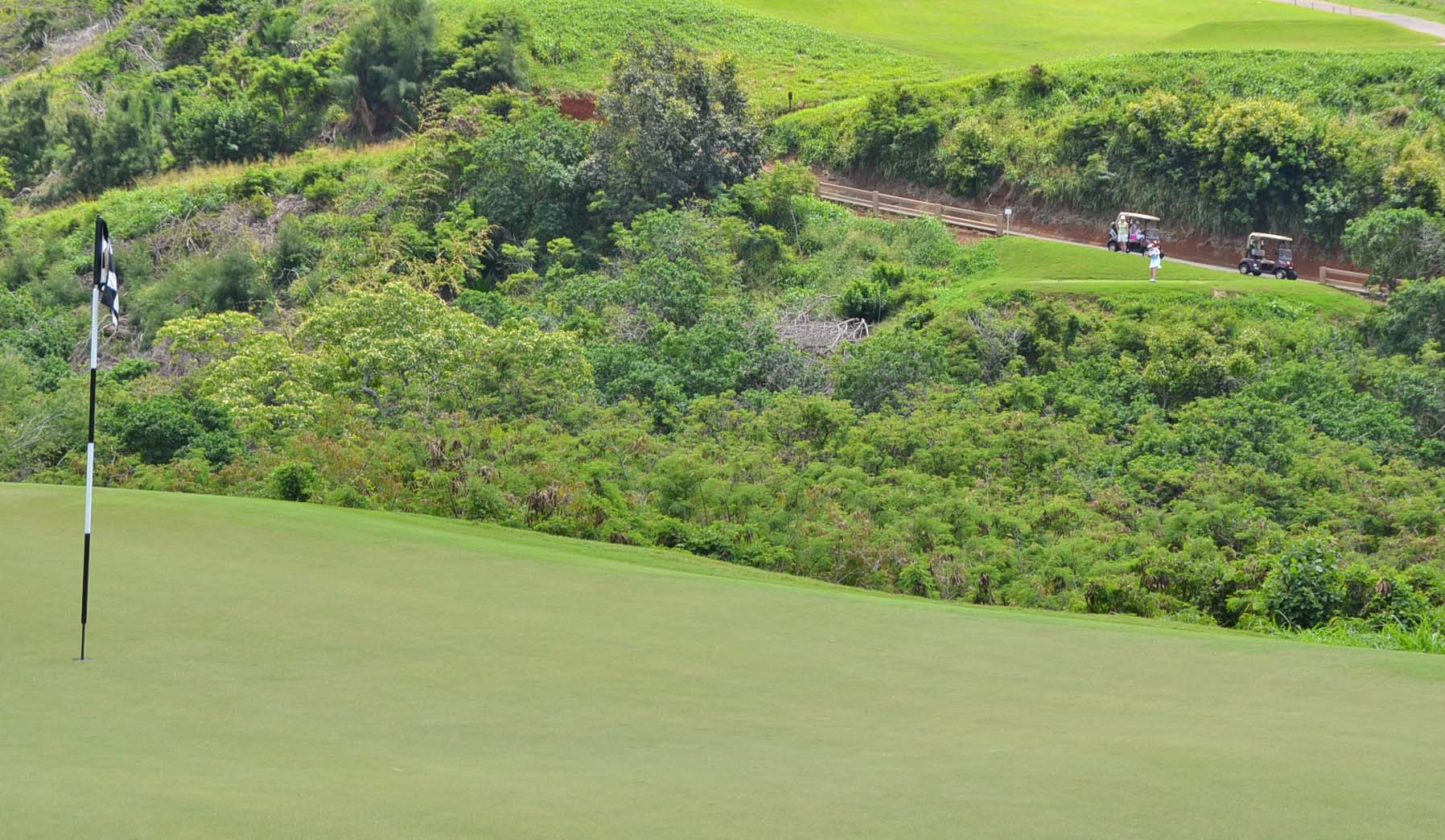 No. 11 at the Plantation Course is a great par three that plays down to an oceanside cliff where surfers can be seen at least a hundred feet below.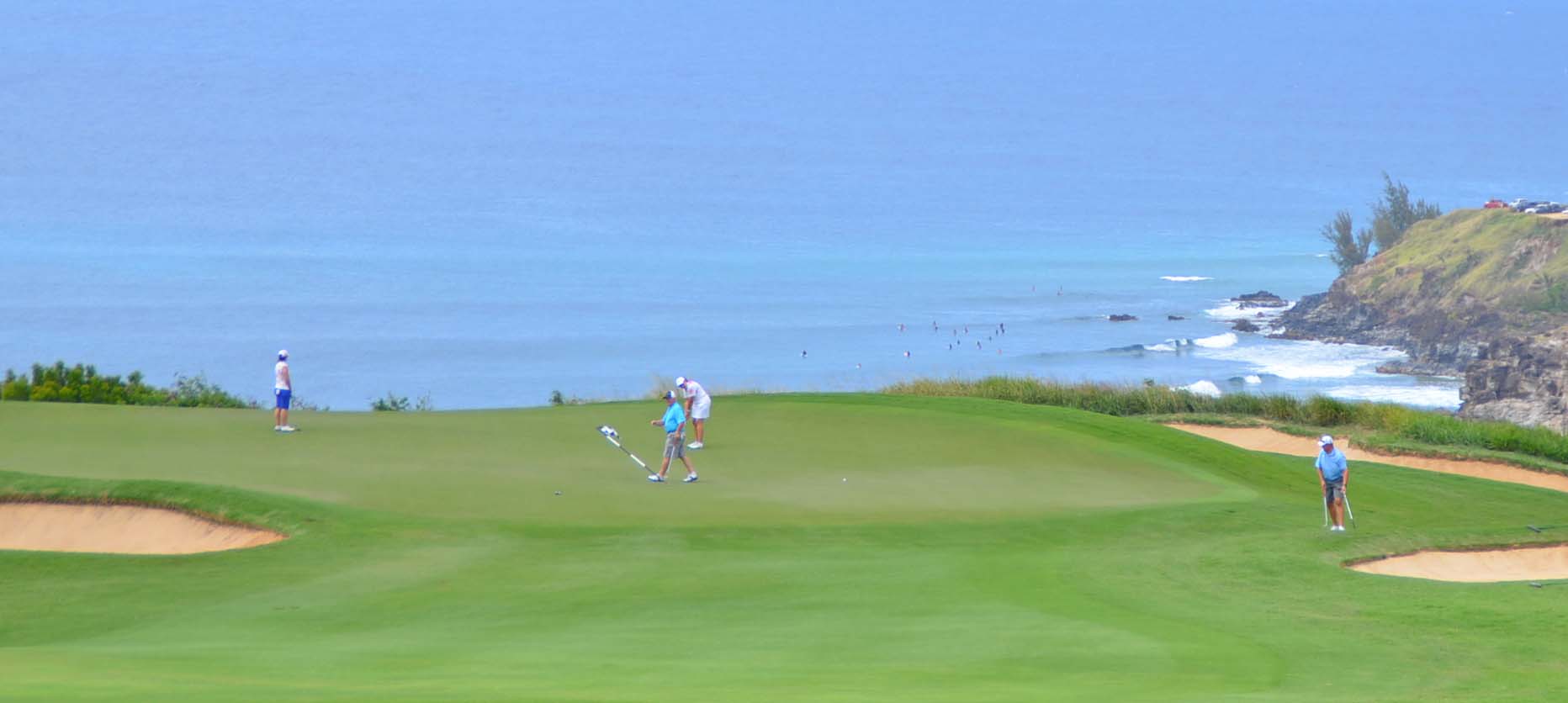 Certainly the highlight of my round was no. 18 which is one of the most famous finishing holes in all of golf. From the white tees it plays 538 yards, all downhill. Amazingly I hit two good shots and was actually past the green in two. An easy chip on and two putt added up to a par. What a way to end one of the best days of golf ever.

We were fortunate to play in very benign conditions and I am sure our scores were flattering compared to most days when the wind blows. Lastly the views of the ocean and Molokai, the breaching whales and distant sailboats and the beautifully designed homes are all bonuses that make this a bucket list course.
The Hula Grill
That night we had reservations at the Hula Grill courtesy of Shelley who insisted we dine here. It is located right on the beach as part of the Whaler's Village complex which is an upscale outdoor mall that even impressed me with its layout and decor. I guess if you are going to build a mall on one of the best beaches in the country you better do it with panache.
It was a short taxi ride from our condo with a very friendly driver who wasn't the least put out that we were not going to be a large fare – that translated into a large tip.  When we arrived our table was ready and would probably have been the one we would have chosen if given a choice. The good news continued when our server Caroline advised us that Shelley had made arrangements to pay for a bottle of wine and then we received a visit from Chef Chris Schobel who described the theory behind his cooking and ingredients – you can't beat fresh and local (actually they're pretty synonymous when you think about it).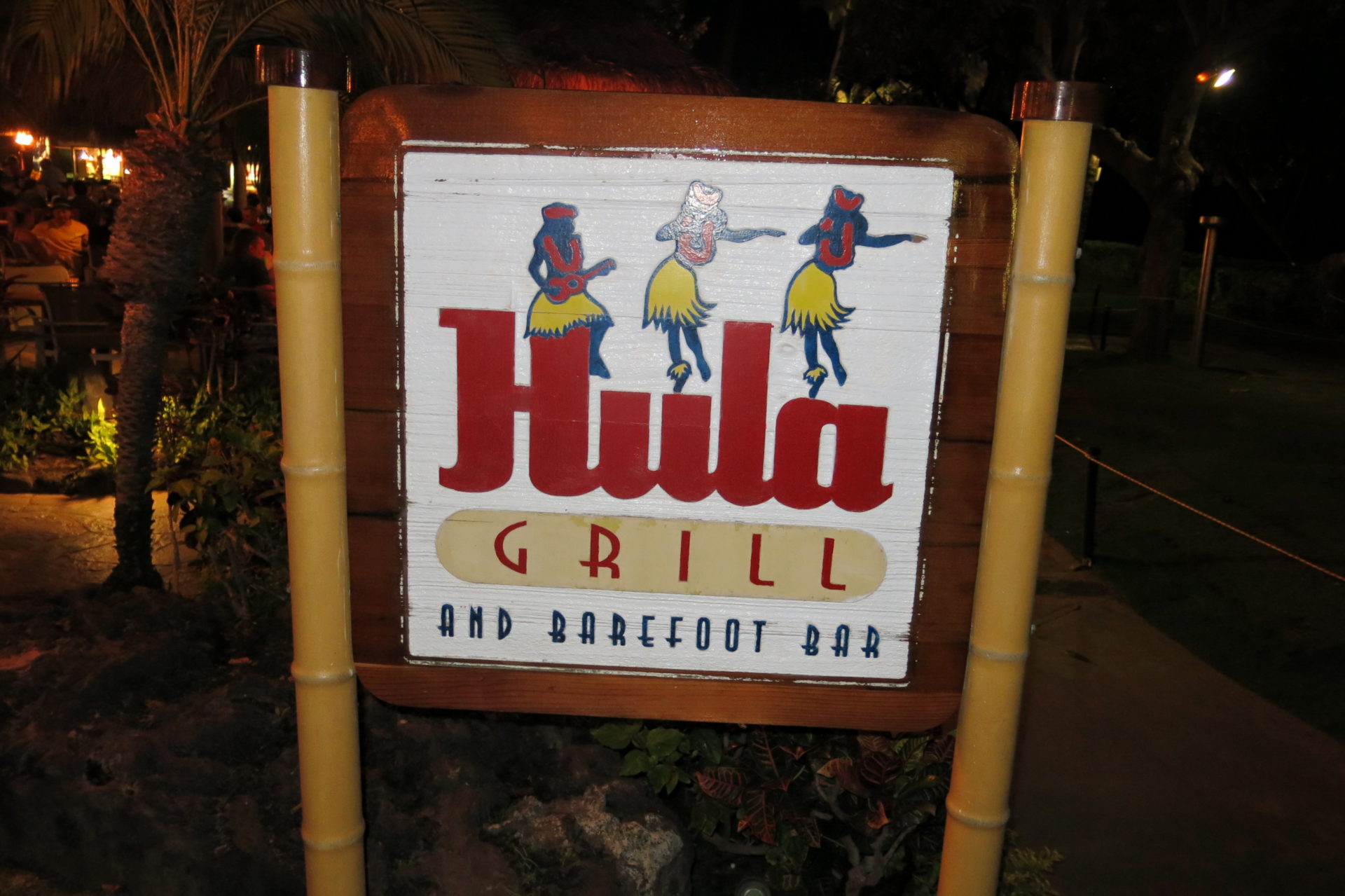 So, no it is unlikely that readers of this blog will receive the treatment we did at Hula Grill unless they have some very nice Maui friends. Did this make me a biased reviewer for this restaurant? I hope not and here's why.
First of all the setting is terrific – sunsets over Kaanapali Beach are reckoned to be among the most beautiful in the world and based on the three or four that we saw while in Kaanapali I cannot disagree, but Hula Grill is far from the only restaurant that has a beachfront location.
Second the service is great – Caroline was certainly one of the best servers we encountered in our month on the islands. But you might say that was because you got special treatment – I would counter that many of the reviews on Trip Advisor have emphasized the quality of service.
Third, and I think this is the winning argument – the fish here is fantastic and no amount of special treatment can make poorly prepared or less than fresh fish something that it is not.
The Hula Grill is first and foremost a fish restaurant – that's something different than a seafood restaurant where shellfish is often as predominant or more so than fish. Yes, there are shellfish offerings, but it's really about the fish. The great thing about Hawaii is that you have the chance to be introduced to many varieties of fish that are just not available on the mainland. Most tourists know about ahi, the absolutely delicious red fleshed yellowfin tuna that is usually served raw or very slightly charred, but at Hula Grill you have the opportunity to try any number of white fleshed fish cooked in a variety of ways.
As I was told by Chef Schobel the fish that is served each day is totally dependent on what is available – it has to be the freshest. Depending on the varieties, he then determines which type is most suitable to the which style of preparation – macadamia crusted, tandoori style, pan seared or wood grilled. In addition he selects two varieties to feature in the two fish special, which I can attest when served looked almost identical to the photo featured on the website.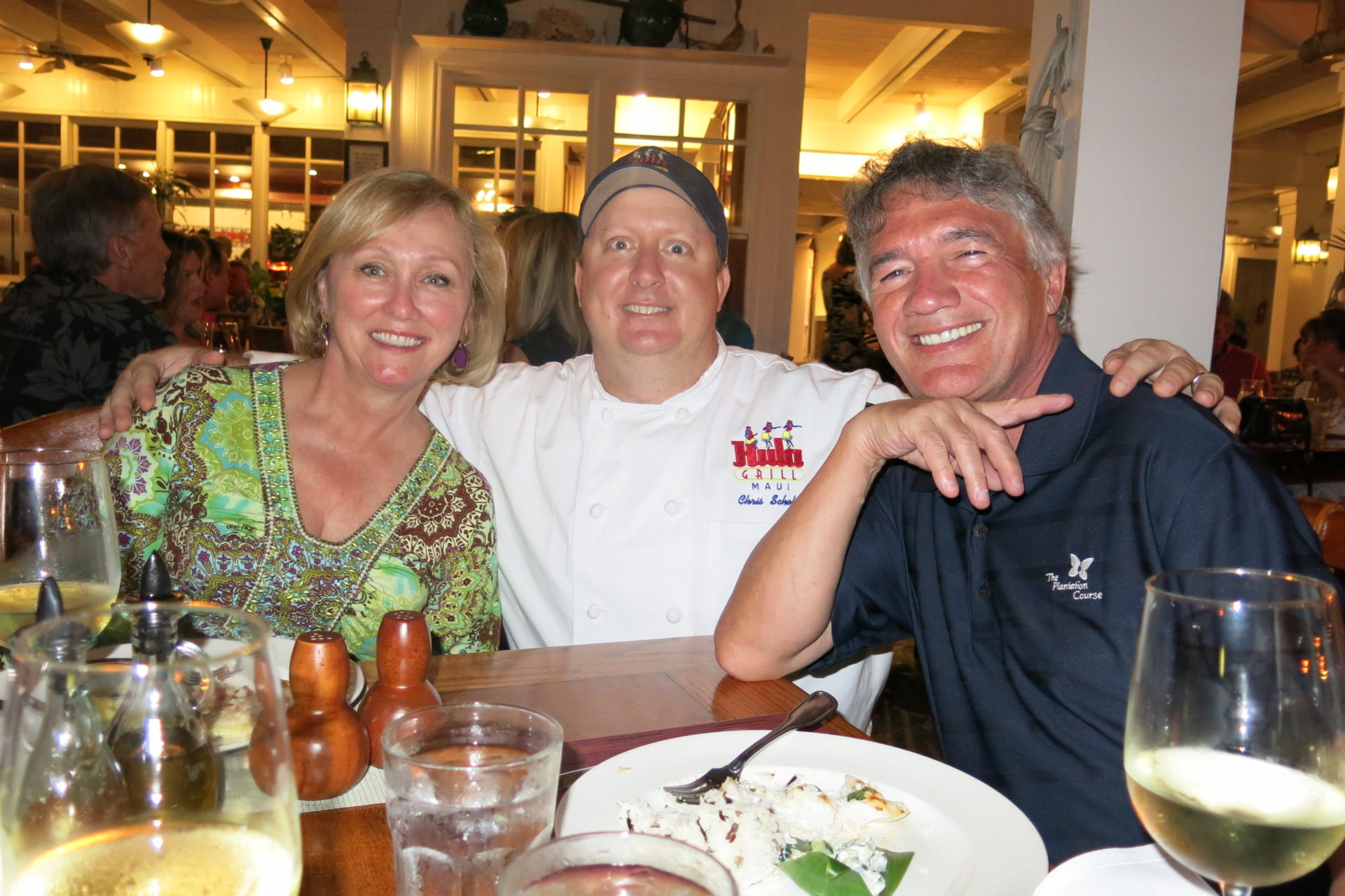 This is a rather long explanation of why the fish at Hula Grill is so good, but it warrants telling. All four at our table tried a type of fish we had not tasted before and prepared four different ways. All but Alison was blown away by the texture of the fish and she still thought the brown butter, lemon and caper sauce more than made up for that.
Before getting to the mains, we tried the poke tacos to get our ahi fix, without feeling guilty about ordering a white fish – they were superb as was the poisson cru, a melt in your mouth ceviche.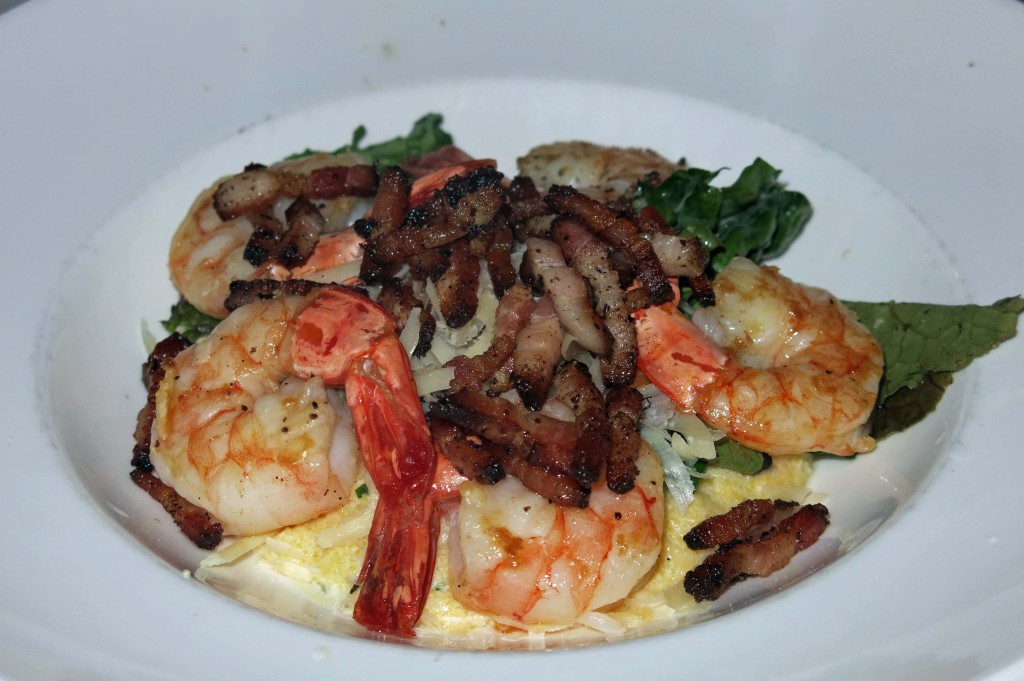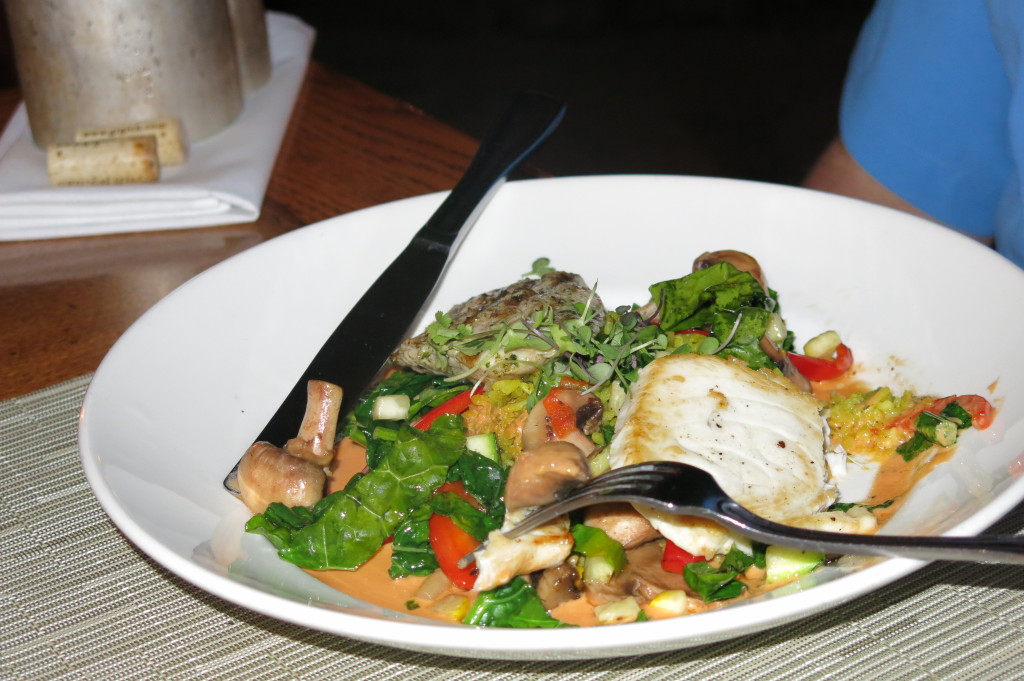 The bottom line is that we had a superb meal at Hula Grill and I think the treatment we received enhanced it, but did not make it – the food did.
This is a restaurant that you definitely want to make reservations at. I truly felt sorry for those who had not made reservations and faced a wait of an hour or more.
Fed and well watered (Shelley's bottle wasn't the only one we had) we cabbed back and thought about the fact that, yes, we had actually played the Plantation Course at Kapalua. I can't wait to watch the tournament this January. Aloha.
Tomorrow we'll tour the Ioa Valley and visits the sites of King Kamehameha's conquest of Maui. Please join us.