Petit Train du Nord – Cross-Country Skiing a Quebec Legend
In the last post I described why Alison and I decided to leave Nova Scotia in mid January and head to Mont Tremblant for some cross-country skiing. Although we did not find the skiing at Domaine St. Bernard all that great, we were really looking forward to skiing a portion Le Petit Train du Nord which is one of the most famous trails in Canada. We will do that today and hope you will join us.
One of the main reasons I wanted to go to Mont Tremblant other than seeing the village was to ski a portion of Le Petit Train du Nord, the longest linear park in Canada (Its official name is now P'tit Train du Nord, but Google doesn't like apostrophes so I'm using the more conventional name).  It that has a special place in my heart because of its legal history. Originally a rail line linking Montreal to Mont Laurier with stops at all the major Laurentian tourist towns in between, the abandoned rail bed became the centre of one of the most famous lawsuits in Canadian history, pitting the pro motorized use forces against those in favour of restricting use to active transportation. For once the green forces won and the result is a 238 km. trail that is a magnet for walking, cycling and cross-country ski enthusiasts.
The reason this was important to me is that I had hoped for a similar outcome when I provided pro bono representation to a group in Paradise, Nova Scotia that had a similar fight on their hands when pro OHV forces, backed by the government, wanted to make the abandoned Dominion Atlantic Railway corridor that runs the length of the Annapolis Valley accessible to snowmobiles and ATVs. I wish I could say we had the same outcome as that in Quebec, but we did not, the judge ruling that despite the overwhelming opposition of adjacent landowners, the government could break any promises it had made to them with impunity. I won't provide a link to the decision because it bears no resemblance to the evidence actually presented.
Le Petit Train du Nord ran through the old village of Mont Tremblant and the tiny railway station is still in use as an art gallery. This would be our starting point. The morning of January 20 marked the first day that a 'polar vortex' had descended on central North America bringing record breaking cold temperatures with it. However, at Mont Tremblant the worst had not yet come and it was only -20 C which I consider to be still in the range for certain outdoor activities – cross-country skiing being one. As long as you have enough layers it isn't too bad.
We ordered up the car and drove the short distance to the train station where there was parking right beside the trail. It was heartening to see the tracks laid down with a small amount of new fallen snow glistening on them. It was more heartening to see the sign for the trail – we just don't get them in Nova Scotia.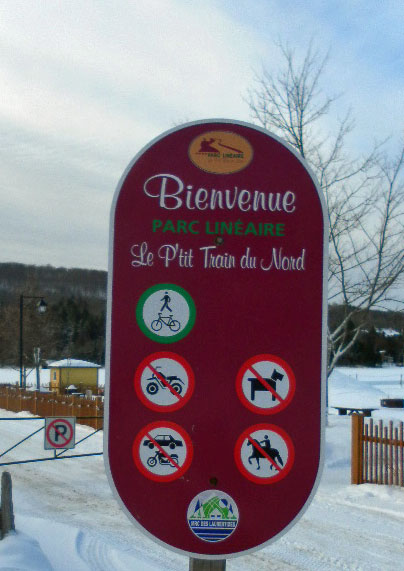 While it was chilly, there was no wind and the sun was breaking out of an eastern cloud bank. The trail was flanked by frozen snow covered Lac Mercier on one side and mostly shuttered up summer cottages on the other. We headed north towards LaBelle, the only ones out this early on what looked to be (and was) a beautiful winter morning. The skiing was easy and before long the blood circulation brought on by a pumping heart drove out the cold in my thumb and fingers. This is how the trail looked.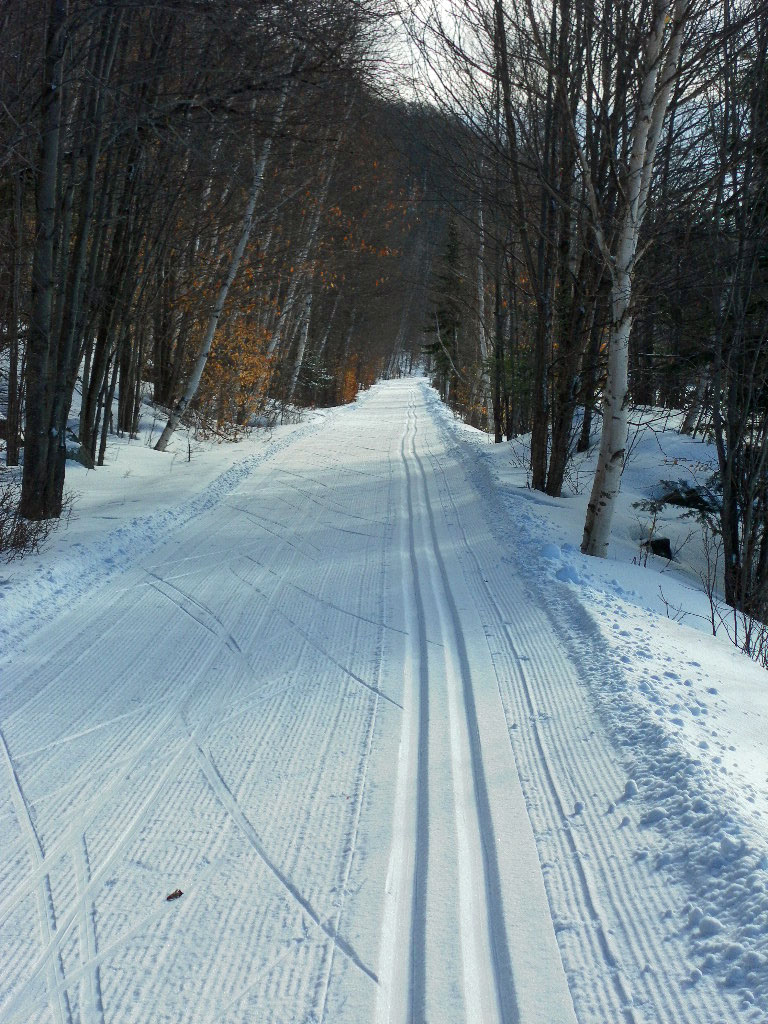 We skied the length of Lac Mercier and didn't see a soul. There were numerous deer tracks and other spoor I didn't recognize. After about four kms. the Mont Tremblant section of the trail ended and the LaBelle section had not been groomed recently so we turned back. The view coming back was actually better than that going out as we could see the silver spire of the Mont Tremblant church at intervals through the trees. We reached out starting point and continued on, past an outdoor oval skating rink on Lake Mercier. I had anticipated that it would get warmer as the sun rose higher, but in fact it was getting colder by the minute. We skied on for about another km. and then decided to turn back. When I turned the car on the temperature was now indicated as -28C. We had been out for almost two hours and I considered that enough for these temperatures. The thing that did surprise me was how well my body felt despite the aches and pains of the day before. This was no doubt due to the fact that Le Petit Train du Nord is flat so there is not the extra pressure put on the muscles when going uphill. Thank you citizens of Mont Tremblant and elsewhere along Le Petit Train du Nord route for having the fortitude to take on both the government and the snowmobile lobby. Thank you courts of Quebec for siding with the citizens and not the usual powers that be.
We returned to our room, changed and then had a very welcome hot bowl of vegetable barley soup at Au Grain du Cafe.  With the temperature as low as it was staying inside was really the only option and we both used it to get caught up on work.
At the suggestion of the concierge we had dinner that night at La Forge Bistro. It was a steakhouse then on the top floor of a very attractive building located right at the foot of the slopes. From our seat by the window we could the little kids making their way up the bunny hill (where Natasha Richardson had her tragic fall) for nightly sliding. I specifically wanted to try the filet La Forge which was an 8.5 ounce filet topped with foie de gras, Decadent – yes. Delicious – yes again. The place has a terrific wine list, heavy on French vintages. I asked our server for a suggestion and he recommended a morgon by L'Auguste. A morgon is a high end beaujolais and I was hesitant, because in my experience, ever since the idiotic nouveau beaujolais craze I have associated beaujolais' with watery insipid tasting wine. He assured me that this was a robust red that would pair well with the filet we were having. He was absolutely right – it was one of the best wines I have ever ordered in a restaurant. At $125.00 a pop I guess it should be, but if I can get my hands on another bottle I will definitely buy it.
So ended our all too short stay in Mont Tremblant. We would love to return to ski more of Le Petit Train du Nord and so should you.
For another great cross-country experience consider the Rangeley Lakes Trail Center near Saddleback Mountain in northern Maine.