Kona Country Club – A Great Finale to Our Golf in Hawaii
This is one of a continuing series of posts from a visit to the four main Hawaiian island that Alison and I and friends went on a few years ago. It has been updated for accuracy as of 2021. In the last post we played golf among the peacocks at the Makalei Golf Club and today we'll play our final round of golf on this trip at the Kona Country Club. Please join us.
One of the reasons I chose the Kanaloa complex as our place to stay in Kona was its proximity to the then two courses at Kona Country Club which was less than a mile from our condo. Some of the holes on the Ocean course bordered on our complex. What I did not know was that this, the more celebrated of the two courses was closed for refurbishment. Still that left the Mountain Course which would be our final round on Hawaii. Little did I know that less than two months after playing the Mountain Course it would be closed for good. However the Ocean course at Kona Country Club is open and so there is still golf available only minutes away from Kanaloa.
This is the view of Kanaloa from the former Mountain course at Kona Country Club.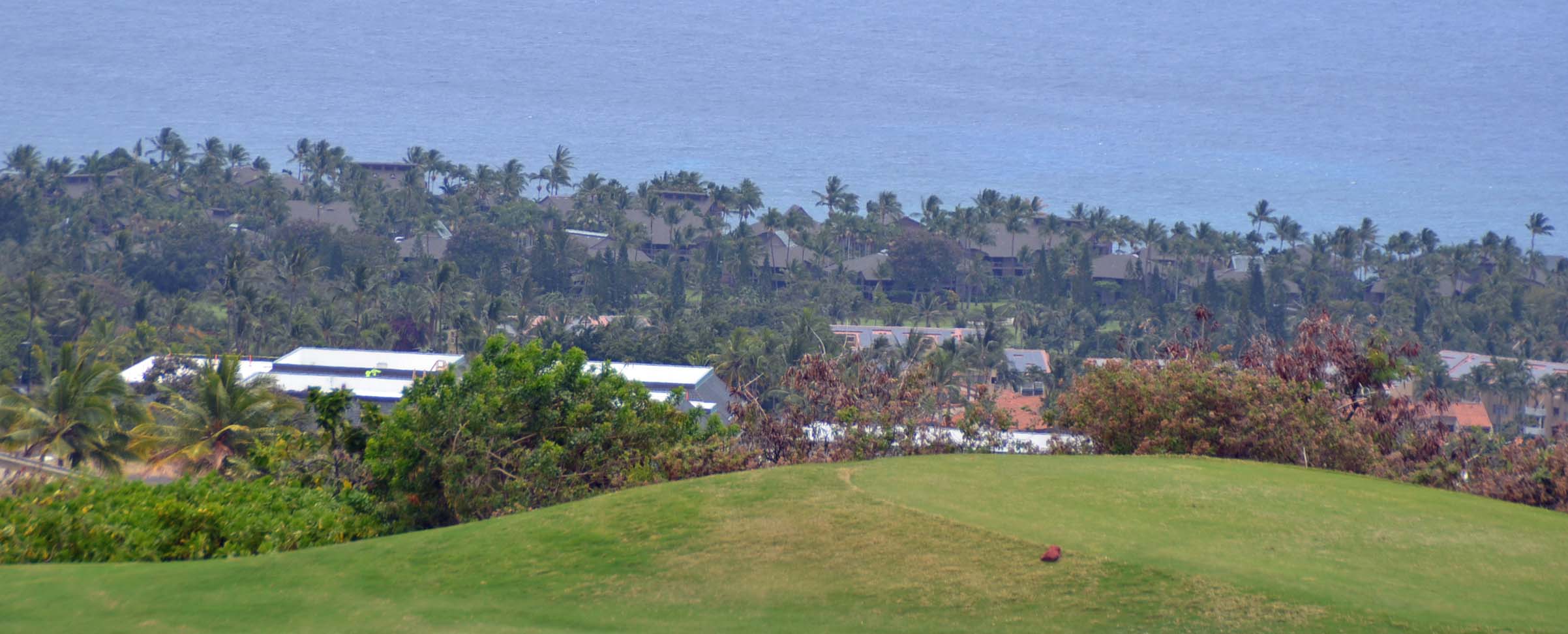 When we returned to our condo from the Kona Country Club there was a tiny little lizard less than an inch long on the door knob. He had no hesitation crawling onto my arm in the hopes of gaining entry, but I doubted that he was house broken so I gently deposited him on a leaf where I hoped he would be safe.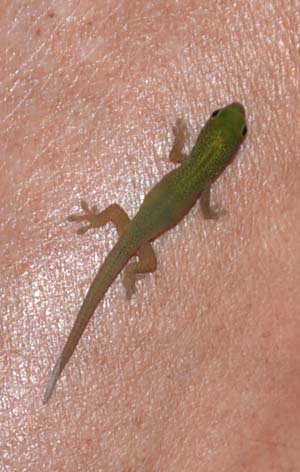 Later I took a walk, stupidly without my camera, over to a cove where a large number of native Hawaiians had gathered for some type of festival. They had a couple of large outrigger canoes on the go and lots of smaller ones. A bunch had gathered at the beach trying to coax an extremely corpulent young woman into getting into one of these smaller canoes. She was reluctant I am sure because it seemed impossible that it would not simply go directly down under her enormous girth. However, accompanied by hoots of encouragement she did get on board without sinking and to my surprise handled the little craft with an expertise and agility that was astonishing. She did a quick tour of the cove into which fairly sizeable waves were breaking and maneuvered the canoe back to the beach where she got out, took a deep bow and joined in the laughter and cheers of her comrades. It was one of those moments on a trip that is pure serendipity.
I also came across a small protected niche under the cliff face that was marked kapu. A plaque indicated that this spot was the birthplace of Kamehameha III, which might explain why the Hawaiians had chosen this cove for their festivities. Next I ducked into the tiny office of a boat tour operator and found out that from this very spot the boat would be leaving next morning for a snorkel trip to Keleakekua Bay – the site of the elusive Captain Cook monument! I couldn't make reservations fast enough and hurried back to tell the gang of our great good fortune. Rob and Janet were not overly impressed, but Alison was up for it so tomorrow I would at last get to see the spot where the great explorer met his demise.
Another great sunset. Aloha. Next time I'm in the Kona area I will definitely play the Ocean course at Kona Country Club.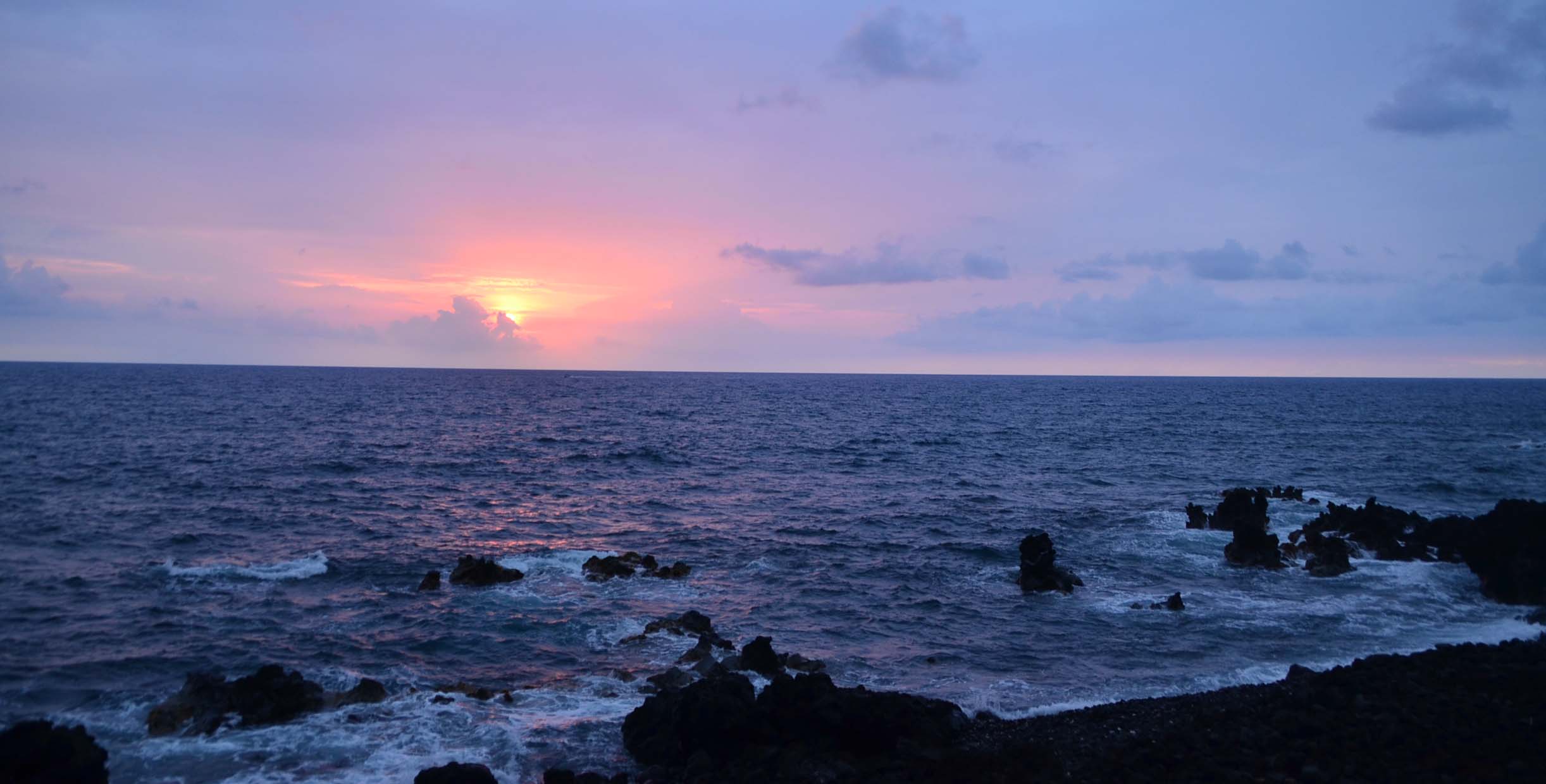 Join us on our next adventure as we sail to Keleakekua Bay to snorkel and snuba at the spot where Captain Cook was slain.