Makalei Golf Course – Golfing with the Peacocks at Kona
This is one of over two dozen posts from a trip to Hawaii's four main islands that Alison and I and some friends took a few years ago. It has been updated for accuracy as of 2021. In the last post we spent some time checking out Hawaiian history at Pu'uhonua O Honanau aka The Place of Refuge and learned that life was very precarious for ordinary Hawaiians. Today we are going to switch gears and place golf at the Makalei Golf Club, famous for its resident peacocks and other wildlife, but first we need to move again. Please join us.
Day three on the Big Island we moved into our last condo of the trip – unit 2601 at Kanaloa. For a number of reasons this was by far the nicest condo we stayed in during our Hawaiian vacation  If you follow the link you will see that it is spacious, very well equipped and has a great lanai. We also found that the people in the complex were friendly and the on-site travel co-ordinator helpful in arranging golf and other outings. As it turned out the owners of our unit were in residence at another condo and dropped over to make sure everything was to our satisfaction. There was a minor electrical problem which the owner promptly fixed himself.
As far as location goes Kanaloa is in the Keauhue Bay district only a few miles from the centre of Kailua-Kona along the very scenic Alii Way, minutes from a large shopping centre and within easy walking distance of a beach and marina. The complex itself is not on a beach – you would get swept into the sharp lava if you tried to swim, but the upside is that there are some pretty spectacular crashing waves to watch and photograph.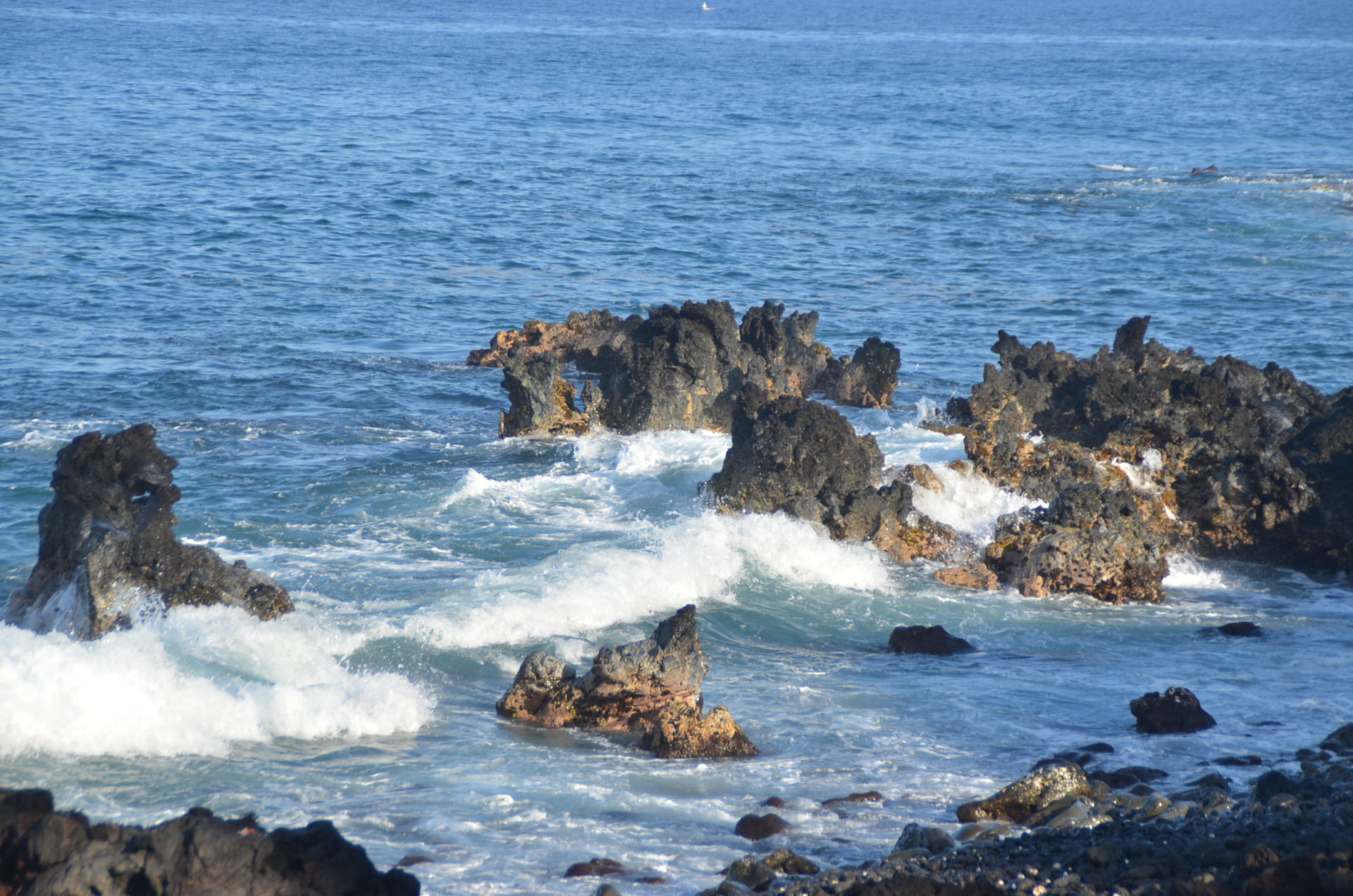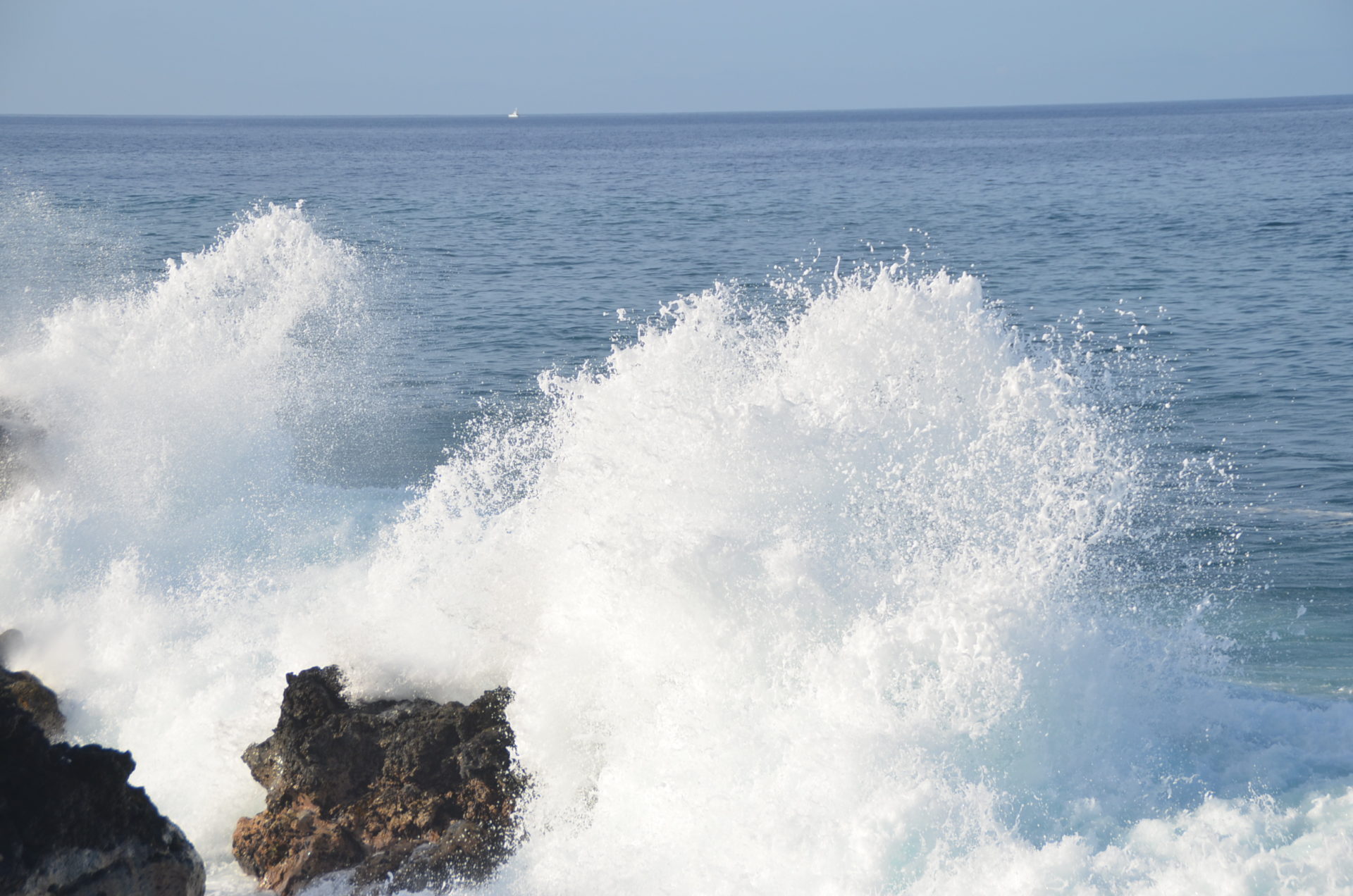 To make up for the lack of a beach Kanaloa has a number of pools. I have no hesitation in strongly recommending this complex and this unit to anyone contemplating a visit to the Kona coast.
Makalei Golf Course
Once we were settled I asked the lady who was in charge of the on- site recreation room about golf and she recommended we go to Makalei Golf Club for a completely different golf experience. We booked a tee time for an hour later and headed north past Kailua-Kona and turned inland on the Mamalahoa Highway which ascended rapidly up the mountainside until we were once again in a completely different eco-system from that of the coast. Each 500 feet of elevation gain was duly noted and by the time we got to the clubhouse it was over 2000 feet. This was the coffee growing temperate zone that was much cooler than the coast, but by no means unpleasant.
Makalei is not a resort course and being a bit off the beaten path does not have a lot of tourist play. The clubhouse is tiny and there were a few members who had just finished up an early round, but otherwise it was not busy. Green fees were extremely reasonable compared to other courses we had played. The symbol of the club is a peacock and I dutifully bought a hat with the peacock on it. The person at Kanaloa had said we would expect to see peacocks all over the place.
Makalei was really a fun place to play golf, completely different than any other courses we played in Hawaii. The elevation changes are huge – from 1800 feet to 2850 feet. Many of the holes go straight up or straight down, while some are very tight and others wide open. The front nine is short, the back nine much longer. The bent grass greens were in excellent condition and played very differently than the Bermuda grass of the lowland courses. Even without the wildlife this would be a great place to play, but add in the peacocks, love birds, francolins and other exotics and this becomes a hidden gem. This view of the second hole gives an idea of how small and tight some of the holes are at Makalei.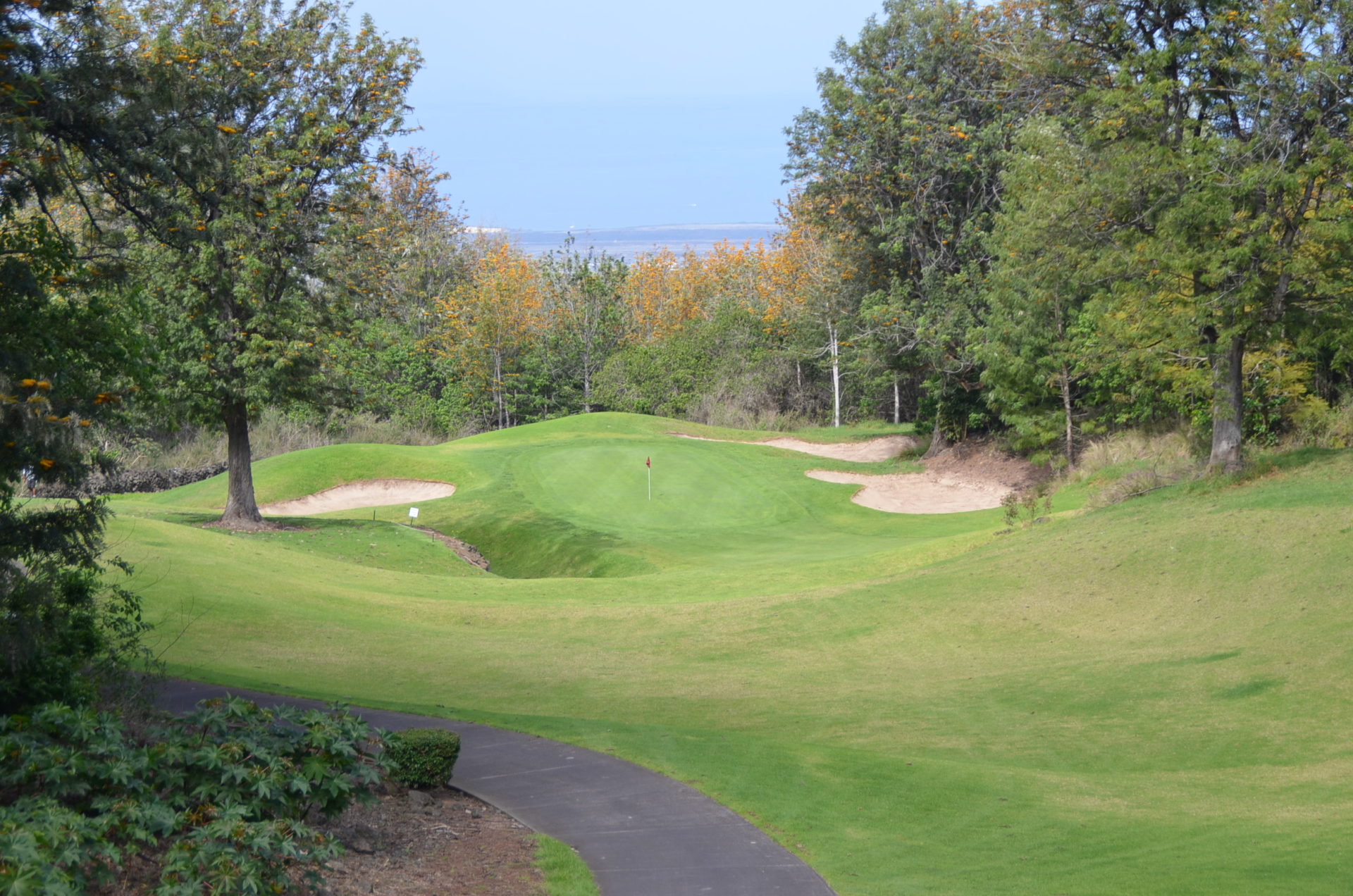 Although I could hear the distinct cry of peacocks right from the get go we didn't actually see any until the fourth hole, after which they were everywhere. The males seemed quite indiscriminate as to who or what they fanned their tails at and put on quite a display as you can from this one that is about to fan Rob.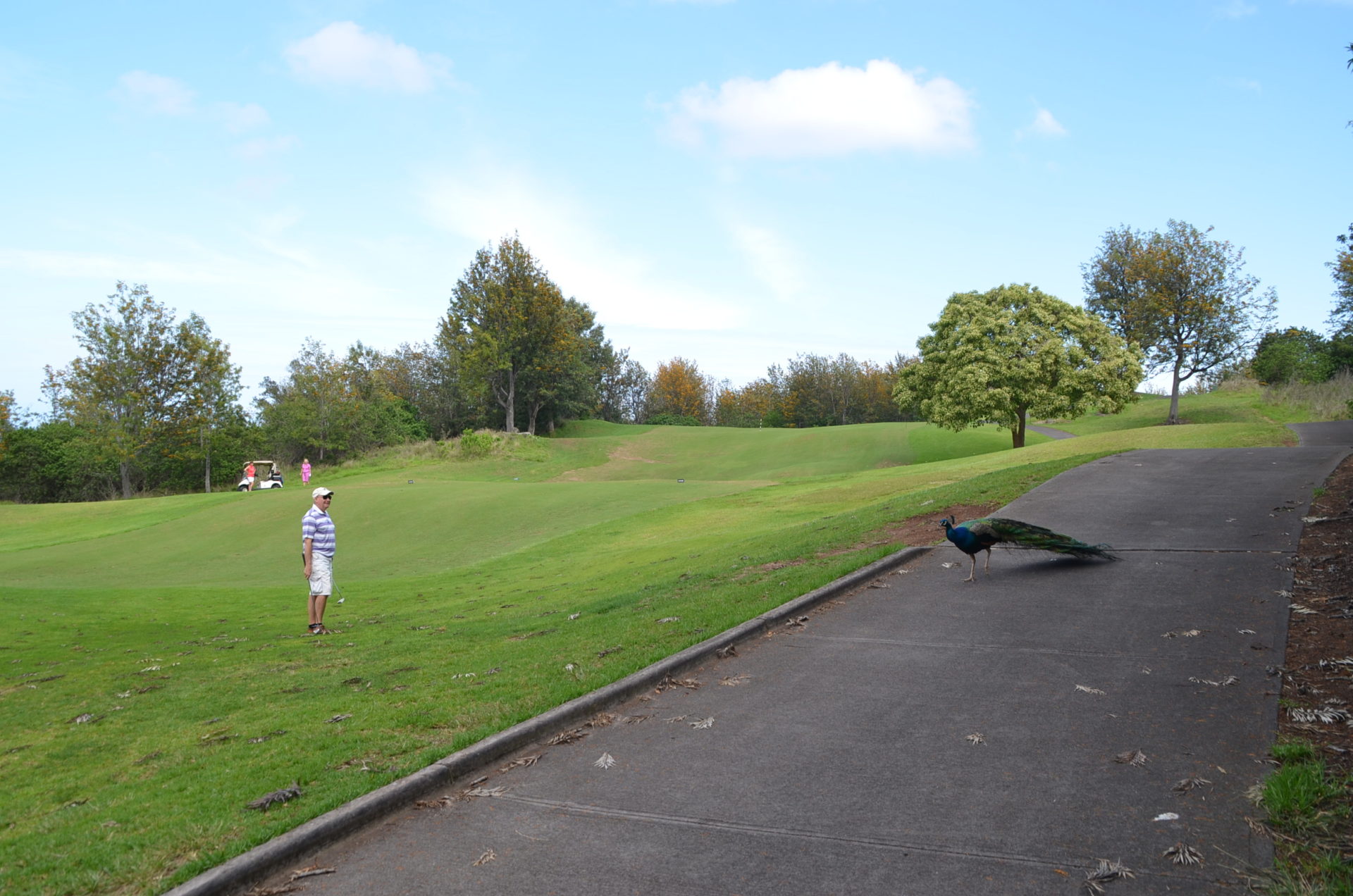 Here is what it looked like moments later.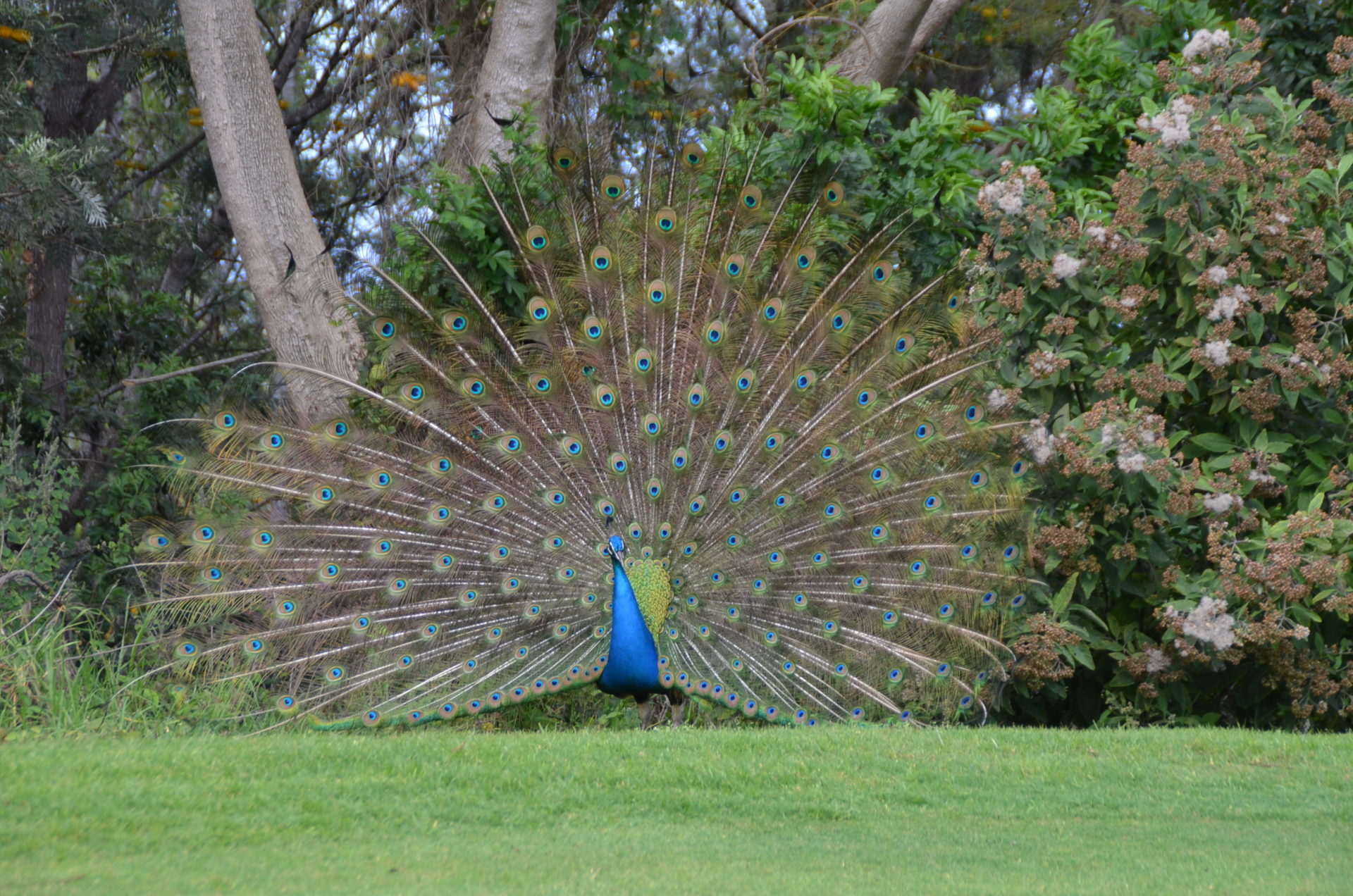 However, peacocks were not the only attraction – many holes were covered flocks of tiny love birds while others seemed to be the preserve of the francolin with their razor sharp leg spurs.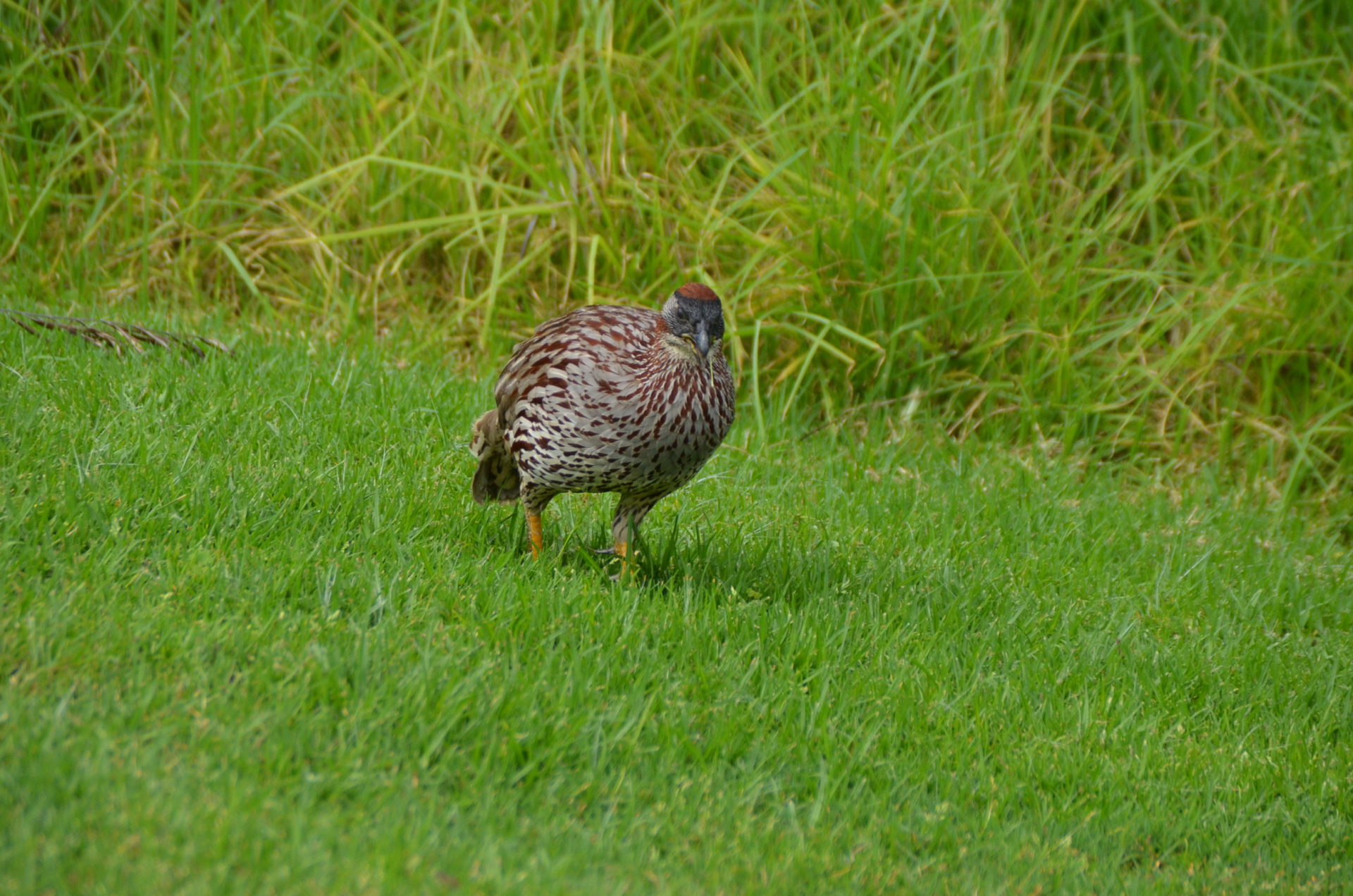 The only downside to the day was that the weather at this elevation was much more unreliable than on the coast. For most of the round it was overcast and we never got to see a clear view of Mount Haleakala on Maui which is visible on a clear day, although there were glimpses. As we prepared to tee off on seventeen the heavens literally opened up and we were caught in a deluge unlike anything I have experienced outside of Florida. We had no choice but to flee to the clubhouse and call it a day. I have no hesitation and saying that I will get back one day to finish my round at Makalei. Here's a link to a more comprehensive review I did for TripAdvisor.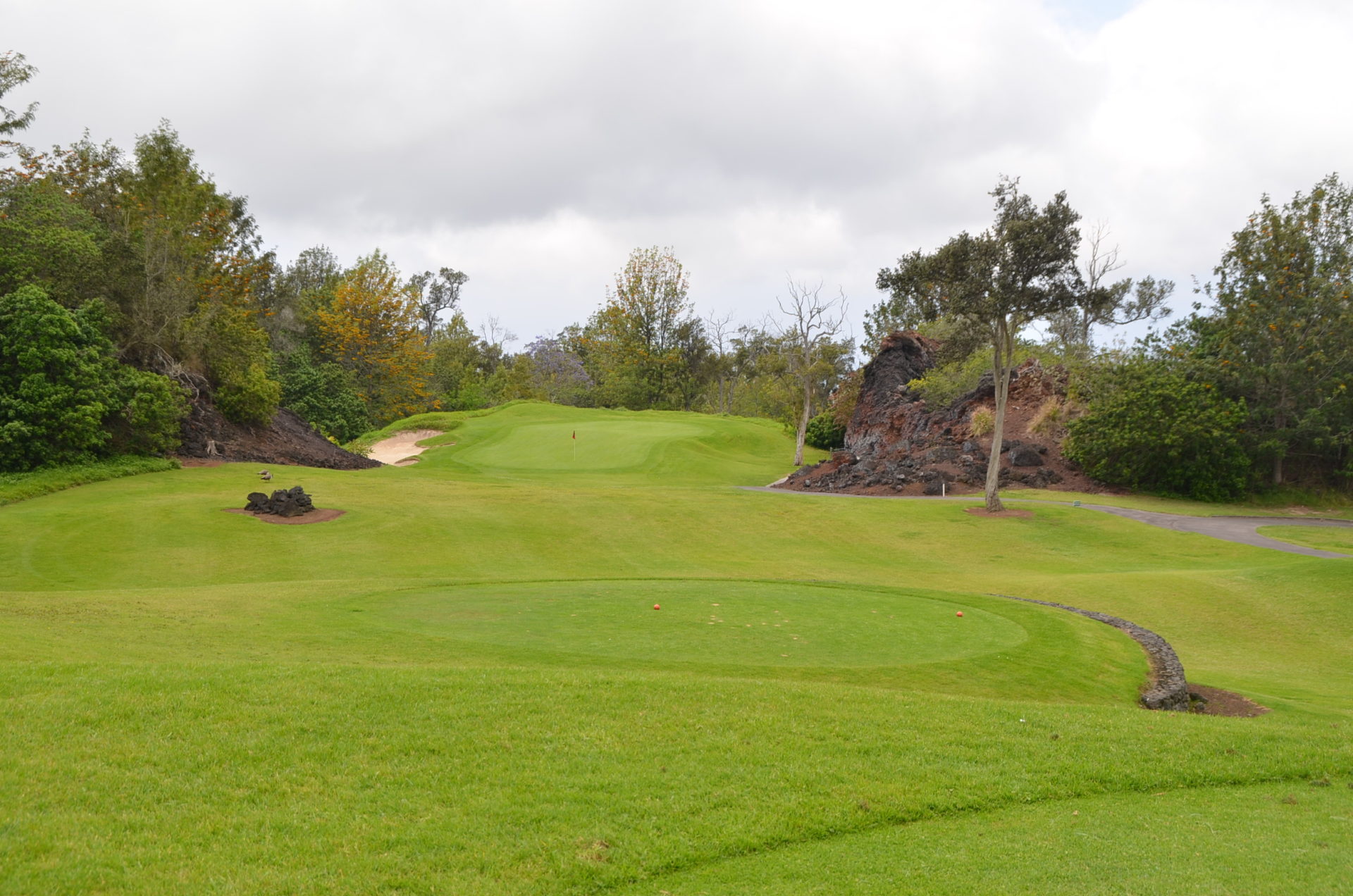 By the time we reached the coast again it was sunny and much warmer. We stopped at the Keauhou Shopping Center and bought some beautiful looking ahi to barbecue which Alison did a terrific job on. We also found out that barbecued fresh pineapple is great accompaniment. The barbecues at Kanaloa were a great spot to meet and greet other residents and definitely a well used amenity.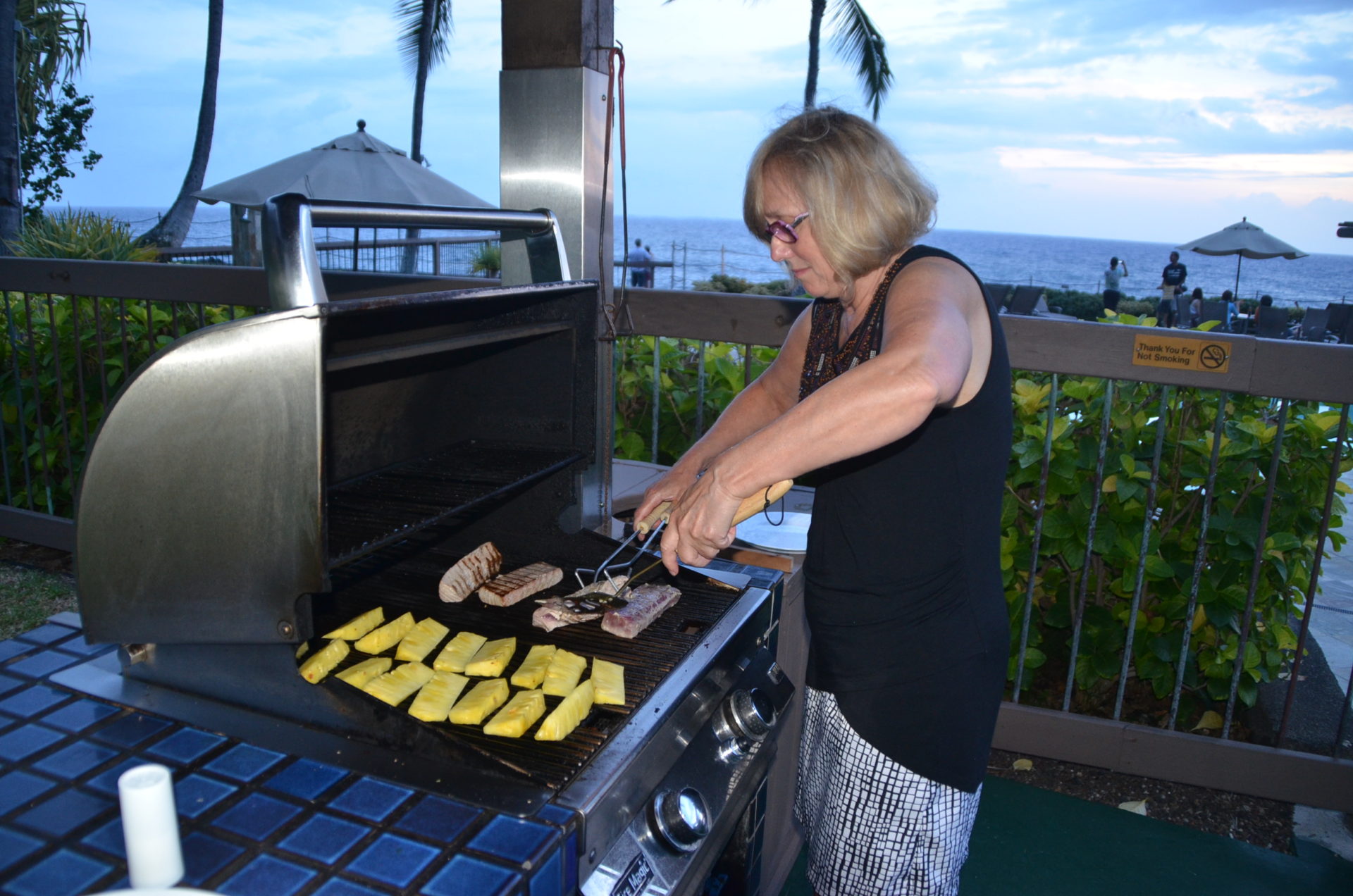 Sunsets at Kanaloa are spectacular and every night each one was different. Here is the one from the first night. Aloha.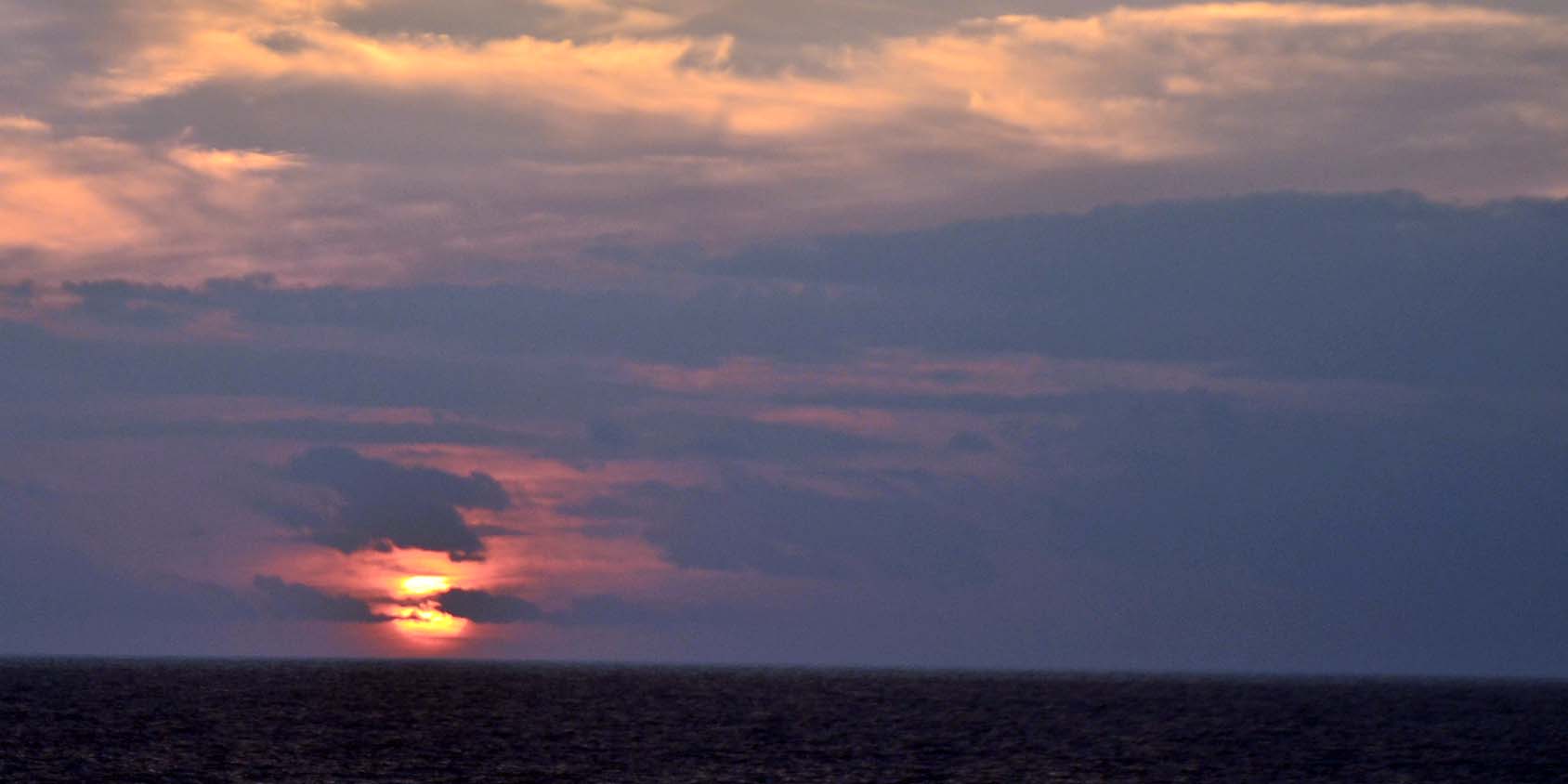 Tomorrow we'll play our final round of golf in Hawaii at the Kona Country Club. Please join us.