Keleakekua Bay – Snuba, Spinner Dolphins and Captain Cook
This is one of a continuing series of posts from a trip Alison and I took to the four main Hawaiian islands. It has been updated for accuracy as of 2021. In the last post we concluded our tenth and final game of golf in Hawaii at the former Mountain Course at the Kona Country Club. The golf had exceeded all our expectations and could be the centrepiece of any Hawaiian vacation, but there is so much to this island paradise. Getting out on the water is an essential part of what Hawaii is all about. Previously we had swam with sharks off Oahu and snorkelled the waters of Molokini in Maui. This morning we were psyched for a snorkel tour to Keleakekua Bay, both because we wanted to get in the water one more time to swim with the tropical fish and because we wanted to see the place where James Cook's luck ran out. Please join us.
I had reserved spots on the Fair Wind, a catamaran which sailed out of Keauhou Cove, only a few minutes walk from our Kanaloa condo. Our friends, Rob and Janet were going to spend the day relaxing by the pool and doing a little more shopping in Kailua-Kona. This was there last day on Hawaii.
The Fair Wind departed on schedule and we motored out of the cove for Keleakekua Bay and got a great view of our condo from the water. If you look closely you can see Janet on the Lanai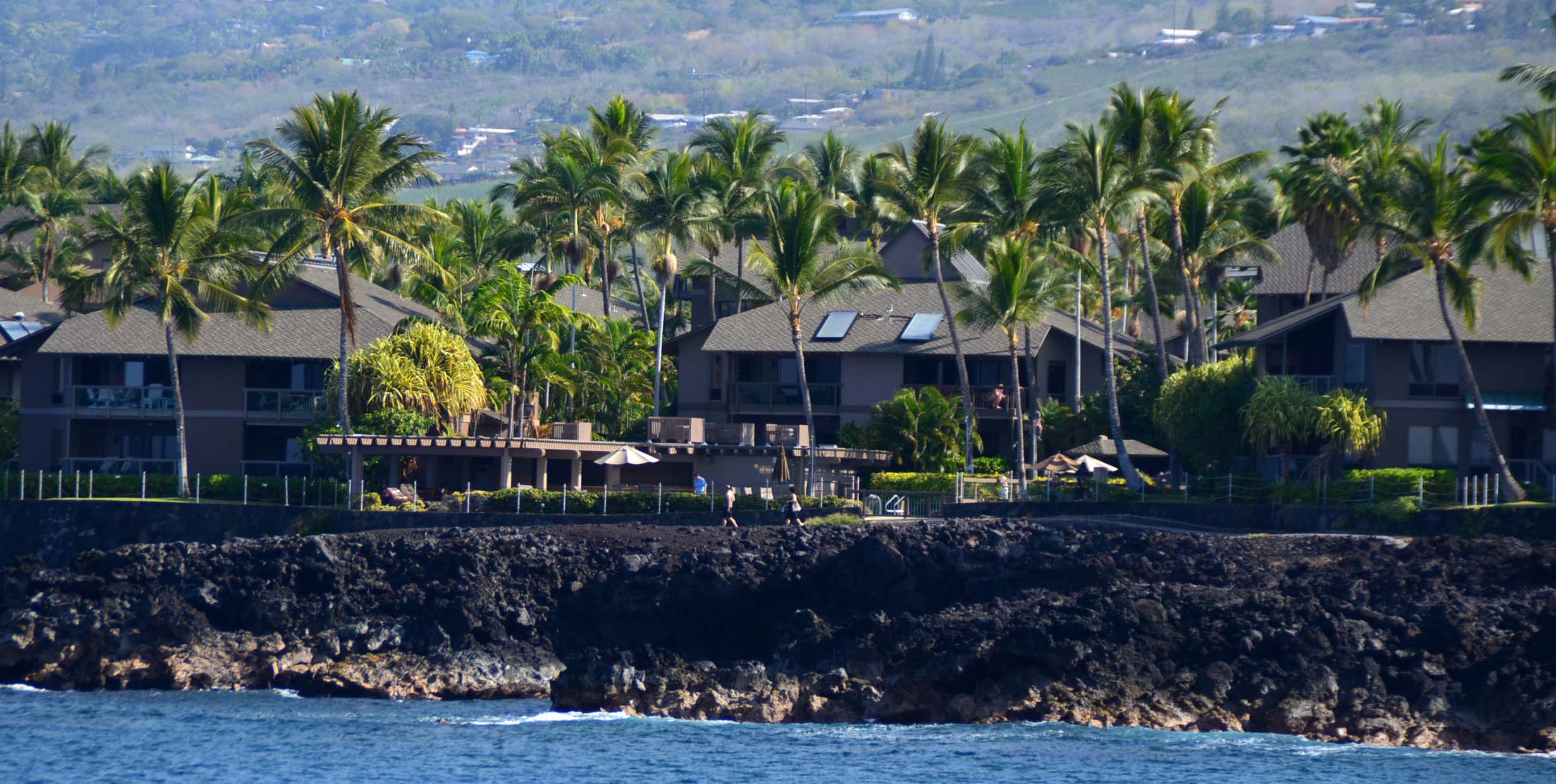 It took about half an hour to reach Keleakekua Bay on relatively calm waters. Along the way we passed some pretty serious lava fields where there was not much sign of life except for a solitary shelter miles from anywhere. There appeared to be a small cross in the rocks. Who or why anyone would choose to live here was beyond my understanding, but I bet it had something to do with that cross.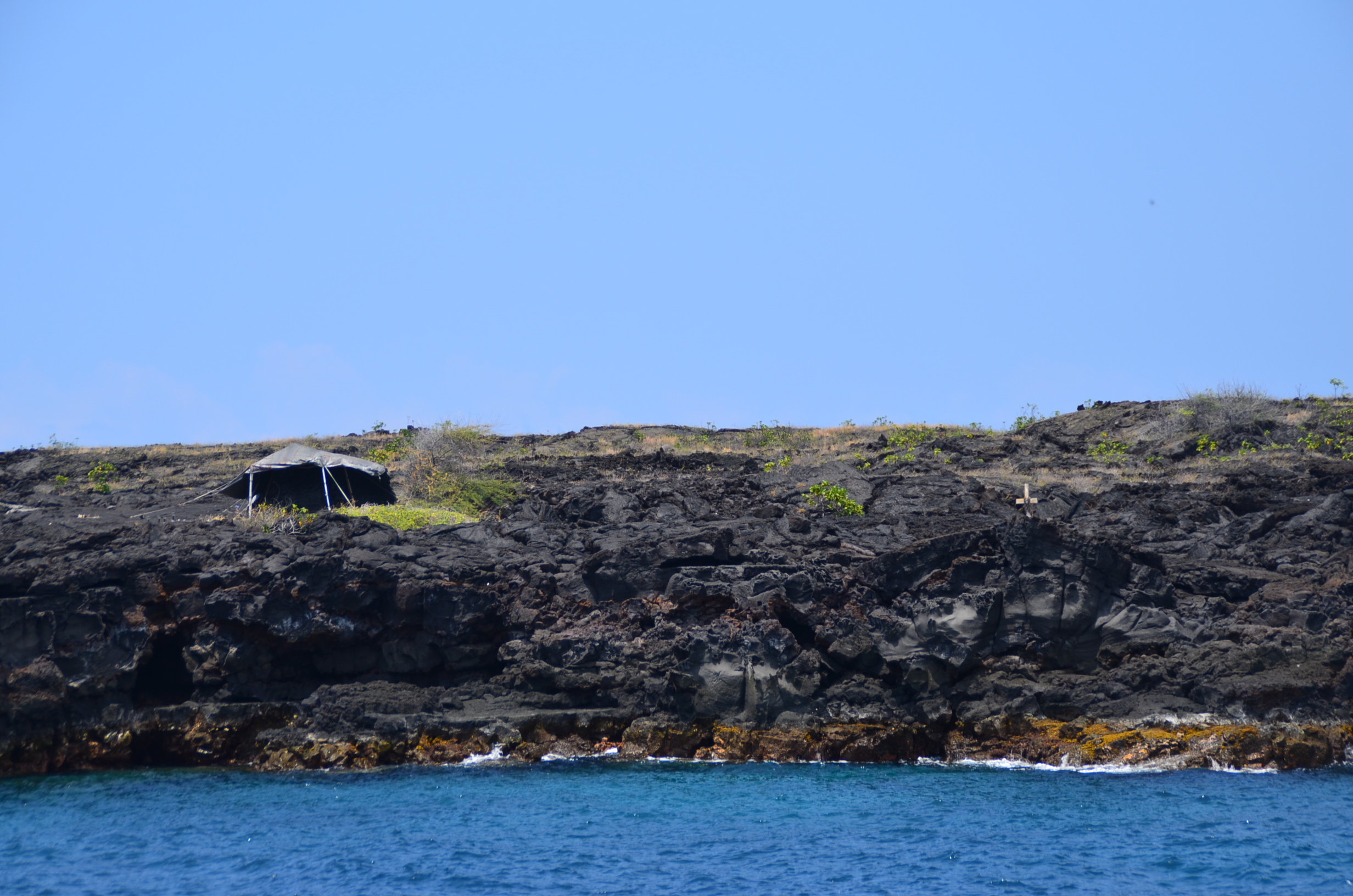 Keleakekua Bay
As we rounded the a small point and turned into Keleakekua Bay I recognized immediately the place where Cook was felled on Valentine's Day in 1779. Not a very loving gesture by the Hawaiians, but the result of a cultural mix up between two entirely different world views. I had seen depictions of the death many times and the one thing that was consistent was Cook going down on a small point with trees in the background. Here is an example.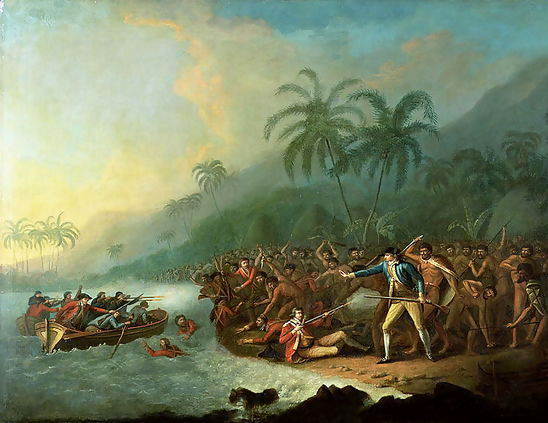 Here is what it looks like now.

As we headed further into the bay the Captain Cook monument came into view as did a number of smaller boats that were already there. We tied up in the lee of a very large cliff about 100 yards offshore. Although there were a few people on shore we were advised that we were not allowed to go onshore from the boat. Rats! I was never going to get up close to the Cook monument which I had seen from afar a few days ago. Well here's a shot that proves I tried.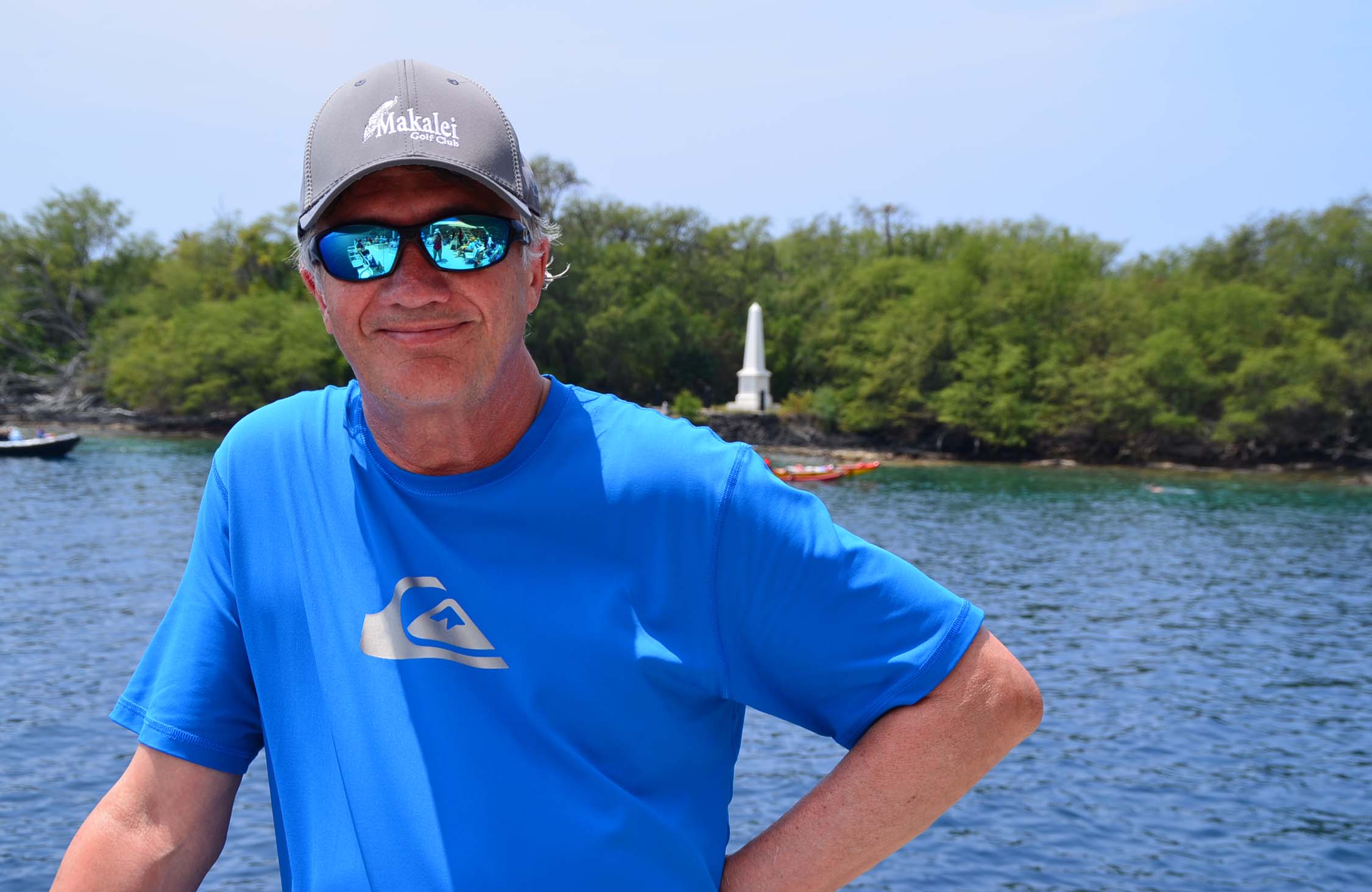 On the way to Keleakekua Bay a fellow came around who was offering an alternative to snorkelling – snuba. It doesn't take much imagination to figure out that this has to be a combination of snorkelling and scuba and so it is. With snuba the tanks remain on the surface and deliver oxygen via a breathing tube. It provides the advantage over snorkelling of being able to get down in the water without having to surface. The reason we decided to try it (other than we can't resist a new challenge), was that those who opted for snuba got to go out first on a guided tour and were permitted to go further from the ship than snorkelers. We could still go snorkelling once the snuba tour was over. After a few minutes getting used to breathing underwater we were off following the lead of our guide.
The first thing I noticed about Keleakekua Bay once I was in the water was the amount of oil like slick there was on the surface. This was clearly sun tan lotion from the thousands of people who come here every week. It was a disturbing reminder of how man screws up everything without really trying or even meaning to.
However, below the surface the water was very clear, but not in the same league of clarity as Molokini. I would also say the number and variety of fish was less than at Molokini, but here I'm being really picky. If Keleakekua Bay had been the only place we went swimming with the fishes we would have been delighted. Unfortunately, I didn't get a chance to buy another waterproof camera so there are no photos, but we both were glad that we paid the extra money to snuba. Just getting comfortable breathing through a regulator is certainly a confidence builder in helping to make the jump from snorkelling to scuba.
While we were moored at Keleakekua Bay we were treated to an amazing exhibition by a group of spinner dolphins. I had heard of this apparently common species, but never seen one. Well I can tell you that the spinning and leaping motions of these dolphins is a wonder to behold – right up there with the humpback whales. Up to forty or fifty of them were spinning like whirling dervishes. Personification of animals is frowned upon these days, but if these guys were not just dancing their tails off I don't know what they were doing. You couldn't help but smile at their sheer joie de vive.
After the snuba trip were snorkelled for another hour and really didn't want it to end because this would be our last time under the water for who knows how long? As the Fair Wind got underway back to Keauhou Cove I took one last look at the Captain Cook monument and almost had to pinch myself that I had really been at this most famous spot.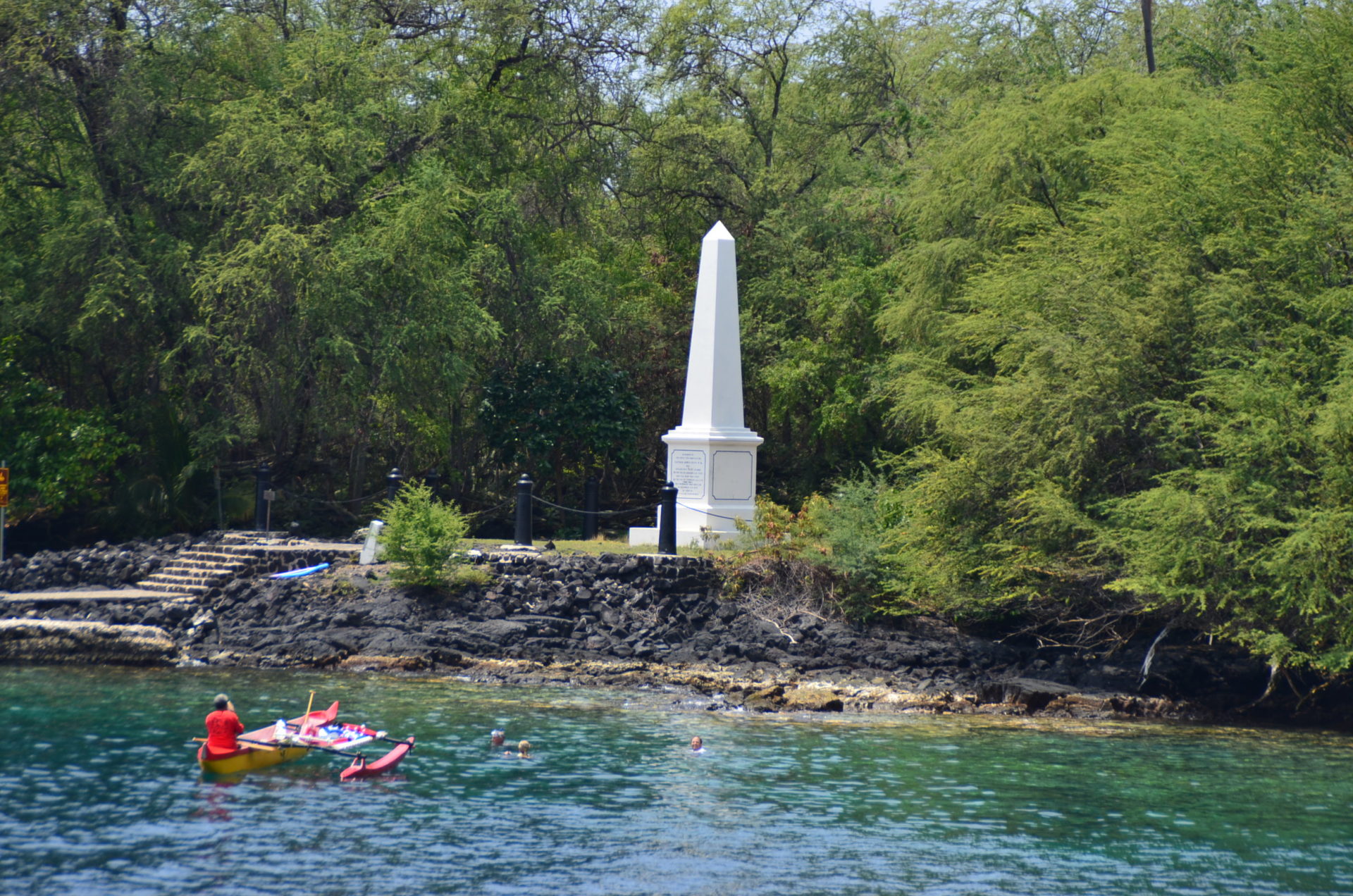 Back at Kanaloa we enjoyed a leisurely afternoon followed by cocktails on the lanai and our conversation turned wistful as for Rob and Janet this would be their final sunset.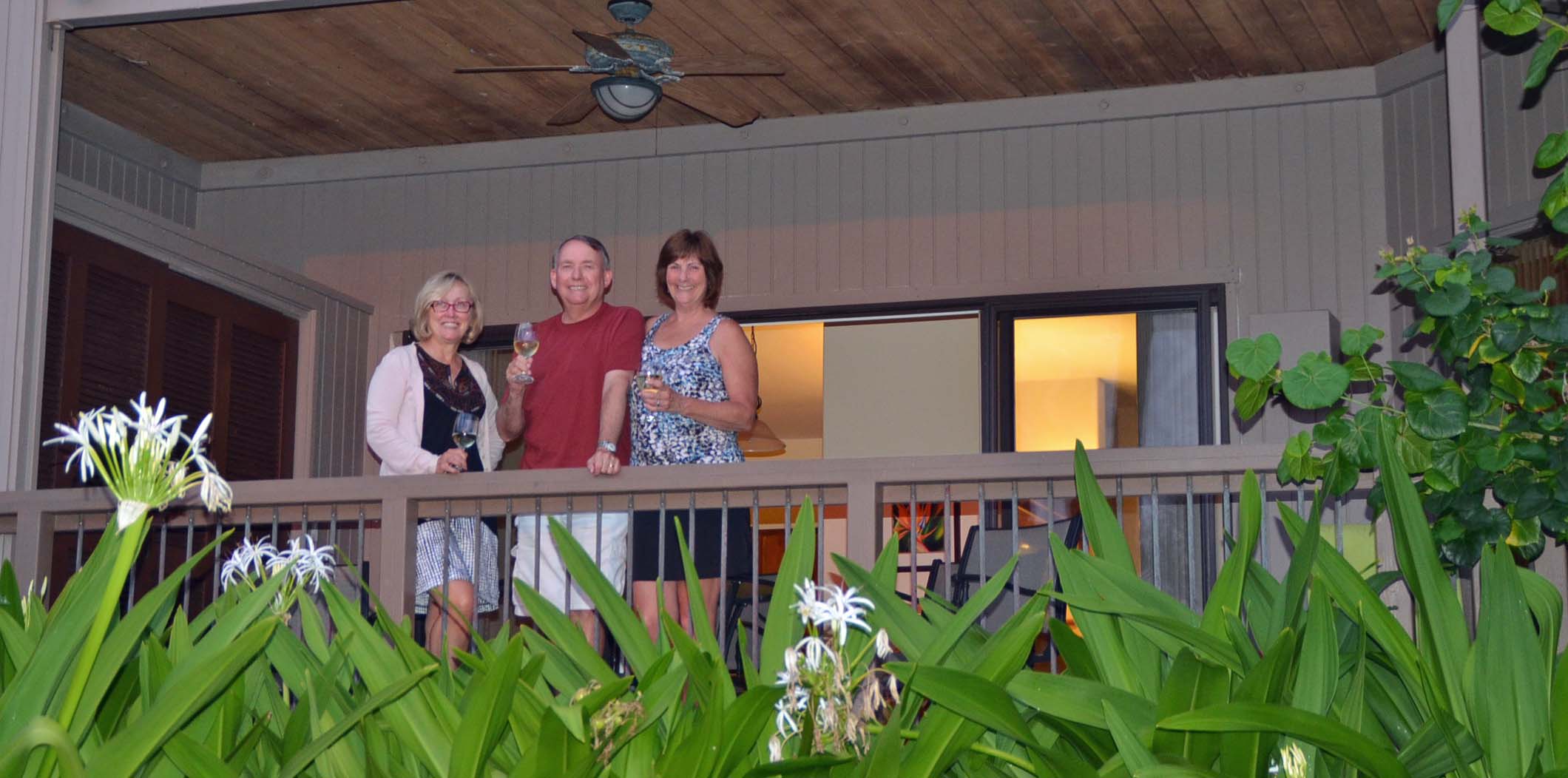 It did not disappoint – once again there was a fabulous sunset. Aloha.