Edam – Visiting One of Holland's Famous Cheese Towns
Yesterday was the penultimate day of the bike and barge tour of Holland with Cycletours. Alison and I set out on our own through the UNESCO World Heritage Site of De Beemster and the lush pastoral landscape of land reclaimed from the North Sea centuries ago. Originally the plan for the final day was to cycle directly into Amsterdam and then take a tour of the city, however, the map book showed an alternative route that was much longer and would go along the shores of the Markermeer through Edam, Volendam and Monnickendam. This looked more interesting to me, having spent time in Amsterdam before the trip, so I told Albert we would be on our own today as well. Somewhat surprisingly everyone else wanted to take this alternate route as well and Albert was happy to oblige. Brigitte and now Arnaud were going to remain on board this final day.
We set out on time and cycled the short distance to the town of Edam, famous for its cheese and as an answer to crossword puzzle clues. Once again I was blown away by the architectural integrity of these small Dutch cities and just how pretty they are to look at and how interesting to just walk around. Albert gave us half an hour to enjoy Edam, but I think I could have spent at least half a day poking around its narrow streets and interesting sites. As always there was the former weigh house, now the town hall and local museum. By coincidence, all three of the Cycletours' groups ended up here at the same time, but we seemed to be the only tourists about.
Here is the Edam coat-of-arms. I don't know if the lion has the crazed look because he's never going to be able to attack that cow just below him or perhaps he's mad at having lost his front teeth and roaring with a lisp.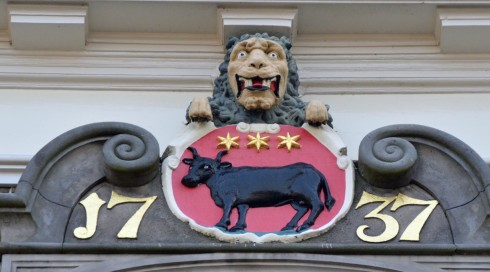 Edam also has a great clock tower.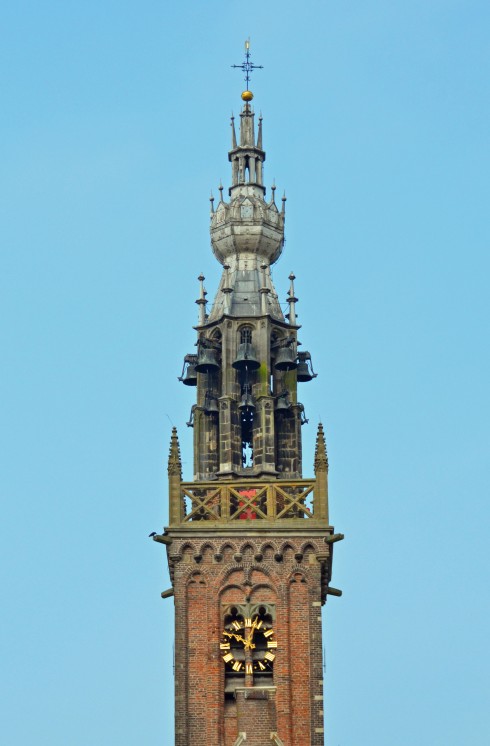 And a canal street lined with typical Flemish houses, some in better shape than others as this photo shows. It looks like the house on the right might have had too much jenever and is leaning on its neighbour for support.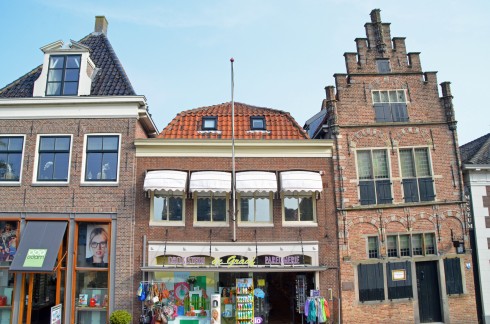 One of the other Cycletours' riders took this shot of Alison and me with the clock tower and canal.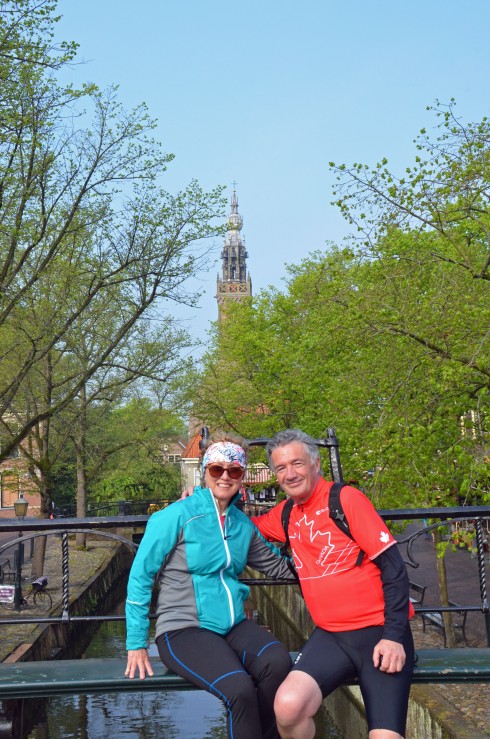 Not surprisingly there was lot's of cheese for sale, in different coloured wrappings that indicated the various flavourings added to the cheese.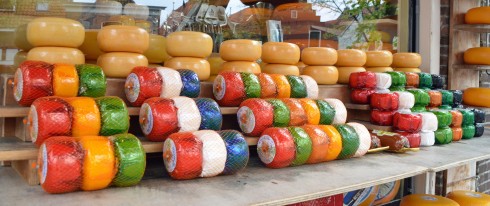 After the half hour was up we cycled to the outskirts of Edam where the historic cheese auction building was located.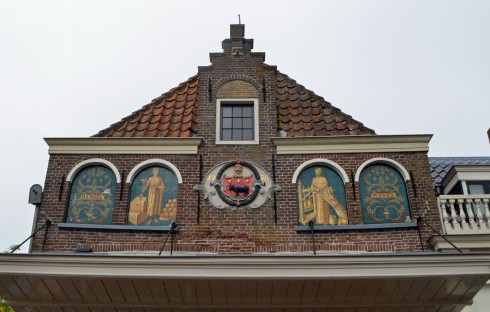 Alison tried to give these guys a hand with the Edam cheese sled, but they were stoically silent and ignored her.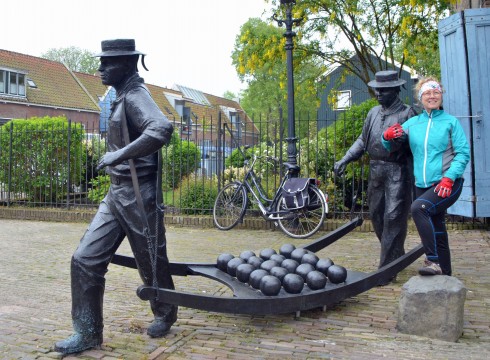 Here I am with the real deal – note the just acquired orange Holland hat.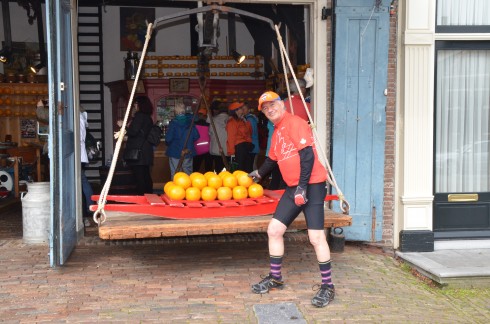 There was a terrible squawking going on just outside the cheese house and I looked up to see two great blue herons that were having a serious spat over a third great blue, obviously the intended prize, who was looking on quite as if she was fully deserving of this type of avian squabble. I suggested they settle for a menage-a-trois, but she was having none of it and eventually this guy came out the winner as the other suitor flew off in a huff.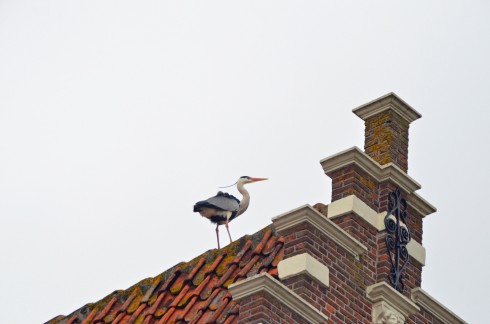 Our next non-stop was Volendam which seems to be a sister city to Edam. While our Cycletours' groups seemed to be the only tourists in Edam, Volendam was loaded with them. The waterfront street was so packed that we had to get off our bikes and walk them through the crowds. Since we didn't stop I can't really say what the attraction of Volendam is to tourists, but I did notice a number of shops offering to take pictures of people dressed in traditional Dutch costumes. A little research shows that Volendam and the nearby peninsula of Marken are two of the few places in Holland where traditional Dutch costume might still be seen. Imagine my surprise at seeing a picture of Barack Obama in one of the shops sporting wooden shoes, the Dutch cap and traditional men's tunic and trousers. Who knew?
Unfortunately the bike path that runs along the Markermeer from Volendam to our next stop, Monnickendam is not on top of the dike, but below it so we didn't get to see much of the lake, but the the pastoral scenery on the land side was excellent – green, green and greener. Along the way there was a funny incident. At one place the path narrowed as it went between two hedges and as I approached the cutest little Dutch boy of about three with red chubby cheeks and straw blond hair made motions for me to slow down. I did and as I got to the hedge the boy's older sister of about seven, who was hiding behind it, blasted me with a jet of water from a supersoaker. The two of them and a third conspirator broke into gales of laughter and all I could do was grin and bear it. He had to be the youngest con artist I have ever met.
Monnickendam was the last town we would visit on the tour and it may well have been the most interesting. Translated as Monk's dam, the town was founded by monks and as you can see still has the connection – I love this statue of a monk for a couple of reasons. First of all it is the epitome of the Teddy Roosevelt expression, "Speak softly and carry a big stick" and secondly it reminds me of my Dungeons & Dragons playing days when monks were only allowed to carry blunt weapons.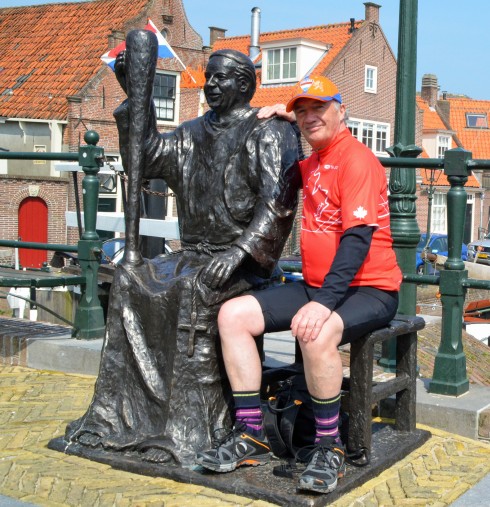 One of the things I have always wanted to see is one of those clock towers that has figures that come out and do a pirouette or something similar. They are marvels of late medieval ingenuity. I can't recall actually seeing one until today in Monnickendam which has horses and a trumpeter who come out on the hour after the bell stops tolling. Try as I might I couldn't find a video on the internet that shows the movement, but trust me it's worth visiting the town just to see it.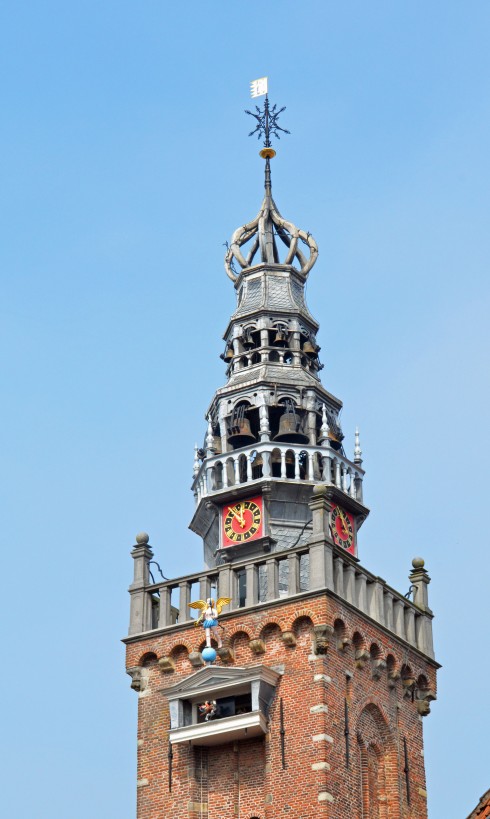 Monnickendam also has a really interesting fleet of what I would call barges with sails, but the Dutch call ships that apparently still engage in regatta races.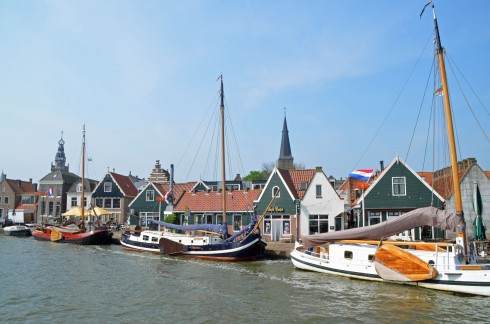 There was a veritable forest of masts on the waterfront.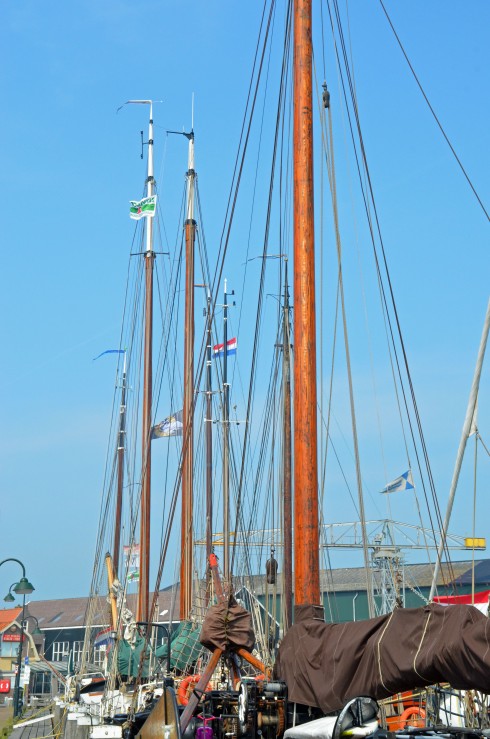 We had a very pleasant lunch under the shadow of the clock tower and then headed out into Waterland, a completely rural farmland area literally on the doorstep of Amsterdam. This was the last time to see the Dutch landscape that I have come to love over the last week. We cycled past signs on the narrow lanes that double as bike paths that said Amsterdam 3 km. That is unbelievable. There is no hint that a major metropolis is that close. What I can see is a very prominent church that is visible for miles and we eventually get there. Albert has been pushing us a bit and I am glad to make our final stop, the little village of Ransdorf that has a swan on its coat-of-arms.

Then we cross under the A10 highway and in the blink of an eye we are in the city. We head for ferry to cross over to Central Station and as well pull up I get my biking shorts hooked on the seat and do a spectacular face plant in front of about a hundred people. Luckily the only thing bruised is my ego. The Zwaan is back in its Amsterdam berth and the bikes are loaded on board one final time.
Knowing it was the last chance I had Marielle take this picture of us with Albert.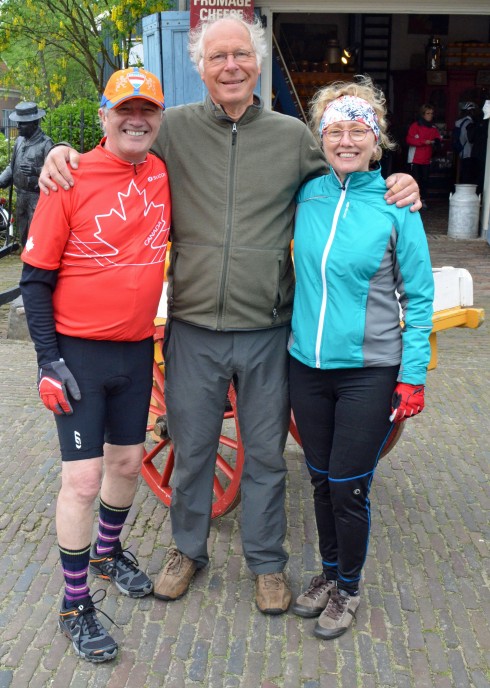 I then took this photo of Marielle with her trusty neon jersey which she wore faithfully through the week to make sure nobody got left behind.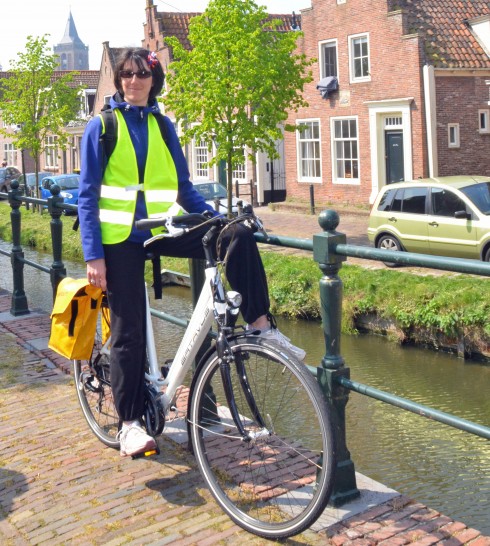 That evening Dorus prepared one final great meal. Everyone was in a mellow mood knowing that this would probably be the last time we ever shared a meal together, but the wine flowed freely and a spirit of gaiety overtook us. Albert took out the huge map of Holland that he had used every morning to illustrate our daily itinerary and reviewed the entire trip and had a little quiz about various places we had been and things we had seen. Marije presented the well deserved Good Samaratin award to Katherine as the one who did the most to promote harmony and togetherness on the journey. Note the orange gerbera in her hair in anticipation of Koningsdag.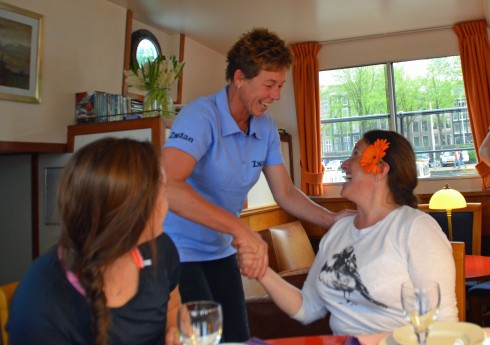 Albert and Ilje then led us in a round of what I presume were Dutch drinking songs as they certainly led to a lot of same. I took this one last picture of the crew.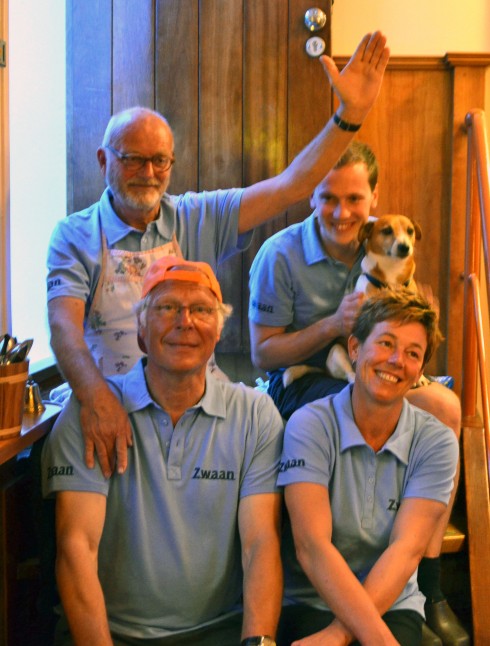 Tot ziens Albert, Marije, Dorus, Ilje and even you Jippee. Tot ziens Katherine & Josee. Tot ziens Brigitte & Arnaud. Tot ziens Martine and Louis. Tot ziens Anike & Andre. Tot ziens Liz & Emma. Tot ziens Marielle. I cannot recommend a bike and barge trip through Holland with Cycletours highly enough, especially if you can go the Zwaan.
However, the Holland trip is not over for Alison and me as we head to the city of Delft for Konigsdag. It should be a blast so please join us.