RBC Canada Cup – A Great Event at My Home Course
As a member of the Golf Journalists Association of Canada or GeeJack as most of us call it, I get to hang around with people who actually know how to write about golf and even some who can really play the game. We also get this snazzy little card with Mr. Golf Ball as our mascot.So when it comes to golf reporting I am strictly in the Jimmy Olsen category, a cub reporter hoping for the big scoop. Since I didn't see any other GJAC members around maybe this is my chance. Here's my exclusive on the RBC Canada Cup held yesterday at my home course Ashburn right here in little old Nova Scotia.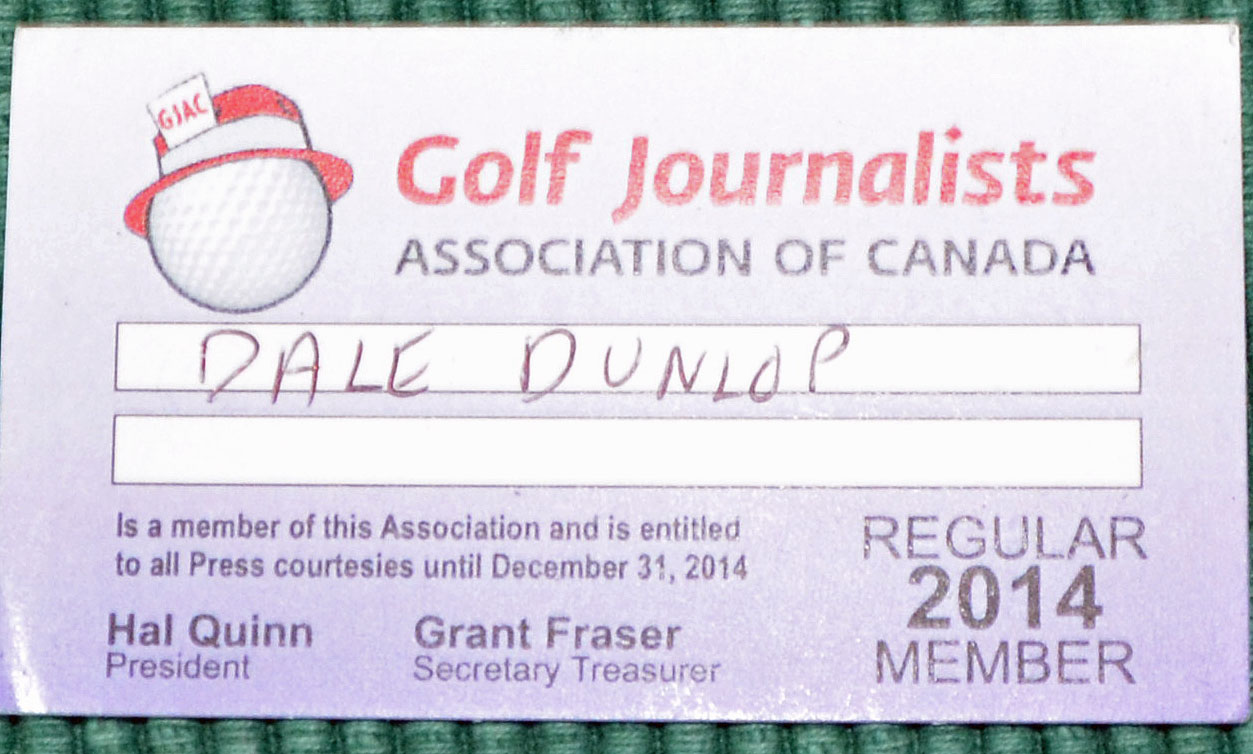 First a bit about Ashburn. It is, as far as I know, the only club in Canada that has not only two golf courses, but two clubhouses with the two courses over twenty miles apart so you get two totally different experiences with one membership. Right in Halifax proper is the Old Course, designed by Canada's most famous golf architect Stanley Thompson. It is a short tight course with very small greens and lots of hills. The New Course is well outside the city on a very large property that overlooks Kinsac Lake. The course designer was Geoffrey Cornish, another famous Canadian golf architect who trained under Stanley Thompson. He built a long, grueling course with incredibly fast and tricky greens that are a great contrast to the Old Course. The New Course has held prestigious golf tournaments in the past including the Canadian Amateur and the Mid-Amateur, but never an event that attracted top tier PGA professionals like the RBC Canada Cup.
The RBC Canada Cup is a one day event featuring four Canadian Players facing off against four international players in a combination of singles and doubles match play. The Canadians are Mike Weir, Graham DeLaet, David Hearn and Adam Hadwin.  Former Masters' champion Mike Weir is having a comeback year, while DeLaet and Hearn have both been close to winning on several occasions. Adam Hadwin is on the Web.com tour (Now the Korn Ferry tour) which is the feeder tour for the PGA and every year sends twenty-five players up to the big leagues. Expect Adam to be there next year as a result of winning in Chile, of all places, earlier this year.
The internationals are the very popular Matt Kuchar who is currently the No. 4 player in the world, former Masters' champion Trevor Immelman, incredibly long hitting Gary Woodland and from the Web.com tour, Manuel Villegas, brother of Camillo Villegas a.k.a. Spiderman. The matches are, in order, Hearn vs. Immelman, DeLaet vs. Kuchar, Hadwin vs. Villegas and Weir vs. Woodland. The matches are set to begin at 1:30 so Alison and I set out at 10:30 to get there in lots of time. Having attended major golf events in the past I know that the parking can be miles from the venue and you have to take a shuttle bus.
But there is no trouble getting right up to the gates of the course, but since I forgot to apply for a media pass in time we have to park elsewhere. Luckily not 100 yards away somebody is offering spots on their lawn for $10.00 so we park, pay and walk to the course. Even though I've driven through these gates hundreds of times before I never actually stopped in front of the entrance sign before.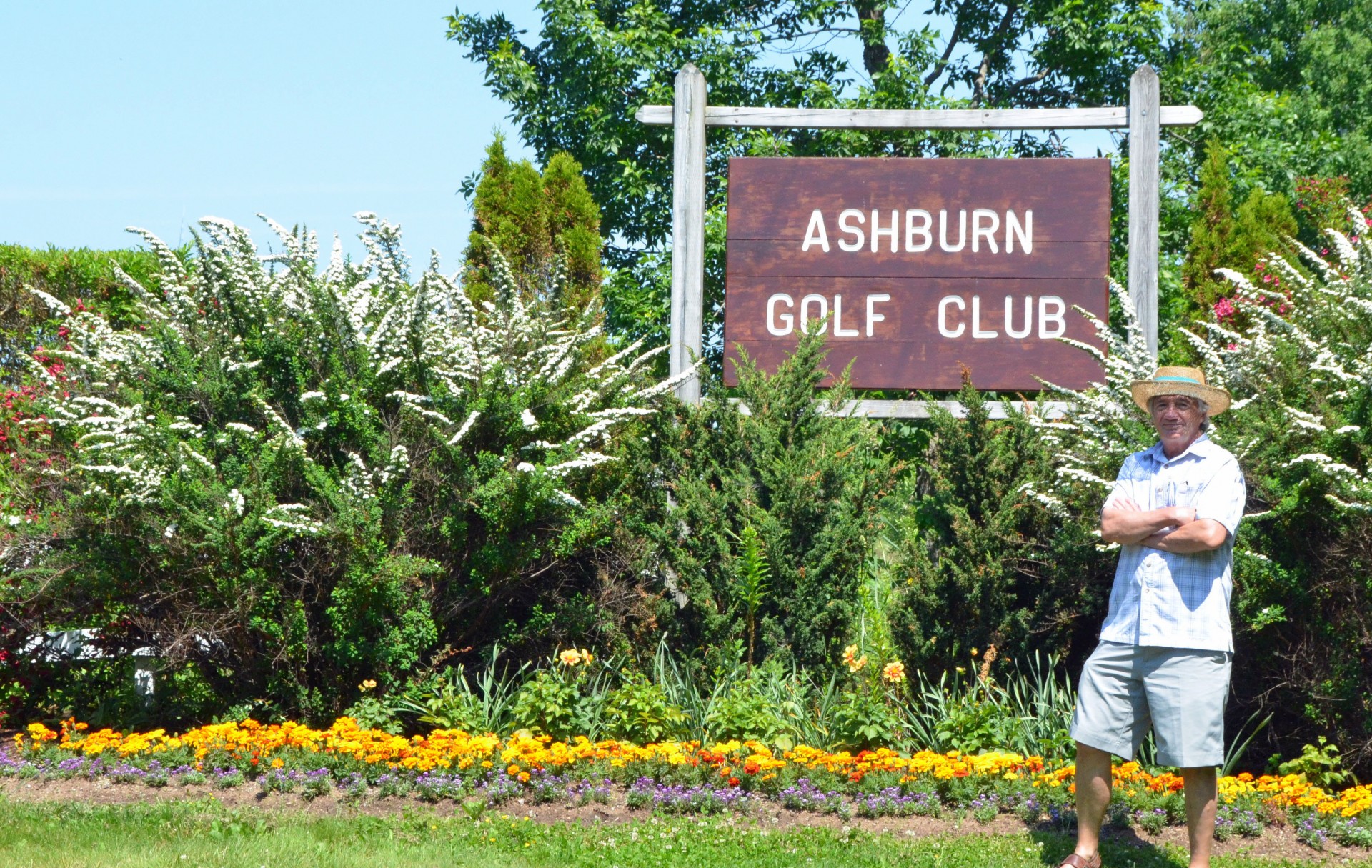 It's also really neat seeing banners posted with pictures of former players on the Web.com Tour or its predecessors, including Ernie Els, Steve Stricker and Jason Dufner, lining the driveway. The reality is that very few players go straight from college to the pros. Almost all put in at least some time on the junior circuit. That will be all the more so in the future as the PGA has done away with the Q-school as a method for automatic entry to the big league. The parking lot has been transformed into a miniature replica of what a real PGA event might look like with many tents offering different products, prizes and contests. The big PGA trucks that are a common sight on the major circuit are here as well. Walking down toward the first tee I notice that there are golfers teeing off and I overhear someone say that Mike Weir's group is just coming up No. 9. WTF? I thought tee off wasn't for another two hours?
It turns out there was a morning pro-am which was very much under-advertised.  Anyway it is Mike coming up 9 and we stand by the green to await his appearance. One of the amateurs is a real hacker and from 50 yards out hits a wild duck hook that barely clears the heads of the spectators before diving into the green side pond. Talk about wanting to crawl into a hole. After watching the players putt out we station ourselves beside the path that I know the players will take after leaving the green. Hopefully I'll get a picture of Canada's only major champion.
Not only did Mike go by, he stopped to autograph my ticket and another one for Alison's mother.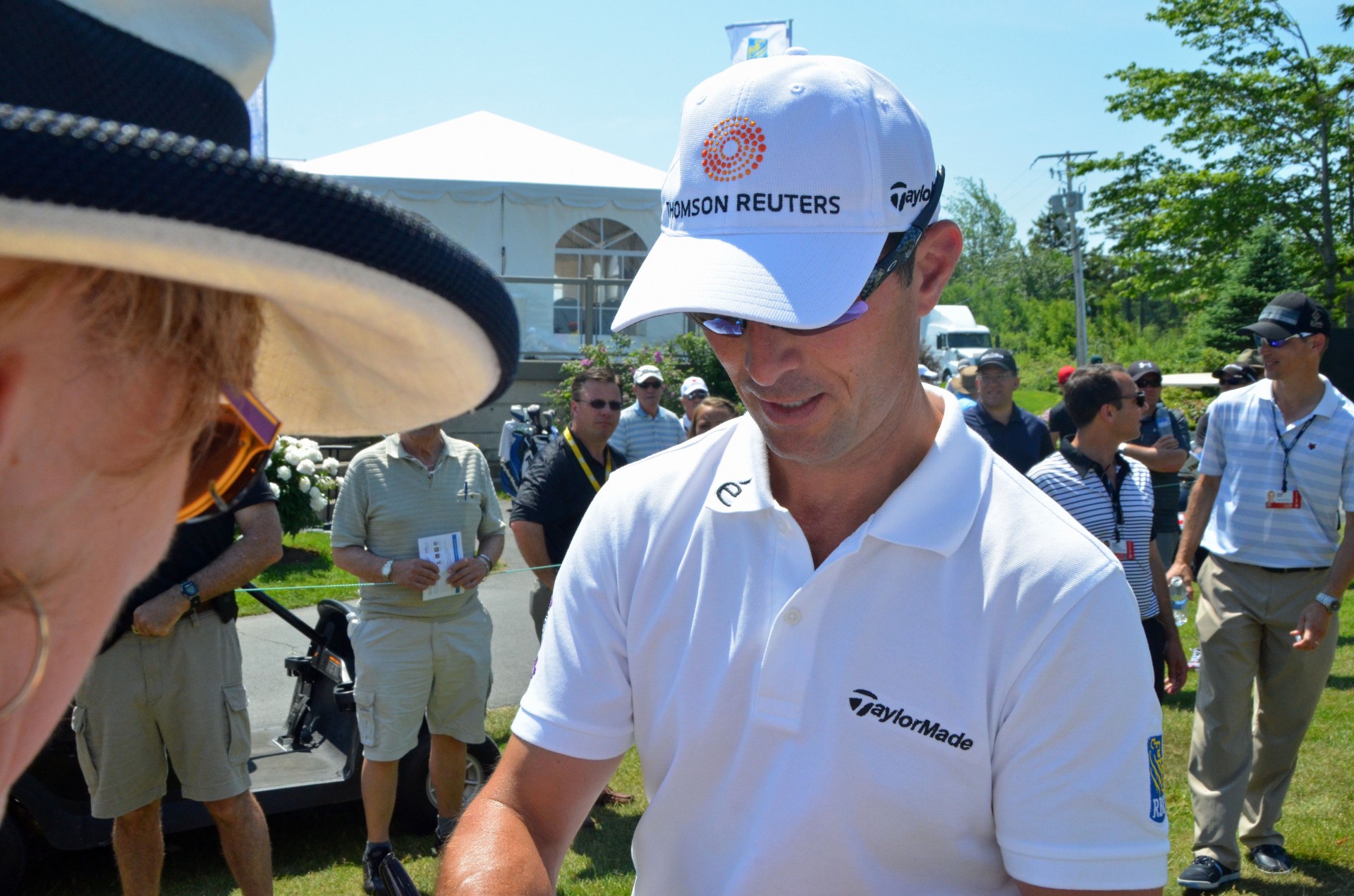 Here's my autograph from the RBC Canada Cup just in case you think I'm exaggerating
So the day's already a success and we haven't even seen any golf.
There is time for lunch, but incredibly there is only place that serves food and the lineup is pretty long. However, if you want a beer there are four places open so I volunteer to get the refreshments while Alison heads to the back of the food lineup. By the time she gets back with two sausages I am on the second Keith's and feeling very guilty, but I did bring her a water while she waited in line and volunteered to change places – so I'm not a complete cad.
The next assignment is to get pictures of the rest of the golfers. The great thing about golf is that if you station yourself properly you can get close to your favourite players and even get autographs – good luck with that in other major sports. In my experience the best place to position yourself is on the walkway to the driving range. The players always warm up here and I am ready for them. First up is Graham DeLaet who I initially confuse for David Hearn because DeLaet has a beard (look at his PGA profile picture) and this guy doesn't. He literally must have shaved it off this week.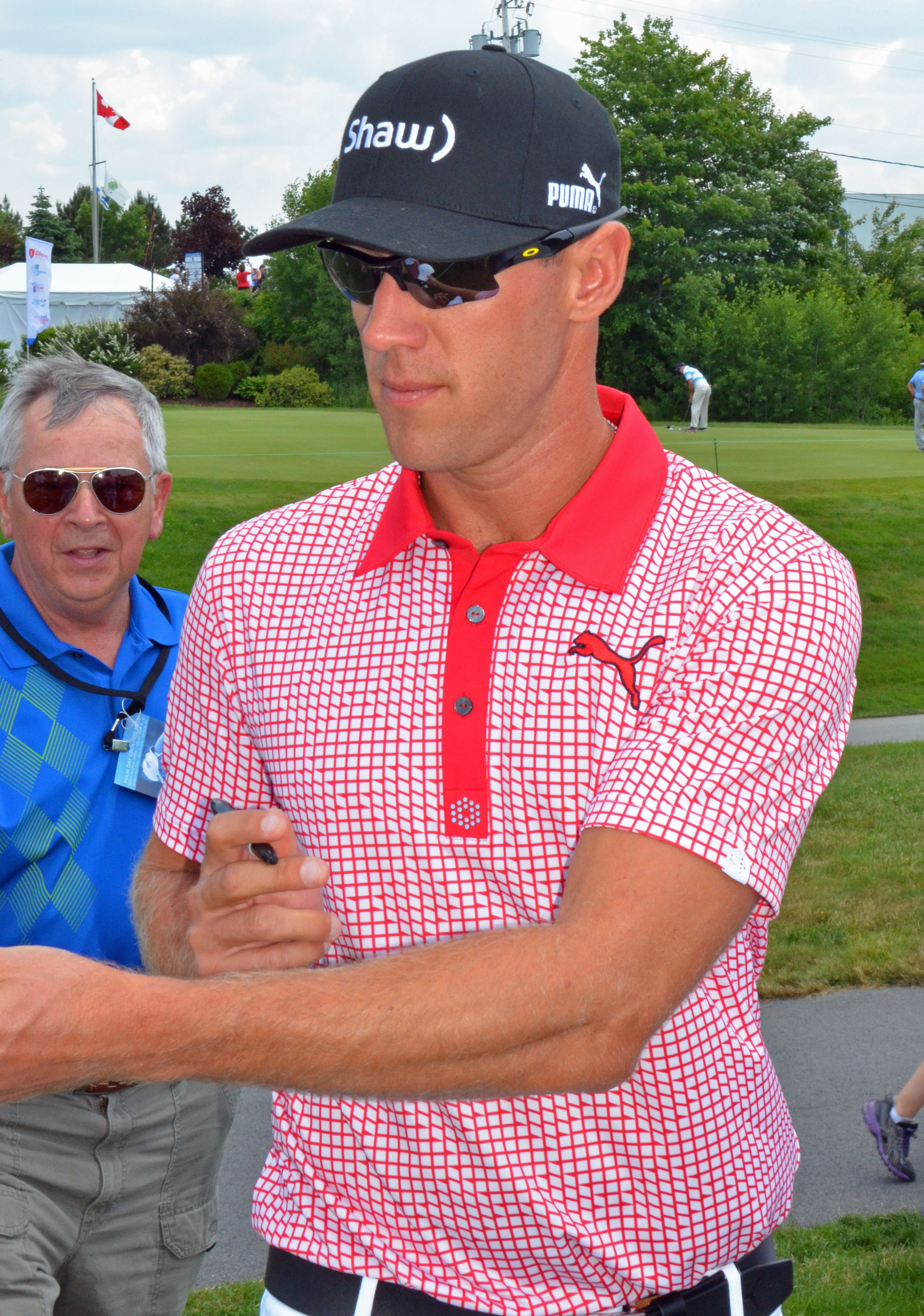 Next is the real David Hearn who looks like a man on a mission.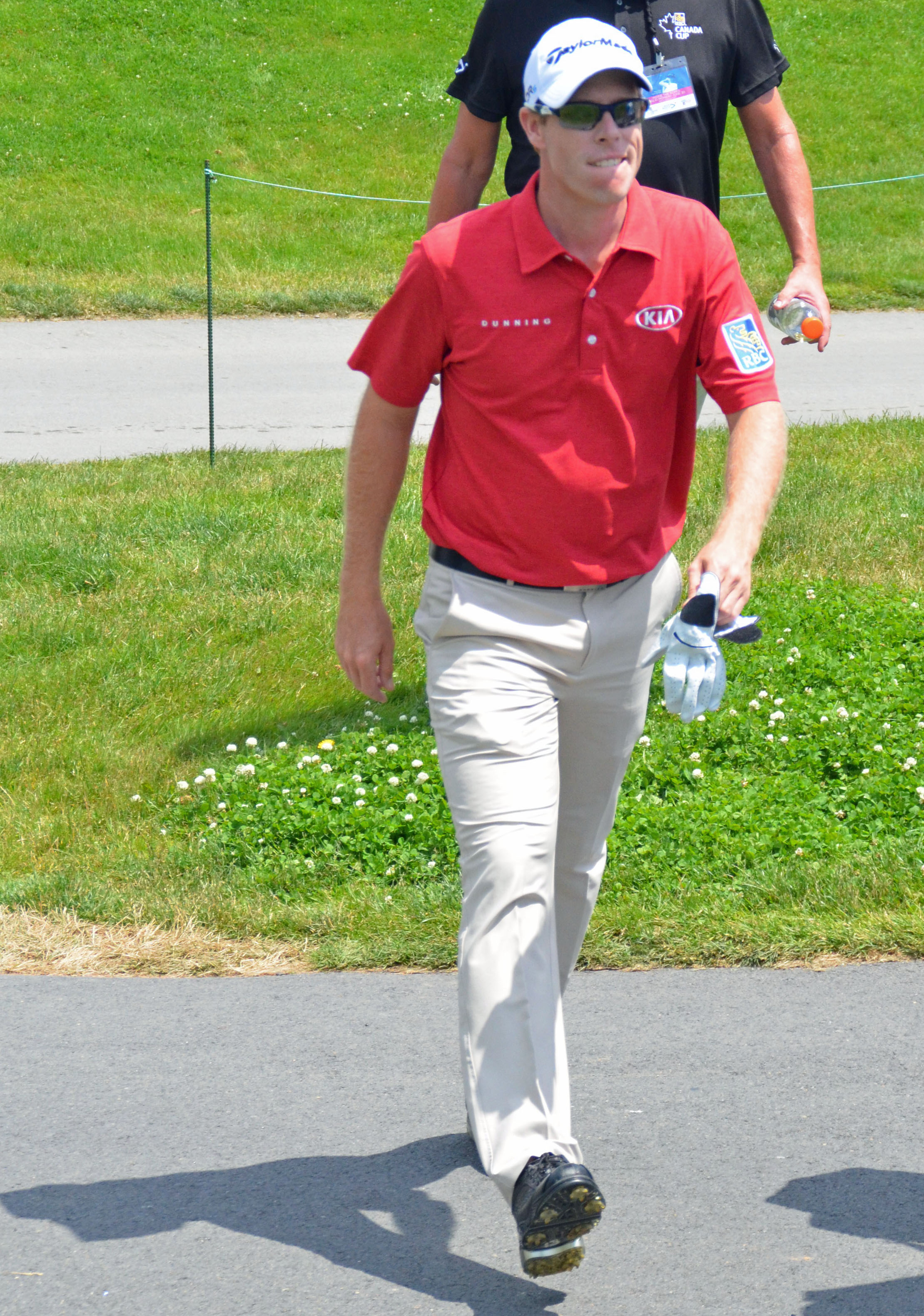 Along comes Trevor Immelman, who is as little as Mike Weir. I am always amazed at how small many pro golfers really are. It is the only sport I can think of where height and weight are not overly determinative of potential prowess.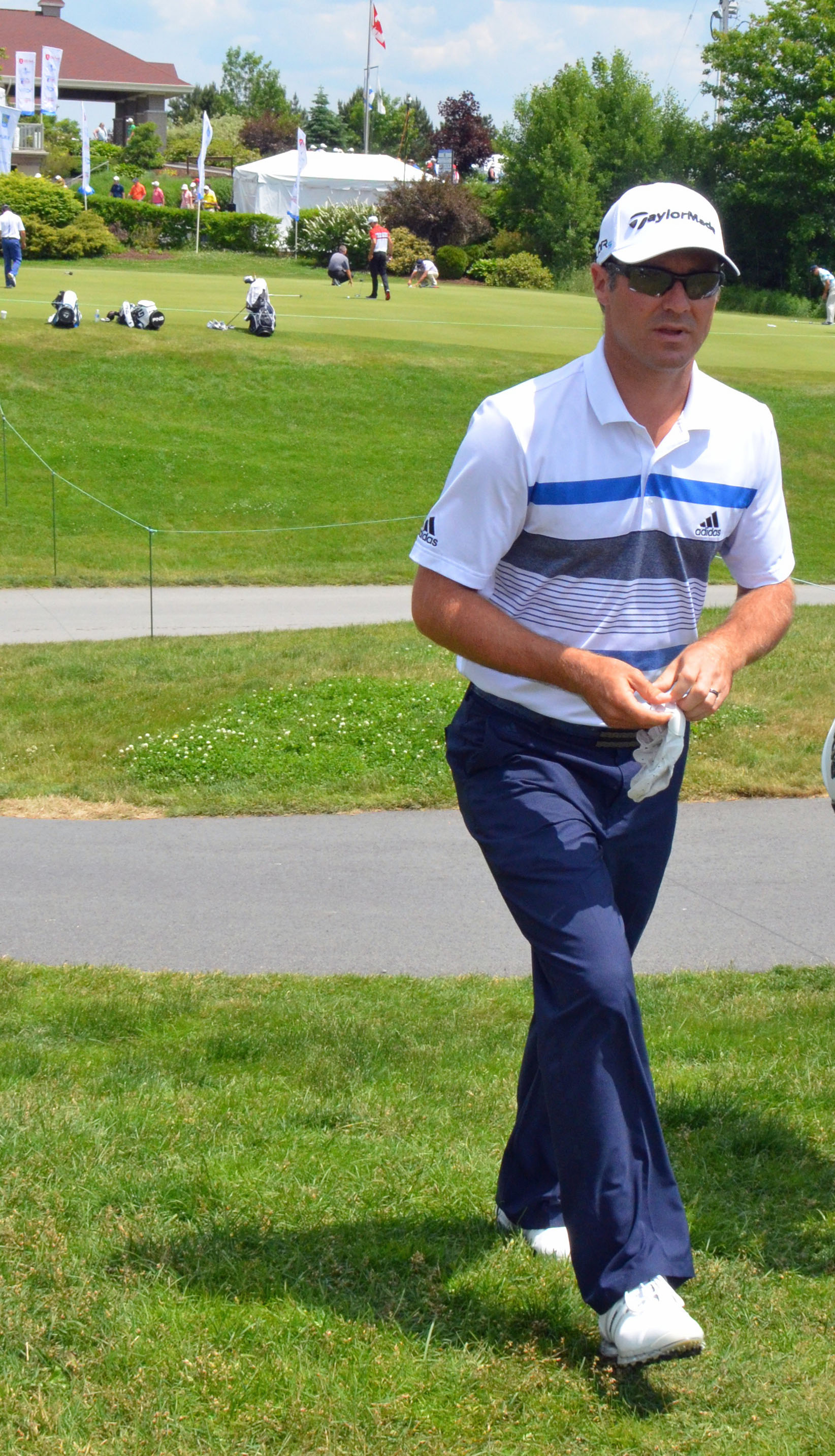 If Trevor's Mutt then here comes Jeff, Matt Kuchar at 6'4. I have strict instructions from my senior office assistant to make sure I get a picture of Matt who is one of the really good guys in a sport that is full of them. He loves to take his family with him when he's going to a new place and he's done just that this week, having toured the Cabot Trail and played the fabulous Cabot Links along the way. Hopefully this picture with his 'Golly, shucks' look will satisfy Star.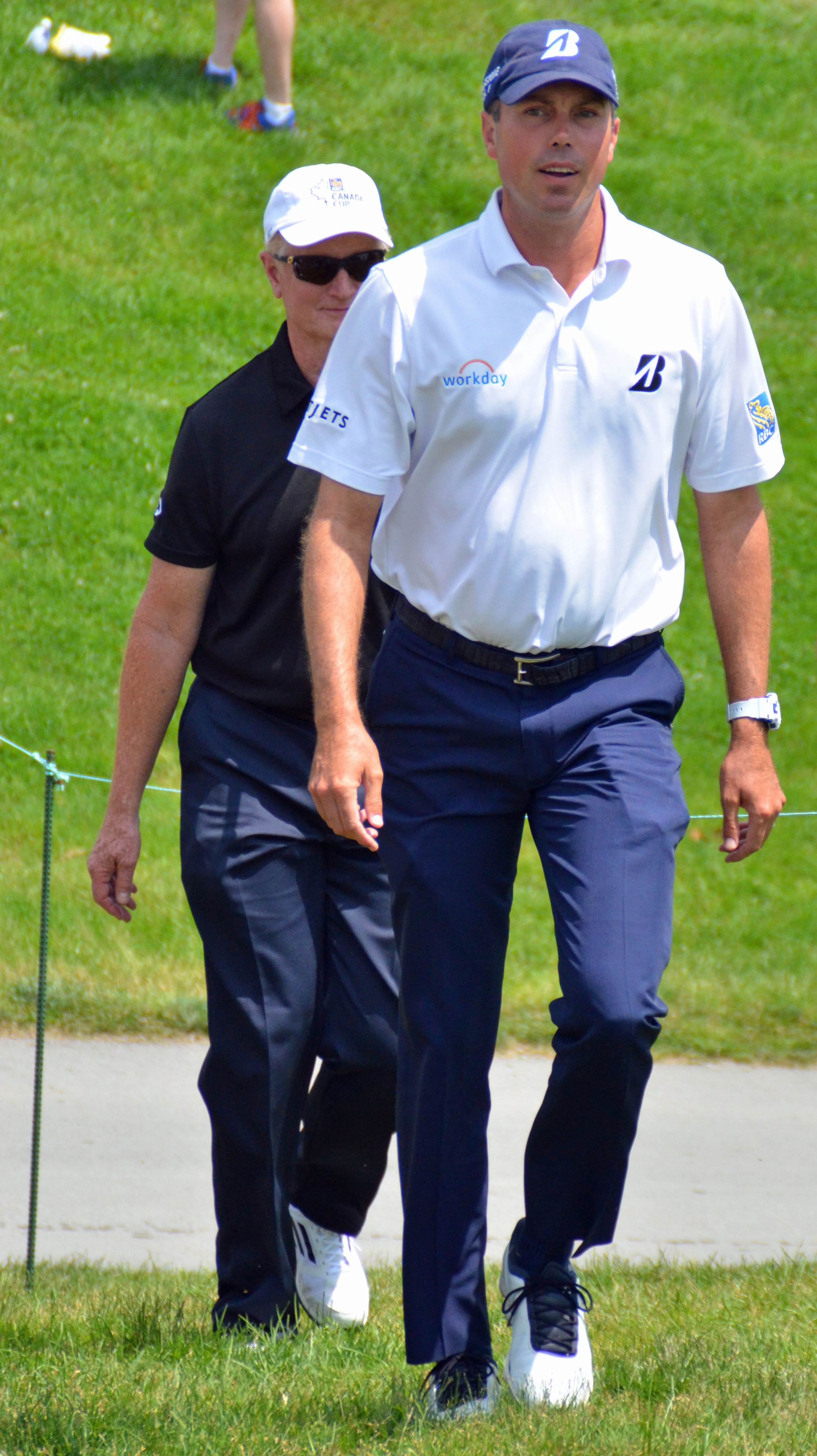 Last out is Gary Woodland who I watched on TV less than 24 hours ago playing in the final round of the Quicken Loans tournament in Washington, D.C. Good thing we now have direct flights from Halifax to D.C., but still he must be exhausted even if he doesn't look it.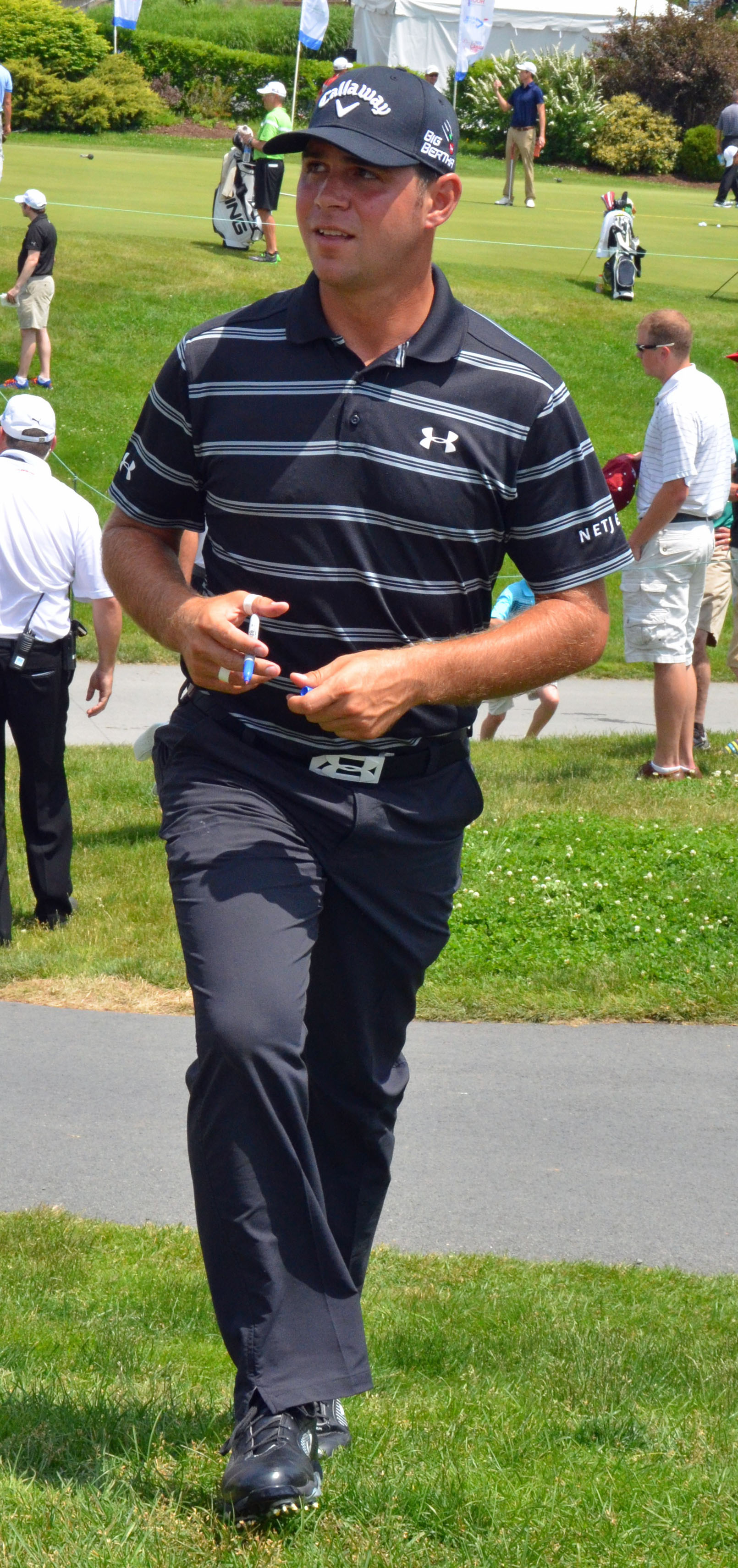 OK, so now that I have pictures of the PGA players, it's time to watch some golf at the RBC Canada Cup. Over the next few hours Alison and I and my great friend Brian MacLellan who we run into shortly before the first tee off, wander back and forth and get to see a little golf from each player. The most interesting hole for me is No. 6 as it is only 310 yards and thus driveable for most of these guys. Both Hearn and Immelman reach it, but then proceed to three putt. Gary Woodland puts it almost pin high in the greenside bunker with a 5 wood! He then blasts out to a foot for an easy birdie.
You are not supposed to take pictures while play is in progress, but if you are far enough back who knows (as long as you don't use a flash). Here's a shot of Matt Kuchar's incredibly silky and lithe swing off the tee.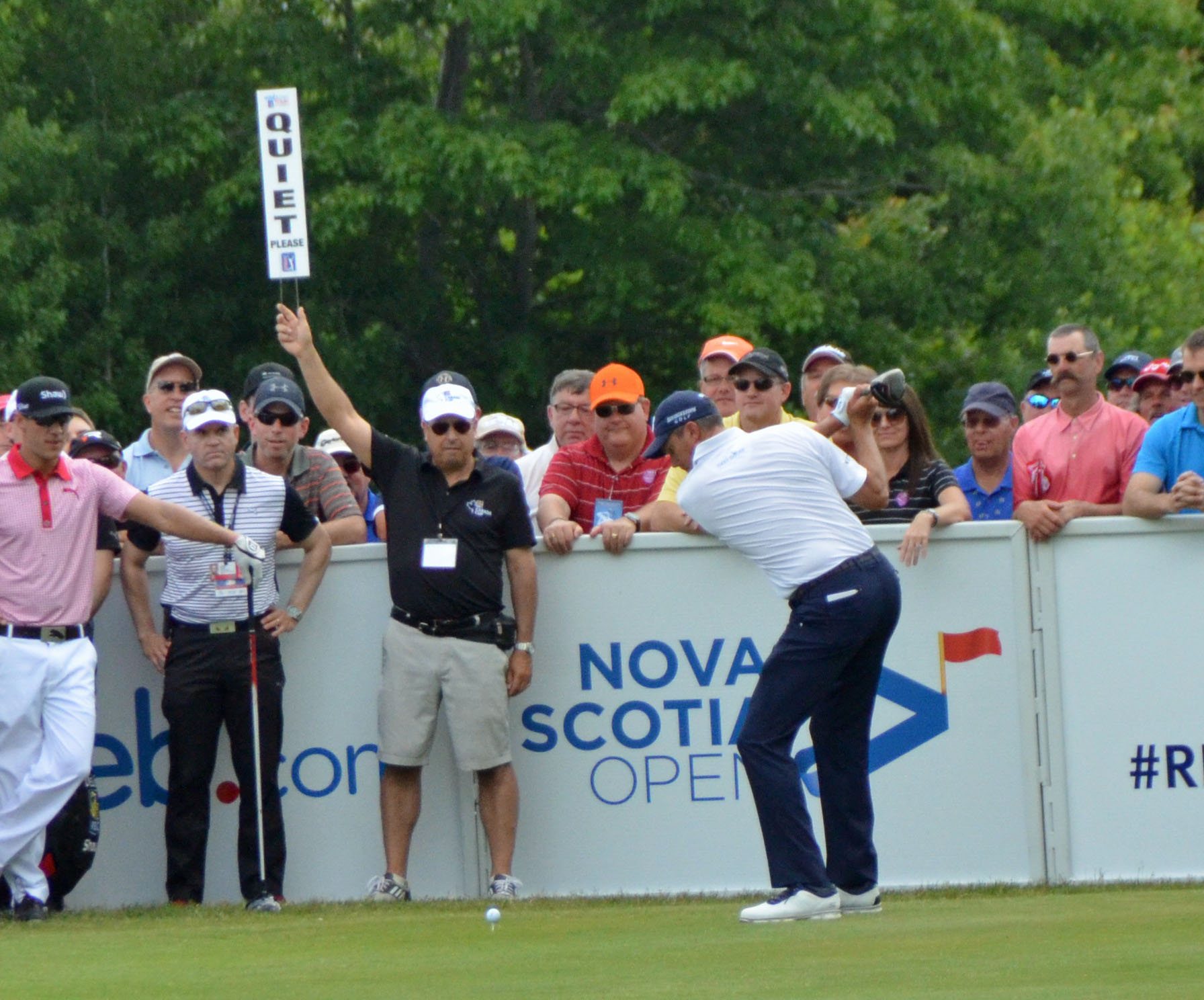 It was a fabulous afternoon at the RBC Canada Cup with the weather fully co-operative, a large gallery and the course in great shape. I heard Immelman blaming his three putt on six on 'a very tricky green'. Trevor just think how they play for us mere mortals. The only bad news was the score. We got our asses kicked five and a half to a half.
Monday's event was the kickoff for a week of great golf at New Ashburn. The GOLFest Nova Scotia now moves on to feature the Nova Scotia Open, the only Canadian stop on the Web.Com tour. If you need any incentive to attend look at these names -former PGA champ Shaun Micheel, former British Open champ Todd Hamilton, 5 time winner Billy Mayfair, Len Mattiace the guy Mike Weir beat in a playoff to win the Masters, former Ryder Cup player Vaughan Taylor and Nova Scotia's own Eric Banks. I'll see you there.