Cabot Links – Canada's First True Links Course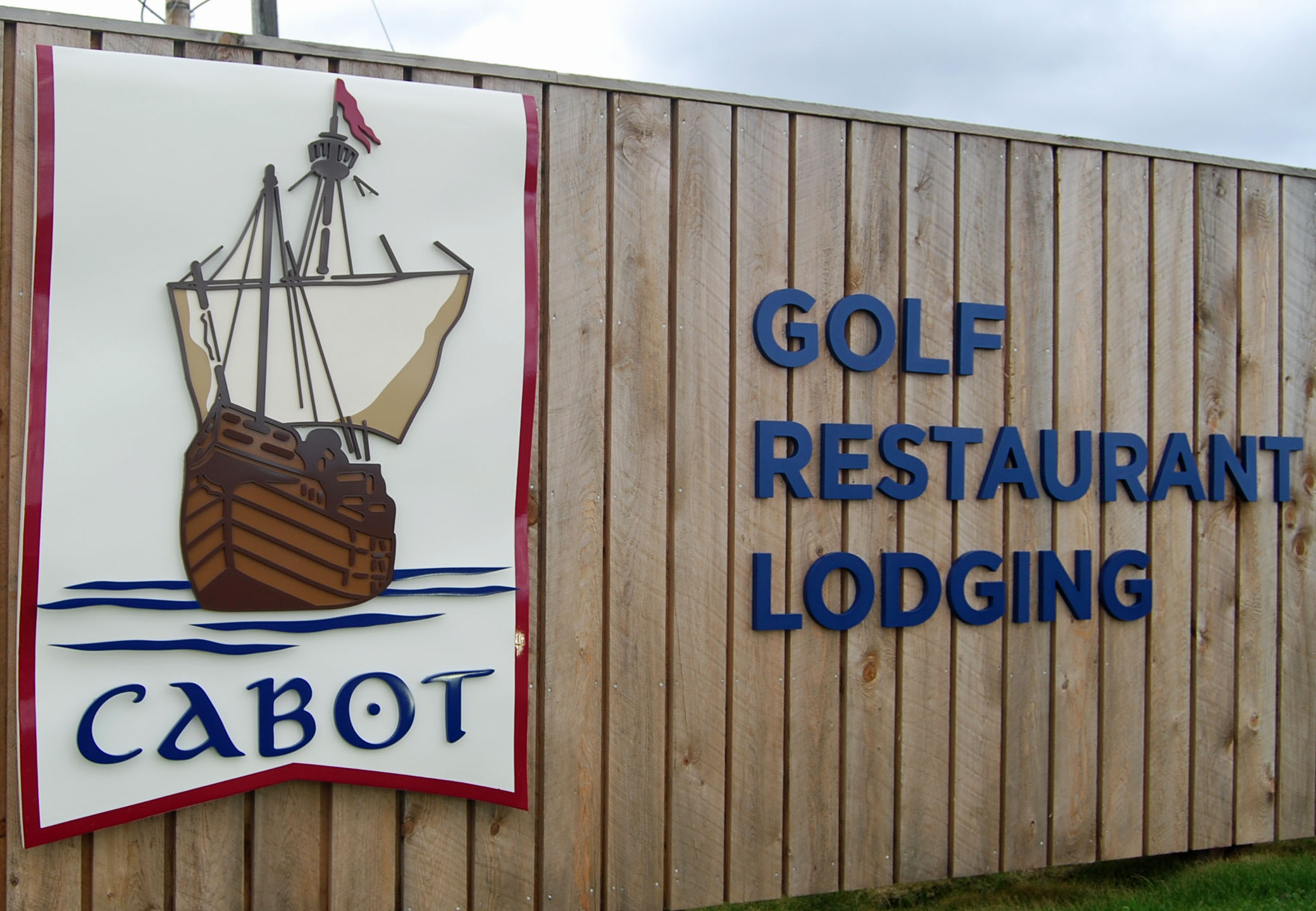 The story of Cabot Links resort and its two now world famous courses is amazing and one I first told in this post on the Cabot Cliffs course so I won't repeat it here. Suffice it to say that Cabot Cliffs is #1 in Canada and #11 in the world while its older brother, Cabot Links is #3 in Canada and #37 in the world. That's an incredible achievement by anyone's standards, especially considering that less than a decade ago neither of them existed other than as an idea inside the head of founder Ben Cowan-Dewar, a golf visionary if ever there was one. This is a photo I took of Ben on the 18th green at Cabot Links when I first played it in 2012 for a story in Saltscapes magazine.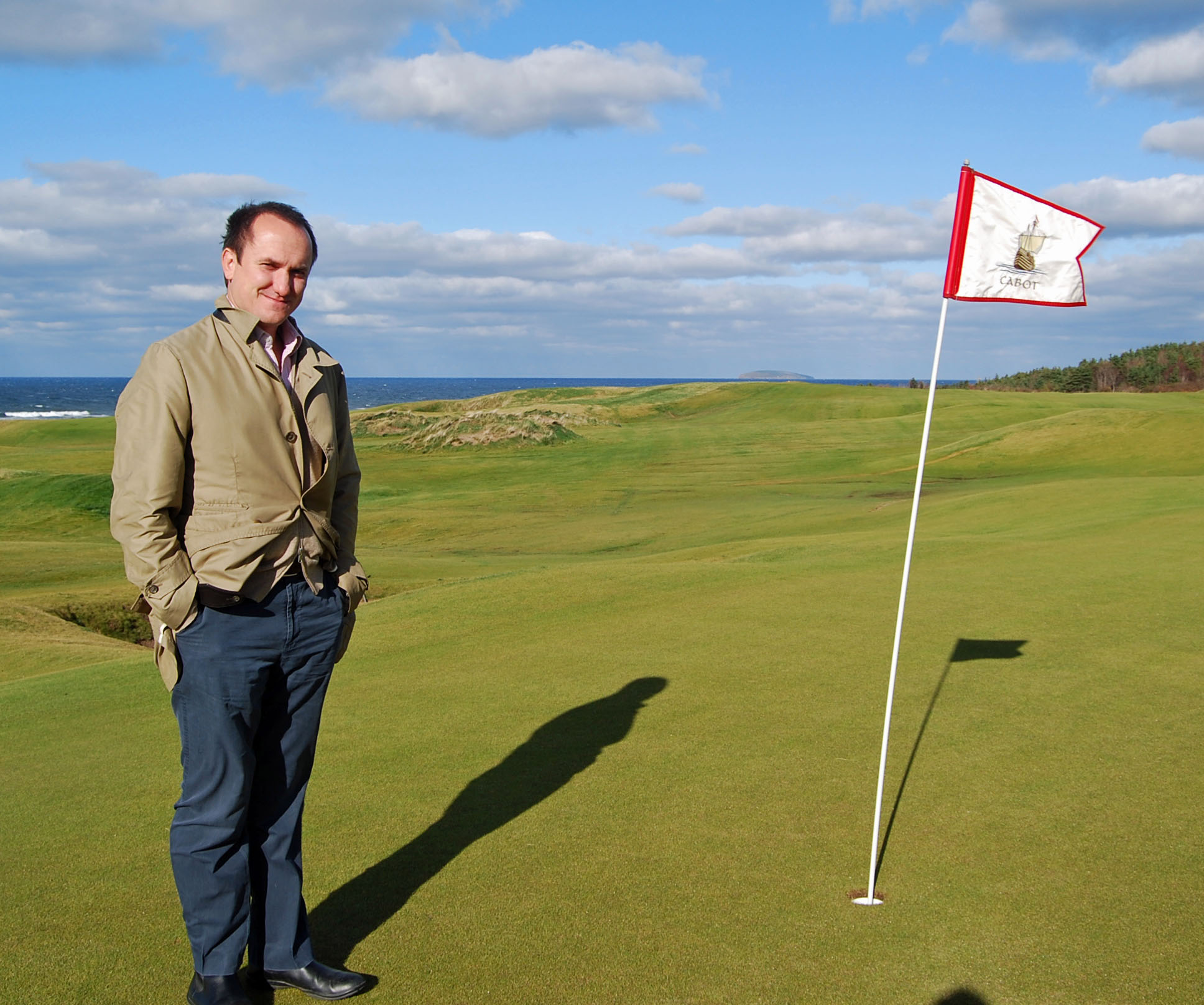 There are only 246 true links courses in the world out of a total of over 30,000 so they represent only a tiny fraction which makes them a huge draw to avid golfers like myself and a group of friends who are making it a mission to play as many as possible before we get planted. Follow this link from the Cabot Links website to get a description of what constitutes a links course and why they differ so dramatically from other courses, even those like Pebble Beach and Cabot Cliffs that have seaside locations. I have been fortunate enough to play many links courses in Scotland, Ireland, Wales and the United States including the superb Whistling Straits, one of the few links courses on fresh water. These have also included British Open venues at Muirfield, Carnoustie, Troon, Turnberry and Royal Portrush as well as the #1 rated course in the world Royal County Down and the course that Cabot Links is often compared to, Portmarnock.
I can say without reservation that Cabot Links can hold its own any of these with the possible exception of Royal County Down and Turnberry. It's just that good and for the rest of this post I'll try to explain why, on a hole by hole basis, this is a masterpiece from Canadian golf architect Rod Whitman.
One of the other distinguishing features of most links courses is that they are walking courses which means that if you really want to enjoy it you play with a caddie. On my most recent visit on the Labour Day weekend of 2020 with Alison and our daughter Lenore we had the pleasure of having Archie Macdonnell as our caddie. We used pull carts so he didn't have to carry our bags, but he was an invaluable guide to the course and as with most senior caddies, a great raconteur with stories about notable guests such as Adam Scott and Jerry Seinfeld. I highly recommend Archie when the course reopens for play once again in 2021.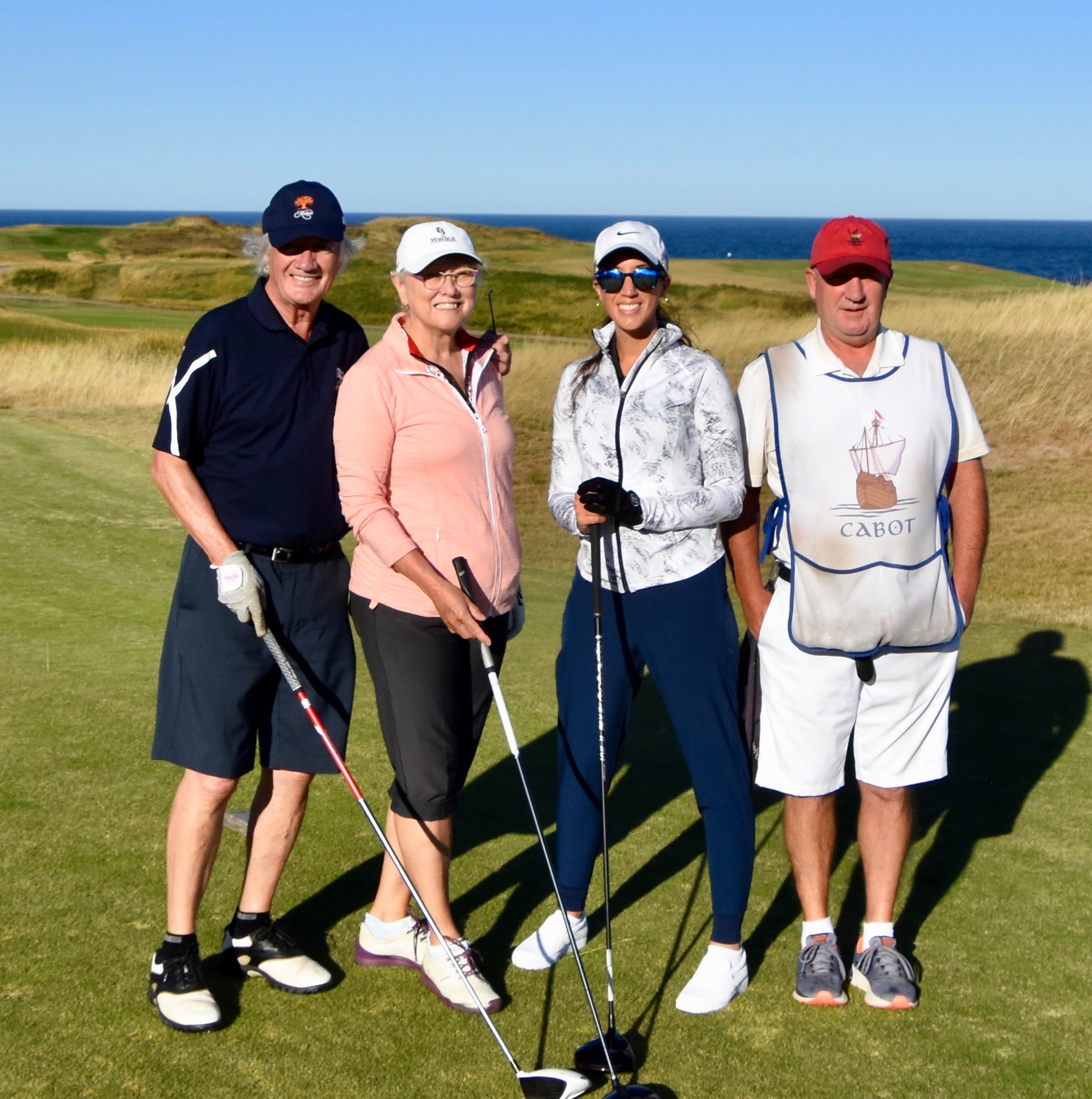 As I noted in my updated post on Cabot Cliffs the Covid-19 pandemic has played havoc with the resort and it will be closing at the end of September for the 2020 season. However, for those who did get to Cabot this season it was like having the place to yourselves and our day at Cabot Links was just that. We were the second group out with no one behind us so we had plenty of time for picture taking and listening to Archie's stories. It also happened to be a beautiful late summer day. So without further ado, let's play Cabot Links.
Cabot Links # 1 – 515 Yard Par Five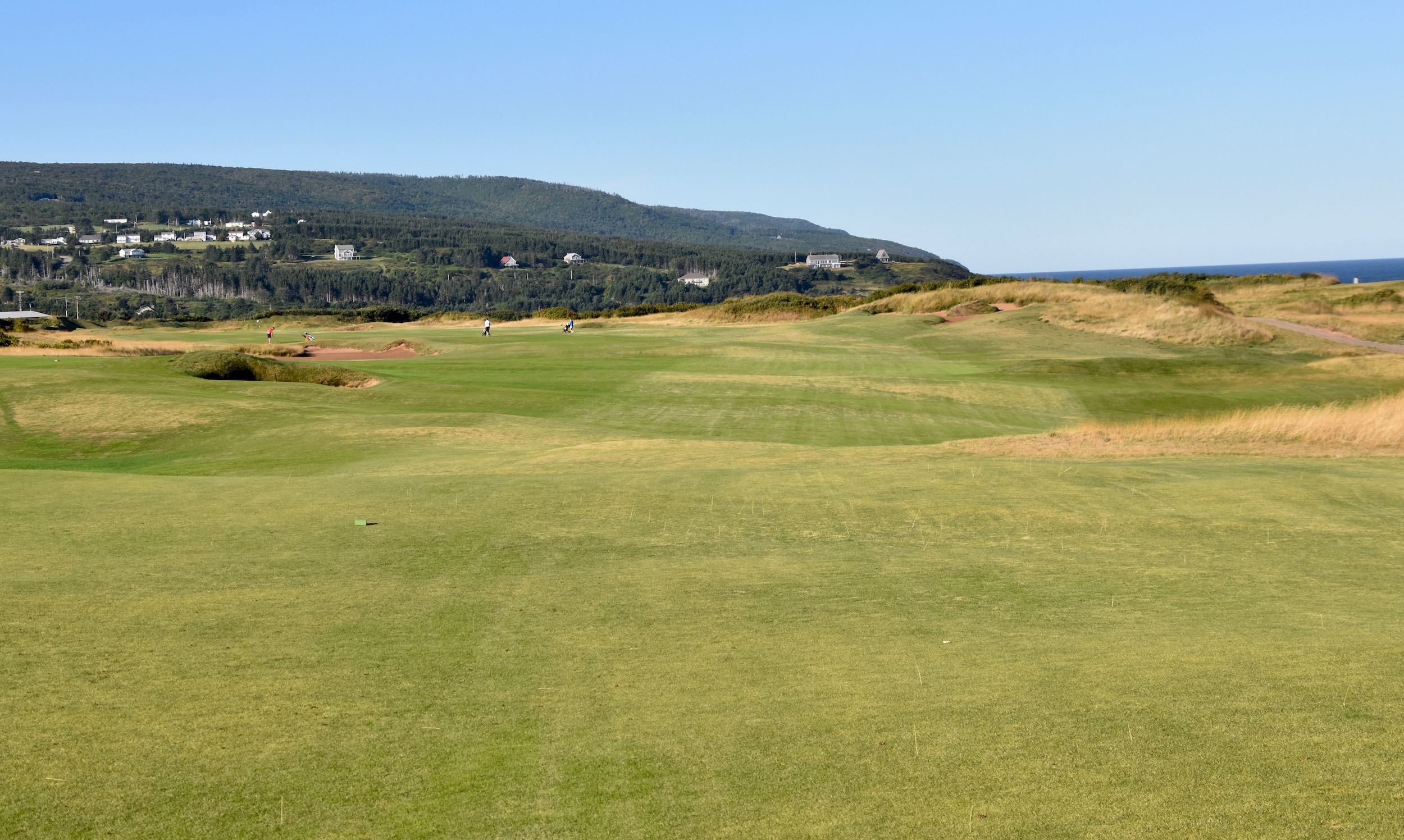 I am playing from the silver tees which is a reasonable 6020 yards. The first hole has a typical wide fairway with many undulations. There are traps to both sides which should be easy to avoid. Despite being an extremely dry summer the fairways are in quite nice condition and far less burnt than many courses I have played this year. Also, because these are seaside courses you are never going to get the deep green look that some inland courses achieve. In fact, I would say the Cabot Links fairways were greener than almost any links courses I have played.
Despite being the #7 handicap hole, this is actually a very fair starting hole that requires a decent drive followed by maybe a five wood and then a wedge. We are fortunate that the wind, while definitely a factor, is not really howling as it often is on links courses.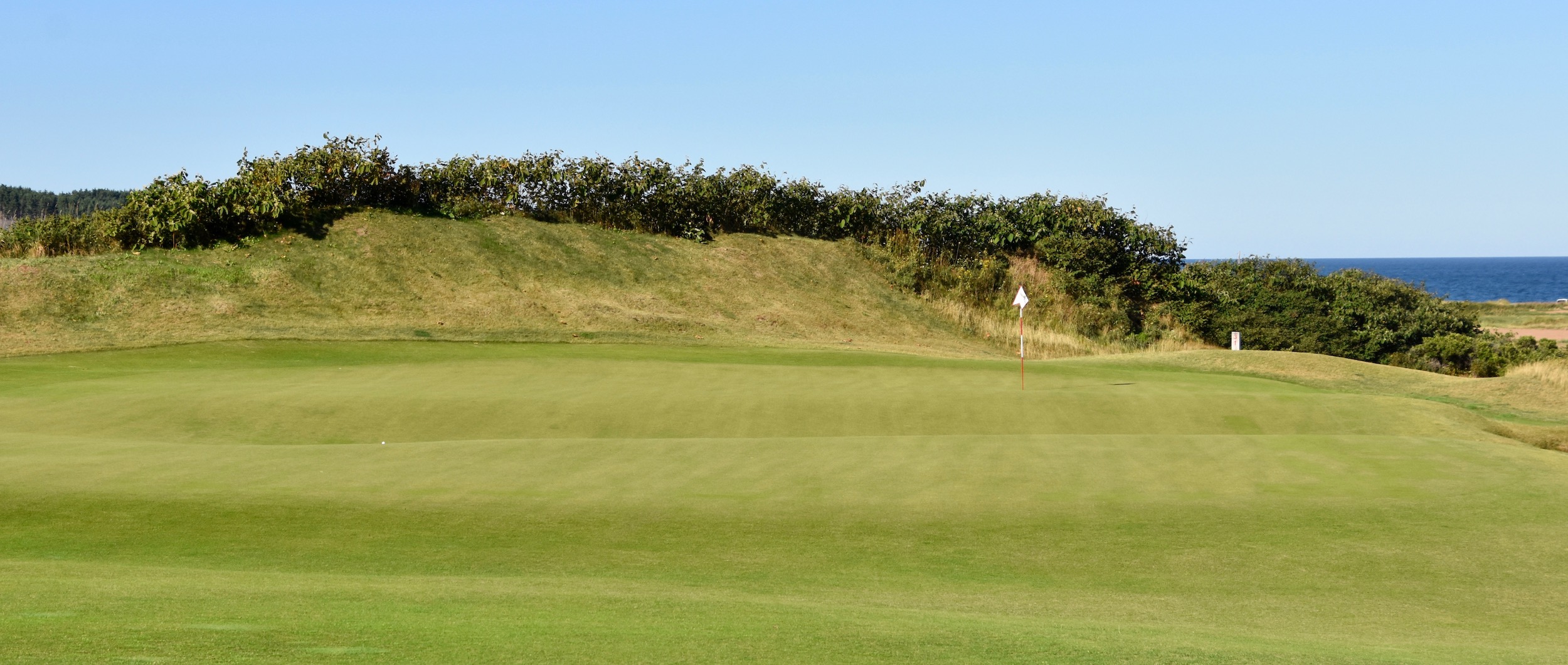 A few things about the greens on links courses that become apparent right on the first one. They are usually huge, have tremendous undulation and the transition form fairway to green is very subtle. You won't find any collars here. This green has a Biarritz type valley in the middle. In terms of speed they are quite fast, but not frighteningly so. With the aid of Archie we had a much better day on the greens here than at Cabot Cliffs. Finally, as you would expect on a course of this quality they are in excellent condition with no burn spots.
This photo also reveals another characteristic about many links courses – they are made for the bump and run game and no hole illustrates it better than the first at Cabot Links. All in all a very good starting hole.
No. 2 – 222 Yard Par Three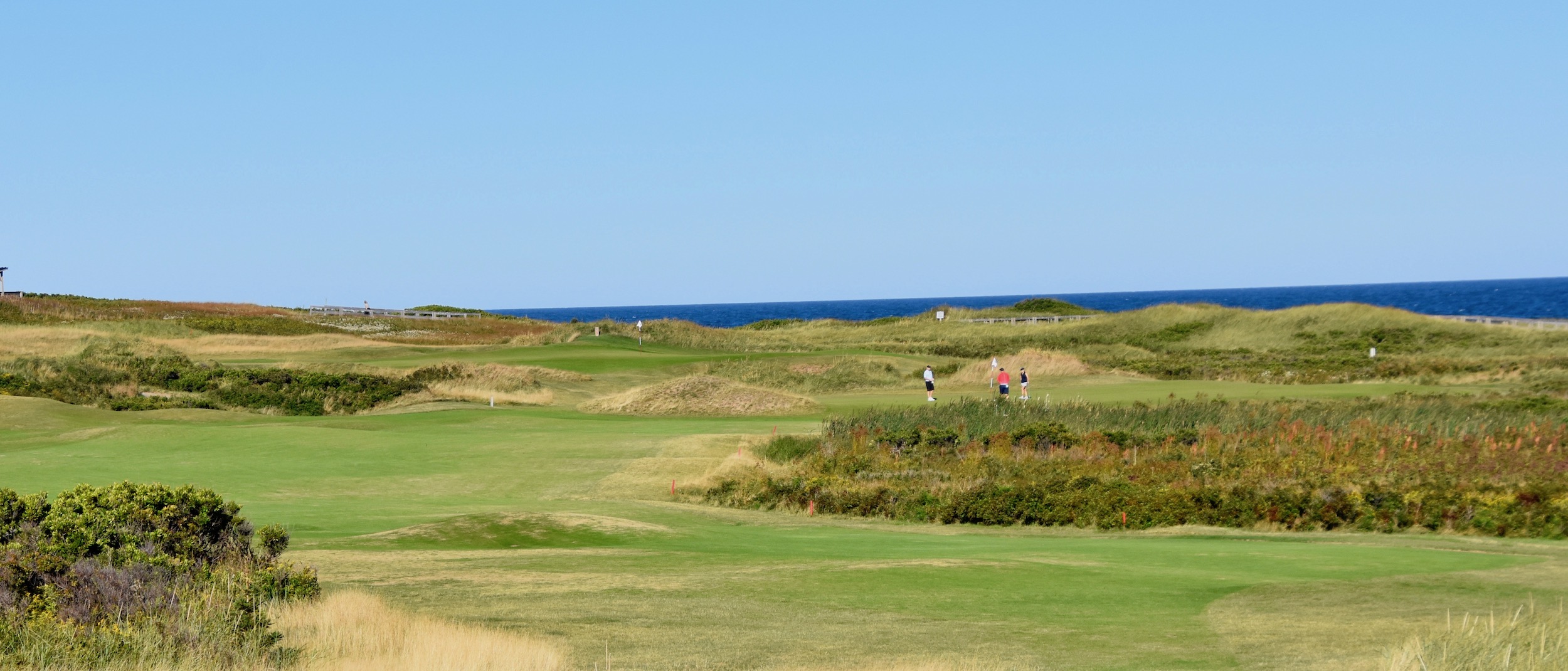 No that's not a misprint. This hole really is 222 yards from the silver tees and as you can see there is a significant carry over the heathland. Right handers might be able to play along the left edge of this and get close, but for lefties like me, this hole is a nightmare. I admit I play a short iron off the tee straight towards the mound to the left of the green and then hope to hit my second shot close enough for a shot at par. That is made problematic if you get on the wrong side of the Biarritz swale that is also a feature of this green. Somehow this is rated as an easier hole than #1 which I have to disagree with. Four is a very acceptable score here.
Cabot Links #3 – 290 Yard Par Four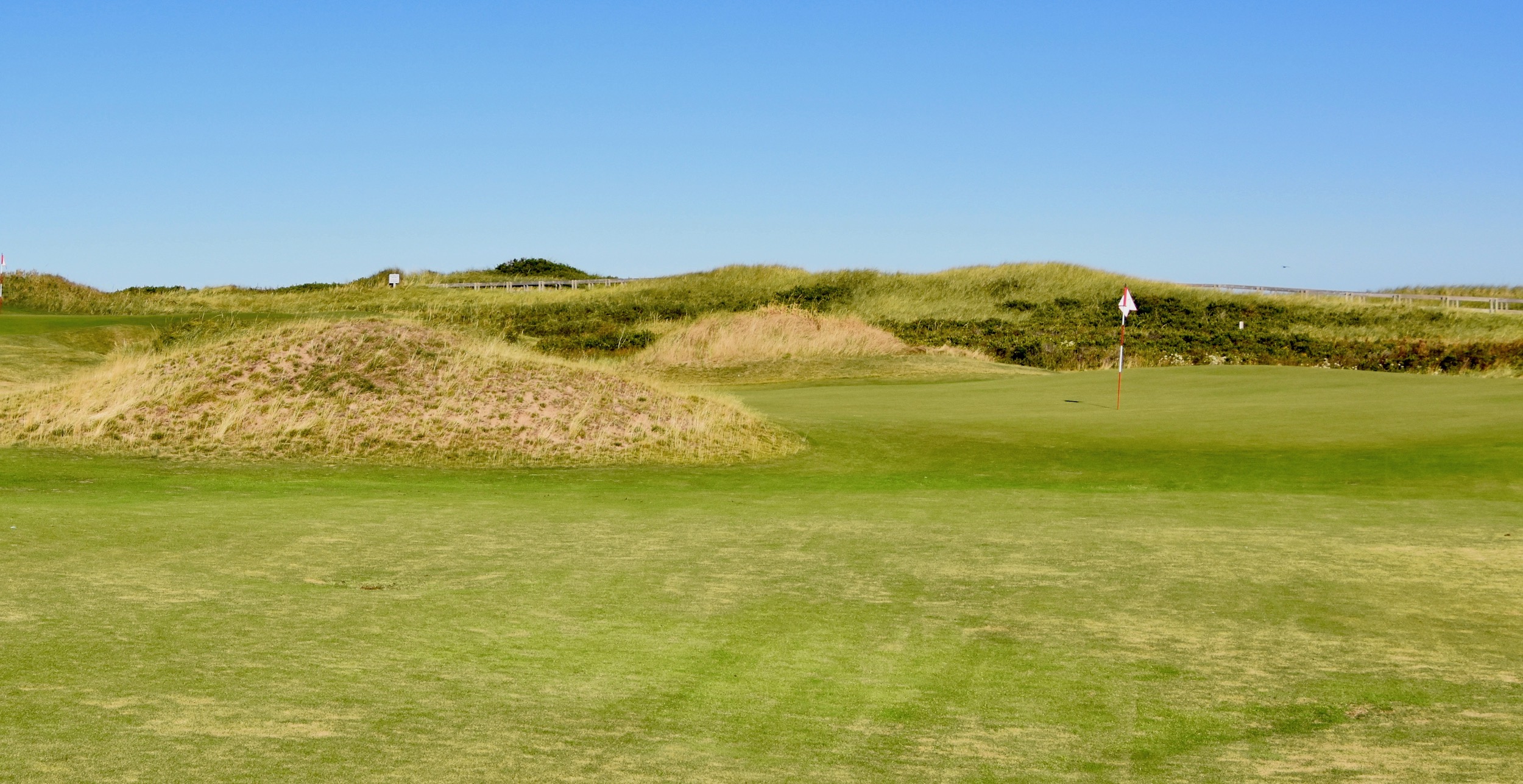 Rod relents after that torturous par three and serves up a soft ball in this very short par four with a much smaller green than most at Cabot Links. Depending on the wind, even average drivers might find themselves with nothing more than this approach shot. Again, the bump and run is a definite option here or alternatively maybe even a putter.
#4 -405 Yard Par Four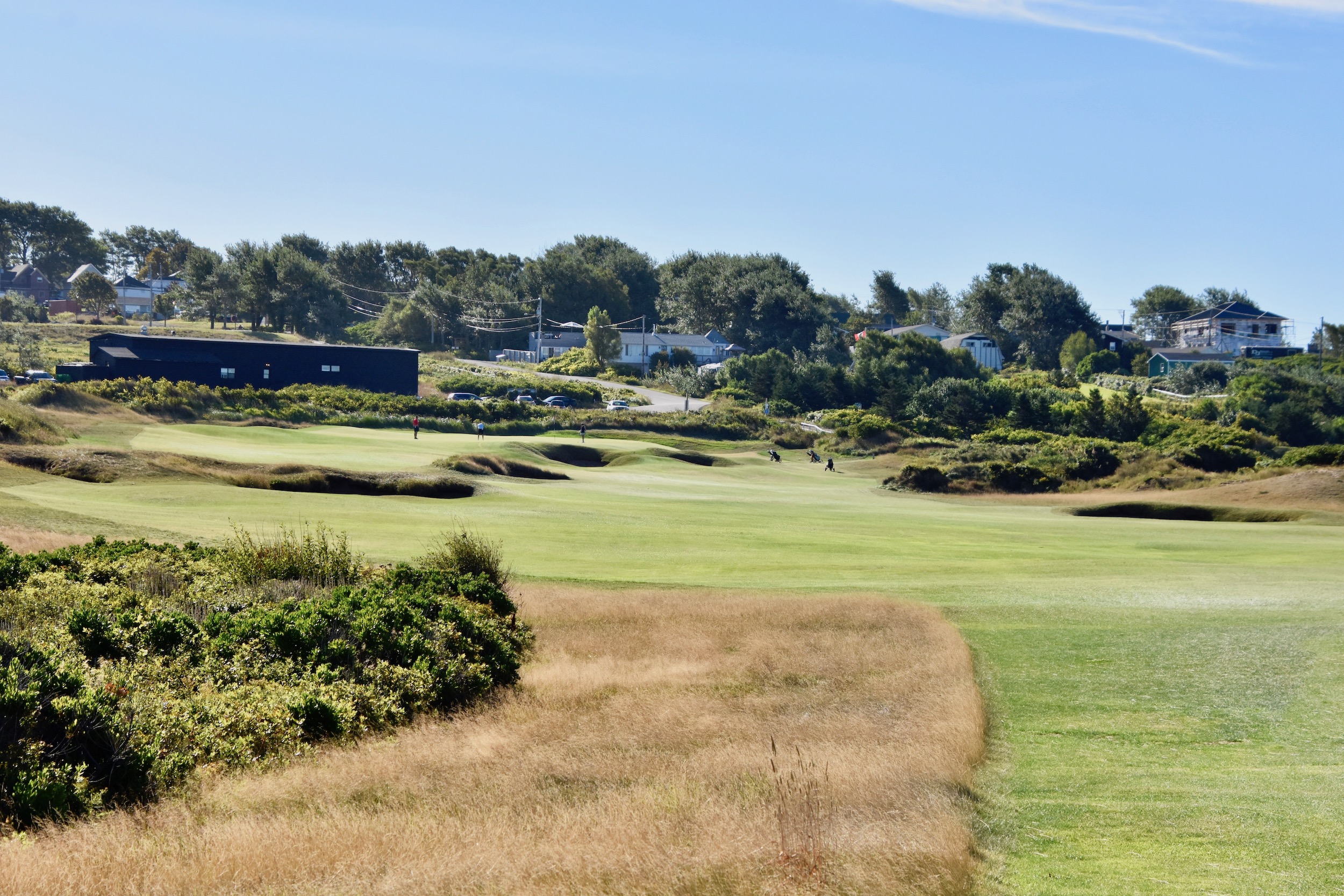 This fairly lengthy par four plays much longer than the yardage and is the first one where you must clear traps to get to the green. Chances are you'll be coming in with a much longer club than you will feel comfortable with. The saving grace is that the fairway is incredibly generous and this is the place to grip it and rip it. It is one of the few holes at Cabot Links that does not have a great background behind the green, but that's about to be remedied in spades.
Cabot Links #5 – 168 Yard Par Three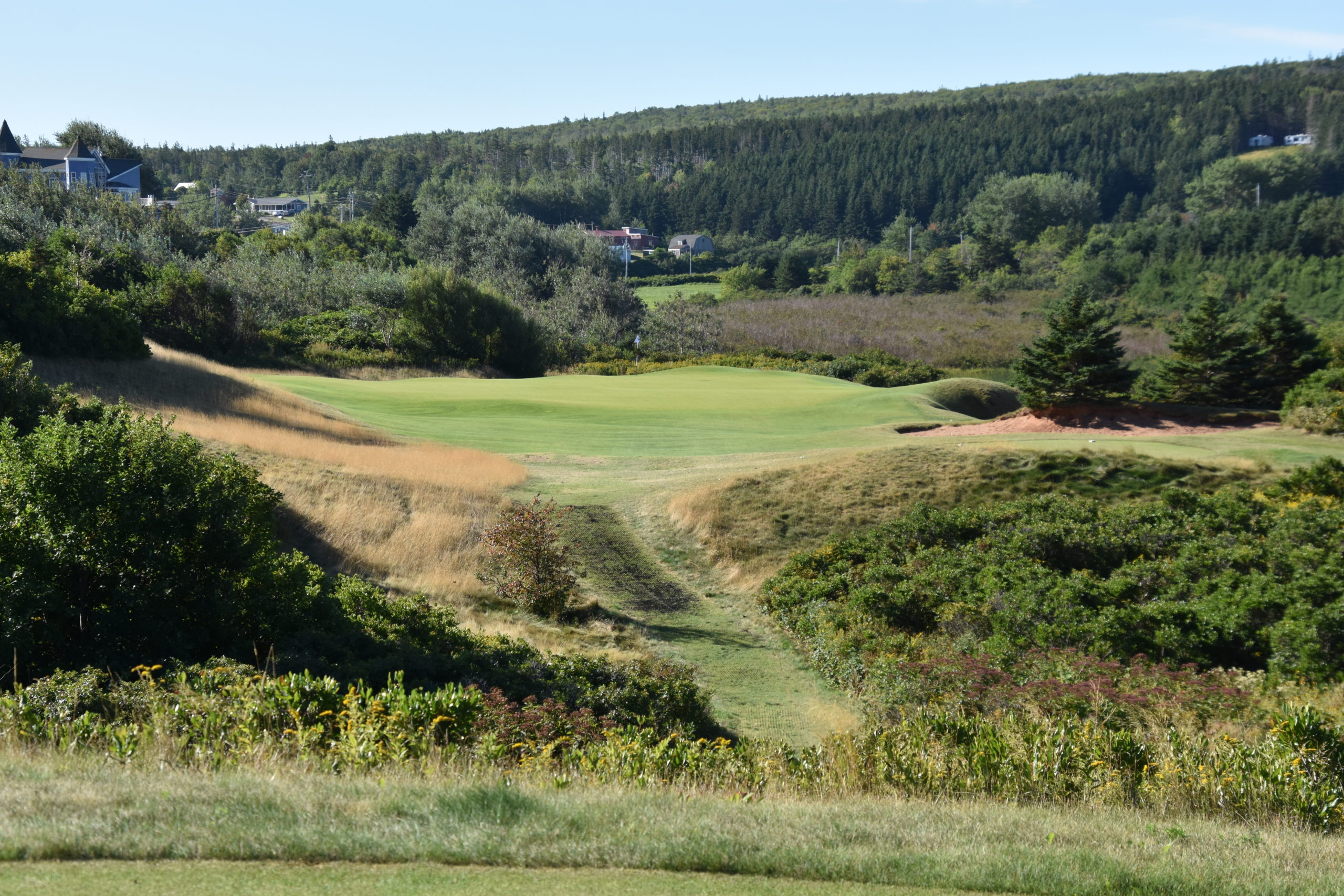 This a gorgeous downhill par three that has trouble in front, back and on both sides so the only option is to man up and hit it straight. Depending on the club you choose you can either land short and roll on or come in high and try to stick it. If you do hit it left you can also get lucky and get a kick off the hill toward the green. I'm told that some regular golfers do that on purpose, but if you go too far left you are dead.
#6 – 434 Yard Par Four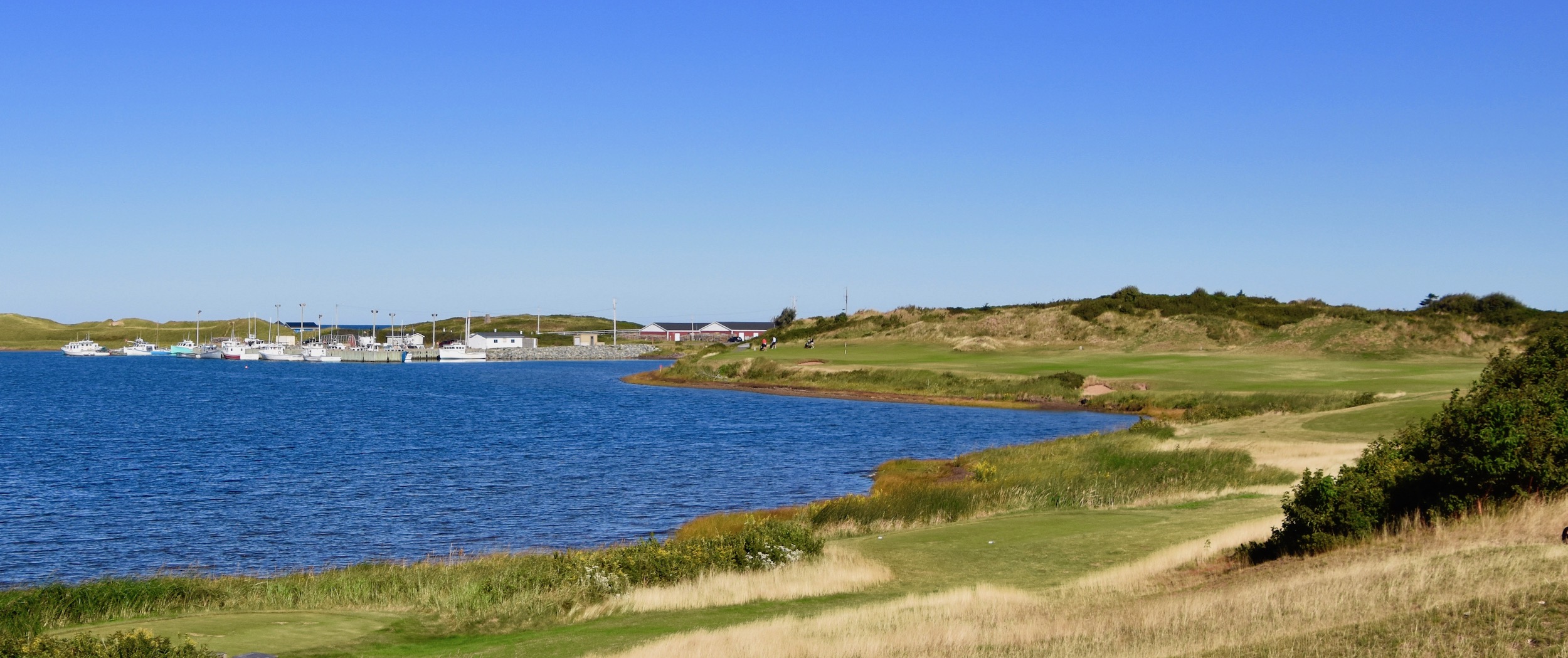 We now come to what I consider to be the signature hole at Cabot Links. I am unaware of any hole in golf anywhere that has the combination of a beautiful Cape hole design with the panorama of the fishing boats in the background. Standing on the tee on #6 gives you one of the most exhilarating moments in golf. After tearing your eyes away from its sheer splendour you then have to decide how much if any of the water you might want to try to cross. That is the essence of a Cape hole with #18 at Pebble Beach being perhaps the most famous example.
As a leftie I have the luxury of having a ball flight that naturally tracks the sea curve from right to left so I don't need to aim over the water. For most golfers though that is not a realistic option and decisions have to be made. One saving grace is that if you do nail your drive, you get a lot of roll on this hole and despite its length it is reachable in two for many golfers. The infinity green with just water and boats in the background is one of the nicest in the game.
#6 at Cabot Links provides conclusive proof that there is much more to golf than just trying to get a little ball to go into a hole. You might take a ten on this hole and still be happy with the experience.
Cabot Links #7 – 140 Yard Par Three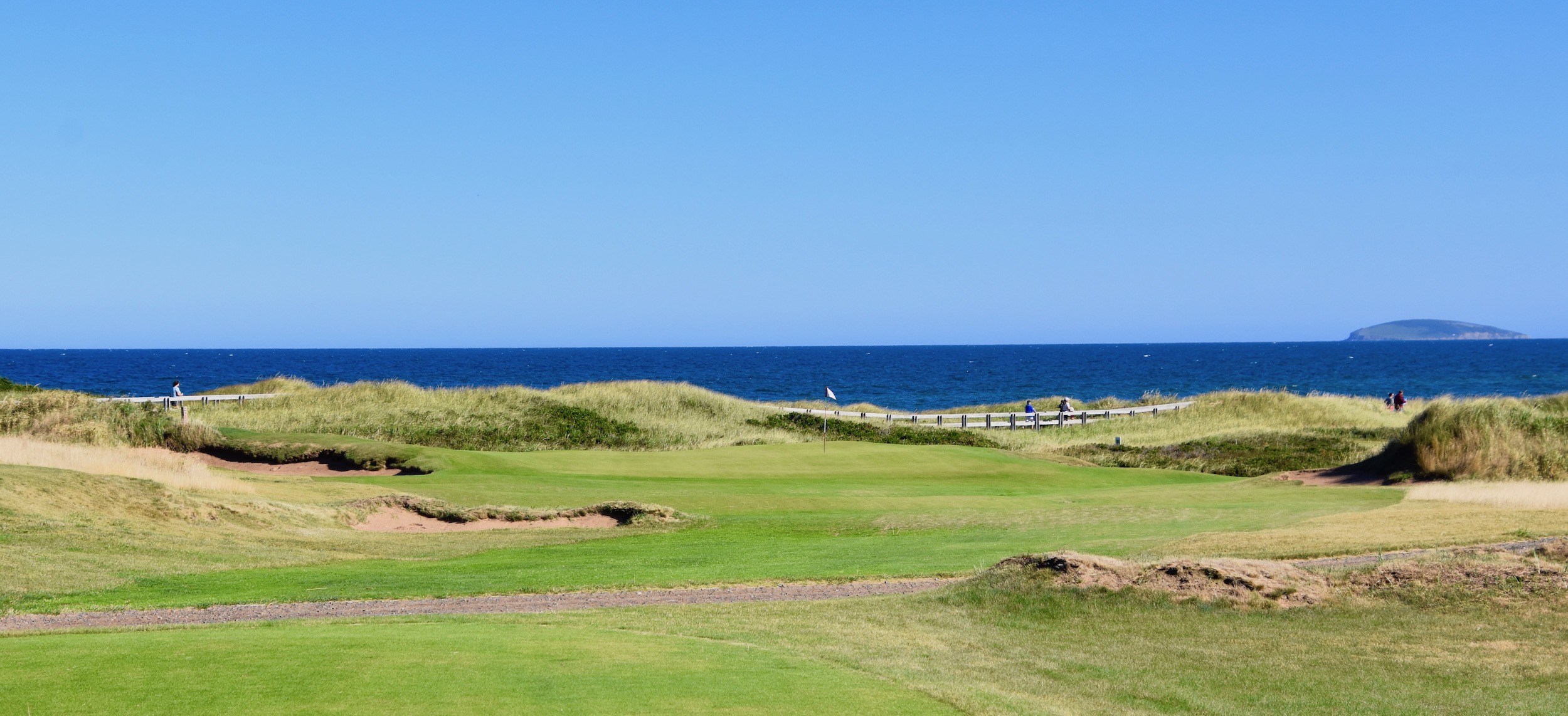 The third par three on the front offers the first views of Margaree Island in the background and the boardwalk that flanks the seaside holes at Cabot Links. The resort has gone to great lengths to ensure that everybody has access to the beach and that the golf course does not interfere with those who prefer their walk without a club in their hands, a la Mark Twain. This is consistent with links golf courses where you often see great numbers of people enjoying the beach with golfers enjoying their game only yards away. The holes have been constructed so that there is little likelihood of any person on the boardwalk or beach being hit by an errant shot.
While this hole looks fairly benign, the crosswinds that usually blow here mean that you can't go anywhere near the flag off the tee, but must take the wind into account and possibly flirt with the traps on each side of the green. Do that successfully and par is quite likely the reward or maybe even a birdie.
#8 – 515 Yard Par Five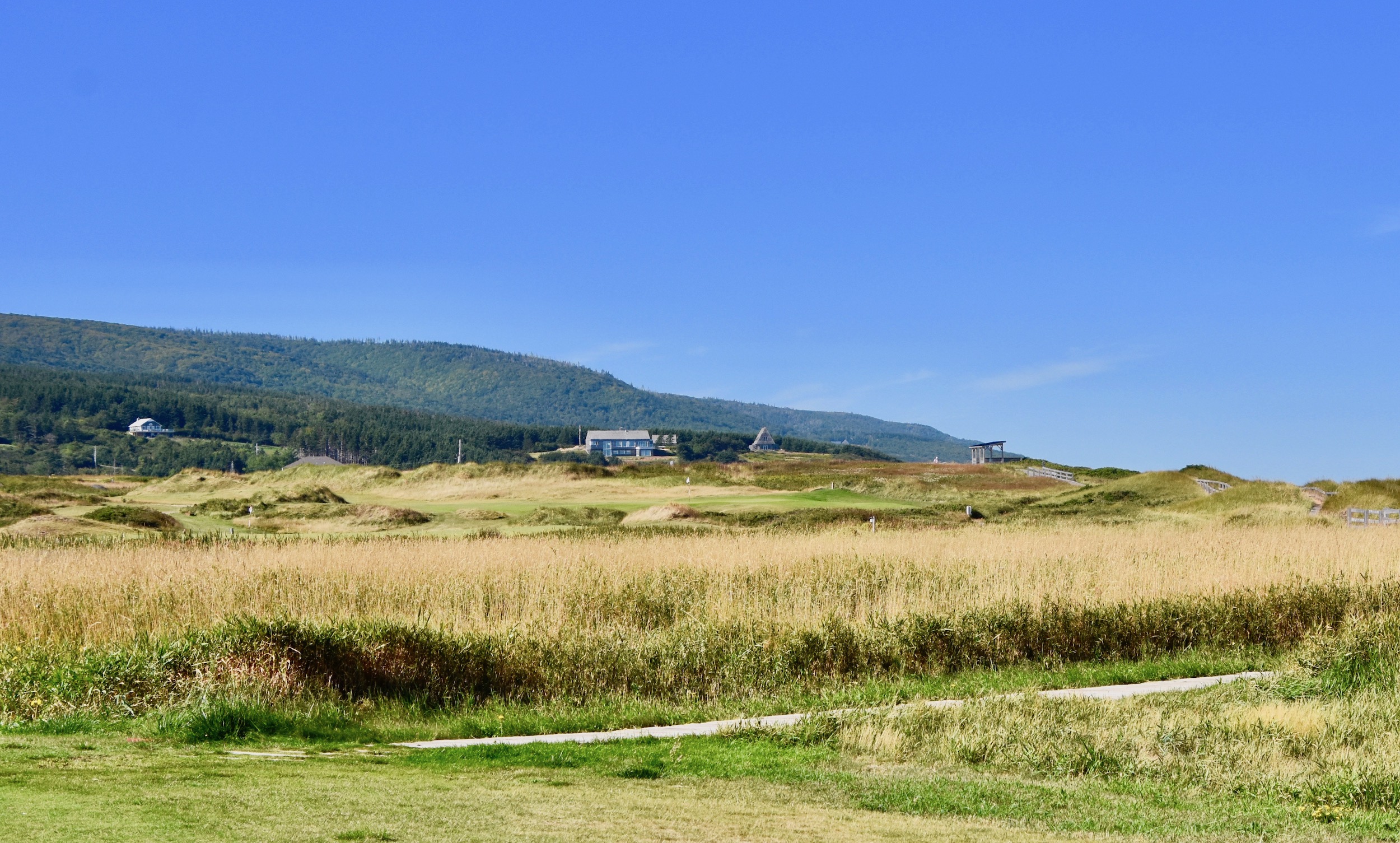 Yesterday we encountered some ferocious carries at Cabot Cliffs and today is not much better. So far no worries except on #2 until you come to the 8th tee box. Without a caddie you would have no idea how long this carry is. When you do find out you definitely need a gut check. I have to confess that I have never made this carry which requires a drive much more to the right than you would think. With my right to left ball flight enhanced by the wind I've been a goner every time.
This is the view from the women's tee which is on the other side of the native grass and about where you would hope to be if you made the carry. This hole is no bargain from here either as this mound which is much higher than it looks in the photo, needs to be cleared to get a look at the green on the third shot. There are some of the most severe traps on the course lurking for any deviation right or left.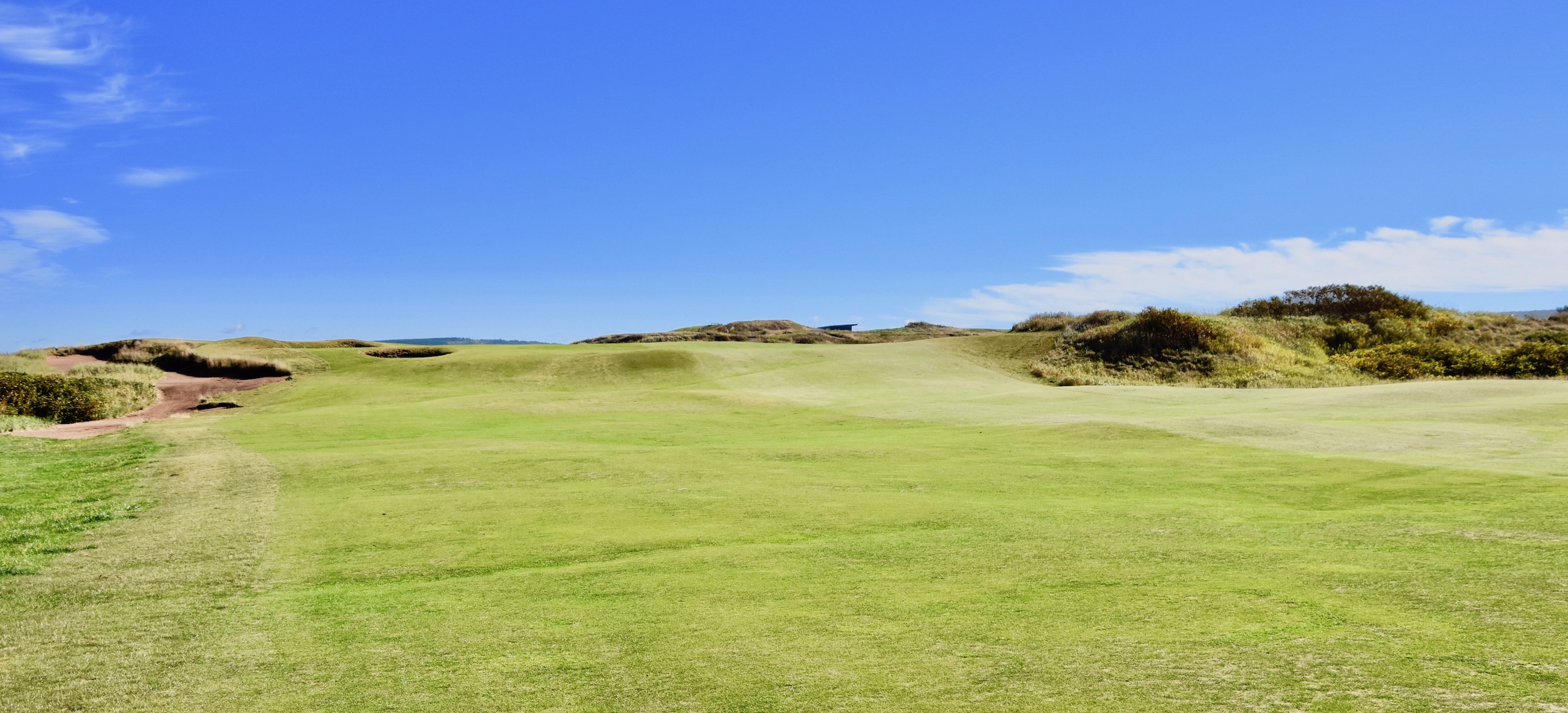 The green at #8 is a massive double which it shares with #13. You can end up with a 100 foot putt here quite easily. Somehow this hole is ranked as being easier than #1 which I would sincerely doubt that most people would agree. For the ordinary golfer this is a tough test.
Cabot Links #9 – 320 Yard Par 4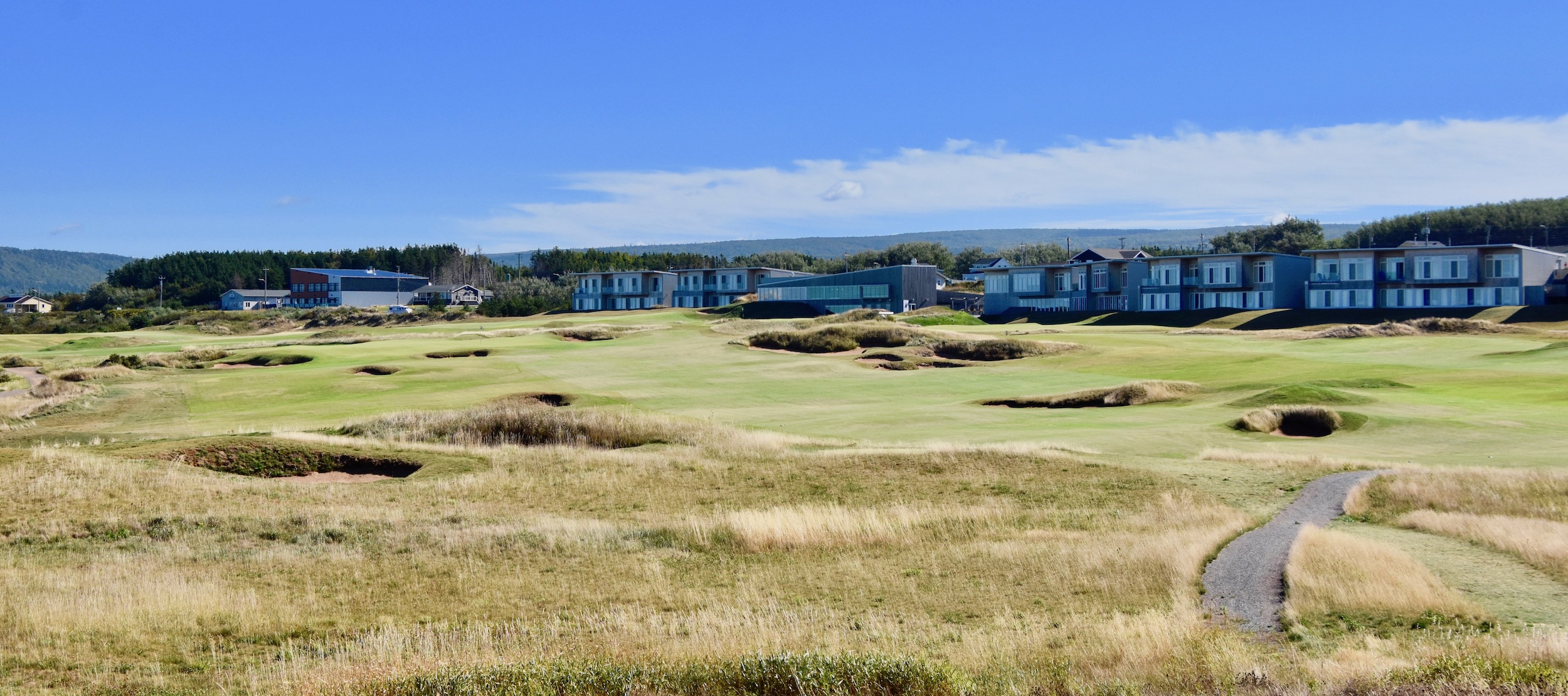 This hole provides probably the best view of the resort accommodations and their award winning design that blends very well into the overall landscape. On the far left you can see the newly opened gastropub Route 19 which I highly recommend visiting during your stay in Inverness. Their 19th Hole Pale Ale is a refreshingly light ale without the inherent watery weakness of a Coor's or Bud Lite.
After checking out the architecture you might think Rod Whitman took a giant salt shaker and used it to sprinkle tiny traps throughout this hole. The chances of landing in one are probably better here than any other hole on the course. The solution is to take advantage of the hole's shortness and take a club that's not going to roll forever and try to hit the landing area suggested by your caddie. Do that and par is very possible on this easiest hole on the front nine.
#10 – 325 Yard Par Four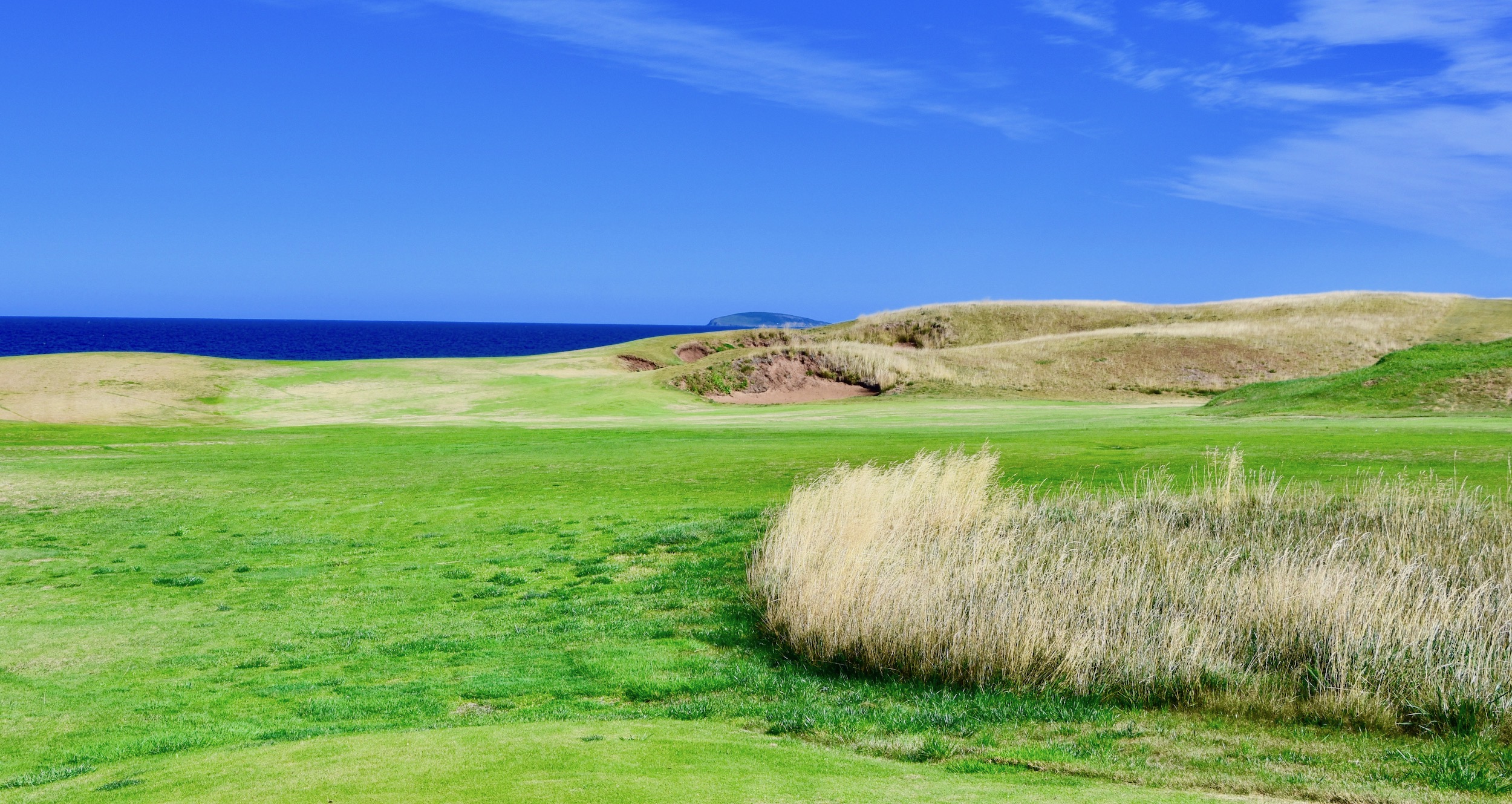 Another tradition of links courses is that they usually go out for nine and then come back i.e. no clubhouse stop after nine. At Cabot Links that's not quite the case, but the 10th hole, which plays along the Gulf of St. Lawrence is separated from the clubhouse by a fair distance. It is another short par four with one of the few blind shots at Cabot Links. This is definitely where hiring a caddie comes in handy. Standing on the tee box you would think that the drive should go over the bunkers and run to the left, but the opposite is the case. This hole also has an infinity green with Margaree Island as the backdrop.
Cabot Links #11 – 490 Yard Par Five

This is the hardest hole at Cabot Links and can play as long as 620 yards. Thank God they took mercy on ordinary mortals and shortened it to 490. This is another long carry, but unlike #8, at least you can see where you are going or at least trying to go. I am amazed at how many balls end up in that bunker just short of the fairway. You think you've hit a great drive that's going to make it only to hit the lip and fall back in. As Maxwell Smart would say, "Missed it by that much".
Even if you do make it, there is still a well placed and long second shot to accomplish before being able to get on in regulation with what should be a wedge. Anyone who pars #11 deserves bragging rights. It's one tough hole.
#12 – 410 Yard Par Four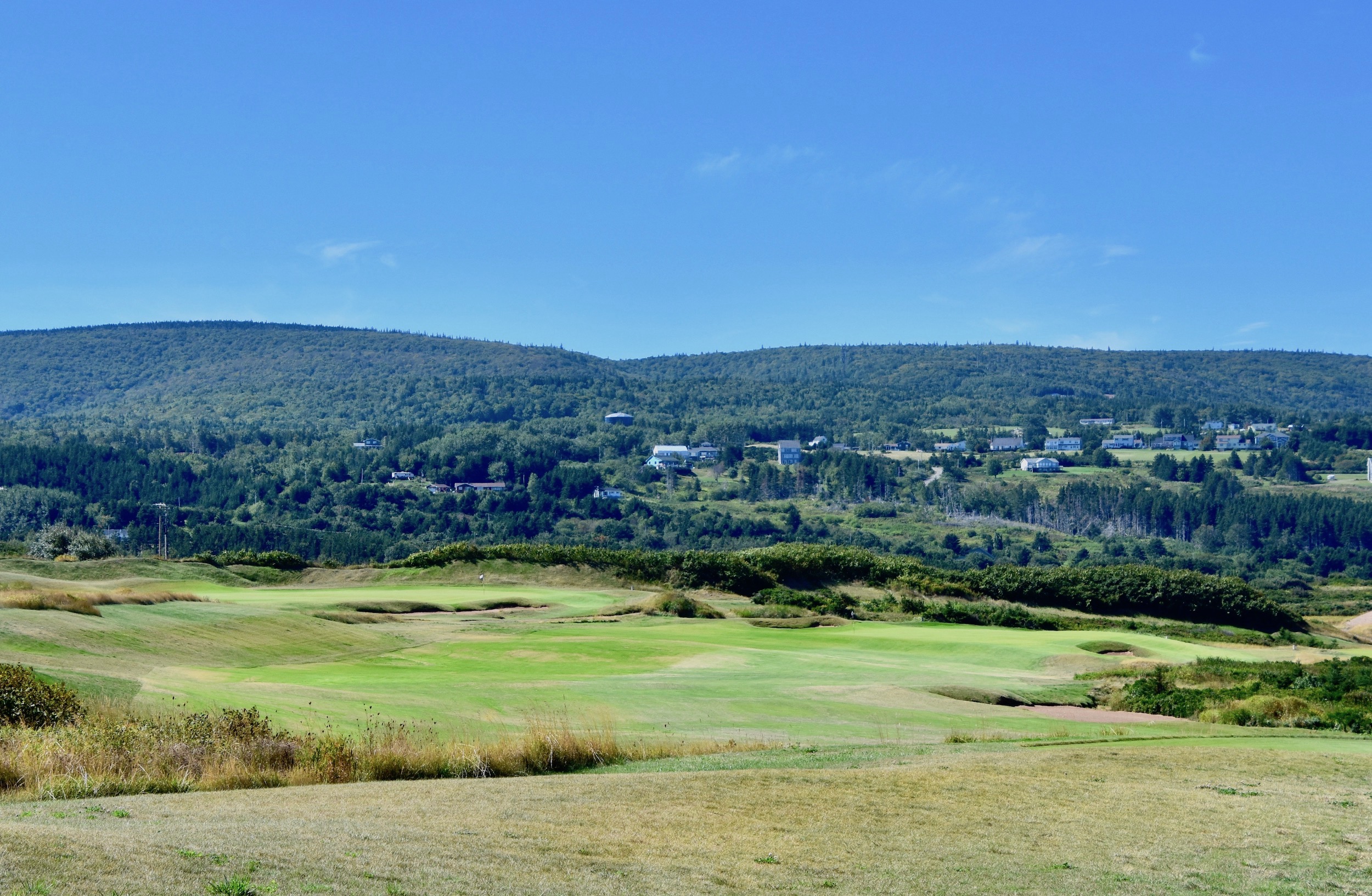 Things don't get any easier on this downhill par four into the prevailing wind which has a majestic left to right sweep to it. If your drive lands anywhere near to the trap on the right it's almost certainly going to end up in it. Don't ask me how I know this. Likewise the trap to the right of the green for your second shot. On this hole keep repeating to yourself "Stay left" and you might get by unscathed.
Cabot Links #13 – 405 Yard Par Four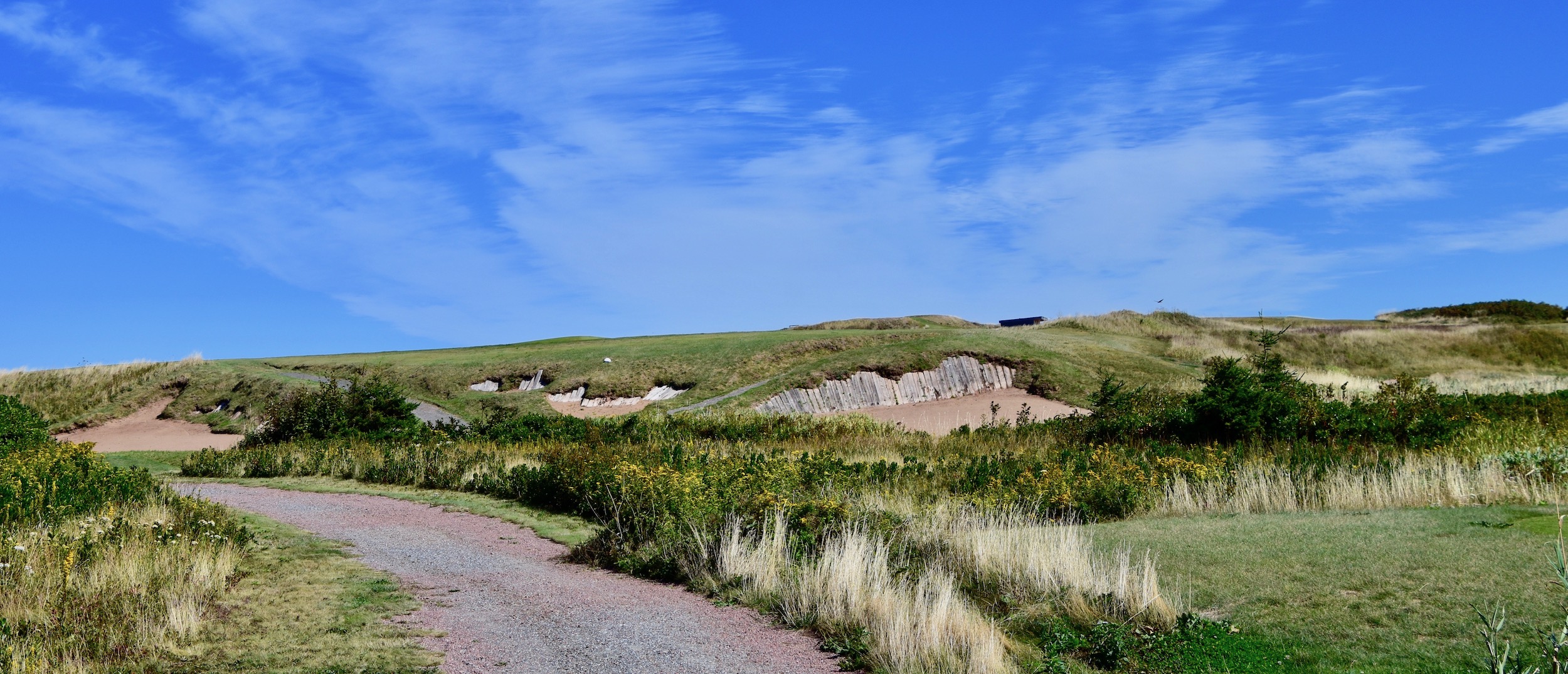 You might think Pete Dye had a hand in this hole and in fact Rod Whitman has worked with the late, great course architect in the past. This is the ultimate blind tee shot and without a caddie you wouldn't have a clue where to aim. See that tiny white dot over the middle bunker? That's a white stone marking the middle of the fairway, but you are unlikely to guess this on your own. The good news is the fairway is very generous, but the bad news is that unless you are down the right side this green is near impossible to stay on with a second shot. Frankly, most average golfers will not reach it in two and still be faced with a daunting wedge shot to this massive severely contoured green.
It's not too often that you can get a photo with three pins in it. In the middle is #13, to the left #8 and to the right #14 where we are headed next.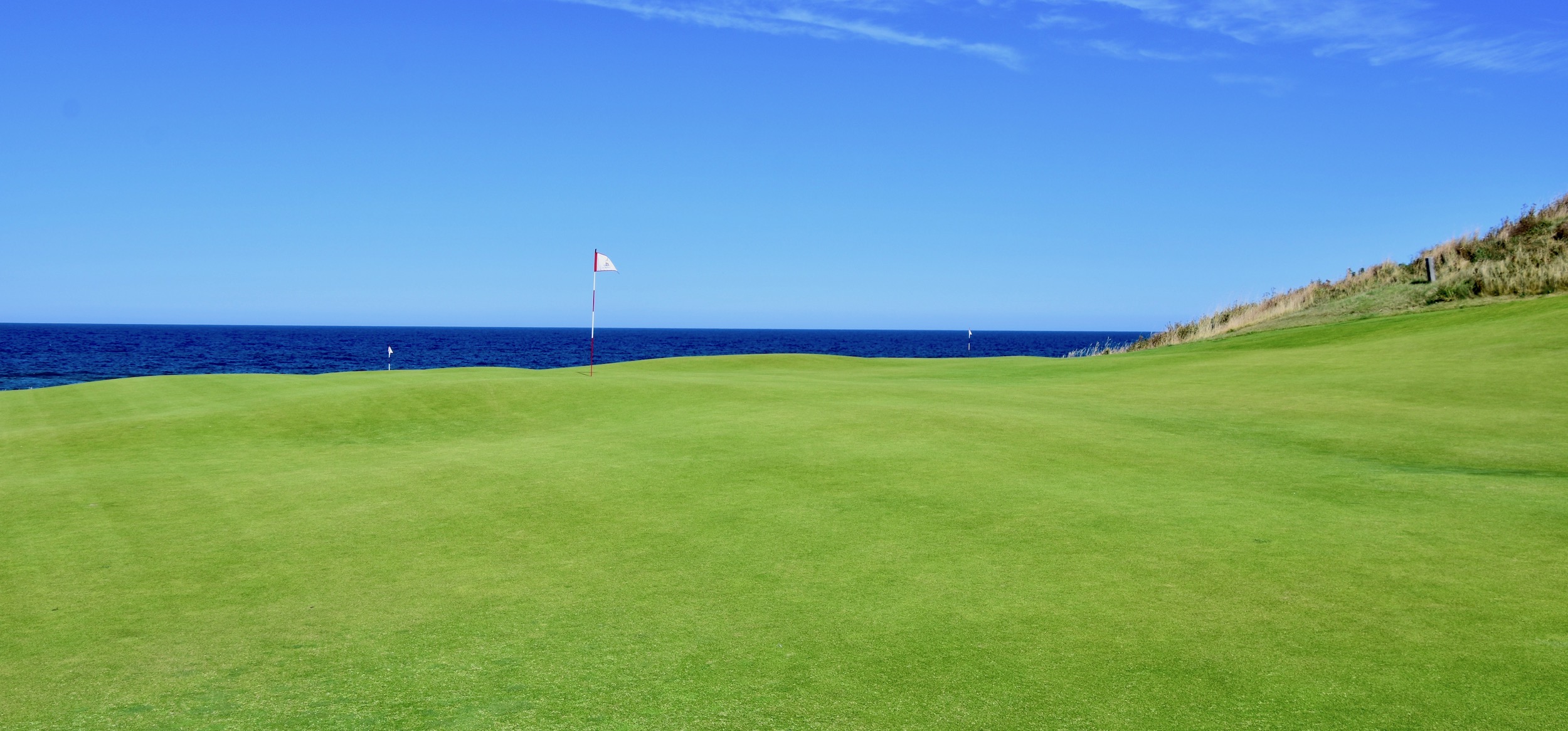 #14 – 92 Yard Par Three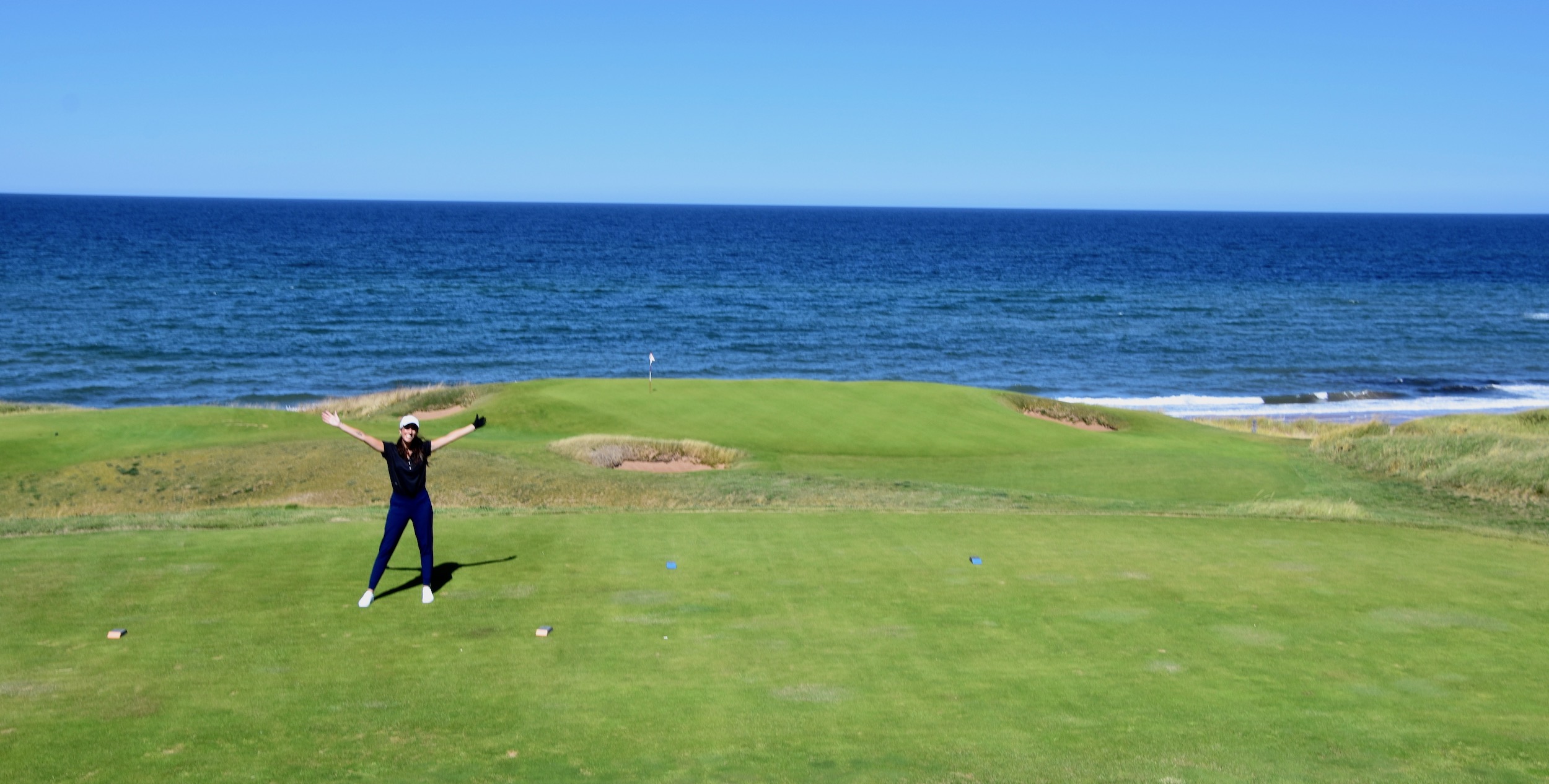 Yes you read that correctly. From the silver tees it's only 92 yards and on top of that it's all downhill. You might be reminded of another very short par three that also plays downhill with the ocean in the background – No. 7 at Pebble Beach which has also played as short as 92 yards during the 2010 U.S.Open. So if the tiny distance can be daunting for the best players in the world then you shouldn't get smug about this hole. If not for the 6th I would say this would be the signature hole at Cabot Links. It's the highest point on the course and the backdrop is phenomenal.
The trick here is of course choosing the right club taking into account the wind and the drop. It looks easy, but anything that's hit past the centre of the green or further is almost certainly going to roll off the back. Just a really fun hole to play and the best place on the course for a picture like the one above.
Cabot Links #15 – 381 Yard Par Four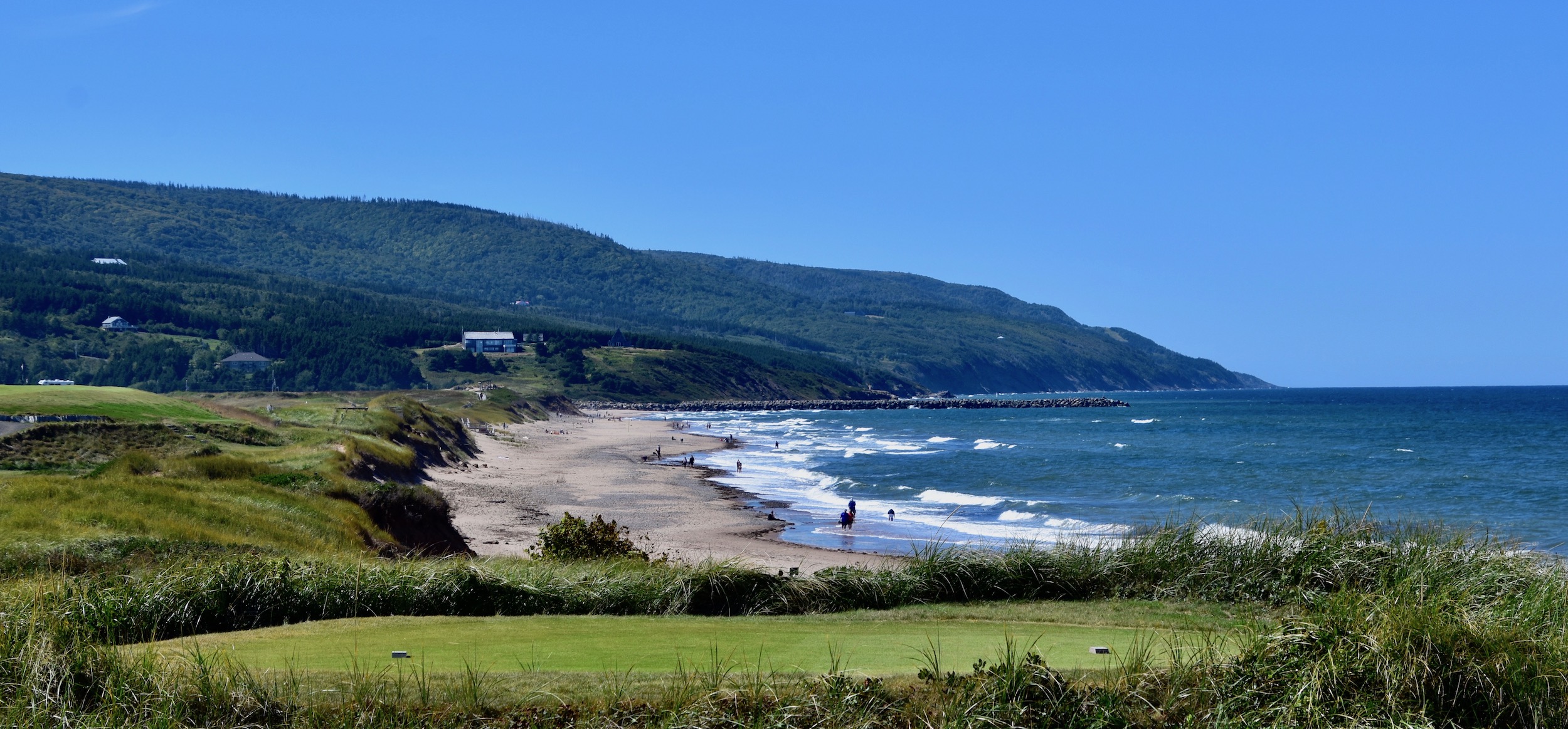 Above is what see if you look back from the green tee box on the 15th – Cape Breton at its finest. Below this is what you see from the silver tees. It is not a long carry to plenty of fairway, the problem is the second shot to one of the best protected greens on the course. Oh, and it's considerably uphill as well. Still it's another great hole on a course that has a ton of them.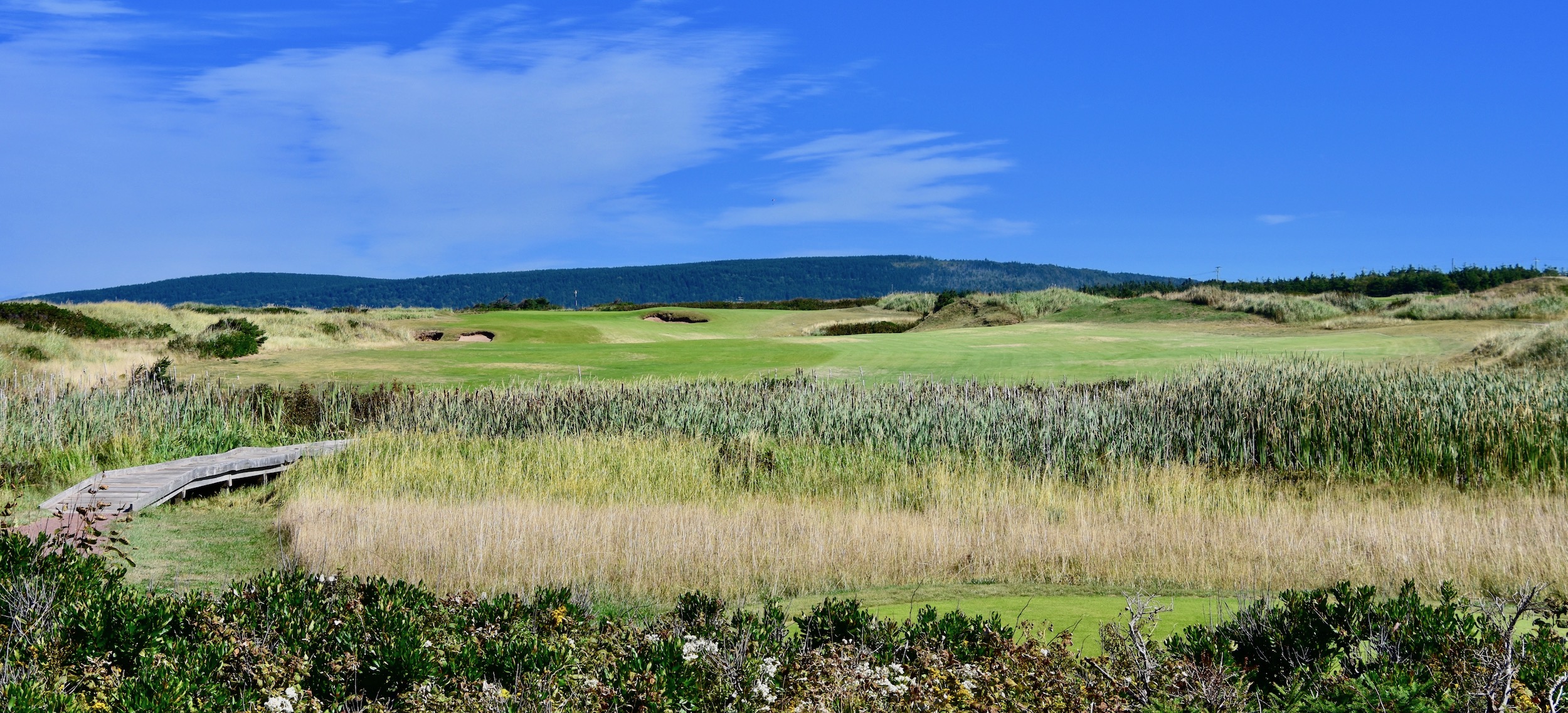 #16 – 388 Par Four
Somehow I completely forgot to take a picture of #16, the last hole that plays alongside the ocean and is one of the most scenic on the course. I tried to find a substitute on the web, but its more famous sister hole at Cabot Cliffs kept on coming up. Trust me, it is another great par four that plays downwind and has the closest view of Margaree Island of any hole on the course.
Cabot Links #17 – 128 Yard Par Three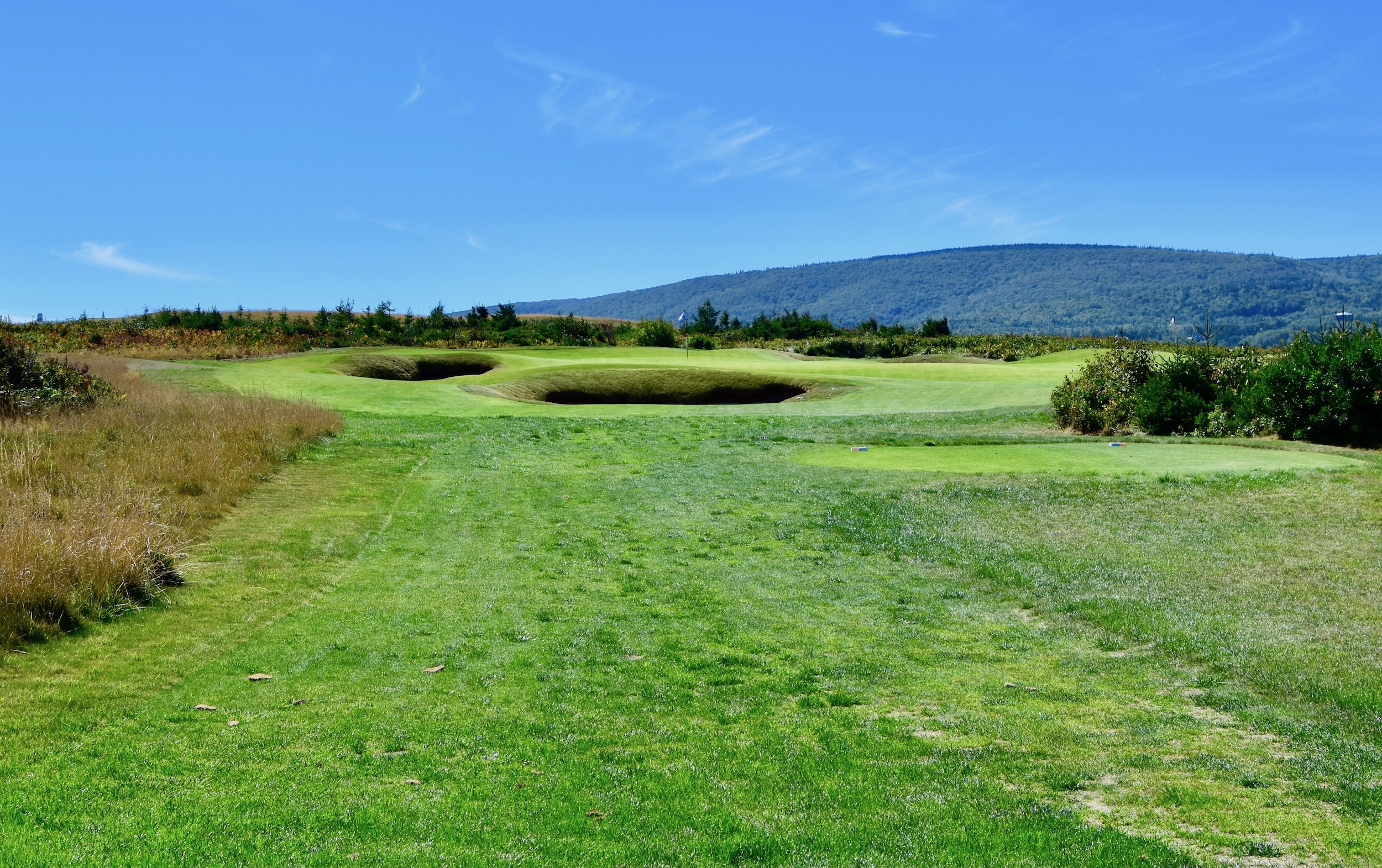 The last par three plays deceivingly uphill and into the wind with shot after shot coming up short, usually either landing in or rolling into one of the bunkers guarding this green. Once again Archie was able to figure out the proper club and par was on the menu.
#18 – 392 Yard Par Four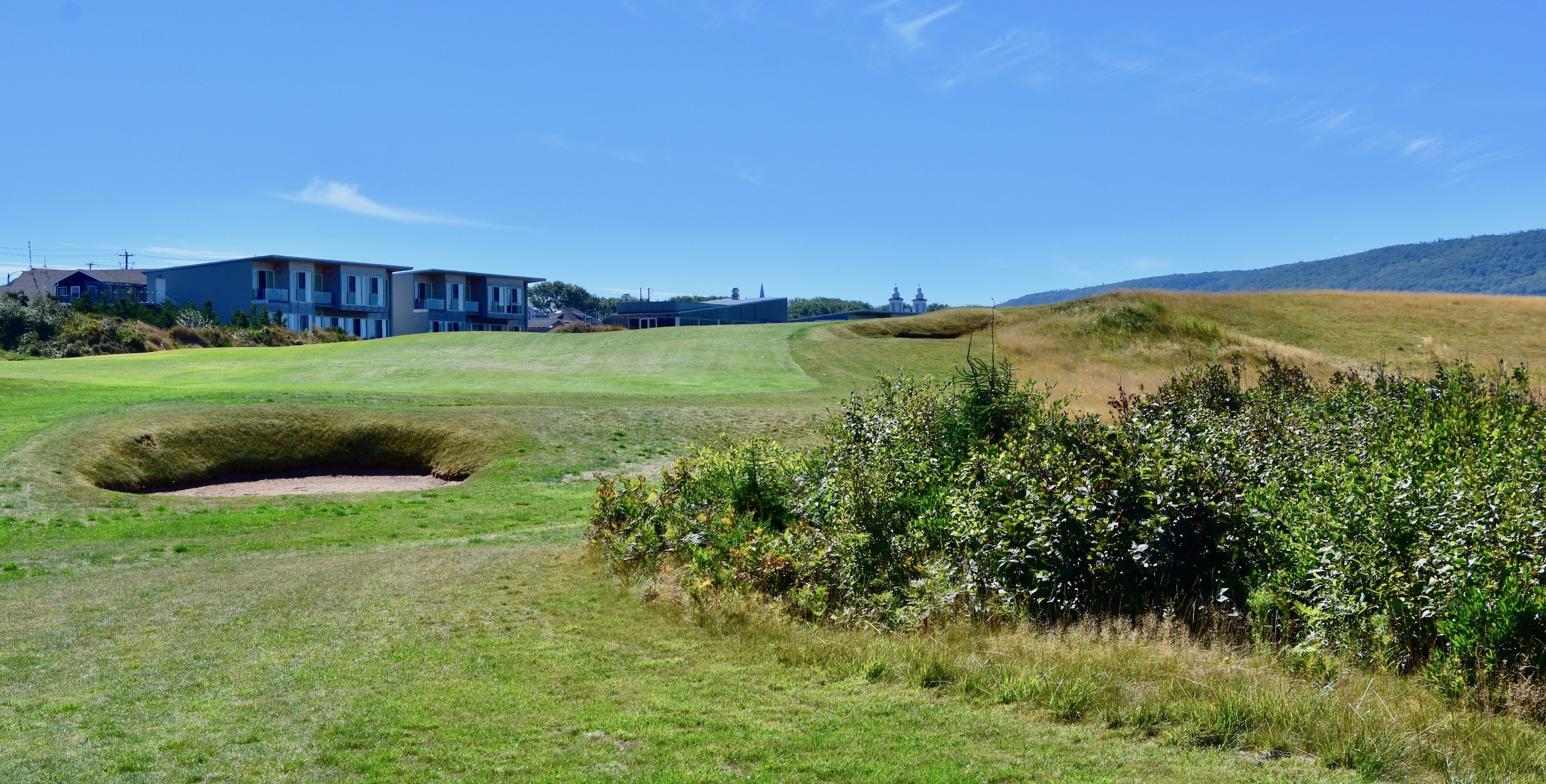 The final hole at Cabot Links is a strong par four with the church steeples as the driving target as the hole wends its way alongside the fairway villas to the clubhouse.
This is the look for what will likely be a fairly long second shot into the green which is amazingly close to the buildings. I have to wonder how many windows get hit every year.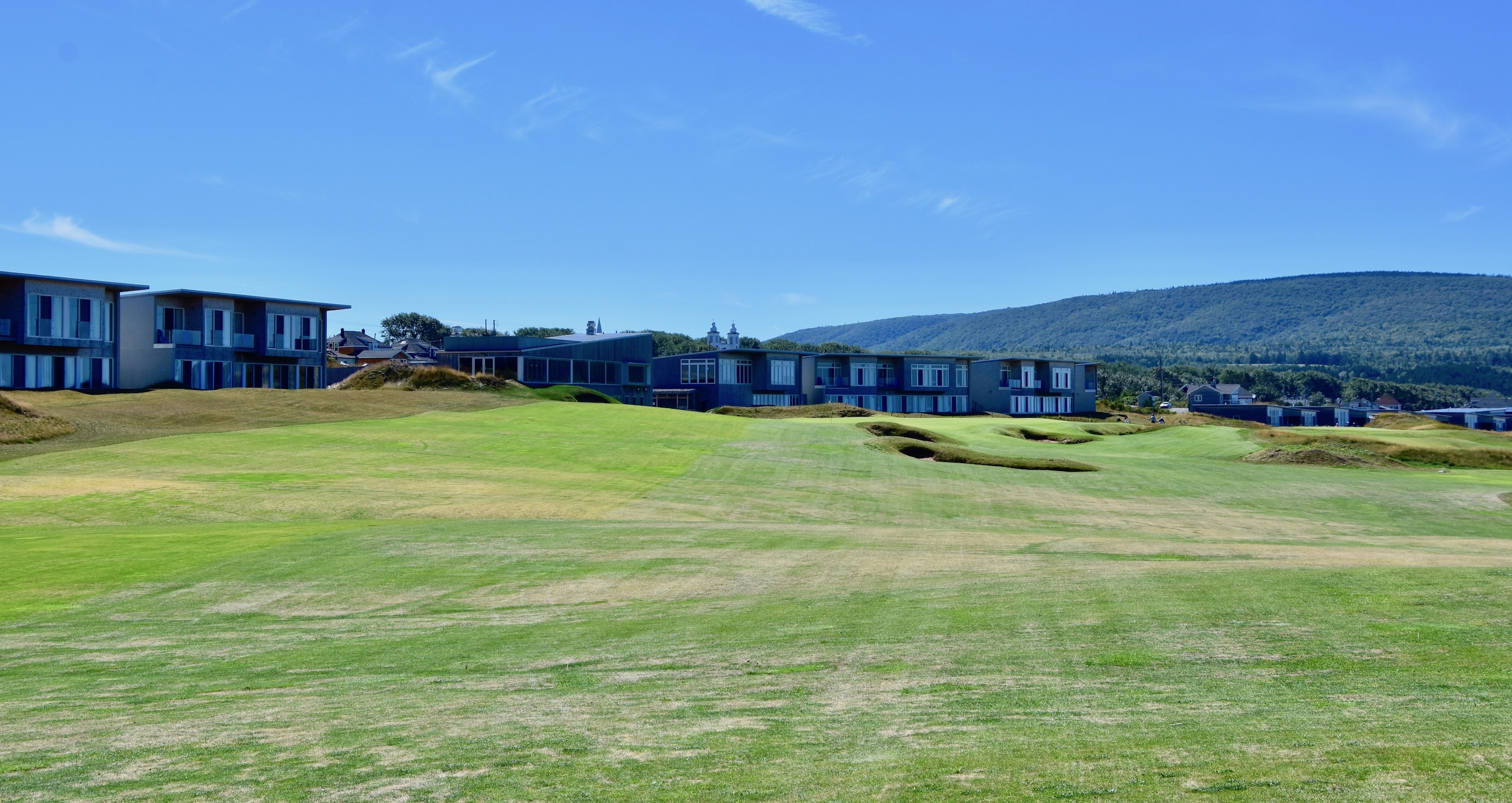 That concludes what was an amazing round of golf at Cabot Links and a testament to why so many people love this game. While the resort is closing for the season in a few days, I cannot recommend enough how great the two courses are and why every golfer should play them at least once in a lifetime.