American Club Resort – Play Pete Dye's Four Great Courses & More
Why Wisconsin? Well if the fact that it is 'America's Dairyland' is not enough to get you over excited about Wisconsin, how about that they do two things really good here, besides make cheese – golf and football. For the past thirty years or so a group of friends and I  head south to play golf and watch an NFL football game. We've been everywhere from New England to San Diego and Miami to (well not Seattle yet) and most places in between, but one glaring omission has always been seeing the Packers at Lambeau Field. This year we are going to rectify that mistake and to top it off the visiting team is my beloved Vikings and we are going to get to play the four great courses at the American Club Resort.
For me the trip was almost a non-starter as it was scheduled to run from September 27th to October 3rd with a night in Chicago at the end of the trip. Long after plans for the others were made I found out that an important appeal I was involved in had been set down for September 26, and 29-30. Therefore I couldn't leave until the 30th and would get in only one game of with my buds. The football game was a Thursday night affair so I had to decide if I'd go all that way for one game of golf and a football game. Then my friend Brian MacLellan came to my rescue. He volunteered that he would stay over and replay three of the courses with me and then we would go to Chicago for the last night.
Brian is a recent widower and has been somewhat lost the past year and I was glad of the chance to spend some time with him. So plans were remade and I was on my way to Chicago on the 30th along with Don Harding's thirteen year old son Oliver who was going to see his first NFL game. Don was already with the group so it was opportune that I was able to escort Oliver who otherwise could not have gone.
After clearing customs at Halifax airport by producing a notarized statement that I was not in fact absconding with Oliver we were on our way via a direct Halifax-O'hare flight. I was quite surprised to learn that Oliver had never been to the states since he was an infant so he was really looking forward to see how different it was from Canada. I explained that we would not see people walking around with guns or wearing cowboy hats. After an uneventful flight we took a shuttle to Ace Rent a Car which had rates way lower than the onsite national chains. I had reserved an SUV, but they offered me the choice between a van (not!) and a spanking new white Charger with a spoiler and bright red leather interior. Oliver was impressed. Resisting the urge to drive the Charger like the bad guys in Bullitt I got on the I-94 and cruised north heading for the little town of Kohler and the American Club Resort.
I am sure most of my readers are familiar with Kohler bath and kitchen fixtures, but probably don't know that the operation is based in a small town in Wisconsin that was started as a model company town in 1900 by the Kohler family who, not modestly, named the place after themselves. Probably even fewer readers. other than golf nuts, know that Kohler is also the home to The American Club Resort one of a handful of true five star golf resorts in the U.S. and the only one in the mid-west. Golf Digest rates The American Club as the No. 3 golf resort in the U.S. after Bandon Dunes and Pebble Beach. The only problem with these five star resorts is that they can be expensive as hell if you book as anything but a package. For example you could pay over $400 a night for a room plus over $300 for green fees at The American Club – add in caddy fees, meals and drinks and it could cost $1000.00 a day. The solution for us was to book through a golf tour operator, although there are some decent packages available on the resort's website that considerably reduce the overall cost.
For years we have been very satisfied with the packages put together by GolfPac, but they don't do Kohler so we booked our trip through Premier Golf where Kristen was extremely helpful in making the changes necessary to accommodate my late appearance. The best thing about these companies is that they just give you a total dollar figure for the trip which is either OK or not. You don't end up thinking "I'm paying how much to play that course!". Everything has been paid for in advance so you arrive without any worries about a huge bill on check out (unless you go crazy with the mini bar).
The American Club has four courses of which Whistling Straits is rated #2, Blackwolf Run #14, the Irish course #39 and Meadow Valleys #60 in public courses in the U.S. In other words the golf is going to be great.
Before getting to Kohler Oliver gets his first taste of what distinguishes Americans from Canadians. We stop at a Dairy Queen for lunch (Oliver's choice among all the usual junk food places because it has smoothies). The first thing he notices is that the prices are way lower than the DQ in his town and secondly, when the food comes it is twice the size of the portions we get in Canada. I point out that this is why there are so many obese Americans – they can stuff their faces with an immense amount of food for not a lot of money. It doesn't explain why there are so many obese Canadians who would have to pay more than twice as much to get the same amount of crap into their systems as our southern neighbors.
We've gained two hours from Halifax time so it is just after noon when we roll into the very quiet little town of Kohler which is seemingly all made of brick and reminds me a bit of the town in the movie Pleasantville – there's absolutely nothing out of place here. The American Club sits right in the middle of town almost directly across from the plant entrance. There are two buildings, the Club proper which is a large ivy cloaked building.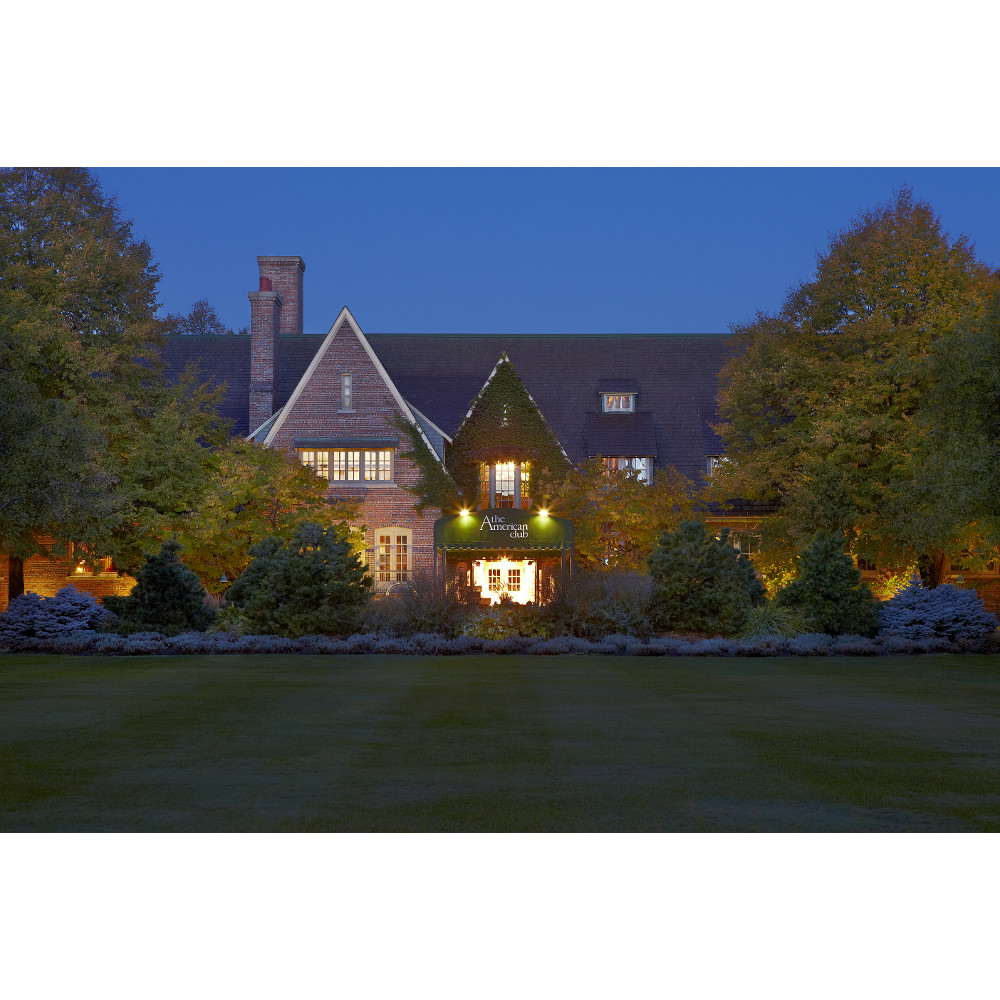 And the smaller Carriage House where we will be staying. As you can tell I'm using some of the resorts stock photos for some entries – with permission of course.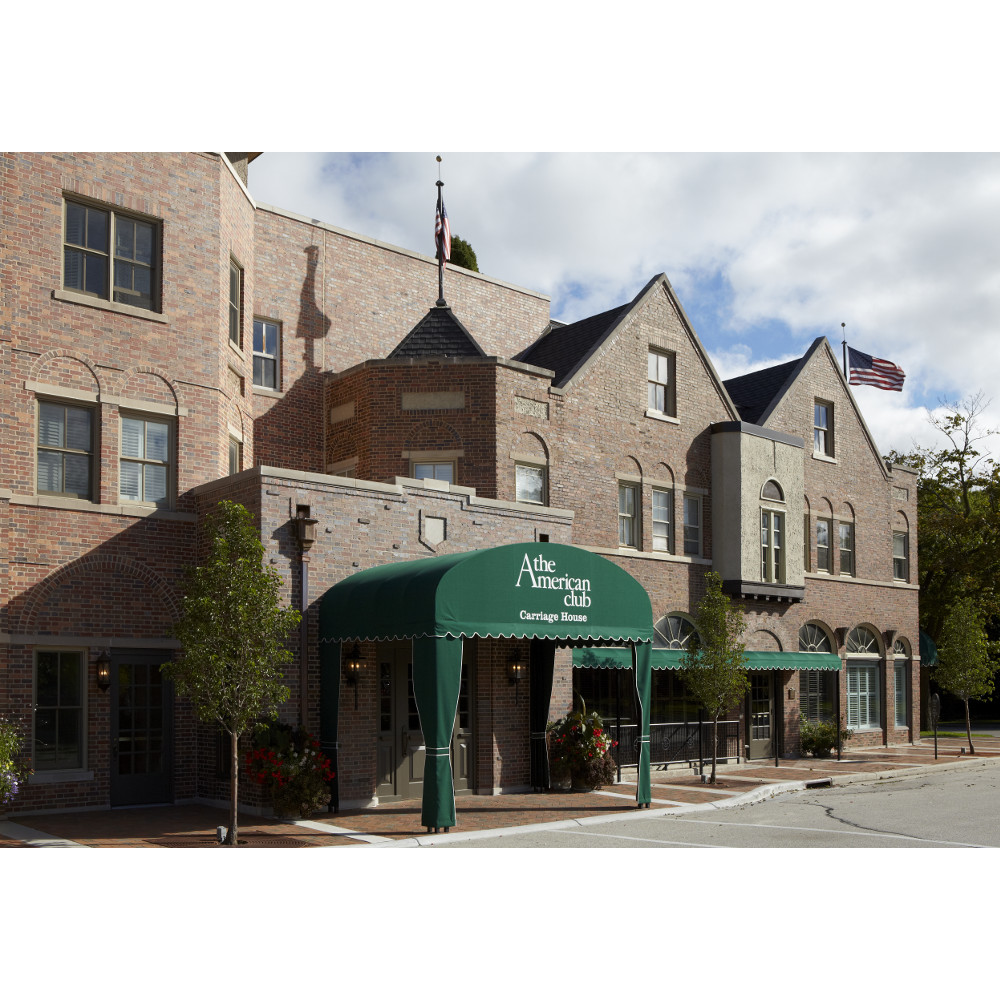 It's a little too early to check in so I ask at the front desk where the group is golfing that day and Oliver and I take the short drive to Blackwolf Run where boys are playing the River Course.
There are two distinct golf locations at the American Club Resort. Just outside of town is Blackwolf Run which is set among rolling hardwood hills and meadows through which the Sheboygan River meanders. The River and Meadow Valleys courses are found here. Fifteen minutes from Kohler is Whistling Straits located right on the shores of Lake Michigan where the Straits and Irish courses are located. In the next four days I will play them all and report on my experience.
The clubhouse at Blackwolf Run is unlike any I have ever seen. It is a large two story log structure that overlooks the Sheboygan River. After browsing the well stocked Pro shop I get a drink, while Oliver is still working on that massive DQ smoothie and we hang out on the balcony that overlooks a huge green that I presume is the 18th green waiting for the guys to finish. After a while I notice that there are two flags on this one green and that there are groups from two different directions firing at the two pins. I've seen a few double greens in my time, but I've never seen one that is shared by two different golf courses. It turns out that this is the 18th green for both the River and Meadow Valleys courses. Pure Pete Dye genius.
After about a half an hour I see the first group approaching. It's amazing that if you play with guys long enough you can recognize their swings from a great distance away, long before you could actually recognize their faces. Oliver's father, Don has such a languid swing that we have called him 'Rubberman' for years and I can tell it's Don from his swing even though he's 200 yards away.
Before long both groups get in and there are handshakes all around as we congregate in the bar where the boys tell me I have to try the Jigger Ale which is made by the Scottish brewery Belhaven and available in only two places in the world – The Old Course Hotel in St. Andrews (now owned by Kohler) and The American Club Resort where it is especially flown in from Scotland. It is very refreshing and I know this won't be the only one I have on this trip, although for now one is the limit as I have to drive the Charger back to the hotel.
The check in at the Carriage House is seamless and the Charger is valet parked, which is complimentary here. The Carriage House is quite homey with lots of wood paneling and no particularly large open spaces. Fireplaces are burning and afternoon tea is laid out in a room just off the foyer. I am escorted to my room on the third floor and cannot help but notice that each room is named after a different type of horseless carriage. I'm in the Stanhope room which apparently was a well known type of fashionable transportation in the 19th century.
While the room is not overly large it is very well appointed and the bathroom is, not surprisingly, a showcase for Kohler bathroom fixtures.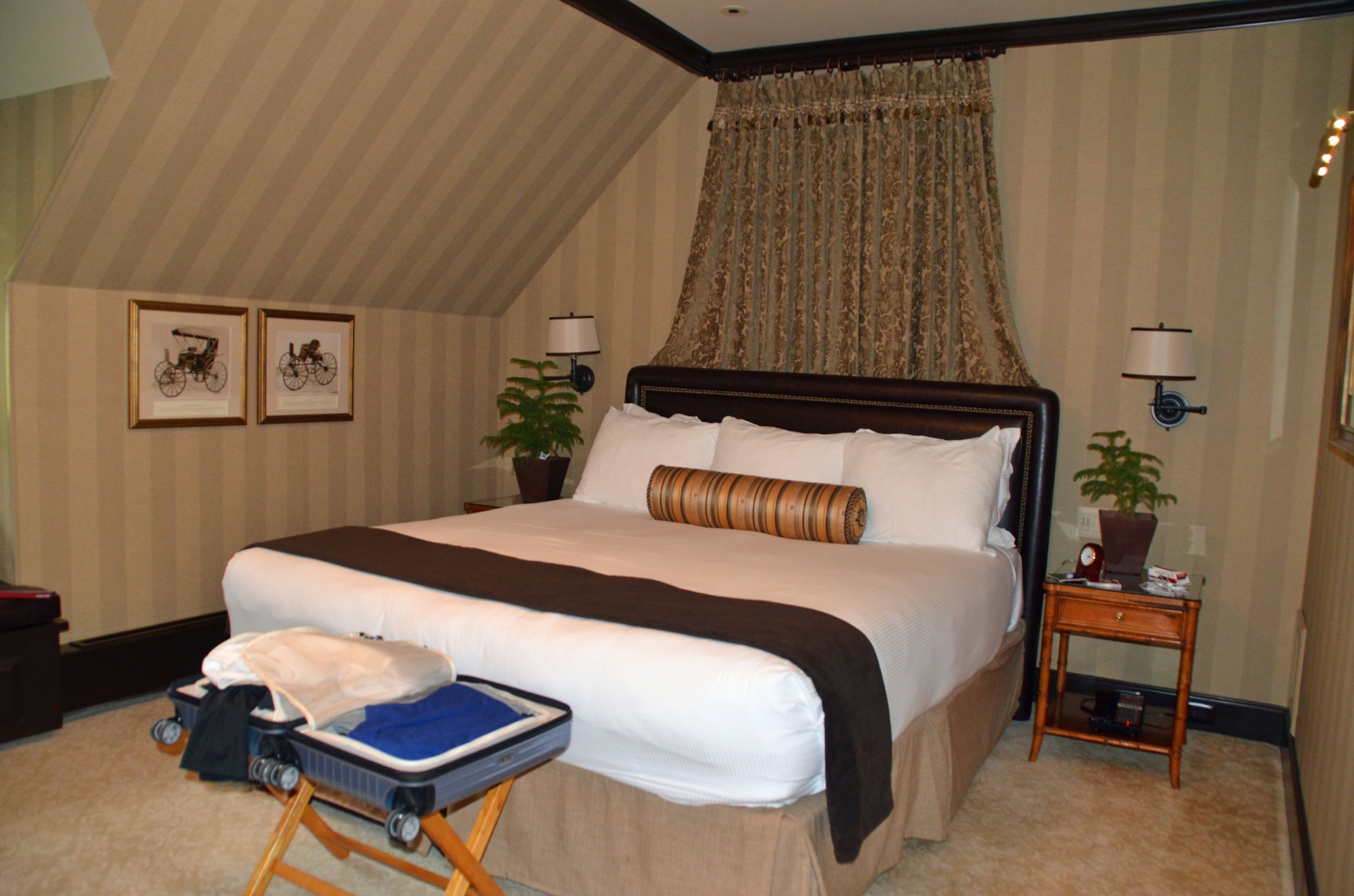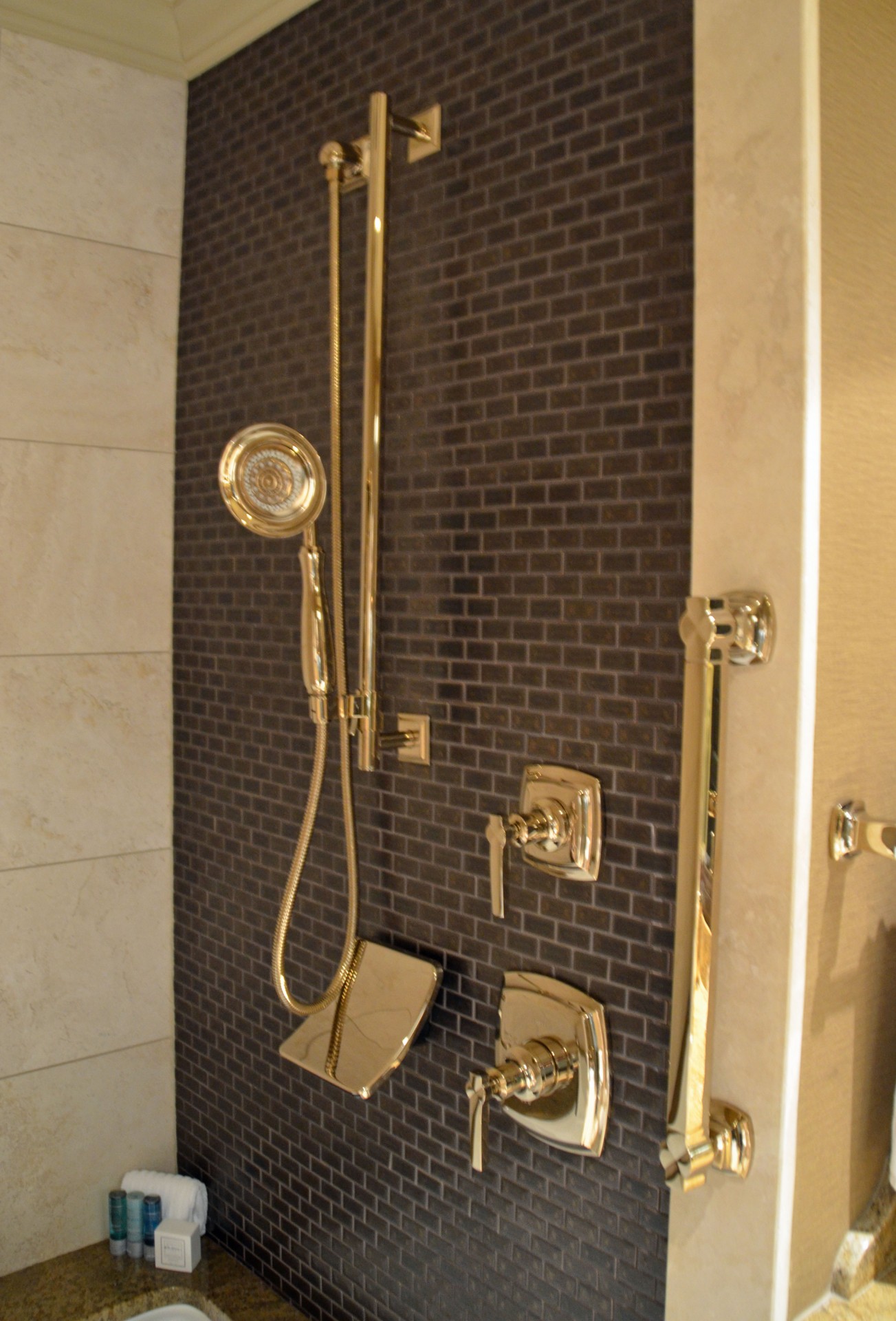 The rectangular shaped thingy is actually the bath spout that put out more water than I've ever seen in a hotel setting.  It could fill the deep tub in minutes, important when you want to get the jets going.  After unpacking I descended to Rod's room on the second floor which was the designated common meeting room and when I walked in I could see why. Like me Rod wanted a single room and boy did he get one. This room was three times the size of mine with a huge jacuzzi in the middle of it. Ever since Rod was assigned this palatial room, apparently at the same price I was paying, the boys had been calling him 'The Great Rodsby".
At 5:00 we went down to the room where the tea had been served and now there was a selection of wines, beer, Wisconsin cheeses, cold cuts, fruit and various crackers. Like the afternoon tea and the valet parking this too was complementary. I was really beginning to appreciate this place.
For dinner that night we returned to Blackwolf Run to try out the restaurant there. While at the bar earlier our server gave us menus and urged us to try it in preference to the restaurants in Kohler. She clearly was doing her best to make her little piece of the resort a favourite spot for the patrons.
The restaurant at Blackwolf Run is dominated by a huge fieldstone fireplace and overhanging chandeliers made from elk antlers.
The menu is quite diverse with something to satisfy any palate. Since I had noshed on cheese and crackers at the Carriage House I didn't need an appetizer, but a couple of guys had the corn sausage chowder which is a signature dish and declared it delectable. For my entree I had another signature dish, the Spicy Honey-Glazed Smoked Double-Thick Pork Chop which must be about the longest name for an entree anywhere. The reason I couldn't resist it was that it is stuffed with two of my favourite things – pistachios and blue cheese. To say it was a big mother of a pork chop would be an understatement. To say it was absolutely juicy and delicious would not be. There was no way I could finish that sucker, but I gave it my best shot. The sour cream mashed potatoes and asparagus were perfect accompaniments.
Since I had started out two hours earlier than the rest of the guys I begged off hanging around the communal bar in The Great Rodsby's room and went to bed with visions of great golf dancing in my head. I'll report on the golf in separate posts. I can say this, without having hit a single shot, the American Club Resort sure knows how to put out the welcome mat.
Another great restaurant at the American Club Resort is River Wildlife which is technically a private club that is open for dinner only on Friday and Saturday. American Club Resort guests can pay a one time $18 fee to dine there and as it turned out that's a bargain. You get there by taking a shuttle from wherever you are staying and then walking down a gravel path to what appears to be a log cabin in the woods and that's exactly what it is. The interior is bigger than you would expect from the outside with the walls decorated with various stuffed heads of deer, elk and caribou. Everything including the floors, walls, ceiling and furniture is made of wood. There are a number of small rooms including a couple on the second floor that make for an intimate dining atmosphere. Frankly, it's the type of place you either like or don't. Personally I found it charming because it is an authentic old style hunting lodge.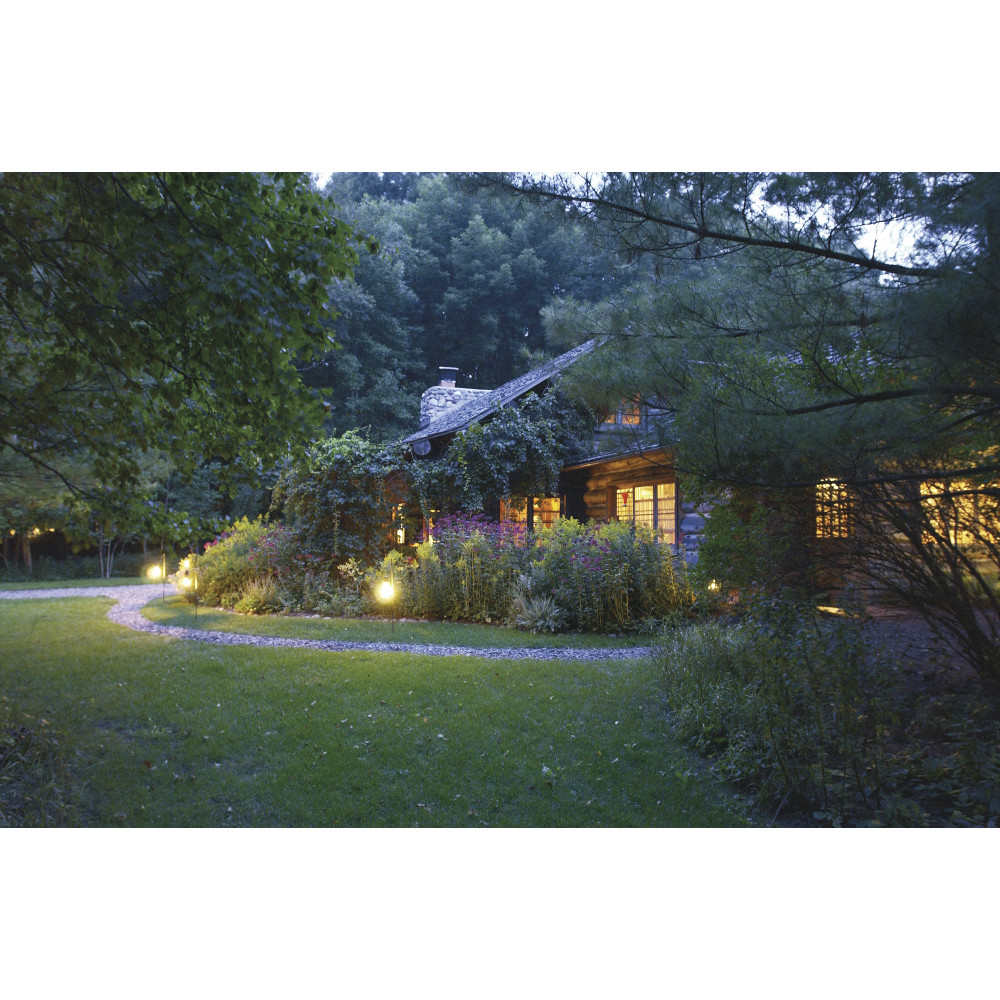 There is no set menu, but the fare is based on what you might expect at a hunting lodge – things you can shoot or catch.  Brian and I both had the asiago and almond crusted walleye which is my favourite freshwater fish and one you never see on the menu east of Montreal. It has a wonderful firm white texture that matches perfectly with sauces and crusts. If you see it on a menu don't pass it by.
After dinner we took the shuttle back to the Horse and Plow which is an English style pub in the middle of the accommodations complex in Kohler. It was packed, but we got a seat at the bar and I enjoyed sampling from the copious selections of American bourbon. I think I had three, maybe four as Brian and I went over Straits course hole by hole, which we had just played. It was truly one of those days I will always treasure.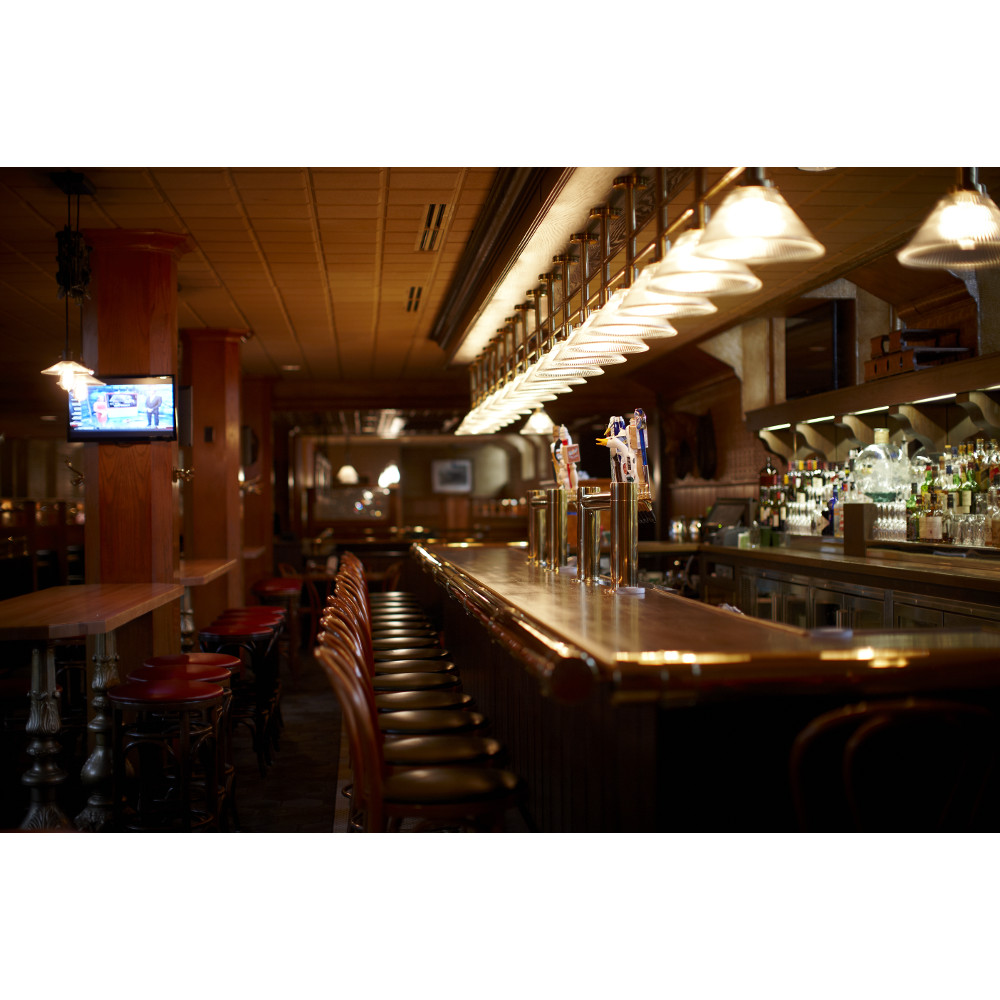 So even without the golf the American Club Resort has a lot to offer.