Lambeau Field – Why Everyone Should See a Game in Green Bay
It's day two of my visit to Wisconsin to play the four Pete Dye courses at the American Club Resort in Kohler. More important than today's golf is a Thursday night visit to Lambeau Field to watch the Packers take on my beloved Vikings. It's an iconic rivalry at an iconic football stadium. Please join us.
The continental buffet breakfast at the Carriage House at The American Club Resort is all I need to get me ready for a day of golf and football. Juice, coffee and one of my breakfast favourites – smoked salmon with capers, red onion and dill sauce. It should be on every breakfast buffet table.
The round of golf at Meadow Valleys was the final one for the rest of group and Chuck oversaw the packing of the rented Suburban they had and my Charger and we were all off to Appleton where we were going to stay that night. He had us booked into a Microtel which is micro on price, but also on amenities. The towels weren't much thicker than tissue paper, but it was only for one night so no big deal. I had the Carriage House to look forward to the next two nights.
We unloaded the Suburban, left the Charger and headed for Lambeau Field. Despite leaving many hours before game time, it was a slow crawl up #41 to get there, partly because of construction and partly because everybody in Wisconsin seemed to be headed to the game.
Since Green Bay is a small city situated in a relatively flat part of the state, you can see Lambeau Field from miles and miles away. It made me think of what the Hanging Gardens of Babylon might have been like jutting up from the desert landscape and for all intents and purposes Lambeau Field is a modern wonder, its presence looming over the NFL landscape for almost sixty years.
Once we actually got into Green Bay it was not hard to find a parking spot in a small private lot on Holmgren Way which is just off Lombardi Drive. I guess if you win a Superbowl you are guaranteed to get a street named after you here. We walked past the Brett Favre Steakhouse to the Stadium View Bar which Scott told us was a happening place and it sure was. There were a ton of Viking fans and the atmosphere was collegial rather than confrontational. This is a great rivalry, but the fans know it's just a game and not worth getting aggressive about. Someone should tell that to the Eagles or Pats fans. I remember years ago at a game at Foxboro drunken inbred looking Irish louts threatening to throw me and my Vikings shirt over the top row of stadium to the parking lot ten stories below. It was scary.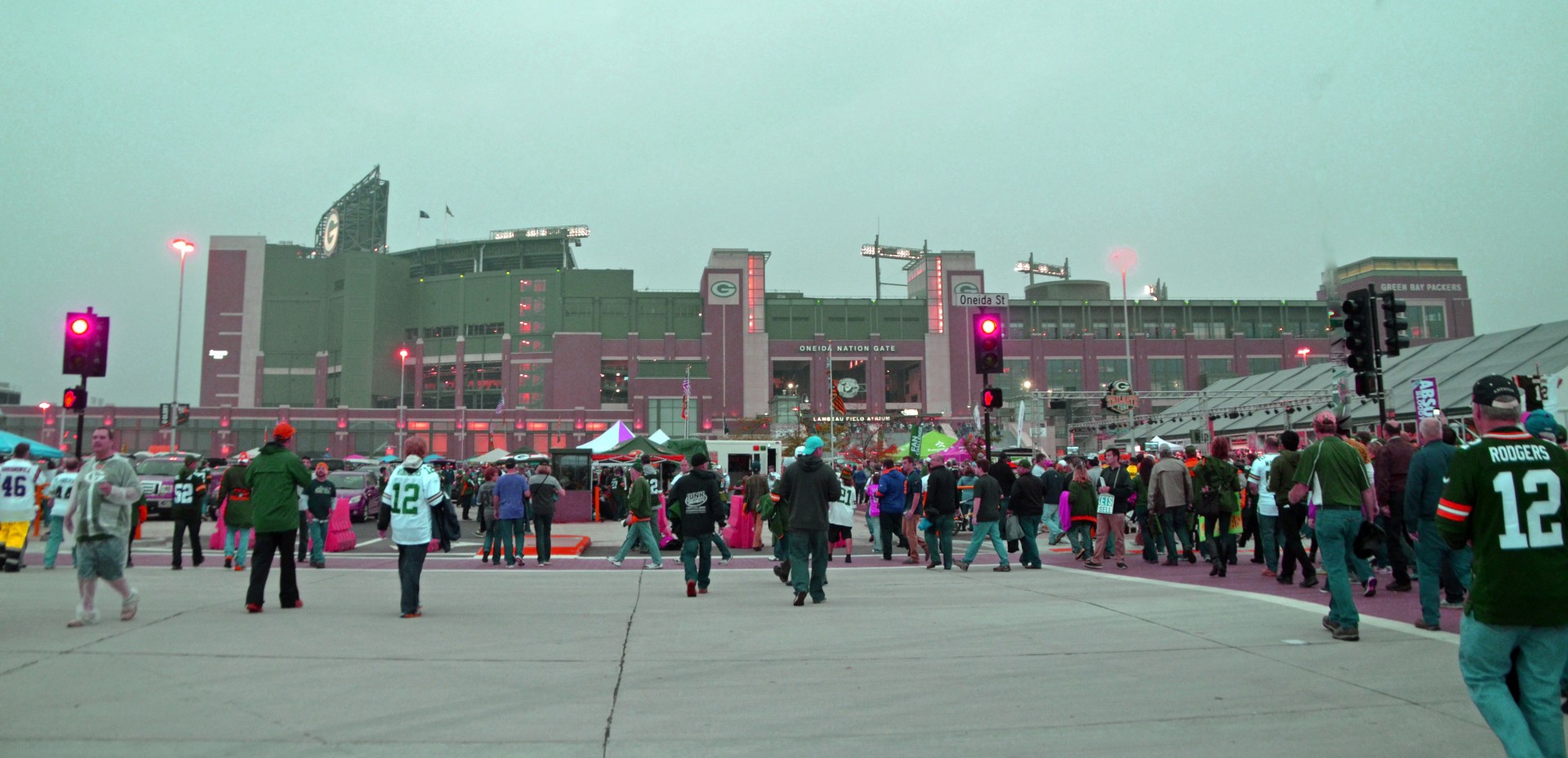 There is so much history surrounding Lambeau Field that it was worth braving the crowds to circle the area and take in the Vince Lombardi and Bart Starr statues as well as the numerous other reminders that this is "Titletown". As I entered the stadium I could not help but be impressed with the giant G's overhead.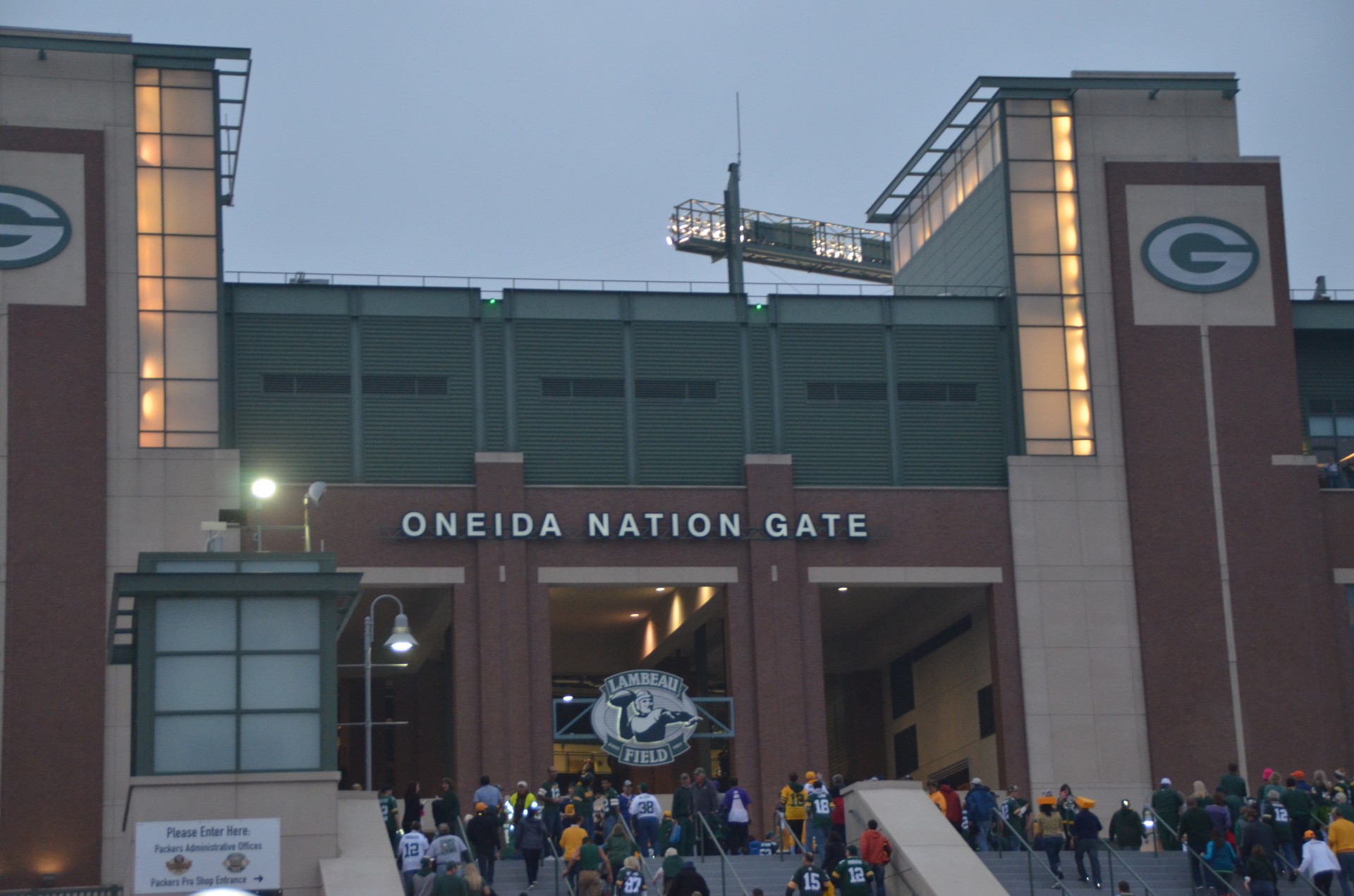 Curly Lambeau welcomes you wearing an old-fashioned leather helmet.
One thing we didn't like was that they would not allow anyone to take anything inside that was not in a clear plastic bag. They took Rob's binoculars case which was ridiculous since he has been bringing it to games in at least twenty different stadiums with no previous problem. Inside you would never know that the stadium traces its origins back almost sixty years. Unlike Soldier Field which lost its iconic look when it was renovated, not so Lambeau Field. It looks great from the outside and inside. There is plenty of room to move around and lots of places to get food and drink although the variety is nowhere near that at some of the other NFL stadiums.
The one shocker to me is was that it still has bench seats. We paid $6.00 to rent a seat with a cushion and a back that clips onto the bench. Otherwise we would have had sore and cold asses before long. I can't imagine what it would be like in December.
The less said about the game the better. I had been looking forward to seeing the Vikings first round quarterback pick, Teddy Bridgewater in his first start. He had done a great job filling in for Matt Cassell when he got injured the previous week and I fully expected that he would make it a competitive game. Imagine my shock and horror when the Vikes came out for their warm up and there was no Teddy Bridgewater; an apparently innocuous looking play at the end of last week's game had resulted in an injury that saw him in street clothes on the sideline. Instead the dreaded Christian Ponder was warming up. Why the Vikings hadn't released him after deciding to keep Cassell and draft Bridgewater was beyond me. The worst thing that could happen is that he might get into a game and tonight he was going to start.
So no Bridgewater, no Adrian Peterson who is suspended for strapping one his kids with a switch, no all Pro tight end Kyle Rudolph, no defensive captain Chad Greenway and basically no hope. I did get this shot of the Viking offensive line to show how close to the field our seats were. It's a good thing they were practicing with each other, because as it turned out these were the only ones they could stop.
To top it off it started pouring exactly in the middle of the national anthem and continued on and off for most of the game. As expected, every time the Vikings got anything going, Ponder would throw an interception including one pick six by Julius Peppers. Ponder got some help in blowing the game when Ray Asiata fumbled to end another drive. Here he is on the only decent carry he made all game.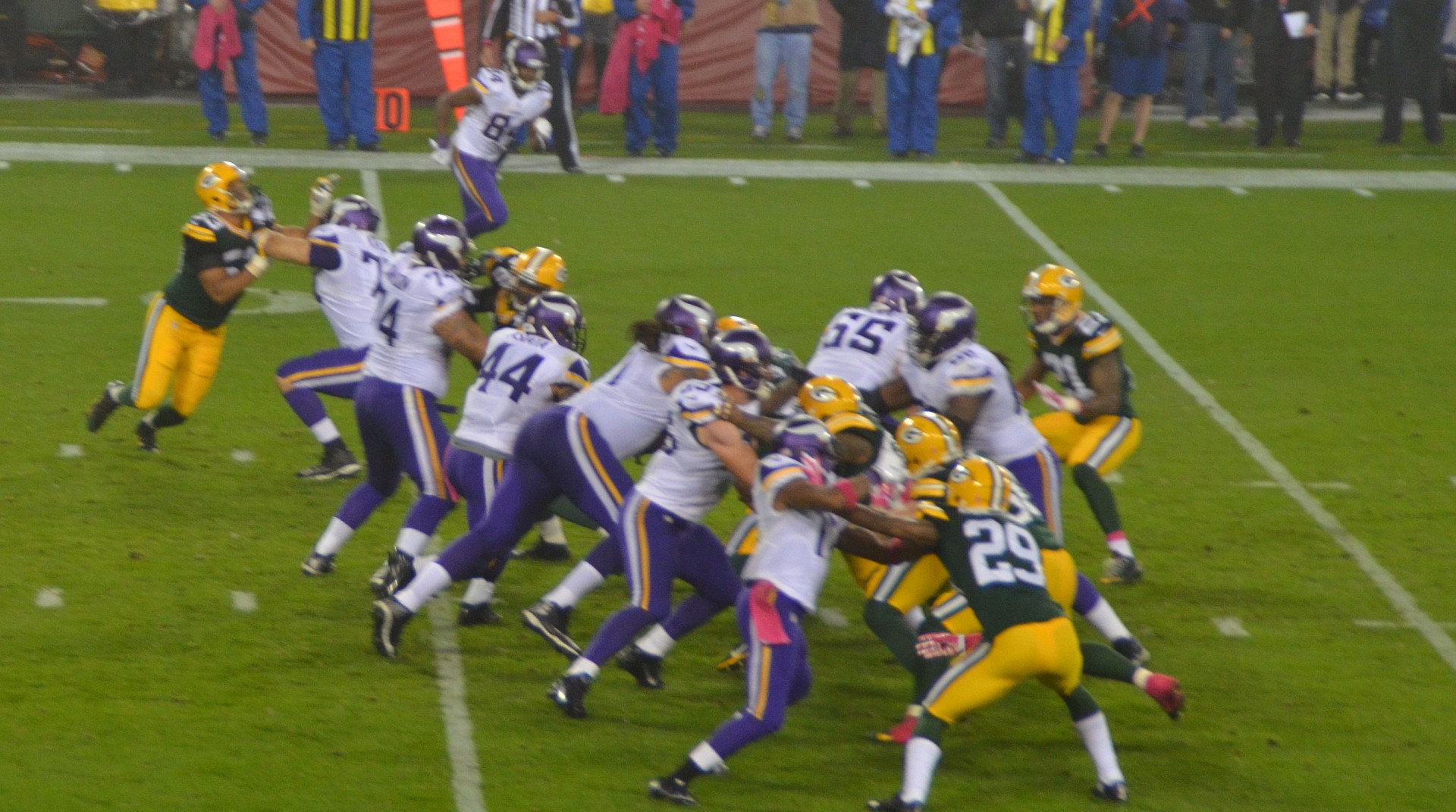 Aaron Rodgers proved why he has a Superbowl ring and MVP status with some great passes including a touchdown to Jordy Nelson that made the Vikings secondary look pathetic. It was almost like the Packers were playing a college team. It was 42-0 before the Vikings scored 10 useless points in the last quarter which I watched back at the Stadium View after persuading Brian to leave at the end of the third quarter. You could actually see the huge Lambeau Field screen quite clearly from the bar.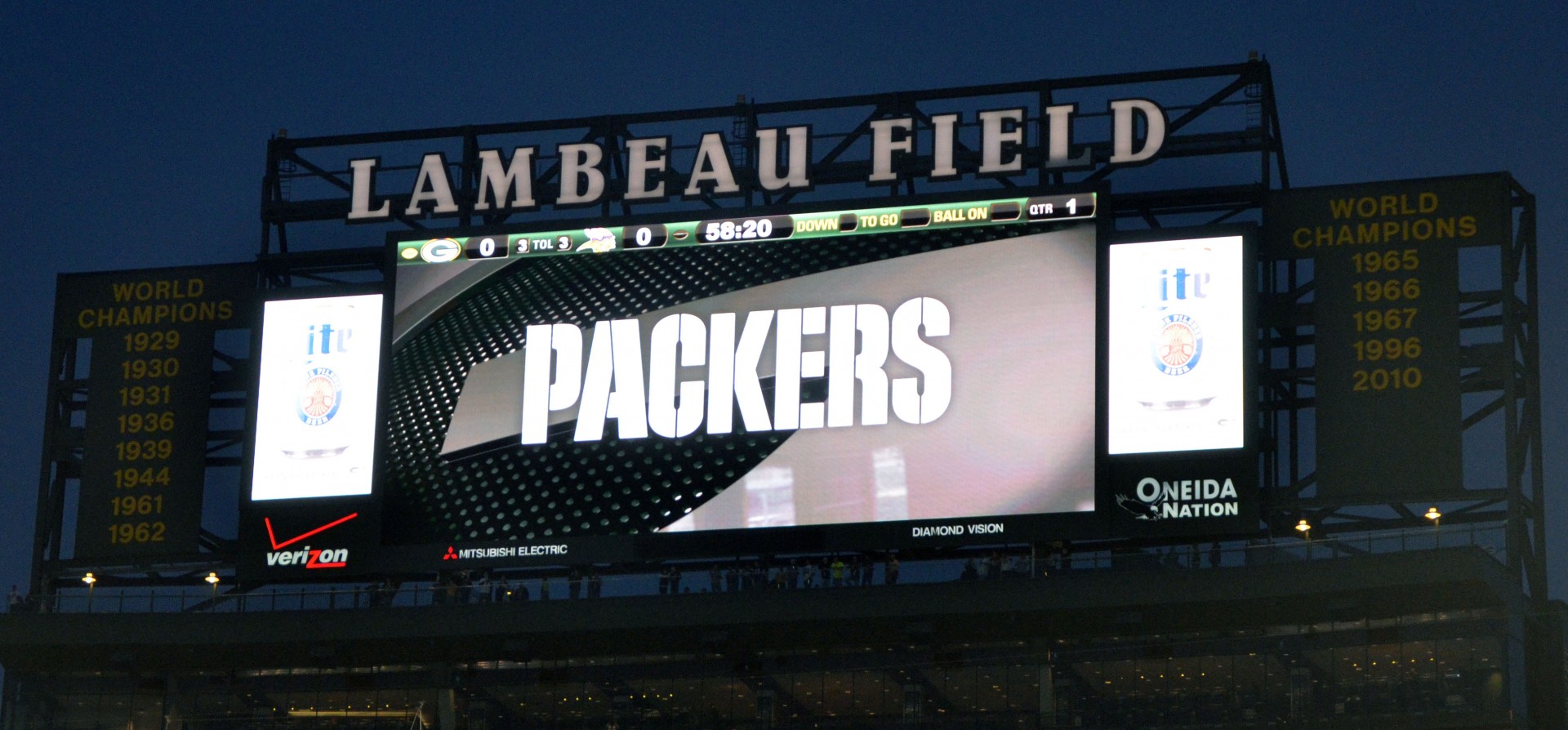 On the way back I stopped to congratulate a larger than life Bart Starr on the dismantling of the Vikings tonight.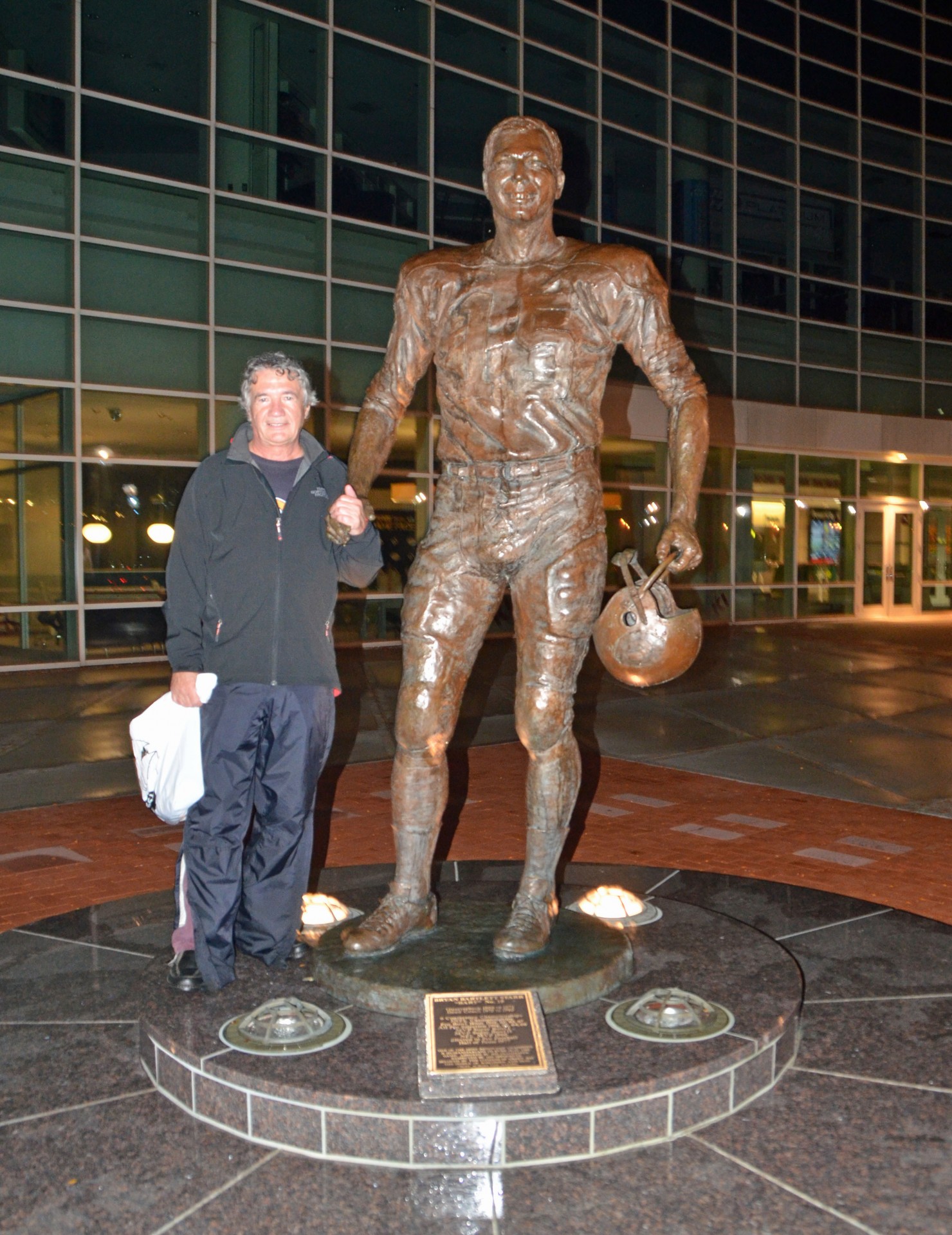 Things were hopping back at the Stadium View and there were more than a few people well into their cups. One fat and terribly ugly woman managed to get no less than three different men ejected for 'harassing' her until I guess the bouncers caught on and tried to get rid of her. Instead she locked herself into the bathroom and had a bawling fit while the hapless bouncers, all men, tried to calm her down. As far as I know she was still in there when the others joined us after the game was over and we began the long crawl back to Appleton. Looking backwards in the dark I could see Lambeau Field lit up like the starship in Close Encounters of the Third Kind, an immense presence into which my team had been sucked into a vortex of mediocrity.
Oh well, there's always golf!  See you at Blackwolf Run.