Myakka River State Park – Experience the Canopy Walk
This is another in my occasional series on what many people including the Florida State Park promoters, call 'the real Florida'. Yes that too has become a cliche, but trust me many of Florida's many state parks are real treasures and the antithesis of the Disneyfied version of the state that most visitors, for better or worse, associate with a Florida vacation. I have wanted to visit Myakka River State Park for many a year, but never got around to it until a recent drive from Jupiter on the east coast to Sarasota on the west gave me the opportunity to take Highway 72 just after Arcadia and pass through it. The Myakka River is one of a number of Florida rivers that run east to west and empty into the Gulf of Mexico. The most famous of these is undoubtedly the Suwanee River of Stephen Foster fame, but they are all what most people would call 'lazy' rivers. They have no whitewater or even rapids and move at their own leisurely pace from central Florida to the Gulf, perfect rivers even for novice canoeists and kayakers, but teeming with life both above and below the waterline.
About five miles from the park entrance we saw a wild boar rooting around in the ditch on the side of the road – in four decades of Florida visits this is the first live one I have ever seen (rarely I've seen them as roadkill). After paying the $6.00 entry fee we stop at the small interpretive center where they have a display of the really amazing variety of creatures you might encounter in Myakka River State Park including four types of poisonous snakes, alligators, snapping turtles, black bears and three foot long salamanders, but don't panic, there are no confirmed sightings of panthers. There is a looped nature trail that supposedly should take 40 minutes to do, but I think a person in a wheelchair could do it in that time. I always wonder at who these parks take as the average walker – someone with a walker? Anyway the trail is an absolute must do as it takes you through a Florida landscape that I have only ever seen before on Caladesi Island S.P. It is a very open forest dominated by live oaks and cabbage palms. The live oaks are covered with Spanish moss and dozens of types of air plants. Technically it is a southern coastal plain hydric hammock, but I'd just call it really bloody interesting. A camera, at least the one I'm wielding, can't do justice to the beauty, but live oaks are always a fascinating tree to photograph.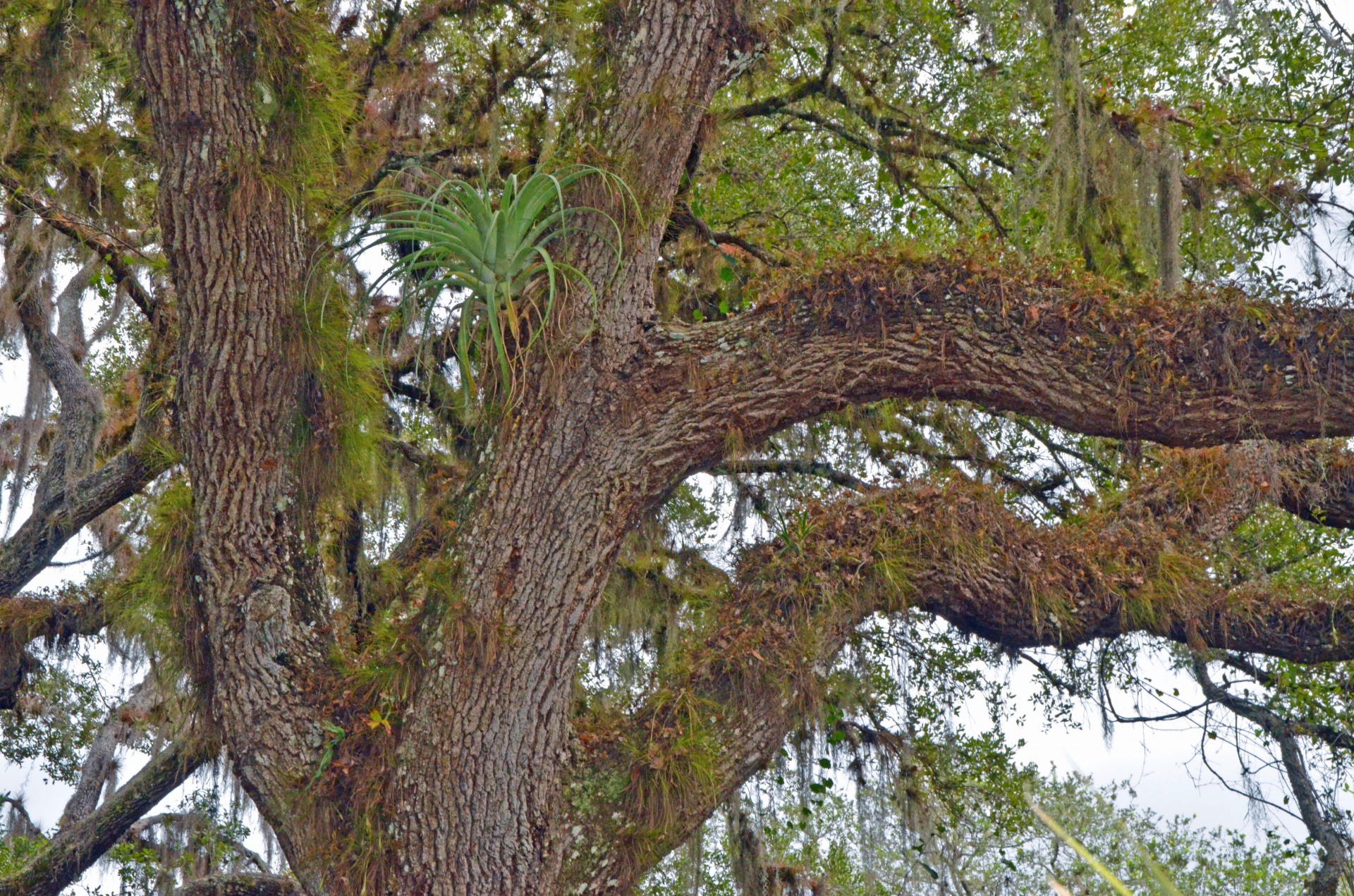 The soil here is very sandy and there must be something really tasty hidden underneath it because the feral pigs have torn parts of the pathway to shreds. Even though I did see a wild boar just outside the entrance, I hesitate to use the term because the last time I came across this type of destruction by wild porkers was in the Taurus Mountains of Turkey and our guide was quite concerned as they are considered very dangerous in those parts of the woods; after all Hercules needed the advice of the centaurs to help him deal with the Erymanthian boar. However, my thoughts of raging wild boars with razor sharp tusks were quickly forgotten when we came across this very cute yellow rat snake that posed for a photo.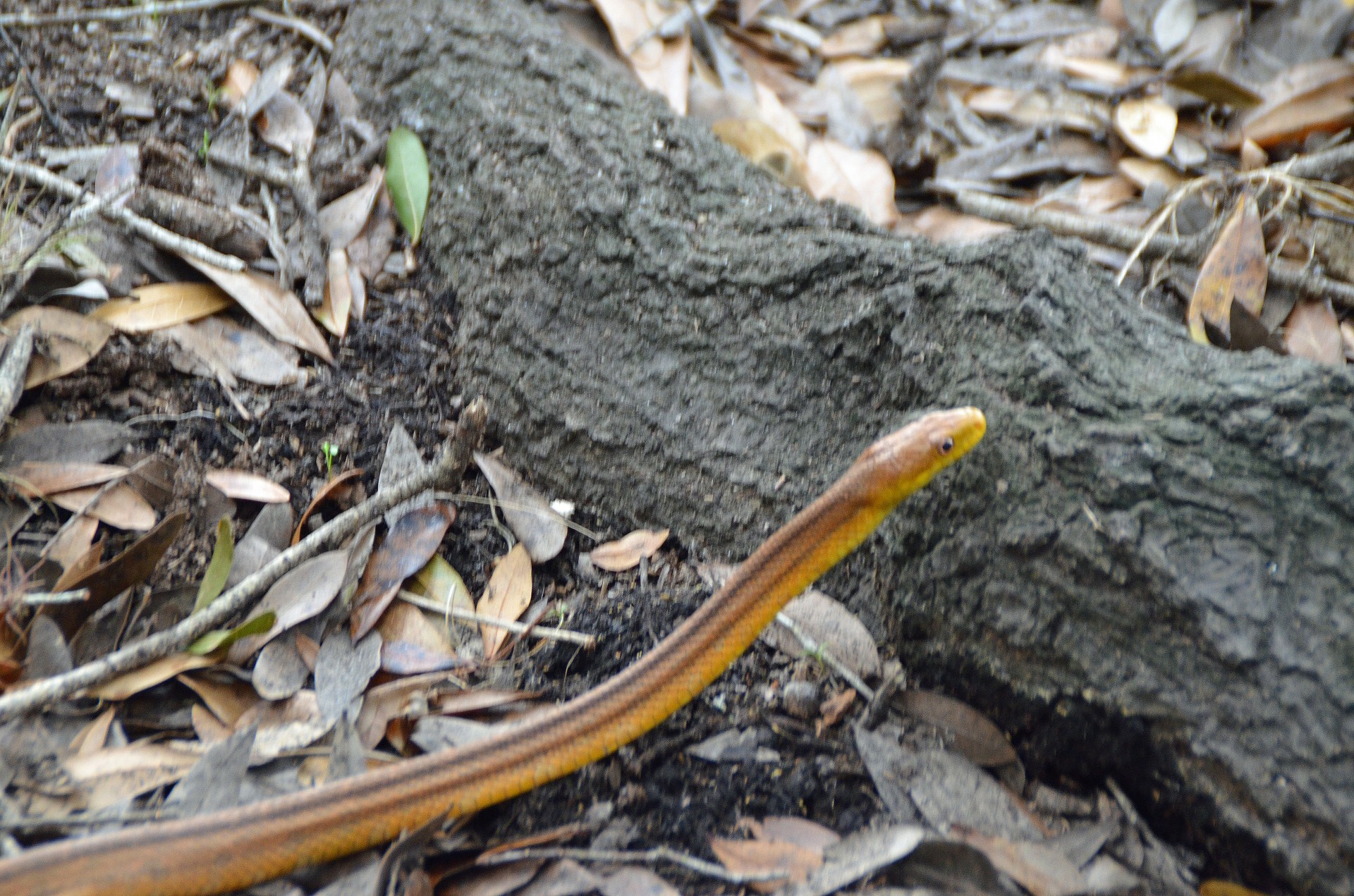 At the end of the loop we came to the Canopy Walkway, the only one in Florida. In recent years the number of places offering canopy tours has exploded – I was on one in Kakum National Park in Ghana a few years back. Canopy walking is an easier and more leisurely way to few the world from a bird's eye view than its sister activity, zip lining.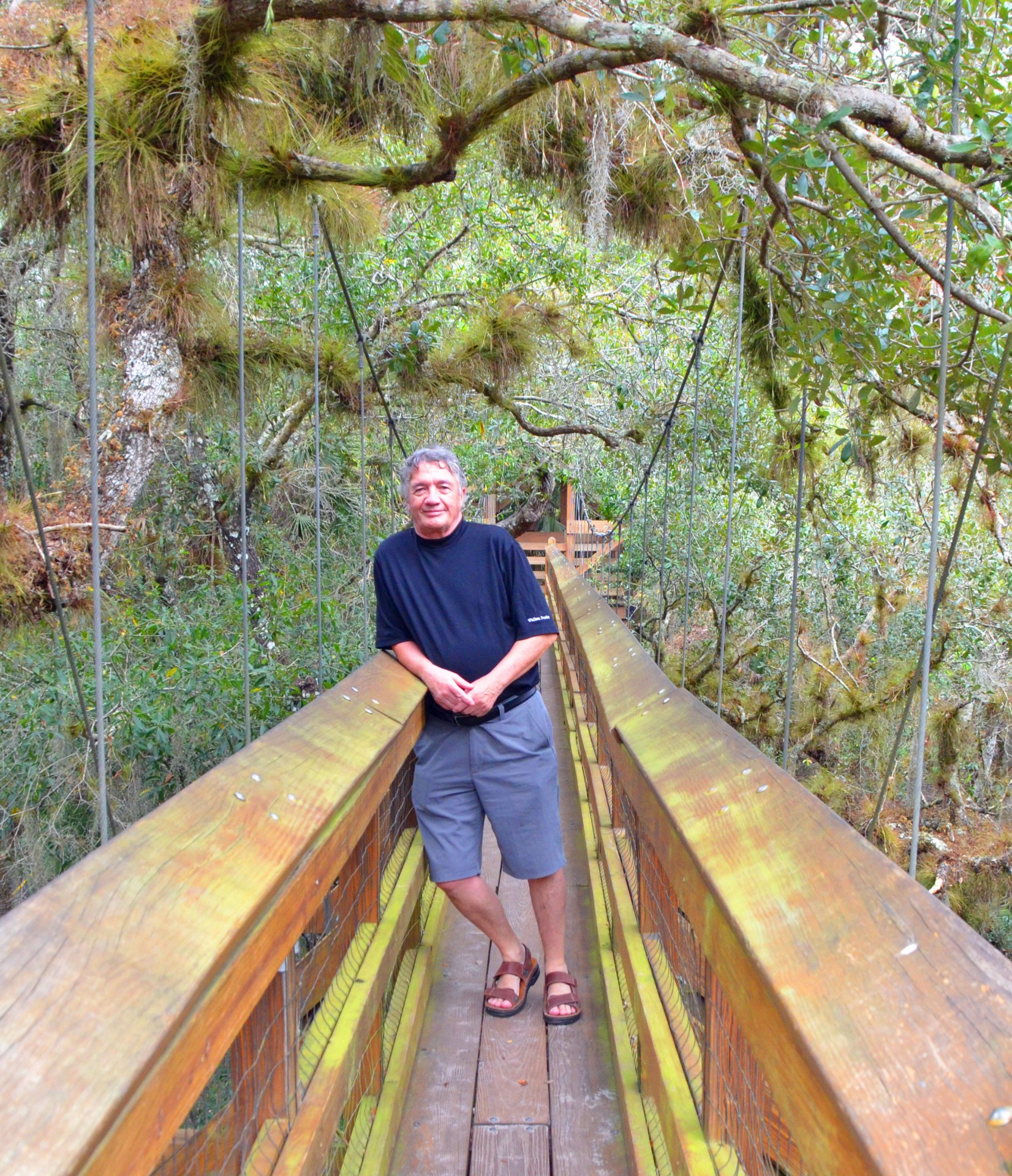 As you can see the canopy walkway is quite sturdy and doesn't sway like the ones made from just rope do – even those afraid of heights shouldn't be intimidated. As canopy walks go this one is a baby in terms of height from the ground, but it is still a must-do because it gives you a chance to get up close and personal with the upper side of the live oak limbs where all those air plants live.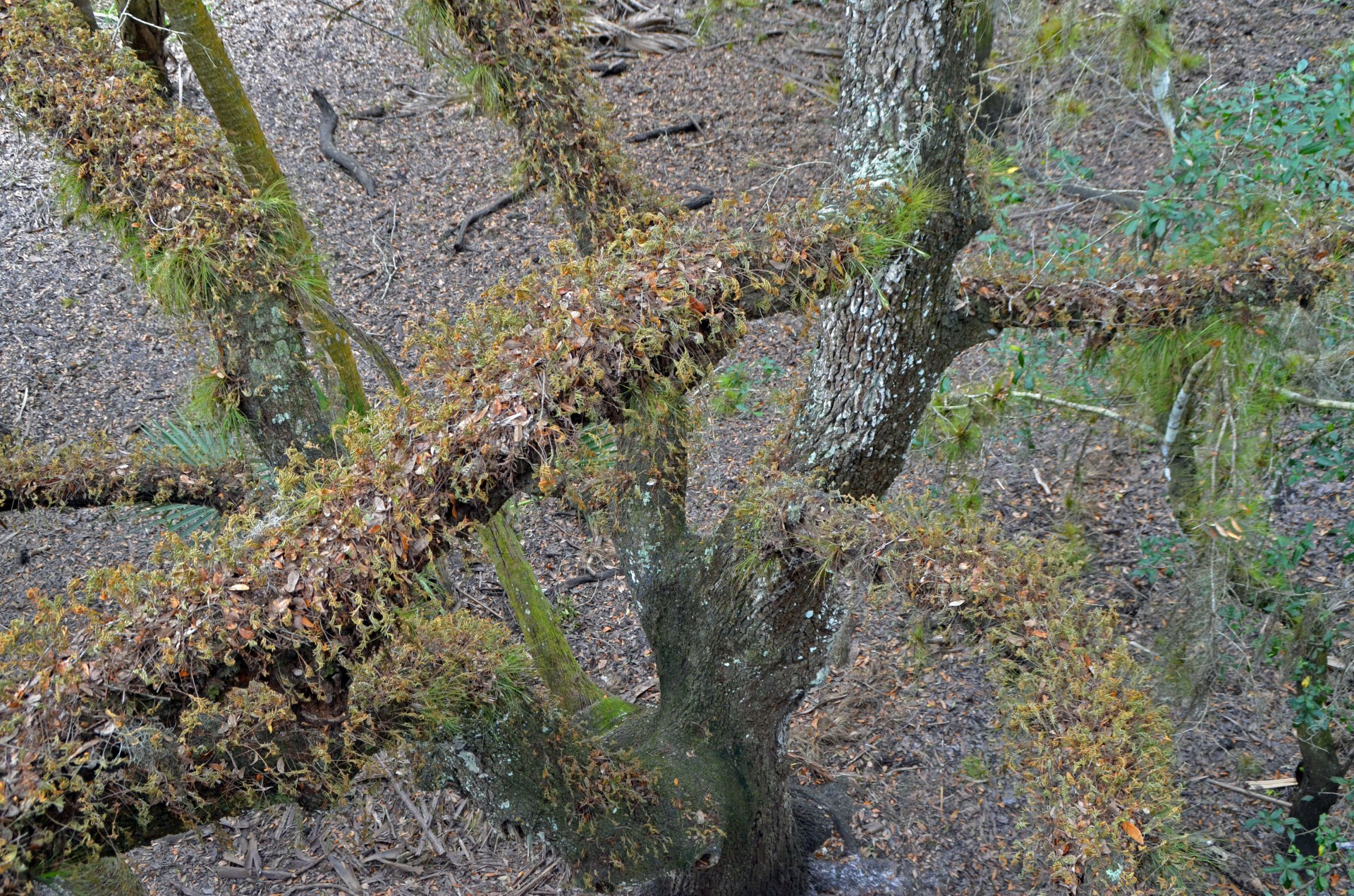 At the end of the walkway there is an observation post that is almost eight stories high. The view from the top is not what I would call spectacular, but worthwhile nonetheless because you do get an unobstructed view of what Florida looked like before we came along, Myakka River State Park being one of the few places in the state you can still do that.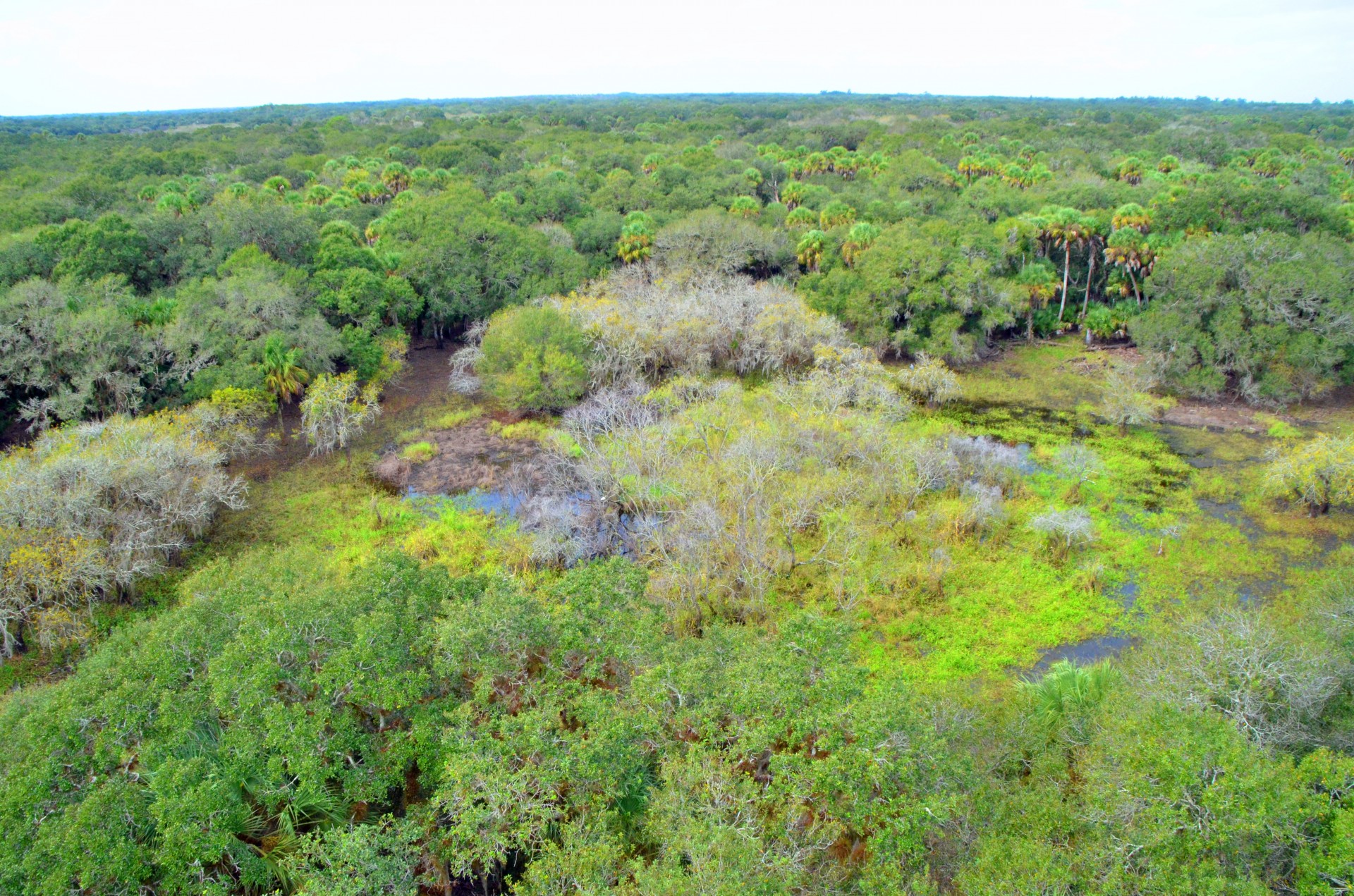 After returning to the car we traveled on a few miles to the concession area where the Myakka River flows out of Upper Myakka Lake. There are a lot of things you can do here – rent bikes to explore the parks dirt side roads or rent canoes or kayaks to check out the lake. The most popular attraction here is one that I absolutely advice against wasting your money on – the airboat ride. The park advertises rides on the world's largest airboats and one was just pulling away with a boatload of about thirty people on it. If we had gotten there in time no doubt we would have made it two more, but luckily we didn't. When you think of airboats you think loud and fast. Well this one was loud, but it sure wasn't fast. I'm pretty sure we could easily have outrun it in a canoe. We watched the boat as it moved out onto the lake where it patrolled around at a painfully slow pace . What the people on board were seeing or hearing I have no idea, but these vultures were obviously hoping for a Lake Myakka version of the Titanic.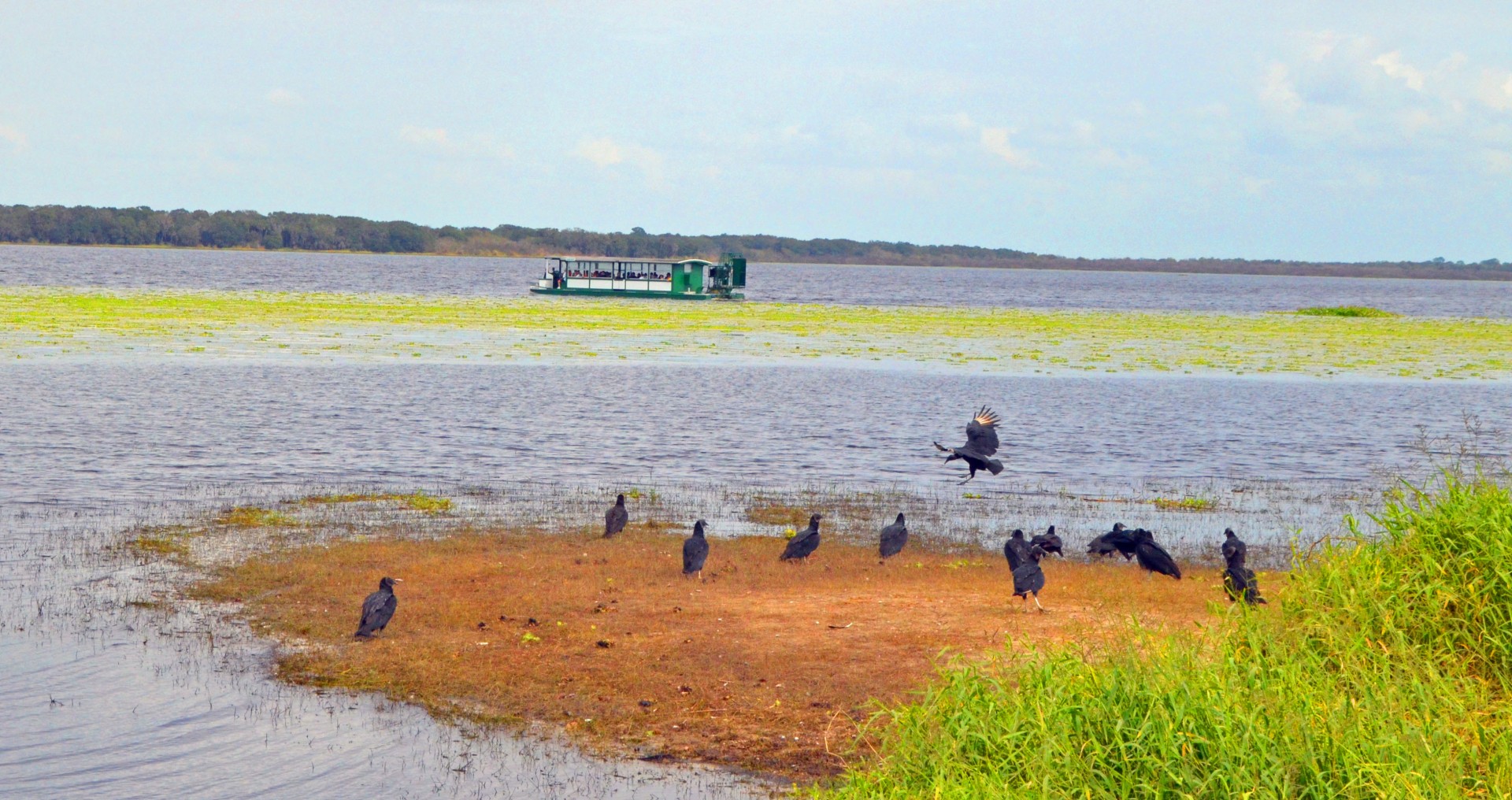 In my experience one thing that state and national parks almost everywhere do terribly is provide good food. The very word 'concession' is usually a synonym for 'terrible, over priced food stand'. Not so at Myakka River State Park where there is a restaurant that not only has a great view, but serves really good food as well. The Pink Gator does serve gator stew, but we took a pass (if gator was really that great tasting it would be as popular as chicken as they are just about as easy to raise); Alison had gumbo which was excellent and I had an inferno burger which was hot enough to satisfy my fading taste buds.  Here is the view from the outside terrace.
The visit became a smashing success when I went hog wild over this fridge magnet featuring a family of wild hogs.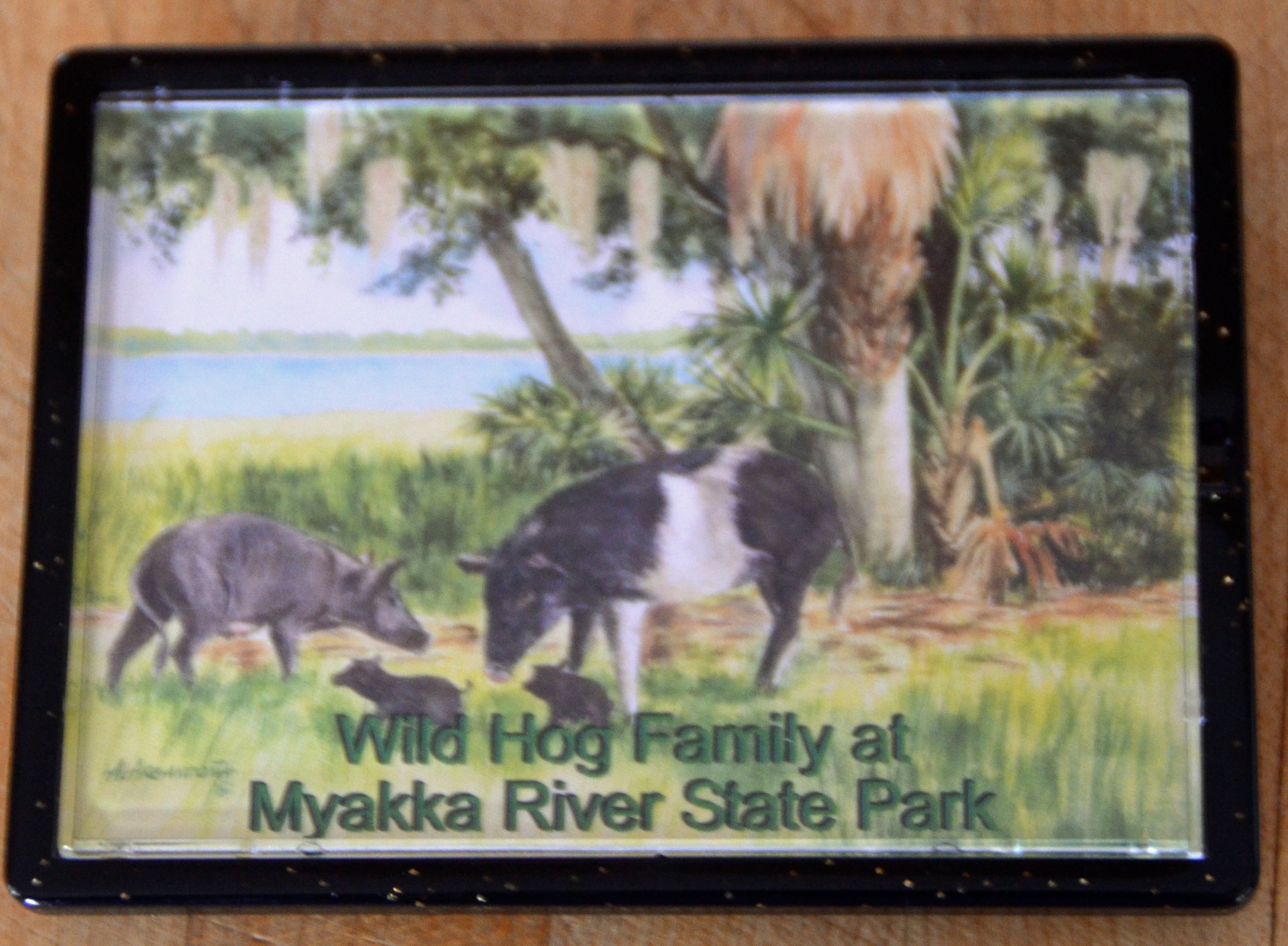 Next time you are in the Sarasota area take the time to make a short detour to Myakka River State Park.
For other posts on great Florida state parks check these out – Kissimmee Prairie, Mound Key, Koreshan and John D. MacArthur Beach.