Mount Gay – A Visit to the World's Oldest Rum Distillery
Believe it or not the guy who started the world's oldest rum distillery, Mount Gay was named John Sober. It all began in 1703 when Sober hired a guy called Gay to make a product that was actually drinkable. Prior to this the alcohol that had been distilled from molasses, the up until then largely useless byproduct of sugar production, was so terrible it was called 'kill devil'. Mr. Gay did such a great job that they named the distillery where he did it on a hill in northern Barbados Mount Gay, after him, presumably because Mount Sober just didn't have the right ring to it.
This morning, despite just overcoming the effects of yesterday's Superbowl aftershock shall we say, Alison and I are off to the Mount Gay visitor centre in Bridgetown for a tour and traditional Bajan brunch. Twice a week Mount Gay offers a Bajan Buffet Tour for $62.00 US which includes pick up at the hotel. The bus arrives at 11:00 and after stops at two other hotels to pick up couples noticeably younger than ourselves, but also Canadian, we drive through the heart of Bridgetown to the industrial north end and pull in at a distinctly unmountlike factory setting. Spoiler alert – if you have the naive idea that you will be traveling through the tropical forest to arrive at a distillery on a hill where these famous rums are made, forget about it. This tour takes you to the bottling and distribution centre which is about as romantic as visiting a Coke bottling plant, except for the fact that it's rum your sampling and not its usual partner, Coke.
After purchasing a ticket you enter a room where all the Mount Gay products are offered for sale along with a great variety of Mount Gay related souvenirs, except for the greatly prized Mount Gay Red Hat which can only be won by participating in a Mount Gay sponsored yacht race. Also no Mount Gay fridge magnets.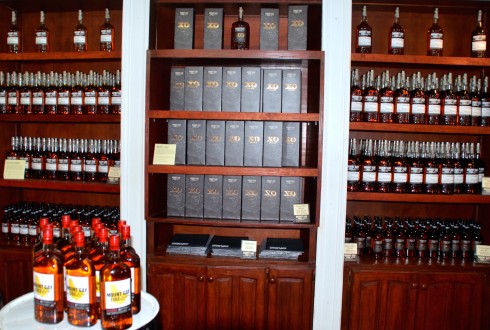 Immediately behind the sales room is a bar where you can order a variety of rum based cocktails, but you have to pay for them. I'll wait for the free samples coming up.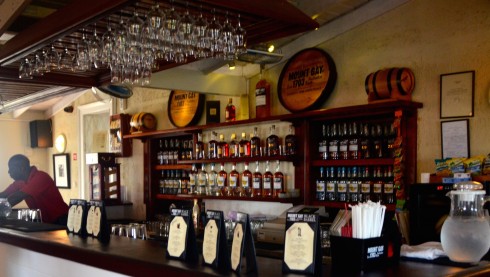 Soon a chap comes in and announces he will be our tour leader. His name is, and I'm not making this up, Rumal. I don't know if that gave him a leg up in landing a job here or not, but it definitely couldn't hurt. Rumal leads the way into a semi-circular room where everyone gets a rum punch and he proceeds to describe the history of rum making at Mount Gay which by now I have figured out is not here, but somewhere in the northern hills of Barbados. After that we are herded into a small theatre where we are shown a fifteen minute film that basically repeats everything Rumal has just told us. The reward is that when we re-enter the tasting room Rumal has it all set up. There are five basic Mount Gay products of which we get to sample three.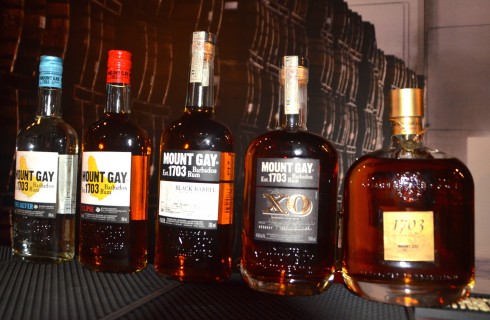 The first is the Mount Gay Eclipse which is the standard offering sold around the world with the map of Barbados on the label. It is meant to be mixed with something, usually Coke, because on its own it is God awful. Even Rumal doesn't pretend that this is a sipping rum.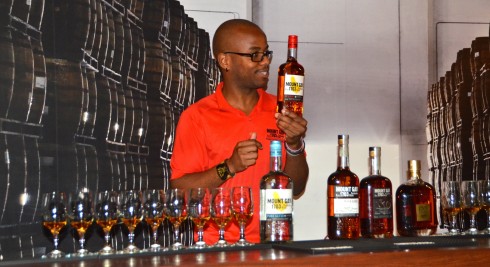 Next up is Mount Gay Black Barrel which Rumal, towing the company line, describes as having a warm medium body with a long finish – translation, a bit less like gasoline than Eclipse, but it makes up for that by spending more time burning your throat. Last up is XO which is described as rounded with a smooth finish. This one I can see getting an acquired taste for, but I think it would take a long time, maybe eons. Here's Alison enjoying a glass, at least this picture might make you think that. The truth is we could not finish any of the three samples.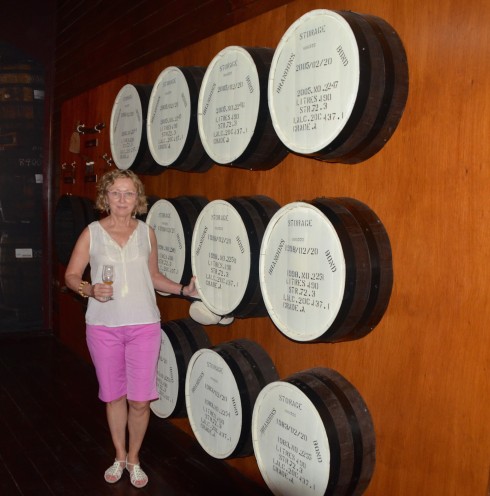 However, Rumal kept us ever hopeful as he extolled the joys of 1703 which he described as a true sipping rum, not meant to be despoiled by any type of mix. The only problem was it costs $100 USD a bottle and the owners were not about to be that beneficent and provide a free sample, but we could buy one at the bar for $14.00 BDS.
After the sampling we were taken to the bottling facility which was utterly unfascinating and the visit mercifully short. After that we returned to the bar and were shown to tables for the buffet brunch, which was the best thing about the visit. The fried fish, barbeque chicken, salads and rice were all good, but to me the best item was the macaroni pie which is a traditional Bajan dish. The macaroni is not our familiar elbow type, but something longer that makes for a much firmer dish than mac and cheese. It is delicious and I will be seeking it out for the rest of the stay in Barbados.
The brunch is accompanied by more rum punches and I can't get the thought of Mount Gay 1703 out of my head. I wander into the sales room and gander at the bottle and finally go to the bar and order a glass. It actually tastes pretty good – more like a brandy than a rum to my taste, but I'm certainly no expert.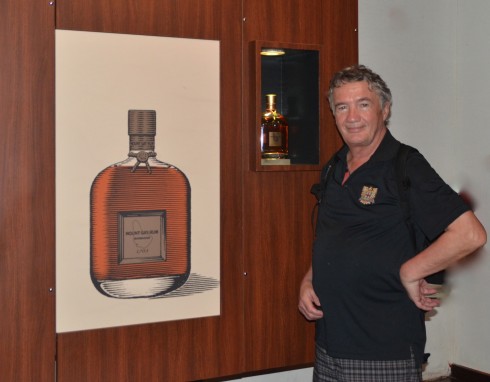 It's time to leave and on the way out the door I say  "What the hell " and buy a bottle of 1703. So now I have a bottle of very expensive rum I will never drink, so if you are ever in the neighbourhood of St. Margaret's Bay drop in for shot of Barbados' finest.
UPDATE:
I still have it in 2021.
Next we will visit Barbados famous Harrison's Cave. Please come along.