Carlisle Bay, Barbados – The Right and Wrong Way to Snorkel It
On the day I visited Mount Gay distillery we passed by Carlisle Bay and I saw a lot of people snorkelling just a short distance from the beach. In my infinite knowledge of snorkelling, at the time I thought "That's kind of lame." My idea of good snorkelling was to go well offshore to a secluded reef, not to be puddling around close to shore within sight and sound of the traffic on the coastal highway. Well, once again I turned out not to know what I was talking about – so join me today as I discover the right and wrong way to snorkel Carlisle Bay.
Yesterday, after a week at the Bougainvillea Beach Resort on the south coast we moved to the Tropical Sunset in Holetown on the west coast. On checking in I let them know that we would like to go snorkelling during our stay there and the lady at the desk asked me "Do you want the big boat or little boat?".  Always preferring small over big when it comes to the number of people on a boat, I replied " Little boat please". I didn't ask any questions about where the snorkelling would be or what company would be running it, but as it turned out my answer made all the difference. We were told that we would be picked up at 9:30 the next morning.
The Jolly Roger
Psyched for our first snorkel experience in Barbados, Alison and I were dutifully ready and down at the front desk at the appointed time, but there was nobody waiting to pick us up. There was a wizened old white Bajan looking for people to go on the Jolly Roger boat tour, but I said we were waiting for the snorkelling trip. He said "Yes Yes – Jolly Roger" I gave the desk clerk a pleading look and she just nodded her head. Despite my avowal that the one thing we would not do in Barbados was go on the bloody Jolly Roger, somehow I had managed to get us booked on that infamous vessel. Idiot!
So why the trepidation about the Jolly Roger? Well it started with my sister Anne who took a cruise on it during her first honeymoon and her new groom got so plastered that he 'became' the entertainment, leading a conga line of drunken bikini clad revellers around and around the boat. Since then I've heard from many sources that it is the ultimate Caribbean party boat and it all comes back to the rum punch which flows freely and is incredibly potent. Now I've got nothing against a booze cruise, God knows I've created enough of my own, but to me, snorkelling with a bunch of drunken twits is not what I had in mind today. Alison had not heard the exchange about the Jolly Roger and as we headed toward Bridgetown I had to confess to her the results of my failure to make proper enquiries about what boat we were going on. She thought it was pretty funny and since there was not a bloody thing we could do about it now, I started to laugh as well.
I knew the Jolly Roger was berthed in the Careenage,  having seen her there a few days before on a walking tour of Bridgetown. I'd even taken a picture of it and sent it to my sister asking her if it bought back fond memories. After collecting two more couples on the way we were deposited in front of the Jolly Roger tavern that serves as the ticket booth, souvenir shop and somewhat incidentally as a restaurant and pub. The ticket lady was actually a friendly dwarf who, looking at the reservation slip given to me at the hotel, said " Oh, you're on the little boat". I asked if that meant we were not going on the Jolly Roger and she replied " No, you're with Randy and one other couple". I almost did a Tiger Woods fist pump – a last minute reprieve! Others who no doubt were considering the Jolly Roger cruise the highlight of their holiday, looked at me like I was a crazy man.
Apparently the tour I booked was strictly for snorkelling and did not include an after snorkel boozefest. It did include a meal which we would have here on our return.
Waiting about fifteen minutes for Randy to show up I watched Jolly Roger passengers load up on fake pirate regalia from the souvenir store. One guy bought one of those red and white striped bandanas, a large earring, an eyepatch and a hook for his left arm and a pistol to hold in his right – and he wasn't even drinking yet.
The other couple on our tour were from Indiana and were on a day trip from one of the cruise ships in port. Our captain Randy, unlike the crewmen on the Jolly Roger was dressed normally and led us along the Careenage, past the Jolly Roger where there was a big lineup to get on, to a small boat which would only hold maybe six passengers at most. Then we were off to Carlisle Bay.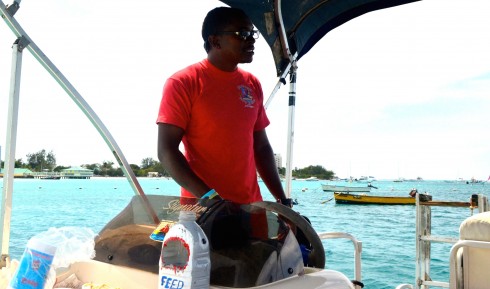 Randy explained that we would make two snorkelling stops, the first to swim with sea turtles and the second to snorkel Carlisle Bay and the shipwrecks located there. It didn't take long to get out of the Careenage and into Carlisle Bay, passing the Jolly Roger along the way.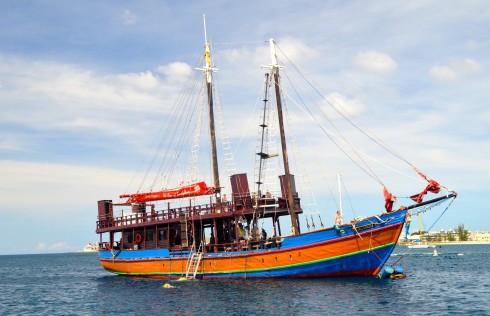 Carlisle Bay – The Sea Turtles
Randy had a buoy to which he tied up his boat and another private boat came by and asked it it could tie up here as well, to which Randy agreed. There were two couples on that boat including one bald headed Brit. Randy explained that this was the spot for turtles and there were only two rules, no flippers here and please don't chase the turtles or try to grab them. The bald headed Brit then promptly put on a pair of really long flippers, jumped in and proceeded to chase and try to grab the first turtle he saw. I kind of wished I had a speargun just about then to deal with this idiot.
As we prepared to go into the water the Jolly Roger was just anchoring a couple of hundred feet away and dozens of snorkelers were jumping into the water, bumping into each and I am sure scaring the hell of any turtles in the area. This picture I found gives you a pretty good idea of what I was seeing. There's a turtle down there somewhere I'm sure.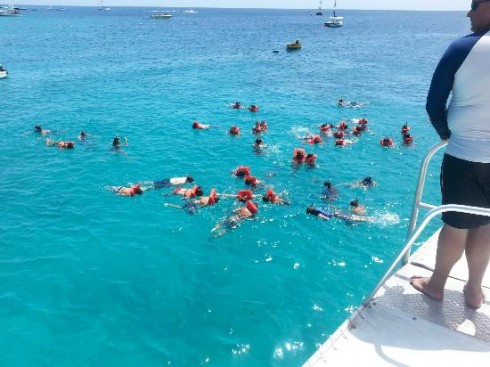 In the meantime there was just us, the Indiana couple and Mr. Bald. Randy threw small pieces of boneless tuna into the water for the turtles and sure enough a couple of green turtles showed up and swam with us for the twenty minutes or so we snorkelled there. I've snorkelled with turtles before, but it's always a thrill to have a sea turtle come right up to you and nonchalantly swim by.
Carlisle Bay – Snorkelling the The Shipwrecks
The next stop was the one I was really looking forward to – the shipwrecks. Apparently there are a lot of ships that have come to grief in Carlisle Bay including ones that have been deliberately scuttled by drug smugglers. Other ships have been sunk specifically to create ideal conditions for coral growth and artificial reef creation. Here is a map of the sunken ships in Carlisle Bay Marine Park. Their dark shapes are easily identified in the otherwise very clear aquamarine waters of Carlisle Bay.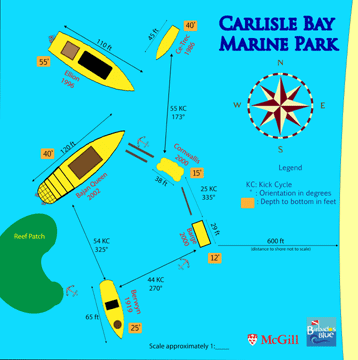 Randy anchors at a spot about 100 feet from the nearest wreck and in we go, this time with flippers.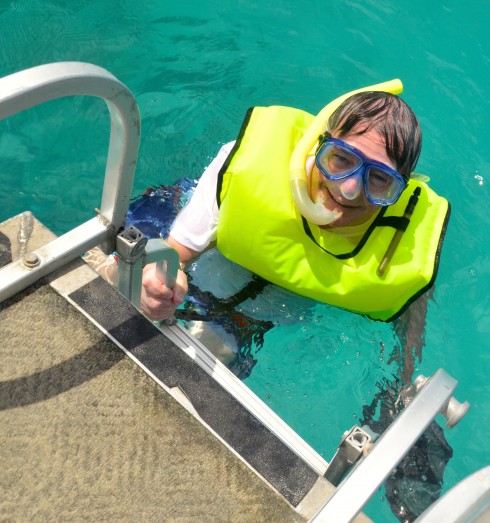 The next hour was one of the most enjoyable snorkelling experiences I have ever had. The water was about 30-40 feet deep, but you could clearly see to the bottom. Once over the wrecks you were, in some places, only a few feet away from them and the fish! There was as many varieties of fish as I have seen at one snorkelling site – beautiful blue and white striped triggerfish, hundreds of sergeant majors that gathered around me as I simply floated watching the fish go by, trumpetfish, snappers, spot, grunts and many more. The longer I floated the more detail I could seen including the bright coloured creatures that actually make up living coral.
This isn't me, but it gives you an idea of what it's like to be surrounded by fish in Carlisle Bay.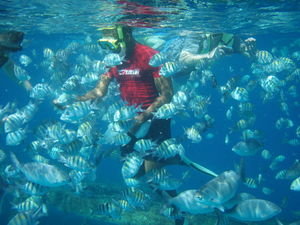 In the course of an hour at Carlisle Bay I don't think I lifted my head out of the water once or paid attention to what anybody else was doing. I was rapt as I drifted from one wreck to another. I noticed that the amount of fish surrounding me seemed to be increasing and heard a voice in the distance. I looked up and realized that I was the only one in the water. The Jolly Roger was long gone and I had the place to myself. Alison took this picture from the boat.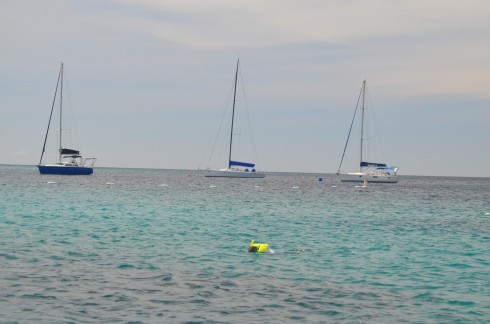 The reason there were so many fish is that Randy had been throwing them food. He had also been trying to get my attention that it was time to go. I could have stayed for hours.
On the way back we did a little tour of the harbour and out came the rum punch, the same as served on the Jolly Roger and it did pack a punch, no pun intended. Here is Bridgetown from on the water in the Careenage.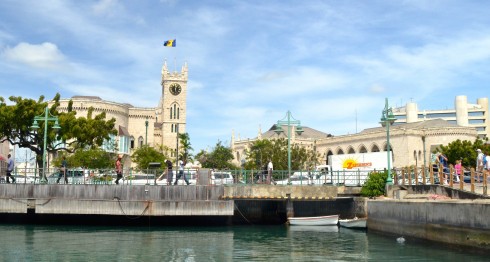 Returning to dry land we had an OK lunch and then headed back to Holetown, feeling a lot better tomorrow I bet than the Jolly Roger passengers.
No longer will I ever think that because someone is snorkelling just offshore that they are not having a great experience and I have Carlisle Bay to thank for that.
Next I'll complete the circuit of the island  by taking a tour of northern Barbados. Please join me.