While all the dishes were great there was one so good that I would come back to Barbados just to have it. The Bajan fish stew was completely unlike other great fish dishes like bouillabaisse, cioppino or traditional chowders. The cream fish broth base was unlike anything I have ever tasted and as far as I can tell this dish is unique to chef de Gruchy. Simply amazing.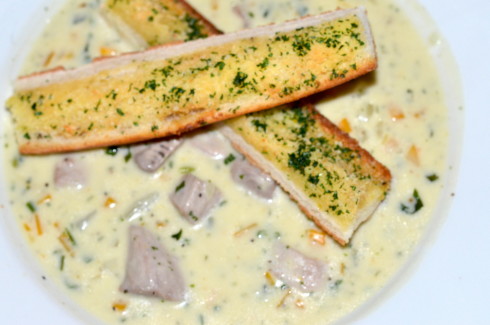 Also great was the luna crepe which was stuffed with shrimp, fish and crab in a white burgundy cream sauce.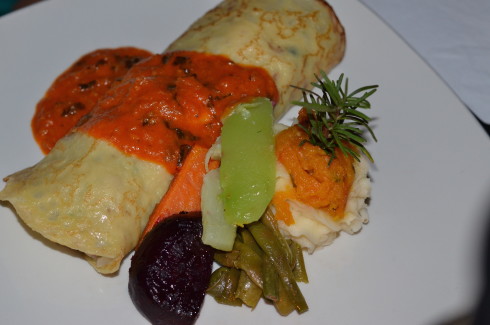 Cafe Luna is doing things that no other restaurant in Barbados does and should be on every visitors must eat at list.
Best Places to Eat in Barbados – Medium Priced
Tapas
Tapas – Tapas is a very popular restaurant with a beautiful location beside the boardwalk at Hastings which you should definitely make a point of walking to even if you are not dining out.
Most of these waterside restaurants have retractable roofs that can be rolled out if there is an unexpected shower which there was the night we visited. We still had the advantage of sitting only a few yards from the ocean. We were a party of six and on the whole there were more hits than misses.
For appetizers the chorizo stew was simply amazing – an explosion of flavour.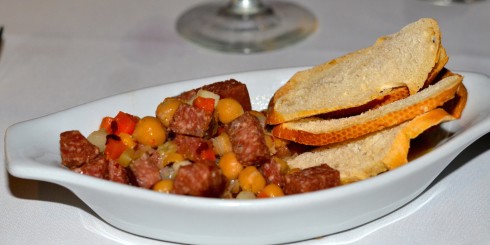 Equally excellent was the beef carpaccio which came as a dome of carpaccio enclosing a salad within. Carpaccio seems to be on the menu in most of the better Barbadian restaurants, but this was by far the best our group had sampled.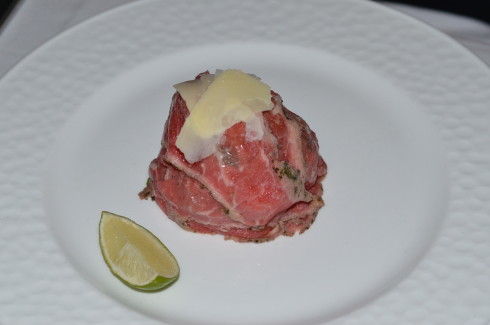 The calamari was well presented, but not up to the level of the other appetizers.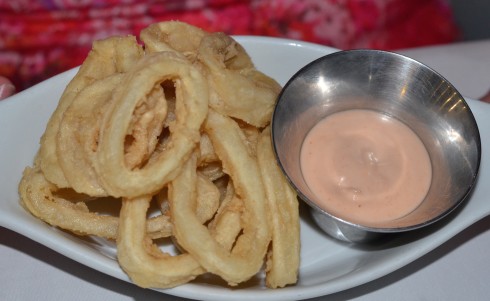 For mains my wife had the mahi mahi which she declared to be the best she had ever had, and she's eaten a lot of it.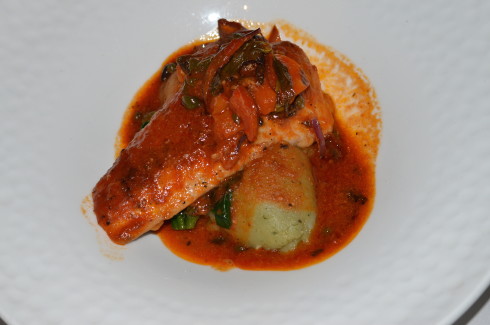 My grilled seafood platter looked wonderful, but frankly didn't have the zing I expected.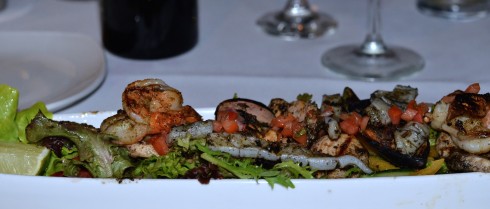 The rack of lamb met with approval by my friend who ordered it.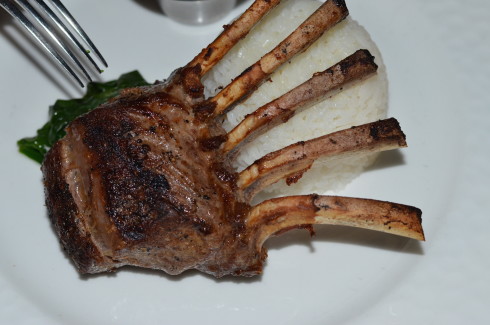 For desserts the tiramasu and lava cake were absolute hits, while the panna cotta had a thick coat of jelly on top that really didn't add anything.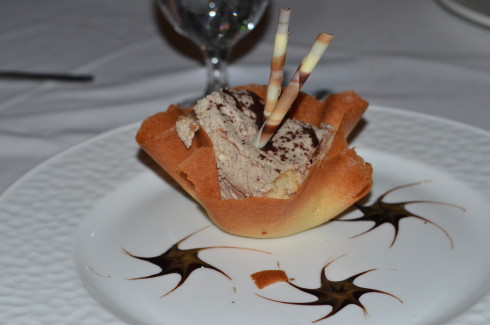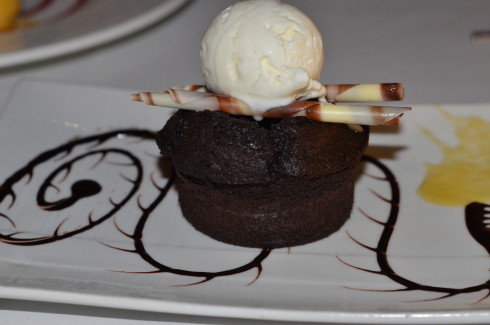 It appears that two out of three appetizers, mains and desserts were excellent. As Meatloaf famously sang "Two out of three ain't bad".
The wine list was reasonable and service great. Prices were a little less than other Barbadian waterfront restaurants. You do have to pay a premium for seaside dining. I happen to think it is worth it, others may not.
Apsara Samudra
Apsara Samudra – Barbados is famous for its seaside dining rooms where a seat by the 'railings' as they are called guarantees that you will be dining with the ocean just a few feet away, lapping at the oceanside of the building. I'm not talking about close to the water I'm talking practically in it. The Apsara Samudra is one such restaurant in St. Lawrence Gap and if you feel like Indian cuisine then this is the place on the south coast.
From the exterior it looks more like a small colonial manor house than a restaurant, but after entering and being taken through the interior to the oceanside patio any thoughts of this being somewhat stodgy evaporate. The staff are pretty well all native Bajans as opposed to the East Indians who usually run such places. While we didn't have a table right over the water we were close enough to see and hear the surf breaking.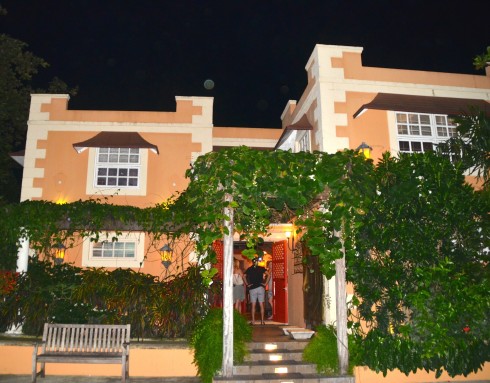 The cuisine is not restricted to the Indian sub-continent as there is also a Thai menu. In our group of four we ordered and shared such traditional dishes as butter chicken, tikka masala and lamb curry as well a green Thai curry.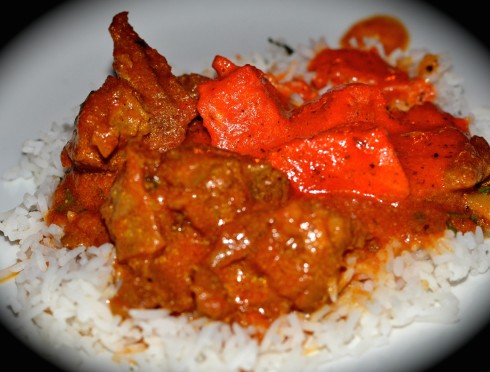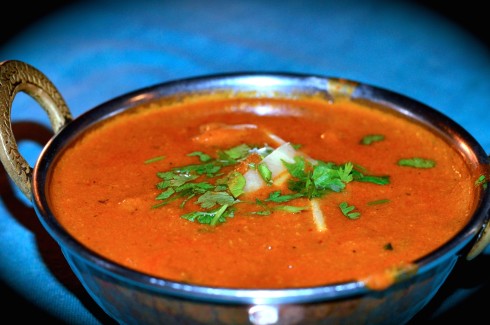 Mixing the various dishes up over a bed of basmati rice produced great results which paired well with a New Zealand pinot gris. Dessert of coconut ice cream helped the palate calm down after the heat of the main courses.
Service was excellent, prices fair and the ambience perfect. The only reason I don't give this place the highest rating is because I am judging it against some other Barbadian railings restaurants that are truly among the best in the Caribbean, but then again it is much cheaper.
The Round House
The Round House – Bathsheba is one of the most beautiful places in the Caribbean. You can only get there by way of a long winding descent to the wild eastern shore of Barbados. The beach is breathtaking, but deadly for swimming. There are few tourists and most of them head to the storied Atlantis Hotel, but there is a great alternative – Round House has been around since 1832 and has a dedicated following. We were on a private tour of the east coast with a knowledgable taxi driver and he suggested Round House for lunch.
It has a great location about sixty feet above the beach and you can sit on an outside patio or inside if you want it cooler. We sat at an inside table that had an open window from which we could watch Barbadian children playing in natural 'soup bowls' carved out of the coral – a safe haven on an otherwise dangerous shoreline.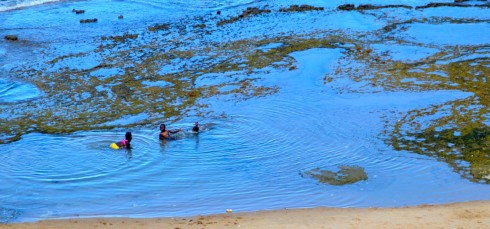 The reason I am recommending The Round House is not just because of the location, as great as it is, but because of one dish – the pulled pork sandwich. I wasn't paying much attention when it came, watching the beach below and listening to the guy playing guitar and singing softly at the front of the room.
Biting into it my mouth suddenly exploded with pure flavour. Not vinegar. Not barbecue sauce. Not tomato. Just pure umami. The pulled pork is braised in local 10 Saints beer and topped with aioli and caramelized onions. Sorry southern U.S.A., I've never had better pulled pork – anywhere. When Round House says its pulled pork sandwich is famous they are not BSing. I'd travel a long way to eat this again. Also the only fries I had in Barbados came as a side and they were very good as well – thin and cooked right through until crispy.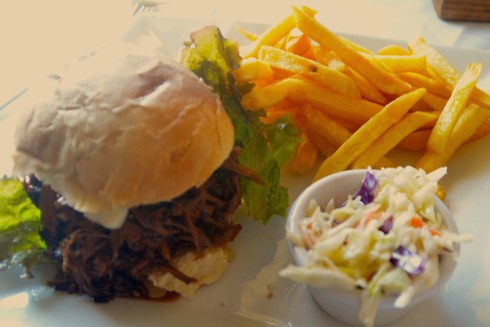 My wife had the mahi mahi sandwich which was excellent as well, but she found out there is a reason great fries are made out of potatoes and not breadfruit as she had ventured to try.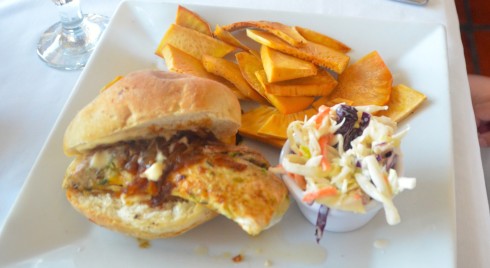 Best Places to Eat in Barbados – Bajan
These are the places to eat that you are only going to find on Barbados serving traditional Bajan cuisine at prices that in some cases are incredibly cheap. If you are looking for value and bang for your buck try these.
Mullins Bay Beach Bar and Grill
Mullins Bay Beach Bar & Grill – Mullins Beach is one of the prettiest on Barbados and Mullins Bay Beach Bar which sits at the north end of the beach is a Barbadian institution. The clientele is a mix of tourists and locals who are here for the laid back atmosphere, Bajan cuisine and of course the unbelievable views. If I could think of one bar in Barbados that you might find Jimmy Buffett at, it would be this one.
Beside the bar you'll find brightly coloured signposts pointing the way to various Barbadian locations like Jack in de Box Gully and Hangman's Bay.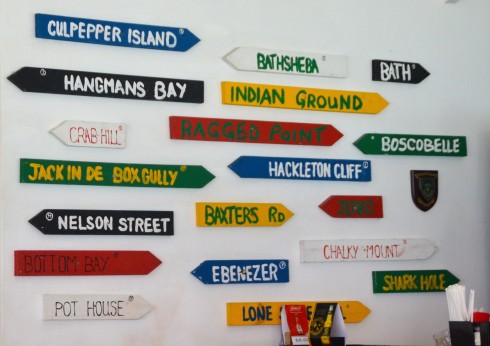 A mural featuring green monkeys dressed as gentlemen covers the entire back wall.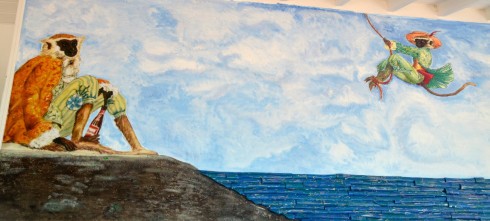 Or you can look at this.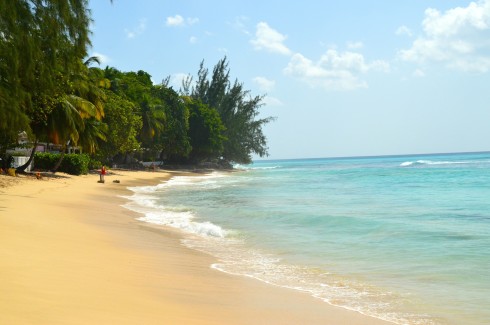 If there is one place you should try the Barbadian national dish, flying fish and cou cou, it is here. Cou cou is a simple combination of cornmeal, okra and spices that is the perfect compliment to the fish. Sitting back and relaxing with a Banks beer or rum punch while listening to Bajan music, you won't want to leave.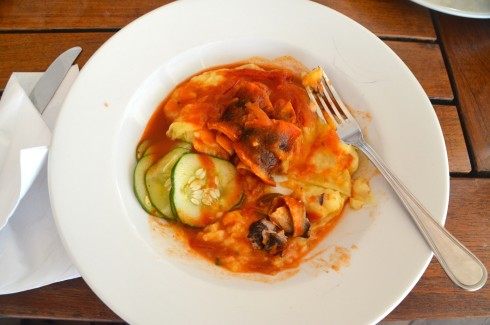 Sadly, after decades of success, this place closed in 2018 so it's no longer on the list of best places to eat in Barbados, but I would substitute one of the other restaurants in the Mullins Beach area rather than no visit at all.
Daddy's
Daddy's (no web site) –  Daddy's is but one of dozens of tiny take out places that serve Bajan food at great prices. Most of them have pretty much the same menus and almost always feature cutters which are sandwiches on a round bun called a cutter. Although you can get Bajan ham and chicken cutters, the best by far are the fish cutters, usually made from battered flying fish and served topped with an assortment of vegetables or pickles depending on the place. Barbadian hot sauce is an almost mandatory condiment. Wash it down with a cold Banks beer and you've got yourself a great lunch.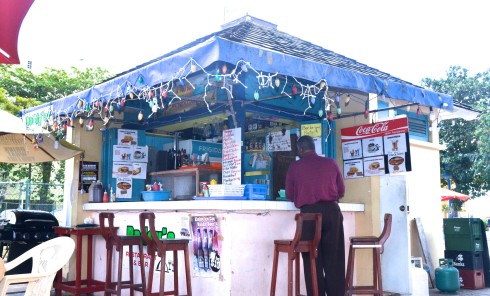 Daddy's is one of about five or six tiny places clustered together in central St. Lawrence Gap. There is a lot of local colour and quite a few ex pats and fewer regular tourists who seem to stick to the much pricier beachfront establishments. However, the area is perfectly safe and so is the food.
How about $27.00 BDS for two fish cutters, two beers and an order of rice and peas. That's less than $14.00 US folks and you can put the money you save towards paying for dinner at one of Barbados more tony restaurants.
Best Places to Eat in Barbados – The Oistins Fish Fry
Oistins Friday Night Fish Fry – Barbados only has four actual towns – the capital Bridgetown, Holetown where the rich and famous hang out and Speightstown and Oistins which are essentially fishing villages. Oistins is just south of St. Lawrence Gap which is the most popular tourist destination on the island. While there is not much to see in Oistins (although Enterprise Beach just south of town is very nice) it does have a weekly tradition that attracts tourists and locals alike.
The Friday night fish fry in Oistins is a pretty simple idea – you sit outside on picnic benches at one of the many small establishments that are based just behind the fish market where I presume they have their favourite sources of fresh fish. What you eat was swimming in the Caribbean only hours before.
I would say 95% of the people who attend have some type of fish – flying fish is the favourite, but you'll also find barracuda, kingfish, snapper, mahi mahi and other varieties, although not necessarily all on the same Friday. The other 5% can get chicken or pork or vegan rice and peas.
Prices are quite reasonable and it usually doesn't take long to get your order. Most patrons wash the fish down with local Banks beer.
The most important thing to decide about going to the fish fry is are you more interested in eating the fresh fish or participating in the local scene. If it's eating you need to get there by 6:00 because the places fill up fast. If it's listening to music, watching Bajans dance or just soaking up local colour then that really gets going after 8:00 although there will be some drummers and other spontaneous entertainment as early as 6:00.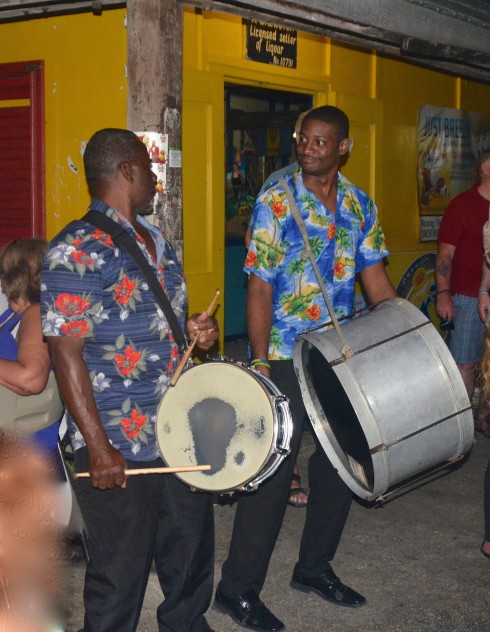 The most popular eatery is undoubtedly Uncle George's which was recommended to us by several locals and lived up to its reputation. Have a look at the picture of the whole grilled snapper that my wife found delicious.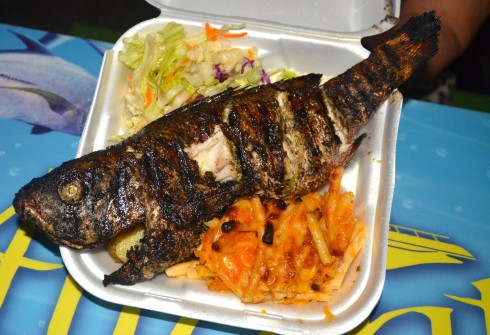 A couple of hints about getting the most out of a visit. Starting at about 5:30 the one road to Oistins from St. Lawrence Gap and above is going to get packed. If you leave any later you could spend a long time sitting in a taxi. Save the money and spend $2 BDS on a bus or ZR. Alternatively if you are staying anywhere from Dover Beach south you are just as well off to make the 20 minute walk. This would include those staying at Turtle Beach, Sandals or the Bougainvillea.
The Oistins Fish Fry is a victim of its own success. If you think you are going to be one of the few tourists mingling with a lot of locals forget it. The place will be packed with mostly white faces.
If it is the fish you are really there for, most of these places are open most of the week and more and more people are going on Thursday to avoid the crowds and traffic jams.
These are my choices for the best places to eat in Barbados, but don't be afraid to try the food trucks. Mr. Delicious on Enterprise Beach has great fish cutters. Also have at least one meal served out of the trunk of a car or van. These are hearty meals of Bajan food at great prices and if its value you are looking for these trunk meals are probably the best places to eat in Barbados..
Enjoy the best places to eat in Barbados, at least the eight that are still open.
In my last post from Barbados I'll offer some tips on how to make the most out of your Bajan vacation.