Montmartre Cemetery – How to Enjoy A Self-Guided Tour
Montmartre Cemetery
Montmartre Cemetery is one of the reasons we chose to stay in the Montmartre area on a recent trip to Paris. Here's the view we had from our apartment.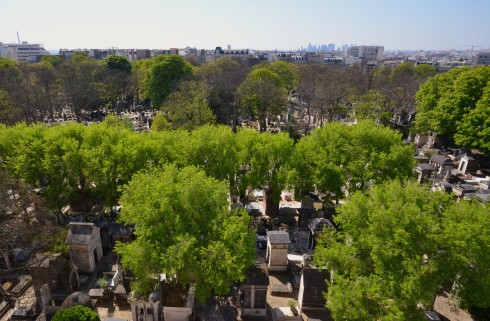 While Pere Lachaise cemetery gets all the publicity, Montmartre cemetery can more than hold its own in terms of famous burials, moody atmosphere and quietude in the middle of a bustling city. It also is compact enough that it is quite easy to do your own self-guided tour, something that's much harder to do at Pere Lachaise. So come along and we'll see who's buried here.
There is only one entrance to Montmartre Cemetery and that is down a flight of stairs off Rue Caulaincourt which actually goes over the top of the cemetery. Entry is free and on the left hand side look for a bell where you will find complimentary plasticized maps that you can borrow. They show just over 100 sites of 'important people'. Use these to get orientated and plan which graves you want to visit. Ignore the large sign with a map of the cemetery. I spent 10 minutes trying to co-ordinate it with the map before I realized the sites are marked completely different on the map than on the sign and since you can't take the sign with you, use the map.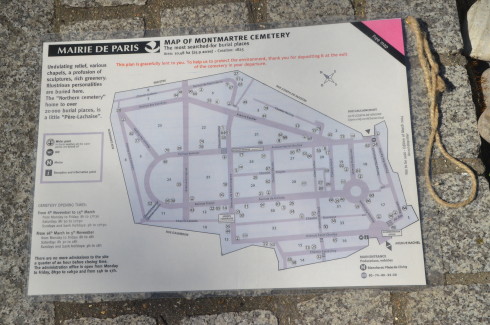 We followed a generally counter-clockwise pattern and these are the graves we found most interesting starting with Godefroy Cavaignac a politician of no particular note, but his death sculpture is exceptional.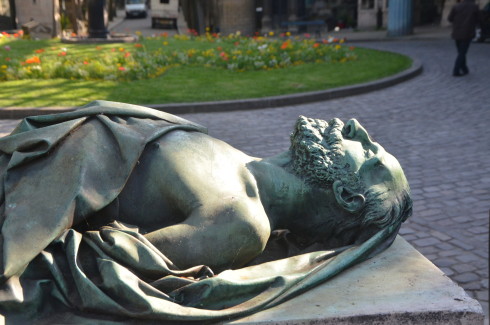 Much better than his picture when alive.
Next up is Emile Zola one of the true great French writers and exposer of the anti-Semitism behind the Dreyfus Affair. Here I am imitating his famous pose in J'Accuse, the open letter he wrote to authorities accusing them of framing Alfred Dreyfus. The reality is that Zola's body was disinterred from this site as I discovered when I visited the Pantheon a few years after writing this post. His actual remains are in one room along with Alexandre Dumas pere and Victor Hugo. That's quite the literary trio.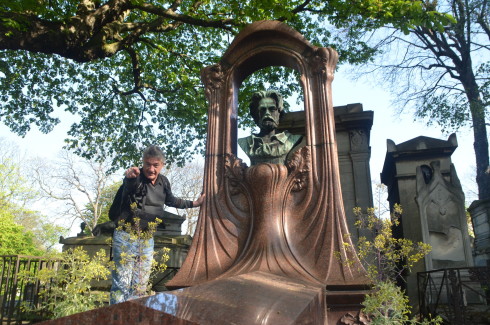 Auguste Feyen-Perrin is the first of a number of famous painters interred in Montmartre Cemetery. Here is probably his most famous painting showing an anatomy lesson.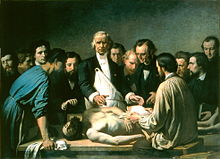 And here is his tomb.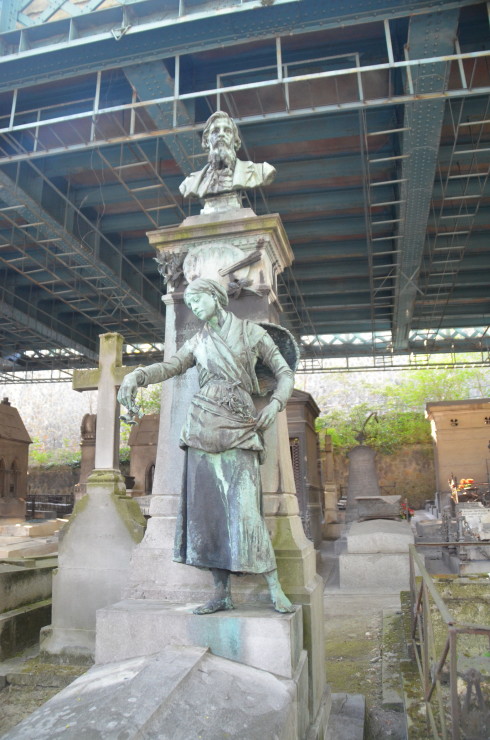 Next up is a famous Napoleonic general and aide-de-camp to the great little man himself, Charles Joseph, comte de Flahaut.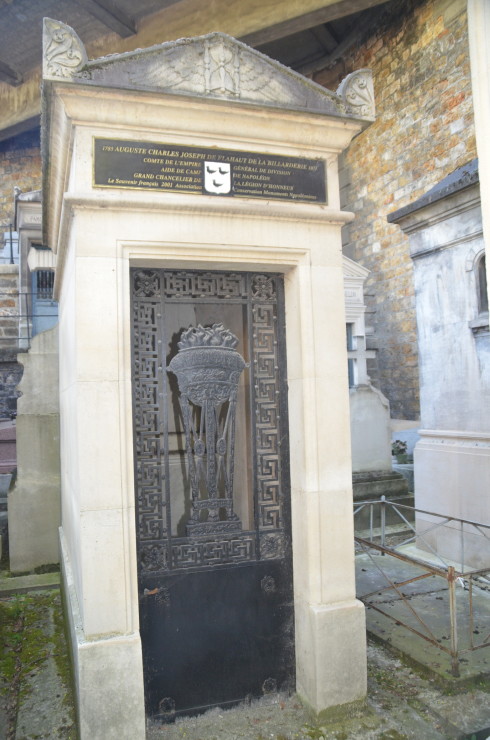 The next site in Montmartre Cemetery was a bit hard to find as you need to pass under the street overhead and we needed to ask an attendant to help us find it, but it's definitely worth finding. The grave of legendary singer Dalida is in my opinion one of the nicest and most tasteful I've ever seen.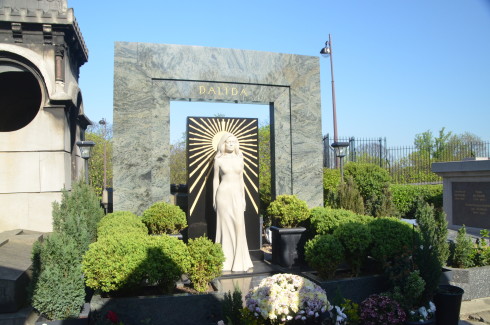 There is also a bust of Dalida in Montmartre, which as you can see, attracts gropers.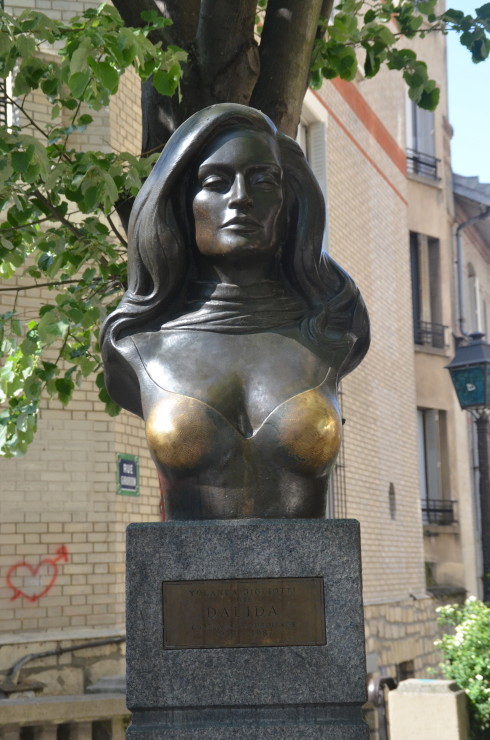 Hector Berlioz is one of the greatest French composers known particularly for his Symphony Fantastique.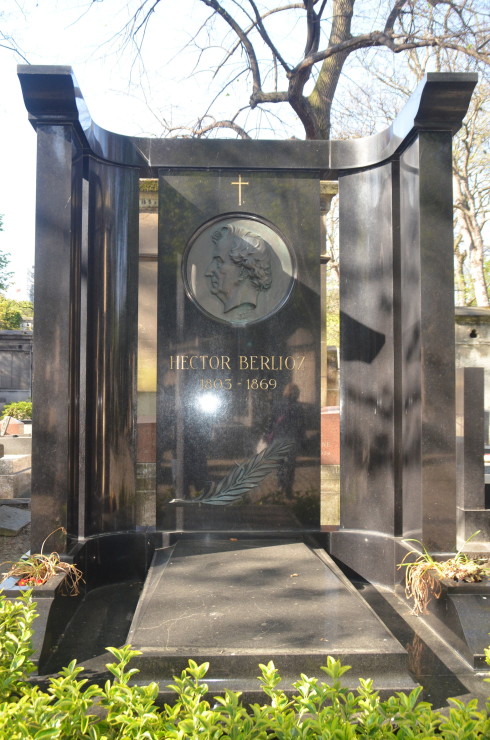 Daniel Iffla, better known as Osiris, was a famous French philanthropist who apparently had serious pretensions as you see from his tomb on which there is a replica of Michelangelo's Moses.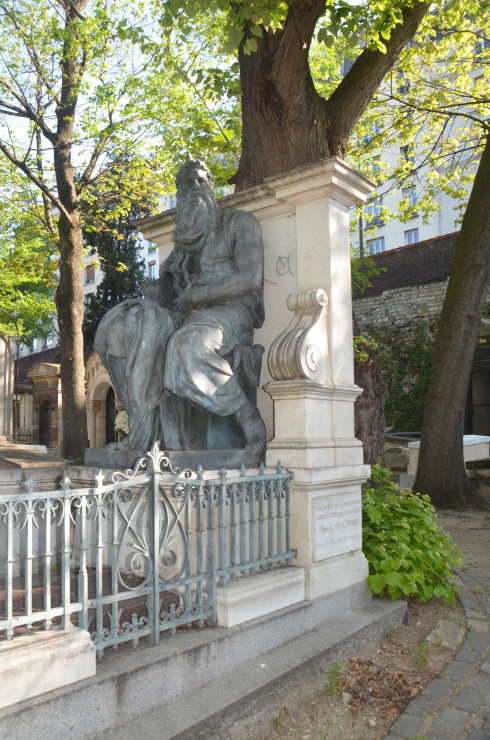 Edgar Degas was one of the greatest French impressionists known particularly for his ballet portraits.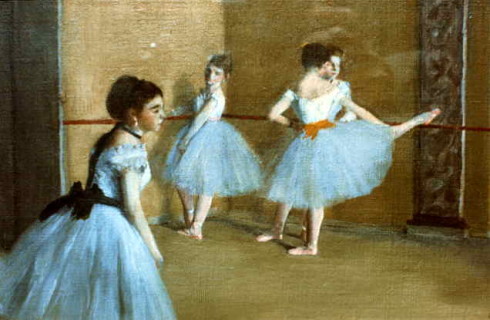 Here is Alison, a painter in her own right with Edgar. As she leaned against the door it suddenly swung open scaring the shit out of all of us.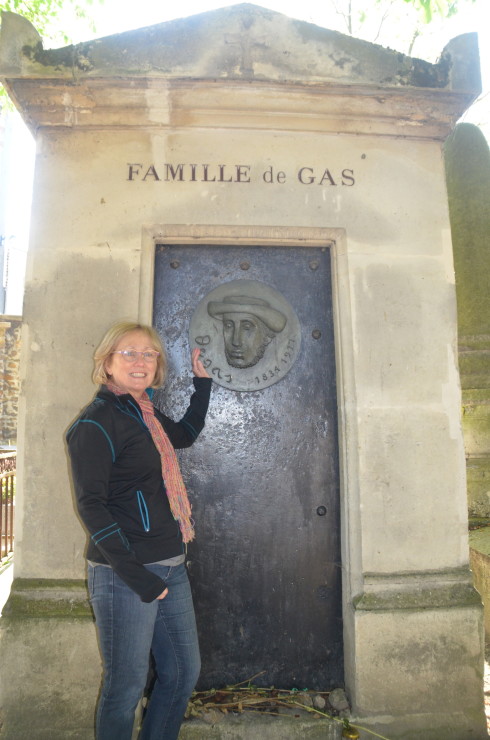 Further down the same lane in Montmartre Cemetery is Adolphe Sax inventor of instrument that changed the world and brought us American jazz, the saxophone. Not much to look at, but that is a saxophone on the side of the sepulchre.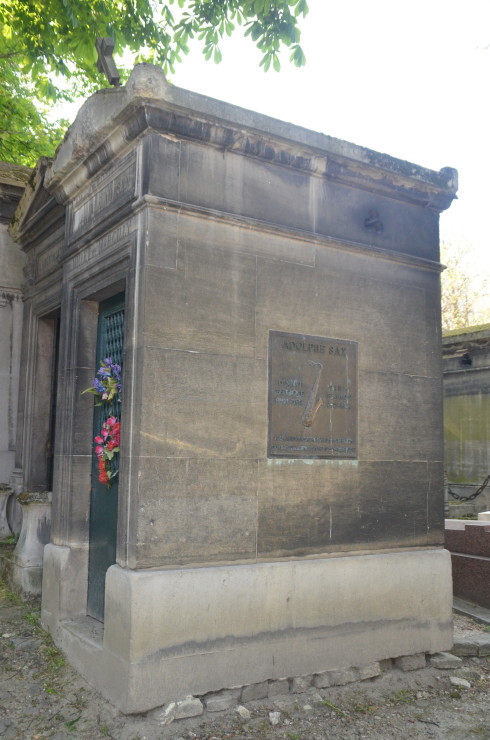 Leon Foucault was a man of many talents and a true genius. Aside from discovering the speed of light and the earth's rotation he is known for Foucault's pendulum which I will not attempt to explain because I can't, but you can see the original in the Pantheon.
Everybody has heard of Taj Mahal, the singer not the monument, whose real name is Henry Saint Clair Fredericks, but few know he had an almost equally famous sister, Carole Fredericks who died far too young at 49. She had an illustrious career in France as a singer and actor. Here is her version of No Rain.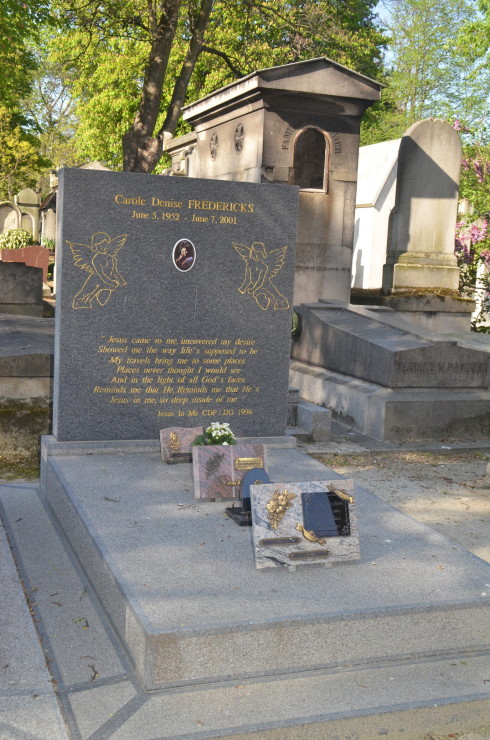 The next grave I highlight in Montmartre Cemetery is not of anyone famous, but I just liked the design that is quite original. It belongs to an Andre Forville.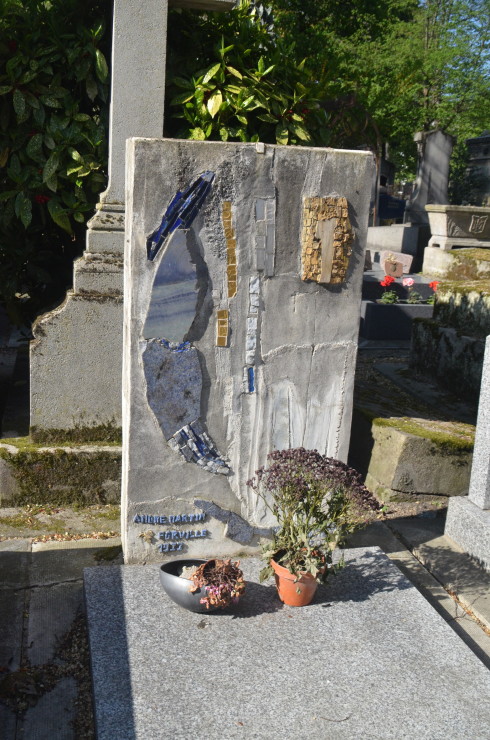 Leo Delibes was a composer of ballets and operas. Here is his Flower Duet which I guarantee you will recognize.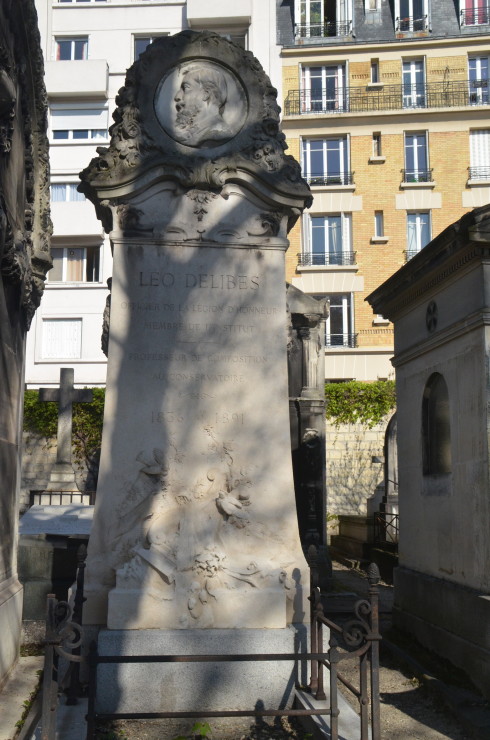 Very close to Delibes in Montmartre Cemetery is another great French composer Jacques Offenbach who is known mostly for his operettas and for inventing can can music. Here are Alison and Anne attempting the can can beside Offenbach's grave. You might prefer the Moulin Rouge version which is just down the street.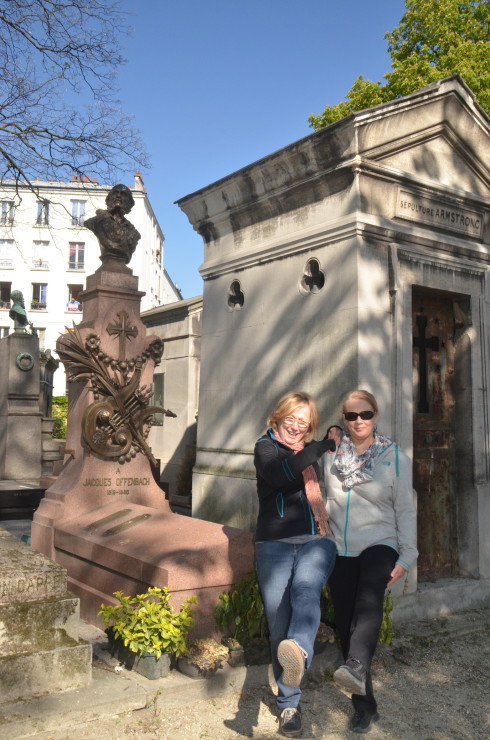 As you move from Offenbach to the interior of Montmartre Cemetery there are a couple of vantage points where you can get a great panorama of this remarkable place.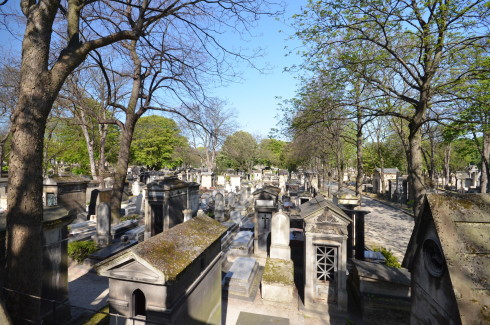 Delibes wrote ballets and this next guy performed them, arguably the most famous male ballet dancer of all time, I bring you Vaslav Nijinsky or just Nijinsky as he was usually called. Read his bio – it is amazing. Here he is depicted as the puppeteer Petrushka and if there is one grave in Montmartre Cemetery that will bring tears to your eyes it is this one.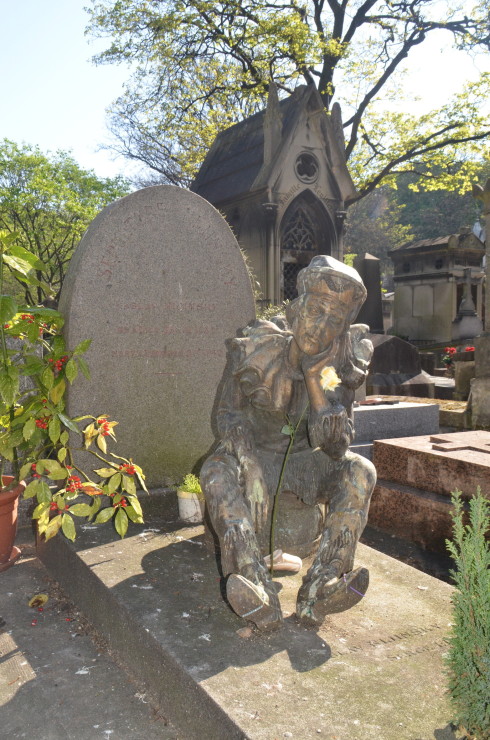 About as far away from Nijinsky as you can get in terms of lifestyle is Alexandre Dumas fils, the illegitimate son of the much more famous Alexandre Dumas pere, author of The Three Musketeers and The Count of Monte Cristo. His bastardy led him to life a life of rectitude while espousing the plight of 'fallen women' which he did in his best known work The Lady of the Camellias or Camille as it came to be known. But apparently it was all too much as he has plainly fallen down on the job.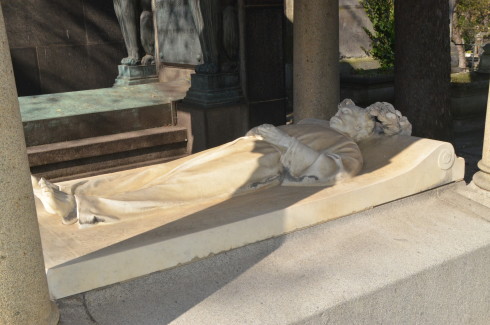 With a name like Heinrich Heine you'd expect somewhat of a German tightass, but Heine was a true liberal who fled Germany to live in the France of the second revolution to write romantic poetry and espouse socialist causes that led to him being considered by some as a precursor to Marx. This is another guy that is worth knowing more about.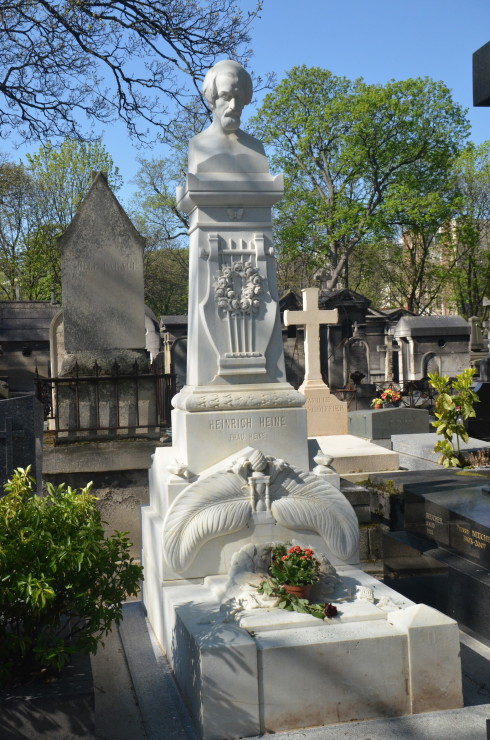 Francois Truffaut is the only person interred in Montmartre Cemetery that I can recall having any effect on my life (I'm embarrased to say I did not know of Dalida or Carole Fredericks before embarking on the research for this post).  He was a leader of the French New Wave directors and his movies were simply brilliant. Two in particular I love are The 400 Blows, one of the best coming of age movies ever made and  Jules and Jim a phenomenally innovative movie about love. friendship and destiny. Many North Americans might remember him best as the ufo expert in Close Encounters of the Third Kind. Looking at his simple grave I felt a loss that I did not feel with the other graves and it helped me understand why others were still bringing flowers and other memorials to people who had died centuries ago.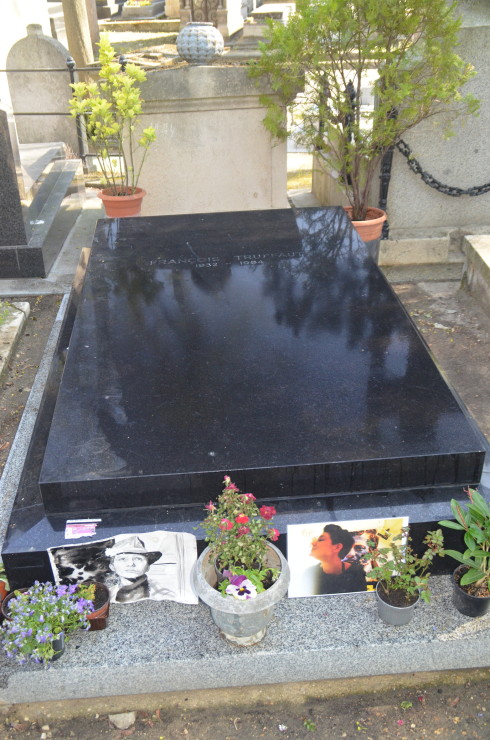 About as far removed from the  avant garde Truffaut is J.B. Greuze a late 18th century painter who was wildly popular in his time, one of his works selling for more than 1,000,000 francs, before fading into obscurity and dying a pauper.  Later his portraits were recognized as being pretty damn good.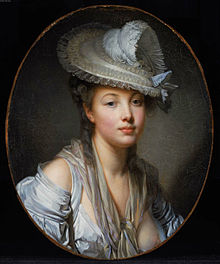 Here's his tomb in Montmartre Cemetery. Not bad for a guy who died as a pauper.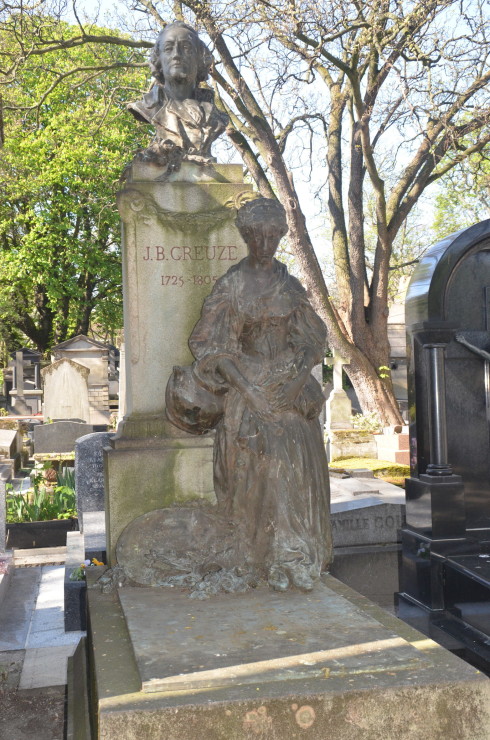 Next is another tomb of someone I can't find on the internet, but obviously had pretensions. Here is Otto Kreis.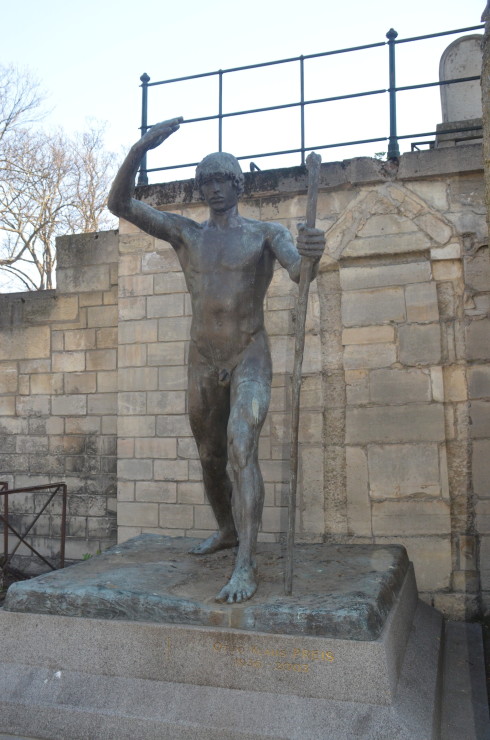 Jean Daniel Cadinot was not your ordinary auteur. He was famous or infamous depending on your viewpoint, for his gay porn videos, but he did a great job on his tombstone.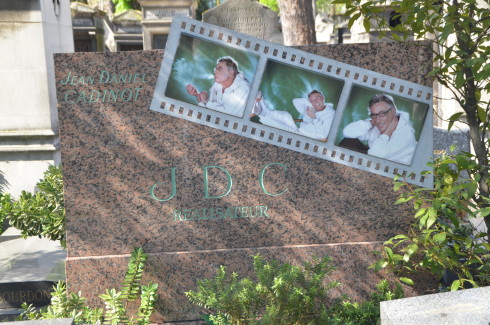 The penultimate site belongs to one of the great unreadable French authors, Marie-Henri Breyle, better known by his moniker Stendhal.  The Charterhouse of Parma is considered by many to be one of the great novels by those in the know which would not include me.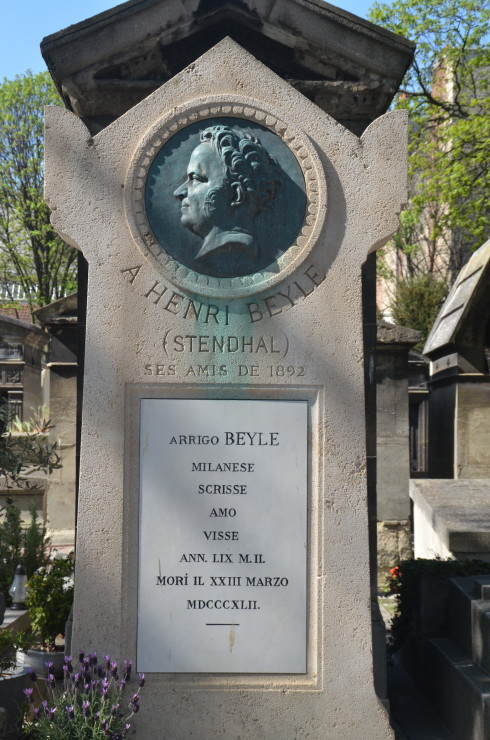 Last up is someone who is probably related to Queen Elizabeth, Constance Saxe-Cobourg Gotha. Despite the change of last name to Windsor by the British royal family, they are actually Saxe-Cobourgs and of German, not British descent.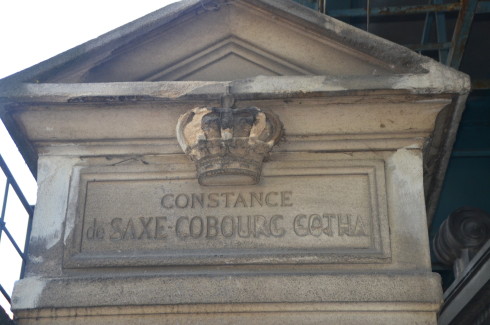 Her monument is kind of stuck in a corner almost as an afterthought near the exit/entryway to Montmartre Cemetery which is where we say goodbye to this city of the dead. I hope you have enjoyed the journey. If you have then you must join me at Pere Lachaise Cemetery where we will take a guided tour with David Burke. Or you can visit the third of the great Paris cemeteries, Montparnasse on your own with me.