Thiepval -The Memorial to the Missing Will Leave You Shattered
After visiting Thiepval woods where modern archaeological techniques are being used to uncover stories from the Battle of the Somme, Liberation Tour 2015 continued our journey at Courcelette. It was the site of a major battle in the campaign where Canadians played a pivotal role in one of the very few successes of the summer of 1916. We will then head to the Thiepval Memorial to the missing which is one of the most poignant on the Western Front. Please join us.
Courcelette
Our tour historian Phil Craig did a great job of describing this battle which involved two new innovations – tanks and the creeping barrage. Even with these new machines and new tactics the battlefield was still hell on earth as portrayed in this painting by Louis Alexander Weirter.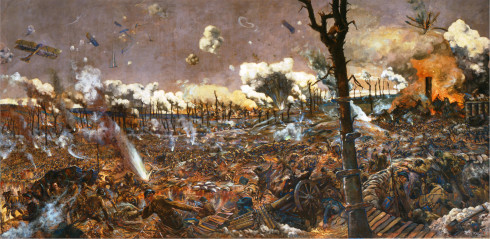 Canada suffered over 24,000 casualties at The Somme. Today the countryside is peaceful, but the cemeteries that are as plentiful as mushrooms after a rainstorm, belie that fact. Here is the very simple monument to those Canadians who fought and died at Courcelette.
Thiepval – The Memorial to the Missing
If there is one place that an ordinary human being, not equipped with omniscient powers, can possibly begin to understand the enormity of the crime against mankind that was the First World War, it's where we are headed next. Thiepval Memorial to the Missing can be seen from miles around as it rises almost like a giant lego construction that dwarfs everything around it, and it should because it marks a monumental waste of life on an unprecedented scale. In an earlier post I queried how a million men could go missing in the four years of fighting on the Western Front. Well Thiepval is a good place to start looking.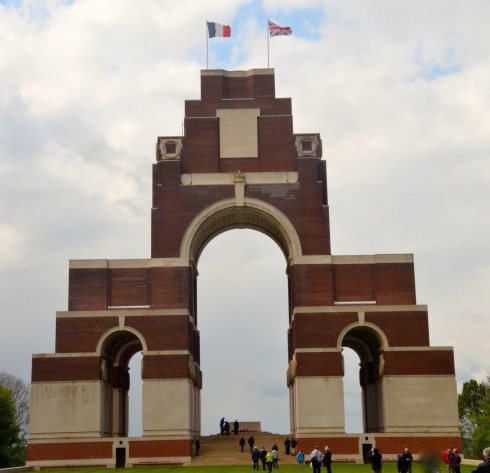 That's our group heading towards the Thiepval monument where an incomprehensible 72,194 names of men and boys are inscribed who disappeared during the battles of The Somme, and that's just the British and South Africans. Add to that the French, Canadians, New Zealanders, Newfoundlanders, Australians, French colonials and others and it all adds up to something so mind boggling that it defies description.
The monument was designed by Sir Edwin Lutyens who also designed the very first WW I cenotaph in London and then it was copied around the world. As you get closer you can read the names of various battles of The Somme where these men were killed, but their bodies never found or identified. Closer still and you see the names, everywhere. In order to try to make sense of it all I decide to see if I can find any Dunlops and sure enough they are there. Here are H. and J. Dunlop. Somehow leaving out their full names doesn't seem right, but then again the place would have to be twice the size to accommodate that.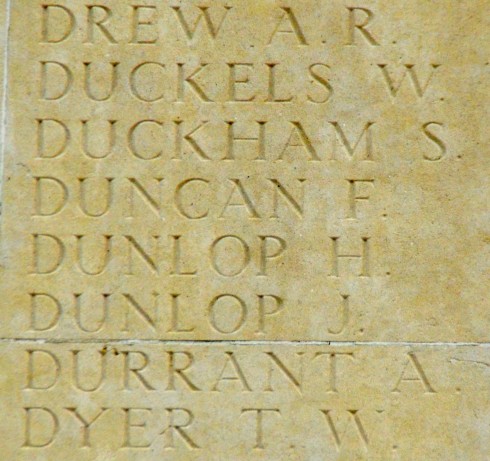 Being a war hero was no guarantee that you were not going to end up dying in an unmarked grave.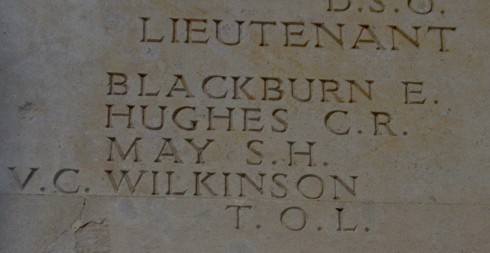 This is Lt. Thomas Orde Lawder Wilkinson who was born an Englishman, of Irish parents who then emigrated to Canada where he was raised until joining the Canadian Scottish Regiment (Princess Mary's) in Vancouver. On arriving in England he transferred to the Loyal North Lancashire Regiment where he won the Victoria Cross on July 5, 1916:
For most conspicuous bravery. During an attack, when a party of another unit was retiring without their machine-gun, Lieut. Wilkinson rushed forward, and, with two of his men, got the gun into action, and held up the enemy till they were relieved. Later, when the advance was checked during a bombing attack, he forced his way forward and found four or five men of different units stopped by a solid block of earth, over which the enemy was throwing bombs. With great pluck and promptness he mounted a machine-gun on the top of the parapet and dispersed the enemy bombers. Subsequently he made two most gallant attempts to bring in a wounded man, but at the second attempt he was shot through the heart just before reaching the man. Throughout the day he set a magnificent example of courage and self-sacrifice.
Despite the fact his fellow soldiers knew he had been killed, conditions were such, with continual shelling, that his body was never recovered. Not surprisingly both Canada and Britain claim him as one of their own.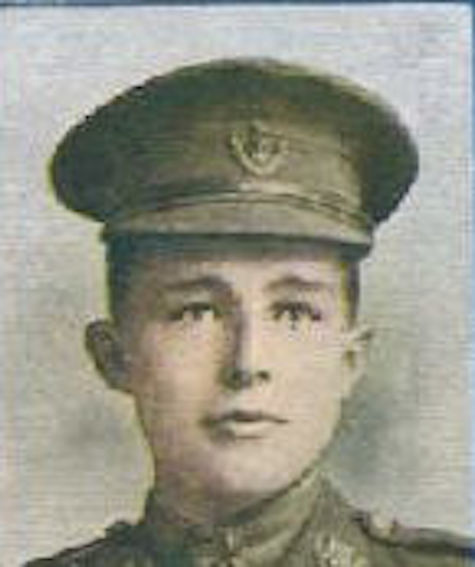 There are a few good news stories associated with Thiepval Memorial to the Missing and that is when a name is taken off the monument because the remains have been identified. I found contradictory information about this practice on the web with one site claiming that the names were not removed whereas this site indicated that there were originally 73,357 names when the monument was opened in 1932. Phil settled the argument by pointing out a spot where a name had clearly been removed.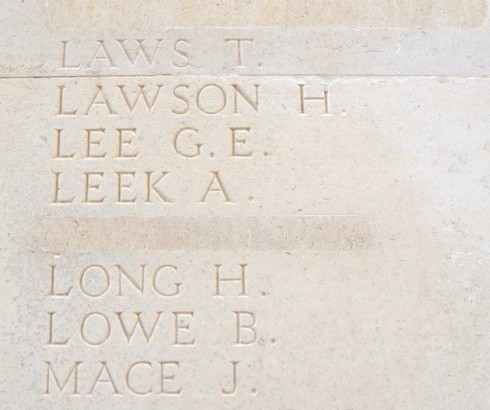 A visit to the Thiepval Memorial to the Missing is only half the story – you see there are also 72,195 soldiers buried here. Thiepval Cemetery is on a scale so much larger than any cemetery we've visited yet on this tour that it simply stuns you into awed silence. These are the first French graves we have come across. Like the Americans they are in the shape of crosses and have an appealing symmetry to them.

This is the Register at Thiepval Cemetery. It consists of a dozen volumes. I found no less than eleven Dunlop's including a Hugh Dunlop (same name as an uncle) from Ayr, Scotland which is the ancestral home of the Dunlop's, and Robbie Burns.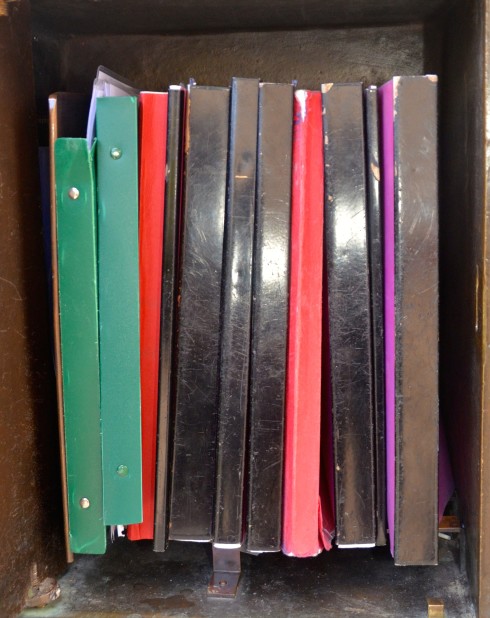 I'm not sorry to leave The Somme, but I'm glad I came. It somehow seems fitting that the cloudy skies and cold weather that have been with us at Lochnagar Crater, Beaumont Hamel, Courcelette and Thiepval have broken up and it is sunny and warm as we arrive at the historic city of Arras where the Grand Place, with its Flemish architecture reminds me that we are almost in Belgium.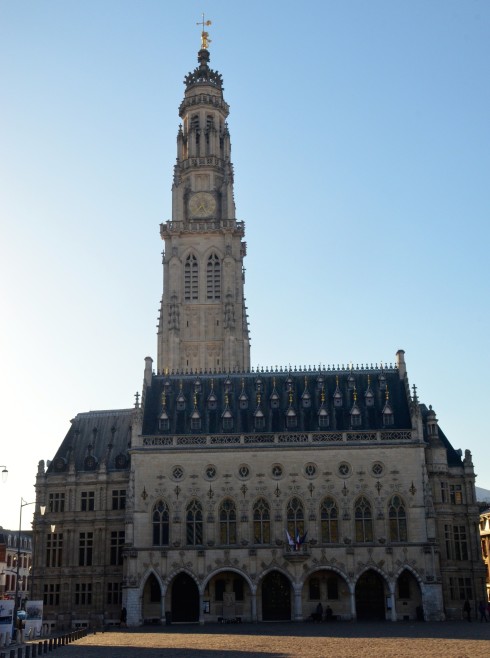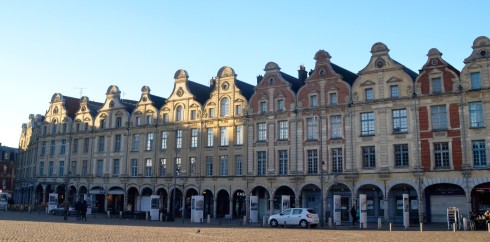 Things can only get better, right? Next is the first of two posts on the most famous Canadian site in WWI, Vimy Ridge, where Canada is said to have come of age.