The Liberation of Holland is Celebrated at Groesbeek
Liberation Tour 2015 wrapped up our tour of WWI sites with the Last Post Ceremony at Menin Gate in Ypres. After that Alison and I made a detour to visit the grave of her uncle John Weir at Calais Canadian War Cemetery.  In the morning we head northeast, passing by Ghent, Antwerp and into Holland. Our destination is Groesbeek Canadian War Cemetery just outside of the Dutch city of Arnhem, but this time it is not just to visit the cemetery. We are here for the first of three days of ceremonies marking the 70th anniversary of the liberation of Holland by largely Canadian forces.
Canadian Role in the Liberation of Holland
During the war the Dutch royal family was forced to flee to Canada where the future Queen Beatrix attended primary school. By coincidence or not, the Canadians were assigned a major role in the liberation of Holland from the Nazi forces that were literally starving the Dutch to death in the infamous 'Hunger Winter' of 1944-45.  Incredible as it seems today, over 20,000 people were starved to death in a country as prosperous and agriculturally rich as Holland during this time. While many Canadians mistakenly think Canada's military history is one of peace making, the reality is that since Canada became a country, we have excelled at war making and we did it no better than here in Holland. It came at a great cost – over 7,600 Canadians were killed, but we probably saved fifty times that number from death by starvation. Our actions were timely and heroic and the Dutch have been grateful ever since for our primary role in the liberation of Holland.
Alison and I first learned this when we did a bike and barge tour in 2014 through central Holland. You can read my posts on that trip elsewhere on this site. The Dutch are a fundamentally decent and appreciative people who treat Canadian visitors with respect and admiration, remembering our role in the liberation of Holland. If you ever want to travel anywhere that will make you proud to be a Canadian, I highly recommend Holland as your first stop.
We arrive at Groesbeek Canadian War Cemetery about an hour before the first of three ceremonies Liberation Tour 2015 will attend is ready to start. It is a large cemetery by Canadian standards with 2,590 identified graves. There are chairs set out on front of the cenotaph where members of all sectors of the Canadian armed forces are standing guard, their heads bowed. It is quite cold and rain is threatening. As we take our seats I can't help but wonder at how these sentinels can remain so upright and rigid in these conditions.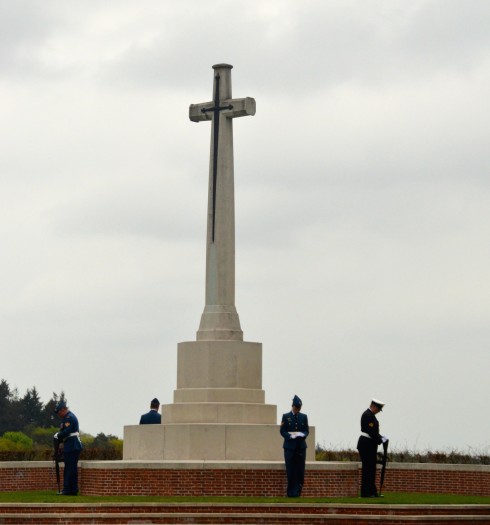 I know it is fashionable these days to attack the current government as not being supportive of vets. That is certainly not what I am seeing here today. There are dozens of vets here who served in the Holland campaign that the have been flown over by the government to participate in the ceremonies. Here is a picture of some of them taken from the official photo gallery of this event.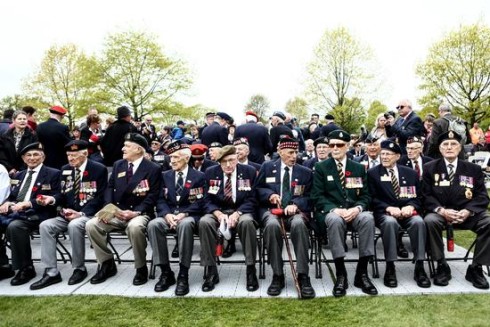 There are also many groups of school children brought here as well. Liberation Tour 2015 has managed to get our group very good seats with a good view of the proceedings to come. Here is Alison and my sisters Kaye and Anne waiting for the ceremony to begin.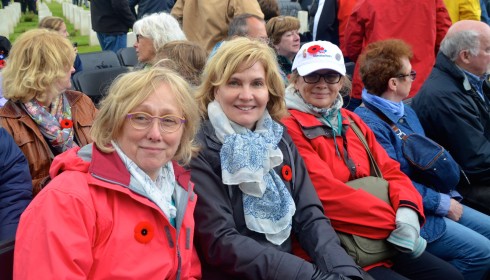 The first speaker is none other than the Prime Minister's wife, Laureen Harper who gives an excellent speech reflecting on the Canadian role in the liberation of Holland.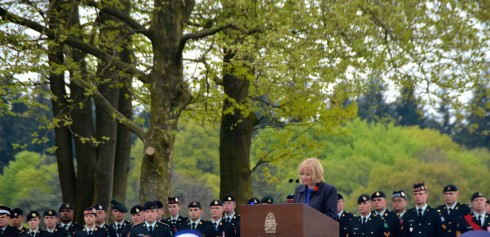 Mrs. Harper is followed by Major-General Richard Rohmer who looks pretty good for his 90+ years. I remember him as the author of a number of best selling, if somewhat lurid political thrillers, that he wrote starting in the early 1970's.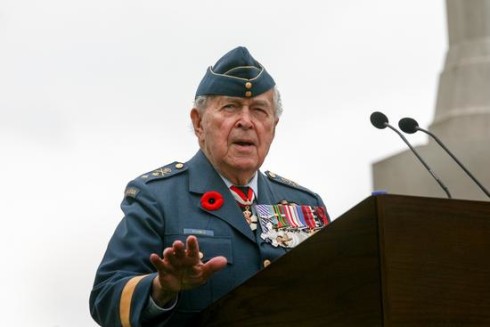 Next up was an army chaplain who was supposed to lead a prayer, but instead went on at great length about what he perceived to be the greatest threat to Canadian freedom, the Chief Justice of Canada, Beverly McLaughlin and her fellow court mates. I just happen to agree with him that the present court has overstepped its role as interpreter of the law and become a law unto itself. After five minutes or so he remembered what he was up there for and gave a one line prayer to sign off.

No pun intended, but I am not big on ceremonies, especially when everything is repeated in three languages even though I am sure that 99% of those present could understand English. So I decided to do my usual tour of the cemetery looking  for graves of interest. I was not the only one doing this and we were quite far back from the ceremony so I don't think it was disruptive.
As expected there were many graves of interest including Sergeant Robert Osborne Mitchell Dunlop, son of James and Mary Dunlop of Hamilton, Ontario. He was in the RCAF like my father and who knows why Robert is here and my father is not.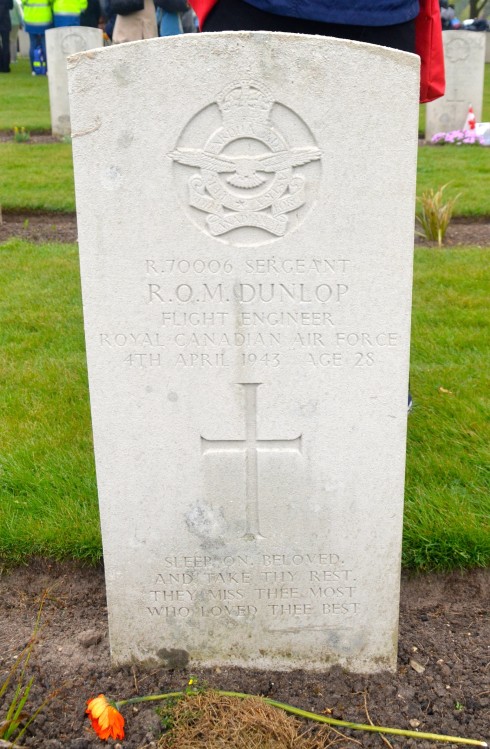 As noted above, I wrote of visiting the grave of Alison's uncle John C. Weir in Calais Canadian War Cemetery. He was a member of the North Nova Scotia Highlanders or North Novas as they are usually called and we have been following their route from Juno Beach northward through Belgium and now to their final destination, Holland. Along the way I have seen many of their graves, including Alison's uncle. Not surprisingly there are many more here, including Private Roderick James Cameron, son of Daniel and Catherine Cameron of Castle Bay, Cape Breton. Roderick is one of three North Nova Camerons buried at Groesbeek. It must have been heartbreaking for the families to have their sons and husbands survive for so long, only to die so close to the end during the liberation of Holland..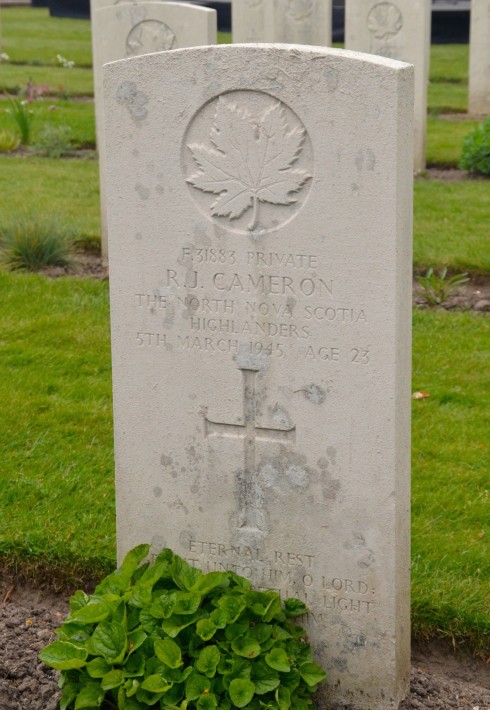 Here is another RCAF pilot, George Walter Clarke, son of George and Lottie Mae Clarke of Windsor, Ontario. He clearly has not been forgotten. This is the final gravesite I am posting from Liberation Tour 2015.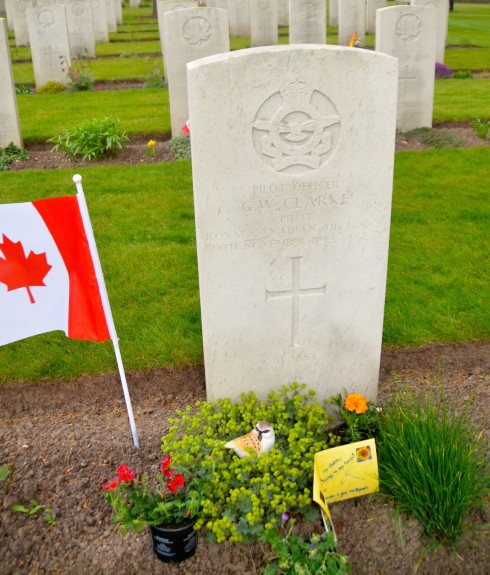 By now the skies have opened up and the ceremony is concluding. A number of Dutch women, men and children are placing flowers at the foot of each grave. It is perhaps the most touching site I have seen this trip and one that unexpectedly brings tears to my eyes out of a sense of pride for what these Canadians accomplished in the liberation of Holland. The fact that, generations on, the Dutch are still appreciative is in turn appreciated.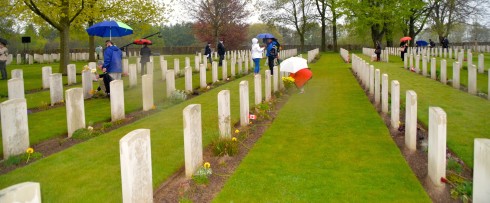 As the Liberation Tour regroups waiting for our bus, Laureen Harper comes close by and chats freely with the vets and others. I am amazed that there appears to be very little security or at least visible security. Here is Mrs. Harper with our tour leader John Cannon just in the background.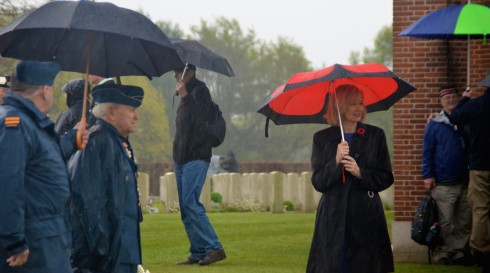 While the weather could certainly improve I really don't think the warmth of the Dutch people towards Canadians could be any greater. Thank you vets for the liberation of Holland, and thank you Holland for still appreciating that sacrifice.
For reasons that I'll explain, Alison and I are foregoing the next event in favour of spending the day exploring the Dutch city of Arnhem. Please join us.