Portmarnock Golf Club – A Tough Test of Irish Golf Outside of Dublin
Today is day two of the eight day Irish golf tour. Yesterday four of us played Royal Dublin and were suitably impressed. Today all eight of the group will take on Dublin's other legendary course,  Portmarnock Golf Club and we will use caddies for this adventure. Unfortunately the weather is not as cooperative as yesterday and we can expect at least showers if not worse. The one thing I have learned from previous trips to Ireland is that you can put no stock in weather predictions. You just have to go with the flow and be prepared for anything.
History of Portmarnock Golf Club
Like Royal Dublin, Portmarnock Golf Club is located on what is effectively a flat island just north of Dublin. The land was given to the club by the distillery magnate John Jameson whose large manor can be seen from various places on the course. Although the Jameson's no longer reside there and the whiskey is now made in Cork, they are interred in the family cemetery on the estate. The course designer was Scotsman Mungo Park who shared his unusual name with the famous African explorer. Despite winning the British Open, Mungo the golfer died in a poorhouse in Scotland. Here he is in more dapper times.

Over the years Portmarnock Golf Club has hosted many prestigious tournaments, most notably The Irish Open, Irish Amateur, British Amateur and British Women's Open. Distinguished winners include the legendary Harry Vardon for whom the Vardon Trophy for lowest stroke average on the PGA and the European Tour is named. He won the British Open a record six times and invented the modern golf grip. Bobby Locke, the first great South African Player, won his first European event at Portmarnock Golf Club, before winning the British Open four times. Other major winners who also won here are Ben Crenshaw, Hubert Green, Ian Woosnam, Jose Maria Olazabal, Bernard Langer, Michael Campbell and some guy called Seve Ballesteros who won three times in four years.
The Canada Cup was played here in 1960 where Arnold Palmer and Sam Snead emerged victorious. In 1963 Billy Casper won a match against Portmarnock Golf Club pro Harry Bradshaw on Shell's Wonderful World of Golf. In 1991 the Walker Cup, the amateur equivalent of the Ryder Cup was played in Ireland for the first time at Portmarnock Golf Club. The American side included Phil Mickelson and David Duval while the Europeans had Padraig Harrington and Paul McGinley. Some of the trophies from these events are on display in the clubhouse.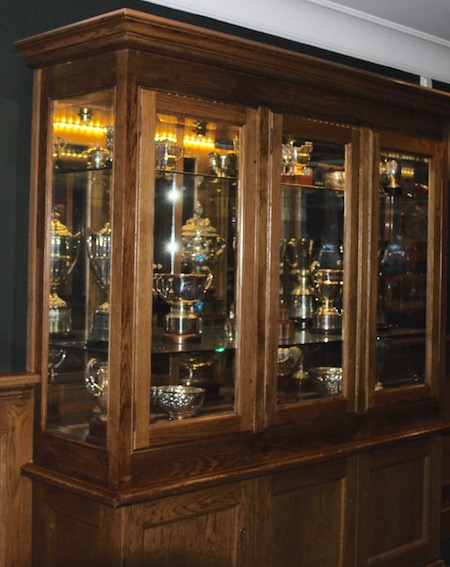 On top of the many illustrious players who have won tournaments at Portmarnock Golf Club, there are other reasons one might feel a bit intimidated playing here. All golf clubs have rules on appropriate dress, behaviour etc., but Portmarnock's seem quite strident at first glance – absolutely no cell phones used on the course or in the clubhouse, jacket required in main dining room, no golf shoes allowed anywhere in clubhouse other than the locker room. Then I think about it and much of it makes a lot of sense. I hate cell phones being used by my playing partners or hearing people on them in the clubhouse.  There is a more casual dining area where jackets are not required so we'll go there. They are more than happy to let us use the locker room to store our street shoes while we play and we can change into them when we go into the other areas of the clubhouse. The reality is that green fees are a huge money maker for clubs like Portmarnock Golf Club and the place is basically divided into two areas – one for members and guests and one for members only. However we are allowed to wander freely into most areas and it's nowhere near as snooty as high end American and Canadian private clubs. Everyone is friendly and so now all I have to be worried about is not embarrassing myself in front of the caddies.
Our driver, William (Willy) McBrien meets with the caddie master while the rest of us buy various things in the pro shop. I always get a logo ball, Brian buys specialized golf poker chips and Peter has started buying souvenir flags which he will put up in his man cave back home. The one for Portmarnock Golf Club is particularly striking.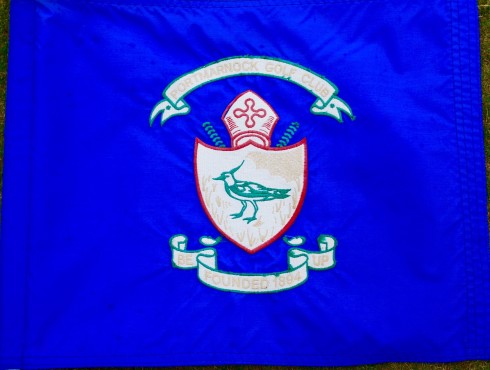 The bird is a lapwing of which there are many in this low lying coastal area and I think that's a bishop's mitre on top with two golf clubs on each side. The motto is quite simple, "Be Up" whatever the hell that means, but it's much better than "Be Down". Purchases in hand we are ready to meet our caddies who are gathered in a group just near the 1st tee. It takes me but a second to pick out the one I want – he's wearing a Toronto Maple Leafs hat! By coincidence I am wearing a Toronto Golf Club hat which I picked up there only a month before. He identifies himself as Jim and I soon learn that he has spent a lot of time in Toronto and has many friends there. We become instant friends too.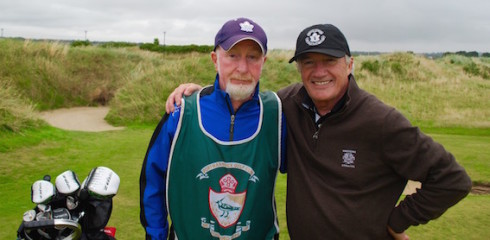 The one concern I had about using caddies (aside from the embarrassingly ridiculous weight of my bag) was how to deal with my camera bag. Could Jim, who as you can see is not that big and not that young, carry both? My concerns were soon alleviated as Jim had his own very snazzy four wheeled pull cart to which he attached clubs and camera bag without a problem. The caddies in Ireland are quite sensible – use a pull cart or trolley as they are called here and save your back and legs. Clubs in hand and caddies at our sides we are finally ready to tee off at Portmarnock Golf Club.  For the few of you who might care (wives and children) from left to right are David Black, Don Harding, Chuck Johnstone, Mitch Hatheway, yours truly, Peter Wedlake, Rob Purdy and our own version of Stentor, Brian MacLellan.
Playing the Course
The one thing that is most daunting about Portmarnock Golf Club is that its shortest set of tees plays to over 6,700 yards which is about seven hundred more than we usually play back home.  There are no senior's, women's or junior's tees here. The only compensation is that the ball does roll a long way on these flat hard fairways. The downside is that what usually stops the ball is either a bunker or the rough.
As you can see from the picture we all have second layers of clothing on as it is drizzly and not very light out making for poor photographic conditions. Here is the first hole with the Irish Sea on the right. There's frighteningly little room on either side.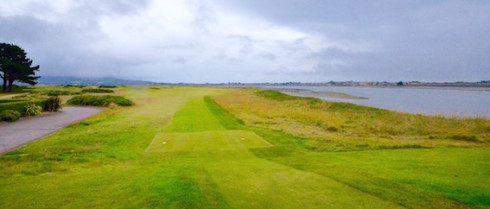 I'm not going to bore the reader with details of each hole or my score – let's just say fives and sixes were the norm. What was truly enjoyable at Portmarnock Golf Club was walking the course and having great conversations with Jim and the other caddies. They were as interested in hearing about our part of the world as we were in theirs. I learned that Jim was retired from the railway and was a grandfather like me. His caddying was more of a hobby and a way to keep fit than to make money. He was not only knowledgable about the course, but the wildlife as well, which was abundant including Irish hares that were as large as the jackrabbits found in western Canada.
At one point Jim pointed out a small island off shore as Ireland's Eye, a place I'd heard of from reading nautical historic fiction.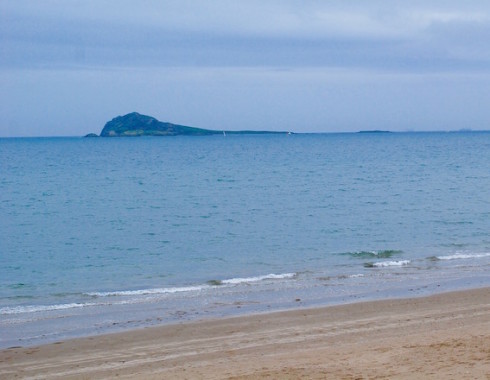 Here's an easy shot to a long par three – not!

Here's a view along the strand toward Howth. Pretty nice.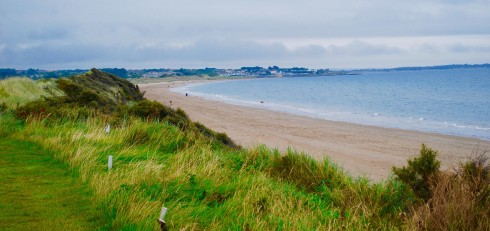 And the clubhouse coming up 18.
Playing with a caddie did not in any way slow down the speed of play; if anything it increased it because we played in the recommended time of four hours. Contrast that to the routine four and a half hours plus on most North American courses. As I mentioned it was not a great day for photographs, but here is a link to the online gallery where there are some great shots including this one of #4. That large building in the distance is the former Jameson estate.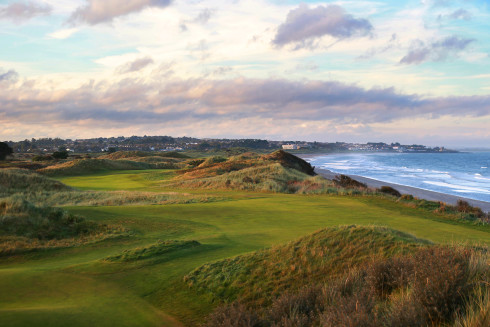 All in all our first day playing with all eight has been an unqualified success. Add Portmarnock Golf Club to your bucket list of courses to be played. If you are wondering why I did not give the course the 10 rating it probably deserves it is because the greens were being treated and we did not get to experience them as they should be.
Beannacht from Portmarnock Golf Club. See you next in Ulster at Castlerock Golf Club.