Royal Dublin Golf Club – A Great Place to Start an Irish Golf Trip
This is the first in a series of posts on a guy's golf trip to Ireland starting with the Royal Dublin Golf Club, but first some preliminaries. Why Ireland? The group of guys I have been traveling with for many years go on an annual golf trip to United States in conjunction with watching an NFL game. A number of the group have passed away over the last few years and we finally decided that it was time to branch out and head to Europe while we were still fit enough to enjoy it. While the traditional destination for such a trip would usually be Scotland, I checked out the prices and discovered that golfing in Ireland is considerably cheaper than Scotland. Since none of us had any familiarity with European links courses it was decided to forego Scotland and start in Ireland – if we like what we see we'll return to do Scotland in a year or two.
Where to Golf in Ireland
Ireland has two traditional golf destinations – the southwest and Northern Ireland. After a lot of online research I thought that Northern Ireland would be the best choice to start, because we could also add two top ranked courses in Dublin to the itinerary without a problem. Most southwest tours start from Shannon airport while Northern Irelands tours start from Dublin or Belfast.
The next choice was which company to choose to be our tour host. Believe me there are plenty out there claiming to be the best, the cheapest, the whatever, but in the end we decided upon Premier Golf. This was primarily based on the fact that they had a good six course Northern Ireland package and that they could add on the two Dublin courses no problem. Premier also offered what I considered an absolute essential – a driver and a large bus to get us from place to place. Everything I read on the internet made it clear that the groups that traveled with a driver had far more smooth sailing than those who opted to do their own driving. Yes it costs more, but so far it has been worth it.
Paul Schmidt from Premier has been more than accommodating as we have bombarded him with questions, requests and itinerary changes. He has made arrangements for caddies at some courses and carts (or buggies as they call them over here) at others.
After an overnight flight from Toronto our driver Willy was waiting at the baggage exit and within half an hour of landing we were on our way to the Conrad hotel in Dublin. I had my doubts about staying in a Hilton, thinking of them as usually big impersonal business hotels, but the Conrad is exceptional. It's in a great location just off St. Stephen's Green and well away from the ultra touristy Temple Bar area. The bars and restaurants in this area are not aimed at the tourist trade and offer far better value, authentic Irish atmosphere and better food and drink than Temple Bar. The hotel also has a terrific breakfast buffet which would satisfy both granola heads and carnivores – we have both.

After checking into the Conrad we spent the rest of the day fighting off jet lag. In the morning I started out with my own tour of Merrion Square.
Now it's time to hit the links and our first course up is the Royal Dublin Golf Club on Bull Island just north of Dublin. Driver Willy expertly navigates us out of downtown Dublin in next to no time and before long we are on the coastal road at Clontarf where I can see the Royal Dublin clubhouse across the water, but seeing it and getting there are two different things.  There is a narrow one lane bridge that is suitable for small cars, but not our bus so we have to drive quite a distance around and enter through a gated service entrance. Driving past a number of holes I note how flat the course is and more importantly, how bloody windy it is. Oh oh!
Willy drops us at the pro shop making sure not to block this parking spot.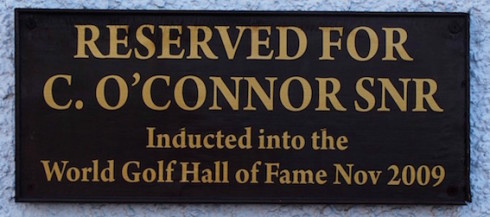 Christy O'Connor Sr. is an Irish golf legend who played on ten Ryder Cup teams and had 44 professional victories and it was on this course he learned to hone his craft. However, considering he is now 92 I don't think there's much chance he'll be using his parking space any time soon.
One thing I really appreciate about Premier Golf is that they don't give you vouchers like a lot of other outfits. When we check in they know who we are and have reserved carts for us as requested. BTW the reason I want a cart is not because I don't like to walk, but because of the camera equipment which is too bulky to fit into the golf bag.
History of Royal Dublin Golf Course
The course is the second oldest in Ireland and its current location on Bull Island is courtesy of none other than the infamous or heroic (depending on your take) Captain William Bligh who built an artificial breakwater at the entrance to Dublin harbour that morphed into Bull Island. The designer was also legendary – Harry Colt, who was responsible for such famous courses as Muirfield, Pine Valley and Wentworth as well as Royal Portrush and Royal County Down both of which we will be playing later this week. I will be wearing a Toronto Golf Club hat today in honour of Colt who designed that layout and a number of other famous Canadian courses too.
After warming up on the range it's time to kick off the Ireland 2015 golf tour at the Royal Dublin Golf Club. We have arranged for a forecaddie who is a very pleasant young man named Tom, who is a four handicapper. Here is the group ready to start on #1. From the left that's Tom, Chuck, yours truly, Brian and Mitch.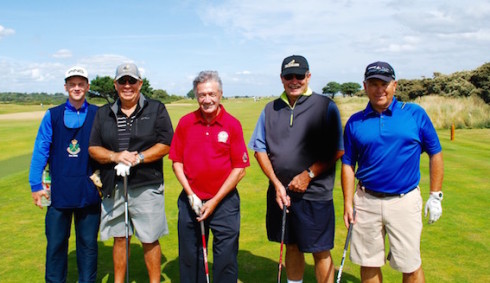 Royal Dublin Golf Club
Harry Colt knew what he was doing in designing this course. There are strong prevailing winds from the southwest and the opening  nine plays all downwind except for one par three. It is par thirty five. On the way back it is all into the wind, again except for one par three and plays to par thirty seven. This is a great introduction to Irish golf and dealing with wind. I've been taking lessons and handle it much better than I expected, posting a 92, but that's not what this trip is about. The weather today is fabulous – so good that back at the clubhouse one member says it is the best day of the year. Here's a few shots to illustrate the beautiful look of Royal DublinGolf Club.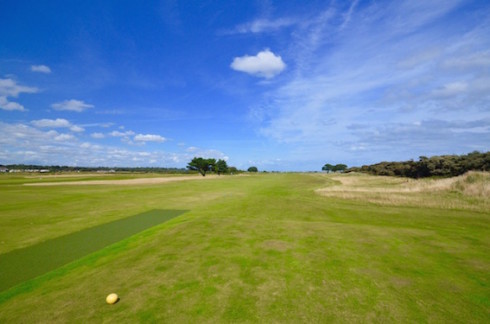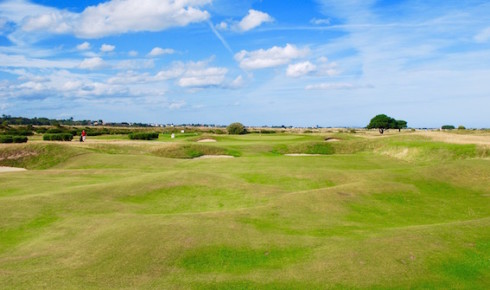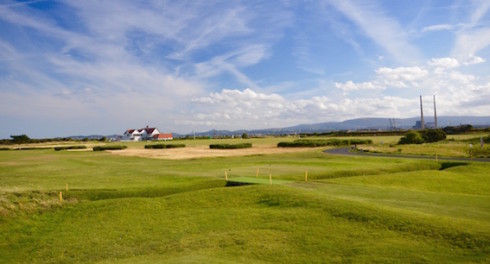 What I really like about it is the abundance of shorebirds along the coast and on the course. I've never seen oystercatchers working grass before; for worms I presume.
By the time we reach the extremely difficult 18th we are pretty used to hitting into the wind, but not really very good at it. Getting to the 18th in two is well nigh impossible, but the view of the clubhouse is spectacular.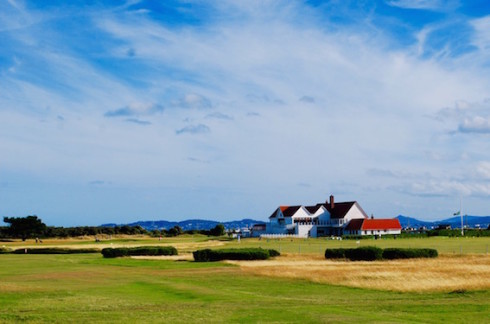 Speaking of the clubhouse we make our way through the storied halls which are steeped in history and trophies from all manner of tournaments including the Irish Open, Irish PGA and Irish Amateur held at Royal Dublin..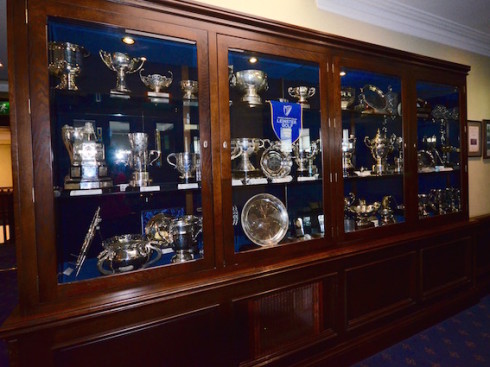 Here is a photo of the original members which graces the stairway leading to the lounge.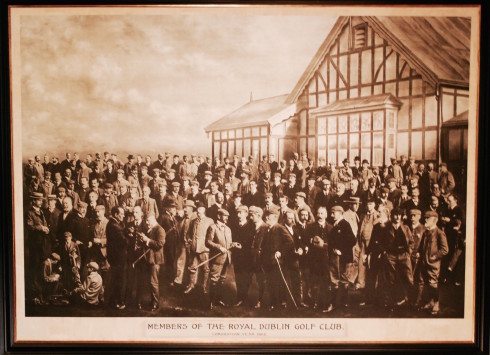 As we sit outside on the patio and enjoy the tremendous view of the course we reminisce about a great first day and look forward to many more on the Emerald Isle.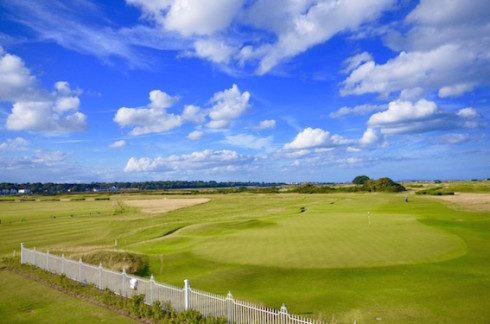 See you tomorrow at Portmarnock Golf Club. Slan go foill.