Holywood Golf Club – Why You Must Play Rory's Home Course
This is day 6 of the Irish golf trip with myself and seven friends from Maritime Canada and as Monty Python would say, "Now for something completely different". We are headed for Holywood Golf Course in the Belfast suburb of Holywood (pronounced Hollywood and not holey-wood) which is the home course of sometime world number #1 golfer Rory McIlroy, winner of four major championships before the age of 26. Holywood Golf Course is not a links course, but rather what the Europeans call a parkland course. In other words, it's not on the ocean. Because it's not a links course it gets completely ignored by most companies that put together golf packages. When planning this trip with Premier Golf, I insisted we include Holywood Golf Course as I wanted to see how a club this unknown could produce a player of Rory McIlroy's calibre.
Barry McGuigan, our bus driver, guide and all round punching bag for jokes from Brian and Don gets a real ribbing when he misses the turn to the golf course. He explains that he hasn't been here for two years and that was as a player, but gets little sympathy from his critics. Holywood is a leafy and fairly affluent suburb of Belfast just past the airport on the sides of the hills overlooking the entrance to Belfast Harbour. It doesn't look like the type of place that ever suffered during 'the troubles'.
Holywood Golf Course
Arriving at the course amidst a chorus of derisive cheers for Barry's overcoming his navigational lapse, I can see at a glance it is quite different from the first five courses we have played. There are a great number of mature trees and it could double for many courses I've played in North America, including my own Stanley Thompson course, Old Ashburn. The other thing I notice is that there are young juniors all over the place including one kid who walks, dresses and swings exactly like Rory. I later learn in the clubhouse that he has more than that in common with Rory – he's Tom McKibbin and he has just won the world under 12 golf championship. Here's perhaps your next Rory McIlroy, from the same small club in Northern Ireland.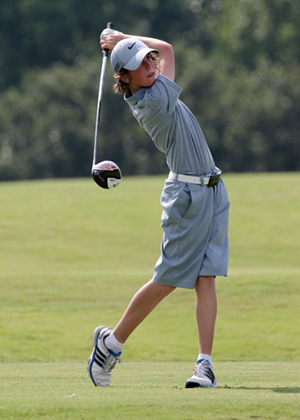 Speaking of Rory I notice that like for Darren Clarke at Royal Portrush and Christy O'Connor at Royal Dublin, the best parking spot is reserved for him and there's a car parked in it.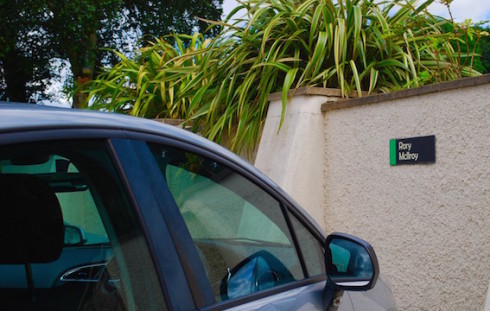 Before I get a chance to ask at the proshop if that is Rory's vehicle I see this giant poster at the entrance to the proshop.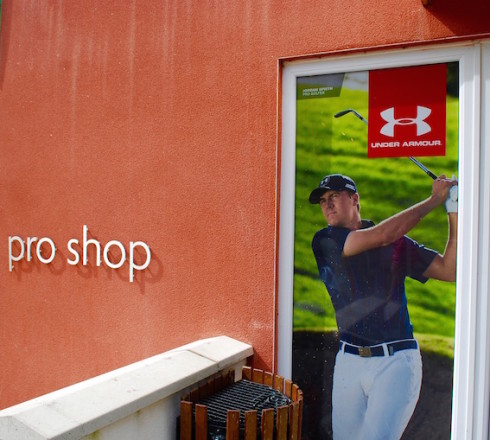 That's Jordan Spieth, at that time Rory's #1 rival and wtf is he doing plastered on the window at Rory's home club?   The employees in the pro shop don't know and don't seem to see the irony in this. They do know the car in Rory's spot is not his, but one of his relatives, although apparently he is in town this week after the PGA where he played quite respectfully after injuring his ankle in a soccer game only a few weeks before.
We have decided to have the second round of the Irish matches at Holywood Golf Course today. David and I are taking on Chuck and Peter for the overall prize. That's the last you are going to read about that. I have the look of a beaten man before we even tee off and Chuck knows it.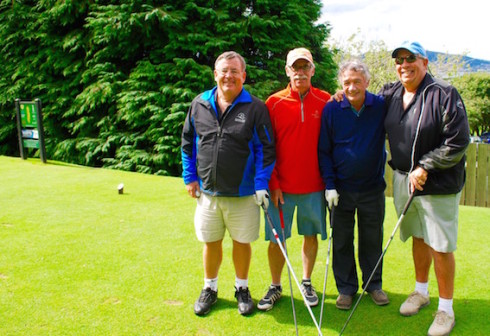 Holywood Golf Course is a very pleasant diversion from the links courses we have been playing. It has lovely views of Belfast and Holywood from a number of holes, particularly those on the back nine.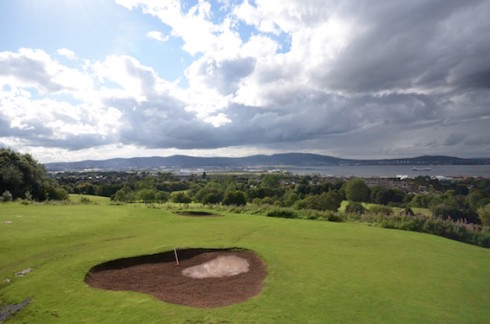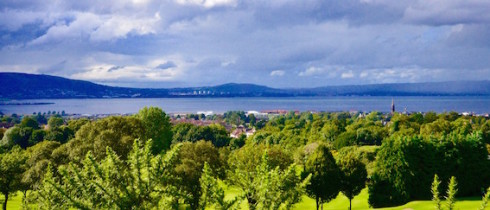 The course is in excellent condition and is more than worth the 30 pound greens fees, a fraction of most other courses we have and will play. No 7 is a very nice downhill par three with a real sucker pin placement today.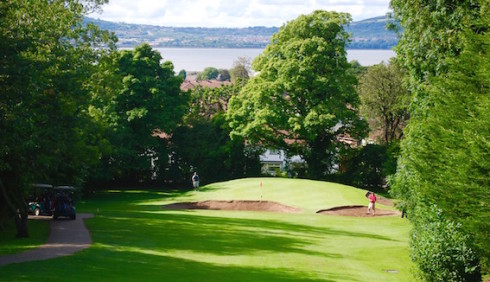 # 12 at Holywood was without doubt the hardest par 4 we have played in Ireland – a 434 yard uphill brute that really should be a par 5. It is followed by another killer par four which requires an almost 200 yard carry to reach the fairway. In fact I would say #11-13 is as tough a three hole stretch as you will find anywhere.
It is easy to see why Rory does so well on American courses – he had very similar conditions growing up on this course. At last we reach the 18th where Peter and Chuck celebrate their victory.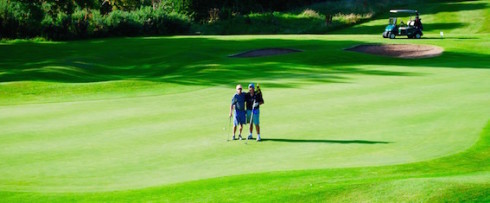 Inside the clubhouse I notice for the first time that I was President of this club – here's the proof.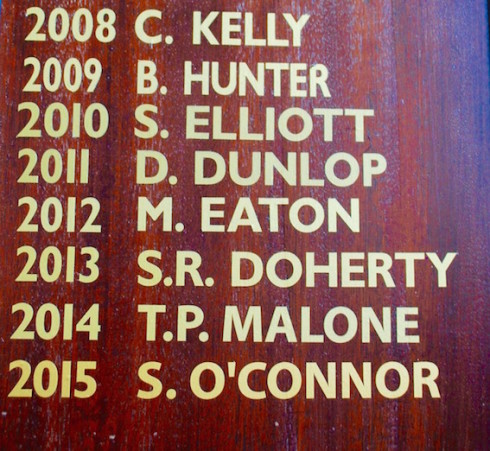 There is also a shrine to Rory at Holywood where replicas of his major trophies are on display behind locked glass. At the bar, we are treated like long lost relatives as numerous patrons want to know where we are from, did we enjoy the course etc. One older chap introduces himself and tells us the story of how he was instrumental in getting Rory into the club at age seven when formerly the prescribed age was ten. There are lots of other stories about Rory and young Tom and then he says " You must get a picture holding the trophies". He calls to a lady at the bar who produces a set of keys and takes us to the Rory shrine where she takes out the three trophies which are the actual ones Rory was allowed to keep, and we take pictures with them. Here's me with the Wanamaker Cup for winning the PGA.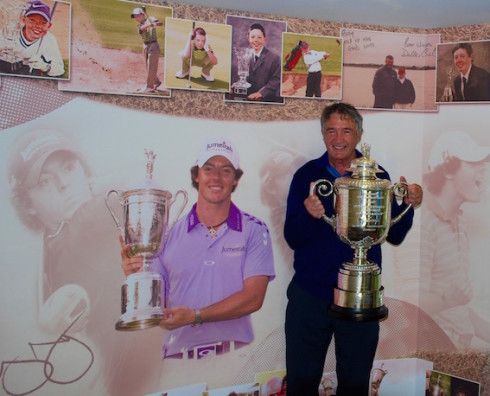 And the Claret Jug for winning the British Open.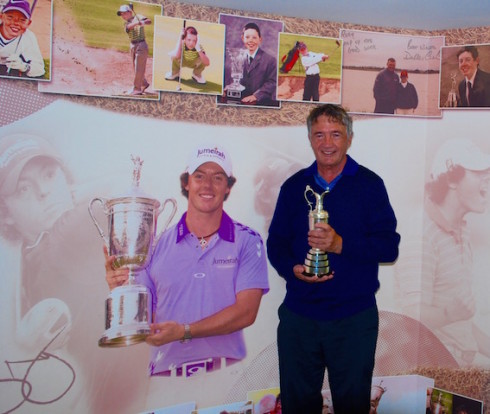 And finally the trophy for winning the U.S. Open.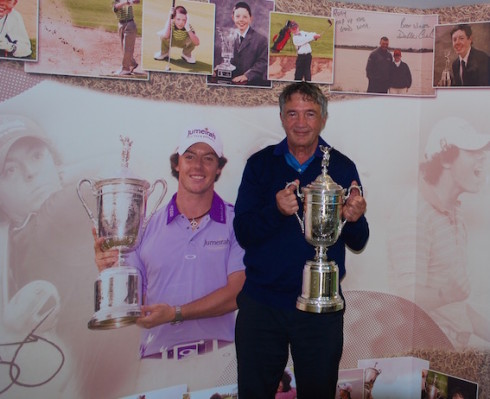 Maybe I couldn't beat Chuck and Peter, but you can't beat this for a great reason to visit Holywood. If your looking for a good challenge at a cheap price with super friendly people and probably no other tourists then this is the place to come. Maybe by then young Tom McKibbin will have his own trophy room.
Beannacht from Holywood.
Tomorrow we tackle the #1 course on earth, Royal County Down. Please join us.