Royal County Down – Playing the # 1 Course on the Planet
Yesterday we played Rory McIlroy's home course Holywood, just outside Belfast and afterwards we headed for the resort town of Newcastle, not far from the Irish border. It has a lovely location on the Irish Sea at the base of the Mourne Mountains, the highest in Northern Ireland, and the place where many of the scenes of Game of Thrones are filmed. The largest mountain is Slieve Donard which is also the name of the hotel to which we are headed for the final three days of our Irish golf trip. To say the Slieve Donard Hotel is impressive from the outside is an understatement. It's also the home of what has just been named the #1 golf course in the world, Royal County Down Golf Club.
Slieve Donard Hotel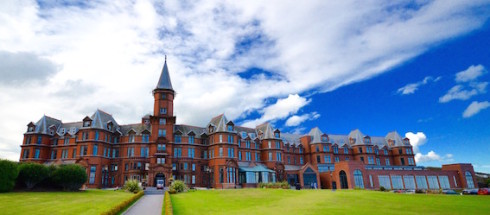 It was originally built as a destination railway hotel for vacationers from Dublin and Belfast who would come to enjoy the magnificent beach or hike in the Mourne Mountains.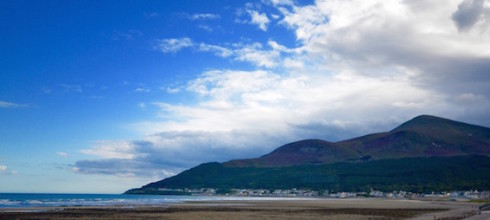 As mentioned above, on January 6, 2016 Golf Digest named Royal County Down as the #1 course on earth, surpassing such famous courses as Augusta, Pebble Beach, the Old Course at St. Andrews, Turnberry and Carnoustie as well as all other Irish courses. It has maintained that #1 rating ever since. I'm pinching myself because today we get to play it.
Royal County Down
Royal County Down is actually right beside the Slieve Donard Hotel so you can walk to the clubhouse from the hotel parking lot via this neat little walkway.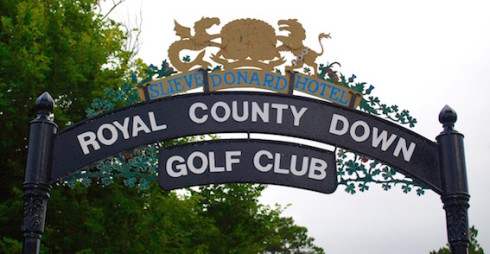 The origins of the course date from time the railway reached Newcastle in 1889, but there was never one master plan for the course. Numerous greats had a hand in the design at one time or another including Old Tom Morris, (who some readers might recognize as the bearded old codger hawking tee time for GolfNow), Harry Vardon and Harry Colt. It has played host to dozens of championships and is frequently played by greats such as Tiger Woods and Rory McIlroy as a warm up to the British Open. The bottom line is that anybody who is anybody in the golf world has played here. I guess today I can add my name to the list.
The clubhouse at Royal County Down is imposing, but not over the top like a lot of American clubhouses. It doesn't overwhelm the surroundings, but is appurtenant to them.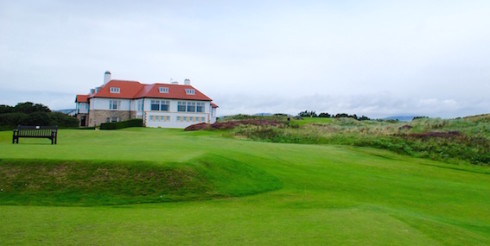 It's summer in Northern Ireland so that means it could be rainy, it could be foggy, it could be windy or it could even be sunny. So far, as of nine in the morning, it hasn't made up its mind so we've had a mix of all four conditions. The pro shop is very well stocked so I decide to play it safe and buy a really nice and good quality Galvin Green goretex wind and rain resistant pullover. I hadn't seen Galvin Green products in North America, but they are very big in Europe. He has developed a system of wind and rain resistant outerwear that is graduated from lightest to heaviest. I decide to go with the heavy artillery. The best protection against bad weather is to actually be prepared for it, then it usually won't happen.
The practice green is the largest I have ever seen. You could host a tournament on it.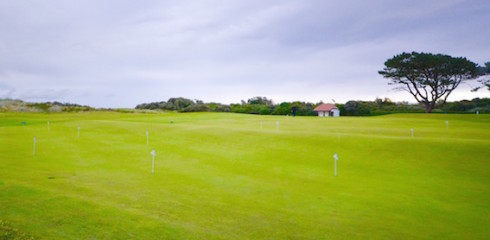 As usual Barry McGuigan, our driver and guide has arranged top flight caddies for us. At Royal County Down the caddies are graduated by experience and we have secured the services of two of the best for our foursome. Brian and I, as lefties will be with Michael.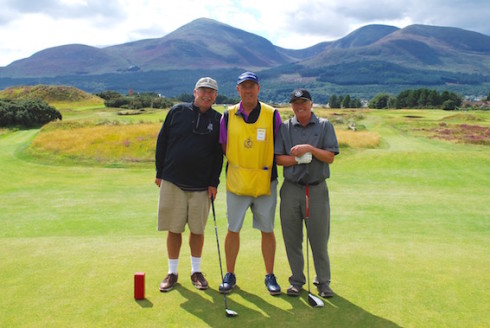 Peter and Don will go with Colin. Both of these guys are great golfers in their own right and we are going to have the pleasure of their company and knowledge for the next four hours.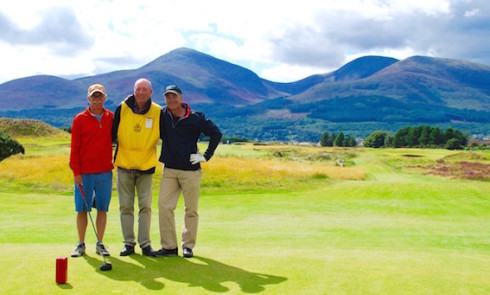 Michael asks Brian and I what are handicaps are and we reply honestly. Michael says a lot of players claiming to have low handicaps come here and embarrass themselves so he's glad we are realistic about our expectations. We are here to enjoy Royal County Down and not to try to conquer it – that would be futile and frustrating and funny to watch. BTW, this was the only time anyone in Ireland asked about our handicaps. The idea that you need to bring a handicap card to get on these courses is nonsense.
The starter hands Don the scorecard and we are ready to play.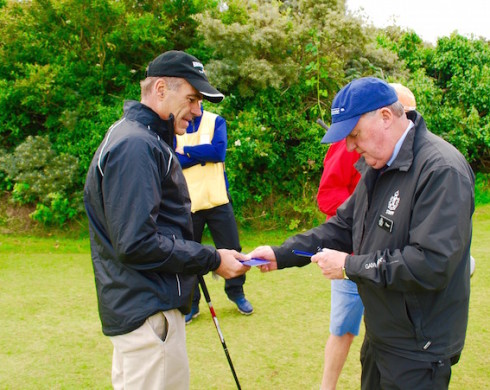 And thank God, we will play from the red tees, which is still 6249 yards. On the scorecard this is listed as the ladies' tees, but the starter assures us that it also doubles as the senior's tees. I can't imagine a North American course asking the ladies to play from 6200 yards. They must be amazons on this side of the water.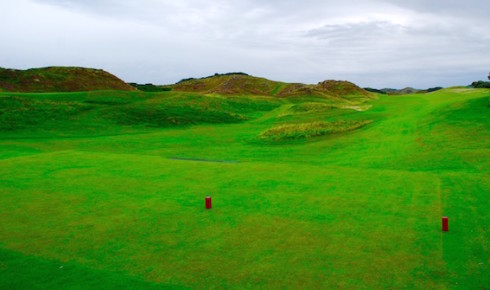 Royal County Down is simply beautiful to look at. It is the first course we've played where there has been an abundance of heather. It's really nice to look at and really hell to be in.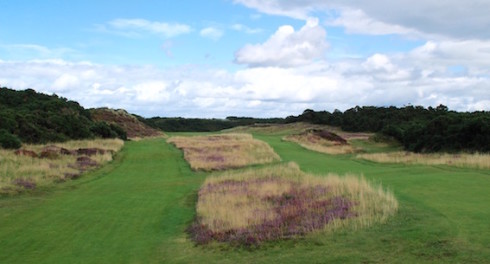 The day gets off to a great start as blue skies start to appear and Peter birdies the first hole.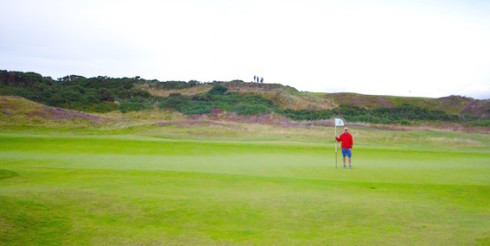 Unlike Royal Portrush, where I was so overawed I forgot to take a lot of pictures, I do remember to take some today. Here are a few of what I can only describe as an overwhelming golf experience. I won't say it was better than Portrush, but every bit the equal. I rated Portrush as the best course I have ever played and must make it a tie after playing Royal County Down with the tiebreaker going in favour of the latter because of the scenery. In this picture you get the mountains, the ocean, the clubhouse and if you look carefully, the hotel, all in one shot. Oh and there's a golf course there too.
The Views from Royal County Down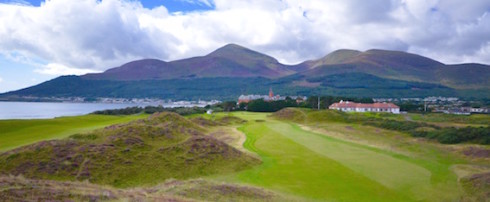 This may be the nicest shot of a golf course I have ever taken.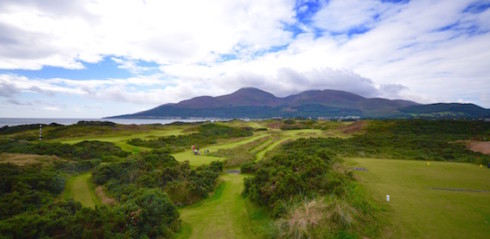 Or maybe this is.
I can honestly say that coming to a place like Royal County Down is what makes life and friendship so good.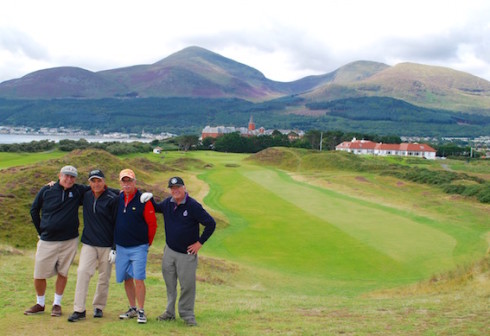 Beannacht from Royal County Down. Tomorrow we play the final course on the Irish itinerary, Ardglass, which I rate as the greatest course nobody's ever heard of.