Korcula Island – A Perfect Day of Cycling on the Dalmatian Coast
It goes without saying that people like me, who write travel blogs, love to travel. Why we do this is an age old a question Herodotus first posed well over two thousand years ago. I'm not going to try to wax eloquent about the reasons because I'm no Paul Theroux, Bill Bryson or Herodotus, for that matter – all I can say for sure is that it makes me feel good about being alive. The old adage about the worst day of fishing being better than the best day at the office applies to me in spades when it comes to travel, and I've had some major misadventures in my time. But when you're on the road in a foreign country and everything just falls into place to create a once in a lifetime experience; well that's what it's all about for me. All this is a lead up to this post which is about one of the best days of my life and Alison's too I hope – and we had to go through or more literally, up hell to get there. Come along for the ride as we cycle beautiful Korcula Island.
Yesterday we motored into the amazing little fortified town of Korcula, Croatia which I described in the last post. Today we are going to cycle through a good portion of Korcula Island. This perfect day starts with this sunrise. We're up early because it was an early night and yesterday's ride was a breeze compared to the first day. No aches, no pains – just roaring to go.

I wrote previously about the inshore fishermen of Dalmatia whose livelihood may be in jeopardy because of strict EU rules on safety and refrigeration that favour larger vessels. Here is one of those fishermen out early, jigging for squid. Are you going to tell me there would be any concerns about anything he catches this morning not being fresh enough?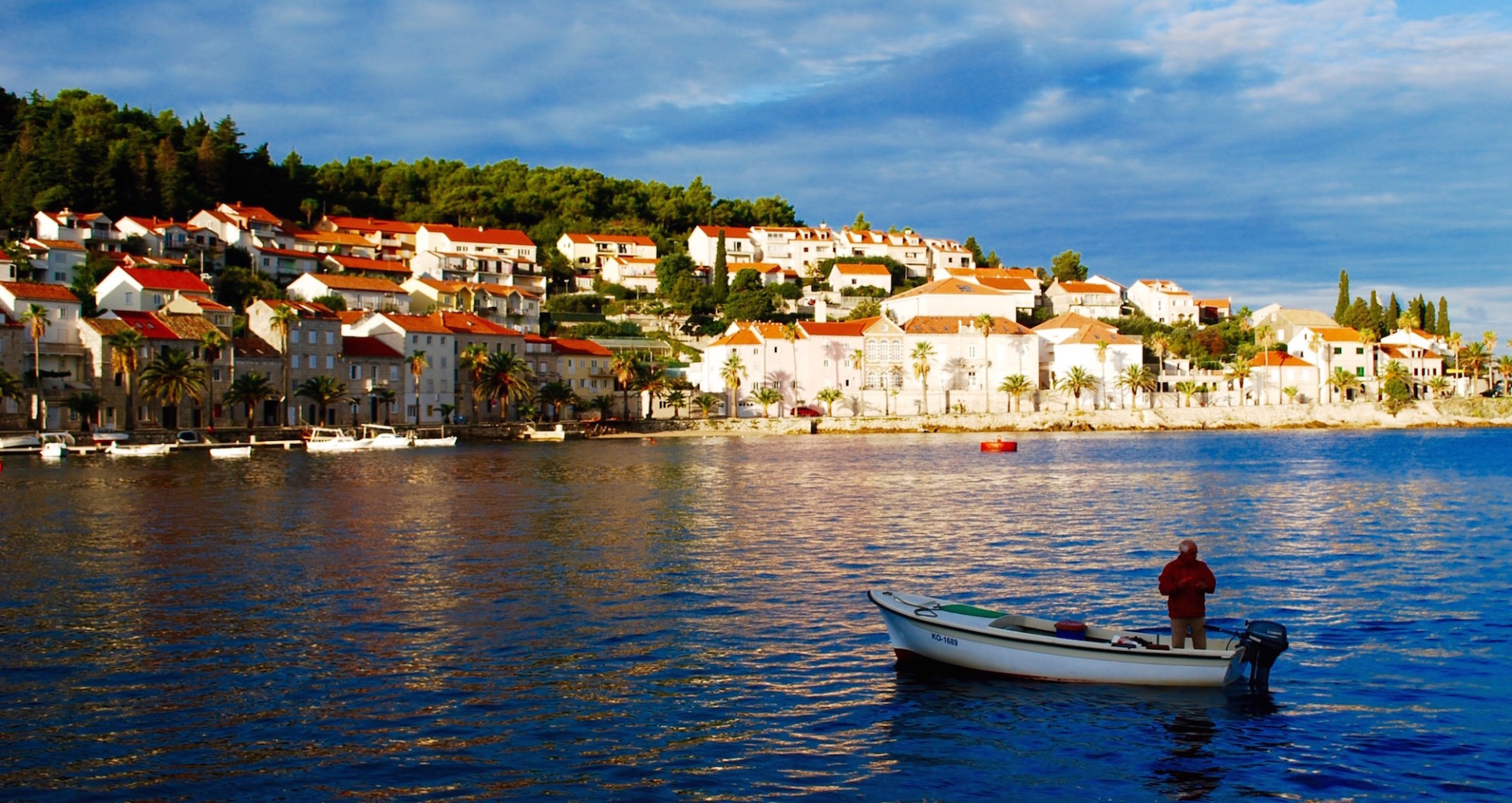 Climbing Hell Hill, Korcula Island
Our guide Mario has prepped us for the challenge we will face right off the bat this morning. It is by far the hardest climb we will face on this entire trip – a 400 metre (1300 feet) ascent in only 3.5 kms.(2+ miles). Contrast that to the 500 metre rise on Hvar that took place over 11 kms. It has a number of names including 'The Wall' and my favourite, 'Hell Hill'. Mario tells us that less than 1 in 10 of riders who are not using ebikes make it without having to walk the bikes at some stage. This has convinced one of our riding companions, Cindy, to forego the hybrid and take an ebike like we have. I am secretly glad of this because yesterday we waited a good hour in Bogomolje on Hvar for Cindy to catch up. I am concerned as much for her health as I am about being delayed – No, really!
Here is a map of Korcula Island. We are starting from the eastern tip at Korcula town and will climb up to the road that runs along the middle of island to Cara and Smokvica and then down to the Adriatic on the south side where we will have a picnic lunch. We will then climb back up to Blato and then down to the sea on the other side of the island where the Azimut will be waiting for us at Prigradica. Sounds ambitious and it is, so let's get going.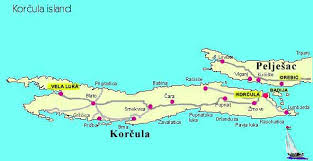 As usual, the first part of these rides starts off with a really nice gentle ride along the coast past beaches and multi-hued waters until we come to what can only be described as a country lane that goes up at a grade that I would be leery to drive up in a car for fear of it flipping over backwards. But hey, we've got ebikes! Not to worry.
In truth, the ebikes do take the sting out of Hell Hill and while it's certainly no cakewalk, it is manageable and the views are stunning. If you learn one thing from this post, let it be, don't attempt this ascent without an ebike unless you are a) in incredibly good shape b) a confirmed masochist or c) simply insane. Here's Alison at the top, not looking like she just went through hell.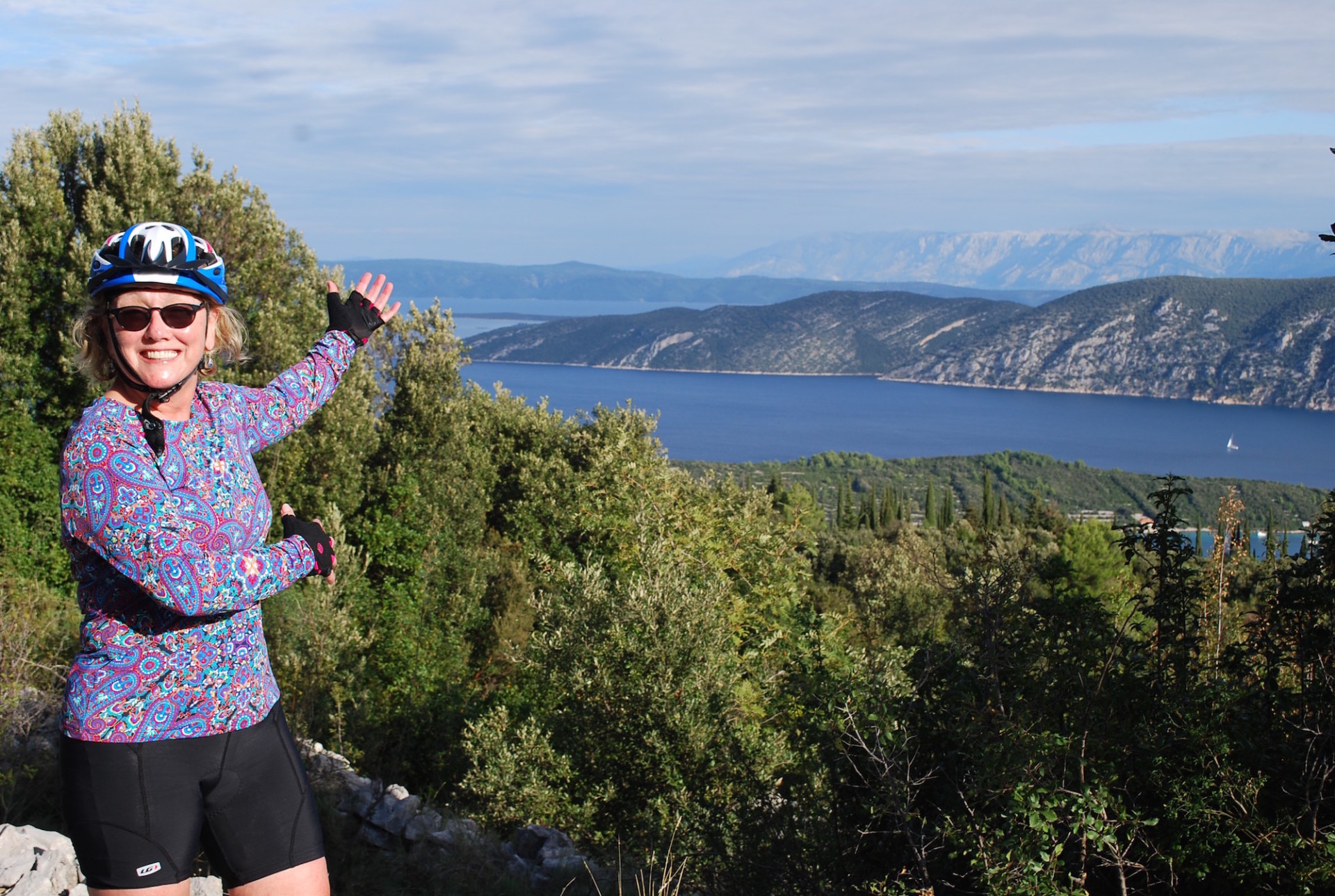 Smokvica, Korcula Island
Once we are at the top the ride is very pleasant through the town of Cara and then to Smokvica where we all stop to have a coffee break at an outdoor cafe across from the village church. We are the only tourists around and when one of the local men notices my Canadian flag bike shirt he starts up a conversation in very broken English. Turns out he has been to Canada and has a great fondness for it, but could not hack the cold winters so returned to Croatia. Smart man.
I have noticed the prevalence of old Renault 4s on the different islands we have visited and ask Mario about why people are holding on to these cars that haven't been built since the early 90's, although they look like they date from the early 60's when they were first designed. Here's one in Smokvica.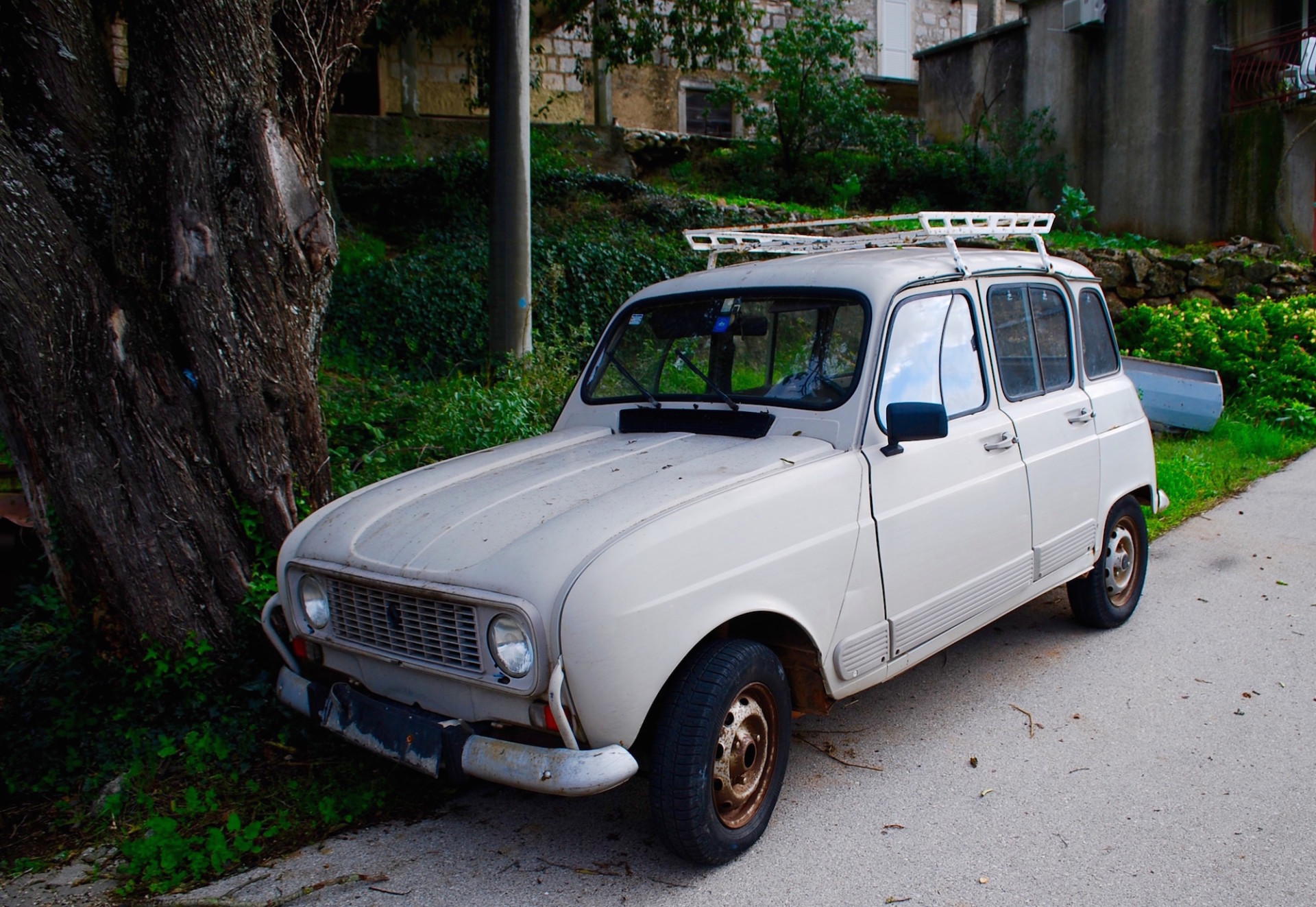 Turns out these Renaults are greatly prized in Croatia because they are made for poor road conditions, hardly ever break down and when they do, are easy to fix. Most of them have these little carriers on top where the family luggage can be stowed. Believe it or not they get up to eight people and sometimes a dog or a sheep into these things. I will never dis French workmanship again.
Toreta Winery
I've mentioned in previous posts how good the white wines are in Croatia and in particular those made from the posip grape which is indigenous to Korcula Island. After coffee we drop into Toreta winery, which technically is not open because the season is over, but the owner, Frano Banicevic, is glad to share with us the history of this family owned business that dates back to the 19th century. Hanging on the walls are old sheepskins which the winery first used to transport its product in the 1800's.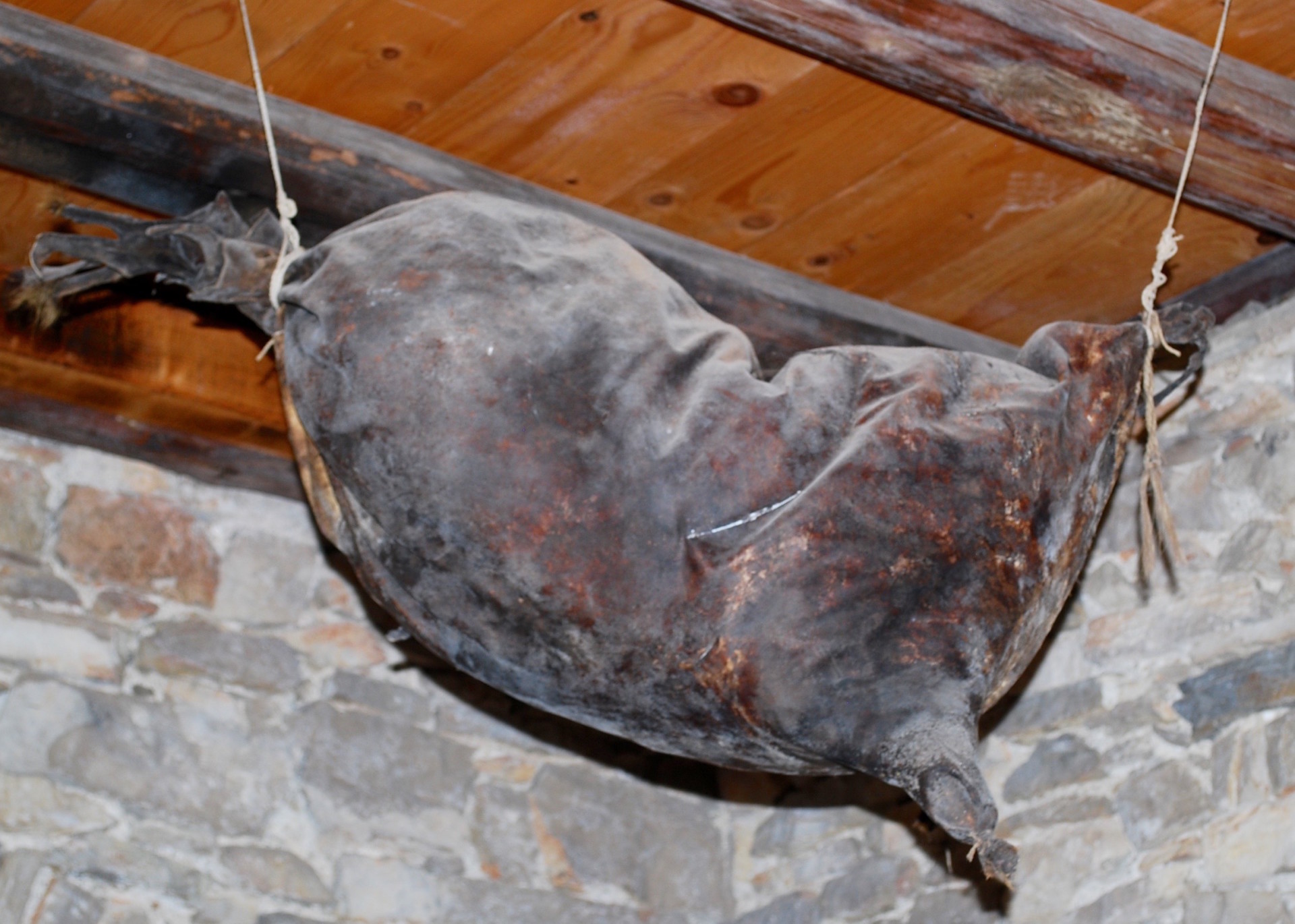 He tells us that the Posip grape was developed as a hybrid in Korcula, not far from this spot, in quite recent times. Since then Toreta has gone on to win multiple awards for the wines it is making from this remarkable grape. That's an old wine press in the background of the picture. The only disappointment is that all of the wines they had offered for sale are sold out.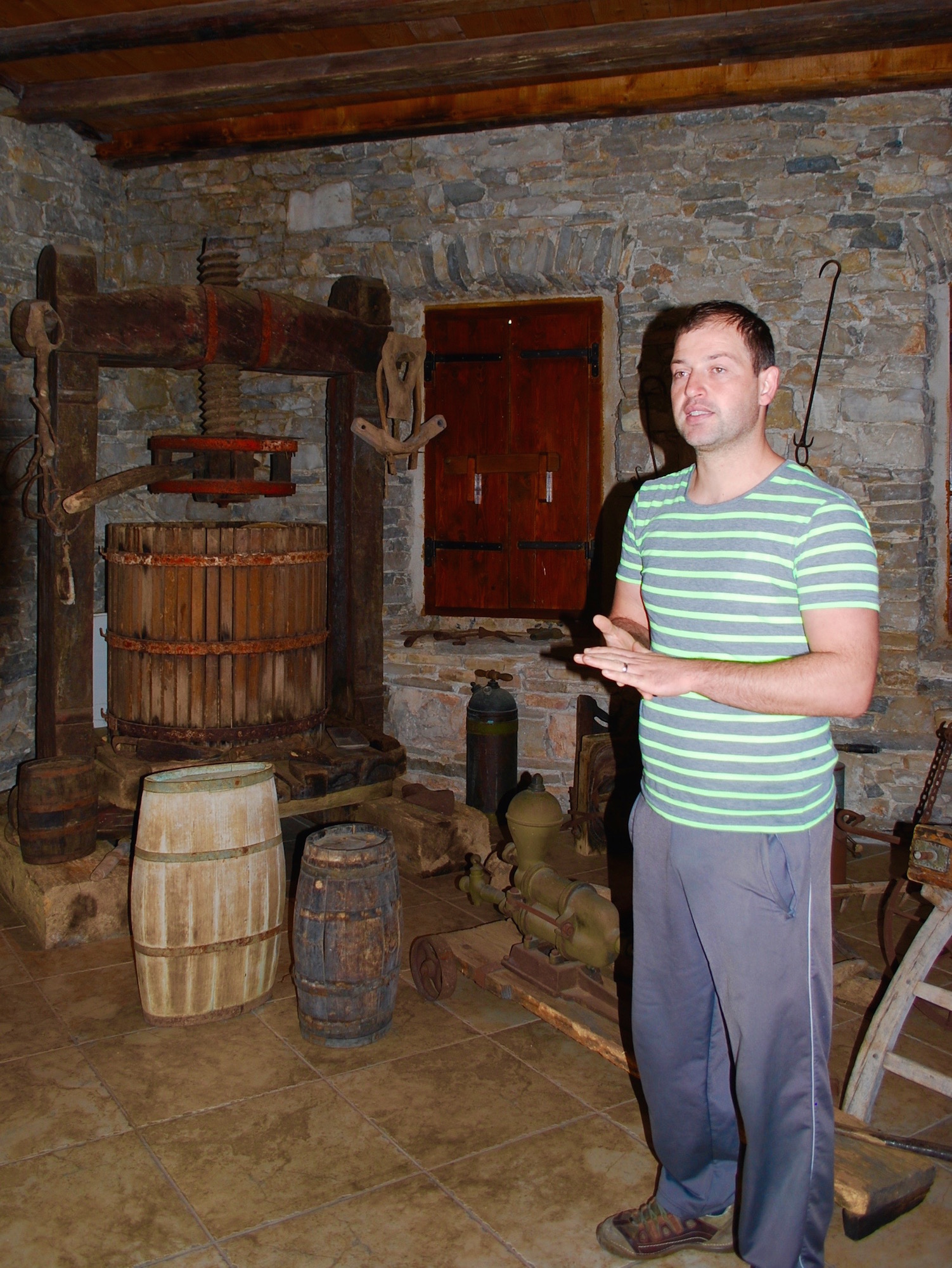 After leaving Smokvica we take a nice leisurely down hill ride to the sea coast where Mario leads us to a resort that is closed for the season. We park our bikes and walk a short distance to a tiny wooded island which Mario tells us to explore while he sets up the picnic lunch. It's a beautiful spot that reminds me a bit of the rugged Atlantic coast near Pennant Point outside of Halifax. There are a number of deep indentations in the rocks that create almost a sonic boom as the waves crash into them. This is looking down from a rock that juts out over those below.
And this is us standing on it.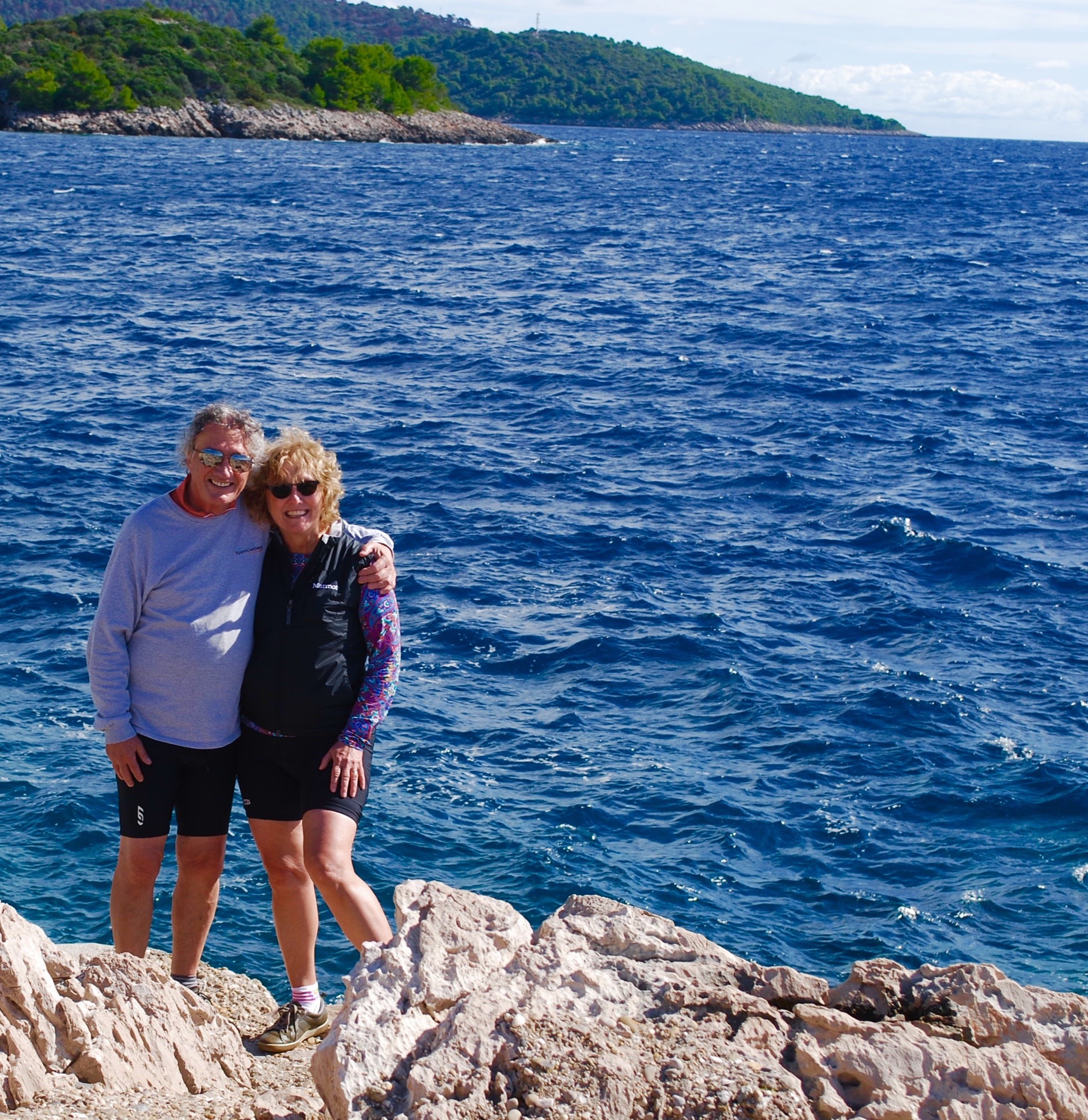 Mario has a great looking spread set out on the shore amid the trees – cured meats, local cheese, olives, sardines, beautifully fresh tomatoes and pickles. The only thing missing is a bottle of posip wine.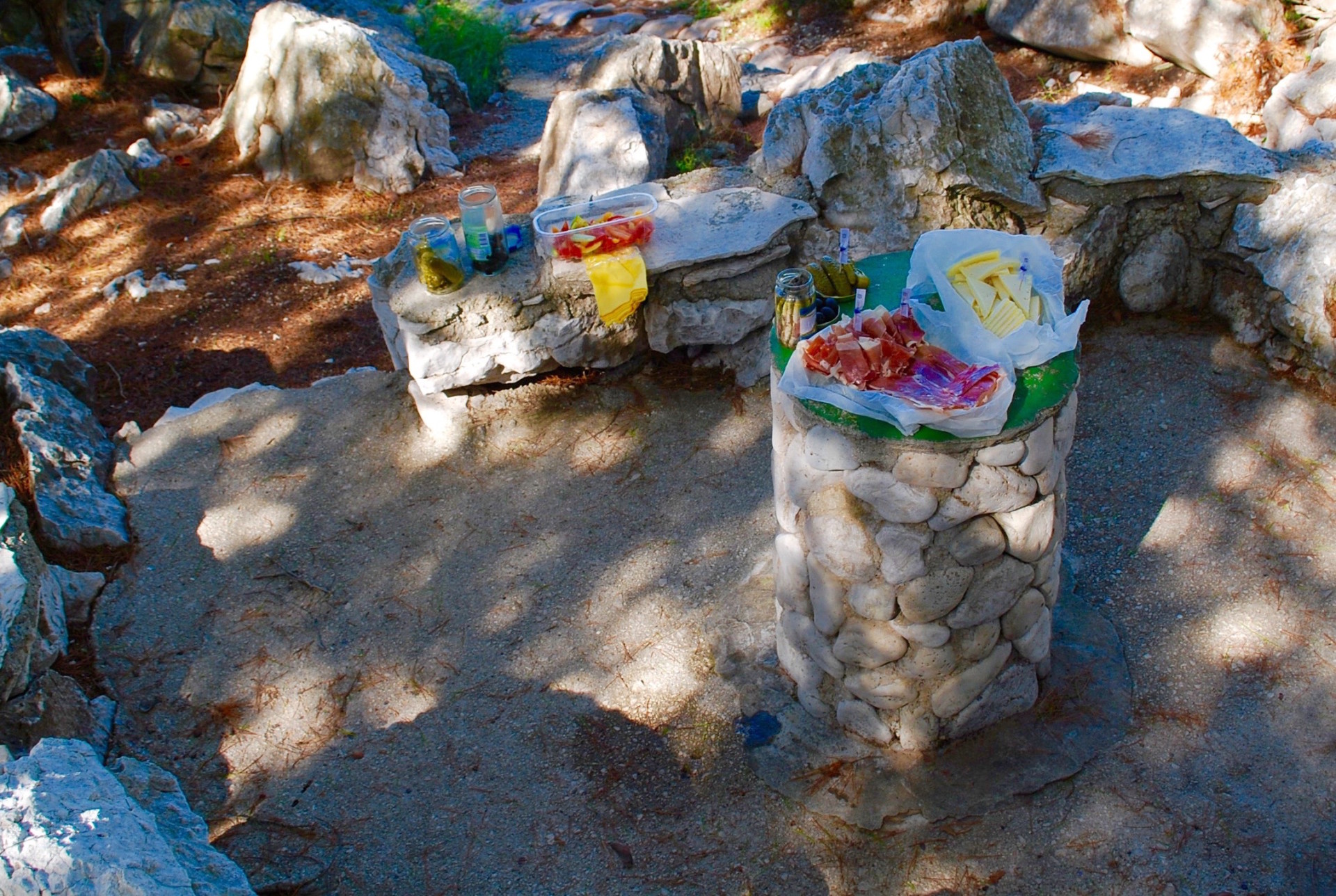 After lunch we relax on the tiny beach where Mario appears to be contemplating life without tourists, as will be the case in a few days when this last trip of the year ends.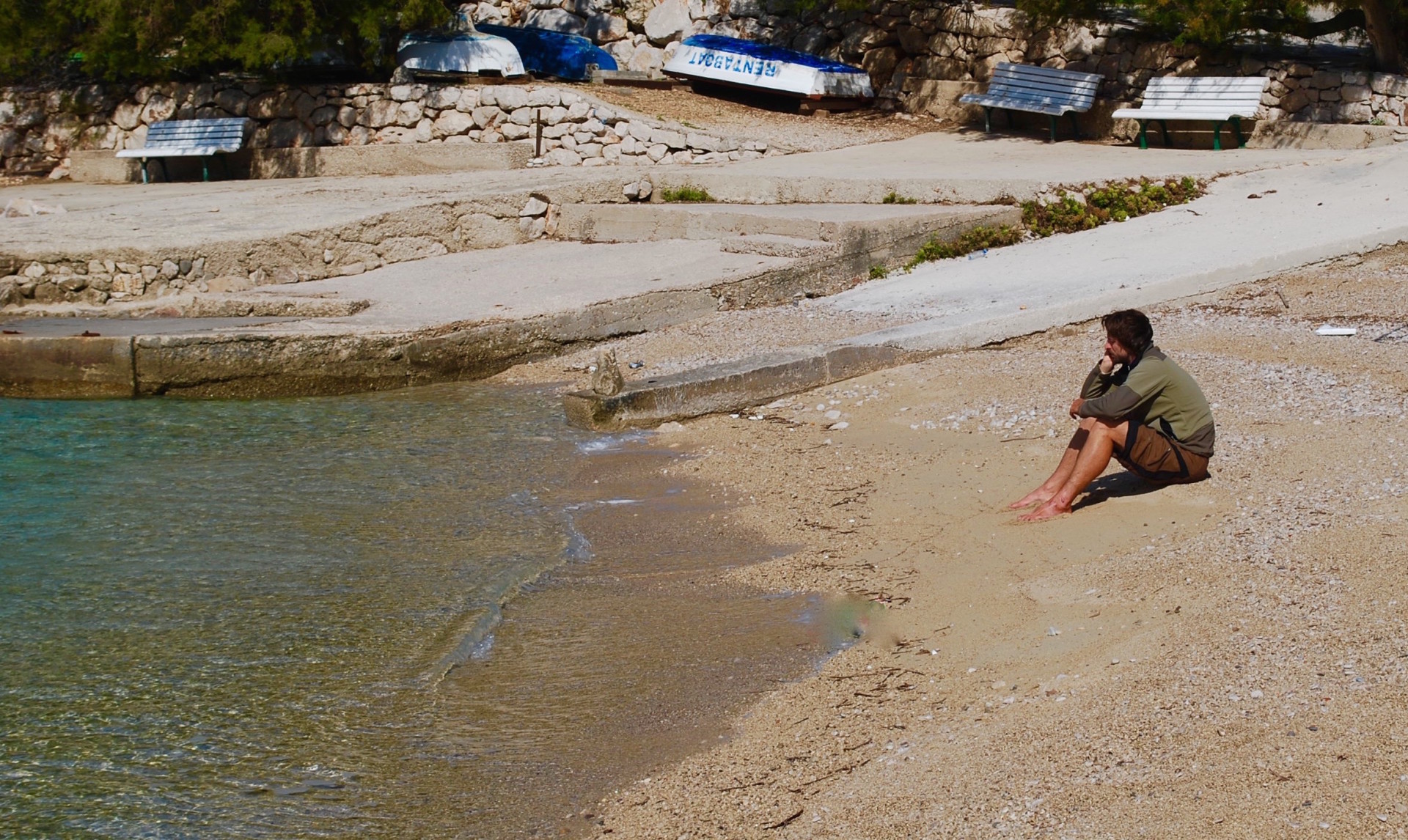 Shaking off the temptation to take a nap in the Dalmatian sunshine we get back on the road are treated to one of the most scenic coastal roads I've ever been on. How's this for a beautiful view. The road is in excellent condition and there's next to no traffic.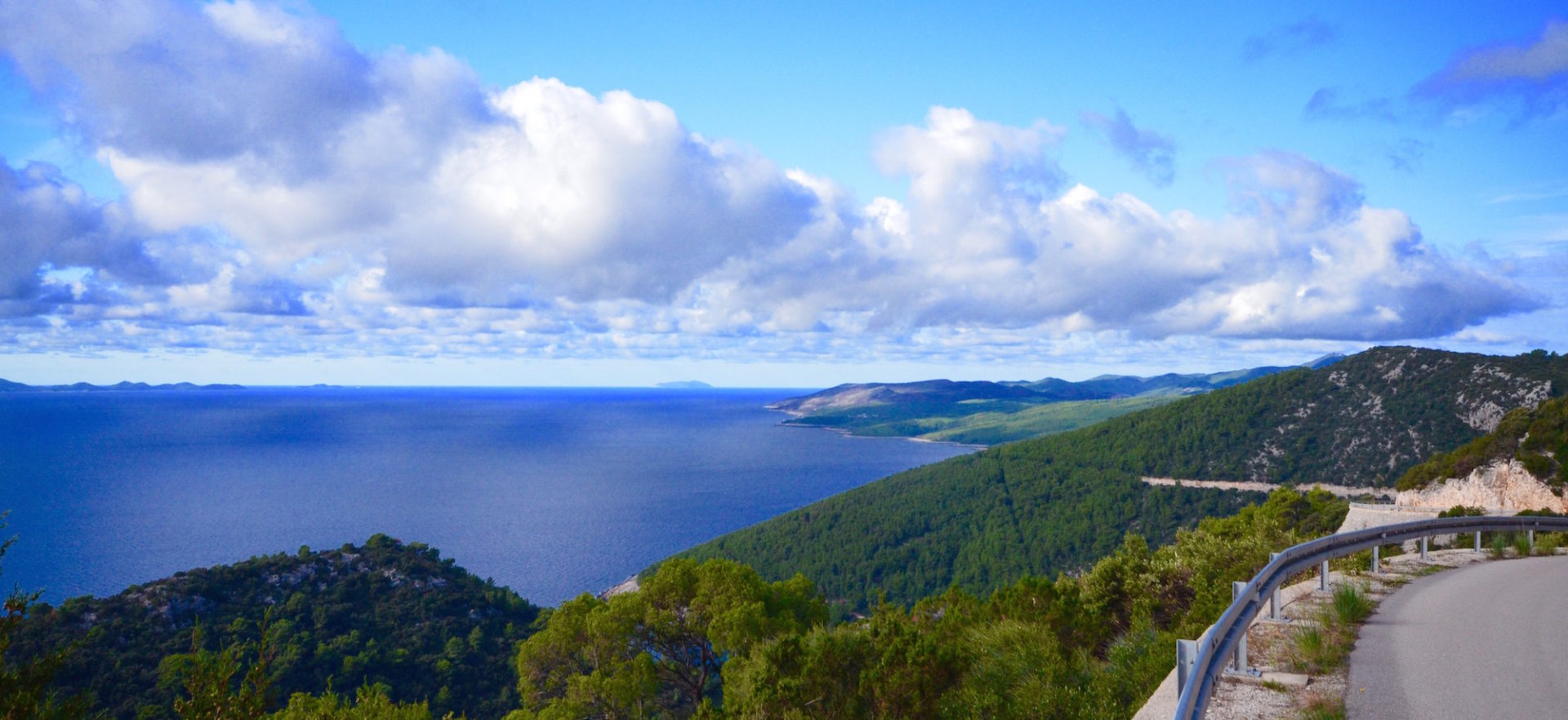 Here's the view back to our little picnic island.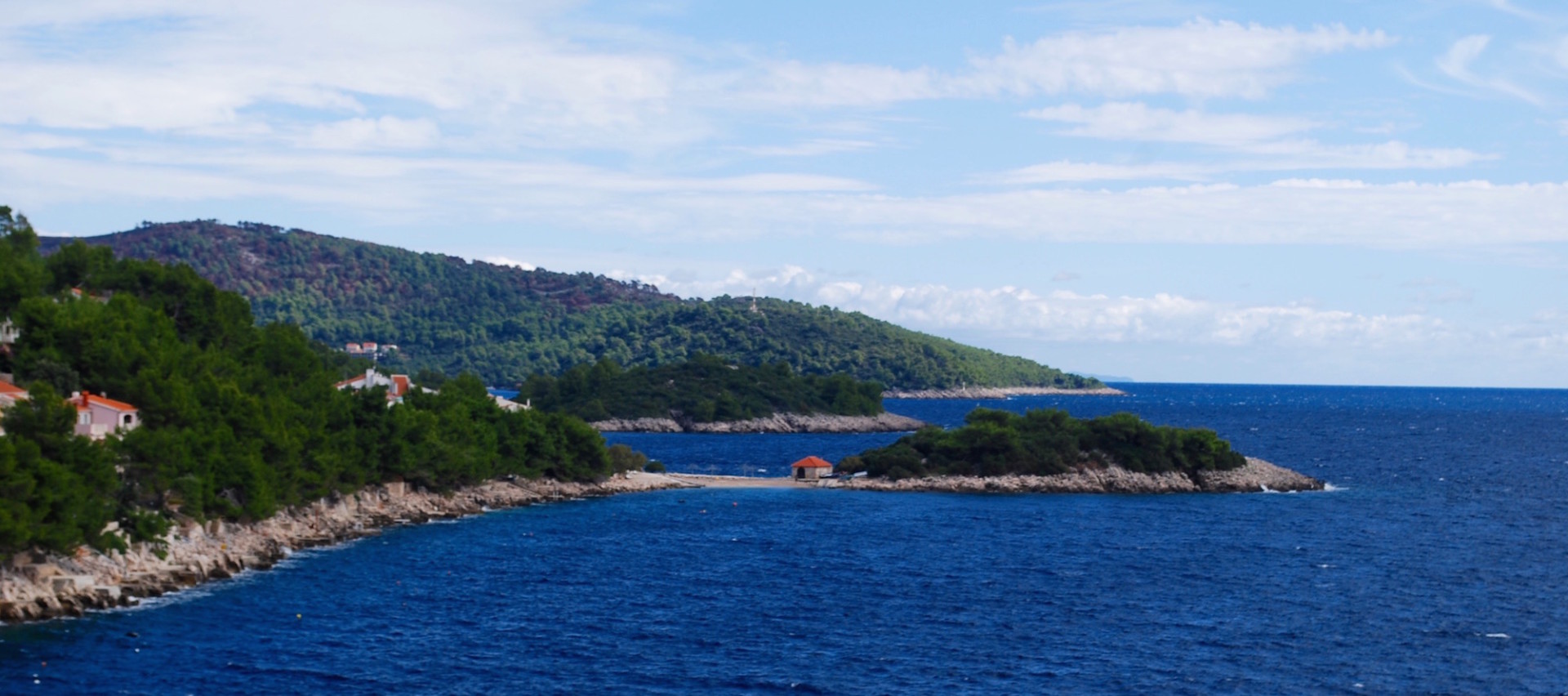 After cycling through the near deserted resort town of Prizba we turn inland again and make the long ascent up to the top of Korcula, but this is nothing compared to Hell Hill. We make another stop in Blato which is the largest place on Korcula Island and not a tourist centre, but an agricultural hub. There's a lot more activity here than any of the other places we have seen on Korcula. We sit in a canvas covered outdoor patio on the main street and enjoy a beverage – Ozujusko beer for me. After quenching out thirsts we head back out for one final climb and then a thrilling downhill to the village of Prigradica where the Azimut is waiting our arrival. Isn't that a pretty sight?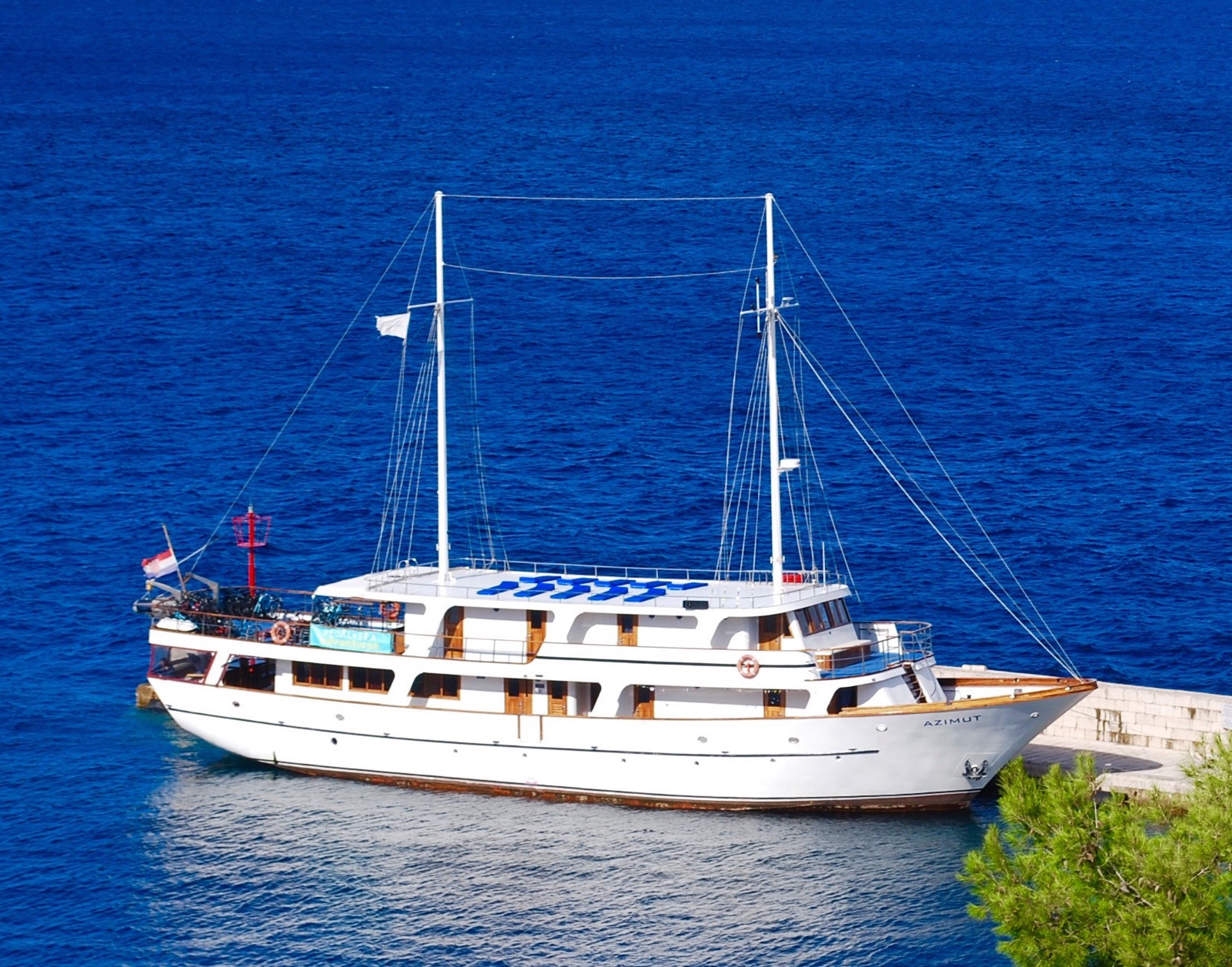 After getting our bikes on board we say goodbye to Korcula Island as we motor toward the island of Brac for our next adventure. A truly perfect day is coming to an end.
Here is a link to the Croatia photo gallery with pics from Split to Dubrovnik and all places in between.