Tapas in Spain – You Still Get Them for Free in Nerja
If you are interested in where you can still find free in tapas in Spain then join Alison and me on a tapas  in the relatively unspoiled town of Nerja on the Costa del Sol.
Traditionally tapas, or small dishes as it translates, were served all over Spain as a free incentive for people to buy drinks at the bar. The key is that you have to sit at the bar to get them for free, which is fine because the tapas are usually displayed in a case on top of the bar and you can take your time deciding which ones you want. There is no hard and fast definition of what constitutes a tapa – there are literally hundreds of varieties that range from sausages and ham, vegetable or rice dishes, small sandwiches or seafood. Every place is different which is why when you go out for tapas i Spain you go from one place to another to sample the various offerings – a tapas crawl with usually one drink per place.
Here's the rub. Tapas have become so popular worldwide that the tradition of providing them for free with a drink has died out. I'm not sure it ever existed anywhere outside Spain other than maybe Portugal, but you sure as hell won't ever get free tapas at a so-called tapas bar in North America. The good news is that some places in Andalusia are bucking the trend and still serving free tapas, including the tourist town of Nerja on the Costa del Sol. It has a really nice multi-block pedestrianized area where there are a lots of places to choose from. I've done some advance research and chosen a route that should hit some of the best.
One word of caution in choosing a tapas bar – this might sound obvious, but make sure it is, in fact, a tapas bar and not a cafe (usually called cafeteria in Spain) or a restaurante, which is more high end. The simplest way to make sure is go in, find the bar and see if there are tapas behind it. If there aren't then you are in the wrong place. Also, when you get there make sure you sit at the bar and not at a table where the menu will be completely different and way more expensive.
El Nino
OK, we're off to the first stop which is El Nino on Calle de Almirante Ferrandiz, just outside the pedestrianized area.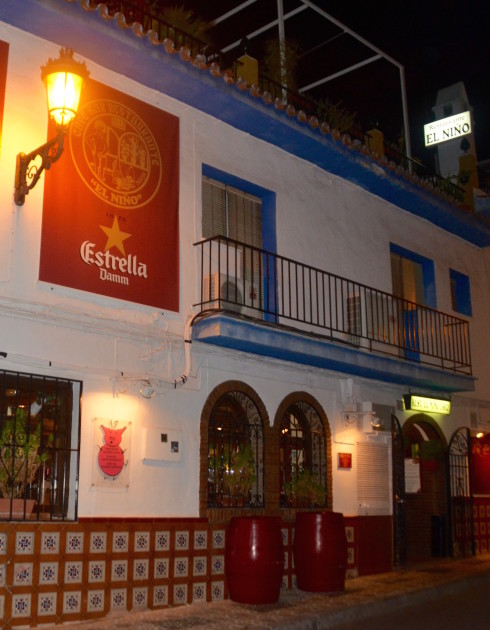 It's early and the tapas have just been set out.

There's also a big steaming bowl of spinach and garbanzos.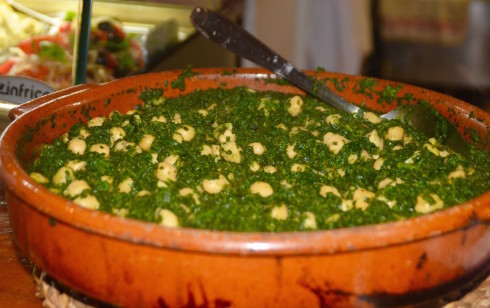 First we need to order a glass of wine each. You might be thinking "Here's the catch. We're going to get shitty wine at inflated prices". Wrong and wrong. It's a lovely Ribeira Rioja white. We have found the standard house wines on offer everywhere in Spain to be excellent tasting and good value. So we've bought the drinks and now choose our tapas. Costillas (ribs) for Alison and braised pork for me.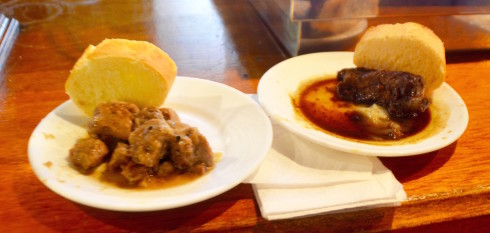 You almost always get a slice of bread and there is a jar with small forks on the bar.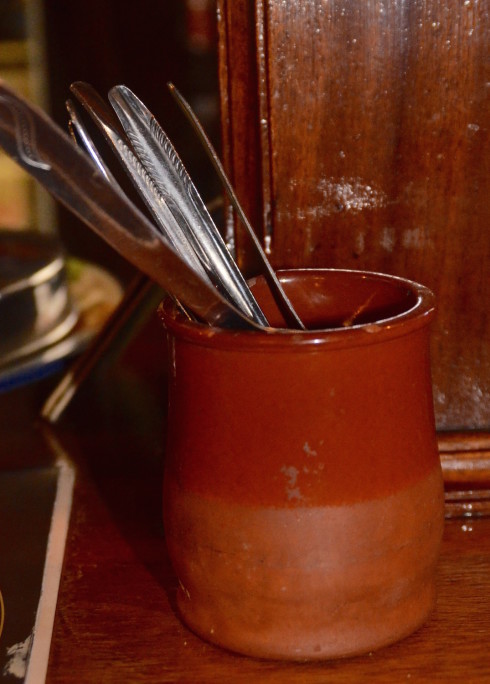 Both of these are really good and it's tempting to have seconds, but time to move on. The bill – 5.50 euros or 5.80 US.
Tapas in Spain – La Tasquita
Next we move down into the pedestrianized zone to La Tasquita which is in a lovely looking triangular building at the junction of Calle Gloria and Calle Cristo.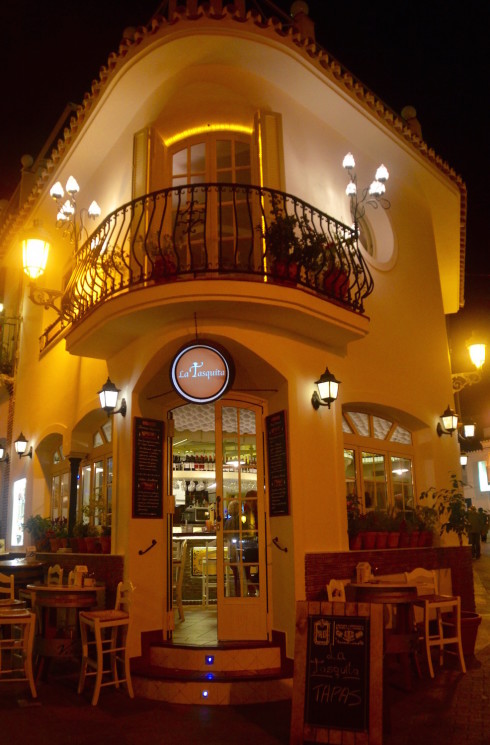 It's very bright inside with the light reflecting off of this curious ceiling.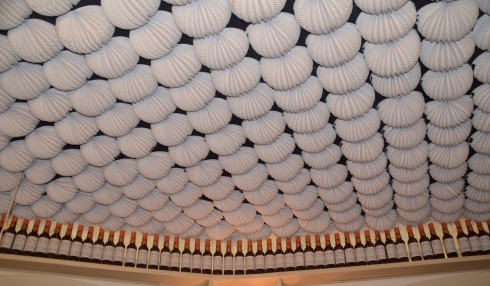 After trying the meats at El Nino Alison opts for a very common Spanish offering called Ensaladilla Russa which is a combination of potatoes, egg and tuna along with whatever special ingredient each place adds to make their recipe unique. I go for another Spanish staple, manchego cheese. It's a semi-hard cheese which I've been eating every day since we got here, because I love it. We are now going with a red rioja which goes great with the cheese.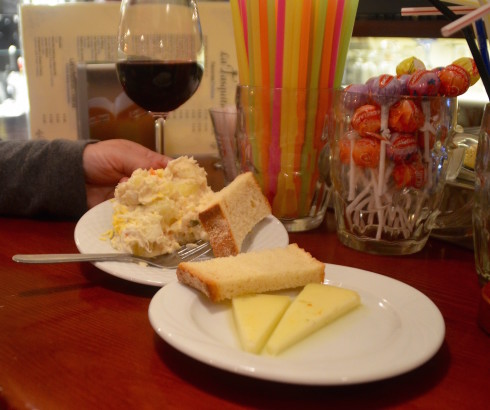 La Tasquita seems to be very popular with couples about our age and it would be easy to strike up a conversation and maybe make a new friendship, but we have to press on. The bill – 5 euros.
Redondo
Just down Calle Gloria is the very popular Redondo which is obviously named for the round shaped bar at which there are no less than twenty-four different tapas laid out. We get a seat at the bar, order our wine (back to white) and then circle the bar trying to decide which of the two dozen offerings we will try.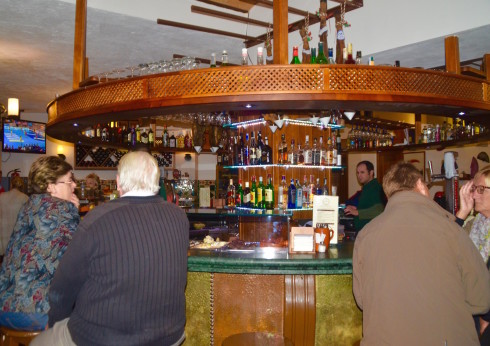 Alison chooses the ultimate Spanish signature dish, paella while I go with the signature Spanish sausage, chorizo. To my surprise the chorizo is lit on fire at the bar and burns for a good minute before flaming out.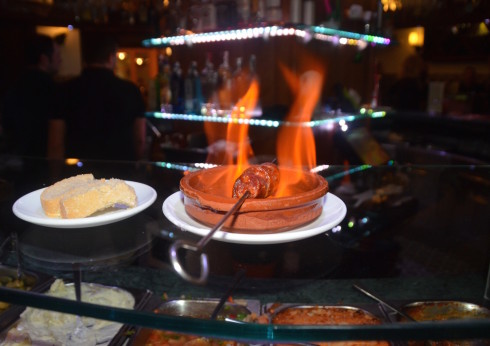 The chorizo is the best I've ever tasted, but the paella is only average. Well you can't hit a home run every time.
Total bill – 4 euros – I kid you not. Here's the proof.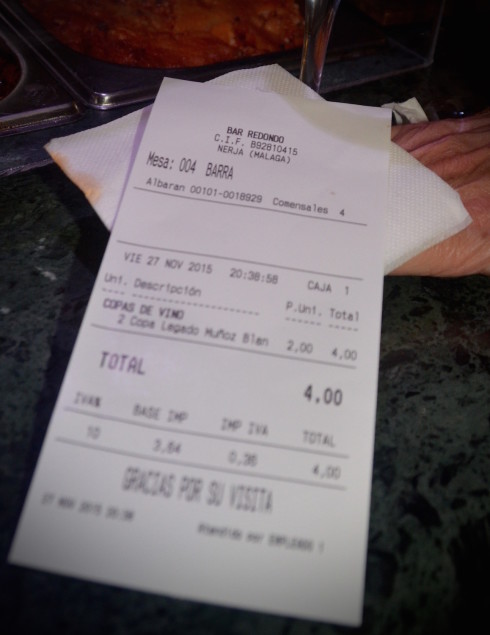 Cerveceria El Pulguilla – Maybe the Best Seafood Tapas in Spain
Out last stop is El Pulguilla which is only a stone's throw from Redondo.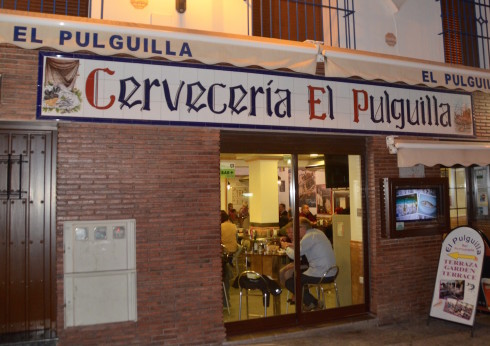 El Pulguilla is famous for its seafood tapas and its stainless steel bar which is now packed. One grubby looking ex-hippie is taking up three places with his newspaper spread out on one side and his drink on the other. It's all I can do not to ask him to shove over, but in El Pulguilla there are little stand up areas around the interior columns that qualify as sitting at the bar.  We get one of these and after getting our drinks wander over to the stainless steel trays where the seafood is laid out just like it would be at a fish market. It's mostly all raw and will be cooked for you after you order.

The mussels look huge so I order those and Alison inexplicably goes for a pork skewer.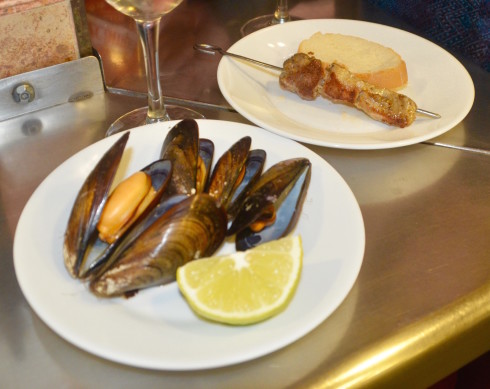 Both of these are excellent and I have to wonder why the P.E.I. mussels we get at home are not as big as these ones. At one time they were, but are now only a fraction of the size.
By now the law of diminishing returns should be setting in and our desire for more abating, but it isn't. I'm not going home without a fresh grilled squid and so I order another glass and Alison and I split what might be the best tasting squid we've ever had. Tell me this doesn't look delicious.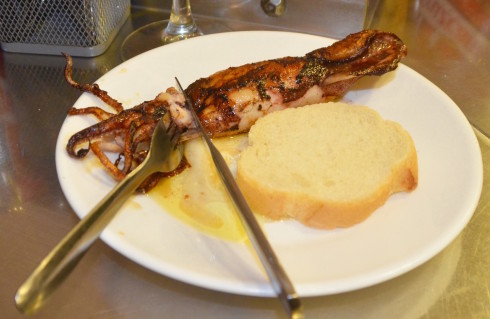 OK, we've been to four bars, had nine glasses of wine and nine tapas. What's all this costing – 20.50 euros or less than 22 US. Tell me where you can get nine glasses of good wine, let alone great food, for that price? Well in Nerja, actually. There are still free tapas in Spain.
That leaves room in the wallet for a visit to the heladeria on the way home.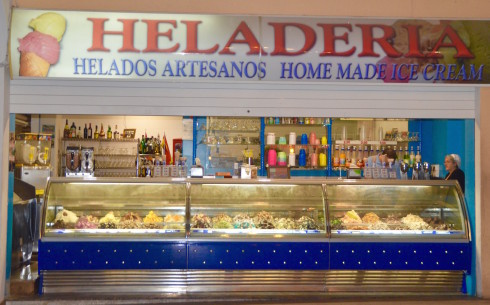 Hope you've enjoyed this tapas crawl. Buenos noches from Nerja. Tomorrow we'll visit the famous caves of Nerja.