Captiva Island, Florida – Learn History at the Cemetery
I've been coming to Sanibel-Captiva for almost forty years and am not conceited enough to think that I know it like the proverbial 'back of my hand'. Actually if someone showed me a picture of the back of my hand along with say ten others from men my size and age, I doubt very much I would pick mine out every time. Another stupid saying. This afternoon I am looking for new things to do on Captiva Island and come up with an interesting find that shows there's still a lot more of Sanibel-Captiva to explore.
We are staying at the South Seas Island Resort which occupies the entire northern half of Captiva. On the way here from the airport we picked up our bikes from our storage locker in Fort Myers and this afternoon we set out to explore the resort and the back lanes of the island. By way of explanation, because the island is so narrow, there is really only one main road on Captiva except in a few places where there are narrow, mostly dead end lanes leading to the gulf side of the island. It's those little lanes we explored today and at the end of one, Chapin Lane where we found historic Captiva Cemetery.
Anyone who has read my posts or my books probably knows I have a fascination with cemeteries. Even though I am not religious, I find them to be places of spirituality, tranquility and above all, an eye into the past. Grave markers can tell you a lot more than just the names and dates of birth and death of the persons interred beneath them and that was the case today in Captiva Cemetery.
Captiva Island Cemetery
First a little history which you can read for yourself on this marker indicating that Captiva Island Cemetery is on the National Register of Historic Places.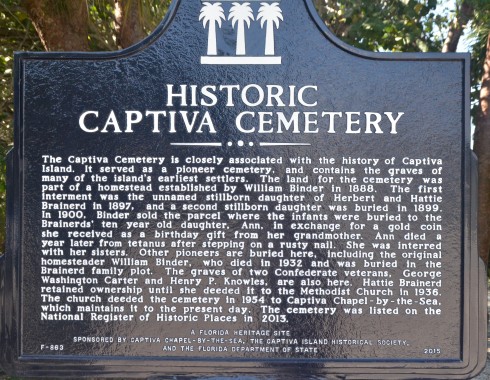 In case the print's too small, here's the story in a nutshell, augmented with some info I have obtained elsewhere. The first permanent white settler on Captiva, William Binder, an Austrian, essentially owned the island by right of first possession. Then along came the Brainerd family who settled on Buck Key. One of the Brainerd children, Ann, visited the site of what is now Captiva Island Cemetery when she was six and was captivated by the location. She told Mr. Binder this and he agreed to sell it to her for a gold coin she had received from her grandparents when her parents moved to Buck Key from Canada. Must have been one of the very first Canadian snowbirds.
Then tragedy struck the Brainerd family. The first two interments were stillborn children followed not long after by ten year old Ann who died of tetanus after stepping on a rusty nail. I hope her parents weren't anti-vaccers. The Brainerd's lost an incredible eleven children. Then Mr. Brainerd died and his wife Hattie married Al Gore – no really, although he went by Alvin. When Hattie died she had her grave placed an equal distance from Brainerd's and Gore's. A nice gesture  – not playing favourites. There also some confederates buried here and a few other interesting graves to seek out, so let's do it.
The first thing I can write is that Ann was right, Captiva Island Cemetery is a beautiful place. It's just back from the beach and shaded by some of the largest sea grape trees I've ever seen. The headstones are not cramped and there are no ostentatious markers indicating someone who thought they were more important than everybody else, forgetting that death is the greatest equalizer.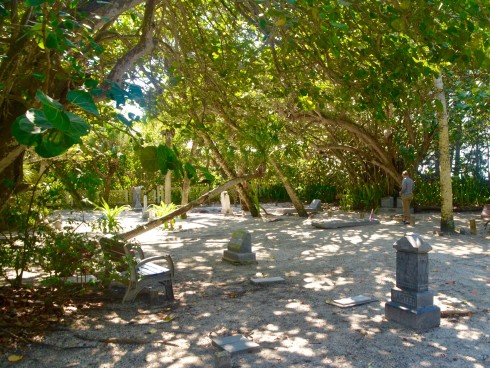 The first one I notice is this one which indicates the burial site of a confederate veteran of the U.S. Civil War. The letters C.S.A. stand for Confederate States of America.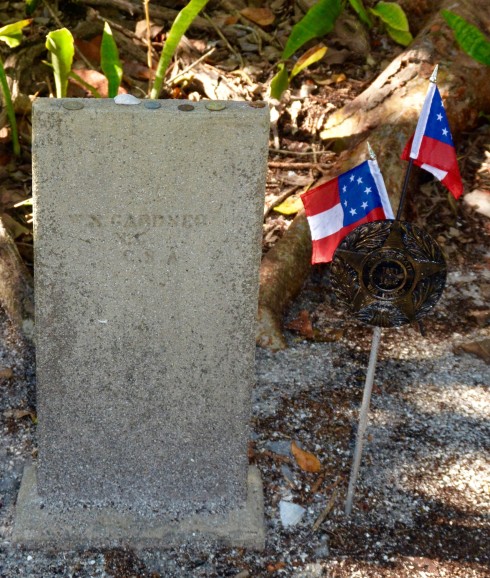 You might be confused by the flags beside the headstone, expecting perhaps to see the somewhat infamous Southern Cross with Stars. Actually the flags here are the original Stars and Bars of the Confederacy, the first official flag of the rebels. The seven stars represent the first seven states to secede, South Carolina, Mississippi, Florida, Alabama, Georgia, Louisiana and Texas.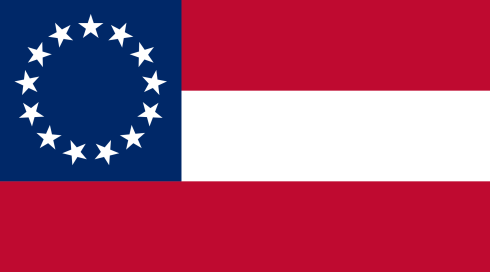 Next we come across a name I recognize from the beach that is named after her at the very end of the public road on Captiva, Alison Hagerup. She was one of the first champions of the necessity for protecting and restoring Captiva's beaches to their original condition to prevent unnecessary erosion. As you can see by the number of shells that surround her grave marker, she has a lot of people who miss her.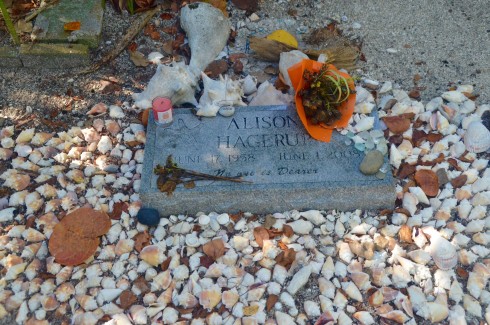 Many people believe that one does not truly pass away until the last person who has an actual memory of the purportedly deceased, dies themselves. I'll give you an example. My grandmother died in 1980 and yet I still have dreams where she is as alive as I am. I can only have those dreams because I actually knew here – she is, in effect, still alive in my mind. Once the last person who has actual memories of my grandmother passes on, then she will too.
Alas, here is poor Ann Brainerd buried alongside two of her siblings.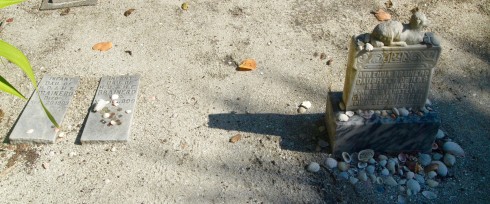 The two on the left are the first two internees, the stillborn daughters. To the right of Ann's headstone are many more. Today, the death of a child is perceived to be just about the most horrible thing that can ever happen to a parent. We think it unnatural to outlive our children, and yet, right up until well into the 20th century it was almost the opposite with the Brainerd's providing an horrific example of the almost worst case scenario. What you probably cannot see from the picture is that the graves of the stillborn girls have been decorated not only with shells as are most other graves here, but with coins as well. It is a testament to the honesty of visitors that no one has taken them, not even some little bugger looking to buy an ice cream cone.
To top it off, a child the Brainerd's had adopted, Gordon, did live to adulthood, but then was murdered in a fight. That proved too much for patriarch Herbert Brainerd and he checked out not long after that. Here he is today, at peace I can only hope.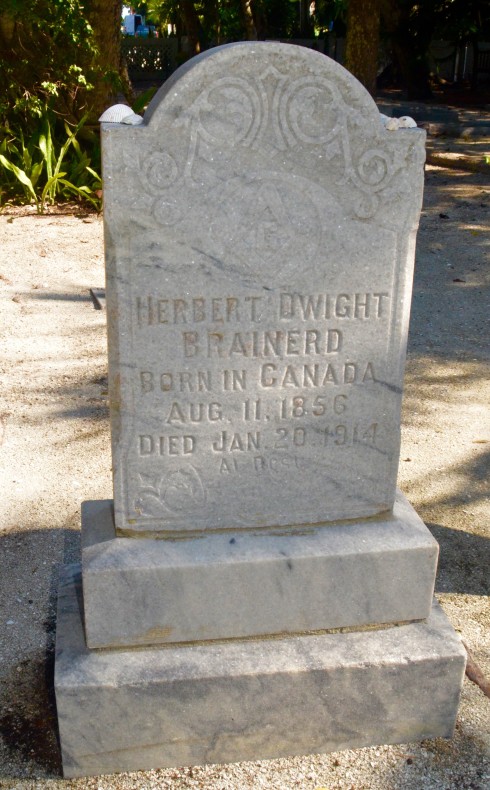 While Herbert's grave only says born in Canada, Ann's identifies Stanstead as the place of her birth. Apropos of nothing, Stanstead, Quebec is famous for sharing its main street with Derby Line, Vermont.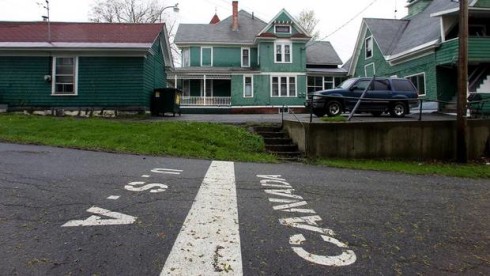 Moving on from the Brainerds  we come across this marker which somehow appeals to me as the fellow's nickname has been applied to myself more than once. I also like the fact that he was obviously such a big Miami Hurricanes fan that it was worth putting the mascot on his tombstone. When I die they can put the Toronto Maple Leafs logo on one side and the Minnesota Vikings on the other. Please just don't add "He was the world's biggest loser".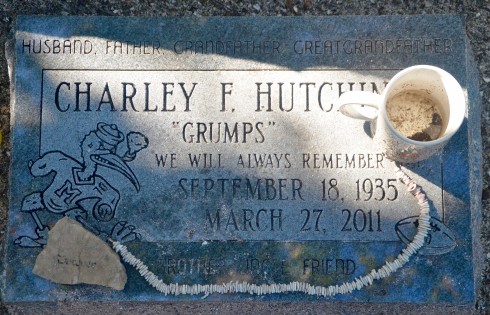 The last grave I took a picture of was Ruth McCartney, not for anything special other than she was born in Missouri and died in Minnesota, so she was obviously a winter visitor to Captiva, like I am, and loved the place so much that she wanted to be buried within sight of the sea. Somebody took the time to place a nice pattern of different coloured tiny scallop shells on her grave. Somehow these small tokens say more than all the store-bought wreaths in the world. R.I.P. Ruth.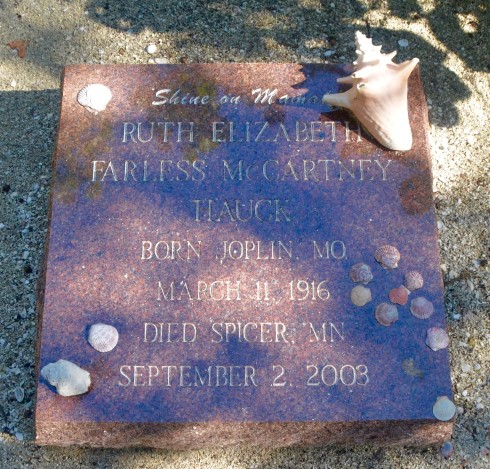 So that's Captiva Island Cemetery, a tiny historic gem in an otherwise very modern looking place. Check out if you are ever looking for something different to do on Captiva Island.
There are also lots of other 'off the beaten path' things to see in the Fort Myers area including a boat trip to Mound Key or a visit to Koreshan Historic Site. Check those out too.