North Carolina Sports Teams Hat Trick
Last night I just finished watching the third of the North Carolina Sports Teams in a six day span and in two different countries. Here's how and why I did it.
My daughter Lenore lives in Toronto and every year we try to get to a Maple Leafs game, so in December I bought a couple of tickets for the January 21, 2016 game against the visiting Carolina Hurricanes. It could have been any team that was playing in Toronto around that time.
Then, after the NFL season ended Brian MacLellan and I decided we would go to an NFL playoff game and by coincidence the easiest home game to get to was the Carolina Panthers, although when we bought the tickets we didn't know who the opponent would be. As it turns out it was the Seattle Seahawks who had just eliminated my Minnesota Vikings in heartbreaking fashion and I felt exactly like these Viking fans. Seattle had not won, Minnesota had lost. Brian MacLellan has always been an ardent Russell Wilson hater, not for any particular reason I can figure out, but now I wanted to see these lucky bastards destroyed.
So long story short, Brian and I arrived in Charlotte where the Carolina Panthers play, the day before the game. A friend who lives in Rock Hill, South Carolina, just across the border, had two tickets for the Charlotte Hornets that night against the Milwaukee Bucks and offered one to us. I bought another one on line and violà suddenly I'm lined up to see all three Carolina teams in less than a week without any deliberate planning on my part. So, to the games.
North Carolina Sports Team – Charlotte Hornets
I knew so little about the Charlotte NBA team that I thought they were still  called the Bobcats. As it turns out the Hornets had absolutely no sting this night and were easily trounced by the Bucks. But we had great seats, almost at court side. Mercifully I forgot my regular camera so there are no pictures of the debacle.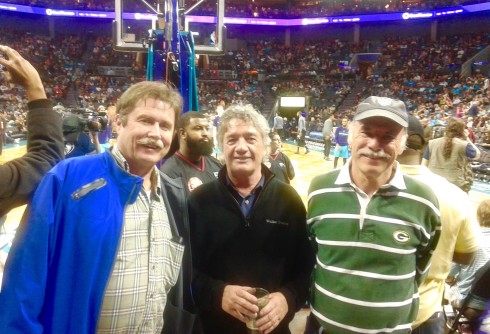 Carolina vs. Seattle 2016 Playoffs
The next day our friend, who was not going to the Carolina Panthers game, drove us in to the city and dropped us off outside where we wandered through the tailgaters to the entrance.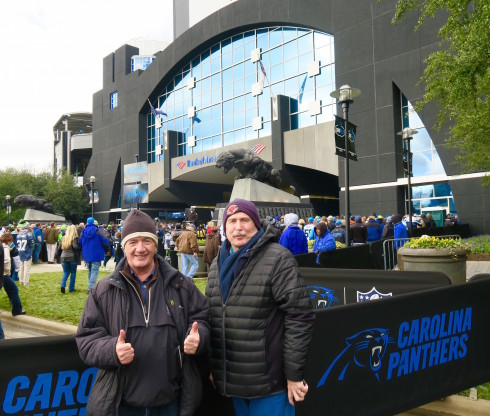 Up close the panther is quite scary looking. I hope the Carolina Panthers are just as crazed.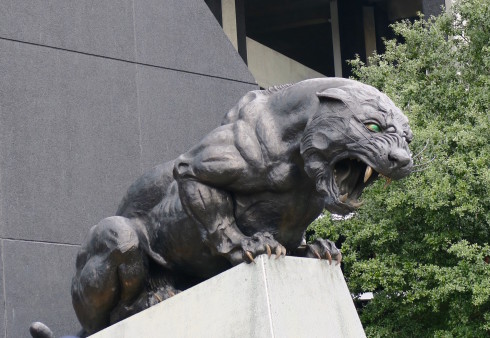 The prices for NFL post season games are stratospheric, especially in Canadian dollars, but in my experience being high up is less important than being close to mid-field where you can see all the action. So we have nosebleeds seats that are in the second to last row, but right at mid-field. It's so high up we pass the FOX cameraman on the way.
At least there's a great view of Charlotte from up here.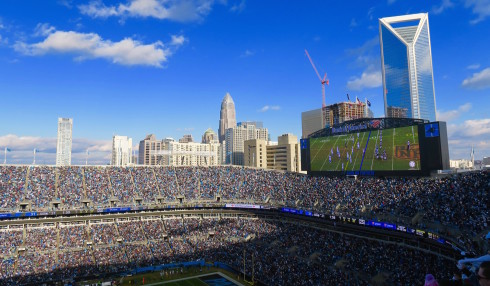 The Carolina Panthers come out on fire; almost literally as they pass through huge jets of flaming gas on each side of the entryway.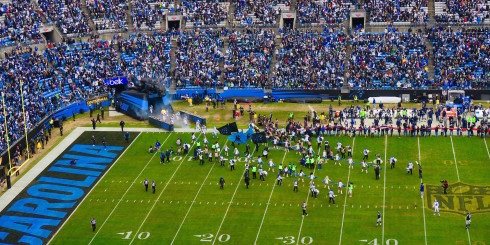 Actually they do start on fire. On the first play from scrimmage Jonathan Stewart rips it for 59 yards and three plays later he scores a TD. On Seattle's first possession Russell Wilson throws a pick six to Luke Keuchly and its 14-0 in just over two minutes. Russell gives up another INT later in the quarter and by half time its 31-0. Instead of needing to yell "Kill Russell Wilson!", instead he and the rest of the vaunted Seahawks are doing it to themselves. Game over right?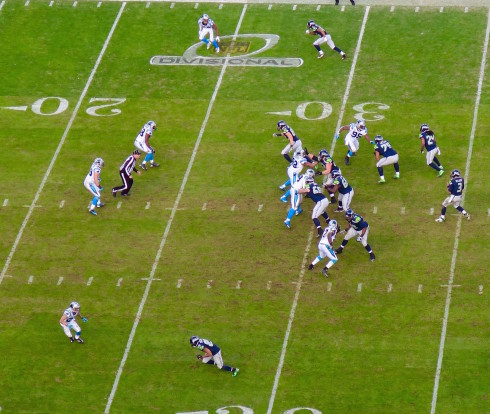 With Seattle, Yogi Berra's famed "It ain't over till it's over", is always apropos. They are like a plague of zombies that you can't keep from coming back at you no matter how many you kill. Unfortunately it's the Carolina Panthers who play like zombies in the second half. I call these uniform-switch games. One team dominates the first half and then almost as if the good players in the first half switched uniforms with the guys who were so pathetic, the other team dominates the second half. Seattle manages to claw its way to 24 points while completely shutting down the Panthers who have played so much not to lose in this half that they have put the game in jeopardy. Shades of the Buffalo Bills erasing a 32 point deficit to beat the Houston Oilers in 1993. You can tell that it's on the mind of every fan in the stadium and the players. The clench of butts is palpable.
Seattle lines up for a last minute on side kick. Brian and 65,000 other fans are silently thinking, "The f***ers are going to do it."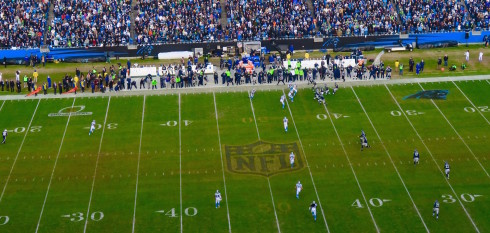 But then they don't. Carolina recovers. Game over and the collective sigh of relief is combined with nervous shock. What started out as a laugher for the home team almost turned into a nightmare that could haunt this franchise for years. It also would have added to the Seahawks' and Russell Wilson's aura of near invincibility. Thank goodness it didn't.
So after a few days off to golf, which I wrote about in this post, Brian heads back to Nova Scotia and I fly to Toronto for the Leafs game.
I have an unenviable record when watching my favourite teams in person. They almost always lose. I think with the Blue Jays it's about 1-12, 0-4 with the Vikings (one a change uniform game in Foxboro where they blew a huge lead over the pre-Brady Pats) 0-2 with the Raptors and about 3-15 with the Leafs. These guys should pay me not to go to the games.
At the Air Canada Centre
On the way into Air Canada Centre Lenore and I pause for pictures with the very neat Leaf player statues that have been erected recently. That's me with Johnny Bower and George 'The Chief' Armstrong.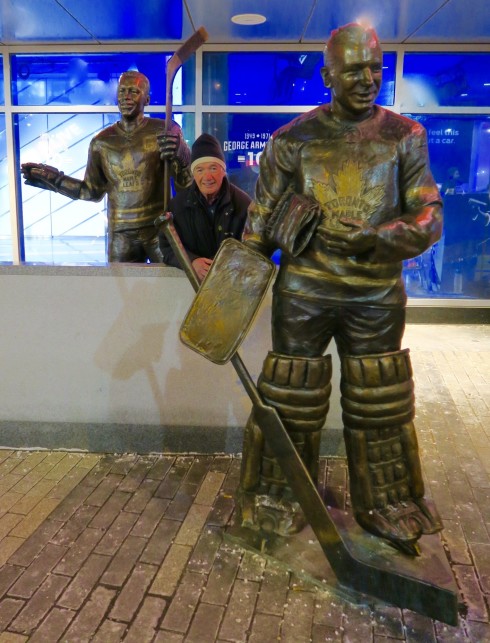 And Lenore with Mats Sundin.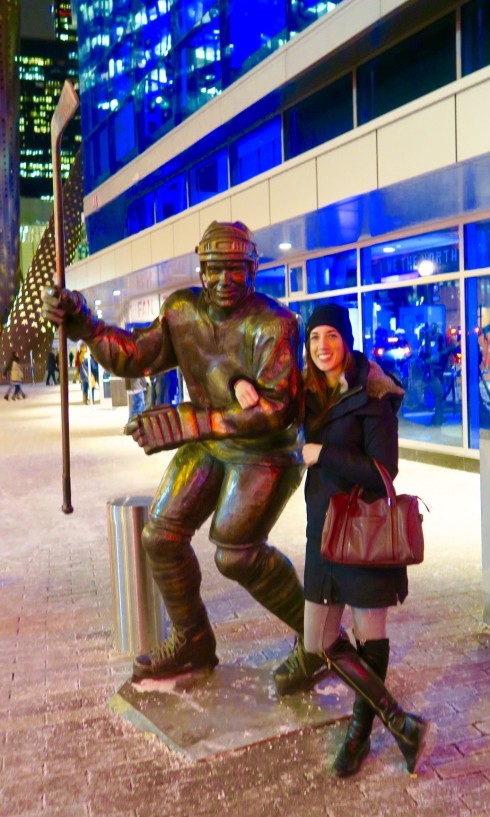 The seats are exactly at centre ice, 14 rows up. We are facing directly at the two team benches. About as good as you can buy.

We also have a great view of these really entertaining bobble head dancers across the way.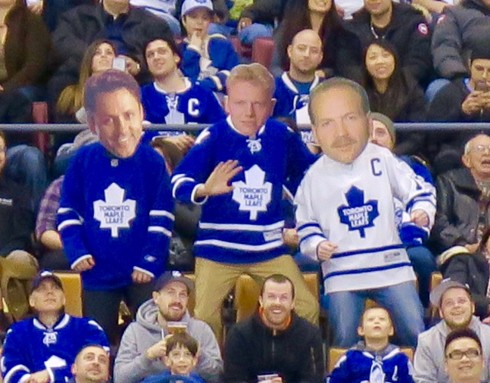 So bring on the game! We're psyched.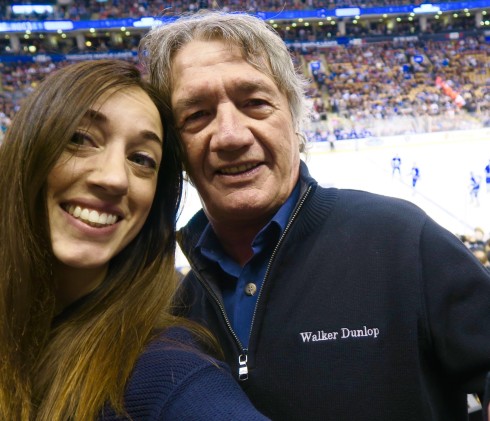 North Carolina Sports Team –  Leafs vs. Hurricanes
Unfortunately the game was not a great one, unless you really like sloppy play and the occasional great save. Both goalies, Reimer for the Leafs and Läck for the Hurricanes are in good form – so good in fact that both teams are shut out at the end of regulation. Although the Leafs did mount a last minute effort that fell short.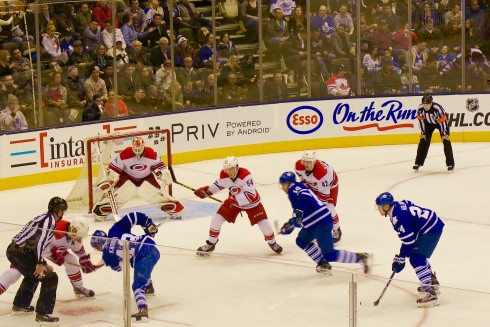 Under the new rules overtime is now three on three skaters which is very exciting. Here they are lining up.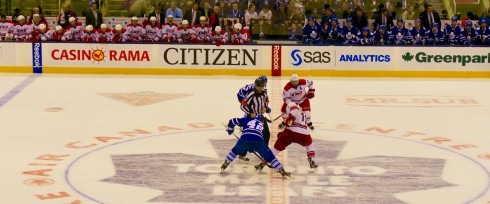 The Leafs get a breakaway which is stopped and of course the inevitable happens when I'm at a Leafs home game – Carolina scores with just over two minutes left. Unlike Stompin' Tom Connors', The Hockey Song, which they play at every Leafs game, the hometown doesn't win, at least since 1967.
So that's the story of seeing all the North Carolina Sports Teams in a week, almost by accident. Got any stories of your own about tri-sport trips?