Pine Needles Instead of Pinehurst Golf Courses
This week I flew up to Charlotte from Florida to watch the Carolina Panthers eke out a win over the Seattle Seahawks with my friend Brian MacLellan. After that, our plans were to play at least two rounds of golf at the famous Pinehurst golf courses in the North Carolina sandhills, but due to the possibility of inclement weather we held off booking until the day we wanted to start play. Now the obvious choice in the sandhills area is the world famous Pinehurst Golf Resort, but this post will explain why we ended up playing Pine Needles Golf Course and staying at Pine Needles Lodge instead – with absolutely no regrets.
It was a good thing we didn't book in advance because the rental car was covered in ice and the possibility of golf seemed remote, but it was sunny with no wind so we made the ninety minute drive to the Southern Pines area and used the GPS to direct us to the lodge at Pine Needles. It has a nice rustic appearance set amid the longleaf pines that dominate this area of North Carolina. Oh, and if you are wondering why North Carolinians are called 'Tar Heels', it's because in colonial times these same pines were a great source of tar which was used for many purposes including sealing the cracks between log cabins.
Pine Needles Resort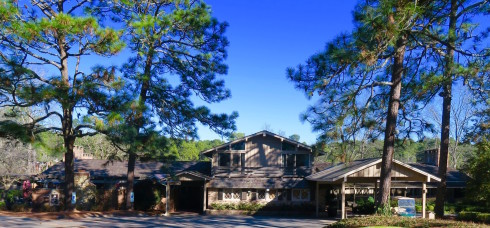 Entering the lodge the first person I encounter is Donald Ross, the famous Scottish golf architect who moved to the US and is responsible for most of the great courses in the sandhills area including Pinehurst #2 and the courses we are hoping to play here. Here I am with the real "the Donald", long before another weasel usurped the title.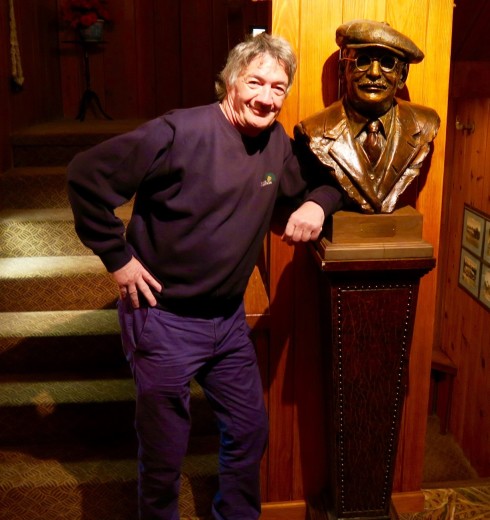 There is a fire roaring in a large hearth surrounded by golf memorabilia, big comfortable looking wingback chairs and rusticness that's authentic and not manufactured – after all Pine Needles has been around for about ninety years.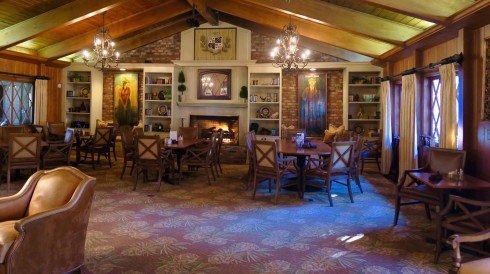 We asked if the courses would be open today and were advised that they hoped to get the Pine Needles course open by noon, but that Mid-Pines would not be. It was about ten in the morning so that would give us a chance to explore the nearby Pinehurst Golf Courses if we decided to stay. I had checked the rates at Pinehurst and they were in the several hundred dollar range and if you wanted to play Pinehurst #2 it would almost two hundred more. Maybe someday, but with the collapsing Canadian dollar and the cold, it wouldn't be today. I asked about what it would cost to stay here – $139 to share a room and $159 for our own room. Oh, and that includes unlimited golf with carts and range balls. Sold. The rooms aren't in the lodge itself, but in four room chalets nearby. I don't know why, but the lady at reception put us into the Par Lodge instead of the Eagle or Birdie Lodges. Good thing they don't have a double bogey lodge or I'm sure we'd have been assigned to that. The rooms were perfectly adequate with good wifi, a fridge, a king bed and an outside patio overlooking the swimming pool, an amenity I doubt I'll be using.
The Pinehurst Golf Courses
Back at the lodge we checked in with the pro shop and were assured that the course would open in a few hours, so time to go check out Pinehurst Golf Courses.
Pinehurst is a town that was designed from scratch by arguably America's greatest landscape architect, Frederick Law Olmsted. Having finished New York's Central Park and Montreal's Mount Royal, he was commissioned to create a community where tuberculosis sufferers could congregate and recuperate in the usually fine climate of the sandhills. So that's what he did. Then they found out that the worst thing you could do if you had TB was hang around with other sufferers. So James Walter Tufts, the guy behind the plan had just spent a shitload of money creating a town that nobody would come to. What to do?
Part of the original plan had included a modest golf course and Donald Ross, then only a Scottish golfer, had been hired to be the pro. Tufts came up with the brilliant idea of turning Pinehurst into a golf haven for northerners. All the facilities were here, except a world class golf course and for that he turned to Ross who had never designed a hole, let alone a course. "Not to worry laddie. You'll do fine. Build me a course – no make that two. Oh what the hell, make it four". A four golf course resort was unheard of, but Donald came through and Pinehurst was on its way. Today it has eight.
The actual town of Pinehurst exudes wealth, waspishness and tradition. Driving here from Charlotte we passed through a lot of hardscrabble towns where the houses were mostly trailers and the inhabitants looked poor, uneducated and tough. The occasional confederate flag was on display. Pinehurst is 180° from that.
We parked the car and first went into the Holly Inn which was the first of the accommodations at the resort.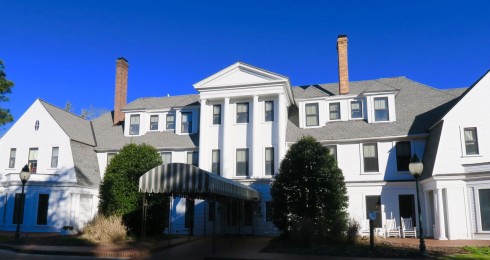 It was nice, but absolutely paled in comparison to the much larger Carolina Hotel, which is so big that I couldn't get a proper photo, but at least I have proof I was there..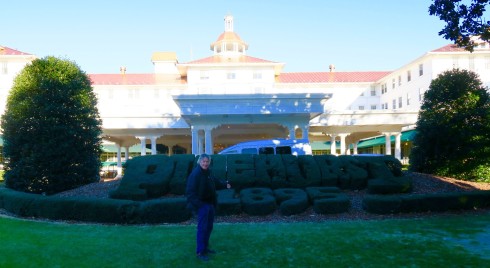 The interior of the hotel was, as expected, grandiose, however, I was not prepared for the sheer magnitude of the golf history associated with this place. Many US Opens have been played here with perhaps the most memorable being Payne Stewart's victory over Phil Mickelson in 1999, only months before his death in a plane crash.
Every major event has its own panel somewhere on the walls of the massive hallways. Here's the one to that Open.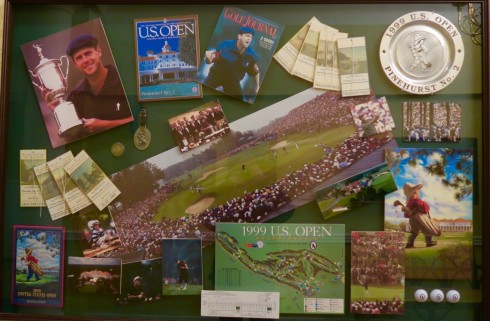 The Ryder Cup has been played here as well as countless other major events. What I didn't know was that there were many non-golf related events held here as well, including Buffalo Bill's Wild West Show, which featured legendary shootist, Annie Oakley. Here's that panel.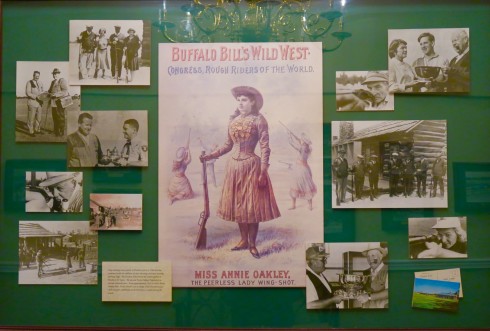 The Carolina Hotel is the type of place you could linger for hours just reading about the things that have happened here and Brian and I did spend a good hour without anyone bothering us. Forget the price, we left with an absolute determination to return one day to play Pinehurst #2 and soak up the tradition of this place while sitting in a rocker on the veranda sipping on a mint julep.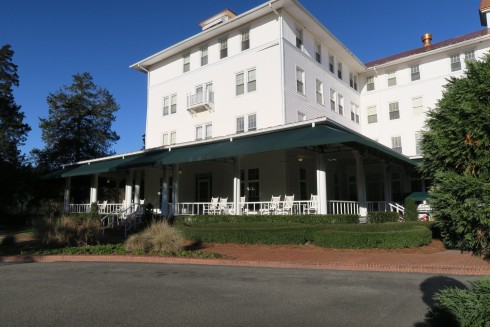 But back to today's golf and Pine Needles. After hitting a few range balls it was time to be playing Pine Needles. When I had looked on the internet for an alternative to Pinehurst, I was surprised to see that Pine Needles was # 2 on a list of places to play in North Carolina and one of the Top 100 public courses in the US on Golf Digest's site. It was also the host of three recent Women's US Opens, won by Annika Sorenstam, Karrie Webb and Christie Kerr. Pretty good company.

The fact we were going to have the course virtually to ourselves at a real bargain price made me unconsciously start humming "Nothing could finer than to be in Carolina".
Playing Pine Needles Golf Course
The garrulous starter took our picture.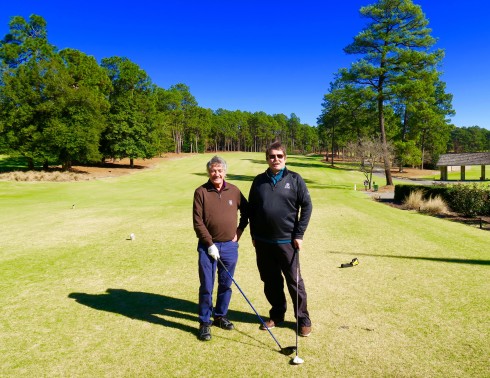 Rang his bell.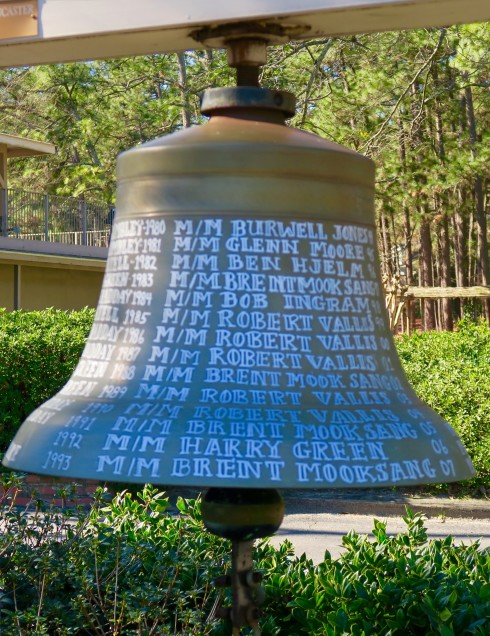 And we were off. The sandhills' courses are famous for being deceptively difficult. They appear to have few hazards, have wide open rough and generally not too narrow fairways. Pine Needles fits very well into that category. Considering the frigid temperatures the course was in simply immaculate condition, in particular the greens which were fast and had very subtle breaks, but rolled very true. Here are a few of the holes. #3 is a gorgeous par three that features one of the few holes with water on the course.
#12 is a typical Donald Ross hole where most of the trouble is set up for right handers. Since Brian and I are both lefties we managed to avoid most traps.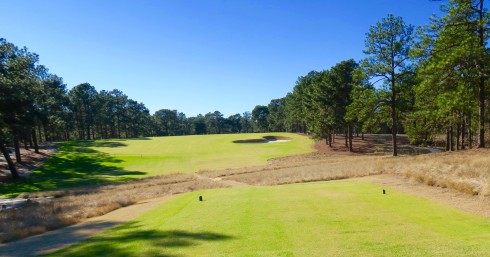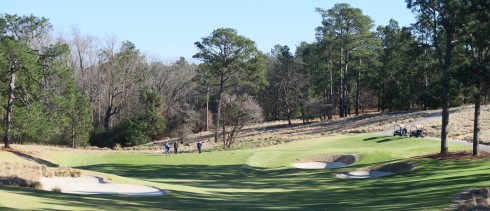 The only thing that bummed me out about the course was my blowing the match play to Brian. We were playing for who would pay for dinner, which with martinis, wine, steaks, dessert and Irish coffees, was going to substantial.. I had a one up lead with two to go and blew it. How do you spell C-H-O-K-E? Dinner did turn out to be relatively expensive, but it was very good and certainly not overpriced.
All in all our experience playing Pine Needles and staying there was a great alternative to the other more famous Pinehurst golf courses. Why don't you give it a try next time you're in North Carolina?