Lakeland Florida – One of the State's Nicest Cities
At the 2016 North American Travel Journalists (NATJA) conference I made a point of setting up a meeting with the reps from Visit Central Florida. I was particularly interested in two attractions – Legoland to which I did return in 2017 with Alison, my son Dale and his better half Kari and my oldest grandson A.J. and about which I wrote this post extolling its virtues. The second was Streamsong, the relatively new golf resort which is getting rave reviews for its two (now three) unique courses.  Once I got chatting with the ladies from Lakeland Florida I learned of another attraction that immediately jumped to the top of my must visit list in the area. Did you know that Florida Southern College in Lakeland Florida has the largest collection of Frank Lloyd Wright buildings in the world? Although I am a great fan of Frank Lloyd Wright's works, I was embarrassed to say that, like Johnny Carson, "I did not know that". I have previously posted about Wright's first home and office in Oak Park, Illinois and fleetingly in a visit to Fallingwater outside of Pittsburgh.
Here's a photo of Wright's home in Oak Park, Illinois. As you can see he had not fully developed his distinct 'Prairie' style of architecture which made hime famous.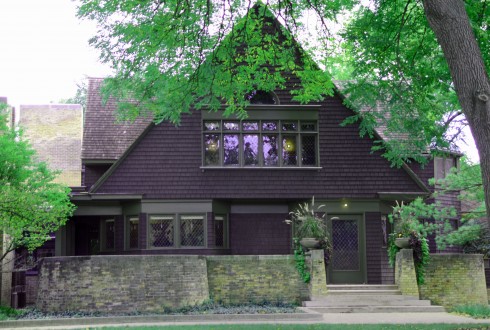 Here is Fallingwater which is considered to be his masterpiece and having seen it, I can't disagree.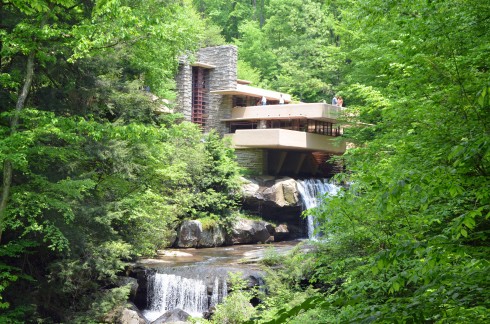 By now you're probably thinking the rest of this post is going to be about Frank Lloyd Wright's work at Florida Southern College, but it's not. I covered that story for TravelWorld International and won't repeat it here. I will say, without hesitation that, if you have any interest in architecture take the in depth two hour or more guided tour. It might be the best $35.00 you spend on your vacation. As a teaser here is a picture of the Annie Pfeiffer Chapel, one of the Wright buildings on the campus.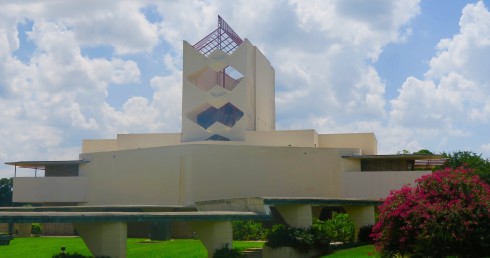 Lakeland Florida
The rest of this post is about what an unexpectedly lovely little city we found in Lakeland Florida. Lakeland is located just off the I-4, that horribly busy freeway connecting Tampa to Orlando. If you look at a map, Google will do, you can see that the city of just over 100,000 is aptly named as there seems to be almost as much water as land in the general area. By Florida standards Lakeland is old. Incorporated in 1885, it has a number of historic buildings and parks which we intend to explore during our short stay.
We came into Lakeland Florida from the south, leaving Sanibel at about eight in the morning and getting here around 11:00 which gave us two hours to kill before the Wright tour at one. After locating the Southern Florida College campus we headed for the Terrace Hotel where we would be staying tonight. Along the way we came across Lake Morton which is completely round and encircled by Lake Morton Drive. The reason I mention this is because Lake Morton is a bird sanctuary and the number of species of birds we saw as we circled the lake was amazing. Virtually every one of Florida's large wading birds was on display as well as a number of species of swans. The city has adopted the swan as its motif and during our visit we came across at least a dozen sculptural swans, some very colourful, others more natural looking. Being the idiot I am, I forgot to take a picture of any of them – real or sculpted. However if you google 'images of swans in lakeland florida' you'll get lots of them. I think Lakeland Florida has been very wise in choosing such a royal looking mascot – who doesn't love swans and somehow that translates into feeling good about the city as well. So if you visit Lakeland make sure to drive or walk around Lake Morton.
We found the Terrace Hotel and parked right beside Munn Park which is named after the city's founder, Abraham Munn. It was a beehive of activity on this Saturday morning with many families enjoying the Florida sunshine. In the center of the park stands the usual C.S.A. memorial that you find all over the south, this one a little taller than most. I will not comment on the ongoing controversy surrounding these statues other than to say that if they are generic and are intended to honour all C.S.A. war dead and not a specific general or leader, I have no problem with them.
I did a double take when I looked at this tree in Munn Park.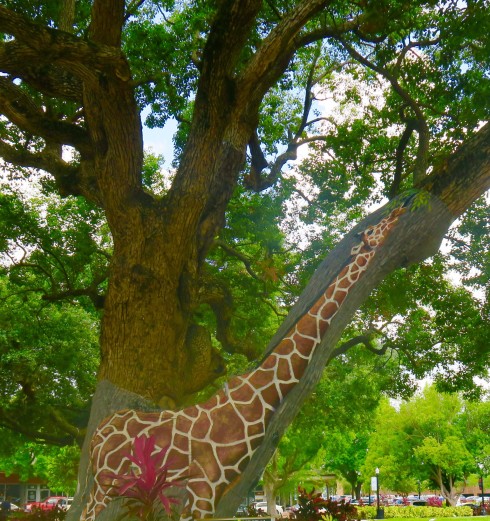 Yes that's a whimsical giraffe. Someone in Lakeland has a great imagination.
Kitty corner to the park we could see that there was a farmer's market which was very well attended so we crossed over to and joined the crowds. That's Alison in the middle.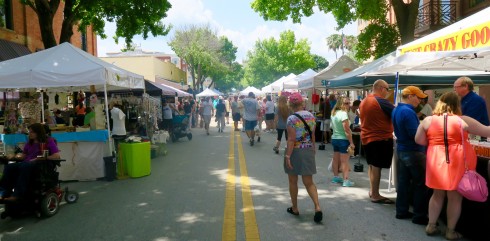 Everyone at the market, vendor or purchaser, seemed to be having a good time, including this dog who couldn't stop wagging his tail as he looked at me. Sorry boy, no biscuits today.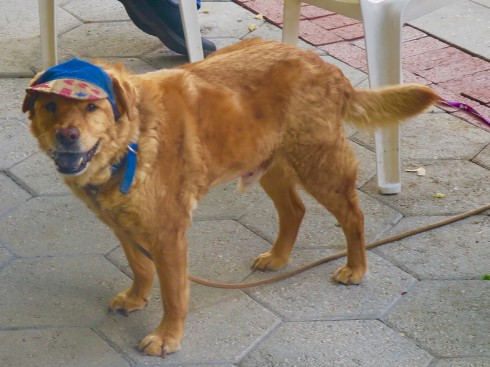 After inspecting the numerous places that were offering food we opted for tex-mex and took our lunch of tacos, taquitas and fresh lemonade back to Munn Park and sat at one of the tables that I suspect are there for just that purpose. Looking around while chowing down, I could see that Lakeland has a real vital city center and unlike many small cities, it's core has not been hollowed out by the WalMarts and Costcos on the edge of town. There are real family-owned businesses and Amtrak still picks up and drops off rail passengers right in the middle of town. I guess Lakeland Florida never got the memo that all businesses shall be part of an international conglomerate and nobody in North America is to travel by train anymore.
By now it was time to head for Florida Southern College which we did. After the tour was over we checked into the Terrace Hotel which had been recommended to me by the Central Florida reps. You can't beat its location right in the historic downtown and overlooking Lake Mirror. From here you can walk to almost all of Lakeland Florida's major attractions. I was pleasantly surprised to see that they offered free valet parking. Usually you get nailed for at least $20.00 for that privilege. The rate I received through the hotel's website was surprisingly reasonable and the room we had was just fine. The only question I had was why the builders of the hotel, way back in 1924, chose to site most of the rooms overlooking the city and not the lake.
We had an hour or so before dinner so we took another stroll, this time around Lake Mirror. Just beside the Terrace Hotel there is guess what – a terrace that over looks Lake Mirror with its lovely fountain in the middle.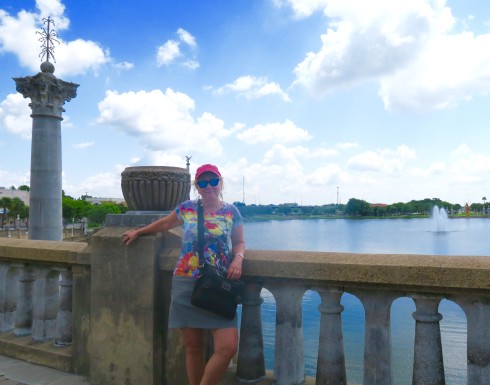 We walked along the path that follows the lake shore to the side almost opposite the terrace where you get this great view of downtown Lakeland Florida. That's the Terrace Hotel on the right.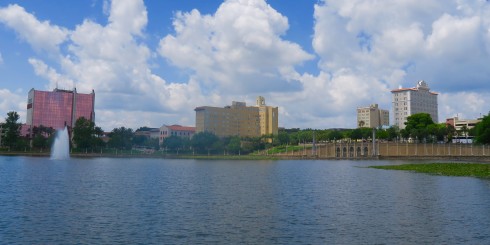 The most pleasant surprise on this walk was Hollis Garden which is classic formal garden with 'rooms' as the various gardens are styled, separated by well-trimmed hedges. There are a number of interesting sculptures, including this one.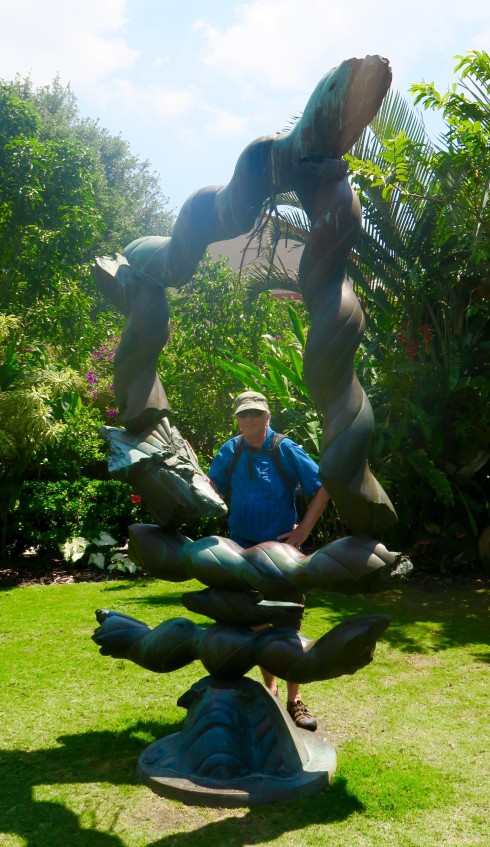 The combination of running water and vegetation reminded me very much of the beautiful Alamedas we had visited in southern Spain only a few months before.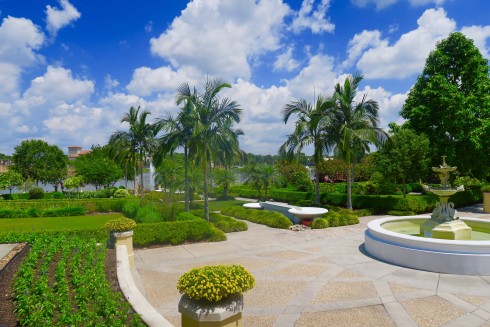 Returning to the downtown area we had dinner at Harry's Seafood Bar & Grille which was also recommended by the Central Florida gals. It was a great choice. Harry's is essentially a New Orleans knockoff and if you didn't know you were in Florida, you could be excused for thinking it was New Orleans, the decor is that similar. Also similar are the great Louisiana dishes like gumbo and shrimp etouffée which were delicious. Good prices too.
After dinner we noticed that Munn Park had been transformed into a mini-carnival. It was now packed with people of all ages, listening to a small band on stage and milling about the various booths offering face painting, faux tattoos, fortune telling and you name it. We joined the crowd and just soaked up the atmosphere. As the sun set we realized it had been a perfect day in Lakeland Florida and it didn't involve Legoland or Streamsong, so we'll definitely be back