Saskatchewan Grain Elevators – Prairie Icons
This is my fourth post about a recent RV trip through Saskatchewan with my son Dale. The first three, Cypress Hills, Fort Walsh National Historic Site and the small town of Eastend all focused on things most people probably don't expect to find in Saskatchewan. This post is about something everyone associates with the province, Saskatchewan grain elevators, which somewhat perversely are not as easy to find as you might think. Join us as we track down some of the last remaining iconic prairie giants in southwest Saskatchewan.
History of Saskatchewan Grain Elevators
The first question to be asked is, "What exactly is a grain elevator?" Read this link from the Canadian Encyclopedia for a detailed account of the how and why of the Saskatchewan grain elevators. You will learn that the great architect Le Corbusier considered them to be the ultimate example of form following function. Built to be the lifeblood of every small prairie community, the grain elevator also became a symbol of prosperity and each community proudly displayed its name in huge block letters on the side. According to the article there were once over 5,700 grain elevators on the prairies. There were five in the community I grew up in. Now there are apparently less than 300 of the traditional wooden elevators left.
There is still lots of grain being grown in Saskatchewan, but now most of it is stored in buildings that look like this one in Maple Creek. While it certainly has the function, it simply does not have the iconic lines of the original Saskatchewan grain elevators.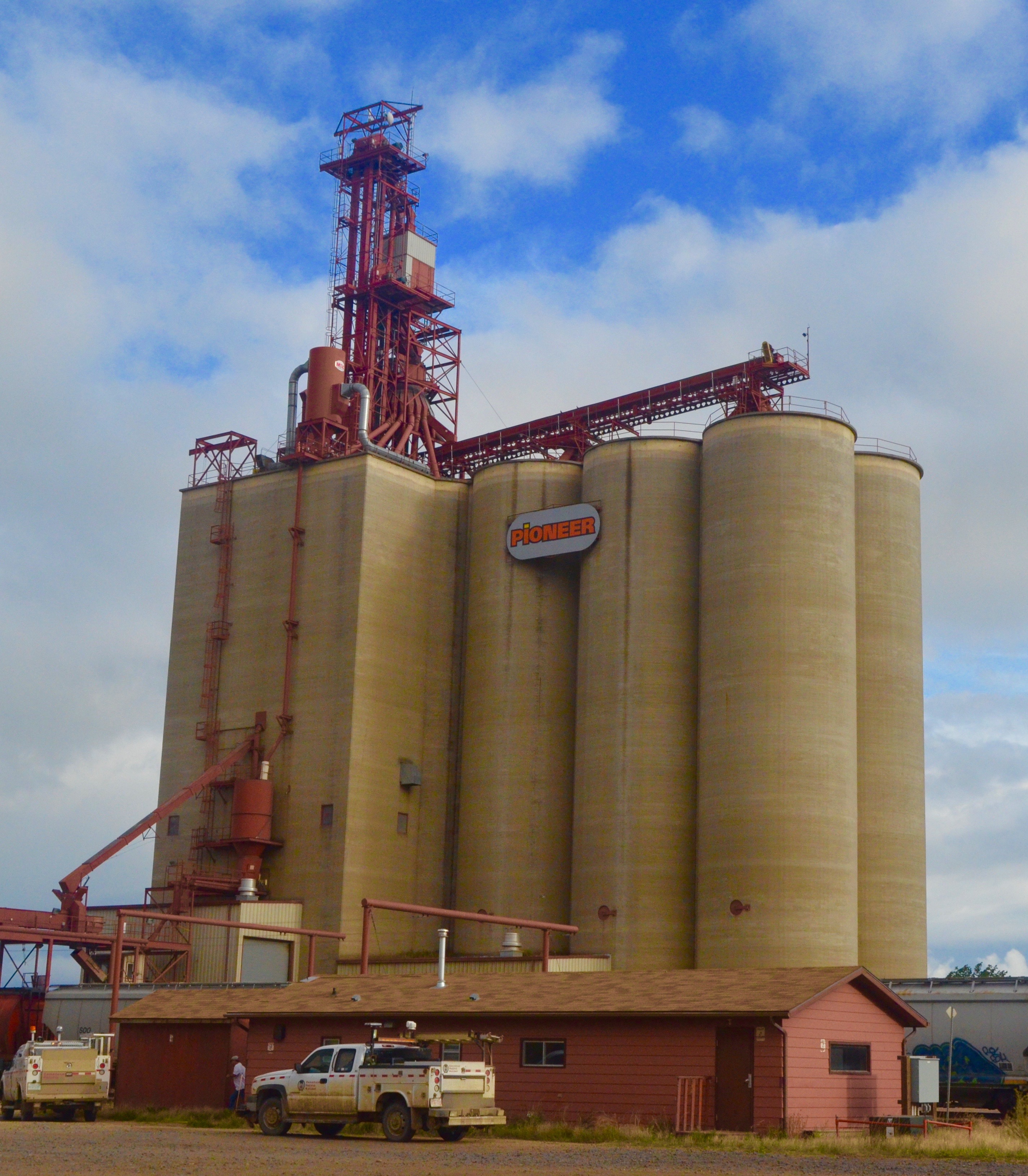 When I was standing on the roof of the T.rex Centre in Eastend, getting a view of the Frenchman River Valley and the town I saw our first true grain elevators and after our visit we set out to find them. I have to admit that this is not exactly what I had in mind when thinking of Saskatchewan grain elevators. While they always look better from a distance than close up, this poor one is so run down that its name has been painted over, almost as if it's embarrassed to be called a grain elevator. Oh well, Eastend has lots of other things going for it, so we can forgive it having such a crappy example of Saskatchewan grain elevators.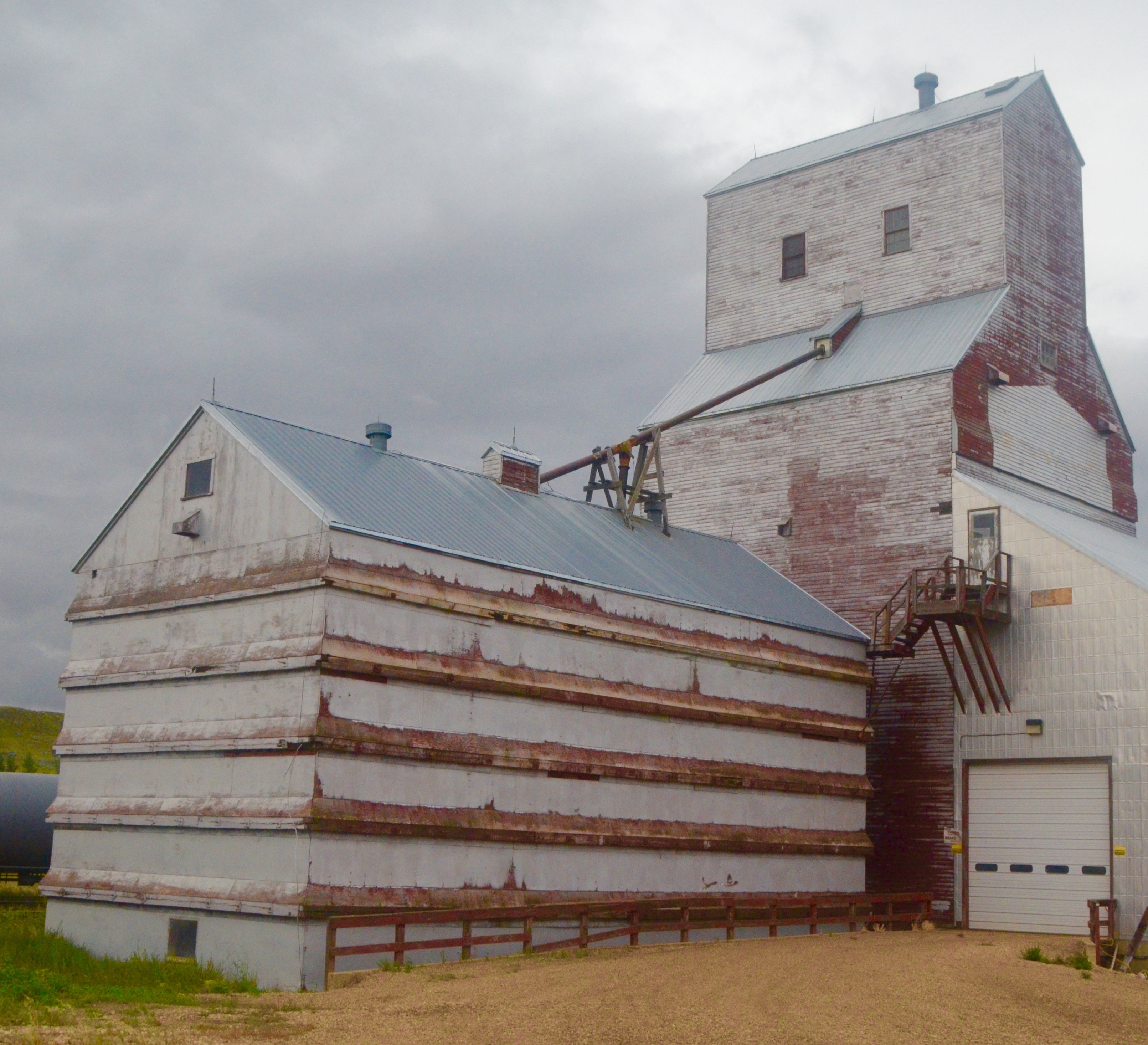 From Eastend our route continues on Highway 13 through the Frenchman Valley to the town of Shaunavon where we might have better luck. Shortly after leaving Eastend we start to see our first oil rigs, looking like modern day steel dinosaurs as they pump out the oil that was created millions of years ago when Saskatchewan was covered by a protozoan sea. They actually don't detract from the rolling landscape that alternates between fields of ripening wheat billowing in the wind (I know it's a cliché, but it is apt) and recently reaped fields with their cylindrical bales of hay. We stop for Dale to climb up on one and he finds that they are a lot bigger close up than he thinks.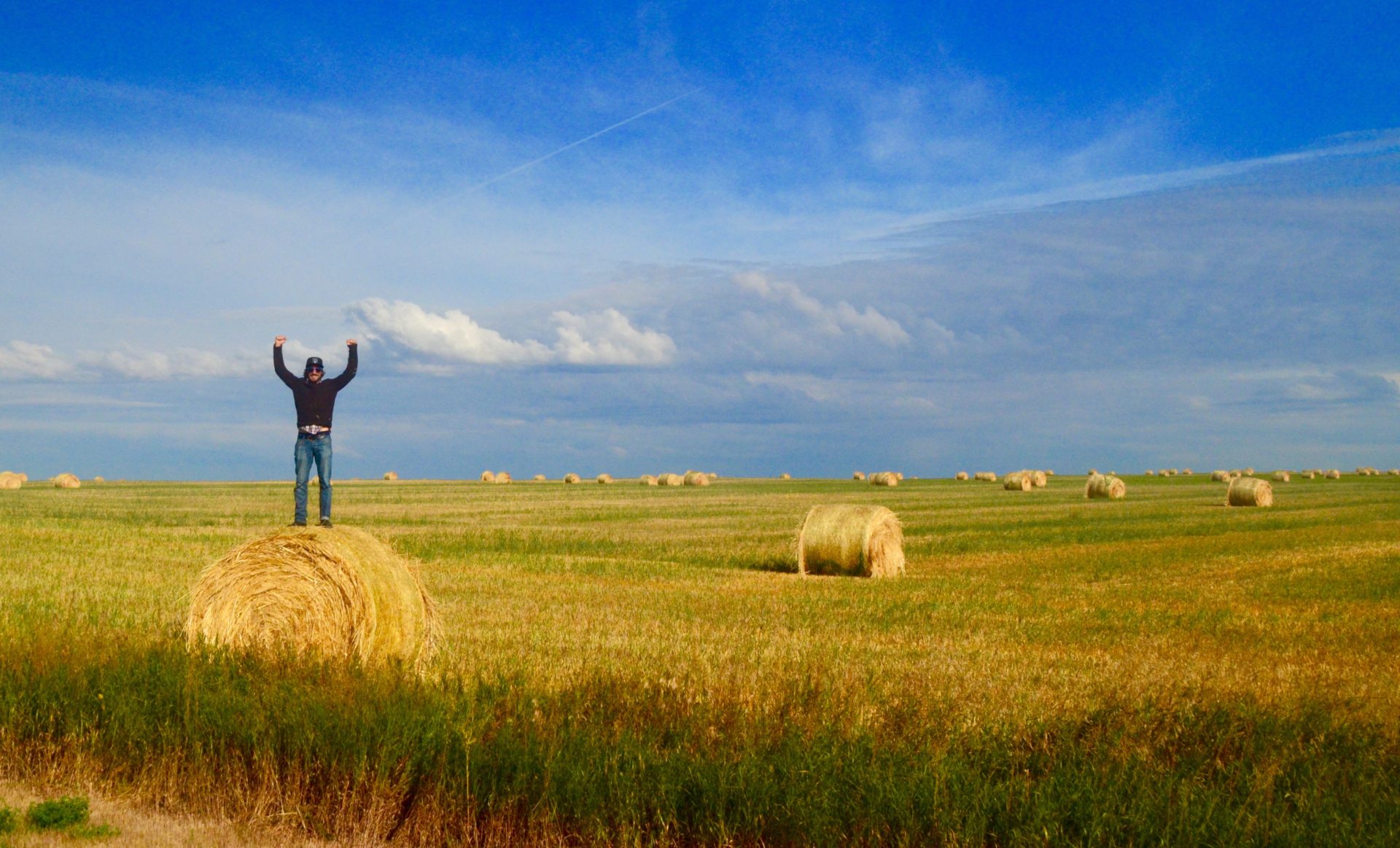 Just outside of Shaunavon there is a large Ducks Unlimited containment pond which is absolutely loaded with waterfowl. At a quick glance, I can see at least a dozen different species. Over 70% of all North American waterfowl originate or migrate through Saskatchewan. The Saskatchewan prairie is studded with thousands of 'potholes' which gives it another of its many nicknames – the North American duck factory. I can see that there are more grain elevators ahead, but first we are going to find a place for lunch.
Harvest Eatery
I had heard that there was a good restaurant in Shaunavon, but I couldn't remember its name, so when we were leaving the Eastend Historical Museum I asked if anyone knew of it. There were a few quizzical looks and then one young guy piped up and said, "Harvest Eatery, they got a real cook there!" So that's our next stop.
Harvest Eatery is the brainchild of Shaunavon resident Garrett 'Rusty' Thienes and his wife Kristy who decided that they wanted to raise a family in a small rural community, rather than a big city. The restaurant is known far and wide in SW Saskatchewan because of the emphasis on serving only the freshest and most locally sourced products available. It's right on the leafy main street of Shaunavon, a town of just under 1,800 residents. There are only eight tables and about half are occupied.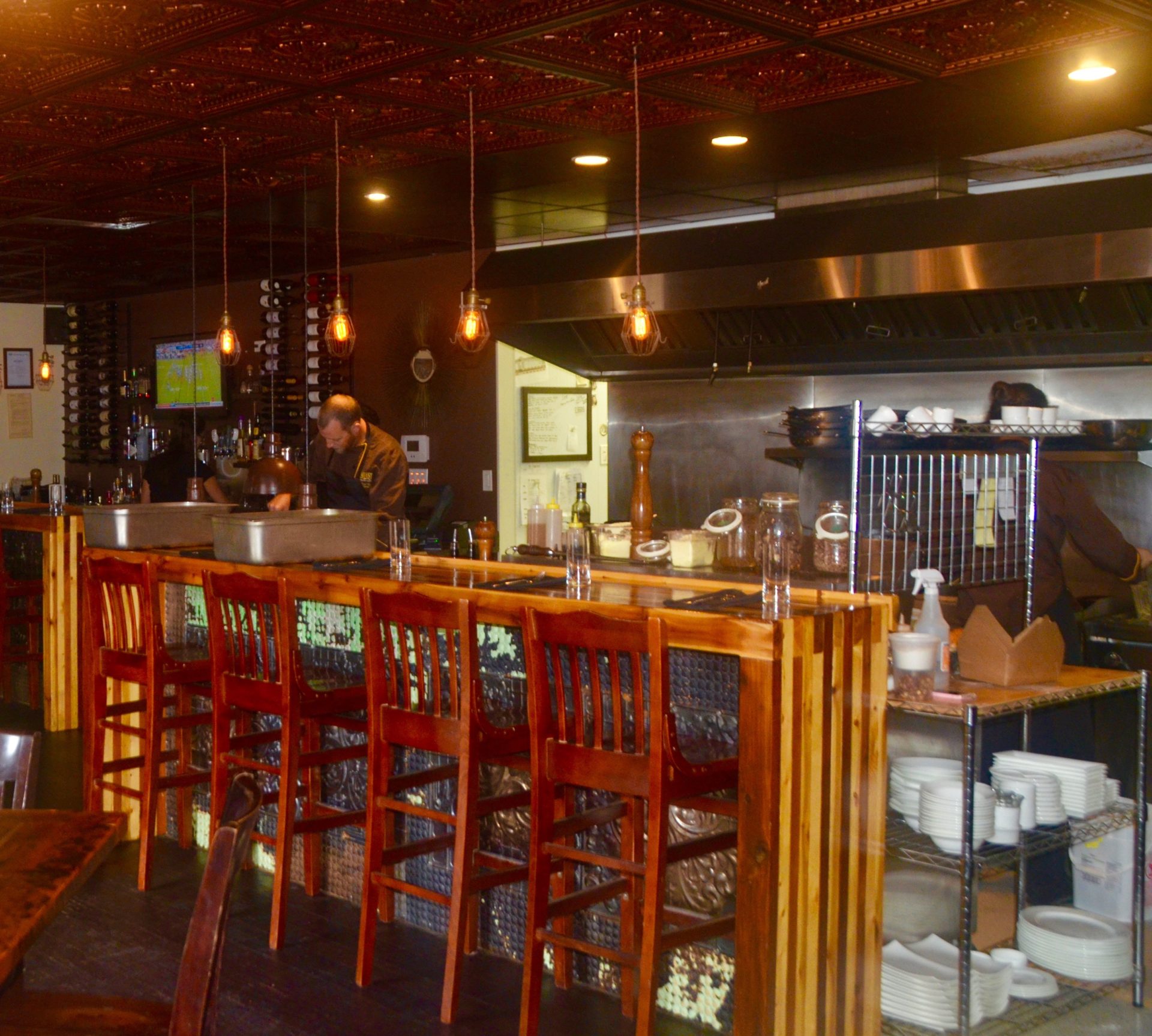 The menu is not too large, but it's loaded with selections you would not expect to find in a small town restaurant. The Lake Diefenbaker trout lox sounds intriguing. Chef Rusty is hard at work behind the open concept grill and without prompting he comes over, introduces himself and asks if we have any questions about the menu.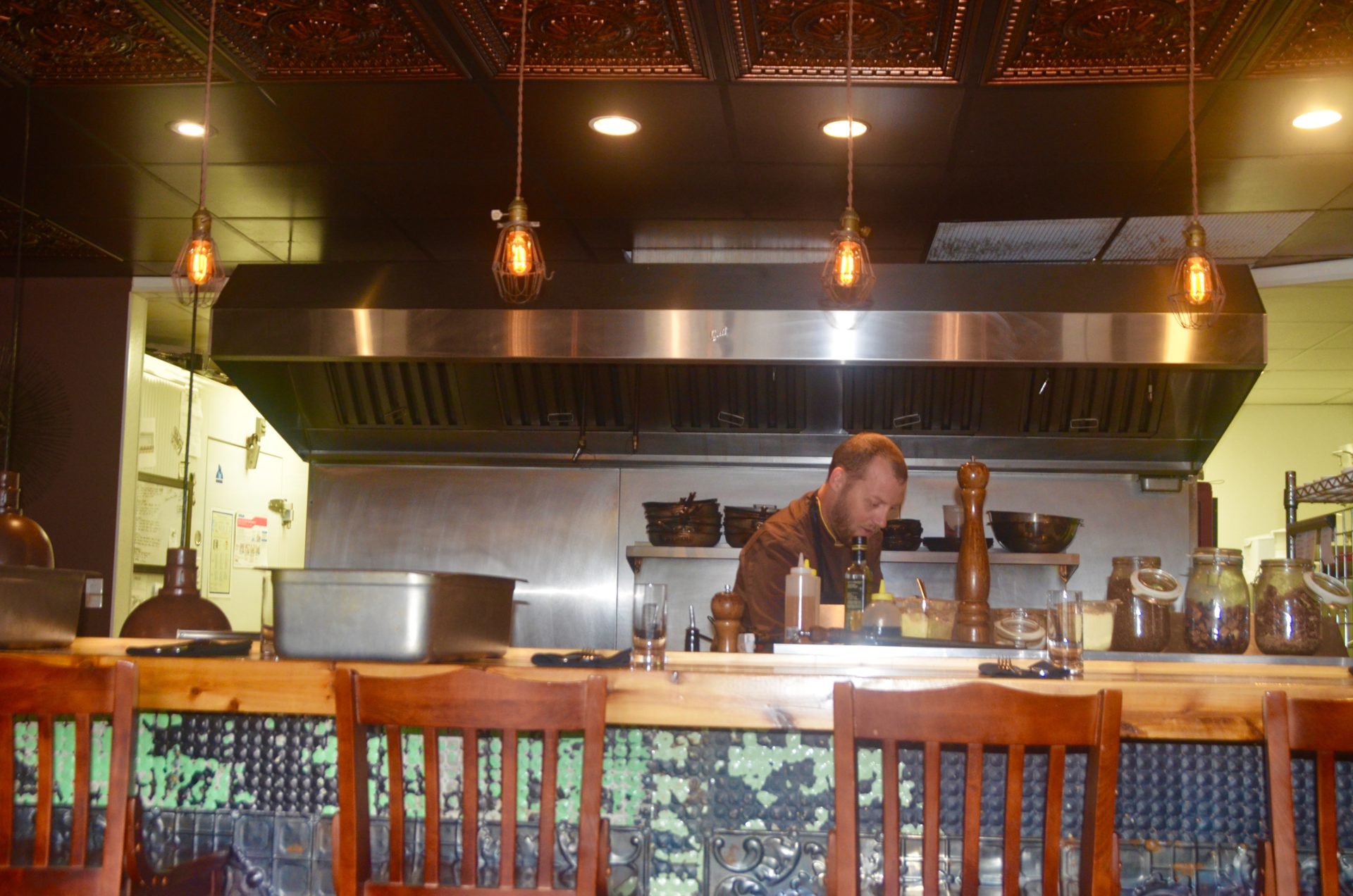 I ask about the lox and find out that he makes it himself every few days, but the next batch is not quite ready. He makes four recommendations – a black angus brisket with blue cheese and chipotle buttermilk ranch dressing, a candied salmon and quinoa salad, the black and bleu burger which is the restaurant's most popular choice and lastly a homemade porchetta sandwich with pickled fennel and salsa verde. Again, not quite your average small town diner offerings. I go for the brisket and Dale for the porchetta.
Rusty recommends a peche grisette draft from nearby Black Bridge Brewery in Swift Current. Ordinarily I don't go for fruit flavoured beers, but Rusty brings us a sample and it's absolutely delicious with just a tiny hint of peach. As we sip our drafts I look around at the local artwork which is quite good and notice that while the restaurant is not full, there is a steady stream of people picking up take out orders.
The food arrives and it is as good as advertised. The brisket and porchetta are both made by Rusty and this is why it tastes so fresh. Oft times, prepared meats can seem too dry and stringy. Judge for yourself. BTW it would be worth it coming here just for the house salad – the dressing is crazy good.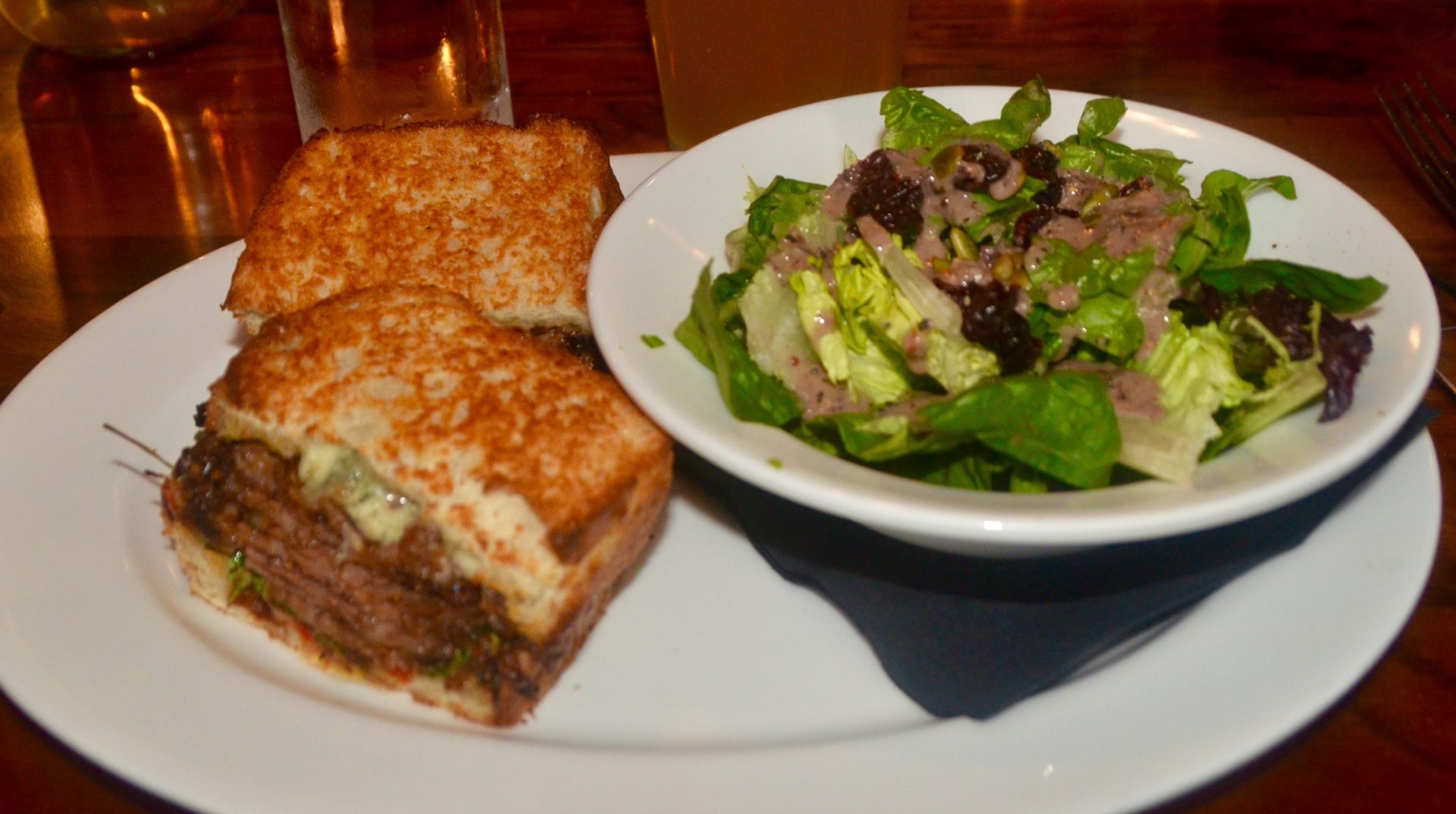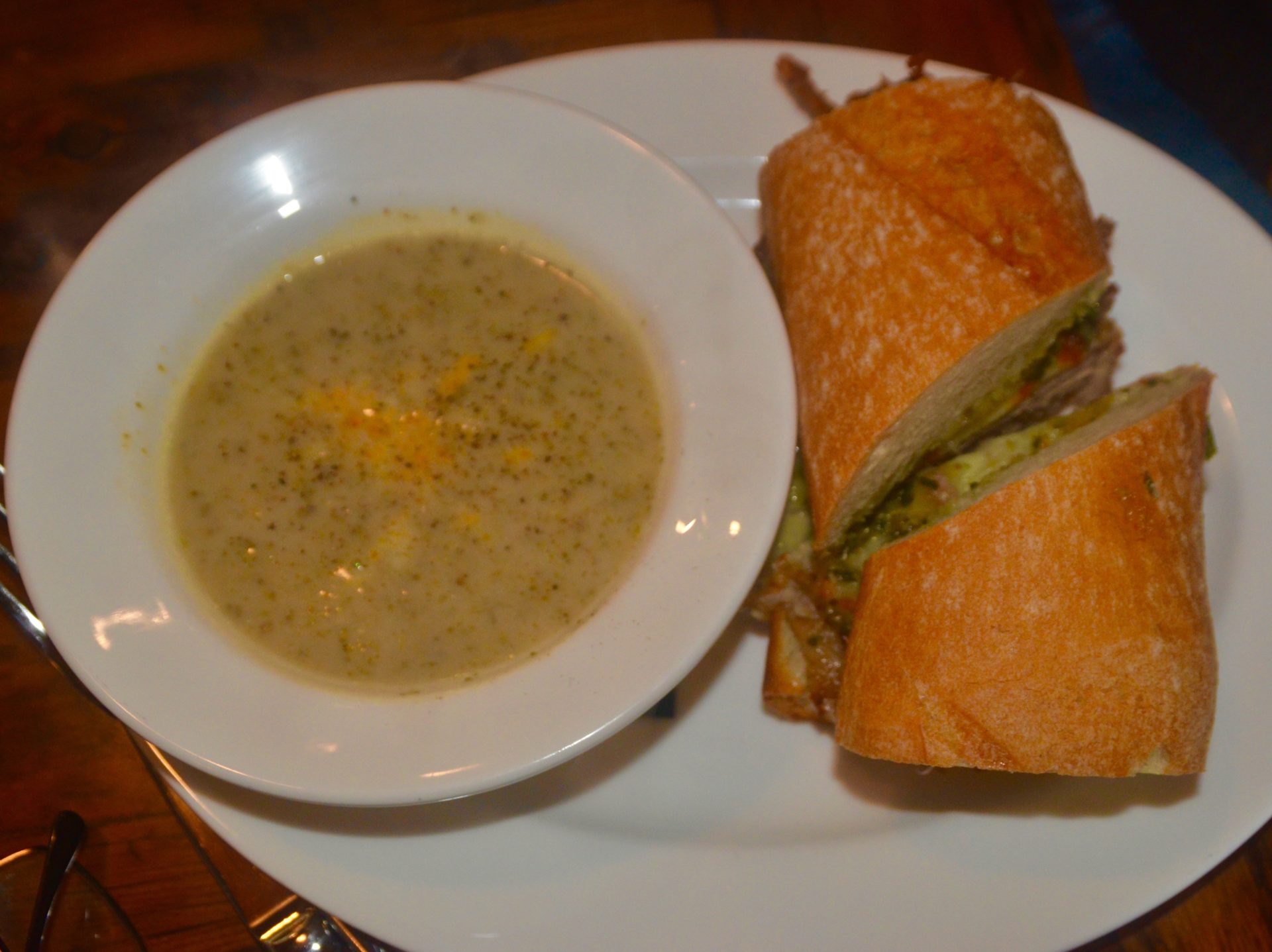 While we are eating a couple of guys come in and start talking football with Rusty. It's soon apparent that he's football crazy (as are most people in Saskatchewan) and plays on a flag football team and has a fantasy football team. My kind of chef.
So if you find yourself anywhere near Shaunavon make a beeline for the Harvest Eatery, you won't regret it. Now back to our Saskatchewan grain elevators search.

We're making some progress at Shaunavon as these two grain elevators at least have the town's name on them. Those are not grain cars, but oil tankers that will be filled with Saskatchewan oil, probably from the wells nearby.
From Shaunavon there are two ways to continue to our eventual destination, Val Marie and the entrance to Grasslands National Park. I asked Rusty which to take and he recommended going via Climax which he said had a better road and was more scenic to boot. So we are off to Climax.
Rusty was correct about the route, Highway 37 is in good shape and the section that traverses the Frenchman River Valley is really nice.
I'm not sure what it would be like coming from a place named Climax. I imagine, like the Amish residents of Intercourse, Pennsylvania, you would get sick of the bad jokes. Still, I'm thinking they could have a really neat town motto like "You've Never Been Until You've Come to Climax", but instead it's a rather grandiose claim – Sunset Capital of Canada.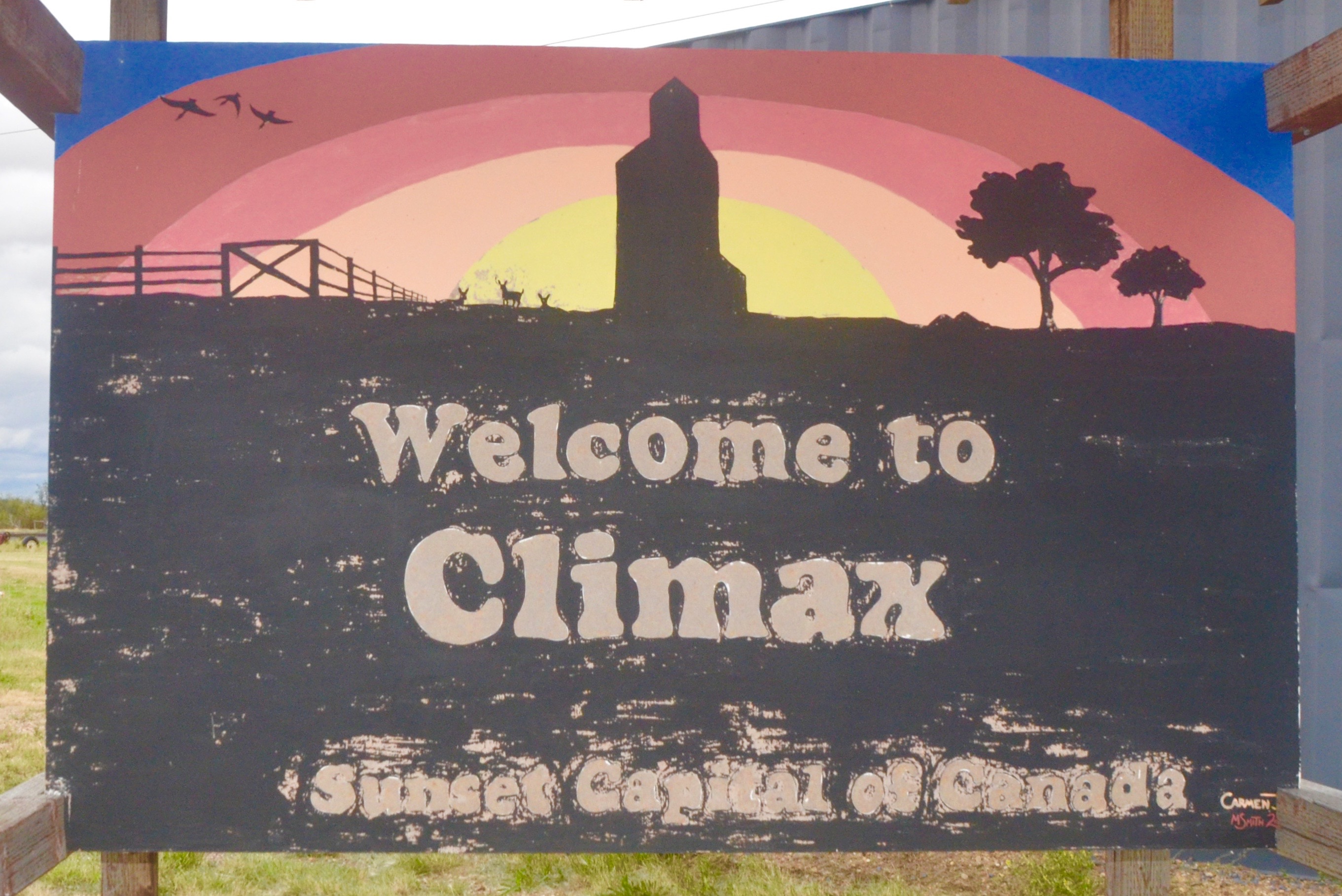 The welcome sign features a grain elevator prominently, and there is a pretty good one here, although it's sheathed in aluminum siding rather than wood.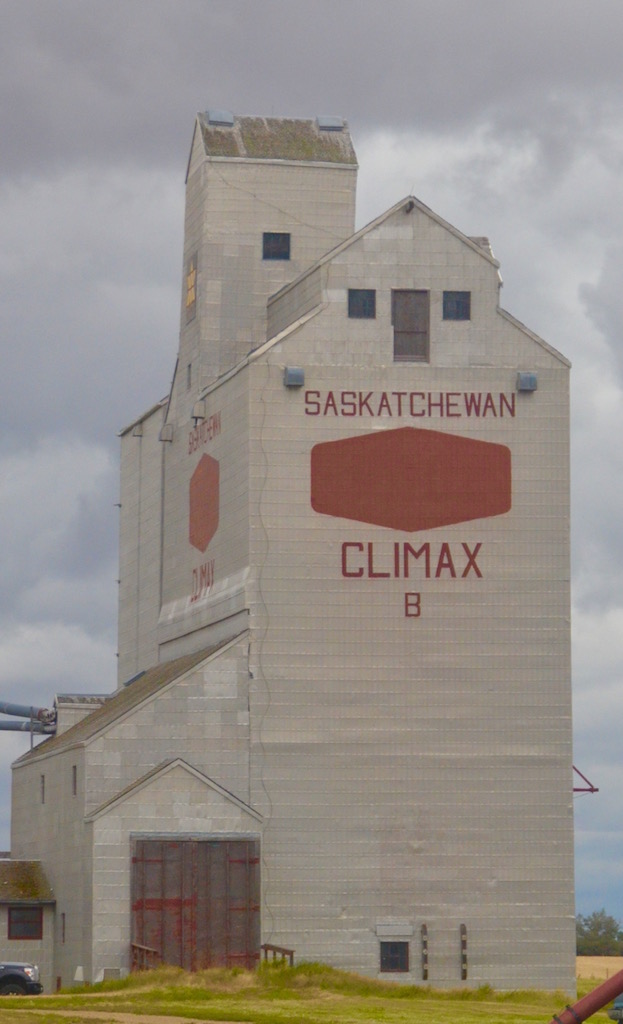 I'm not sure if it's intentional or not, but the reverse of the Welcome to Climax sign is quite interesting.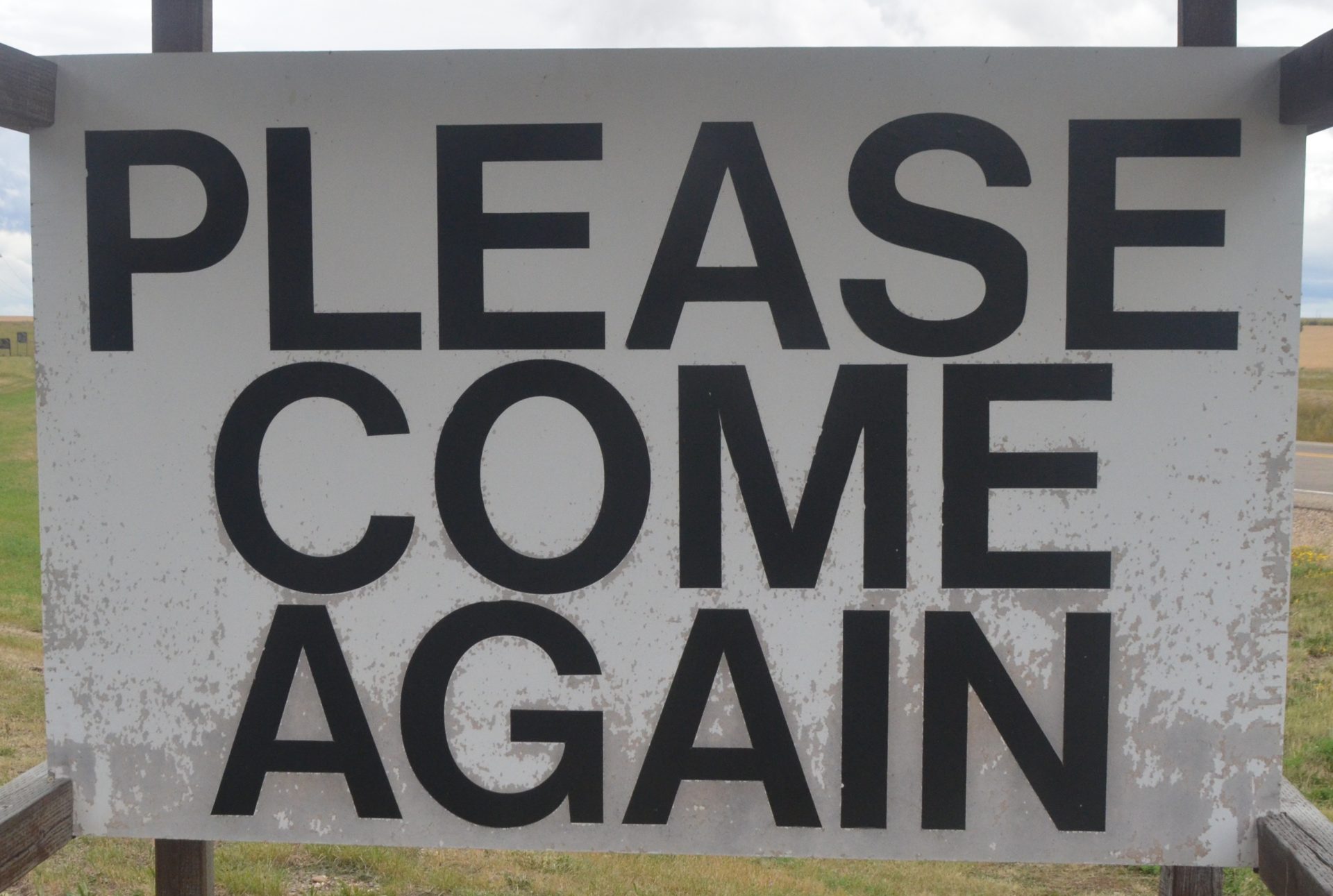 Next up is Bracken, which is smaller than a whistlestop, but it does have a large grain elevator. Those rail cars are not grain carriers, but potash carriers which is another major Saskatchewan export.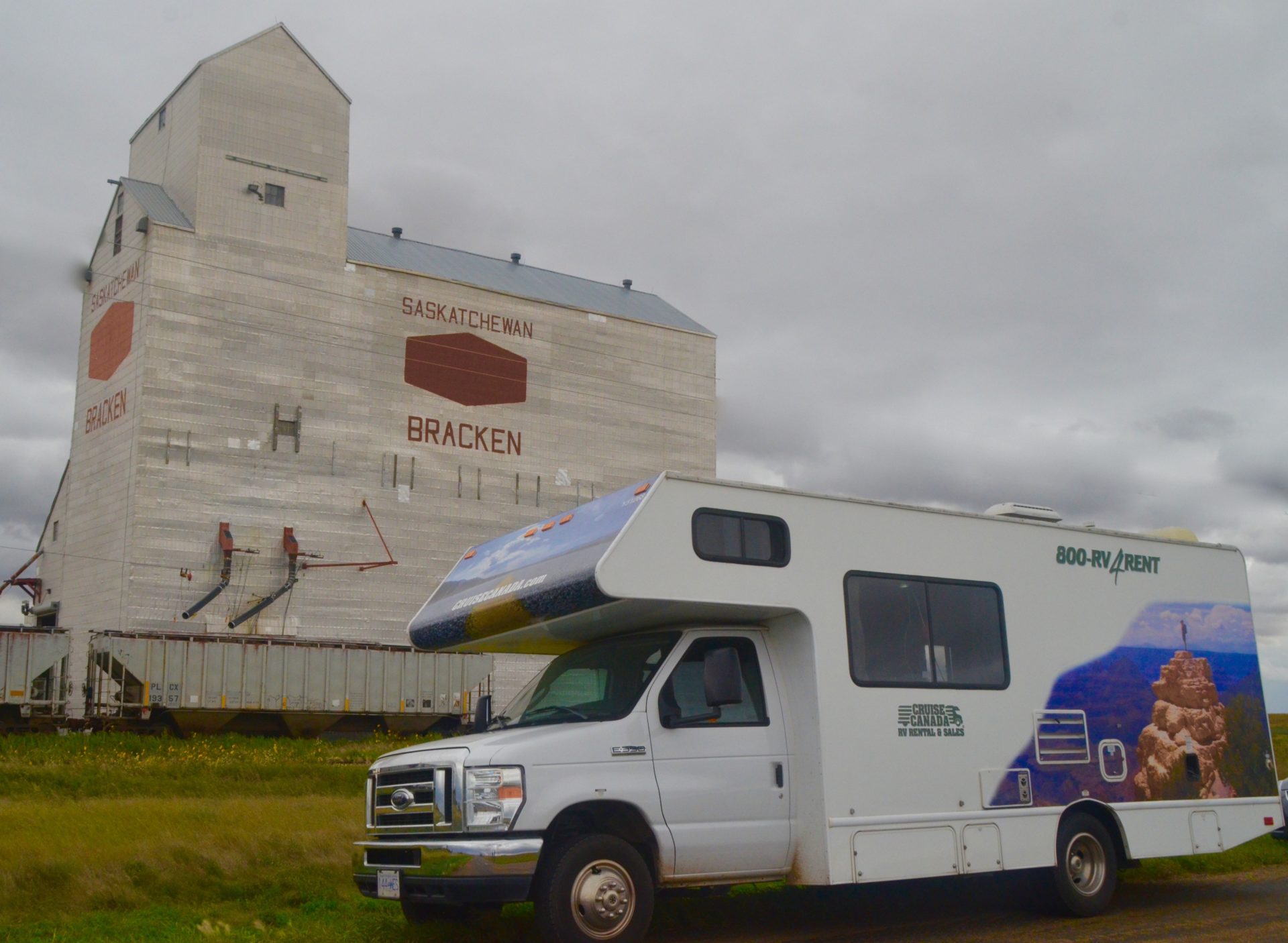 The road sign indicates the next place is Orkney which has a very iconic looking grain elevator from a distance. Finally, I've got a couple of classic Saskatchewan grain elevator shots.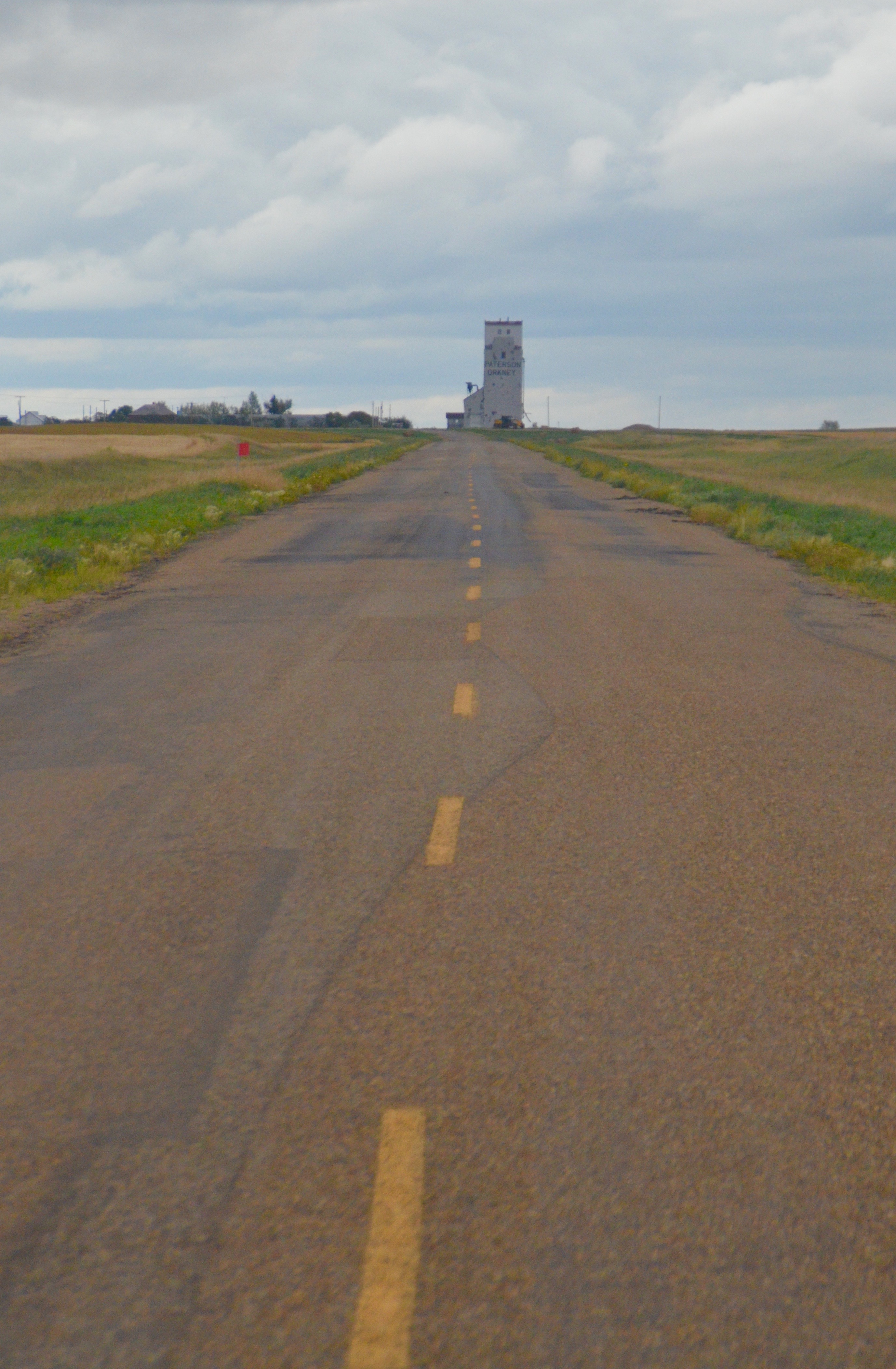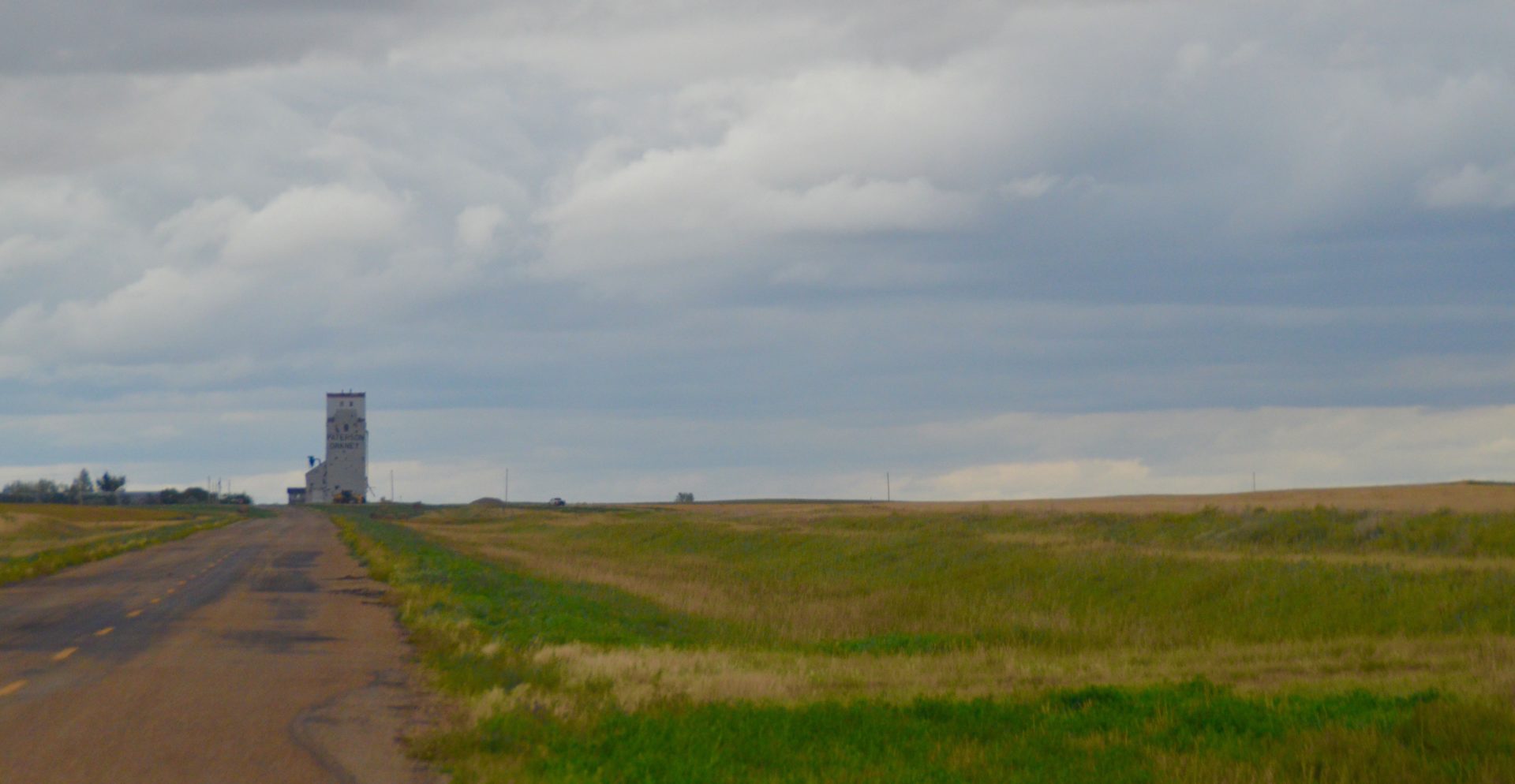 When we get to Orkney we find an honest to goodness ghost town. Out of probably thirty buildings only two are still lived in. Here is the forlorn looking church with a steeple shaped like a witch's hat.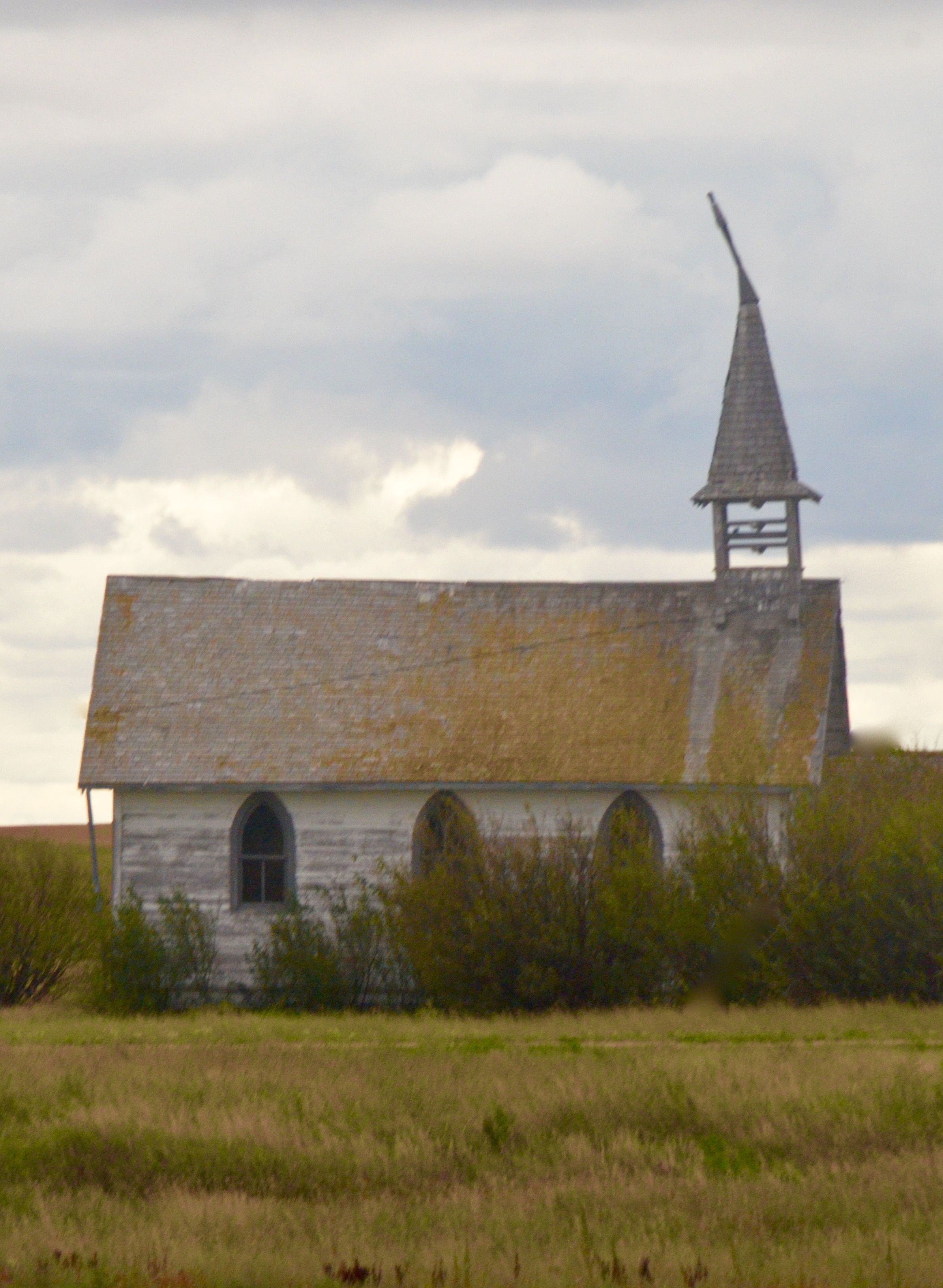 Abandonment is a common theme in rural Canada and Saskatchewan is no exception. When this land was first farmed, it was done so with horse and plough. Teams of men would be required to help reap the wheat and hay each year. Now, single farmers drive gigantic combines that dispense with the need for manual labour. Almost everybody's packed up and moved to the city. What has been left behind, like this church, actually have a stark beauty that paints a picture in time of a way of life that is no more. One could easily spend weeks just photographing abandoned buildings, farm implements and other detritus of the agricultural past.
At last we come to Val Marie and the end of our search for Saskatchewan grain elevators. The one on the left is finally exactly what we are looking for. It is the right shape and it's made out of wood.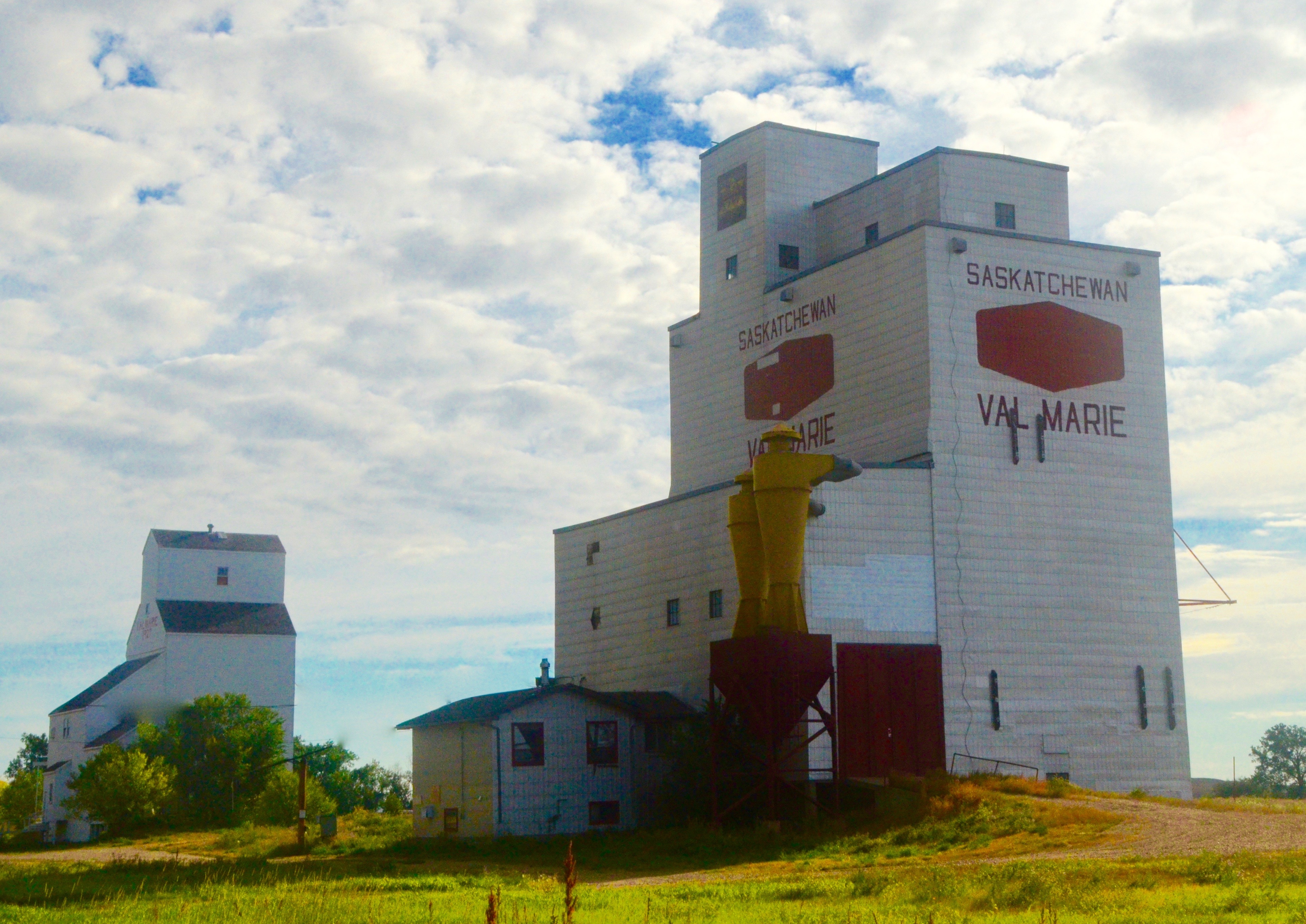 Saskatchewan grain elevators still exist, but I do have to wonder for how long, as the numbers inevitably dwindle though fire, neglect and carelessness. One can only hope that, like many east coast lighthouses, these orphaned grain elevators will find protectors who want them to remain an eternal symbol of life on the prairies as it once existed.
Here is a link to a photo gallery of our entire Saskatchewan trip.