Lord Byron Hotel – Make it Your Choice in Rome
YOLO, Carpe Diem, Live for Today – whatever. The older I get, the more I think these expressions are less sybaritic and more a guide as to how to conclude one's existence on this lonely planet. In the past month alone, three lawyers I know in Halifax, two younger and one a bit older, have passed away. Then I learn that Jim Prentice, a classmate of Alison's, was killed in a plane crash yesterday. There are no guarantees in life so why hold anything back at this almost post 65 stage? What's this depressing intro got to do with the Lord Byron Hotel? Well just the fact that I'm never going to spend another night in a crappy hotel ever again if I can avoid it. That's kind of rich because I'm writing this post in a crappy hotel, the Villafranca, which was the unfortunate choice of the company I have just joined for a two week tour retracing the Canadian army's route in Italy during WWII. According to the notice on the door they could charge up to 350€ for a 15 by 18 foot room. No wonder I'm waxing nostalgic for the two days we just spent at the Lord Byron. Here's why.
Once I made the determination that money spent on a good hotel was not an indulgence, but an investment in ensuring that time spent away from home was well spent, I needed to find a reliable source for finding good hotels. As luck would have it, Small Luxury Hotels of the World recently became a member of the Travel Media Association of Canada to which I also belong. It is a coalition of 520 independently owned hotels around the world that offer a multitude of different types of luxury accommodation. For example, my most recent stay was at one of only two properties in Canada, in my home province of Nova Scotia, where Trout Point Lodge offers a true wilderness experience. You can read what I thought of it here.
Lest you think I am a shill for the organization, I paid full freight at Trout Point and I received an upgraded room at the Lord Byron Hotel. That upgrade is available to anyone who becomes a member of the organization's loyalty program. So without further ado, let me tell you why Alison and I loved our stay at the Lord Byron Hotel.
The Location
The Praioli area of Rome is not one that sees many tourists. It's an upscale, leafy residential area that is home to many villas, embassies and right next door to the fantastic Borghese Gardens, the best park in the city. No worry about Rome's infamous pickpockets here. Best of all – it's q-u-i-e-t. On this two day stay our intention is to visit the Borghese Gallery and the Lord Byron Hotel is a perfect location from which to do that.
If you crave the hustle and bustle of the Spanish Steps or the Trevi Fountain areas then this is not the place for you. If you want to eat, shop and walk where actual Romans do, then this is for you. As far as I can tell, it's the only hotel in the entire area. One thing I should note is that the Lord Byron is across the street from the Belgian Embassy. Like all the embassies of western democracies in Rome, this one has soldiers guarding it armed with machine guns. As a Canadian this is a bit disquieting at first sight, but you quickly get used to it.
Lord Byron Hotel – The Property
The Lord Byron Hotel is actually an art deco villa that is the personal residence of Amedeo Ottaviani, who is very much in evidence making sure his guests are well attended to. Over the entry way is this quote from Omar Khayyam – Life is a Journey and Travel is to Live Twice. The actual quote is "Life is but a Journey, to Travel is to Live Twice", but who's quibbling. I agree with the saying either way.

I think you'll agree that this is not your average hotel entrance.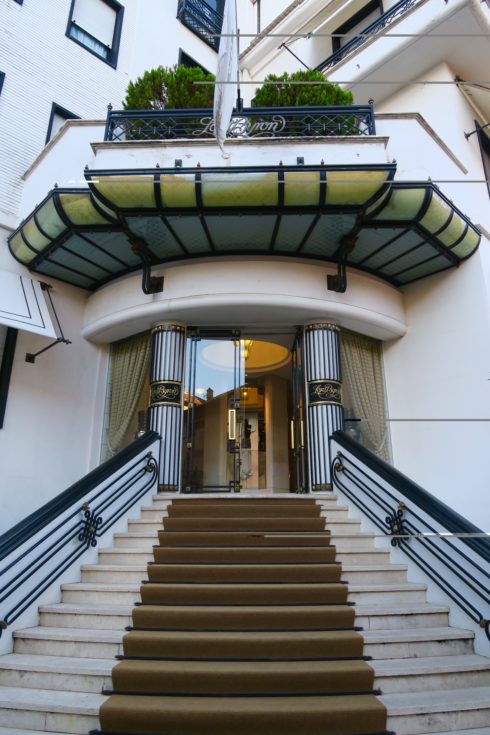 A young doorman took charge of our bags and another escorted us to the front desk where this quote from Noel Coward was on display.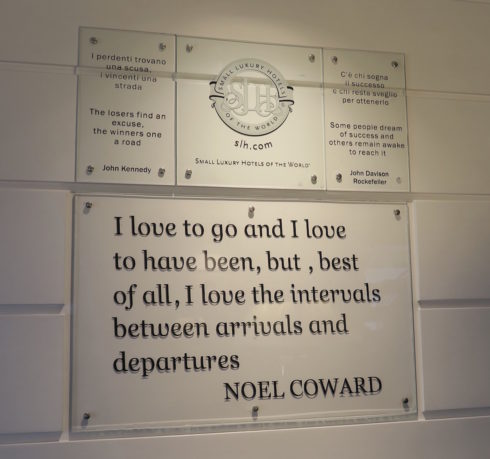 We were greeted warmly by a young lady who spoke good English and advised that we had been upgraded to a superior room. Alison and I love art deco and this place is loaded with interesting objets d'art from that period.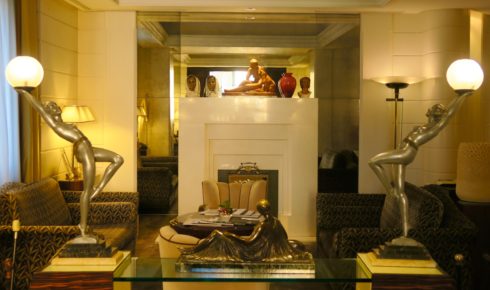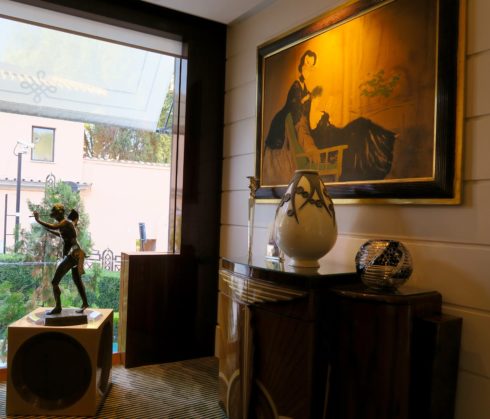 There are any number of items in this hotel which will draw your attention. More about some of them later in this post.
Lord Byron Hotel – The Rooms
As noted, we received an upgraded room and here's what it looked like.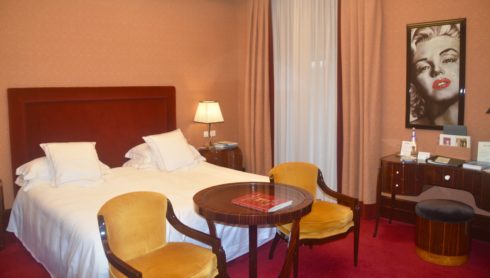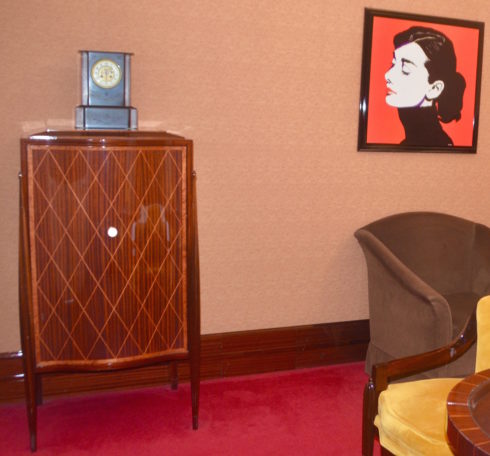 I'll never mind sharing a room with Marilyn Monroe and Audrey Hepburn. More seriously, the room meets my five basic requirements for a great hotel room.
A good mattress with high quality linens.
Fast and free wi-fi.
Quiet.
 A good bathroom.
A fridge.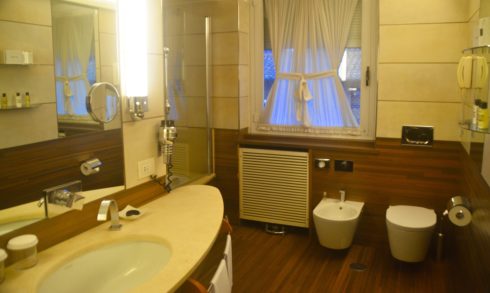 Additionally there's a small balcony with a view over the Belgian Embassy.
The Food
Dining at the Lord Byron Hotel, whether it be the breakfast buffet or an evening meal is an experience on the same level as everything else about the place – exquisite. Breakfast is included with the room and is laid out in the beautiful Sapori restaurant on the ground floor.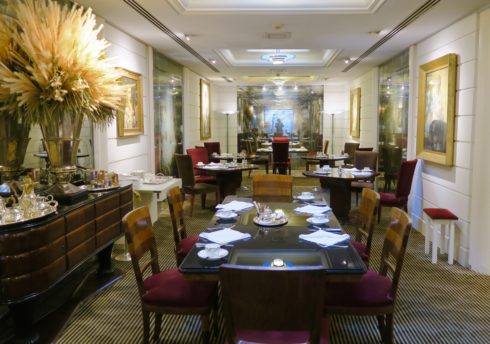 To describe the breakfast offerings as a spread would be an understatement. Whether you want to start the day off with some healthy choices or go the opposite route, there is something for every taste. This is many miles away from your traditional buffet in a typical chain hotel that it's almost laughable to describe this as a buffet. Breakfast feast might be more appropriate.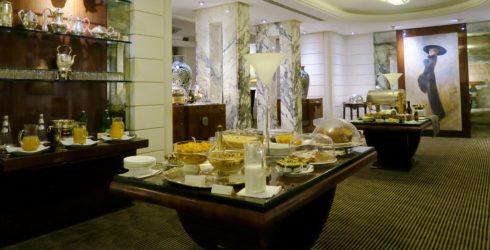 On the first night we stayed at the Lord Byron Hotel we dined at the excellent Gli Ulivi restaurant which is within easy walking distance. The second night we opted to dine in at Sapori, but instead were directed to the Il Salotto bar on the 1st floor which is every bit as elegant as Sapori. That's the inestimable Grieco, one of the life long employees of the Lord Byron Hotel, who served as our bar tender and waiter for this meal. There were only two other couples besides Alison, me and my sister Anne. It was almost like being invited to dine in a private home.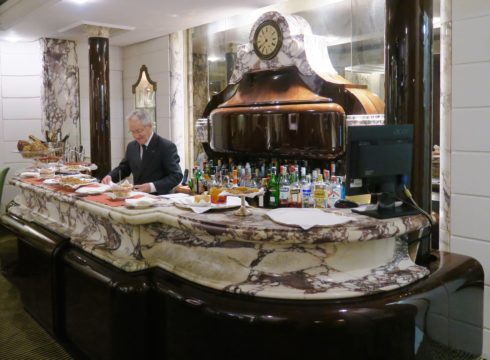 Not a thing about this meal was not first class. Here are the various dishes we were served.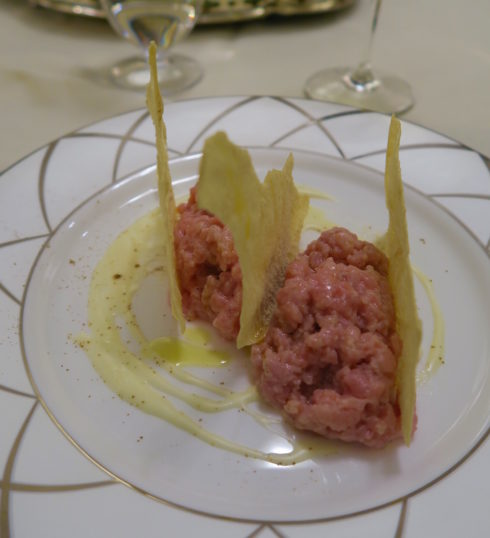 Excellent tasting, but too large a serving for me to handle.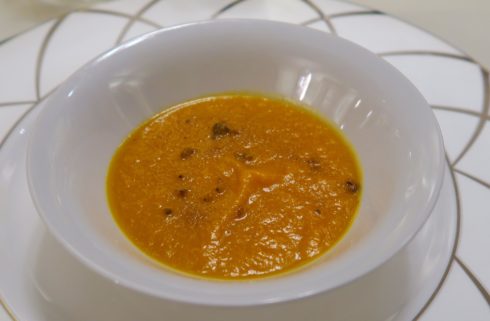 Not a dessert, but a puree made from fresh burratta cheese, a cousin of buffalo mozzarella.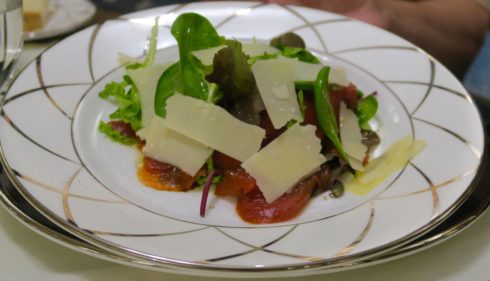 That's not a misprint – yes, fried watermelon. Somehow it maintained its flavour and texture. Some real chef's know how going on in this dish.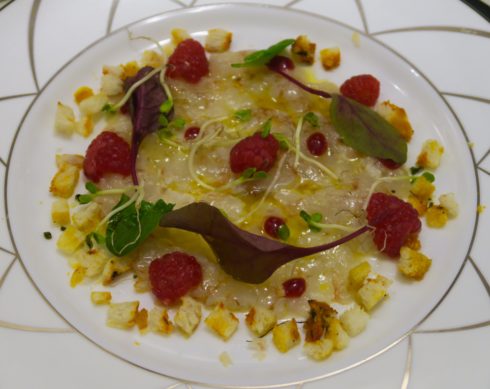 I was a bit leery of this dish, but Anne said it was delicious and like just about every dish, unique to the restaurant. Except this one.
I seldom order beef dishes in Europe, but this beef tenderloin was as good as any I've had in North America.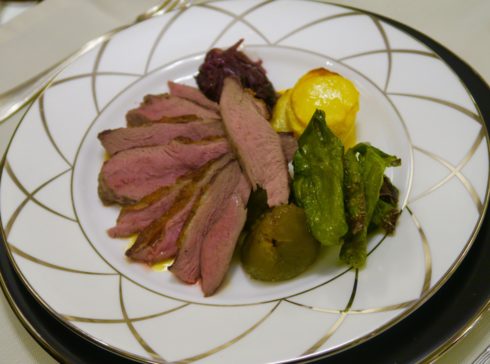 One thing you can almost always count on in Europe is duck breast. This one was cooked perfectly, not overdone as is usually the case at home.
By now we were absolutely stuffed, but there was one more dish.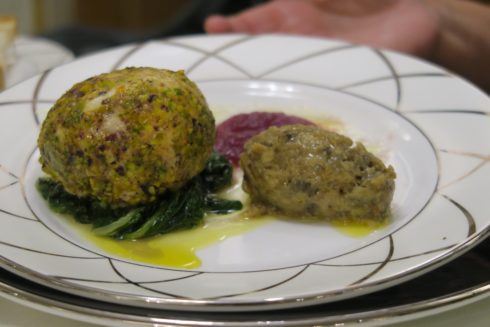 This doesn't look like a fish dish, but it was actually a croquette made from bream and God knows what else, but we all agreed it might have been the best tasting dish of all.
We washed all this down with an excellent bottle of Albion Hills white wine from a nearby vineyard. Latium is not as famous for its wines as say Tuscany or the Veneto, but I'll put its dry whites up against any Italian white.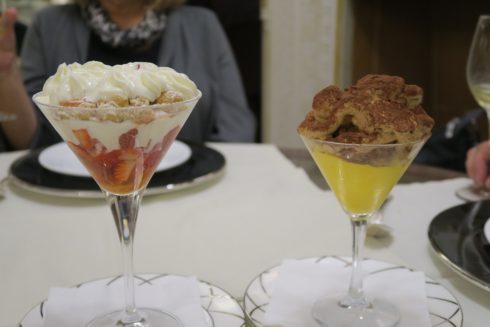 For dessert we split these two great looking concoctions. Grieco followed it up with complimentary vin santos all around.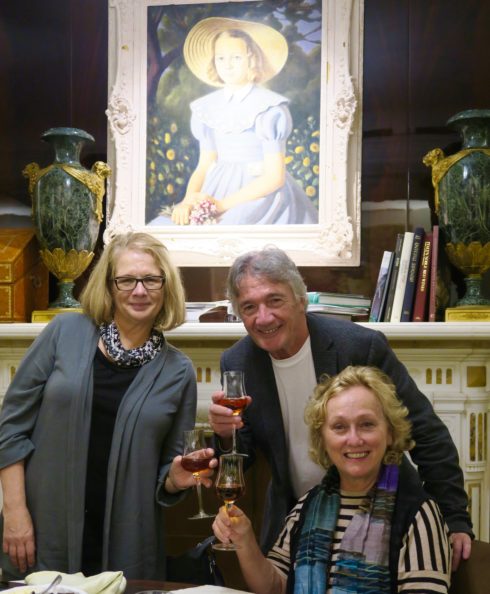 All and all this was simply an astounding repast and at a price that was more than reasonable for the quality of the food. They also don't gouge you on the wine. To top the evening off, someone mistook me for Richard Gere!
Lord Byron Hotel – The Ladies
If there is one thing you will certainly remember about the Lord Byron Hotel it is the many portraits of elegant women that are everywhere. I'm not just talking about the ones in the rooms like Marilyn Monroe and Audrey Hepburn in ours or Lauren Bacall in my sister's, but some very good paintings. Here are a few samples.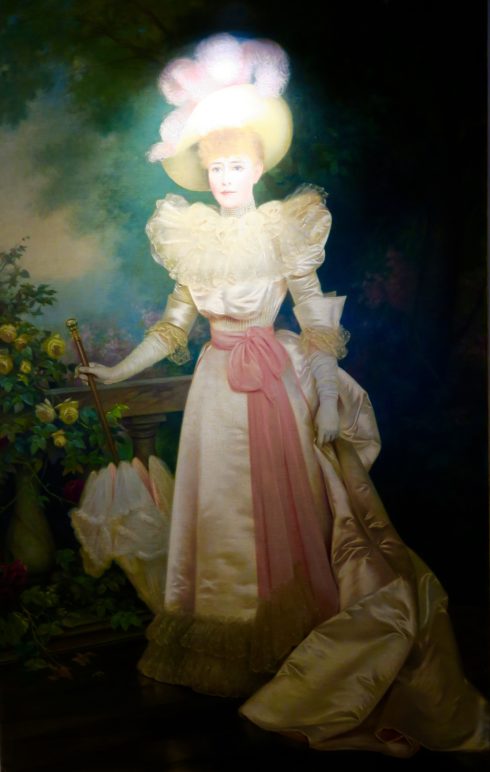 This is the first one you see as you cross the threshold.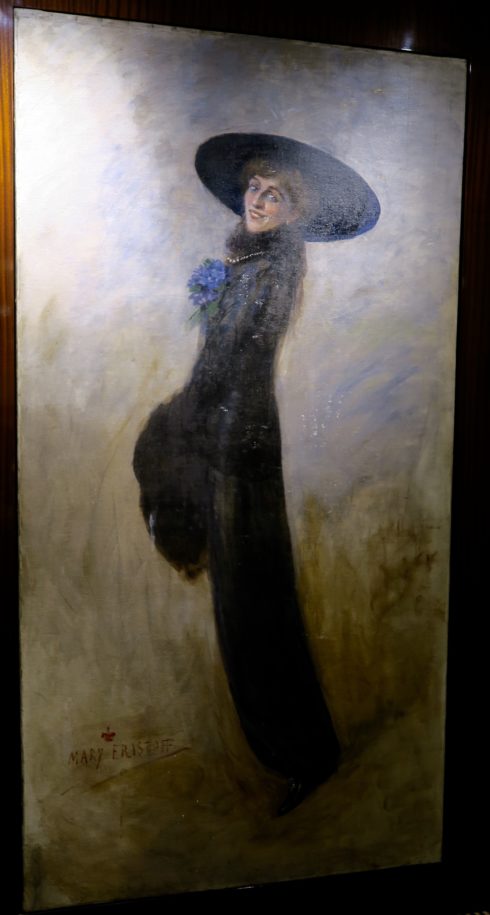 This is one of many that grace Sapori, the main restaurant.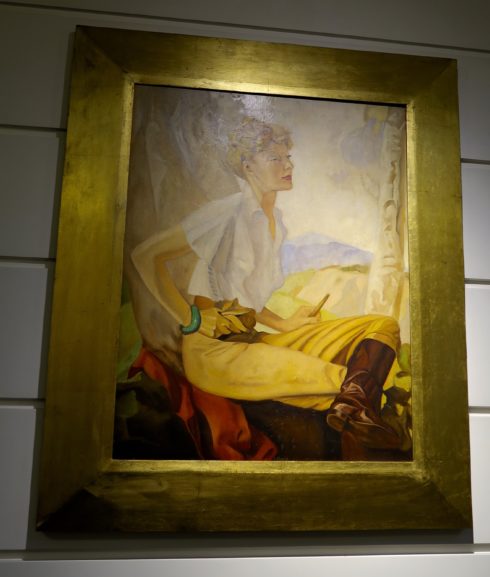 You can admire Katharine Hepburn while sipping your morning cappuccino.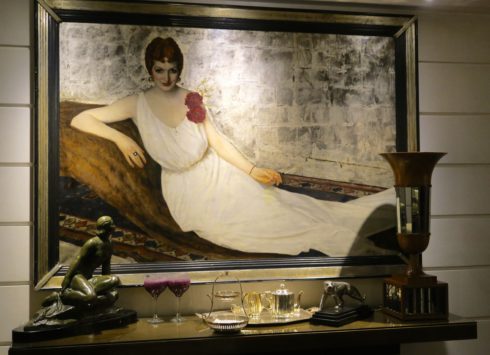 This is my favourite. A dressed version of Manet's Olympia or Titian's Duchess of Urbino. Languid, sensual and alluring. Just like the hotel itself, which brings me to the final reason.
Lord Byron Hotel – The Sum is more than the Parts
Everything about the Lord Byron Hotel works to create an atmosphere that is hard to define, other than to say that it is an experience that every hotel visitor seeks and hopes for, but seldom finds.
Is the Lord Byron perfect? By no means. There are little things that could be improved – the water takes an ungodly amount of time to warm up, there was some frayed carpet in places etc., but these do not detract from the overall experience. As we left the hotel after two great days I reflected on the saying on the opposite side of the Omar Khayyam quote,  "We travel in order to return" by Goethe. Nothing could be truer of the Lord Byron Hotel.