Liberation Tour 2016 – The Italian Campaign
It's October 2016 and Alison, I and my sister Anne are headed to Italy to join a group of fellow Canadians on Liberation Tour 2016 which will retrace the route of the Canadian forces in Italy during WWII from Sicily to Venice. The tour has been organized by Liberation Tours, a small Canadian company that specializes in tours that focus almost exclusively on the Canadian role in WWI and WWII.  In the spring of 2015 we joined Liberation Tours for a trip from Paris to Amsterdam that featured prominent sites from both wars including Juno Beach, Dieppe, Vimy Ridge, Beaumont Hamel and Passchendaele. It concluded in Holland with ceremonies marking the 70th anniversary of the liberation of that country by Canadian troops. The parade in Wageningen, where thousands of Dutch citizens of all ages came out to cheer the surviving Canadian vets, was a very fitting climax to that tour.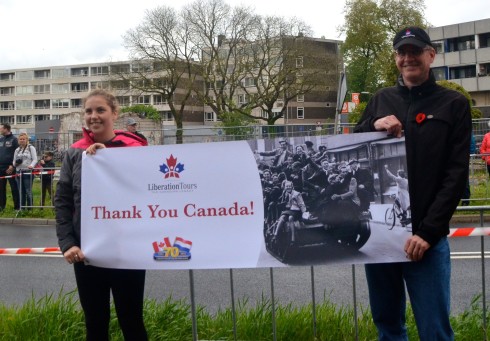 Although to my sister Anne, it was meeting then Prime Minister Stephen Harper after the ceremony in Holten Canadian War Cemetery.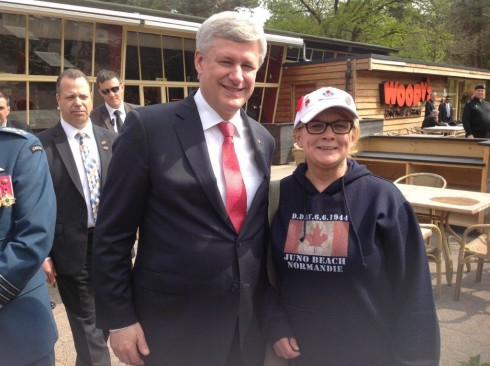 During the trip to NW Europe we learned that Liberation Tours was planning a trip to Italy in 2016 and given our experience on the first trip we knew we had to go.
If you want more detailed information on the NW Europe trip you'll find twenty-eight posts about that wonderful trip on this website. This one post in particular sets out the reasons we loved Liberation Tour 2015.
About Liberation Tours
Liberation Tours is the brainchild of two individuals from the small town of Georgina, Ontario. John Cannon and Phil Craig come from different backgrounds, but both share a passion for ensuring that the sacrifice of Canadians in both World Wars is not forgotten. While the successes of the Americans and to a lesser extent the Brits, have been extolled in countless movies, books and even songs, the role that the Canadians played, often as the third partner in many important campaigns, goes largely unheralded. John and Phil set out to change that by establishing Liberation Tours a few years ago and while they certainly haven't been doing this to get rich, they have provided the opportunity for hundreds of Canadians to visit some of the most important sites in Canadian history.
John and Phil have a very good yin and yang thing going between them. John is the organizer, relentless to a fault in making sure everything goes smoothly and according to his meticulous planning. Phil, an actor by profession, is passionate about the individual stories of the soldiers, their families and their communities. He retells their stories in a way that makes each place visited come alive, often by reading from their war diaries or letters. Both were smart enough to know that on the ground organization of transportation, hotels and other logistics would be beyond their abilities so that Liberation Tours has teamed with Trafalgar tours to provide these services. Trafalgar did a bang up job in 2015 and I expect they will do the same on this tour, particularly with the inestimable Mark Gascoigne back as the lead man.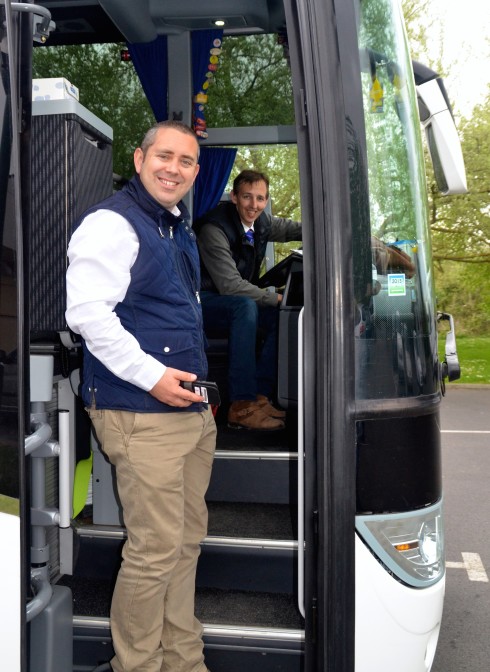 Mark Zuehlke
John and Phil have made a huge leap forward in adding Canadian military historian Mark Zuehlke to Liberation Tour 2016. Mark, winner of the 2014 Governor General's History Award for Popular Media (aka the Pierre Berton Award), is Canada's foremost popular military historian. He has written no less than six books on the Canadian campaign in Italy alone. In 2013 Mark and a small group of others including filmmaker Max Fraser, who is also on this trip, walked the entire route of the Canadian Army in Sicily to draw attention to the largely forgotten feats of that successful campaign.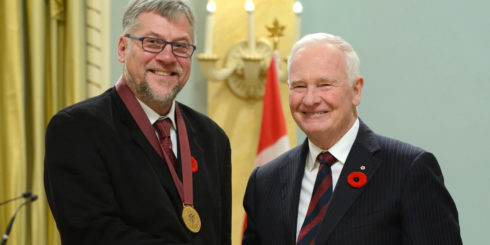 Alison and I were fortunate enough to find Mark's books available on Audible.com and we have been listening to them diligently for the past few months in preparation for this trip. Having just met Mark as the group assembled in Rome before heading to Sicily, I can attest that although he is a justly famous author, he's just like John and Phil – approachable, straight forward and at the end of the day, happy to sit down and chat over a bottle of Peroni. That's one of the things we really enjoyed about our first Liberation Tours trip – unlike many tour guides, they don't disappear after the day's 'official' events are over, but are just part of the group.
Liberation Tour 2016
On the 2015 tour to the NW Europe battlefields of WWI and WWII Alison and I both had multiple connections with many of the sites we visited, including the grave of her uncle John Weir at Calais Canadian War Cemetery. That is not the case with Liberation Tour 2016, although with Alison there is a peripheral connection. New Brunswicker's played a pivotal role in the Italian campaign and in particular the Carleton and York Regiment. These were, and still are, two very rural counties in New Brunswick, where in 1939, lumbering was the principal occupation of most of the young men, including Alison's father Ralph Scott from Canterbury. When the war came, many of these men including Ralph, whether it be for the better pay or a sense of adventure, jumped at the opportunity to enlist in the Carleton and Yorks.
This regiment was destined to see some of the fiercest fighting in Italy and suffer a great number of casualties. Ralph Scott could have been one of them, but on the day or two before the unit was to ship out to England, he was ordered to escort a deserter by train to a military prison in Ontario, which he did. Upon his return, the Carleton and Yorks had sailed and Ralph never did get to join them. During the Italian Campaign many young men from Canterbury were killed including many of Ralph's friends. He suffered from survivor's guilt for the rest of his life.
So we will be following the Carleton and Yorks closely as will Pat and David Allison from Riverbank, New Brunswick. They were on our previous trip and on this trip plan to look for and honour as many of the graves of fallen New Brunswickers as possible.
Liberation Tour 2016 – Rome
Alison, I and Anne have come to Rome a few days before Liberation Tour 2016 is scheduled to begin. We join the others at the Villafranca Hotel where introductions are made. We are glad to see that two couples from New Brunswick, the Allisons and the Bob and Jean Zinck are returnees from the 2015 trip. All four western provinces are represented as well as the Yukon and of course, Ontario so it's a fairly typical group with the exception of Quebecois, even though they did play a significant role in the Italian campaign.
We have an opening dinner at La Terme de Colosseo which is inside a building that dates back to Roman times.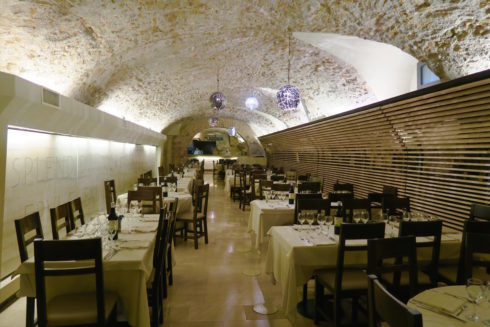 During the course of a good meal, something that is routine on Liberation Tours, Phil gave the opening brief on the events leading up to Italy becoming a part of the Axis.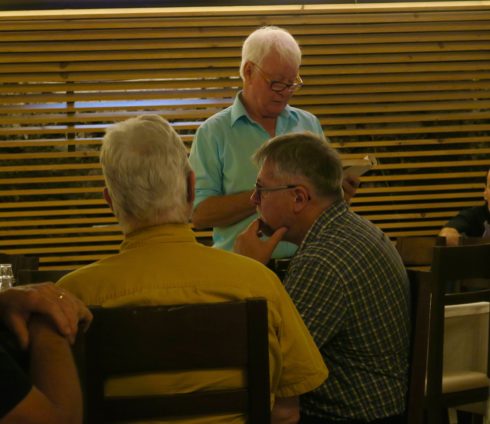 While most people know about the Nazis and their fascist beliefs, a lot of people are not aware that fascism originated in Italy long before the rise of Adolph Hitler. Mussolini was in power for over a decade before Hitler became Chancellor of Germany. While the Italian army had had success fighting the almost defenceless Abyssinians in modern day Ethiopia, the Allies did not consider them up to par with their German partners. Italy was described as' the soft underbelly of Europe' and supposedly an easier target for an invasion than France. We'll find out if that is true over the next few weeks.
Tomorrow we are off to Sicily and Operation Husky in which Canadians were a major participant. After that we return to the mainland and visit such famous Canadian battle sites as Montecassino, Ortona and Rimini. If only in spirit, won't you join us on Liberation Tour 2016?
Arrivederci from Rome.