Palazzo Sant'Angelo – The Perfect Room in Venice
Alison and I recently wrapped up a three week visit to Italy with a three night stay in Venice. The purpose of the trip was to visit many of the sites where Canadian troops had fought during WWII. We joined 33 other Canadians on a tour put on by Canadian company Liberation Tours and had a simply wonderful and eye opening trip. The on the ground transportation and accommodations were arranged through Trafalgar, which generally selects large 3 or 4 star hotels which, by and large were fine, but certainly not luxurious. Before the tour we spent two days in Rome at the fantastic Lord Byron hotel which I wrote about in this post. I spent a lot of time choosing the Lord Byron and I did the same thing in coming up with a hotel in Venice. Here are the reasons I decided upon the Palazzo Sant'Angelo sul Canal Grande, or just the Palazzo Sant'Angelo as I'll call it in the rest of this post. I'm pretty sure you'll agree that I made the right call.
Factors in Choosing a Hotel in Venice
Venice is one of the most over-loved cities in the world and on every tourist's bucket list. With the explosion in Asian tourism the place is packed pretty well 24/7 almost every day of the year. Since Venice is completely built up, as are the surrounding islands, there are no new hotels being built and the demand for rooms has always kept the prices for the best rooms in the stratosphere. Also, the rooms are notoriously small and getting anything resembling a normal size room by other city standards is challenging. Finally, although everyone dreams of a room overlooking a canal, particularly the Grand Canal, these rooms are so much in demand that even if you can afford them, they are hard to come by without booking far in advance.
All that being said, I had four criterion for our stay in Venice, some of which might seem relatively unattainable given my comments above.
The room had to be directly on the Grand Canal.
It had to have a real balcony that we could stand on and watch the boat traffic go by.
It had to be a large room, preferably a suite.
Although I knew we would pay dearly for such a room, it could not be expensive to the point of ridiculousness.
Other bonuses, but not deal breakers, would be ease of access, free wifi and a good complimentary breakfast.
Writing this post after staying at the Palazzo Sant'Angelo, I can say it came through with flying colours on all four mandatory requirements and two out of three bonus categories. But first I want to comment on why I didn't choose any of the most famous Venice hotels, although I did consider all three.
The Contenders
Venice has some of the most famous hotels in the world and at one time some or all of these were on my radar, but each got removed before I settled on the Palazzo Sant'Angelo. I did make a point of visiting each one of them during our stay in Venice to see if I had any regrets and the answer was an emphatic "No".
Hotel Cipriani has always been very highly rated, but it had one fatal flaw for my list – it's not on the Grand Canal, in fact it's not even on the principal island, but rather Guidecca which requires taking the hotel's boat to get to the other islands. Cipriani is really more of a resort than a traditional Venetian hotel. It's also wickedly expensive and despite this, very hard to book. So Cip's was out, although in fairness this picture of the exterior does not do it justice.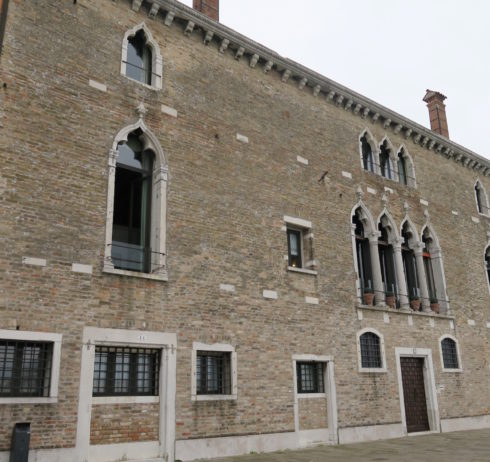 The second property under consideration was the Gritti Palace, which has been a hotel since the early 19th century and has hosted just about every famous celebrity from Churchill to Bob Dylan. The guest book is a who's who of politicians, writers, actors and musicians. Also, it's got a great location right on the Grand Canal. Who wouldn't want to stay here? Well, as you can see from my photo, it is missing one essential element – the rooms have no balconies other than a couple that are so small that two people couldn't get on them. Many hotels on the Grand Canal have French balconies which are really more for external appearance than actual usefulness as a place to stand and watch life in Venice. So, sorry Gritti, maybe next time.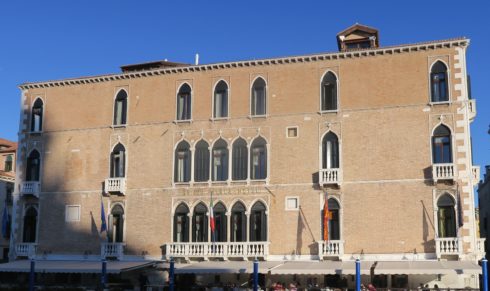 The final contender was another famous hotel that has also hosted more than its share of famous guests, the Hotel Danieli. This hotel would appear to satisfy all my initial requirements. It's on the Grand Canal and as you can see, some rooms have real balconies.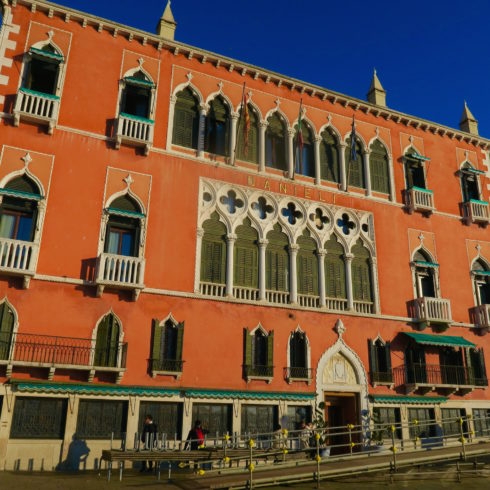 Here's the rub – the Danieli does not front directly on the Grand Canal, but rather on the insanely busy street that runs between it and the canal. This is where legal and illegal hawkers set up, where mobs of people crowd on to the many vaporetto stops nearby and there is an incessant babel of languages that can be jarring. I can't imagine really enjoying using those balconies with the constant crowds just metres away and even if I could, the price of these rooms is a non-starter for all but the very top 1% ers.
Why I Chose the Palazzo Sant'Angelo
About the same time as I was considering the above hotels and ruling them all out, I joined the Small Luxury Hotels of the World loyalty program, The Club. Initially I did this after staying at Trout Point Lodge in my home province of Nova Scotia, Canada. You can read what I had to say about it in this post. Joining The Club entitles a guest to a free upgrade (if available) and complimentary breakfast. More importantly I found the people behind Small Luxury Hotels very easy to work with. They have four properties in Venice and the Palazzo Sant'Angelo fit all of my requirements, but could I possibly get that suite with a balcony at a price that would not require putting a mortgage on the house? The answer was yes, and I got the rate I would pay for a lesser priced room. To make matters even better, they offered an upgrade for my sister who simply wanted an ordinary room as she planned to take advantage of our balcony during her two day stay.
I first laid eyes on the Palazzo Sant'Angelo as we were taking a vaporetto along the Grand Canal during the time we were staying on the Lido at the Ausonia & Hungaria as the last stop on the Liberation Tour trip. It certainly looks great from the outside, especially those large balconies.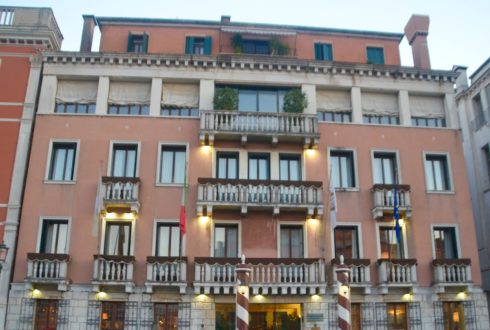 Two days later we returned via water taxi from the Lido directly to the private dock directly in front of the Palazzo Sant'Angelo. At check in, our upgrade was confirmed as was my sister's. We were given one of the few Deluxe Suites. That's it on the second floor just above the entrance. Surprisingly, my sister got a room that was even larger on the back side of the hotel overlooking a garden courtyard.
Here is the room, which was a true suite with a living room and a bedroom.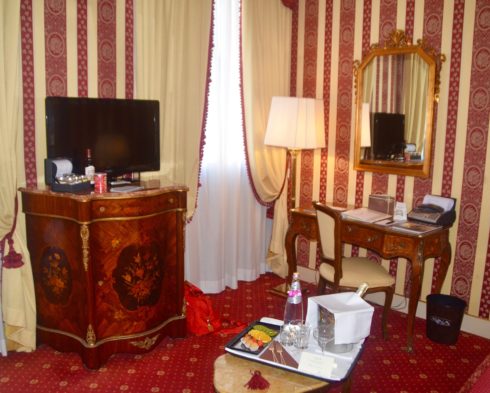 There was a welcome package with a bottle of chilled prosecco awaiting us.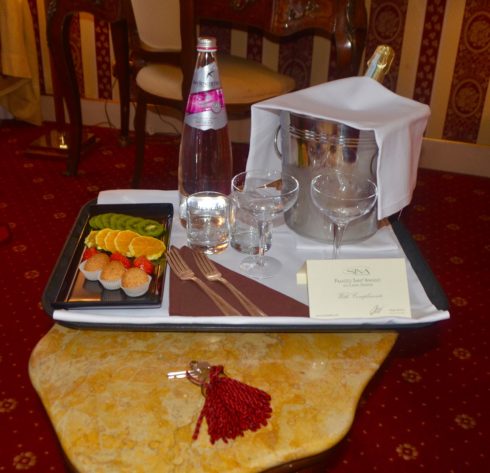 Here is the bedroom. The mattress was two doubles put together to make a king, but I suspect you couldn't get a king mattress into this room and we certainly didn't mind. The sheets were super high thread count and as comfortable as I've ever slept under.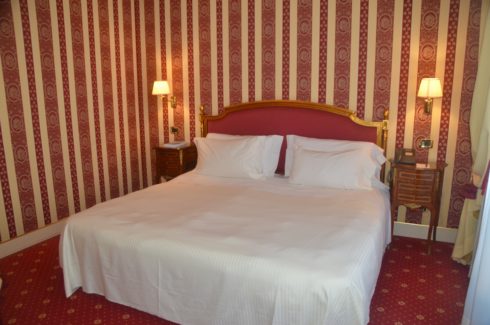 The bathroom was spotless Italian marble with plumbing that worked perfectly, lovely fluffy towels and dressing gowns and large high quality toiletries that were replaced each day, whether we had used them up or not. After three days, I left with enough shampoo and conditioner to last a month.
And the most important thing of all – the balcony overlooking the Grand Canal. We had our million dollar view at a fraction of the price. That's the Rialto bridge in the background.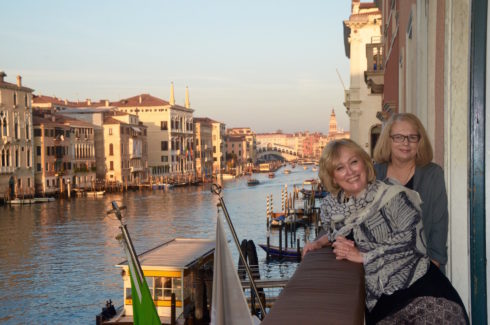 Directly across the canal is this palace.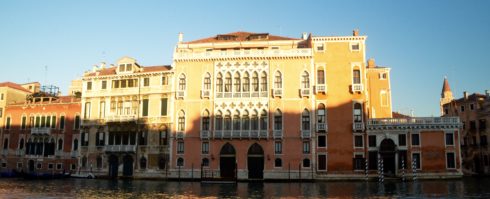 I couldn't wait to open the prosecco and we toasted our good fortune at getting this once in a lifetime viewpoint from which to observe life on the most famous canal in the world. I'm terrible at selfies so that's my wife Alison on the right and my sister Anne on the left.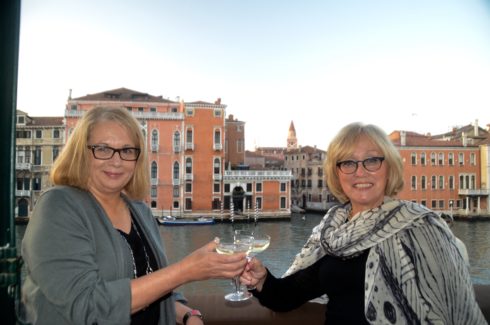 Over the next three days we enjoyed the view from our room immensely. At night the palace across the way was lit up beautifully.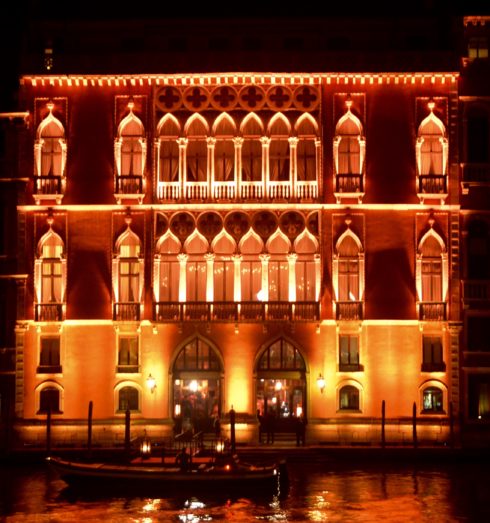 One evening a group of Venetians dressed in traditional Carnival costumes emerged from across the way and headed out to some masquerade ball I presume.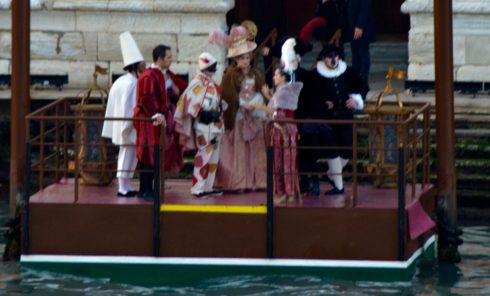 Here is a view up the canal from our room at night.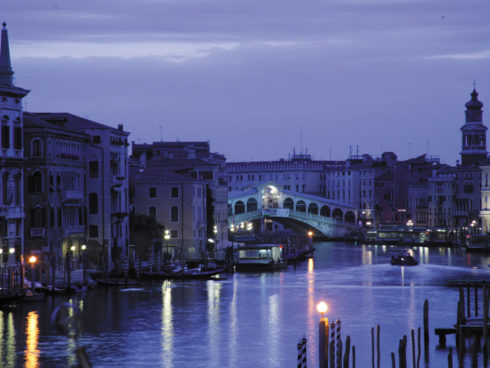 One thing you should know about staying directly on the Grand Canal is that there is always traffic going back and forth so it's fairly noisy. That's fine during the day and evening, but when we wanted to sleep we closed the shutters and it was completely quiet. Otherwise, the balcony was everything I had hoped it would be. Just watching the boats of all shapes and sizes, including of course, the gondolas, is endlessly fascinating.
The Palazzo Sant'Angelo didn't just deliver because of the great room. The breakfasts were excellent, with really good scrambled eggs, which are often terrible in Italian hotels. Also they give you a pot of coffee and hot milk if asked for. After two weeks of the standard hotel 'coffee machines' which give you multiple choices of which everyone is bad, this was a nice touch.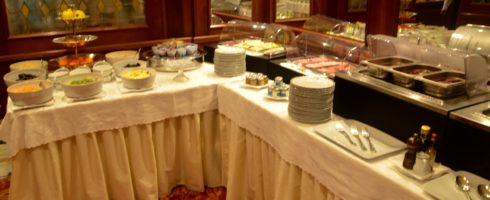 The spritz is the traditional drink of Venice. Made from prosecco, sparkling water and either Aperol (my choice) or Campari, it was fun sitting in the small bar at Palazzo Sant'Angelo sipping on one of these before deciding where to head out for dinner. The hotel does not have a restaurant. It was also a good place to meet fellow guests.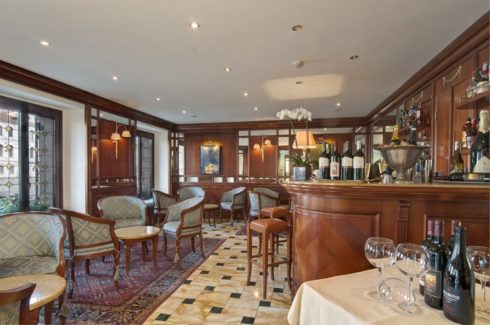 In terms of getting around, the hotel couldn't be better situated. The Santangelo vaporetto (water bus) stop is steps from the entrance and from here you can go anywhere, including the airport for only 16 €.  The smart thing to do is buy a one or two day pass which lets you on any vaporetto, except the airport run.  They cost 20 € for one day and 30 € for two.
On foot, it's a short distance to Campo Santo Stefano and from there you can follow the signs to the Rialto or Academy bridges and St. Mark's Square. None of them are that far, but be prepared for the huge crowds you'll hit on the way to any of them anytime after 8:00 in the morning. However, if you get up early you can see St. Mark's without the crowds. I took this picture at about 7:30 in the morning.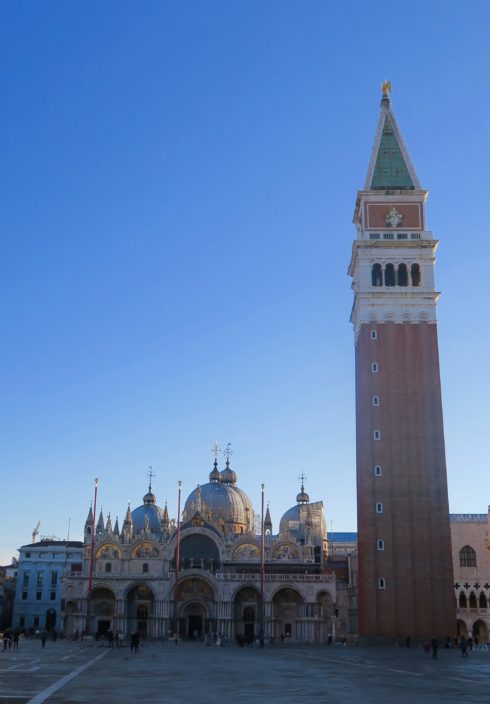 What else can I say about Palazzo Sant'Angelo? There are lots of places nearby where you can pick up wine, spirits or food as well as restaurants of all stripes from simply cafes to fine Venetian dining. Oh, the staff is great and quite proficient in English.
The one thing that didn't work properly was the internet which was spotty at best. I'm going to put this down to some type of external interference because I couldn't get it to work as a personal hotspot through my iPhone. That would be connected to the phone service and not the hotel server. Hopefully this won't be a continuing problem because it is a necessity for modern travellers.
It was with a real sense of bittersweet remorse that we left the Palazzo Sant'Angelo to return to Canada. Alison said goodbye to the masked fellow who guards the elevator and I paid the bill, which had absolutely no surprises.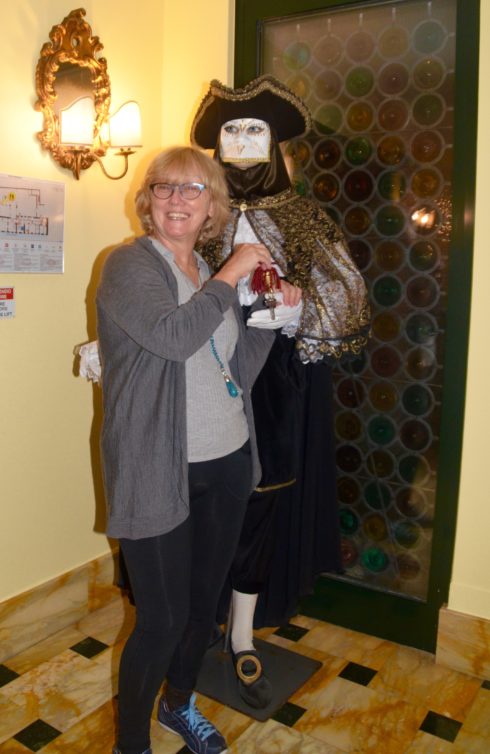 We boarded a water taxi and sped away on a James Bond like ride to the Venice airport and it all seemed like a fairytale. We had to pinch ourselves at being so lucky to find the Palazzo Sant'Angelo and the perfect room in Venice.