Myrtle Beach Golf – Enjoy the Late Fall Season
Myrtle Beach golf courses are legendary both for their sheer numbers in such a small area and their relative affordability. However, it's no secret that the golf business in North America is in decline overall for a number of reasons, but primarily because of demographics. According to Statistics Brain,  over 60% of all golfers are over 50 and less than 5% under 30. That's not good news in the long run for golf course owners and golf destinations. It's definitely one of the reasons that Myrtle Beach has made such an effort to recast itself as much more than a golf destination, aiming to attract more families and, of course, those apparently desirable biker tourists.
Not having Myrtle Beach golf as the top priority anymore has its benefits for those, like myself and two friends who recently decided to stay and play three rounds on some of the absolute best courses in the Myrtle Beach area. With the emphasis on trying to increase the number of rounds played in March, April and May and the summer and early fall seasons always busy, that leaves a real opportunity to play golf like it should be played in late fall. When I say golf like it should be played, I'm talking about sub four hour rounds which can only be done when the courses are not busy. However, I don't want to sacrifice great conditioning, design and natural ambience just to play fast. Also, I'm not cracked about playing in bad weather.
Here's a few facts about Myrtle Beach golf weather in October and November from Currents Results  weather and science facts. In October the average high is 76° F (24°C) and the low is 53°F (11°C). Obviously the temperatures will slide as October progresses, but still that's great golf weather and the good news is that October gets very little rain – 6 days of rain compared to 11 that are completely sunny. In November things start to cool off – average high of 68°F (20°C) and low of 43°F (6°C) which are still very good temperatures for golf. Add the fact that November is the least rainy month of the year and has 12 clear days of all sunshine, the chances are you'll have very good golf weather.
So you've decided to throw the clubs in the car or hop on a flight to Myrtle Beach for some late fall golf, now, where to play and how to book it? If you go online there is an absolute plethora of sites offering deals on Myrtle Beach golf, so many in fact that it can get overwhelming. So I'm going to suggest you do what we did and if it doesn't work out, you can blame me. The reason I'm suggesting a specific company is that I know from experience that not all Myrtle Beach golf operatives are created equal. One of the golfers I'm with bought a package through a Myrtle Beach golf provider and although he paid for the entire package up front, when he got home he found out that the hotel had used the credit card he used for 'incidentals' to pay for the room. One of the reasons he's here is to chase this guy and try to get his money back.
The company we used for this trip was Myrtle Beach Golfmasters which was easy to work with, got us on the courses we wanted at the times we wanted and made online payment simple. Arriving at the courses they didn't even ask for a voucher. We chose our own accommodation, although most companies offer golf and lodging packages. The reason we chose to make our own reservations was that, at this time of year you can get some really great deals on your own.
The Holiday Inn Club Vacations South Beach Resort is certainly not your typical Holiday Inn property. Each unit is essentially a one or two bedroom condo and they can be combined to create a three bedroom unit, each with their own bathroom. The units have everything you need, especially if you want to eat in. This is a resort that essentially caters to families who want new accommodation with easy access to the beach and the other Myrtle Beach things families like to do. But guess what? By mid-fall the family vacationers are long gone and these condos go for a ridiculously low price. If you don't want to cook, just across the street is Damon's Grill which has a great ocean view, good food and atmosphere and is a great place to watch the NFL after golf on Sunday morning.
In order to choose the golf courses you want to play at Myrtle Beach I recommend first going on and looking at rankings of the courses. Golf Digest lists Sixty Favourites in Myrtle Beach and the alleged prices to play each one. Forget about the 'rack rates' for green fees at this time of year. We paid way less than the listed prices. Looking at this list and Golf.com's list of the top public courses in South Carolina, we chose Caledonia Golf and Fish Club at #3 in the state behind only the Ocean Course at Kiawah and Harbour Town in Hilton Head – that's pretty good company. We also chose Tidewater, #8 in the state and #4 in the Myrtle Beach area.
Undecided about a third course, Don Turek of Myrtle Beach Golfmasters recommended Wachesaw East  which certainly didn't jump out at me from either list, but Don assured us we would be happy with this course and we were. I would recommend playing them in this order as each gets better – Wachesaw East, Tidewater and then Caledonia.
 Wachesaw East
After analyzing why the weather at this time of year was so good for golf, of course it rained cats and dogs the afternoon of our arrival. In the morning we drove to Wachesaw East in quite foggy weather, wondering if the course would even be open. It was, but, not surprisingly it was cart path only. Wachesaw East is a housing development, but there are generally pine trees between the fairway and the houses so it doesn't look like a typical residential development golf course. Despite the torrential rains, the course had drained very well and we, as I think the only ones on the course, played in under three and a half hours.
What impressed us about Wachesaw East was the course design by prolific southern U.S. golf architect Clyde Johnston.  Good enough to host a former LPGA event, the holes were just damn interesting to play. It looked like a lot of sand traps had been removed making for a lot of dry bunkers, which along with a fair amount of water, sand and trees, made for a good test of golf. Given the dull weather it was not a day for photographs so I've poached some from their website which I presume they won't mind.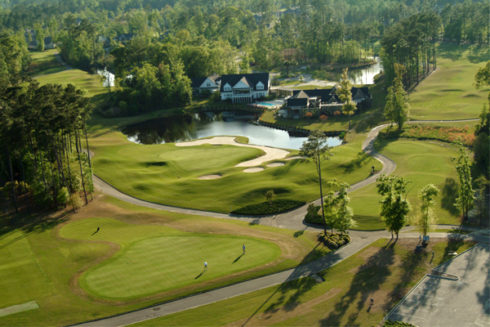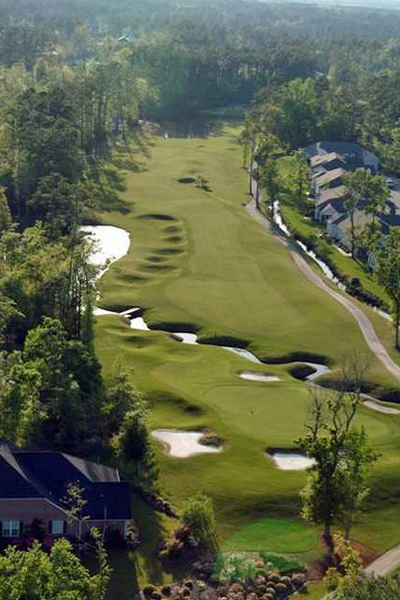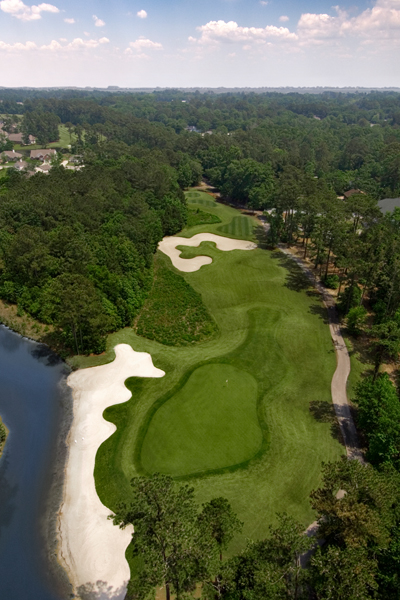 I'd love to play Wachesaw East again in better conditions. It definitely deserves to be higher than #34 on the list of Myrtle Beach courses and I say that having played ones rated higher that are not as good.
Myrtle Beach Golf – Tidewater Plantation
One of our threesome had played Tidewater Plantation before and wisely insisted we include it on our mini itinerary. Tidewater is in the North Myrtle Beach area, but easily reachable from all areas of Myrtle thanks to the newer by-pass highways.
The staff was very welcoming and the pro-shop, practice areas and restaurant are all very good, but it is the golf course that is the star here. Conditioning is good with well groomed fast greens. There are a number of holes that are right on the water and they are gorgeous to look at and better to play. Have a look at the photos. Also you can see that the weather was now cooperating. It was perfect golf weather with virtually no wind.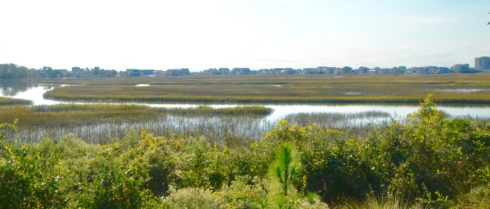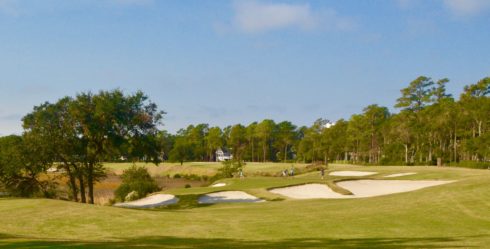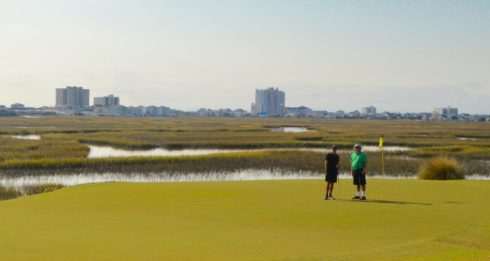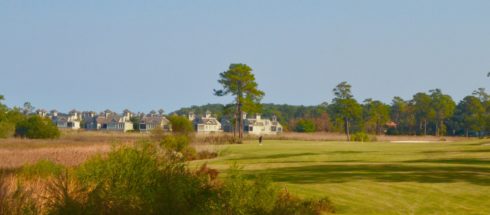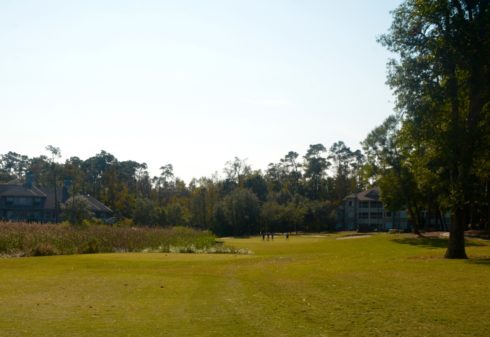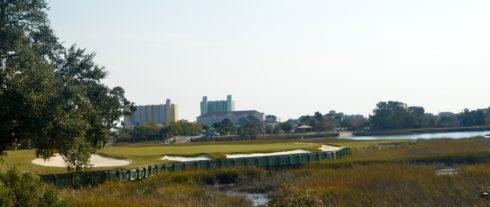 The other holes are mostly in typical Carolina pine lands, but are top notch compared to most others in the same type of landscape in Myrtle Beach. 18 is a great finishing hole. No trouble understanding why it's rated as highly as it is.
Myrtle Beach Golf – Caledonia Golf and Fish Club
After Wachesaw East and Tidewater, we really weren't expecting things to get much better in terms of the quality of the golf experience, but at Caledonia it truly did. Ranked #73 in the 2015-16 Golf Digest rankings (jumping from #97) of courses you can play in the entire U.S., Caledonia is not just a good, but a great golf course. I liked it so much I did a hole-by-hole post on it and won't elaborate more on this post. If you come to Myrtle Beach you must play Caledonia. Nuff said!
So that's how you can enjoy three days of Myrtle Beach golf without the crowds and at prices much better than in prime season. Hey, you can even go to the beach afterwards.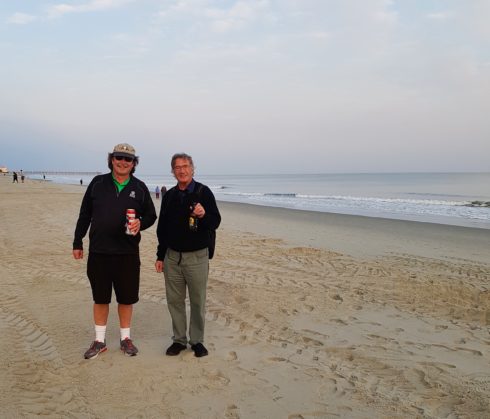 Next I'm headed to Charleston to pick up Alison as we visit historic Fort Sumter, where the Civil War began. Please join us there.
I've returned to Myrtle Beach several times since this post. Check out the latest courses from Litchfield by the Sea.