Litchfield by the Sea – Why We Love It
As an avid golfer and lover of nature I have long be drawn to the Myrtle Beach area of South Carolina. Ok, you might get the golf, but the Mother Nature part? Since when was that one of Myrtle Beach's big draws? Since always, if you know where to look and that is to the south of Myrtle Beach proper and in particular Pawley's Island where you'll find some of the best golf courses and some of the best parks and natural habitats on the entire South Carolina coast as well as America's premiere outdoor sculpture garden. In choosing where to stay on Pawley's Island you can't do better than the small community of Litchfield by the Sea. Here's why Alison and I highly recommend it for a golfing vacation that also includes beach walks, a little fishing with some local history thrown in for good measure.
The United States had just reopened its border to Canadian tourists and the weather was turning nasty at home so we decided to head to one of our favourite destinations in that country, Myrtle Beach. You can reach it in just three days driving from wintry Nova Scotia and yet the weather here in late November is still ideal for golf. With the assistance of Myrtle Beach golf guru Chris King of Kingfish Communications we were able to secure tee times for five rounds of golf on the Waccamaw Golf Trail of which more about later in this post. As we were to be joined by our daughter Lenore who was flying in from Toronto we needed a two bedroom unit in Litchfield by the Sea. Chris helped us get a great rate at the Bridgewater unit of the Litchfield Beach & Golf Resort, which fronts right onto one of the best beaches you're going to find anywhere.
This is a photo taken from Unit 328 of the Bridgewater building, showing Alison returning from a beach walk.
And here is the beach at Litchfield by the Sea. As you can see it is wide and not exactly crowded at this time of year.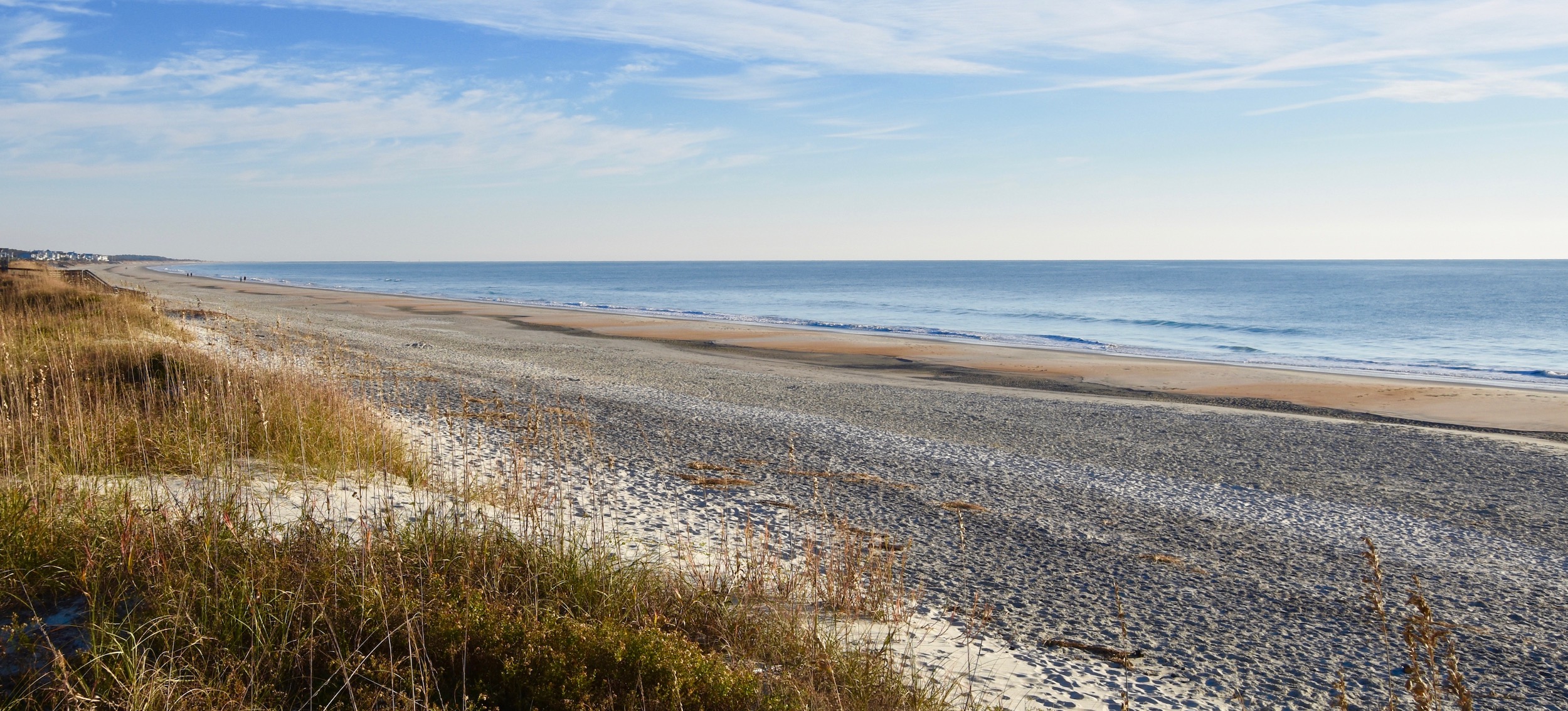 Here is a closer look at the sand which hard packed and perfect for walking. Although this photo doesn't show it, it is also a great spot for birders with a great variety of shorebirds very active at the shoreline.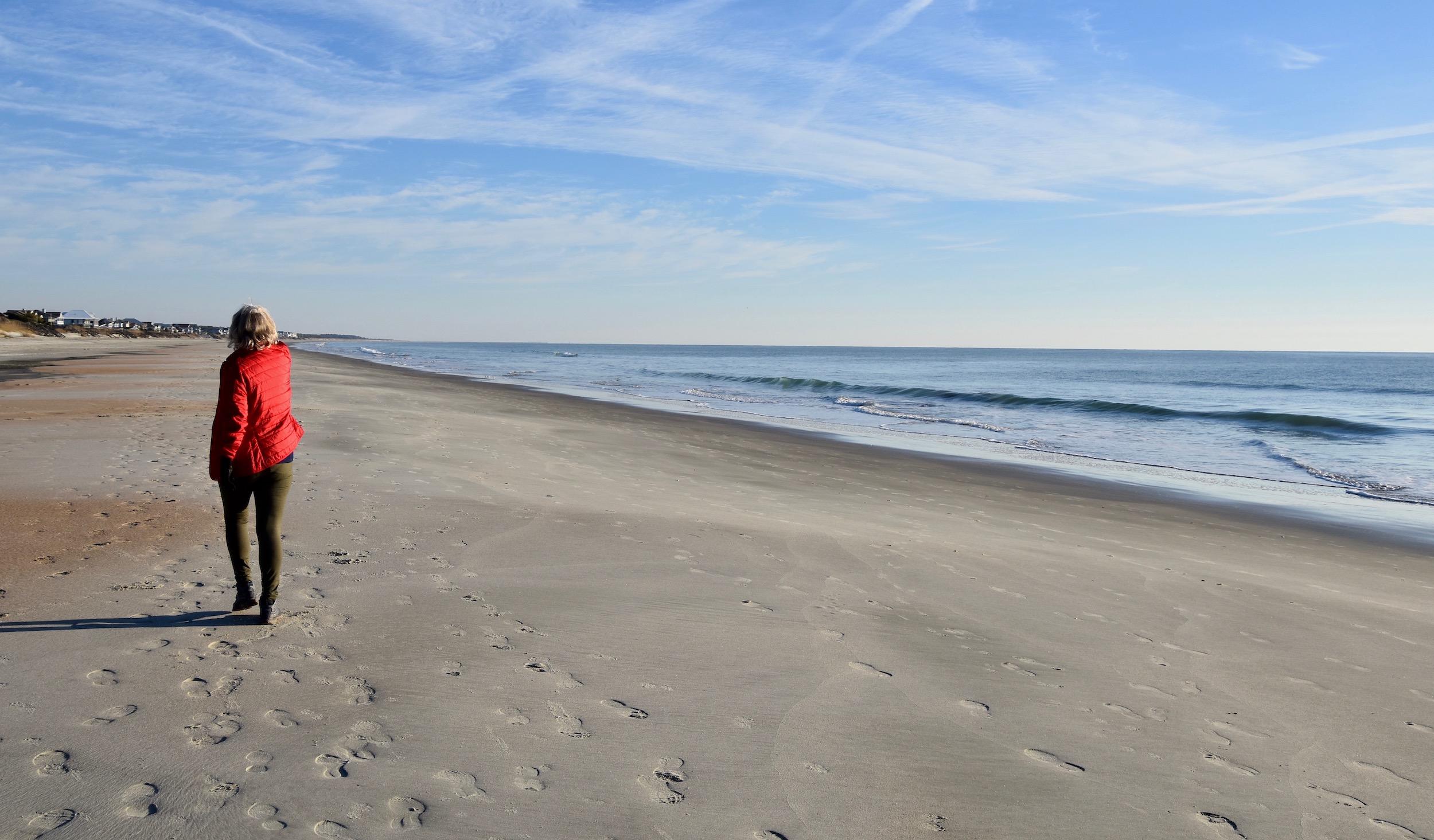 From where you enter the beach from the Litchfield Beach & Golf Resort it is about a two mile walk in this direction to Huntington Beach State Park which I wrote about in this post on our last visit to the area during off season.  If you like a nice morning constitutional there is nothing better than the walk up to the park and back. However, if the walk seems a little long you can rent bikes and get there and back on a dedicated paved bike path.
The stay at Litchfield Beach & Golf Resort included a buffet breakfast each morning at the Coastal Dish restaurant which was a very pleasant half mile walk from our building. The resort is very large with a great variety of different rental options from very large houses to townhouses to condo units all of which seem to front either on the ocean or an interior waterway. The place is the opposite of a concrete jungle and aside from walking the beach, it was enjoyable just walking the pathways throughout the resort.
While we did eat out quite a few times, we also enjoyed eating in as well. Directly across the street from the entrance to the resort is a Food Lion and a bit of the way down Highway 17 is a Fresh Market where you can buy all kinds of prepared meals that are way cheaper than eating out.
Also close by Litchfield by the Sea and reachable by bike or vehicle is the world famous Brookgreen Gardens which we have visited several times and wrote about in this post. Although the botanical aspect of the gardens may not be at its best at this time of year the sculptures are timeless.
But we are primarily here to golf, so let's get to that.
The Waccamaw Golf Trail
The Myrtle Beach area has over eighty golf courses making it the 'Golf Capital of the USA'. Over the years I have played a lot of them all up and down the strand. Previously I have stayed at and played the four excellent courses at the Barefoot Resort and on another occasion wrote about the great North Myrtle Beach course at Tidewater Plantation. It was during this trip that I first learned of the Waccamaw Golf Trail which comprises a dozen different courses in and around the estuary of the Waccamaw River, all of which are very handy to Litchfield by the Sea. On that trip my companions and I played Wachesaw Plantation  East which is good enough to have hosted the LPGA on four occasions. We also played the absolutely sublime Caledonia Golf and Fish Club which I liked so much that I wrote a hole by hole post about it for this website. On yet another visit Alison and I played the sister course of Caledonia, True Blue on which I also did a hole by hole post, again because I was so impressed with this Mike Shantz layout.
As much as I would have loved to play Caledonia and True Blue again, I also wanted to play five new (to me) courses on the Waccamaw Golf Trail, ones that would be a little easier on the budget and a bit more family friendly. I chose five courses, all within easy driving distance of Litchfield by the Sea. Here is a brief description of each in the order that we played them.
Pawley's Plantation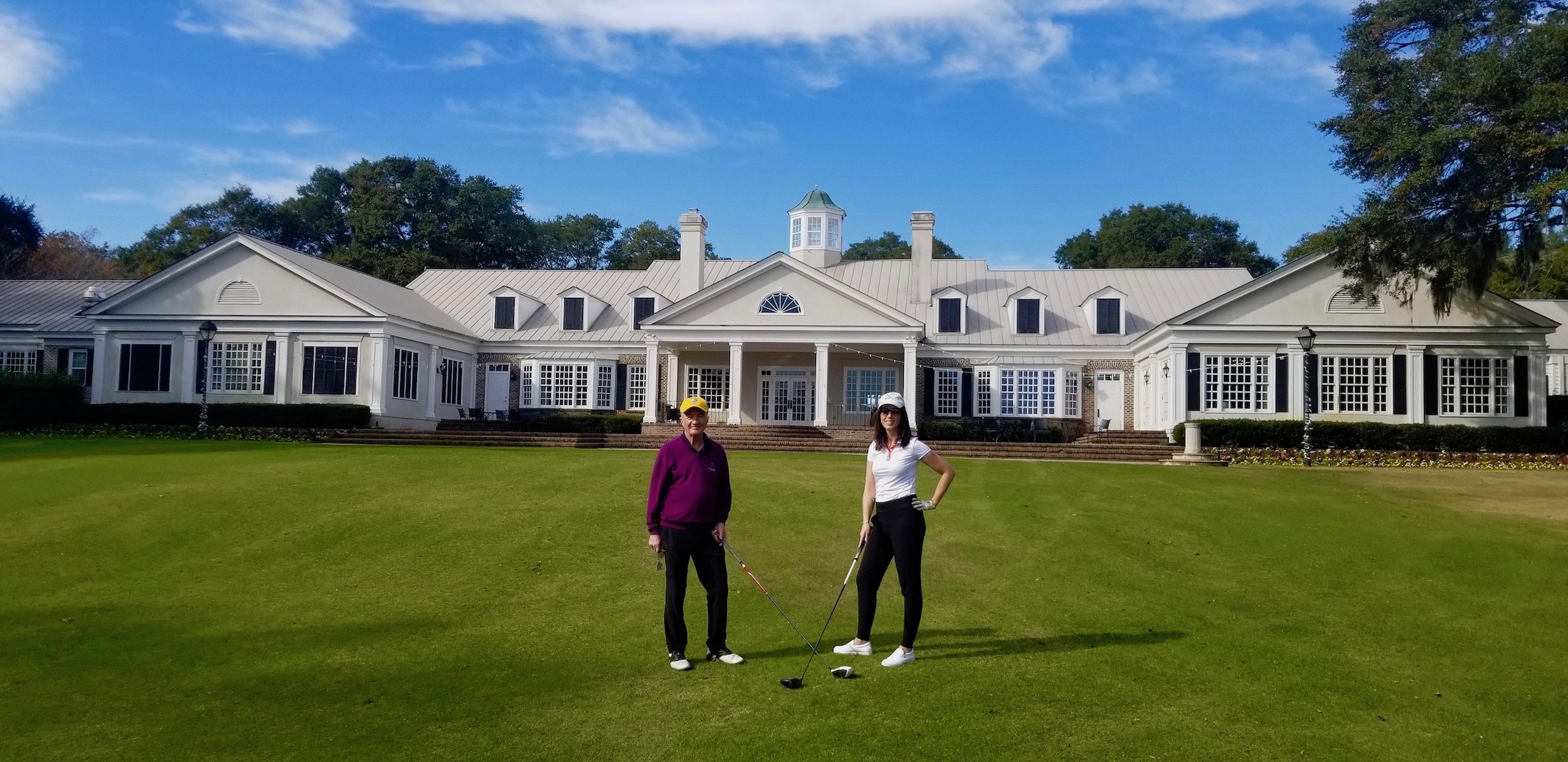 Pawley's Plantation is Jack Nicklaus' paean to Low Country golf with this wonderful course that contains some of the most unusual and difficult short par threes that I have played anywhere. As you would expect from a Jack Nicklaus Signature Course, it was in very good condition at what can be a difficult time of year for course superintendents. Unlike many Nicklaus courses I have played, this one was no where near as penal as I have come to expect from Jack. While the greens are average size, maybe below compared to most of his other courses, they are quite readable and not overly tricked up.  With six tee boxes ranging from 7026 to 4222 yards, there is a right distance for every level of golfer.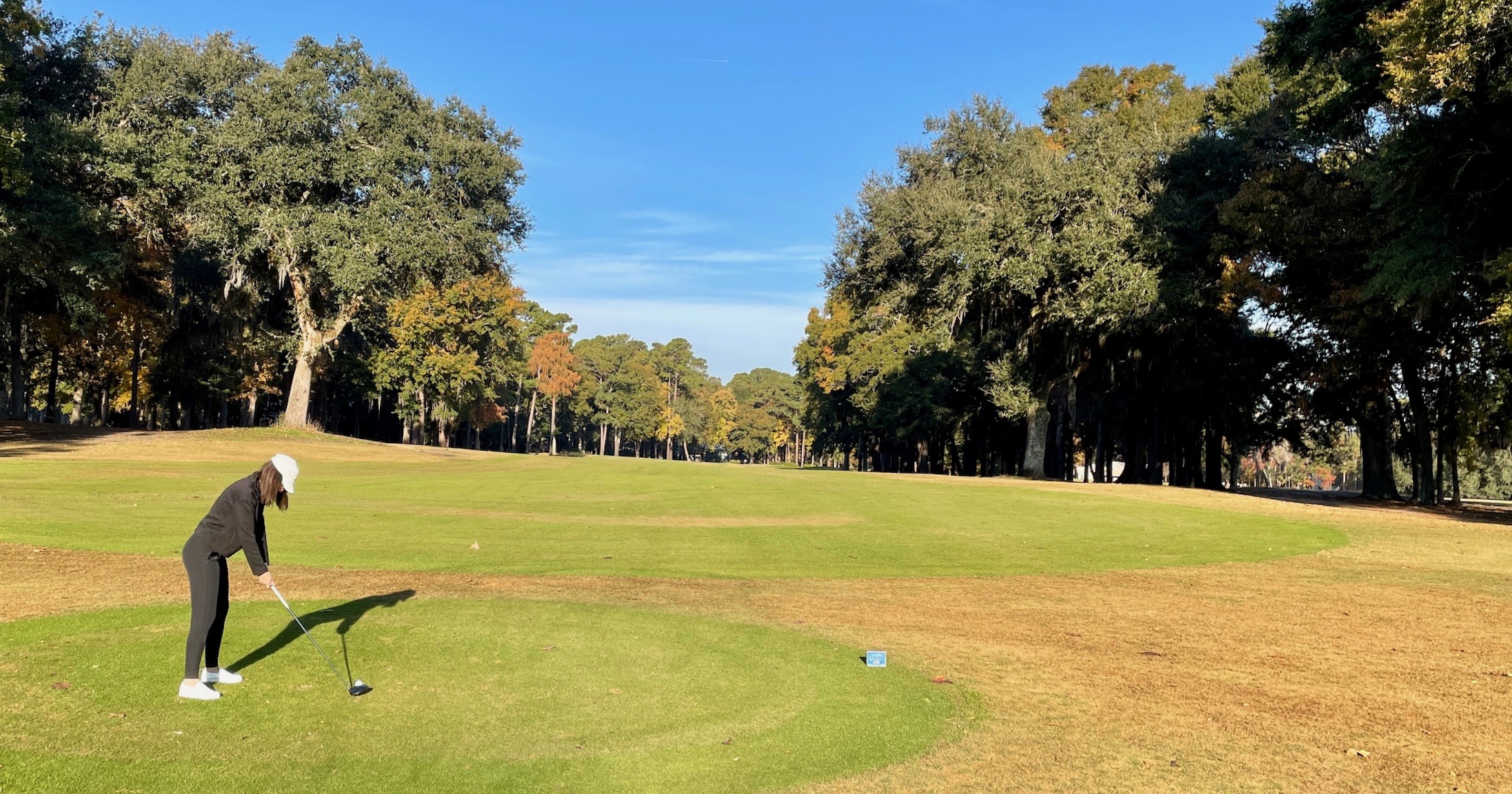 One of the reasons that I love Low Country golf is the incredible variety of ecosystems within such a small area. In the case of Pawley's Plantation the front nine is laid out through a mixed forest with at least a couple dozen or more species of trees and shrubs. This starting hole is a very fair three shot par five with wide fairways throughout.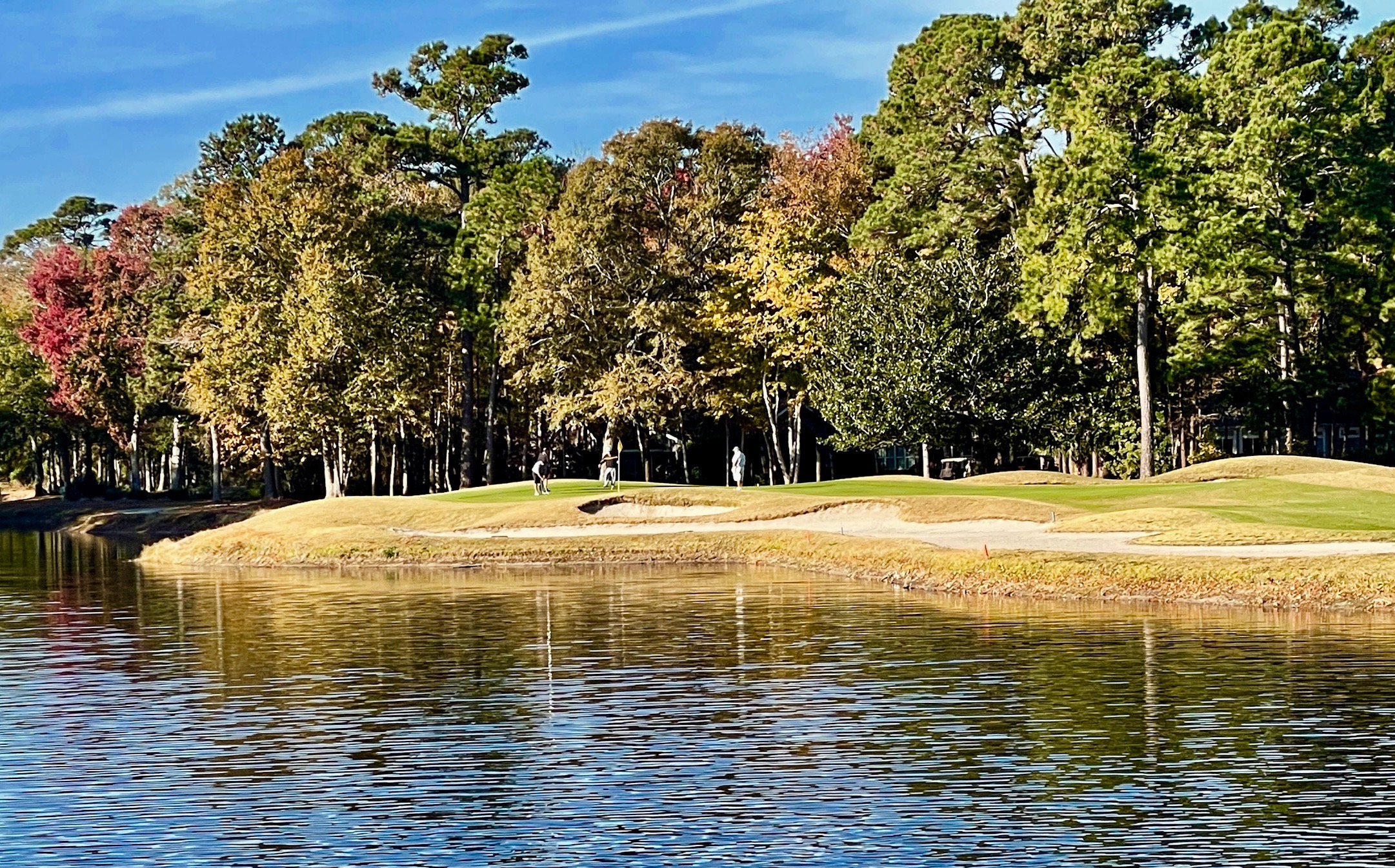 One thing you need to get used to when playing Low Country golf is the fact that many of the par threes require carries over water from tee to green. If you are playing from the right tee boxes this should not be a problem. but still it can be intimidating, especially if the wind is up, which it was not on the day we played. This is my wife's tee shot on #3. Don't ask about the birdie putt.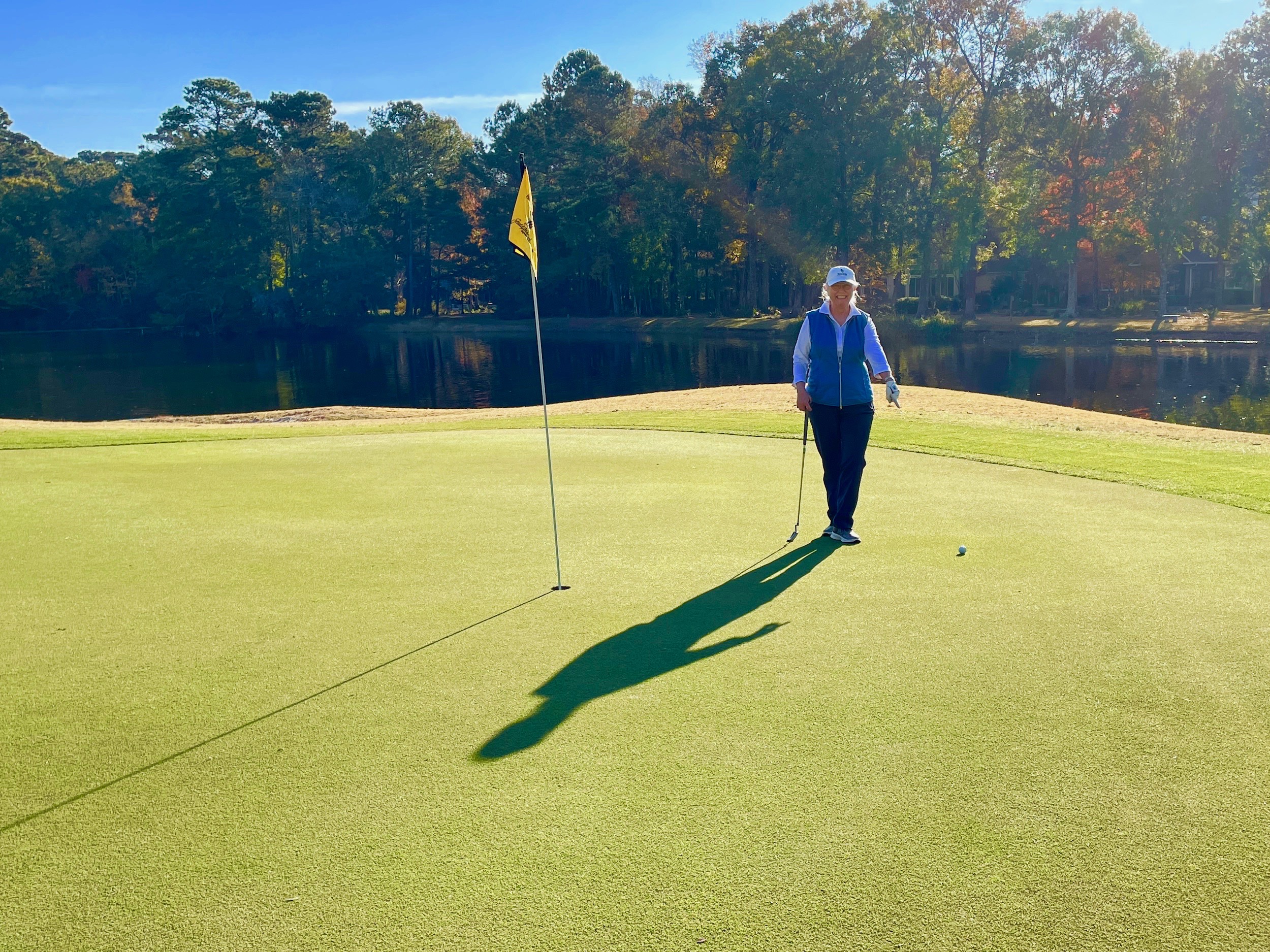 The fifth hole is probably the most emblematic of the front nine with tall trees, sweeping fairways and very few houses to disturb the natural appearance. While you can't see it in this photo there is a substantial pond to cross on the second shot.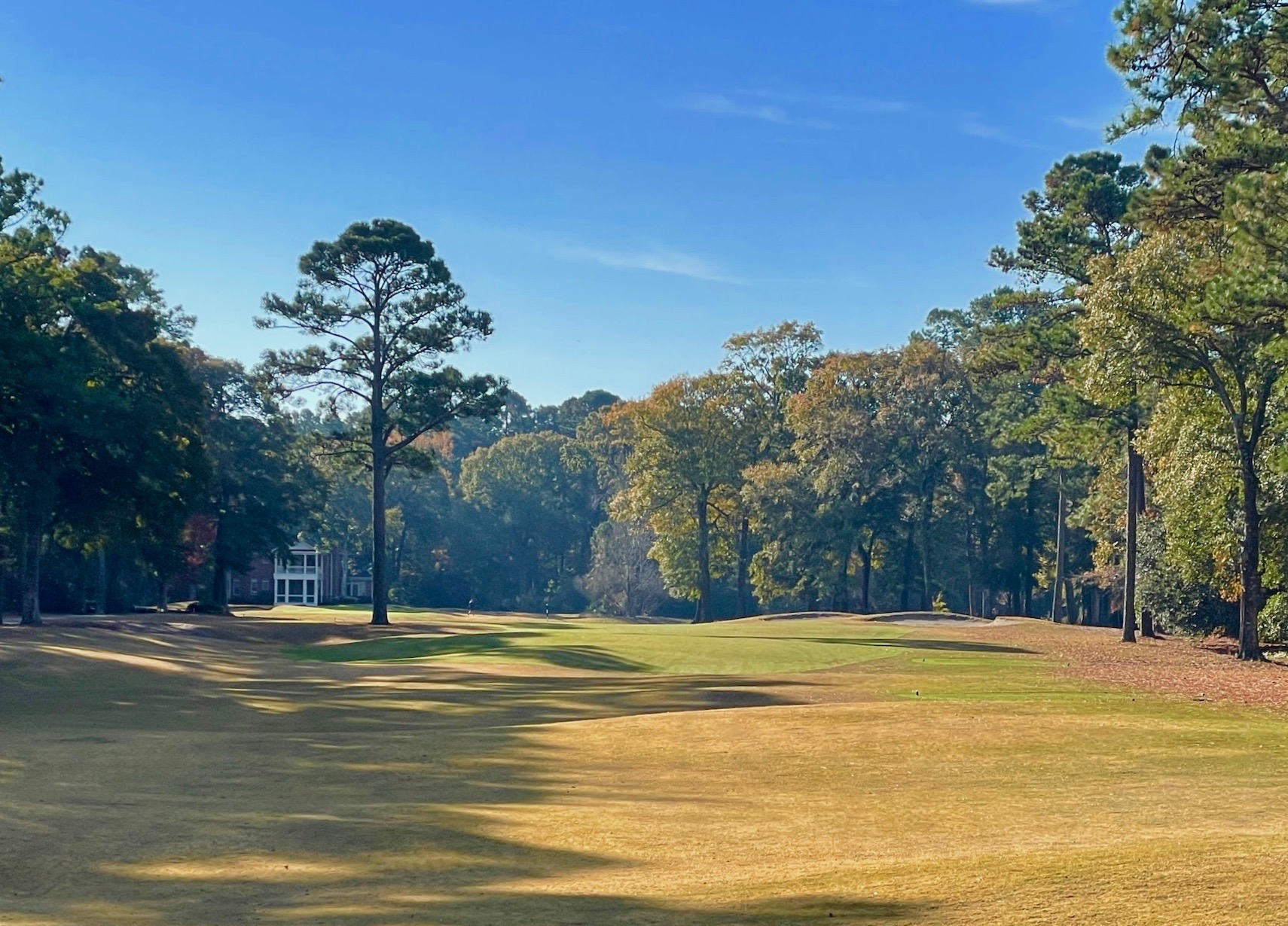 You finish the front nine with this apparently very daunting tee shot with this large live oak almost completely blocking the fairway. Nicklaus says he didn't have the heart to have it removed and I have to agree. These ancient and alluring trees should be an enhancement to a golf course and not victims of it. The reality is that unless you really bomb your drive, it will be coming down just below the branches and roll well past the tree. The odd few will have the bad luck to hit the trunk, but that's golf.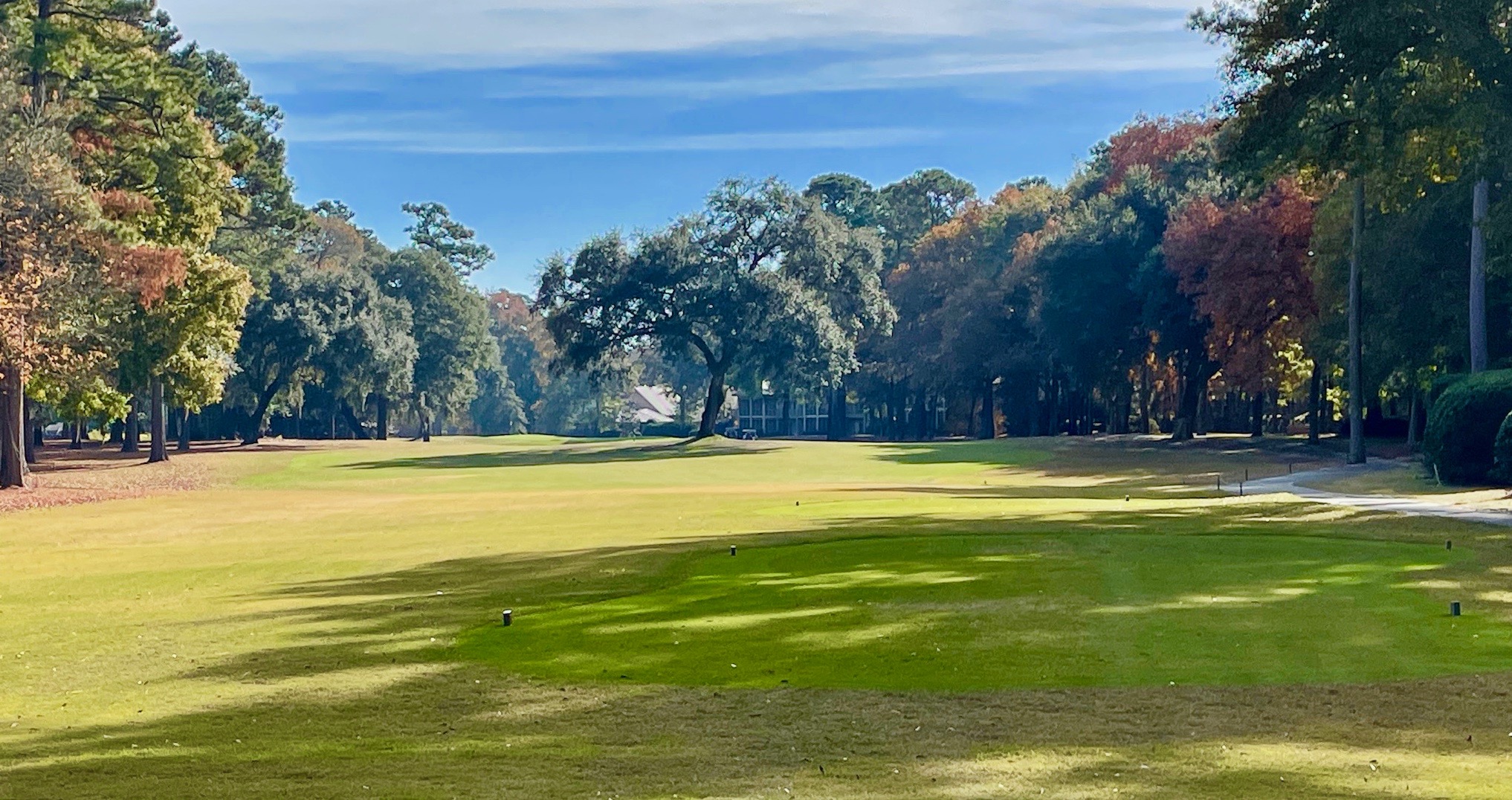 The first couple of holes on the back start out much like the front nine, but as you reach the 12th green you are suddenly out on the open marshlands and now the fun begins.
The starter gave us a series of instructions about what to do after finishing up on 12, but I can't say I really understood it too clearly. This is what you see upon exiting 12. This causeway has a number of pull ins for various tee boxes for #13 going forward and #17 coming back.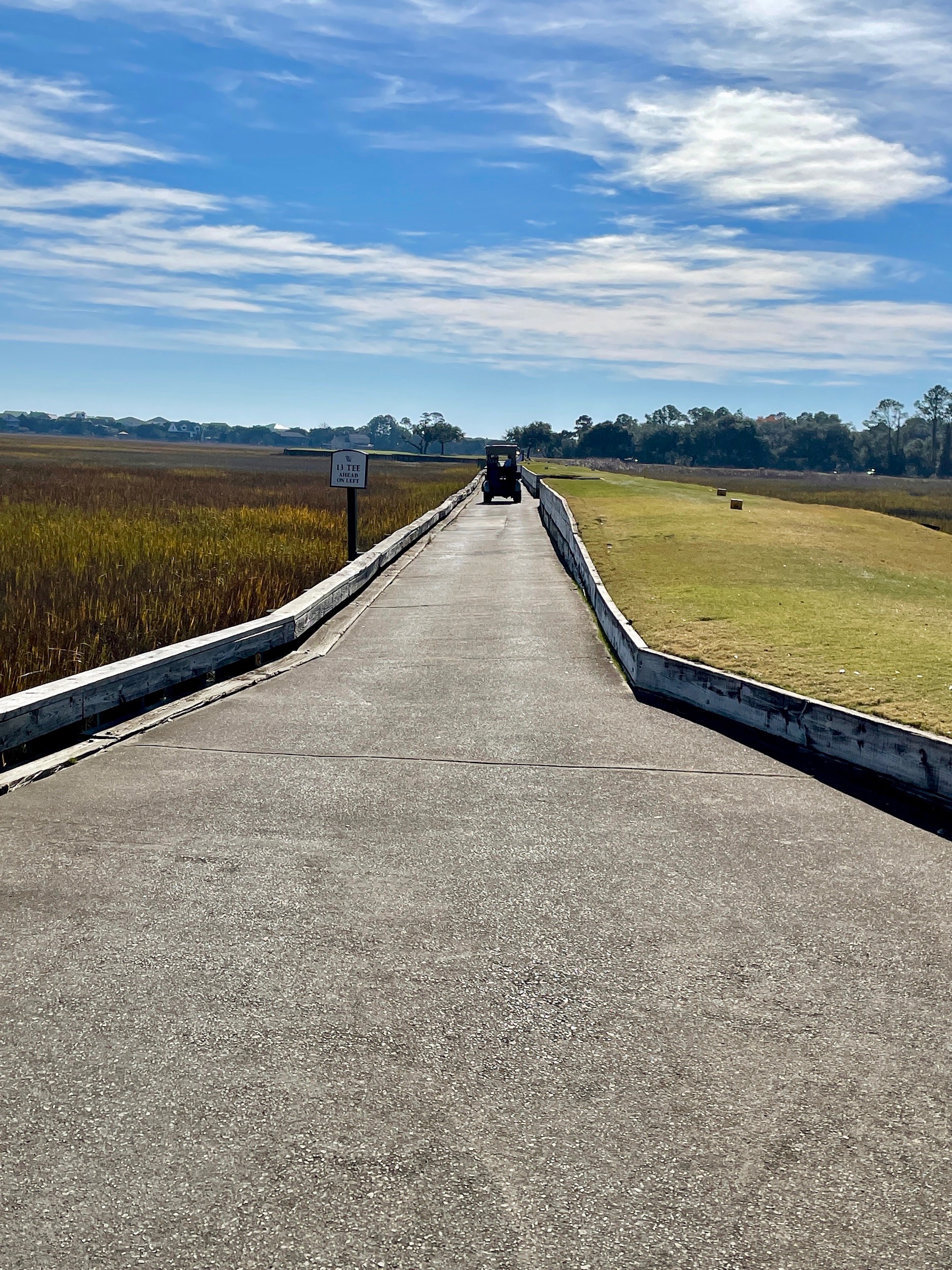 Once we figured out what was going on (with the help of the cart lady) this is what we were facing. Believe it or not this hole plays as short as 44 yards, which is the shortest par three I have ever seen. From the whites were I'm playing it's only 68 yards.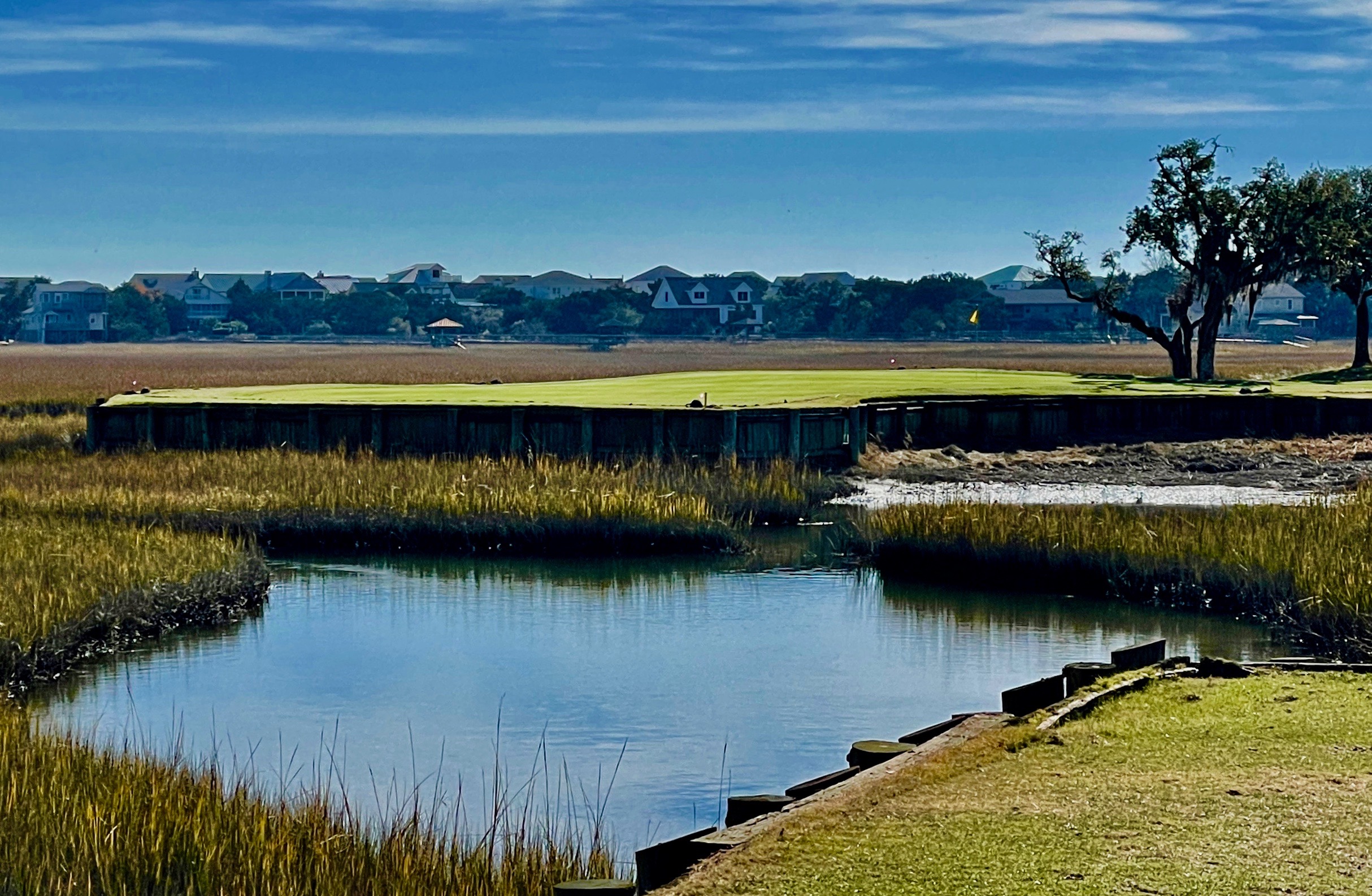 Today's pin placement is on the neck of the green where it connects to 16 as a double green. There is absolutely no depth to the green with this sucker placement so hitting to the fat of the green is logical. Sounds easy right? The problem is that there is no full club for a distance this short. For me, this was just a perplexing choice and it didn't end well. Listed as the easiest hole on the course, I beg to differ, but it is very pretty to look at.
The next hole of note is #16 which has this challenging approach shot to the double green shared with #13.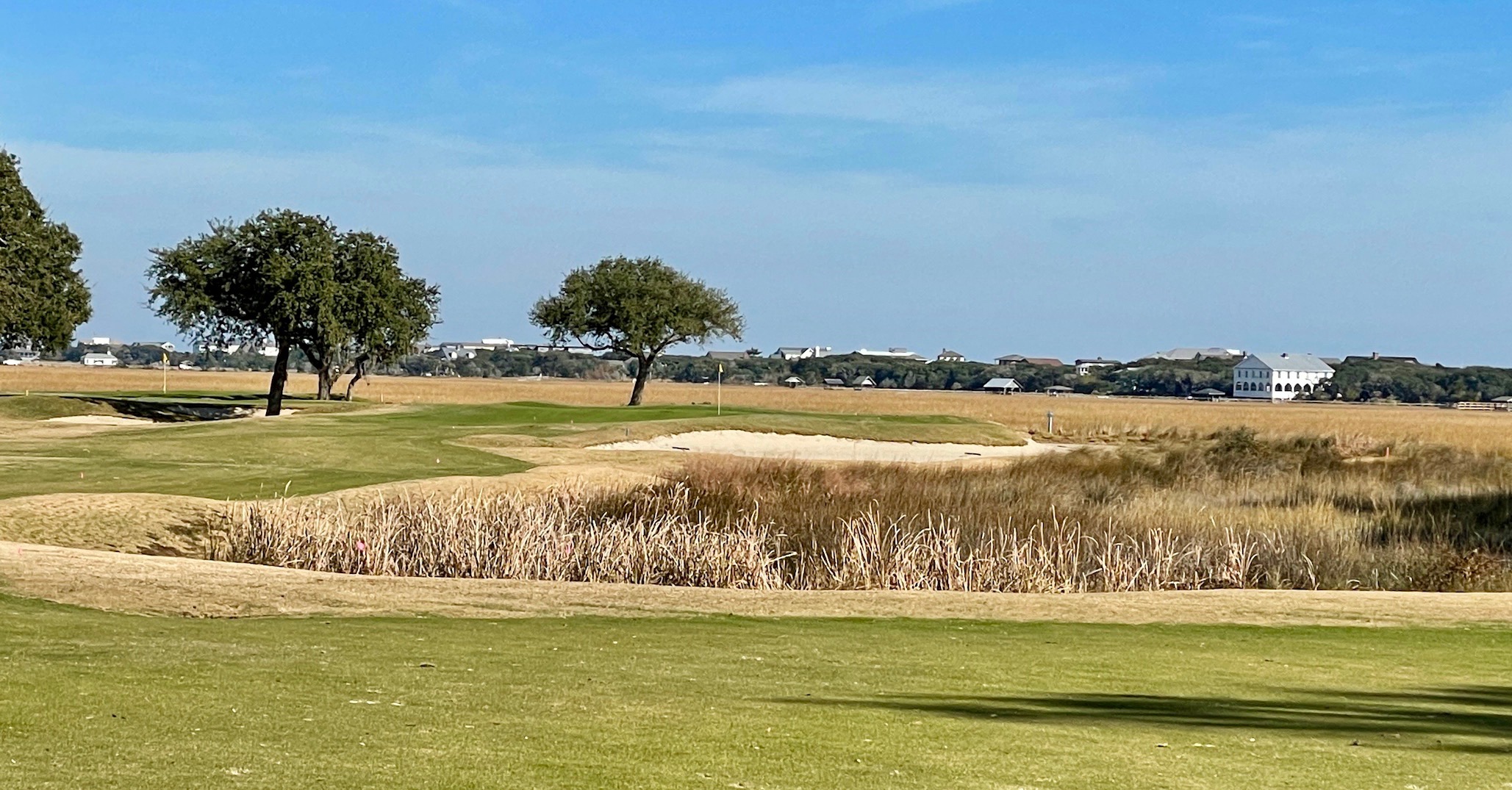 If I thought #13 was perplexing #17 is just plain diabolical for the average golfer. It's a much longer carry than #13 and the green has a depth of only 15 yards making it almost impossible to hold if you have to hit anything longer than 7 iron. The only sensible option for many will be just to bail out short to the right and hope you don't end up behind and oak tree.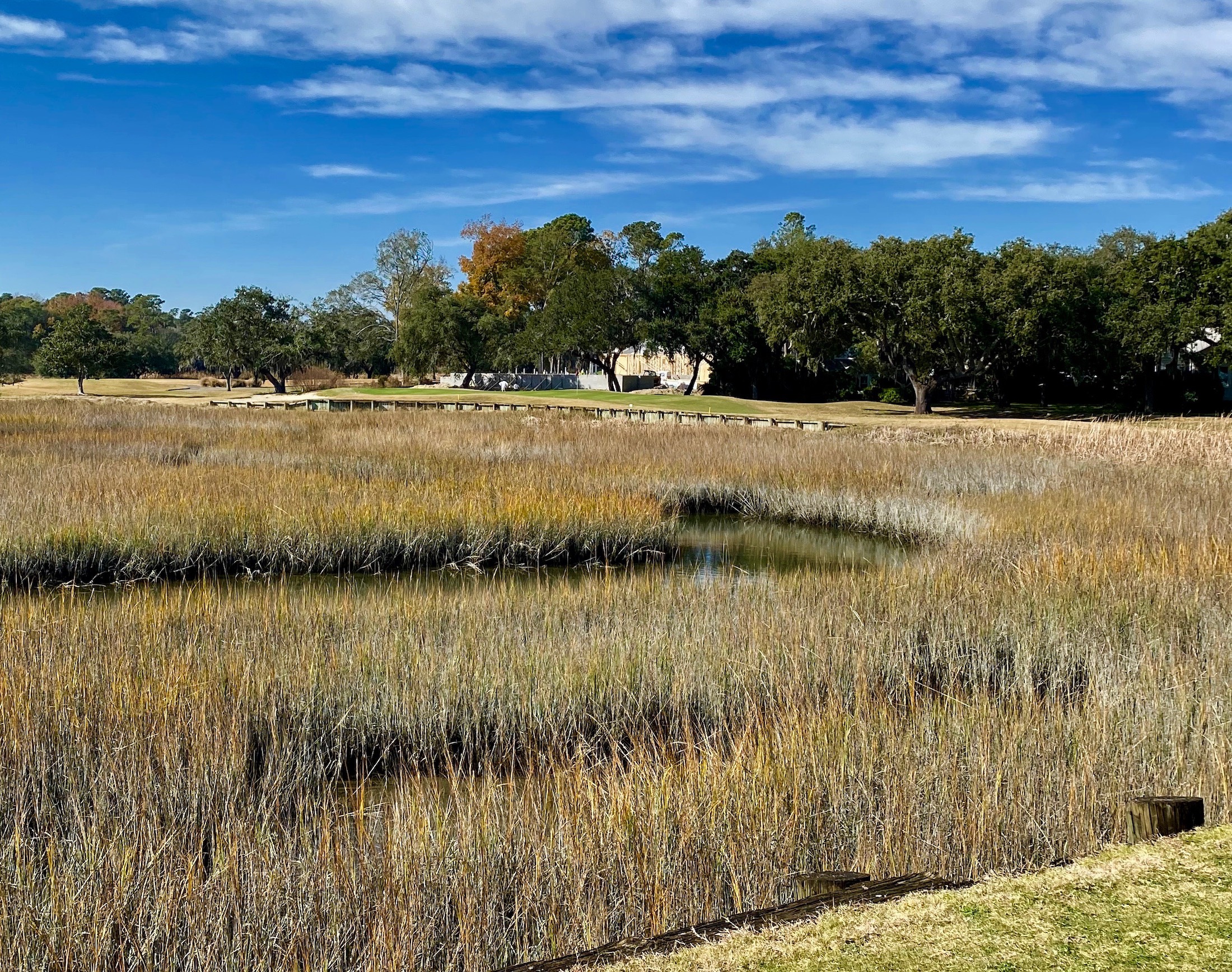 Compared to the other courses we played, Pawley's Plantation was among the toughest, but also among the most enjoyable to play. I'd play it again in a heartbeat if only to get another crack at the two par threes on the back nine.
Litchfield Golf & Country Club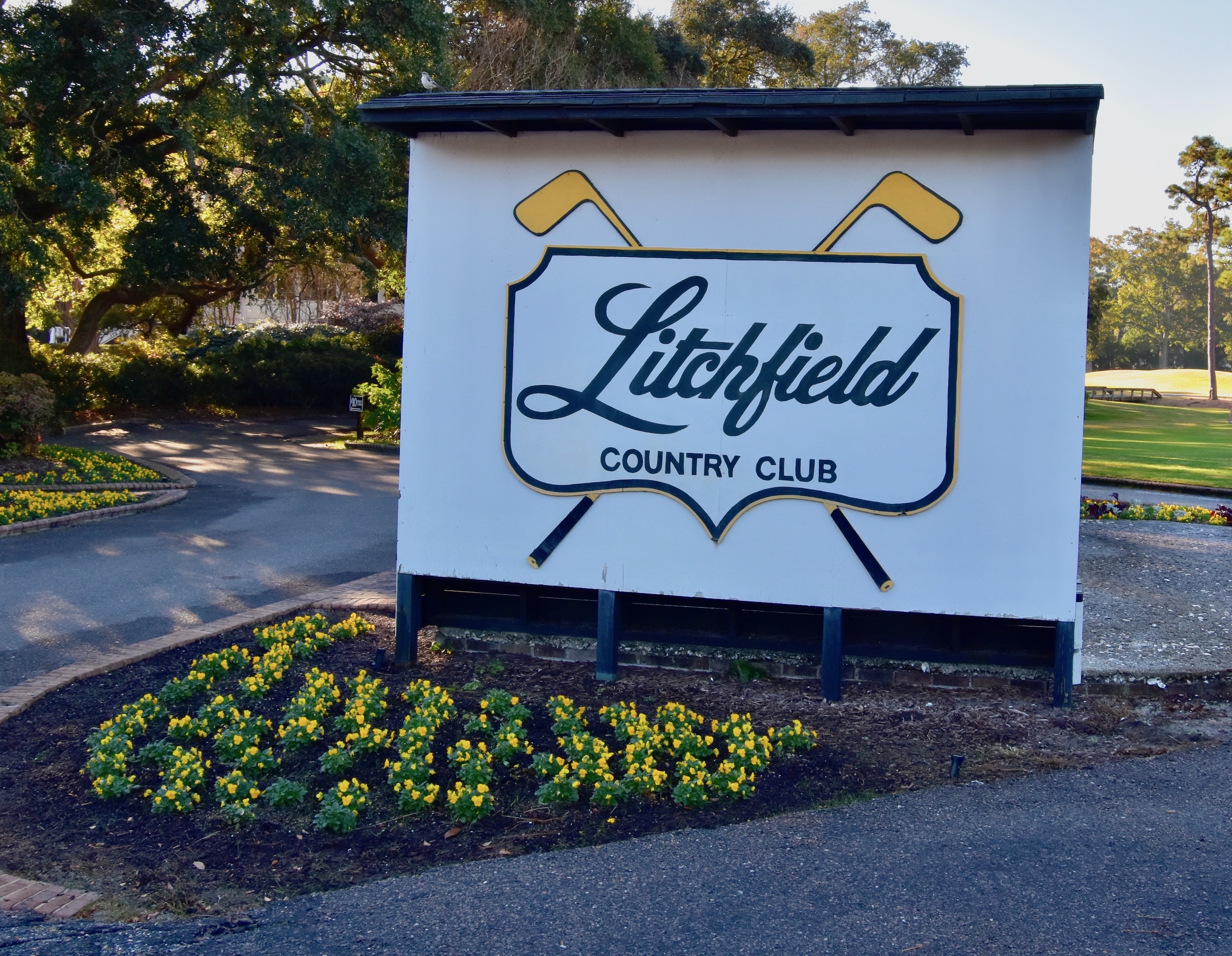 The next course we played, Litchfield G&CC is almost across the street from Litchfield by the Sea. It is the oldest course on the Waccamaw Golf Trail and maybe the shortest, but that makes no difference unless you are playing from the tips. The distance I played here was actually quite a bit longer than Pawley's Plantation, but interestingly the slope was far less. One reason for that is that Litchfield is a 'what you see is what you get' type of course. It is very flat, carved out of the mostly pine forest that begins to dominate only a few miles back from the ocean with very small greens that are also very flat with virtually no undulation. They are thus easy to read and if you can hit a straight putt you could do well on the greens here.
There are a fair amount of 1960's and 1970's style houses lining some of the holes, but they are not a major distraction.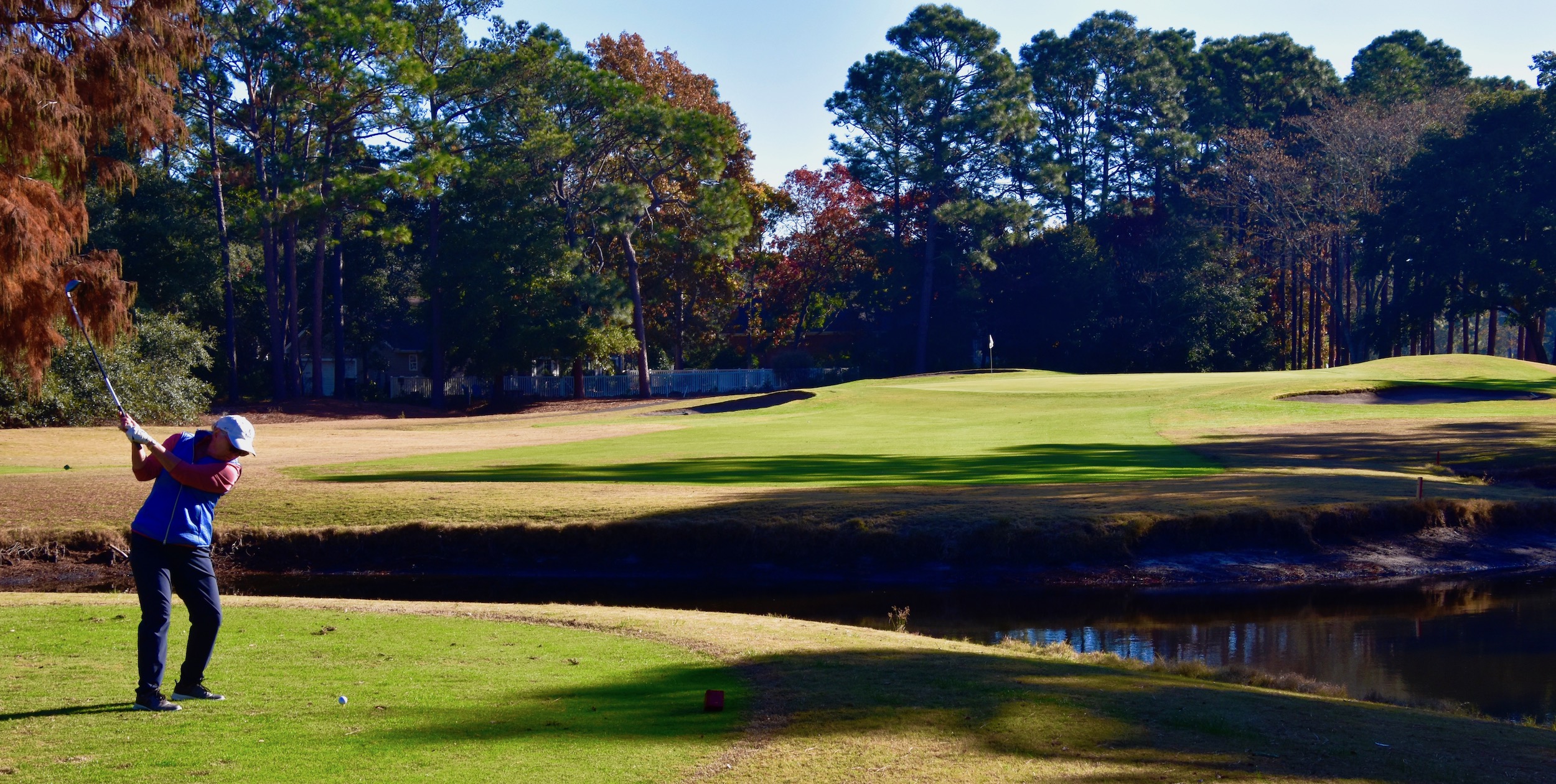 What is a distraction and a pleasant one at that are the many fox squirrels who are going crazy burying nuts everywhere at this time of year. This one fellow bounded across the fairway just as Alison was about to tee off.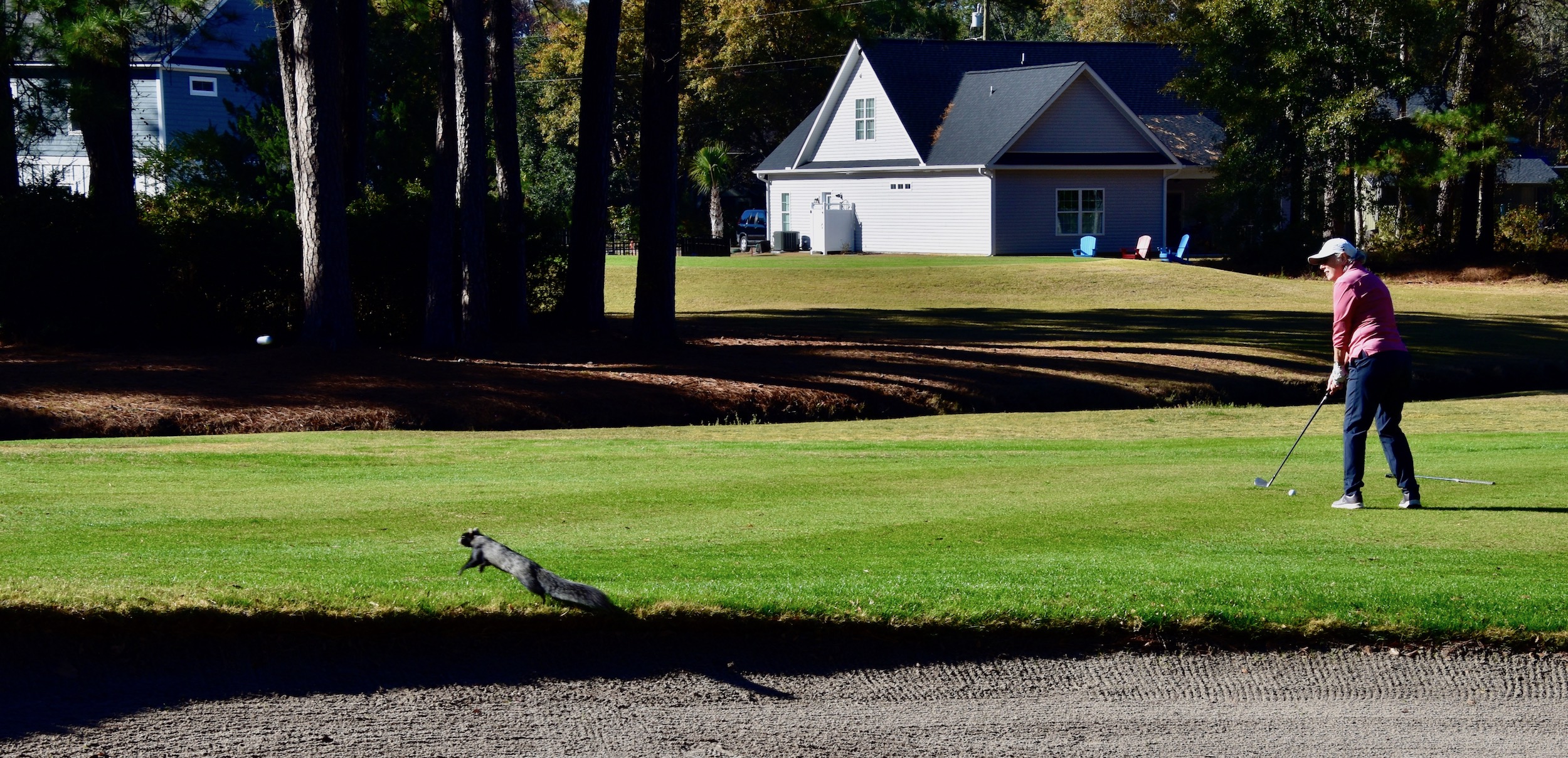 The signature hole is probably #13 which has water all down the left side of a quite narrow par five.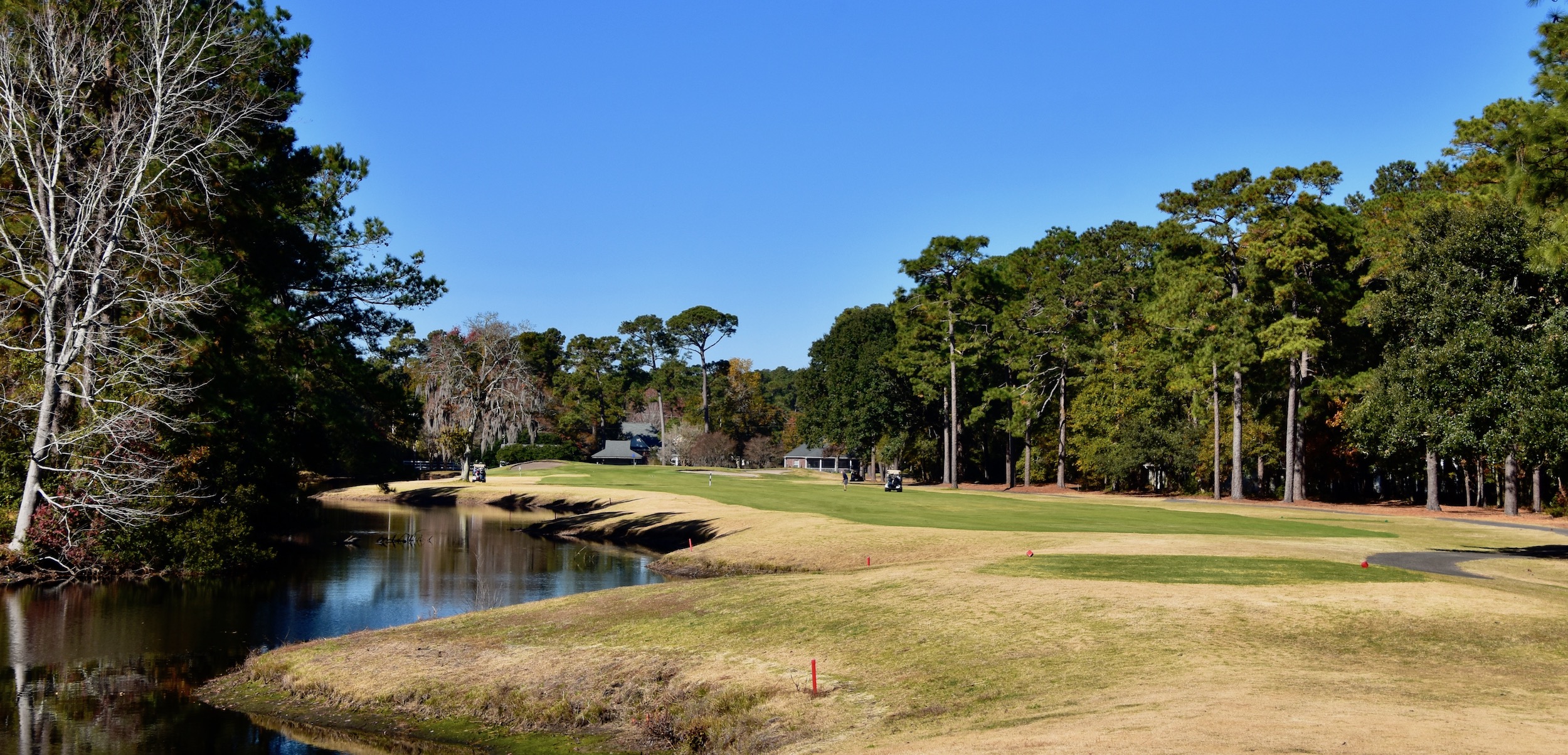 Overall this would be a great course to take people just learning to golf or high handicappers who don't like people watching them hit (or duff). Given that my daughter fits into the latter category she was very pleased to play here.
Willbrook Plantation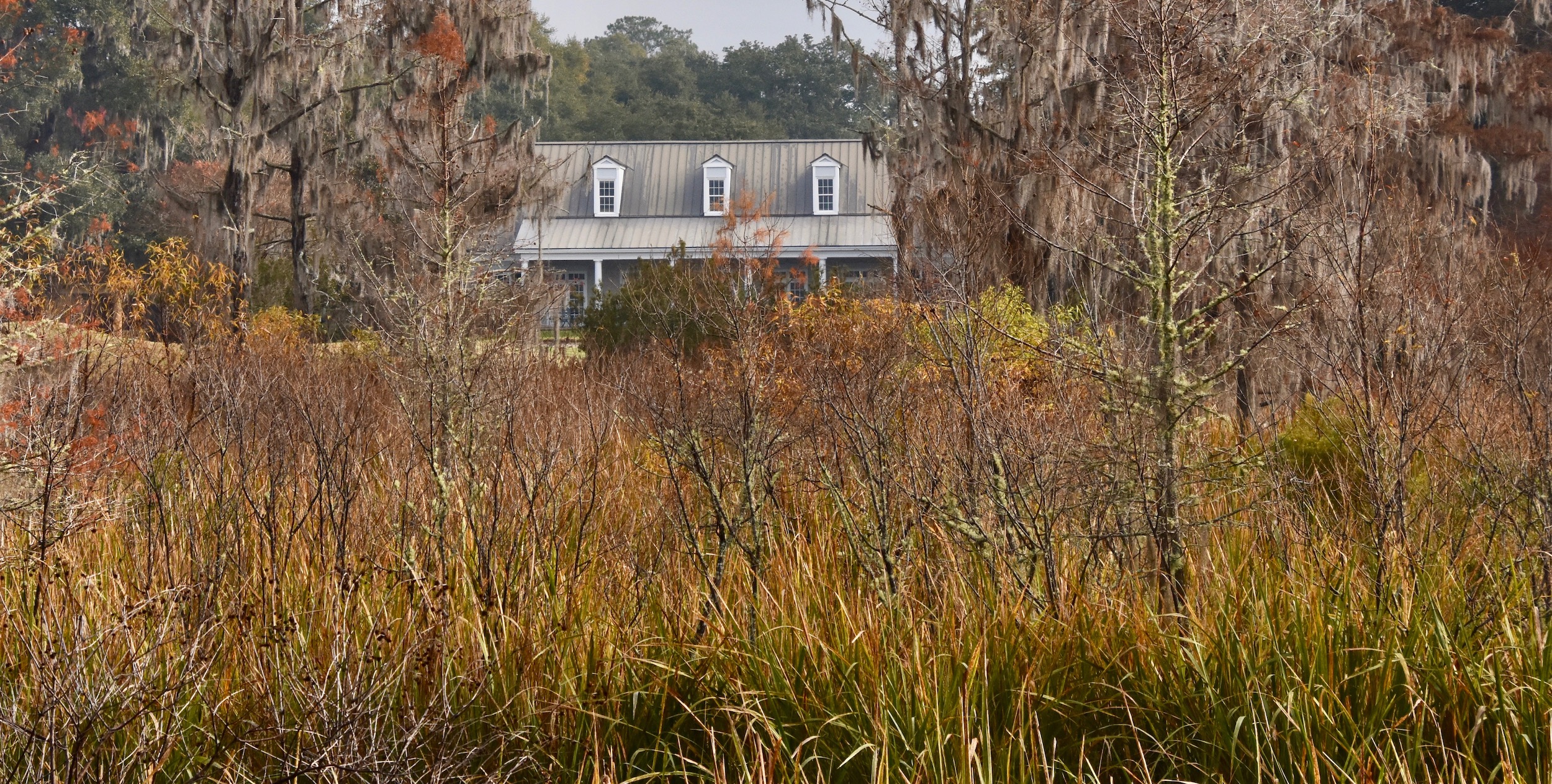 Next up on out Litchfield by the Sea golf odyssey was Willbrook Plantation, again not far from our accommodations, but a completely different experience than the first two courses. While it does not appear that there was ever such a thing as Pawley's Plantation, there definitely was a Willbrook Plantation and remnants of its past are what makes playing this course extra special, especially if you are a history buff. The land upon which the golf course now sits was granted as far back as 1711 and developed into the rice plantations for which this area of South Carolina was once famous. The work of clearing the cypress swamps and converting them to rice paddies was backbreaking and done by slaves. When the Civil War began there were upwards of 630 slaves on the lands making up Willbrook and Oatland Plantations. The plantation house was occupied until 1895, but it seems like almost all of these antebellum homes, it eventually burned to the ground leaving only the chimney standing. Much of this information was gleaned from the many historical plaques that you will come across as you play this course.
So with that background in mind lets head through the magnolias and play some golf.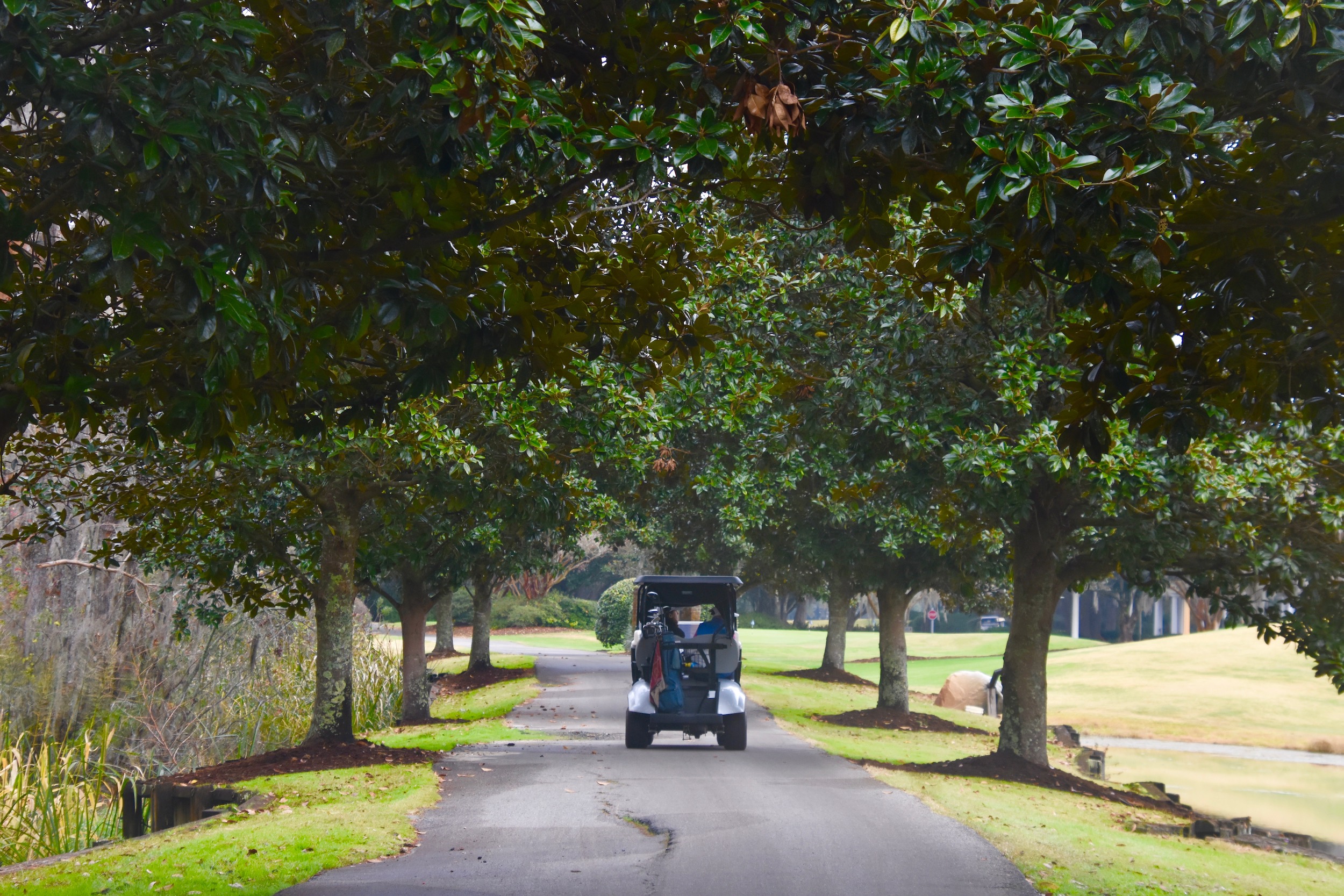 This course is one of number in the Myrtle Beach area designed by Pinehurst native Dan Maples including The Heritage Club which is also on the Waccamaw Golf Trail and definitely on my 'must play' list.
The opening hole is included in the 18 greatest holes on the Strand and it immediately sets the tone for the course. It also frequently makes lists of the best courses for women to play and since I'm playing with two today we are in the right spot.

What almost always comes to mind when you conjure up images of a southern plantation? Trees draped with Spanish moss is what I think of and that's the overall look of the front nine at Willbrook Plantation.
The second hole is the epitome of the earth tones of late autumn in the Low Country.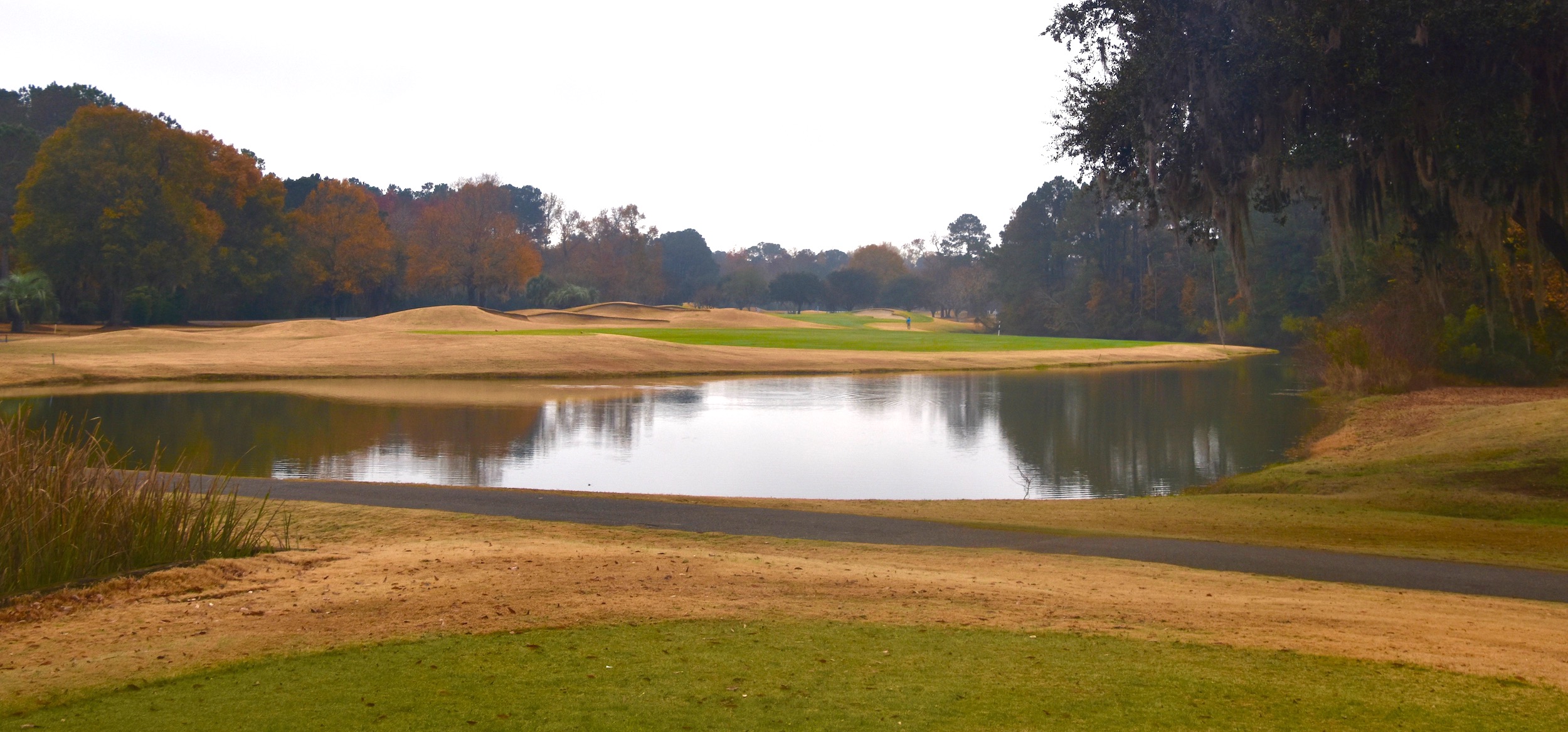 Near the 5th hole you come upon the remains of Willbrook Plantation house in a scene that's right out of Gone With the Wind.
Near another hole there is a slave cemetery with one solitary grave marker, that of Albert Doctor. A plaque provides the explanation – slaves who were born on a plantation and later emancipated would often request to be buried among there forebears as was the case with this man.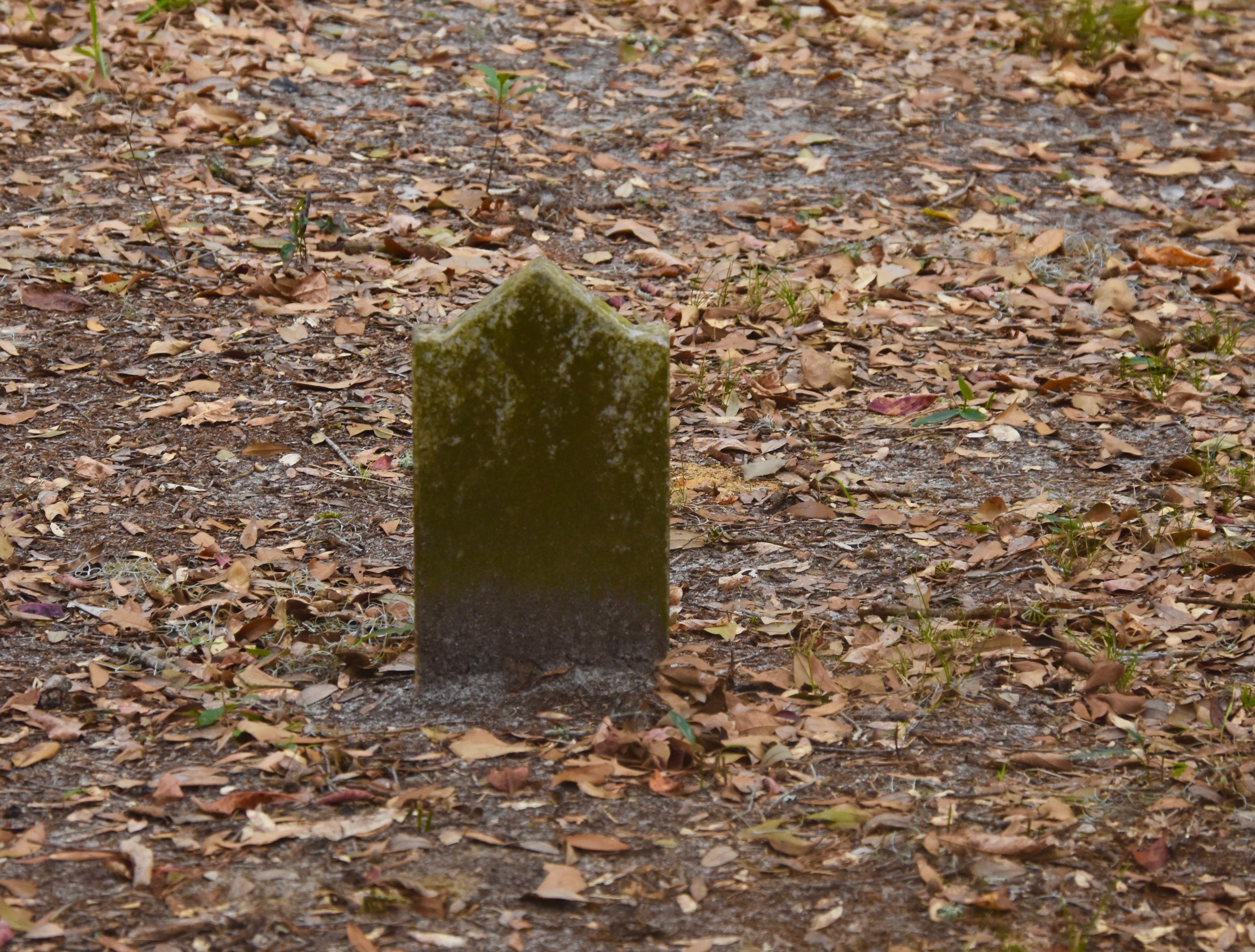 You might think that these reminders of the not so tranquil past of Willbrook Plantation might put a damper on playing here, but it does not. In fact, the opposite is the case as you are enlightened by the history. On the day we played the group in front of us consisted of four young black men, so if it didn't bother them playing on ground where their very ancestors might have been slaves, then it shouldn't bother anyone else. History is history and the more we learn of it, warts and all, the better informed we will all be making decisions in the 21st century.
OK, enough with the proselytizing, back to the golf. I think of the five courses we played while at Litchfield by the Sea, Willbrook Plantation was my favourite. It simply has a wonderful flow to it, with two distinct nines, the front featuring the plantation look with the oaks and Spanish moss, while the back is a bit more open with holes like #12 with its huge waste bunker.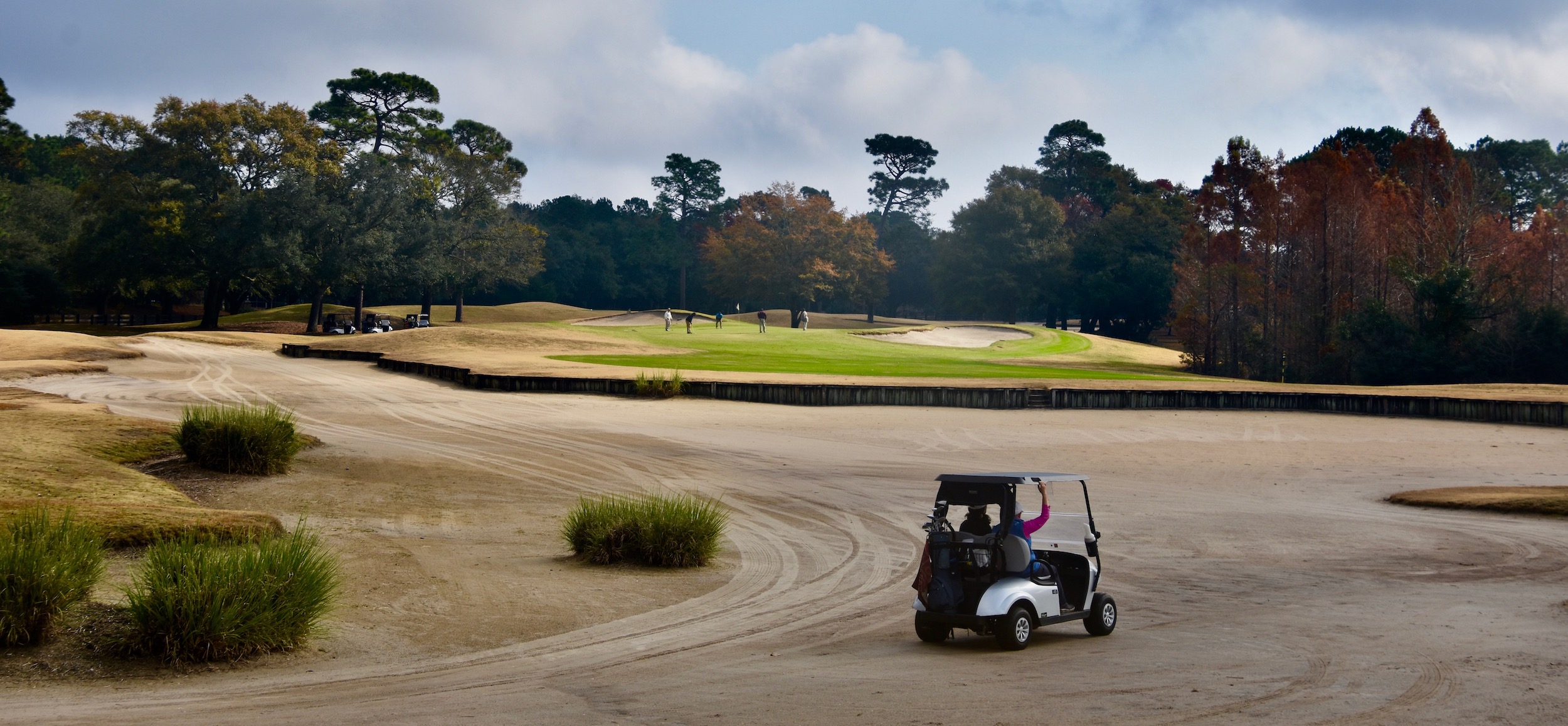 #15 is the most difficult hole on the course, a lengthy par five that requires a good tee shot over a water hazard that longer than it looks in this photo.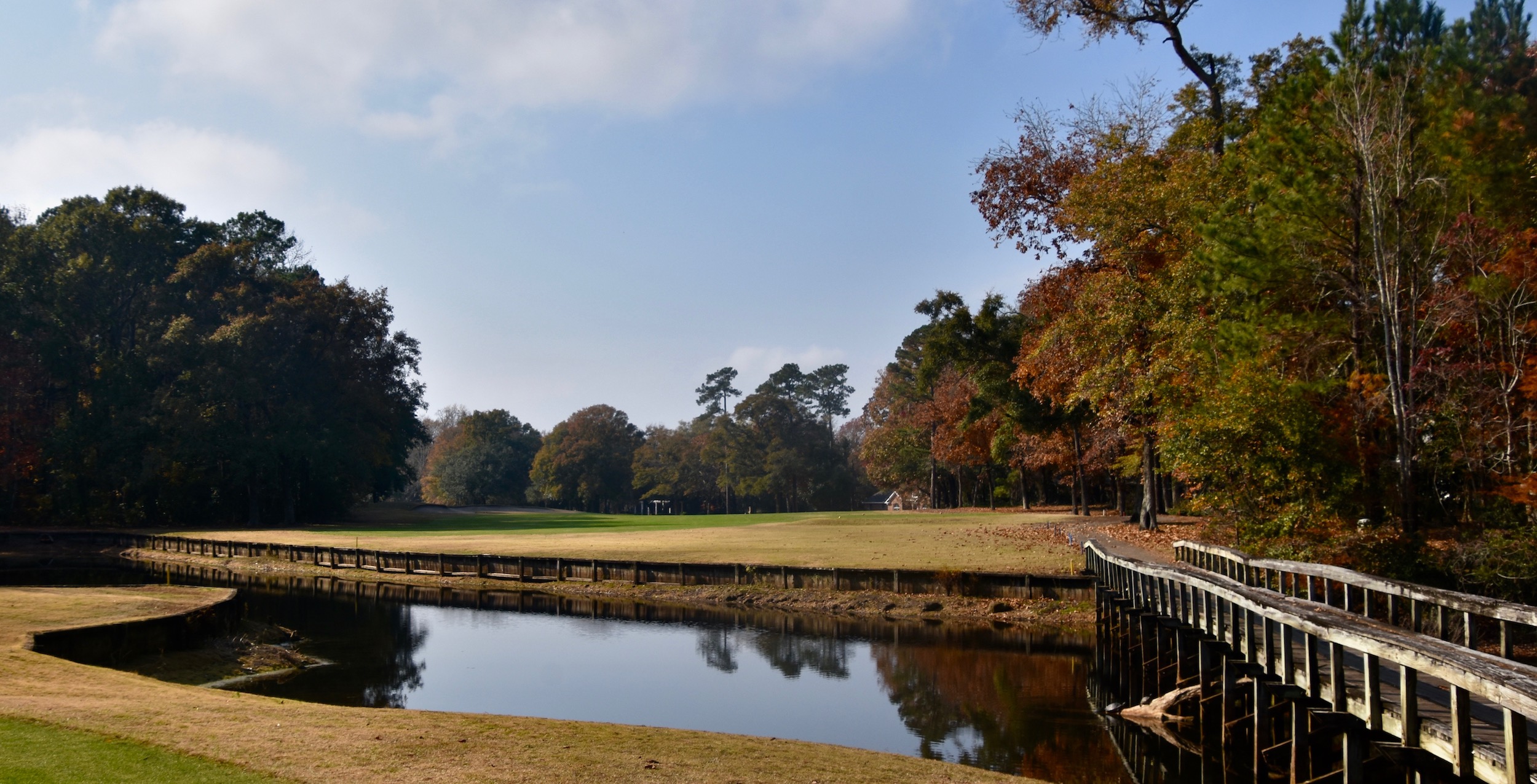 The steeplechase is not over on #15 after clearing this first obstacle as you need to do it again on your second shot. This is an all round great golf hole that I would put up against any in Myrtle Beach.

The bottom line about Willbrook Plantation is that is should be on everyone's playlist on the Waccamaw Golf Trail.
Now we're going to take a break from golf and do a little fishing.
To really appreciate everything you can do from Litchfield by the Sea you need to get out on the water and that was the plan as I booked a four hour morning fishing excursion through FishingBooker.com that operates much the same way as many golf booking websites. It has connections to fishing captains throughout the country and you simply put in where you are located and it will find a suitable match.
The fishing charters on this part of the Strand all take place out of Murrell's Inlet which is the next community north of Litchfield by the Sea. It was a beautiful Saturday morning and precisely at 7:00 AM we headed out with Captain Robby in search of sea trout, redfish and black drum. He did warn us that given the tidal conditions the fishing would be slow and he was right. However, I have been out on dozens of fishing charters around the world, sometimes having a bonanza day and other times catching nothing, but never once have I had a bad time. The old saying about the worst day of fishing compared to being in the office, is absolutely true.
I mean how beautiful is this.

There is something about fishing that is intrinsically calming, at least until you get something on the line, which was really a worry this morning. We caught one little bluefish and returned him to his home.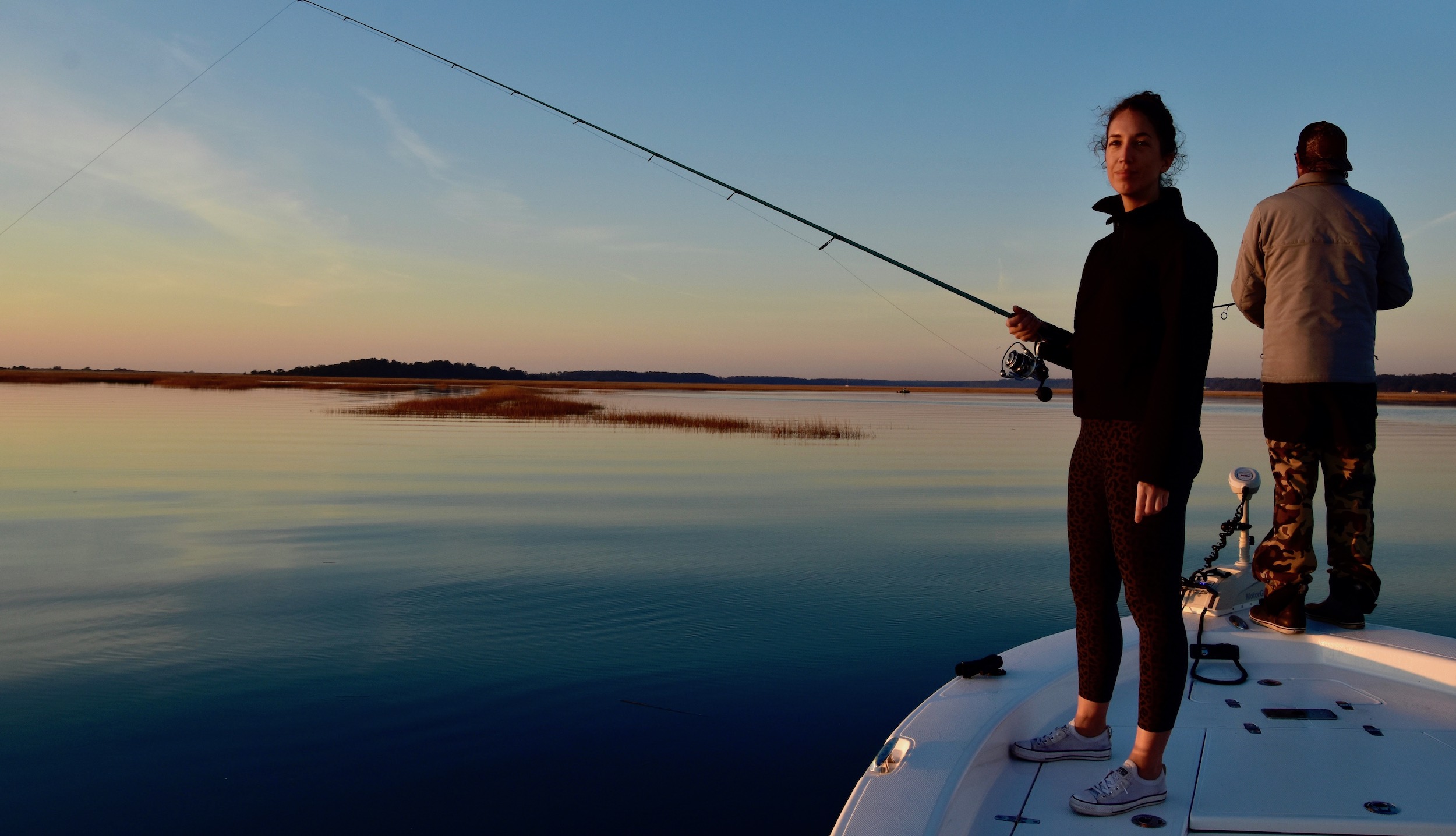 We plied the inland waters and headed out to the jetty at the mouth of Murrell's Inlet and along the way saw a great variety of the birdlife that this area is so well known for. If you want to get a great close up of a great blue heron it will probably happen from a boat.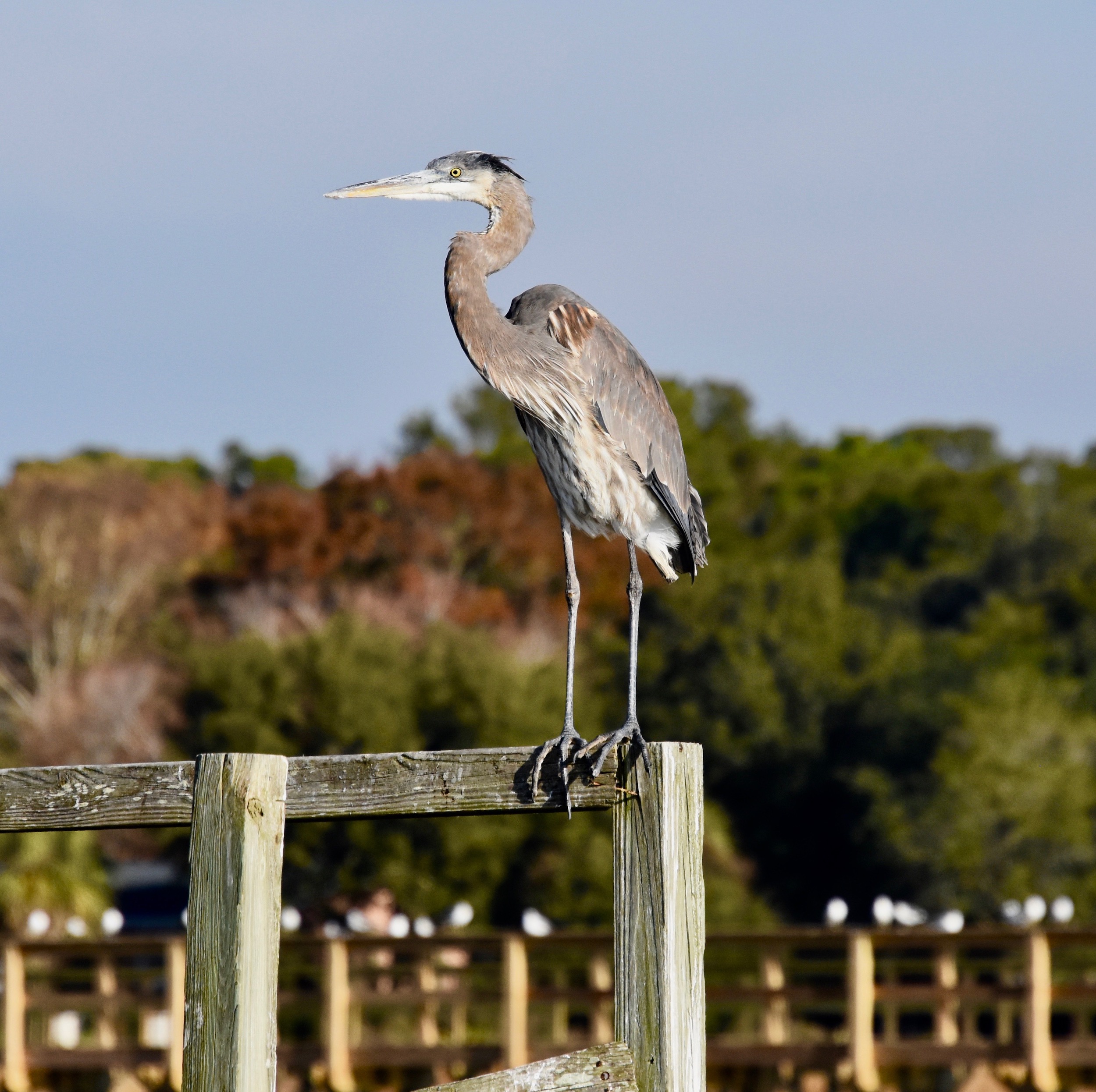 Or how about these three pelicans?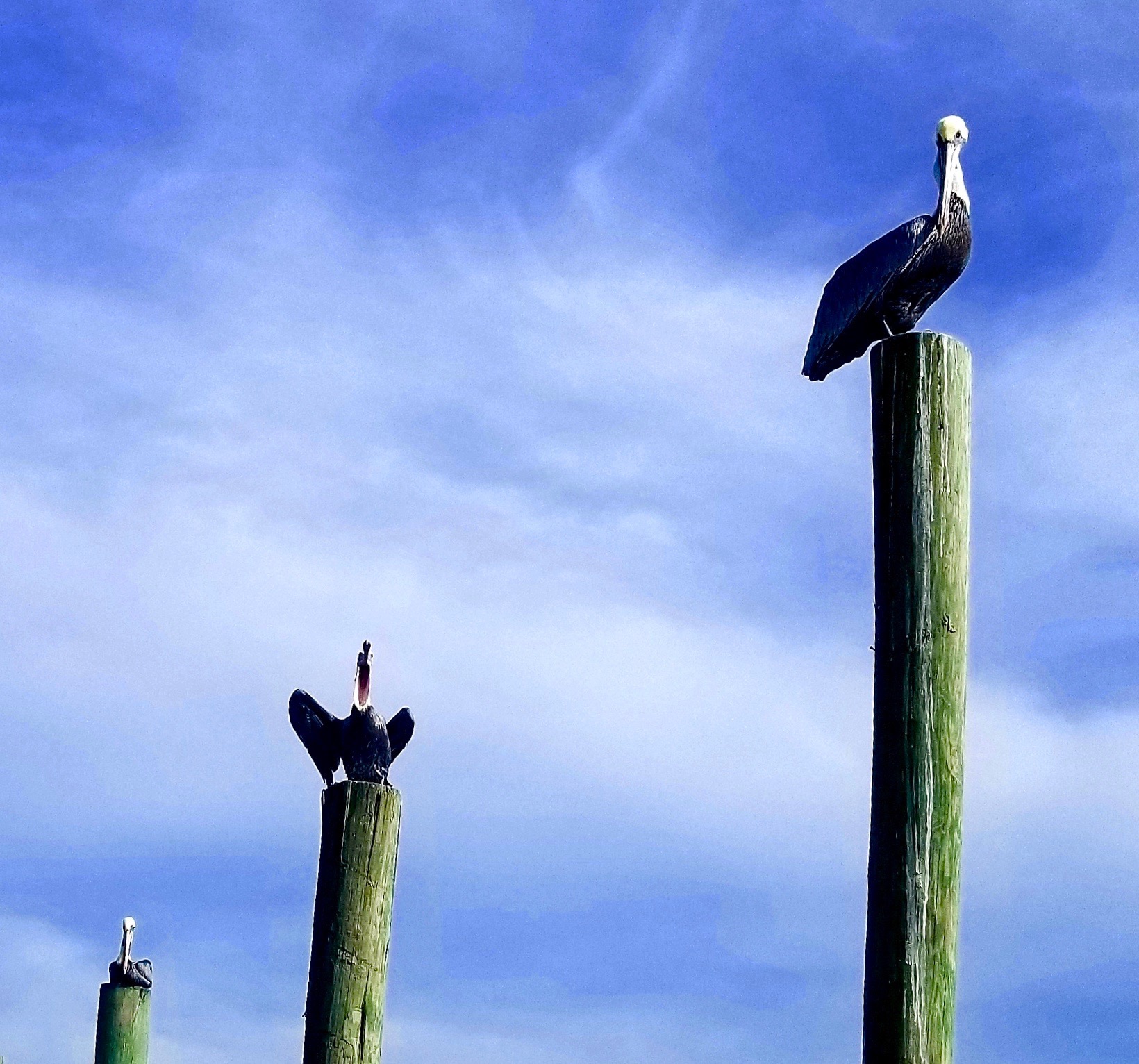 Turns out Captain Robby grew up with and was/is a close friend of local golf legend Dustin Johnson whose private cell # he had on his phone. His stories about Dustin's natural prowess at every sport he turned his mind to, including bowling of all things, were a very entertaining diversion and took our mind off the lack of fish.
After returning to Murrell's Inlet we stopped for lunch at Graham's Landing which is a local institution featuring traditional Low Country cooking. The grilled oysters with a cup of Grambo's Low Country stew on the side washed down with a Yuengling really hit the spot.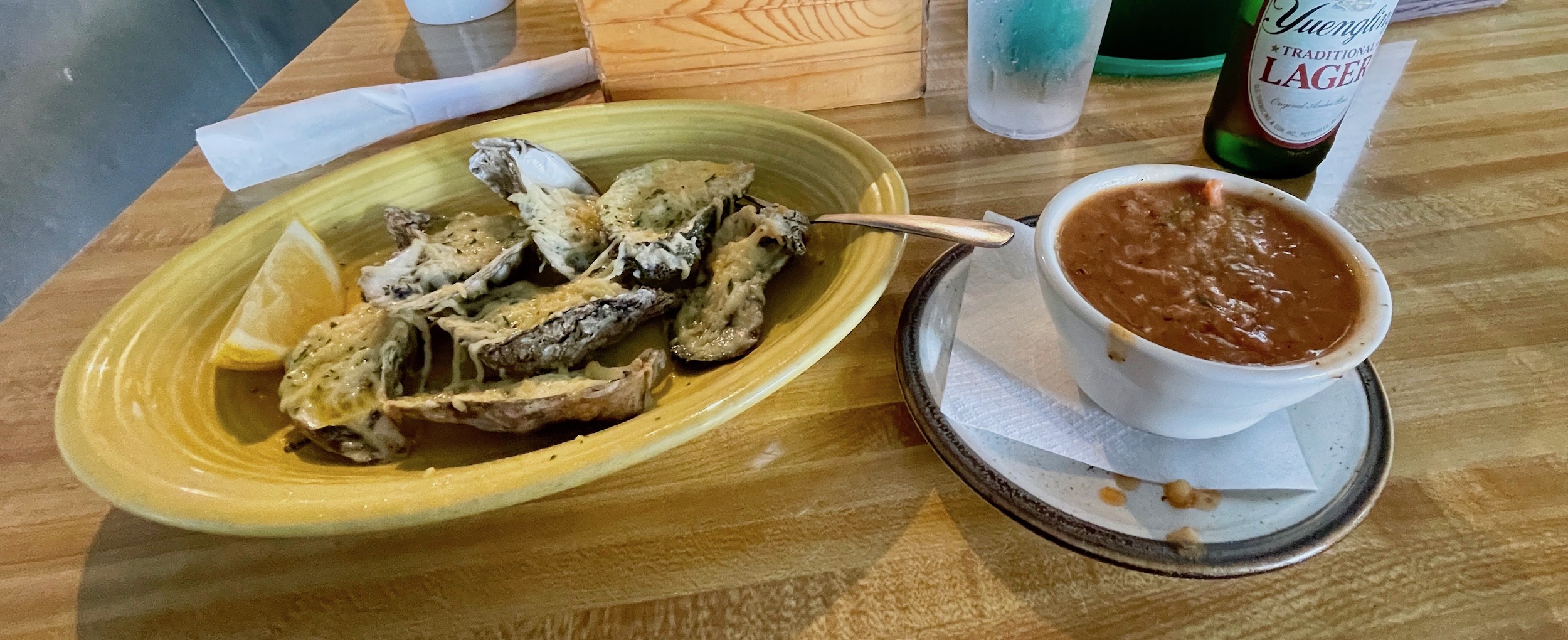 Alison loved the fish tacos, rapidly becoming a staple in every southern restaurant after originating in Mexico.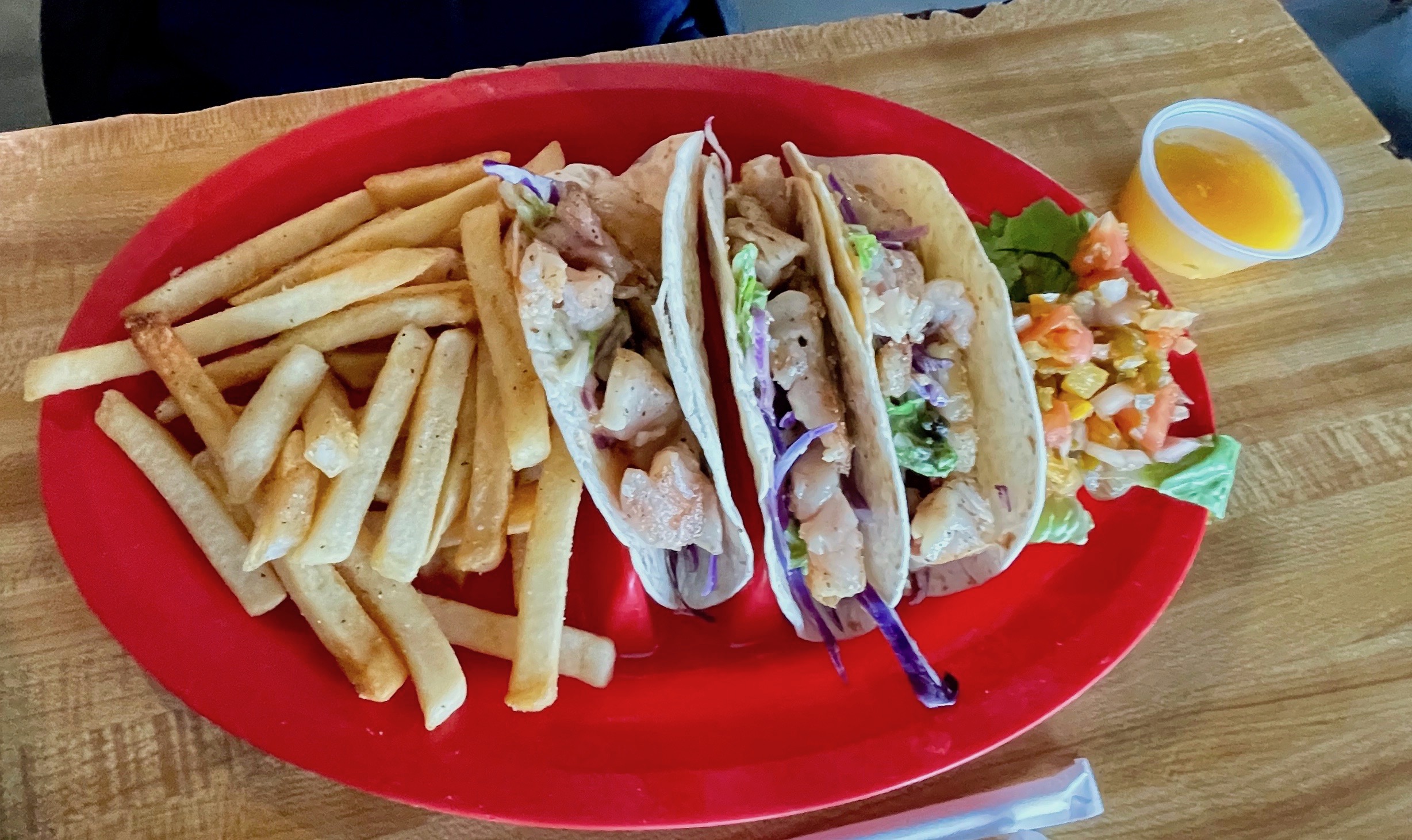 Our daughter the vegan had to settle for fried green tomatoes and deep fried pickles.
After lunch we returned to Litchfield by the Sea where I went for a long beach walk while Alison and Lenore did some Christmas shopping at The Hammock Shops Village, a collection of craft shops that's been around since 1938. Overall for all three of us, it was a perfect day off from golf.
TPC Myrtle Beach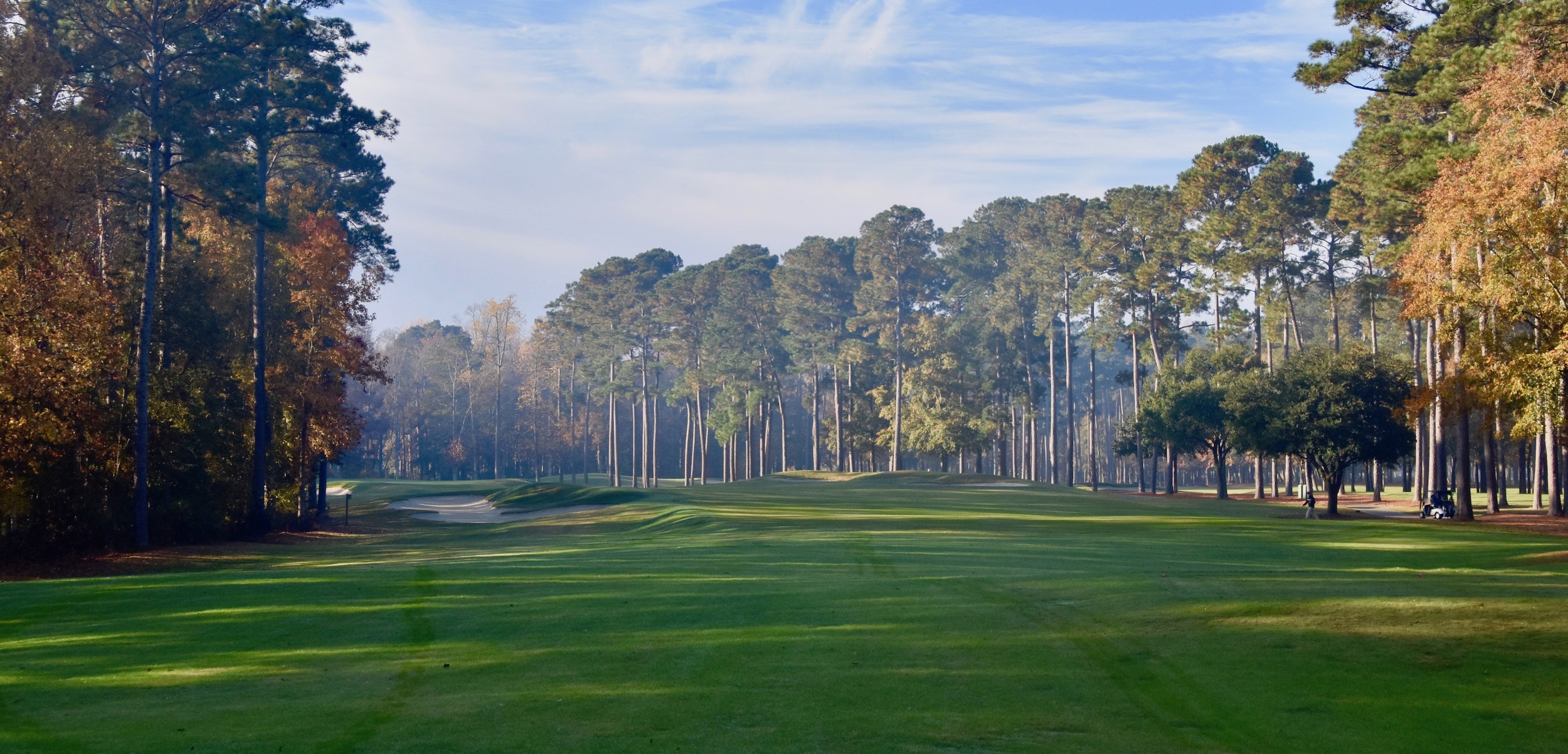 Next up on our Litchfield by the Sea golf tour was the TPC Myrtle Beach which is certainly the most ballyhooed course in the area and partially for good reason. It is a Tom Fazio design and shortly after opening it played host to the 2000 Senior PGA Tour Championship which was won by Tom Watson. There are now about 38 golf courses around the United States, Canada, Mexico and Puerto Rico that bear the Tournament Players Club logo originally made famous by Pete Dye's TPC Sawgrass which opened in 1980 and became an instant classic.  Most of these courses were designed to hold PGA, Senior PGA and/or Korn Ferry Tour events and thus have a certain cachet that would attract a high end golfer not put off by the high green fees that these courses charge. I have played a number of these TPC courses over the years and because they were designed for tournament play and thus must accommodate large crowds they tend to have a certain sameness to them – lots of open space. Think TPC Scottsdale or TPC Southwind in Memphis.
However, this does not seem to be the case at TPC Myrtle Beach which might explain why it only hosted the one big time event. The other common trait among these courses, and this makes perfect sense, is that they are all long and difficult. This was the longest course from the ladies tees that we played. The other thing to expect from TPC courses are they will be in condition and TPC Myrtle Beach was that. So let's go play it.
Anyone who has read a number of my golf posts will know that I hate cart path golf. Therefore I was not pleased that three of the par fours and two of the par fives would be cart path only. I was even more taken aback to find that some of them, notably 18 were deliberately built that way. The problem with cart path golf is that it slows the game to a crawl and you are constantly guessing at how many clubs to take. This problem would be lessened if there was a GPS system in the cart so at least you could drive up parallel to you ball and get some idea of the yardage. However, none of the courses we played offered GPS on the carts. The extra time added because of the cart path only rule is acknowledged on the scorecard which suggests and average playing time of 4:40 which in my humble opinion is way too long.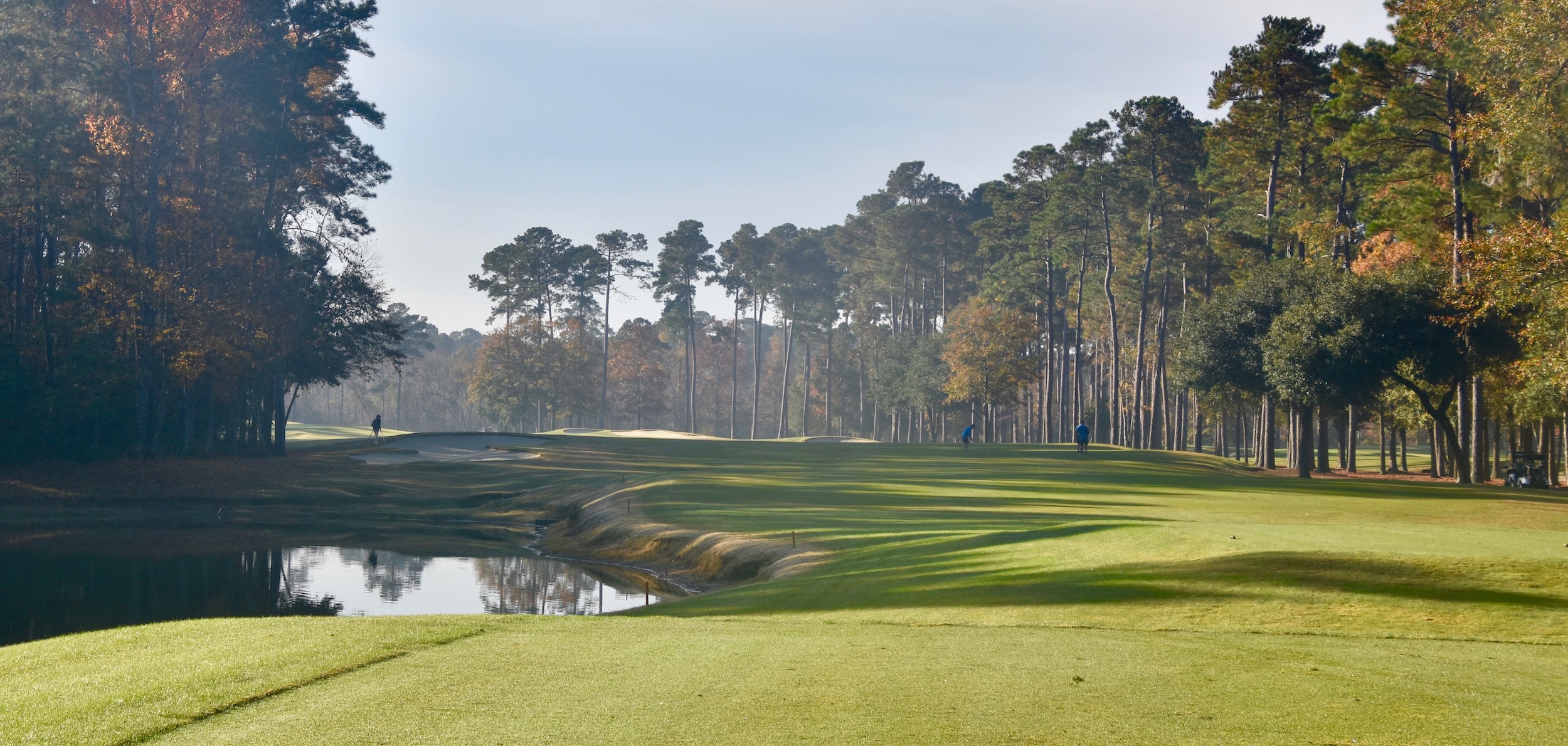 Holes one and two are both cart path only which really is not the way you want to start a round, but enough carping here are some the holes I really liked.
The first par three, #5 is a nice looking hole with some surprising elevation changes that has the look of a North Carolina sand hills hole. It's a 133 all cary shot from the white tees that requires conviction in your choice of club.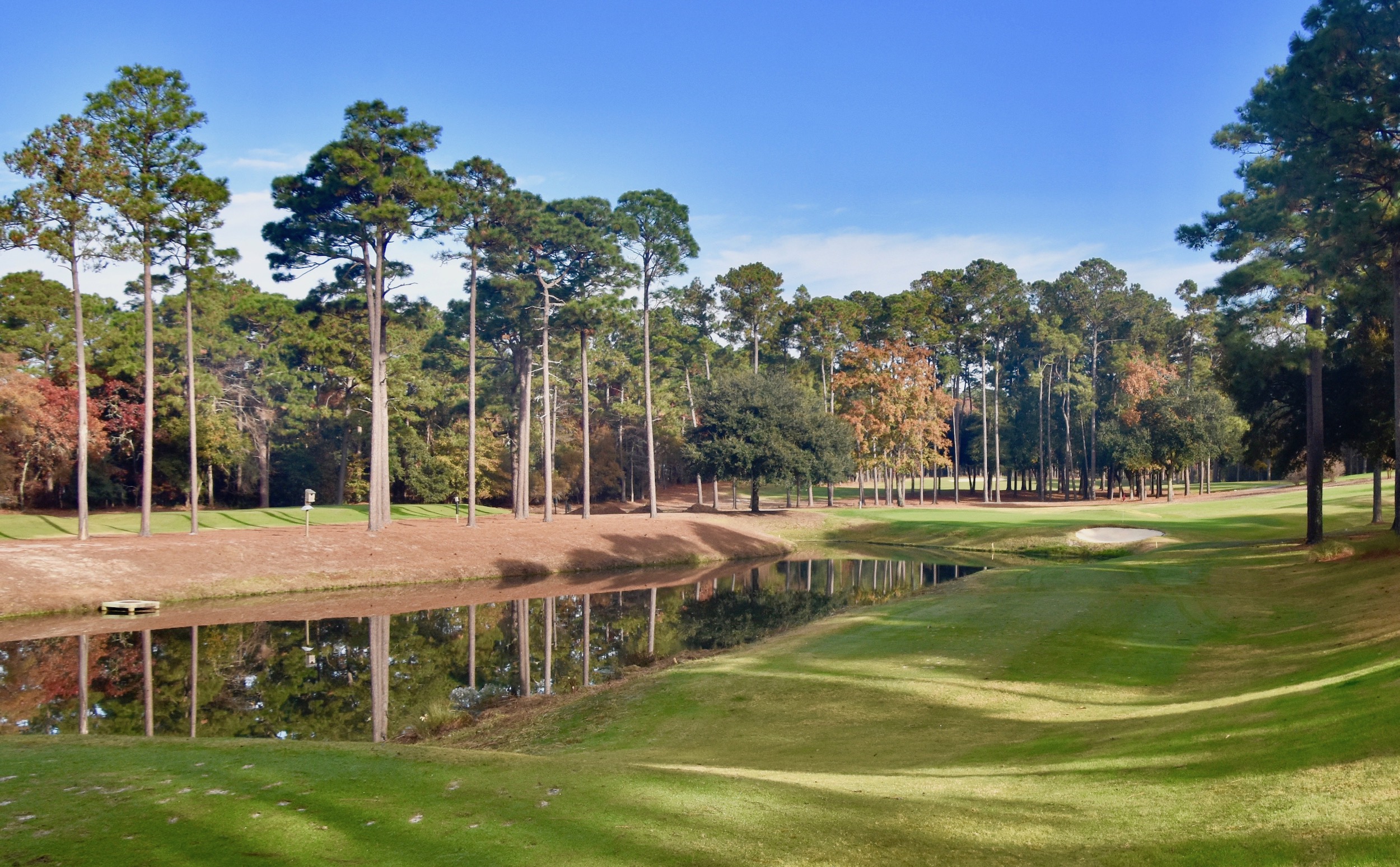 I should mention that there are two par fours on the front nine that are nice looking, but very difficult, particularly #9 that plays to a brutal 445 yards from the white tees and 432 from the geeezer golds. #3 is a little less daunting at 410 yards, but that's still requires two very good shots from a mid-handicapper like me. So while I wouldn't call these two holes particularly enjoyable to play, they would be a fair challenge to low handicappers.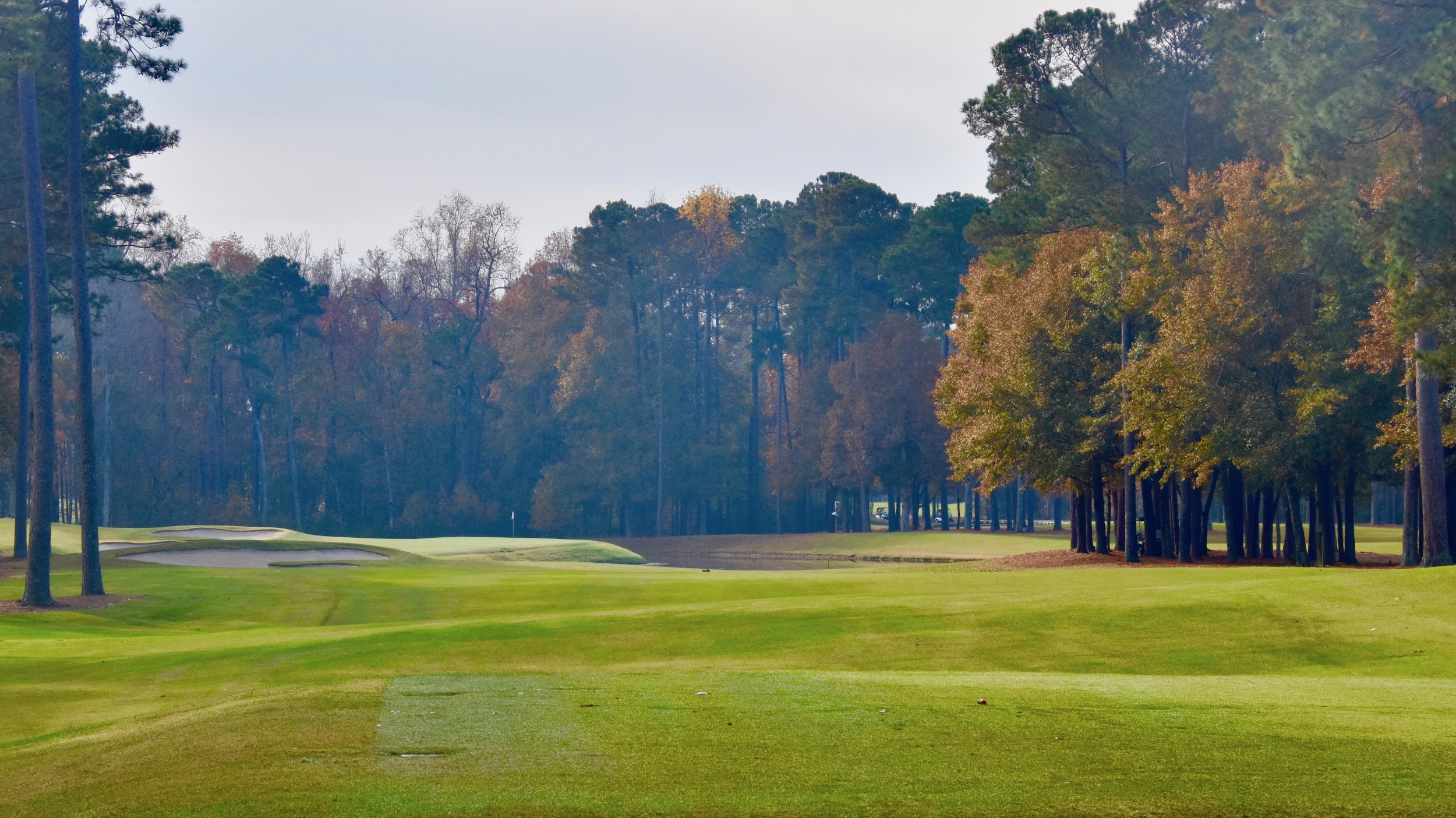 #10 is a great start to the back after the nastiness of #9. At only 322 yards from the whites it offers a generously wide fairway allowing one to takeout the driver to get the extra distance that will make the approach shot easier to hold on this narrow green.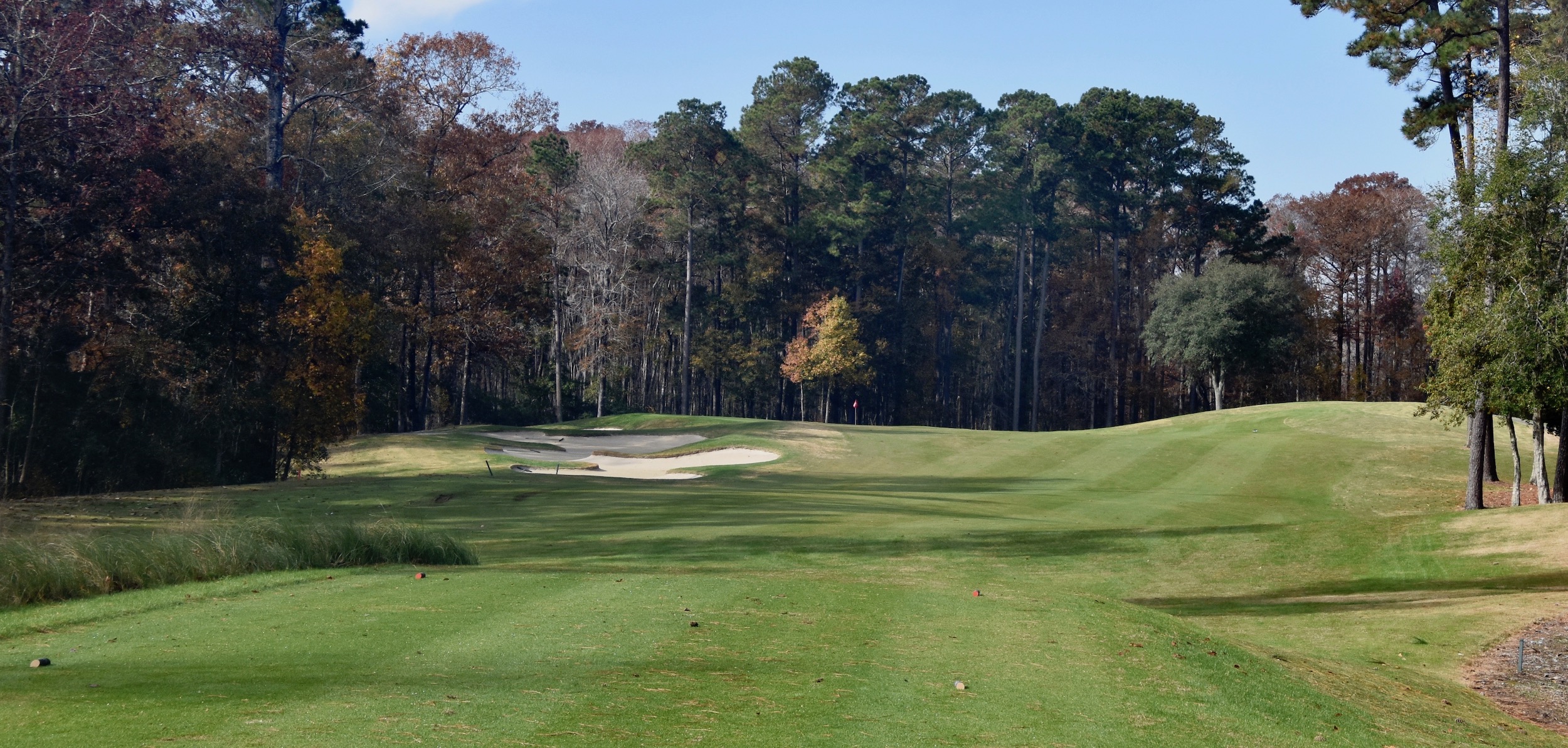 #12 is the ultimate feel good par four and probably the easiest birdie hole I played all week. Usually a par four that is only 277 yards long has something to make it harder than the yardage suggests – like a tiny green surrounded by traps or a really tricky green with multiple tiers. While there are traps on the left side, all you need to do is keep a wood or a hybrid down the right side and it's an easy wedge for a good birdie shot.
#17 should be called the aviary as there were at least fifteen different species of birds hanging around it including somewhat ominously, vultures on the green. The pond had to be loaded with fish as most of the collected group other than the vultures were pescatarians. This actually a tricky par three. From the tee it looks like the green has a bank behind that you could use as a back stop, but this is an optical illusion. There is water on three sides of this green so precise club selection is required. The trap on the left is well placed to prevent golfers from chickening out and hitting well away from the water. This is a very memorable hole.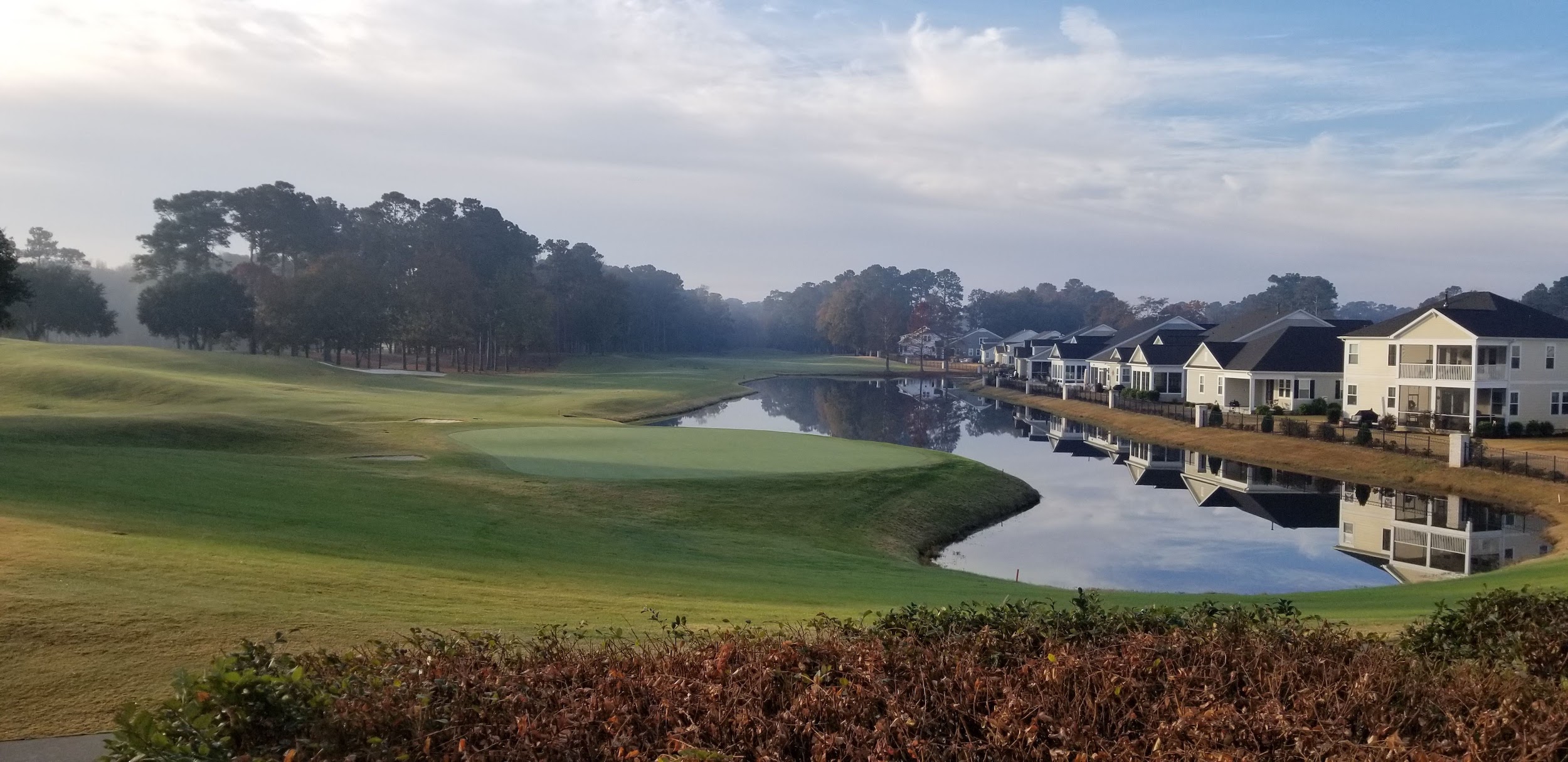 #18 is a hole you might have a love hate relationship with. You will hate it because it is cart part only and there is a ditch running down the right hand side of the fairway (left in these photos) that you need to cross at least twice if not three times. As you can see there are footbridges at various intervals. Since you are going to want to stay well away from the hazard as everything slopes towards it off the tee, you are likely to be miles from your cart which will require carrying multiple clubs to you position. Then you need to stay right as a large pond comes into play for the rest of the hole.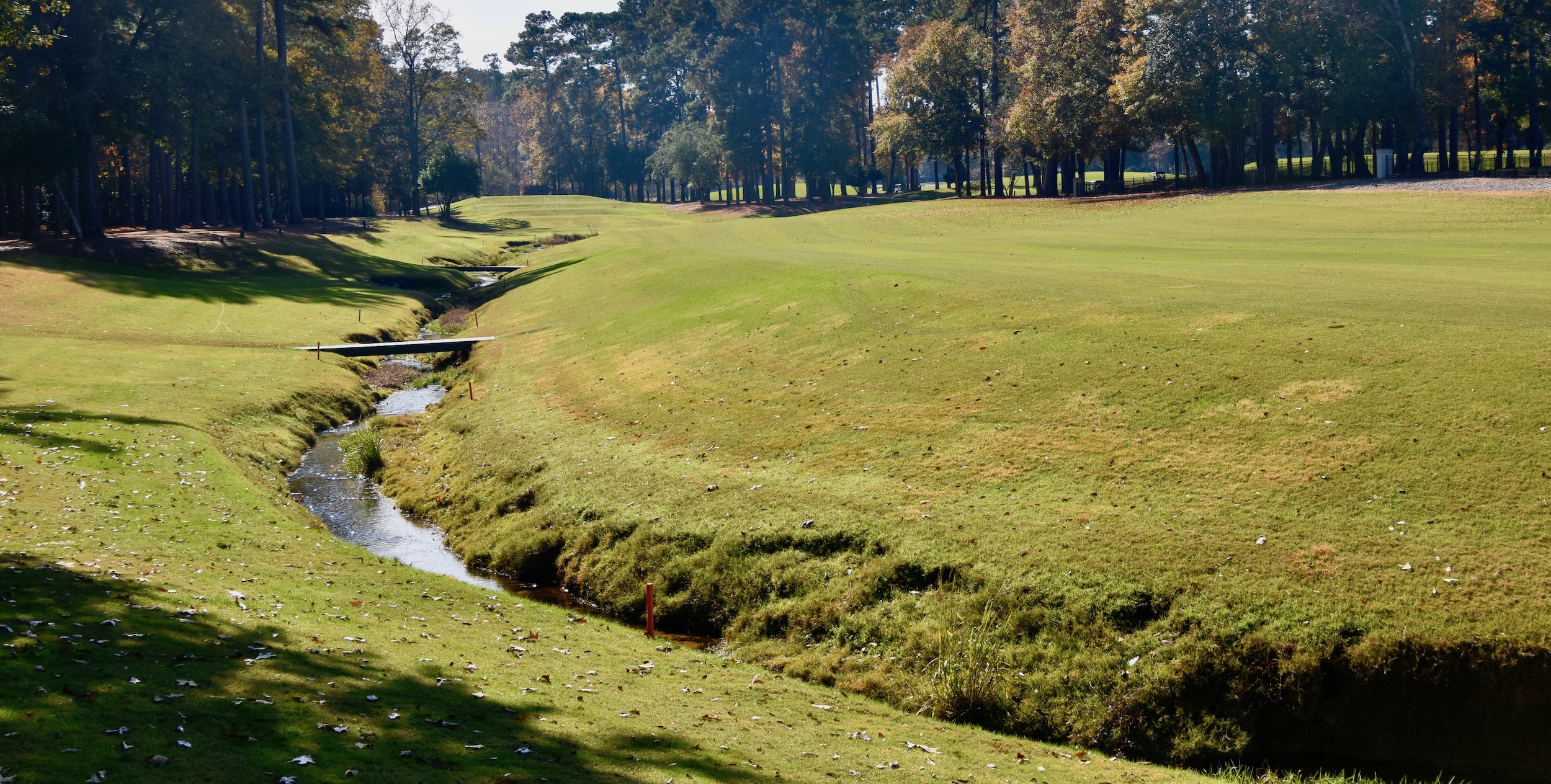 All that being said it is a great par five and finishing hole as the top photo taken from the clubhouse deck attests.
I think I have made my case that there are things you will like and things you won't like about playing the TPC Myrtle Beach, but you need to judge for yourself. Don't even think of passing up a chance to play this course.
River Club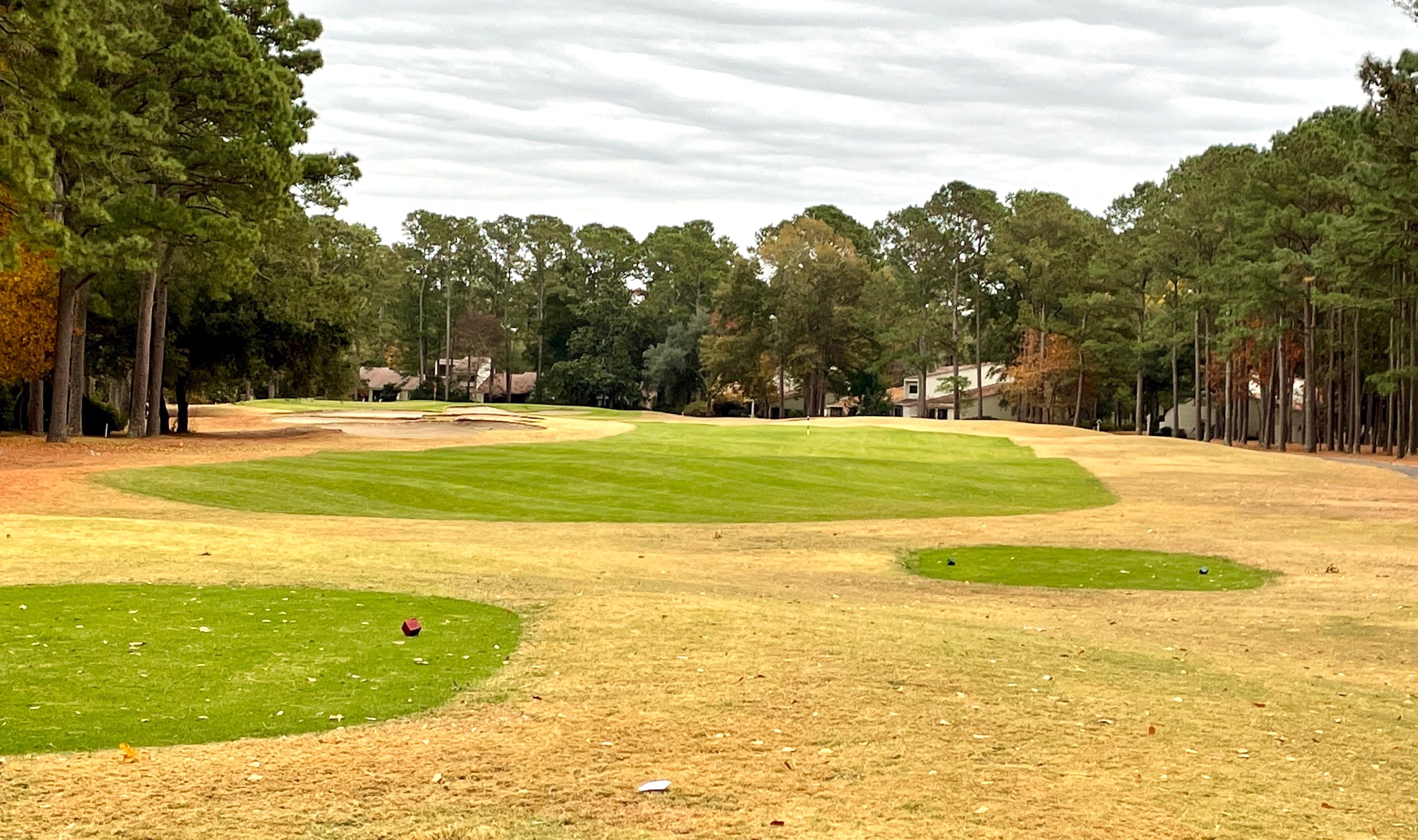 The final course on our Litchfield by the Sea golf tour was the River Club which turned out to be a fitting way ending. Lenore had returned to Toronto so we ended up playing with a very genial Connecticut transplant named Ed, which was a good thing because some local knowledge is useful on this course. There are doglegs on virtually every hole that's not a par three plus water on all but four holes. The 6,7 and 8th holes feature water down the entire length of the holes. Oh, and there's a ton of sand traps too. Despite all this the River Club is very playable and quite a fun layout.
I'll wrap up this post from Litchfield by the Sea by making a restaurant recommendation. Perrone's is less than half a mile from the entrance to the Litchfield Beach Resort and deserving of at least one visit during your stay. It is relatively small and intimate with quite an eclectic menu.
Back in Canada, I'm already dreaming of my next trip to Litchfield by the Sea and more great golf courses on the Waccamaw Golf Trail.