Lake Nakuru, Kenya – Not Just for the Birds
This is my fourth post on a recent trip Alison and I took to the fantastic country of Kenya courtesy of Adventures Abroad and their Kenyan representatives, Discover Safaris. Originally I was going to do a post on each game drive, but decided instead to post a comprehensive photo gallery with shots from all of the parks we visited. However, I am still going to do a post on each park and this one is Lake Nakuru National Park.
As a birder since my early teens, I had heard of Lake Nakuru and its famous flamingos for decades. National Geographic ran several stories over the years on the Lake Nakuru flamingos and recently named it as one of the top 10 colourful scenes on earth. Needless to say it was a mandatory destination on the Kenya trip and I was really psyched about getting there. When our driver and guide Richard Warukira told us on the way to Lake Nakuru that the flamingos might not be there, I was crestfallen to say the least. What happened to them and where did they go? Read on and I'll explain, but first let me tell you about the great game lodge we stayed in at Lake Nakuru National Park and how we got there.
Ol Pejeta to Lake Nakuru
Our first three days were spent at Sweetwaters Camp in Ol Pejeta Conservancy and I wrote this post about our fabulous stay there. BTW one definitely needs a thesaurus to adequately find enough adjectives to describe the great things about the Kenyan parks and the great accommodation you find in them.
As the crow flies it's not that far from Ol Pejeta to Lake Nakuru, but there's the Aberdare Mountain Range in between the cities of Nanyuki and Nakuru which is impassable by motor vehicle. So our route was more like a reverse N, first going south to Nyeri, then jogging northwest to Nyahururu and finally southwest to Nakuru. Almost the entire route was on paved highways with moderate traffic through relatively prosperous looking agricultural areas including tea plantations where field workers were hard at work.
There were many roadside stalls selling a great variety of produce with red onions and white potatoes the most predominant vegetables on display. Oddly enough neither tea, potatoes or onions are native to Africa.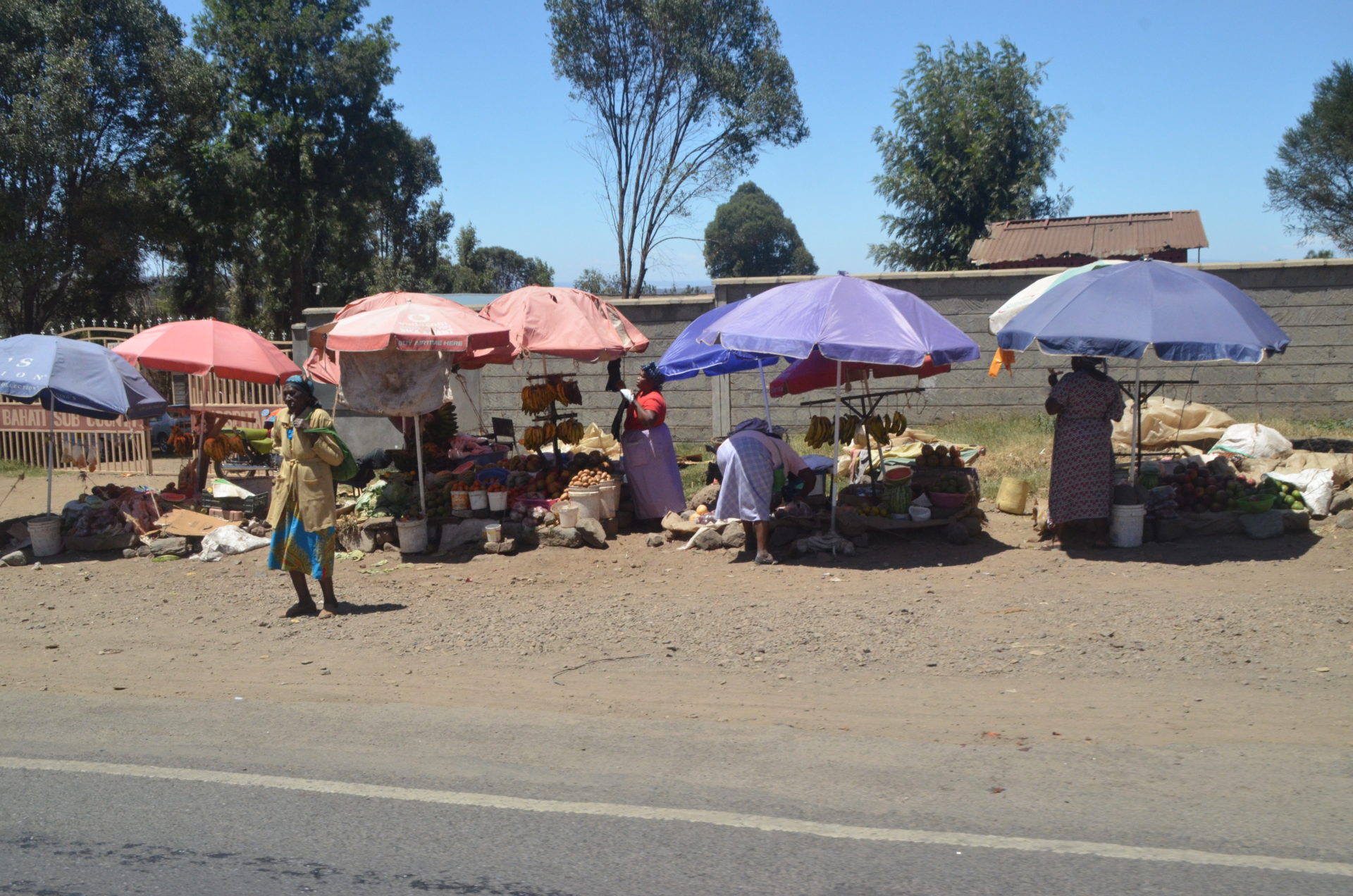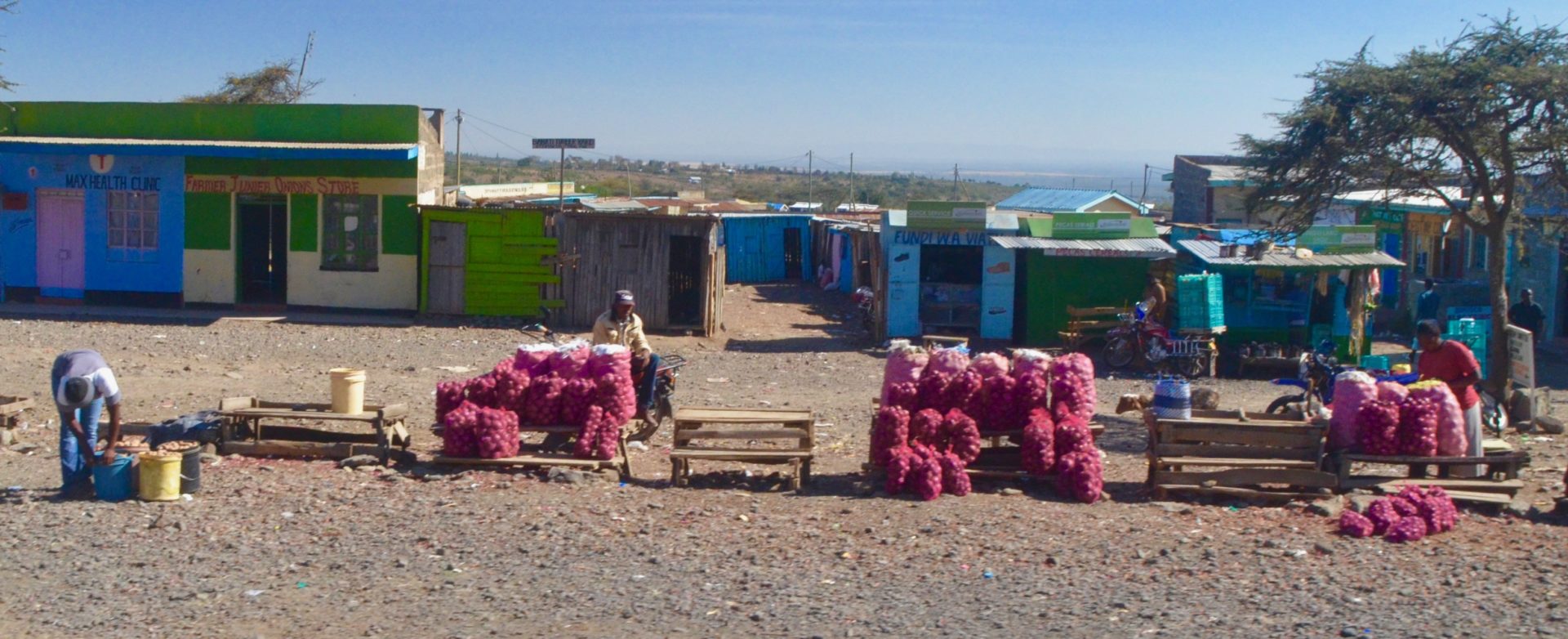 One of the reasons I love to travel in third world countries is that you get to sees things that you would never see in a nanny state like Canada or most of the EU. For example, three guys on a motorcycle.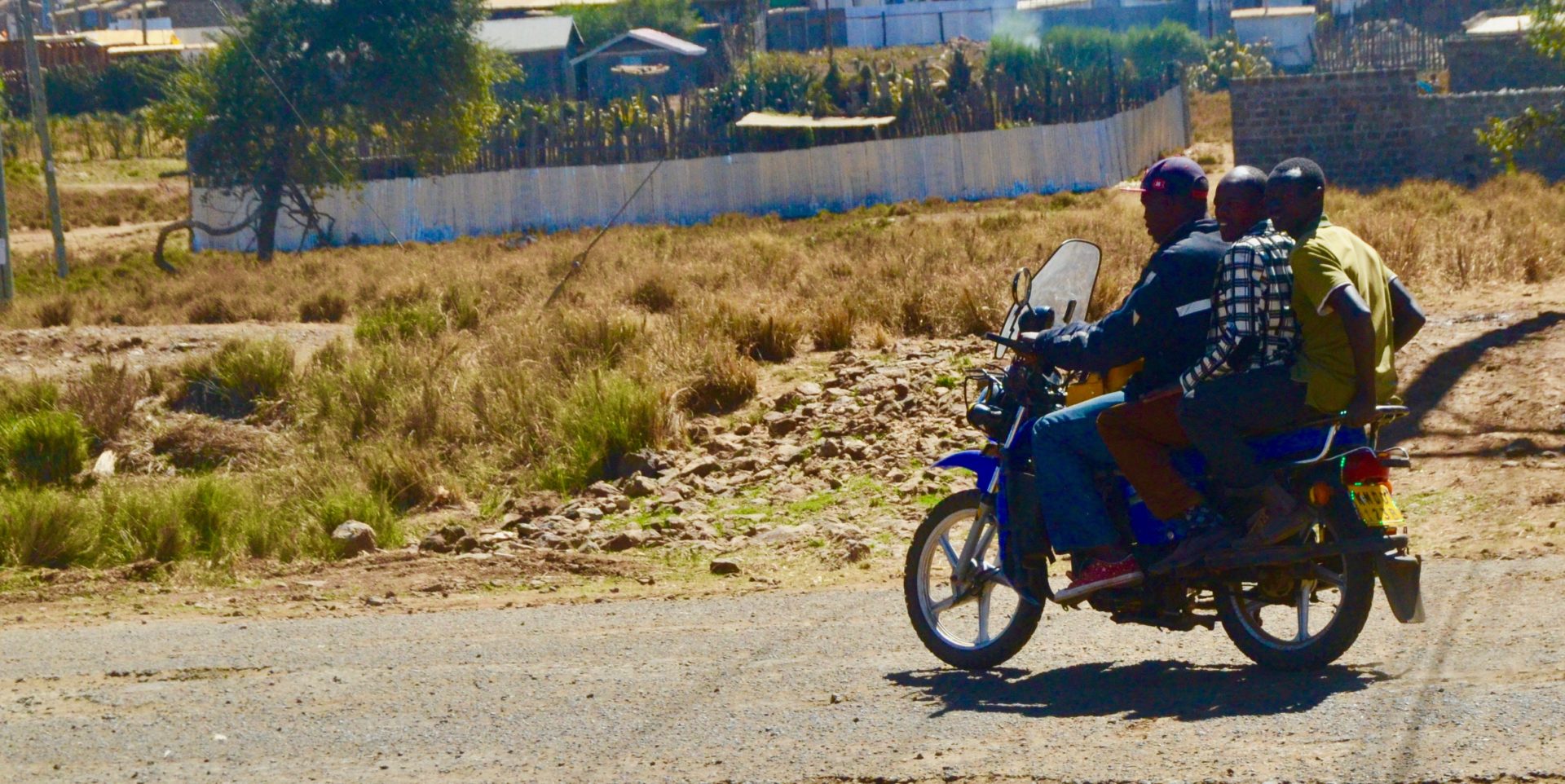 Or this obviously overloaded lorry – even if it is just foam.
Or this version of a carwash.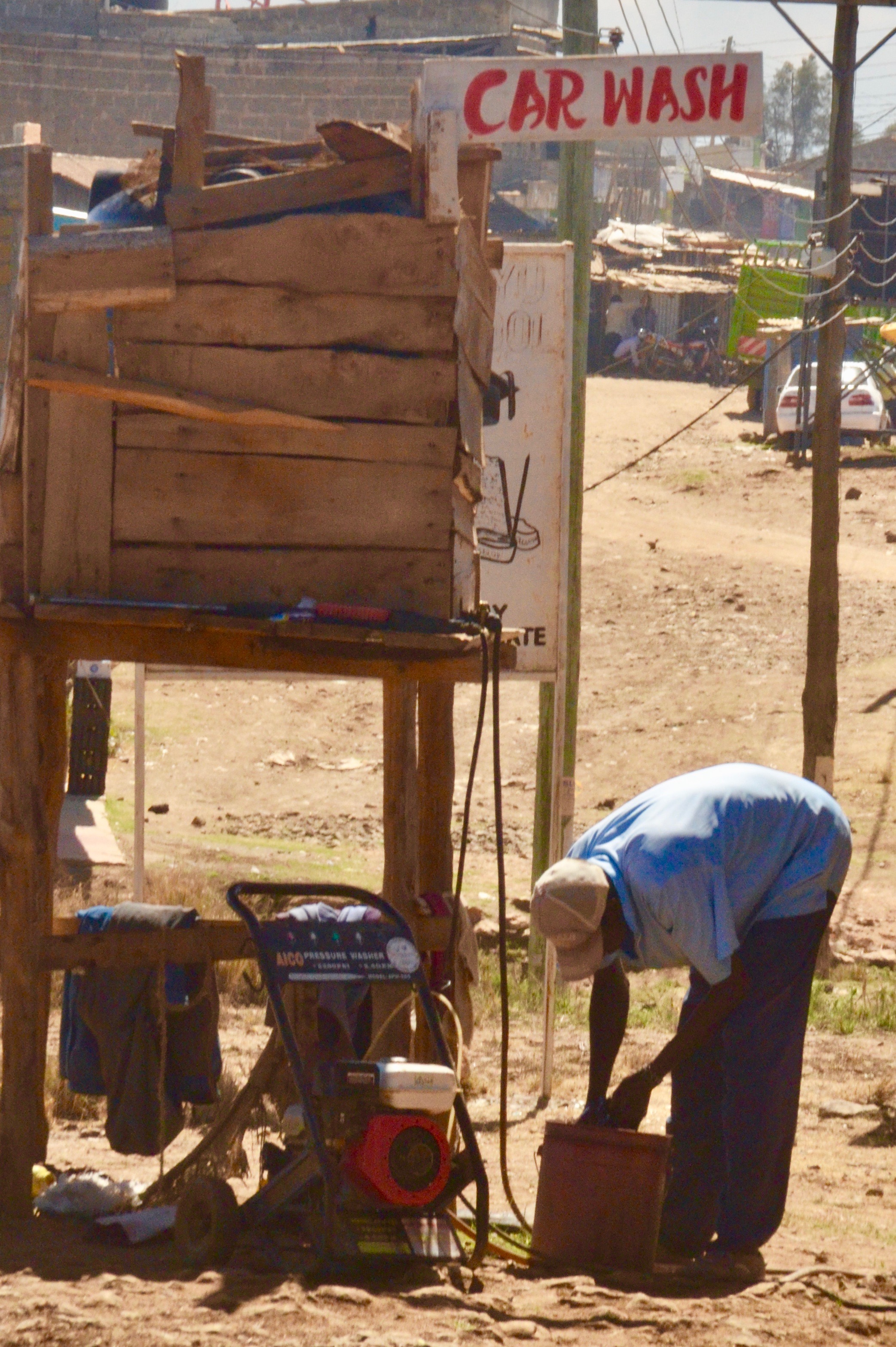 You also see a lot of agricultural equipment that has been jury-rigged to operate long after they would have been confined to the scrap heap back home. Take a good look at this tractor. At first glance it appears to be a Canadian Massey Ferguson, which I thought it was when I took the picture. But a closer look reveals that it's a Massey Fergussion, whatever the hell that is.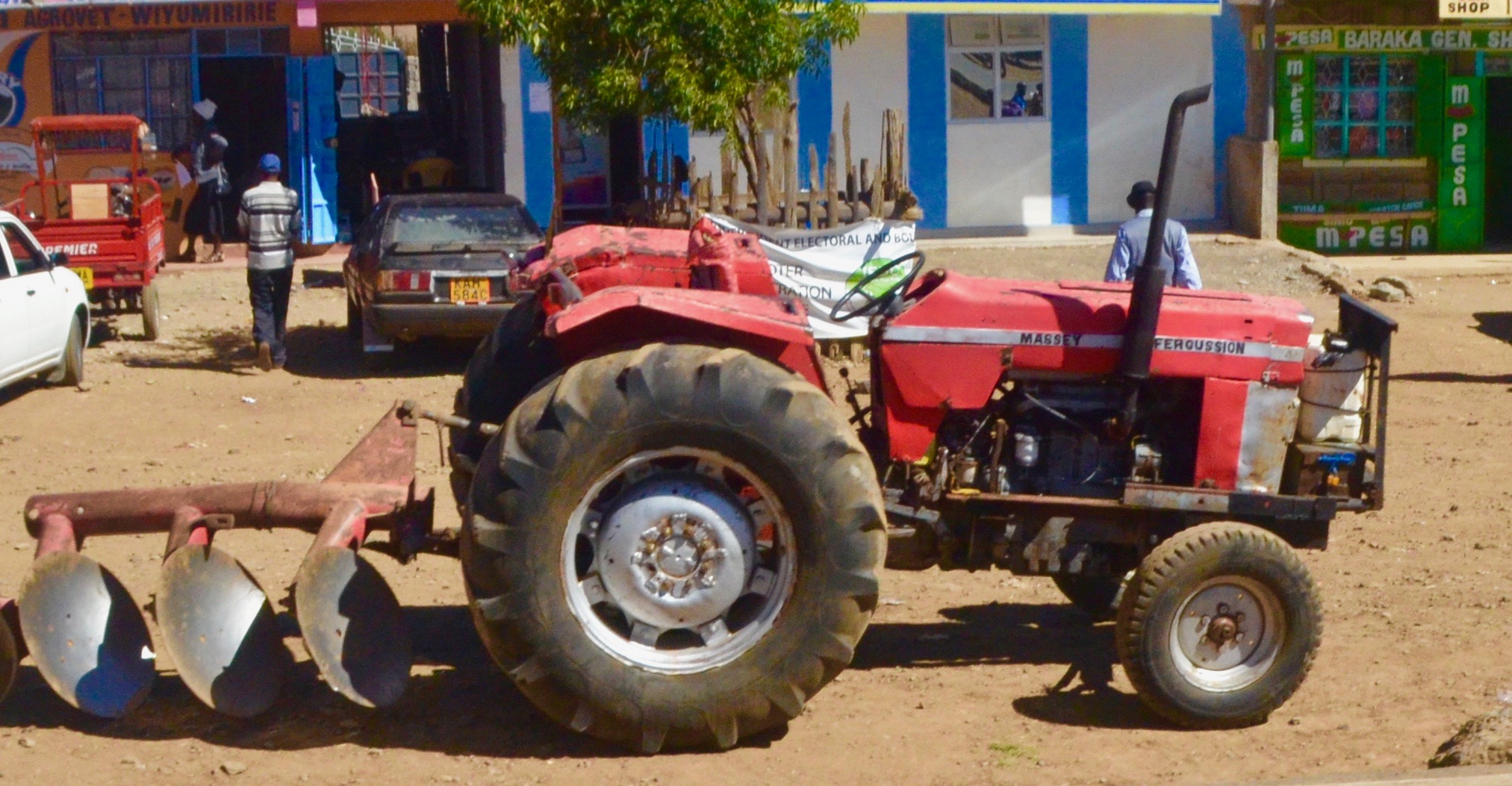 Donkeys are still a primary mode of transport in rural Kenya, particularly for delivering water.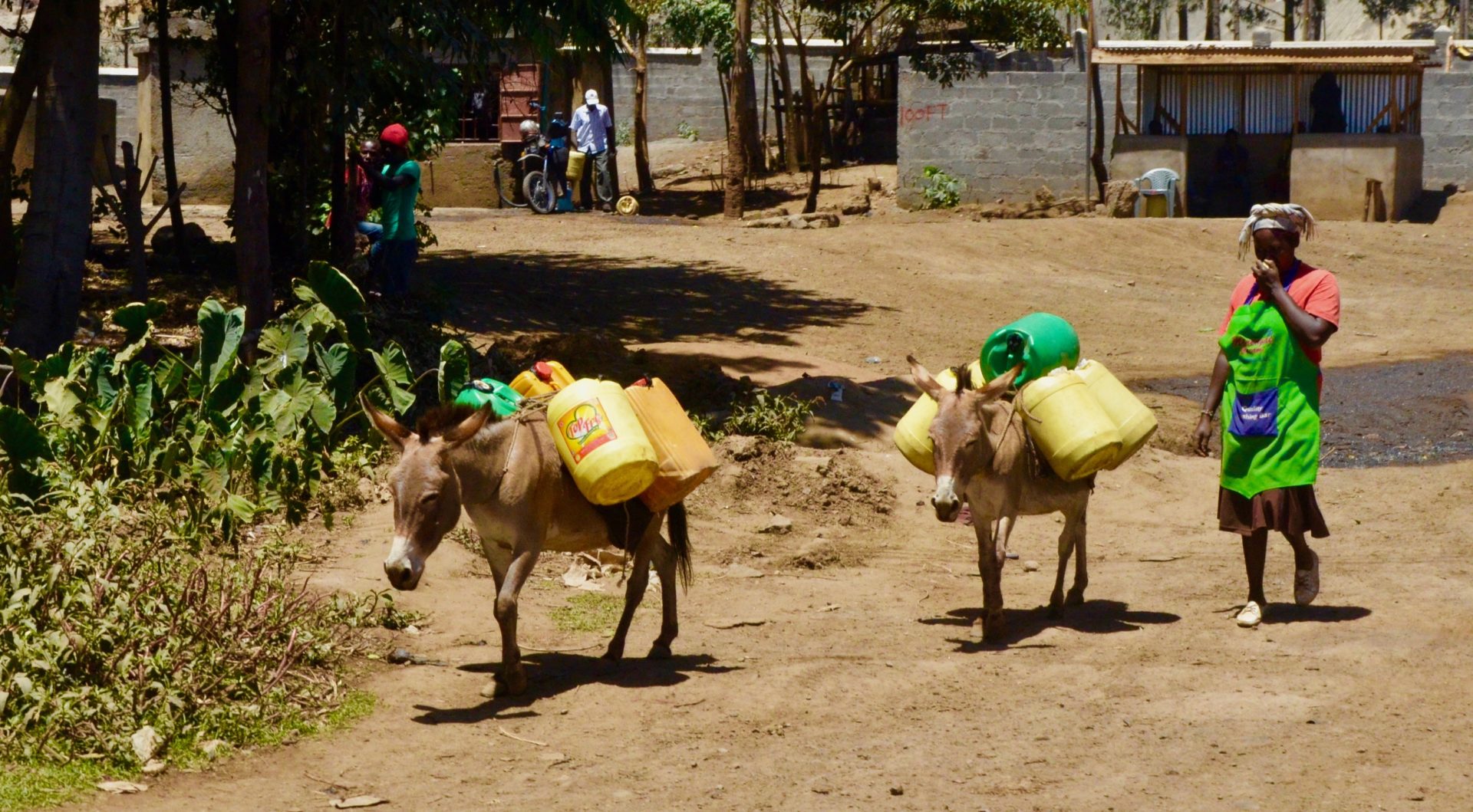 About halfway to Nakuru we passed through the town of Nyahururu which lies at an elevation of over 7,500 feet. It is the home to many of the famous Kenyan long distance runners, who along with the Ethiopians, have dominated marathon racing for the past thirty years. It is also the site of Thomson's Falls where we stopped for pictures, avoiding the locals dressed in native costume who wanted a fee to have your picture taken with them. I was quite happy just to have mine with my bride.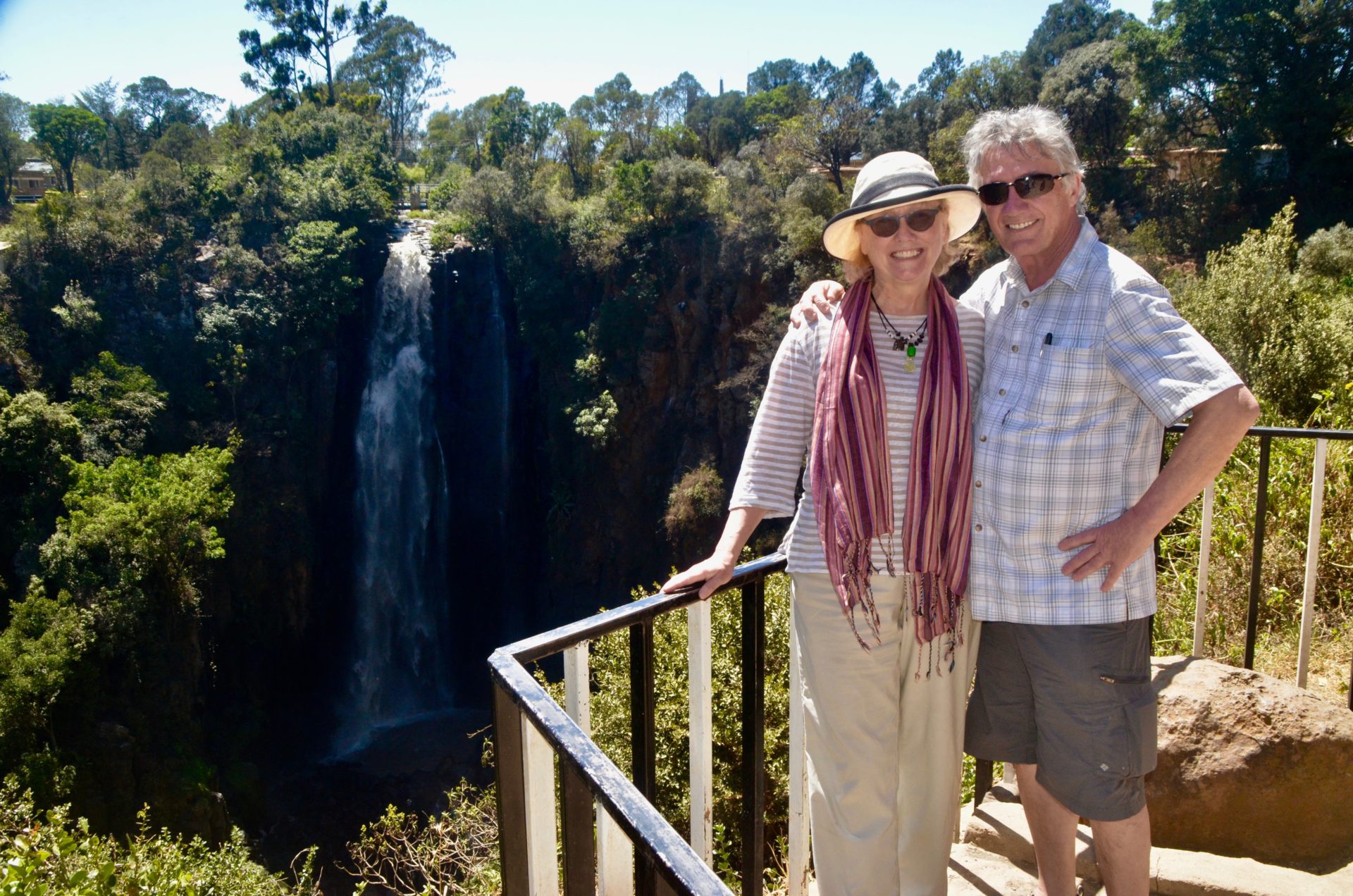 At 243 feet (72 meters) the falls are quite impressive and definitely worth a stop. There is no admission fee and it's right off the main highway.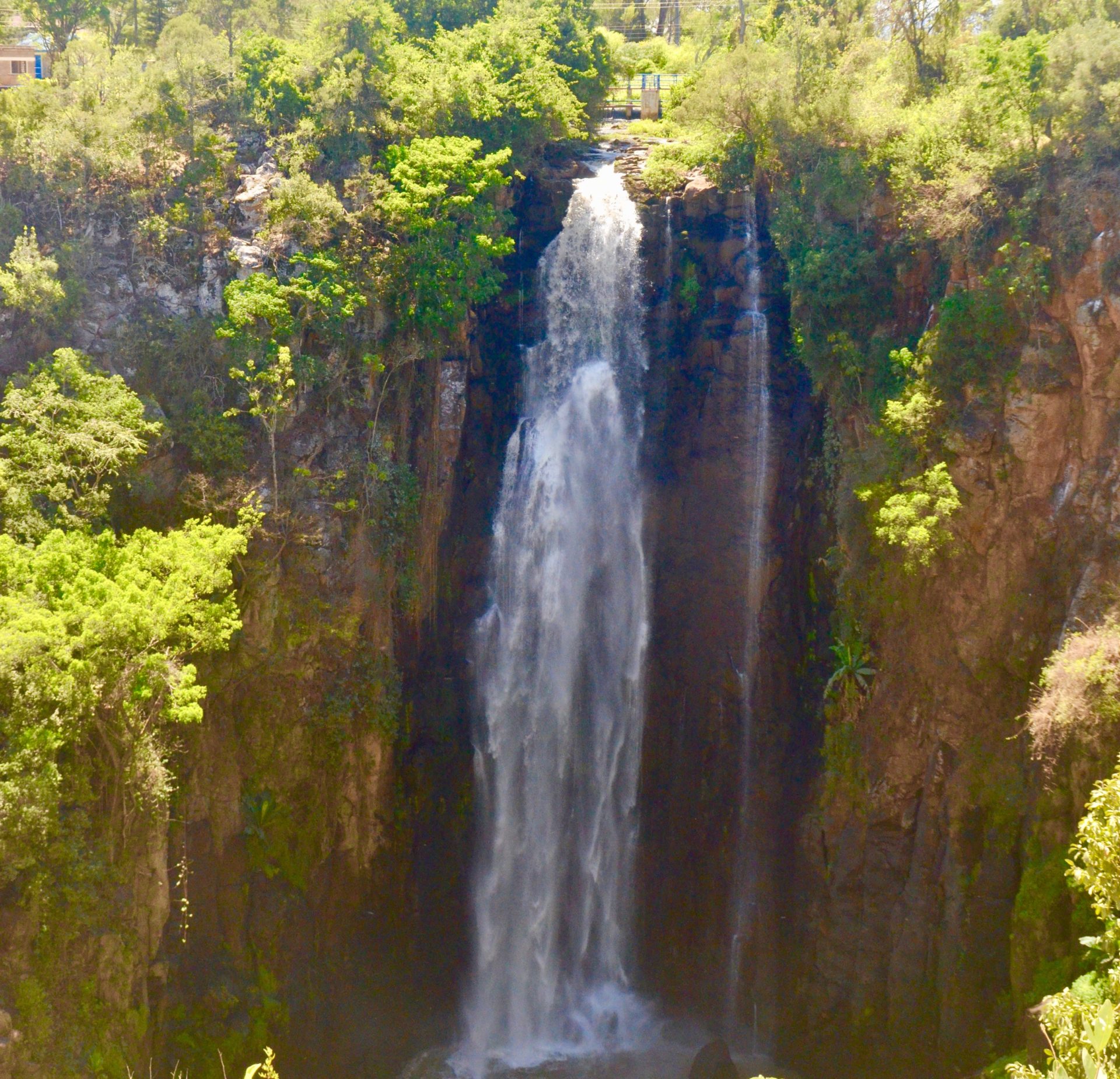 On the way from the parking lot to the viewing area was this sign that I think says a lot about Kenyans. Just like their aversion to loud noise, so too with their 'Polite Notices' which you see in many places. No need to get hysterical with words like Achtung, Verboten or a circle with a red slash through it. Just a gentle reminder is all that is required.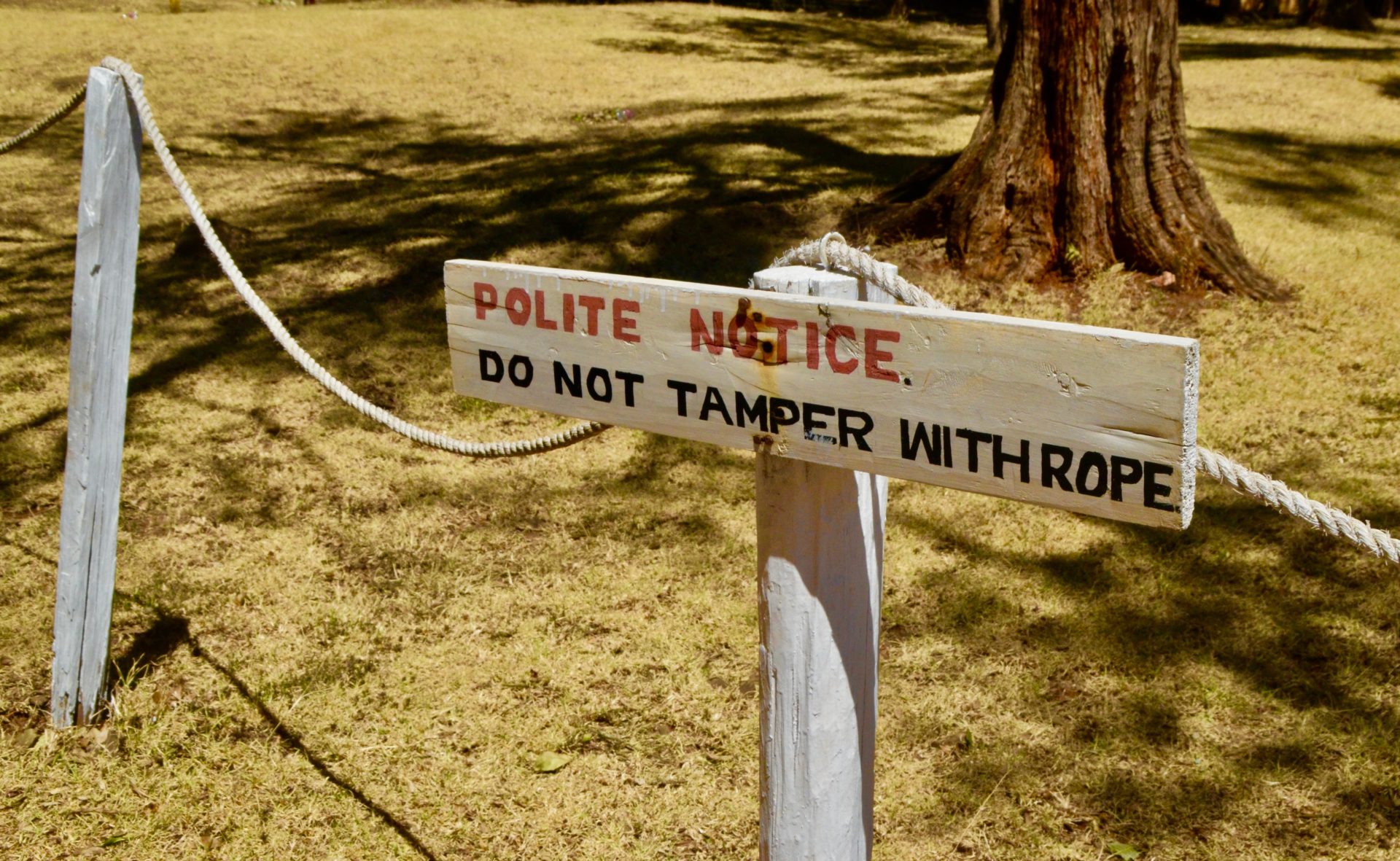 Sarova Lion Hill Lodge
Just outside the small and busy city of Nakuru is the entrance to Lake Nakuru National Park which completely encircles the lake just to the south of the city. On the right hand side you can see our destination, Sarova Lion Hill Lodge, one of only two in the park. We arrived in time for lunch and a chance to check the place out before the afternoon game drive.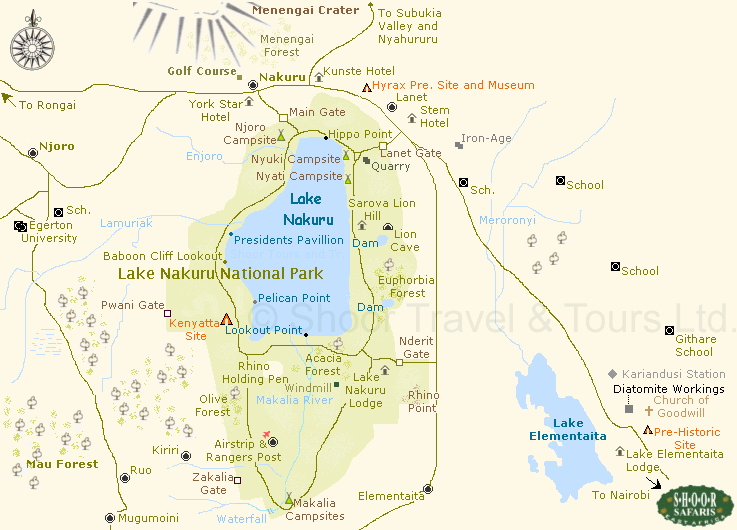 Sarova, like Serena, is an East African hotel chain that specializes in upscale resorts and game lodges. Sarova Lion Hill Lodge has a great location amidst a botanical setting in the forested hills that surround most of Lake Nakuru. It is not a tented camp, but a traditional lodge with a variety of rooms that have views of Lake Nakuru.

This is the exterior of our room.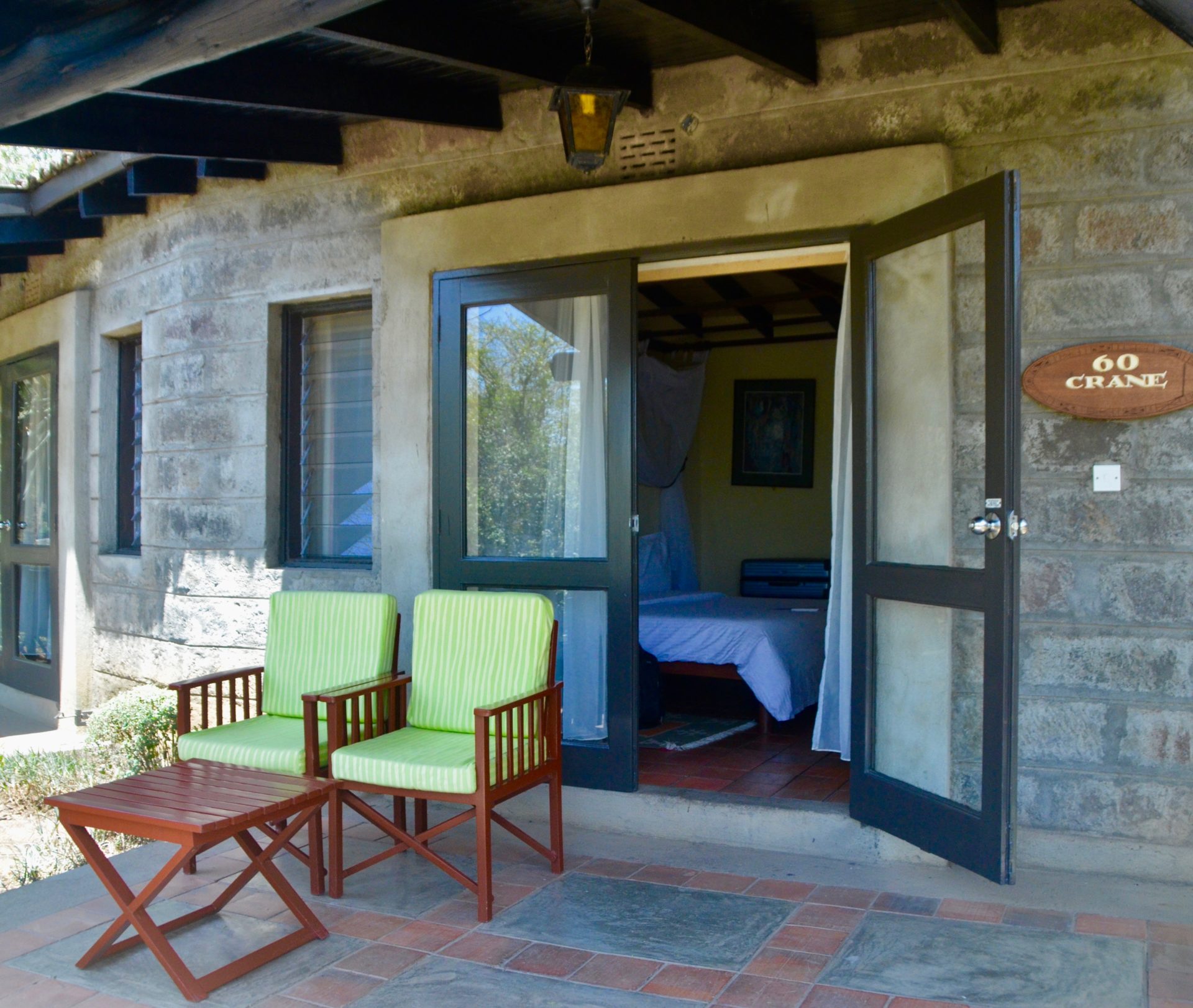 This is the interior. Again, like Sweetwaters, not exactly roughing it.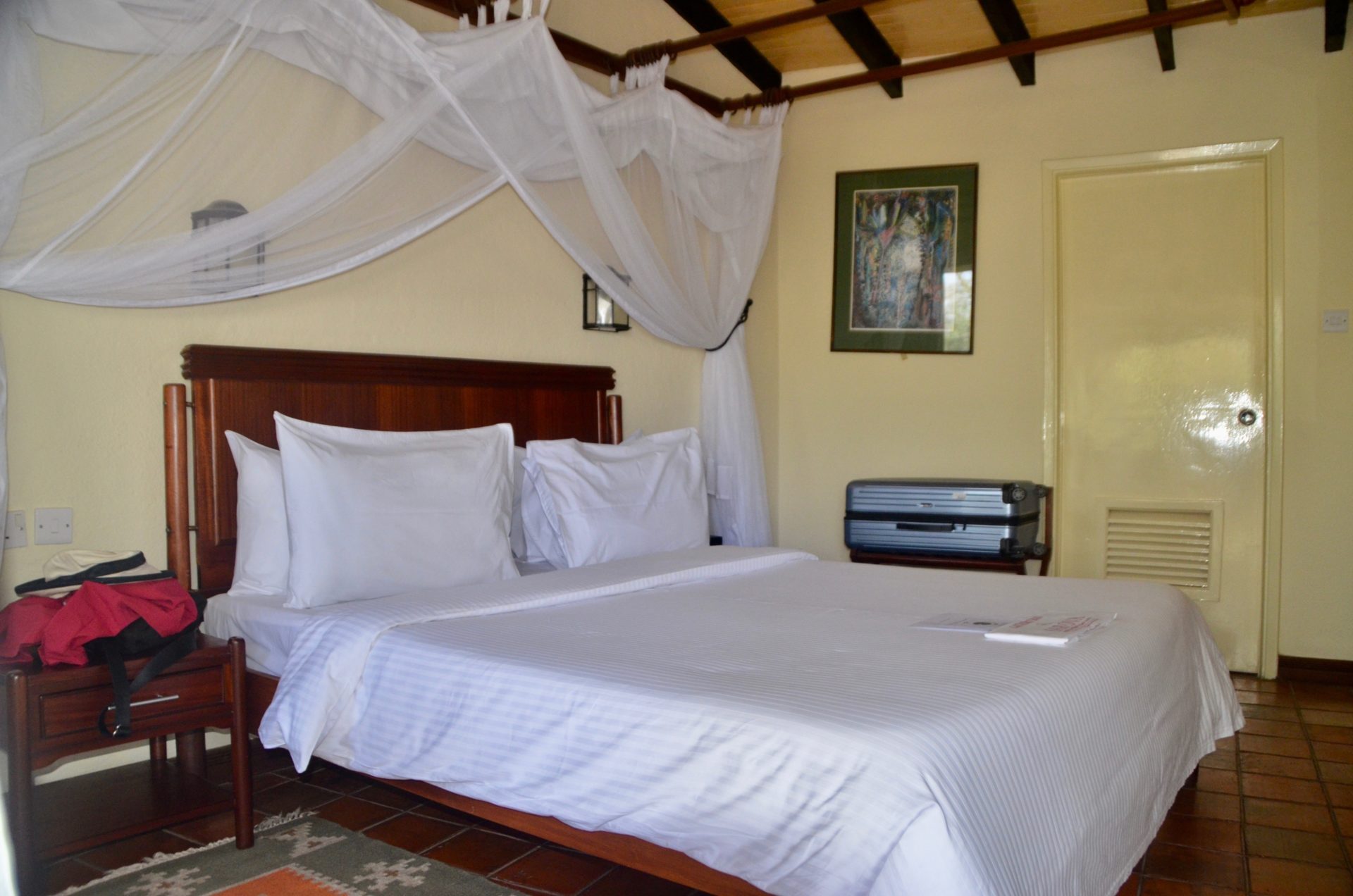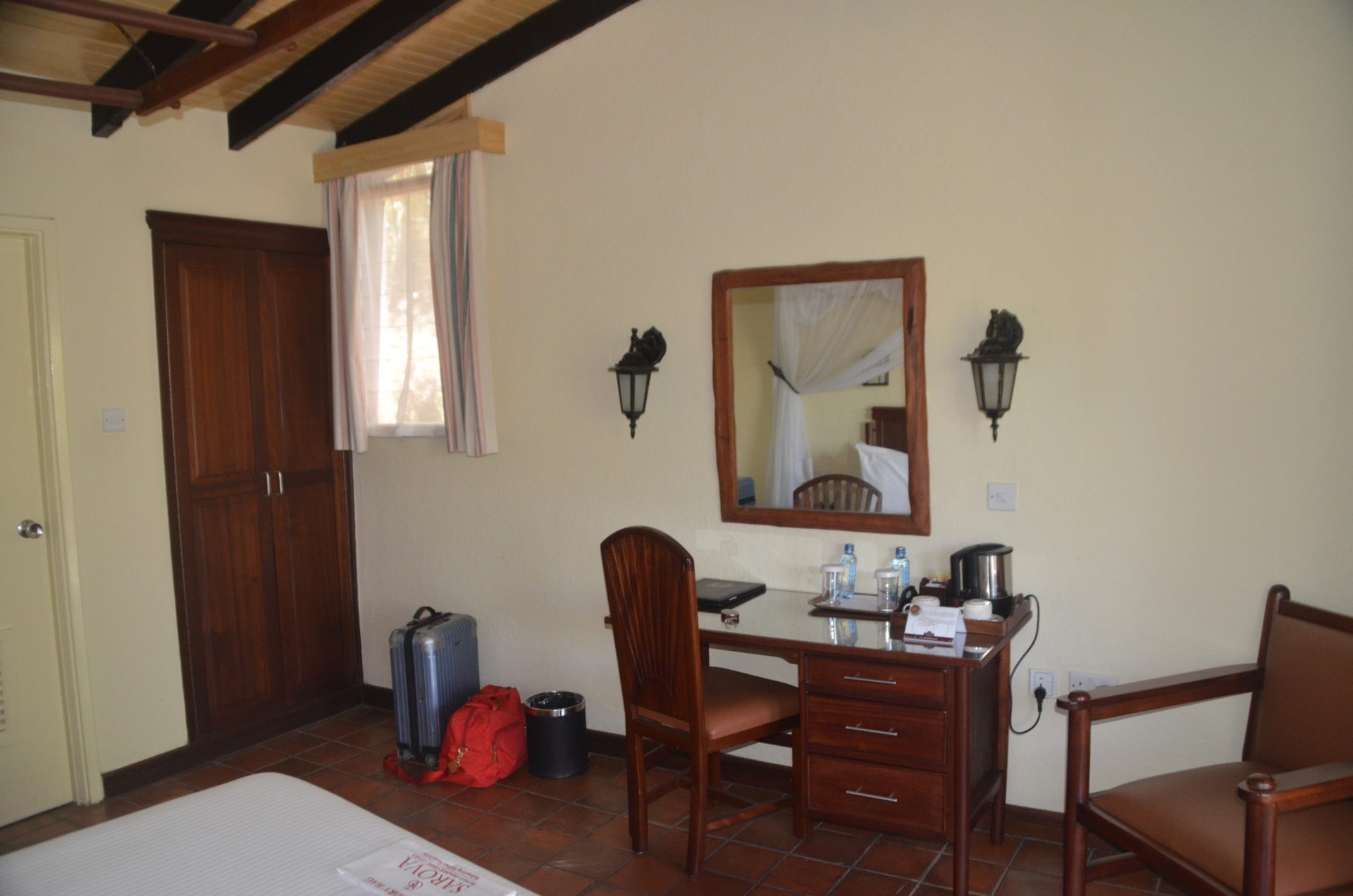 The lodge itself is made almost entirely of wood and stone and has a dark, burnished look to it that is somehow reassuring.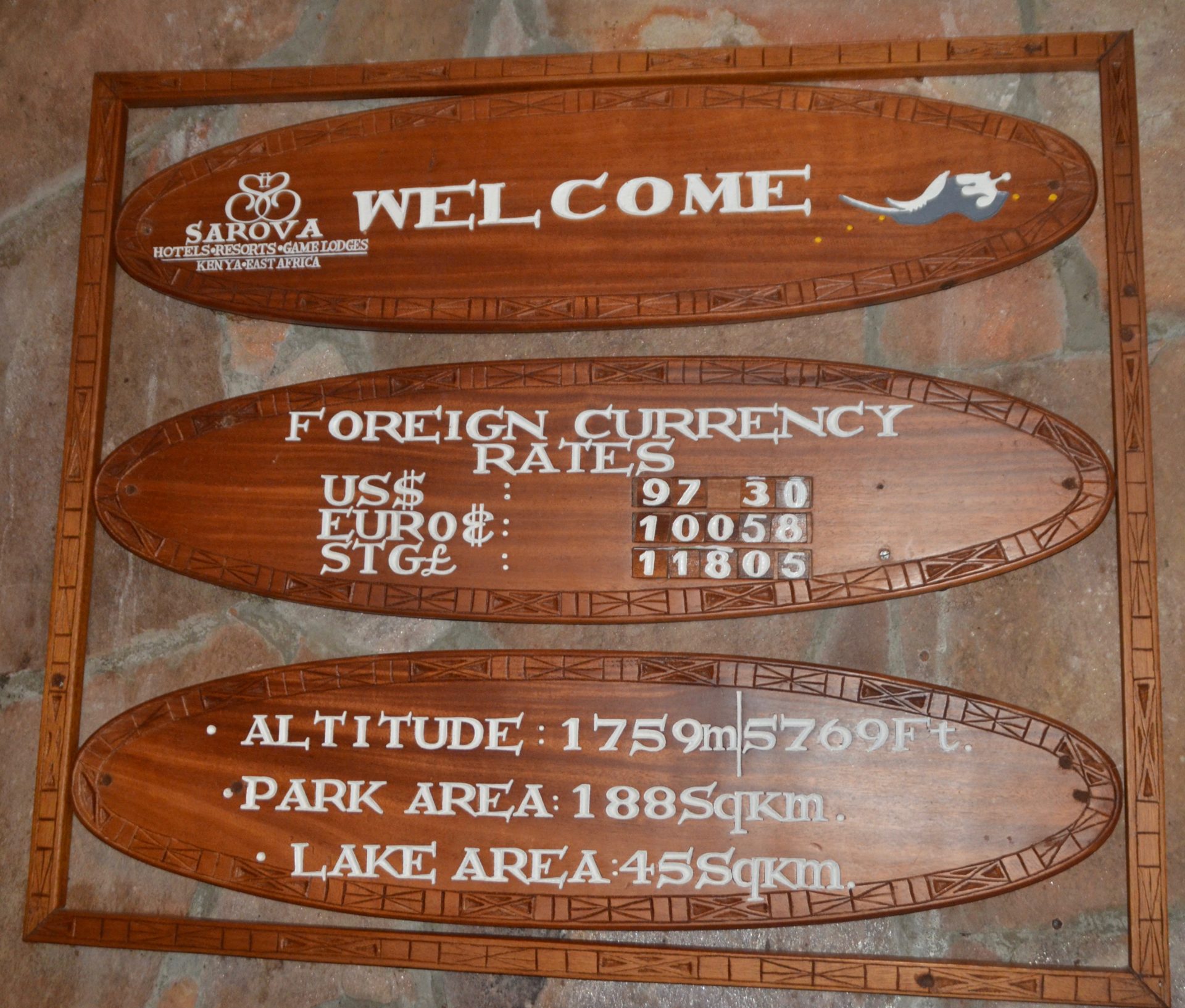 The staff were very welcoming and friendly.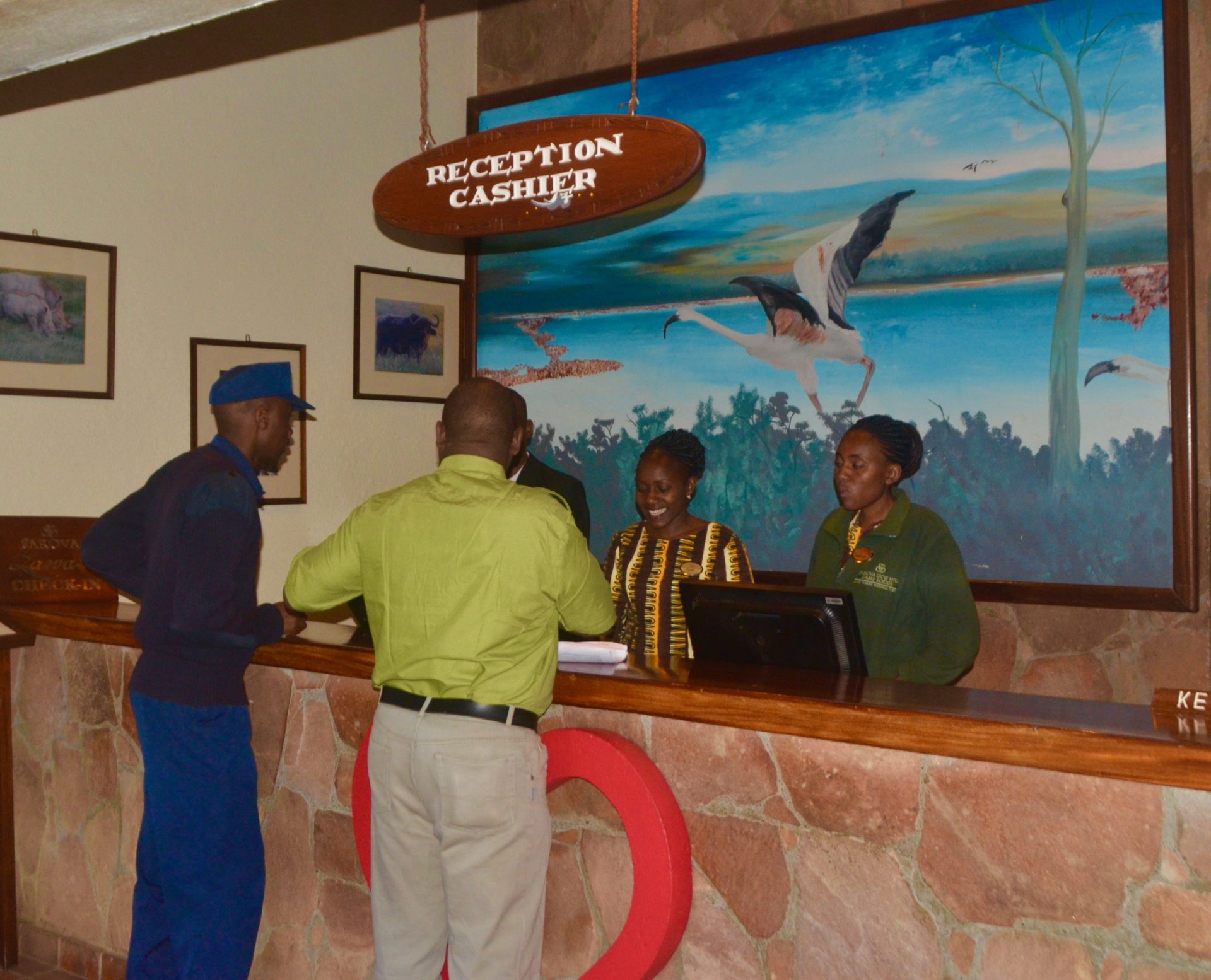 We had lunch at the restaurant which as per all these Kenyan lodges, was a buffet with a wide variety of foods to cater to the international mix of the clientele.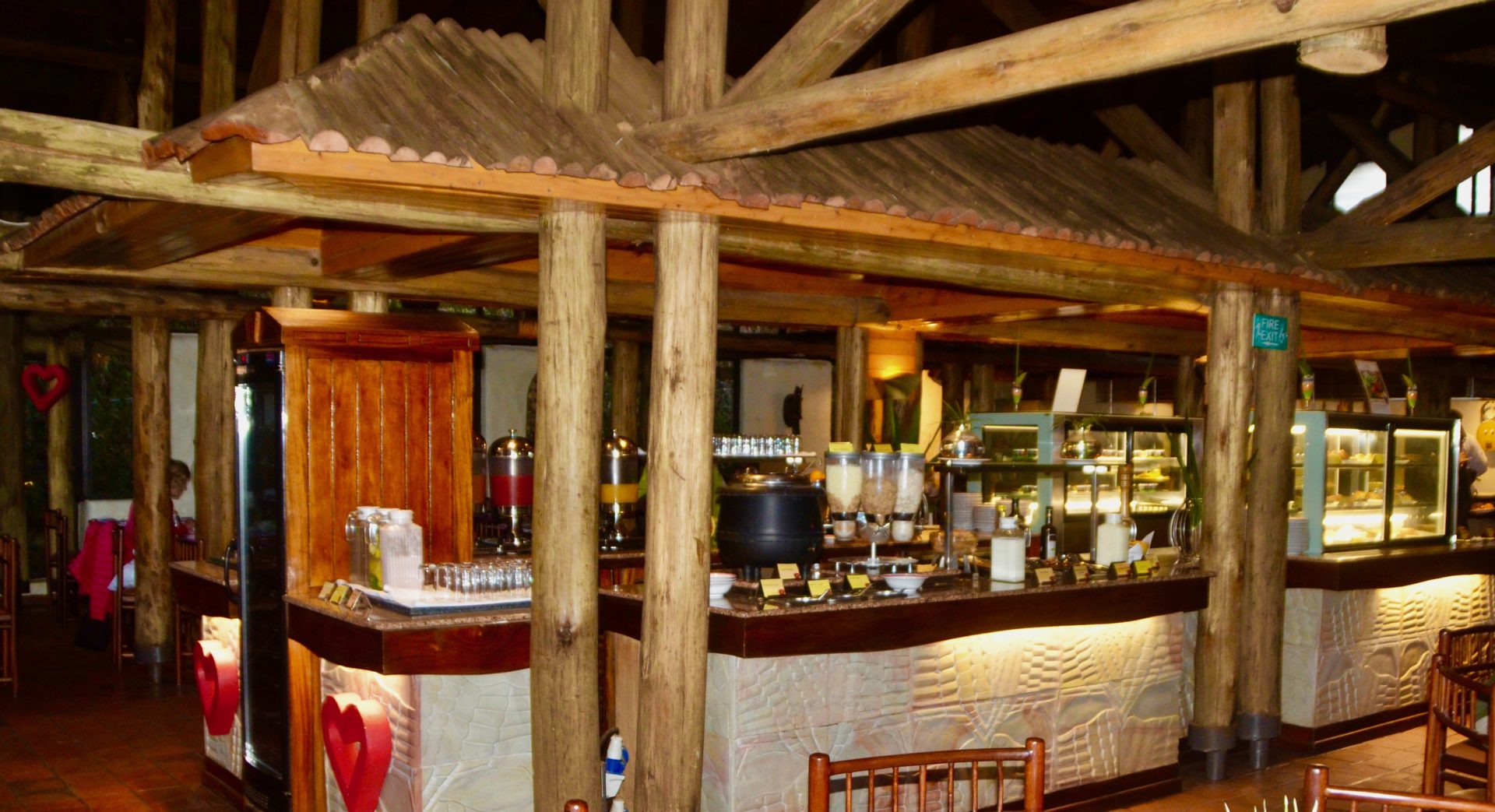 And of course, there is a great bar, an absolute necessity in all these type of places. I can vouch for the Tom Collins'.
After lunch I took a stroll around the grounds and was surprised at the great variety of small birds, many of which I had not seen at Sweetwaters. These are Blue-Eared Glossy Starlings.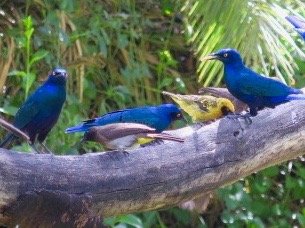 Speckled Mousebirds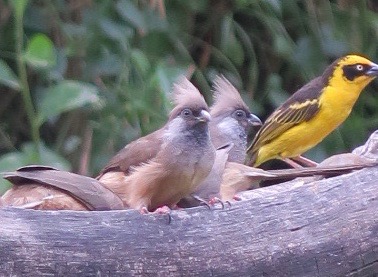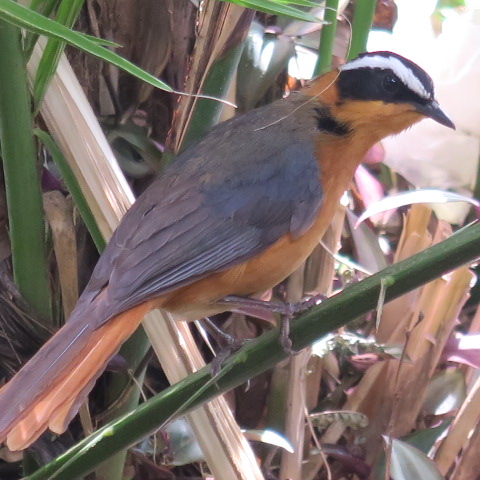 And some familiar faces.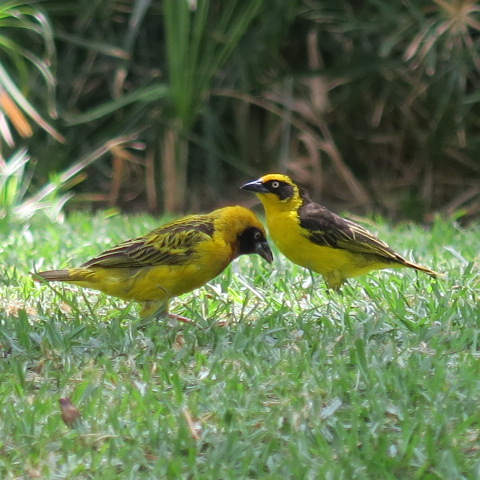 Lake Nakuru Game Drive
As you can see from the map, Lake Nakuru National Park has a road that completely encircles it. We will be driving in a clockwise direction from Lion Hill Lodge as far as Pelican Point and then back which Richard assures us will take in all the most important sites in the park. So let's go.
Almost immediately we come across a troop of baboons which are cavorting on both sides of the road and in the trees surrounding it. They provide instant entertainment, especially the young ones and prove the old adage about a barrel of monkeys.
Next Richard spots the first hippo of the trip which shows only its back before submerging completely. Hopefully this won't be the only spotting of these huge beasts.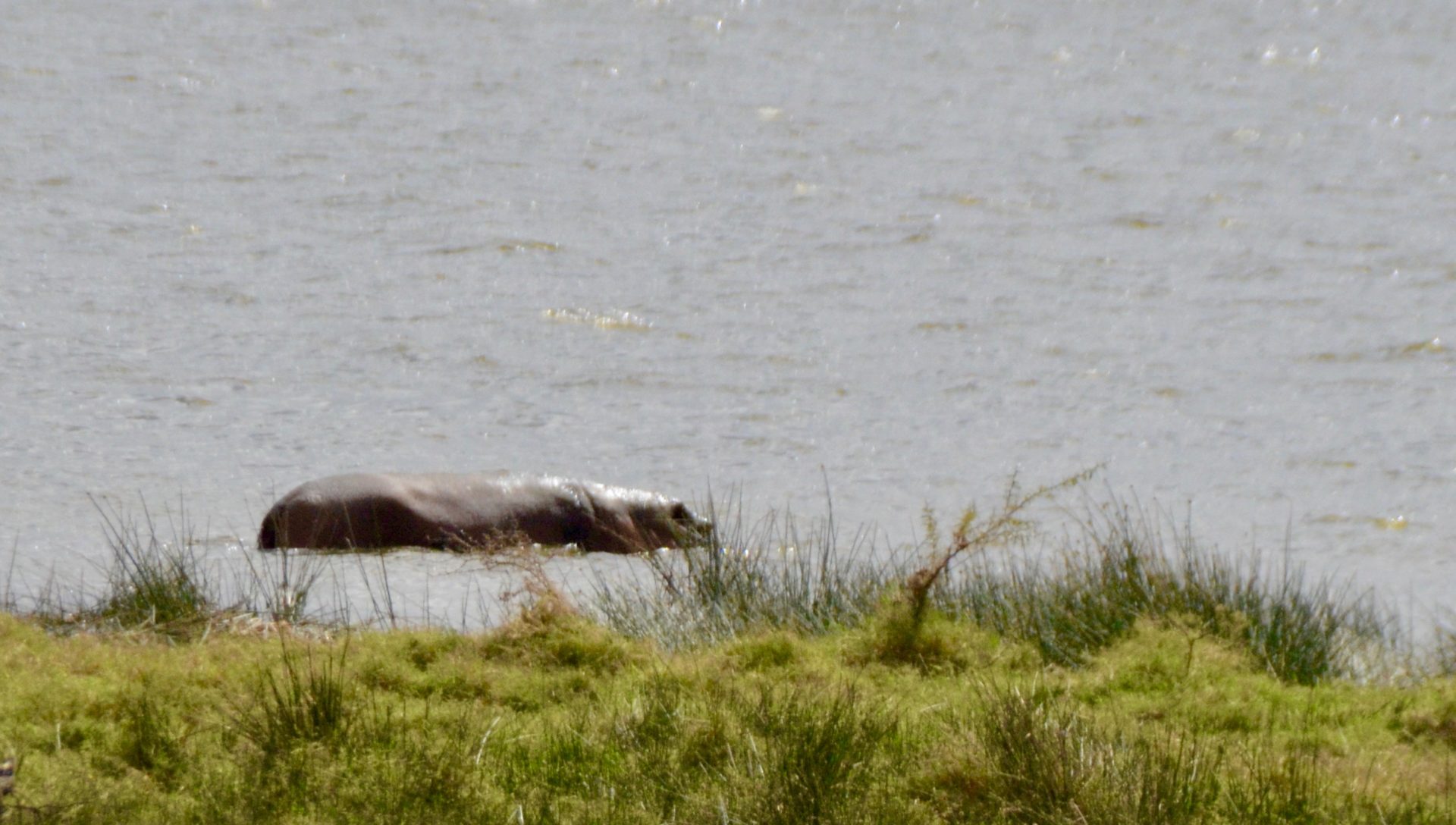 While trying to get a better look at the hippo I spot something large slithering in the grass not far from the shoreline. It's a huge monitor lizard that I definitely would not want to meet face to face. I always associated these relatives of the fearsome and potentially lethal Komodo dragon, with Indonesia, but this is a Nile monitor, native to most of Africa. They can grow up to eight feet long and although it's difficult to tell how big this guy is from the photo, I would estimate four feet.
By coincidence, I am writing this post in Lee County, Florida and in looking up facts on the Nile monitor I discover that there is a growing population of them in this very county, including on my beloved Sanibel Island so maybe I will come face to face with one after all.
As we transit from the euphorbia forest to the more typical acacia there is a band of grass between the forest and the lake. The sightings just keep on coming one after another. Here are the first hyenas of the trip, on the prowl and looking for prey. These are spotted hyenas, also called laughing hyenas and despite a reputation as scavengers, are actually very effective hunters. They are also replacement undertakers for the Maasai who, instead of burying their dead, put them out to be consumed by hyenas. This is not BS; I later confirmed it with a Massai elder.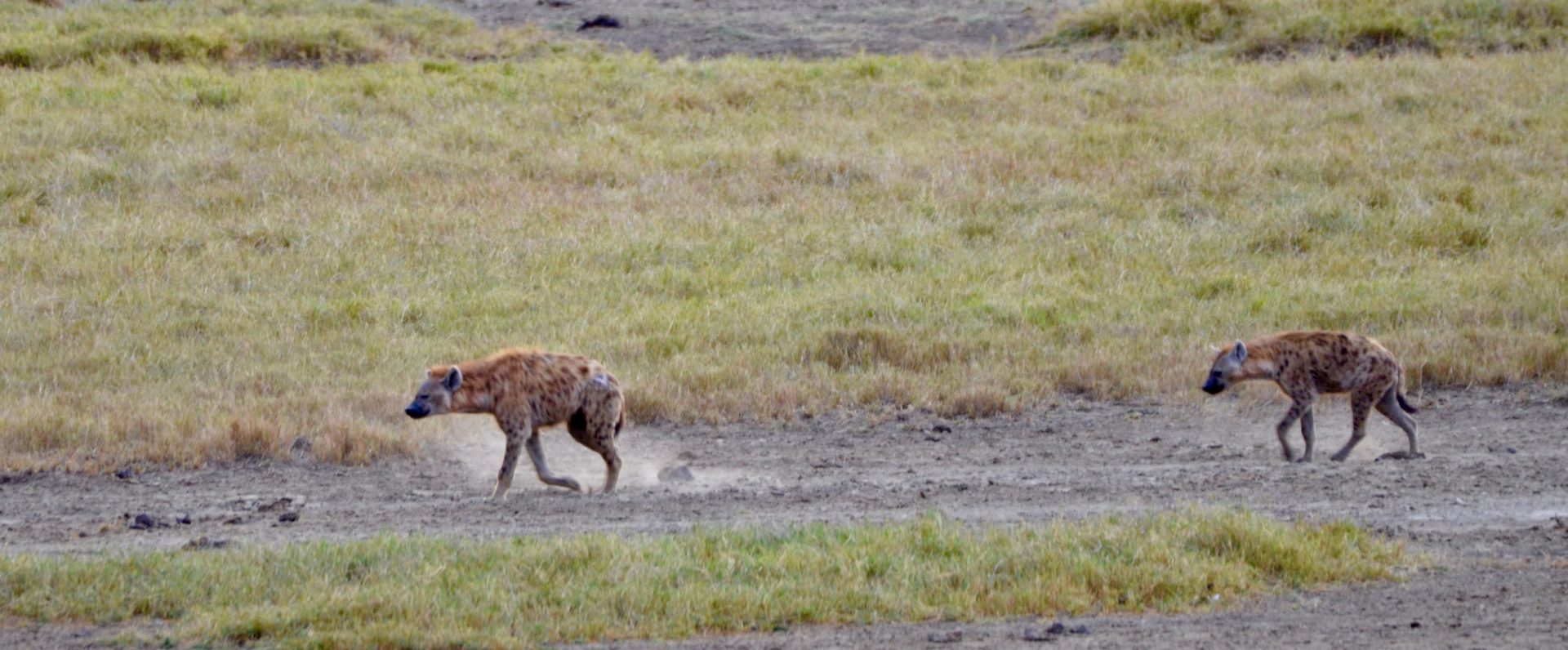 The hyenas passed by these two beautiful white rhinos who would have no reason to fear them and didn't, just letting the hyenas go on their way.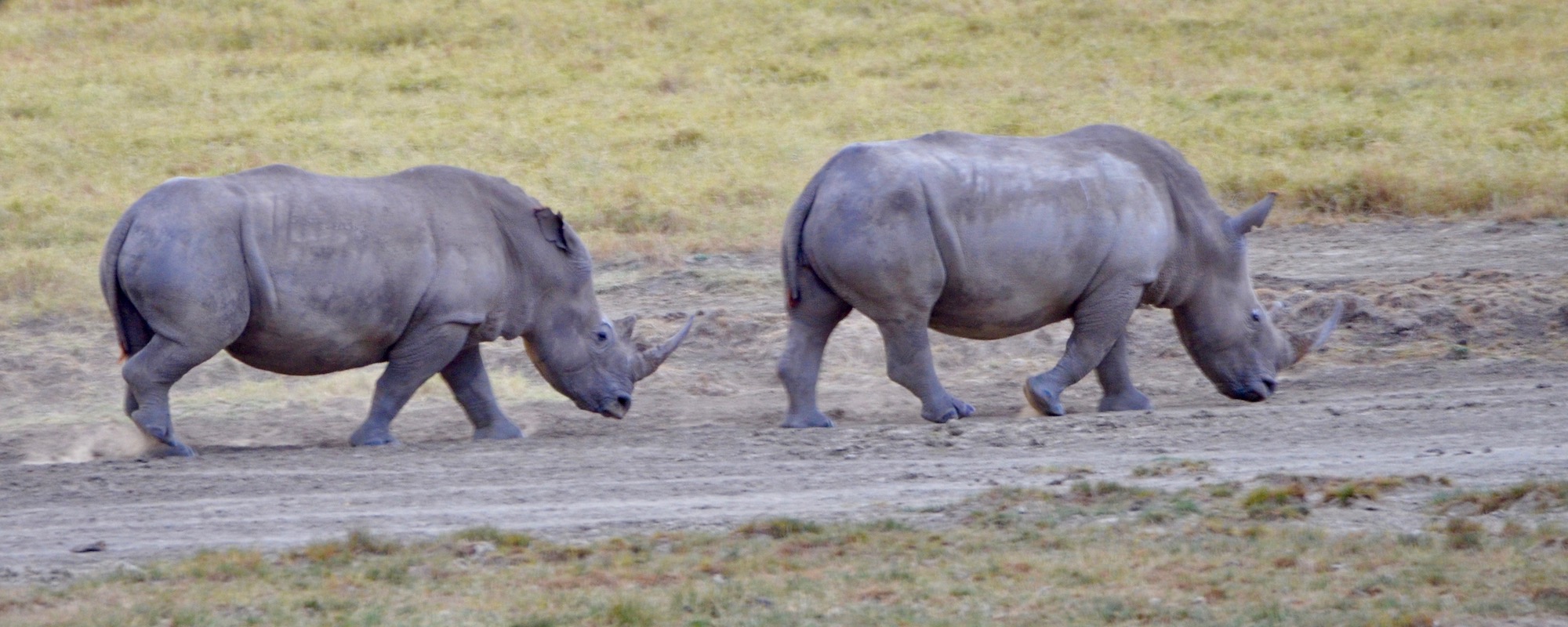 In the acacia forest we rounded a corner and came almost face to face with this giraffe munching on the acacia leaves, thorns and all. Did you know giraffes have blue tongues? Neither did I until I saw this fellow close up.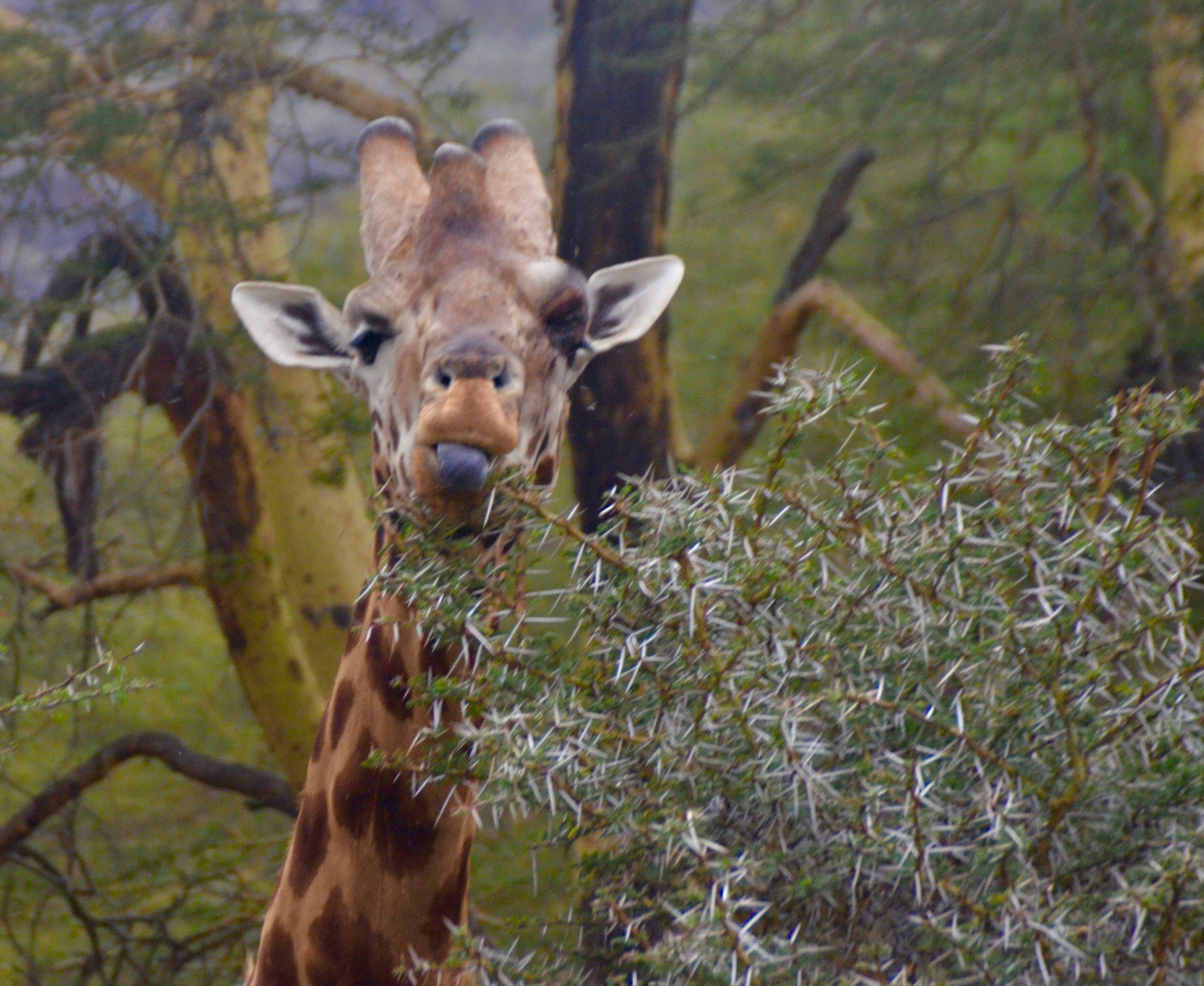 This guy/girl is a Rothschild's giraffe, the rarest of the three giraffe species. They are found in only a few reserves in Kenya and Uganda and there may be less than 1,000 left in the wild. Believe it or not, big game hunters like that asshole dentist from Minnesota or the imbecilic Trump brothers, will pay huge sums to have a poacher guide lead them to where they can be shot. If there was any justice in the world these hunters and their guides would be tied to stakes and the hyenas called in. BTW hyenas don't bother to kill their victims before starting to eat them. They just start by ripping the guts out and chowing down. That's a video I'd love to see on YouTube.
It was an amazing experience to see these giraffes in the wild.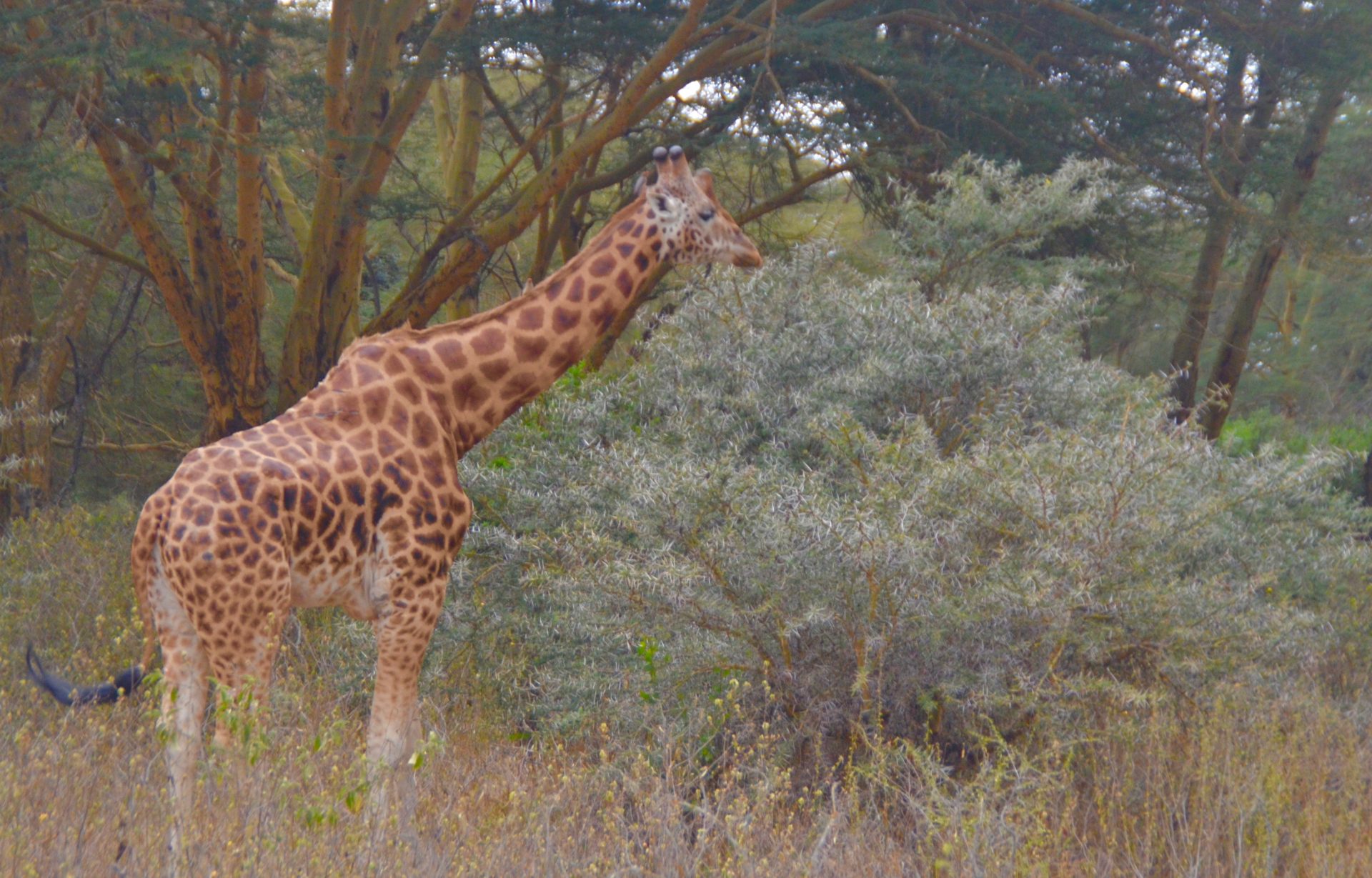 Even before getting to the spot where we hoped to see the flamingoes, there was plenty of avian life including our one and only sighting on the trip of the crowned crane, one of the most recognizable birds in the world. I'd seen them in zoos many times, but to see them in their natural habitat was something else. They have to be one of the most majestic birds in existence.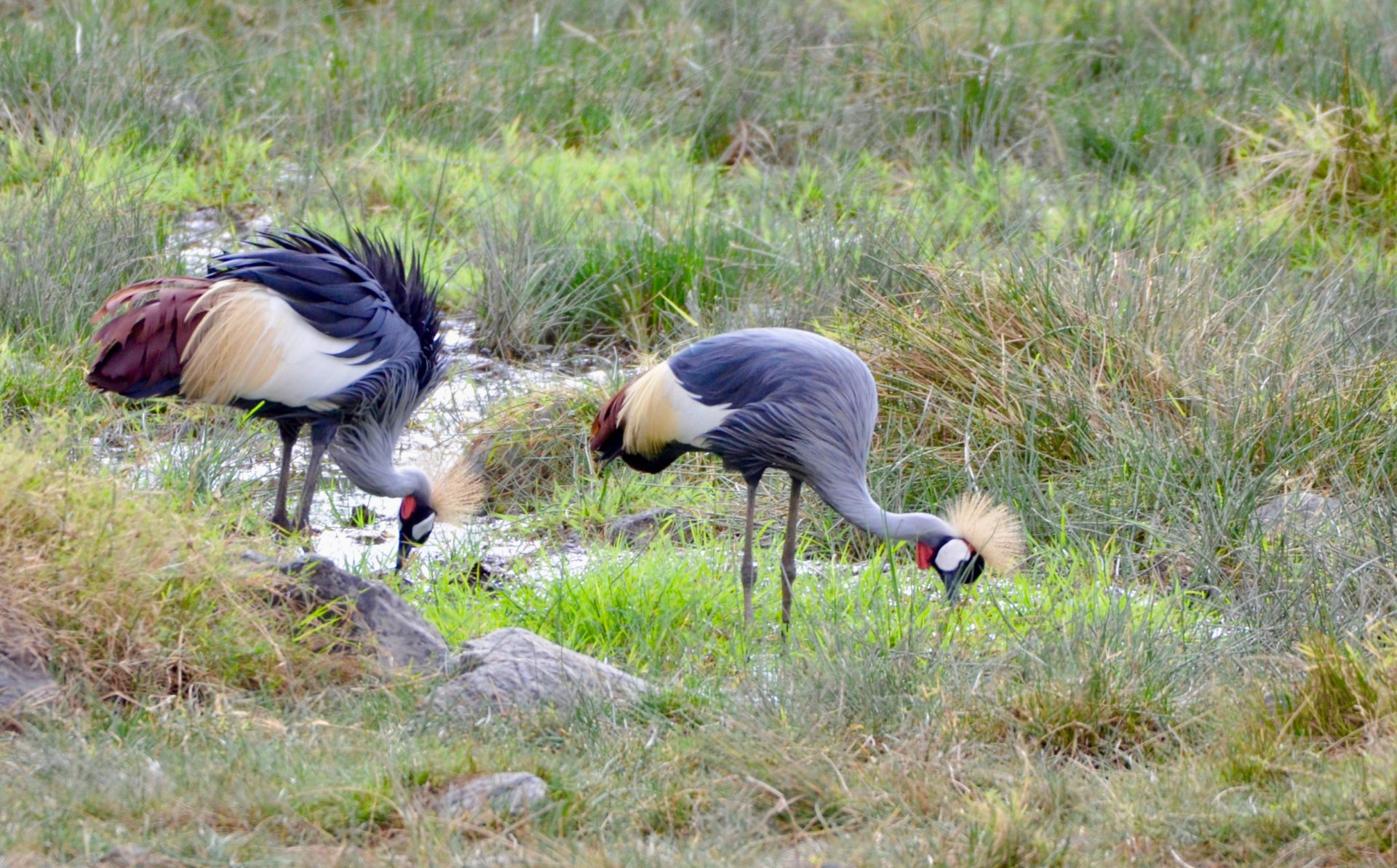 We also spotted this Augur buzzard. For reasons I can't determine, North Americans think buzzards are members of the vulture family, when in fact they are birds of prey that are closely related to hawks and eagles.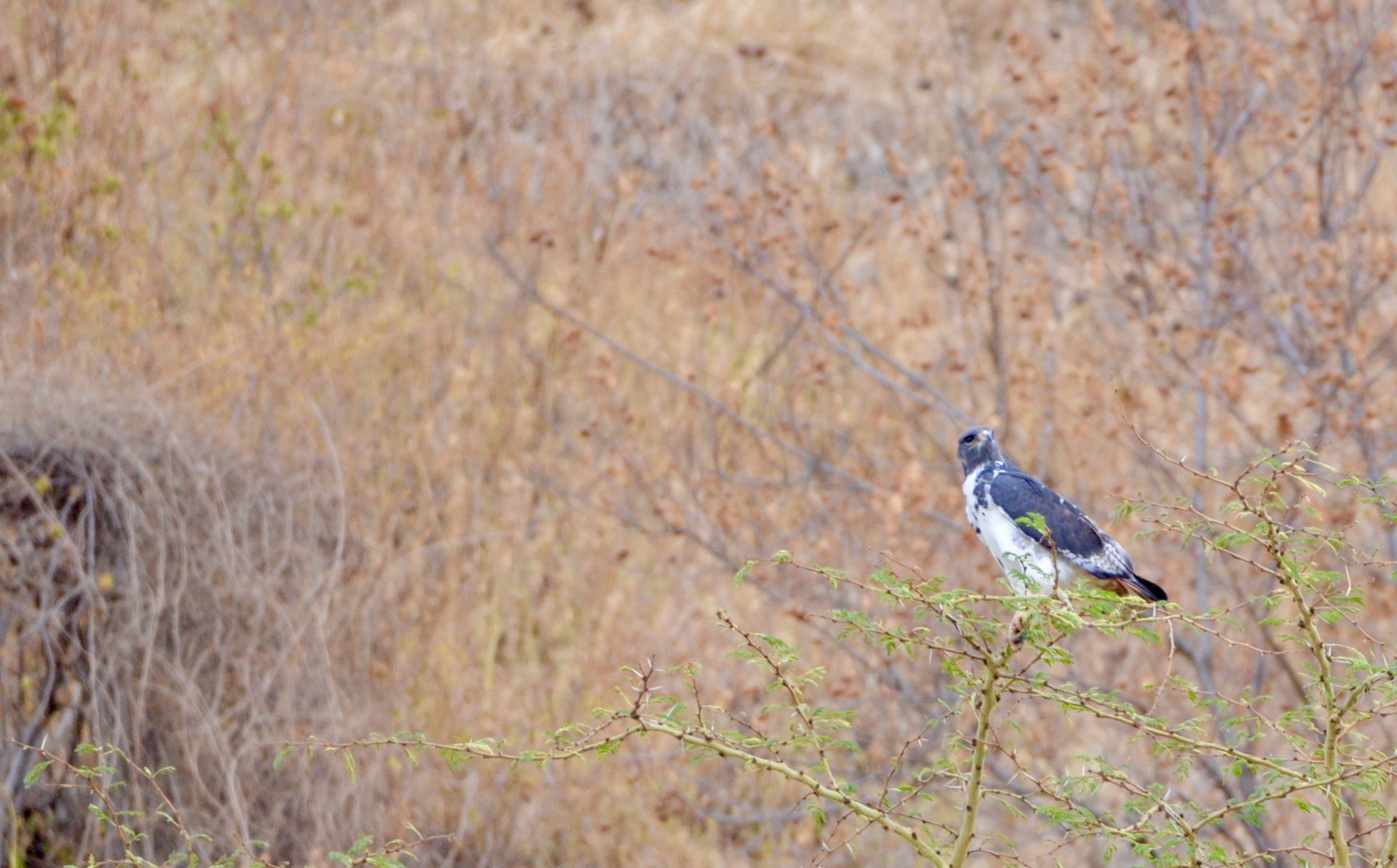 Speaking of eagles, Africa has a great variety including the long-crested which is a terror to small rodents, but probably wouldn't go after those cute little baby baboons we saw earlier.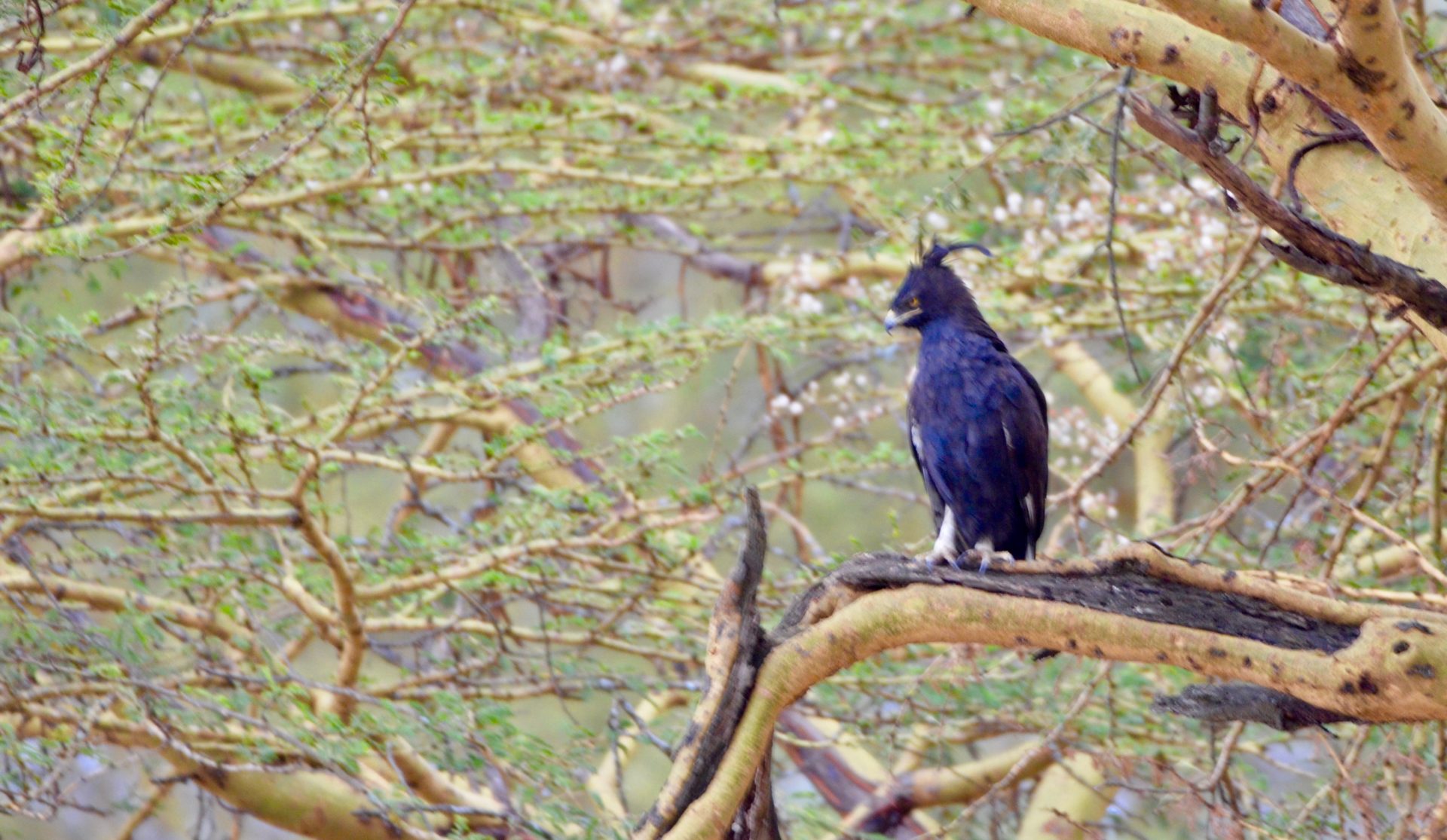 Our next first was the largest bird in the world. Like most people I've been seeing ostriches in zoos since I was a little kid, but there's something completely different about seeing them in the wild. This is a lone female and we would see many more on the trip, but the first one is always special.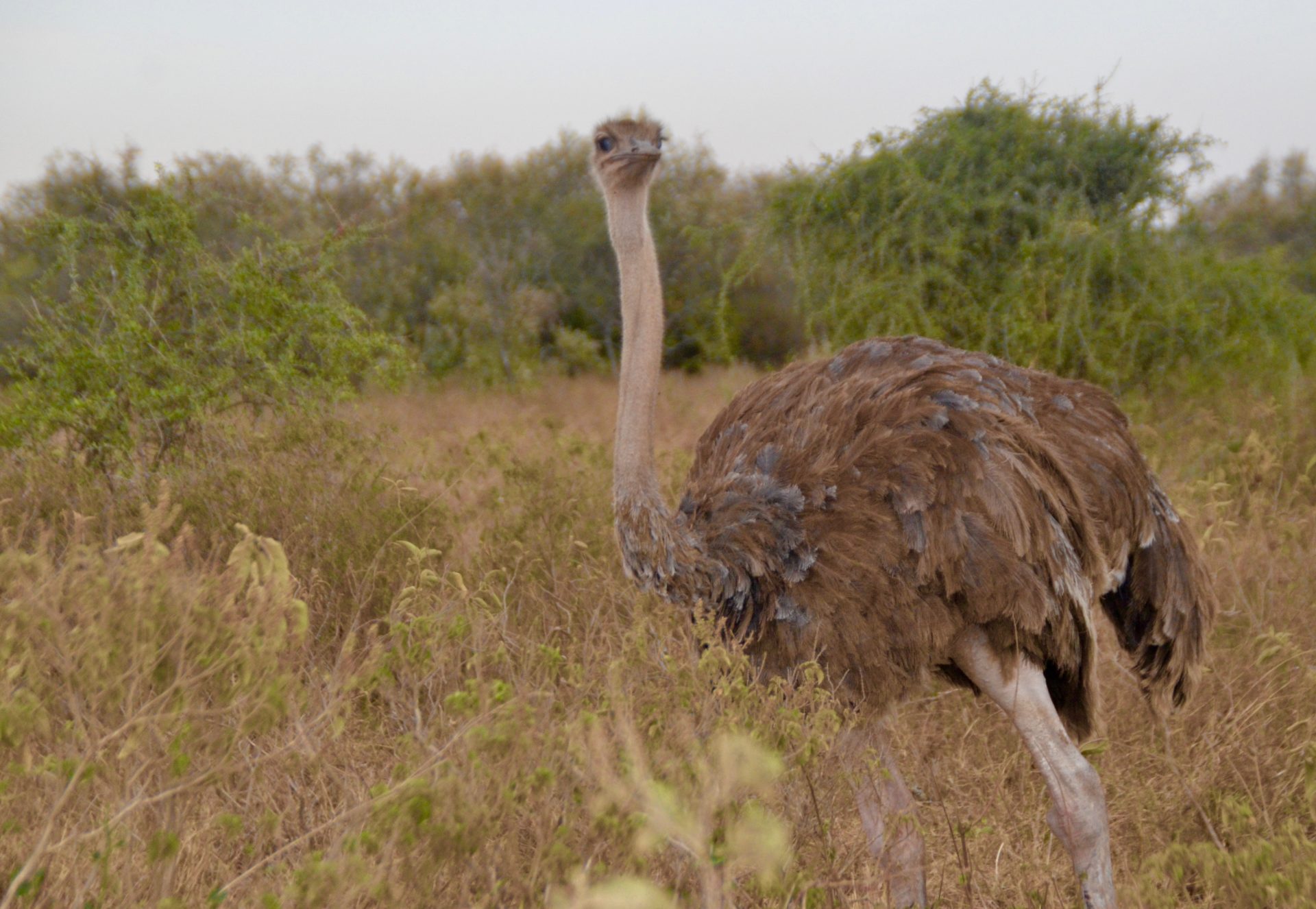 She seemed to think so too.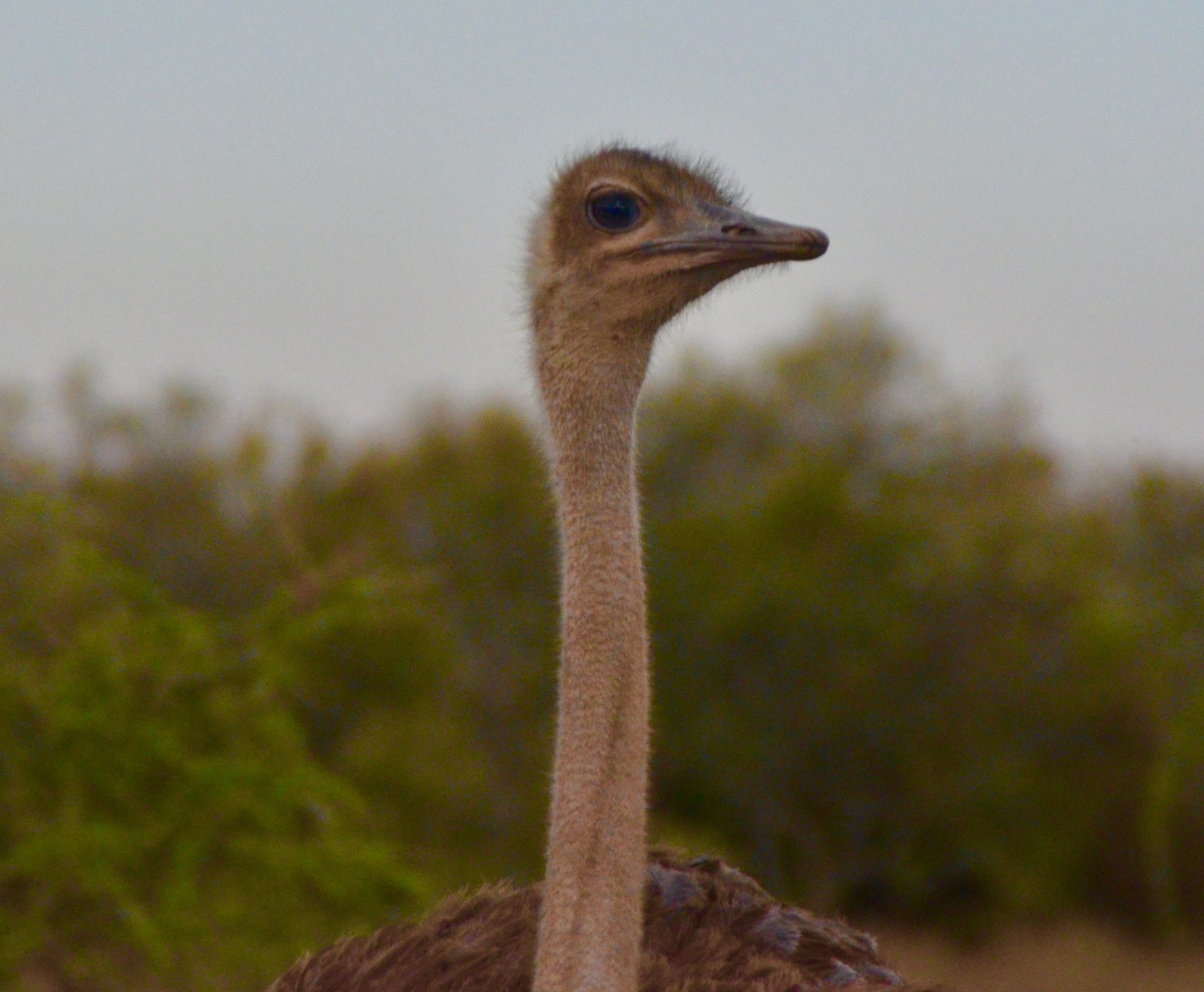 Lake Nakuru Flamingos
By now we were at the southern end of the lake and the forest gave way to open savannah which in turn gave way to dried mud flats leading to the shoreline. It was time to look for the famous flamingos of Lake Nakuru.
Lake Nakuru is one of a number of soda lakes in the Rift Valley of Kenya. They are called soda lakes because of their alkalinity which in turn leads to the algae blooms that attract the flamingos. It is no exaggeration to say that there can be over 1,000,000 flamingos at Lake Nakuru at one time. Here is a photo from the web showing what it was once possible to see.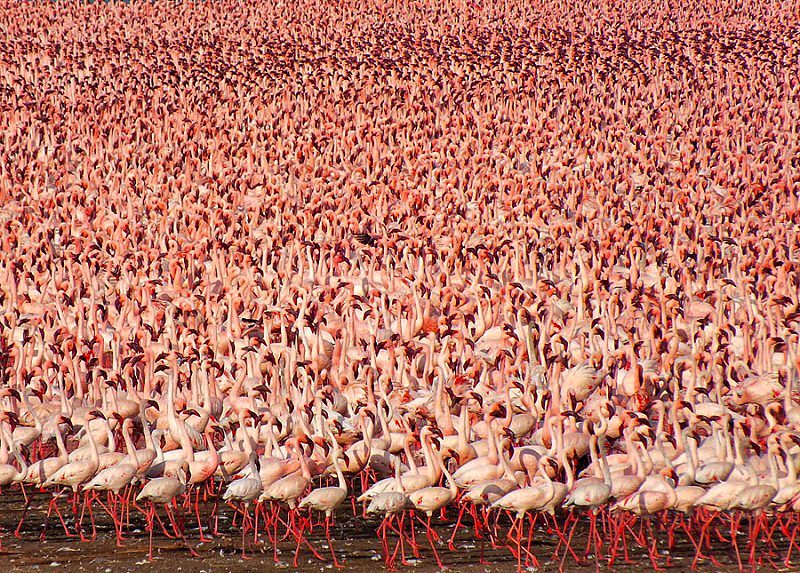 Even though we were here in February, at the height of the dry season and the supposed best time to see the flamingos, Richard said we might not see any. I assumed, with global warming and the drought in many parts of Kenya, that the problem was that there was not enough water to sustain the numbers of flamingos as in the past. I was dead wrong. The problem is not too little water, but too much!
Believe it or not, those cormorants are sitting on top of what was, until a few years ago, a marker at the junction of two roads.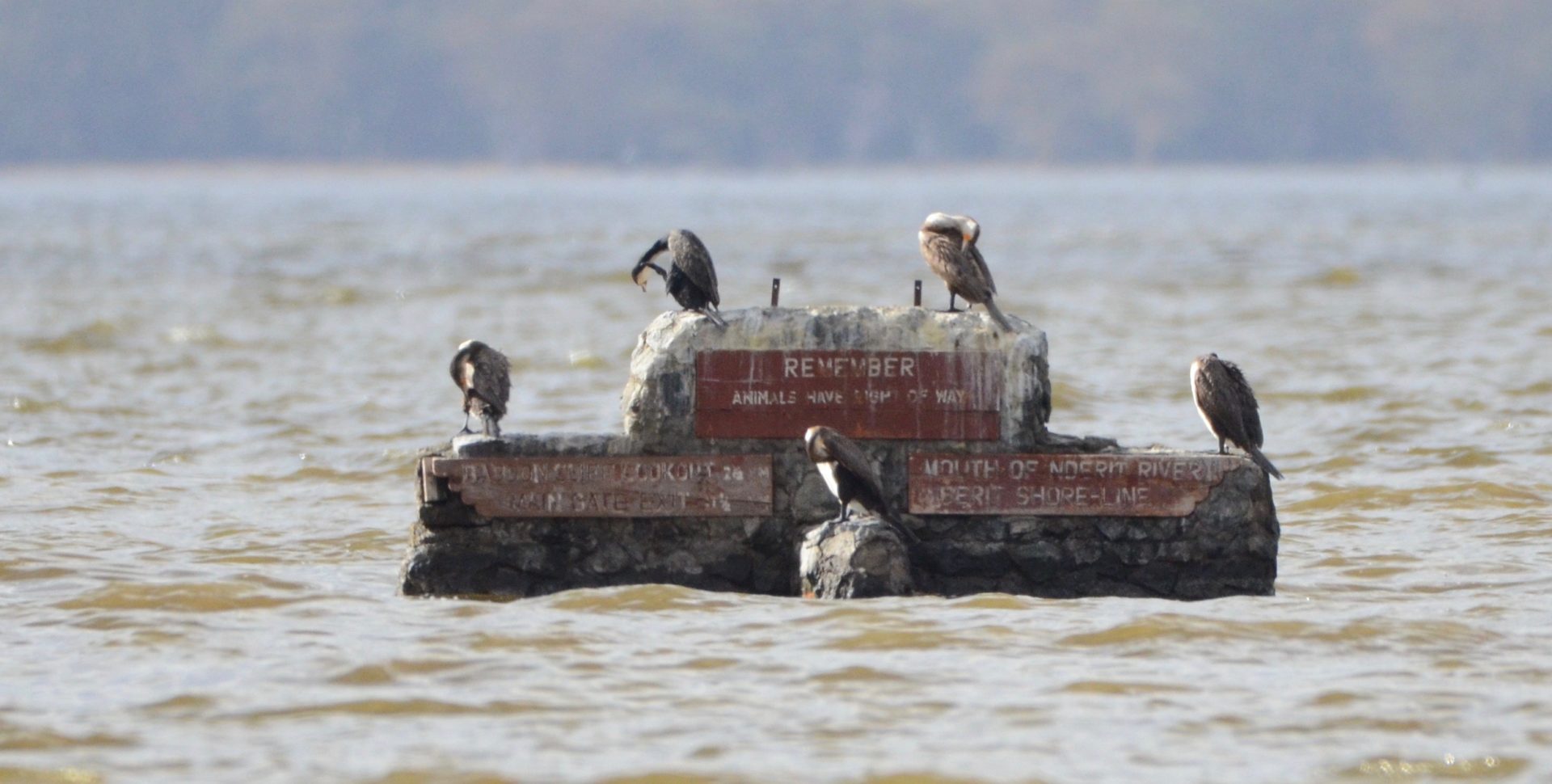 So it was with a bit of trepidation that we approached Lookout Point where the flamingos once gathered in such great numbers. We could see from a distance that we certainly were not going to find millions, let alone thousands of flamingos, but to my intense relief there were still quite a few. Just how many flamingos do you need to spot to honestly say that you've "Seen the flamingos of Lake Nakuru"? I'm not sure, but this number does it for me.

These are flamingos of the greater or pink variety, famous as both lawn ornaments and for the names of countless bars and restaurants, three of which I can think of in Lee County alone. They are both ungainly and stately at the same time – a living oxymoron. Who doesn't love flamingos? I can now go to my grave, secure in the knowledge that I've seen the flamingos of Lake Nakuru.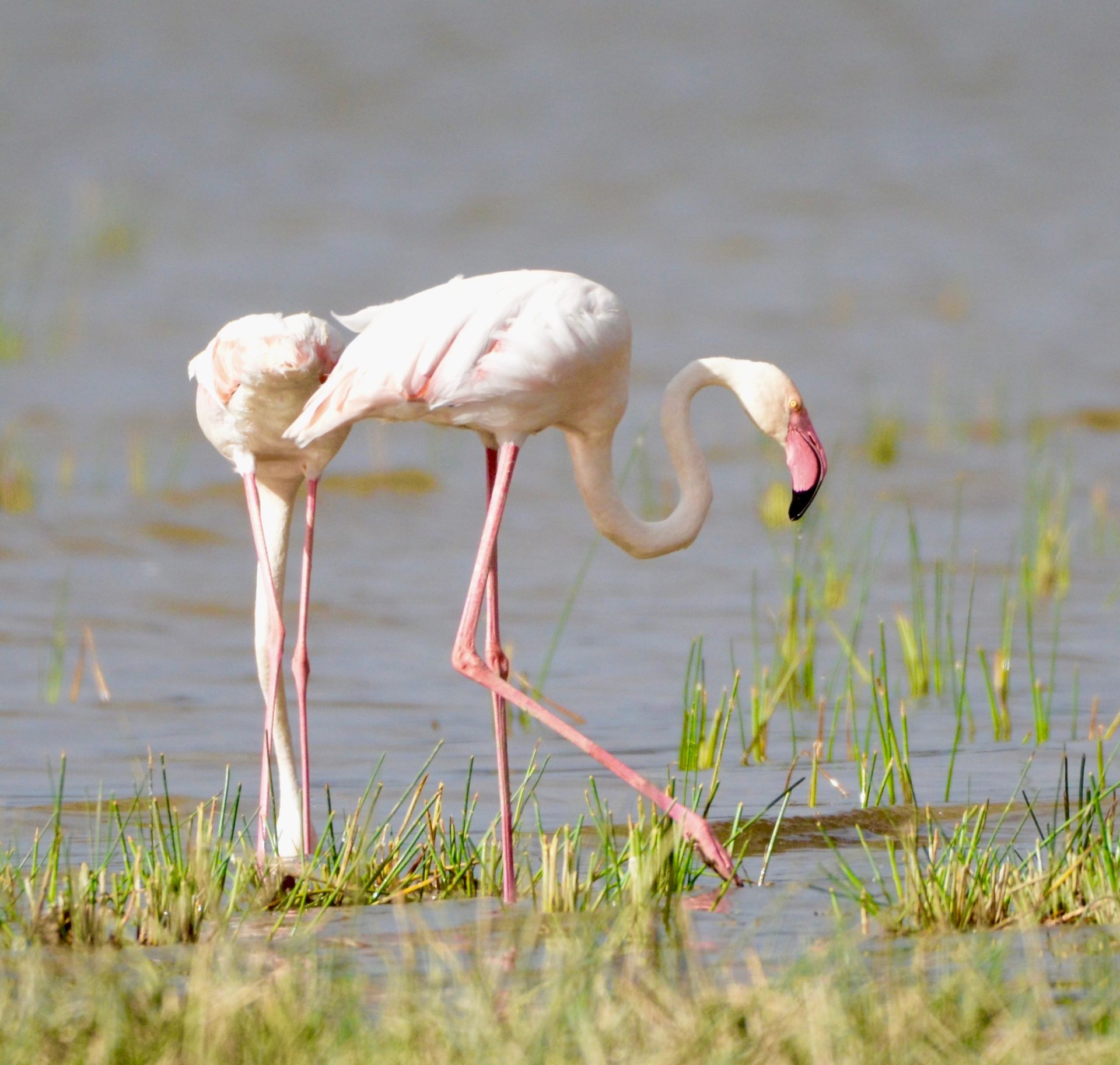 Flamingos weren't the only birds enjoying the bounty of Lake Nakuru. These are African white pelicans.
This is a yellow-billed stork.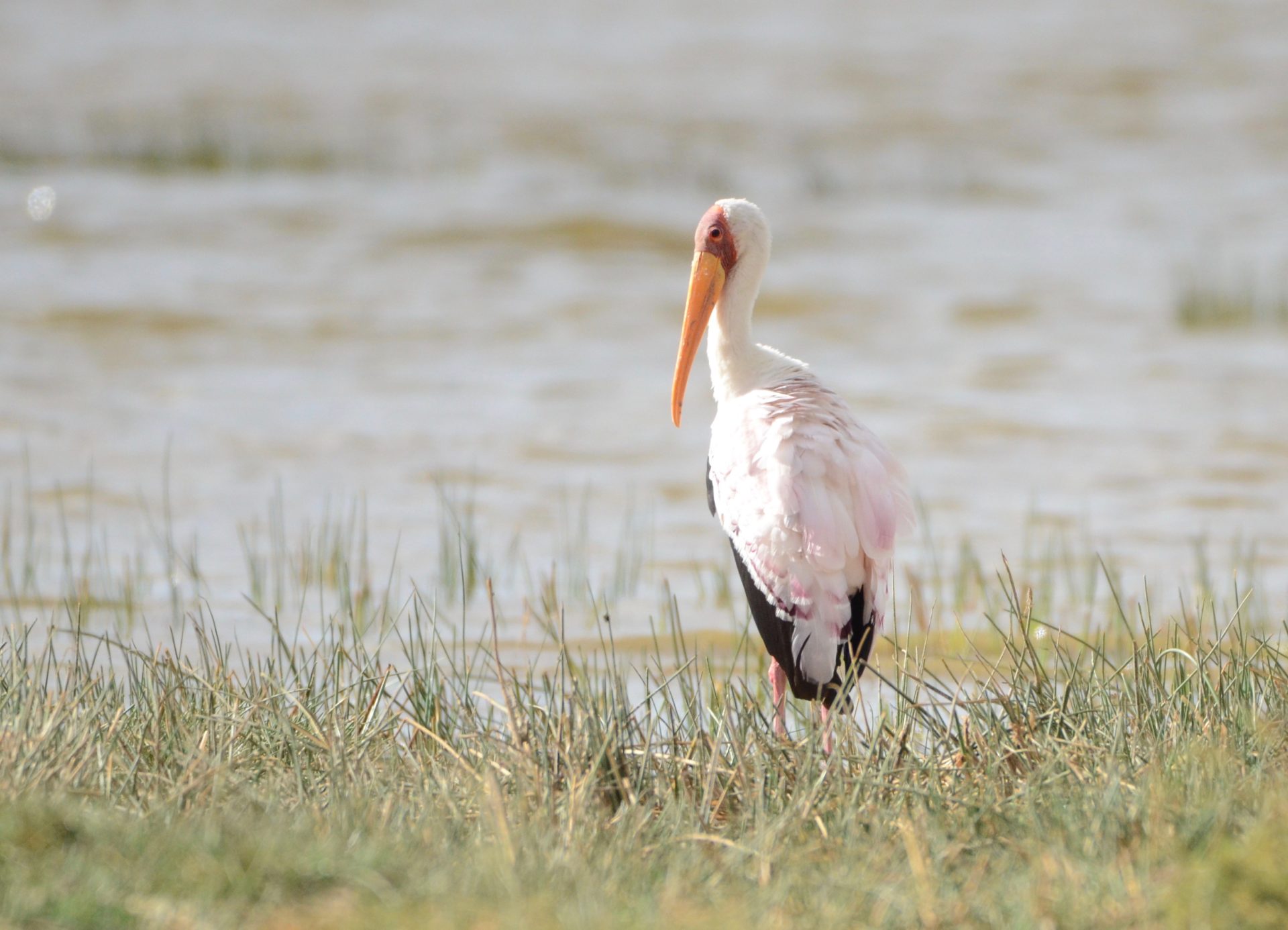 And a black-winged stilt.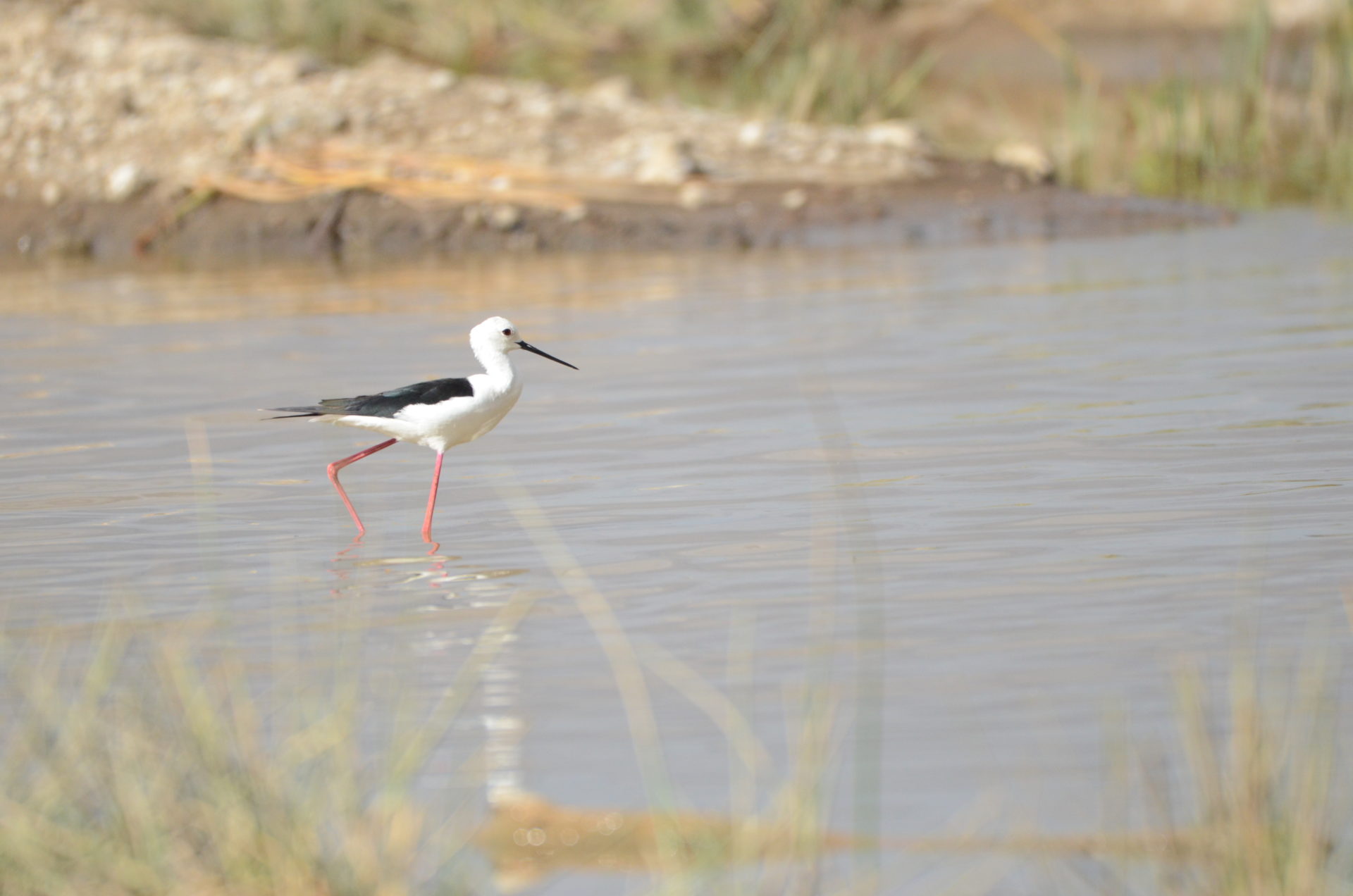 And lastly a grey heron.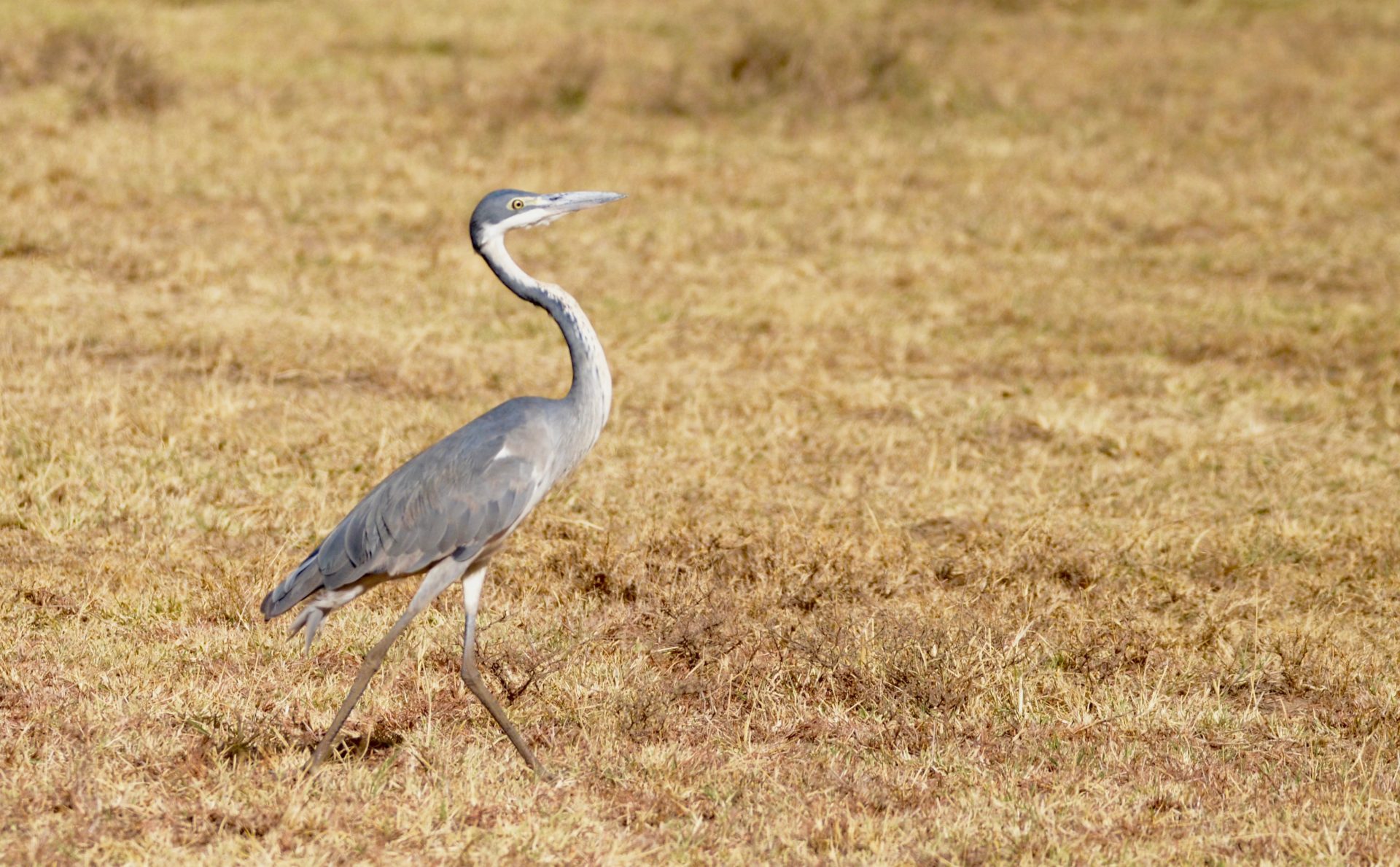 We spent a fair amount of time at Lookout Point and hardly noticed that the sun was starting to go down. I took this shot as we headed back to Lion Hill Lodge.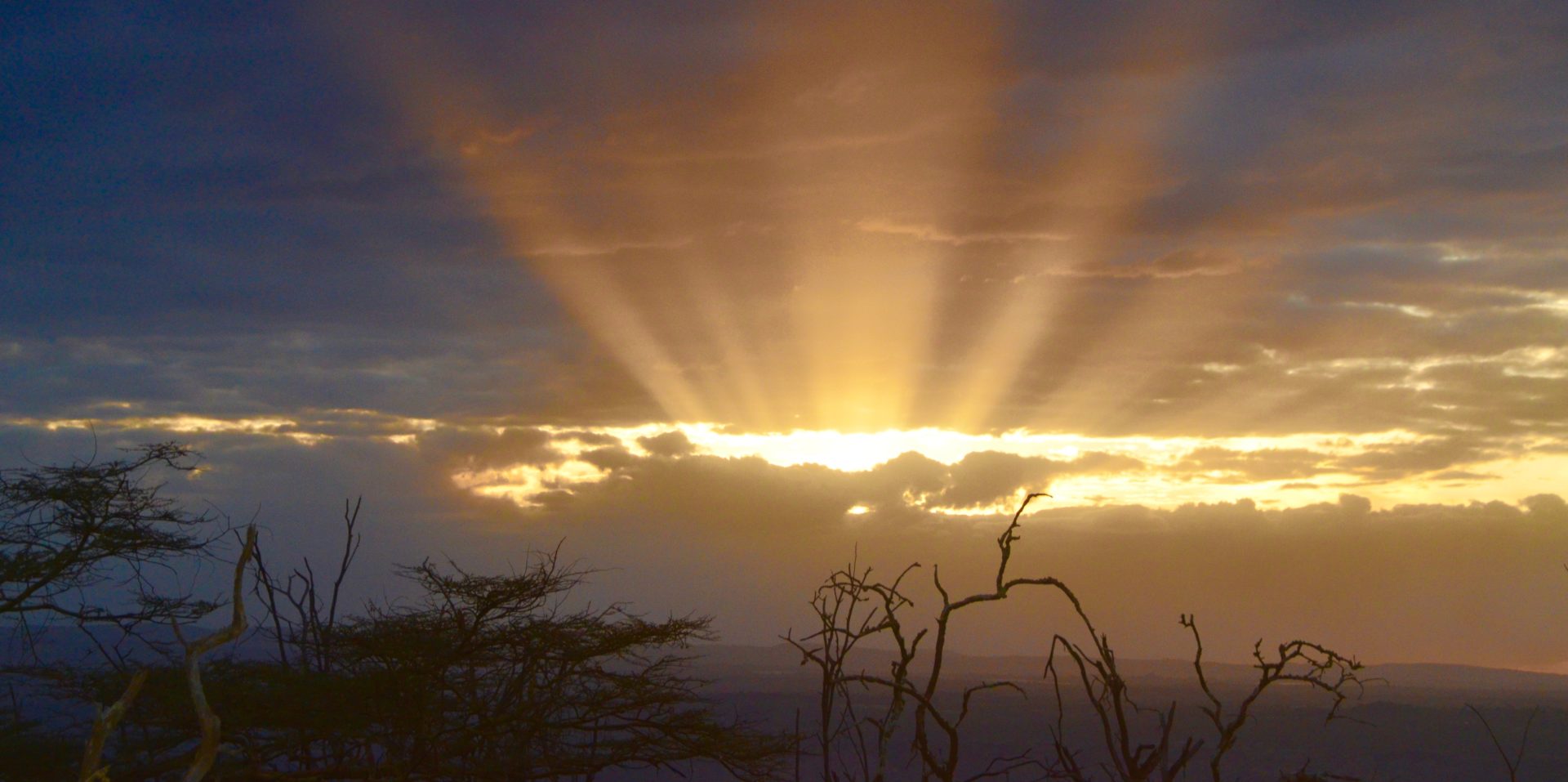 After supper it was time for a little tribal drumming and dancing.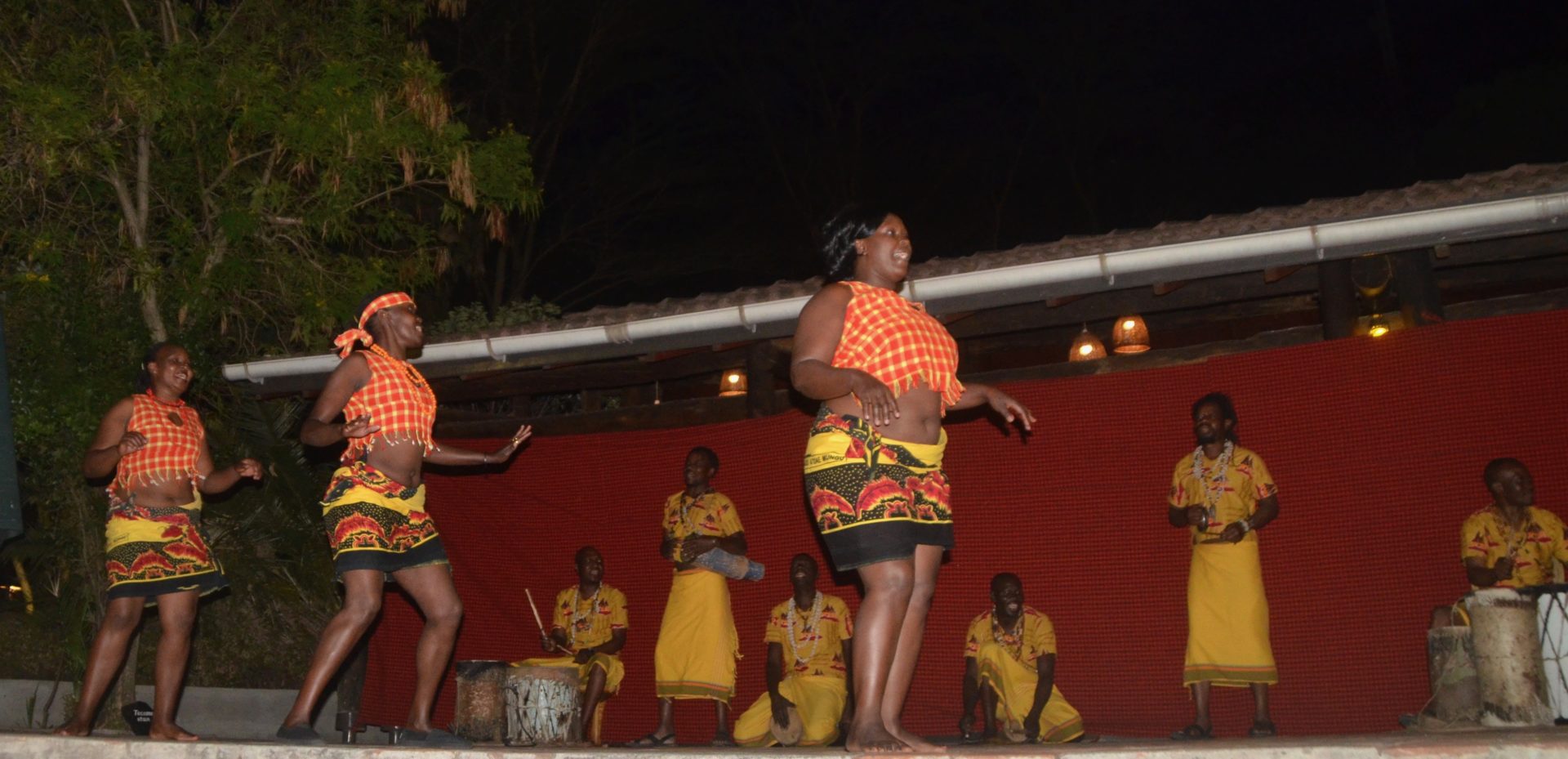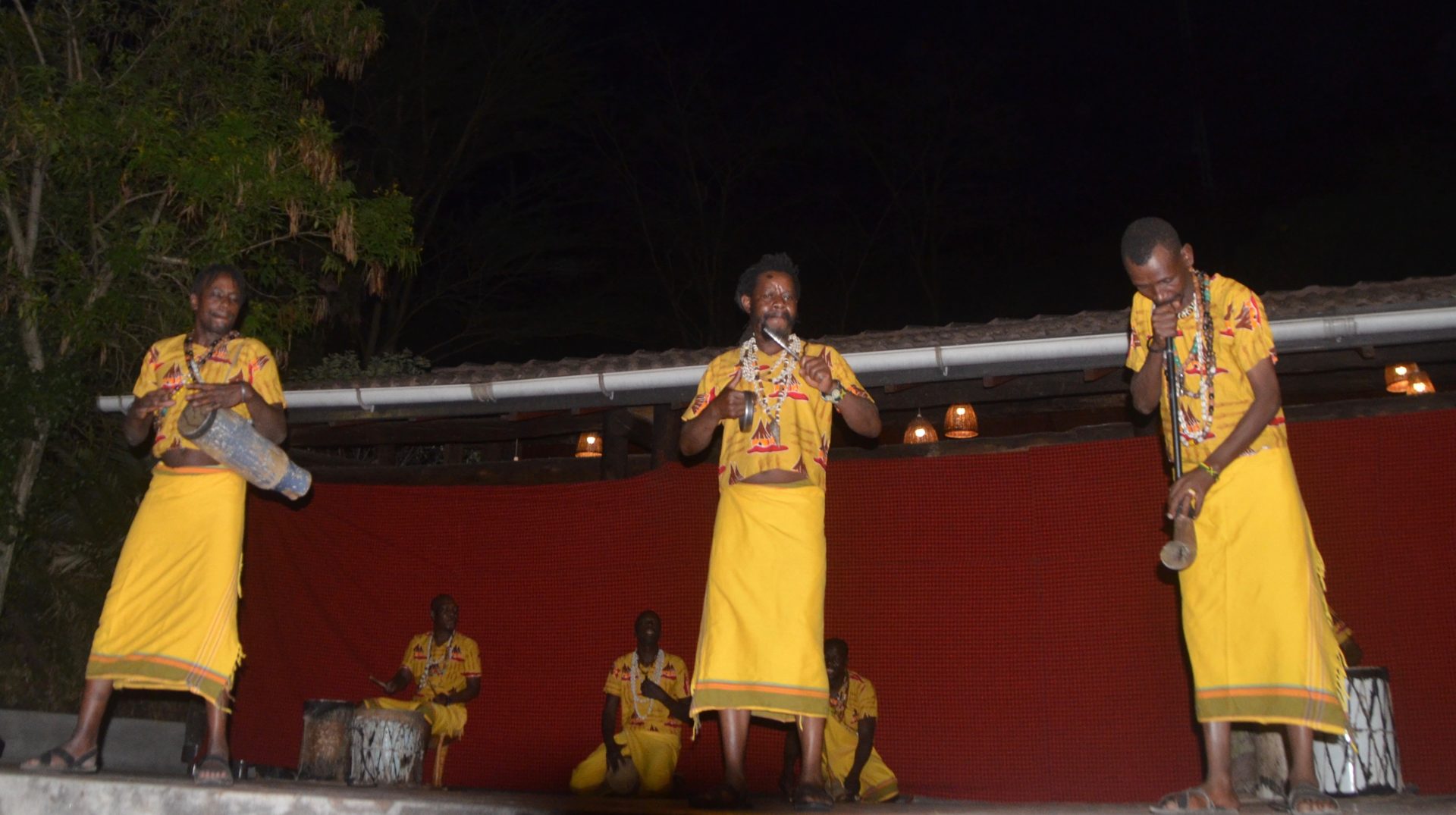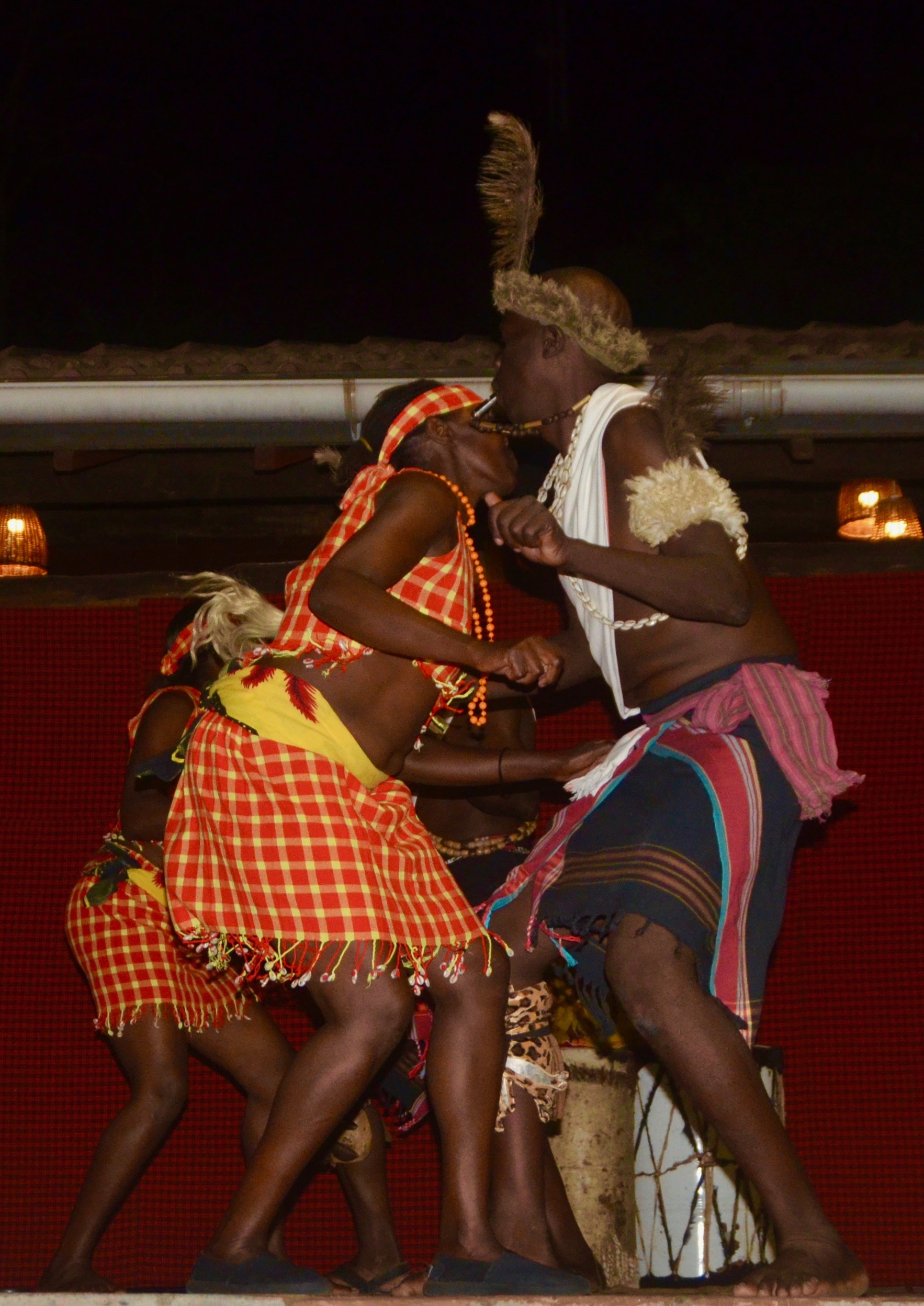 Alison happily joined in, but after my tragic dance floor accident of a few years ago I ordered another gin and tonic instead.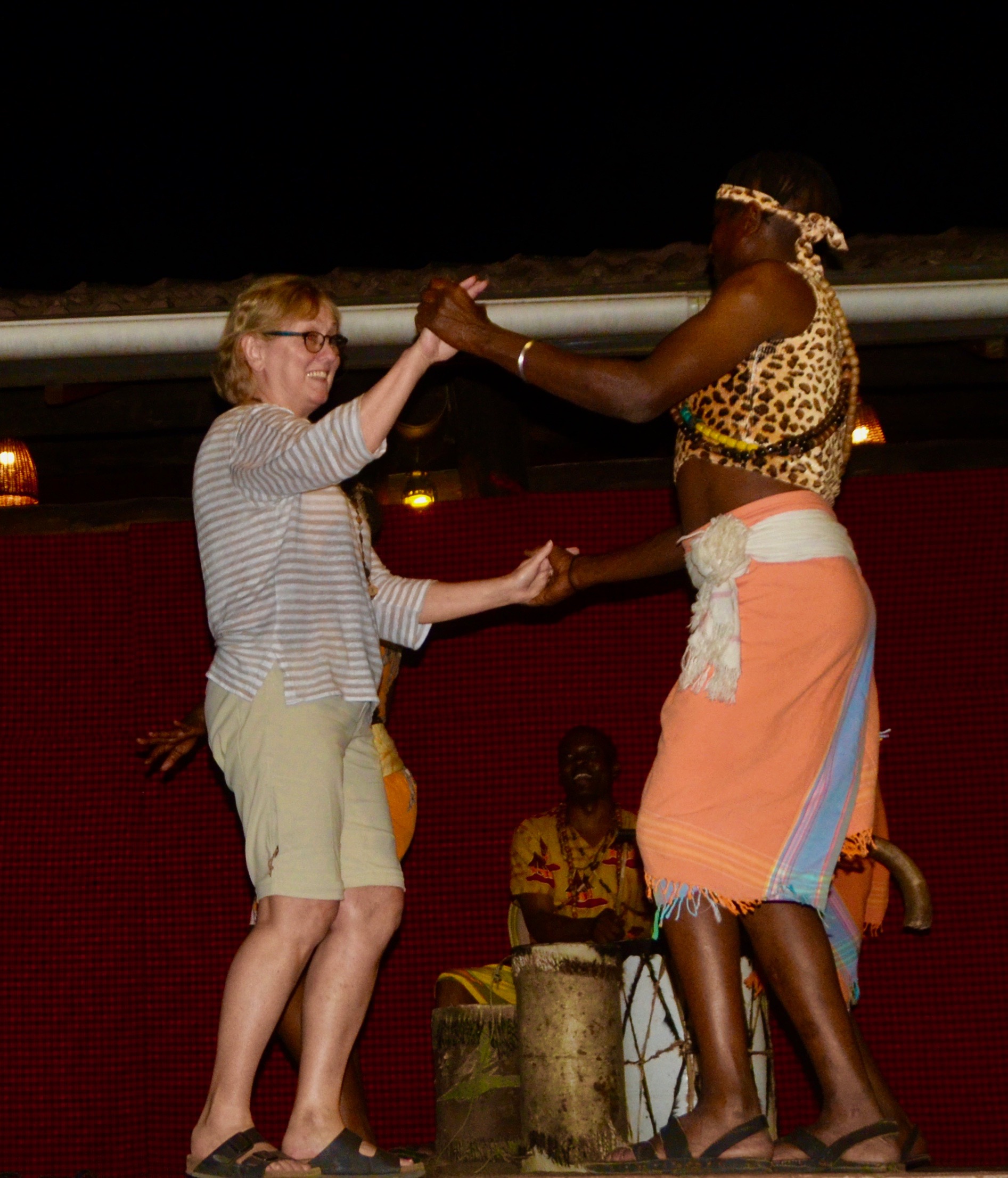 Can you believe that everything I've written about in this post happened in just one day? That's Kenya for you. You gotta go!
Next we'll head for the Masai Mara National Reserve, one of the greatest wildlife spots on earth.
Here is a link to the Kenya photo gallery with pictures from all the reserves we visited.