Mount Revelstoke National Park, B.C.
This is the first of four posts on four fabulous national parks in British Columbia that are a great alternative to the congestion of Banff, Lake Louise and Jasper. On this 150th anniversary of Canada I wanted to make sure I got out to visit some places I haven't been to since I was in my twenties. This also doubles as my annual RV trip which I was supposed to take with my youngest son Dale until, only a few days before we were to set out, his grinch boss told him he couldn't have the time off. Somewhat desperate, I called my older son Alex in Edmonton to see if he could join me and as luck would have it, he could and also bring along my grandson, 10 year old AJ as well. So we are off on a multi-generational trip starting with Mount Revelstoke National Park. Won't you come along for the ride.
Early in the summer I had Dale purchase an RV (with my money) which we will keep stored near where he lives in Nelson, British Columbia. It's a 29 foot Class C Jamboree and although it's no spring chicken it's in good shape with only 35,000 miles on it.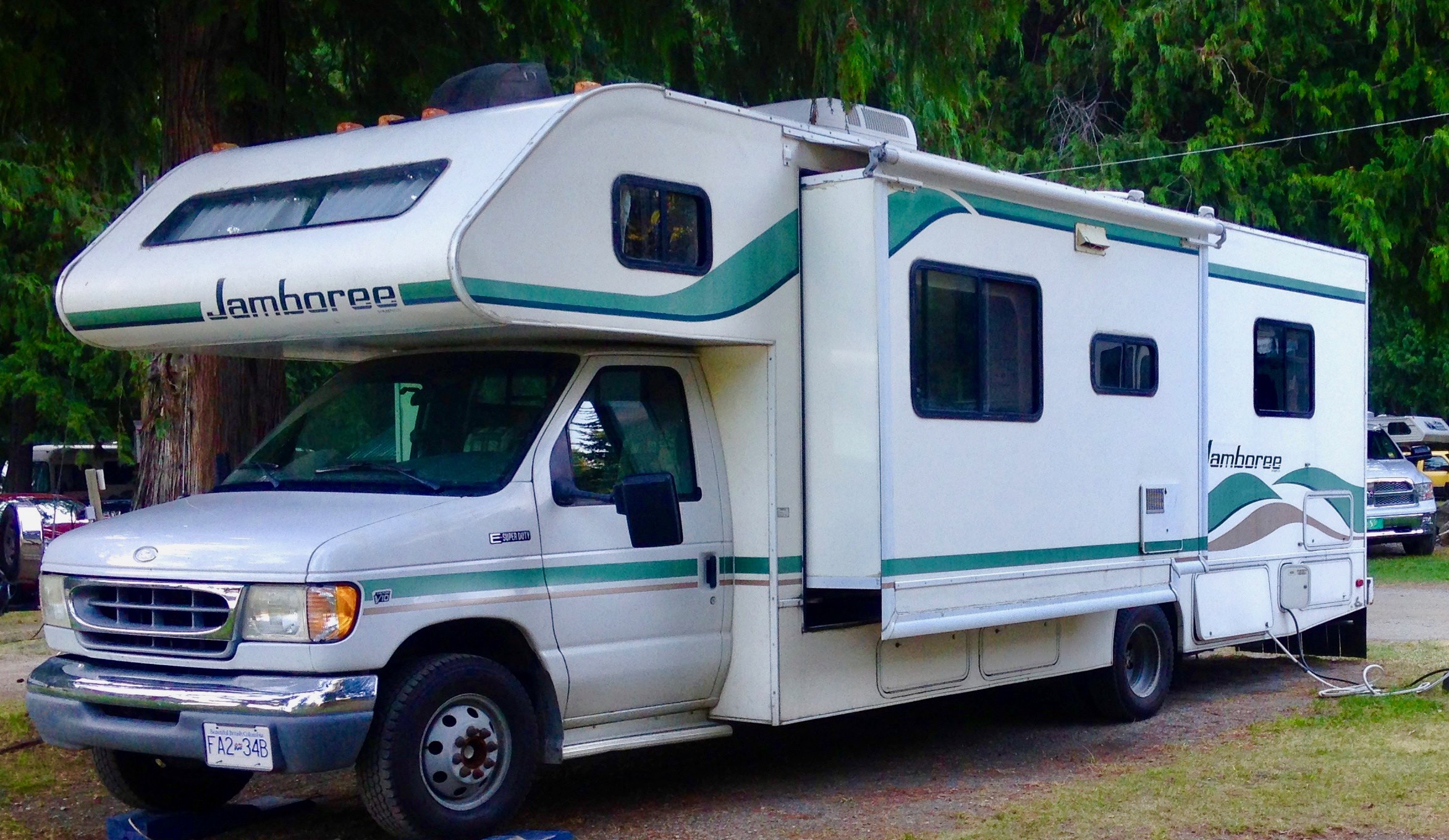 The original idea was that Dale would pick me up at the Kelowna airport and we'd be off. Instead he's going to deliver it to Nakusp which is an hour north of Nelson. By the time I get in to Kelowna Alex and AJ are there, have rented a small SUV and bought supplies. As everybody who doesn't live under a rock knows, this summer has been a terrible one for forest fires in BC. There is a haze in the air that definitely puts a damper on the sight seeing, but with any luck we'll run into clear skies at some point on the trip. The journey to Nakusp is up and over a couple of mountain passes and then a cable ferry across Upper Arrow Lake from Needles to Fauquier (don't ask me how to pronounce it).  You can see how hazy the air is.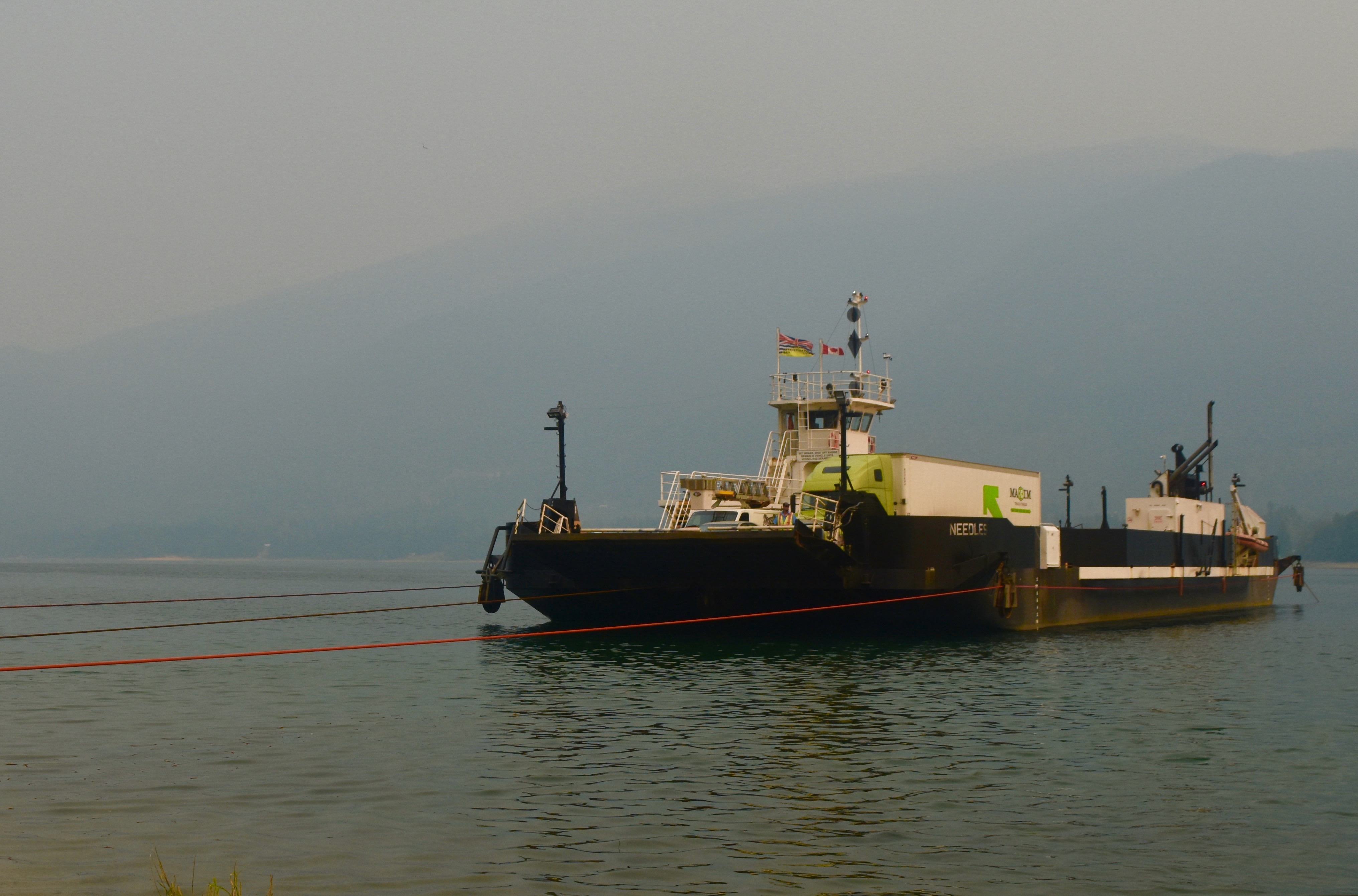 We locate the RV in the municipal campground in the very pretty village of Nakusp, find where Dale has hidden the keys and settle in for the night. The next morning it's another ferry crossing at Galena Bay. I've done this one in the winter and it's stunningly beautiful with the mountains coming straight down into Lower Arrow Lake. Unfortunately we can't see more than a few hundred feet so that's a bummer, but hey – it's a ferry and I never pass up the chance to take one.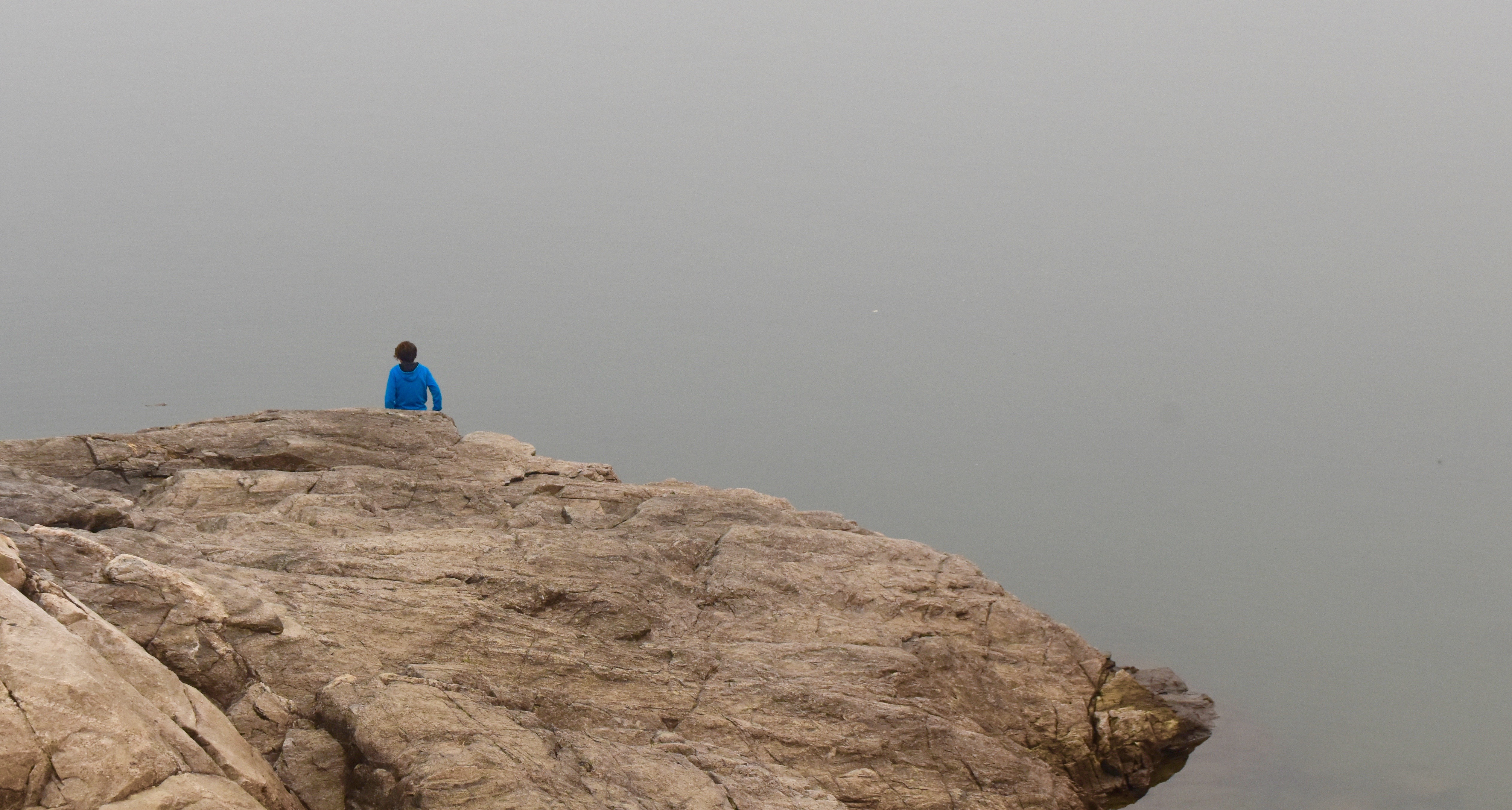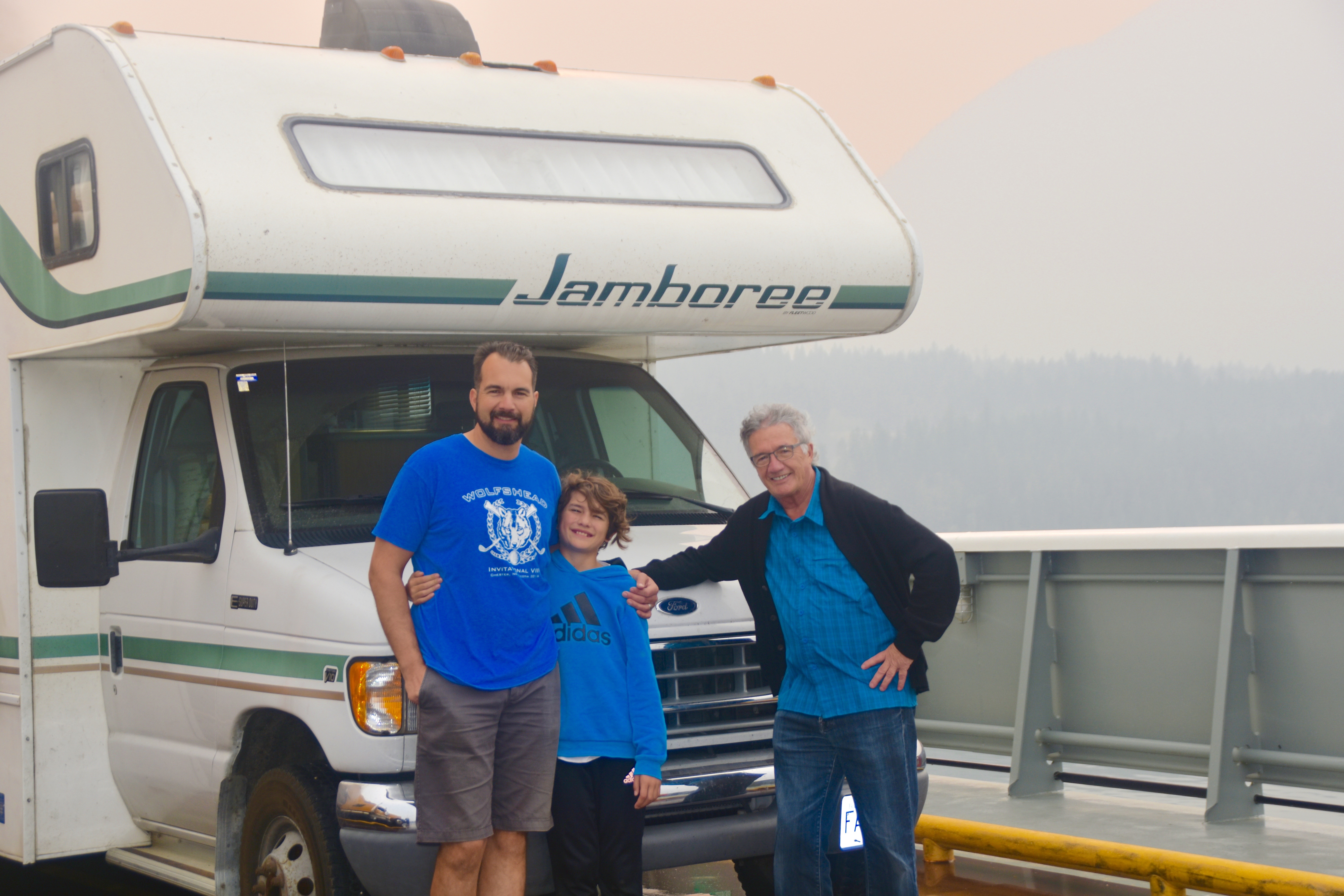 An hour after departing the ferry we reach the town of Revelstoke, one of the coolest spots in Canada, no matter what the season. It is a magnet for outdoor enthusiasts who are in love with the mountains and all the things you can do in them. Dale Jr. was drawn here for the snowboarding at Revelstoke Mountain Resort which we skied with him a few years back.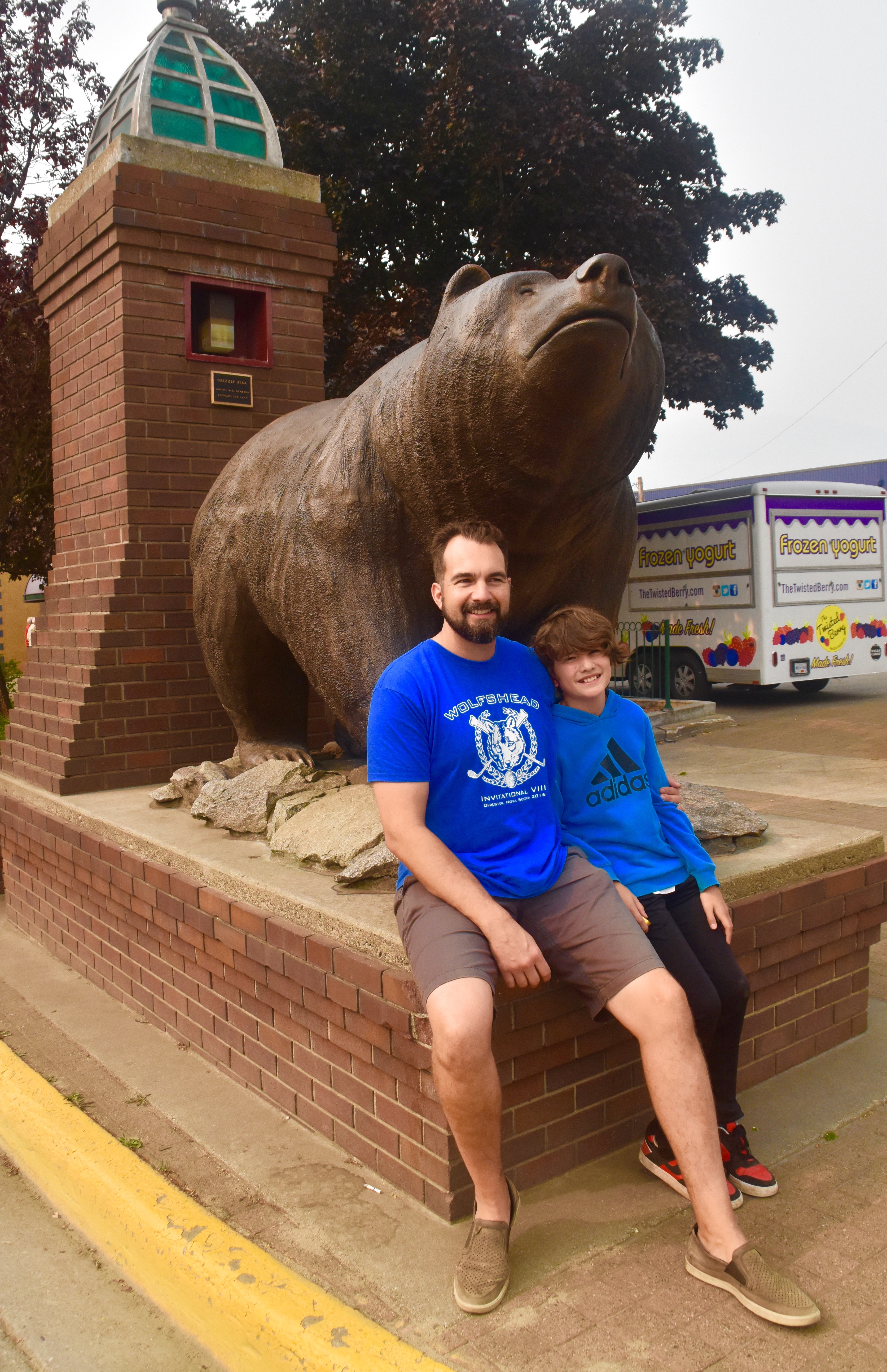 We pick up some bear spray, a necessary precaution in these parts, and a buck knife for AJ and one for me; not a necessary requirement, but ever kid, no matter how old, deserves a good knife.
The entrance to Mount Revelstoke National Park is off the Trans-Canada Highway just a few miles outside the town. As national parks go, it is not large, at 260 km² or 100 sq. miles and there are no front country campsites so our visit here will be relatively short. I've done my research and know exactly what we want to see starting with the steep climb up to the Nels Nelson ski jump.
Nels Nelson Ski Jump
Ski jump you might ask – what's that got to do with a national park? Everything, as the birth of this sport in North America took place right on the side of Mount Revelstoke. For more information on the how and why of ski jumping in Mount Revelstoke follow this link for more information.
World record jumps were made at this place and crowds as large as the entire town today came from great distances to watch the jumping competitions. In terms of Canadian sporting history, this remote place is as important as any in the country.
While nobody has jumped off Mount Revelstoke in over forty years and the ramps down to the departure point are long gone, Parks Canada has preserved the actual jumping sites along with interpretive panels that explain how Nels Nelson and others came to make this the hub of North American ski jumping. There are two ways to get to highest point of the exhibits – the easy way and the hard way. Naturally we took the hard way. From the parking lot at the bottom of the former ski hill there are a number of trails that head up Mount Revelstoke. The middle one is the Nels' Knickers trail and while it's only 400 metres long it is a brutal steep ascent with many switchbacks. Trust me, after coming from sea level, this is a lung breaker, but it's also a good way to get acclimatized.
Here we are at the beginning. How about that cool buck knife?
As we reach the first of the jump sites which was used by young jumpers and women, I shake my head that anybody would have the nerve to hurl themselves down a ramp and up into the air, especially on the hand made skis of the day. As we get higher there is a view of the highest jump from below.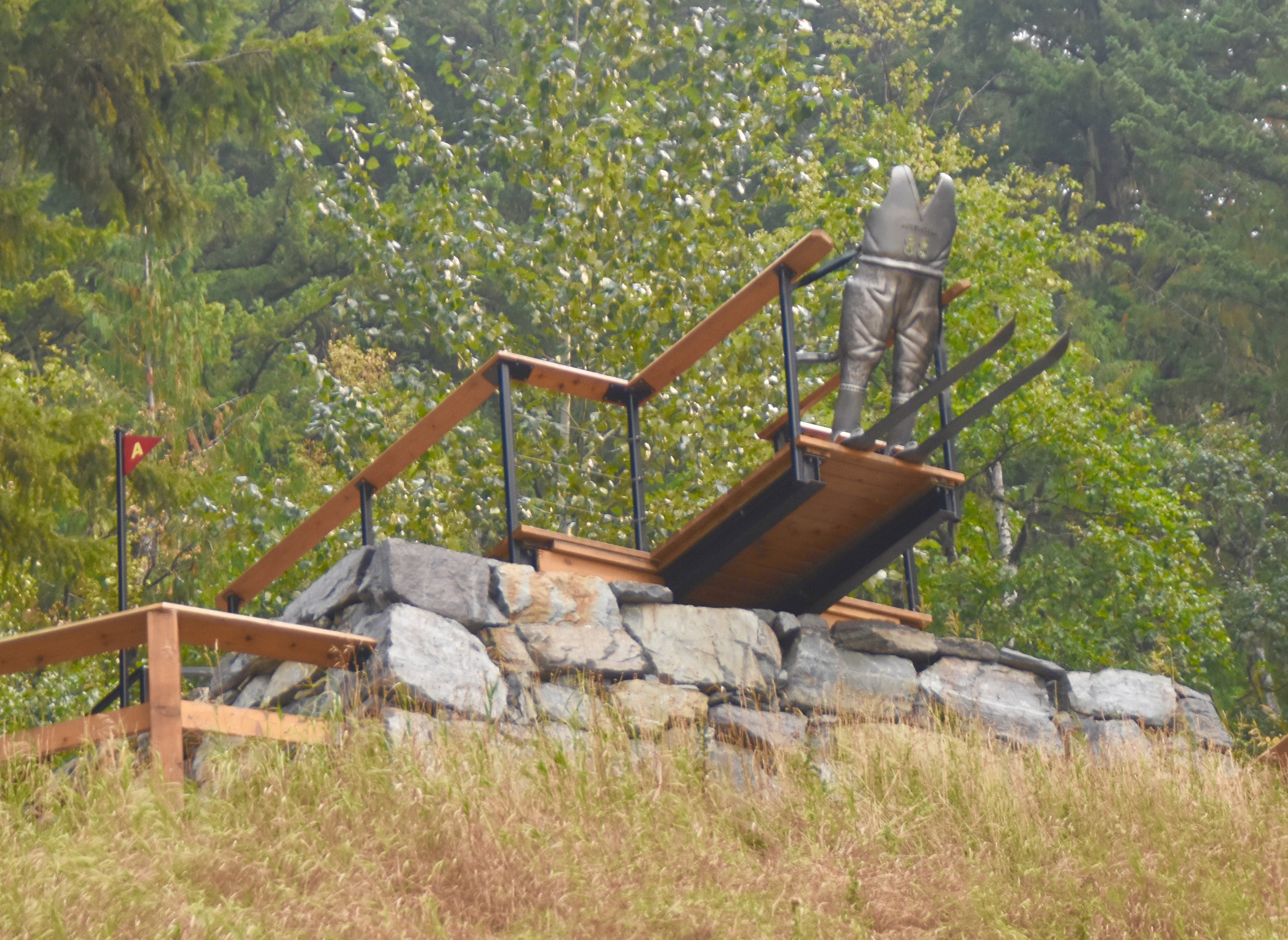 And Nels is still there in spirit and sculpture. And so is Alex.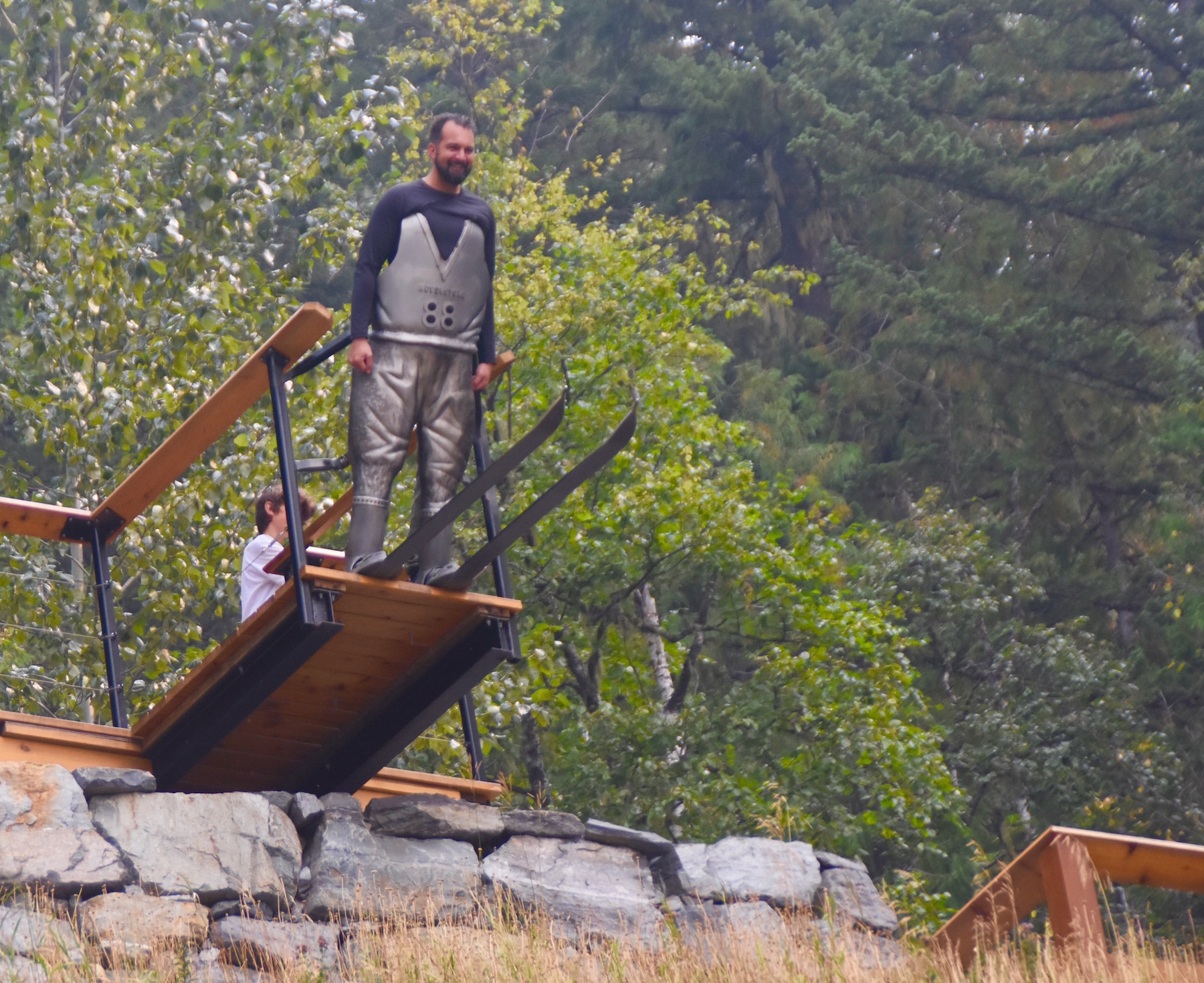 This is one of those works of art that works perfectly in capturing the essence of this place.
When I mentioned an easy way up, there is a turnoff from the Meadows-to-the-Sky Parkway that lets you park close to the top.
Meadows-to-the-Sky Parkway, Mount Revelstoke N.P.
Mount Revelstoke National Park is unique among the Canadian mountain parks in that it has a very well maintained road that goes almost to the summit of Mount Revelstoke. You don't have to hike up a mountainside to get fabulous views and that makes it a very popular destination for RVers and elderly travellers. The Meadows-to-the-Sky Parkway is 26 kms. (16 miles) in length and climbs almost 1400 metres (1530 yards) with sixteen switchbacks. While suitable for most RVs, trailers are not permitted and can be left at the Nels Nelson parking lot.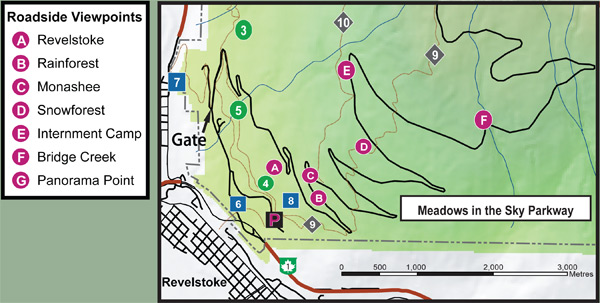 The entire highway is lined by tall western red cedar and hemlocks so there is not a lot of mountain scenery except at the designated viewpoints. Given the hazy conditions they were not of much use on the day we drove it, but guaranteed that on a clear day they would be amazing. As far as wildlife goes, there are signs warning to be on the lookout for amphibians with a picture of a frog and salamander and later on marmots. We did see one standing at attention by the side of the road, but the moment I took the camera out he vanished.
For the driving public the road ends a kilometre short of the actual summit, but persons who don't want to walk can take a Parks Canada shuttle to the top. We elected to walk and were rewarded with a pleasant stroll through open woods to the bare summit. AJ spotted a Steller's jay that was not afraid to pose. One of the prettier jays and found only in the west.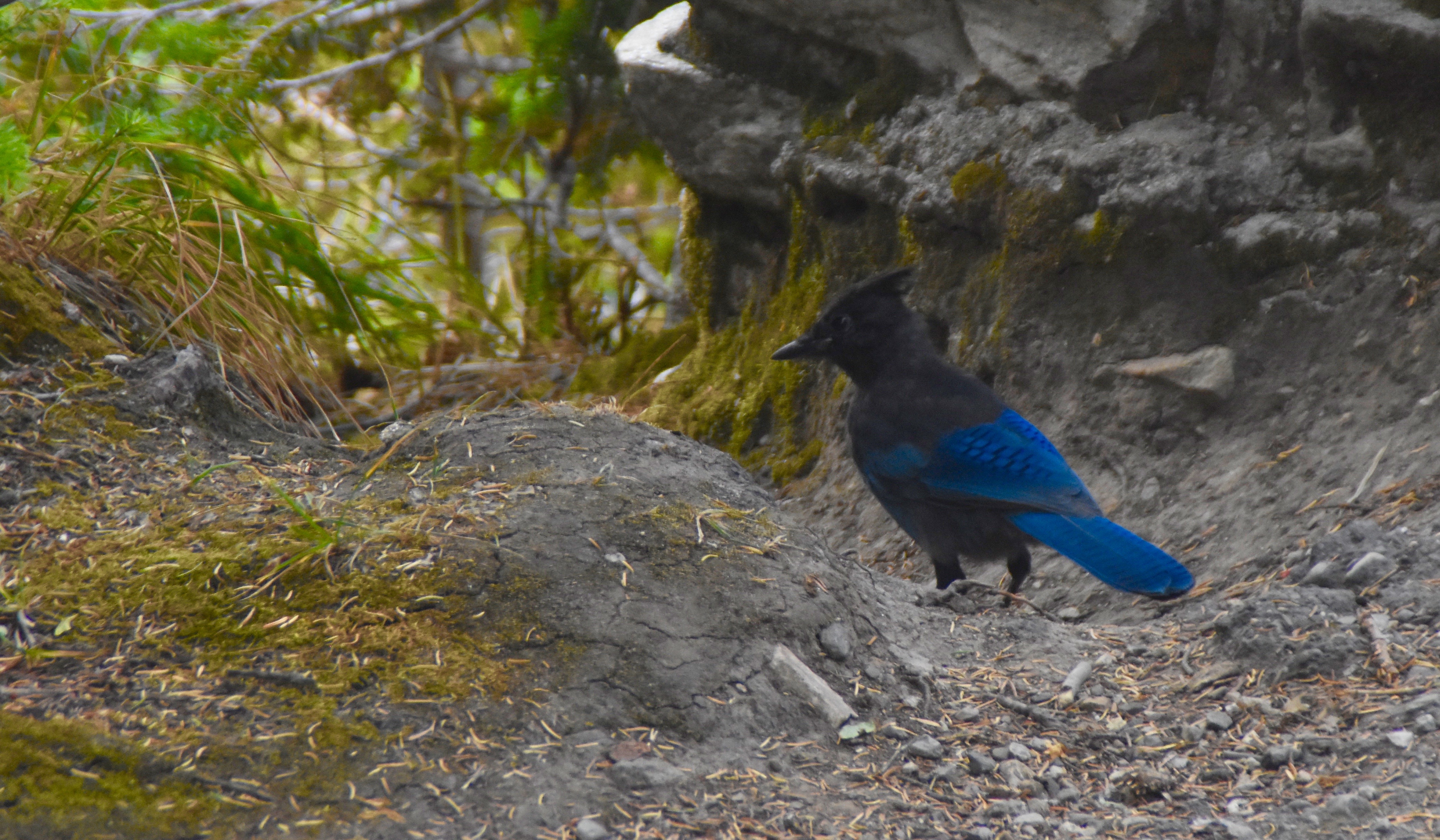 The iconic Parks Canada red chairs were poised at what would have been a fantastic view if it was clear, but of course it wasn't.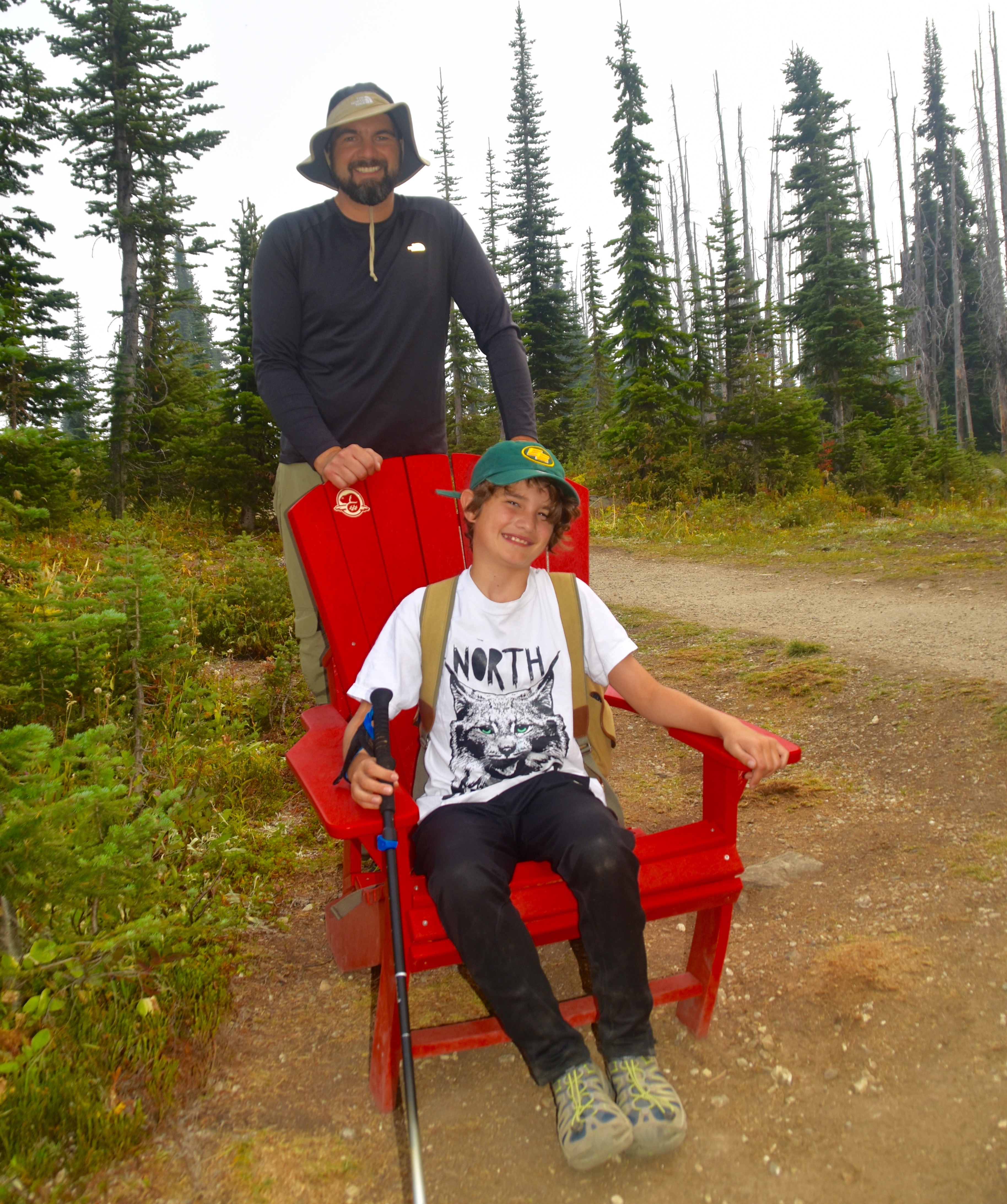 From the Red Chair there is a final short climb to the very summit of Mount Revelstoke where there is an abandoned fire lookout station and a sign to let you know that you summited at least one of hundreds of peaks in British Columbia.
Overall our visit to Mount Revelstoke National Park was more than satisfactory, but because of the haze from the wildfires it really was a teaser to come back and see this beautiful place when you can, well – see it. Mount Revelstoke National Park gets 600,000 visitors a year. Compare that to Banff at almost four million. Reason enough for another visit.
See you next in Glacier National Park.