Glacier National Park, British Columbia, Canada
This is my second post on a recent visit to four of Canada's lesser known national parks in the mountains of British Columbia. The first was on Mount Revelstoke National Park which you can read here. Glacier National Park – isn't that in Montana? Yes and no. There is a Glacier National Park in Montana, but the fact is that Canada used the name first – our Glacier National Park was established in 1886, the second oldest in the system along with Yoho, while the U.S. upstart wasn't created until 1910. So if there is any name infringement it's not by Canada. Also you might ask why I chose to use a picture without mountains or glaciers for the featured photo for this post? Aside from the fact I couldn't actually see the mountains during my visit because of rain clouds, I think the view from the Parks Canada red chairs captures the essence of this park.  So won't you join me and my family as we explore the natural beauty and historic importance of Glacier National Park?
I'm joined on this expedition by my older son Alex and his son, 10 year old A.J. We are travelling in my newly acquired Class C RV, Jamboree and arrive at Illecillewaet campground after our day of exploring Mount Revelstoke National Park. It is the only campground in the park that can accommodate RVs and even then it's a tight squeeze backing into the narrow space allotted. Given the remote location only a few kilometres from the summit of Rogers Pass it is not surprising that there are no serviced lots, but there is a modern and very clean washroom with flush toilets and showers. After a simple meal of pasta with pomodoro sauce accompanied by some nice red B.C. wine, we are ready for bed. The roaring of the Illecillewaet River only a few feet from our site acts like white noise and soon I'm in dreamland.
A few hours later I am awoken by a drumming on the roof that can only mean one thing – rain. One again my unerring ability to bring rainfall to places where it hasn't rained in ages remains intact. Last year I broke the drought in California and this winter brought rain to Egypt. The upside is that B.C. desperately needs rain and hopefully it will clear the, so far, smoke filled air and allow us to see the magnificence of the mountains. Like the roaring of the Illecillewaet, the rain has a sedative effect and I'm soon back to sleep.
In the morning we are surprised to see that younger son Dale Jr. has somehow slipped in during the night without waking us – must have been the rain or just maybe, the B.C. wine. Anyway, he drove up from Nelson after work and will join us for the weekend. A.J. loves to cook and rustles up a hearty breakfast of bacon & eggs while I brew the coffee as we plan our day. The rain is still coming down and the forecast is for it to continue throughout the day. That rules out any of the tougher mountain hikes (not that I'm complaining), but there's still lots to do.
Hemlock Grove Trail, Glacier National Park
So what to do in the rain – how about visit a rain forest? Hemlock Grove is the only inland hemlock rainforest in the world and after Canadian icon Rick Hansen visited Glacier National Park in 1987 as part of his Man in Motion tour, Parks Canada built this handicap accessible boardwalk to let all Canadians enjoy the splendor of these giant hemlocks and cedars. I've embedded this video shot from You Tube which the maker was kind enough to share. Have a look and you'll see why this short loop is a must walk in the park.
Off course the one thing I forgot to bring on this trip was my rain gear – Doh! The saving grace is that my Aran Island sweater is waterproof and warm. Here is the crew ready for our first hike in Glacier National Park.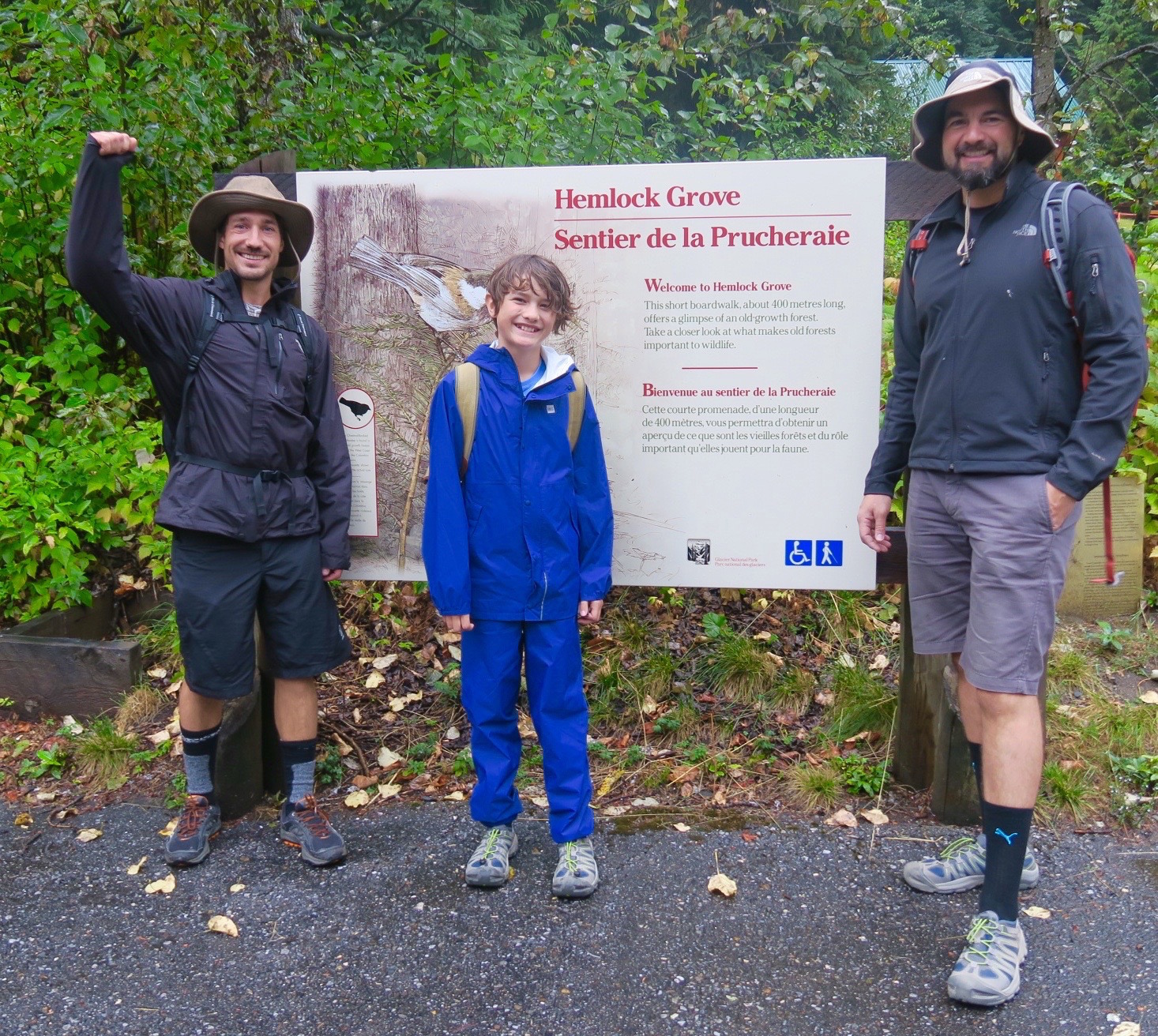 Here's Dale and A.J. atop a fallen giant. You can see that my lens is a bit fogged up.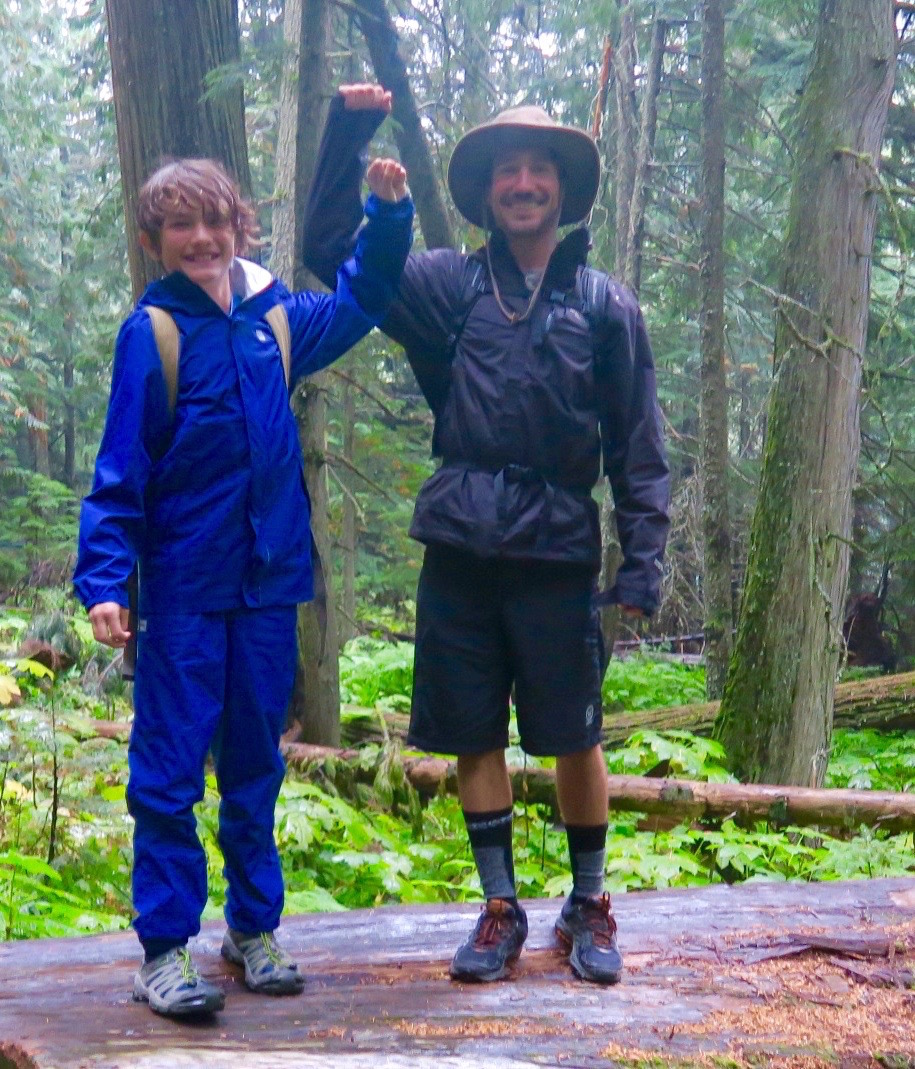 There is a cathedral like quiet in the rain forest with only the steady drip, drip, drip of raindrops falling off the leaves. Coming from a province where over 95% of all original forest has been logged, it is truly awe inspiring to stand among these wonderful (literally) trees and I can see the look of wonderment in A.J.'s eyes as he looks up at trees far larger than any he has ever seen.
This would be a great spot for the famous Parks Canada red chairs and sure enough, right around the next corner there are a pair of them. Rain or no rain, I never pass up a photo op with red chairs.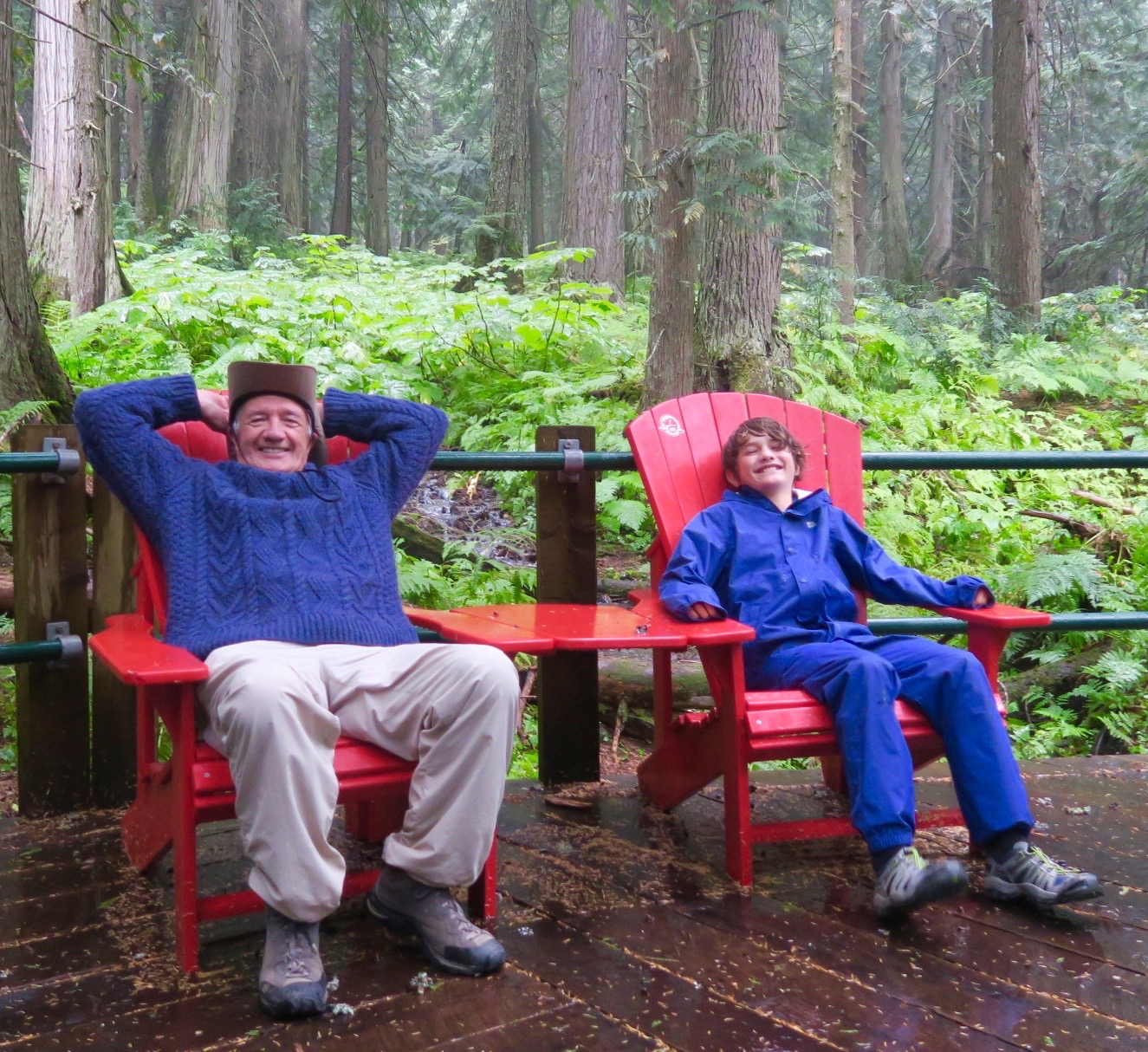 After finishing the short walk around Hemlock Grove we return to Illecillewaet campground where there are a number of trails that are closely linked to a number of historic events that took place in Glacier National Park. By combining parts of the 1885 trail with the Meeting of the Waters trail we can do an easy loop that will teach us some history and observe the power of nature when the rivers get filled with rainwater. Let's start in chronological order and see how each event almost inevitably led to the next.
Glacier National Park & the Trans-Continental Railway
In this day and age, when a lot of us are more familiar with railways as places that after being abandoned make for great rails to trails, we just don't understand how important railways were to the development of young Canada. Anyone who can do simple math knows that because this is our 150th anniversary that Canada first became a country in 1867, but with only four provinces  – Ontario, Quebec, Nova Scotia and New Brunswick. Manitoba came on board in 1870 and in 1871 the two colonies of Vancouver Island and British Columbia agreed to join on one big condition – build a railway connecting BC to the rest of Canada by 1881. That promise is described in this interpretive panel on the 1885 trail.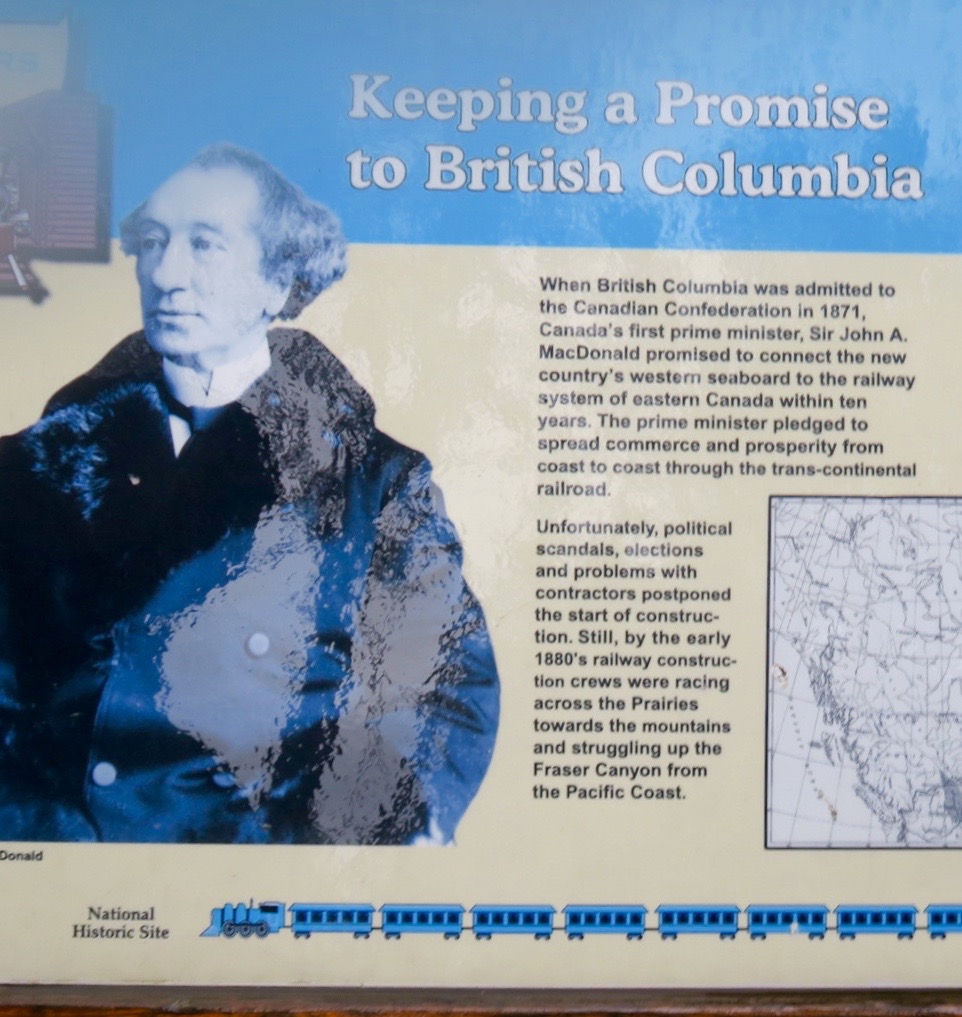 Before continuing, I need to take a moment to talk about Sir. John A. in the context of those misguided few, teachers no less, who are calling for the removal of his name from Canadian monuments because the residential school program was started during his tenure as Prime Minister. First of all, it wasn't. It was started by the second administration, that of Liberal Alexander MacKenzie. True when MacDonald returned to power he did not change things Like 95% of educated people of his time Sir John A. believed, honestly I think, that the way forward for aboriginal people was to adopt to 'Western civilization' and abandon their traditional way of life. The fact that this was an historical error of major proportions with disastrous consequences for Canada's aboriginal people's is not disputed. However, the last residential school did not close until 1996 – yes, you read that right, 1996. Long before then, the negative consequences of the program were well known, something that can't be said about Sir John A. So, long story short, if Sir John A. goes down, so does every Prime Minister in Canada after him up to and including Pierre Trudeau, Wilfred Laurier, Mackenzie King, Lester Pearson and Louis St. Laurent. Talk about a slippery slope!
OK, with that rant out of the way let's get on with the story. Getting through the rockies was always going to be the toughest part of building the railway and the toughest nut to crack was right here in modern day Glacier National Park. It was not until the Canadian Pacific hired American surveyor Major A.B.Rogers in 1881 that the pass that now bears his name was discovered and we are now standing on the railbed that he laid out at that time. It is now part of Rogers Pass National Historic Site which preserves a portion of the original route and includes an interpretive centre as well. Sir John A. kept his promise to BC, albeit four years late and not without the greatest scandal in Canadian history that drove him from office for five years. The last spike was driven at Craigellachie, not too far west of here in 1885. I believe it was the single most important nation building event in Canadian history and looking at this original bridge I can almost feel the history beneath my feet.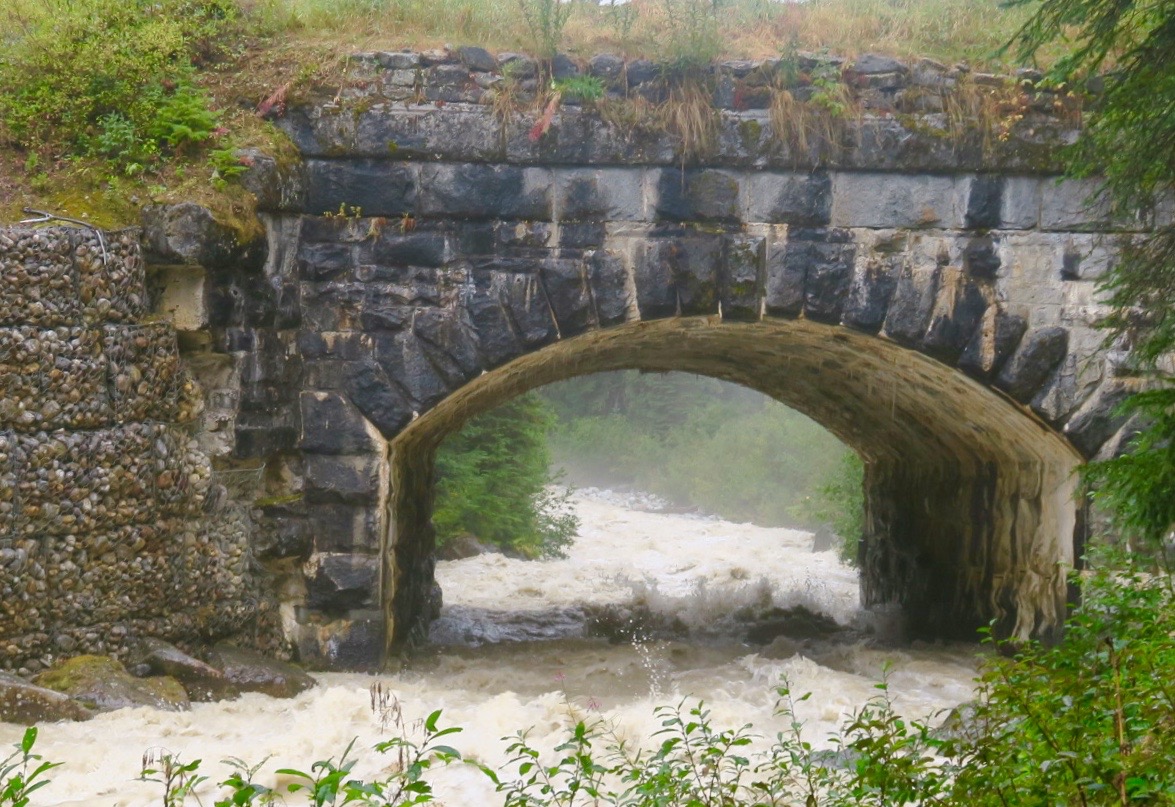 The Building of Glacier House and the Creation of Parks Canada
Ok, we've got the railway built and it is bringing a mass of settlers to the Prairies and the valleys of BC, but for CP there was another more lucrative market than just poor immigrants – tourists, particularly rich American and Europeans. Canada can be justly proud of the iconic CP and CN hotels that were built specifically to attract tourists to this new country.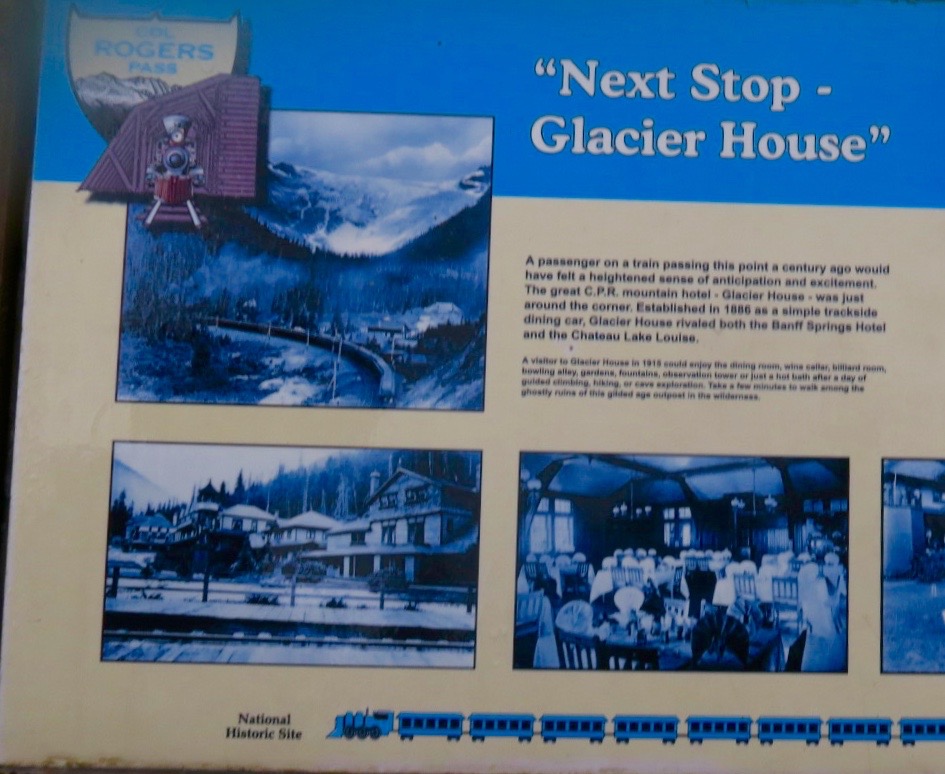 I had no idea that Glacier National Park was once home to a hotel complex that rivalled Banff Springs and Chateau Lake Louise and in fact predated them, but this interpretive panel set me straight. Started in 1886, Glacier House developed over the years into a multi building destination resort that played an instrumental role in the creation of Glacier National Park and the Canadian park system. The first national park in the world was created as Yellowstone by the U.S. in 1872. Despite its relative isolation, the Northern Pacific Railway was able to bring tourists to the park and made a pretty penny doing so. Cornelius Van Horne, the principal owner of CP was alert to this and it was he who lobbied the government for Canada to follow suit and we did – first at Banff in 1885 and only a year later at Glacier and Yoho.
The creation of the national park and the building of Glacier House had a symbiotic effect, with tourists warming to the idea of visiting an area of such great natural beauty that it was set aside forever, and of course, happy to find luxury accommodations available right on the railway line. Although we certainly can't see them today for the rain and the mist, the area around Illecillewaet Glacier (once called the Grand Glacier to sound more tourist friendly and pronounceable) hosts a number of peaks that led to the area being dubbed "Fifty Switzerlands in One"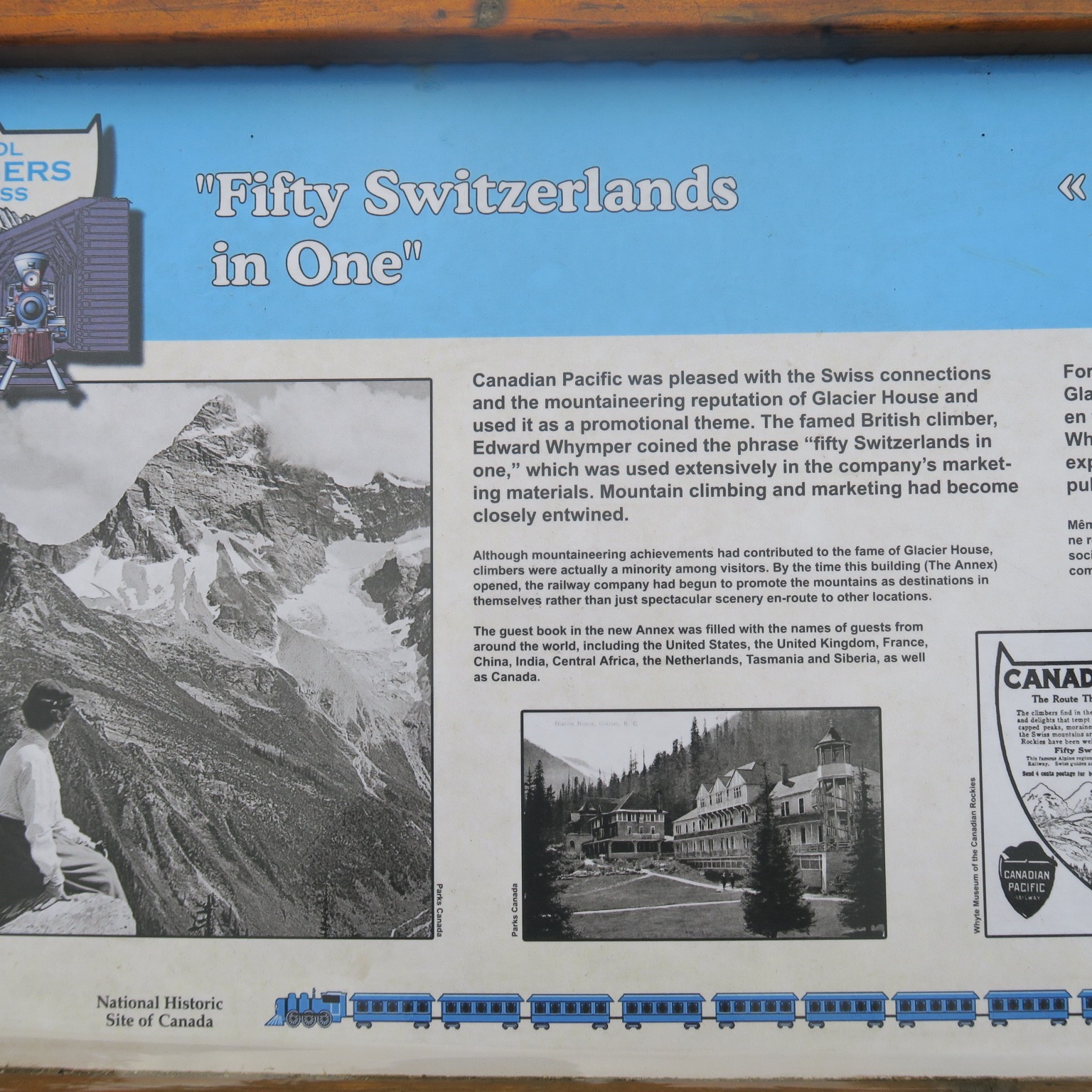 Switzerland was the home of mountain climbing, so having fifty of them couldn't help but attract climbers from around the world and so Glacier National Park became the birthplace of North American Mountain Climbing.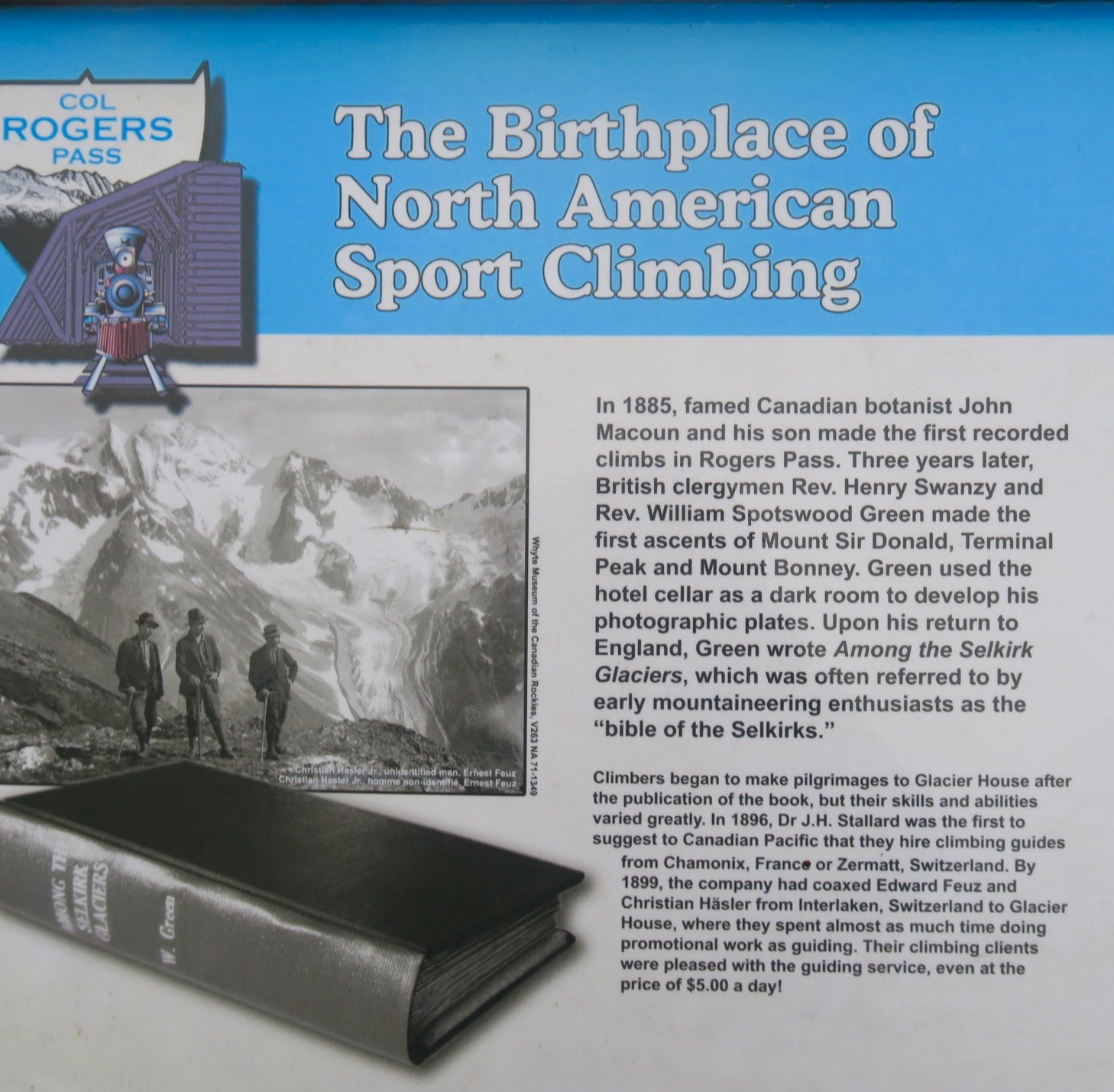 So confederation promise leads to railway, railway leads to luxury hotel, luxury hotel and railway lead to creation of national parks, national parks brings fame and the birthplace of North American mountain climbing. It's a hell of a story and it all took place right here on the 1885 trail.
So what of Glacier House today? Alas, it is long gone, the victim of an early rerouting of the railway bed to avoid avalanches. Without rail service to its doors, Glacier House closed in 1925 and was torn down a few years later. However, you can still walk among its skeletal remains today as we are doing on this rainy morning. Somehow it seems appropriate that the weather be sorrowful. R.I.P. Glacier House.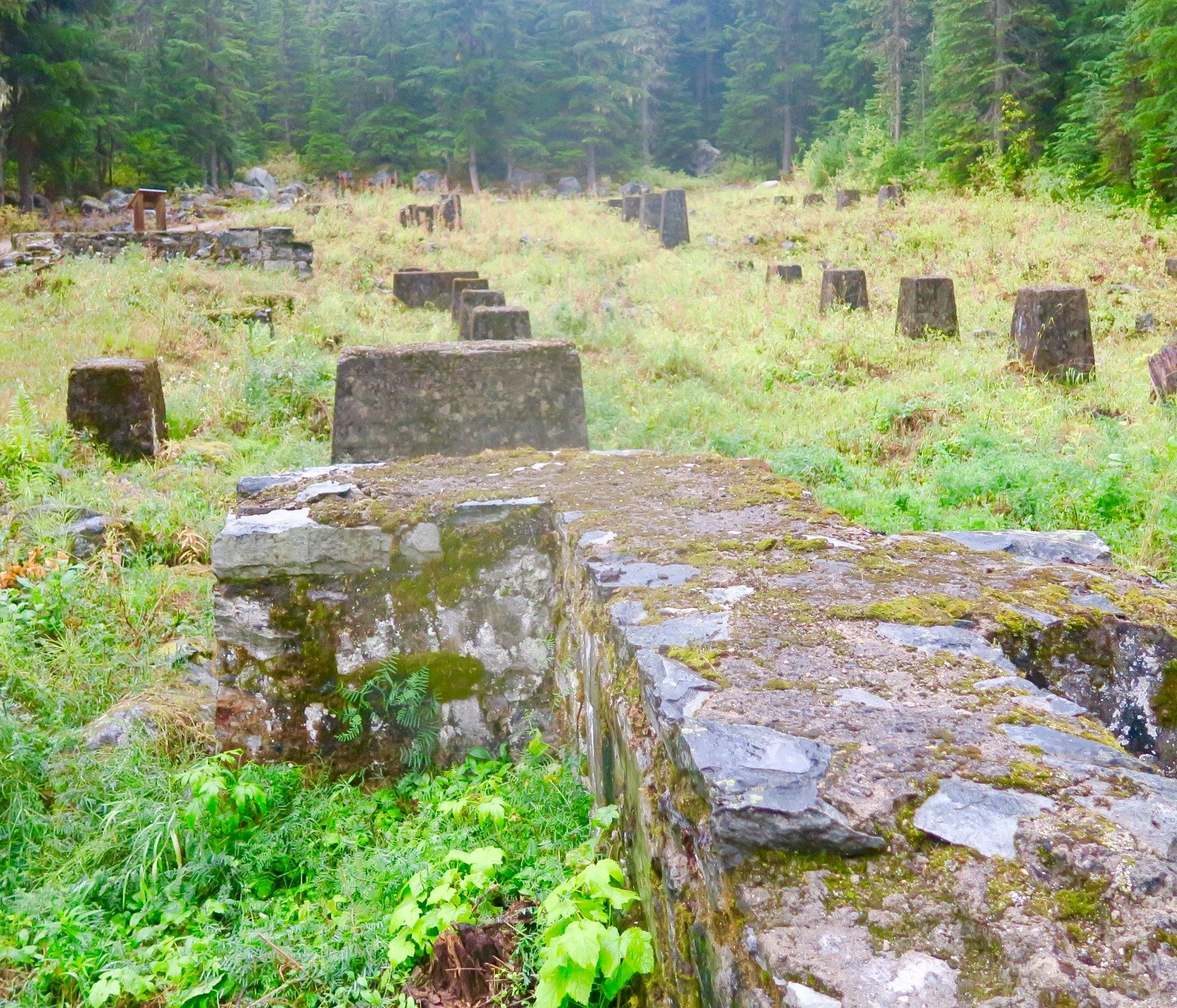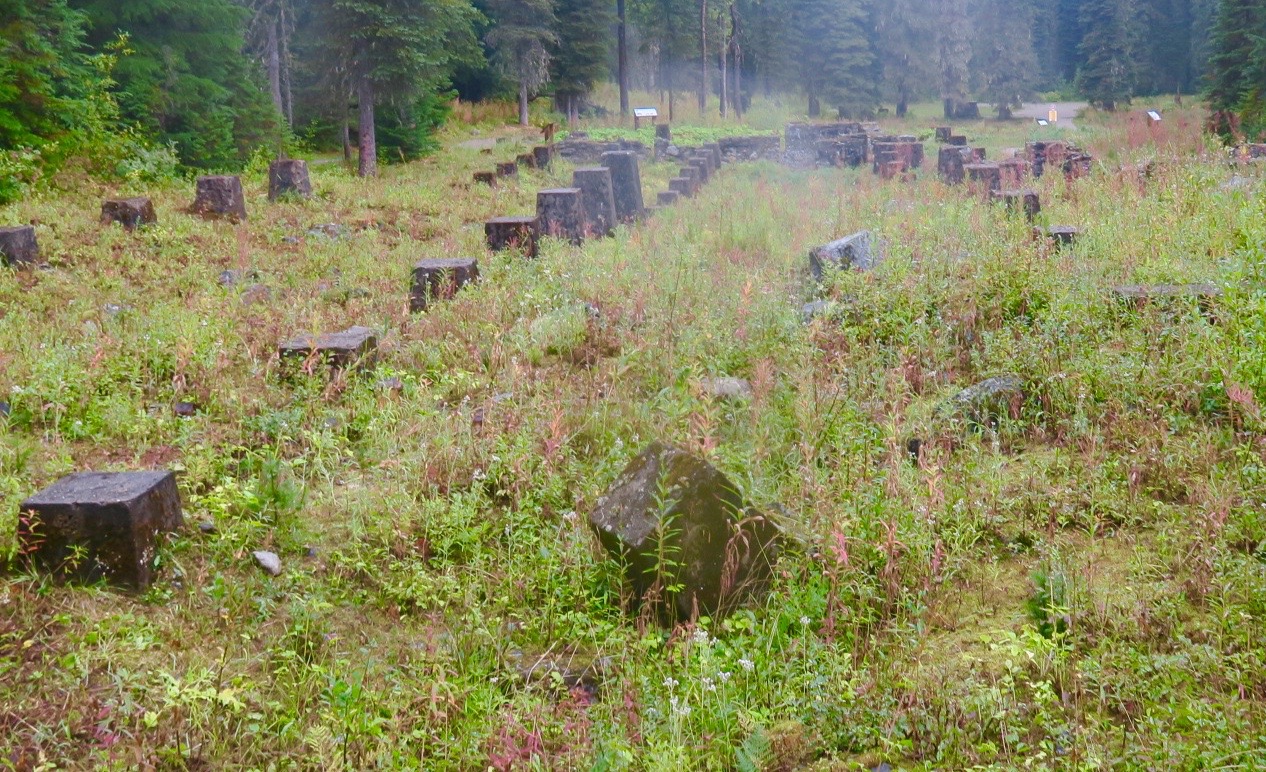 From the ruins of Glacier House it is but a short walk to the where Asulkan Brook flows into the Illecillewaet River. The rain has turned both into raging torrents that are knocking huge boulders together like tumbling dice. We can hear the sounds of the knocking coming from under the water – it's a bit eerie. This is the view from atop the old railway bridge.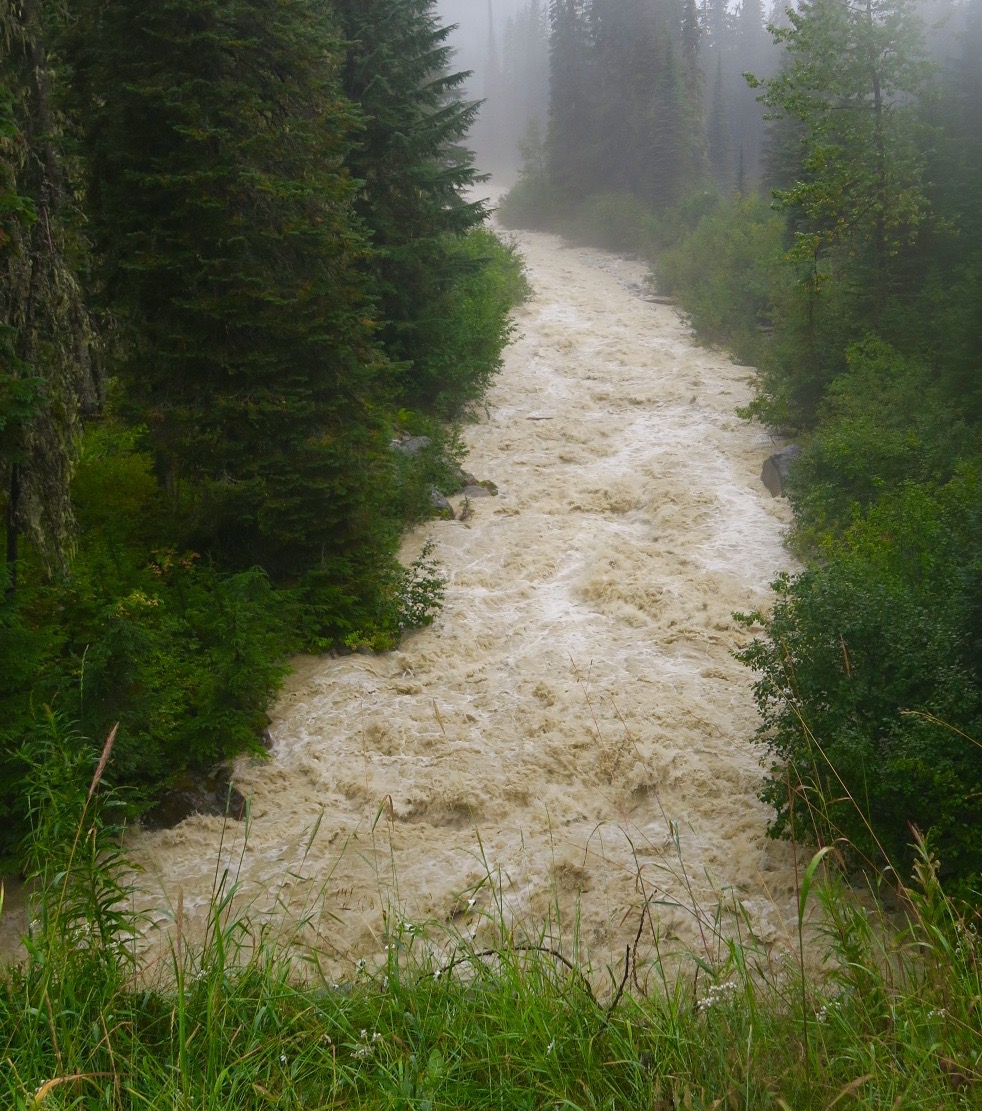 There is a well constructed bridge from which we can watch this aquatic gnashing of teeth.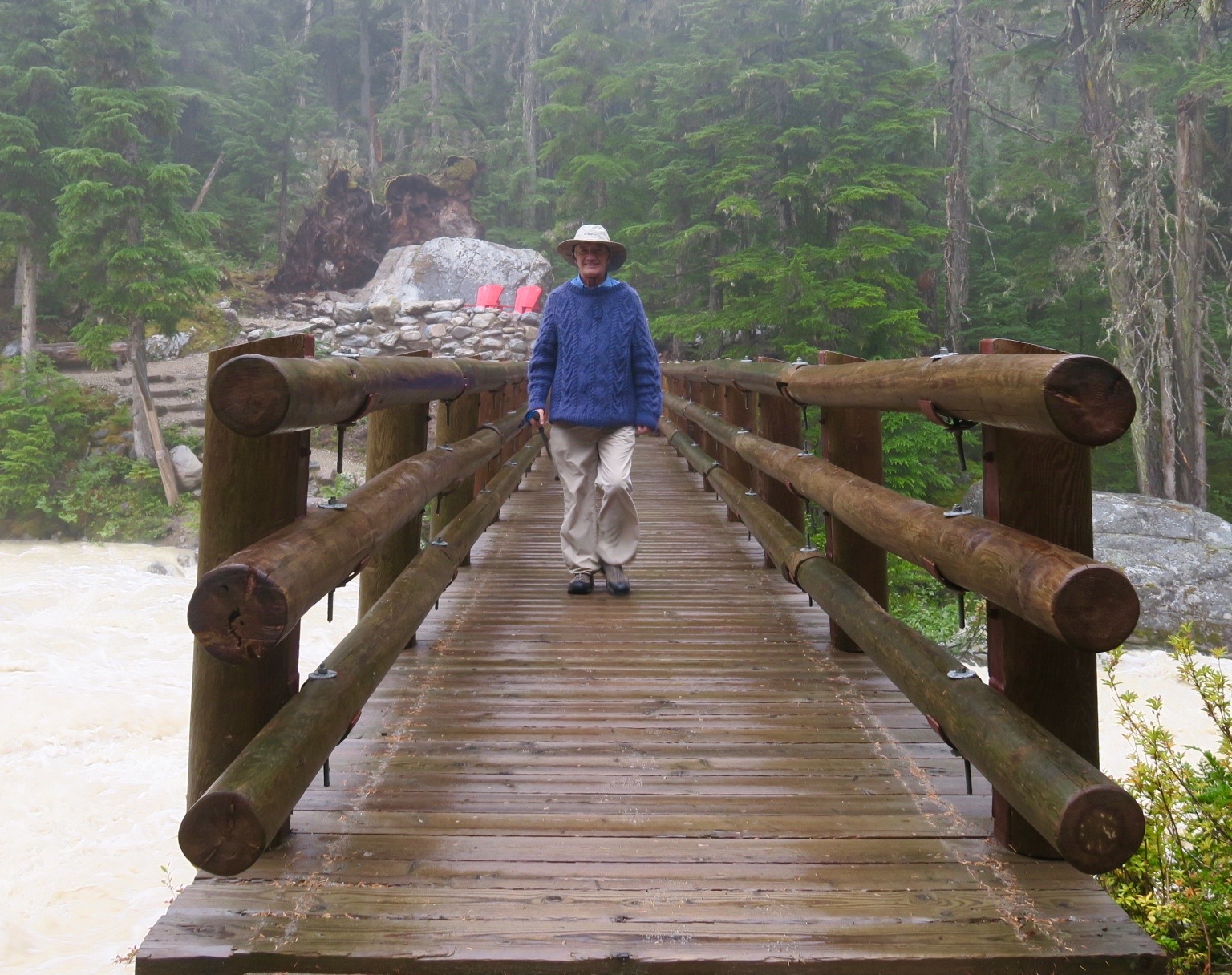 And at the other side we are greeted with a familiar sight – the red chairs. Dale and A.J. take a seat and Alex sits on the rocks on the bank. We all agree on how lucky we are to be in this wonderful spot and that despite the poor weather, there is more than enough reason to visit Glacier National Park, if even only on a fleeting visit. We all vow to return in better weather and try some of the more difficult hikes that first attracted visitors to Glacier House over 125 years ago.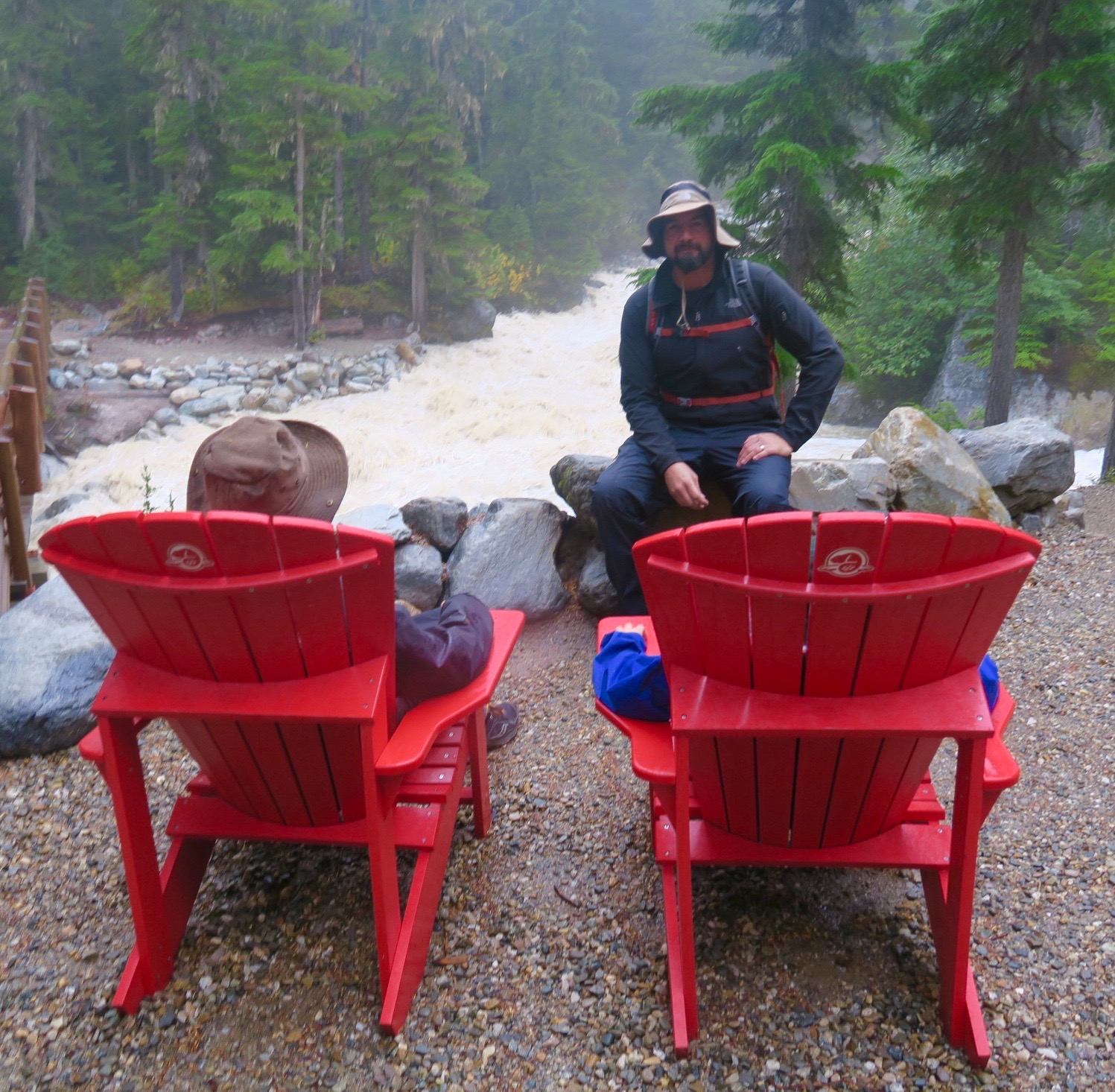 Next up, Yoho National Park with its amazing waterfalls.. Hope you'll join us.