Revelstoke – Discover This Great Ski Resort Before Everybody Else
Up until a few years ago Revelstoke, B.C. was a small town noteworthy mostly for the treacherous sections of the Trans-Canada Highway that precede it from either direction. Sure, it had a very good Railway Museum and a well preserved central core of historic buildings, but mostly it was a place to get through on the way to Banff, Kelowna or Calgary. Although a jumping off point for hikers, climbers and mountain bikers, Revelstoke was not known as a ski destination. This was ironic as people have been skiing at Revelstoke since 1892 when the first ski club was organized by Norwegian immigrants, far earlier than almost anywhere else in North America. Later Revelstoke became famous for ski jumpers including the legendary Nels Nelsen who held the world record for many years. As the popularity of ski jumping declined in Canada, Revelstoke faded from the public eye and was known only as a railway hub.
All this changed when Revelstoke Mountain Resort opened in 2007, featuring a jaw dropping 5,620 foot vertical drop, breaking Whistler-Blackcomb's previous North American record by almost 500 feet. It also sports The Last Spike, the longest continuous trail in North America, at 15.2 kilometres or nearly ten miles. Add to this an annual historic snow fall of 40 to 60 feet and surely the world skiing spotlight is focused squarely on Revelstoke, right? Wrong, as I found out on a recent visit.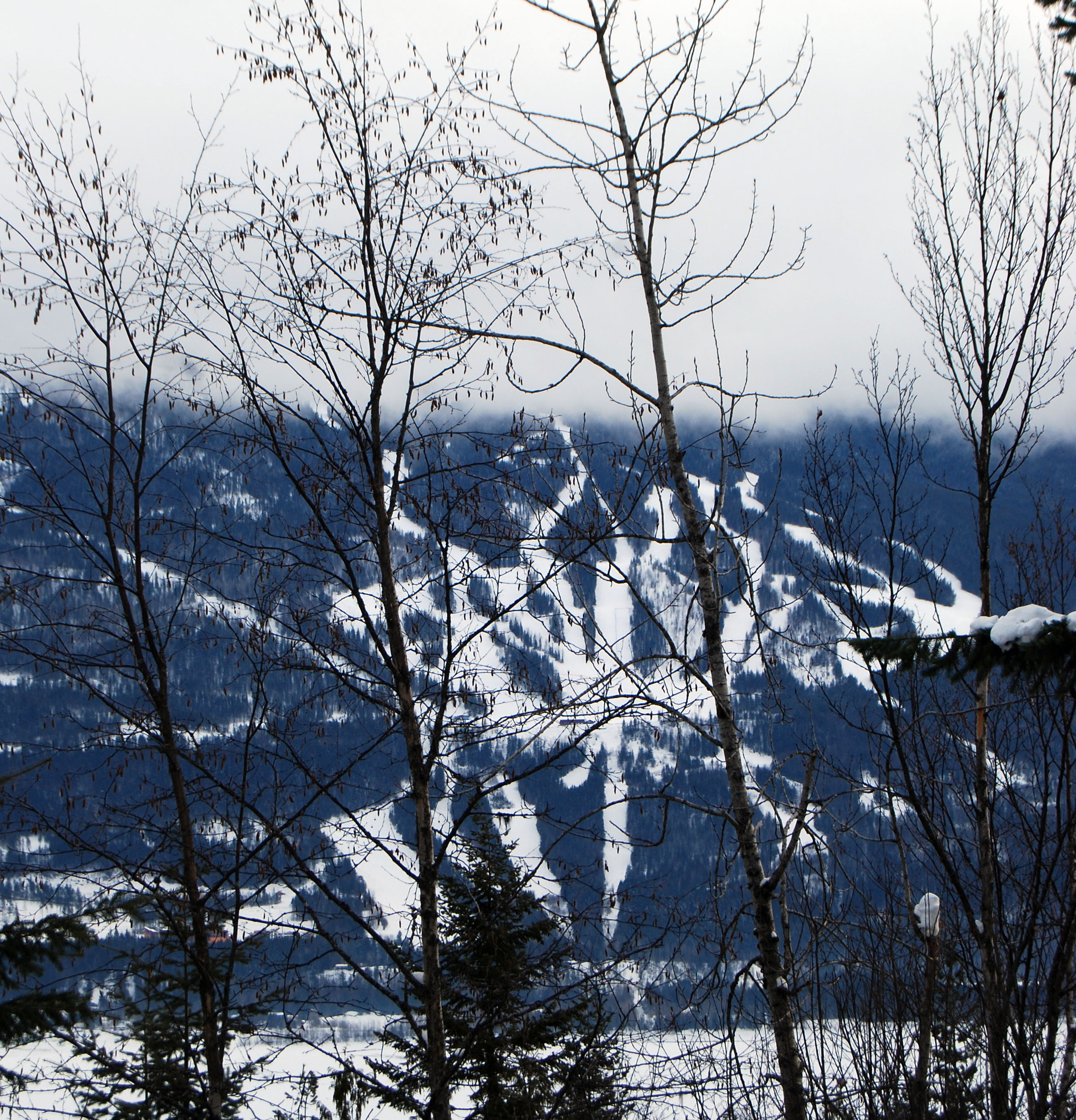 Arriving at the hill at 8:00 there were parking spots available not one hundred feet from the base lodge. Looking to rent gear and be ready for the 8:30 opening, I went inside to rental station and found I was the only one there. Asking if I was mistaken about the 8:30 opening, the response was no, but there was plenty of time to ski. I was about to find out how true this was. Taking the Revelation gondola a short distance to the day lodge I joined a group of about twenty people waiting for the opening. By 8:30 the crowd had swelled to all of thirty; this was a far cry from the hue and clamour I've come to expect at other large mountains where the quest to be 'the first run', is almost maniacal.
The gondola travels to mid-mountain and then a short ski takes you to the Stoke quad lift which hurtles to the summit at a very good pace. From base to summit has taken about fifteen minutes. The first thing anyone would notice on a clear day are the stunning views of the Selkirk range to the east and the Columbia River valley below, although to be truthful, in the two days I skied Revelstoke I caught only occasional tantalizing glimpses, as the clouds rolled in and out with amazing quickness. Faster than I could get out my camera a beautiful panorama would disappear into a gray mist. Oh well, you can't expect to get fifty feet of snow without some clouds.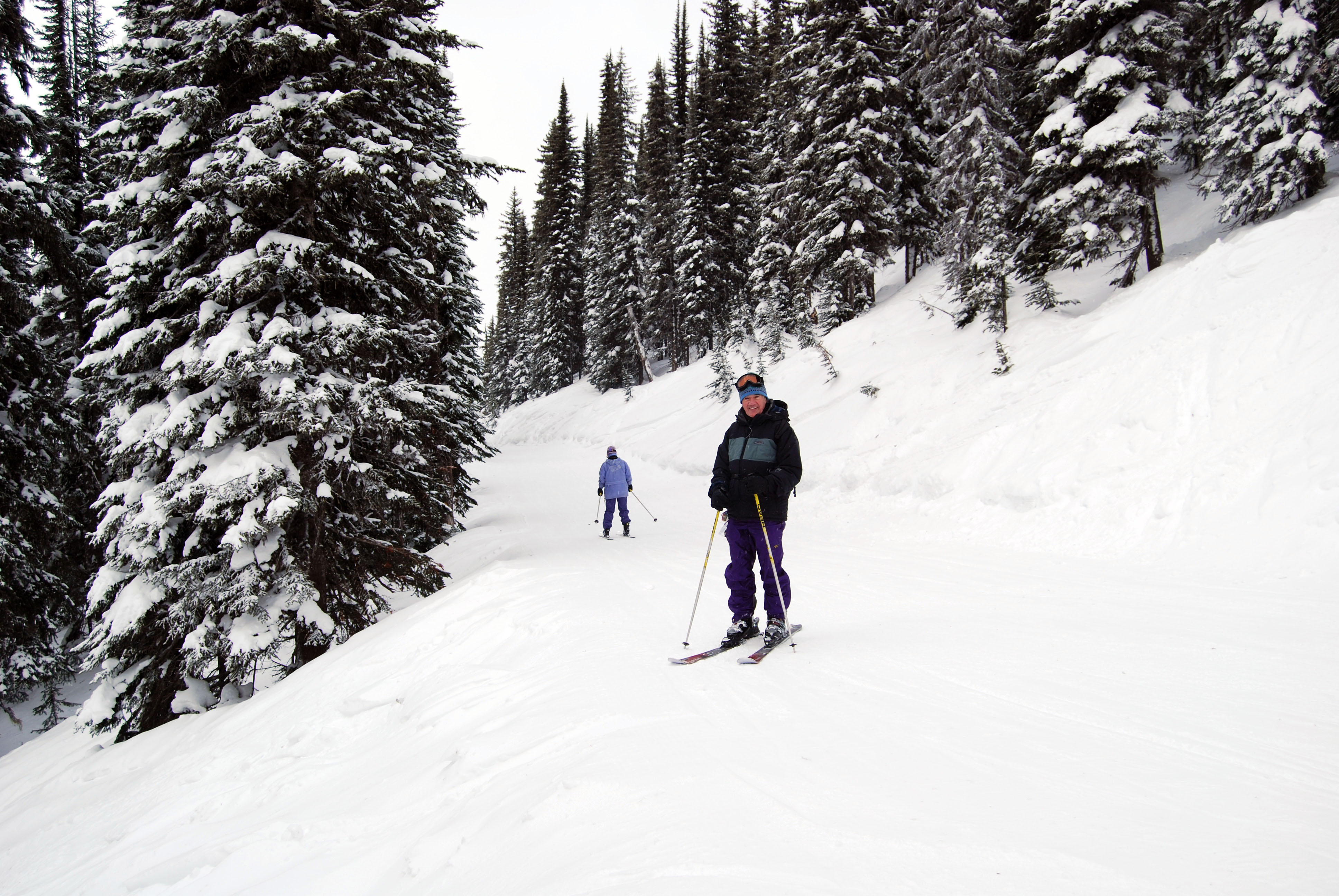 Apparently the 5,600 feet of vertical was not enough for some, as a good portion of those at the top started trekking upward to reach the bowls that form below the actual summit of Mount Mackenzie, the lift ending at a sub-peak. Not being an expert skier my choices were somewhat limited. Black diamonds with names like Vertigo, Devil's Club and Pitch Black were not quite my cup of tea. Instead the intermediate Critical Path provided a good test for my aging quads. For those interested in just amassing vertical feet there are three trails that run straight and steep from top to bottom.
The first thing I noticed about my fellow skiers and boarders was that they were overwhelmingly young and very good. That's not to say there weren't a few older types other than myself, but there was a joie de vie in the air that was catching. The snow was perfect, the weather mild and the trails just got better and better. On top of that it was ski on – ski off all day. Despite having only three lifts there wasn't a single wait of more than 30 seconds.
Used to skiing in icy eastern conditions, I usually need a break after an hour or so, but at Revelstoke three and a half hours passed before break time and that was to get a coffee and home made energy bar. As the summit is less than 8,000 feet one is not left gasping for air or seeing spots before the eyes, as at some of the better known mountain ski hills. Whether it was the purity of conditions, the extra long runs or lack of people I don't know, but stopping before the end of the day was unimaginable. All too soon it was time for last run and what better way to do than run the entire length of Last Spike which corkscrews its way down the mountain for almost ten miles and provides a perfect antidote for tired legs. However my favourite trail was the one with the best name – Kill the Banker. Here I am at the top with my son who is a Revelstoke addict.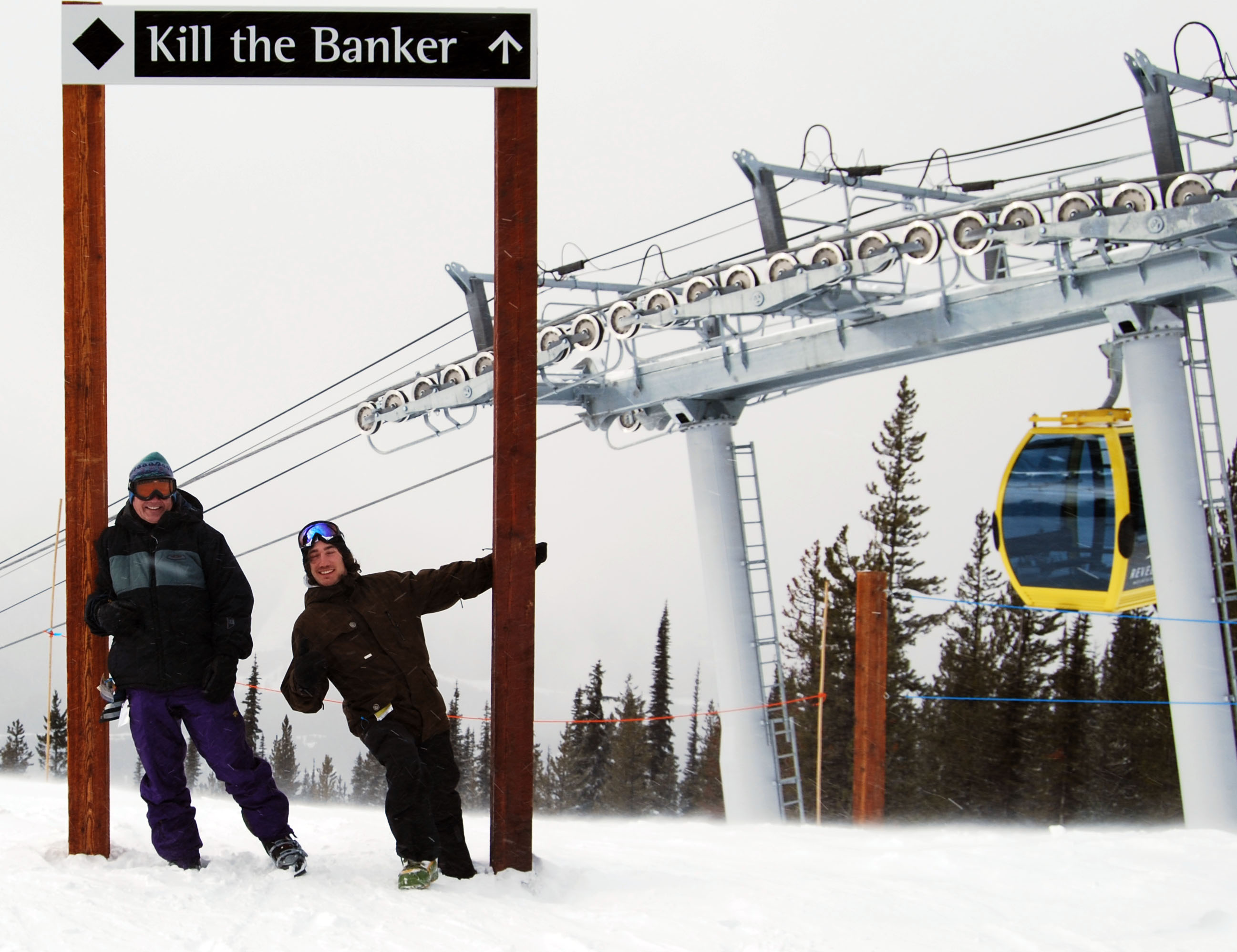 Conceived as a billion dollar project to open up the legendary Selkirk Mountains to skiers of all means, rather than just those who don't bat an eye at dropping a grand a day for heli-skiing, the resort is at the stage that the lifts are running and the trails are open. It appears that with the global recession there is little likelihood that the plans to create a Whistler type village on the mountain will come to fruition, at least in the short run. The developer's nightmare is the skier's dream come true. However, Revelstoke is too good to remain a secret for long, so get there before the crowds.
UPDATE: As of 2021 these plans have still not come to fruition.
The closest airport is in Kelowna which leaves a three hour drive, the last hour of which is on a narrow, twisting portion of the Trans-Canada crawling with trucks that are either going painstakingly slow on the upgrades or sitting perilously close to the bumper on the downgrades. Accommodations in Revelstoke are pretty well limited to motels, many of which seem to be older mom and pop operations. A few of the chains such as Super 8 and Day's Inn are there as well.
As far as dining goes there is not a lot of choice, but good meals were not hard to find. The menu at Zala's Steak House reads like something out of the sixties, but the pizza, steak and ribs were all more than passable. Woolsey Creek Café is a step up and offered a limited menu with some very good specials, including short ribs and breast of duck. The salmon was perfectly cooked. For breakfast the Main Street Café is the local favourite, offering home style cooking. The hash browns were particularly good. For apres ski the Village Idiot is the place. It had no sign when I was there and you had to look for the Rossignol ski that doubles as the door handle, on Mackenzie Street. Inside the décor is definitely ski oriented and the patrons are pretty well all skiers or shredders. While this might not seem like the best place to eat, don't let appearances fool you. The nachos are to die for, the burgers huge and the beer ice cold.
A few years after writing this post I returned to Revelstoke in the summer on an RV trip with my son Bruce and grandson AJ and found the area just as alluring in summer as winter.