Muirfield – The Augusta of Scotland?
This is the first post on the 2017 golf odyssey to play nine legendary courses in the home of golf and the ancestral home to at least half of the octet that make up the group. We have arranged the trip through Barry McGuigan who did such a great job on the Northern Ireland tour two years ago including getting us on the #1 ranked course on Earth, Royal County Down. Skipping the preliminary b.s., let's jump straight to the golf, starting with one of the most difficult courses in the world to get on – Muirfield.
The title of this post is actually unfair to Muirfield because, if anything, Augusta was based on the Muirfield example which had been set almost two hundred years before Bobby Jones even dreamed of an exclusive club based on membership by invitation only. Muirfield takes the idea of exclusivity almost to the absurd, but after playing the course and enjoying possibly the best buffet lunch on the planet, I'm OK with it. Here's why.
Barry sent us an email telling us that he had arranged for lunch after the golf at Muirfield on him, but that we would be required to wear a jacket and tie to get in. There was some grumbling, notably by guys that wear a suit and tie everyday, but there was never any doubt we would all gladly accept. We had arrived in Edinburgh the day before and had a 9:00 tee time requiring a 7:00 departure from the hotel. It being Scotland, naturally it was gloomy and raining, but thankfully, not cold. The bus ride to the course was very subdued as we were all expecting four or five hours of golf in the pouring rain. Arriving at the course we all disembarked outside the entrance gate and we greeted in a friendly manner by staff who escorted us to a garage to await transport into the hallowed grounds. Riffraff like bus drivers are not allowed to tarry and our driver Willie was dispatched to God knows where for the next six hours.
Here we are in the garage. Quite a start to the Scottish golfing trip.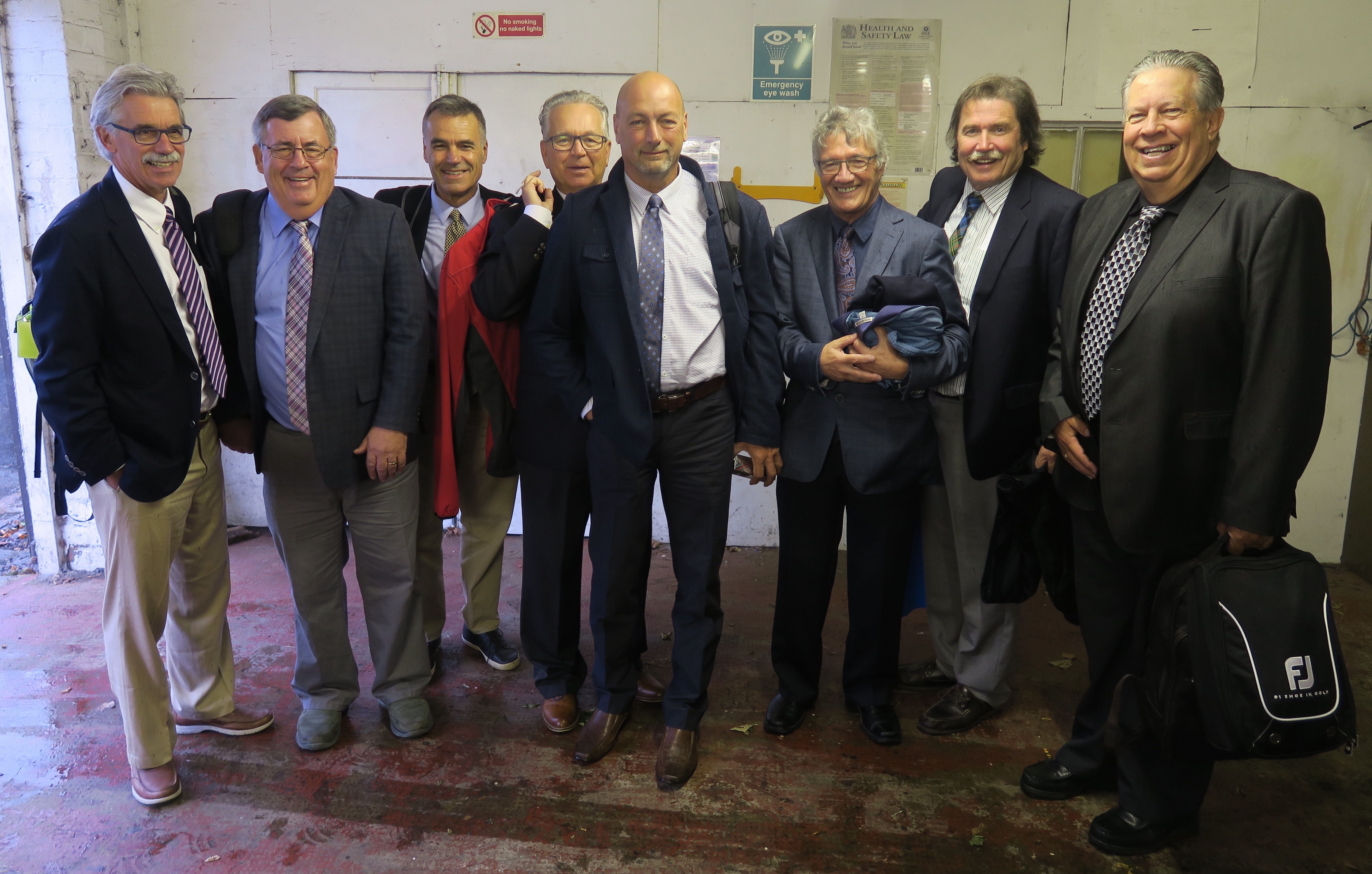 Next a little history of Muirfield
History of Muirfield
Muirfield is almost as old as golf itself. The first club established by The Honourable Company of Edinburgh Golfers dates all the way back to 1744, but the current location is a relative baby at only 118 years old. Designed by incomparable Scottish golf legend Old Tom Morris and later tweaked by another legend, Harry Colt, Muirfield was specifically designed to provide the sternest test of golf possible for the British Open. They succeeded beyond anyone's wildest expectations. The Open has been held here sixteen times and the winner's names are a who's who of golfdom. Here are most of the winners – Harry Vardon, James Braid,  Walter Hagen and from 1959 forward, Gary Player, Jack Nicklaus, Lee Trevino, Tom Watson, Nick Faldo twice, Ernie Els and Phil Mickelson. You won't find any Paul Lawries or Todd Hamiltons winning here. Nor any T. Woods. It is currently rated #9 in the world by Golf Digest, surpassed only by the Old Course at St. Andrews (#8) in terms of British Open venues.
Muirfield established the practice of membership by invitation only and only has about 500 members, of whom half are non-Scots. Aside from the one day of the week when outsiders are allowed in, it sees only a few rounds a day. Luckily we are here on Thursday morning when, for a considerable price, anybody can play if they can get a tee time.
After being picked up in the garage the metal gates of Muirfield are opened and we are allowed into The Honourable Company of Edinburgh Golfers.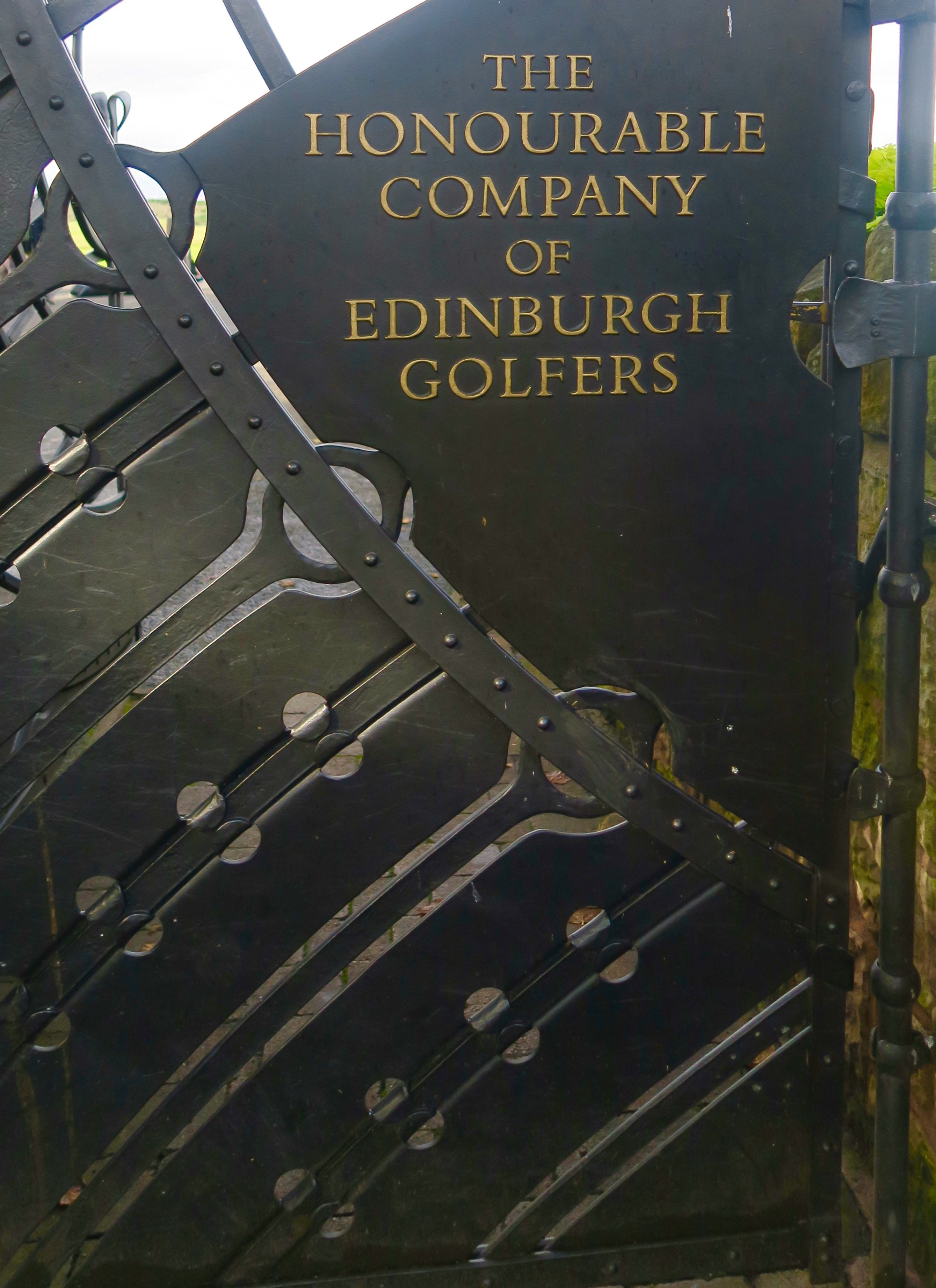 I had planned to do a Muirfield hole by hole, but given the inclement weather opted to leave the Nikon on the bus and just take the Canon point & shoot so don't expect many shots on the course. After changing into our golf wear we hit a few practice shots and putts and then headed to the 1st tee. You don't have to take a caddy at Muirfield, but I wanted one and the other three in the group opted to take pull carts. This is me and Willem who turned out to be a great guy and great caddy. He's also a scratch golfer. Must have been painful to watch me play.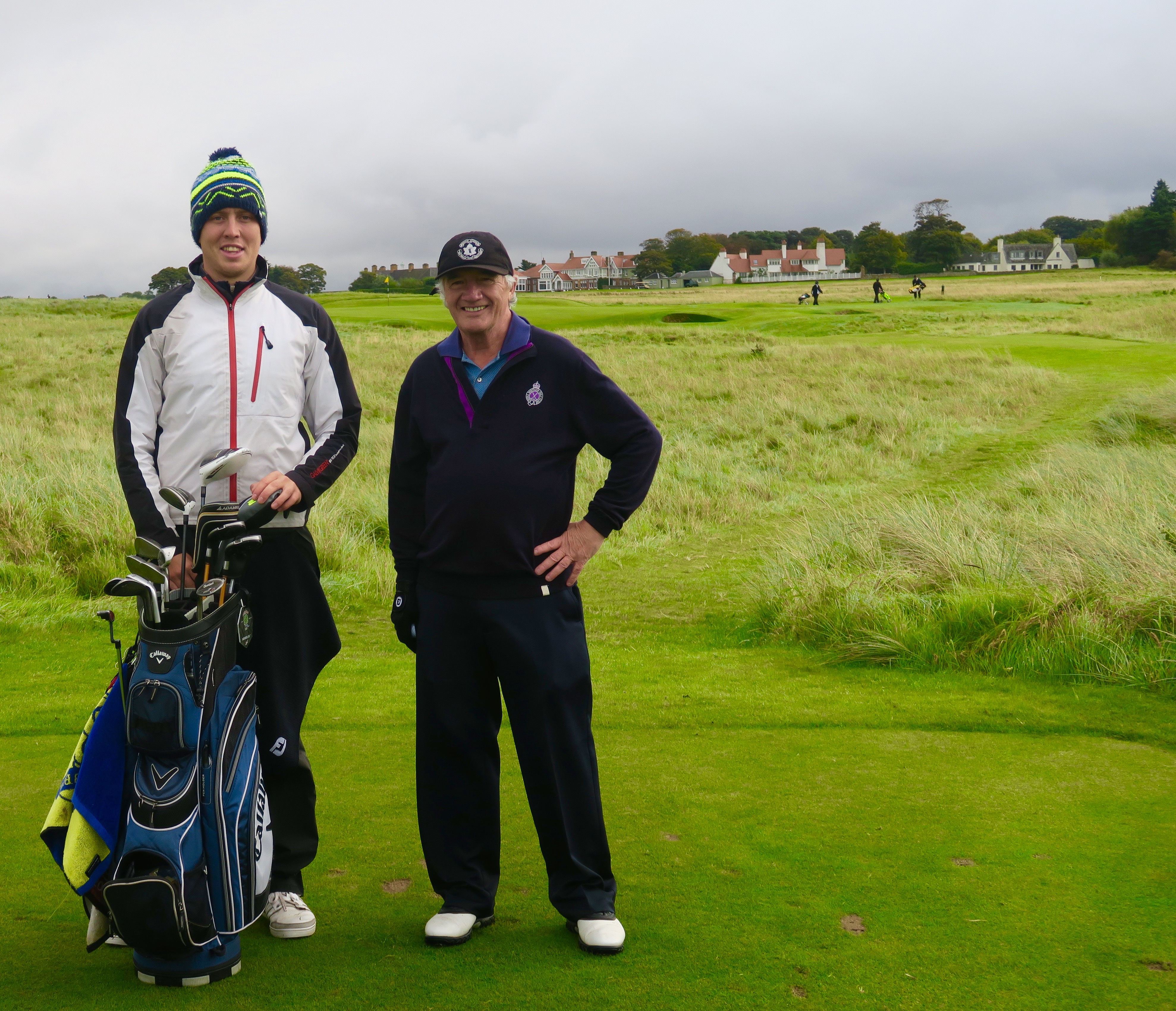 The one item of golf paraphernalia I neglected to bring to Scotland was, guess what, a friggin' umbrella. Usually that would be no problem – just buy one at the pro shop. Except Muirfield has no pro shop. No cheap shilling for bucks like Augusta, just golf. Here's our foursome of me, Frankie Duguay, Peter Wedlake and Don Harding.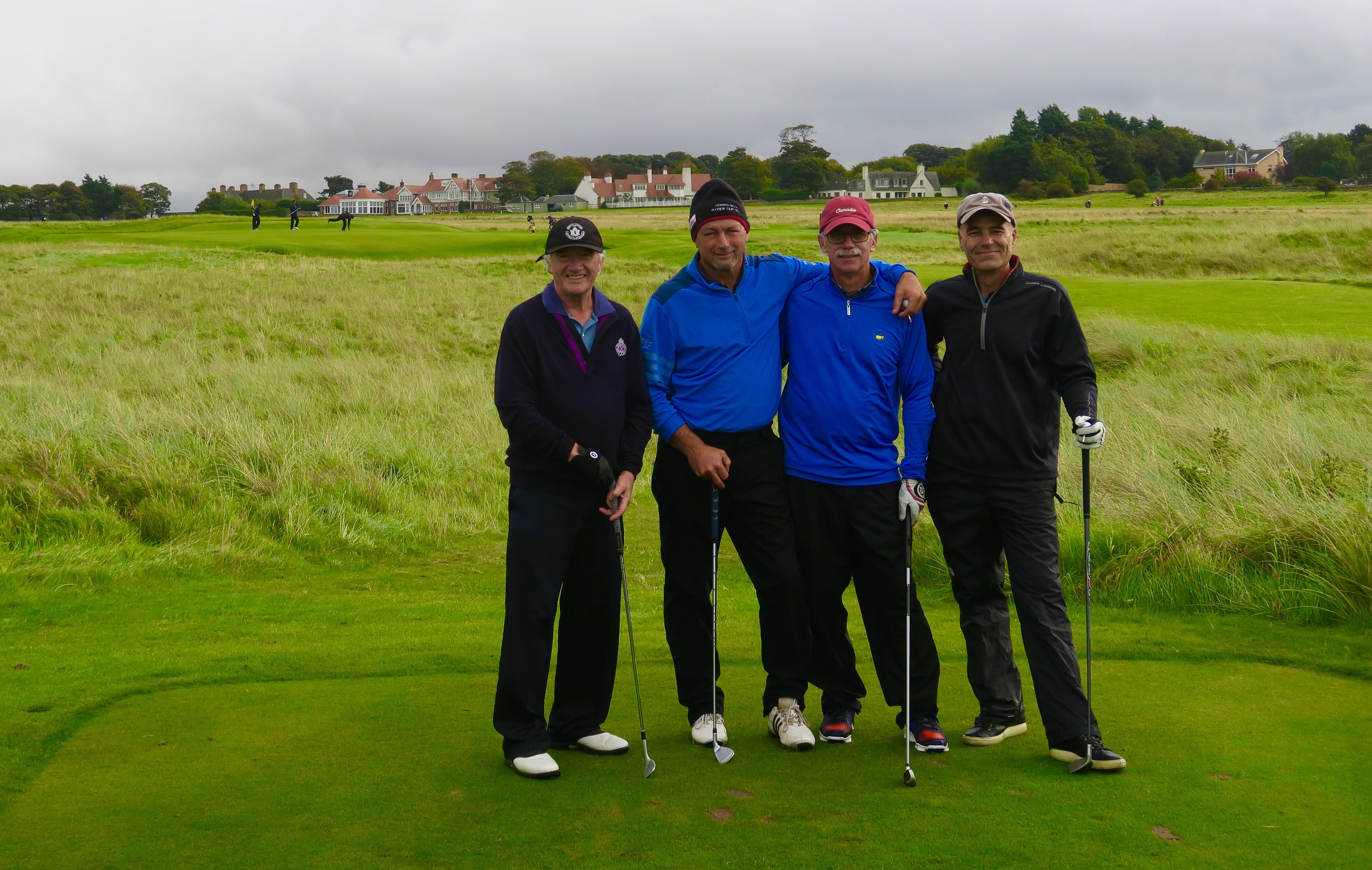 Muirfield is not the eye candy of Royal County Down or Portrush, but is a real test of golf in that if you get into one of bunkers that has a vertical face you are screwed. No option but to blast out sideways and in some cases backward. So the whole idea here is to avoid the bunkers – period. We were fortunate to play on a day when there was virtually no wind- Willem said it was the calmest day of the season. The fairways are narrow with thick rough on all sides. I lost two balls on the second hole hitting into it. The greens are simply fantastic, maybe the best I've ever played on. If you can putt and stay out of the bunkers and rough you can score here. And that's exactly what Frankie did, shooting a stunning even par 71, twenty-one shots better than the next of us. I did not break 100, but did not have more than a 100 which, on this course, was not bad.
Here's Frankie celebrating the scalping of Muirfield.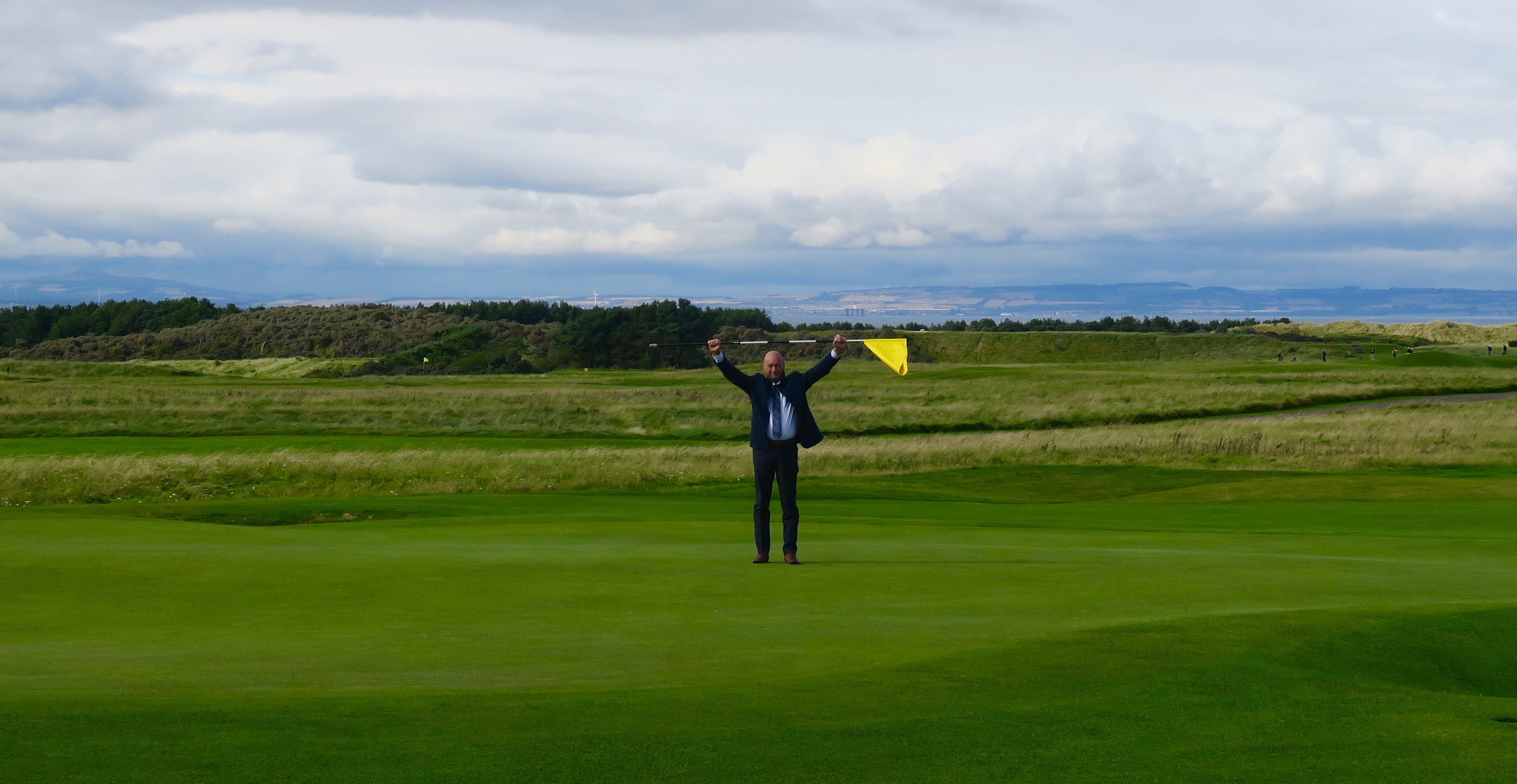 Chuck was not impressed.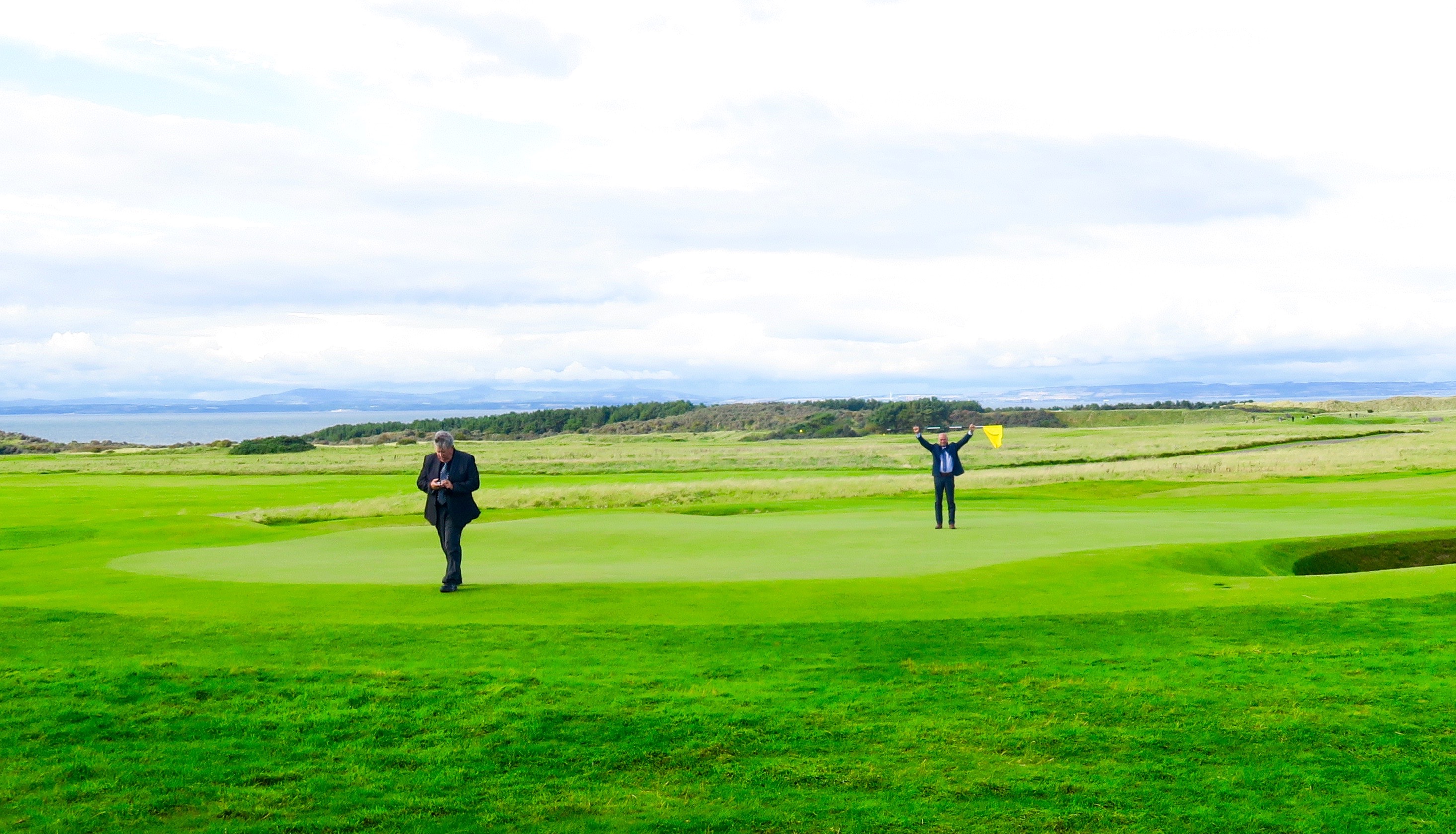 As you can see the weather improved dramatically and most of the round was played under rain free skies. Here's the view coming up 18.

After the round we returned to jacket and tie for a great meal in the clubhouse. You aren't allowed to take pictures inside so I can just report that it's a great experience that no true golf aficionado should miss.
On our way back to the main gates we stopped for a shot by 18 green.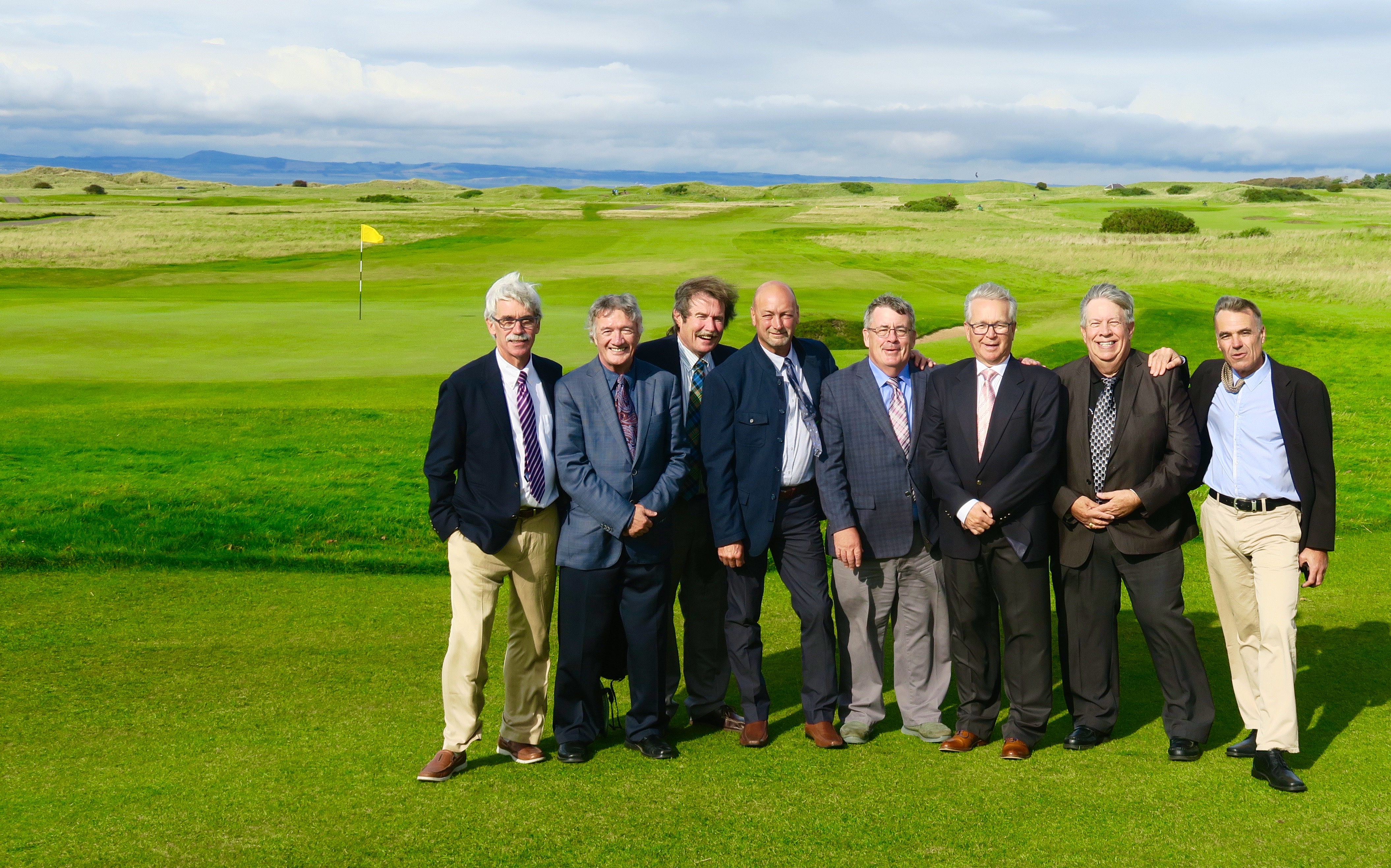 But I think this outtake better illustrates the great time we had at Muirfield.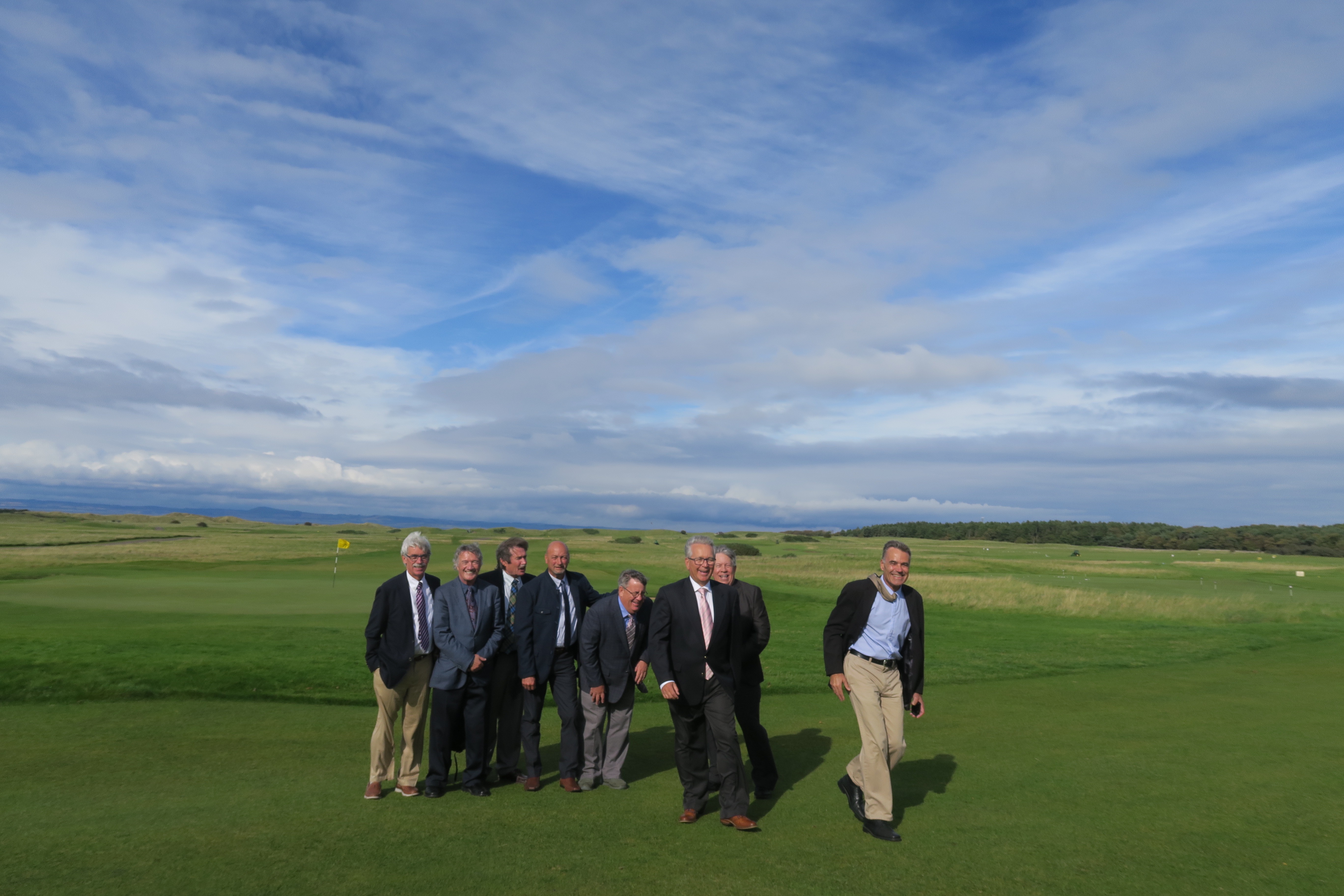 This place really gets into your head.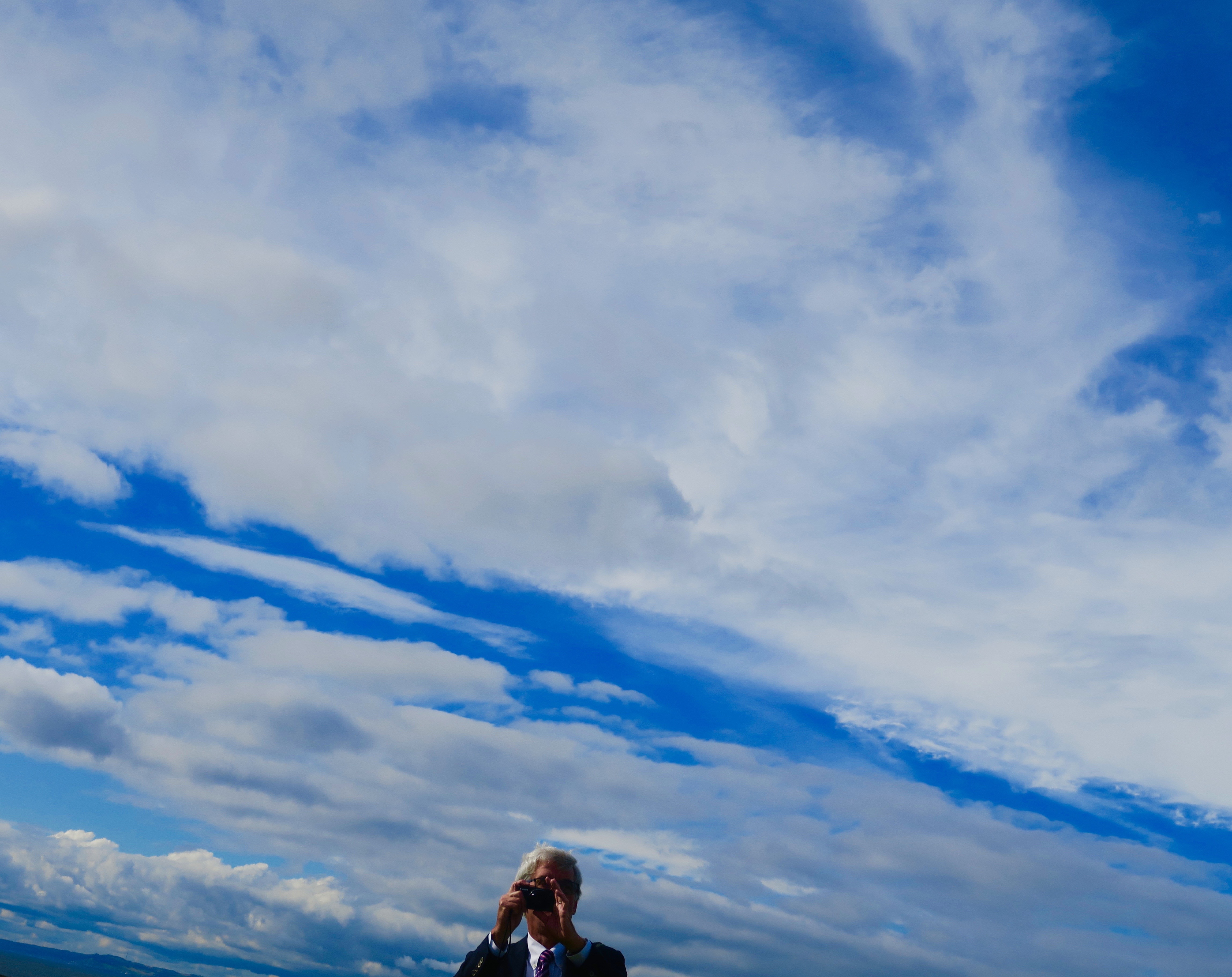 On the way back to Edinburgh we stopped in the pro shop at Gullane where, of course, they sell Muirfield gear. Makes as much sense as this Scottish practice of bringing your dog with you on the course – no shit.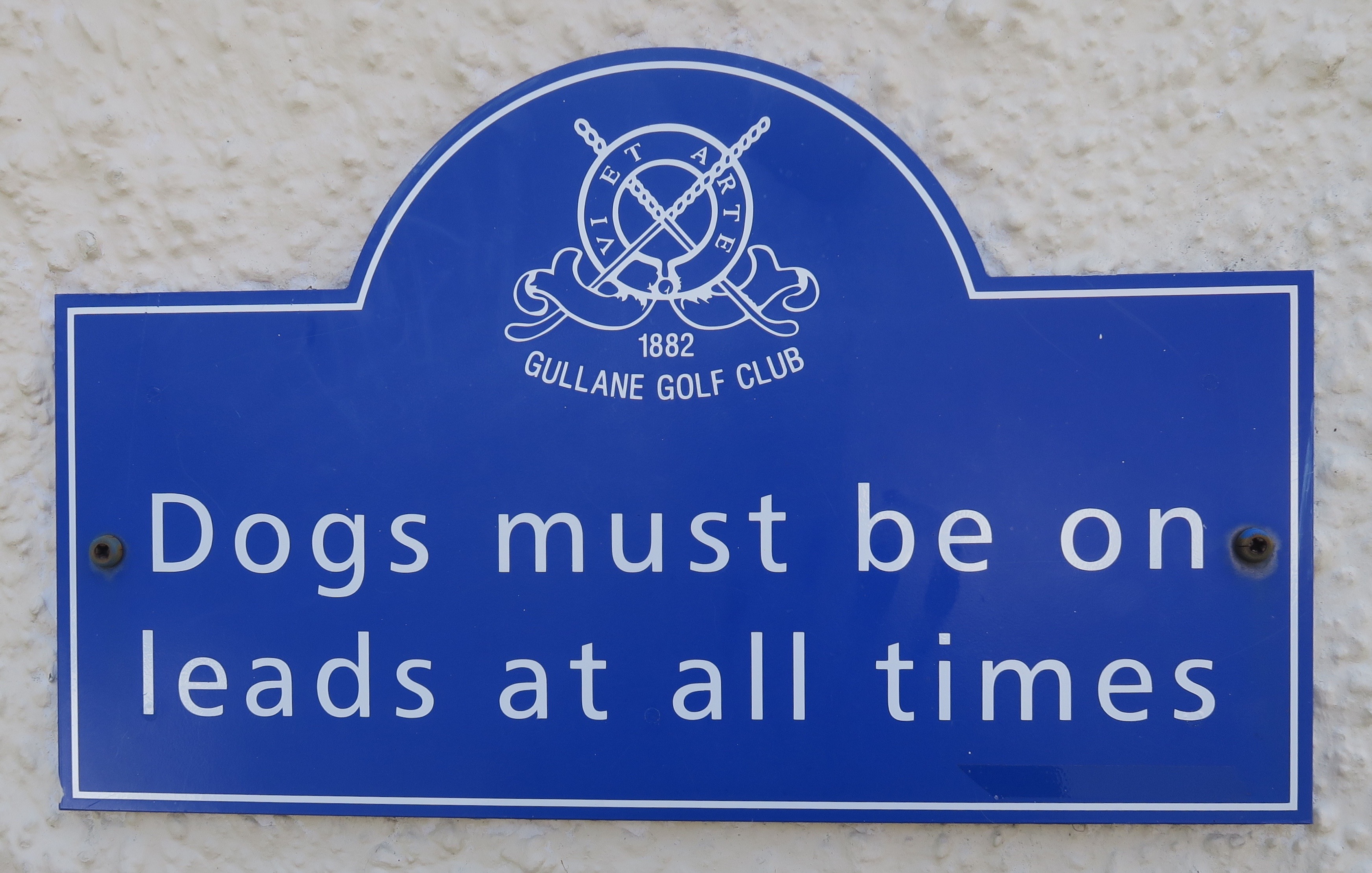 If the rest of the trip is half as good as the Muirfield experience we will have gotten more than our money's worth. We'll start to find out at our next destination North Berwick, famed for its seaside locale and the original redan par three.