North Berwick Golf Club Hole by Hole
The North Berwick Golf Club was founded in 1832 and is the thirteenth oldest in the world. In complete contrast to Muirfield which we played as our first course on a nine course golfer's holiday, North Berwick is welcoming and actually allows guests inside all parts of the clubhouse – and you don't need a jacket and tie. But is it up to the standard of a world class golf course which Muirfield certainly is? Let's play it and find out.
The North Berwick golf course sits right in the middle of this small Scottish border town which is laid out along the south coast of the Firth of Forth. Just offshore several craggy islands, two with lighthouses, jut up from the sea on which I can see the heads of seals popping up along with gulls, eiders and scoters. Beside the practice green a paved walking path serves as a way for locals and tourists to enjoy the tremendous views of the island and beaches. One of our group has a chat with a lady walking with a child and she turns out to be local resident and North Berwick living legend Catriona Matthews, who has 11 worldwide wins on the LPGA and European Ladies Tour. She points out the modern house on the main street across from the course where she and her family live. Talk about the opposite of Muirfield where the members seldom deign to even speak to visitors.
In another contrast to Muirfield, North Berwick actually has a pro shop, albeit modest. We had arranged for a caddy for each group, but they have only one so we decide to walk the course on our own – big mistake. Even though the course looks quite straightforward, it turns out there are some really unique features that only a caddy could have forewarned us about.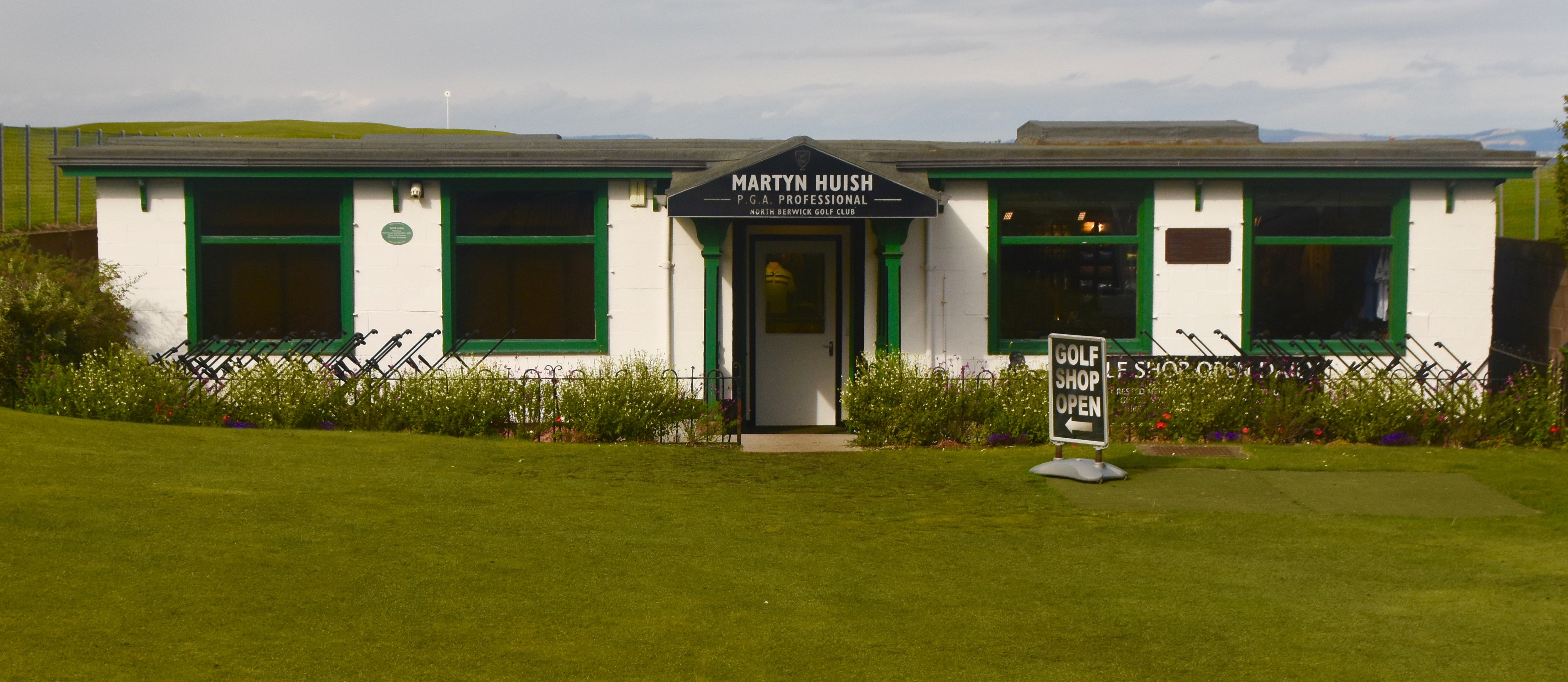 Here's the practice green with the village of North Berwick in the background. The public walking path is just on the other side of the railing. While there is a practice range it's beside the 8th hole which is actually over a mile away – a bit bizarre.

The starter is a friendly chap who advises us just to hit an iron off #1 tee and not be afraid of playing off the beach should our balls stray to the right. OK we're set to go. That's Don Harding, Peter Wedlake, Brian MacLellan and David Black in the first group.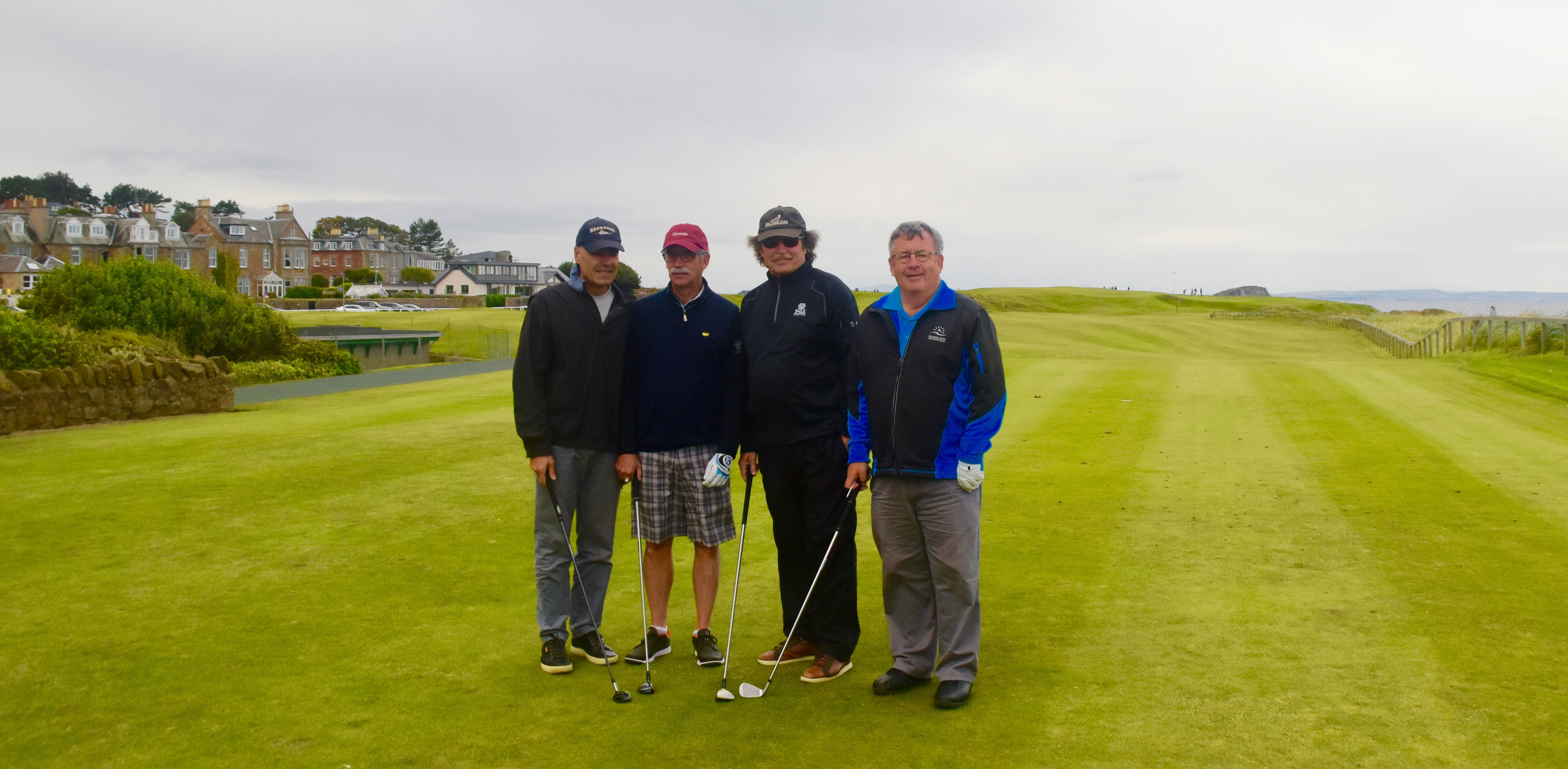 And yours truly, Francois Duguay, Chuck Johnstone and Mitch Hathaway in the second.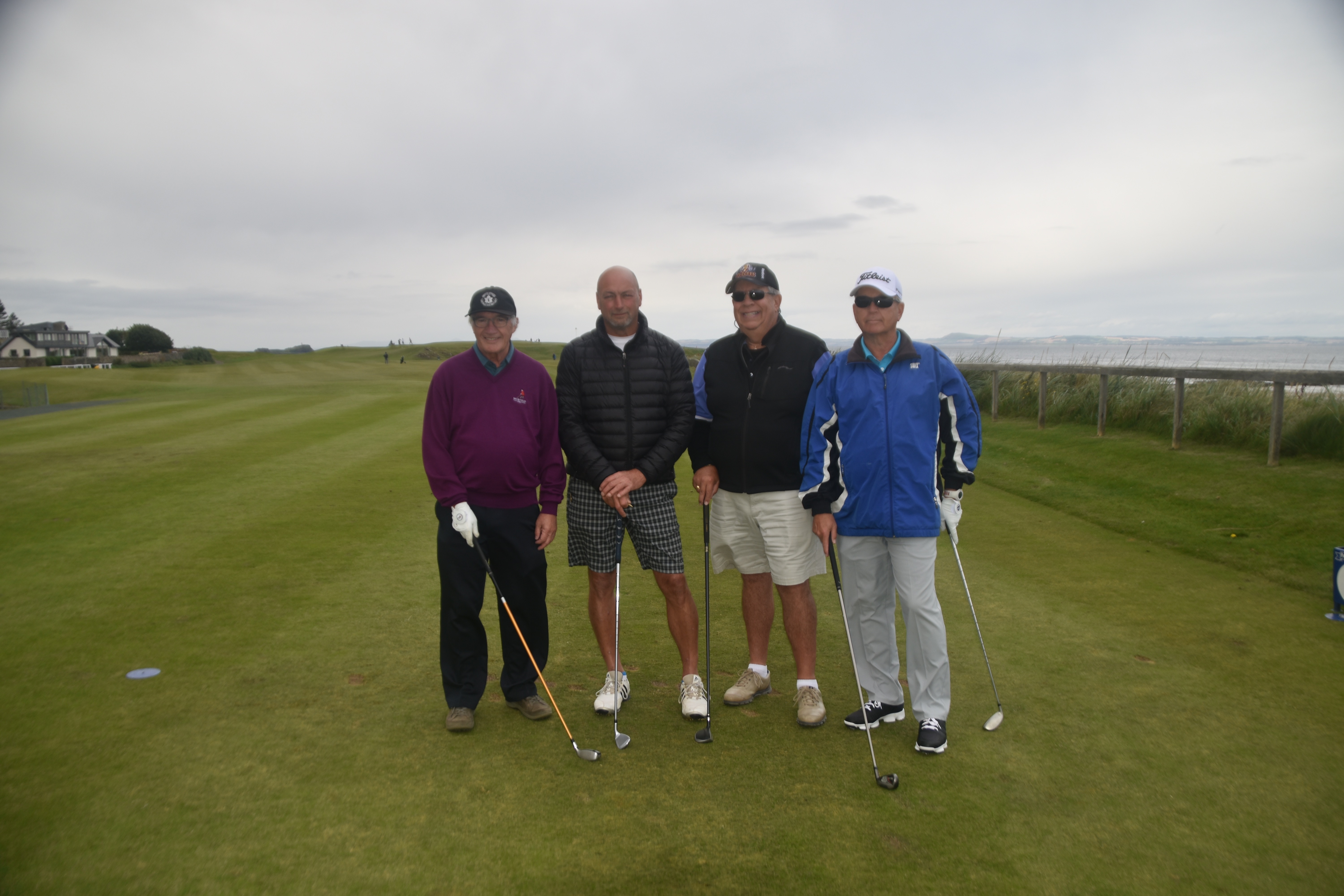 North Berwick No. 1 – Point Garry Out
The 1st hole – Point Garry Out is short at 322 yards, with a severely elevated green. The ocean protects the entire right side. Glad my tendency as a lefty is to fade.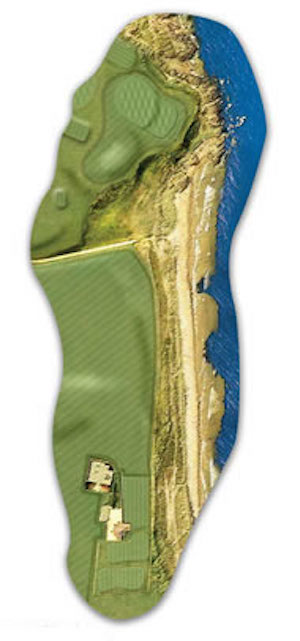 Here's the view from the tee. As you can see it's a typical Scottish gray day – it might rain, it might not. Just in case I bought a golf umbrella in the pro shop to replace the one I forgot at home.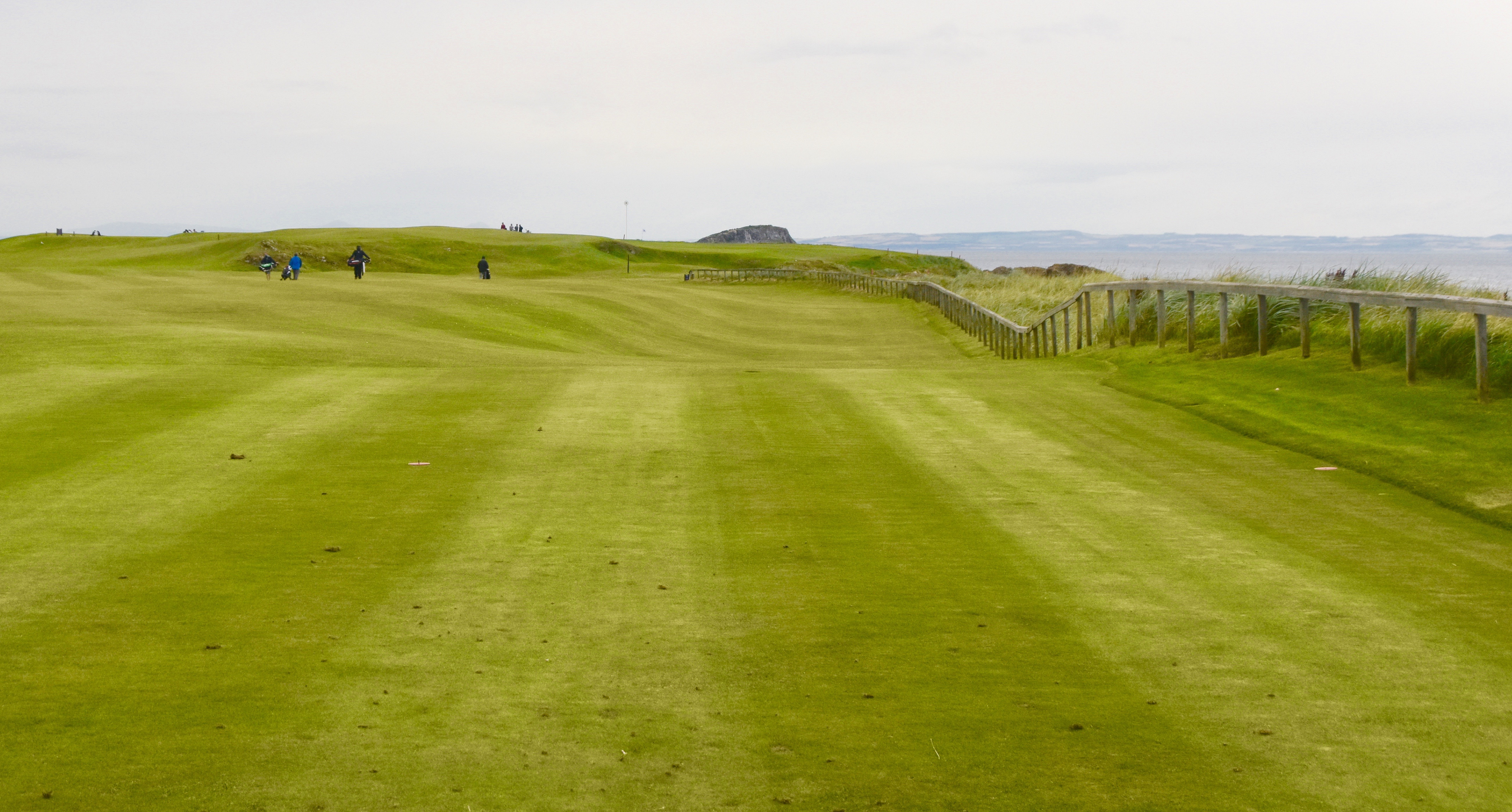 Overall this is a good starting hole with an easy drive followed by a testing second, but the green is quite large and most of us come away unscathed.
No. 2 – Sea
This very appropriately named hole is simply gorgeous to look at and fun to play although at 424 yards it's too long for most to reach in two.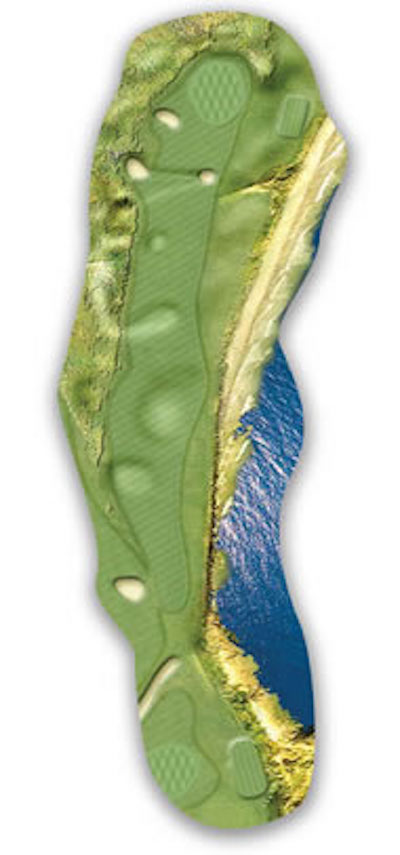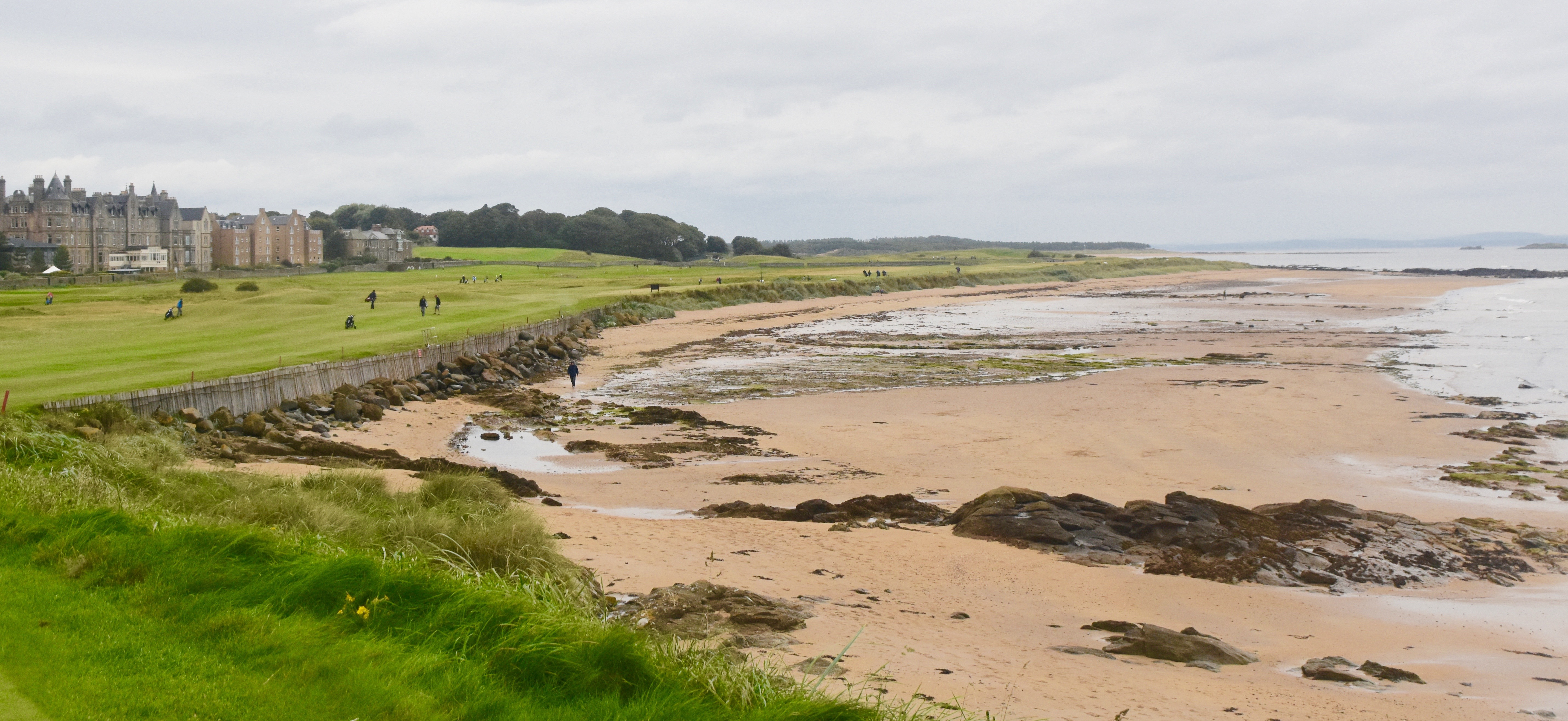 The drive is really all about how much balls you have on the tee – most of us made it, but David did get to attempt and succeed in a shot off the beach.
North Berwick No. 3 – Trap
Someone told us that North Berwick was a short course – how then a 424 yard par 4 followed by this monster at 460 yards? The line running across the course is actually an old wall which is positioned at exactly the spot that will make it difficult to clear on the second shot. The only sensible thing is to play this as a par five.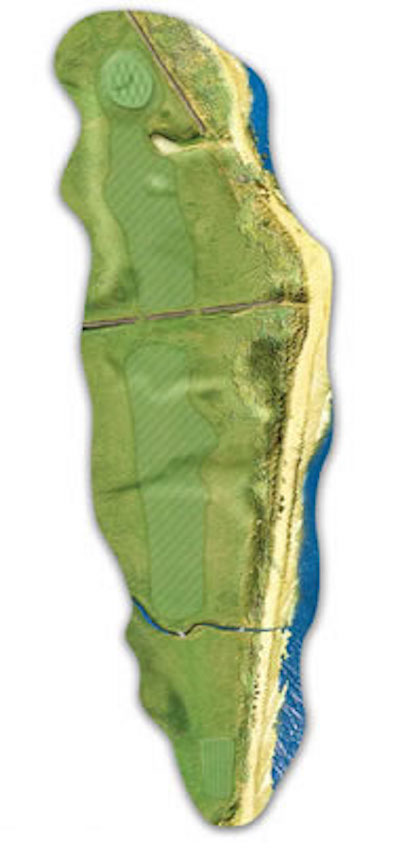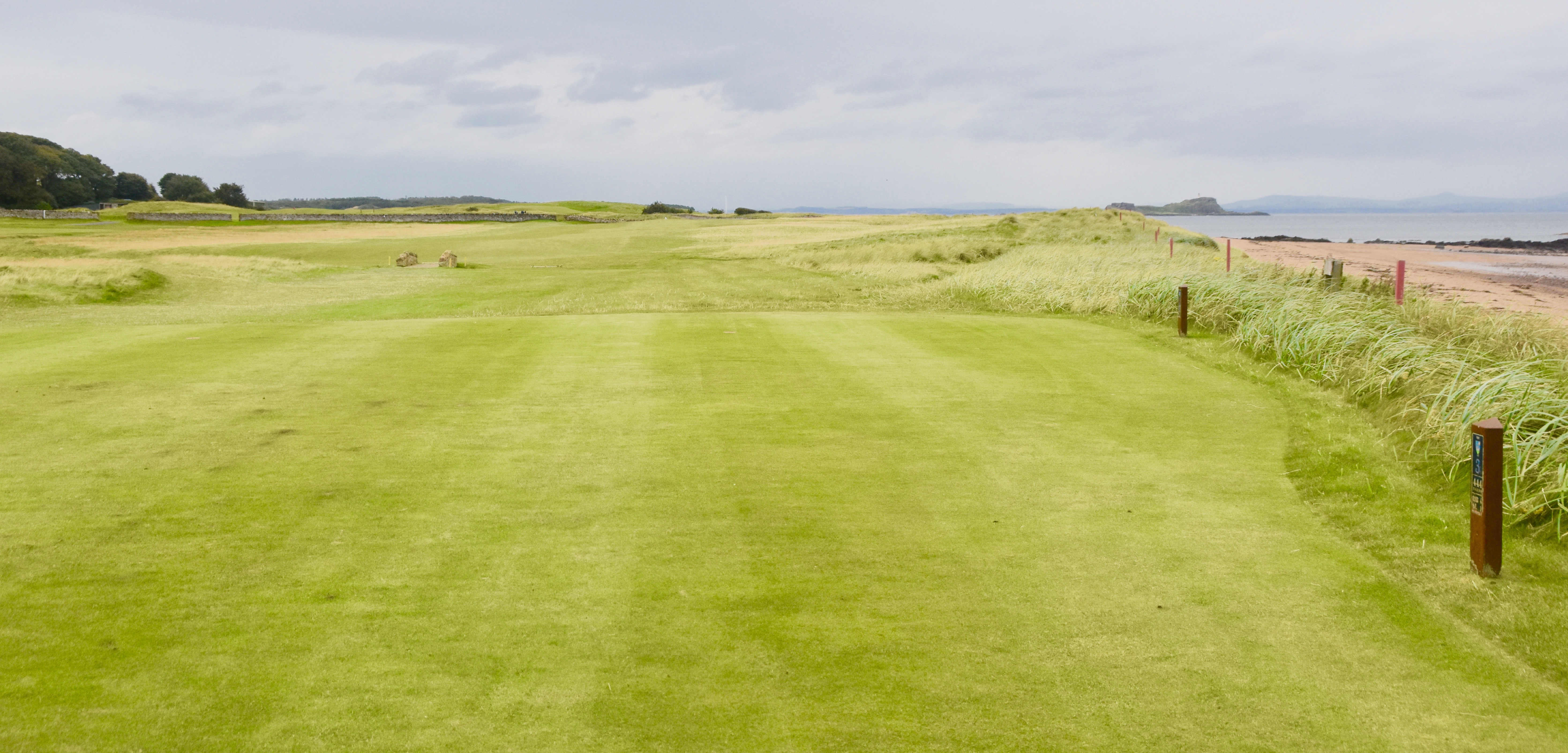 On this hole a squall comes out of nowhere with such force that it almost rips the umbrella I've opened out of my hands. It passes quickly, but I can't get the damn umbrella to close because some of the ribs are bent. Thus begins a fight with my new umbrella that completely discombobulates me and my game, at least that's my excuse and I'm sticking to it.
No. 4 – Carlekemp
This is the first par three and it's a doozie, largely because of the traps which of course I'm in. It's a very pretty hole and the first away from the sea.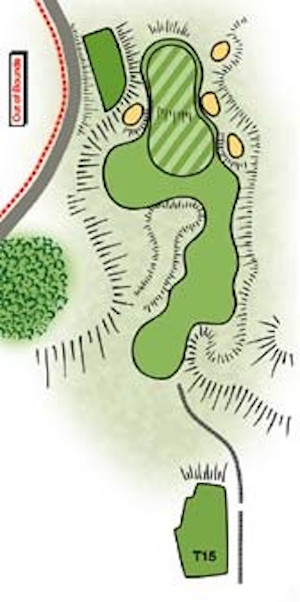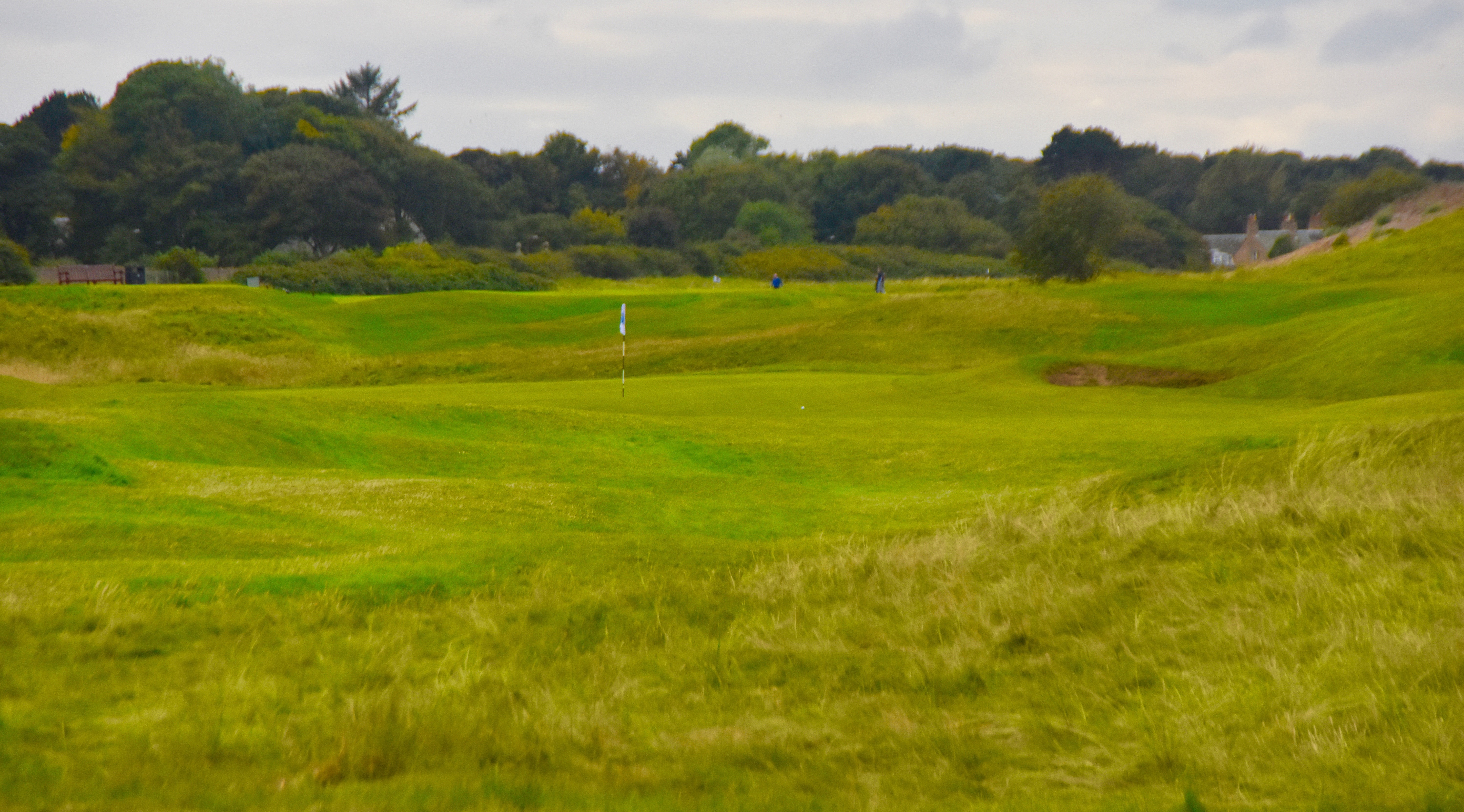 North Berwick goes straight out for eight holes then has one sideways hole and then nine straight back in. However, at several points the routing changes from one side to the other so you are really doing a figure eight instead of two parallel lines. I think that way they make sure you get some great holes along the ocean on both nines. Good idea.
North Berwick No. 5 – Bunkershill
This is a 371 par 4 that plays a lot longer than the yardage. Needs both a good drive and a strong second shot.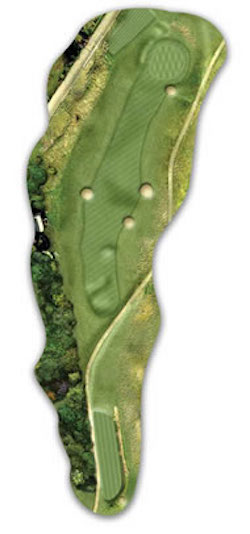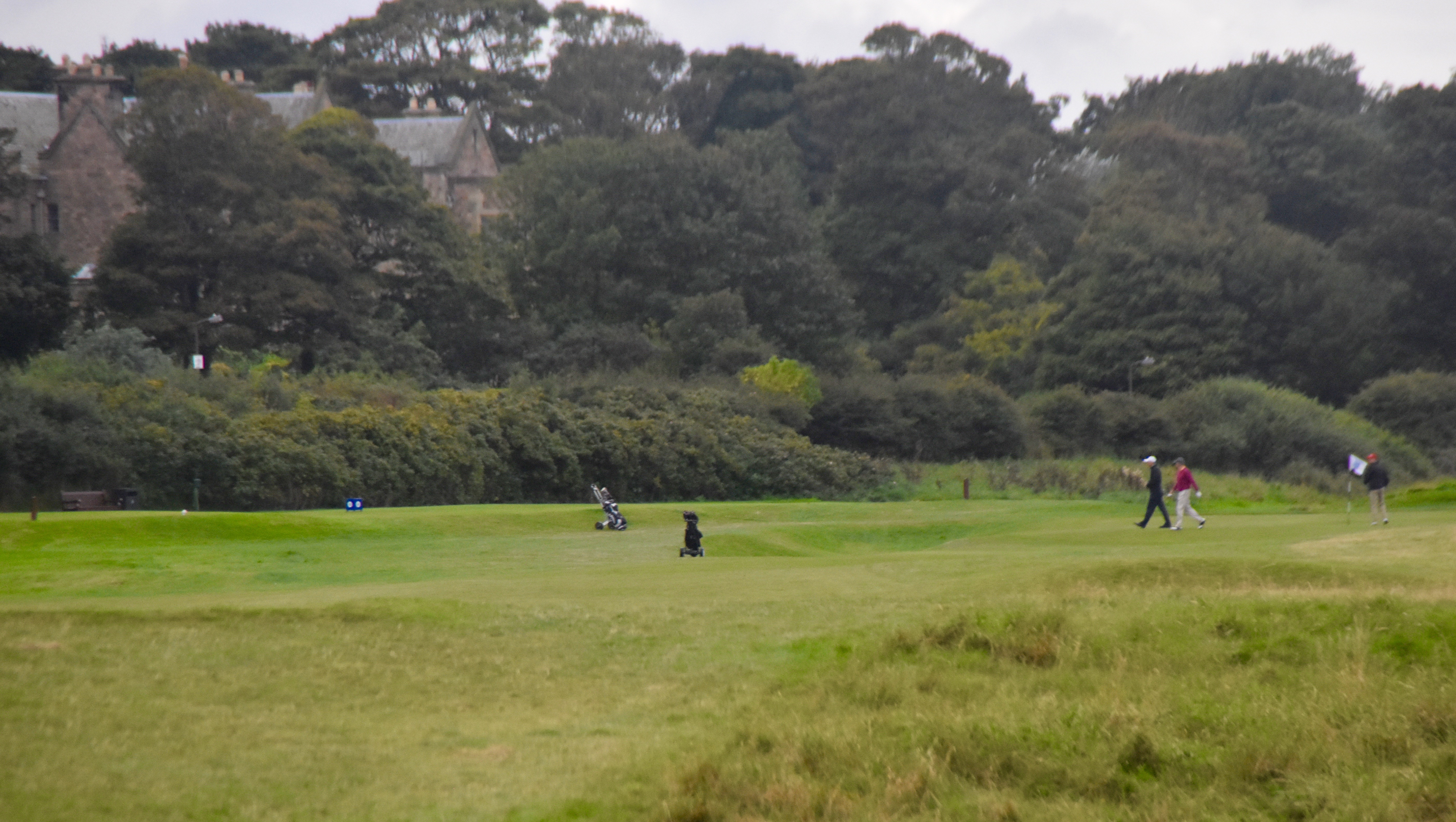 No. 6 – Quarry
This a very aptly named hole with what obviously once was a small quarry creating a large depression in front of the green with a huge deep bunker guarding the front of the green and four others surrounding it. At 161 yards it requires a very well struck iron to reach and stay on the green.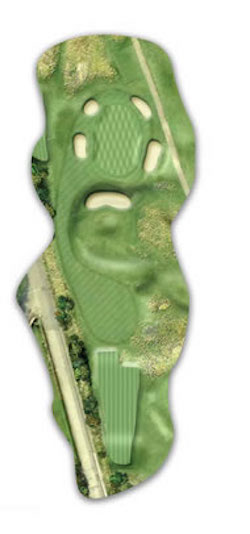 You can see from this shot that Peter is in the deep bunker and unless you have nerves of steel, it's unlikely you'll get out on the first attempt. Overall a strong par three.
North Berwick No. 7 – Eil Burn
Eil Burn is a small stream that you cross twice on the course. In this case it runs just in front of the green and despite being only 365 yards, it is a real challenge for most, or at least me, to get to the green in two.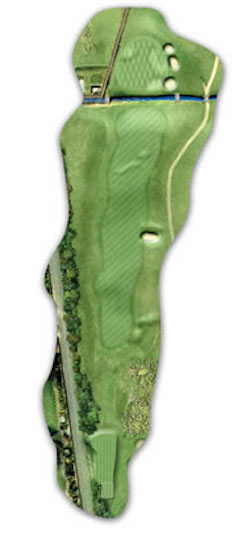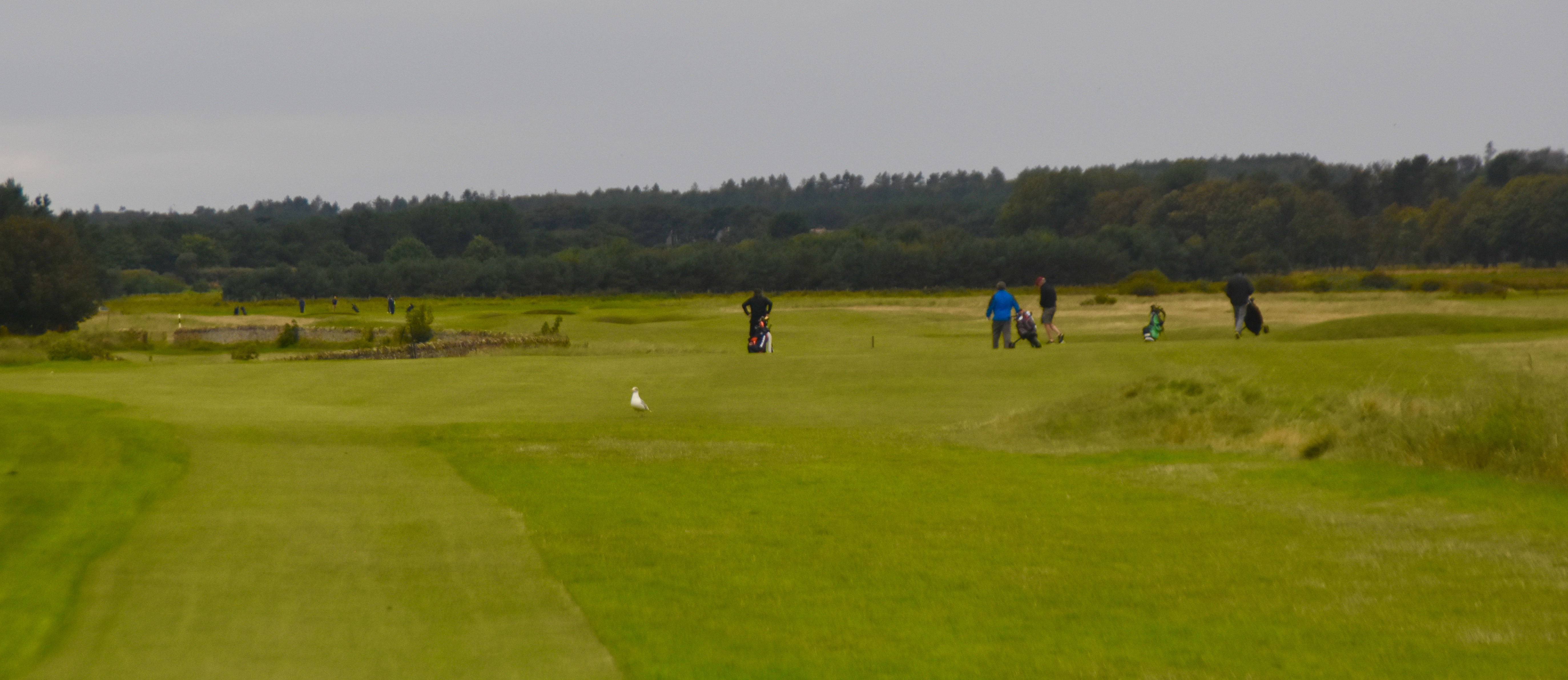 No. 8 – Linkhouse
The first par five on the course is relatively short at 505 yards, but quite tight with bunkers liberally strewn around the hole. The rough on North Berwick is what I would call medium by Scottish standards – you've got about a 50/50 chance of finding your ball. I lost two on this hole, which means I hit four into the rough. My fade by now has turned into an uncontrollable slice.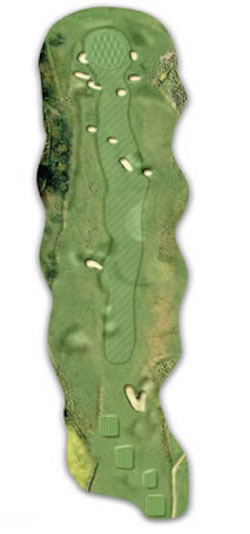 North Berwick No. 9 – Mizzentop
The second par five in a row was one of my favourite holes on the course. It requires a good drive, reasonable second shot and then a wedge to an elevated green. A good, but fair test of golf. It is also the only hole that runs south to north and takes you back to the sea.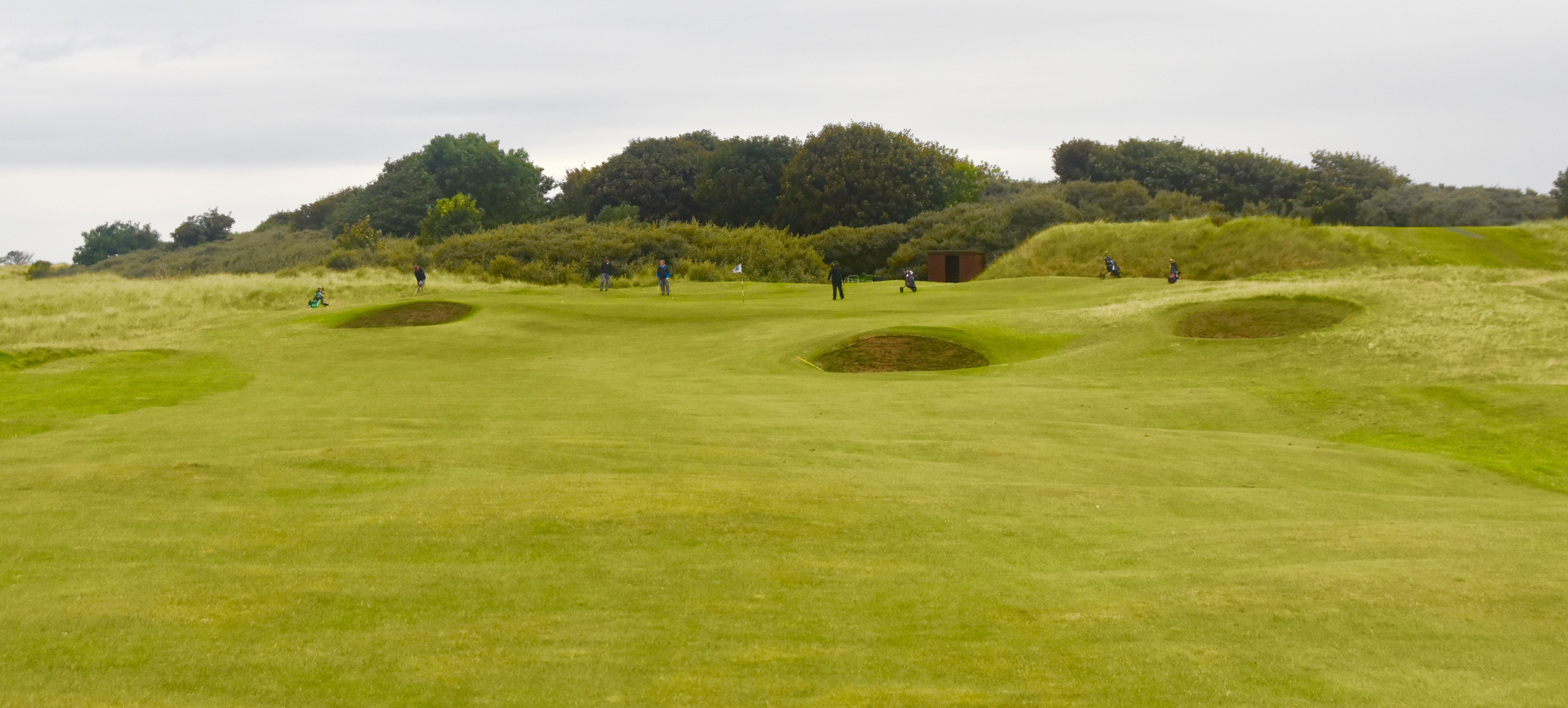 No. 10 – Eastward Ho!
This par three is the first of nine holes that run west to east. What wind there is will be in our face for the entire back nine – Oh Joy.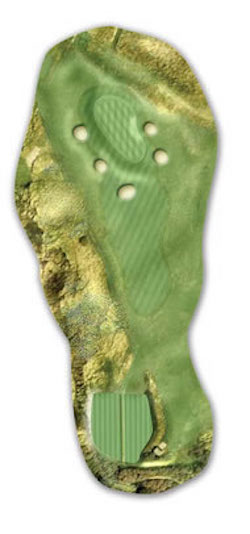 The view from the elevated tee on this par three is quite spectacular as you can see almost the entire course laid out in front of you. Although it's a downhill shot it does require more club than you would think as Peter has found out in coming up short.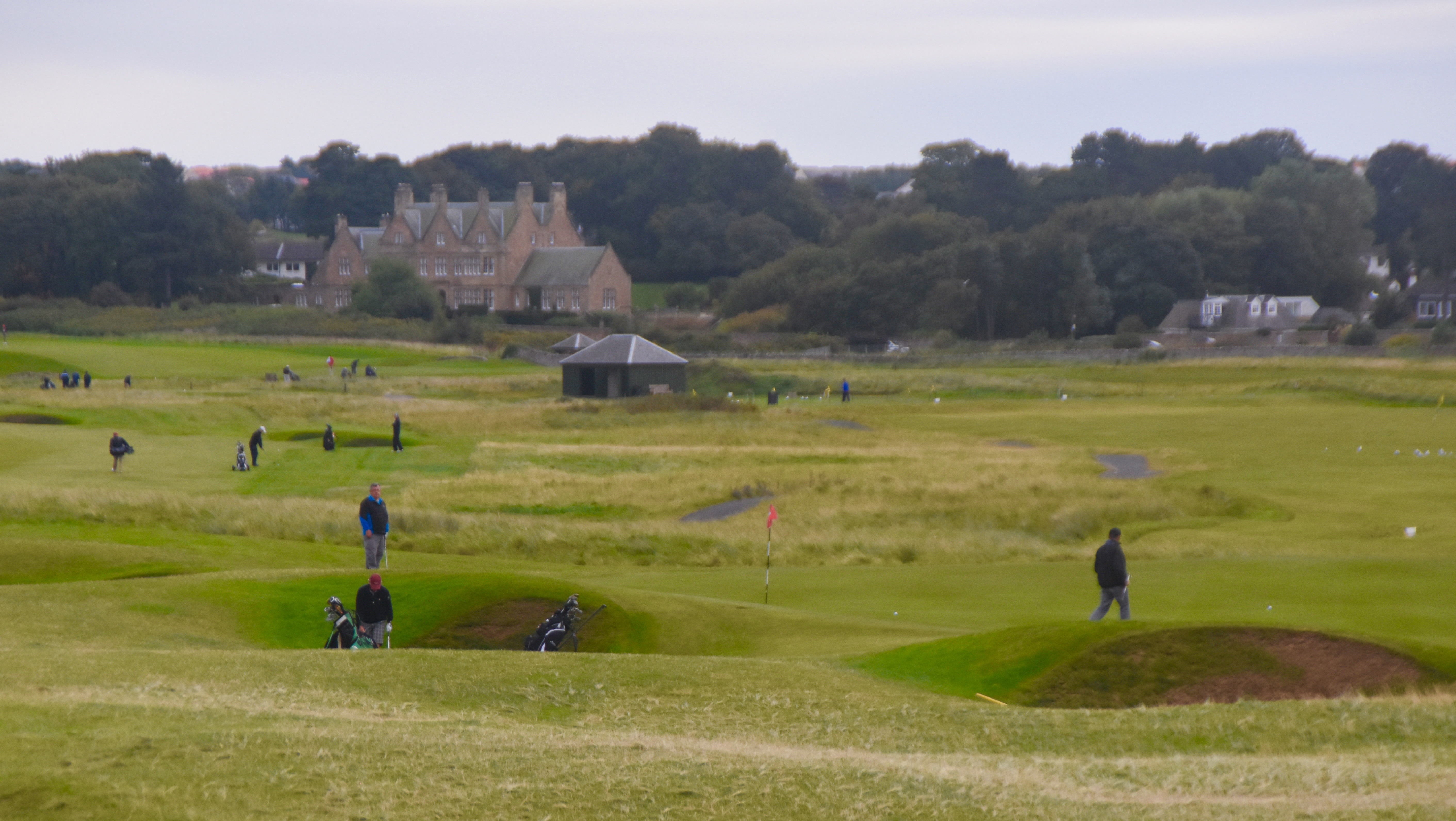 North Berwick No. 11 – Bos'n's Locker
This is the third par five in three holes and at 546 yards, by far the toughest. Although from the map you would think the ocean is in play on the left, it really isn't because the dunes at this point are very high and a wayward shot left will likely hit the side of these and not get to the water.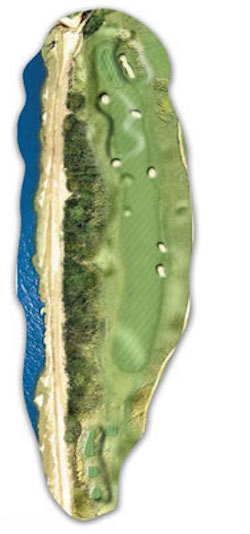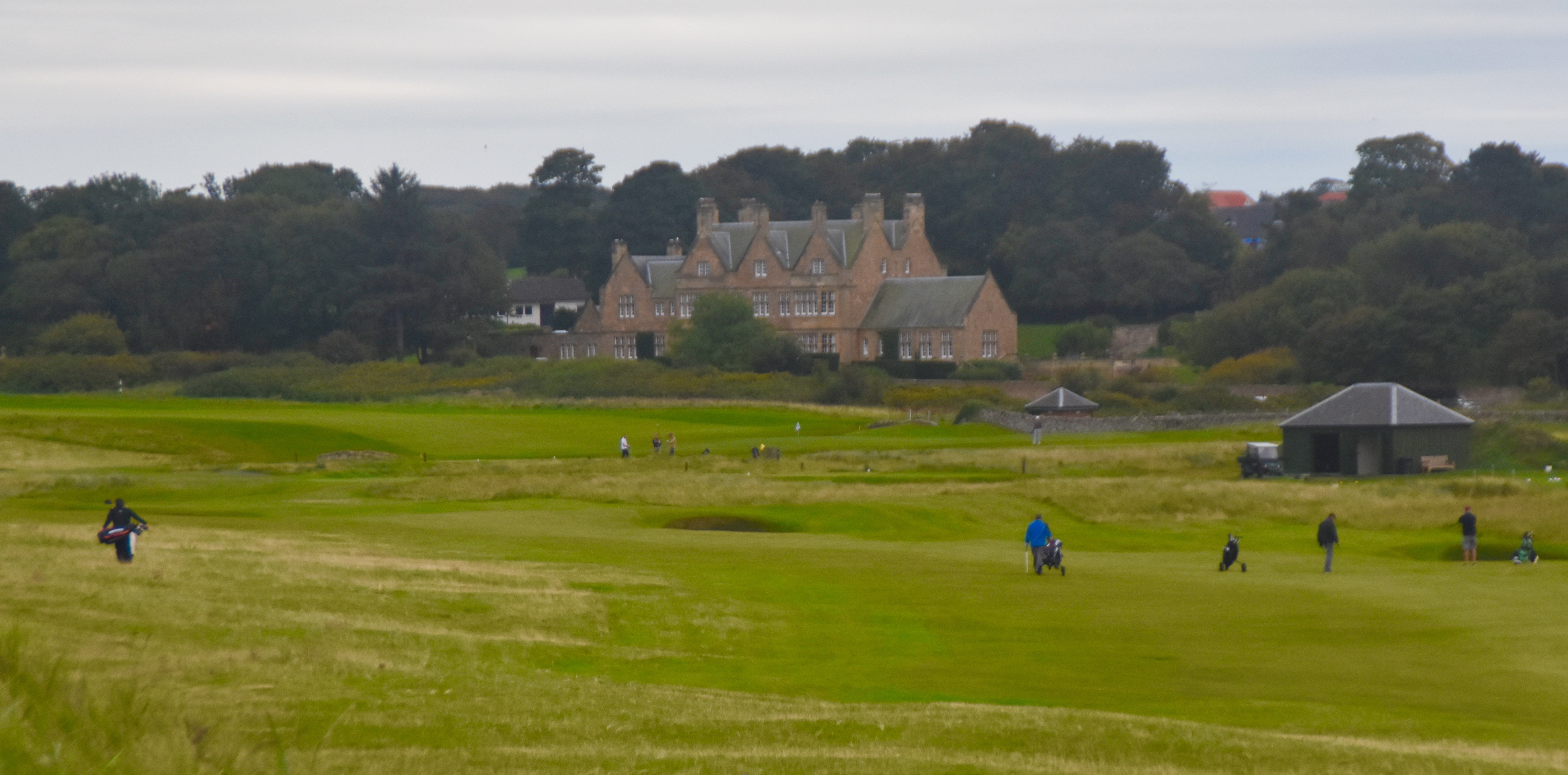 As you can see there are some pretty grand manor houses that front on the course.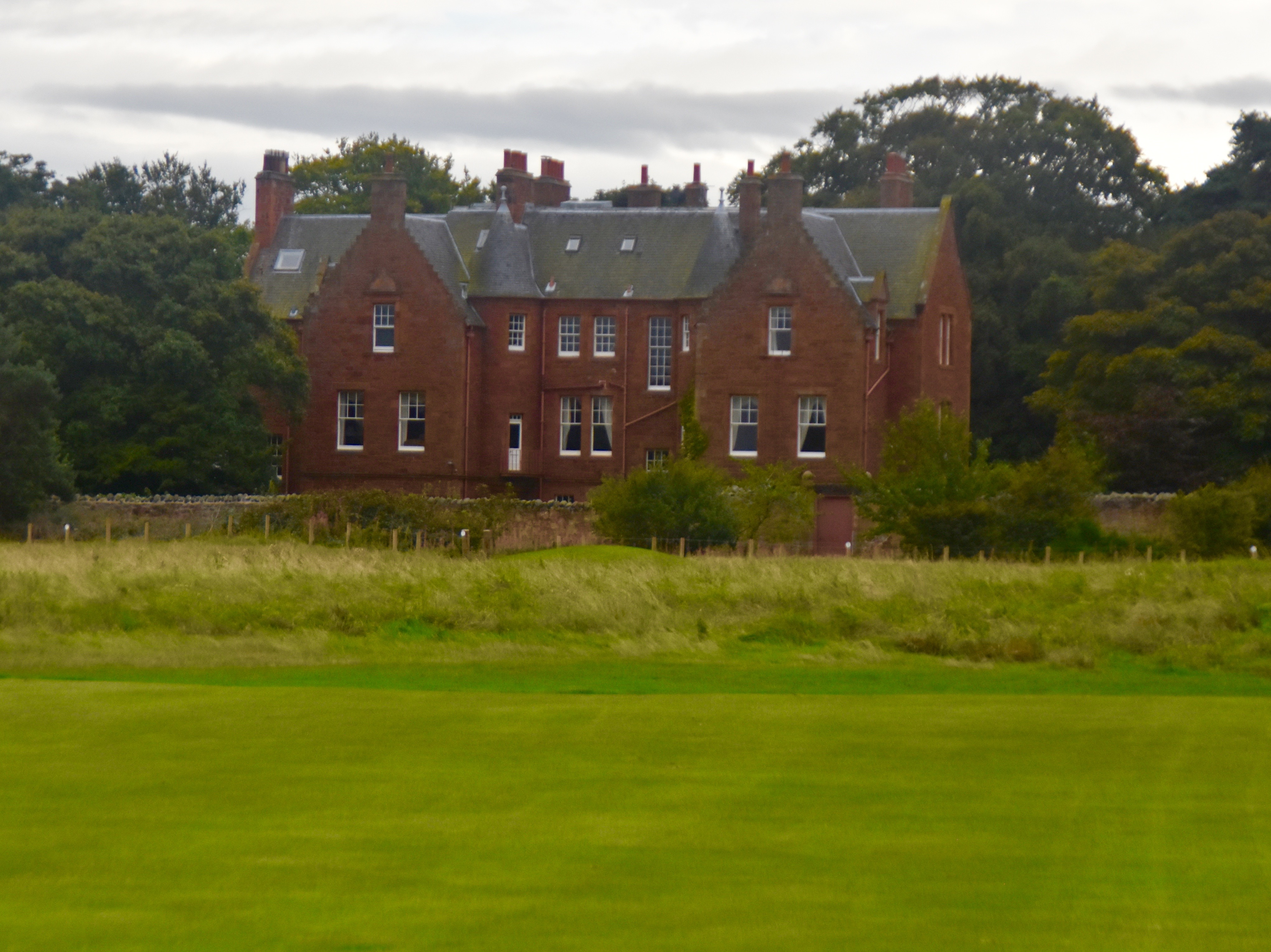 No 12 – Bass
A 400 yard par four into the wind which gets real gnarly at the green because of the proximity to the ocean. Nuff said, don't ask me my score.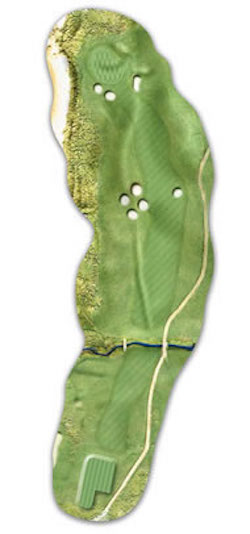 You also cross Eil Burn once again. The bridges are works of art in themselves. That's Chuck about to cross. Note the old-fashioned ball retriever to the right. Also note that it threatens to clear up a bit. Up until now it has been quite dreary which makes the photos look dull.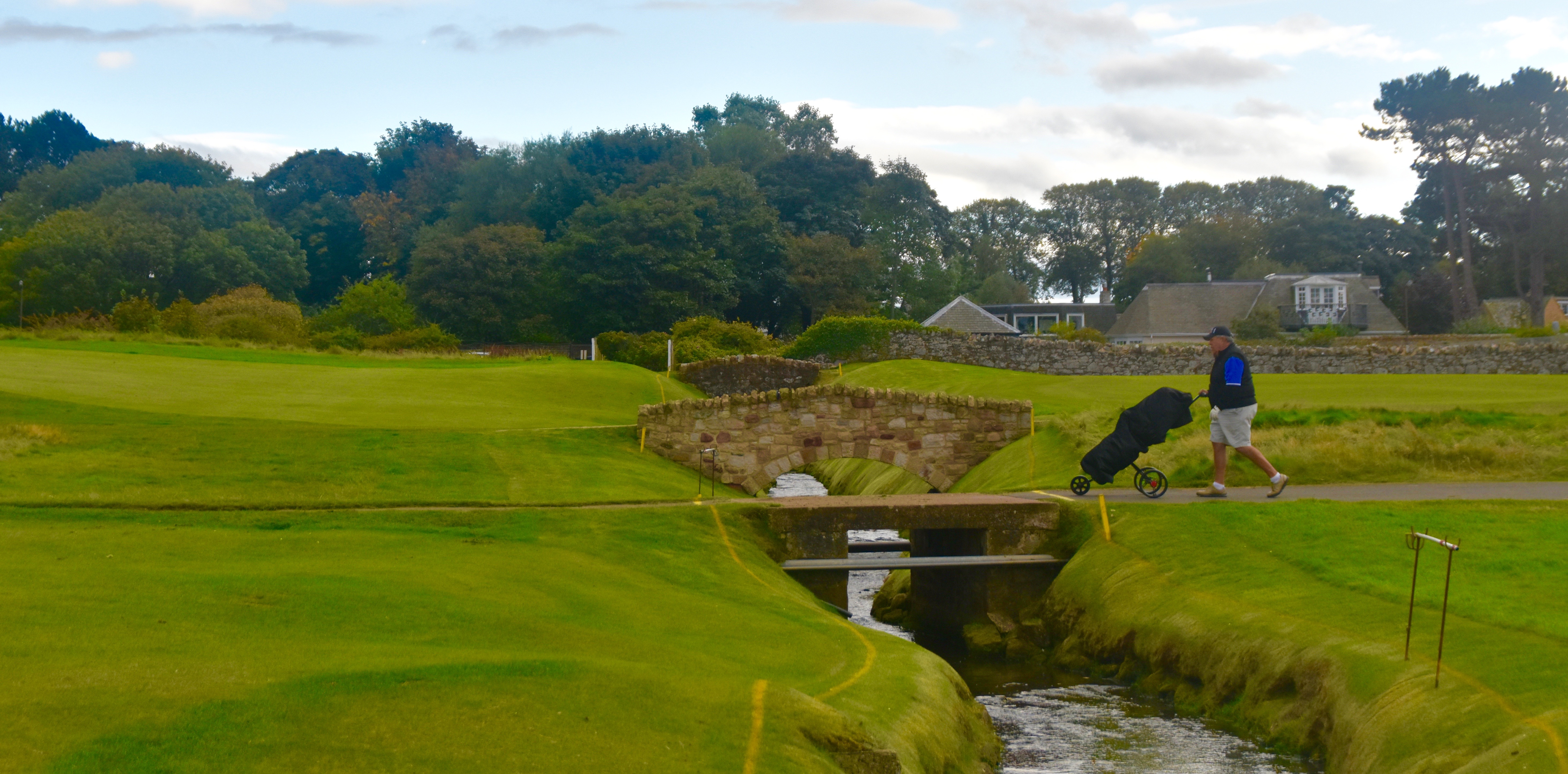 North Berwick No. 13 – Pit
Not The Pit, but just Pit and after you play this hole you'll be using a word that rhymes with pit. While the water's not in play because of the high dunes, that 's the least of your worries on this hole.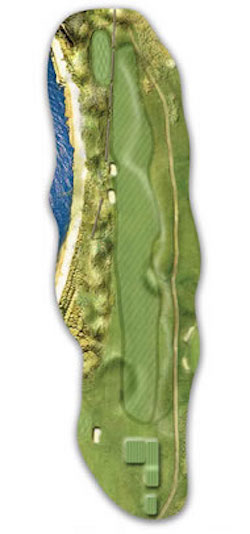 This is one of the weirdest and most memorable golf holes I've ever played, but you wouldn't know that from the tee shot.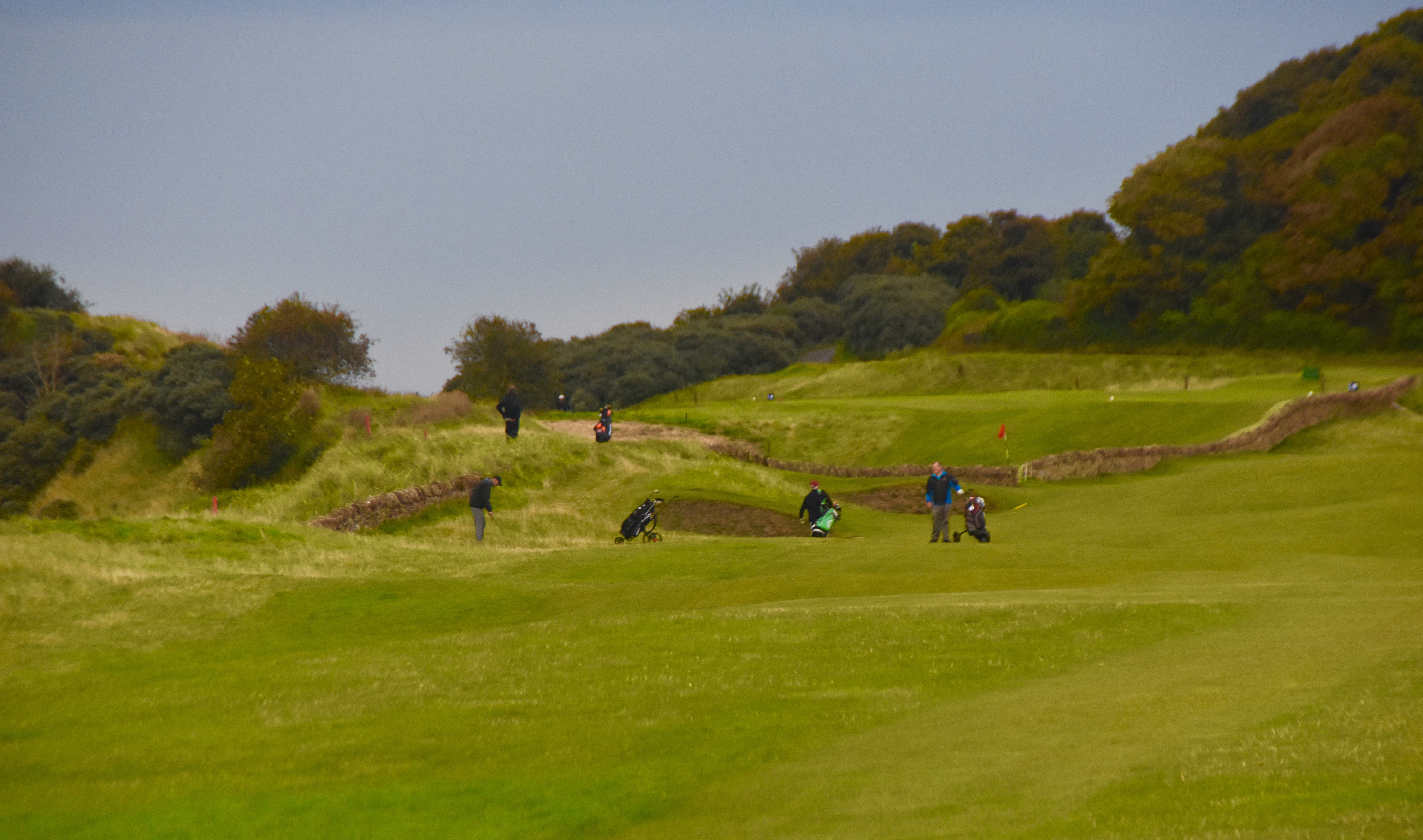 There's the flag in front of the stone wall – what's the big deal? Except as you get closer you realize the green is on the other side of the wall. What the f***?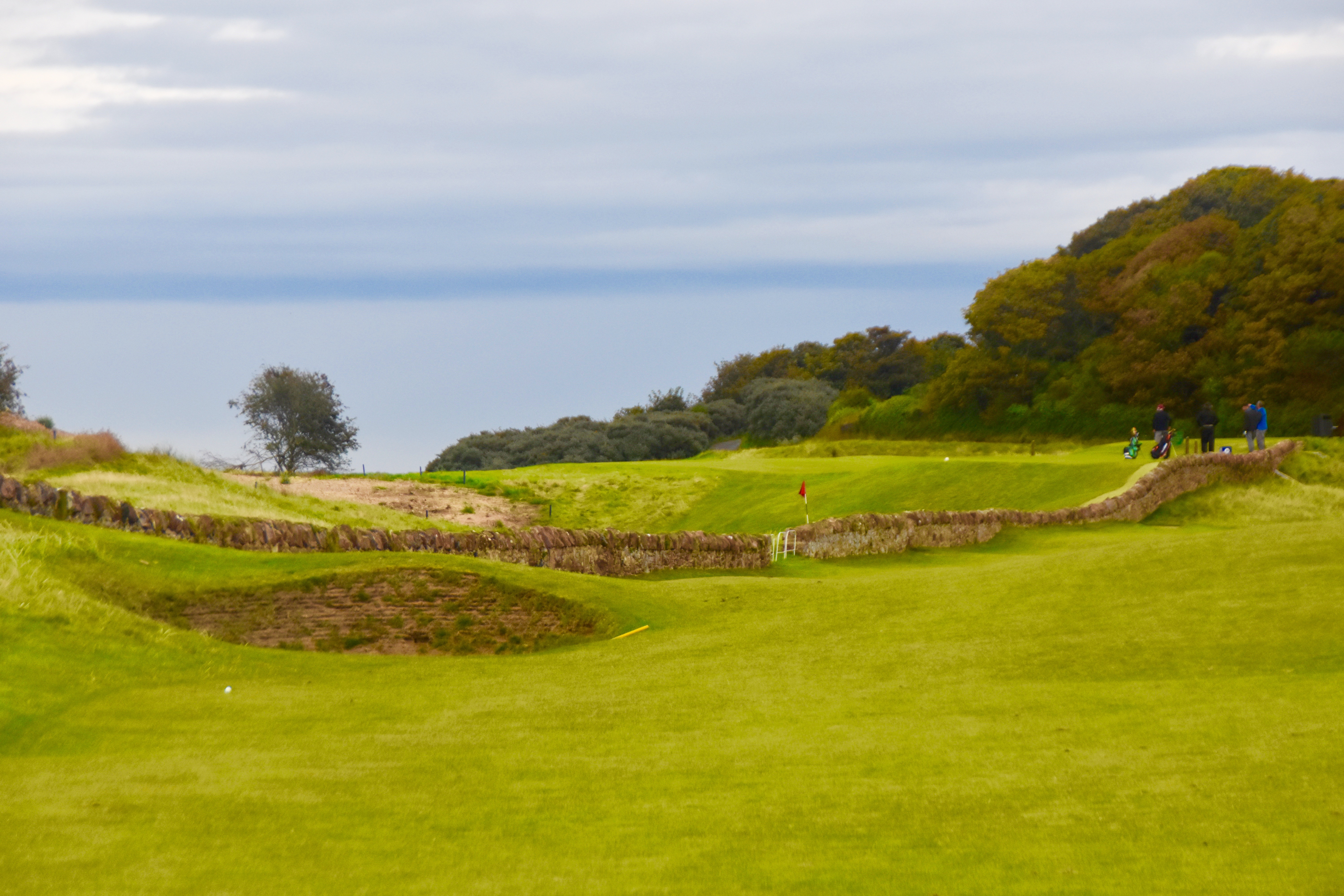 How's this for an easy shot – not! I'm thinking the green was originally on this side of wall until some sadist thought to be real funny and put it on the other side, and while we're at it, why not put the pin almost as close to wall as possible. You can also see from this shot how high the dunes are on this part of the course.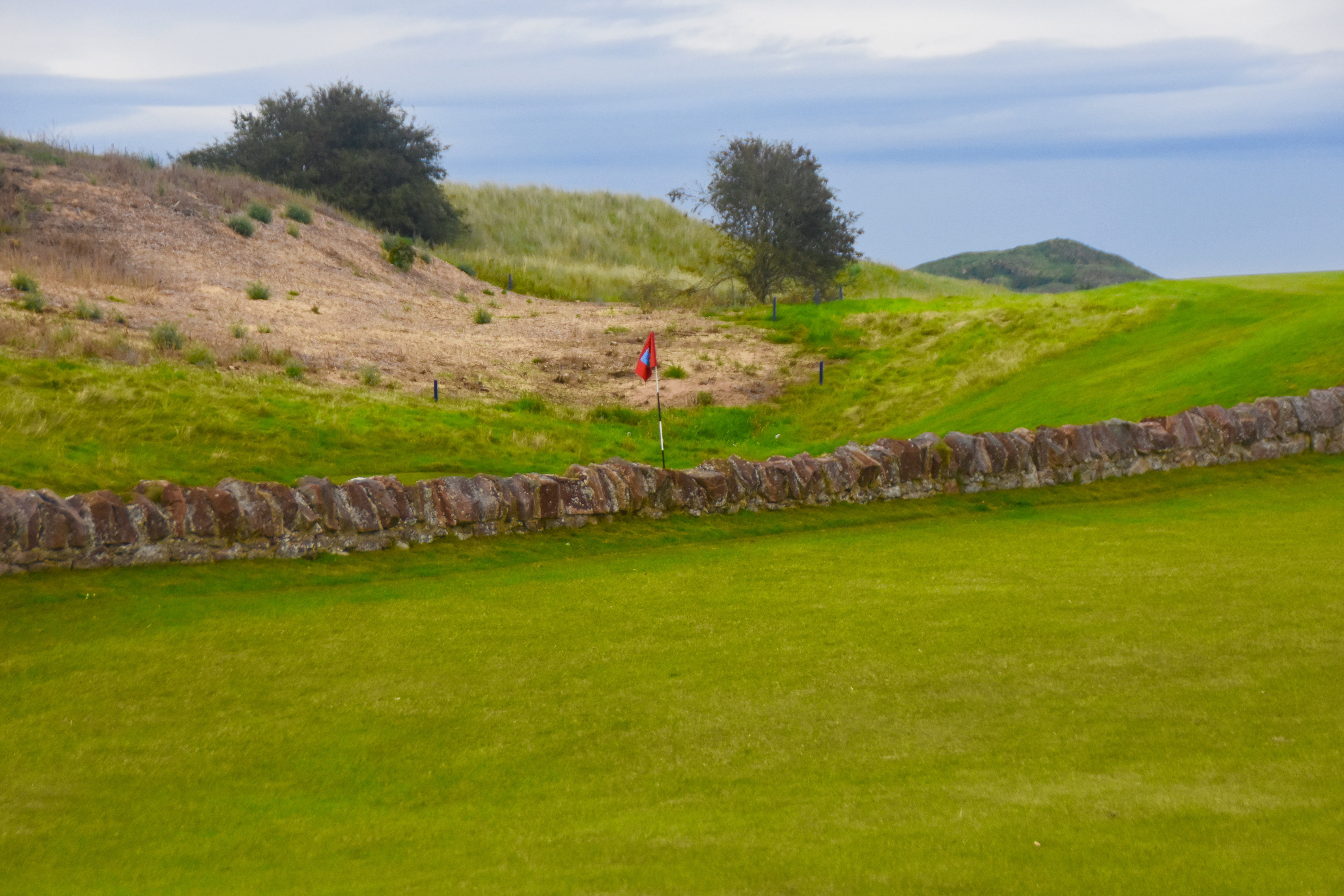 No. 14 – Perfection
If perfection means perfectly difficult then this hole earns its name.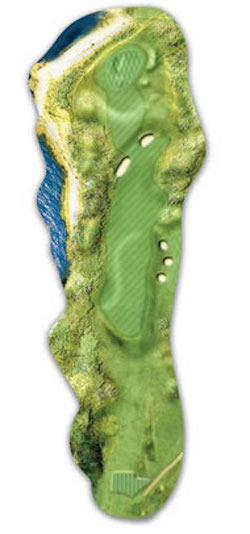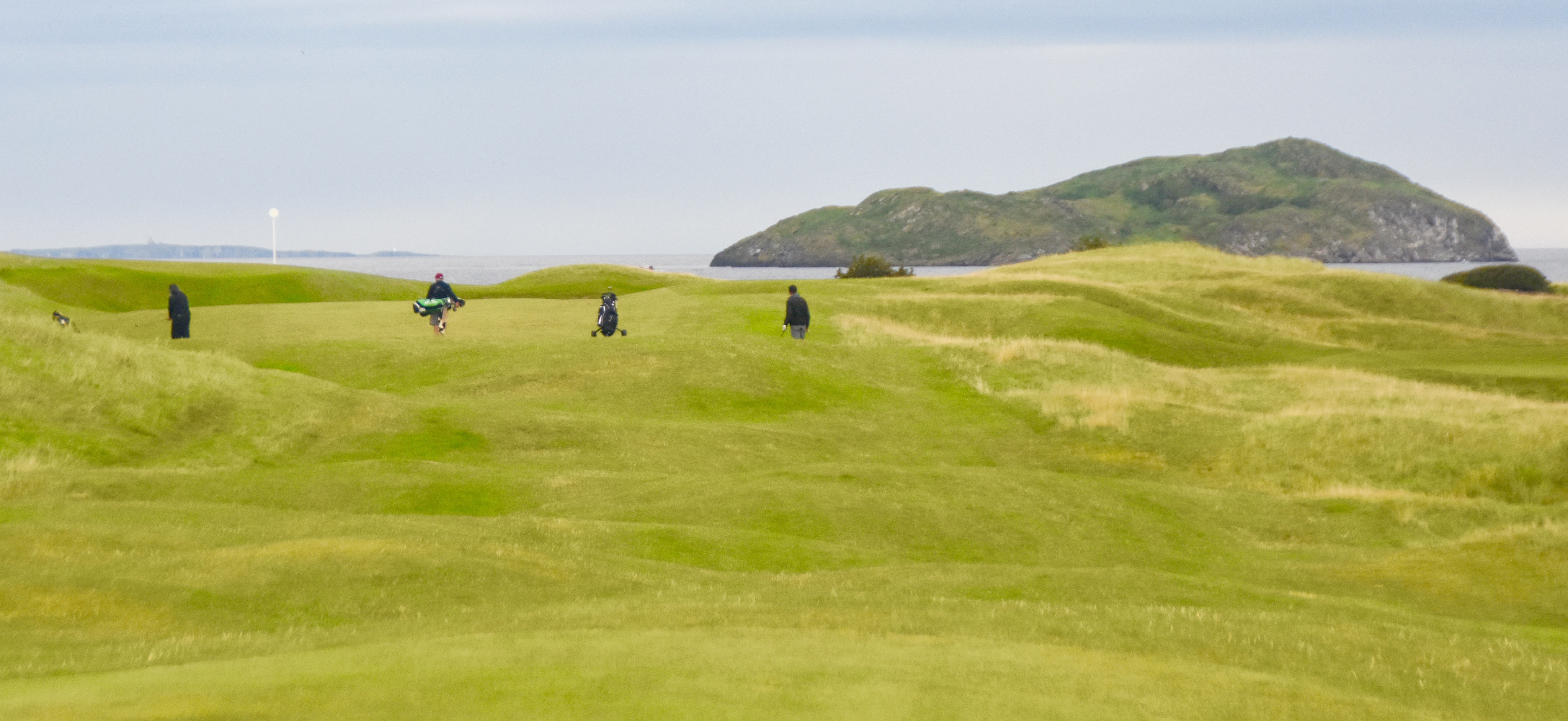 There is a beautiful view, but the hole requires two blind shots in a row guided only by that white pole. Good luck and why didn't we take that caddy?
North Berwick No. 15 – Redan
Four the last four holes you cross over to the inland side of the course starting with this stunningly difficult 190 yard into the wind, up hill, par three. A redan is an arrow shaped embankment on the side of a fort or castle in case you're interested and the design of this hole has been imitated many times, but never duplicated. It is one of the most famous holes in golf..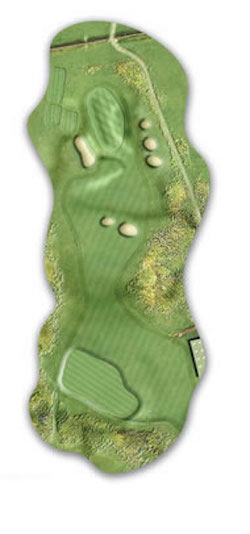 This fore-shortened shot gives you an idea of how uphill this hole is. Four is a good score, par a blessing.
No. 16 – Gate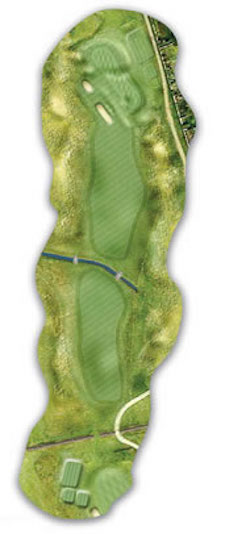 The gate through this stone wall is the least of your worries on this hole.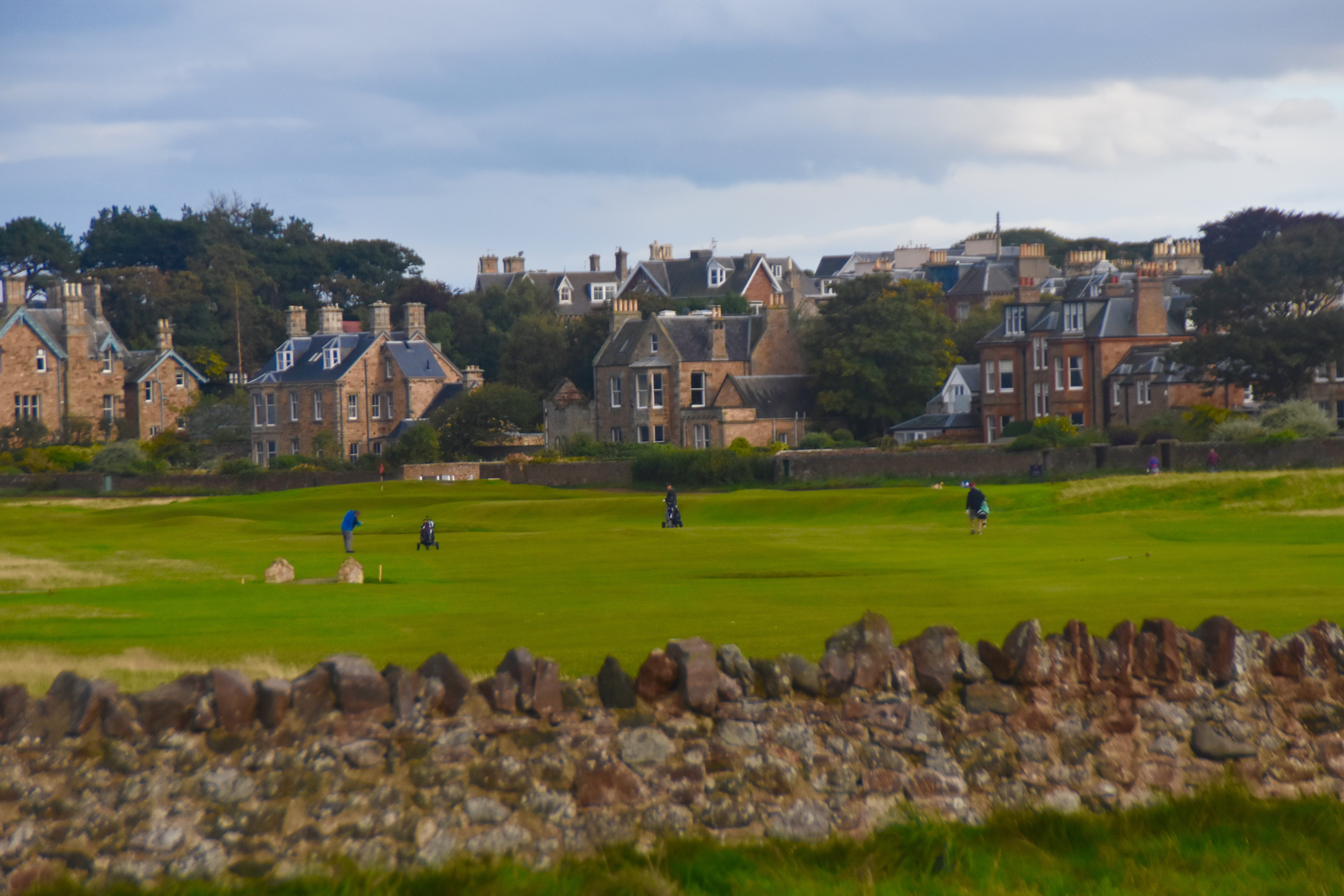 Wait until you get to the green a find yourself with this putt as Frankie did. I'm OK with swails in greens, but a gully – c'mon man! This makes the original Biarritz green look like a mere depression.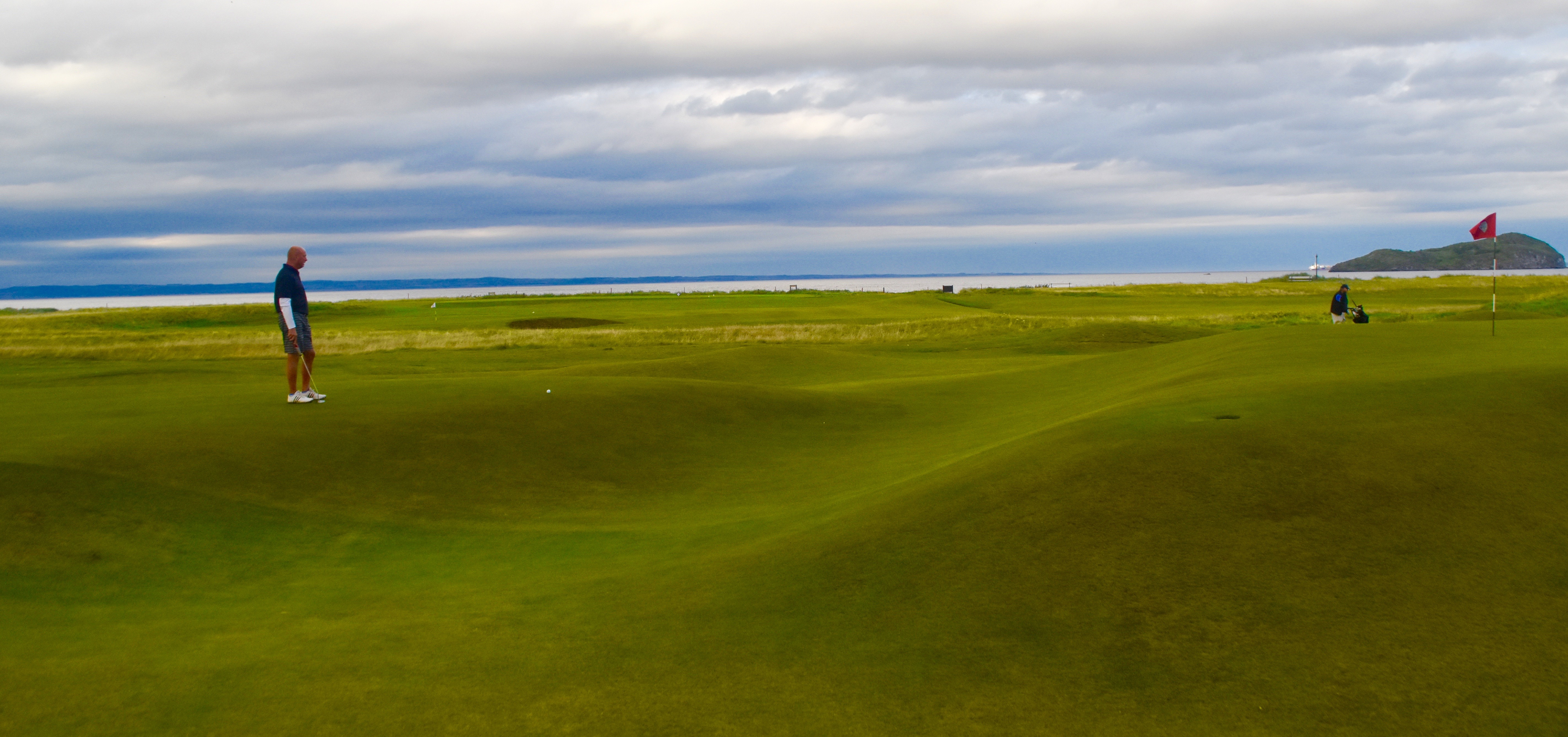 North Berwick No. 17 – Point Garry In
Things don't get any easier on this 428 yard hole as once again there's an optical illusion that only a caddy would tell you about. See the large bunker in front of the green? From afar it looks like the flag and green are in front of that bunker, but it's actually on top so it's a way harder approach shot that you initially think.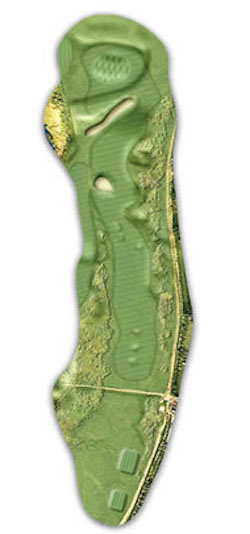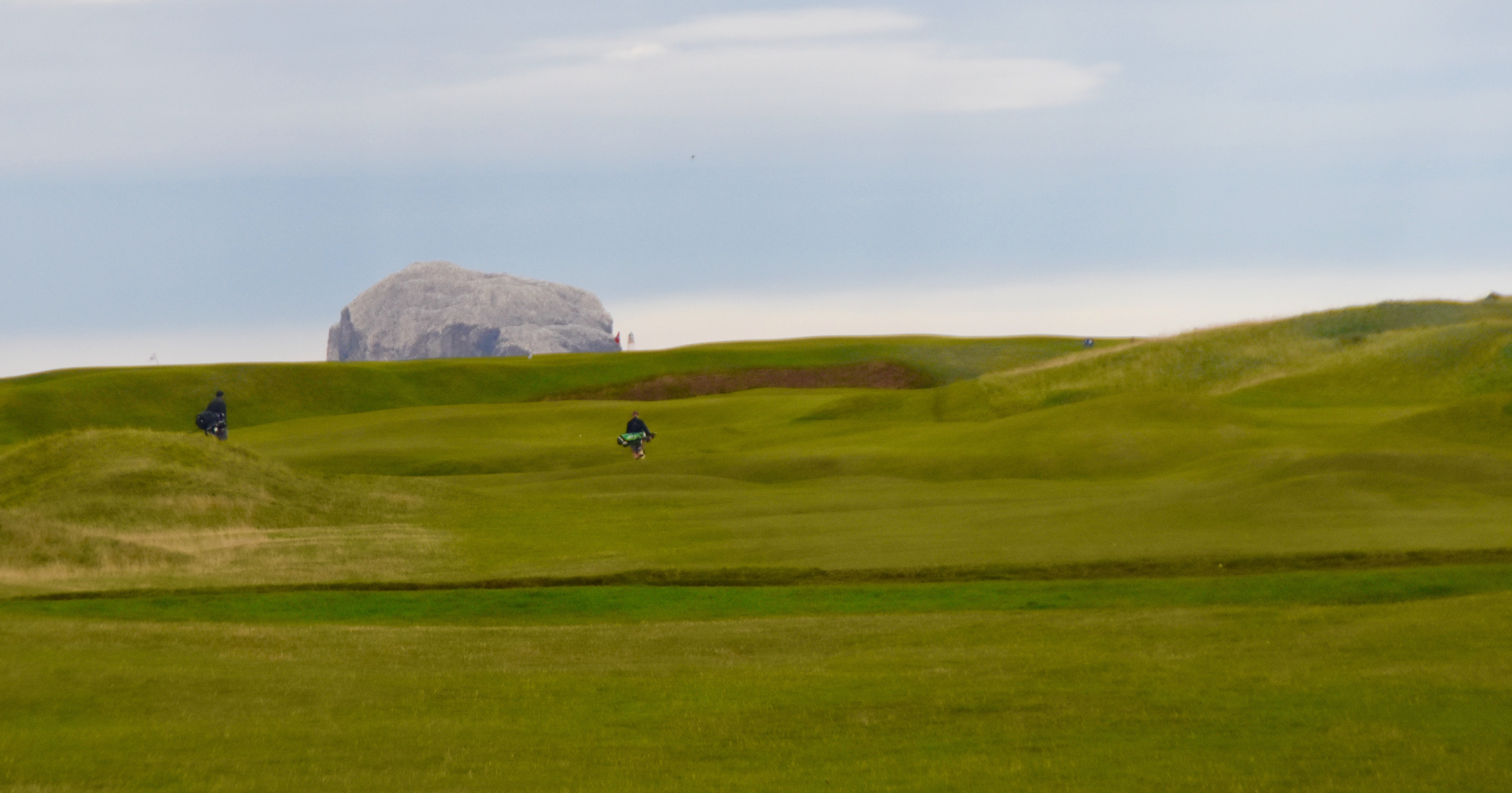 No 18 – Home
After an unrelenting assault for most of the back nine the course cuts us some slack with a genuinely easy finishing hole.
Almost any drive the doesn't break a car window will leave a short wedge to an elevated green. I think everybody in our group parred this one. That's what brings us back for more punishment. It's also a very good looking hole with the summit in the back ground.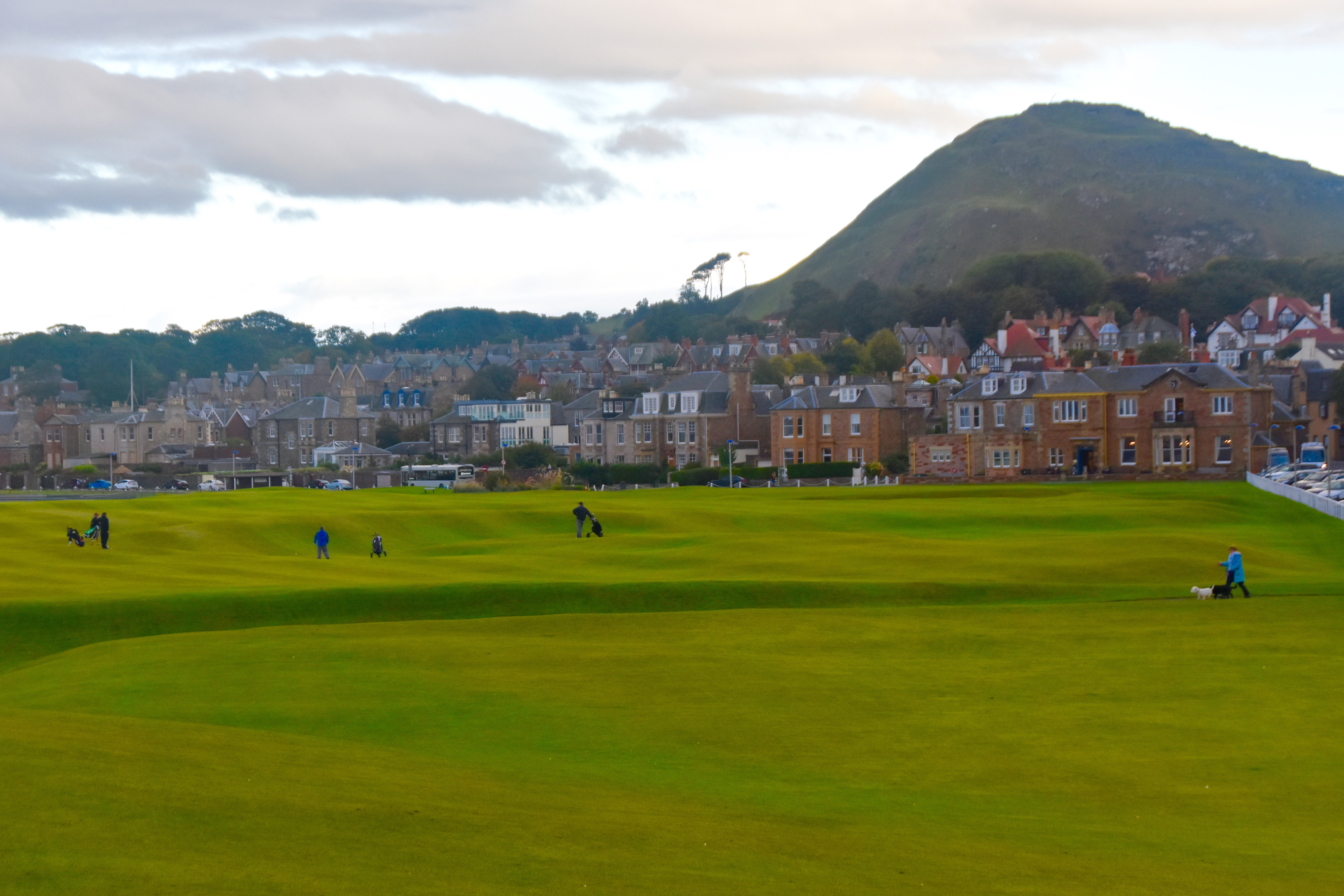 After the round we retired to the clubhouse where our driver Willie had reserved us a table for an evening meal before we made the drive to St. Andrews. After six the daily menu changes to that of a bistro and towns people use it as an upscale restaurant. The food was excellent including these items.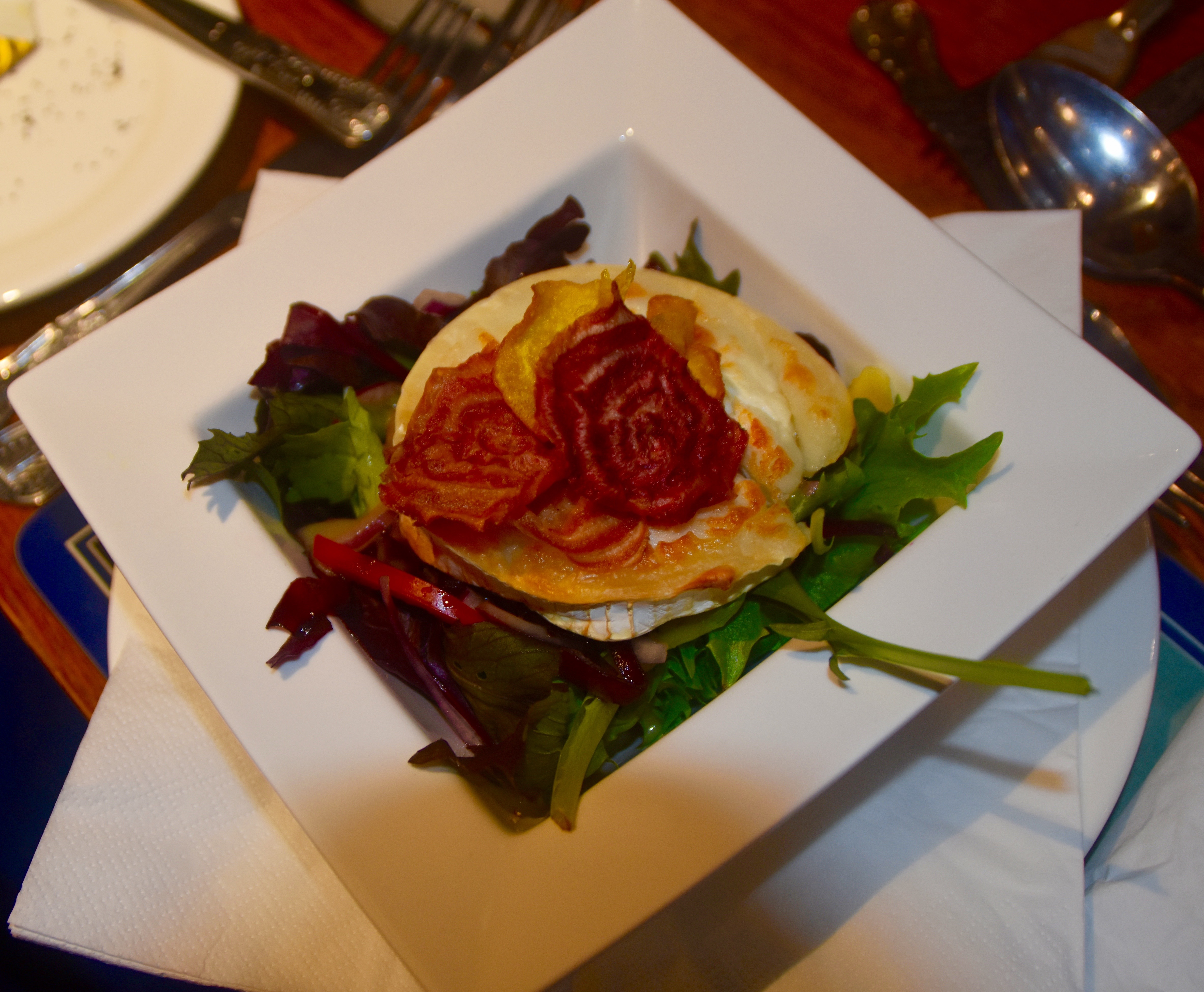 This breaded herring fillet was something I'd never seen on a menu before and it was quite tasty with the usual herring bones sufficiently cooked that they didn't present a problem.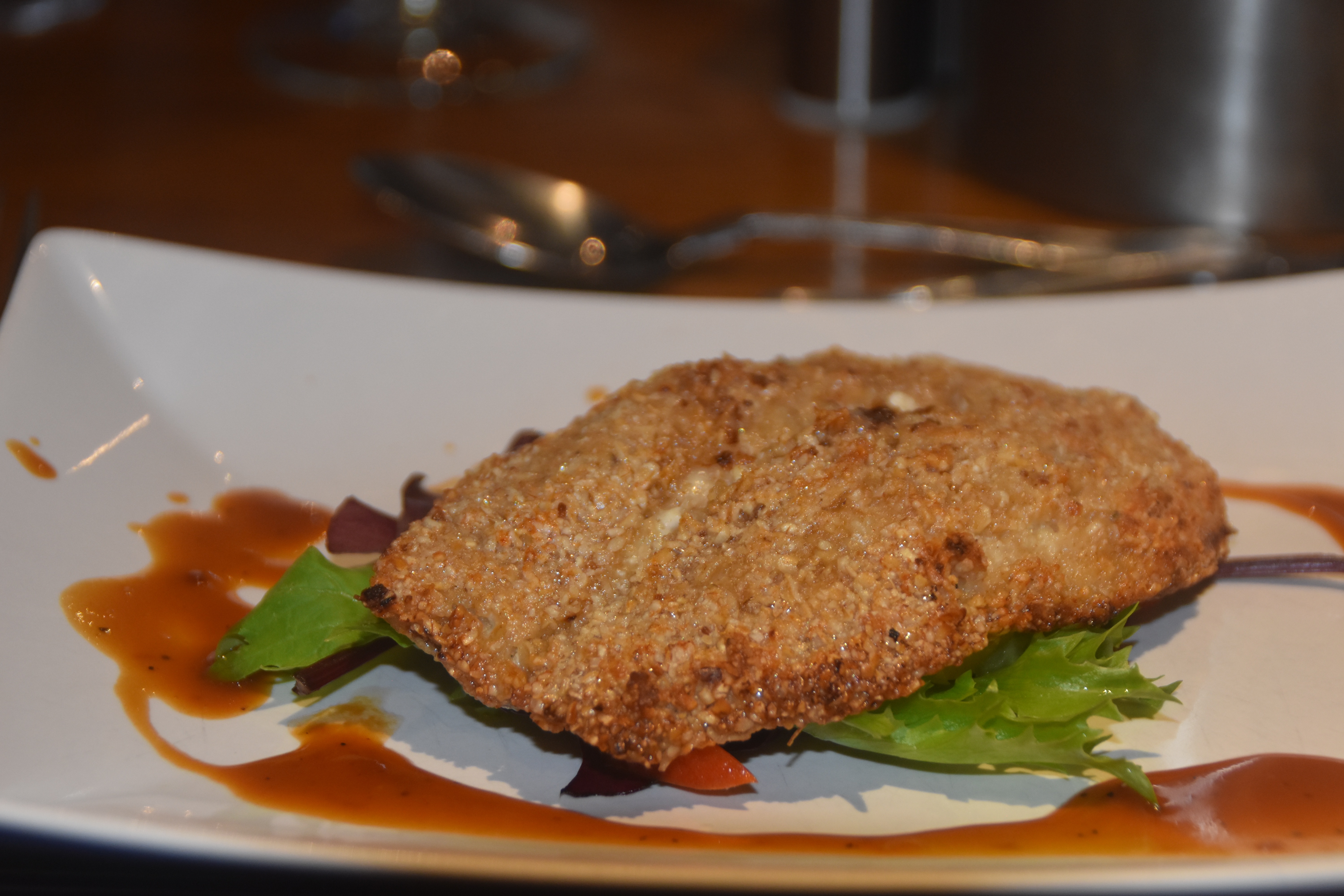 The medallions of lamb were perfectly cooked.
Throw in sticky toffee pudding, a few good red riojas and we were happy as clams.
And no, I'm not going to mention my score, but I will say to definitely include North Berwick on your next Scottish golf odyssey and for God's sake, take a caddy!