Troon – A Great Open Venue
This is the sixth post on the 2017 golf tour of Scotland which was put on for eight Maritimers by Barry McGuigan of Golf Travel Northern Ireland, which Barry has subsequently sold. If you are wondering why we chose an Irish tour operator for a Scottish trip it was because Barry had done such a great job for us two years earlier on our trip to Northern Ireland. It was no big deal for him to ferry his bus over from Ulster where there are a dozen crossings a day. The last course we played was the justly famous and feared Carnoustie, after which we headed for the west coast of Scotland and the village of Troon. Along the way we stopped at the Tormaukin Inn near the famous parkland golf courses at Gleneagles. It was about as typical a country inn & pub as you could hope to find in rural Scotland with great food and local ales.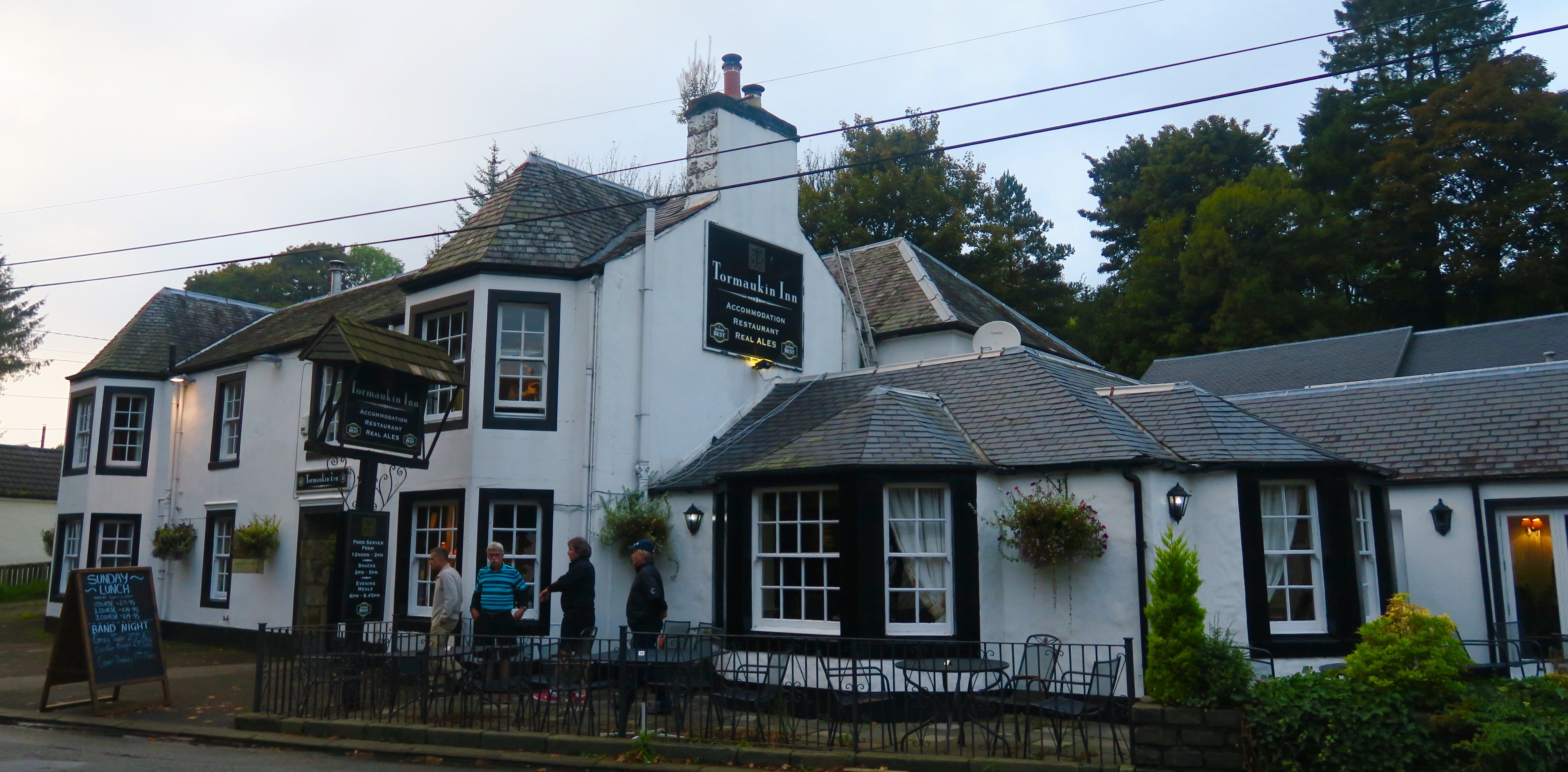 We arrived in Troon after dark and checked into our home for the next five nights, the baronial Lochgreen House which was simply a really great place to stay. The staff were so friendly and helpful that I truly felt 'To the Manor Born'. We topped off the day with drinks before a roaring fire with visions of Royal Troon dancing in our heads.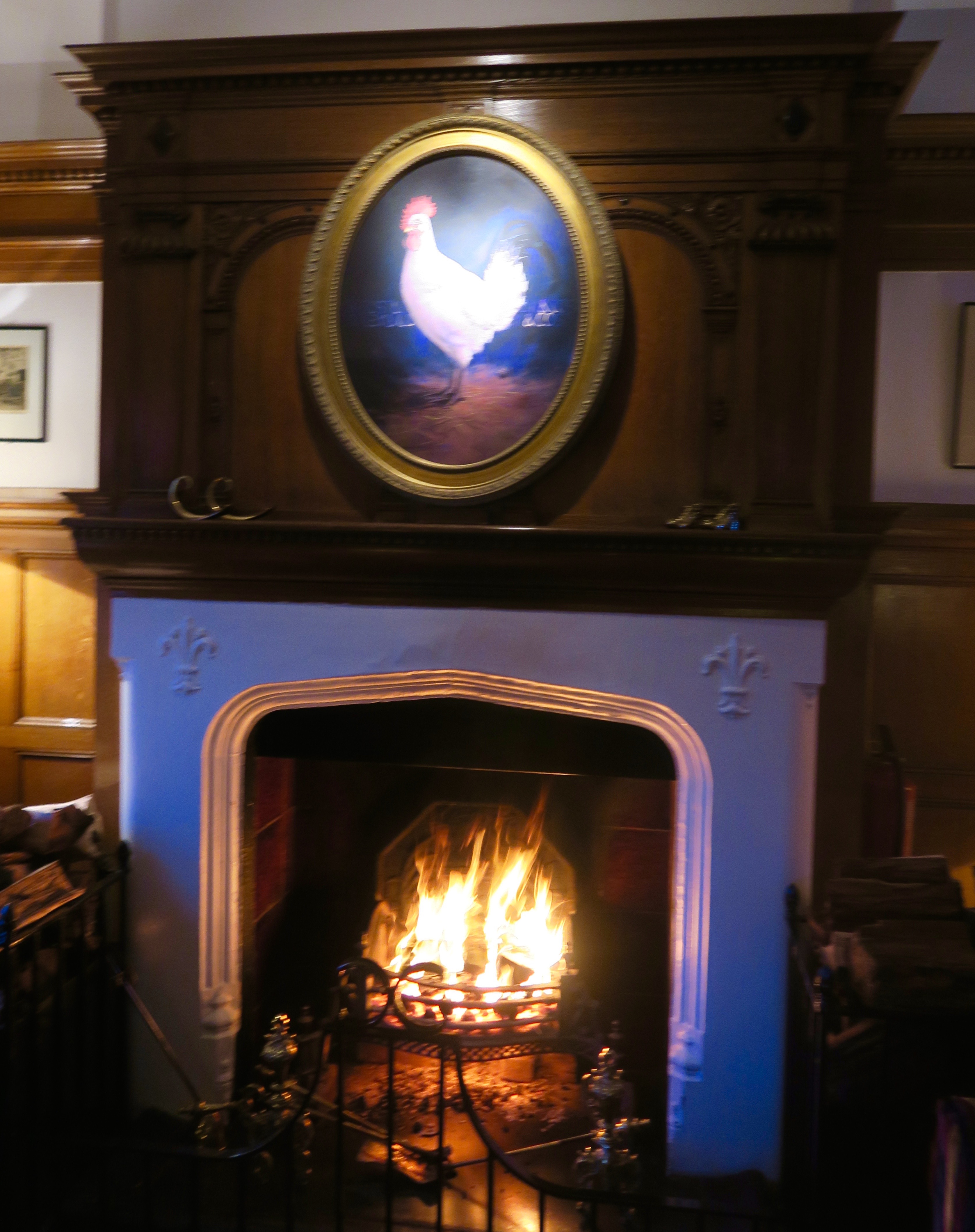 History of Royal Troon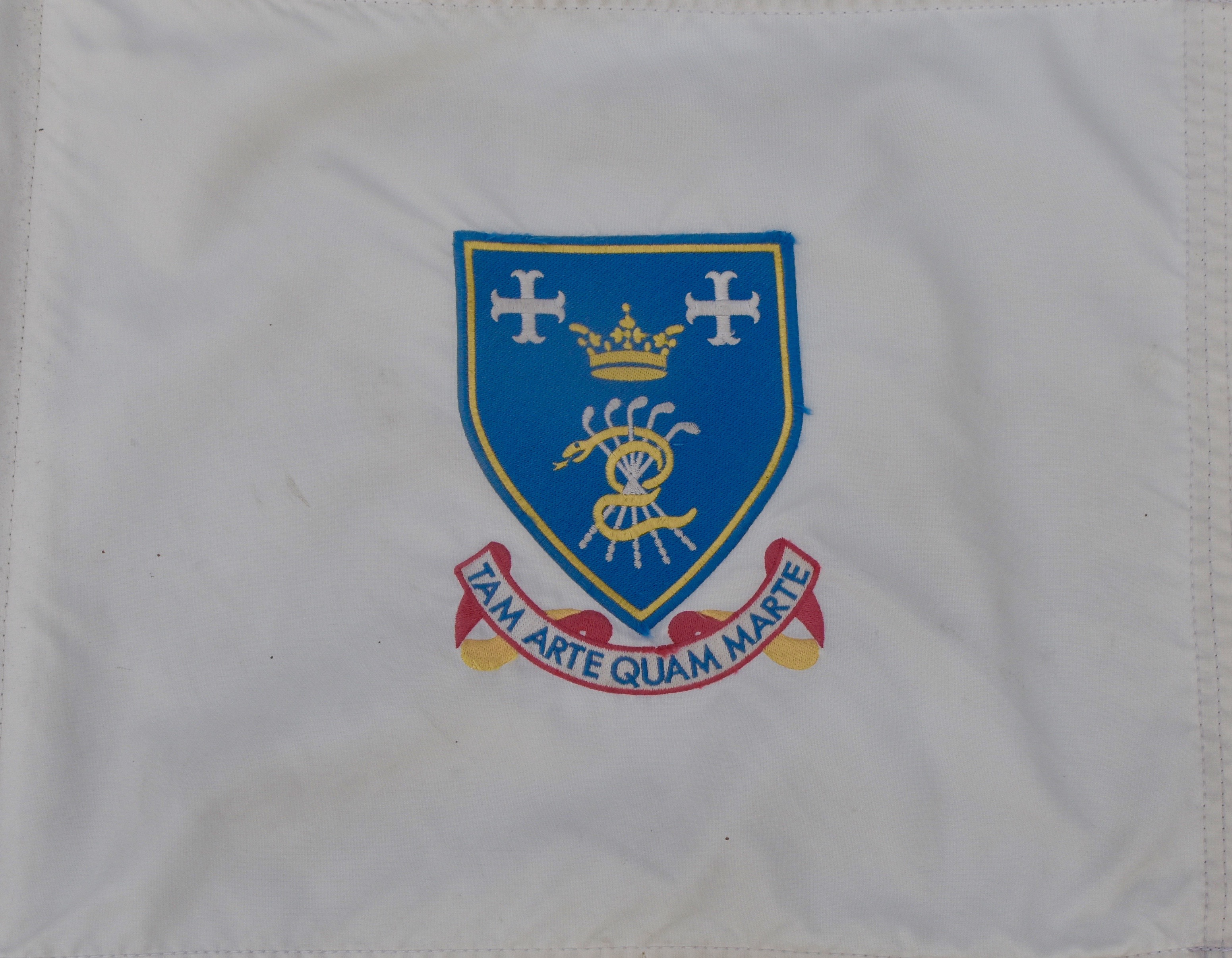 By British Open venue standards Troon is a relative newbie, 'only' dating back to 1878, not hosting its first Open until 1923 and only obtaining Royal status on its centenary in 1978. Since 1923 the course has hosted the Open eight more times with winners that include Bobby Locke, Arnold Palmer, Tom Watson and most recently, Henrik Stenson in 2016. The course motto is Tam Arte Quam Marte which translates to "As much by skill as by strength" and goes a long way to explaining why a guy like Tom Watson, who was not the longest driver, managed to win five British Opens at five different venues. The Open is always about the wind and the players who can handle it and those that can't. We've now moved to the courses on the western side of Scotland where the wind usually blows directly off the Irish Sea. Since most of the golf holes parallel the shoreline, you rarely get a helping wind or one directly in your face. Frankly, I'm not sure I'm looking forward to having my controlled draw (Yeah, right!) turn into an uncontrollable slice. Anyway, it's a beautiful September morning in Scotland and I can see the bulk of the Marine Hotel at Troon across the fields from Lochgreen House so let's get golfing.
The clubhouse at Troon looks exactly like what I would expect a club of this eminence to have; solid, stolid and a bit severe.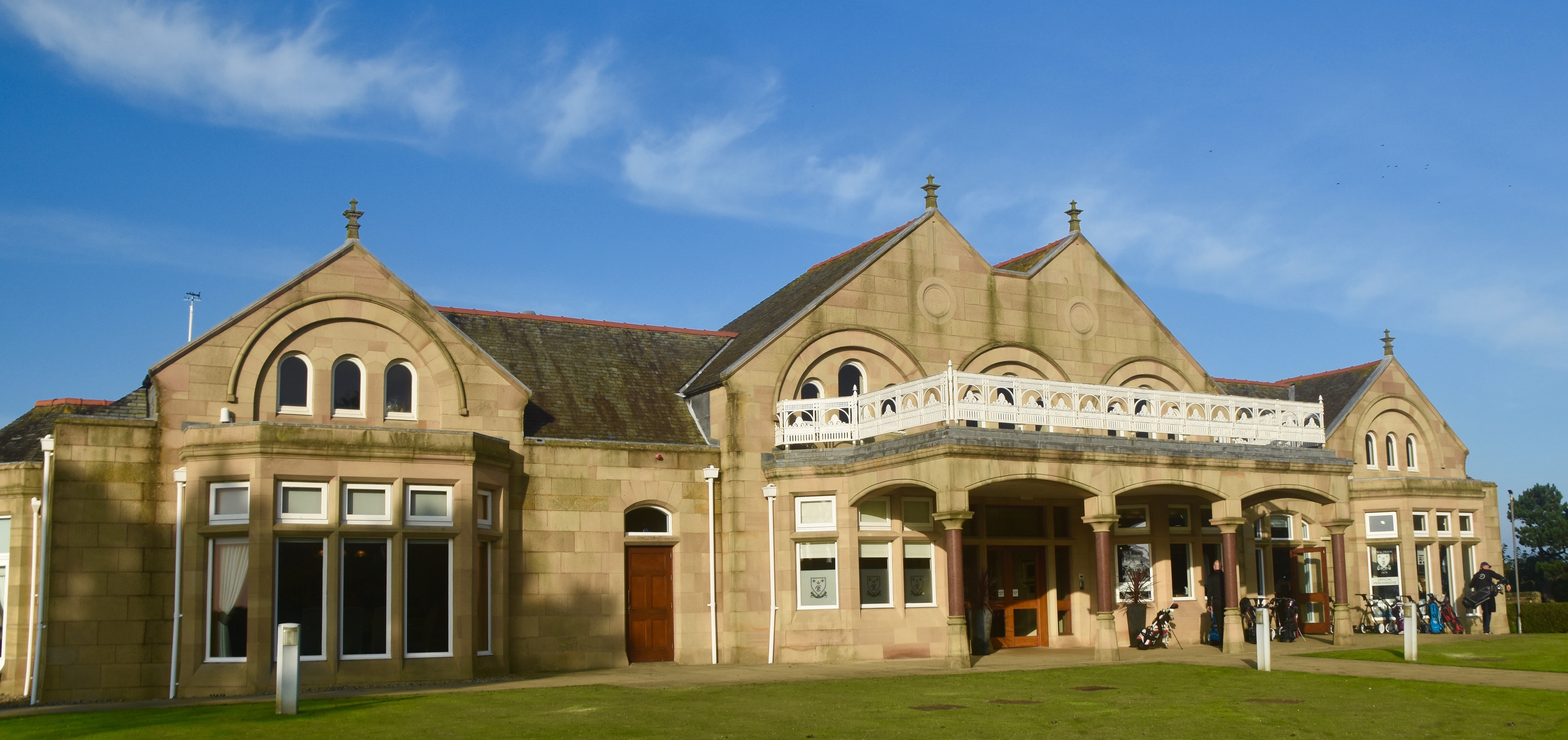 However, immediately upon entering, all thoughts of stuffiness are quickly dispelled by helpfulness of the staff in the pro shop. There is a replica of the Claret Jug on display with names of the nine Troon winners underneath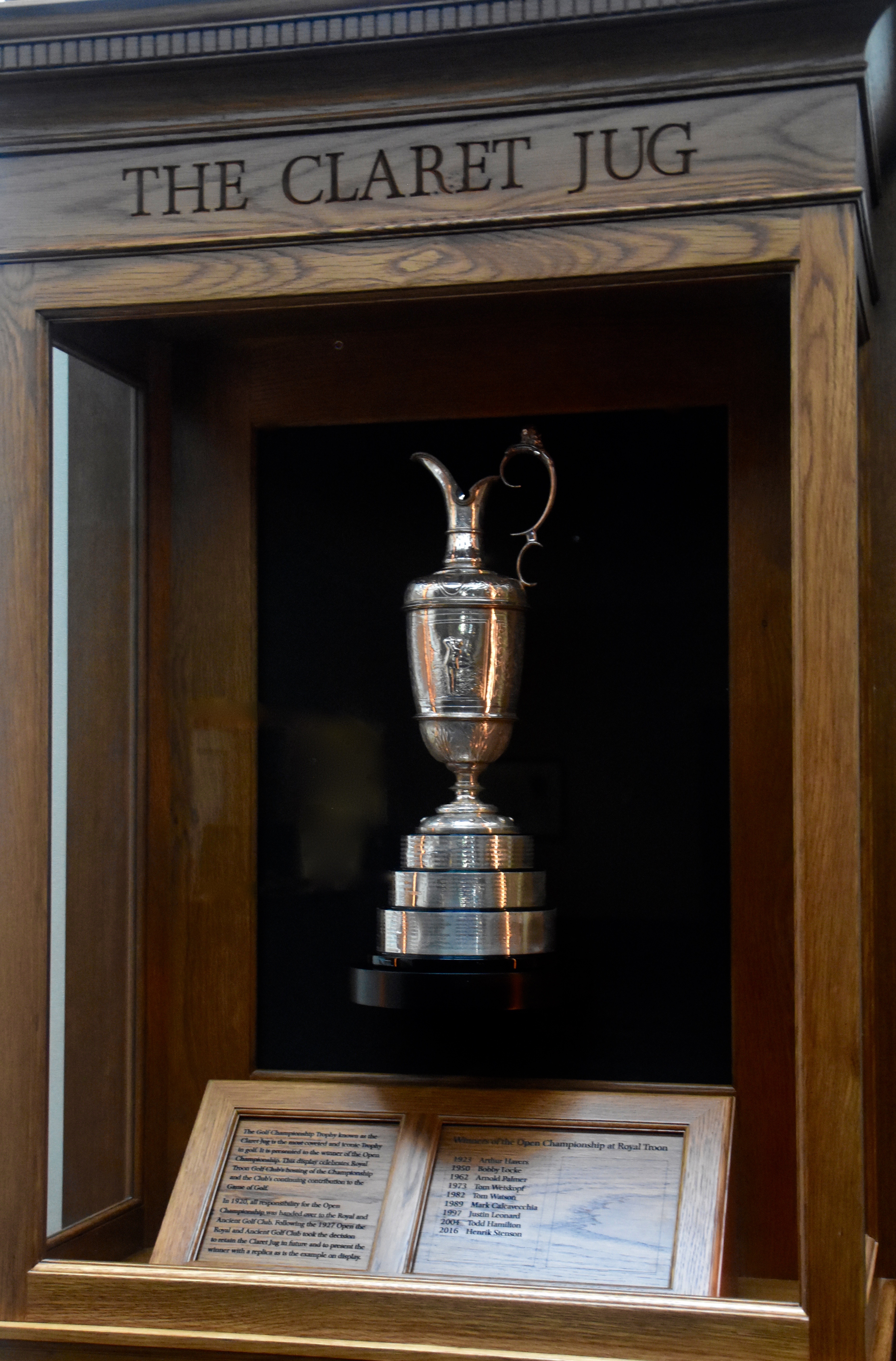 I force Brian to point to the name of the most recent winner, Henrik Stenson, who for reasons unfathomable to me, he can't stand.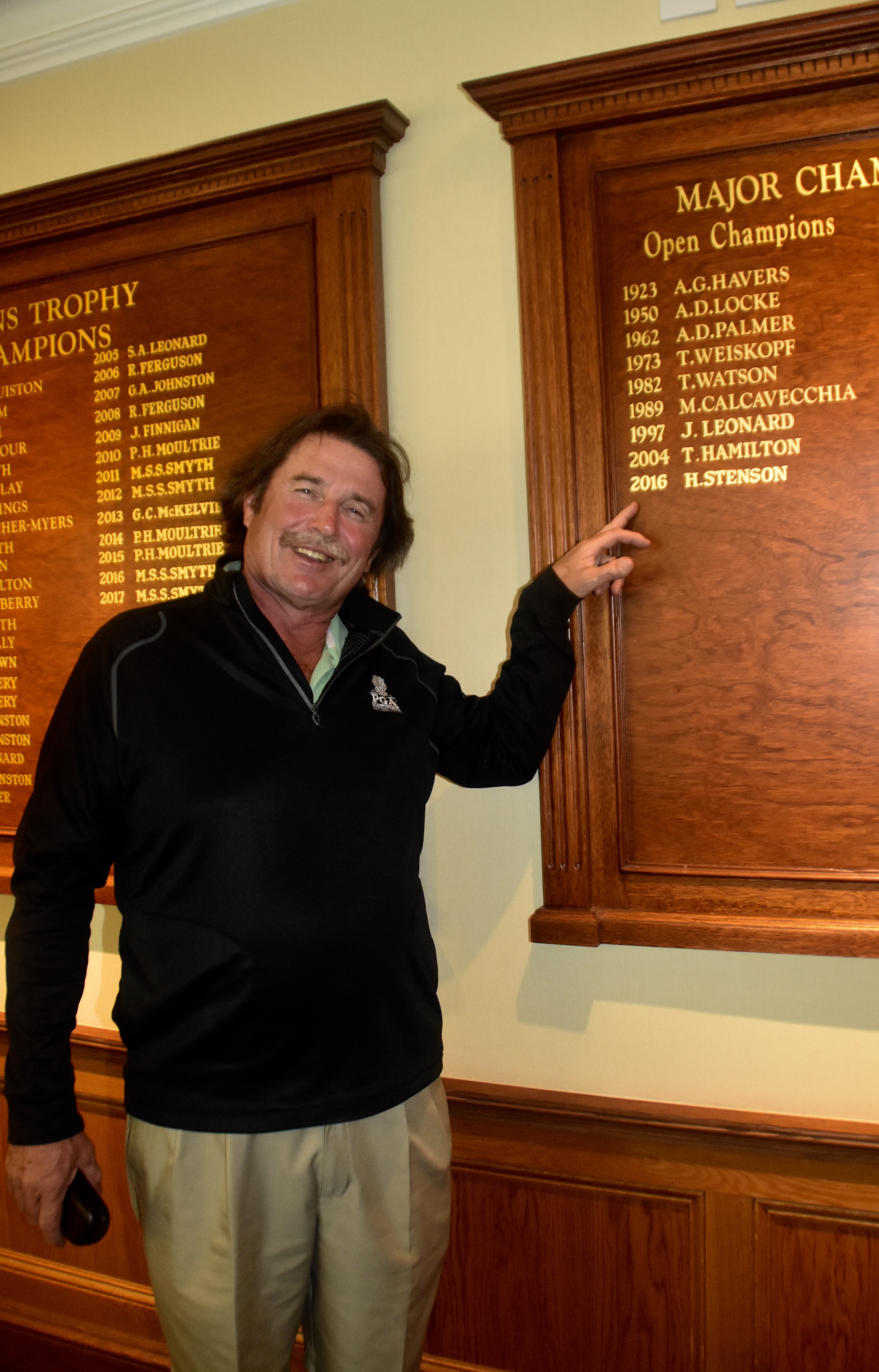 There's also a display of early and extremely rare golf clubs, some of which are apparently priceless.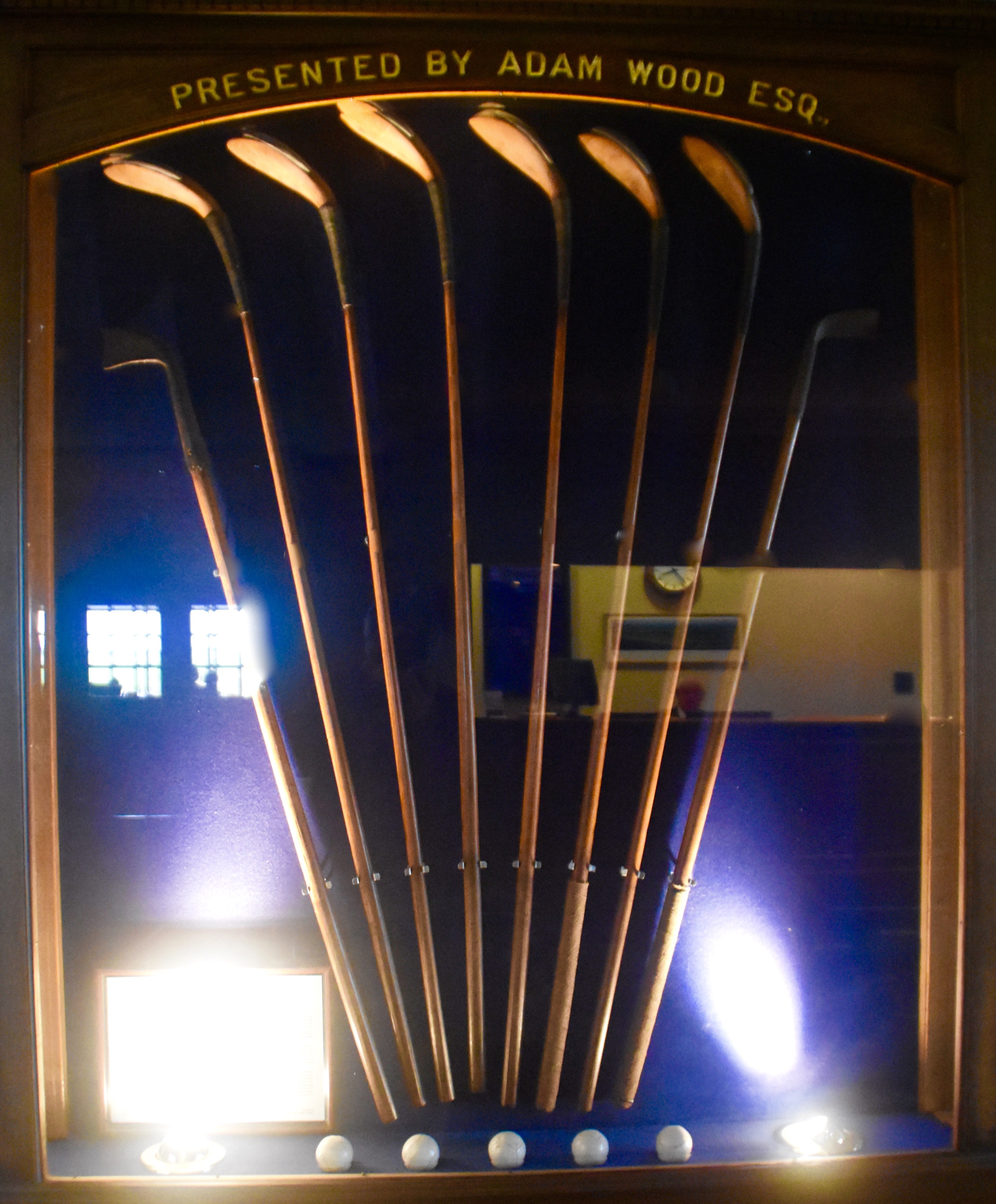 As well as a larger display case with dozens of interesting historical items relating to each of the Opens held at Troon. Just being here in this clubhouse where so much golf history has been made, almost gives me goose bumps.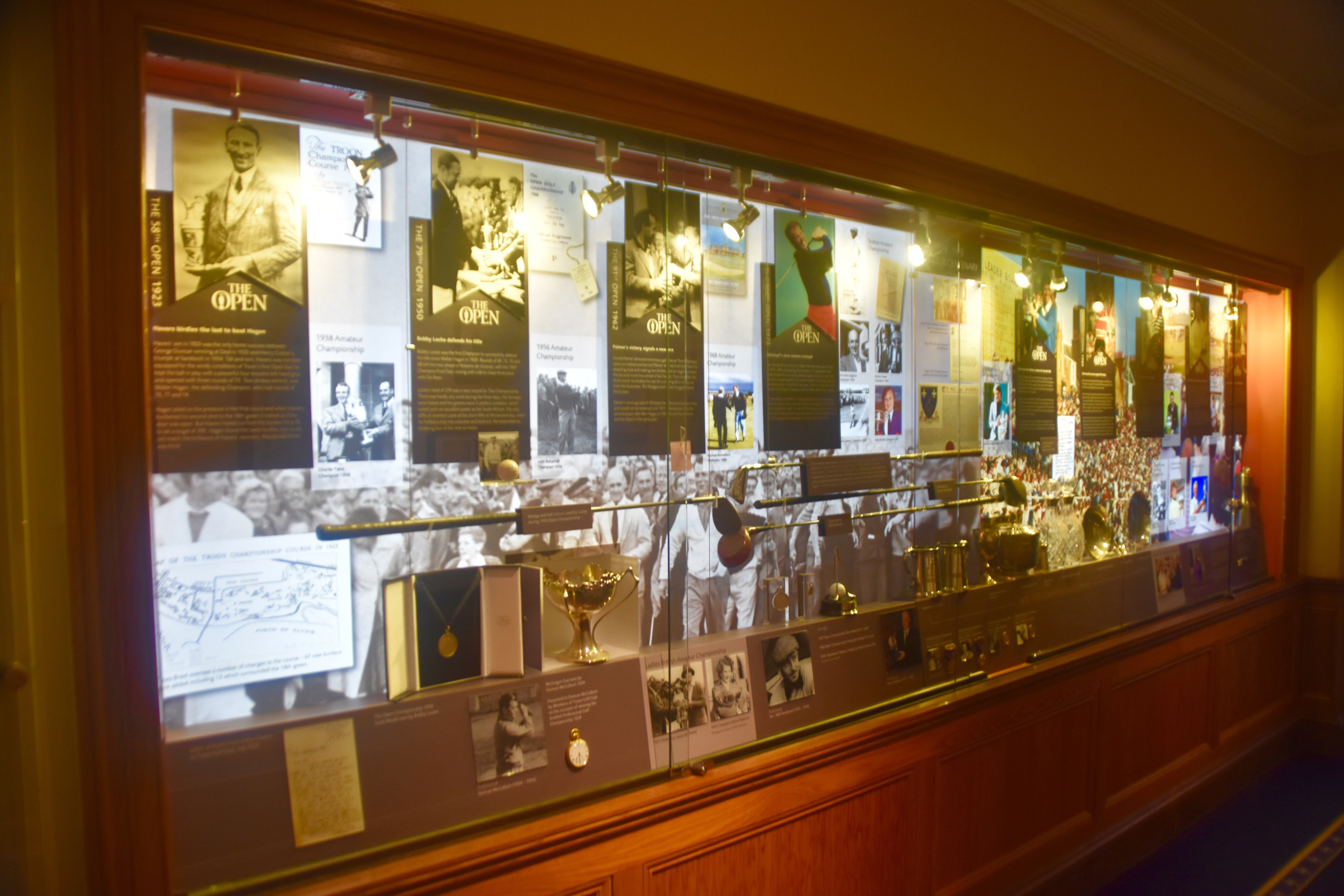 Stepping outside to the putting green I can't help but notice that there seem to be a lot of Ryanair jets landing at Prestwick Airport which actually abuts the course at Troon. At one time Prestwick was the principal airport for all of Scotland, being the closest point to North America, but with the advent of long haul jets it lost its advantage and Glasgow and Edinburgh have long surpassed it. My understanding was that Prestwick was mainly a cargo airport these days, so what gives with all the Ryanair flights? The starter tells me that these are not scheduled flights, but pilot training. They are the same planes landing and taking off over and over again and the starter says it hasn't happened before today.  I roll my eyes and think to myself, "This is f***ing unbelievable!" The reason for this is that two days ago in Crail we were subject to the screech of tires and brakes from an auto race and yesterday at Carnoustie it was machine gun fire from a nearby rifle range. This will be the third straight day of auditory bombardment, this time from the air and it's actually way louder than the first two days.
Here's a shot of Brian standing on one of the tees on the back nine and right behind him are the landing lights.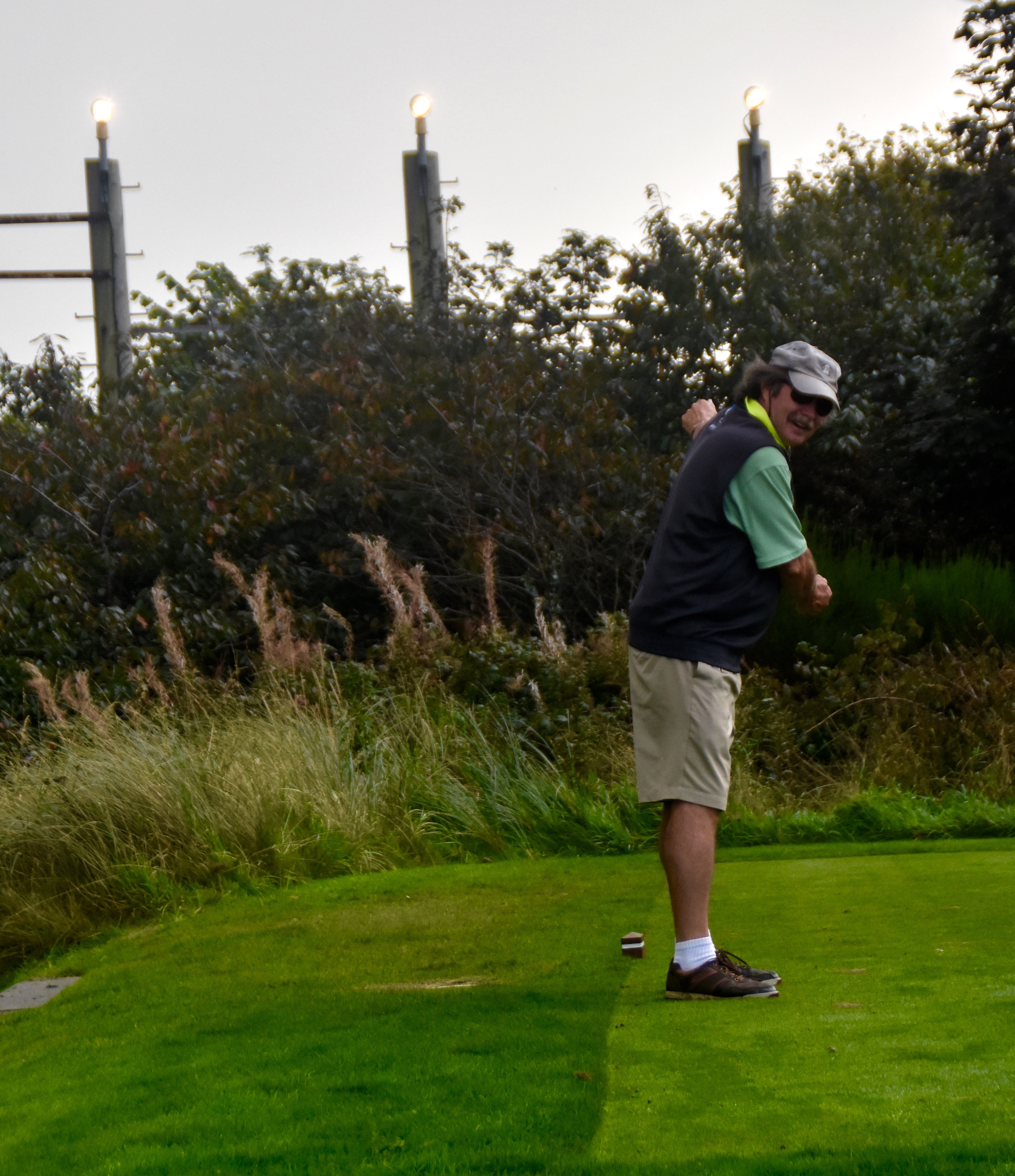 And this is how close the jets were. This was not taken with a telephoto.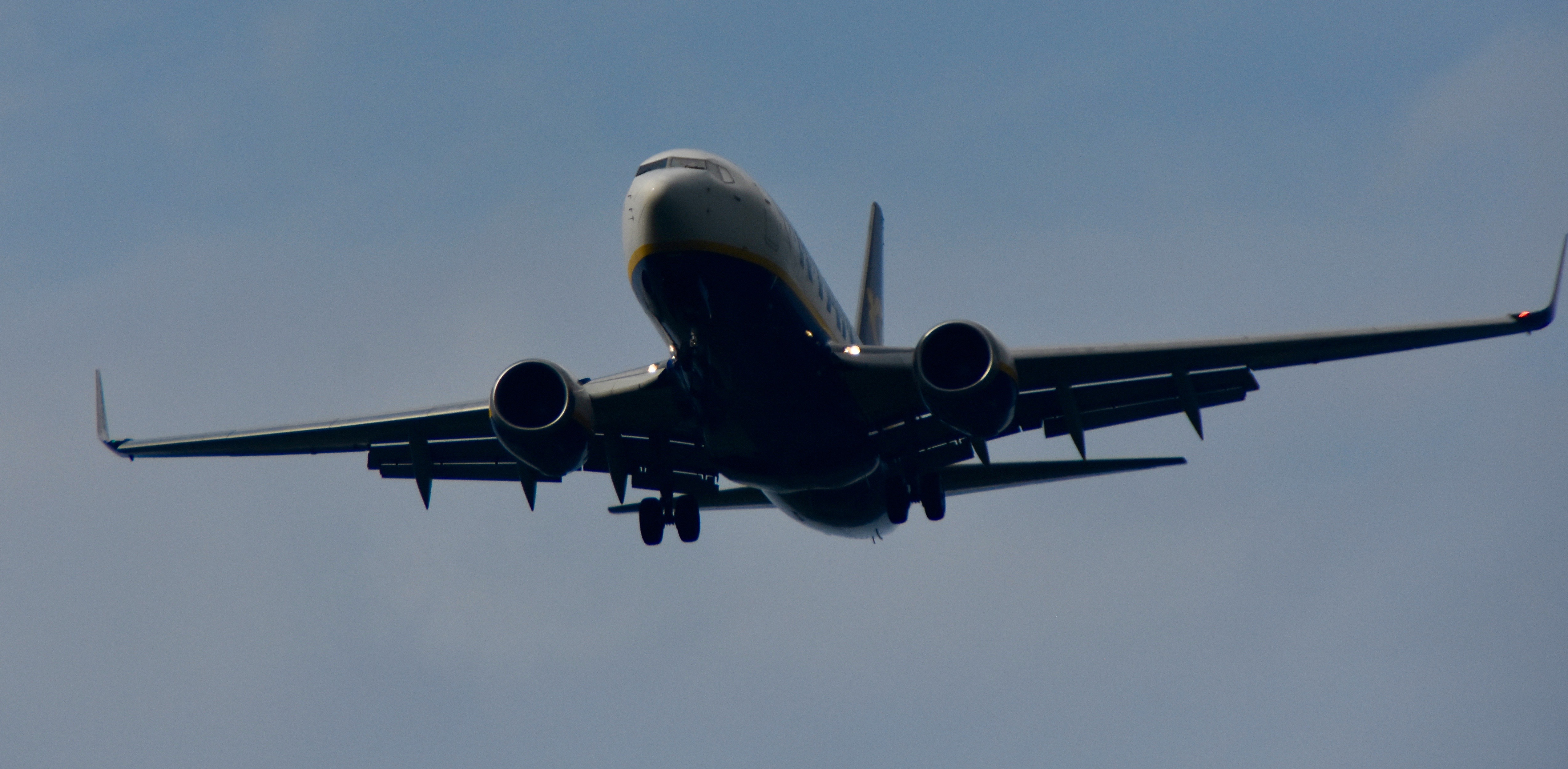 OK, enough with the excuses, how was the golf course? In a word – perfect. Of the four Open courses we played in Scotland, I would rank Troon as the one that most typifies what most of us think as a British Open course. All of the elements are there – wind coming in from the Irish Sea, narrow fairways lined with gorse where the ball will roll for miles if you hit it straight, sand dunes with grass so deep there's not much point even looking for your ball, fast greens that are very difficult to read and, of course, lots of pot bunkers that challenge the best players in the world to escape in one blow. So let's play Troon.
As you can see from this photo it's a very nice day at Troon with temperatures high enough to wear shorts.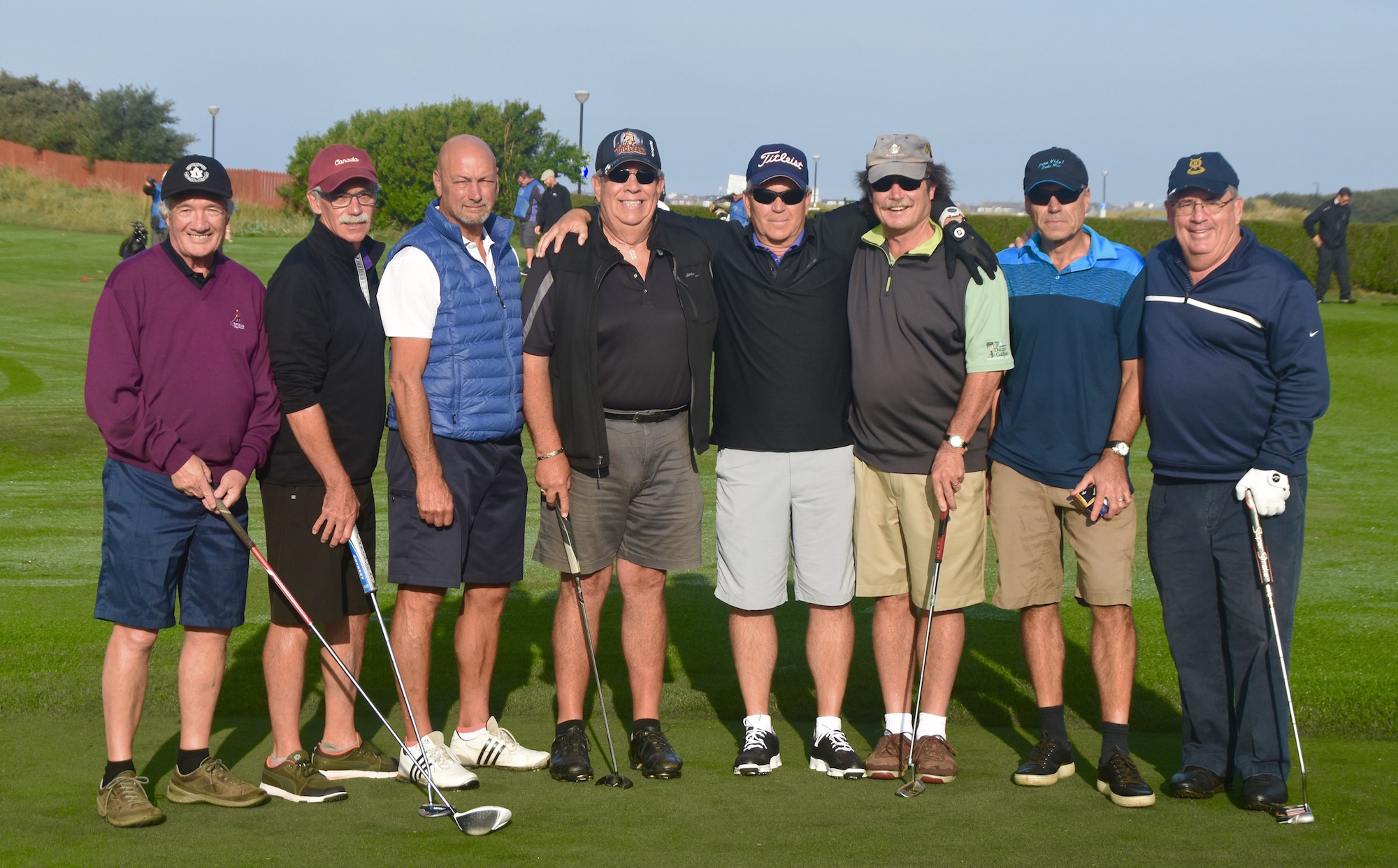 There are actually two courses at Royal Troon, the Old and the Portland. It is the Old that hosts the Open and the one we will play today. Here is the layout which is typical of Scottish links courses – nine holes out and nine holes back. This of course means that you could play a lot of consecutive holes into the wind, something you would rarely find in a North American course. However, the prevailing wind is off the Irish Sea so it's usually a sidewind on every hole.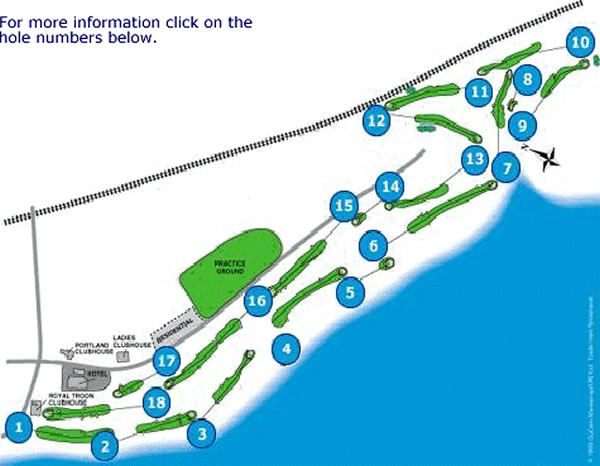 Thankfully, Troon starts you off with one of the easiest holes on the course, a reasonable length par four with a generous fairway. The Irish Sea lies just behind the grass topped dunes that make up the right side of the fairway for the first seven holes.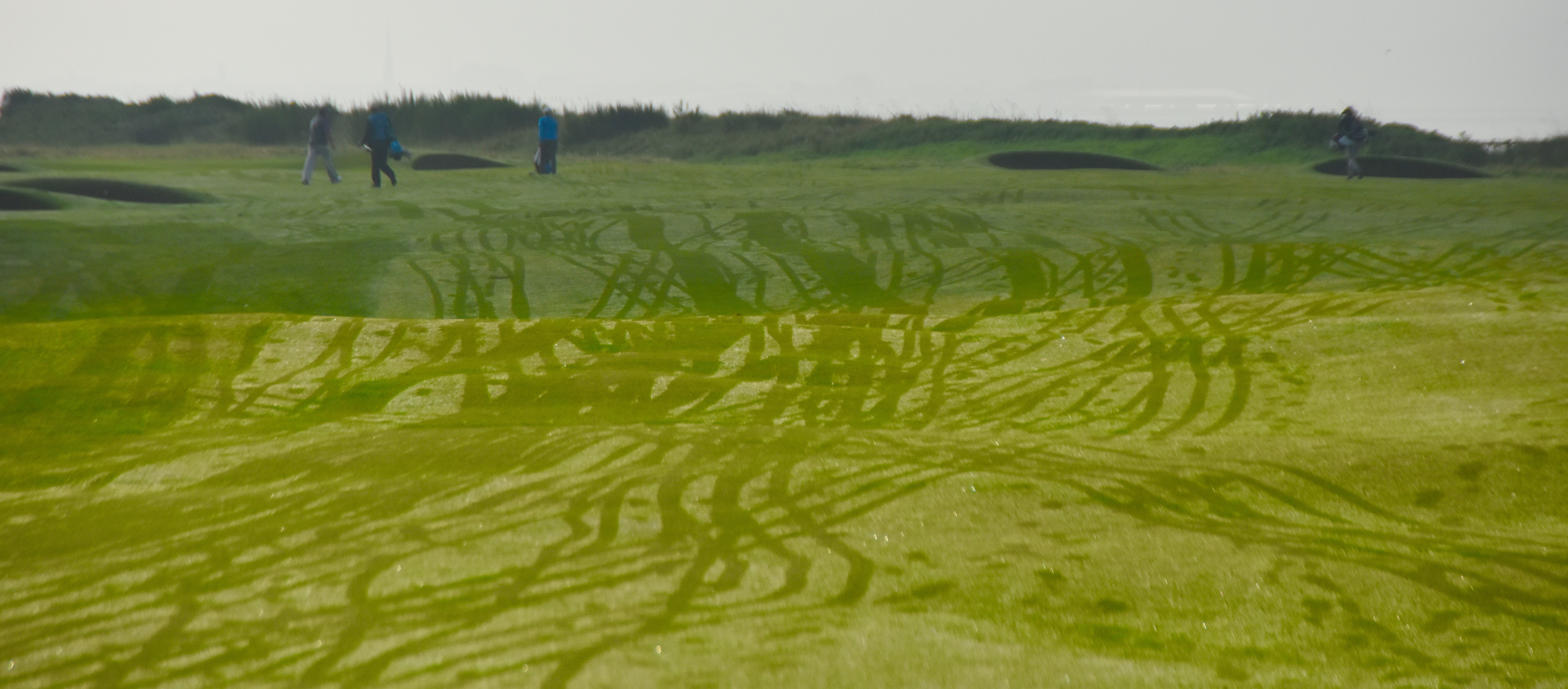 This is what you see if you walk out to the dunes. It didn't seem to matter where and when we played, the tide always seemed to be out – in the case of Troon, really out.

This won't be a hole by hole post, but instead I'll feature some of what I thought were the most interesting holes.
No. 5 – Greenan
This is the first par three on the course and if you look at the flyover, there's simply no place to miss. Brutal bunkers, impossible grass and at 183 yards no shortie, this is a tough, tough par.
No. 7 – Tel-el-Kebir
Tel-el-Kebir was a battle fought in 1882 in Egypt where the British forces were commanded by General Wolseley who some thirteen years earlier crushed the Red River Rebellion in Manitoba. This is the last of the holes along the Irish Sea and begins what, for me, was the most interesting part of the course. The six middle holes at Troon I would put up with any I've played anywhere for variety, subtlety and surprising difficulty. This is a gorgeous hole to look at and there is an obvious risk/reward factor at play. You can try to clear right side bunkers and rough and get an easy shot into the green or you can play it safe out to the left. With the wind pushing my ball left to begin with this was a no brainer – aim for the right bunkers and let the ball drift left onto the fairway. Unusually for me, it actually worked.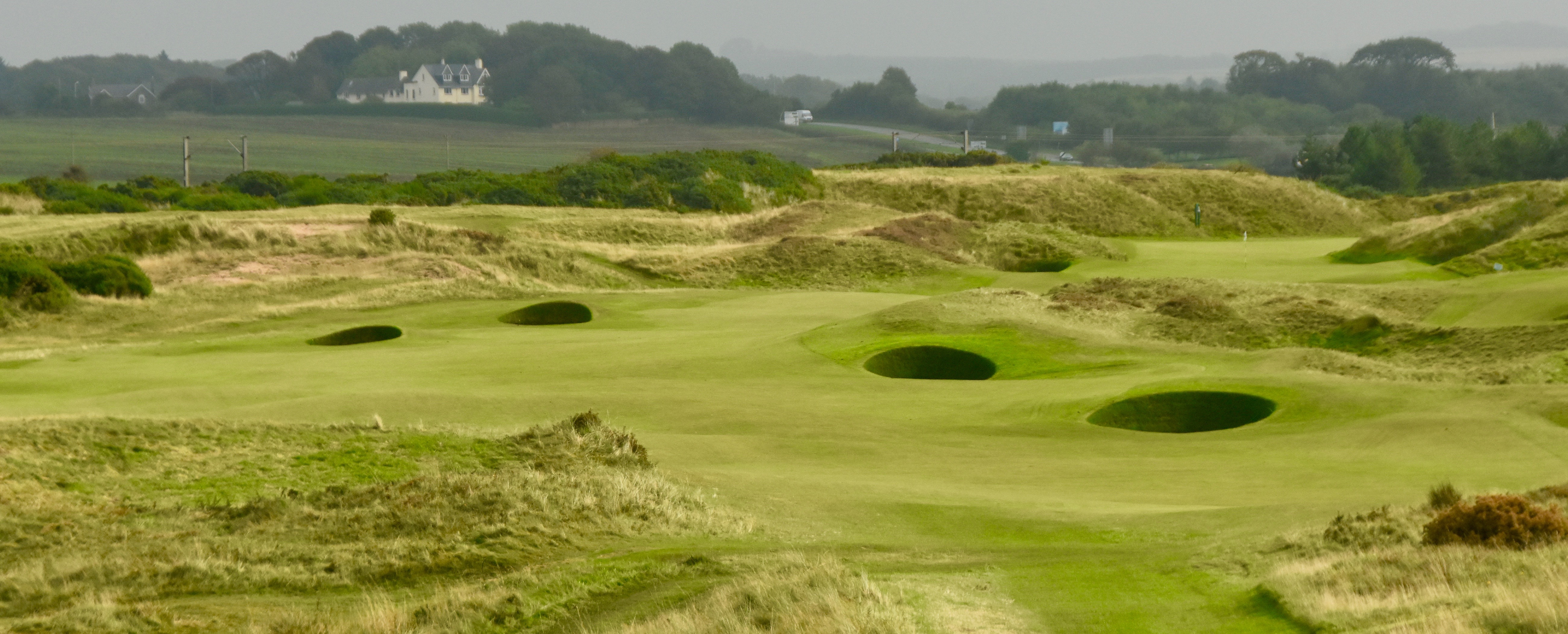 This shot back from the green gives a better idea of just how long the carry over the dogleg really is. In other words, it's a mug's game to try the hero shot here.
No. 8 – Postage Stamp
We've all heard and used the expression 'postage stamp' to refer to a ridiculously small green. Well, no. 8 at Troon is the original postage stamp and along with #7 at Pebble Beach  and #17 at Sawgrass is one of the best short par threes on the planet. Troon is worth it just for this hole which is the shortest on the British Open rotation at 123 yards. What's really neat is that regular golfers play from the same distance as the pros so for once you can fairly compare yourself them.
From this photo it looks like a simple enough proposition, but it's not. Anything right, left, long or short, is dead. It may seem ridiculous, but this hole really got my heart pounding and I skyed a wedge. 123 yards and it was too long for me to reach. Idiot!
This photo also shows you what it's like when the group in front all have their own caddies. It's more like a convention than a golf game.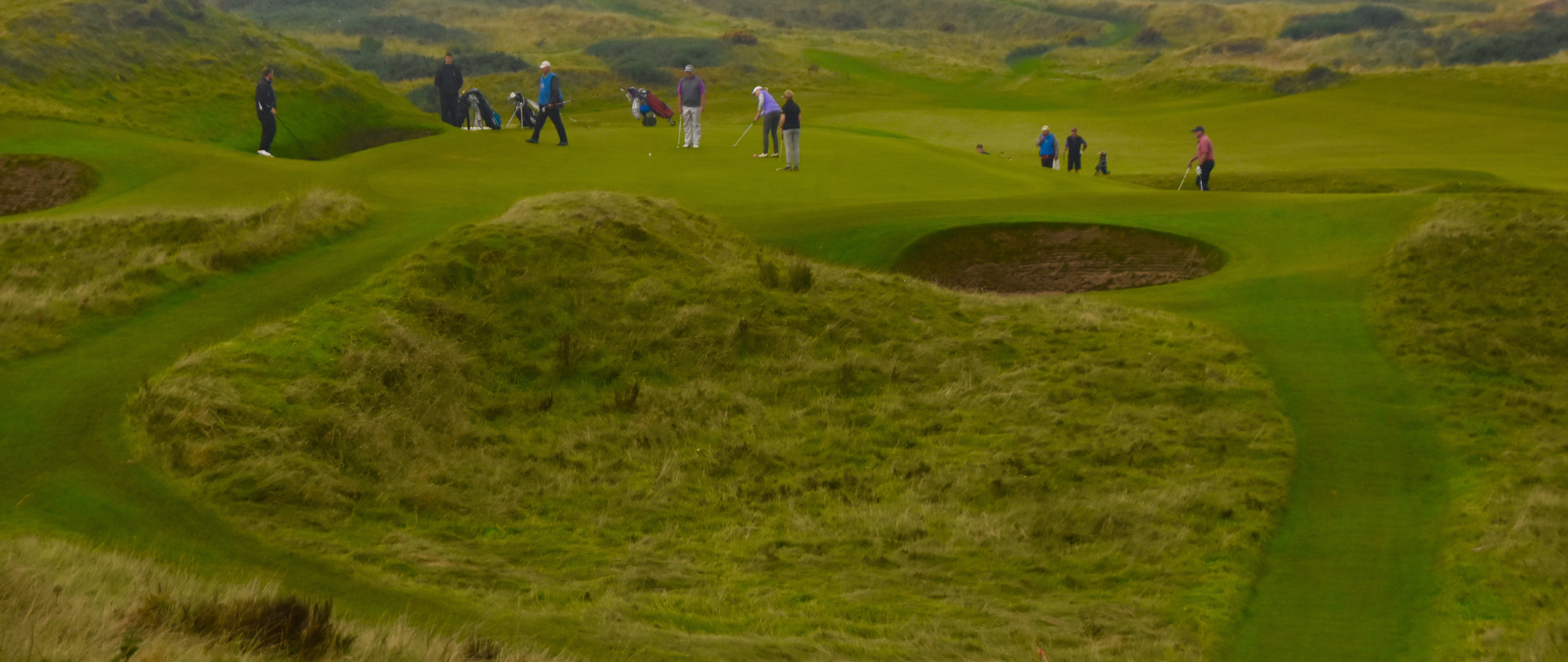 No. 10 – Sandhills
No. 10 illustrates why the back nine is so hard – lot's of blind shots. While Carnoustie is hard, it is also flat so you can see where you are going. Not so at many of the holes at Troon which is why a forecaddy is a must.
I'm not going to say we didn't enjoy playing the back nine – we did. We just didn't like our score. It was a welcome sight to see the clubhouse just past the Marine Hotel. This is #17 – Rabbit which is a mere 210 yard par three. Sometimes even the pros need to use driver to reach it.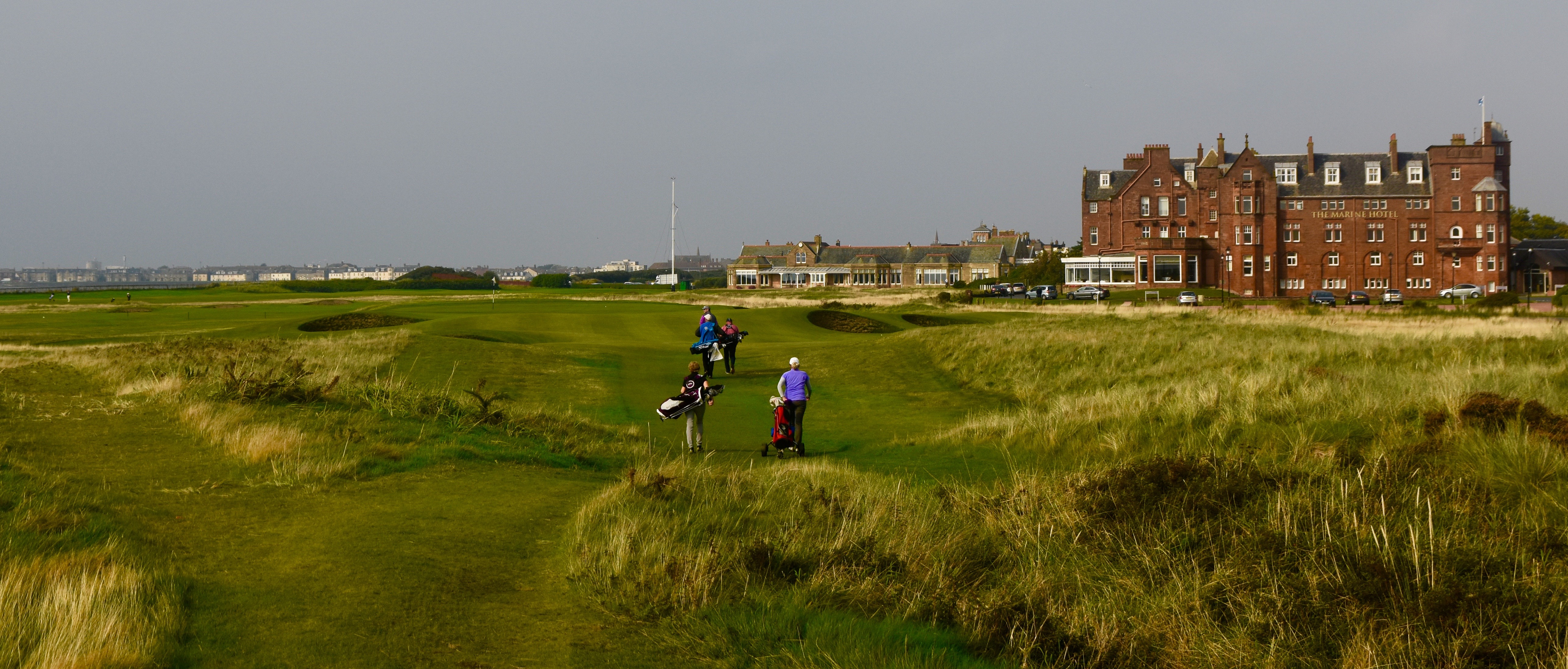 No. 18 Troon – Craigend
Not the strongest finishing hole, but a welcome relief to reach.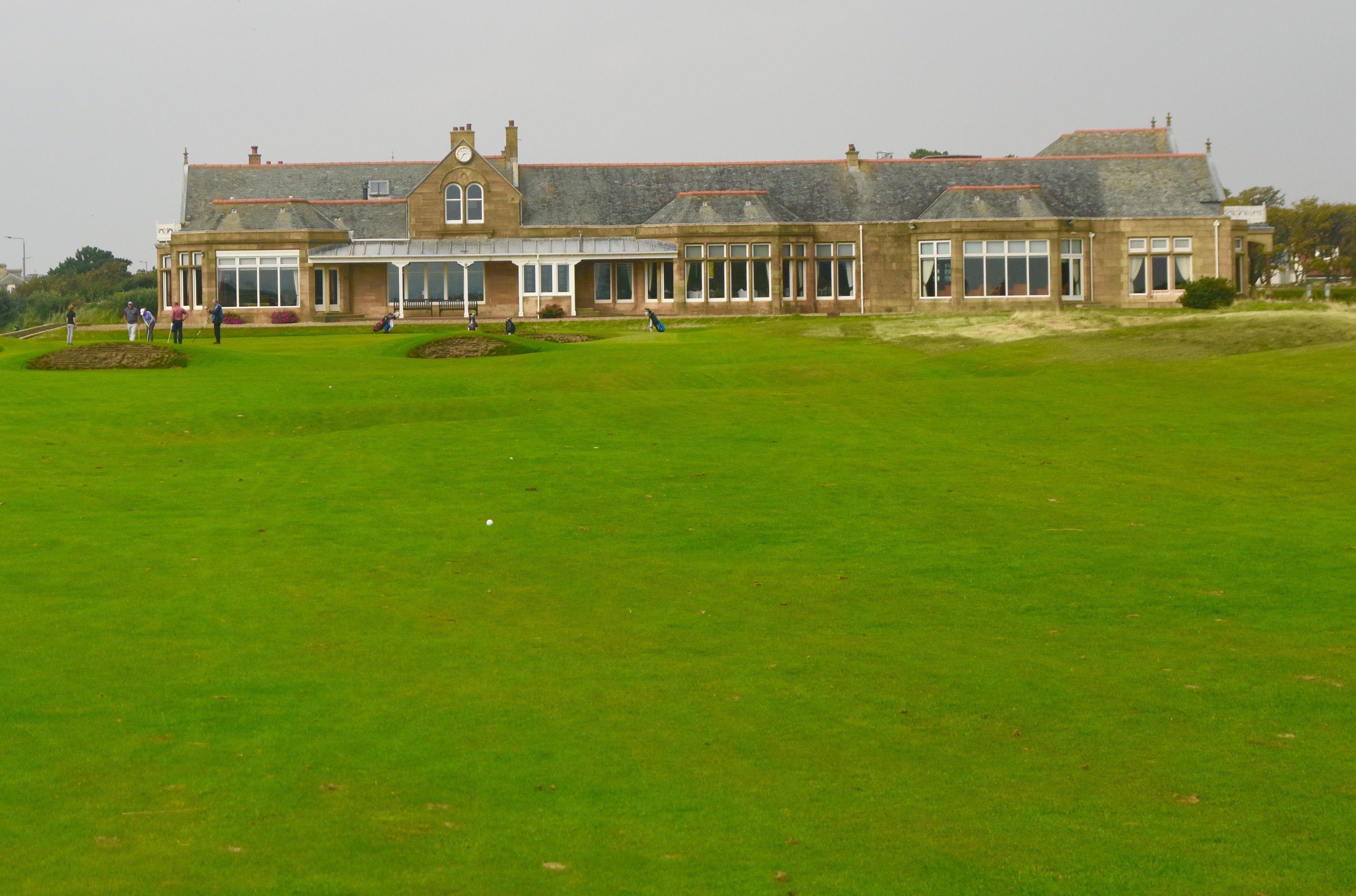 We're still speaking to each other after 18 holes and ready for the bar.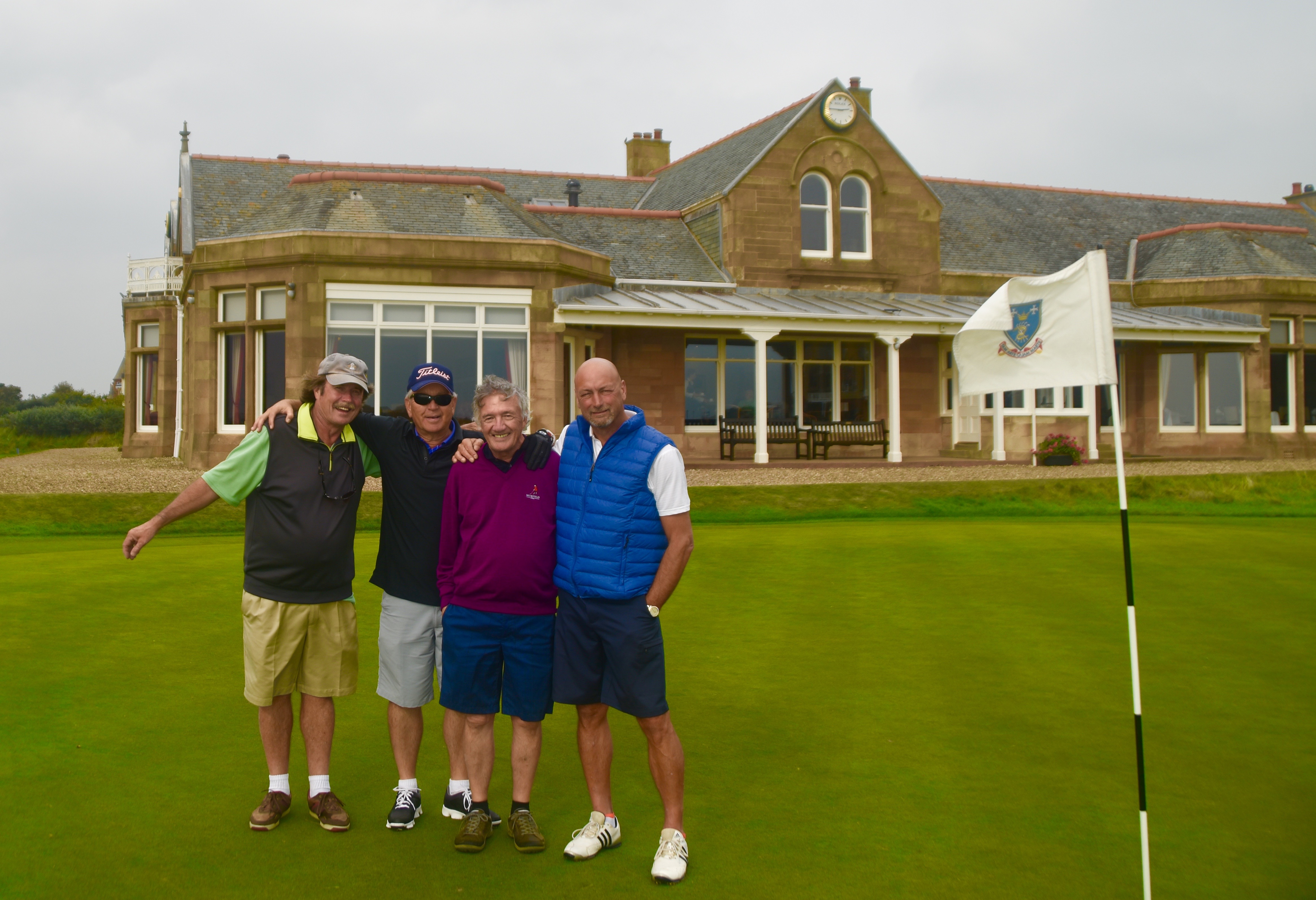 Here's a toast to Royal Troon.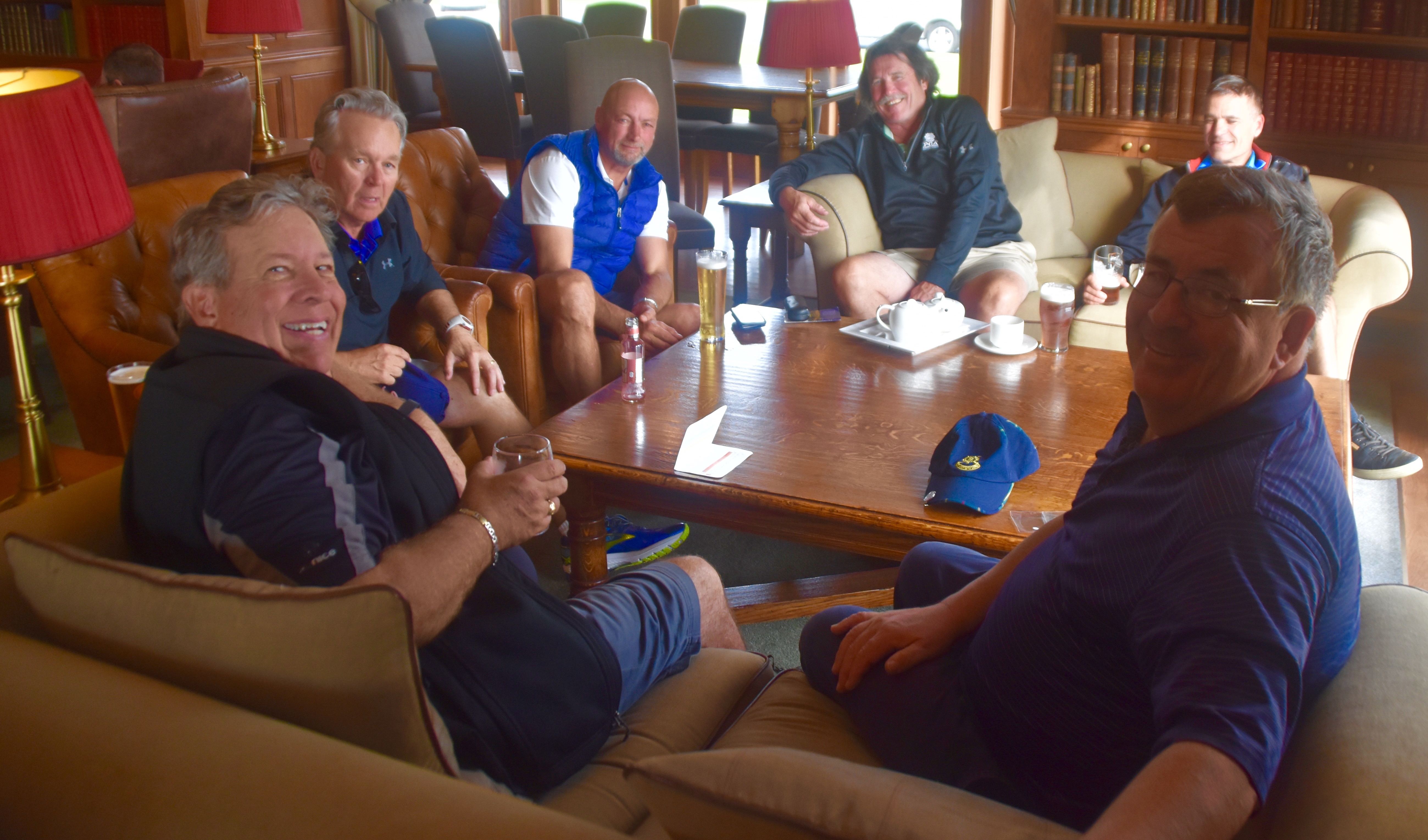 Watched over by the King himself.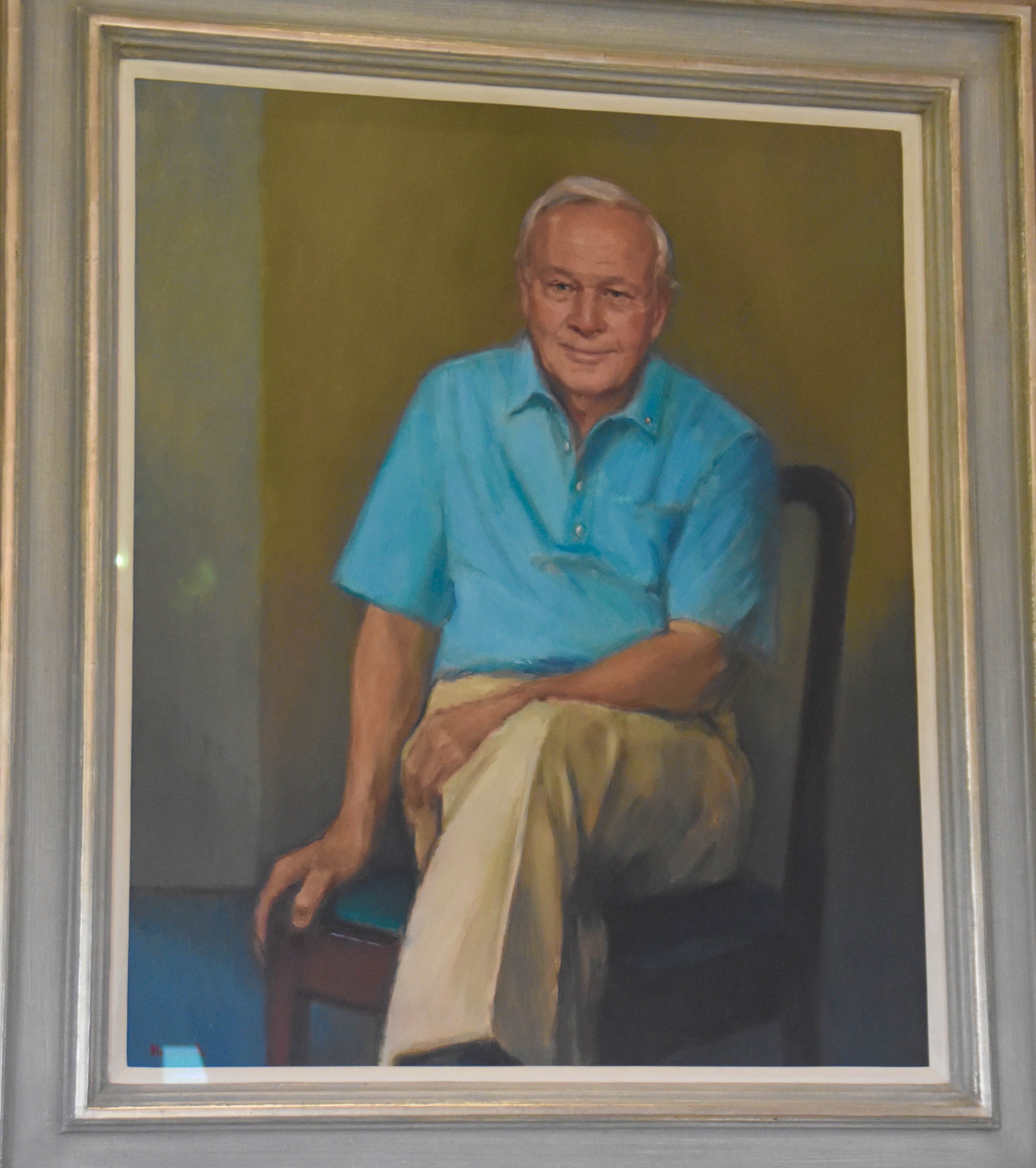 Always include Royal Troon in your list of must play Scottish courses – just don't get too worked up about your score.