Carnoustie – Is it Really Carnasty?
It's the sixth day of our 2017 golfing odyssey to Scotland under the guiding hand of Barry McGuigan and his company Golf Travel NI, which he has subsequently sold. First we played Muirfield, where Frankie Duguay shot even par to the disquiet of the members, very few of whom have ever accomplished that feat. Next was the beautiful seaside course at North Berwick which has one of the most famous par threes in the world, Redan, which has been copied many times, but never duplicated. Under beautiful blue skies we were blown away by Kingsbarns which was prepping for the Alfred Dunhill Championship in a few days time. Yesterday, some took a break, while the rest of us played the quirky Balcome course at Crail which is so hilly, that after walking it, legs shot, I feared not being able to walk a fifth course in five days. But not to worry. Today we play Carnoustie Golf Links, reckoned to be the toughest links course in the world and I wouldn't miss it if I had to amputate my legs. Won't you join us to find out if it really deserves its sobriquet of 'Carnasty'?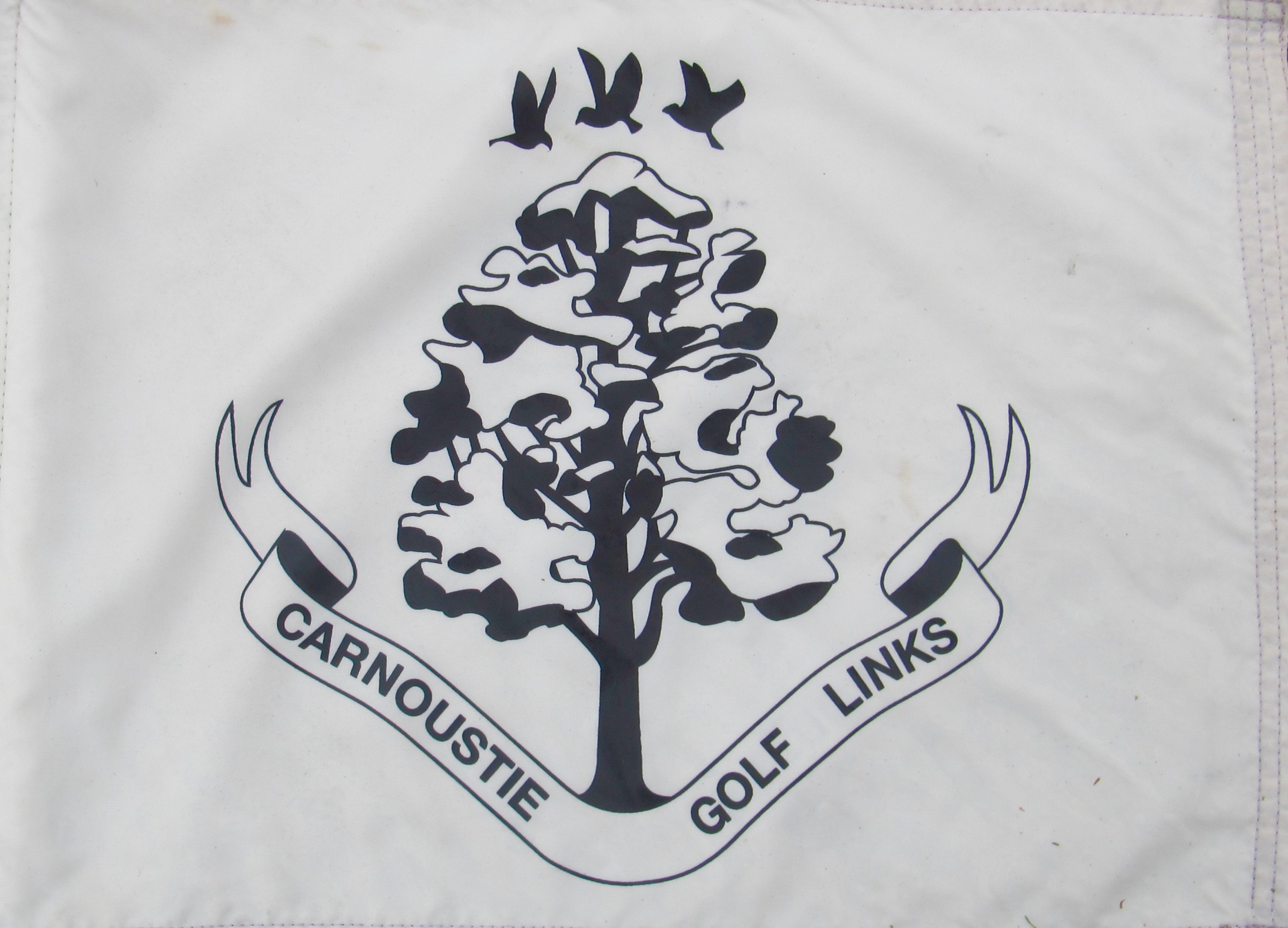 History of Carnoustie Golf Links
According to the Carnoustie website, golf has been played in the area since the 15th century, but accurate records as to where and who played the game of 'gawf', are skimpy at best. The current club traces its roots to a 10 hole course designed by Allan Robertson, the greatest golfer of the mid 1800s. Old Tom Morris , who needs no introduction extended the links to 18 holes in 1867. The course we will play today is mostly the work of another legendary golfer and course designer, James Braid who won the Open five times and designed over 200 courses. In 1926 he was hired to upgrade the course to the level that could host the Open and he succeeded beyond anyone's expectations. It has hosted the Open seven times with winners including Tommy Armour, Henry Cotton, Ben Hogan, Gary Player, Tom Watson and most recently Padraig Harrington. However, for ardent golf watchers the most famous winner here, should have been a loser. Paul Lawrie was literally handed the tournament when Jean van der Velde took a triple bogie on the final hole and was too frazzled to make any effort in a playoff, allowing Lawrie to come from ten strokes behind and claim the Claret Jug. I can't wait to get to the 18th hole to witness the scene of one of the greatest golfing debacles of all time. Even Greg Norman couldn't top this.
Carnoustie has also played host to the British Senior's Open, won by Bernhard Langer, the Women's Open and just about every amateur event held in Great Britain. In 2018 it will host the Open for the eighth time. On the day we play it is preparing for the Alfred Dunhill Championship. This is truly a legendary course, ranked #26 in the world, but what of its reputation for nastiness?
As far as I can tell from my research it comes by it honestly, but only when the wind is up, which it often is, as in all Opens. From 1949 until 1985 every single Open was won with a score of even or less, sometimes as low as -14, except one. That was Gary Player's +1 victory at Carnoustie in 1968. So by that measure it has to be a hard course. However, in that stretch Ben Hogan won here by -6 in 1953 and Tom Watson by -9 in 1975, so it's not always unconquerable. Then in 1999 Carnoustie bared its claws and literally mauled the best golfers in the world with Lawrie winning at +6, the highest score in 61 years. Many of the best golfers grew up on courses where wind was not a usual factor and were devastated by the gales of Carnoustie. Add to that the fact that James Braid was notorious for his difficult bunkers and it was a recipe for disaster. Sergio Garcia shot 89 and 83 and went crying into his mother's arms. Past champions Gary Player, Nick Faldo, Seve Ballesteros, Tom Watson, Mark O'Meara, Mark Calcavecchia, Tom Lehman and Sandy Lyle all missed the cut. It was a massacre and Carnoustie cemented its reputation as the most difficult course in the rotation. So it's with more than a little trepidation that we all get on the bus and head for one of the most hallowed places in golf.
Although we could see the huge white Carnoustie Golf Hotel across the Firth of Tay when we were playing Kingsbarns, getting there by road is not that simple. Despite being only a 40 km. (25 mi.) drive from St. Andrews to Carnoustie, it takes well more than an hour as you need to cross the busy Firth of Tay bridge and then pass through Dundee, Scotland's third largest city. I wish I could say it was a pleasant drive, but the weather this morning is God awful as it rains steadily the entire way. We are all thinking that this is going to be a wet and cold day of golf as we pull up to the surprisingly empty parking lot at Carnoustie. Apparently some groups must have bailed already.
Everyone is pretty glum as we put our rain gear on and check the place out. There is a huge new pro shop under construction for the 2018 Open, but the temporary one is quite large and very well stocked with everything but the one thing I want – a cover for my clubs. However, I'm obviously not the first one to make this request because the friendly clerk pulls out a heavy plastic Carnoustie bag and hands it to me. And it works just fine.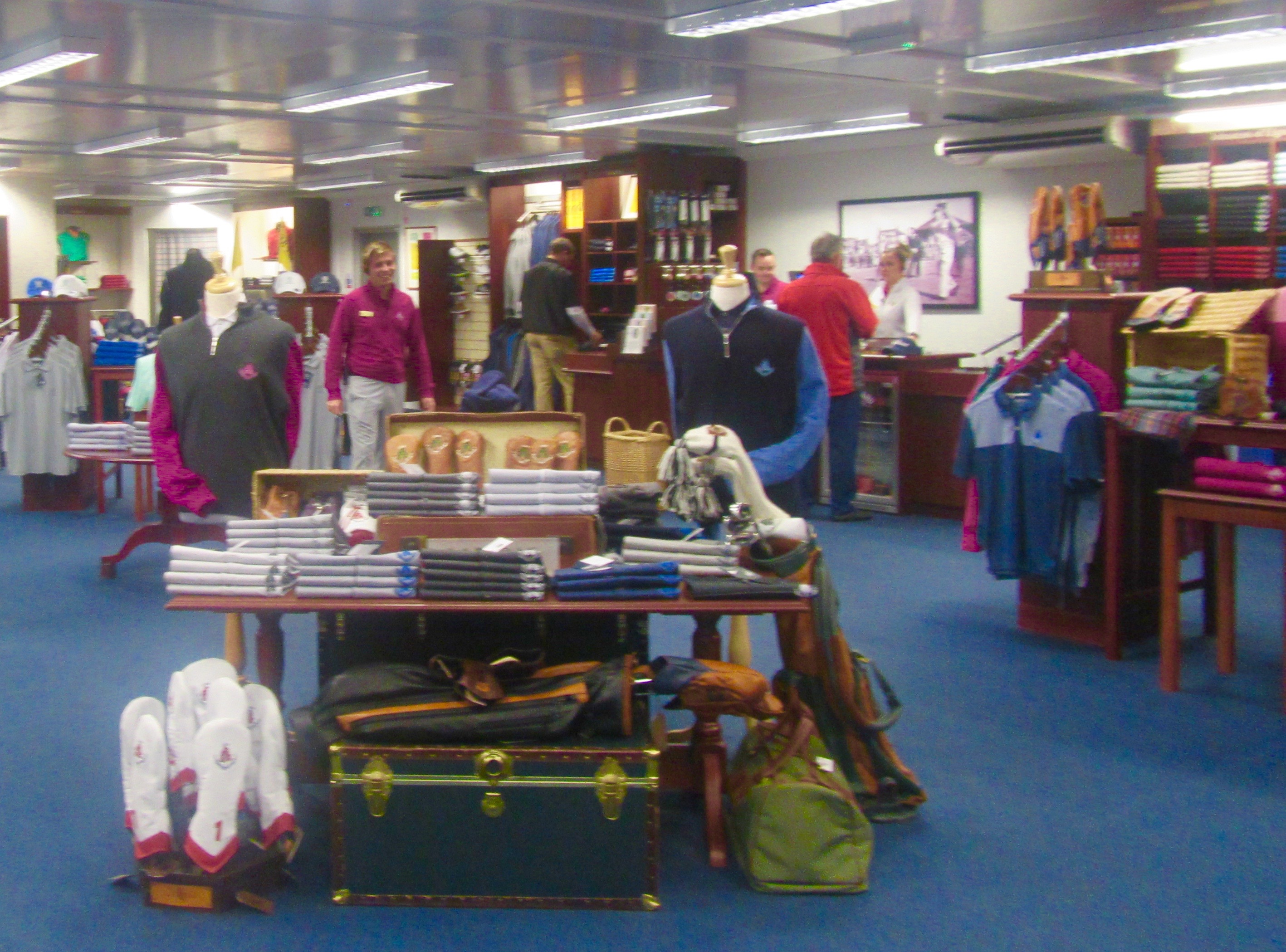 Like Kingsbarns, Carnoustie is getting ready for the upcoming Alfred Dunhill Championship and so the driving range is closed, not that I'd want to practice in this rain. However, the putting green is open and I try a few putts while looking over my shoulder at this ominous sign.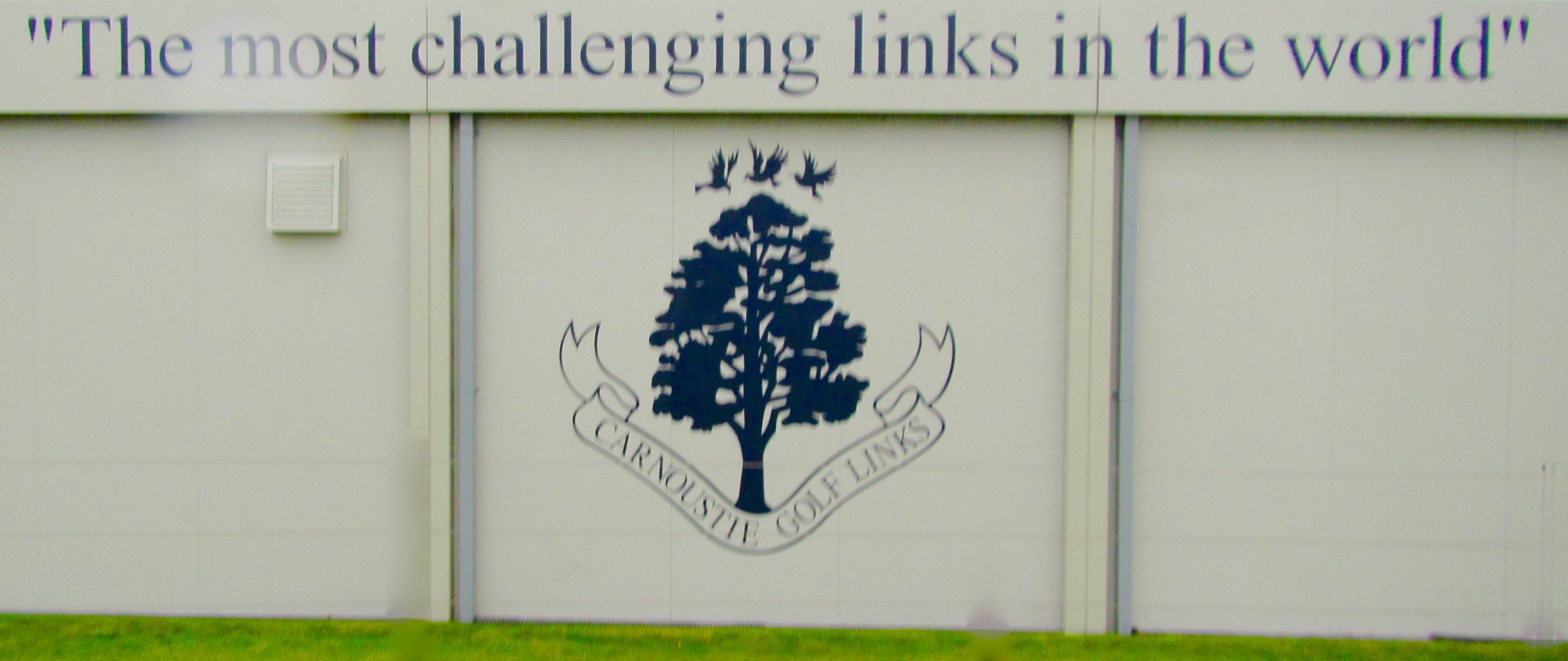 All told we have about an hour from the time we arrive until our first tee time and in that time the weather improves dramatically. The rain reduces to a mist, the wind dies down and an almost impenetrable fog sets in. Believe it or not they have a policy on not being able to play because of haar, which is a cold sea fog that can blanket the course in even the nicest of conditions. However, what we have today is your ordinary land fog and while we won't get to see much of Carnoustie, we can still play.
Shortly before tee off Barrie introduces us to Bill Thompson, the Carnoustie Captain and the man who will be in charge of next year's Open. He is more than happy to chat with us and explains that Carnoustie is actually a municipal course that has a Board of Directors originally selected from a number of local courses, each having two votes each. The problem is that two of these courses don't even exist anymore and two others have almost no members, yet they still have a say in how Carnoustie is run. Trying to get money allocated for improvements to Carnoustie is apparently like herding cats, but Bill says they finally were successful in getting funds allotted for the new clubhouse. Here is our group with Bill Thompson, Carnoustie Captain.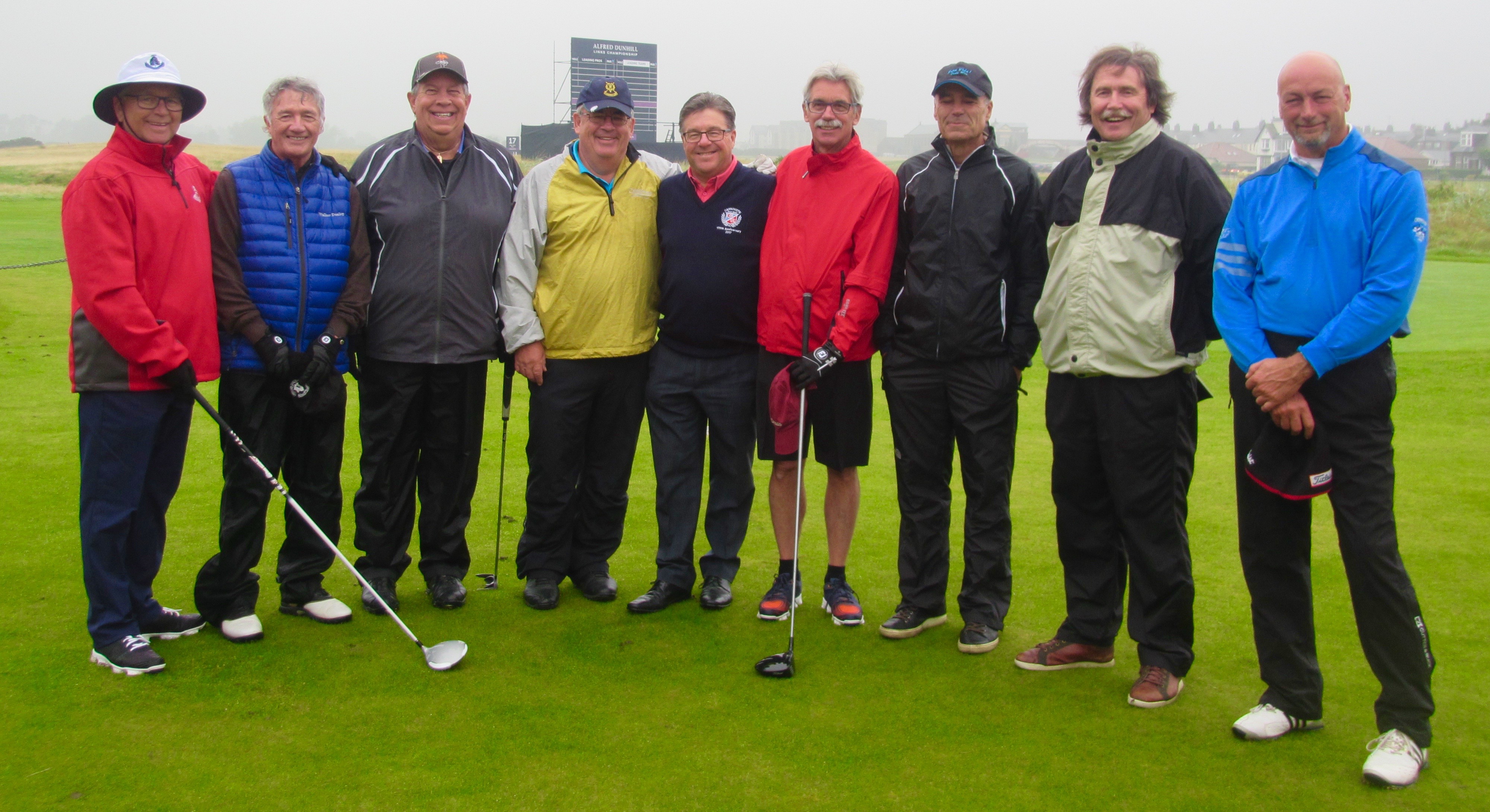 Time to play. We decide to go with one forecaddy, Gary. After yesterday's ups and downs at Crail, I am more than happy to be told by Gary that Carnoustie is the flattest course in Scotland. Our foursome today is from left to right, Frankie Duguay, Chuck Johnstone, Gary, David Black and me.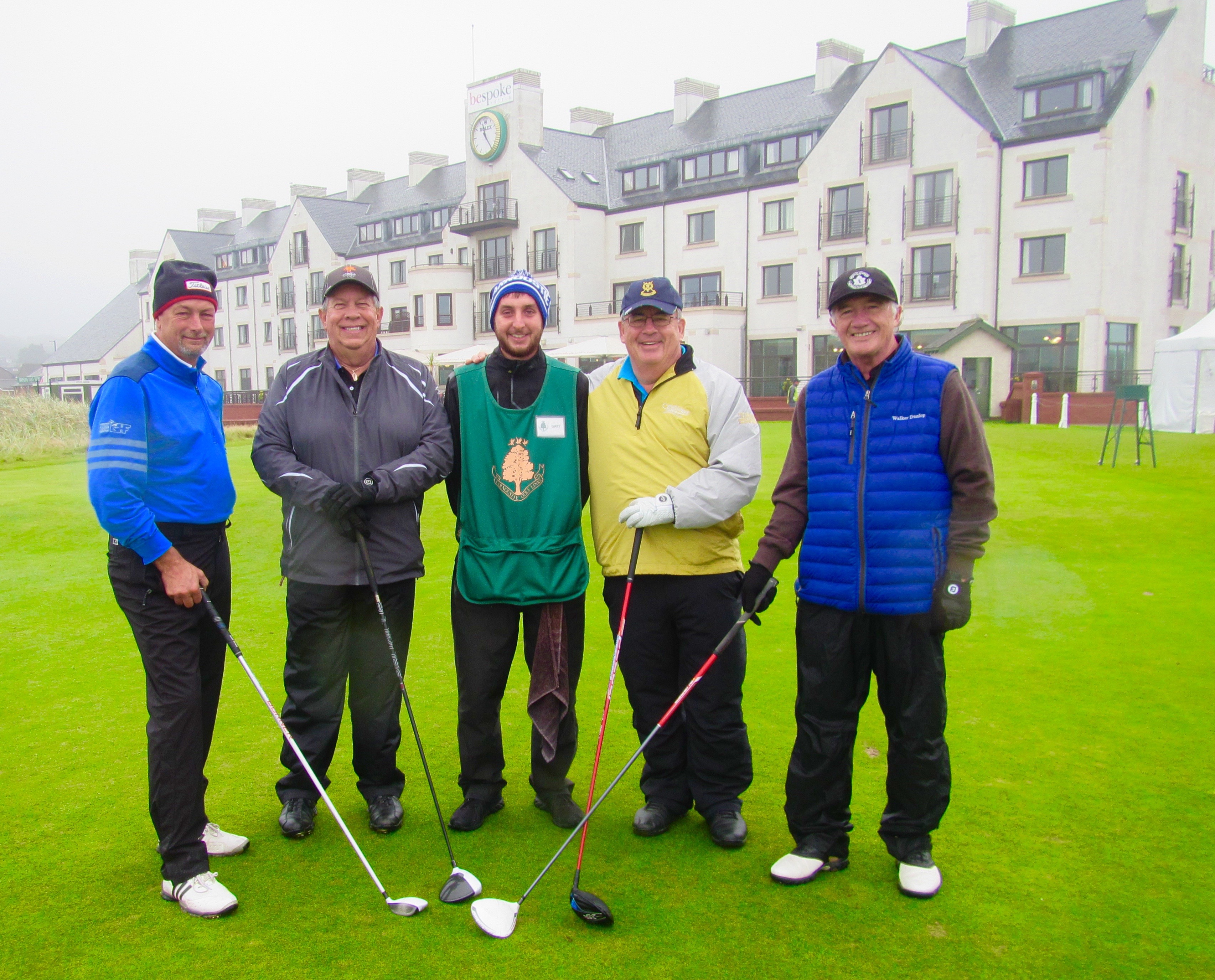 Because of the fog it simply was not possible to get many decent pictures so this won't be a hole by hole post. Here's a shot of #6 which is typical of the fog and mist that day.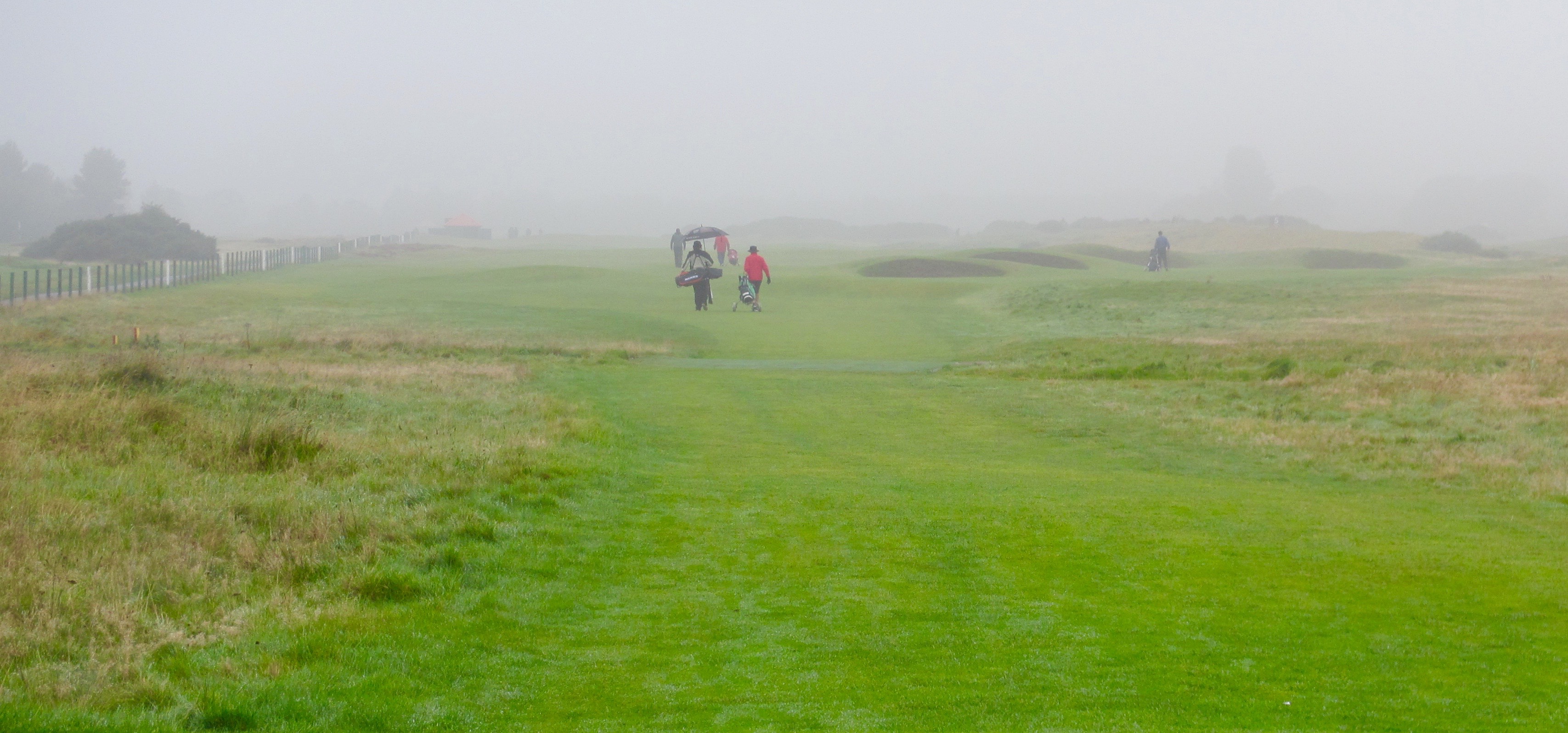 For those who read my post on Crail, I remarked that it was the first of a three day auditory assault. At Crail it was screeching tires and revving engines from a nearby race way. At Carnoustie we almost literally come under small arms fire. What I at first thought were nail guns are, as Gary explains, machine gun fire from a military rifle range, or 'bullet stop' as the Scots call it, that abuts the course. Interspersed with the machine gun bursts is the occasional much louder crack of what must be some really serious high powered sniper's rifle. The firing goes on, with only a few interruptions, for the entire round. If you're one of those golf ninnies who think they must have total silence to properly concentrate, then this would not be a good day for you. Fortunately, having played golf with Brian for forty years, I've learned that virtually nothing can interrupt my swing.
Here's a map of #1 which I include simply to highlight probably the most famous aspect of Carnoustie – the Barry Burn which transects the course in a number of places, most notably #18. It is not really in play on #1, unless you unleash a wild duck hook or in my case, wicked slice. Luckily I don't embarrass myself with Bill Thompson looking on and we are off into the Scottish mist and fog.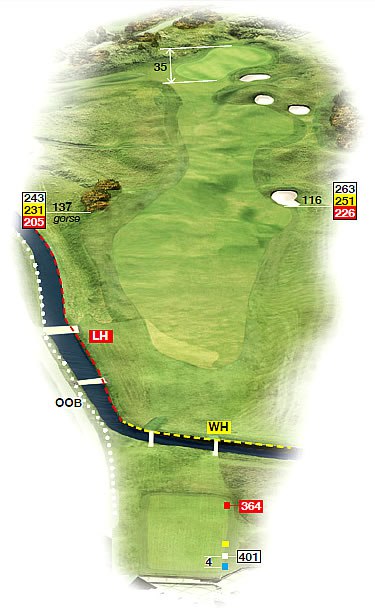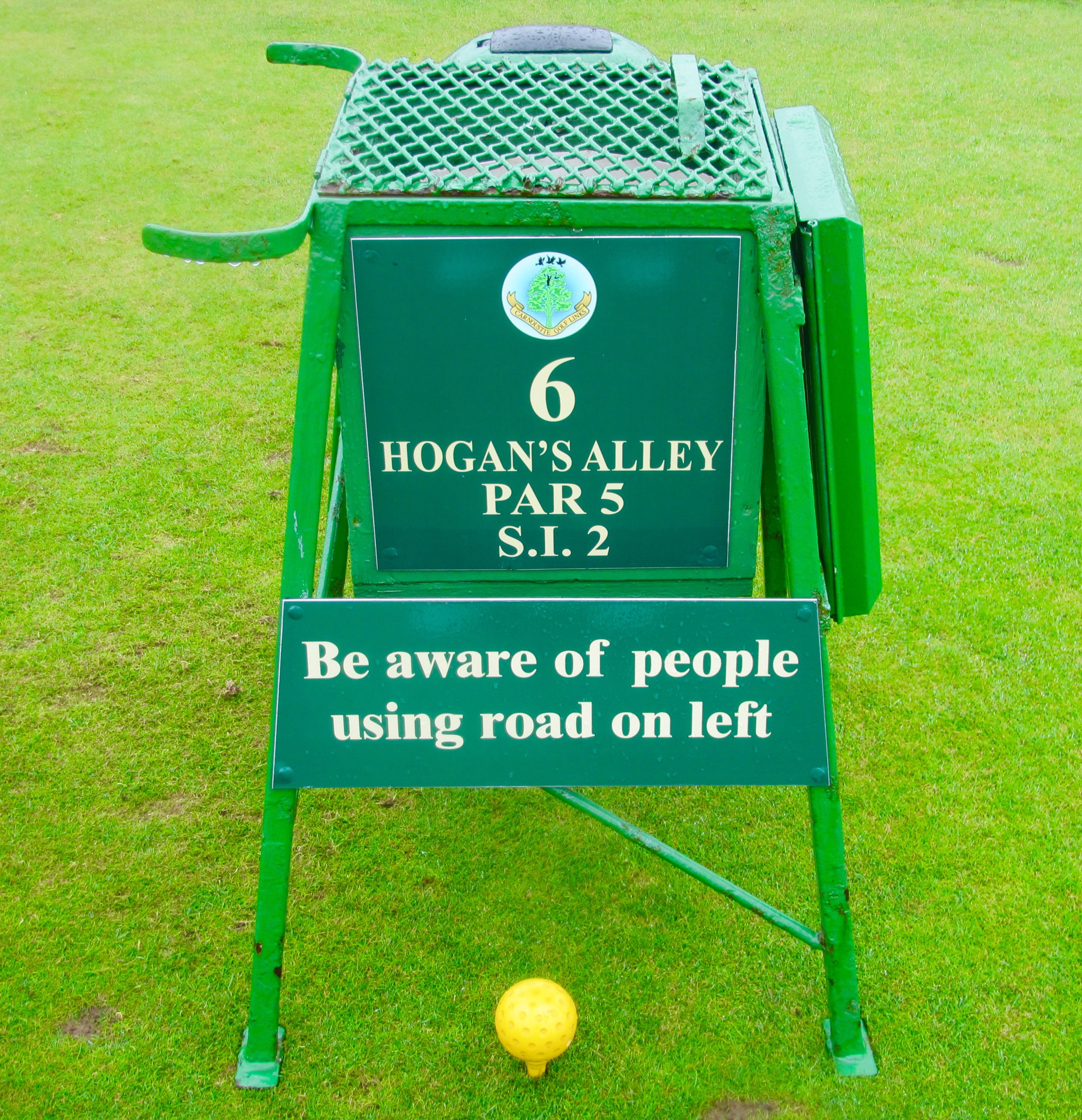 #6 is one of the most famous par 5's in golf due to exploits of one man in 1953 – Ben Hogan.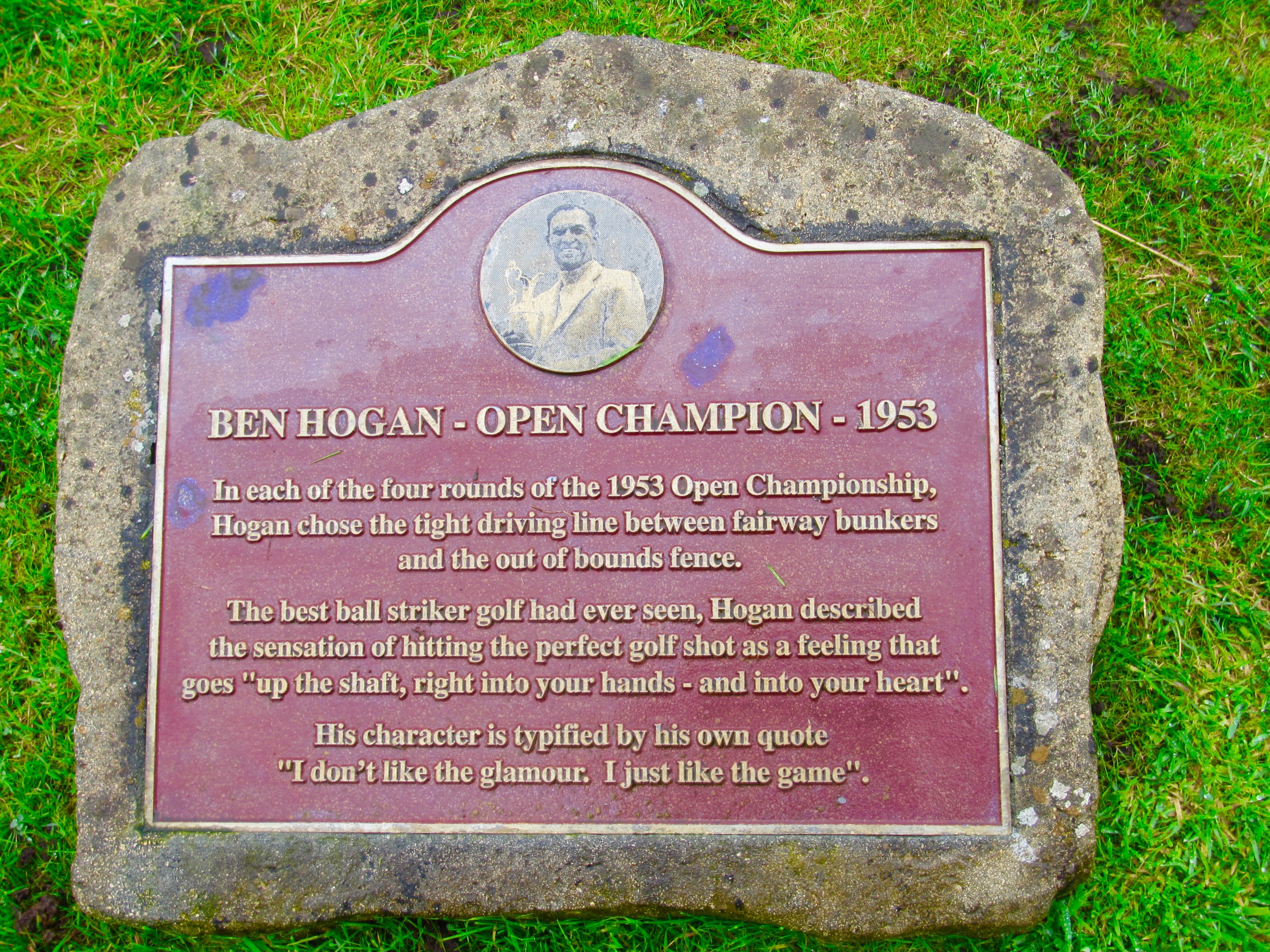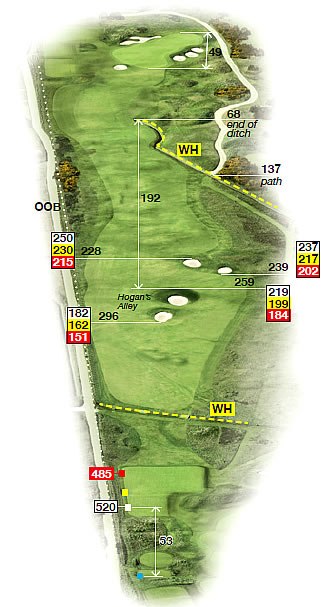 You can't really picture the dual fairway from the map, but you sure can when you play it. Anything left is OOB. Most players opted to drive to where the golfer on the right is standing, taking OOB out of the equation, but making the hole play longer. Hogan opted to go straight and was successful each day and those decisions are credited for his win at his one and only Open appearance.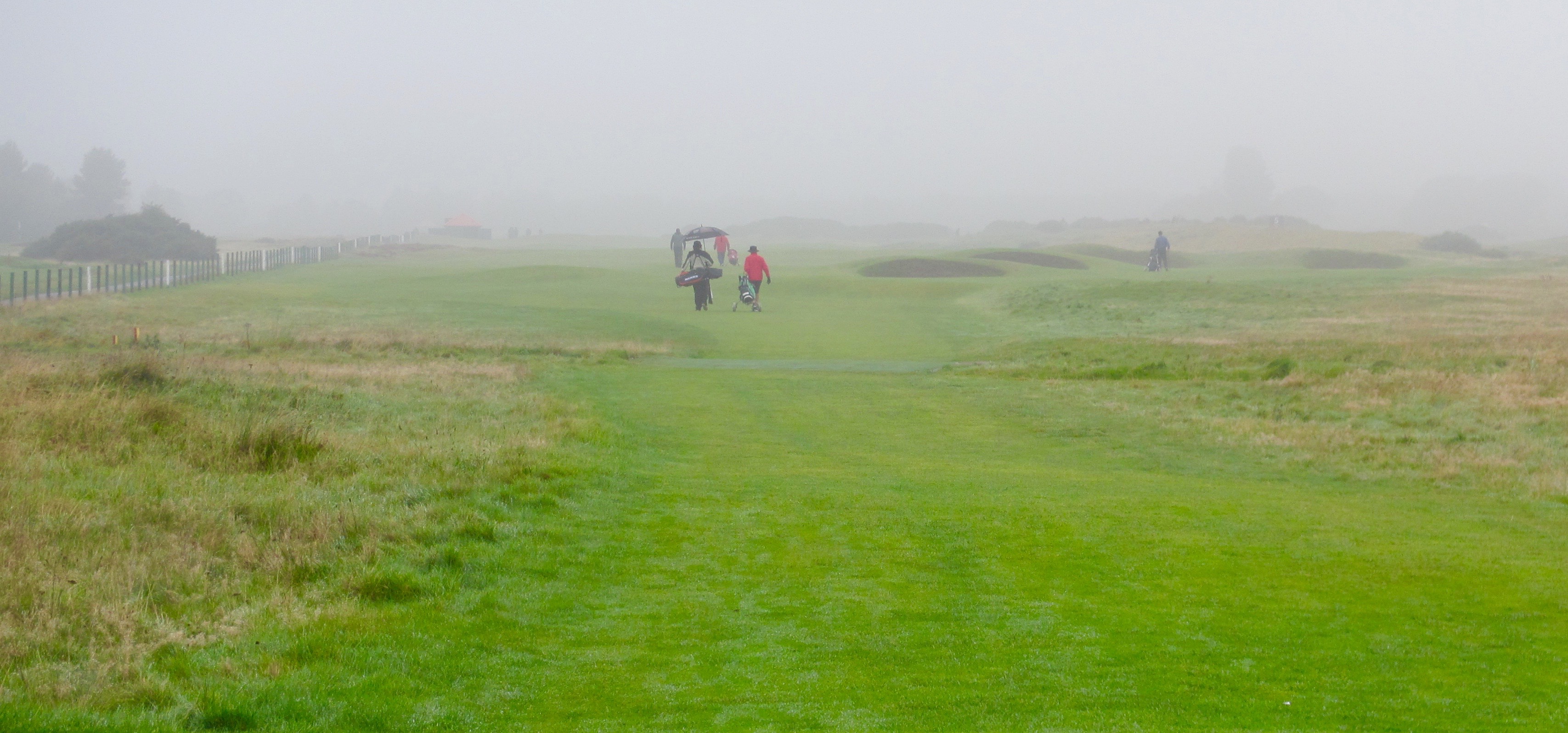 BTW this is not the only golf hole christened Hogan's Alley, but two courses in the U.S., Riviera and Colonial are both called Hogan's Alley because of his multiple wins at each of them.
You don't have a par three until #8 and it's just called "Short". What a joke. It's all carry and unless you hit it dead straight you will almost certainly be in one of the bunkers or maybe OOB on the left.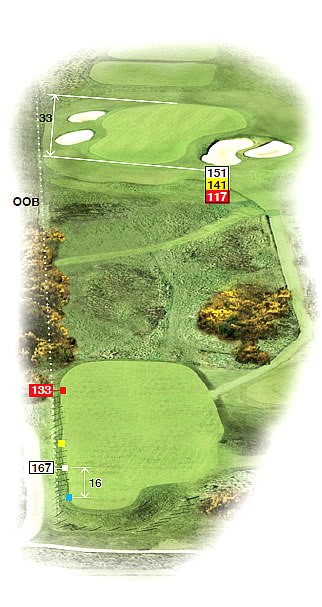 Like many Scottish courses, there is no return to the clubhouse between nines. There's also no cart girl and even if there was, no booze is sold on the course. Bummer, because by now I was getting thirsty.
#10 has the strange name "South America" and Barry Burn makes its appearance once again. I hit the best 5 wood of the trip on this hole, attempting to lay up, but the damned thing never stopped rolling and was in the drink. A classic case of "be careful what you wish for". I wanted a drink and promptly got one.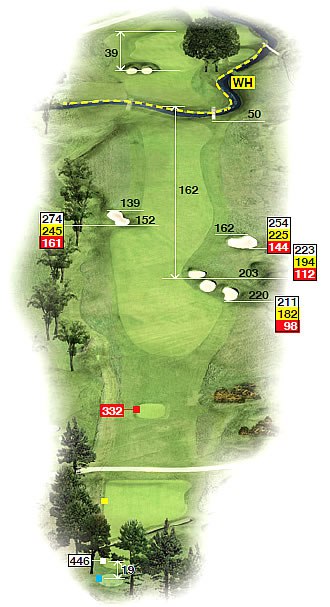 If #6 is deemed a hard par 5, then I don't know what to make of #12. Here's the course description of the trouble on this hole.
...this hole again challenges the player with an intimidating drive, whins and gorse must be carried and there are ditches on both the right and left hand sides. Two massive fairway bunkers on the right hand side eat into the heart of the fairway and will catch any shot that cuts slightly to the right. The approach must be played between two sets of bunkers positioned on the right and left hand side about 30 yards short of the green and it is often wise to lay up and rely upon a pitch and a putt.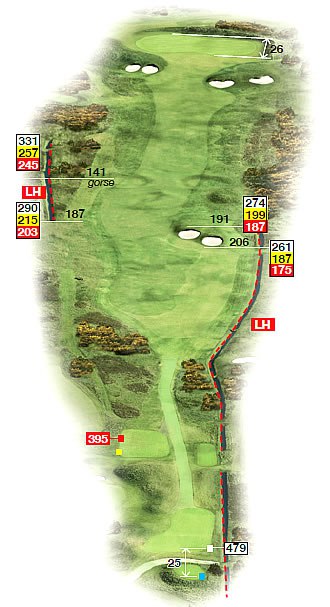 I think it should drop its cheery sounding "Southward Ho" moniker for "Simply Hellish". Don't ask my score on this hole.
#14 is another famous hole, this time not because of what was accomplished here (although Gary Player did win the 1968 Open by eagling this par 5), but rather because of two famous bunkers – the Spectacles.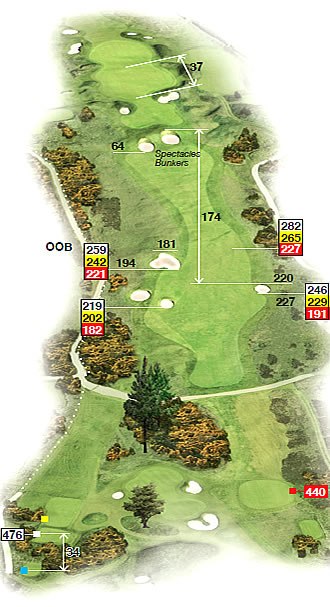 This is the view we had from the tee. The spectacles are the two in the middle of the picture.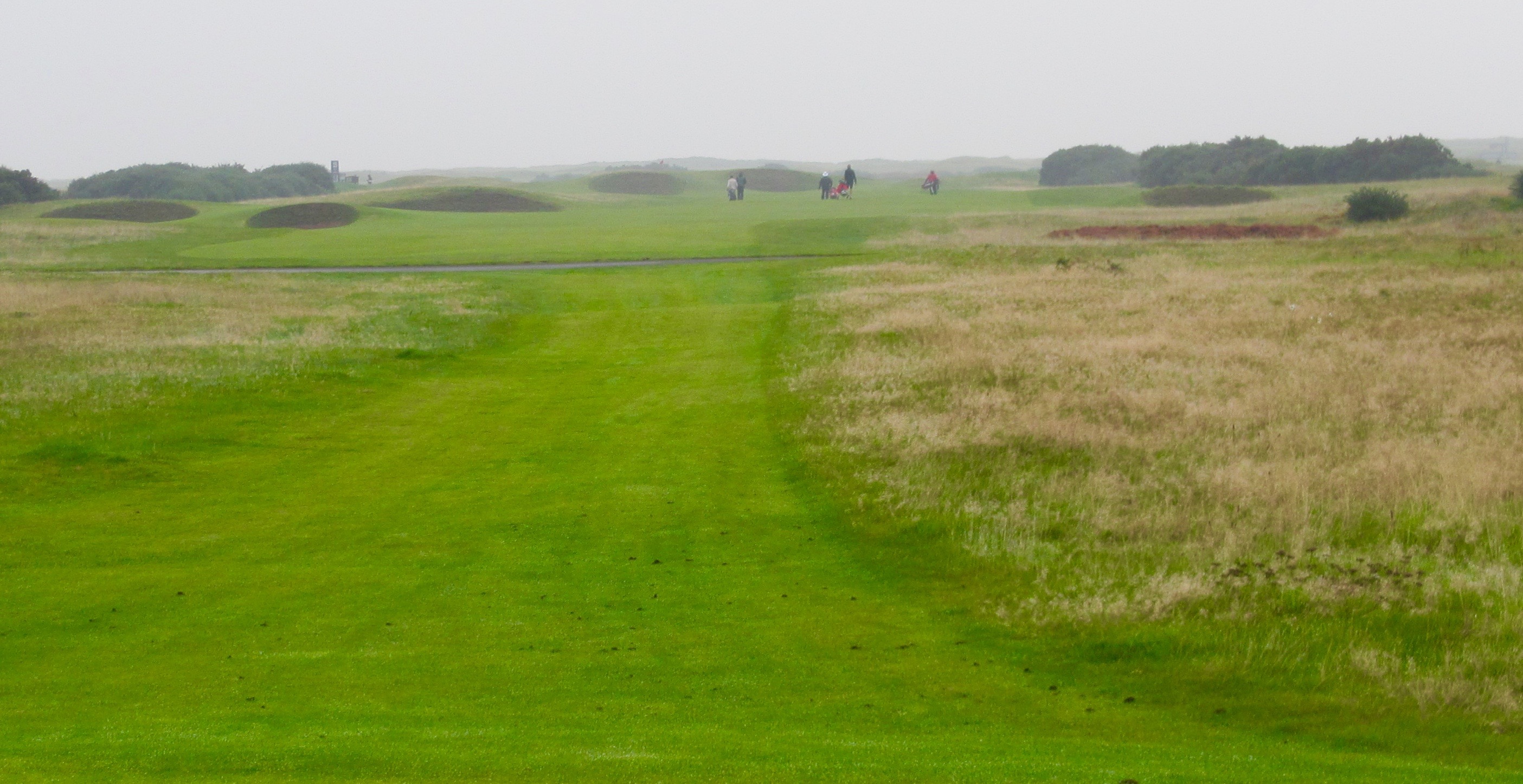 Here they are close up, albeit through a very mist covered lens. What makes them doubly interesting, no pun intended, is the vegetation they let grow inside the bunkers which can actually hold a ball up at an angle that is virtually impossible to get out. This is one of the places I expect we'll see the best golfers in the world chipping out sideways or even backwards, next year.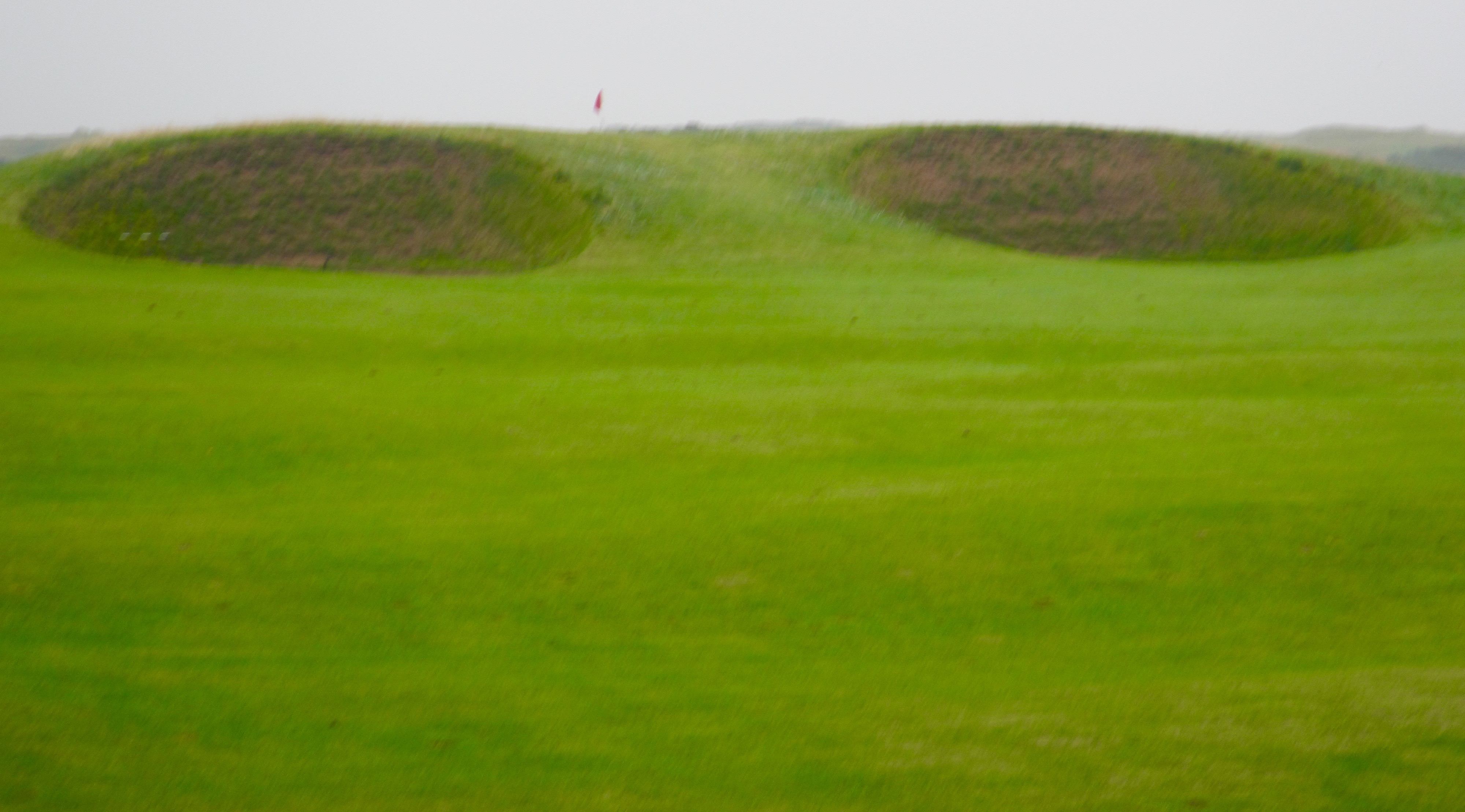 #15 is reckoned to be one of the hardest par fours on earth and it deserves a fly over to see why. For right handers, the drive needs to be drawn and the approach, faded. That's a challenge even for the pros, especially at 472 yards long.
You can also see from the flyover something we never saw the day we played – the North Sea. Even though Carnoustie is a links course, the ocean really doesn't come into play at all.
#16 is a par three that borders on the insane. At 245 yards into the wind for the pros, it plays more like a 3.5. When Tom Watson won the Open here in 1975 it was despite his performance on this hole, which he failed to par even once. So that's our challenge – beat Tom Watson. Mind you we are playing from 'only' 212 yards and there's no wind. We all failed, but I did tie Tom with a bogey.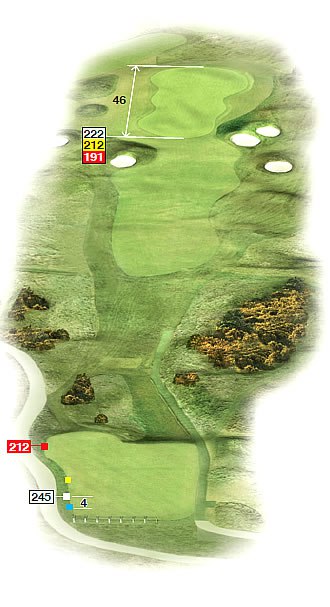 By now I'm definitely starting to understand why the back nine at Carnoustie is considered perhaps the toughest in golf. On #17 you need to cross the Barry Burn twice or even three times depending on you ball flight. Frankie was the only one to challenge it from the tee and was successful, until it rolled into the fairway bunker on the left.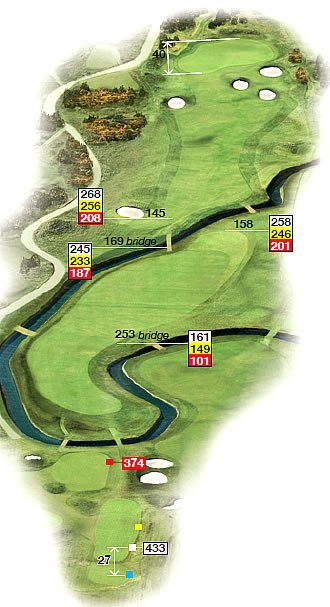 At last we get to the infamous 18th at Carnoustie, scene of the Van der Velde debacle. However, he was not the first one to lose the Open because of this hole. In 1975 Johnny Miller drove into the farthest fairway bunker and took two to get out, missing a chance to get into an 18 hole playoff with Watson and Jack Newton.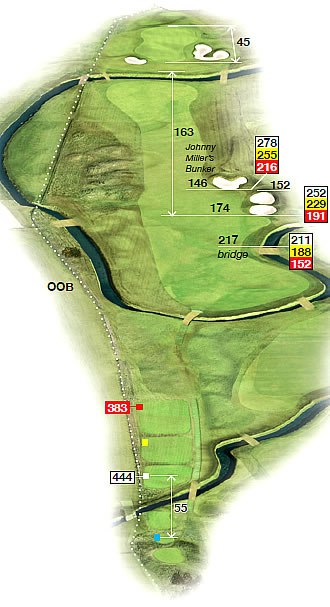 Looking out from the tee and finding a landing area that doesn't end at Barry Burn seems unlikely and for half of us it was.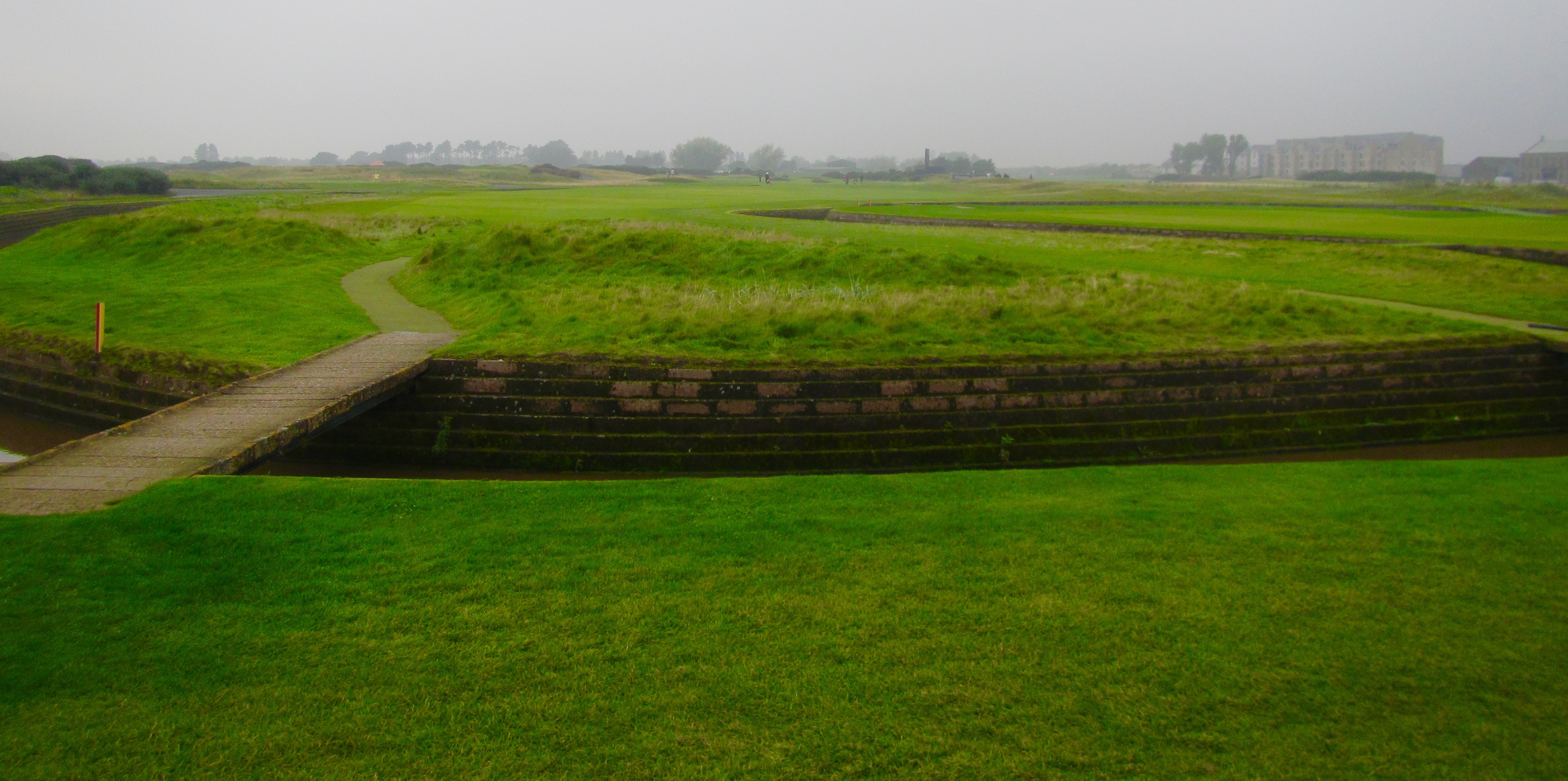 Here's what the Barry Burn actually looks like in the same spot that Van der Velde landed in 1999. What you don't appreciate until you see it, is that this is a tidal creek that differs greatly in strength, direction and depth, depending upon the tide.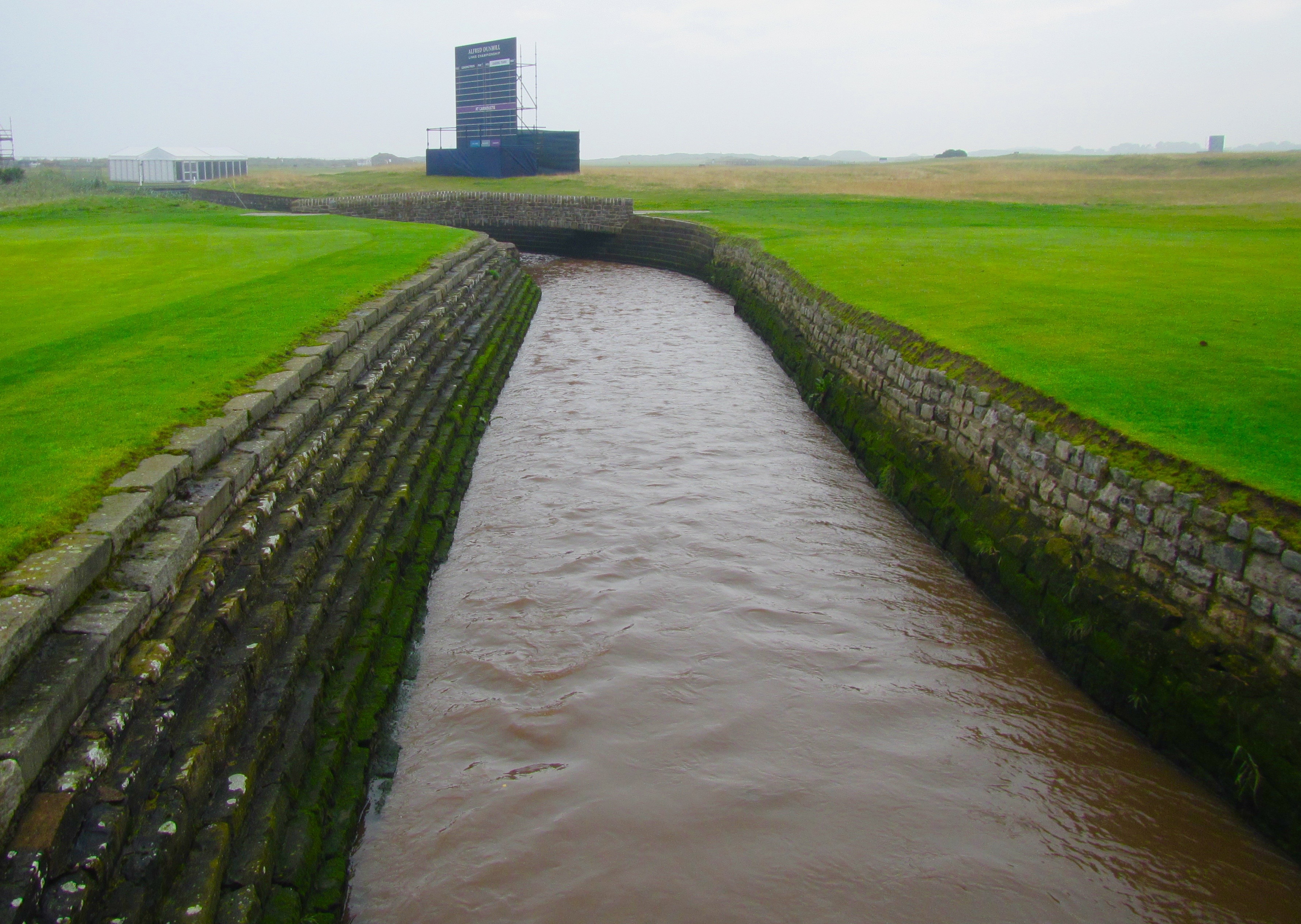 Here is the unfortunate Frenchman standing in the burn trying to figure out what the hell to do. According to Gary, when his ball first went into the burn it was not completely covered, but Van der Velde took so long to decide what to do that the tide rose, covered his ball and made the original shot impossible. C'est la vie, Jean.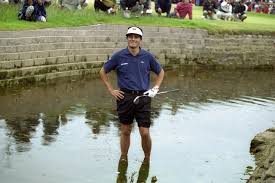 Here is the famous 18th green with the hotel in the background.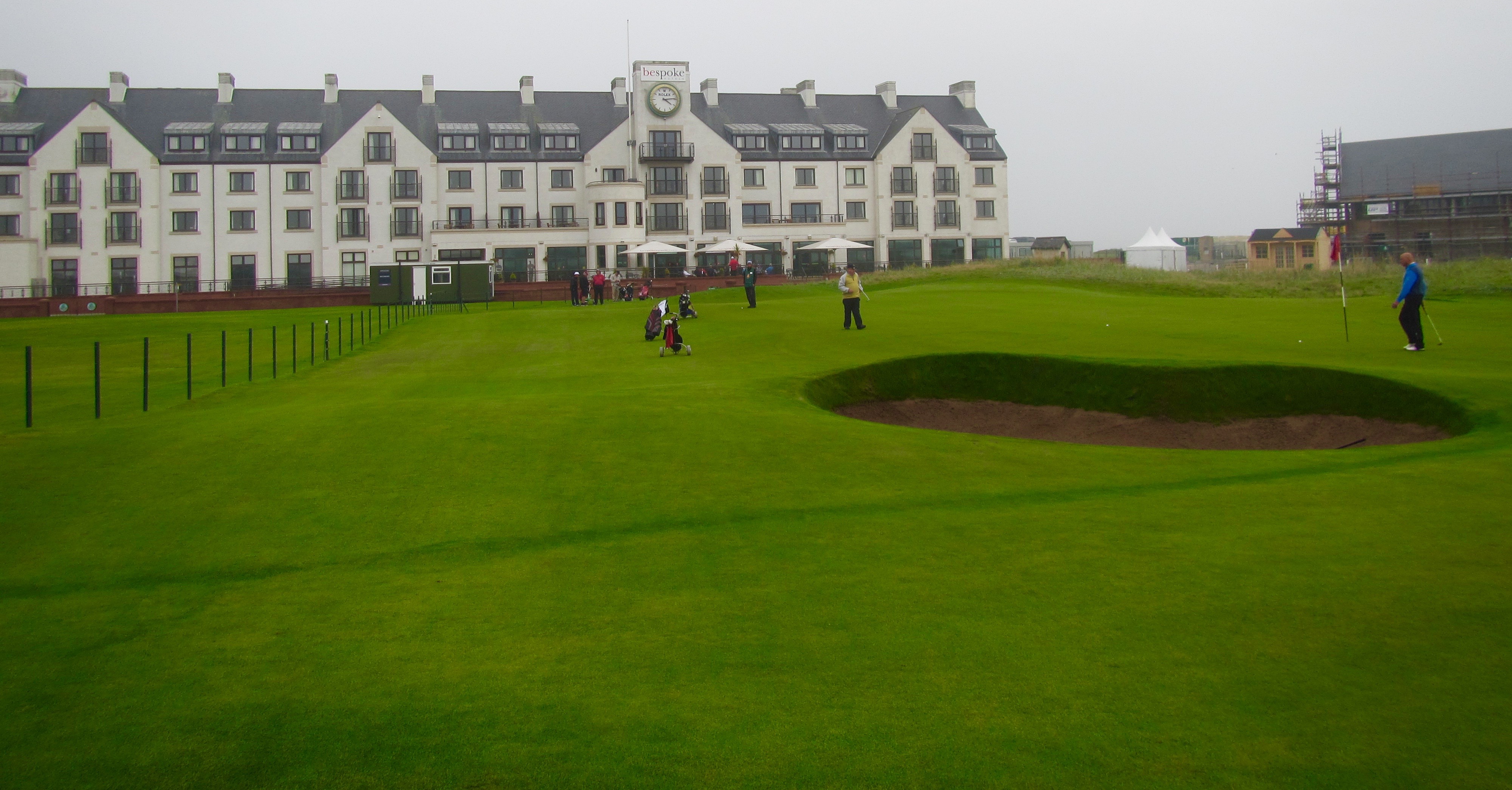 So what's the final verdict on Carnoustie? The only thing nasty about it today was the weather and it could have been a lot worse. Without wind as a defence it certainly played a lot easier than I expected. It's also the type of course that is dramatically different from the tips than from the regular tees from where we played. The final verdict is that this is a must play course and I can't wait to watch the 2018 Open from here.
UPDATE: In 2018 Francesco Molinari  became the first Italian to win a major.