Big Mountain Heli Tours of the Oregon Cascades
I'm on the second day of an SATW pre-tour of Central Oregon and about to experience the main reason I signed up for this particular tour – a helicopter ride over the Oregon Cascades with Big Mountain Heli Tours. We were originally scheduled to start the trip from the small airport near Sunriver Resort near the city of Bend, but our guide, Kelsey Ivey gets a call telling her that there's a temperature inversion and Sunriver is completely socked in. So we are diverted to Bend Municipal Airport which is actually closer.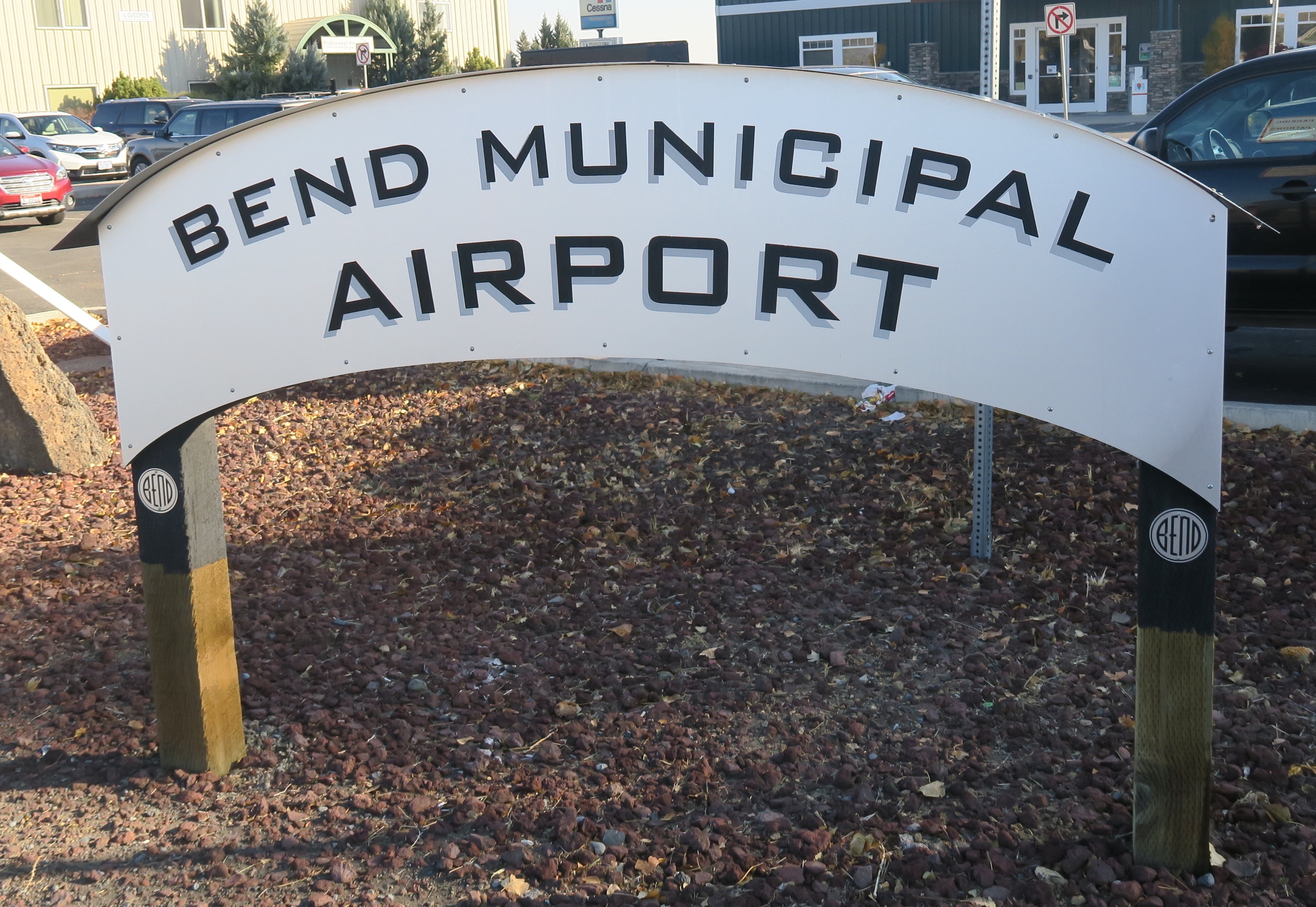 Our group is greeted by Big Mountain Heli Tours real owner, Kodiac "The Wonder Dog" and his sidekick Patric Douglas who shows us out to the tarmac where three helicopters await.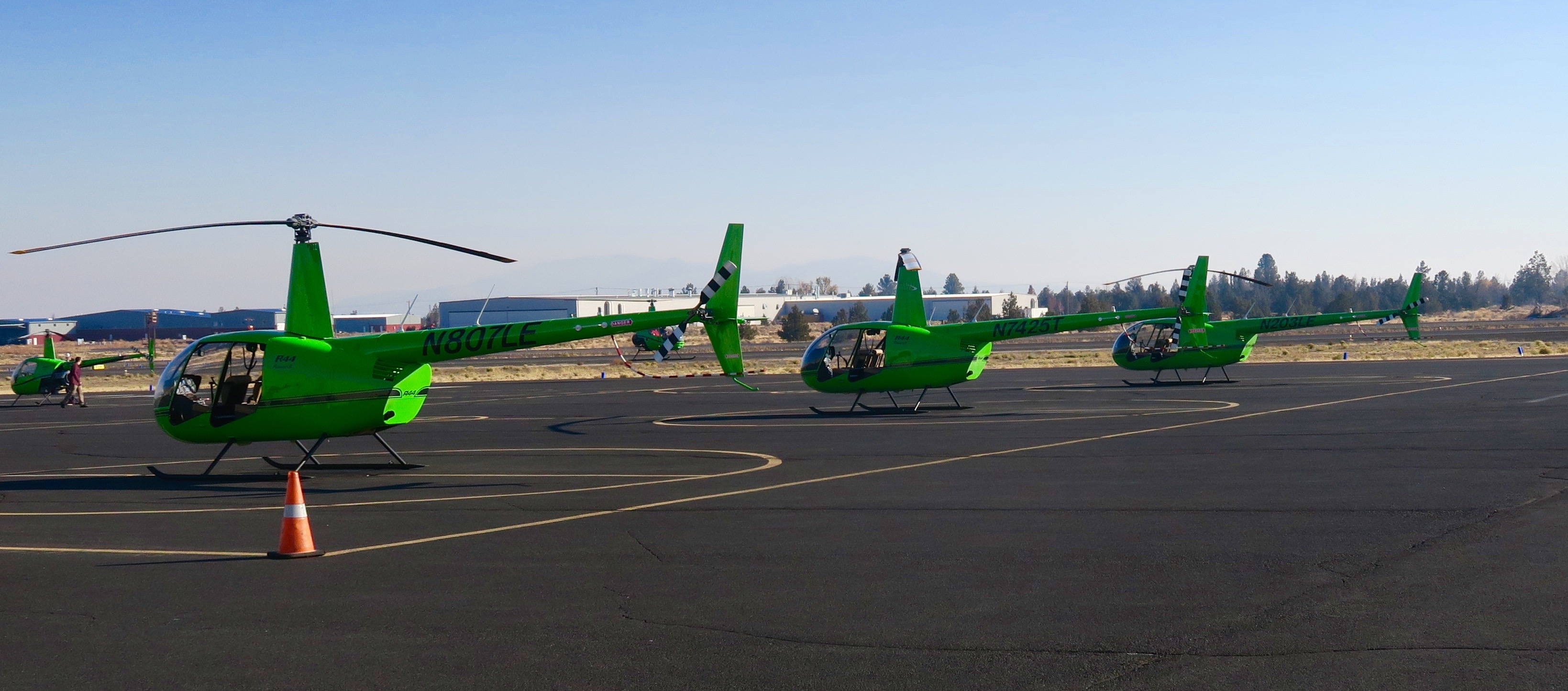 During the briefing we learn that the weather is so fine today and the winds so calm that we'll be flying with the doors off! What a great break and apparently the last time it will happen this season. Good thing I brought my trusty, always warm Aran Island sweater.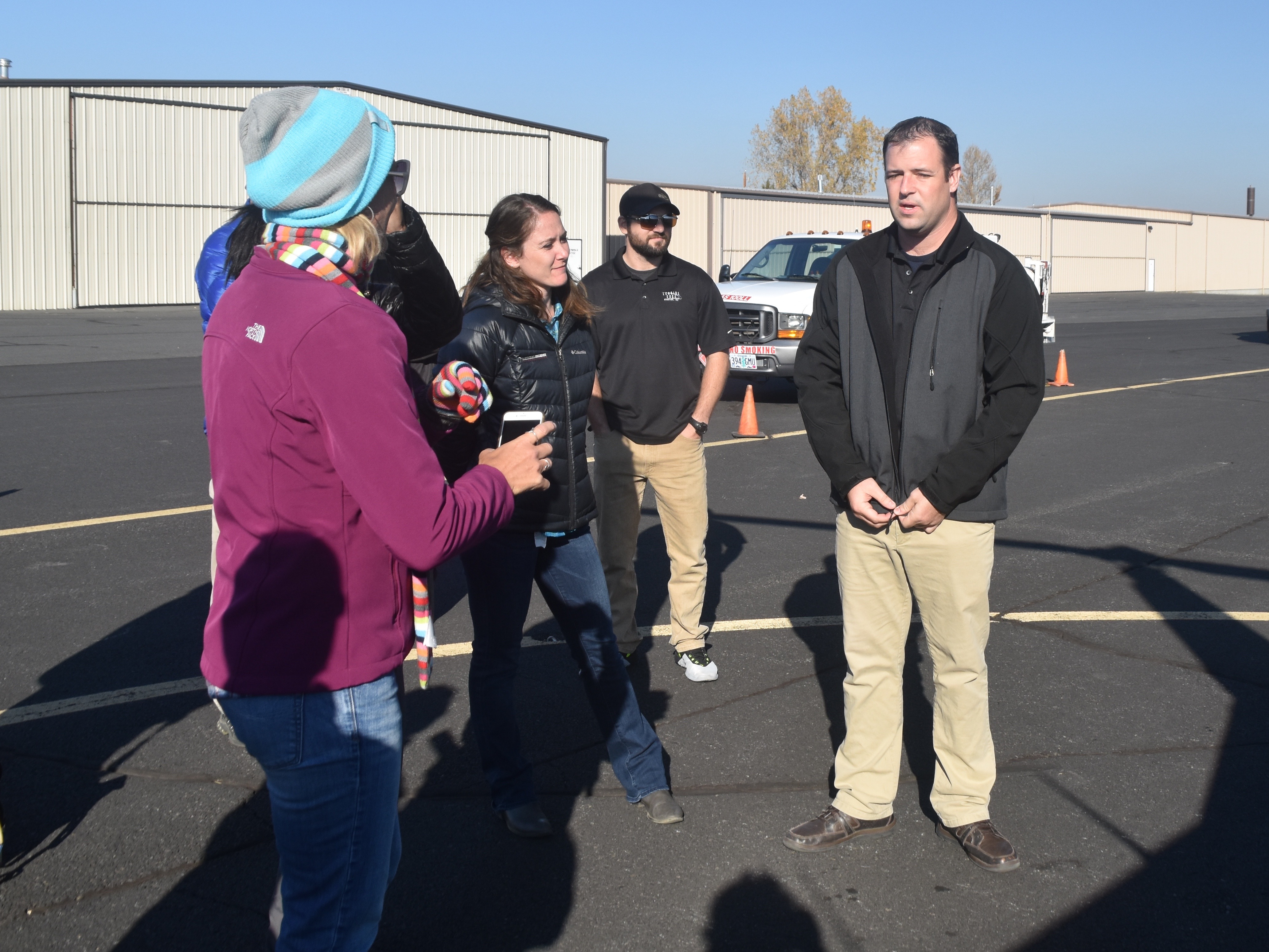 Along with the six people going up there are two professional photographers coming along as well.
Here I am ready to go with our tour guide Kelsey Ivey beside me and photographer Ryan Cleary. Only thing we need now is a pilot.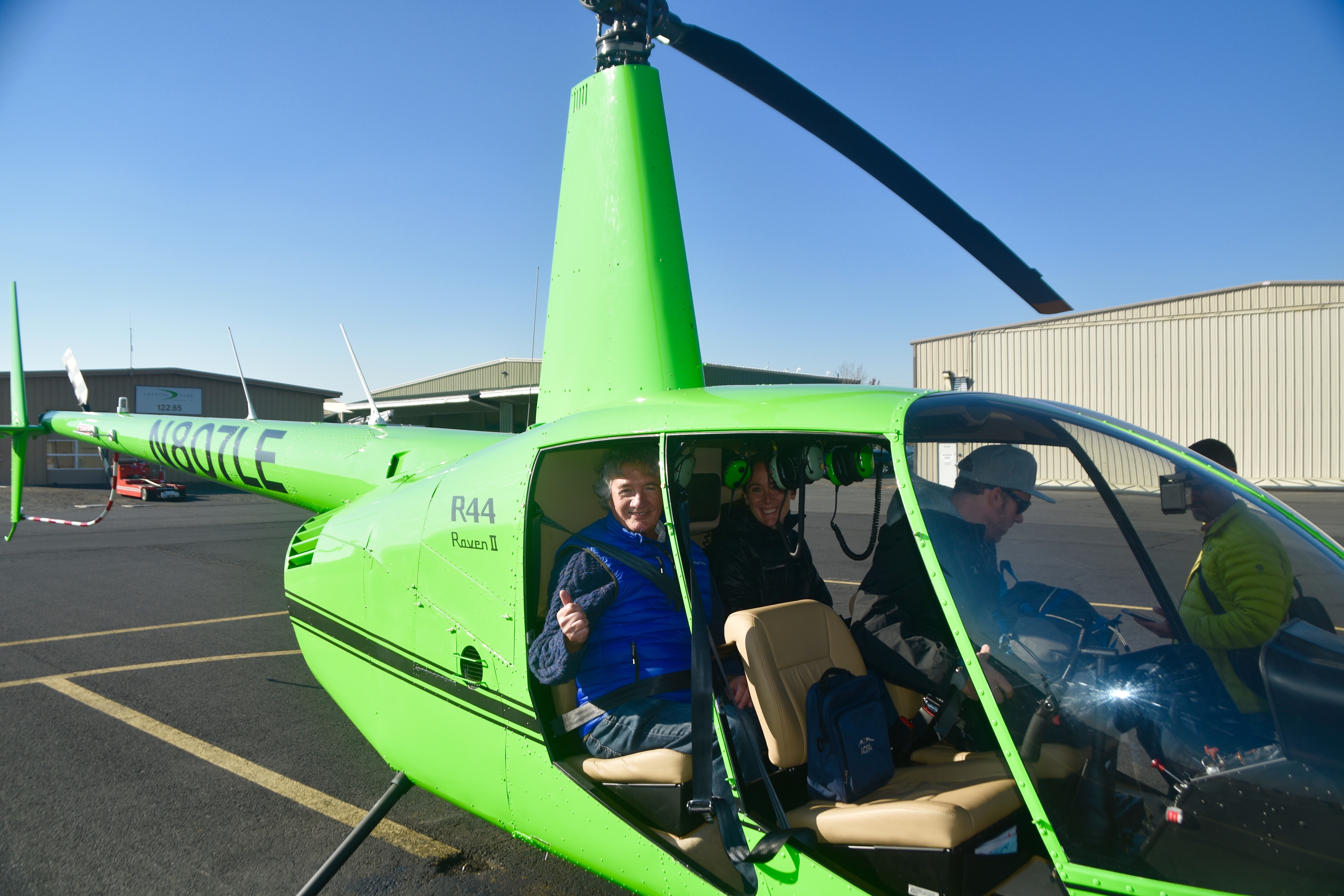 What I'm going to do now is simply tell the story of one of the greatest 90 minutes of my life using the shots I took in the order I took them along with brief explanations of what you are seeing. Then I'll follow it up with some photos from Ryan and Jesse Polay who was in the lead helicopter.
Oh, and about that temperature inversion. It's actually quite cold on the ground and for about the first 500 feet up, but then the temperature warmed up considerably and stayed that way until we got below 500 feet near the end of the trip. Despite having the doors off and being in the Cascades in late October, long after the first snowfalls, temperature wise it was actually very pleasant. Here we go.
This is one of the sister helicopters. Throughout the trip the pilots relayed instructions back and forth to get good shots of the helicopters passing over the various landmarks.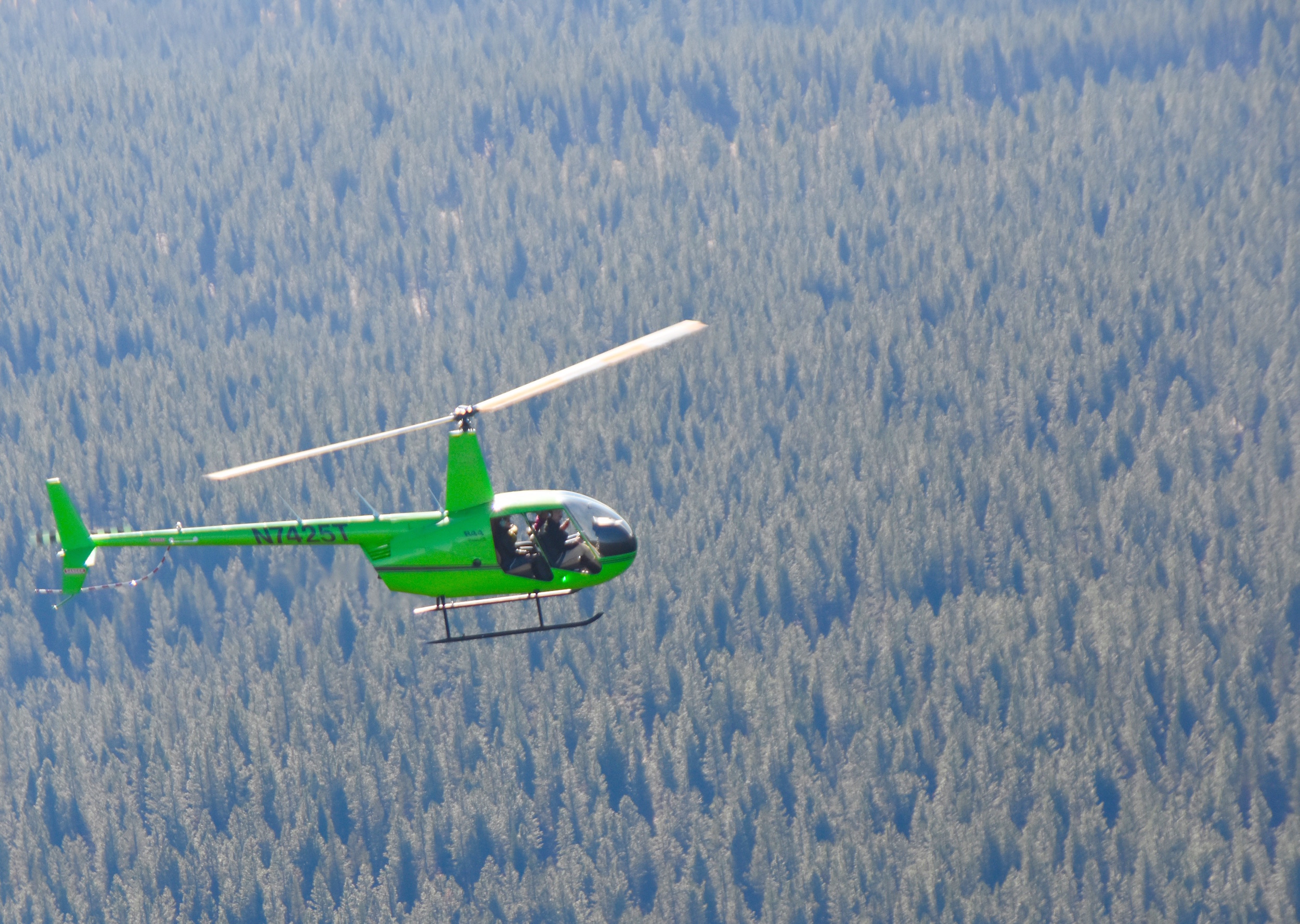 This is Mount Bachelor, the largest ski hill in Oregon which at first I couldn't even tell was a ski hill until I saw the runs show up below the tree line.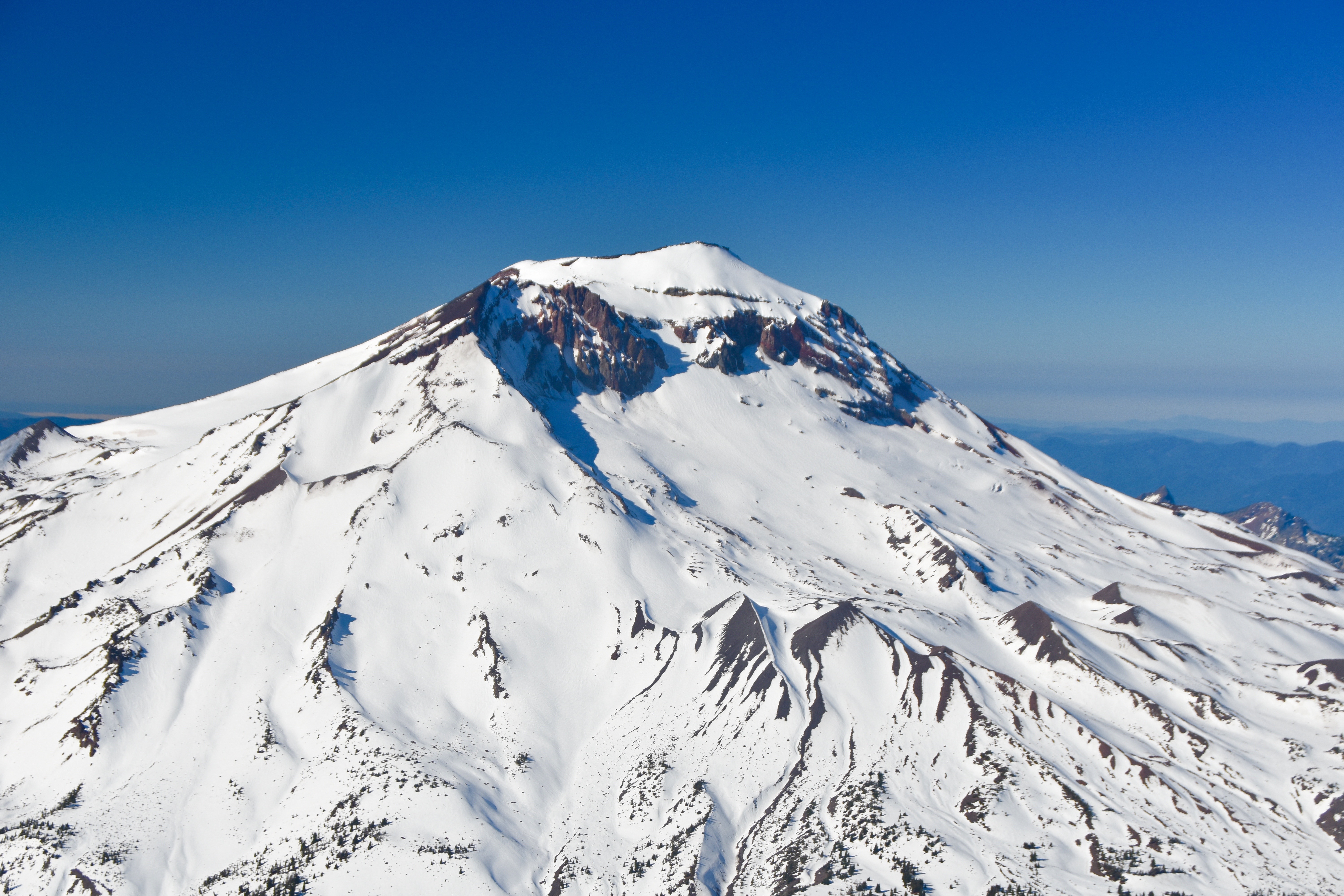 Another shot of Mount Bachelor.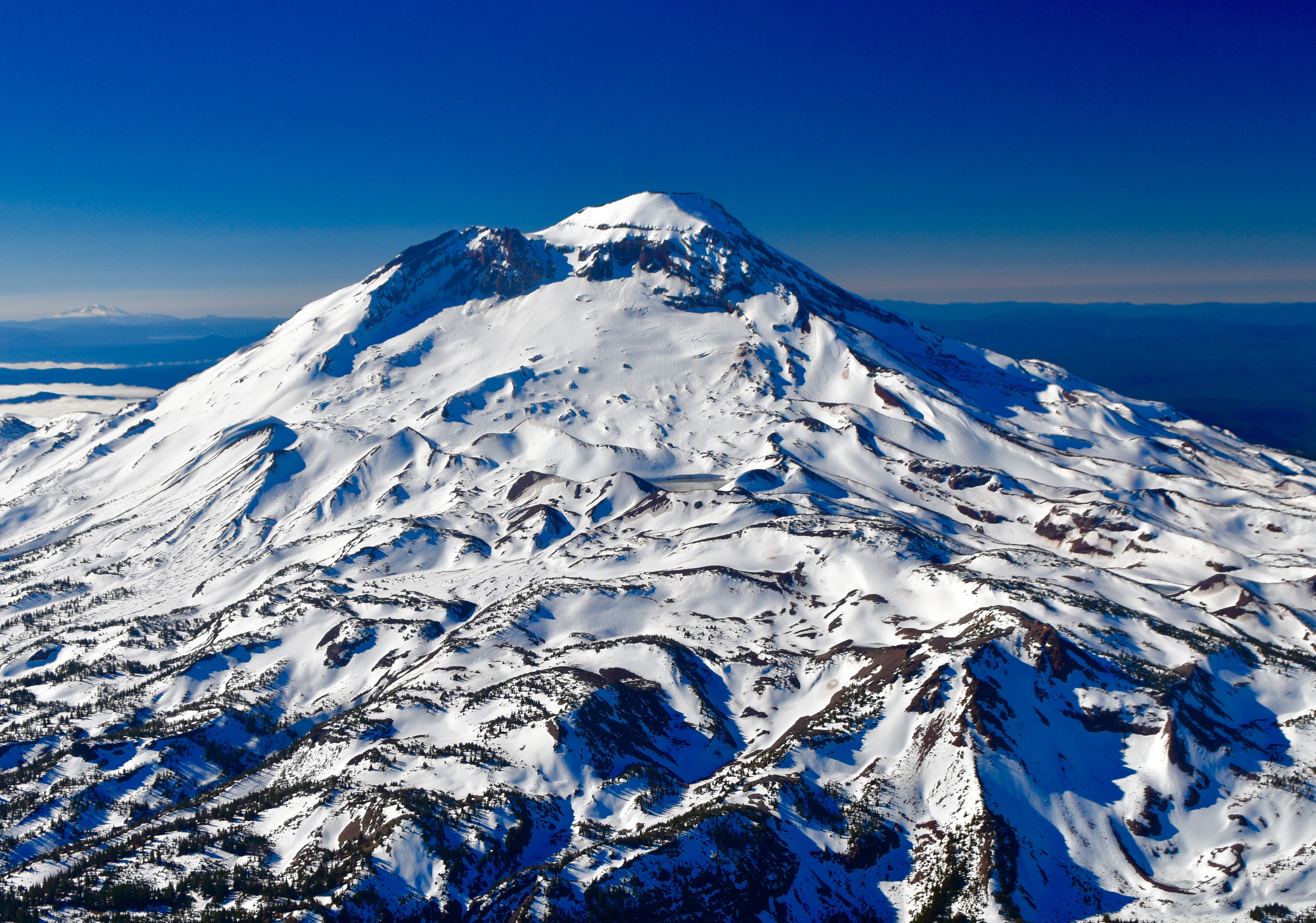 This is The Sisters, three mountain peaks linked by high ridges. In the immediate right foreground is Broken Top of which more later.

These are the North Sisters.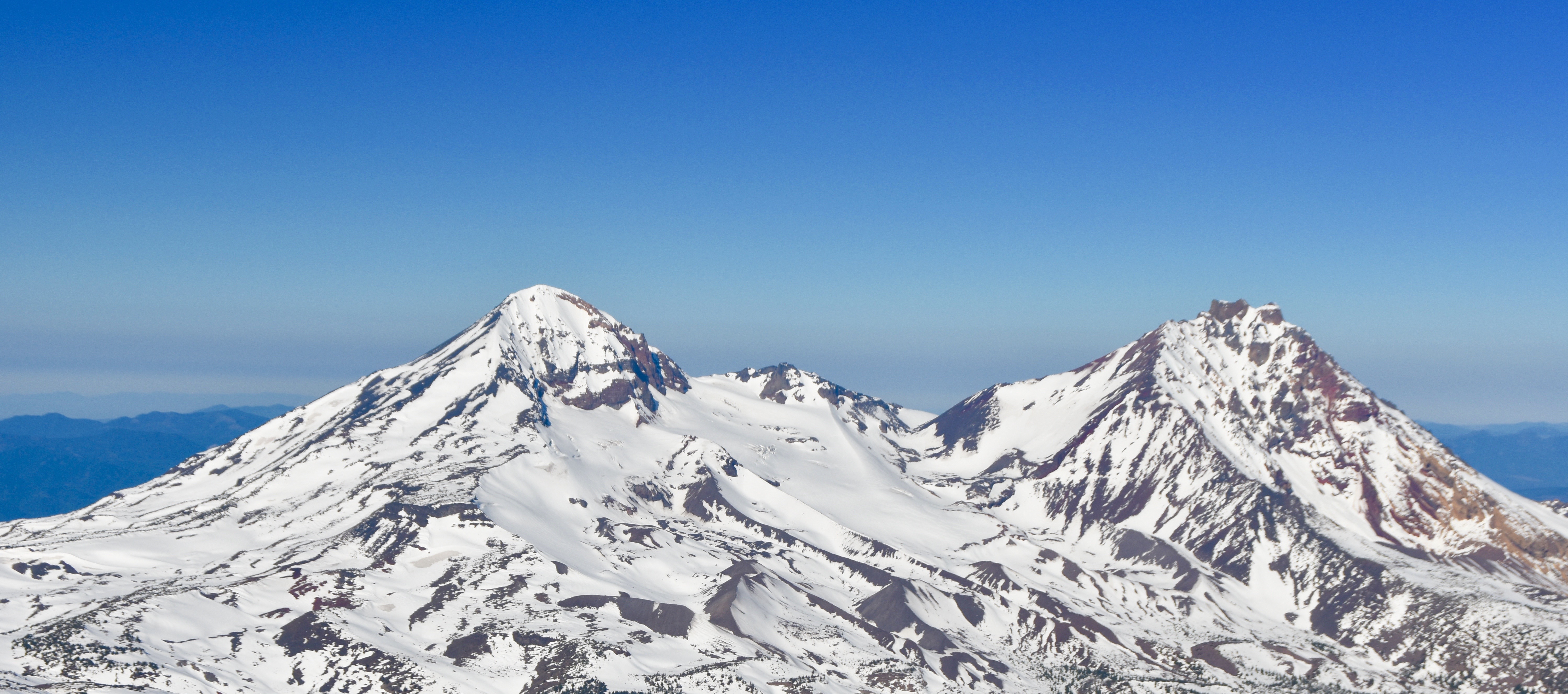 And South Sister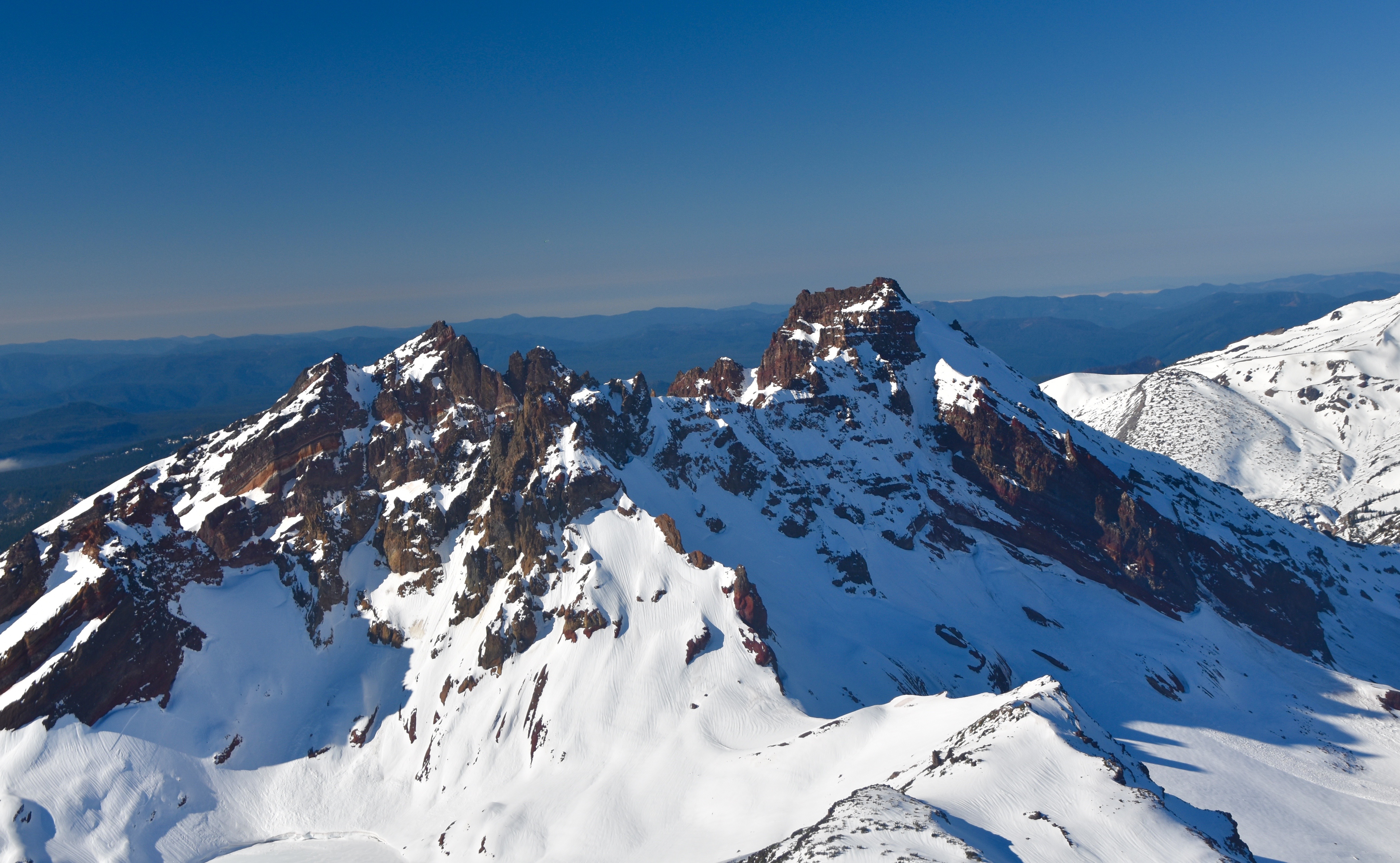 The south Cascades are totally volcanic and include infamous Mount St. Helen's. They look like volcanoes, because they are. Here is, from left to right, Mount Jefferson, Mount Washington and Mount Hood.

The star of the trip was undoubtedly Broken Top which is so named because, unlike the three volcanoes above, it has, like Mount St. Helen's, blown its top.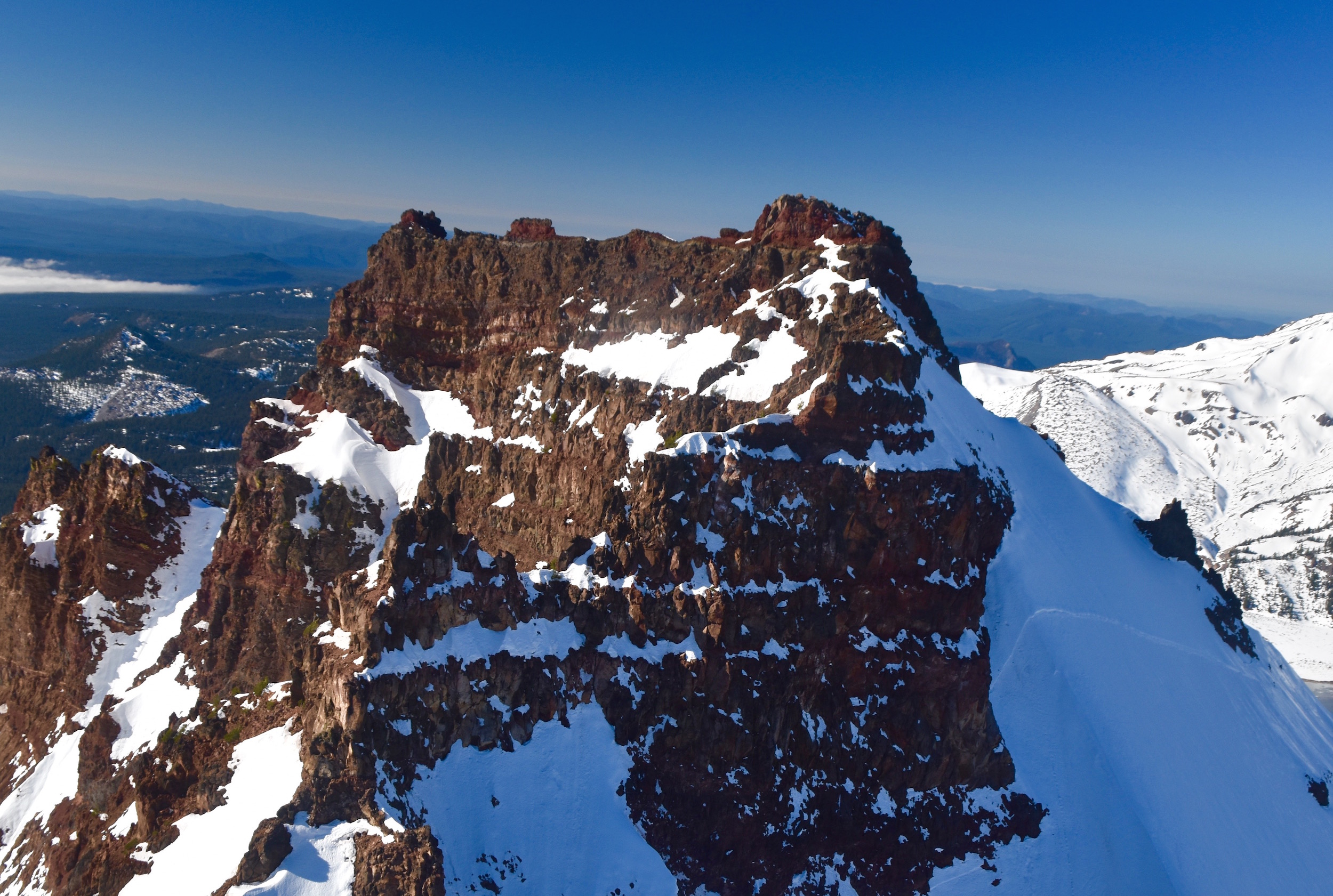 We flew around and then right over Broken Top.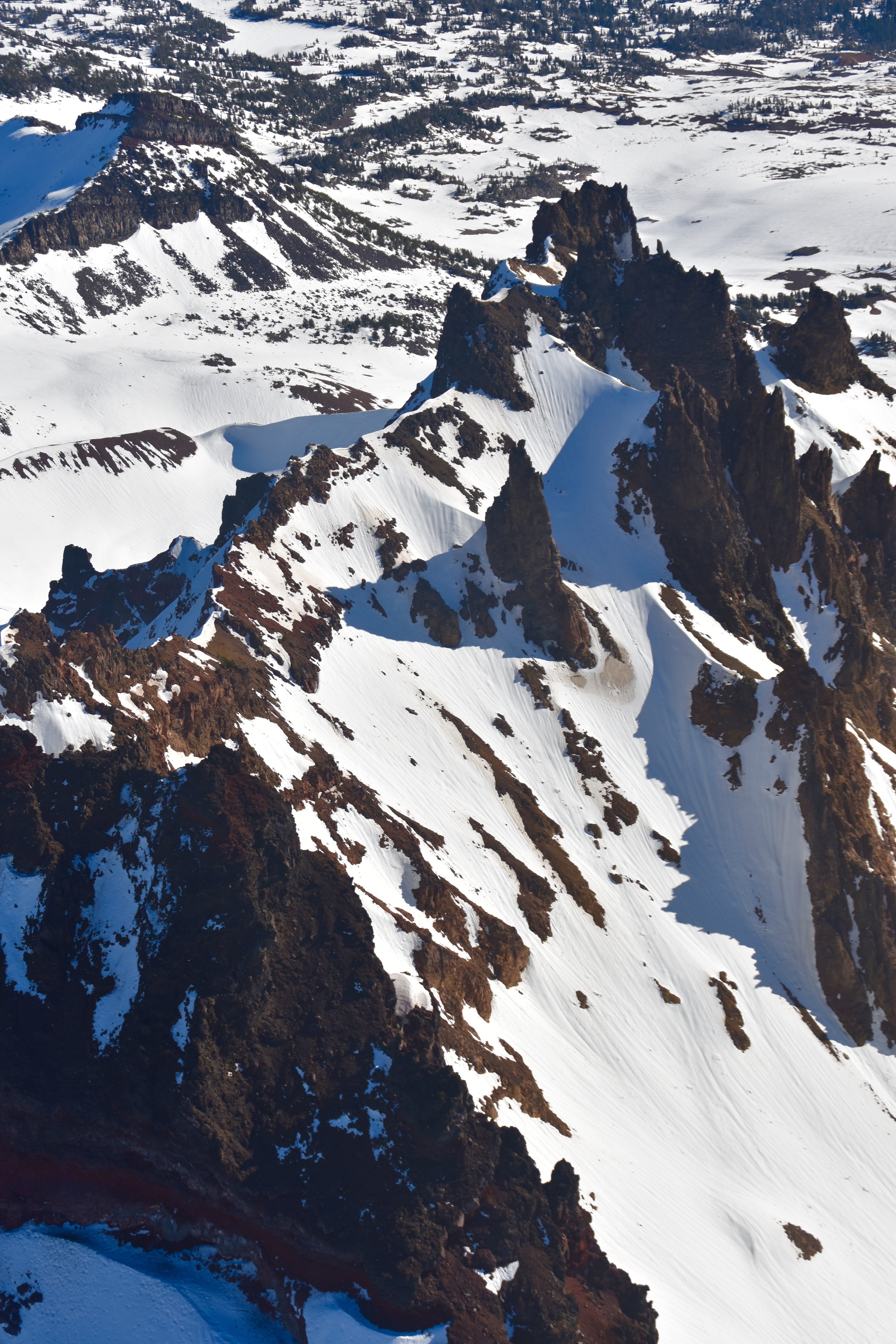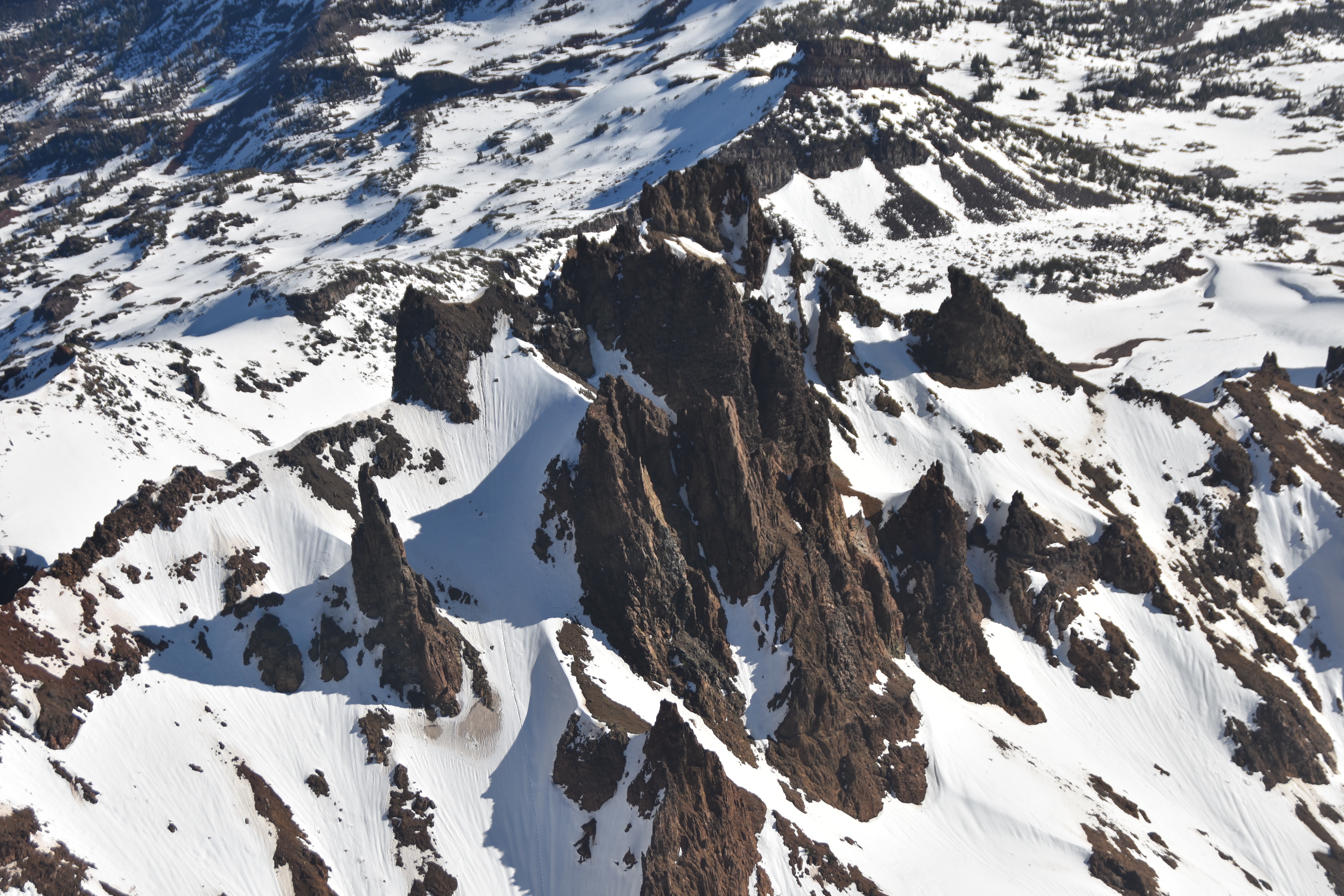 Finally on the way back we flew over Tumalo Falls, an 89 foot plunge on Tumalo Creek.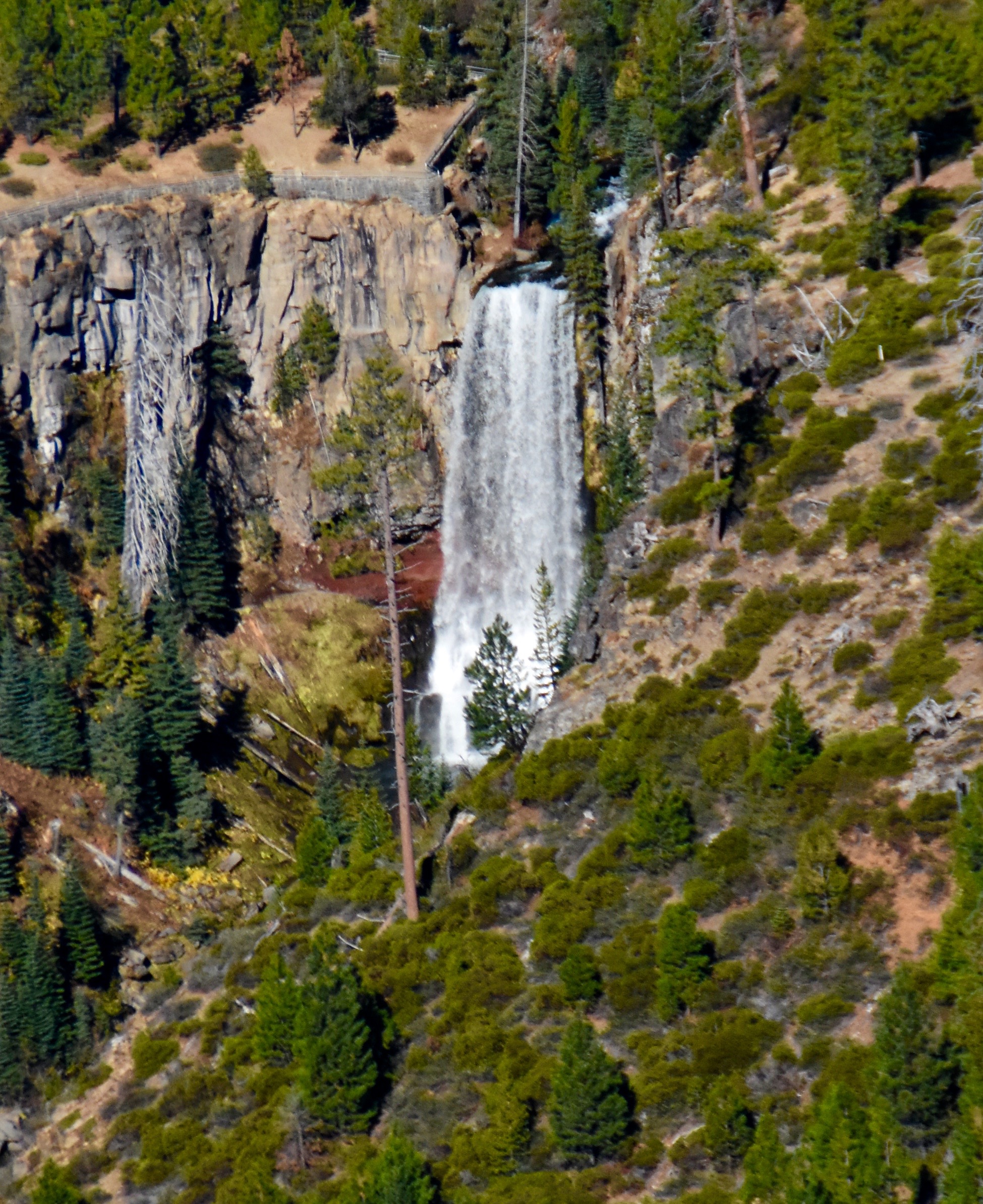 Now here are Ryan Cleary's photos.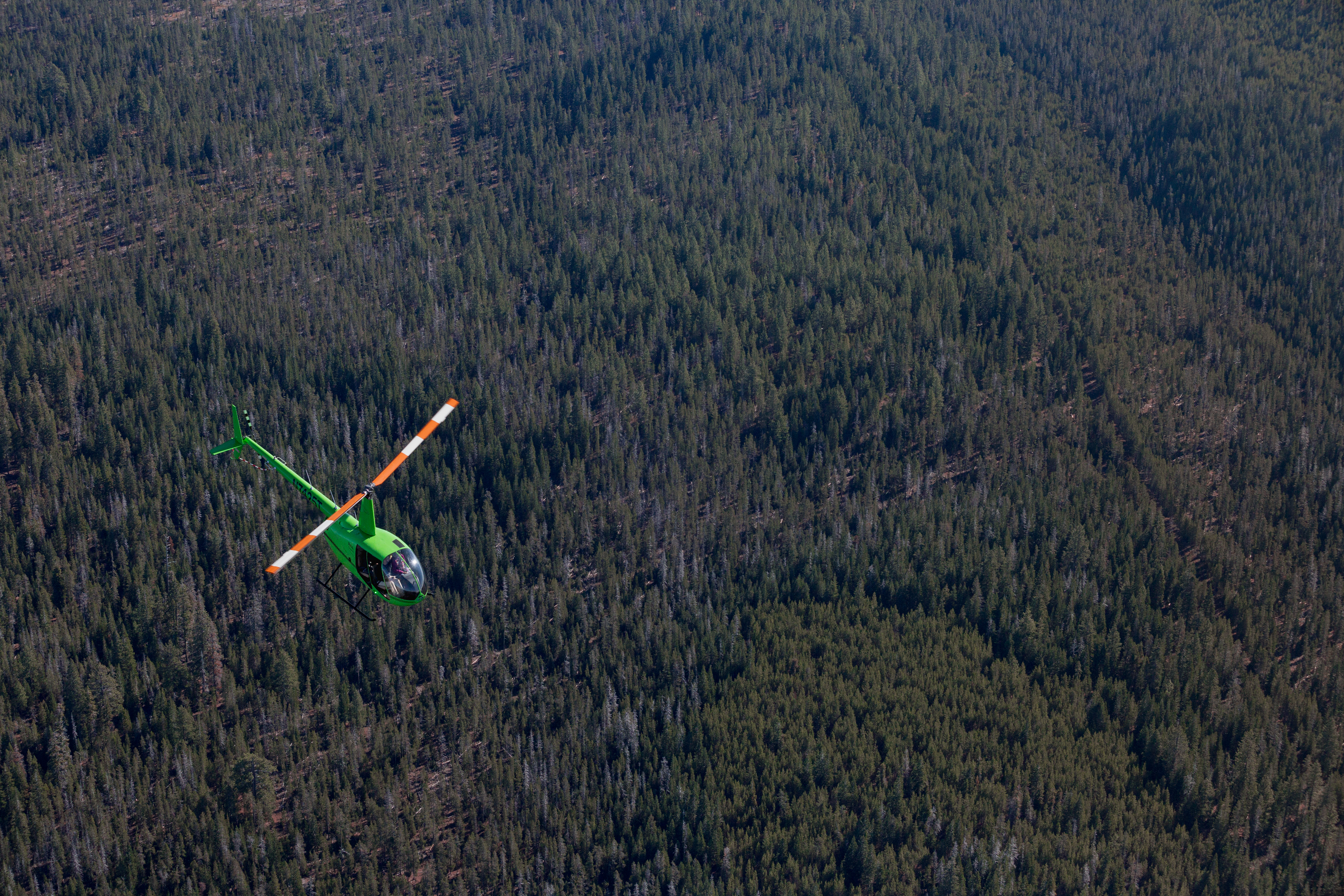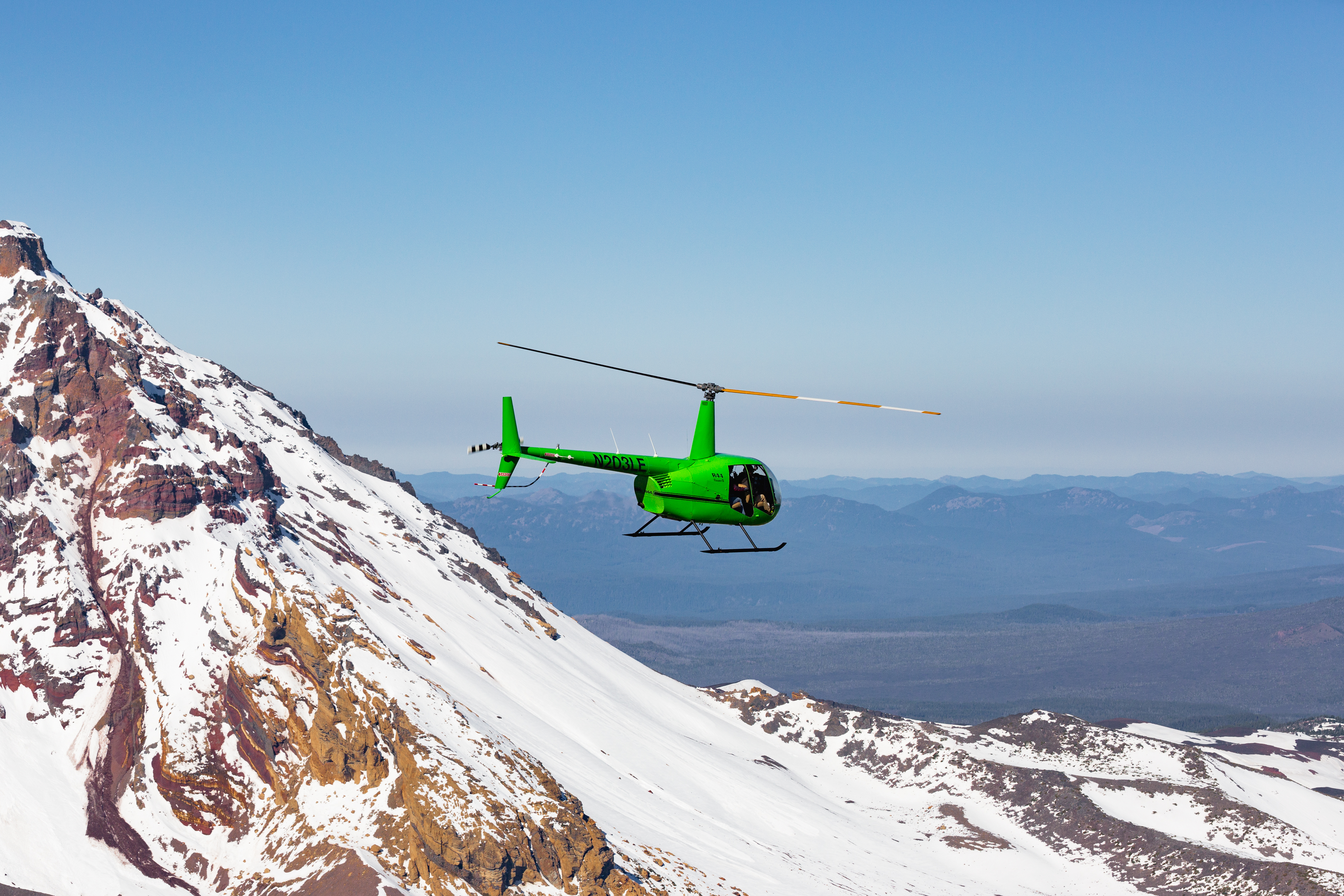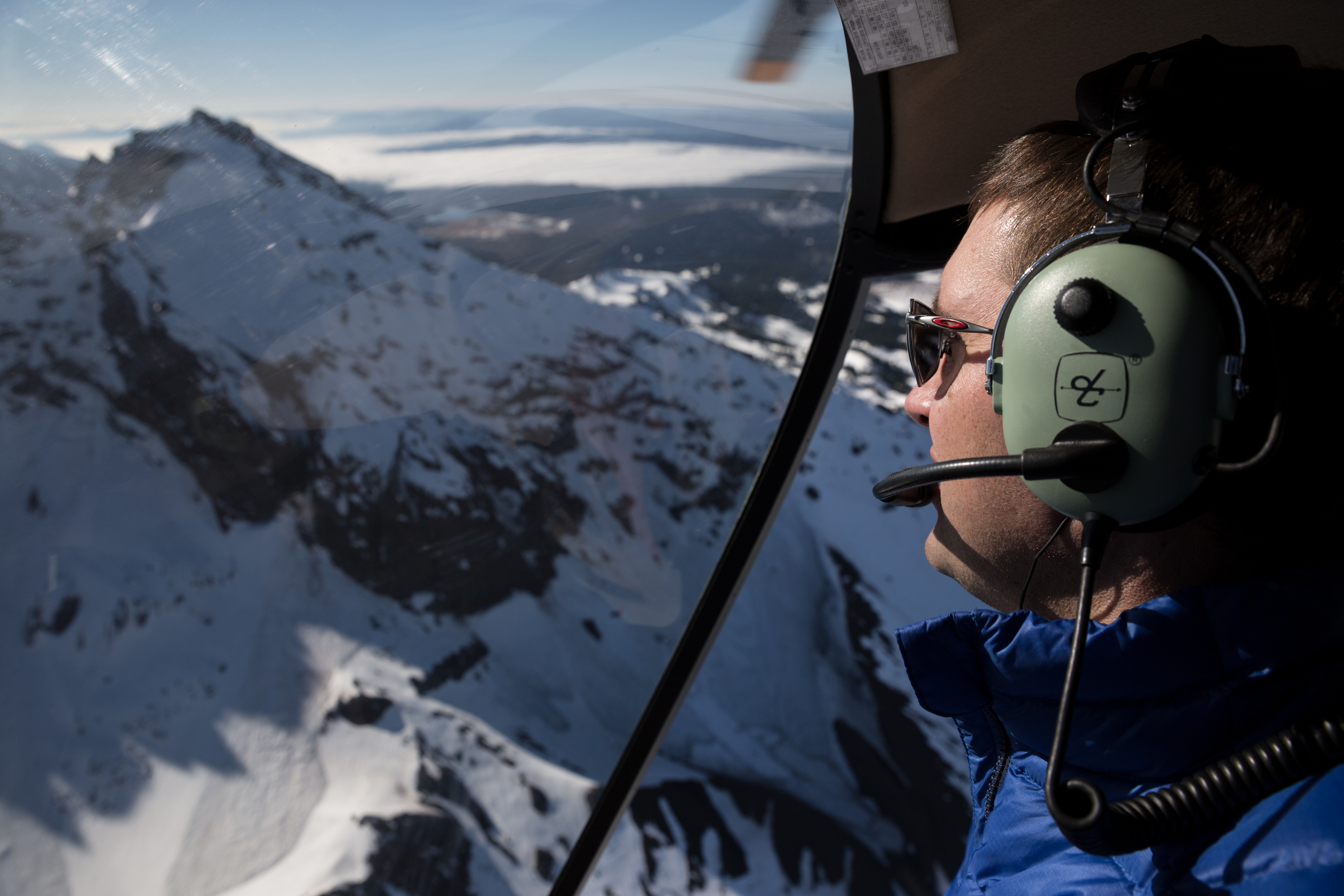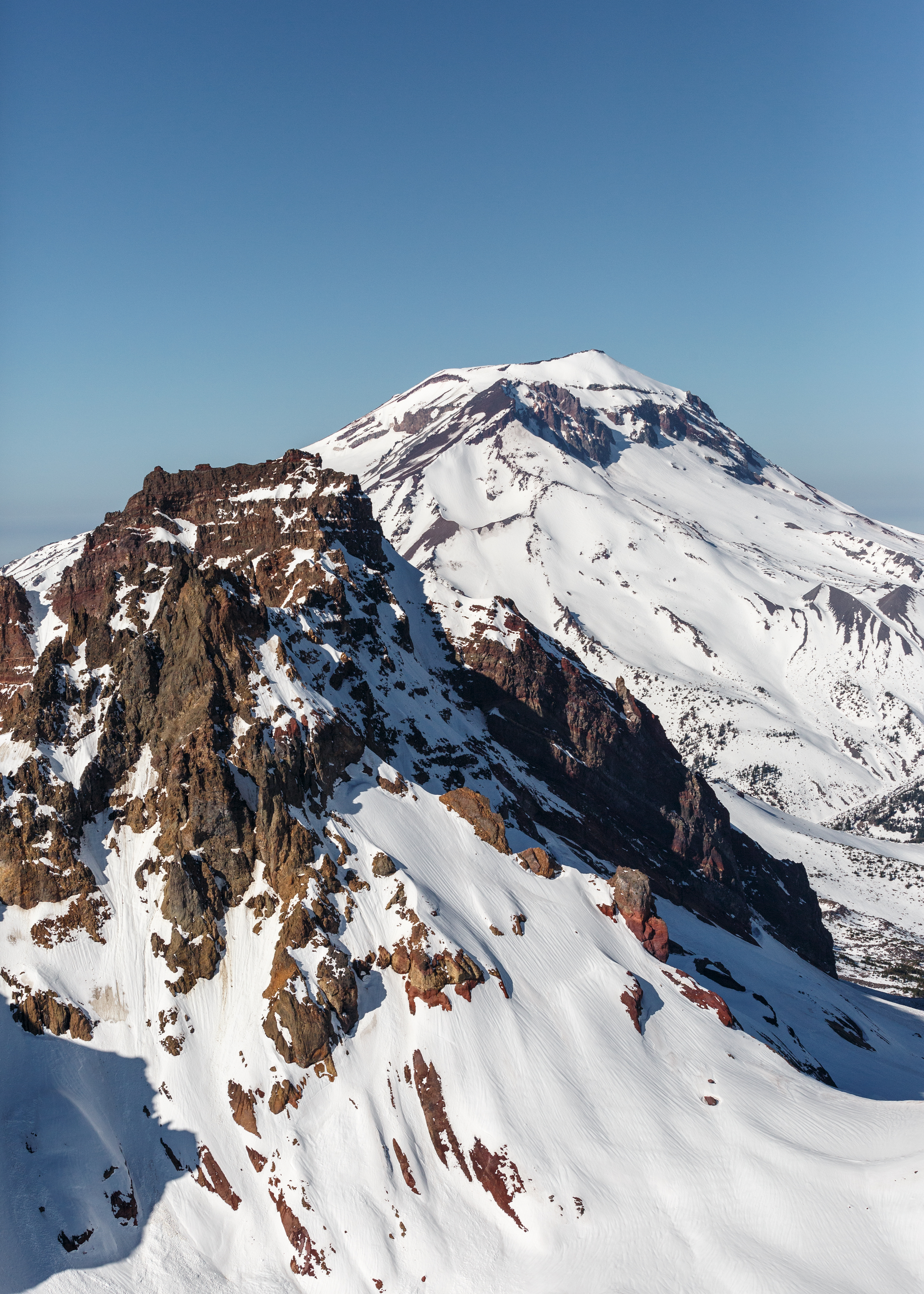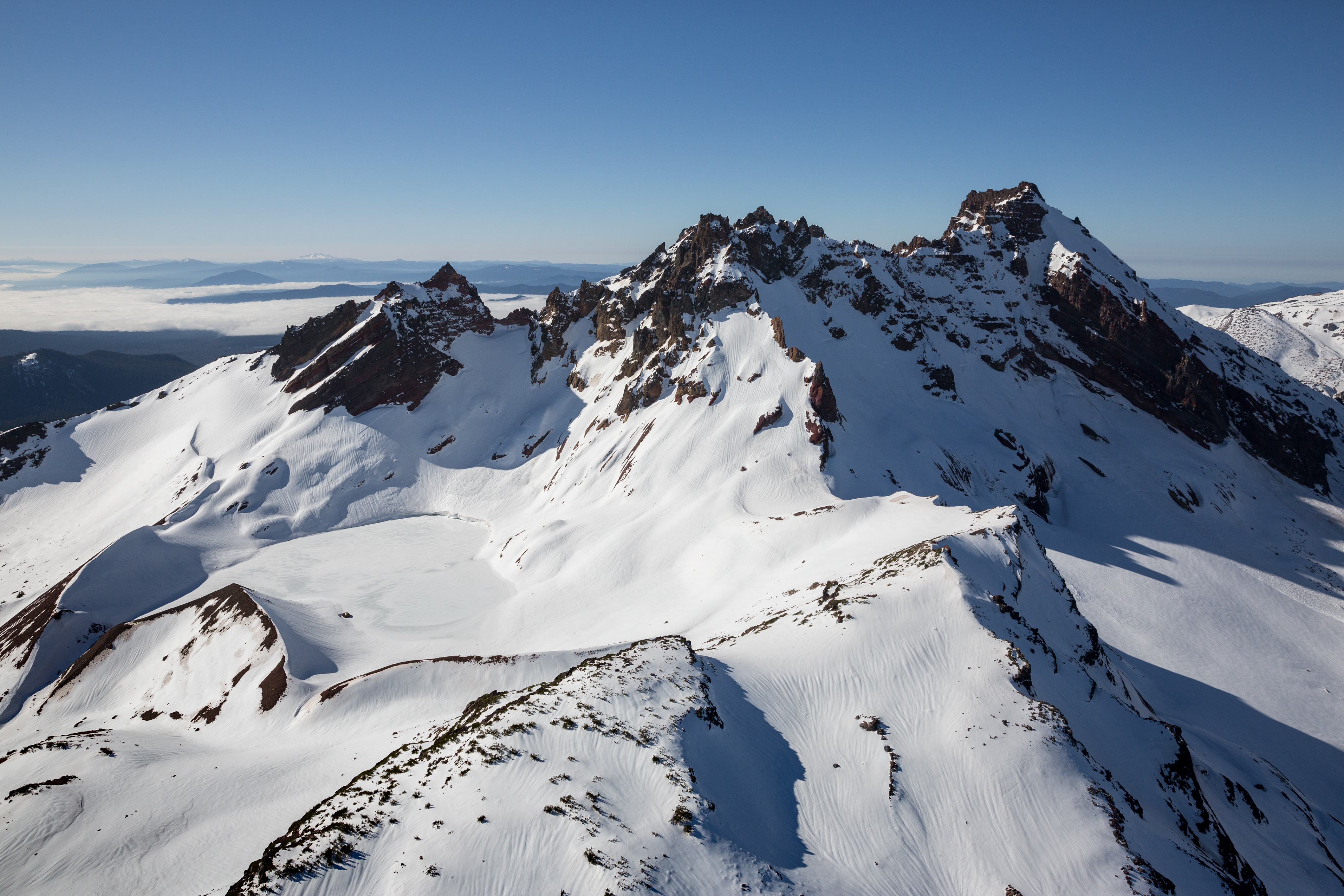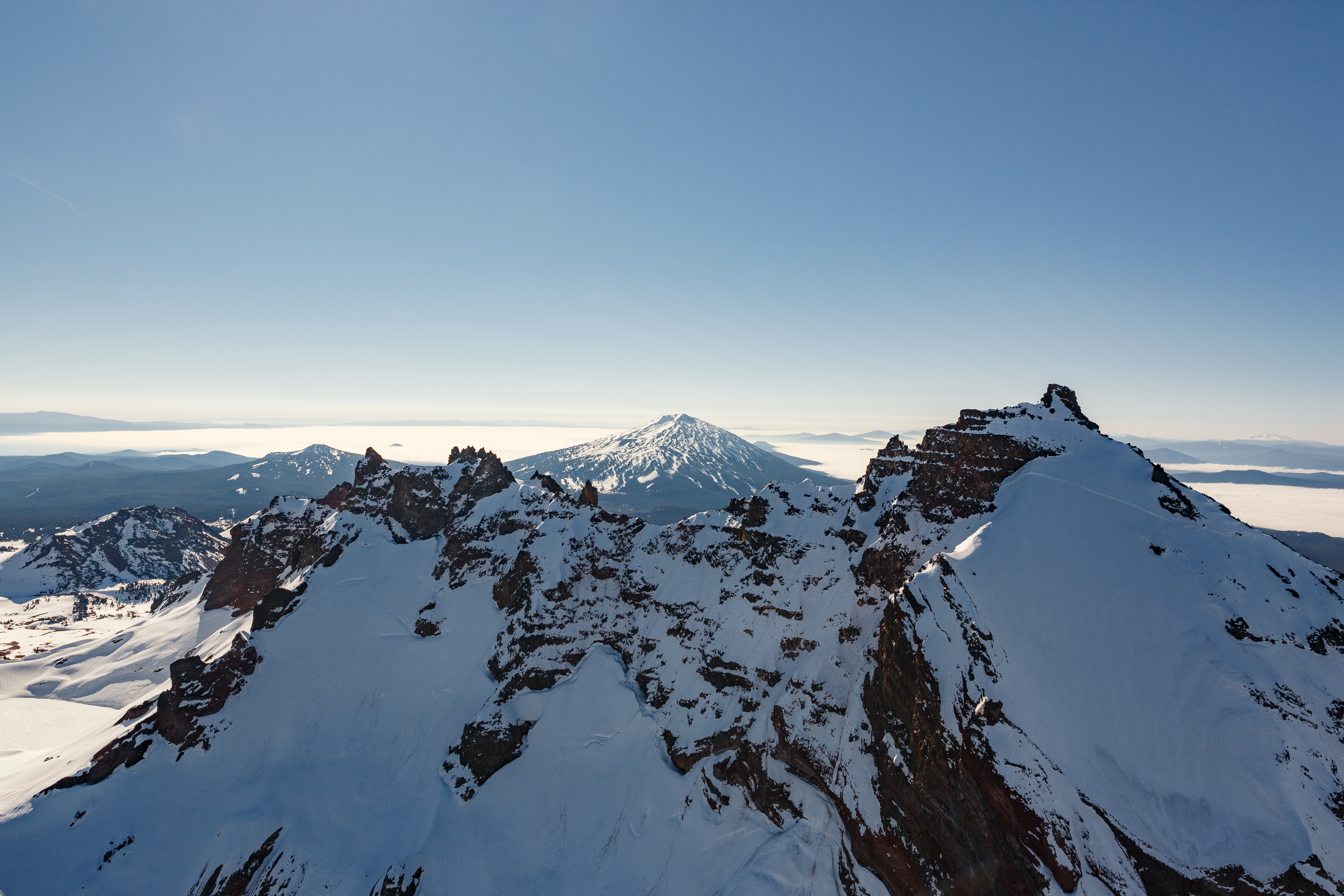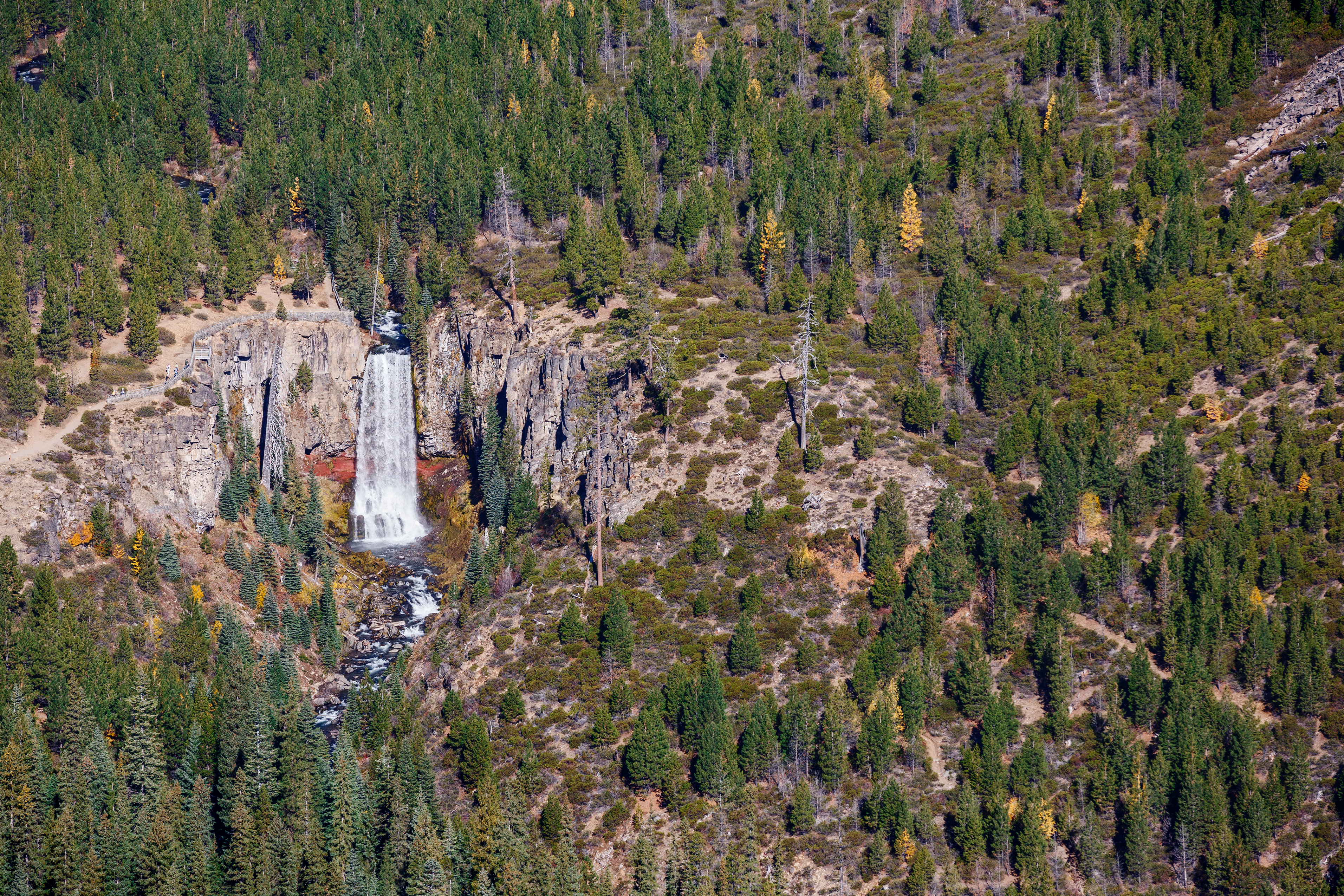 This is the old mill district in Bend.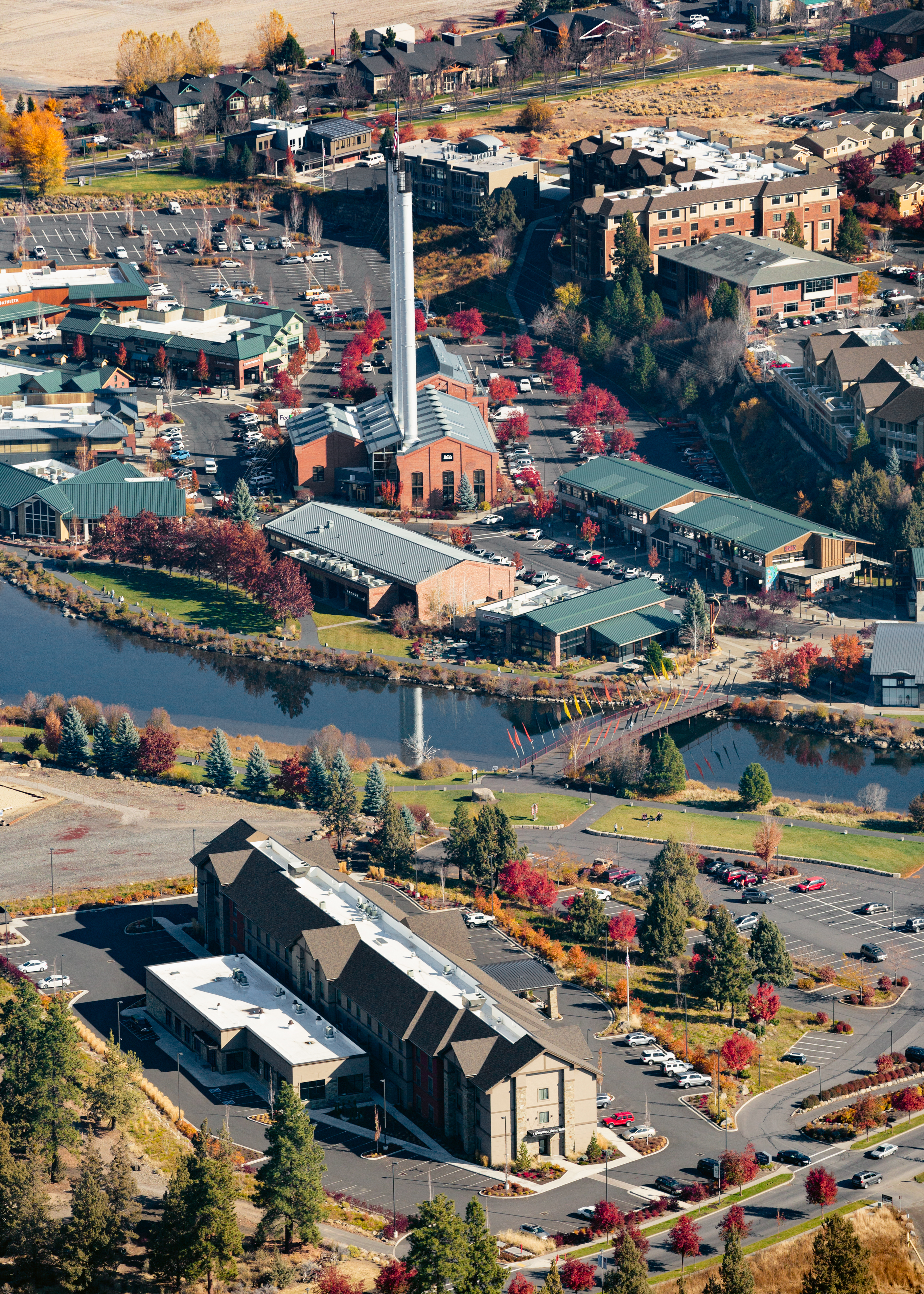 And now Jesse's photos.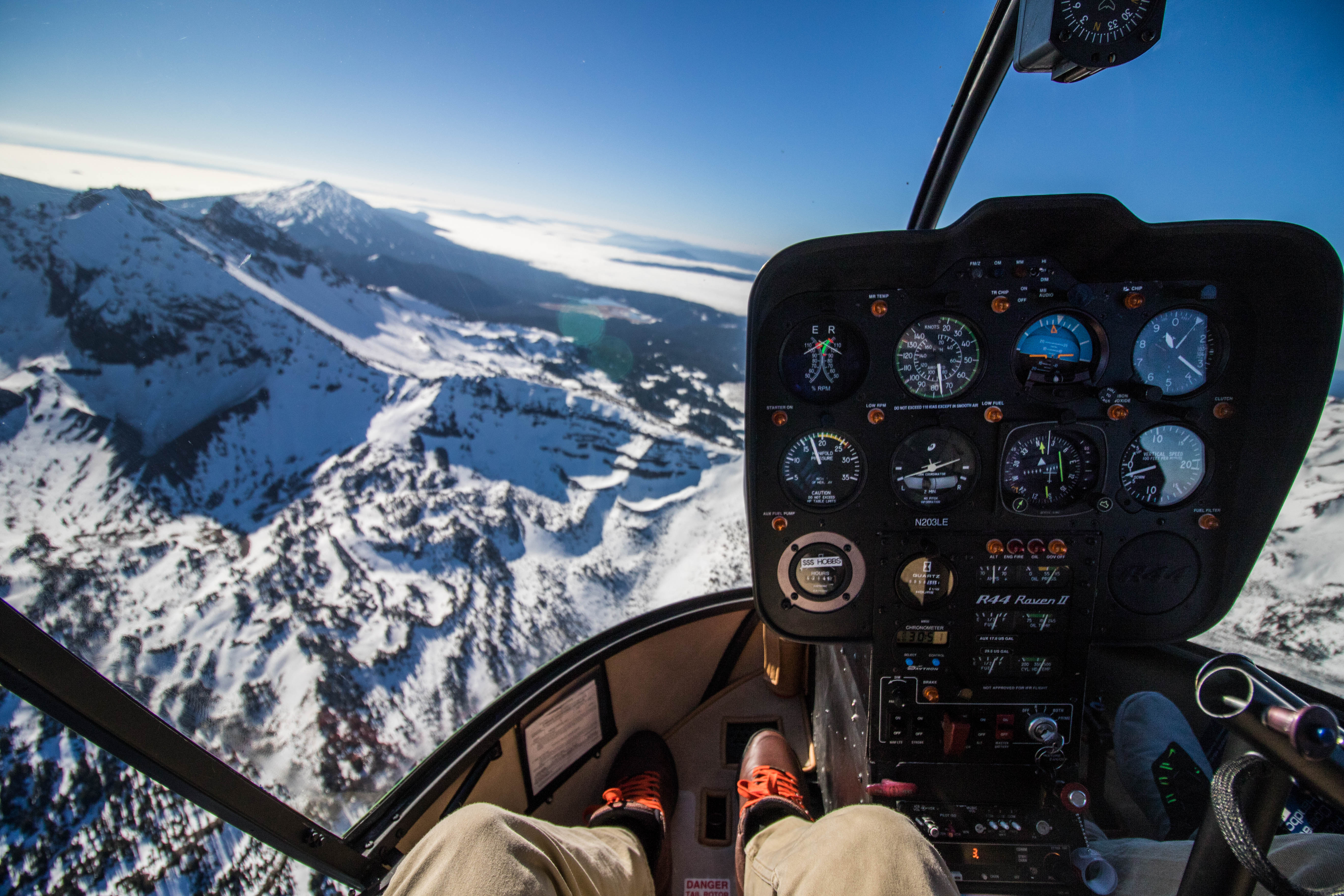 In this photo of Mount Bachelor you can clearly see the ski runs in the trees.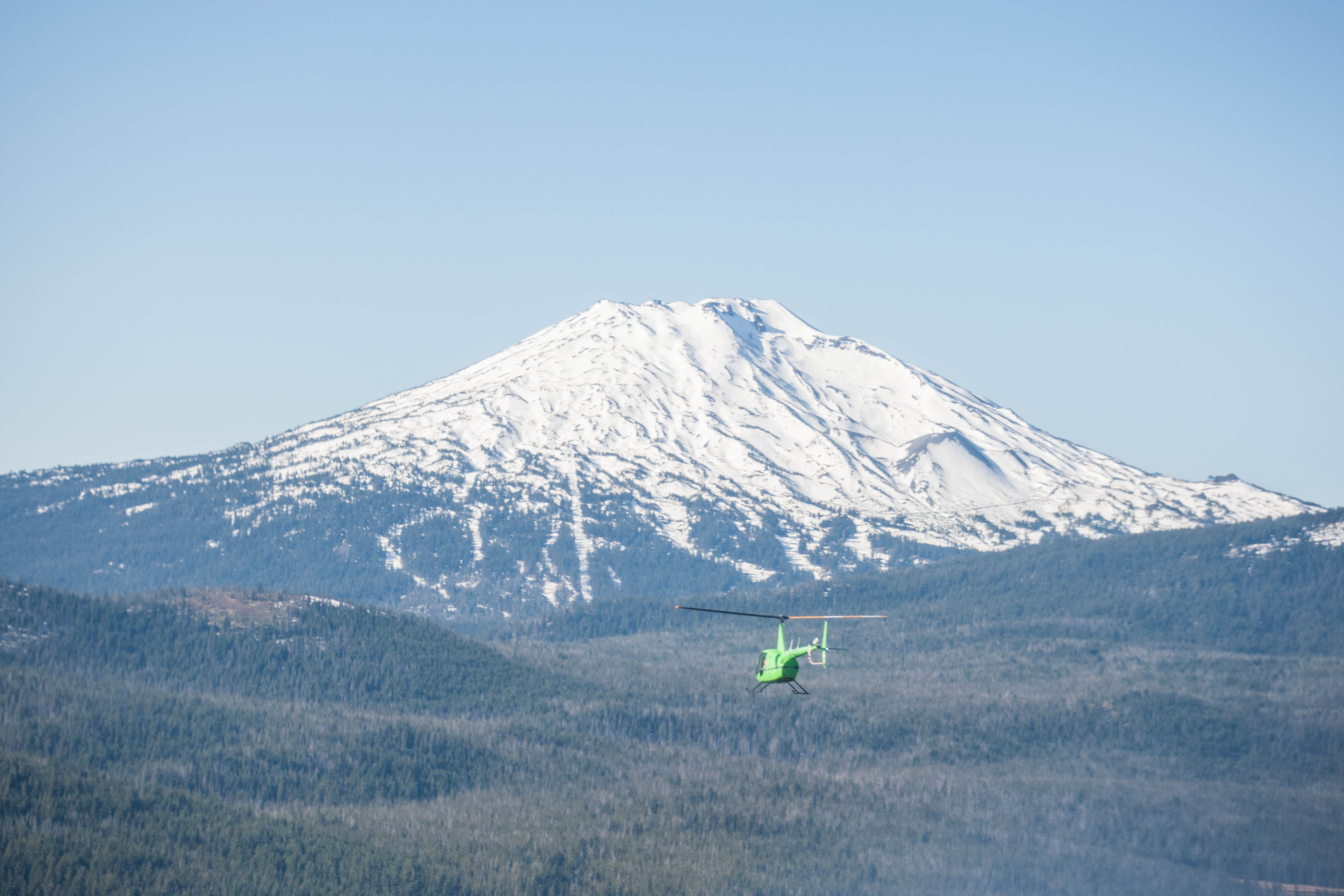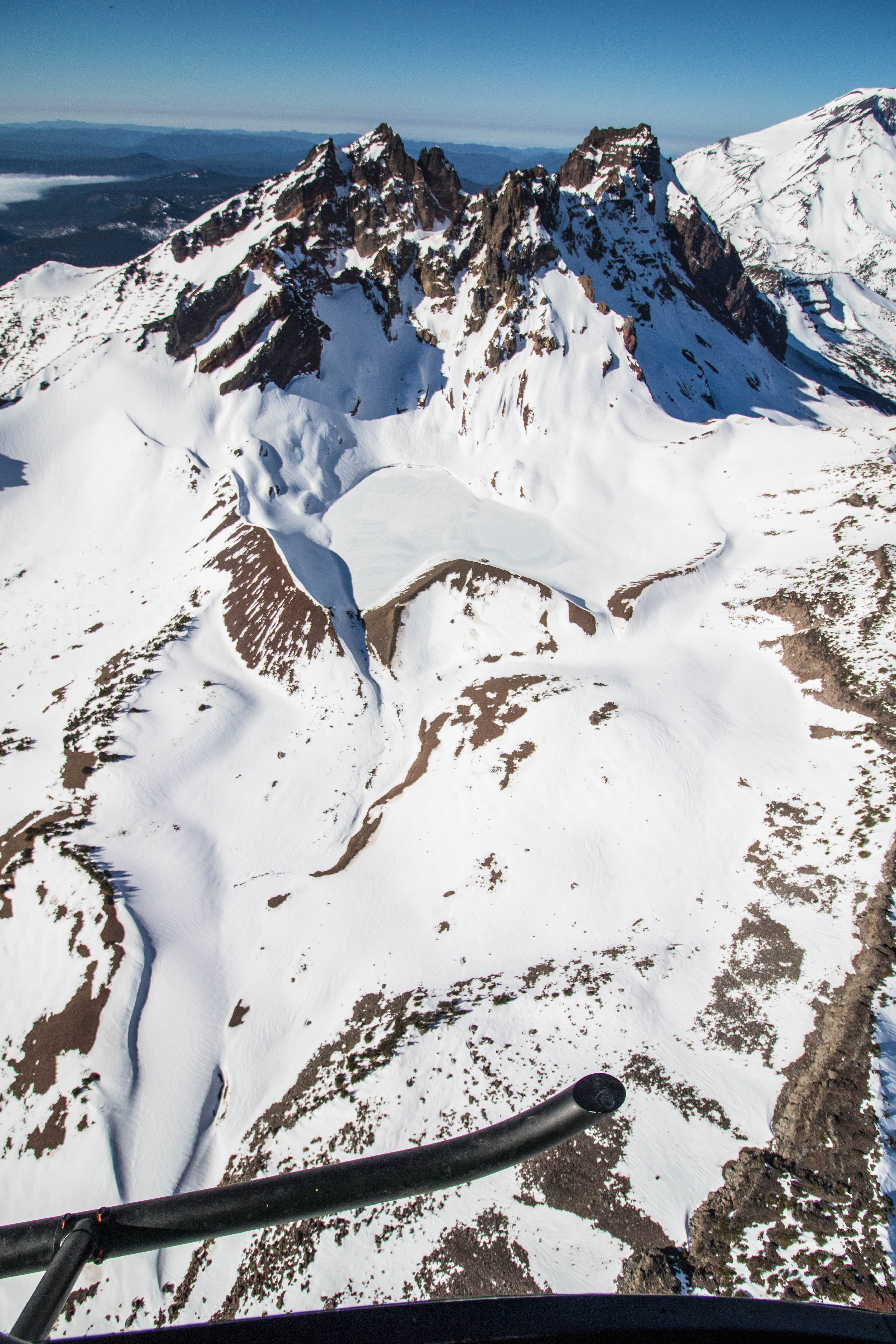 Pretty friggin' amazing! Thanks Central Oregon Tourism and Big Mountain Heli Tours for an unforgettable trip. You can visit Big Mountain Heli Tours at flycascades.com.
If this wasn't enough of an adrenalin rush, how about some rock climbing at Smith Rock State Park which is coming up next.