5 Fusion & Sushi Bar -More to Bend than Beer
If you read my last post you might be excused for thinking Bend, Oregon was all about beer and gastropubs. While that's mostly true, there are some exceptions, notably 5 Fusion where chef Joe Kim is creating tasting menus that are as far away from traditional beer go with food as you could possibly find.
Most people are not aware that the most famous American food writer of the 20th century, James Beard, was an Oregonian who practically invented the idea of being a 'foodie'. Long before Julia Child was extolling the virtues of classic French cuisine, self taught James Beard began writing his first of dozens of cookbooks; collecting and inventing recipes for thousands of mostly American style cooking, relying heavily on the cornucopia of fresh produce and seafood in a place like the Oregon coast where he spent his summers. In 1955 he established the James Beard Cooking School with branches in NYC and Seaside, Oregon which he travelled between frequently. Why am I going on about James Beard?
Well, aside from the fact that his cookbooks played a major role in my limited development as a cook (chef is too grand a word for what I produce), he left a lasting legacy in the James Beard Foundation awards which are the culinary equivalent of the Oscars. Every chef in America aspires to these awards and to be named a semi-finalist is an honour akin to being awarded a Michelin star. That brings me back to chef Joe Kim, the man behind 5 Fusion. Not only has he served as guest chef in Thomas Keller's Napa valley classic French Laundry and Grant Achatz's impossible to get into Alinea, in Chicago, he is a three time James Beard semi-finalist. This is a first for a chef from Central Oregon and only a few of the many culinary awards he has garnered.
5 Fusion Tasting Menu
The visit to 5 Fusion to share a tasting menu prepared especially for our small group of SATW members is part of a conference pre-trip to Central Oregon sponsored by Visit Central Oregon. So the bottom line is that I did not have to pay for this great meal, but believe me I would have been more than happy to if called upon. What follows is my honest opinion of each of the many courses we were offered. First though, a bit about the restaurant itself.
5 Fusion is located on Wall Street, one of the two major shopping streets in old downtown Bend. Despite being what one might consider an upscale restaurant, in Bend that really doesn't mean much. The clientele was dressed in all manners, including a couple of teenage girls in the de rigeur torn jeans clasping giant cups of coffee purchased somewhere else. Try doing that in most restaurants. So the place is not in the least snooty and appeals to all ages, appetites and wallets.  You can go for the $60 tasting menu or, like the coffee clasping girls, split a beet salad for $9.00. That's Bend.
We were being treated to an extended tasting menu. So, turning my back on the famous local beers and starting with an ice cold glass of Asahi Japanese draft, here is the menu.
1. Quail Egg with Caviar and Chocolate Caviar Truffle
There's obviously a yin/yang thing going on here, but I'm too dense to figure it out other than to say that I knew we were in for a great taste experience after popping these two beauties into my mouth. Quail eggs are big these days, but you usually don't find them soft poached in their own edible container. Brilliant to construct, brilliant to look at and brilliant to taste. What a great start!
2. Beef Tartare on Brioche with Yuzu Dashi

Lest the reader think that this is going to be a gross orgy of eating with way too much for for an ordinary human being to consume at one sitting, it isn't. There were seven of us for dinner and each got one taste of tartare, not seven. Tartare is also very big right now and if you ever had any doubts about eating 'raw' beef then trying one of these would settle them once and for all. Three people out of seven had never tried tartare before and all were converts after trying chef Kim's version. Dashi is the stock base for ramen and yuzu is a type of Japanese or Korean citrus so I am presuming chef Kim made his own special dashi which served to not only add flavour, but mildly cure the meat in the process.
3. Escolar Sashimi with Cilantro Foam, 5 Fusion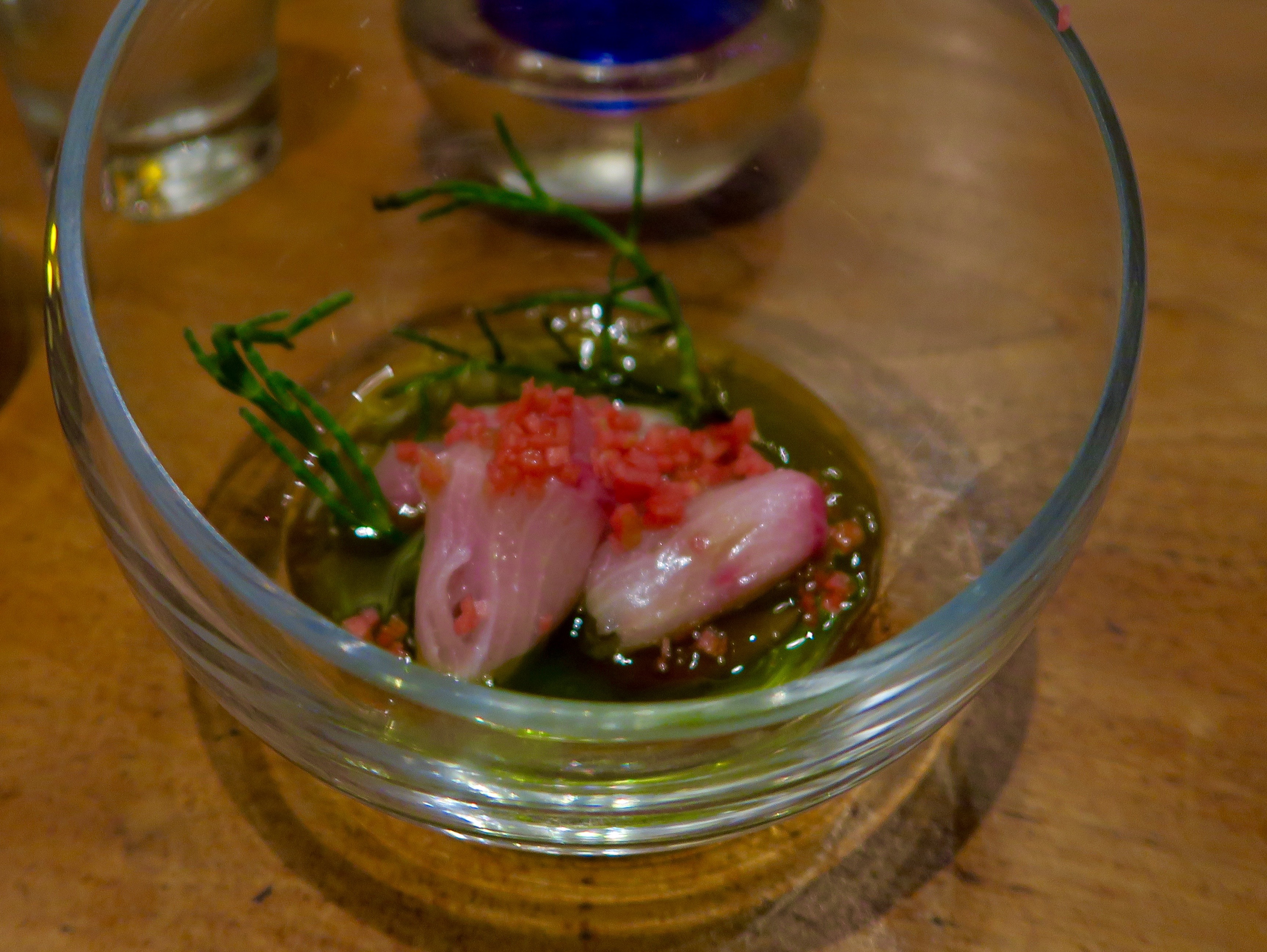 Escolar is a large member of the tuna or mackerel family, usually found in deep water and while popular in Japan, is seldom seen in North American restaurants. It is eaten only in small quantities because it can have negative effects on the gastric system for some people. Luckily I'm not one of those. This sashimi might have been the best I have ever tasted.
4. Smoked Uni with Trout Roe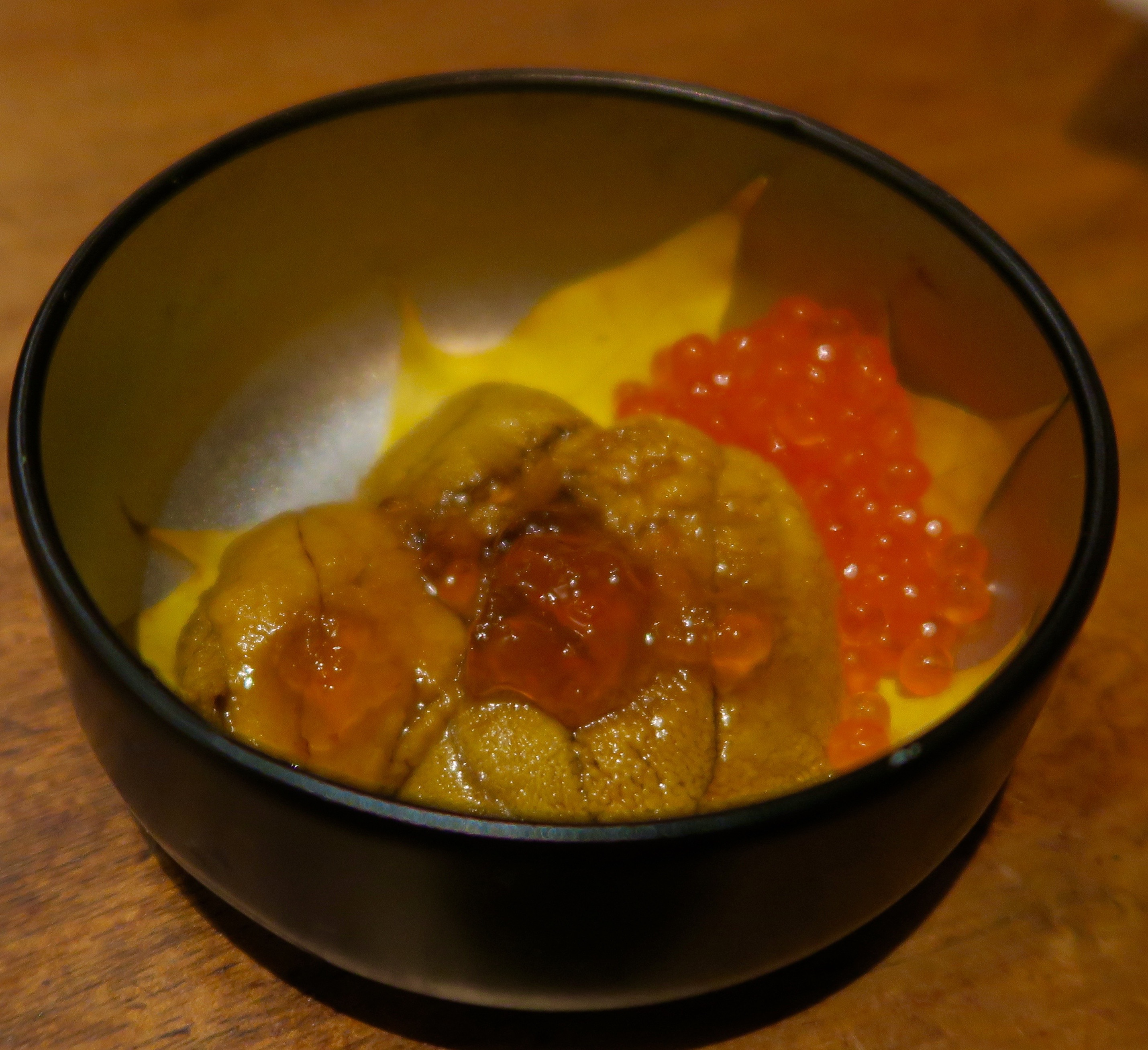 Uni is the Japanese word for sea urchin or more accurately, a sea urchin's parts. It's currently very popular, but I'm not sure why. While some call it the foie gras of the sea, I beg to differ. However, I did eat this while others at the table took a pass.
5. Traditional Sashimi

For course five chef Kim returned to a more traditional type of sashimi which was consumed with relish by all concerned.
6. Romaine Salad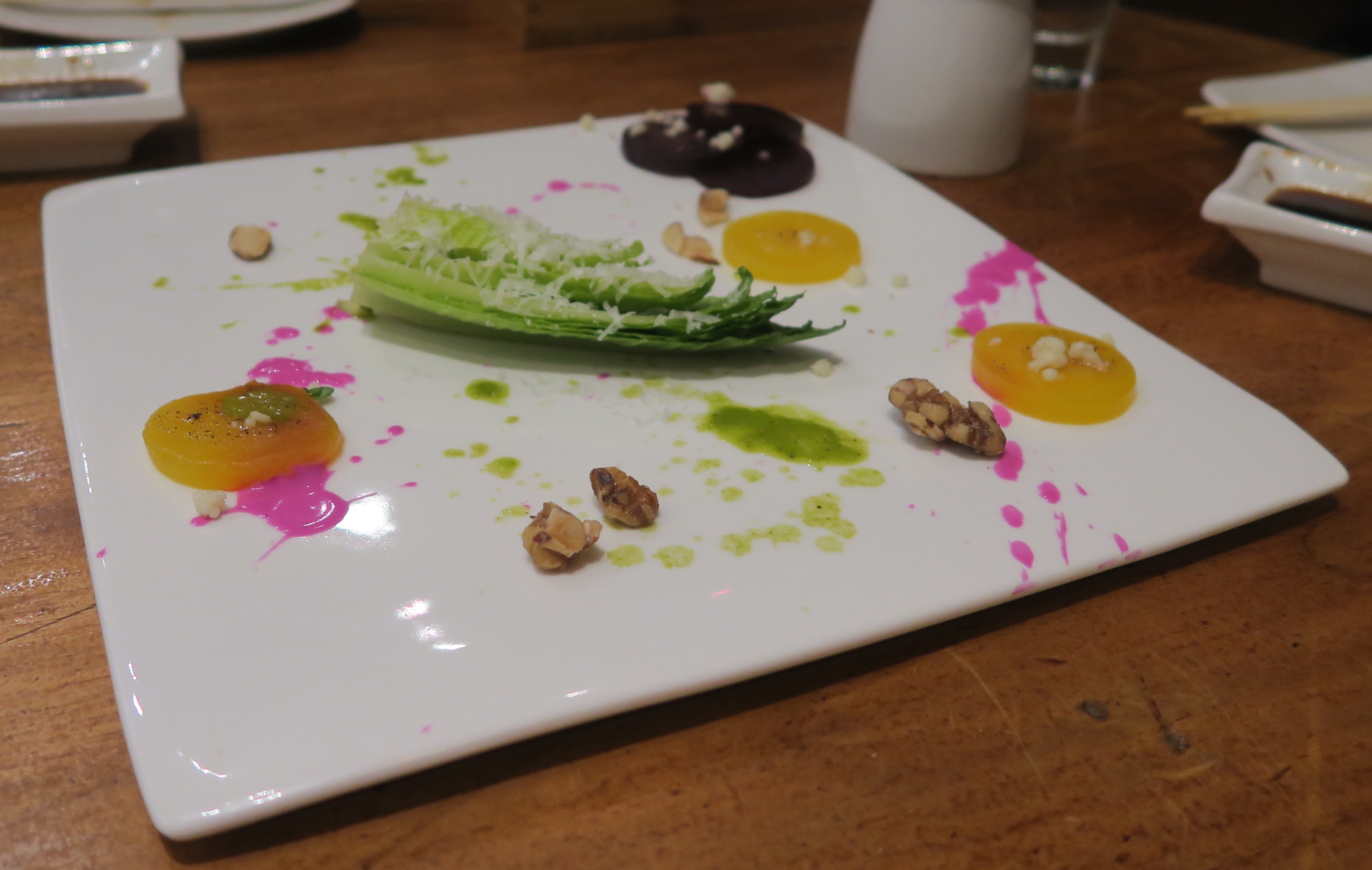 About to switch directions a bit we were each presented with this brilliant looking romaine salad to cleanse our palates.
7. Pork Belly Salad, 5 Fusion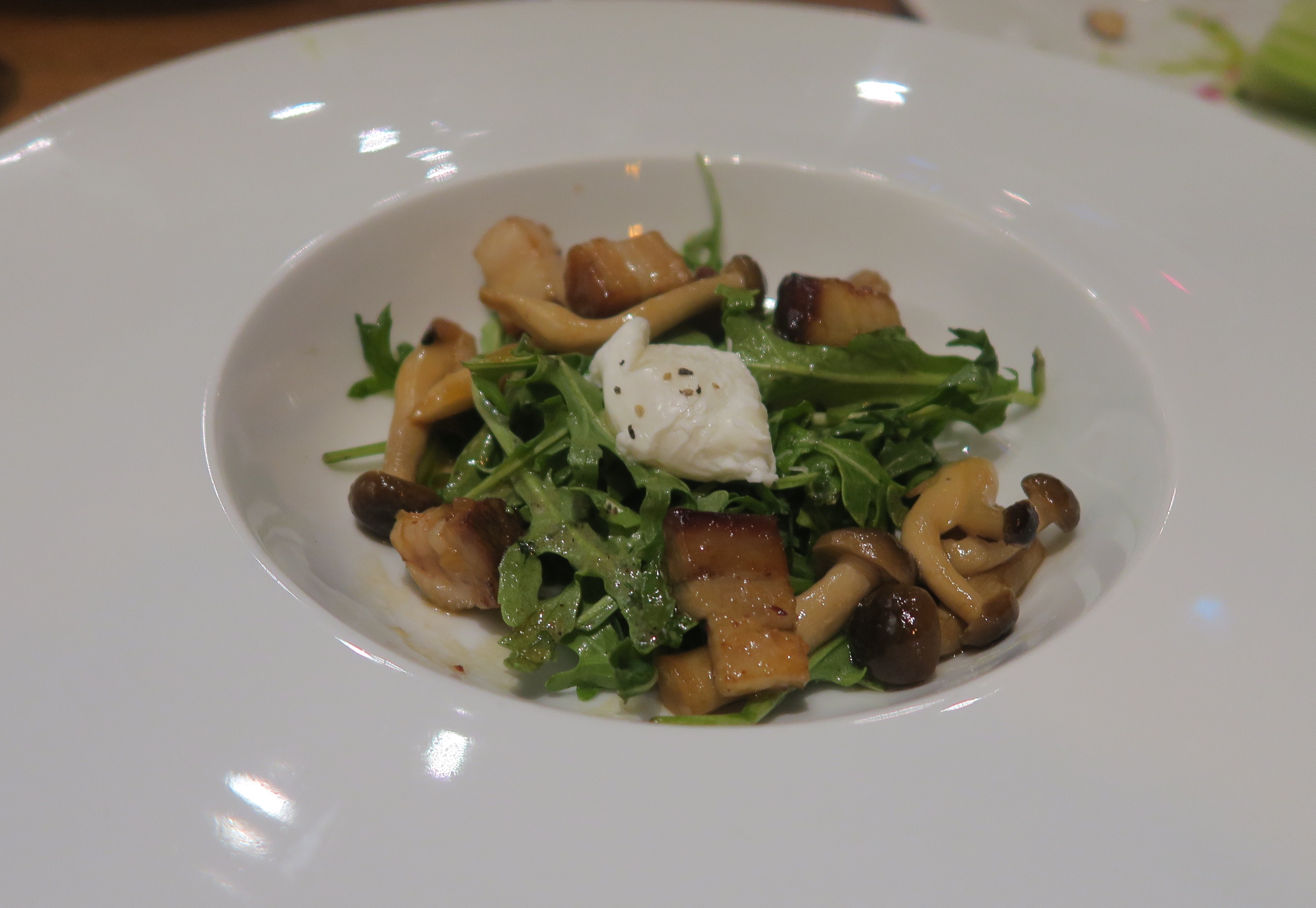 This was simply spectacular tasting. The combination of smoked pork belly, mushrooms and arugula was made to go together. Toss with a shallot vinaigrette and top with a soft boiled quail egg  and you've got a salad made in heaven. Worth going to 5 Fusion just to try this and it's only $11.00.
8. Foie Gras with Quince Jelly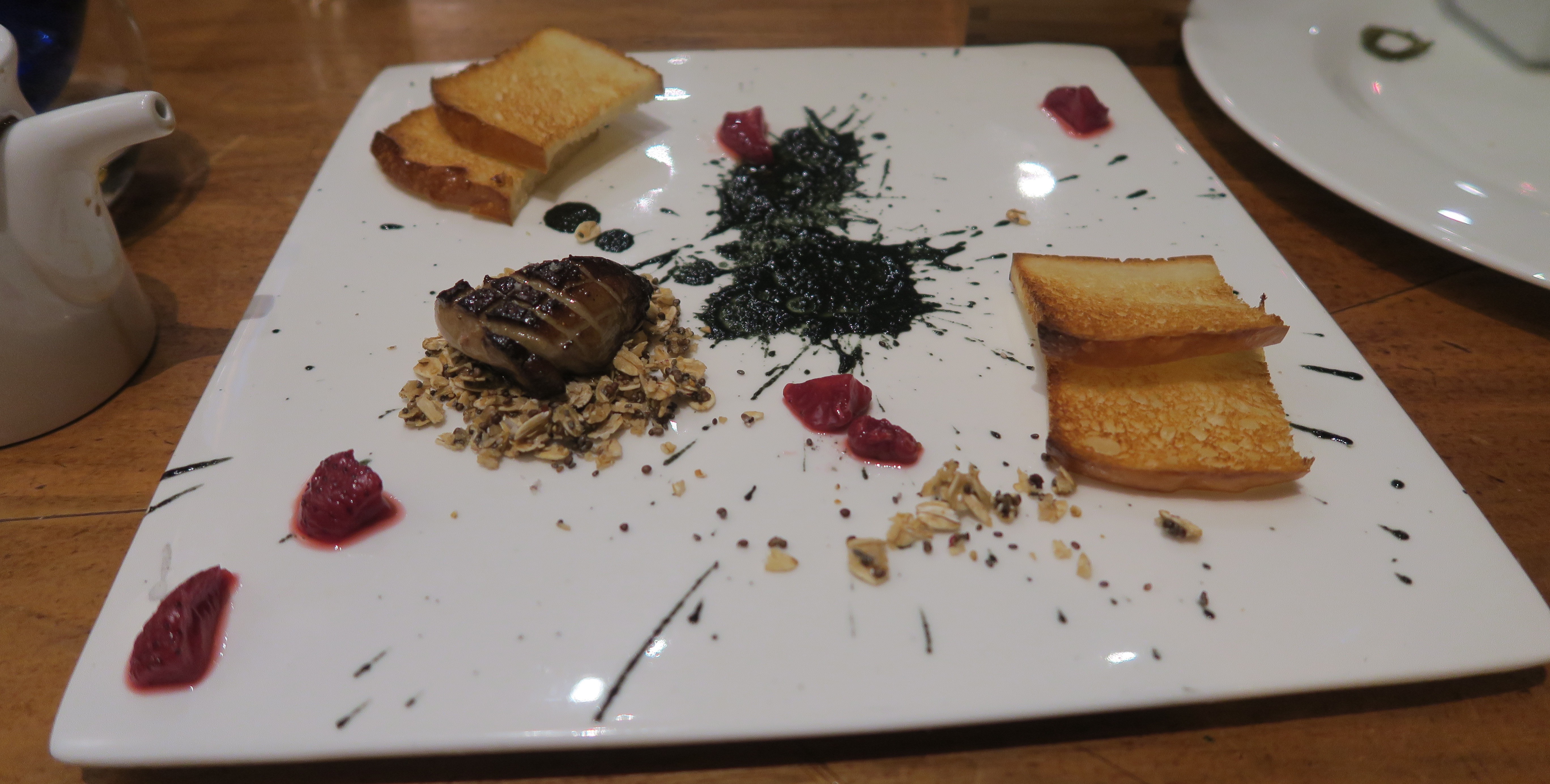 While I disagreed that uni was the foie gras of the sea, I cannot argue that there is any better flavour on earth than real foie gras. I know it's politically incorrect, but I love foie gras and this generous portion, presented beautifully was as good as it gets.
9. Waygu Beef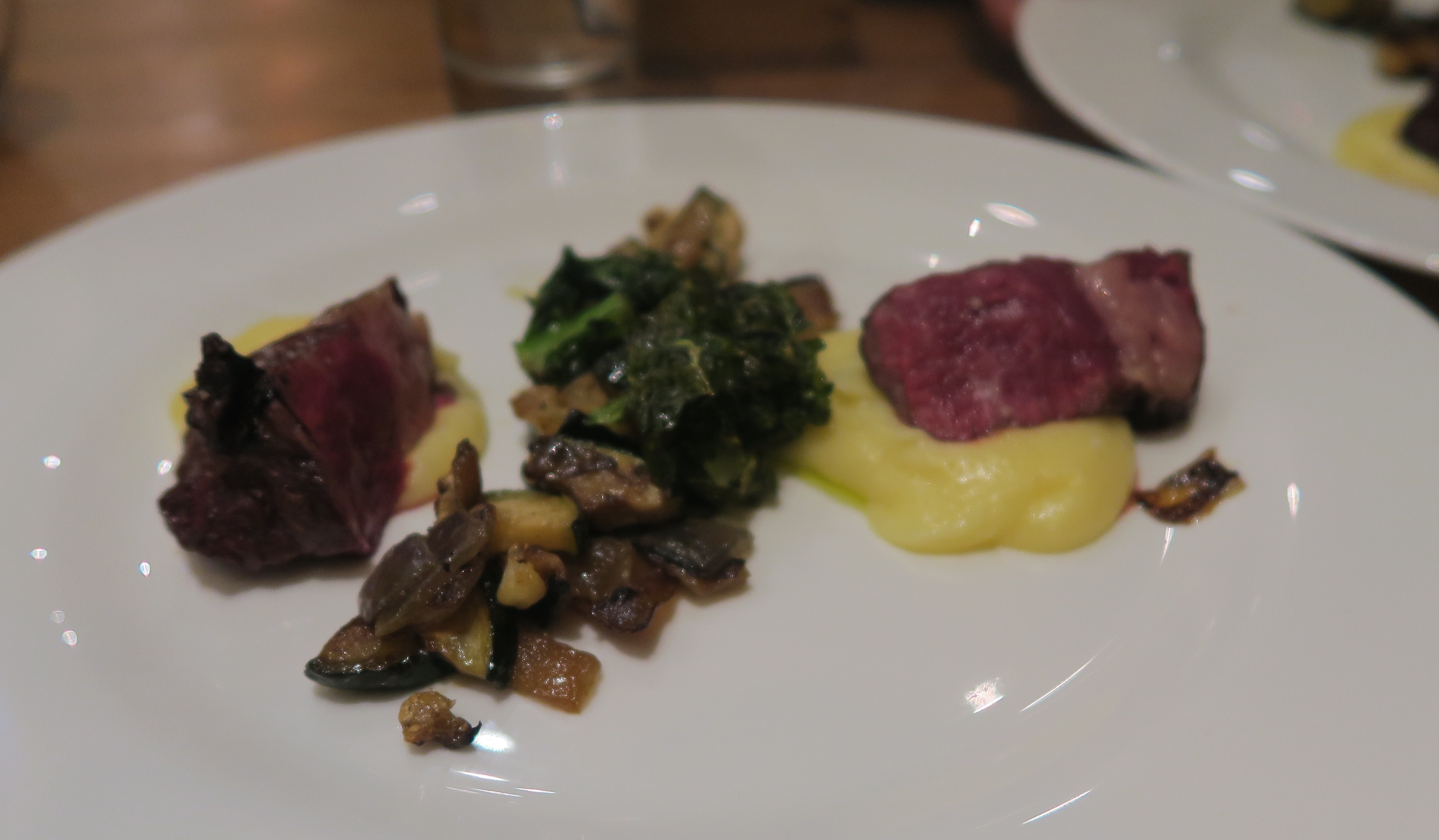 Sorry this pics a bit out of focus, but my head was still reeling from the sensational foie gras. Prepared properly, i.e. almost raw, waygu beef literally melts in your mouth as did these two bits.
10. Seared Scallops with Pomegranate Foam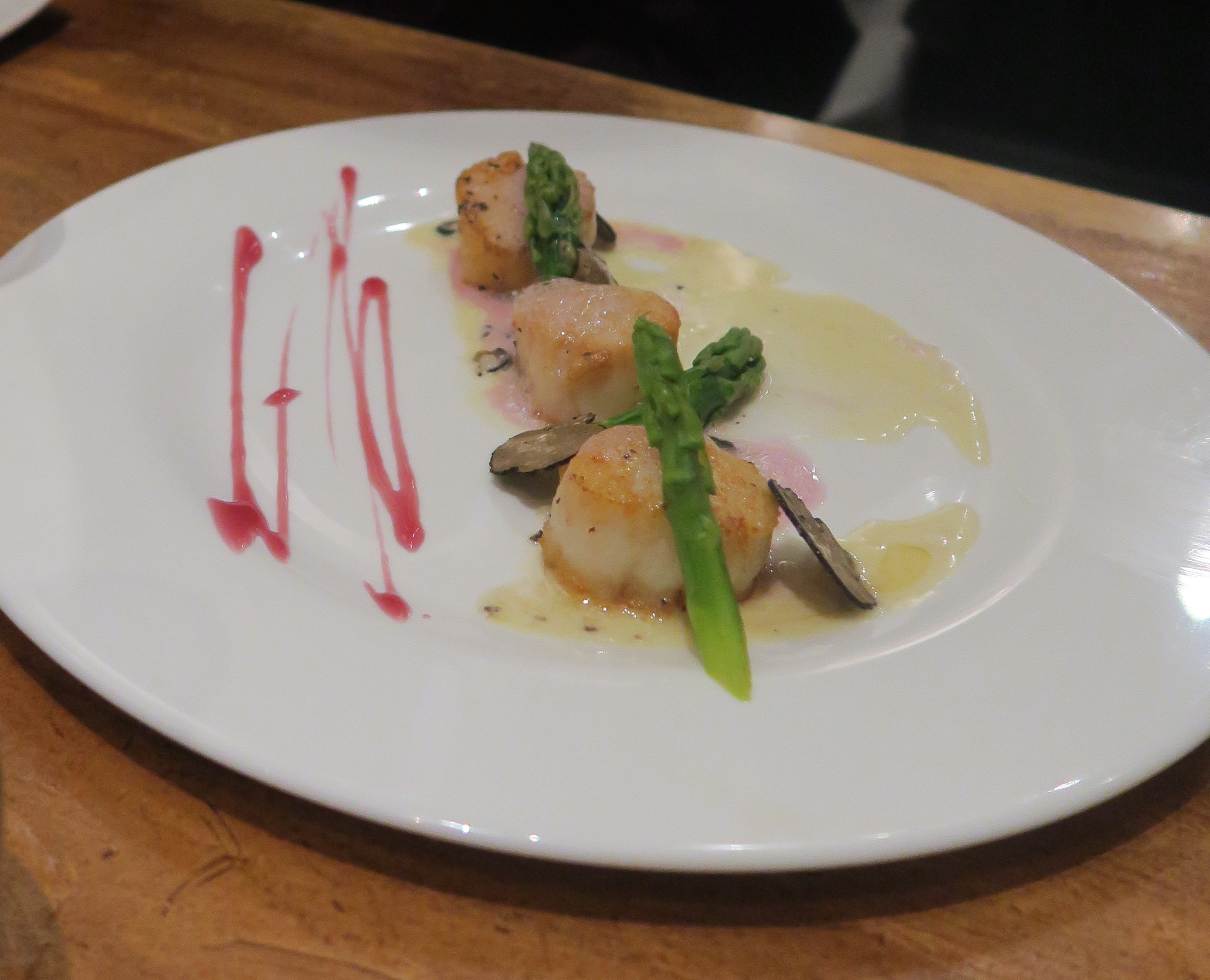 While the previous three dishes were heavy on the umami, these seared scallops took us back one last time to the seafood theme that featured in most of chef Kim's offerings. Yes, it tasted as good as it looks.
11. 5 Fusion Desserts
By now we were all quite full, but by no means stuffed to the point of over indulgence like one often gets at a Thanksgiving or Christmas dinner. There was still room for dessert and we were presented with quite an array including my all time favourite – creme brulee.  And in three flavours at that.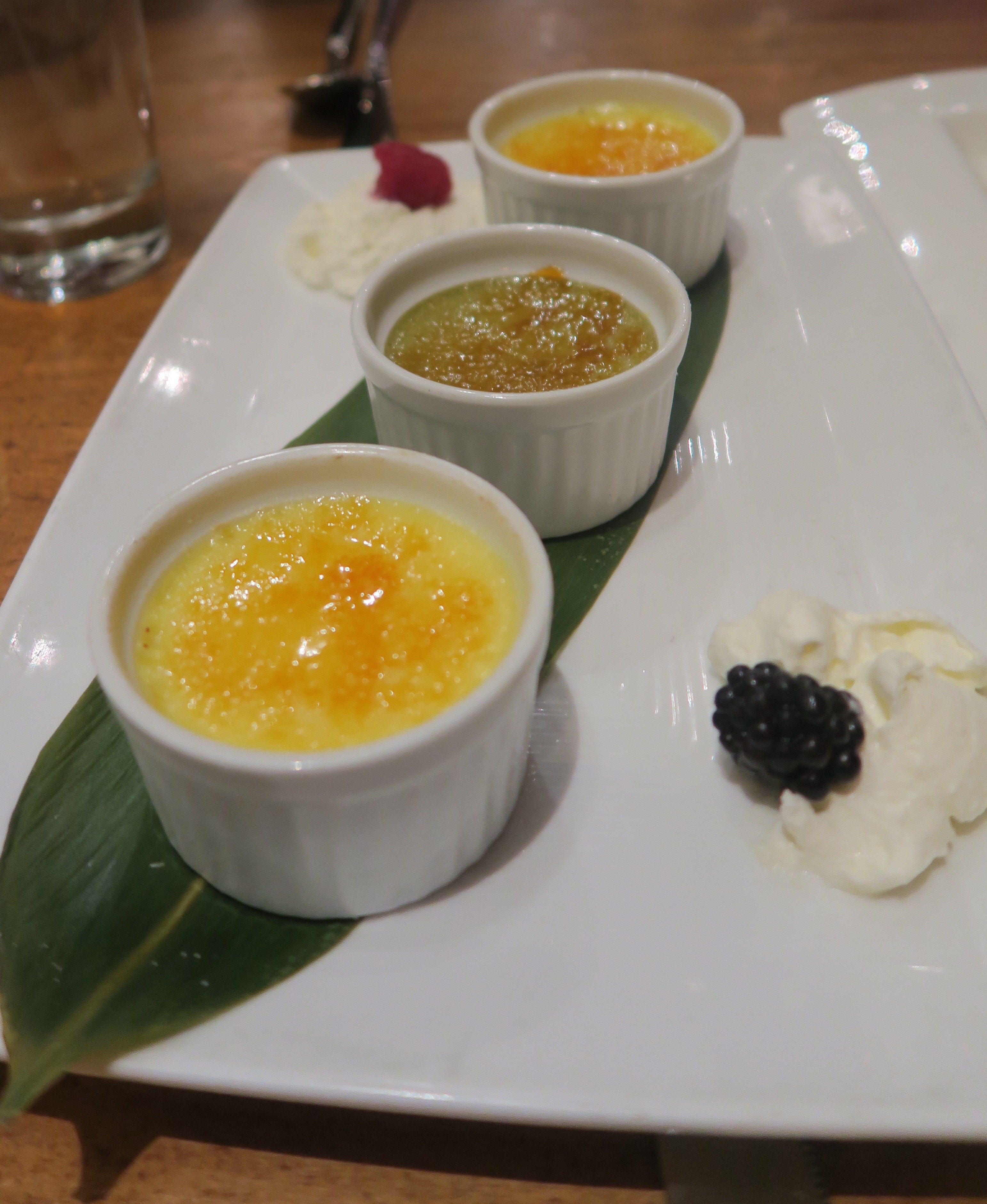 Or we could try this lovely looking version of sticky toffee pudding.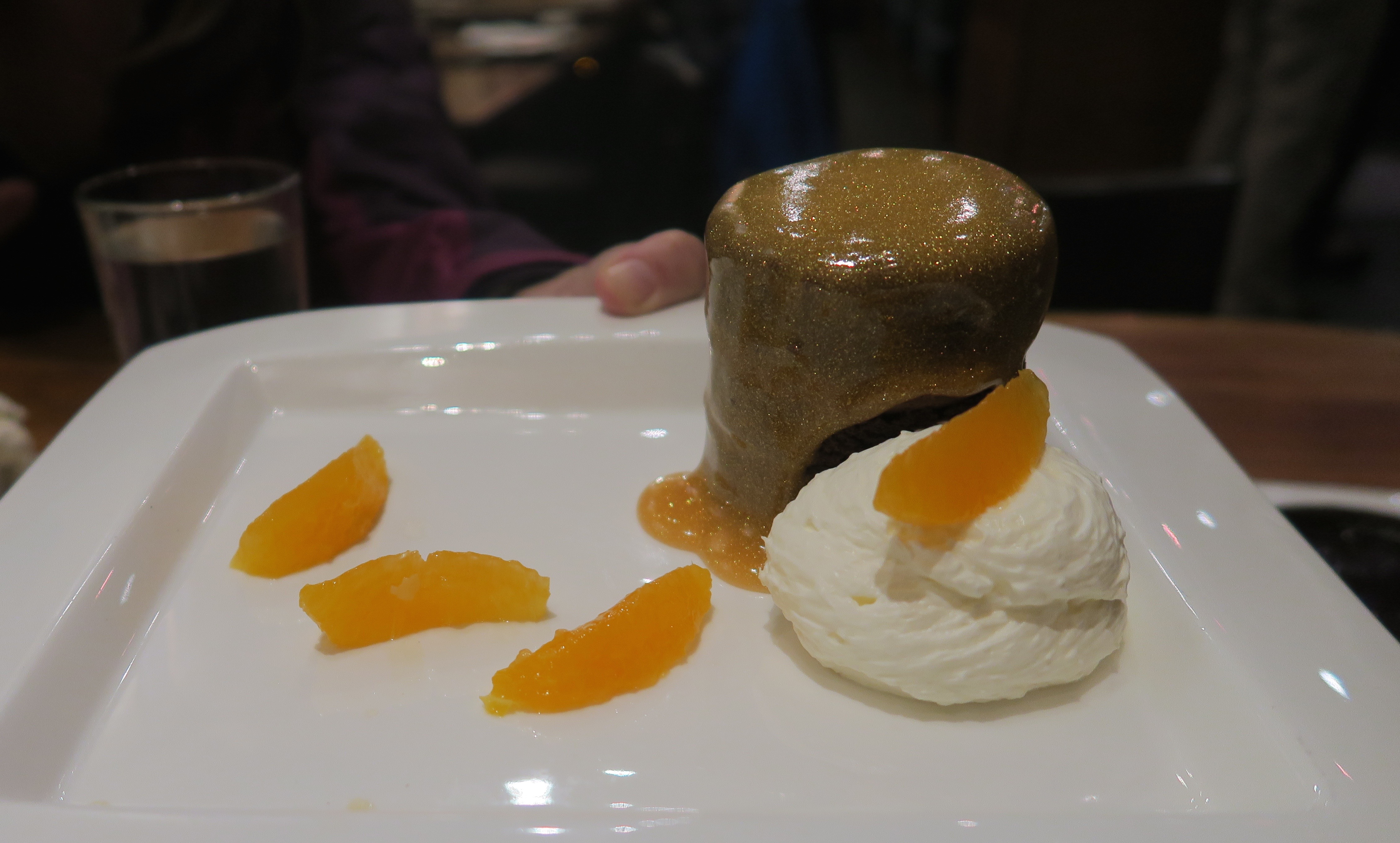 Or how about cardamon coconut panna cotta?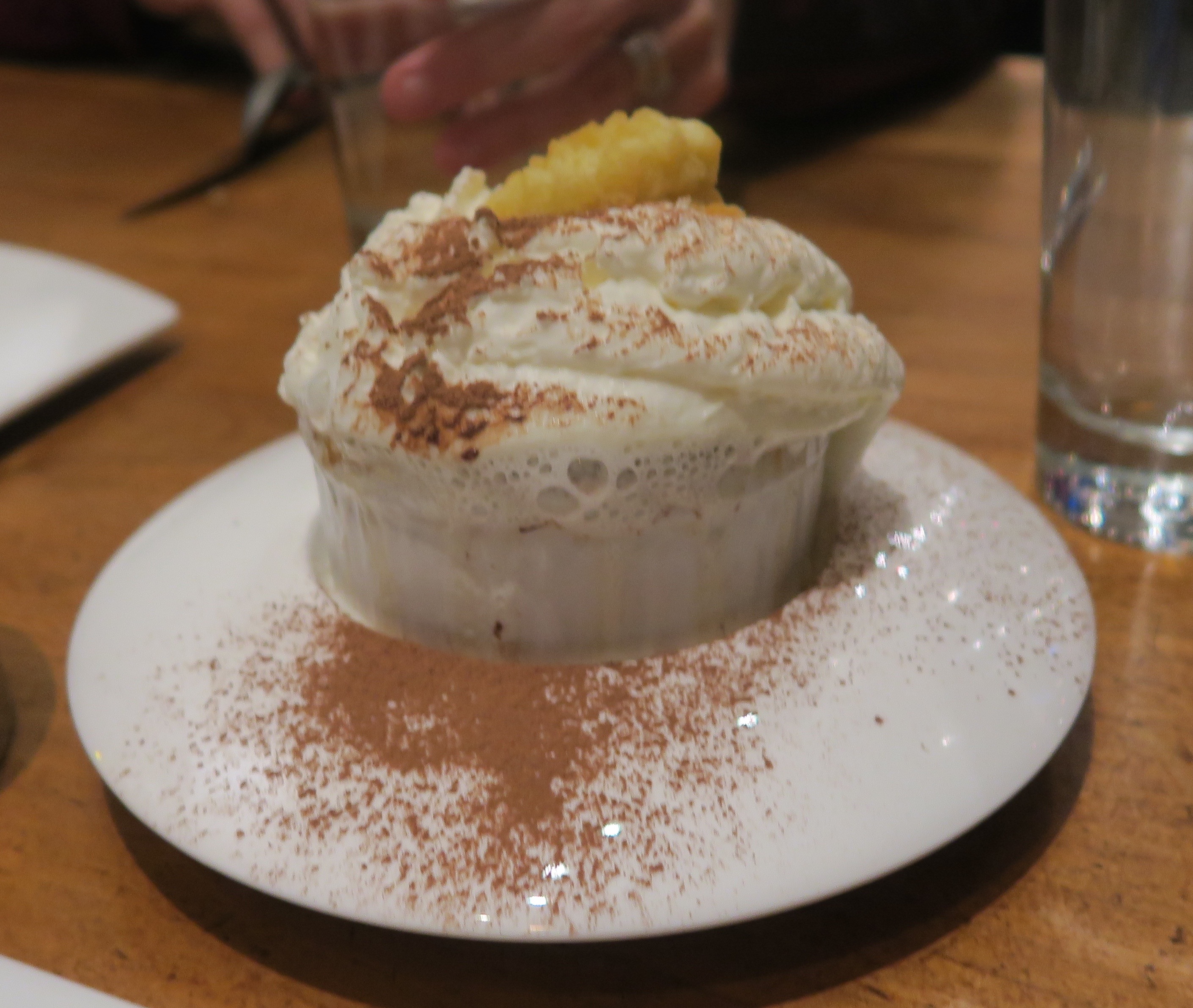 I hear a lot of complaints from travel writers about over ambitious daily itineraries that include far too many stops at places to eat. Trust me, not a soul at our table was anything but thankful to chef Joe Kim for preparing this beautiful meal just for us. I hope this review will encourage others to forsake the gastropub for at least other one meal in Bend and head to 5 Fusion.