Bend, Oregon – Beer, Beer and More Craft Beer
Bend, Oregon is one of the fastest growing small cities in the U.S. and for good reason. It has a reasonably mild climate, over 300 days of sunshine and is close to just about every conceivable outdoor activity one could pursue in Oregon. Downhill skiing and snowboarding √ , cross country skiing √, white water rafting and kayaking √, mountain biking and fat tiring √, road cycling √, hiking √, climbing √, fishing √, canoeing √, golf √ and the list goes on. Not surprisingly the wide range of options attracts a whole lot of adventure seekers and after their sport of choice is done for the day, and actually usually before as well, they want beer. Not just shitty mass produced crap like Coors Lite and Bud, but real beer, brewed locally and in a wide variety of styles, colours and a.b.v. At last count there were eighty-four craft breweries in and around Bend. Last week I was fortunate enough to sample a few of them and you can do the same thing.
I was with a small group of SATW members (Society of American Travel Writers) and we spent the morning on an unbelievable doors off helicopter ride over the Cascades which I have described in this post after overnighting at Suttle Lodge, deep in the Deschutes National Forest.. Now it was time to let the adrenalin slow down and chill out for an afternoon of beer sampling (well drinking really). We started at Immersion Brewing.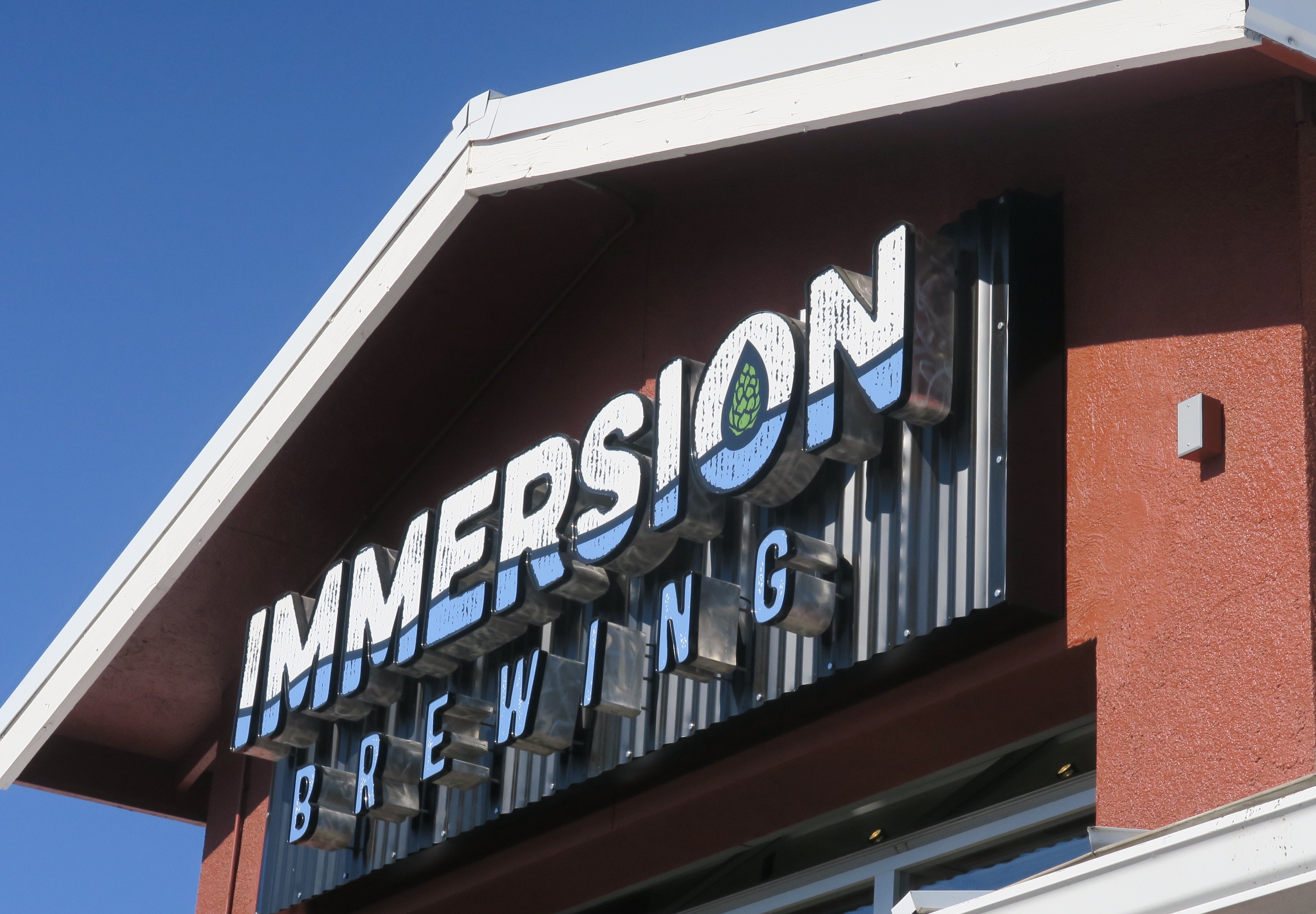 Sitting outside under warm clear skies it was only natural to order the Patio Pounder, an American Blonde Ale that paired well with the romaine salad I ordered for lunch. There's serious bacon going on in that salad.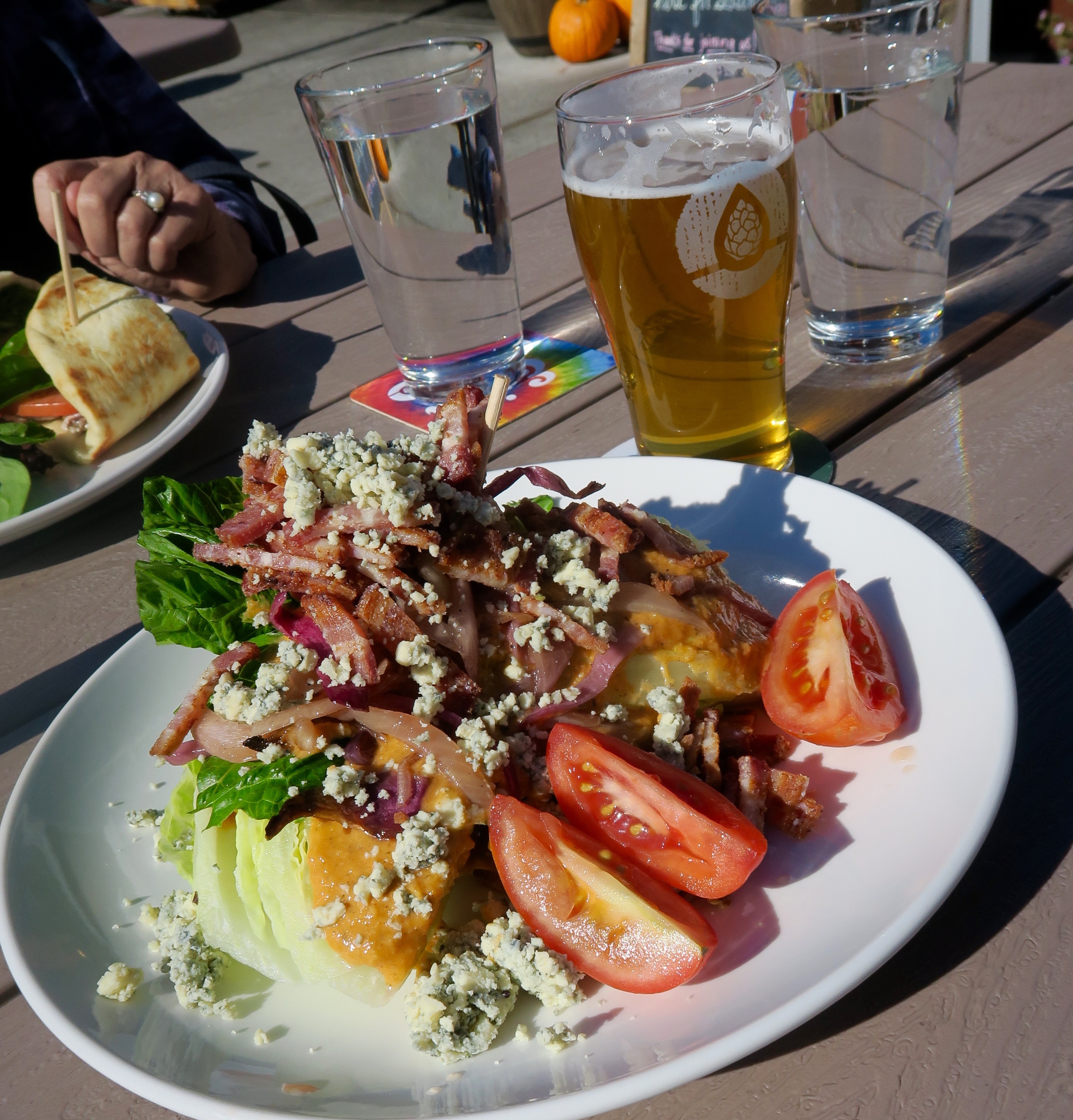 After lunch we walked a very short distance to The Bend Tour Company where ex NYC guy, Brett gave us a humorous rundown on Bend's love in with craft breweries. We also sampled five more beers before heading out.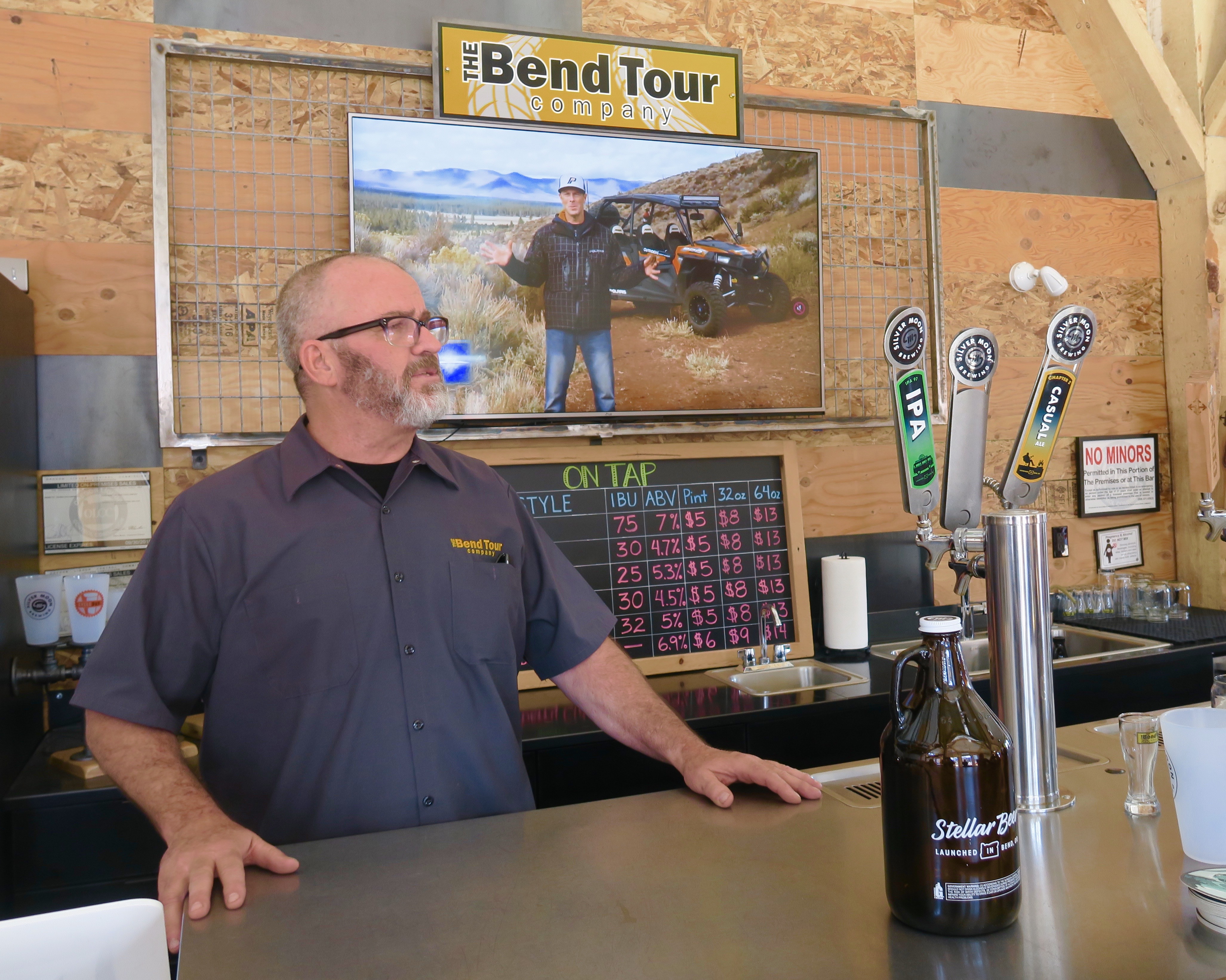 Outside the door there were some very weird looking circular contraptions that had seven seats and seven sets of pedals and six places to park a beer. Yes, you can drink and drive in Bend as long as you have one sober guide to lead the way. Sadly, we were not going to tour Bend this way, but rather by van. Here's three of our group sitting on one of these beer bikes.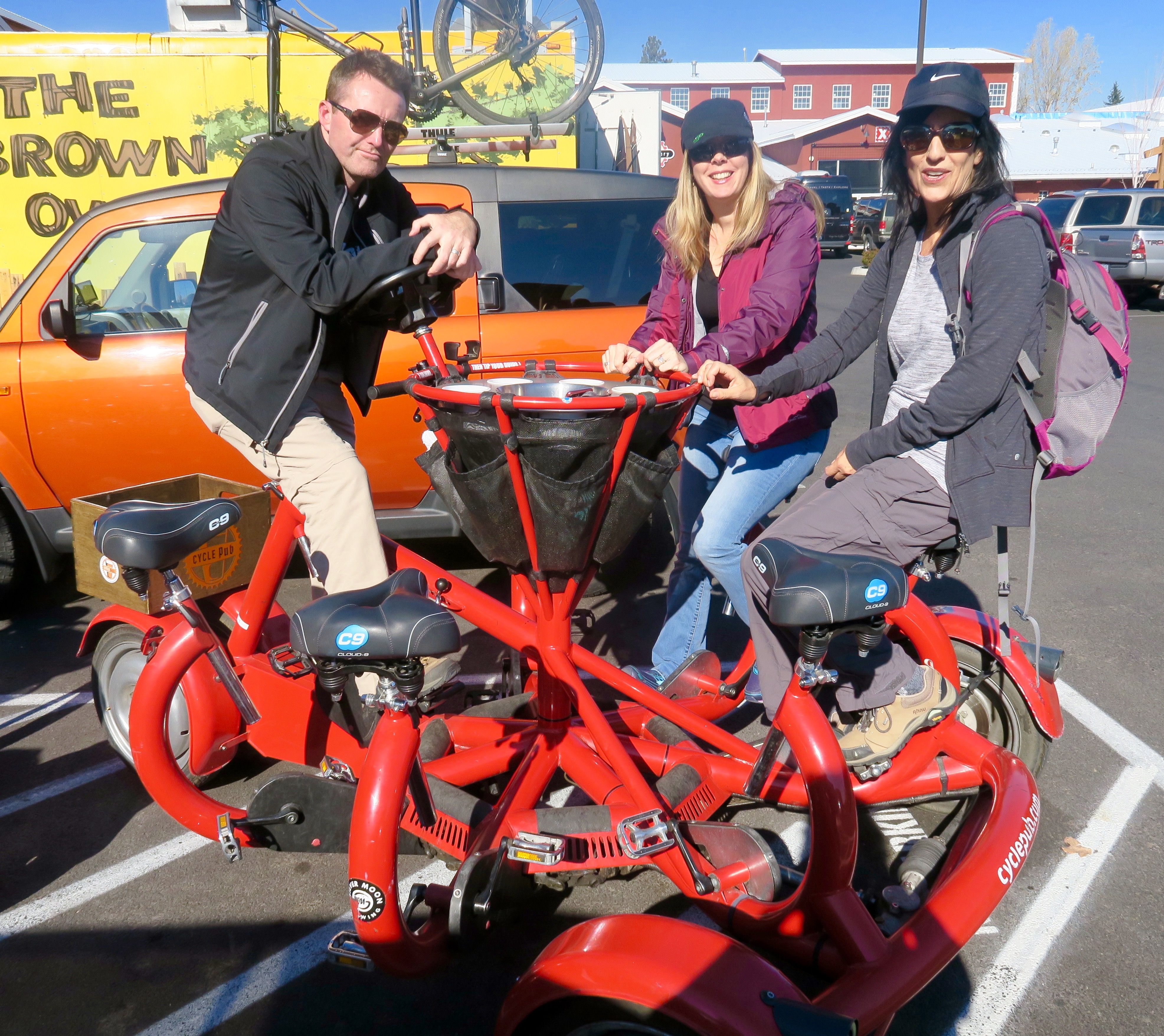 I was reminded of the Gary Larson cartoon Ship of Fools/Car of Idiots. No doubt if we had gone out on this bike in a couple of hours we would have been Cycle of Clowns.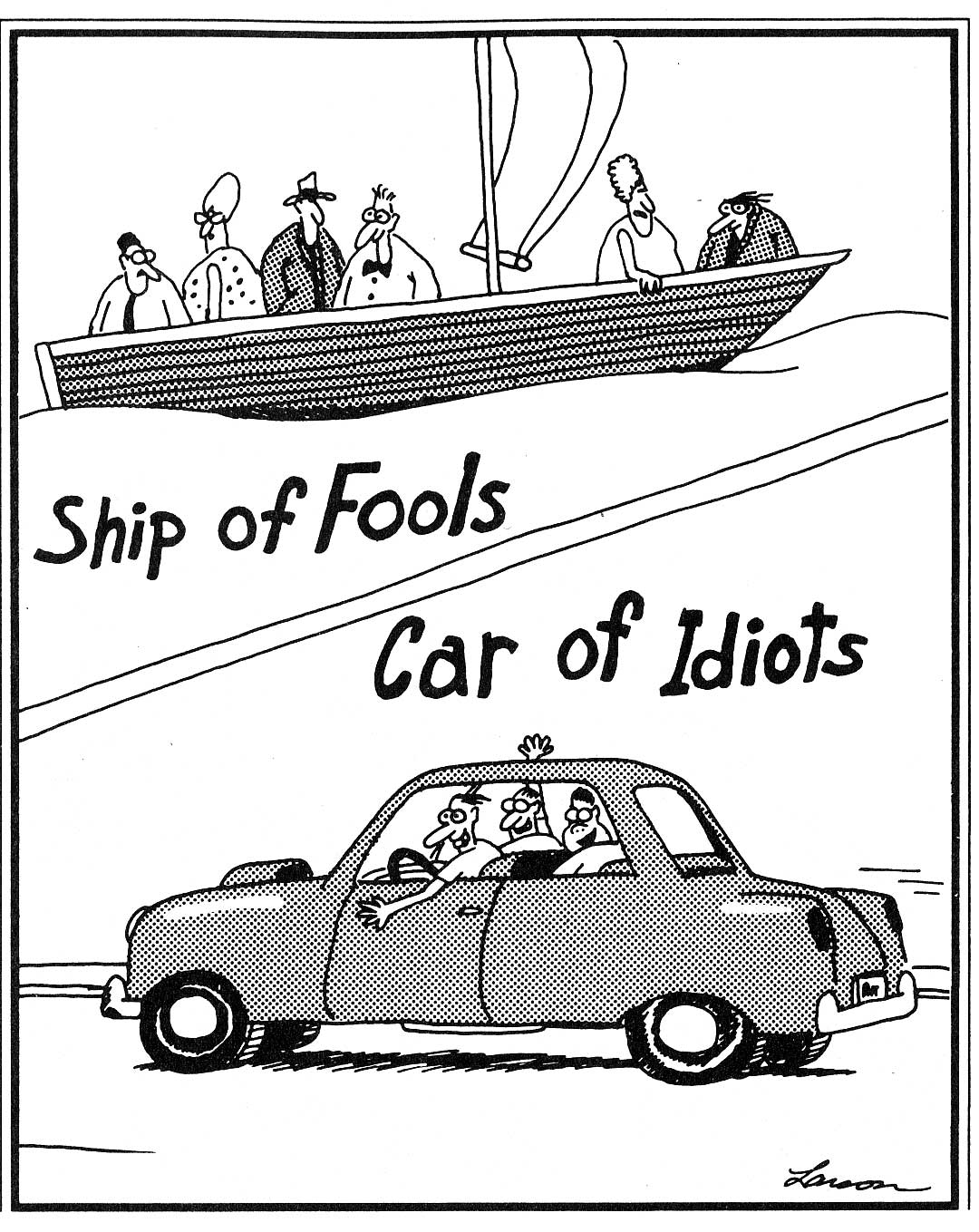 Our first stop was at Boneyard Beer  which is in a nondescript metal building in a residential area of Bend. You are not going to stumble upon this place by accident. Brett advised us that the owners of Boneyard are legendary in Bend for their don't give a shit about money attitude. The standard story line goes like this – guy or girl makes his/her own beer in garage or basement and only a few people know about it. People who do know, tell guy/girl they need to open a micro-brewery and make a fortune selling their great beer. Guy/girl opens said micro-brewery and don't make a fortune, but gather a pretty decent following. Followers convince guy/girl to get bigger and open a gastropub which they do and it's a hit. Big beer starts to take notice and approaches guy/girl with an offer they can't refuse and they don't. Big beer now lets them continue to make the beer the same as they always have, but to Bend beer aficionados, they are officially 'sell outs' and everybody stops going to their place or drinking their beer. Hopefully they got enough money from big beer to make it worthwhile because now they need to leave town and start over.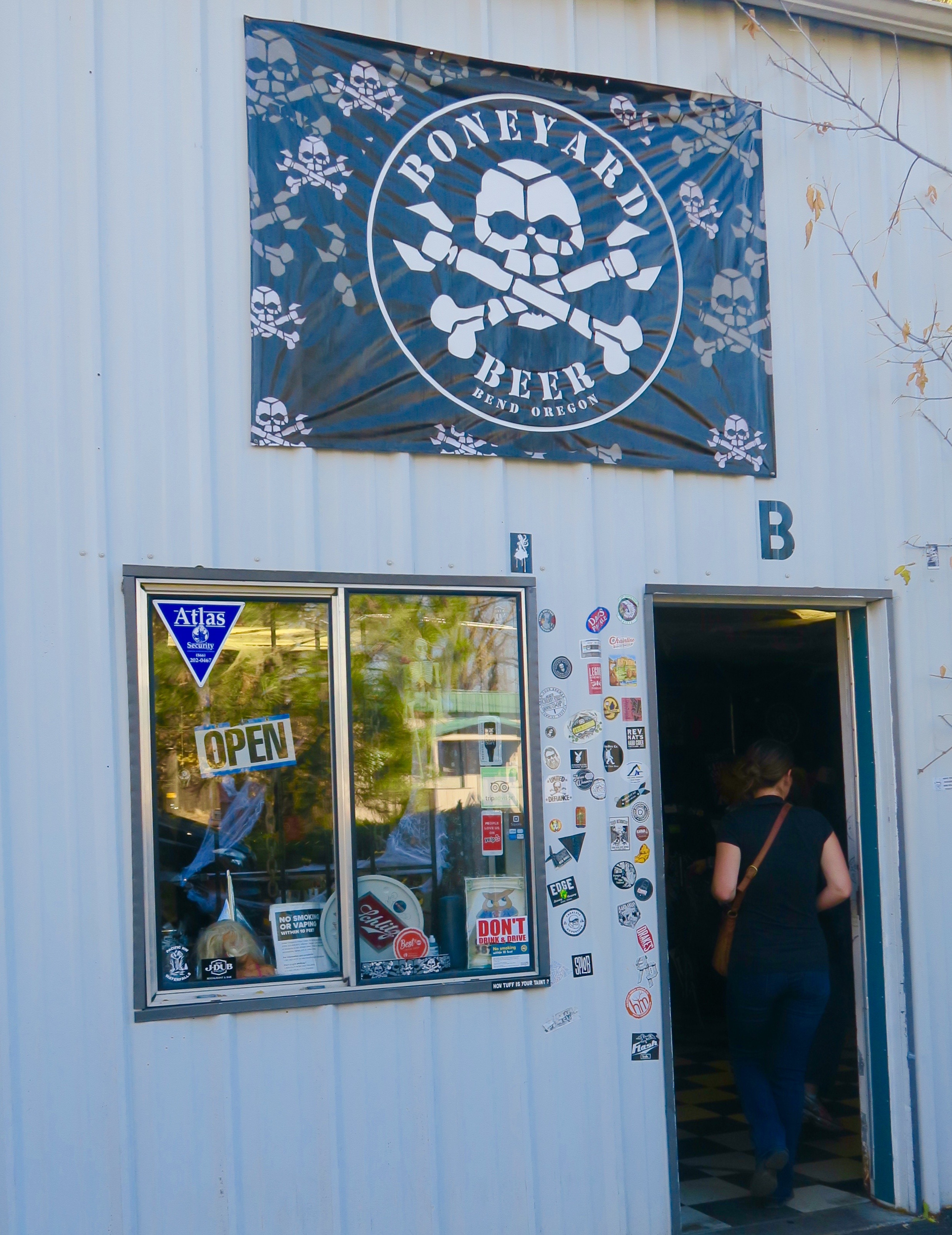 The owners of Boneyard Beer only made it to step two, refusing all offers to buy them out or to get bigger. They are happy being a small brewery that makes good beer. Looking around inside the tiny tasting room where you have to stand up, it is clear that these guys are the Oakland Raiders of beerdom.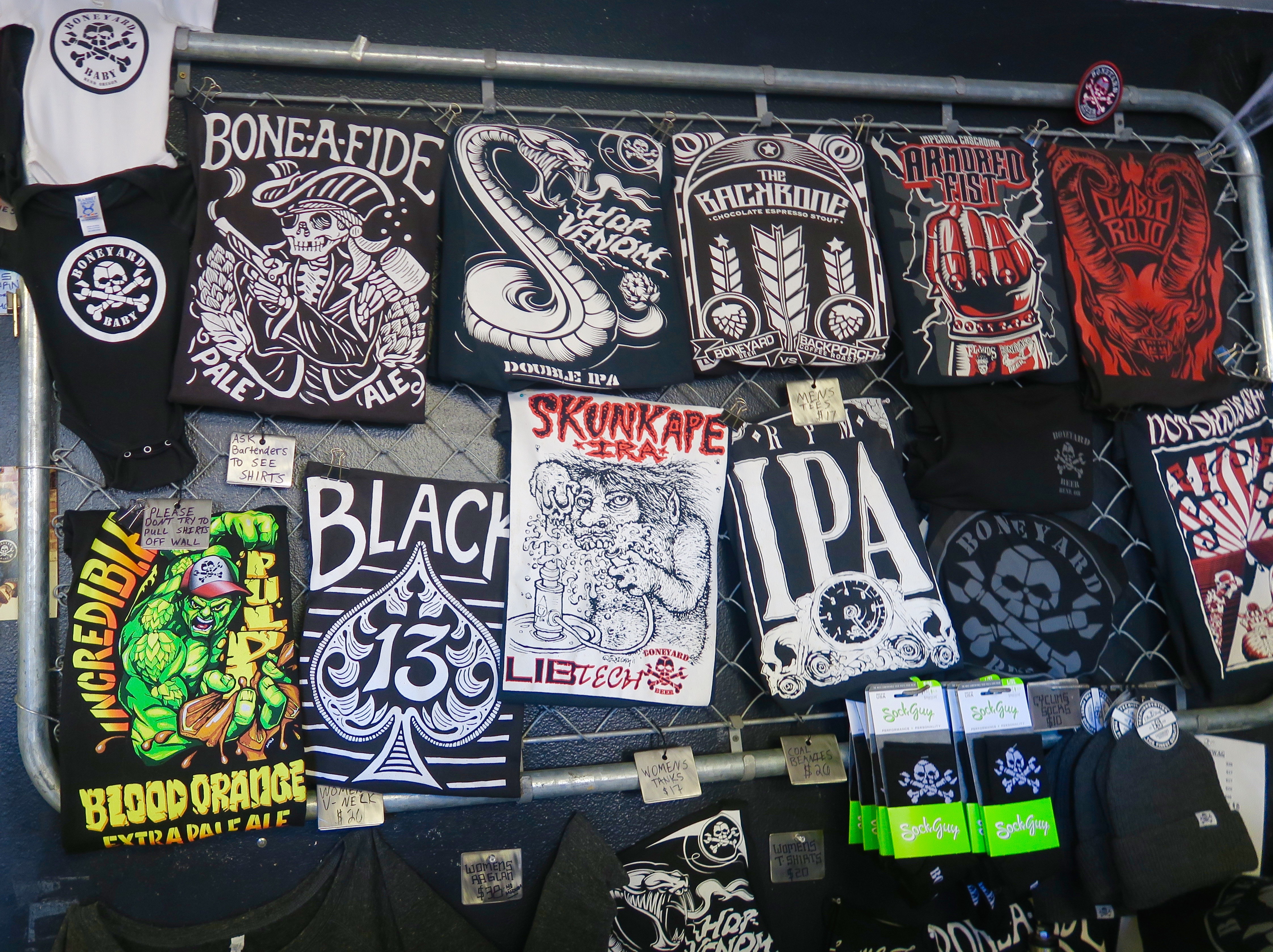 There are many humorous and satirical posters plastering the walls, none better than this one.
Brett keeps the samples coming fast and furious. Here's a new take on the definition of a flight of beer. The beer samples are placed in slots on a ski with four drinkers lined up and on the given signal Carl, the Haystacks Calhoun lookalike, tips the ski and the drinkers better be ready. Happy to say they were and not a drop was split.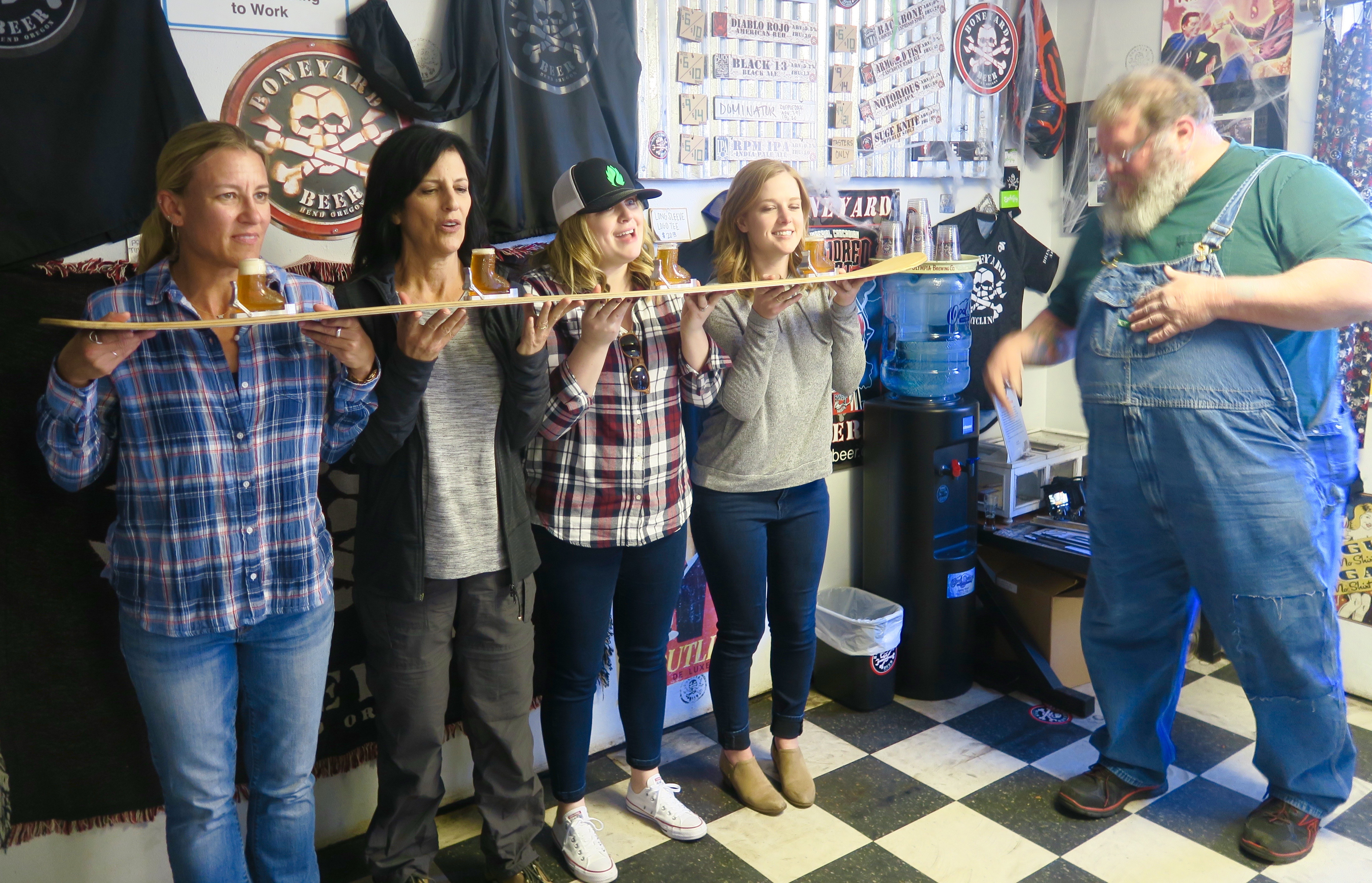 Next up was a gastropub as different from Boneyard as you could possibly be. The owners of The Crux Fermentation Project are clearly in stage three of the beer fame progression. They have opened a gastropub and have been wildly successful – so much so that they have invited food trucks to park beside them because they can't handle the volume. You buy your beer from a bar outside the brewery and head to a food truck the rest. The al fresco dining at Crux is famous in Bend as a place for young families to gather and chill out with great unobstructed views of the Cascades.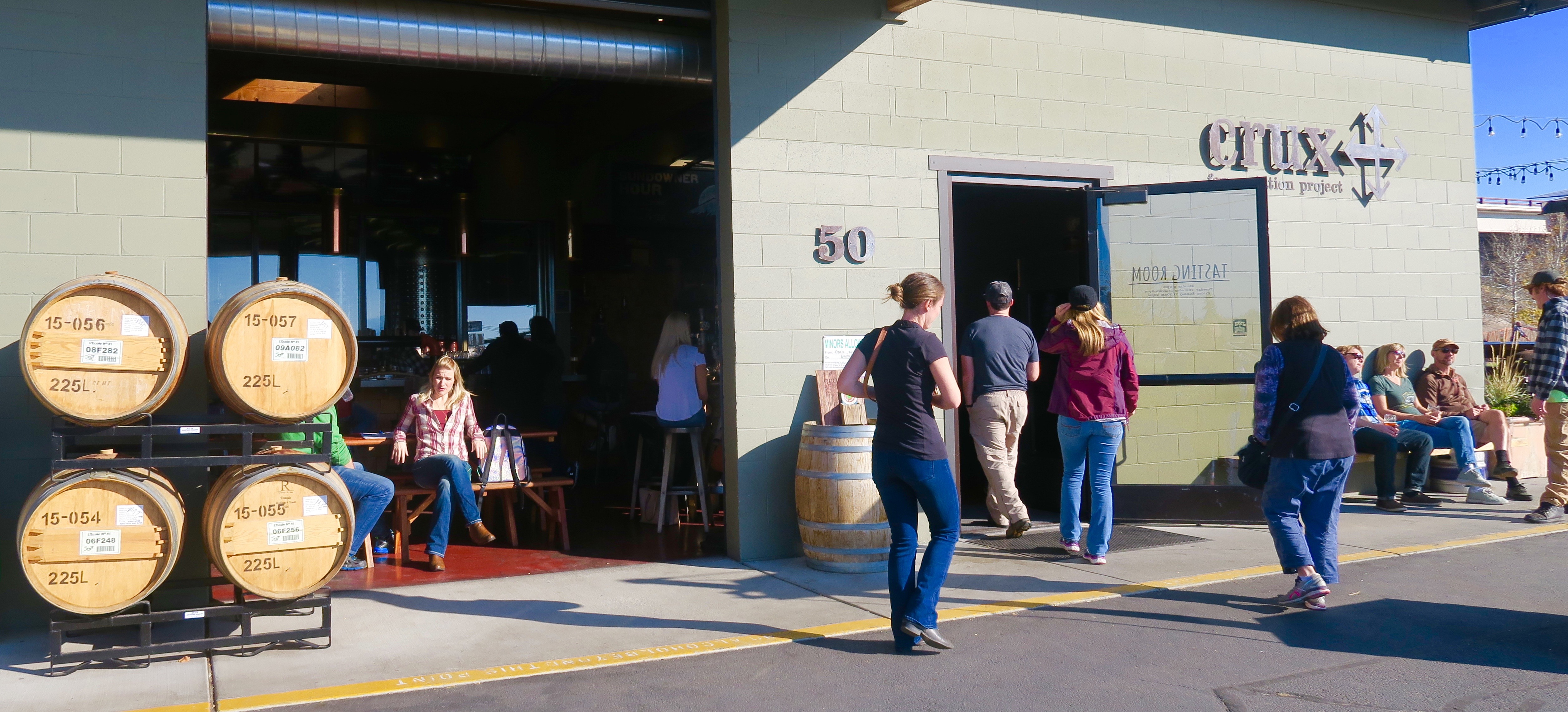 Crux has up to twenty beers at any given time and while we didn't sample all of them, Brett did his best to make sure we made a good run of it.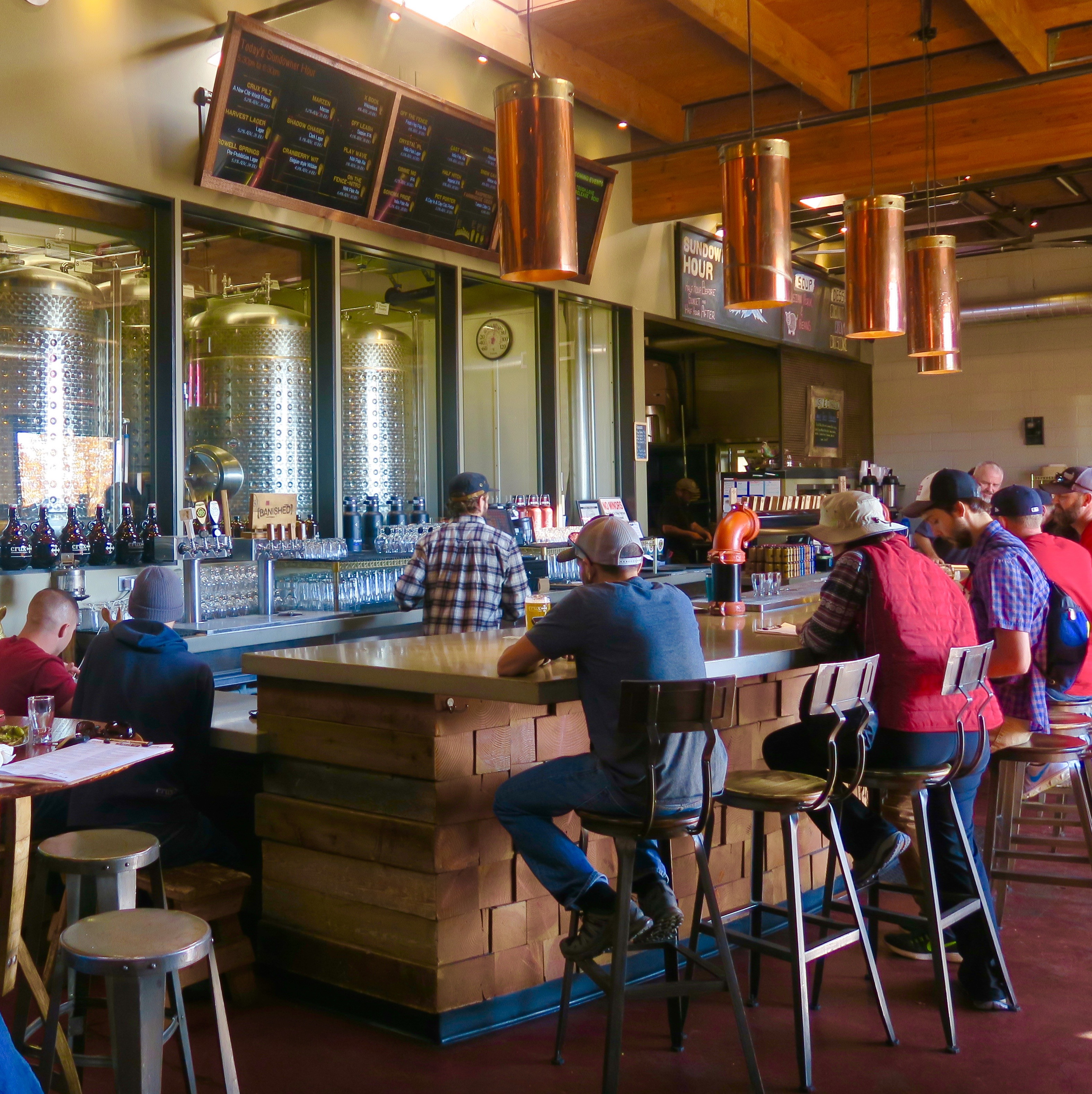 The last stop on the 'official' brewery tour was at Silver Moon Brewing – definitely check out their website for a good laugh. Brett described Silver Moon, which has a limited menu, as a locals hang out and like Boneyard, it's not easy to find. The small door is down an alleyway behind a parking lot.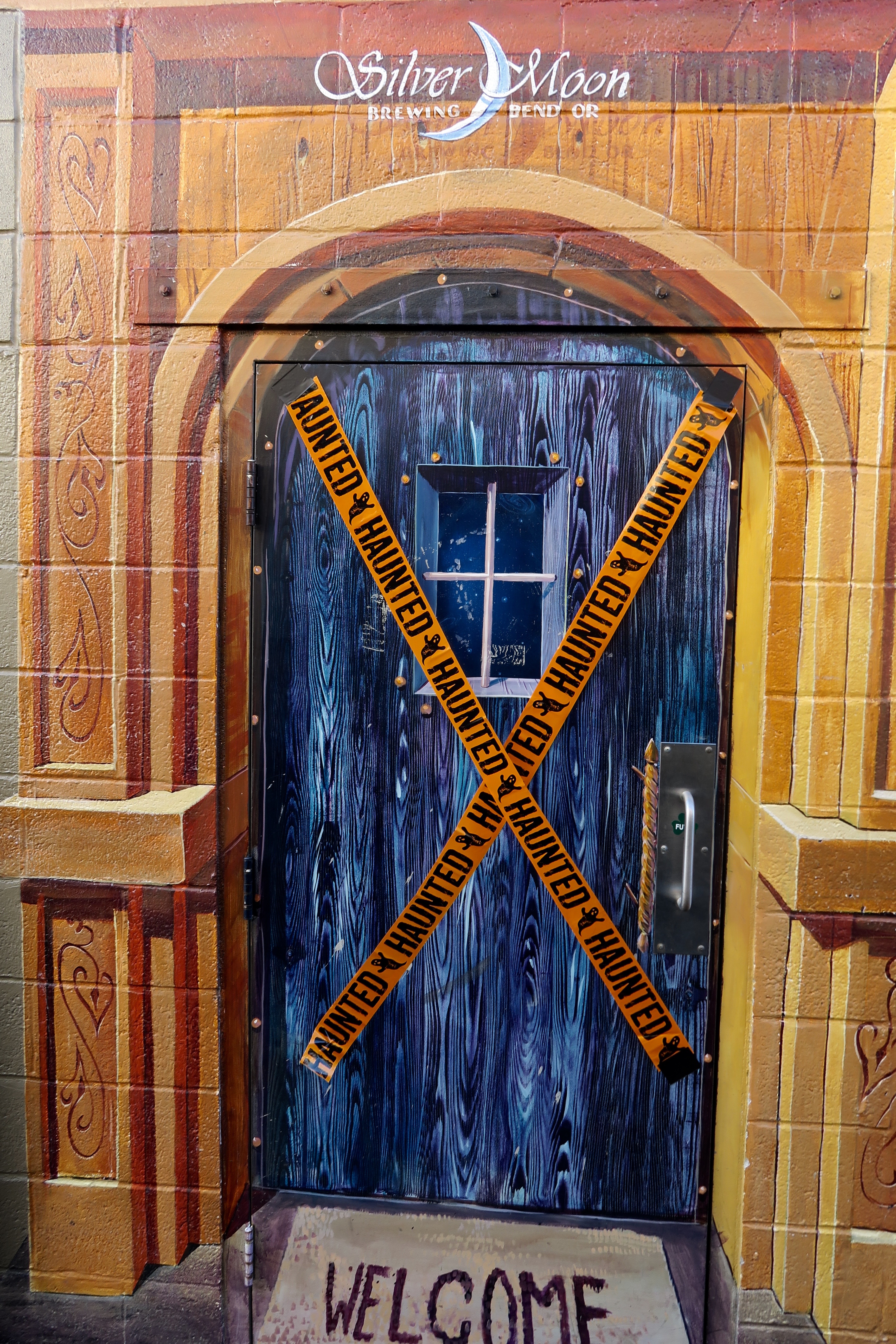 Inside there appeared to be a collection of serious drinkers hard at work. Brett said to hell with the samplers and brought over pitchers of I.P.A., Mango Pale Ale, Casual Ale and something dark. By now we were all just a bit over the limit and feeling no pain. I loved this mural on the back wall of the Silver Moon and stared at it transfixed for a good fifteen minutes until Brett said 'Drink up, the party's over".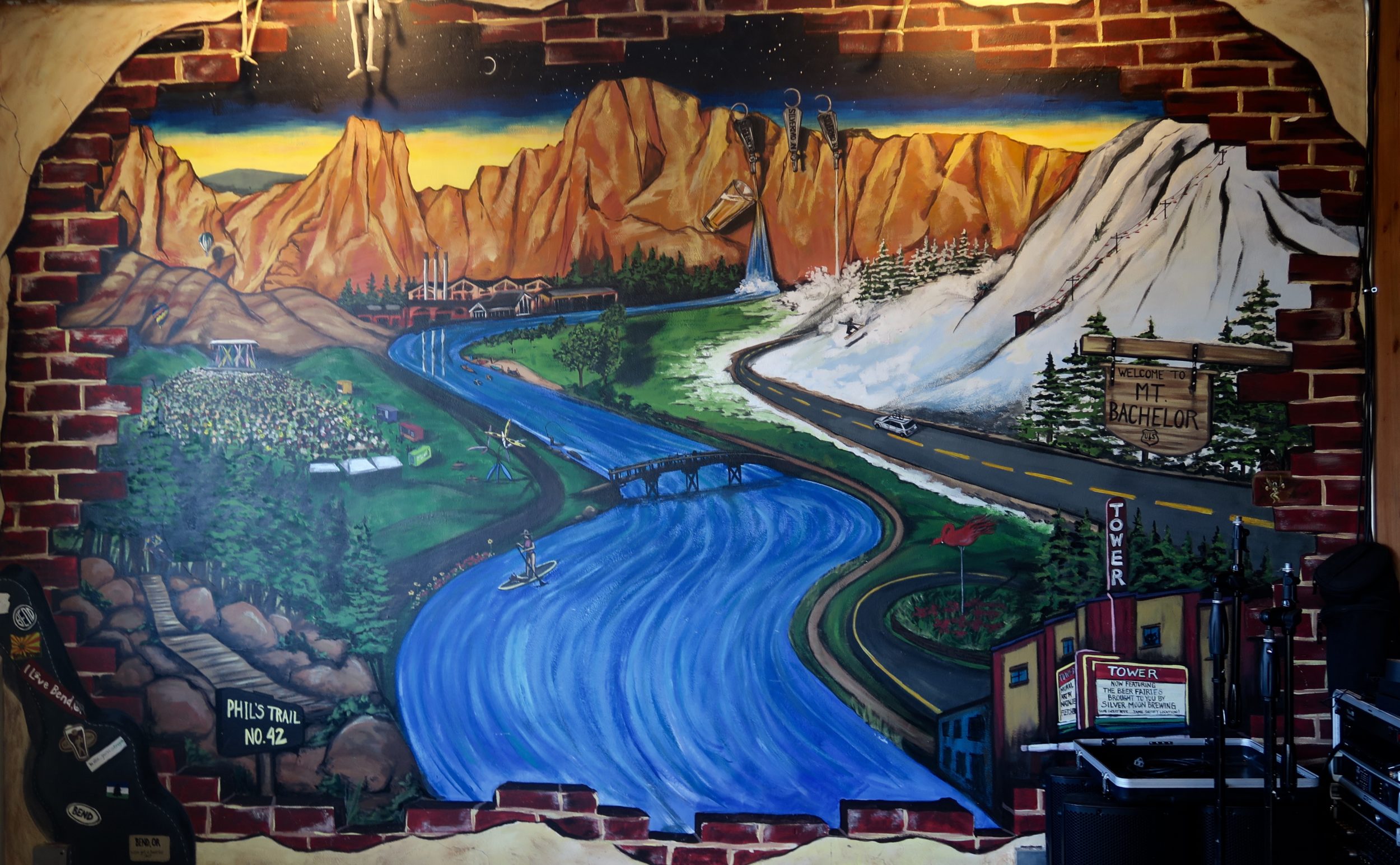 The tour was over, but not our drinking, as we headed on foot to the original Bend brewery with the catchy name Bend Brewing Company. Hard to believe it was only about five o'clock with the sun still shining as we took our beers to a railing overlooking the Deschutes River and toasted a perfect afternoon.
Did I learn a lot about beer making? Not really. Did I have a great time. Absolutely. Bend is the type of city that makes you fell young just being there. If there is a Fountain of Youth, it might be hidden somewhere in one of those eighty-four breweries.
But Bend isn't just about beer. Join me in the next post at 5 Fusion & Sushi Bar for another delicious side to this intriguing city.